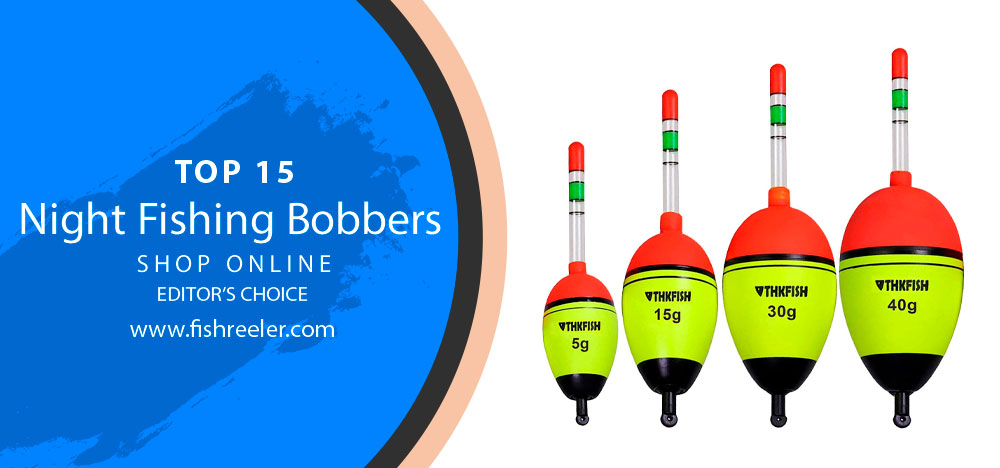 The Allure of Night Fishing: A Comprehensive Guide to Using Bobbers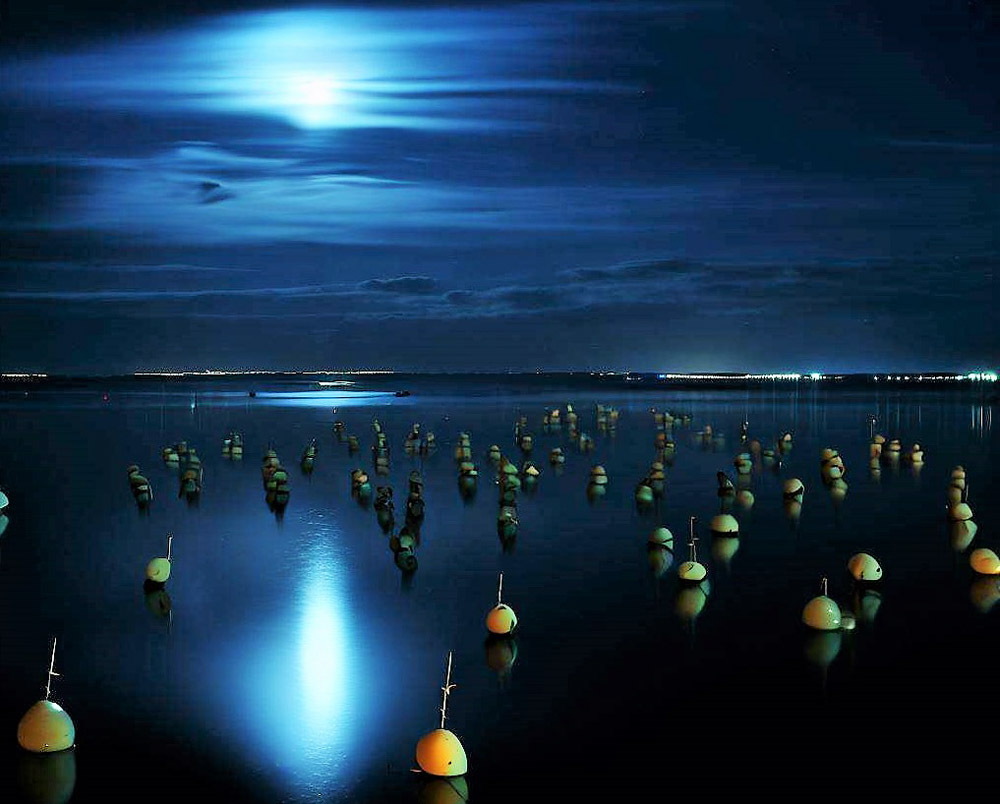 The Magic of Moonlight: Discover the Thrill of Night Fishing
As the sun sets and the day turns to night, the fishing world transforms into a realm of mystery, excitement, and serenity. The quiet stillness of the water is punctuated by the occasional splash of a fish breaking the surface of the gentle lap of waves against the shore. Welcome to the captivating world of night fishing, where the wonders of nature come alive under the moonlit sky. In this unique and enchanting environment, night fishing bobbers emerge as essential gear for any angler looking to enhance their nocturnal fishing experience.
Illuminating Success: Night Fishing Bobbers as Your Essential Gear
Night fishing bobbers bring a touch of magic to your fishing line, illuminating your path to success by making it easier to detect those elusive nighttime bites. These specialized bobbers offer several advantages over traditional daytime fishing methods. They not only allow you to easily monitor your bait's depth and position in the water but also provide a visual indication of even the slightest nibble from a fish. In the darkness of night, the glowing or illuminated bobbers act as beacons, guiding you to that perfect catch.
Advantages of Bobbers: Nighttime Edition
The joy of night fishing is further amplified when you have the right gear, especially a bobber designed specifically for low-light conditions. Equipped with built-in lights or glowing materials, night fishing bobbers are designed to be highly visible even from a distance, ensuring that you never miss a bite. This article will explore the different types of night fishing bobbers, offer guidance on choosing the right one for your needs, and provide valuable tips for maximizing your success on the water after the sun goes down. So, grab your tackle box, headlamp, and favorite fishing rod, and let's embark on a nocturnal adventure like no other.
Best Night Fishing Bobbers Review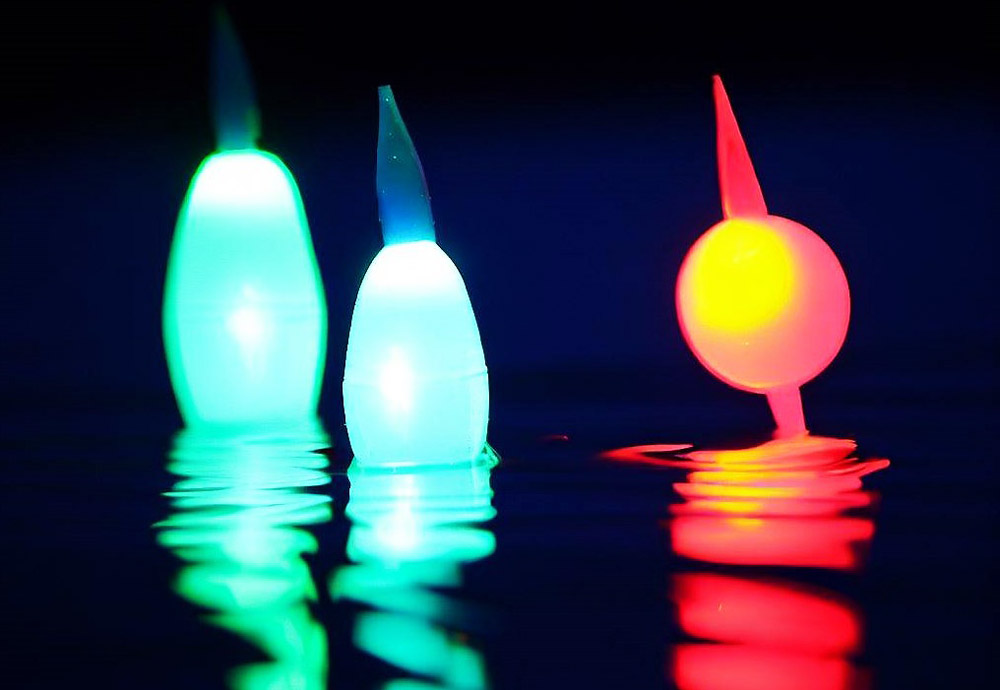 Do you love fishing at night? Do you find that it's more peaceful and calming than fishing during the day? If so, you'll want to make sure you have the right gear for this type of fishing.
In this blog post, we will be reviewing the top-rated night fishing bobbers available on the market. So whether you are a beginner or an experienced fisherman, read on to find out which is the best night fishing bobber for you!
1# Rod-N-Bobb's Revolution X Day or Night Oval Float Bobber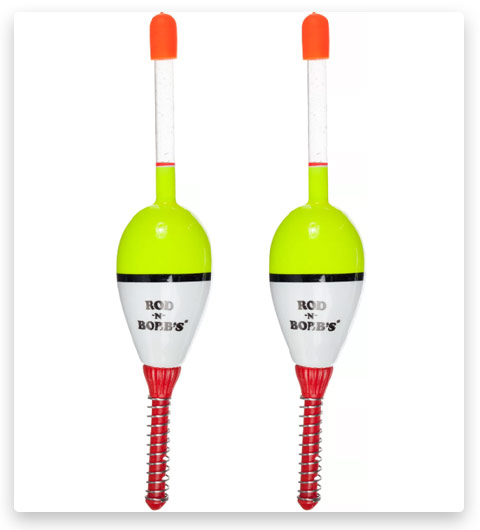 Looking for a float bobber that's updated and stylish? Look no further than Rod-N-Bobb's Revolution X Day or Night Oval Float Bobber! This spring float is perfect for vintage tackle box enthusiasts or anyone looking for a new, fun way to fish. The best part is that you can use Rod-N-Bobb's Lightsticks to light up the floating bobber after dark, so you never lose sight of your line.
2# Night Bobby Lighted Floats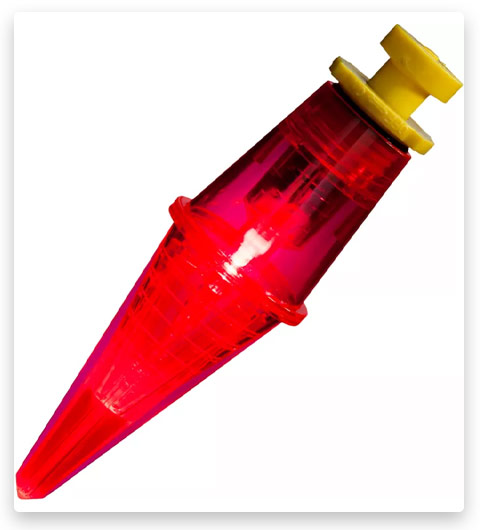 Check our Night Bobby® Lighted Floats! These innovative floats feature line locks and slip slots to keep you safe and secure, while the built-in batteries provide hours of illumination so you can play well into the night. Whether you're swimming, fishing, or just enjoying a leisurely float, Night Bobby® Lighted Floats are sure to add a touch of fun and excitement to your next water adventure!
3# Tackle 2000 Rocket Bobber Night Stalker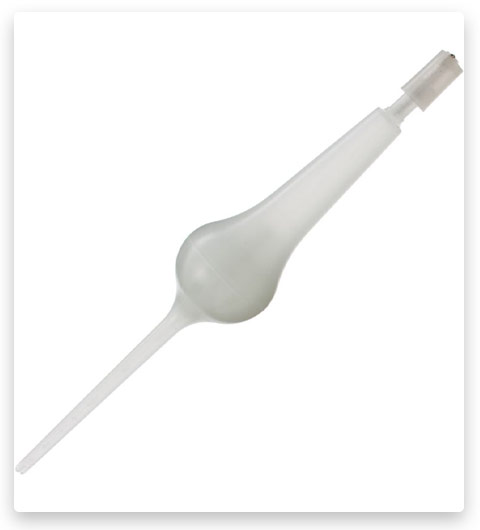 Introducing the Rocket Bobber Night Stalker – perfect for beginners and experienced night anglers alike. This super bright, glow-in-the-dark bobber is eliminating the need for batteries or glow sticks – simply give it a 2-minute charge with any light source, and it's ready to glow. Not only does the Night Stalker glows in the dark, but it also detects the lightest bites, casts out to 30 to 40 yards, and can be converted into a slip bobber without having to thread the line through the bobber. Plus, it features a built-in Lucky Fish Hook Remover™ that can be used to remove even deeply lodged hooks.
4# Rod-N-Bobb's Revolution X Day or Night Pencil Float Bobber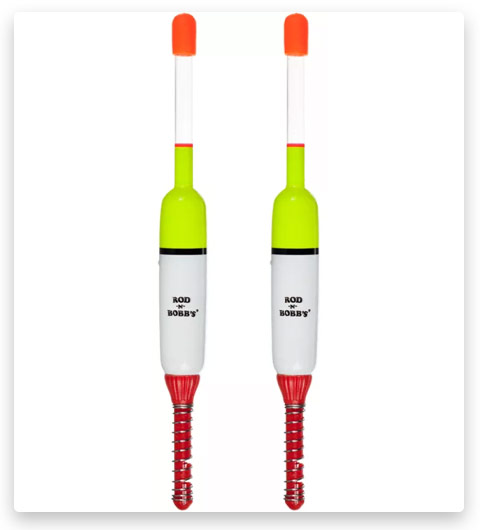 Rod-N-Bobb's® Revolution X Day or Night Pencil Bobbers are the perfect way to light up your night fishing game! These spring floats are made with traditional vintage balsa wood bobber design but come updated with a dual-line slot that allows for fixed or slip fishing. Plus, using RoRod-N-Bobb's Beacon Lightsticks to light up the Revolution X after dark keeps your eye on the line and you on the water even when the sun goes down. Imported.
5# Thill Night 'N' Day Spring Floats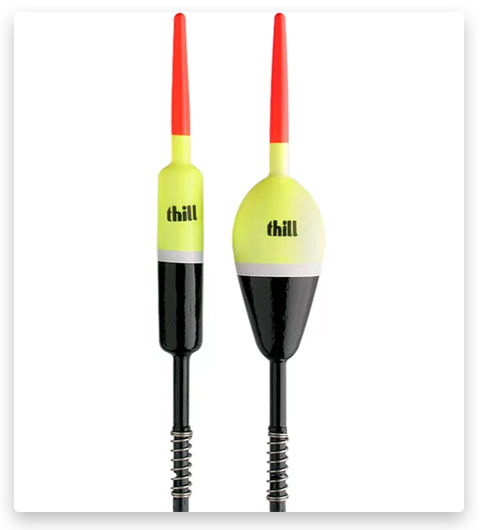 Looking for an affordable and reliable float system that will keep you visible both day and night? Look no further than Thill Night 'N' Day Spring Floats! Made of pure balsa wood, these brightly coloured floats are easy to spot during the day, and the special glow-in-the-dark paint makes them visible at night. Whether you're fishing in low light conditions or just want to be extra safe, Thill Night 'N' Day Spring Floats are a great choice.
6# Thill Float Night Light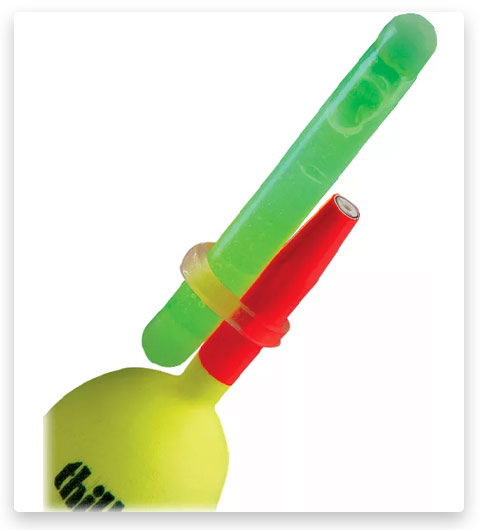 The Thill Float Night Light is the perfect addition to your night fishing arsenal! This light quickly and easily converts any float into a lighted bobber, allowing you to see what's biting even in the darkest of waters. Plus, it comes with 1 light stick and 1 adapter per card, so you can get started fishing right away!
7# Rieadco Model 158Y Night Bobby Bobber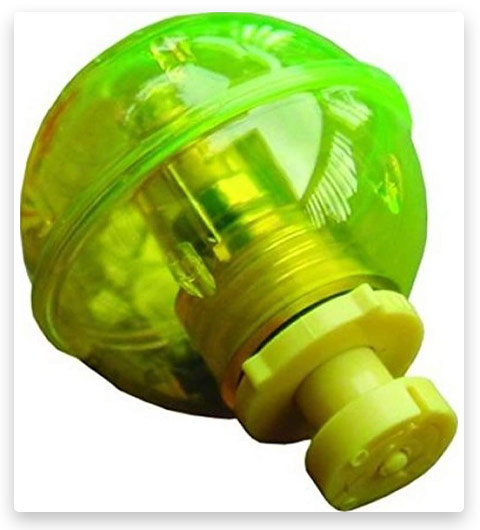 The Rieadco Night Bobby Bobber is just what you need for your next fishing trip! This high-quality product is made of durable polycarbonate and is shock-resistant. The LED light is bright and will never need replacement. The light can be seen from up to 200 feet away, making it perfect for marking your trotline. The Night Bobby also features a patented line lock for better line grip. The float can be removed without having to cut your line. This product allows your line to slip freely, making it the perfect choice for a variety of fishing styles. Order your Rieadco Night Bobby Bobber today and be sure to have a successful fishing trip!
8# QualyQualy EVA Foam Glowing Bobbers Fishing Floats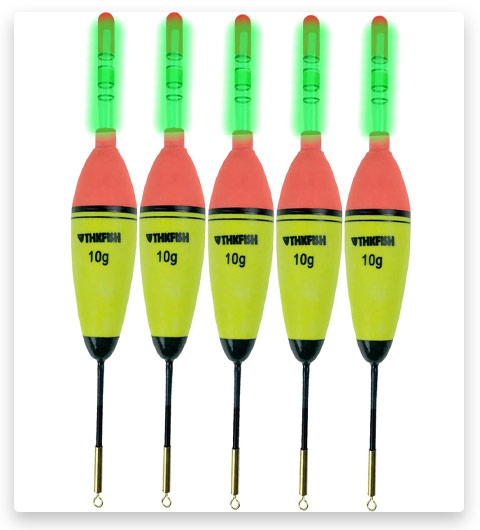 Fishing is a beloved pastime for people all around the world, and with the right gear, it can be even more enjoyable. The QualyQualy 5Pcs EVA Foam Glowing Bobbers are perfect for anyone who loves to fish, as they are top quality and work well at night. These bobbers come with 10pcs of 4.5x37mm glow sticks, so you can use them day or night. They are also great for catfish, crappie, bass, and trout fishing. The 360-degree bottom rolling swivels keep the line in the right depth while you're fishing, and the firm bottom swivel prevents the bobber from falling off.
9# THKFISH Fishing Floats Fishing Bobbers Glow Sticks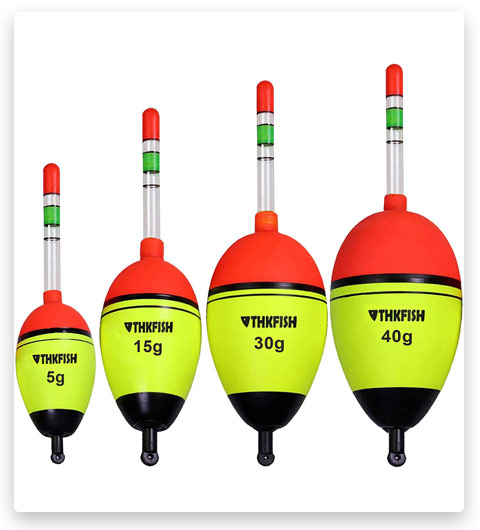 Are you looking for a Fishing Float that is easy to see, both during the day and at night? Look no further than the THKFISH Fishing Float! Available in high-visibility orange and yellow, this float is guaranteed to make your fishing trip easier and more fun. The different lengths allow you to customize your presentation, and the included glow sticks provide 10-12 hours of luminosity – perfect for night fishing! Don't let another fish get away – order your THKFISH Fishing Float today!
10# QualyQualy Lighted Bobbers Night Fishing Float Bobber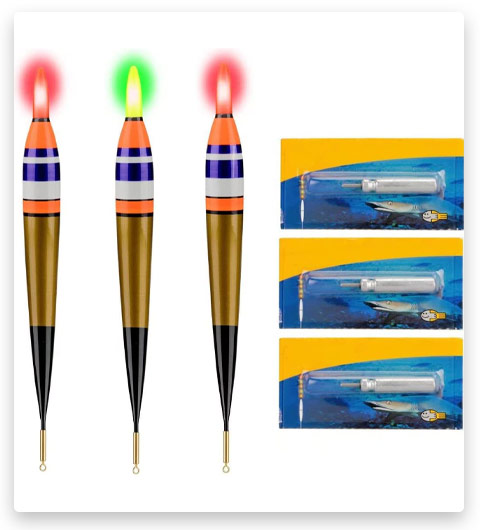 Introducing the QualyQualy Led Lighted Bobbers Fishing Floats and Bobbers! These top-quality floats are made from environmentally friendly paint and top-grade balsa wood, making them perfect for saltwater or freshwater fishing. The thick, bright light is visible at night, making it easy to see where your line is in the water. The short float foot is designed to turn over quickly when entering the water, so you can get back to fishing sooner. Order your set today and enjoy a better fishing experience!
11# THKFISH Fishing Bobbers Led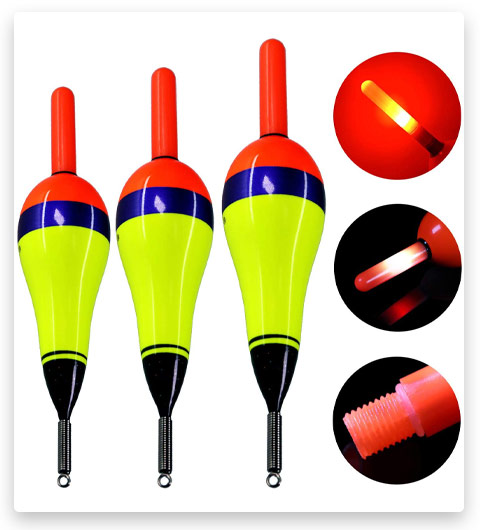 These THKFISH Fishing Bobbers are perfect for both night and day fishing! The brightly glowing light is easy to see at night, and the long-lasting battery will keep you fishing all night long. Plus, the standalone packaging makes it easy to replace batteries on the go.
12# QualyQualy LED Fishing Bobbers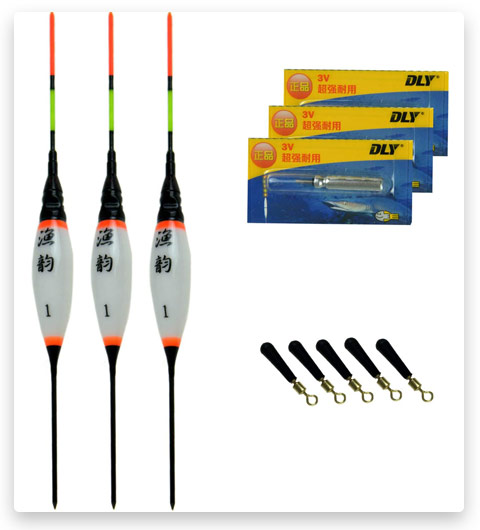 Looking for a lightweight and sensitive fishing bobber? Look no further than THKFISH's Fishing Bobbers! Made of nanophase materials, these floats are water-resistant and long-lasting. With a bright and luminous colour, they're perfect for nighttime fishing. And thanks to the short tail and foot design, they're easy to use and won't weigh you down. Give them a try today!
13# Smart Bobber The Slip Lock Lighted Bobber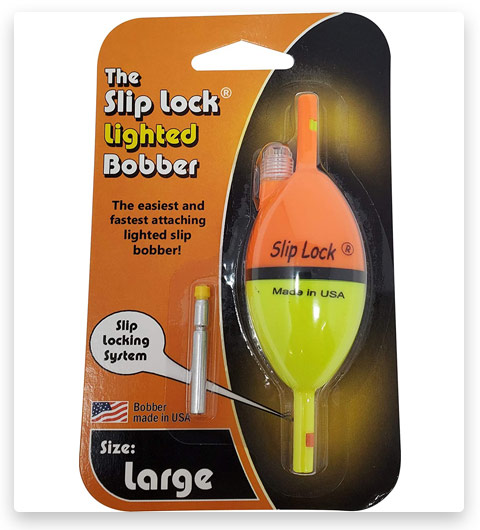 Slip Lock Lighted Slip Bobbers are the easiest and fastest attaching lighted slip bobbers available! With a quick, easy-to-use Slip Lock system, these bobbers are perfect for adding a little extra light to your fishing game.
14# Rod-N-Bobb's Lighted Slip Bobber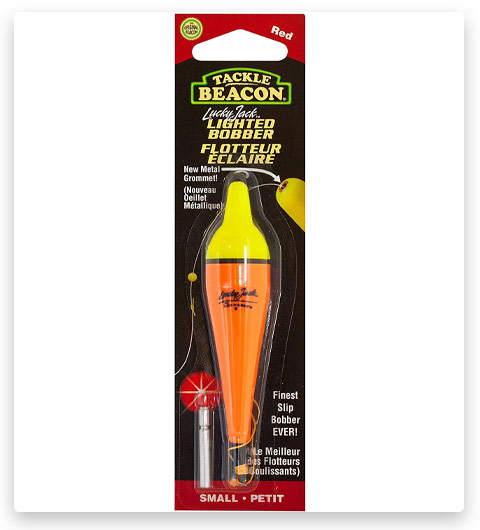 The Rod-N-Bobb's Lighted Slip Bobber is made from the finest materials and features a built-in light that makes it easy to see when a fish is biting. Whether you're fishing in low light conditions or at night, this slip bobber will help you increase your success rate. It's 4-1/4″ long and available in red. Plus, it comes with a Luckyjack battery stick so you're ready to go right out of the package. Give Rod-N-Bobb's Lighted Slip Bobber a try!
15# heaven2017 LED Vertical Night Fishing Float Bobber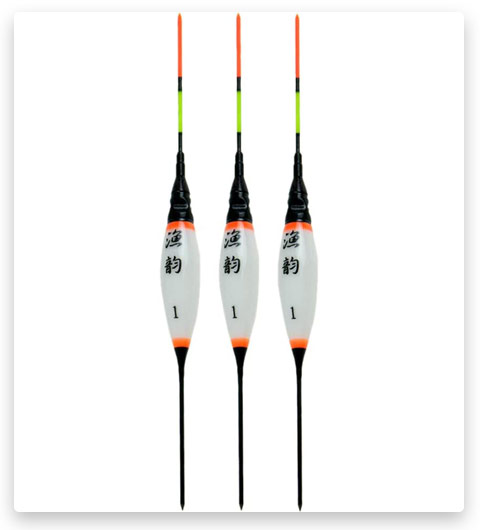 Heaven2017's LED Float Bobbers are perfect for night fishing! With three different sizes, you're sure to find the perfect one for your needs. Made with composite material and a 425 battery included, these float bobbers are tough and reliable. Plus, their luminous design makes them easy to see in the dark!
Understanding Night Fishing Bobbers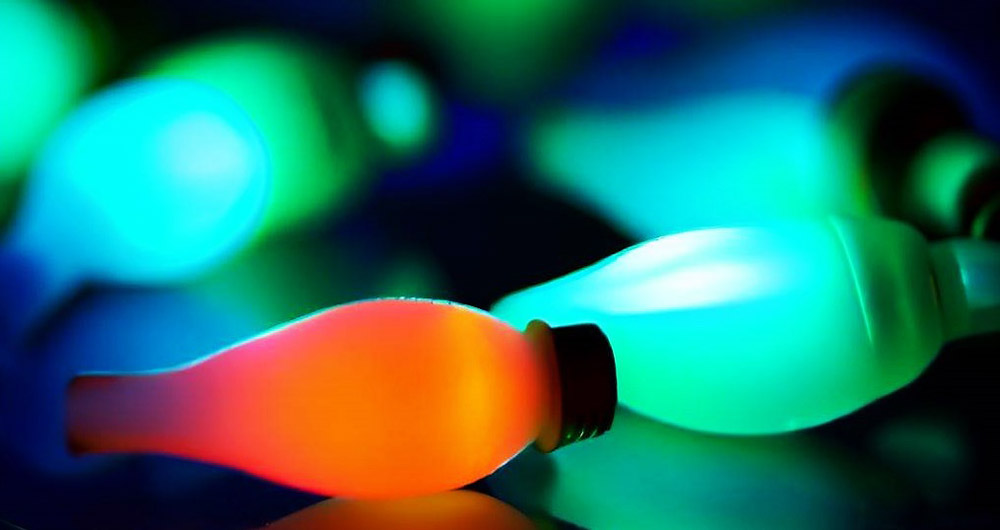 Bobber Basics: Why Every Angler Needs One
Bobbers, also known as floats, are an essential piece of equipment for many anglers. Their primary purpose is to keep the bait suspended at a predetermined depth, allowing you to target fish in specific areas of the water column. Additionally, bobbers act as visual indicators of fish bites, with sudden movements or dips signaling that a fish is nibbling or has taken the bait. By using a bobber, anglers can quickly detect when to set the hook and reel in their catch.
Nighttime Necessities: Unique Features of Night Fishing Bobbers
While traditional bobbers are effective during daylight hours, they can be challenging to see in the dark. That's where night fishing bobbers come in. These specialized bobbers are designed with low-light conditions in mind, featuring built-in lights or glowing materials to make them highly visible at night.
This illumination not only enables you to detect bites more easily but also helps you keep track of your bait's position and depth in the water, even from a distance. Additionally, many night fishing bobbers are designed to minimize disturbance on the water's surface, preventing fish from being scared away by excessive splashing or noise.
A Spectrum of Choices: Exploring Different Types of Night Fishing Bobbers
| Type | Description | Advantages | Disadvantages |
| --- | --- | --- | --- |
| LED Bobbers | Equipped with battery-powered LED lights that last for several hours; often have multiple light settings, such as steady-on or flashing modes. | Brightness, long-lasting battery life, ease of use | May require battery replacements |
| Glow-in-the-Dark | Made from materials that absorb and emit light, allowing them to glow in the dark; need to be "charged" under a bright light source before use and will gradually lose their glow over time. | Eco-friendly, chemical-free | Weaker visibility compared to other types, needs charging |
| Chem-light | Incorporate a small, replaceable chem-light or glow stick into their design; produce a bright, steady glow that can last for several hours when activated. | Durability, water resistance, consistent brightness | Chem-lights need to be replaced after use |
Each type of night fishing bobber has its advantages and drawbacks, and the best choice will depend on your personal preferences, fishing conditions, and target species. In the next sections, we'll delve into selecting the right night fishing bobber for your needs and how to maximize your success on the water after dark.
Choosing the Right Night Fishing Bobber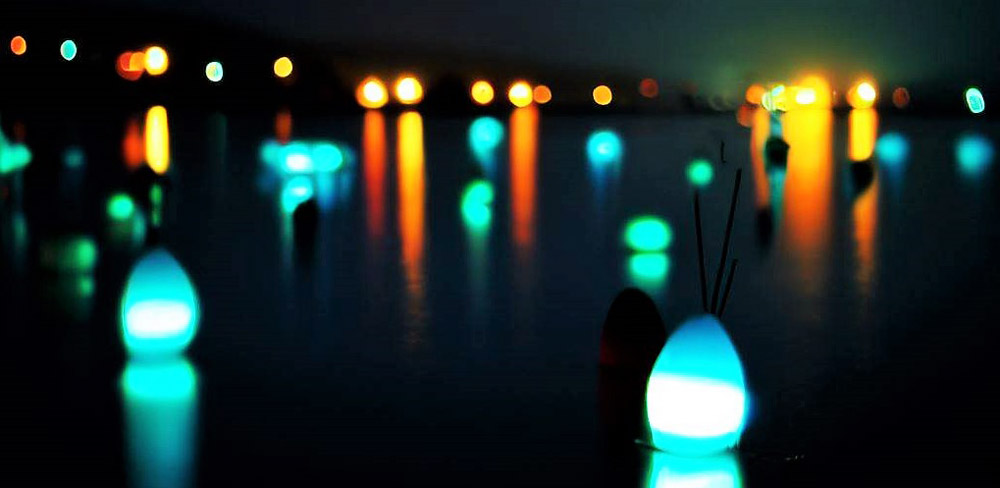 Factors to Consider: Selecting the Perfect Bobber for Your Night Fishing Adventure
Selecting the perfect night fishing bobber involves considering several factors that can impact your fishing experience. Here, we discuss some essential factors to keep in mind when choosing a bobber for your nighttime angling adventures.
Light Up the Night: Comparing Light Sources in Night Fishing Bobbers
| Factor | Importance | Considerations |
| --- | --- | --- |
| Size and buoyancy | Ensures proper buoyancy and bite detection | Targeted fish size, fishing conditions, balance between sensitivity and visibility |
| Type of light source | Determines the brightness, longevity, and eco-friendliness of the bobber | Pros and cons of LED, chemical glow sticks, and glow-in-the-dark materials; personal preferences |
| Visibility range and brightness | Affects the ease of detecting bites and tracking bait's position | Fishing conditions, body of water size, and desired level of illumination |
| Durability and water resistance | Maintains the bobber's functionality and lifespan | Material quality, water-resistant seals or compartments, initial cost vs. long-term savings |
| Ease of attachment and adjustment | Influences the user's ability to set up and modify the bobber's position on the fishing line | Built-in line clips, knot-tying requirements, additional accessories, personal preferences and ease of use |
Tailored Recommendations: Matching Bobbers to Your Fishing Scenarios
| Condition | Recommendation | Explanation |
| --- | --- | --- |
| Still water | Smaller, sensitive bobber with a subtle light source (e.g., glow-in-the-dark or chem-light bobbers) | Less likely to spook fish in calm waters; subtle light source helps maintain a low-profile |
| Fast current | Larger, more buoyant bobber with a bright light source (e.g., LED bobber) | Maintains visibility and stays afloat in fast-moving water |
| Species-specific | Consider the behavior and preferences of the targeted species when choosing the bobber size and brightness (e.g., larger and brighter for catfish, smaller and less conspicuous for trout) | Different species have varying reactions to light and disturbance, so adapt your choice of bobber accordingly |
Ultimately, the right night fishing bobber for you will depend on your personal preferences, the fishing conditions, and the species you're targeting. By considering the factors discussed above, you'll be well on your way to selecting the perfect bobber for your nighttime angling adventures.
Setting Up Your Night Fishing Bobber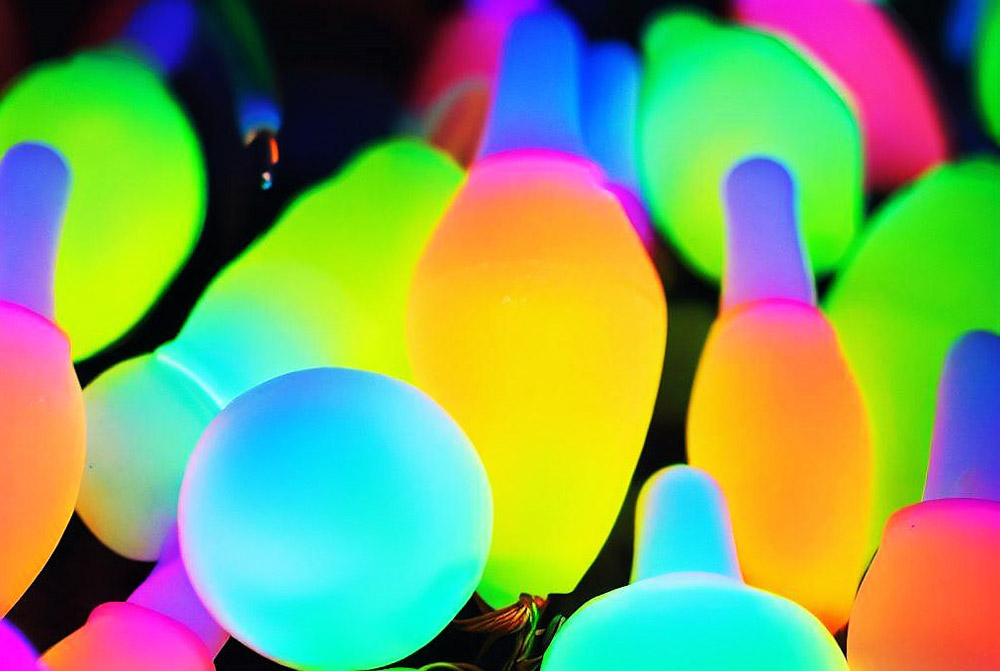 Rigging 101: A Step-by-Step Guide to Prepping Your Night Fishing Bobber
Rigging a night fishing bobber may seem daunting at first, but with a little practice, it becomes a straightforward process. Here's a step-by-step guide to help you set up your night fishing bobber for success:
| Step | Action | Explanation |
| --- | --- | --- |
| Assemble the bobber | Ensure batteries or glow sticks are installed and functioning, or charge the glow-in-the-dark bobber under a bright light source | Properly assemble the bobber according to its type to ensure its effectiveness during night fishing |
| Attach the bobber | Clip the bobber onto your line or tie a knot, such as a slip knot | Securely attach the bobber to your fishing line using the appropriate method based on its design |
| Set the depth | Slide the bobber up or down the line to achieve the desired depth | Determine the appropriate depth for your bait based on the target species and water conditions, and adjust the bobber's position accordingly |
| Attach bait and sinker | Tie your preferred hook to the end of your line, add bait, and attach a sinker if necessary | Complete your rig by attaching the bait and sinker, which will help the bait reach the desired depth and stay suspended in the water |
Troubleshooting Common Challenges: Tips and Tricks for Bobber Rigging
| Challenge | Solution | Explanation |
| --- | --- | --- |
| Difficulty seeing the bobber | Switch to a brighter light source or attach a small glow stick to the existing bobber | Enhance the visibility of your bobber with a brighter light source, such as an LED bobber, or by adding a glow stick |
| Bobber getting caught in vegetation | Use a weedless hook or add a small weight to your line | Prevent snagging when fishing in areas with heavy vegetation or underwater structures by using a weedless hook or adjusting your line weight |
| Bobber being pulled under | Use a larger, more buoyant bobber or reduce the weight of your bait and sinker | Address issues of the bobber being pulled underwater by heavy bait or strong currents by adjusting bobber size or modifying bait and sinker |
Depth Matters: Optimizing Bobber Placement for Your Target Species
| Strategy | Purpose | Explanation |
| --- | --- | --- |
| Observe the water | Identify areas of fish activity | Look for signs of fish activity, such as jumping fish or ripples, to help determine where to place your bobber |
| Consider the species | Adjust bobber depth based on target species' preferences | Research the habits of your target species and set your bobber depth accordingly to match their preferred water column |
| Experiment with depths | Find the most effective depth for catching fish | Adjust your bobber to suspend your bait at different depths if you're not having success; consider factors like water temperature, time of day, and food availability |
| Adjust for water conditions | Use appropriate bobber size and buoyancy for different water conditions | In fast currents or rough water, use a larger, more buoyant bobber; in calm, still water, use a smaller, more discreet bobber |
With these tips and techniques, you'll be well-prepared to rig your night fishing bobber and optimize your setup for a successful night on the water.
Techniques for Maximizing Your Night Fishing Success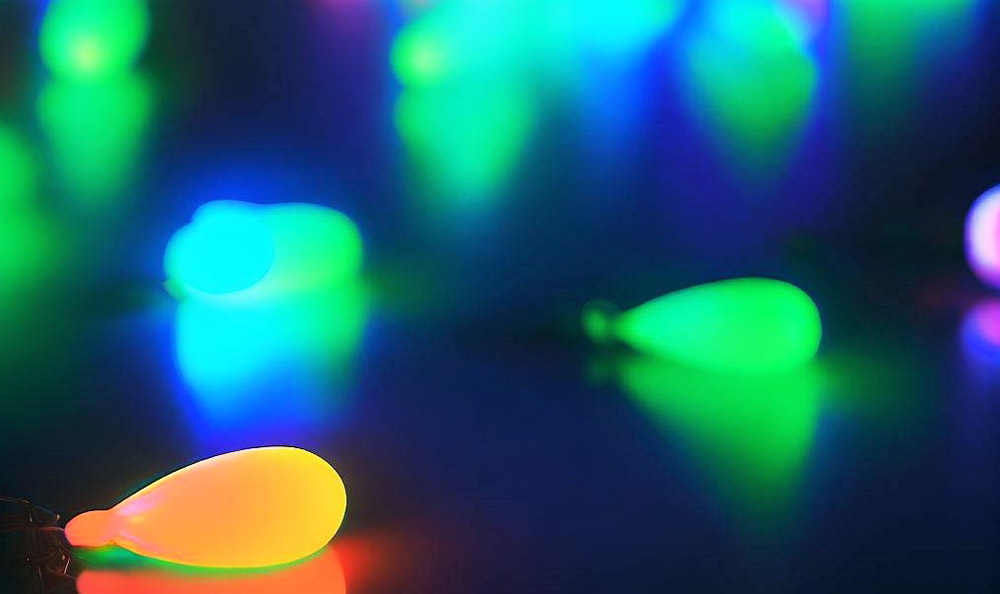 Embracing the Shadows: The Importance of Stealth in Night Fishing
🤙🏻The importance of stealth and minimal disturbance at night:
During the night, fish rely more on their senses of hearing and lateral line detection to navigate and locate prey. As a result, maintaining a stealthy approach and minimizing disturbance on the water's surface is crucial for successful night fishing.
Excessive noise, vibrations, or sudden light changes can easily spook fish and make them less likely to bite. By staying quiet and reducing disturbance, you increase your chances of attracting fish to your bait.
Cast and Conquer: Mastering the Art of Casting and Retrieving with a Bobber
🌞Strategies for casting and retrieving with a night fishing bobber:
Soft casts: When casting your line, aim for a gentle, quiet entry into the water. This can be achieved by using a sidearm or underhand cast, allowing the bobber to land softly and create a minimal disturbance.
Controlled retrieves: When reeling in your line, use a slow and steady retrieve to maintain a natural presentation of your bait. Erratic movements or fast retrieves may spook fish or cause them to lose interest in your bait.
Periodic pauses: During the retrieve, periodically pause to allow your bait to settle and give the fish the opportunity to investigate and strike. This can be particularly effective when targeting species that are cautious or slow to bite.
Reading the Signs: Deciphering Bobber Movement and Detecting Bites
🤣Interpreting bobber movement and recognizing bites:
Understanding the subtle movements of your bobber is essential for detecting when a fish has taken your bait. Typical signs of a bite may include:
Quick, sudden dips: If your bobber suddenly dips below the surface and then re-emerges, it's likely that a fish has struck your bait.
Erratic movement: If your bobber begins to move erratically, it could be a sign that a fish is investigating or nibbling on your bait.
Steady pull: If your bobber is pulled steadily underwater, it may indicate that a fish has taken your bait and is swimming away with it.
When you notice any of these signs, wait for a moment to ensure the fish has taken the bait, and then set the hook with a firm, upward motion of your rod.
Adaptable Angling: Adjusting Techniques for Various Species and Environments
🤏Adapting techniques for different species and environments:
Different fish species and environments may require adjustments to your night fishing techniques to maximize success:
Freshwater: When fishing in freshwater environments, focus on targeting species-specific feeding habits and habitats. For example, bass may be found near underwater structures, while trout often prefer deeper, cooler waters.
Saltwater: In saltwater environments, be prepared to adjust your tactics based on factors such as tidal movements, currents, and water temperature. Species like snook or redfish may move into shallow waters during high tide to feed, while others like tarpon may be more active during specific tide phases.
Species-specific techniques: Research the habits and preferences of your target species to refine your techniques. Some fish may be more attracted to specific bait presentations, while others may require a slower or faster retrieval.
By incorporating stealth and minimal disturbance, mastering casting and retrieving strategies, interpreting bobber movements, and adapting your techniques to different species and environments, you'll be well on your way to maximizing your night fishing success with a bobber.
Safety Considerations and Responsible Night Fishing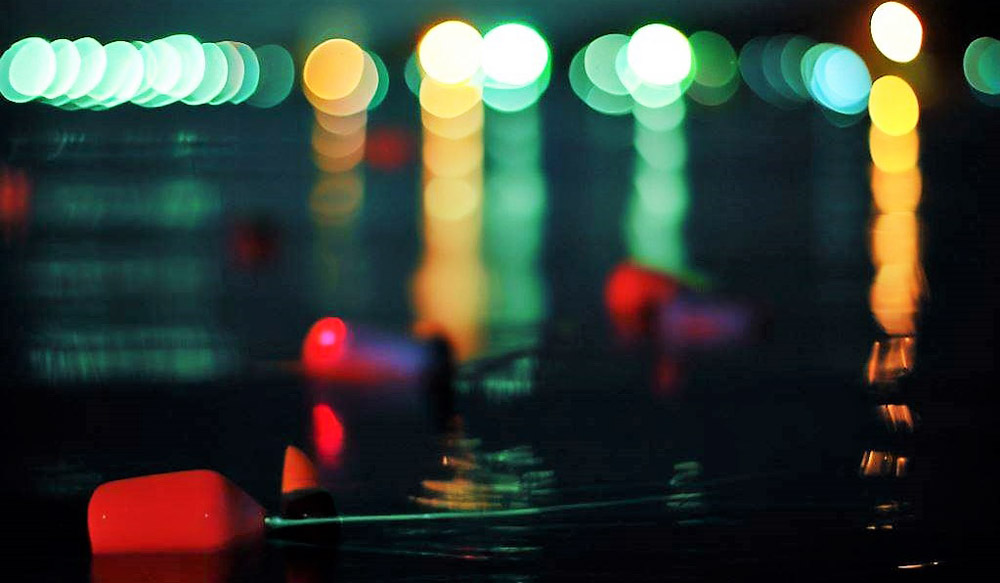 The excitement and serenity of night fishing can be overshadowed if safety precautions and responsible practices are not followed. In this section, we emphasize the importance of safety during night fishing expeditions and discuss essential gear, tips for navigating hazards, and responsible fishing practices.
Safety First: Essential Precautions for Night Fishing Expeditions
🧬Safety during night fishing expeditions:
Fishing at night presents unique challenges that can pose risks to anglers. Low visibility, unfamiliar surroundings, and potential encounters with wildlife all warrant extra vigilance and precaution. Prioritize safety at all times to ensure a positive and enjoyable night fishing experience.
Equipped for the Dark: Must-Have Safety Gear for Nighttime Anglers
🪐Essential safety gear:
| Safety Gear | Usage | Explanation |
| --- | --- | --- |
| Headlamps or flashlights | Navigating surroundings, rigging tackle, maintaining footing | Provides a reliable light source and allows for hands-free use |
| Life jackets | Worn when fishing from a boat or near deep water | Ensures safety in case of an unexpected fall or accident |
| Reflective clothing or accessories | Wearing reflective vests, hats, or wristbands | Increases visibility to other anglers and boaters, reducing risk of collisions or accidents |
| Whistle or noise-making device | Carrying a whistle or other noise-making device | Signals for help or alerts others to your presence in case of emergency |
| First-aid kit | Addressing minor injuries, insect bites, or allergic reactions | Keeps essential supplies on hand for immediate medical attention |
Navigating Nighttime Challenges: Tips for Avoiding Hazards in Low Light
🔶Tips for navigating and avoiding hazards in low-light conditions:
| Tip | Action | Explanation |
| --- | --- | --- |
| Know your surroundings | Familiarize yourself with the fishing area during daylight hours | Identify potential hazards, such as underwater obstacles, steep banks, or slippery surfaces |
| Slow down | Move slowly and deliberately | Pay close attention to your footing and any changes in terrain or water depth |
| Use your light wisely | Use your headlamp or flashlight to illuminate your path, but avoid shining it on the water | Illuminate your surroundings without spooking fish |
| Communicate with fellow anglers | Let others know where you are and what you're doing | Prevent accidents and crossed lines by keeping everyone aware of your movements and actions in the fishing area |
Sustainable Success: Promoting Responsible Night Fishing Practices
🚤Responsible fishing practices:
| Practice | Action | Explanation |
| --- | --- | --- |
| Catch-and-release | Use barbless hooks or crimp the barbs on your hooks | Conserve fish populations and promote a healthy ecosystem by minimizing harm during releases |
| Respect local regulations | Adhere to size and bag limits, seasonal closures, or gear restrictions | Ensure the long-term sustainability of fish populations and habitats by following local fishing regulations |
| Leave no trace | Pack out all trash, fishing line, and discarded tackle | Protect the environment and minimize harm to wildlife by removing waste from fishing areas |
| Be considerate of other anglers | Share the fishing area respectfully and maintain a reasonable distance from other anglers | Create a positive experience for all anglers by respecting their space and promoting a friendly atmosphere on the water |
By emphasizing safety, using the appropriate gear, navigating carefully, and practicing responsible fishing, you can enjoy night fishing with a bobber while preserving the environment and ensuring a memorable experience for yourself and fellow anglers.
FAQ: Master the Art of Night Fishing with Bobbers
Conclusion: Unleashing the Power of Bobbers in Night Fishing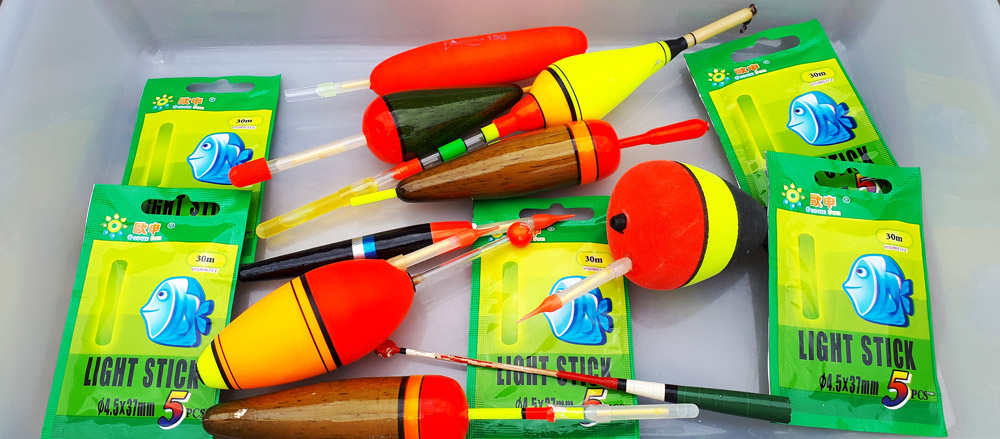 Night fishing with bobbers offers a unique and thrilling experience that combines the tranquility of nighttime with the anticipation and excitement of angling. By using night fishing bobbers, anglers can detect even the subtlest of bites and increase their chances of success in low-light conditions. The combination of specialized gear, tailored techniques, and an emphasis on safety and responsibility ensures a rewarding and unforgettable adventure on the water.
Reflecting on the Benefits: The Joy of Night Fishing with Bobbers
We encourage you to embrace this captivating aspect of the sport and explore the world of night fishing with bobbers. The serene atmosphere, heightened senses, and potential for memorable catches make it an experience worth trying for anglers of all skill levels.
An Invitation to Adventure: Experience the Unforgettable Thrill of Night Fishing
As the legendary angler, Izaak Walton once said, "Good company in a journey makes the way seem shorter." With the right approach and a night fishing bobber at your side, you'll find that the hours spent under the moonlit sky are filled with camaraderie, excitement, and a deepened appreciation for the wonders of nature.
Reeling in Inspiration: Memorable Quotes and Anecdotes from Legendary Anglers
So grab your gear, gather your friends, and venture into the mysterious and enchanting world of night fishing with bobbers. You'll soon discover that the allure of the moonlit waters, the thrill of the chase, and the satisfaction of a successful catch create an experience that lingers long after the sun has risen.
Optional Additions: Night Owls Rejoice
Angler Insights: Exclusive Interviews with Professional Night Fishers
Gaining insights from seasoned night anglers can be an invaluable resource for those looking to enhance their night fishing skills with bobbers. In this section, we present exclusive interviews with professional night fishers who share their experiences, tips, and advice to help you make the most of your nighttime angling adventures.
Interview with Captain Mark Johnson:
Captain Mark Johnson is a renowned night fishing guide with over 20 years of experience. He has honed his skills in various environments, targeting a wide range of fish species. In our interview, Captain Johnson emphasizes the importance of being patient and observant while night fishing.
Key takeaways: Familiarize yourself with the target species' behaviors and habitats, and pay close attention to the subtle signs of fish activity. Additionally, Captain Johnson recommends using high-quality, brightly lit bobbers to maximize visibility and bite detection.
Interview with Professional Angler Sarah Thompson:
Sarah Thompson is a professional angler who has competed in numerous night fishing tournaments. She offers valuable advice on selecting the right type of bobber for different fishing conditions and species.
Key takeaways: Consider factors such as water conditions, target species, and personal preferences when selecting a bobber. For example, LED bobbers may be more suitable for large bodies of water or rough conditions, while glow-in-the-dark bobbers are ideal for calm, still waters and skittish fish.
Interview with Night Fishing Expert Tom Davis:
Tom Davis is a night fishing expert who has authored several books on the subject. He shares his tips for maintaining safety during nighttime fishing excursions and practicing responsible fishing.
Key takeaways: Prioritize safety by familiarizing yourself with the fishing area, wearing appropriate safety gear, and communicating with fellow anglers. Additionally, practice catch-and-release fishing, respect local regulations, and minimize environmental impact to promote a healthy ecosystem.
Tales of Triumph: Case Studies of Successful Night Fishing Expeditions
In this section, we'll explore several case studies of successful night fishing trips where bobbers played a pivotal role, detailing the tactics used, species targeted, and conditions faced. By sharing these real-life examples, we hope to inspire readers to embark on their own nighttime fishing adventures.
✅Crappie Fishing on Lake X
Angler John Doe set out on a calm summer night to target crappie on Lake X. Armed with his trusty LED bobbers, John found a promising spot near a submerged brush pile. He adjusted the depth of his bobber to suspend his live minnow bait just above the structure. The bright LED light allowed John to detect subtle bites, and he successfully landed several sizable crappies throughout the night.
Key takeaways: LED bobbers are highly effective in detecting bites and tracking bait location, and adjusting the depth based on underwater structures can yield positive results.
✅Catfishing on the Mighty Mississippi
During a warm, moonlit night, angler Jane Smith ventured to the Mississippi River to target catfish. Using chem-light bobbers for their consistent brightness and durability, Jane cast her line with cut bait near the riverbank. Despite the strong current, her bobber remained visible, and she quickly began reeling in channel catfish. By the end of the night, Jane had caught and released several large catfish, all thanks to her chem-light bobber.
Key takeaways: Chem-light bobbers provide reliable visibility in fast currents and are well-suited for targeting species like catfish that are less likely to be spooked by light.
✅Trout Fishing in a Mountain Stream
Angler Sam Brown embarked on a nighttime trout fishing expedition in a serene mountain stream. Opting for a subtle, glow-in-the-dark bobber, Sam carefully approached a pool where he had observed trout feeding earlier in the day. By delicately presenting his bait at varying depths, Sam managed to catch several beautiful trout without disturbing the wary fish.
Key takeaways: Glow-in-the-dark bobbers offer a discreet light source ideal for targeting skittish species like trout and are best used in calm, still waters.
Light Up Your Gear: Product Reviews and Comparisons of Popular Night Fishing Bobbers
Night fishing bobbers play a crucial role in enhancing your angling experience after dark, allowing you to detect bites and track your bait's position. With numerous options available, it can be challenging to choose the right one for your needs. In this article, we'll provide detailed reviews and comparisons of popular night fishing bobbers, focusing on factors such as ease of use, visibility, durability, price, and overall performance.
✅LED Bobbers
Thill Nite Brite Lighted Float: This LED bobber offers excellent visibility with its bright light and has a long-lasting battery life. The easy-to-replace battery and slip or fixed-line functionality make it a versatile choice. However, it may be a bit pricier than other options.
Premier Lighted Float: This bobber features an LED light with adjustable brightness settings, making it suitable for various fishing conditions. It is easy to use and has a durable design, but the battery life may be shorter than other LED bobbers.
✅Glow-in-the-Dark Bobbers
Betts Snap-On Glow Stick Float: This eco-friendly option absorbs and emits light, making it glow in the dark. It is simple to use, with a snap-on design that eliminates the need for tying knots. The visibility may not be as strong as LED or chem-light bobbers, and recharging under a light source is necessary.
Rod-N-Bobb's Beacon Glow Bobber: Made from high-quality materials, this glow-in-the-dark bobber is durable and offers decent visibility. It requires exposure to a light source for charging and may lose its glow over time. Its adjustable depth settings and slip or fixed-line functionality add versatility.
✅Chem-light Bobbers
Luminous EEL Chem-light Bobber: This float incorporates a replaceable chem-light, providing a bright and steady glow. The chem-light is easy to activate, and the bobber is both water-resistant and durable. However, disposable chem-light sticks can produce waste.
Thill Lighted Night Float: This chem-light bobber offers consistent brightness and durability, with a water-resistant design that houses a replaceable glow stick. It is easy to use and adjust for different depths, but like other chem-light bobbers, it can generate waste due to disposable glow sticks.
Capturing Moonlit Memories: Tips for Stunning Nighttime Fishing Photography
Night fishing provides a serene and otherworldly atmosphere, making it an ideal backdrop for stunning photography. The moonlit sky, shimmering water, and quiet moments between angler and nature present unique opportunities to create memorable images.
✅Camera Settings
To take beautiful photos in low-light conditions, adjusting your camera settings is crucial. Here are some general guidelines to follow:
Use a high ISO setting (800 or higher) to increase the camera's sensitivity to light, but beware of potential noise or graininess.
Opt for a wide aperture (low f-stop number) to allow more light into the lens.
Experiment with slower shutter speeds to capture more light but use a tripod to avoid camera shakes and blurry images.
✅Composition
The composition of your photos is key to conveying the mood and atmosphere of the night fishing experience. Consider the following tips:
Utilize the rule of thirds by positioning your subject off-center for a more dynamic and engaging shot.
Incorporate interesting elements such as silhouettes, reflections, or the moon itself to add depth and intrigue.
Capture the angler's interaction with the environment, highlighting the relationship between them and the water, their gear, or the fish they catch.
✅Lighting Techniques
Effective lighting can transform a nighttime fishing photo from ordinary to extraordinary. Keep these tips in mind:
Use the moonlight as a natural light source to create soft, ethereal illumination.
Experiment with artificial lighting such as flashlights or headlamps, but be cautious not to overexpose the scene or spook the fish.
Play with light painting by using a slow shutter speed and moving a light source during the exposure to create unique patterns and effects.
✅Utilizing the Natural Environment
Incorporating the natural environment into your photos can enhance the sense of immersion and wonder. Try these approaches:
Frame your subject with surrounding trees, rocks, or other natural elements to create a sense of depth and context.
Capture the water's movement by using long exposures to create a dreamy, flowing effect.
Emphasize the vastness of the sky and the stars by including them in your composition, giving a sense of scale and awe.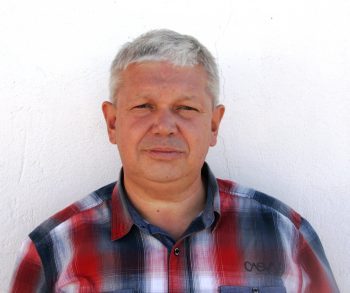 Sergio Smirnoff
Professional fisherman with 40+ years of experience.
Fishing and the ocean is a passion of my life. I am passionate about all kinds of sea fishing: fishing from the shore (spinning, float, baitcasting), from a boat, and spearfishing day and night.
I live in Tenerife (Canary Islands) for the last 10+ years and share my daily fishing experiences on my website. Many years of personal experience as a fisherman and the vast experience of my friends allow me to write professionally on any fishing topics (from choosing a flashlight and equipment to deep-sea fishing).
All of my advice is based on practical real-world experience and will be useful to both novice anglers and professionals.
Read more
about the author.
Affiliate Disclosure: FishReeler.com sometimes gets paid for listings, through sponsors or affiliate programs like Amazon, Ebay, Cabelas, Bass Pro Shop, Shimano, Daiwa, Rapala, Renn, Okuma, KastKing, etс. Clicking a link helps keep FishReeler.com free, at no extra cost to you!
About the author: Each article is verified by the fishing expert Sergio Smirnoff. The articles are written by professional and amateur fishermen with 20+ years of fishing experience.
Note: The views and opinions expressed in this article are those of the authors and do not necessarily reflect the official policy or position of any agency. The articles are for informational purposes only, share your opinions in the comments and join the fishing discussions, let's share our fishing experiences together!