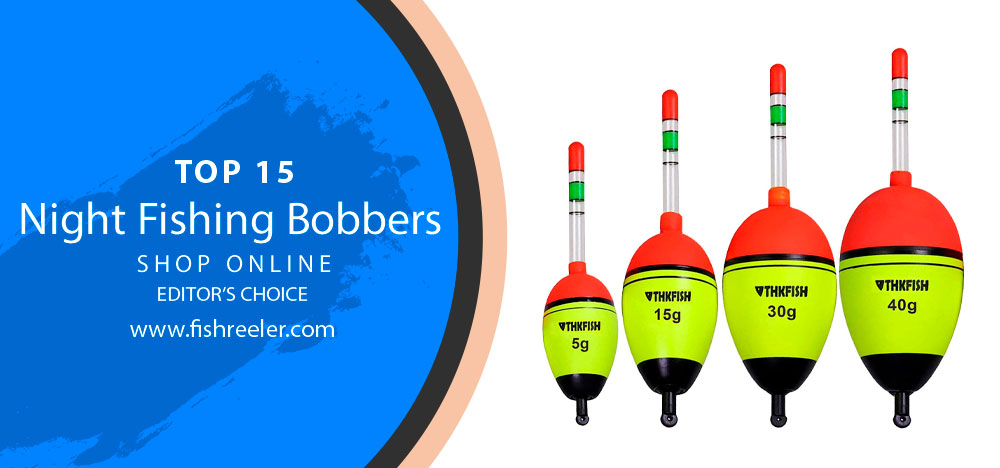 Do you love fishing at night? Do you find that it's more peaceful and calming than fishing during the day? If so, you'll want to make sure you have the right gear for this type of fishing.
Best Night Fishing Bobbers Review
In this blog post, we will be reviewing the top-rated night fishing bobbers available on the market. So whether you are a beginner or an experienced fisherman, read on to find out which is the best night fishing bobber for you!
1# Rod-N-Bobb's Revolution X Day or Night Oval Float Bobber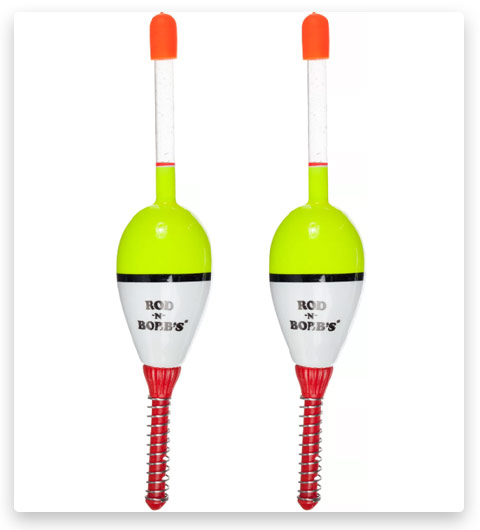 Looking for a float bobber that's updated and stylish? Look no further than Rod-N-Bobb's Revolution X Day or Night Oval Float Bobber! This spring float is perfect for vintage tackle box enthusiasts or anyone looking for a new, fun way to fish. The best part is that you can use Rod-N-Bobb's Lightsticks to light up the floating bobber after dark, so you never lose sight of your line.
2# Night Bobby Lighted Floats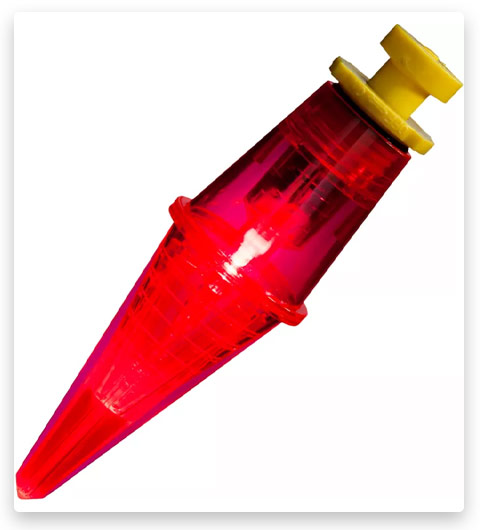 Check our Night Bobby® Lighted Floats! These innovative floats feature line locks and slip slots to keep you safe and secure, while the built-in batteries provide hours of illumination so you can play well into the night. Whether you're swimming, fishing, or just enjoying a leisurely float, Night Bobby® Lighted Floats are sure to add a touch of fun and excitement to your next water adventure!
3# Tackle 2000 Rocket Bobber Night Stalker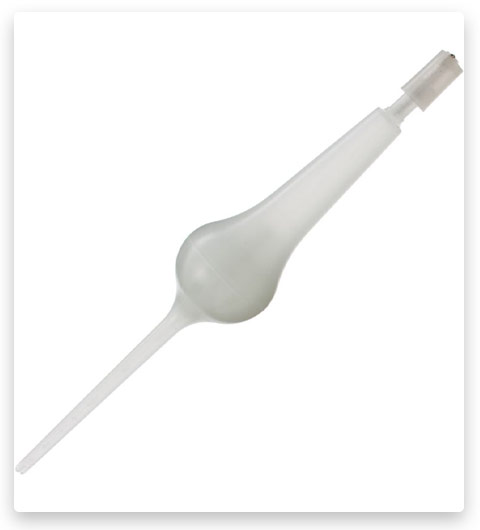 Introducing the Rocket Bobber Night Stalker – perfect for beginners and experienced night anglers alike. This super bright, glow-in-the-dark bobber is eliminating the need for batteries or glow sticks – simply give it a 2-minute charge with any light source, and it's ready to glow. Not only does the Night Stalker glows in the dark, but it also detects the lightest bites, casts out to 30 to 40 yards, and can be converted into a slip bobber without having to thread the line through the bobber. Plus, it features a built-in Lucky Fish Hook Remover™ that can be used to remove even deeply lodged hooks.
4# Rod-N-Bobb's Revolution X Day or Night Pencil Float Bobber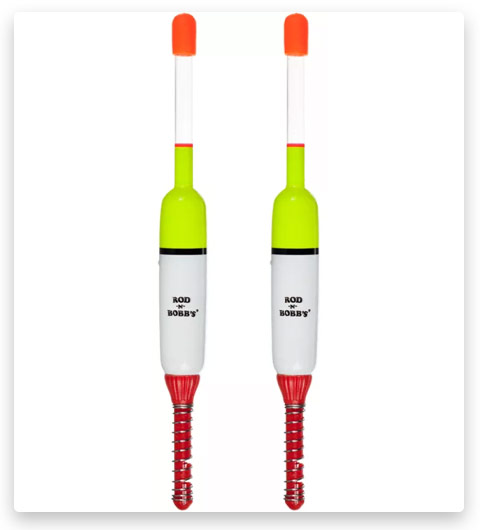 Rod-N-Bobb's® Revolution X Day or Night Pencil Bobbers are the perfect way to light up your night fishing game! These spring floats are made with traditional vintage balsa wood bobber design but come updated with a dual-line slot that allows for fixed or slip fishing. Plus, using RoRod-N-Bobb's Beacon Lightsticks to light up the Revolution X after dark keeps your eye on the line and you on the water even when the sun goes down. Imported.
5# Thill Night 'N' Day Spring Floats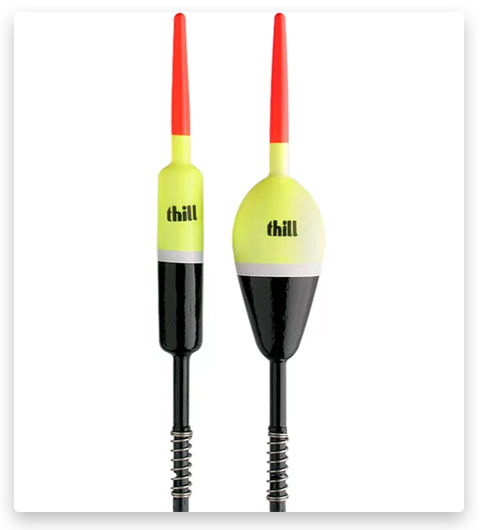 Looking for an affordable and reliable float system that will keep you visible both day and night? Look no further than Thill Night 'N' Day Spring Floats! Made of pure balsa wood, these brightly coloured floats are easy to spot during the day, and the special glow-in-the-dark paint makes them visible at night. Whether you're fishing in low light conditions or just want to be extra safe, Thill Night 'N' Day Spring Floats are a great choice.
6# Thill Float Night Light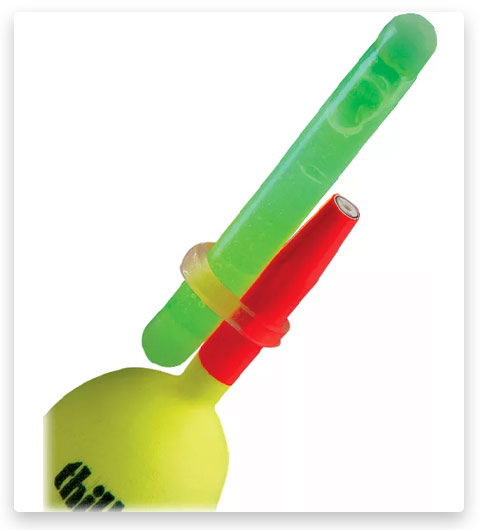 The Thill Float Night Light is the perfect addition to your night fishing arsenal! This light quickly and easily converts any float into a lighted bobber, allowing you to see what's biting even in the darkest of waters. Plus, it comes with 1 light stick and 1 adapter per card, so you can get started fishing right away!
7# Rieadco Model 158Y Night Bobby Bobber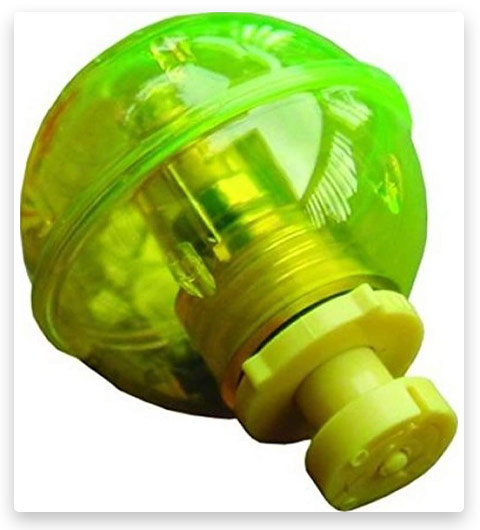 The Rieadco Night Bobby Bobber is just what you need for your next fishing trip! This high-quality product is made of durable polycarbonate and is shock-resistant. The LED light is bright and will never need replacement. The light can be seen from up to 200 feet away, making it perfect for marking your trotline. The Night Bobby also features a patented line lock for better line grip. The float can be removed without having to cut your line. This product allows your line to slip freely, making it the perfect choice for a variety of fishing styles. Order your Rieadco Night Bobby Bobber today and be sure to have a successful fishing trip!
8# QualyQualy EVA Foam Glowing Bobbers Fishing Floats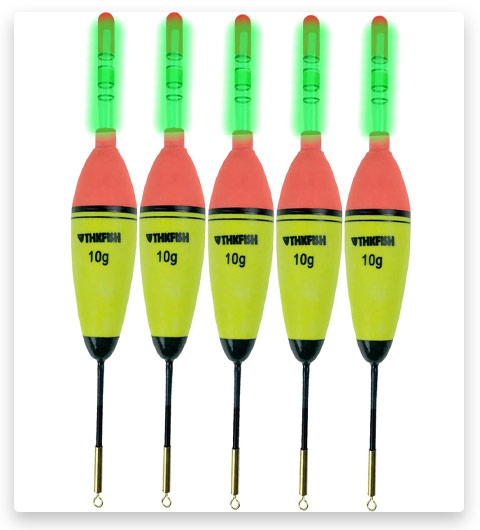 Fishing is a beloved pastime for people all around the world, and with the right gear, it can be even more enjoyable. The QualyQualy 5Pcs EVA Foam Glowing Bobbers are perfect for anyone who loves to fish, as they are top quality and work well at night. These bobbers come with 10pcs of 4.5x37mm glow sticks, so you can use them day or night. They are also great for catfish, crappie, bass, and trout fishing. The 360-degree bottom rolling swivels keep the line in the right depth while you're fishing, and the firm bottom swivel prevents the bobber from falling off.
9# THKFISH Fishing Floats Fishing Bobbers Glow Sticks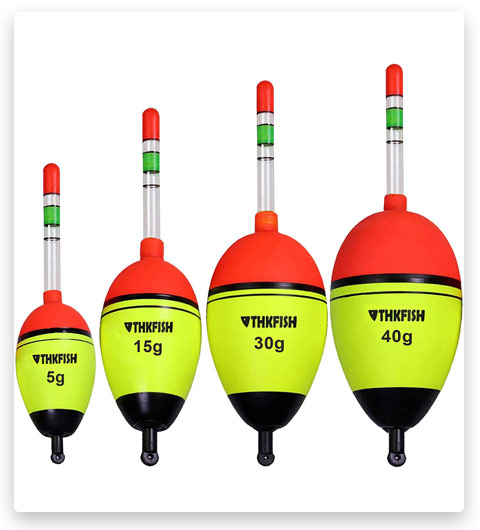 Are you looking for a Fishing Float that is easy to see, both during the day and at night? Look no further than the THKFISH Fishing Float! Available in high-visibility orange and yellow, this float is guaranteed to make your fishing trip easier and more fun. The different lengths allow you to customize your presentation, and the included glow sticks provide 10-12 hours of luminosity – perfect for night fishing! Don't let another fish get away – order your THKFISH Fishing Float today!
10# QualyQualy Lighted Bobbers Night Fishing Float Bobber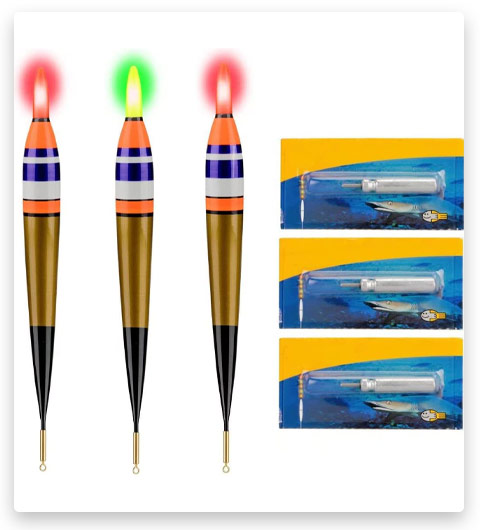 Introducing the QualyQualy Led Lighted Bobbers Fishing Floats and Bobbers! These top-quality floats are made from environmentally friendly paint and top-grade balsa wood, making them perfect for saltwater or freshwater fishing. The thick, bright light is visible at night, making it easy to see where your line is in the water. The short float foot is designed to turn over quickly when entering the water, so you can get back to fishing sooner. Order your set today and enjoy a better fishing experience!
11# THKFISH Fishing Bobbers Led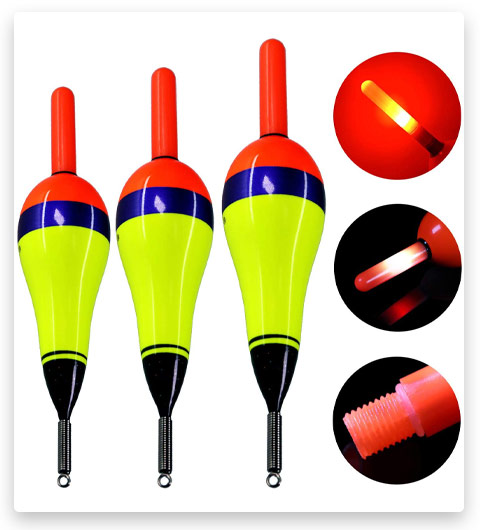 These THKFISH Fishing Bobbers are perfect for both night and day fishing! The brightly glowing light is easy to see at night, and the long-lasting battery will keep you fishing all night long. Plus, the standalone packaging makes it easy to replace batteries on the go.
12# QualyQualy LED Fishing Bobbers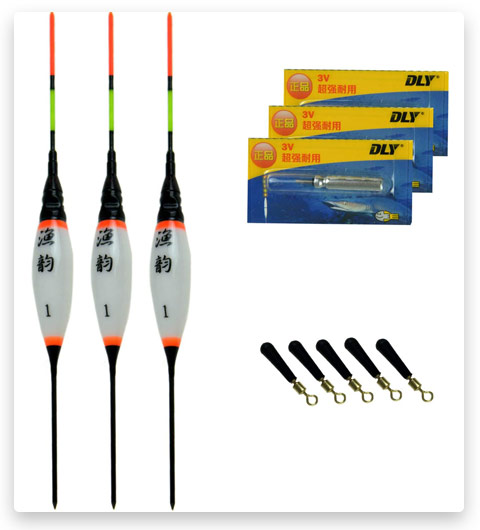 Looking for a lightweight and sensitive fishing bobber? Look no further than THKFISH's Fishing Bobbers! Made of nanophase materials, these floats are water-resistant and long-lasting. With a bright and luminous colour, they're perfect for nighttime fishing. And thanks to the short tail and foot design, they're easy to use and won't weigh you down. Give them a try today!
13# Smart Bobber The Slip Lock Lighted Bobber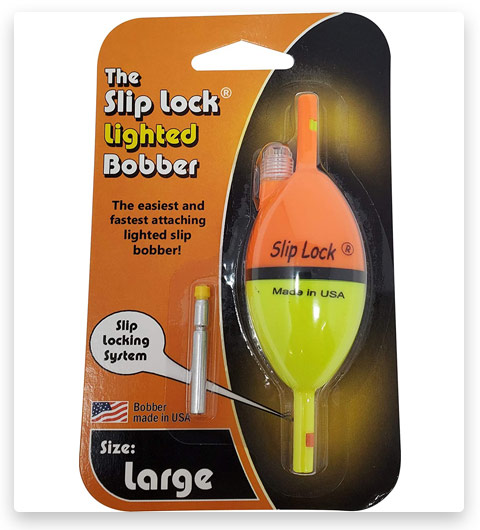 Slip Lock Lighted Slip Bobbers are the easiest and fastest attaching lighted slip bobbers available! With a quick, easy-to-use Slip Lock system, these bobbers are perfect for adding a little extra light to your fishing game.
14# Rod-N-Bobb's Lighted Slip Bobber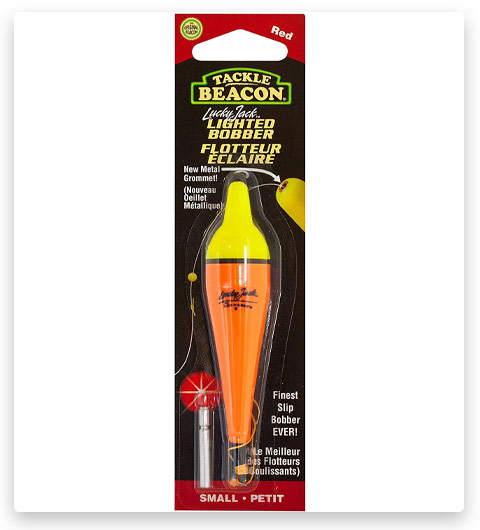 The Rod-N-Bobb's Lighted Slip Bobber is made from the finest materials and features a built-in light that makes it easy to see when a fish is biting. Whether you're fishing in low light conditions or at night, this slip bobber will help you increase your success rate. It's 4-1/4″ long and available in red. Plus, it comes with a Luckyjack battery stick so you're ready to go right out of the package. Give Rod-N-Bobb's Lighted Slip Bobber a try!
15# heaven2017 LED Vertical Night Fishing Float Bobber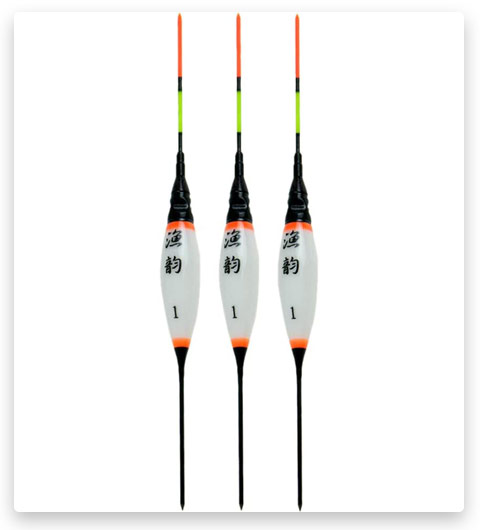 Heaven2017's LED Float Bobbers are perfect for night fishing! With three different sizes, you're sure to find the perfect one for your needs. Made with composite material and a 425 battery included, these float bobbers are tough and reliable. Plus, their luminous design makes them easy to see in the dark!
FAQ
Conclusion
Night fishing can be a lot of fun, and it's a great way to relax and enjoy nature. In this blog post, we have reviewed the top-rated night fishing bobbers available on the market. We have also answered some common questions about these products. So whether you are a beginner or an experienced fisherman, read on to find out which is the best night fishing bobber for you!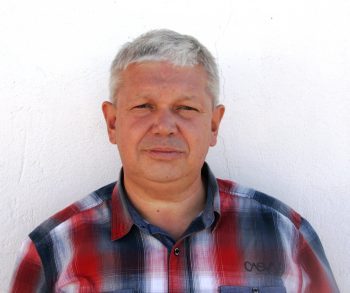 Sergio Smirnoff
Professional fisherman with 40+ years of experience.
Fishing and the ocean is a passion of my life. I am passionate about all kinds of sea fishing: fishing from the shore (spinning, float, baitcasting), from a boat, and spearfishing day and night.
I live in Tenerife (Canary Islands) for the last 10+ years and share my daily fishing experiences on my website. Many years of personal experience as a fisherman and the vast experience of my friends allow me to write professionally on any fishing topics (from choosing a flashlight and equipment to deep-sea fishing).
All of my advice is based on practical real-world experience and will be useful to both novice anglers and professionals.
Read more
about the author.
Affiliate Disclosure: FishReeler.com sometimes gets paid for listings, through sponsors or affiliate programs like Amazon, Ebay, Cabelas, Bass Pro Shop, Shimano, Daiwa, Rapala, Renn, Okuma, KastKing, etс. Clicking a link helps keep FishReeler.com free, at no extra cost to you!
About the author: Each article is verified by the fishing expert Sergio Smirnoff. The articles are written by professional and amateur fishermen with 20+ years of fishing experience.
Note: The views and opinions expressed in this article are those of the authors and do not necessarily reflect the official policy or position of any agency. The articles are for informational purposes only, share your opinions in the comments and join the fishing discussions, let's share our fishing experiences together!