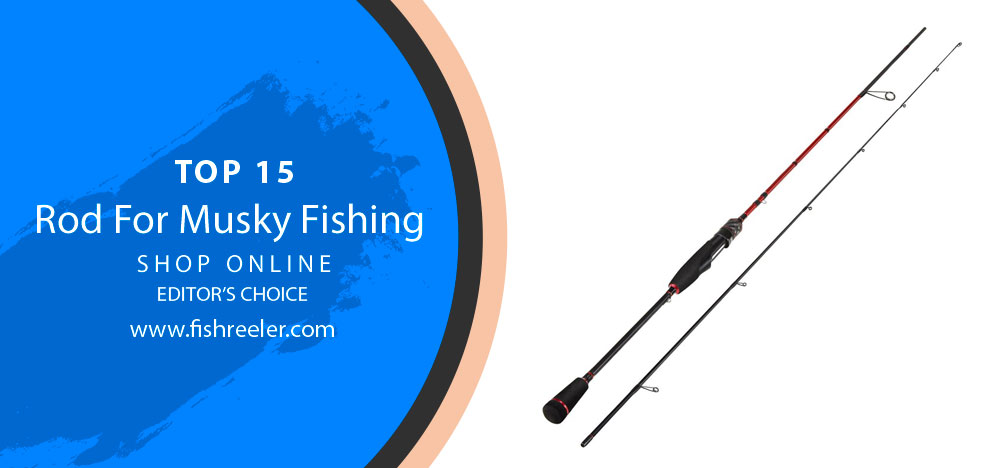 The Ultimate Guide to Choosing the Perfect Rod for Musky Fishing
Hooked on Musky: Why the Right Rod Matters
Musky fishing is a popular and challenging sport that attracts anglers from all around the world. As one of the most sought-after freshwater gamefish, the musky is notorious for its strength, size, and elusiveness, making it a rewarding catch for those who are up to the challenge. But one essential aspect that can make or break your musky fishing experience is the right rod. This comprehensive guide will walk you through everything you need to know about musky fishing and selecting the perfect rod, ensuring you are well-prepared for your next adventure.
Understanding Musky Fishing
Musky Mystique: Unraveling the Allure of the Elusive Predator
🐟Description of the species
The musky, or muskellunge, is the largest member of the pike family and can grow up to 50 inches in length, weighing over 30 pounds. They are torpedo-shaped fish, possessing a flat head and sharp, canine-like teeth. The coloration of muskies varies depending on their habitat, but they generally have dark vertical bars or spots on their sides.
🐟Habitat and distribution
Muskies are typically found in the freshwater lakes and rivers of North America, with their range extending from the Great Lakes and St. Lawrence River systems to parts of the Mississippi River basin. They prefer clear, vegetated waters with ample cover to ambush their prey, which consists of fish, frogs, and even small mammals.
🐟Why musky fishing is popular and challenging
Musky fishing is a thrilling sport, mainly due to the fish's elusive nature and the patience and skill required to catch them. Anglers often refer to the musky as the "fish of 10,000 casts" because of the time and effort it takes to land one. The size and power of these apex predators make them a highly prized catch among anglers, who relish the fight and the sense of accomplishment upon reeling one in.
Mastering Musky: Techniques, Seasons, and Gear Essentials
🐬Fishing techniques
Successful musky fishing requires a variety of techniques, including casting, trolling, and using live bait. Anglers often employ large lures such as bucktails, crankbaits, and jerkbaits, as well as topwater baits to entice strikes from these predators. Presentation and retrieval speed plays a significant role in eliciting a musky's aggressive response.
🐬Seasonal patterns
Understanding the seasonal patterns of muskies is crucial for targeting them effectively. Springtime, when they spawn, offers a chance to catch them in shallow waters. During the summer, muskies are more likely to be found in deeper waters near underwater structures. In fall, they return to shallower waters to feed before the winter months set in.
🐬Importance of proper equipment
Using the right equipment is vital for a successful musky fishing trip. The correct rod, reel, line, and lures can make a significant difference in your ability to locate, hook, and land these elusive giants. Selecting the right rod, in particular, is crucial, as it can greatly impact your casting accuracy, lure control, and ability to handle the power of a musky during the fight.
Mapping Out Your Musky Fishing Adventure
Musky fishing is one of the most popular forms of angling, and for good reason – muskies are one of the most challenging fish to catch. In order to give yourself the best chance at landing a musky, you need to use the right equipment. If you are looking for the best rod for musky fishing, you have come to the right place.
In this post, we will take a look at some of the top-rated rods for musky fishing and provide you with all the information you need to make an informed purchase. So, without further ado, let's get started!
1# St. Croix Rods Triumph Musky Fishing Rod
Looking for a premium quality casting rod that can handle the big fish? Look no further than the St. Croix Rods Triumph Musky Fishing Rod. Made from SCII carbon and outfitted with hard aluminium-oxide guides, this rod is built to last. The Sea Guide TCS reel seat ensures a comfortable grip, while the eco-friendly sandblasted hood provides added protection. The cork handle provides a comfortable grip and the two coats of Flex-Coat slow cure finish add durability.
2# St. Croix Rods Premier Musky Casting Rod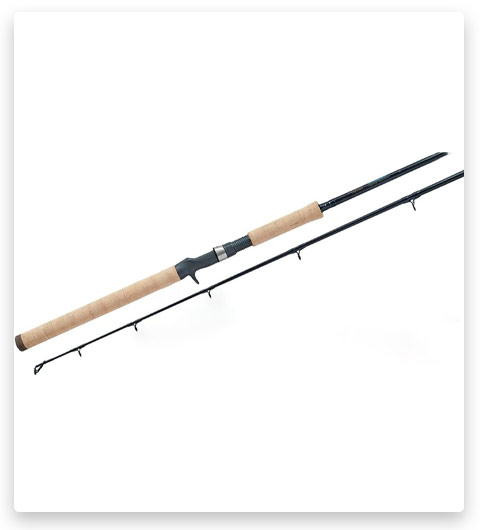 Check out the St. Croix Premier Musky Casting Rod. This rod is made from mid-modulus carbon fibre, which is both lightweight and durable. It also features a premium-grade cork handle for a comfortable and secure grip. Other features include Fuji ECS, TCS, or PSS reel seats, Kigan Master Hand 3D top with SiC ring, Kigan hook-keeper, and two coats of Flex-Coat slow cure finish. Plus, this rod comes with a 5-year warranty. So whether you're a beginner or a seasoned angler, the St. Croix Premier Musky Casting Rod is a perfect choice.
3# Ugly Stik Tiger Elite Spinning Fishing Rod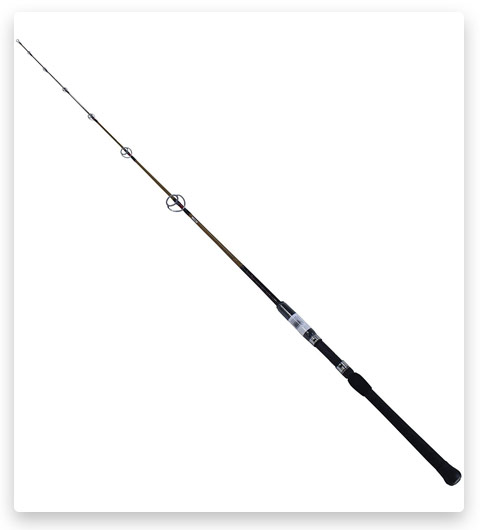 Ugly Stik has been making top-quality fishing rods for over 30 years, and the Tiger Elite is one of their best. This versatile rod is perfect for coast-to-coast fishing, with a virtually indestructible blank that's sensitive to the lightest bites. The HT 100 carbon fibre drag washers give you smooth, consistent performance, while the 1-piece stainless steel Ugly Tuff guides eliminate insert pop-outs. Conventional reel seats with stainless steel cushioned hoods make this a comfortable and dependable choice for serious anglers.
4# Kunnan IM7 Series Muskie Fishing Rod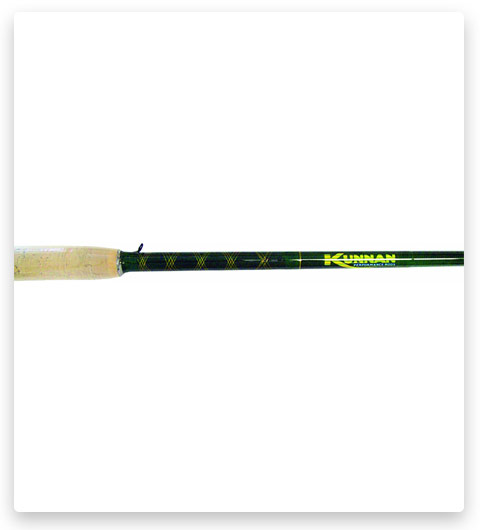 The Kunnan KIM7-701XHC IM7 Series Muskie Fishing Rod is a high-quality, durable muskie fishing rod. This 7-foot, the 1-piece rod is perfect for anglers who demand the best in terms of strength and sensitivity. It's made with IM7 graphite for superior strength and sensitivity and features stainless steel guide frames with aluminium oxide inserts for smooth casting and long life. The Kunnan KIM7-701XHC IM7 Series Muskie Fishing Rod is the perfect choice for serious fishermen who demand the best.
5# Okuma EVx-C-861XHT-FG EVx Musky Telescopic Rod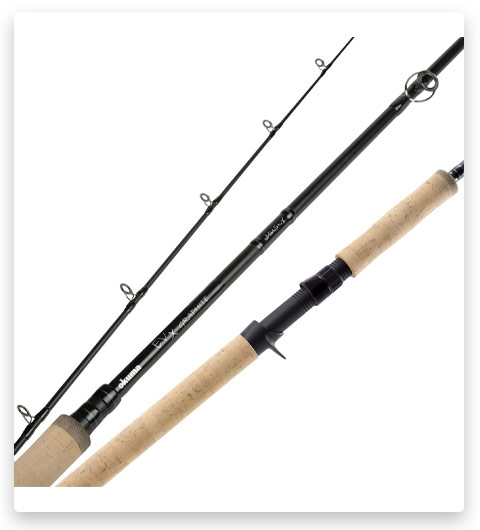 Check out the Okuma EVx-C-861XHT-FG EVx Musky Telescopic Rod with Xtra Heavy Action. This powerful rod is made from Im-8 graphite for unbeatable strength and sensitivity and is fitted with the Alps stainless steel guide frames with Zirconium guide inserts to handle braided lines like a pro. Plus, our exclusive UFR technology increases tip lifting power by 3 times, making it easier than ever to land that trophy fish.
6# Lew's Speed Stick Frog Casting Rod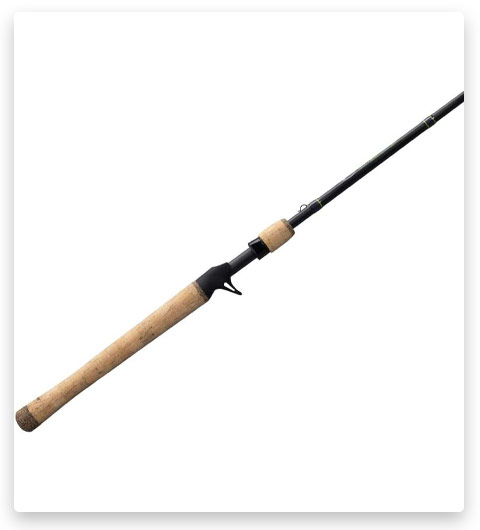 Looking for a versatile, high-quality casting rod that can handle a variety of situations? Look no further than the Lew's Speed Stick 7'4″-1 Heavy Pitchin/Frog Casting Rod. Made with premium IM8 graphite blanks and featuring Lew's exclusive graphite skeletal reel seat, this rod is built for durability and performance. With its full-length cork grips and foregrip with Duracork inlays, the Speed Stick provides a comfortable grip even when wet. And the Fuji Concept O guides with deep pressed aluminium oxide inserts make for smooth, trouble-free casting. The Speed Stick is also equipped with a patented "No Foul" hook keeper, making it easy to keep your lure.
7# KastKing Perigee II Fishing Rod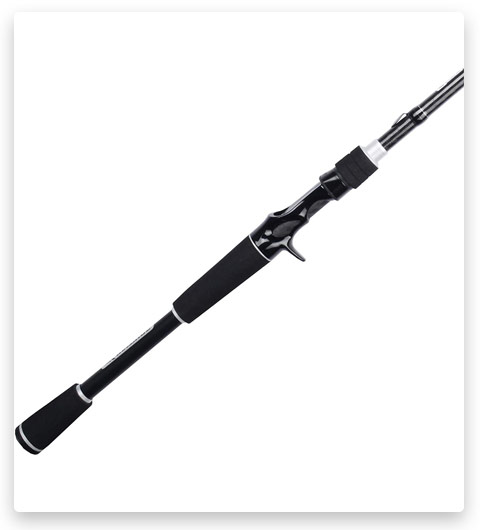 These rods are constructed with Toray 24-ton carbon matrix KastFlex blank technology for power, strength, and accuracy. Available in 29 different sizes, there's sure to be a perfect fit for your fishing needs! The Perigee II also features premium components like world-renowned Fuji O-Ring line guides and high-density EVA grips. Plus, the sensitive "bare and beautiful" finish carbon fibre blank makes for a lightweight rod that won't weigh you down. Order your KastKing Perigee II today and enjoy the satisfaction of fishing with a top-quality rod!
8# Piscifun Serpent Spinning Rod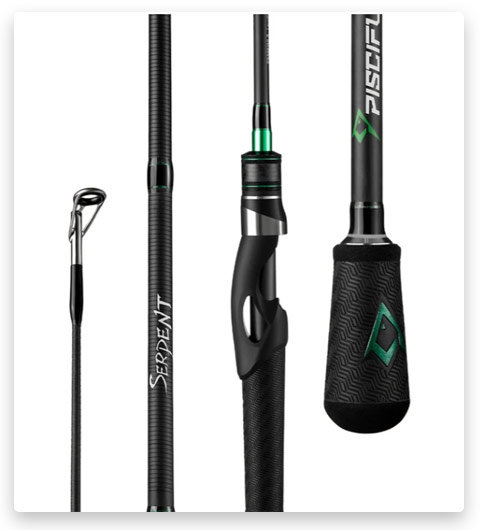 This one-piece rod is made with high-level IM7 zero coating X-shaped Japanese Toray carbon fibre blank, making it 10% lighter and 50% stronger than other rods on the market. The Fuji guides are also deep pressed for increased durability, while the premium anti-slip golf-style grips provide a sure grip in all conditions. If you're serious about your fishing, the Piscifun® Serpent Spinning Rod is a perfect choice.
9# Piscifun Flame Spinning Rod IM6 Carbon Blank Freshwater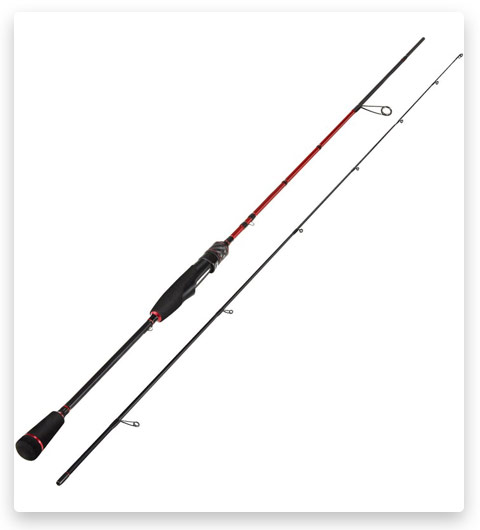 The Piscifun Flame is a high-quality, affordable spinning rod that performs exceptionally well! This IM6 graphite rod is available in 6′ to 7'6″ lengths, making it perfect for a variety of applications. The Spigot design ensures smooth and consistent power transfer throughout the entire bend, giving you better control and accuracy when casting. The stainless steel/ceramic guides are extremely durable and minimize friction for long, smooth casts. And because it's a two-piece design, the Piscifun Flame is easy to transport and store. So don't wait any longer – get your hands on a Piscifun Flame spinning rod today!
10# Bass Pro Shops AirStream PTC Spinning Rod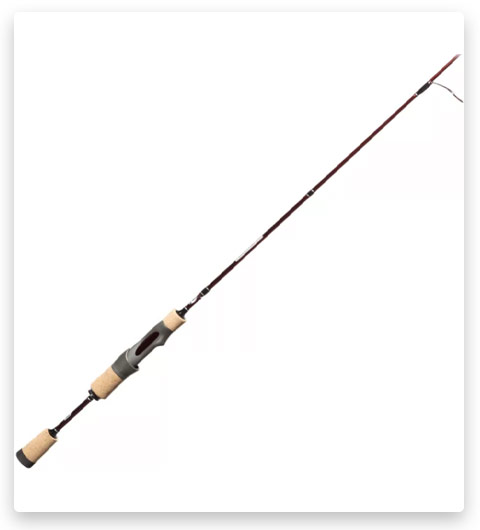 The Bass Pro Shops AirStream PTC Spinning Rod got everything you need for a great day of fishing, including a premium Fuji reel seat, split-grip, and rubberized cork handle. You'll appreciate the high-strength RT2 graphite blank, which is both lightweight and super-sensitive. Plus, the stainless steel guides are tough enough to stand up to whatever you're reeling in. So whether you're targeting small baits or light strikes, the AirStream PTC Spinning Rod is up to the task. Make it your go-to choice for a great day on the water.
11# Fenwick HMG Spinning Rod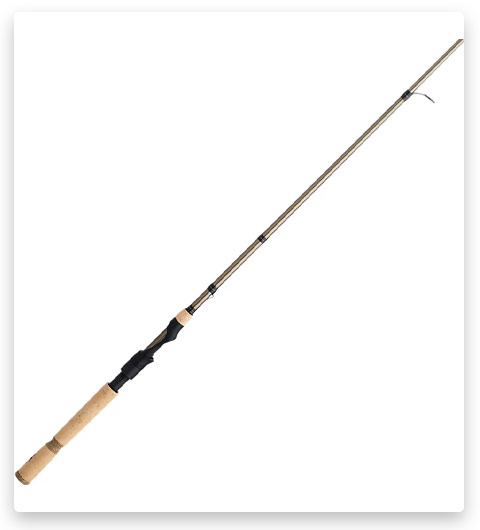 The Fenwick HMG Spinning Rod is a legendary rod that has been reborn with super-lightweight graphite blank construction and Powerlux 100 resin technology for unbeatable strength and durability. Stainless steel guides with zirconium inserts provide smooth, trouble-free performance, while the custom exposed-blank reel seat and premium cork handle offer a comfortable grip that won't slip, even when wet. Best of all, the Fenwick HMG Spinning Rod comes with a lifetime limited warranty, so you can be confident it will perform flawlessly for years to come.
12# Ugly Stik Bigwater Series Spinning Rod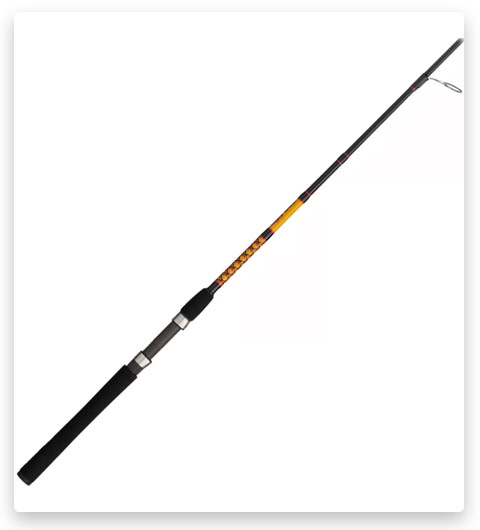 Looking for a high-quality, durable spinning rod? Look no further than the Ugly Stik Bigwater Series Spinning Rod. Featuring a super-lightweight graphite blank, Powerlux 100 resin technology, and stainless steel guides with zirconium inserts, this rod is built to last. The custom exposed-blank reel seat and premium cork handle provide unbeatable comfort, while the manufacturer's lifetime limited warranty offers peace of mind. Don't miss out on this legend – order your Ugly Stik Bigwater Series Spinning Rod today!
13# Offshore Angler Salt Striker Spinning Rod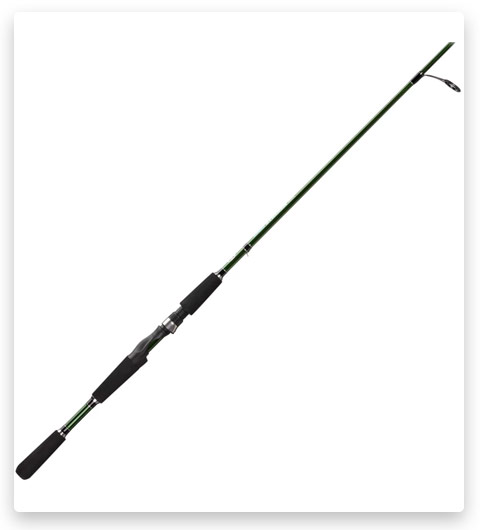 The Offshore Angler has you covered with their Salt Striker Spinning Rod. This tough yet sensitive rod is perfect for all kinds of fishing applications, from light inshore to heavy offshore. The hybrid graphite/glass blank is incredibly durable, and the Fuji stainless steel guides with Alconite rings can handle any kind of line, including a braided line. For added balance and decreased weight, the Salt Striker features split-grip EVA handles. So whether you're just getting started in saltwater fishing or you're a seasoned pro, the Offshore Angler Salt Striker Spinning Rod is a great choice for all your angling needs.
14# Abu Garcia Veritas PLX Spinning Rod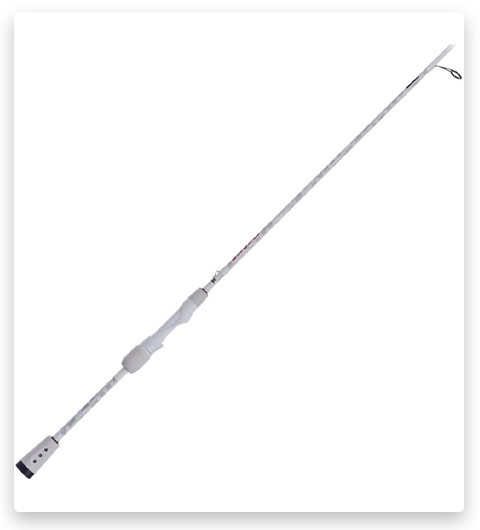 This high-quality rod is made with 30 Ton carbon and minimal resin filler for a very sturdy build. The ROCS guide train concept ensures that your line stays where you want it, while the titanium alloy guides with zirconium inserts provide smooth performance. And for comfort, the custom exposed-blank reel seat and closed cell EVA split grips will make fishing a breeze. Plus, this rod comes with a manufacturer's limited 3-year warranty, so you can be confident in its quality.
15# Falcon BuCoo SR Spinning Rod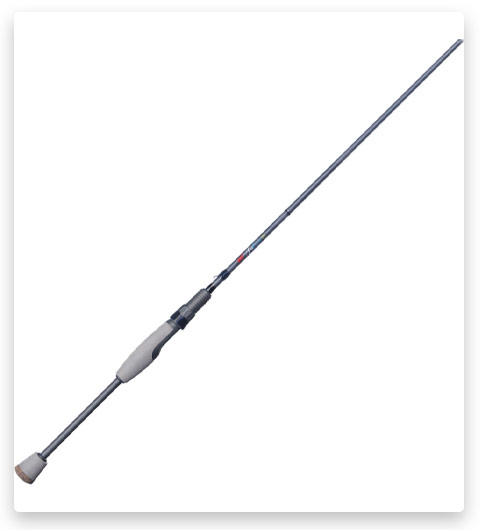 The Falcon BuCoo SR Spinning Rod is perfect for anglers who demand the very best. Constructed with FXB graphite blanks and featuring cross-directional carbon fibre and cobra cloth reinforcements, this rod is designed for maximum power and sensitivity. Fuji guides are spaced perfectly along the length of the rod for optimum casting performance, while the exposed blank reel seat puts your hand in direct contact with the blank for enhanced sensitivity. The EVA split grip handle provides a secure and comfortable grip, and the premium components provide unbeatable value.
The Building Blocks of a Musky Rod
Material Matters: Fiberglass, Graphite, and Composite Rods
➽Fiberglass
Fiberglass rods have been a popular choice for musky fishing for years. They are known for their durability, flexibility, and ability to withstand heavy loads. One of the primary advantages of fiberglass rods is their resilience to high-stress situations, making them less likely to break under pressure. However, they tend to be heavier and less sensitive than their graphite counterparts, which can lead to fatigue during long casting sessions.
➽Graphite
Graphite rods have gained popularity in recent years due to their lightweight and high sensitivity. They provide better feedback to the angler, allowing for more precise detection of subtle bites and improved lure control. Although graphite rods are more brittle and prone to breakage than fiberglass rods, advances in technology have led to the development of high-modulus graphite that offers improved durability without sacrificing sensitivity.
➽Composite
Composite rods are made by combining fiberglass and graphite materials, offering the best of both worlds. These rods balance the durability and flexibility of fiberglass with the sensitivity and lightweight nature of graphite. Composite rods provide an excellent middle ground for anglers seeking versatility and performance in a single rod.
➽Comparison of materials
When choosing a rod material for musky fishing, it's essential to consider your specific needs and preferences. Fiberglass rods are ideal for anglers prioritizing durability and resistance to breakage, while graphite rods are better suited for those who value sensitivity and a lightweight feel. Composite rods offer a balance of both characteristics, making them an excellent all-around choice.
Action-Packed: Finding the Perfect Rod Action for Musky
➤Fast action
Fast-action rods have a flexible tip that quickly recovers after bending, allowing for long and accurate casts. They provide increased sensitivity, enabling the angler to detect subtle strikes and maintain better control over their lures. Fast-action rods are particularly suitable for handling heavy lures and setting hooks with more force, making them a popular choice for musky fishing.
➤Medium action
Medium-action rods offer a balance of flexibility and power, bending through the middle section of the rod. They provide decent casting distance and accuracy, while still having enough backbone to handle large fish. Medium-action rods are suitable for a variety of musky fishing situations, making them a versatile option for anglers.
➤Slow action
Slow-action rods bend throughout the entire length of the rod, providing a smooth, parabolic bend. These rods are more forgiving and allow for better shock absorption when fighting fish. However, they lack the sensitivity and power required for effectively casting and handling large musky lures, making them less suitable for this type of fishing.
➤Choosing the right action for musky fishing
For most musky fishing applications, a fast or medium-action rod is recommended. Fast-action rods provide the sensitivity and power needed to handle heavy lures and aggressive strikes, while medium-action rods offer versatility for various techniques and situations. Slow-action rods are generally not ideal for musky fishing due to their lack of power and sensitivity.
Power Play: Balancing Power for Musky Success
💎Light power
Light power rods are designed for small lures and lighter lines, offering a more delicate presentation. While they may not be suitable for targeting musky due to their limited power and inability to handle large lures and heavy lines, they can be effective in specific situations, such as targeting smaller or finicky fish.
💎Medium power
Medium power rods can handle a broader range of lure weights and line strengths, making them a versatile choice for various fishing techniques. They offer enough backbone to handle musky while still providing a good balance of sensitivity and flexibility. Medium power rods are suitable for most musky fishing situations, especially for anglers who prefer casting lighter lures.
💎Heavy power
Heavy power rods are designed to handle large lures, heavy lines, and powerful fish, making them ideal for targeting musky. These rods provide the backbone necessary to cast heavy lures long distances, set hooks effectively, and maintain control during the fight. However, heavy power rods can sacrifice sensitivity and may be more challenging to handle for extended periods due to their weight and stiffness.
💎Matching power to musky fishing needs
When choosing a rod power for musky fishing, consider the size of the lures you'll be using, the fishing technique, and your personal preferences. Medium power rods offer versatility and are suitable for lighter lures, while heavy power rods are ideal for handling large lures and aggressive strikes. A well-rounded musky angler may benefit from having both medium and heavy power rods in their arsenal to adapt to various conditions and techniques.
Lengthy Decisions: How to Choose the Perfect Rod Length
🔷Advantages and disadvantages of short rods
Short rods (6 to 7 feet) provide increased casting accuracy and control, making them ideal for precise lure placement and working in tight quarters with limited casting space. They are also easier to manage and less fatiguing during extended periods of use. However, short rods have a limited casting distance and may not provide sufficient leverage when fighting large, powerful fish like musky.
🔷Advantages and disadvantages of long rods
Long rods (8 to 9 feet) offer increased casting distance and better leverage during the fight, making it easier to control and land big musky. They also allow for more extended lure retrieves, which can be crucial when covering large areas of water. However, long rods can be more challenging to handle and maneuver, especially in tight spaces, and may cause fatigue during long casting sessions.
🔷Factors to consider when choosing rod length
When selecting the ideal rod length for musky fishing, consider your fishing environment, the techniques you plan to use, and your physical abilities. Shorter rods may be more suitable for precise casting in confined spaces or if you have difficulty handling longer rods. In contrast, longer rods are ideal for maximizing casting distance and leverage when targeting big musky in open water. Ultimately, the ideal rod length is subjective and should be tailored to your specific needs and preferences to ensure a comfortable and effective musky fishing experience.
Casting Call: Types of Musky Rods
The Art of Casting: Pros, Cons, and Best Uses for Casting Rods
🔵Situations best suited for casting rods
Casting rods excel in situations where long casts, accurate lure placement, and powerful hooksets are crucial, such as when targeting musky in open water or around structure. They are also well-suited for handling large, heavy lures commonly used in musky fishing.
Spin City: Unraveling the Spinning Rod's Advantages and Drawbacks
🔵Situations best suited for spinning rods
Spinning rods are ideal for situations where a more subtle or finesse presentation is required, such as when targeting smaller or more finicky musky. They are also a good option for beginners looking to hone their skills before transitioning to a casting setup.
Trolling Triumphs: The Lowdown on Trolling Rods for Musky
🔵Situations best suited for trolling rods
Trolling rods are ideal for situations where covering large areas of water is necessary to locate and target musky, such as when fishing vast open water or following seasonal migration patterns.
The Great Rod Debate: Matching Rod Types to Your Musky Fishing Style
When choosing the right type of musky rod, consider your preferred fishing techniques, skill level, and the specific conditions you'll be encountering on the water. Casting rods are an excellent choice for experienced anglers targeting musky in open water with heavy lures while spinning rods provide a more approachable option for beginners or those seeking a finesse presentation. Trolling rods are purpose-built for trolling techniques and can be an invaluable tool for covering large areas in search of musky. By carefully evaluating your needs and preferences, you can select the perfect rod type to optimize your chances of musky fishing success.
Brand Power: The Best Musky Rod Brands in the Game
Battle of the Brands: The Top Contenders for Musky Rod Supremacy
There are several well-known and reputable musky rod brands available in the market, each offering a range of products designed to cater to different angler preferences, fishing techniques, and budgets. Some of the top musky rod brands include St. Croix, G. Loomis, Shimano, Abu Garcia, and Fenwick.
Standout Features: What Sets Each Brand Apart
✅St. Croix
St. Croix is a leading manufacturer of high-quality fishing rods, known for their craftsmanship and attention to detail. Their popular musky rod series, the "Mojo Musky," offers a range of casting and trolling rods featuring premium SCII graphite blanks, durable components, and advanced designs to provide superior performance and reliability. The "Legend Tournament Musky" series offers premium, technique-specific rods designed for the serious musky angler.
✅G. Loomis
G. Loomis is a respected brand in the fishing industry, known for producing high-quality rods with cutting-edge technology. Their "E6X Musky" series offers rods built with advanced graphite materials for increased sensitivity and power, while the "IMX-Pro" series offers technique-specific rods for various musky fishing situations, providing the ideal balance of strength, sensitivity, and weight.
✅Shimano
Shimano, a well-known brand for producing top-quality fishing gear, offers musky rods in their "Sojourn" and "Compare" series. These rods feature quality components and construction, with the "Compre" series being technique-specific for improved performance in various musky fishing scenarios.
✅Abu Garcia
Abu Garcia is a popular brand among anglers, offering a range of musky rods within their "Villain" and "Veracity" series. These rods feature quality components, including high-modulus graphite blanks and Fuji reel seats, providing a lightweight, sensitive, and powerful fishing experience.
✅Fenwick
Fenwick has a long history in the fishing industry and offers the "Elite Tech Musky" series, featuring high-quality graphite blanks, premium components, and a comfortable ergonomic handle design. These rods are built to provide an optimal balance of power, sensitivity, and durability for musky fishing enthusiasts.
Money Matters: Navigating Price Ranges and Budgeting
When choosing a musky rod, it's essential to consider your budget and prioritize the features most important to you. Entry-level musky rods from brands like Shimano and Abu Garcia can be found in the $100-$150 range, while mid-range options from St. Croix and Fenwick typically fall between $150 and $300. High-end musky rods from brands like G. Loomis can cost upwards of $300-$500, offering premium materials and construction for the most discerning anglers.
Keep in mind that a higher price tag does not always guarantee a better fishing experience, and there are quality options available across the price spectrum. By carefully evaluating your needs and budget, you can find a musky rod that offers excellent performance and value for your specific situation.
TLC for Your Musky Rod: Maintenance and Care
Clean and Lean: Keeping Your Rod in Top Shape
❗Cleaning: Regular cleaning is essential to keep your musky rod in optimal condition. After each use, rinse the rod with fresh water to remove dirt, debris, and salt (if fishing in saltwater). Use a soft cloth or sponge and mild soap to gently clean the rod, paying special attention to the guides, reel seat, and handle. Make sure to dry the rod thoroughly before storage to prevent corrosion and damage.
❗Storage: Store your musky rod in a cool, dry place away from direct sunlight and extreme temperatures. Use a rod rack or similar storage solution to keep the rod off the ground and prevent warping or damage. If you need to transport the rod, invest in a rod case or sleeve to protect it from scratches, dents, and other potential harm.
Troubleshooting Tips: Dodging Common Rod Issues
🐙Guide damage: Regularly inspect the guides on your musky rod for any signs of wear, corrosion, or damage. Damaged guides can cause line abrasion, leading to line breakage and lost fish. Replace any damaged guides as soon as possible to maintain optimal performance.
🐙The reel seat and handle maintenance: Ensure that the reel seat is clean and free of debris before attaching your reel, as dirt and grime can cause the reel to sit improperly and potentially damage both the reel and the rod. Check the handle for any signs of wear or damage and consider replacing it if necessary.
🐙Line damage: Always check your fishing line for signs of wear, such as fraying, nicks, or abrasion. Replace the line as needed to prevent breakage during a fight with a musky.
The Long Haul: Embracing Regular Maintenance for Rod Longevity
Regular maintenance is crucial for the longevity and performance of your musky rod. By properly cleaning, storing, and inspecting your rod for damage, you can prevent many common issues that may lead to rod failure or lost fish. A well-maintained musky rod will not only last longer but also provide a more enjoyable and successful fishing experience. Remember, a little time and effort spent on rod maintenance can save you money and frustration in the long run, ensuring that you're always ready for your next musky fishing adventure.
FAQ: Demystifying Musky Rod Materials, Action, Power, and Length
| FAQ | Answer |
| --- | --- |
| What types of rods are used for musky fishing? | Fiberglass, Graphite, and Composite rods are commonly used for musky fishing. |
| What are the benefits of fiberglass rods? | Fiberglass rods offer durability, flexibility, and the ability to withstand heavy loads, making them resilient to high-stress situations. |
| Why are graphite rods popular for musky fishing? | Graphite rods are lightweight and highly sensitive, providing better feedback to anglers for more precise bite detection and lure control. |
| What are composite rods? | Composite rods combine fiberglass and graphite materials, offering a balance of durability, flexibility, sensitivity, and lightweight nature. |
| How do I choose the right rod material for musky fishing? | Consider your specific needs and preferences: durability and resistance to breakage for fiberglass, sensitivity and lightweight feel for graphite, or a balance of both characteristics for composite rods. |
Conclusion: Putting It All Together for Musky Fishing Success
Reeling It In: Your Path to Musky Fishing Mastery
Selecting the right rod for musky fishing is a critical aspect of ensuring success and enjoyment on the water. A well-chosen rod, tailored to your specific needs, fishing techniques, and skill level, will not only enhance your ability to effectively target and catch these elusive and powerful predators but also provide you with greater satisfaction and confidence as an angler.
Empowered Choices: Elevating Your Musky Fishing Game
In this article, we have provided comprehensive information on the various factors to consider when choosing a musky rod, including rod materials, action, power, length, and types of rods. Additionally, we've discussed popular musky rod brands and the importance of proper rod maintenance and care. We encourage you to carefully review this information and apply it when making your rod selection to ensure that you are equipped with the best tool for your musky fishing pursuits.
Tight Lines and Big Muskies: Wishing You the Best on Your Musky Quest
As you embark on your musky fishing adventures, we wish you the best of luck and tight lines. With the right rod in hand, patience, and persistence, you will undoubtedly experience the thrill of landing one of these magnificent fish.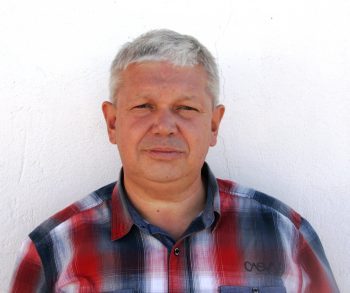 Sergio Smirnoff
Professional fisherman with 40+ years of experience.
Fishing and the ocean is a passion of my life. I am passionate about all kinds of sea fishing: fishing from the shore (spinning, float, baitcasting), from a boat, and spearfishing day and night.
I live in Tenerife (Canary Islands) for the last 10+ years and share my daily fishing experiences on my website. Many years of personal experience as a fisherman and the vast experience of my friends allow me to write professionally on any fishing topics (from choosing a flashlight and equipment to deep-sea fishing).
All of my advice is based on practical real-world experience and will be useful to both novice anglers and professionals.
Read more
about the author.
Affiliate Disclosure: FishReeler.com sometimes gets paid for listings, through sponsors or affiliate programs like Amazon, Ebay, Cabelas, Bass Pro Shop, Shimano, Daiwa, Rapala, Renn, Okuma, KastKing, etс. Clicking a link helps keep FishReeler.com free, at no extra cost to you!
About the author: Each article is verified by the fishing expert Sergio Smirnoff. The articles are written by professional and amateur fishermen with 20+ years of fishing experience.
Note: The views and opinions expressed in this article are those of the authors and do not necessarily reflect the official policy or position of any agency. The articles are for informational purposes only, share your opinions in the comments and join the fishing discussions, let's share our fishing experiences together!