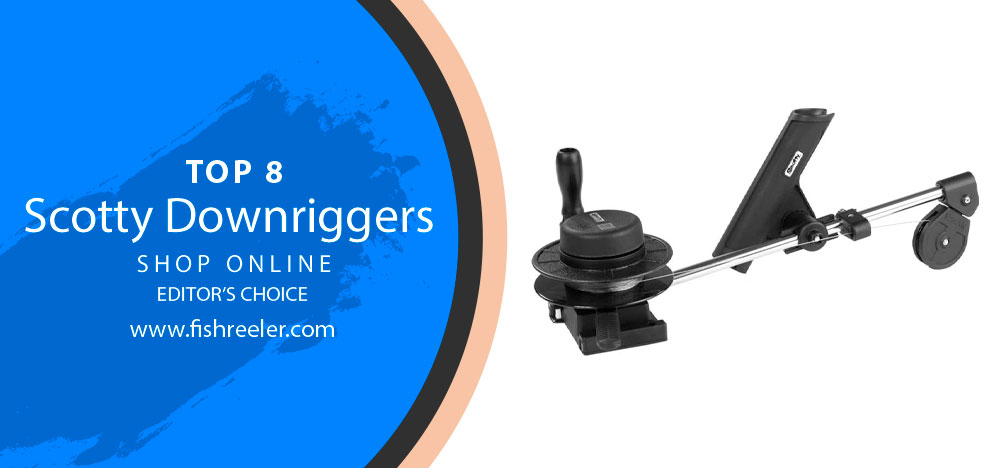 Mastering the Depths: A Comprehensive Dive into Scotty Downriggers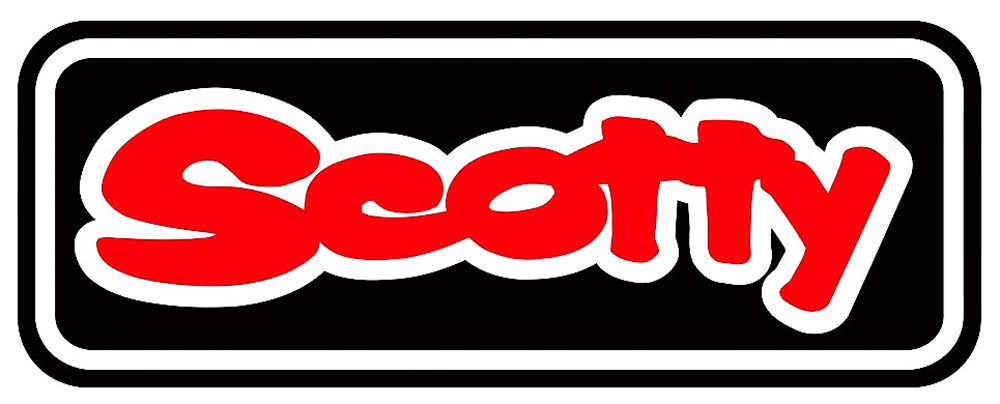 Plumbing the Depths: A Primer on Scotty Downriggers
Welcome to our study that aims to navigate the waters of a key tool in the fishing world, the downrigger. Throughout this article, we will delve into the history of Scotty as a leading brand in downrigger technology, understand the purpose and function of a downrigger, and explore the unique features that make Scotty downriggers a preferred choice for many anglers. This article also includes a practical guide on using a Scotty downrigger, real-life case studies from professional anglers, and a glimpse into the future of Scotty downriggers.
The Crucial Role of Downriggers in Modern Fishing
In the realm of deep-water fishing, a downrigger is not just an accessory; it's a game-changer. It significantly enhances an angler's ability to reach the depths where the more elusive, larger species tend to dwell. By allowing the fishing line to be placed at precise depths, downriggers give anglers a level of control that is otherwise unattainable with traditional fishing methods. This precision, coupled with the ability to maintain the desired depth irrespective of the boat's speed, increases the chances of a successful catch. Whether you're trolling for salmon, lake trout, or king mackerel, a downrigger can be the difference between an empty boat and a trophy catch.
Scotty: The Vanguard of Downrigger Technology
In the world of downriggers, Scotty has consistently risen to the top as a leading brand. Since its inception, Scotty has been committed to delivering high-quality, reliable, and innovative downriggers that cater to both novices and experienced anglers. Known for their durability and versatility, Scotty downriggers are designed to withstand the harshest fishing environments while delivering unparalleled performance.
From their humble beginnings, Scotty has evolved to offer a range of manual and electric downriggers equipped with cutting-edge features such as depth tracking and auto-stop. These attributes, coupled with the brand's steadfast commitment to customer satisfaction, have cemented Scotty's place at the forefront of downrigger technology. As we embark on this deep dive into Scotty downriggers, you'll discover why they are a trusted ally for many in the fishing community.
The History of Scotty Downriggers
Scotty's Journey: From Humble Beginnings to Industry Leader
Founded in British Columbia, Canada, in 1952, Scotty initially started as a manufacturer of fire control equipment. However, their love for the great outdoors and a keen understanding of the angler's needs led them into the fishing industry, where they began to make a significant impact.
At the heart of Scotty's evolution is an unwavering dedication to quality and innovation. Over the years, the company has grown and expanded, moving from its early days as a local outfit to a global brand recognized and respected in the angling community. Scotty's product line has also diversified significantly, with offerings ranging from rod holders and mounts to a wide array of fishing accessories. Yet, it is their downriggers that have truly set them apart.
The Evolution of Excellence: Scotty Downriggers Through the Years
Scotty's journey in the world of downriggers started with a simple yet powerful mission: to provide anglers with reliable, easy-to-use, and highly effective tools for deep-water fishing. Their early downrigger models were already a testament to this commitment, offering robust construction and user-friendly design.
However, Scotty did not rest on its laurels. Recognizing the evolving needs of modern anglers, the company invested heavily in research and development. Over time, this led to the introduction of manual and electric downriggers, each catering to different fishing styles and preferences.
Scotty's manual downriggers, renowned for their durability and ease of use, are perfect for anglers who enjoy a hands-on approach. On the other hand, their electric models offer advanced features like automatic depth tracking and auto-stop functions, making them ideal for those seeking a high-tech, effortless fishing experience.
But perhaps what's most impressive about Scotty's evolution is their commitment to continuous improvement. Each new downrigger model is an improvement on the last, with tweaks and enhancements aimed at delivering an even better fishing experience. From the materials used in construction to the addition of innovative features, every aspect of a Scotty downrigger reflects years of feedback, learning, and refinement.
The result is a range of downriggers that are not only effective and reliable but also a pleasure to use – a testament to Scotty's journey of evolution and its commitment to serving the angling community.
About Scotty Downriggers
There are not many manufacturers on the market that do downriggers. But Scotty Downriggers is one of the very best brands on the market. It is renowned for its rugged, reliable, and durable devices. The company has been on the market for over 50 years and has become a leader in the manufacture of its products around the world. The company is fully committed to quality and its customers, which is why they have very rave reviews from buyers.
All Scotty products are based on years of experience and recommendations from experienced anglers and clients. That is why we chose this one among all the companies for the review. In addition to the downriggers themselves, Scotty produces various add-ons and accessories for downriggers. For example, mounts for downriggers or various cables. In total, Scotty has two types of downriggers: manual and electric.
Our Compilation of TOP 8 Scotty Downriggers
Downriggers are devices that are great helpers in trolling and boat fishing. They help the angler to properly submerge the bait to the desired depth and hold it there as long as needed. We've prepared for you an article in which we reviewed 8 downriggers from one of the best brands – Scotty.
| Image | Product | Brand | Link |
| --- | --- | --- | --- |
| | Scotty #1073DP Laketroller Manual Downrigger, Post Mount, Display Packed BLACK, Small | Scotty | |
| | Scotty #1060 Depthking Manual Downrigger, Display Packed w/ Rod Holder, BLACK, Medium | Scotty | |
| | Scotty #1050 Depthmaster Manual Downrigger, Display Packed w/ Rod Holder, BLACK, 23" | Scotty | |
| | Scotty #1071DP Laketroller Manual Downrigger, Clamp Mount, Display Packed black, Small | Scotty | |
| | Scotty #1085 Strongarm Manual Downrigger w/ 30-Inch Boom w/ Rod Holder , Black | Scotty | |
| | Scotty #1099 Compact Depthpower Electric Downrigger w/24-inch Boom BLACK | Scotty | |
| | Scotty #2116 High Performance Electric Downrigger, BLACK | Scotty | |
| | Scotty #2106B High Performance Downrigger - 36"-60" / Braided Line, Black | Scotty | |
Well, now let's take a look at 8 of the best downriggers we've prepared for you!
1# Scotty 1073 DP Laketroller Manual Downrigger – Our Best Manual Pick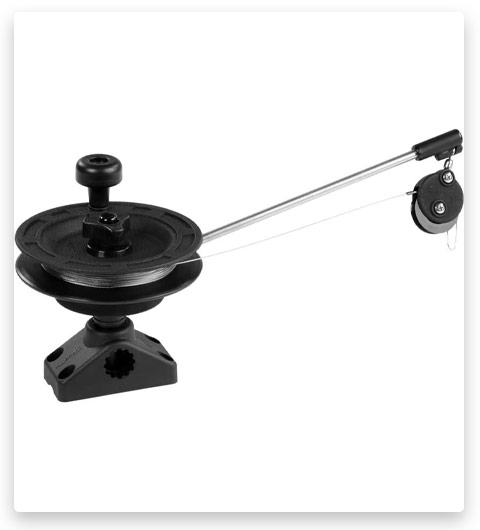 Scotty describes this model as a "downrigger to start". But after our tests, we can call it whatever we want, but not the stratum level. The model shows itself as a professional fishing tool. The reel is manual, so if you are fishing deeper than 80 feet this may not be the best solution. But among all hand-held reels, this is the winner. The model is very robust and allows you to easily turn even heavy loads.
The adjustable braking system and sensitivity allow you to handle descents effortlessly. The handle is 18 inches long, but you can shorten it if you like. However, this length allows you not to worry about the load hitting your boat. The mount gives you the ability to mount the downrigger both on deck and to the side for maximum convenience. Besides, you can rotate the attached downrigger 360 degrees. The Mini Power Grip Plus Line Release complements this kit and makes your fishing experience as exciting as possible.
2# Scotty 1060 Depthking Manual Downrigger – Best Powerful Manual Pick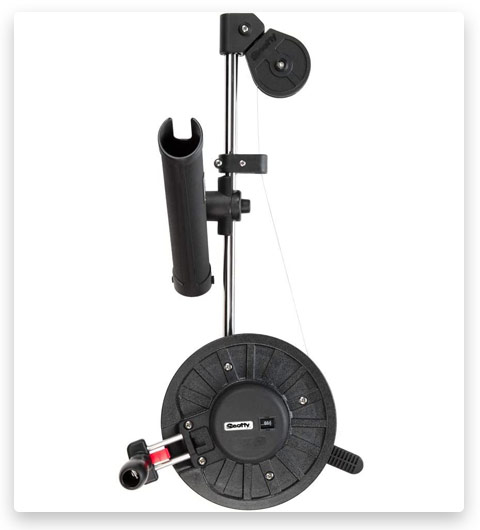 The Scotty 1060 has a simple yet very powerful design with a 23" boom and rod holder. For small and medium-sized boats, this will be a great solution. At medium depths, a hand crank will be more than sufficient. Also, the model is equipped with a splash and corrosion-resistant depth meter, which will please many anglers. The body is attached to the deck with the included bracket and bolts. But make sure the bracket is tight enough or you risk dropping or losing the downrigger altogether in a severe storm. The model also comes with a durable rod holder that saves you the expense of purchasing one. Great compact yet powerful downrigger from Scotty.
3# Scotty 1050 Depthmaster Manual Downrigger – Best Compact Pick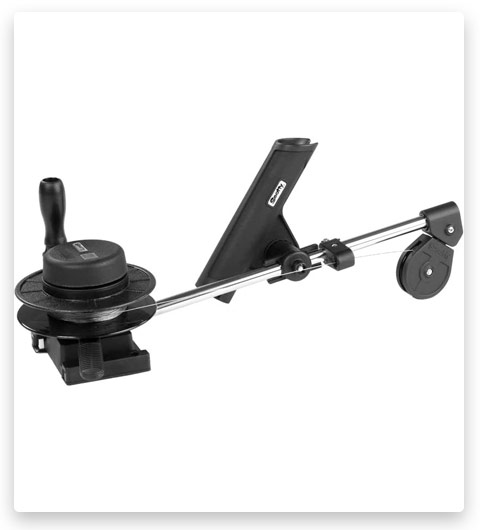 Scotty took care of anglers looking for a compact and cheap downrigger with 1050. This is a great choice especially if you're not using heavyweights. The handle on the reel provides a 1-foot lift per turn. This is sufficient if you are fishing at 75 to 80 feet. The braking system, which controls the descent, works smoothly and reliably. As in the previous model, the downrigger comes with a mounting bracket and everything you need for mounting. Its only drawback is that it is poorly installed on boats with thin planes and transoms.
The downrigger is equipped with a 23" boom, which is sufficient for smaller boats. And the QuickSlide mounting system will make installation quick and easy. In addition to the bracket, the model has a Scotty Rodmaster II rod holder. Despite all the simplicity and compactness of the downrigger, it works well and reliably.
4# Scotty 1071 DP Laketroller Manual Downrigger – Best Budget Pick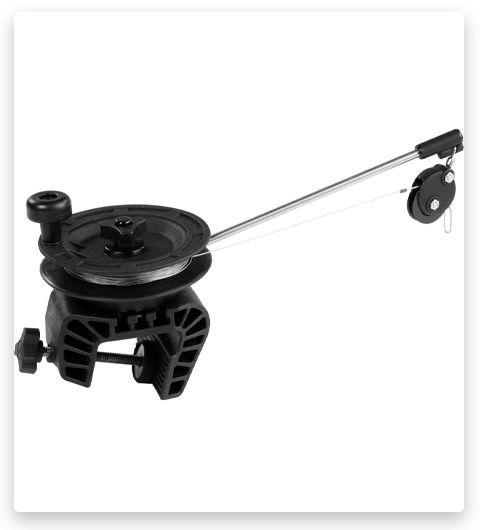 We would choose this model if we wanted a great downrigger for under $ 80. Simple yet reliable Scotty 1071 provides convenience and durability. The reel gear ratio is 1:1. It is perfect for any task up to 80 feet. The braking system and grip on this downrigger are excellent and the arrowhead has excellent load control. Considering its price, you will be surprised at its high performance. The Scotty 1071 arrow is made of stainless steel, with an anodized aluminum mounting bracket. Because of this, the downrigger's body is quite heavy and strong and does not wobble in strong waves and wind. The bracket has excellent agility but is weak in slopes. Nevertheless, he copes with his tasks perfectly. Overall, this downrigger impressed us with its low cost and high performance.
5# Scotty 1085 Strongarm Manual Downrigger – Best Durable Pick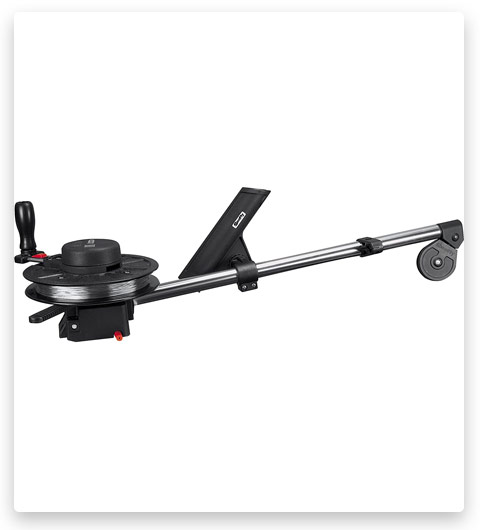 Fishermen using long and spacious boats will delight in this downrigger. Because it has a 30-inch long handle and excellent performance. When it comes to retrieving, the Scotty 1085 is faster than most similar downriggers. Of course, to quickly extract, you need strength, but it really works quickly. Besides, a comfortable handle on the reel helps you. The depth control is quite accurate thanks to the built-in sensor. This downrigger works especially well at 70-80 feet. Also, this model is equipped with adjustable brakes and a reliable grip. Included with the downrigger itself are a bracket that you can mount both on the deck and the side. Another addition is the great rod holder that will keep your rod in position when you're busy with loads or others.
6# Scotty 1099 Depthpower Compact Electric Downrigger – Our Best Electric Pick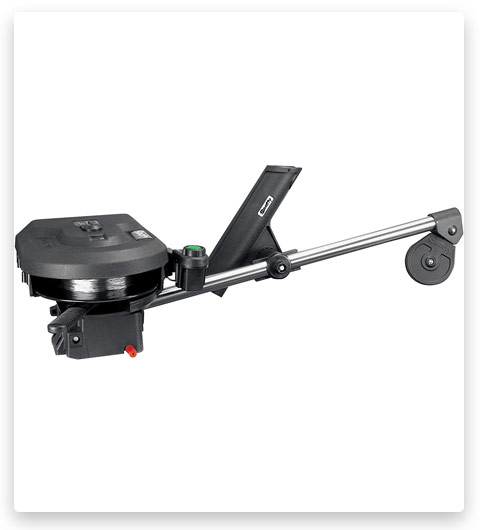 Scotty 1099 is a downrigger for demanding anglers that will impress you. Among the many electric models, this is one of the best. Inside this "beast" is a powerful motor that can lift and lower a 7-pound load at 4 feet per second. Or the load is twice as heavy, but at 3 feet per second. This is not a huge difference and overall the downrigger speed is impressive. The motor has an adjustable switch, so you can set the speed you want.
Like all Scotty electric downriggers, this model is equipped with an auto-stop function. This is a great option and helps a lot if you are fishing alone. This allows you to focus on the rod rather than the downrigger. The Scotty 1099 also features a 24 " steel boom with a durable mount that fits exactly where you need it. The downrigger is easy to move but does not have a swivel arm that allows it to rotate 360 ​​degrees. You can buy this mount separately.
7# Scotty 2116 High Performance 2 Holders Electric Downrigger – Best Value For Money Pick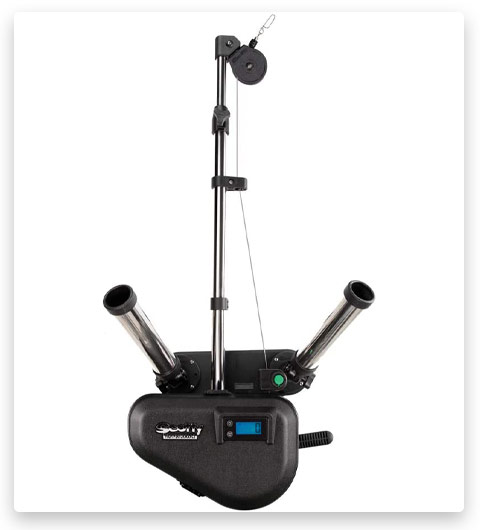 2116 is one of the most expensive yet most legendary of all Scotty's downriggers. If you are not worried about price and are willing to pay for the best performance, then this model will delight you. Inside is a powerful engine capable of pulling a 12-pound load at over 3 feet per second. But you can always adjust the ascent speed to suit your needs. The brake and clutch that follow the descent are excellent, so you can rely on them. The boom is telescopic and can extend from 36 to 60 inches.
This is more than enough, even if you want the longest hand possible. Scotty 2116 is attached with a special bracket that can rotate 360 ​​degrees. For even greater convenience, the mount locks in 16 positions and tilts. You will also find two handy rod holders on the sides of the downrigger. They are easy to set up and of excellent quality. We have nothing more to add, this is a great model that is definitely worth the money.
8# Scotty 2106B High-Performance Electric Downrigger – Best Adjustable Pick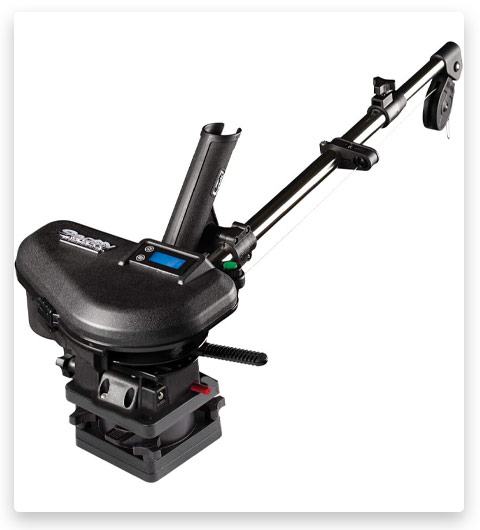 The Scotty 2106 is a time-honored model that is perfect for anglers of all backgrounds. This is a great alternative to Scotty 2116 if you don't need two-rod holders. This model features one of the fastest motors and has a recovery rate of over 4 feet per second with a load of 8-12 lbs. Therefore, we are confident that you will like this motor. Scotty 2106 offers an automatic stop system. This allows you to focus on the rod and fish.
It has a lockable swivel base that can be rotated 360 degrees and fixed in 16 positions. This gives you a lot more opportunities to use this device in trolling. This also has no problems with the slope. This model features a stainless steel telescopic boom that can extend from 36 to 60 inches. You will also find a quality adjustable rod holder on the motor. Another feature that we appreciate about this model is the very accurate depth meter. Although the angle of inclination of the cable can greatly affect this, the meter reading is almost always close to real.
Understanding Downriggers

The Downrigger: An Indispensable Tool for the Deep-Water Angler
Downriggers are ingenious devices engineered to enhance the fishing experience, specifically for deep-water trolling. The primary purpose of a downrigger is to enable anglers to place their fishing line at a precise depth, a task that can be challenging to achieve with traditional fishing methods.
The function of a downrigger is relatively straightforward. It comprises a cable (usually made of stainless steel) attached to a heavyweight. The fishing line from a rod is attached to a release mechanism on the cable. As the downrigger weight is lowered into the water, it drags the fishing line to the desired depth. The release mechanism ensures that when a fish strikes, the line is disengaged, allowing the angler to reel in the fish independently of the downrigger.
🔶In essence, a downrigger serves as a depth control tool, helping you 'rig' your bait down to where the fish are biting, hence the term 'downrigger'.
Why Downriggers are Key to Successful Deep-Water Fishing
Downriggers are crucial for deep-water fishing for several reasons.
✅Depth Precision: Fish, particularly species like salmon, lake trout, or king mackerel, are depth-specific and tend to inhabit particular depth ranges depending on factors like temperature and light. Downriggers allow you to present your bait at these exact depths, significantly improving your chances of attracting a catch.
✅Trolling Efficiency: When trolling – moving slowly across the water with bait trailing behind – downriggers enable you to cover a larger area effectively. By setting multiple downriggers at different depths, you can explore various depth strata simultaneously, increasing your likelihood of finding fish.
✅Bait Presentation: Downriggers also enhance the presentation of your bait. Because the line is released when a fish strikes, you can fight the fish directly on your rod and reel, without the added resistance of the weight. This results in a more natural movement of the bait, which is likely to result in more bites.
✅Fuel Efficiency: Because downriggers enable precise depth control, there's no need for excessive weight on the fishing line. This means you can use a thinner, lighter line, which reduces drag and thus saves fuel when trolling.
In the grand scheme of fishing, downriggers may seem like just another piece of equipment. Still, for the deep-water angler, they can mean the difference between a boat full of fish and going home empty-handed.
The Unique Features of Scotty Downriggers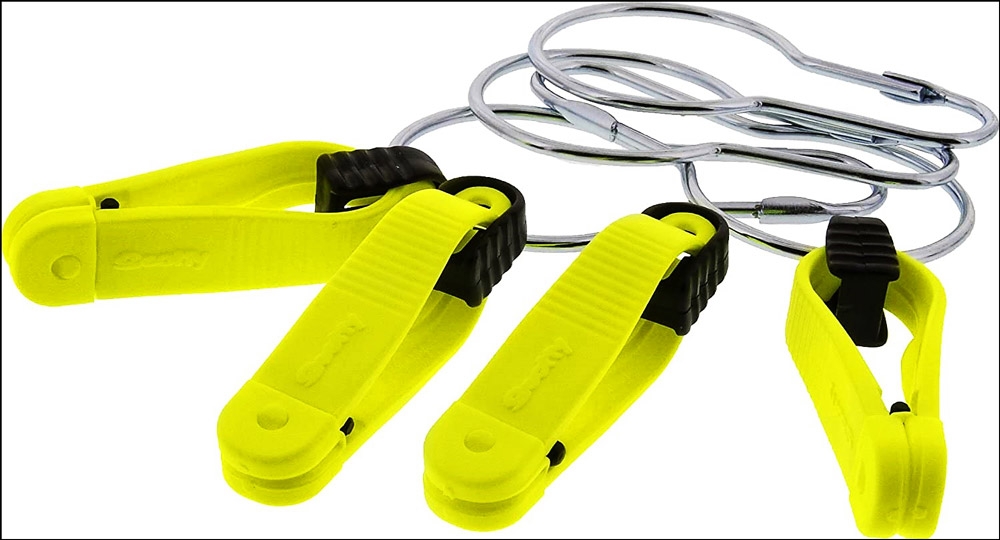 The Scotty Lineup: Manual vs Electric Downriggers
The manual downrigger is distinguished primarily by the fact that you have to raise and lower the weight using the handle on the reel. This is the most affordable and easy-to-use type of downrigger. The disadvantage is that you have to wind the line by hand every time, which is not very efficient. Especially if you fish alone, you can miss your prey and lose your bait. Also, due to manual control, this type has less power, speed, and carrying capacity.
Electric downriggers are free of all the disadvantages of manual models. The lifting and lowering of the line are carried out by pressing a button – you do not need to turn the handle for several minutes. Also, thanks to the electric motor inside, this type of downrigger is faster and more powerful than the manual counterpart. The disadvantages of this type include high cost and limited battery life. Scotty electric downriggers also have useful features, like auto-stop.
We like electric downriggers more because all you have to do to lift the load is the push of a button. But if you love fishing with friends and have someone who will lift the downrigger while you are working directly with the fish, then the hand model is the perfect solution for you.
Scotty caters to a wide array of anglers by offering two primary types of downriggers: manual and electric.
Manual downriggers from Scotty are designed for those who prefer a hands-on approach to their fishing. These devices require the angler to physically crank the weight up and down, providing a sense of direct control and engagement. They are typically less expensive, simple to maintain, and known for their rugged durability.
On the other hand, Scotty's electric downriggers are perfect for those seeking a more effortless fishing experience or for situations where heavy weights and deep depths require significant effort to retrieve manually. These downriggers are equipped with a motor that automatically deploys and retrieves the downrigger weight, saving anglers the effort and allowing them to focus on the fishing.
Scotty Downriggers: Distinct Features for Distinct Anglers
Several key features make Scotty downriggers stand out. First, their construction is robust and designed to withstand harsh marine environments. They use materials like marine-grade stainless steel and reinforced nylon, ensuring a high level of resistance to corrosion and wear.
Scotty downriggers also offer a high degree of user-friendliness. The design and layout of controls are intuitive, making operation easy even for beginners. Moreover, the downriggers are designed for easy mounting on most boat types, adding to their convenience.
Another defining feature is the adjustable boom length, allowing anglers to adapt to different fishing scenarios. The inclusion of depth counters on both manual and electric models is also a significant advantage, as it allows for precise depth setting and control.
Built to Last: Durability, Reliability, and Versatility of Scotty Downriggers
Scotty downriggers are renowned for their durability. Constructed from high-quality, marine-grade materials, these downriggers are built to last, often outliving many of their competitors.
Reliability is another cornerstone of Scotty's reputation. Their downriggers are designed and built to perform consistently, regardless of the conditions. This reliability extends to their customer service, where Scotty offers excellent support and maintains a ready supply of replacement parts.
The versatility of Scotty downriggers is also impressive. With adjustable boom lengths, varying weight capacities, and the ability to be fitted on a broad range of boat types, Scotty downriggers cater to a wide variety of angling styles and conditions.
Innovation Underwater: Scotty's Cutting-Edge Features
Scotty has always been at the forefront of downrigger innovation, and this is particularly evident in their electric models. They include features like automatic depth tracking, which maintains the lure at a preset depth, adjusting automatically as the boat's speed changes.
One of Scotty's standout features is the auto-stop function, which automatically stops the descent of the weight once it reaches a specified depth, preventing potential snags. Additionally, on retrieval, the auto-stop function ensures the weight stops short of entering the boat, avoiding potential damage or injury.
Through these unique and innovative features, Scotty continues to uphold its reputation as a leading brand in downrigger technology, offering an unmatched combination of durability, reliability, versatility, and innovation.
Hands-On: Using a Scotty Downrigger
Gear Up: A Step-by-Step Guide to Setting Up Your Scotty Downrigger
Setting up a Scotty downrigger is a straightforward process. Here's a step-by-step guide:
💹Mounting: Securely mount your Scotty downrigger to your boat using the mounting instructions provided with the unit. Ensure the downrigger is firmly attached and that the area allows sufficient space for the downrigger's operation.
💹Attach the Weight: Thread the downrigger cable through the weight and secure it according to the manufacturer's instructions. Ensure the weight is securely attached to prevent accidental loss.
💹Thread the Line: Run your fishing line from the rod, through the rod holder, and attach it to the downrigger clip. The clip should hold the line firmly but release it when a fish strikes.
💹Set the Depth: Lower the weight to your desired fishing depth using the downrigger's control mechanism. Keep an eye on the depth counter to ensure accuracy.
Mastering the Tides: Tips for Successful Deep-Water Trolling with Scotty
🆕Monitor the Depth: Always keep an eye on your depth counter. Certain fish species prefer specific depths, so adjust your downrigger accordingly to maximize your chances of a catch.
🆕Adjust Speed: The speed of your boat can impact the effectiveness of your lure. Experiment with different speeds to see what works best for the species you're targeting.
🆕Use High-Quality Line: A strong, high-quality fishing line is essential when using a downrigger to ensure it can handle the pressure of a deep-water catch.
🆕Check Your Gear Regularly: Regularly check your downrigger for any signs of wear and tear and maintain it according to the manufacturer's instructions.
Safety First: Key Considerations When Using Downriggers
🆘Keep Clear of the Cable: The downrigger cable can cause injury if not handled correctly. Ensure everyone on board is aware of its operation and stays clear when it's being deployed or retrieved.
🆘Secure All Equipment: Make sure your downrigger is securely mounted, and all weights and cables are safely attached to prevent accidents.
🆘Wear Protective Gear: Always wear appropriate protective gear, including gloves when handling the downrigger cable and life vests when on the water.
Troubleshooting 101: Overcoming Common Scotty Downrigger Issues
🔁Line Not Releasing: If your line isn't releasing when a fish strikes, it might be attached too tightly. Adjust the clip tension to ensure it can release under the correct amount of pressure.
🔁Inaccurate Depth Counter: If your depth counter isn't accurate, it might need recalibration. Check your user manual for instructions on how to do this.
🔁Motor Not Running on Electric Downriggers: If your downrigger's motor isn't working, check the battery connection and the circuit breaker. If the problem persists, contact Scotty customer service for further assistance.
🔶Remember, if you're facing any issues with your Scotty downrigger, their customer service is excellent, and they are always ready to assist.
Case Studies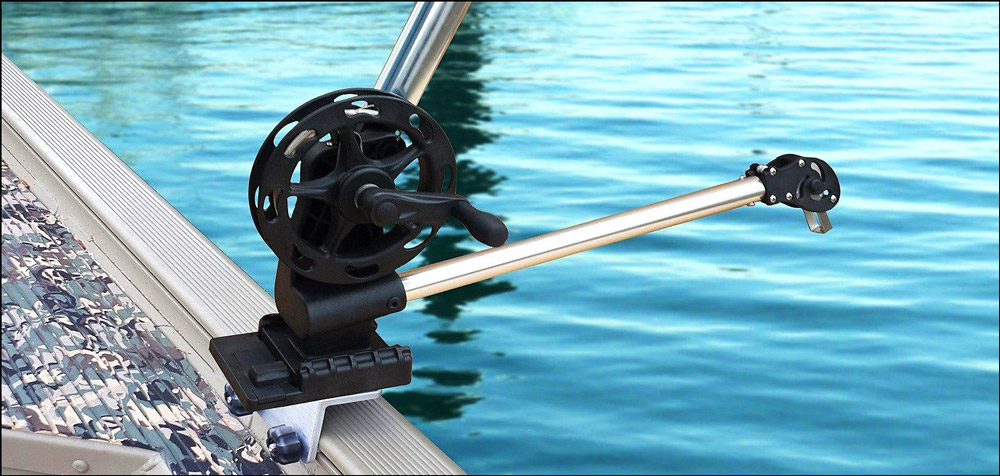 Reel Stories: Professional Anglers Share Their Scotty Experiences
💎John, a Professional Angler from Oregon:
John, a seasoned angler from Oregon, has been using Scotty downriggers for over a decade. He swears by their durability and reliability, stating, "I've taken my Scotty downriggers out in all sorts of conditions, from calm days to turbulent storms. They've never let me down." John also appreciates the precision of depth control they offer, enabling him to target specific species with ease.
💎Lisa, a Charter Boat Captain from Michigan:
Lisa, who operates a charter fishing boat on Lake Michigan, stands by her Scotty downriggers. She says, "When clients come aboard, they expect results. Scotty downriggers allow us to get our lures exactly where they need to be to ensure a successful day on the water. Plus, their ease of use makes them client-friendly, even for those new to deep-water fishing."
From Salmon to Swordfish: Navigating Various Water with Scotty Downriggers
Scotty downriggers have been instrumental in catching a wide variety of fish species across different waters.
🌐In the Pacific Northwest, anglers like John use them to target Chinook and Coho Salmon. The depth control offered by Scotty downriggers allows them to present their bait in the colder, deeper waters where these species tend to congregate.
🌐On the Great Lakes, charter captains like Lisa use Scotty downriggers to catch Lake Trout and Walleye. Here, the downriggers help overcome the challenge of the lakes' depth and vastness, enabling precise placement of lures in the productive but hard-to-reach deep waters.
The Future of Scotty Downriggers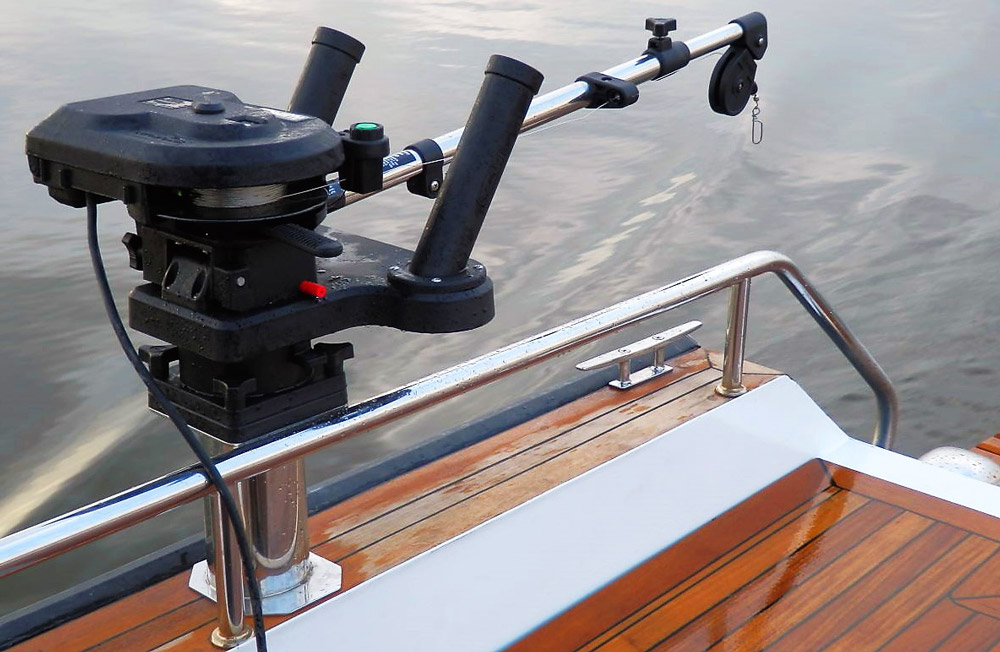 Beyond the Horizon: Anticipating Scotty's Upcoming Innovations
Scotty's history of innovation suggests that they will continue to push the boundaries of downrigger technology. Potential advancements might include improvements in battery efficiency for electric models, further enhancements in depth-tracking accuracy, or even integration with digital technologies like smartphone apps or fish finders. The company may also explore ways to make downriggers more lightweight and portable without sacrificing durability and performance.
Shaping the Future: The Impact of Scotty's Advancements on the Fishing Industry
Advancements in Scotty downriggers have the potential to significantly impact the fishing industry.
🔷For one, improvements in in-depth control and tracking could allow anglers to target specific species with even greater precision. This could potentially boost catch rates and make fishing trips more successful and satisfying, whether for sports or commercial purposes.
🔷Integration with digital technology could also open up exciting possibilities. For instance, pairing downriggers with fish finders or GPS units could allow anglers to map out the most productive fishing spots and return to them with ease. Similarly, smartphone integration could let anglers control and monitor their downriggers remotely, adding a new level of convenience.
🔷Lastly, making downriggers more lightweight and portable could make deep-water trolling more accessible to a wider range of anglers. This could encourage more people to take up the sport, boosting its popularity and potentially driving growth in the fishing equipment market.
🔶While these are educated speculations based on existing trends, the actual future developments from Scotty will undoubtedly be eagerly anticipated by the fishing community worldwide.
FAQ: Experience the Depths With Scotty Downriggers
In this section, we've collected for you the most frequently asked questions regarding the operation and maintenance of Scotty downriggers. If you haven't found a question that interests you, then don't hesitate to ask it in the comments.
Final Verdict: Scotty Downriggers The Ultimate Fishing Companion
Among all the models, we have selected the two best. Scotty 1073 DP Laketroller becomes the best manual downrigger. It has an excellent sink rate, solid boom, comfortable bracket, and accurate depth counter. In some respects, it even surpasses many electric downriggers. The only thing that could make this model even better is the rod holder.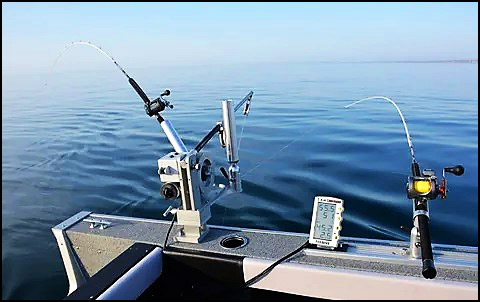 The best electric downrigger for us is the Scotty 1099 Depthpower. With a very powerful motor, long arm, and strong boom, you will have almost no downrigger distractions and can concentrate entirely on the rod and fish. This model will do almost all the work for you.
But anyway, in a general sense, there is no better downrigger. Because the best model is the one that fits you and your boat perfectly. And when choosing the option that suits you, be sure to consider the boom length, working depth, mounting method, and the possibility of using a steel or braided cable. All of the products on our list are outstanding and will serve you well on the water. Leave comments and tell us what you think about our choice. It is very important for us.
Conclusion: Unveiling the Power of Scotty Downriggers
In this comprehensive overview, we dived into the world of Scotty downriggers, covering their history, purpose, unique features, and practical application. We explored how they've evolved over the years, becoming a leading choice for both amateur and professional anglers.
Reeling It In: Key Takeaways from Our Deep Dive into Scotty Downriggers
We discussed their key features, including their durable design, reliability, and innovative advancements like depth tracking and auto-stop. We then walked through a practical guide on how to use these tools and shared tips for a successful deep-water fishing experience.
Through case studies, we highlighted the wide range of species that can be caught using Scotty downriggers and in the various types of waters where these tools excel. Lastly, we speculated on potential future advancements from Scotty and how these could impact the fishing industry.
Scotty Downriggers: Elevating the Fishing Experience for All
Scotty downriggers truly stand out in the realm of deep-water fishing. Their versatility, reliability, and user-friendly design make them an excellent tool for anglers of all experience levels.
For amateurs, Scotty downriggers offer an accessible entry point into deep-water trolling. Their easy setup and operation, combined with excellent customer support, make the learning curve much less daunting.
For professionals, the precision and control provided by Scotty downriggers are invaluable. They allow for targeted fishing at specific depths, significantly increasing the chances of a successful catch.
In conclusion, whether you're a weekend warrior or a seasoned pro, a Scotty downrigger is a worthy investment, promising to elevate your fishing experience to new depths.
References and Further Reading
Diving Deeper: Referenced Works and Acknowledgements
"Scotty Downriggers." Scotty – https://scotty.com/downriggers/
"A Simple Way to Target Lake Trout Without a Downrigger" BassProShop – https://1source.basspro.com/news-tips/trout/6346/simple-way-target-lake-trout-without-downrigger
Continuing the Journey: Recommended Reads for the Avid Angler
If you're interested in delving further into the world of downriggers and deep-water fishing, here are a few resources that might be of interest:
📚Books:
"The Complete Guide to Downrigger Fishing" by Capt. Dan Keating
"Precision Trolling: The Troller's Bible" by Dr. Steven Holt
⚓Websites/Blogs:
The Scotty website (www.scotty.com) for detailed product specifications, guides, and customer support.
www.saltstrong.com for a variety of fishing tips, including deep-water trolling techniques.
💍Forums:
www.thehulltruth.com, a popular boating and fishing forum where you can connect with other anglers and share experiences and tips.
🎥YouTube Channels:
"Scotty Fishing" for product demos, how-to guides, and more.
"Salt Strong" for general fishing advice, including deep-water fishing.
🔶Remember, learning about downriggers and deep-water fishing is a journey. Take your time, enjoy the process, and you'll be reaping the benefits on the water in no time.
Tags: #scotty downriggers / #scotty electric downriggers / #scotty downriggers for sale / #how do scotty downriggers get delivered / #scotty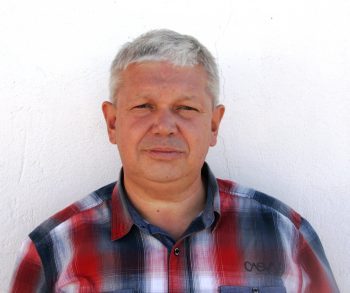 Sergio Smirnoff
Professional fisherman with 40+ years of experience.
Fishing and the ocean is a passion of my life. I am passionate about all kinds of sea fishing: fishing from the shore (spinning, float, baitcasting), from a boat, and spearfishing day and night.
I live in Tenerife (Canary Islands) for the last 10+ years and share my daily fishing experiences on my website. Many years of personal experience as a fisherman and the vast experience of my friends allow me to write professionally on any fishing topics (from choosing a flashlight and equipment to deep-sea fishing).
All of my advice is based on practical real-world experience and will be useful to both novice anglers and professionals.
Read more
about the author.
Affiliate Disclosure: FishReeler.com sometimes gets paid for listings, through sponsors or affiliate programs like Amazon, Ebay, Cabelas, Bass Pro Shop, Shimano, Daiwa, Rapala, Renn, Okuma, KastKing, etс. Clicking a link helps keep FishReeler.com free, at no extra cost to you!
About the author: Each article is verified by the fishing expert Sergio Smirnoff. The articles are written by professional and amateur fishermen with 20+ years of fishing experience.
Note: The views and opinions expressed in this article are those of the authors and do not necessarily reflect the official policy or position of any agency. The articles are for informational purposes only, share your opinions in the comments and join the fishing discussions, let's share our fishing experiences together!