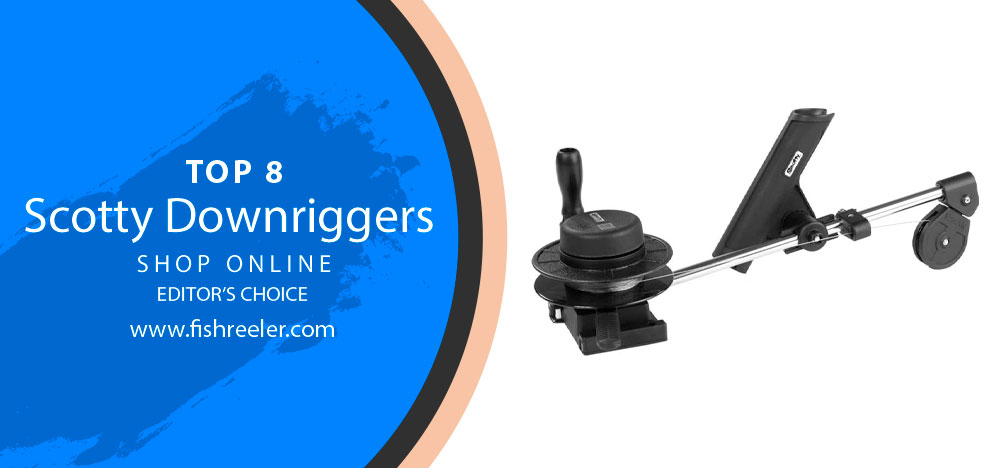 Scotty Downriggers – Top 8 Best Downriggers for Trolling
Downriggers are devices that are great helpers in trolling and boat fishing. They help the angler to properly submerge the bait to the desired depth and hold it there as long as needed. We've prepared for you an article in which we reviewed 8 downriggers from one of the best brands – Scotty.
What Is Downrigger For?
Any qualified angler knows that trolling is one of the most promising and catchy areas of fishing. This method is especially effective when catching active fish. Of course, when fishing near the surface, you can also catch fish, however, it is fishing in the middle and bottom zones that are most successful.
For many years, anglers have used lead-lined devices or metal-core cables to sink their lures. However, these simple means didn't adequately solve the problem of lure deepening and retention when playing at depth. The reason is that when the boat moved, the bait moved forward and up too. Besides, the use of heavy weights spoils the game of the bait and also makes it difficult to register a bite, as well as to catch and play the caught fish.
Therefore, there was a need for a tool that would perfectly sink the bait to the bottom and help keep it there or wherever the angler wants. This is how downriggers appeared. Several years ago, downriggers appeared among the fans of trolling fishing – tackles that allow them to abandon the use of heavyweights and other inconvenient equipment.
What Is Downrigger And How Does It Work?
In its simplest form, a downrigger is a powerful and spacious reel with a metal cable wound around it. A heavy sinker is attached to the end of the cable. A downrigger isn't directly related to the rod that the angler catches. The cable sinker is lowered into the water to a needed depth, and the trolling rod with a reel is installed completely independently in the downrigger tripod or next to it on the stand.
The line is equipped with bait and secured with a special mechanical clip attached to the downrigger cable. When the boat moves, the line is pulled, and the bait goes to the depth. And since the line is fastened with a clip to the downrigger cable, the bait follows at a strictly defined depth.
When a fish bites, the clip releases the fishing line and the angler gets the opportunity to pull the prey without experiencing the resistance of a heavy load. After retrieving the fish or changing the bait, the downrigger can quickly be brought back into the working position. Modern downriggers include all the components of primitive downriggers, plus they have additional advantages that make life easier for an angler – a braking system that works when the load is lowered, a counter for the length of the released cable, and other useful devices.
About Scotty Downriggers
There are not many manufacturers on the market that do downriggers. But Scotty Downriggers is one of the very best brands on the market. It is renowned for its rugged, reliable, and durable devices. The company has been on the market for over 50 years and has become a leader in the manufacture of its products around the world. The company is fully committed to quality and its customers, which is why they have very rave reviews from buyers.
All Scotty products are based on years of experience and recommendations from experienced anglers and clients. That is why we chose this one among all the companies for the review. In addition to the downriggers themselves, Scotty produces various add-ons and accessories for downriggers. For example, mounts for downriggers or various cables. In total, Scotty has two types of downriggers: manual and electric.
Differences Between Manual And Electric Scotty Downriggers
The manual downrigger is distinguished primarily by the fact that you have to raise and lower the weight using the handle on the reel. This is the most affordable and easy-to-use type of downrigger. The disadvantage is that you have to wind the line by hand every time, which is not very efficient. Especially if you fish alone, you can miss your prey and lose your bait. Also, due to manual control, this type has less power, speed, and carrying capacity.
Electric downriggers are free of all the disadvantages of manual models. The lifting and lowering of the line are carried out by pressing a button – you do not need to turn the handle for several minutes. Also, thanks to the electric motor inside, this type of downrigger is faster and more powerful than the manual counterpart. The disadvantages of this type include high cost and limited battery life. Scotty electric downriggers also have useful features, like auto-stop.
We like electric downriggers more because all you have to do to lift the load is the push of a button. But if you love fishing with friends and have someone who will lift the downrigger while you are working directly with the fish, then the hand model is the perfect solution for you.
Our Compilation of 8 Best Scotty Downriggers
| Image | Product | Brand | Link |
| --- | --- | --- | --- |
| | Scotty #1073DP Laketroller Manual Downrigger, Post Mount, Display Packed BLACK, Small | Scotty | |
| | Scotty #1060 Depthking Manual Downrigger, Display Packed w/ Rod Holder | Scotty | |
| | Scotty #1050 Depthmaster Manual Downrigger, Display Packed w/ Rod Holder, BLACK, 23" | Scotty | |
| | Scotty #1071DP Laketroller Manual Downrigger, Clamp Mount, Display Packed black, Small | Scotty | |
| | Scotty #1085 Strongarm Manual Downrigger w/ 30-Inch Boom w/ Rod Holder , Black | Scotty | |
| | Scotty #1099 Compact Depthpower Electric Downrigger w/24-inch Boom | Scotty | |
| | Scotty #2116 High Performance Electric Downrigger, BLACK | Scotty | |
| | Scotty #2106B High Performance Downrigger - 36"-60" / Braided Line, Black | Scotty | |
Well, now let's take a look at 8 of the best downriggers we've prepared for you!
1# Scotty 1073 DP Laketroller Manual Downrigger – Our Best Manual Pick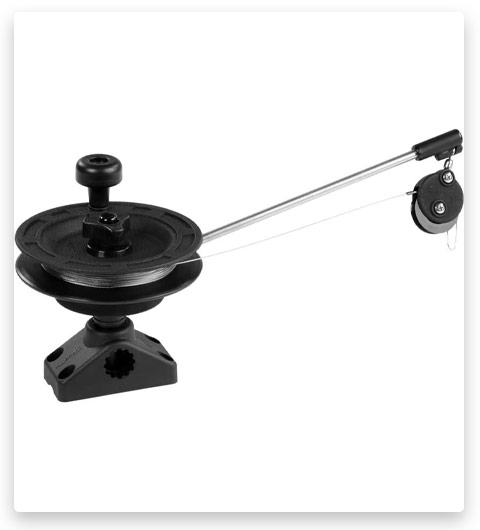 Scotty describes this model as a "downrigger to start". But after our tests, we can call it whatever we want, but not the stratum level. The model shows itself as a professional fishing tool. The reel is manual, so if you are fishing deeper than 80 feet this may not be the best solution. But among all hand-held reels, this is the winner. The model is very robust and allows you to easily turn even heavy loads.
The adjustable braking system and sensitivity allow you to handle descents effortlessly. The handle is 18 inches long, but you can shorten it if you like. However, this length allows you not to worry about the load hitting your boat. The mount gives you the ability to mount the downrigger both on deck and to the side for maximum convenience. Besides, you can rotate the attached downrigger 360 degrees. The Mini Power Grip Plus Line Release complements this kit and makes your fishing experience as exciting as possible.
2# Scotty 1060 Depthking Manual Downrigger – Best Powerful Manual Pick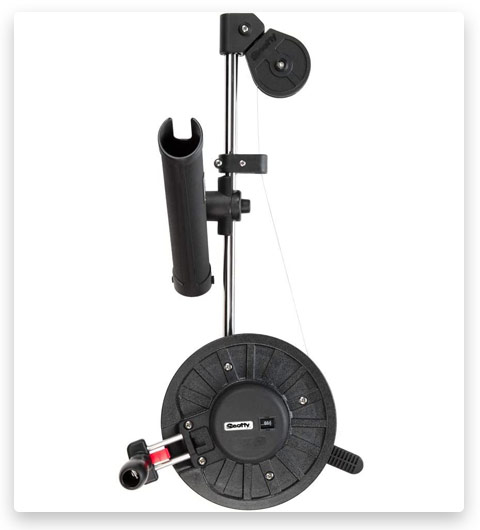 The Scotty 1060 has a simple yet very powerful design with a 23" boom and rod holder. For small and medium-sized boats, this will be a great solution. At medium depths, a hand crank will be more than sufficient. Also, the model is equipped with a splash and corrosion-resistant depth meter, which will please many anglers. The body is attached to the deck with the included bracket and bolts. But make sure the bracket is tight enough or you risk dropping or losing the downrigger altogether in a severe storm. The model also comes with a durable rod holder that saves you the expense of purchasing one. Great compact yet powerful downrigger from Scotty.
3# Scotty 1050 Depthmaster Manual Downrigger – Best Compact Pick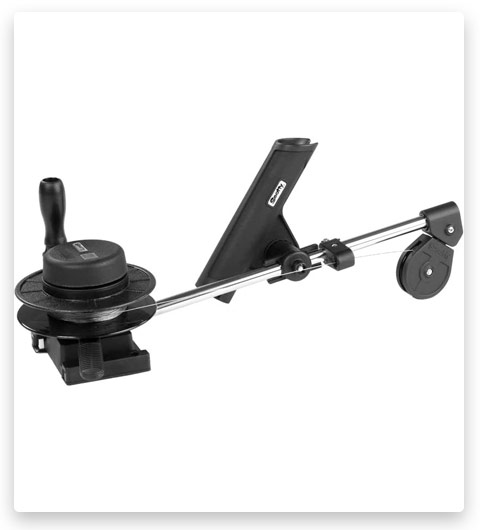 Scotty took care of anglers looking for a compact and cheap downrigger with 1050. This is a great choice especially if you're not using heavyweights. The handle on the reel provides a 1-foot lift per turn. This is sufficient if you are fishing at 75 to 80 feet. The braking system, which controls the descent, works smoothly and reliably. As in the previous model, the downrigger comes with a mounting bracket and everything you need for mounting. Its only drawback is that it is poorly installed on boats with thin planes and transoms.
The downrigger is equipped with a 23" boom, which is sufficient for smaller boats. And the QuickSlide mounting system will make installation quick and easy. In addition to the bracket, the model has a Scotty Rodmaster II rod holder. Despite all the simplicity and compactness of the downrigger, it works well and reliably.
4# Scotty 1071 DP Laketroller Manual Downrigger – Best Budget Pick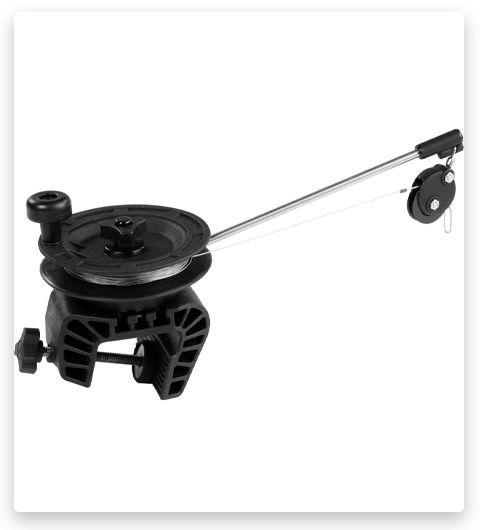 We would choose this model if we wanted a great downrigger for under $ 80. Simple yet reliable Scotty 1071 provides convenience and durability. The reel gear ratio is 1:1. It is perfect for any task up to 80 feet. The braking system and grip on this downrigger are excellent and the arrowhead has excellent load control. Considering its price, you will be surprised at its high performance. The Scotty 1071 arrow is made of stainless steel, with an anodized aluminum mounting bracket. Because of this, the downrigger's body is quite heavy and strong and does not wobble in strong waves and wind. The bracket has excellent agility but is weak in slopes. Nevertheless, he copes with his tasks perfectly. Overall, this downrigger impressed us with its low cost and high performance.
5# Scotty 1085 Strongarm Manual Downrigger – Best Durable Pick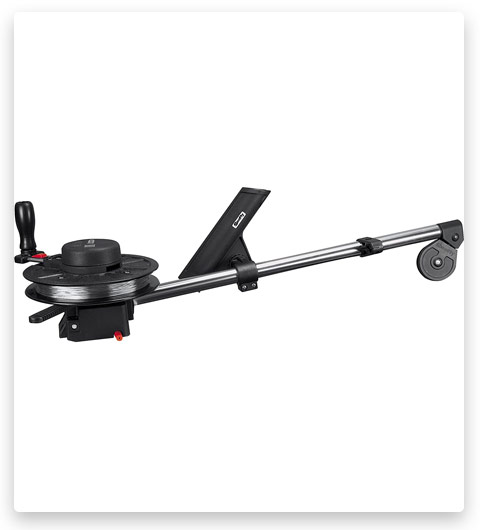 Fishermen using long and spacious boats will delight in this downrigger. Because it has a 30-inch long handle and excellent performance. When it comes to retrieving, the Scotty 1085 is faster than most similar downriggers. Of course, to quickly extract, you need strength, but it really works quickly. Besides, a comfortable handle on the reel helps you. The depth control is quite accurate thanks to the built-in sensor. This downrigger works especially well at 70-80 feet. Also, this model is equipped with adjustable brakes and a reliable grip. Included with the downrigger itself are a bracket that you can mount both on the deck and the side. Another addition is the great rod holder that will keep your rod in position when you're busy with loads or others.
6# Scotty 1099 Depthpower Compact Electric Downrigger – Our Best Electric Pick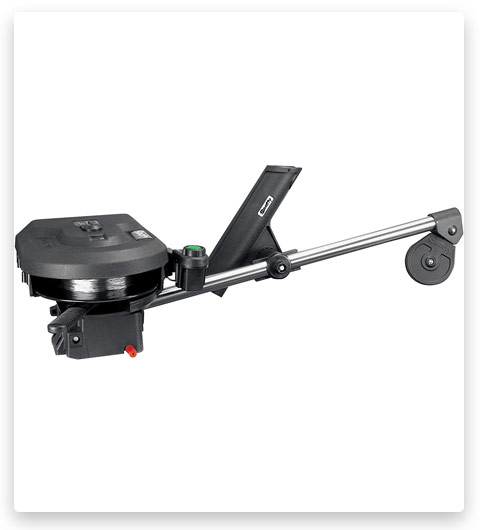 Scotty 1099 is a downrigger for demanding anglers that will impress you. Among the many electric models, this is one of the best. Inside this "beast" is a powerful motor that can lift and lower a 7-pound load at 4 feet per second. Or the load is twice as heavy, but at 3 feet per second. This is not a huge difference and overall the downrigger speed is impressive. The motor has an adjustable switch, so you can set the speed you want.
Like all Scotty electric downriggers, this model is equipped with an auto-stop function. This is a great option and helps a lot if you are fishing alone. This allows you to focus on the rod rather than the downrigger. The Scotty 1099 also features a 24 " steel boom with a durable mount that fits exactly where you need it. The downrigger is easy to move but does not have a swivel arm that allows it to rotate 360 ​​degrees. You can buy this mount separately.
7# Scotty 2116 High Performance 2 Holders Electric Downrigger – Best Value For Money Pick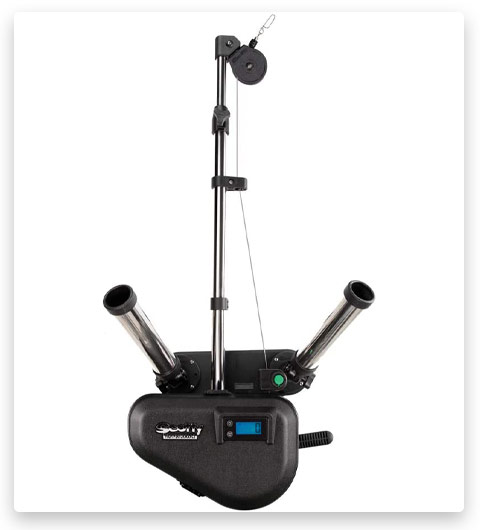 2116 is one of the most expensive yet most legendary of all Scotty's downriggers. If you are not worried about price and are willing to pay for the best performance, then this model will delight you. Inside is a powerful engine capable of pulling a 12-pound load at over 3 feet per second. But you can always adjust the ascent speed to suit your needs. The brake and clutch that follow the descent are excellent, so you can rely on them. The boom is telescopic and can extend from 36 to 60 inches.
This is more than enough, even if you want the longest hand possible. Scotty 2116 is attached with a special bracket that can rotate 360 ​​degrees. For even greater convenience, the mount locks in 16 positions and tilts. You will also find two handy rod holders on the sides of the downrigger. They are easy to set up and of excellent quality. We have nothing more to add, this is a great model that is definitely worth the money.
8# Scotty 2106B High-Performance Electric Downrigger – Best Adjustable Pick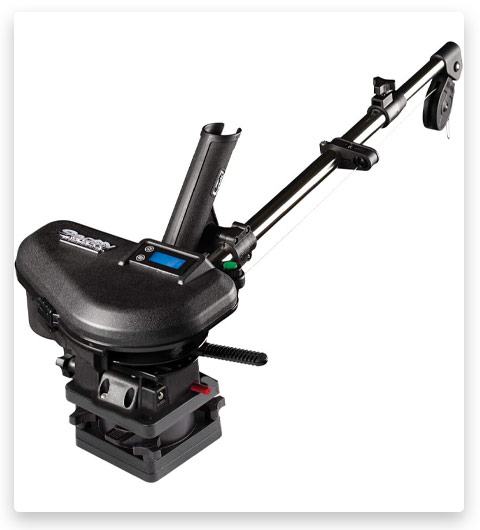 The Scotty 2106 is a time-honored model that is perfect for anglers of all backgrounds. This is a great alternative to Scotty 2116 if you don't need two-rod holders. This model features one of the fastest motors and has a recovery rate of over 4 feet per second with a load of 8-12 lbs. Therefore, we are confident that you will like this motor. Scotty 2106 offers an automatic stop system. This allows you to focus on the rod and fish.
It has a lockable swivel base that can be rotated 360 degrees and fixed in 16 positions. This gives you a lot more opportunities to use this device in trolling. This also has no problems with the slope. This model features a stainless steel telescopic boom that can extend from 36 to 60 inches. You will also find a quality adjustable rod holder on the motor. Another feature that we appreciate about this model is the very accurate depth meter. Although the angle of inclination of the cable can greatly affect this, the meter reading is almost always close to real.
FAQ Scotty Downriggers
In this section, we've collected for you the most frequently asked questions regarding the operation and maintenance of Scotty downriggers. If you haven't found a question that interests you, then don't hesitate to ask it in the comments.
Final Verdict
Among all the models, we have selected the two best. Scotty 1073 DP Laketroller becomes the best manual downrigger. It has an excellent sink rate, solid boom, comfortable bracket, and accurate depth counter. In some respects, it even surpasses many electric downriggers. The only thing that could make this model even better is the rod holder.
The best electric downrigger for us is the Scotty 1099 Depthpower. With a very powerful motor, long arm, and strong boom, you will have almost no downrigger distractions and can concentrate entirely on the rod and fish. This model will do almost all the work for you.
But anyway, in a general sense, there is no better downrigger. Because the best model is the one that fits you and your boat perfectly. And when choosing the option that suits you, be sure to consider the boom length, working depth, mounting method, and the possibility of using a steel or braided cable. All of the products on our list are outstanding and will serve you well on the water. Leave comments and tell us what you think about our choice. It is very important for us. Have a nice fishing!
Tags: #scotty downriggers / #scotty electric downriggers / #scotty downriggers for sale / #how do scotty downriggers get delivered / #scotty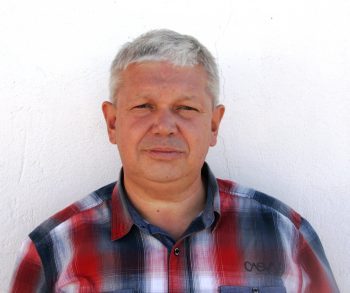 Sergio Smirnoff
Professional fisherman with 40+ years of experience.
Fishing and the ocean is a passion of my life. I am passionate about all kinds of sea fishing: fishing from the shore (spinning, float, baitcasting), from a boat, and spearfishing day and night.
I live in Tenerife (Canary Islands) for the last 10+ years and share my daily fishing experiences on my website. Many years of personal experience as a fisherman and the vast experience of my friends allow me to write professionally on any fishing topics (from choosing a flashlight and equipment to deep-sea fishing).
All of my advice is based on practical real-world experience and will be useful to both novice anglers and professionals.
Read more
about the author.
Affiliate Disclosure: FishReeler.com sometimes gets paid for listings, through sponsors or affiliate programs like Amazon, Ebay, Cabelas, Bass Pro Shop, Shimano, Daiwa, Rapala, Renn, Okuma, KastKing, etс. Clicking a link helps keep FishReeler.com free, at no extra cost to you!
About the author: Each article is verified by the fishing expert Sergio Smirnoff. The articles are written by professional and amateur fishermen with 20+ years of fishing experience.
Note: The views and opinions expressed in this article are those of the authors and do not necessarily reflect the official policy or position of any agency. The articles are for informational purposes only, share your opinions in the comments and join the fishing discussions, let's share our fishing experiences together!