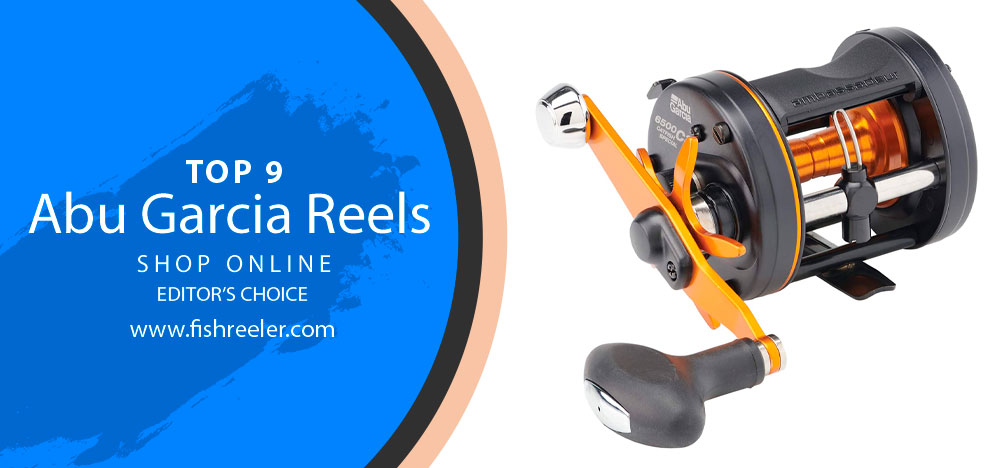 Few brands are as famous in the fishing world as Abu Garcia. For decades, the company has been supplying high-quality rods, reels, lines, baits, and more to anglers around the world. Why is this brand so popular? In this article, I present to you the Abu Garcia Reels Review. I want to introduce you to the high-quality fishing reels and tell you more about this brand. Keep reading!
Few Facts about Abu Garcia
ABU GARCIA offers fishing equipment for a lifetime. Fishing tackle that delivers the reliability and performance that knowledgeable and passionate anglers expect. The ABU GARCIA brand is known worldwide for quality and precision. Swedish rod, reel and lure manufacturing techniques and skills guarantee the most reliable and durable products of their kind in the fishing tackle market.
ABU GARCIA company was founded in Sweden in 1921 in the city of Svangsta. Originally founded as a watch factory, the product range was redesigned in the late 1930s by the founder's son Gothe Borgström. Since that time, they began to produce reels for precision fishing. Even today, ABU GARCIA® is based in Svangsta, home to the world's most modern fishing reel factory. In 1941, the first fishing reel was designed and manufactured. It's the legendary ABU Record. It was followed by the famous AMBASSADEUR reels in 1952.
Top-Rated Abu Garcia Reels
| Image | Product | Brand | Link |
| --- | --- | --- | --- |
| | Abu Garcia Zata Spinning Fishing Reel, Green | Abu Garcia | |
| | Abu Garcia REVO2IKESP30 Spinning Rod & Reel Combos | Abu Garcia | |
| | Abu Garcia unisex-adult Black Max & Max X Spinning Fishing Reels (All Models & Sizes) Red ,30 - Box | Abu Garcia | |
| | Abu Garcia 1430435 Revo x Low Profile Baitcasting Reel, 6.75: 1 Gear Ratio, 27" Retrieve Rate, 18 lb Max Drag, 8 Bearings, Right Hand ,Black | Abu Garcia | |
| | Abu Garcia Zata Baitcast Low Profile Fishing Reel, Green, Right-Handed | Abu Garcia | |
| | Abu Garcia REVO4 SX-HS Revo SX Low Profile Fishing Reel | Abu Garcia | |
| | Abu Garcia® Abumatic® 170 Spincast | Abu Garcia | |
| | Abu Garcia 6500 Ambassadeur S Round Baitcast Fishing Reel Black, AMBS-6500- 255yd/17Lb | Abu Garcia | |
| | Abu Garcia C3 Catfish Special Baitcast Round Reel | Abu Garcia | |
I suggest you take a look at the best Abu Garcia reels. After reading this overview, you will have decided on a fishing reel that meets your needs.
1# Abu Garcia Zata Spinning Fishing Reel – Best Spinning Reel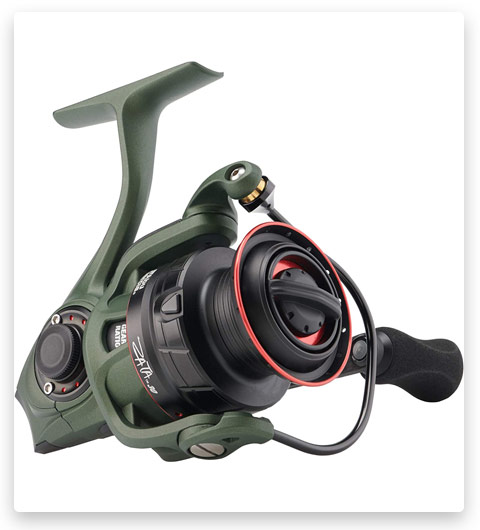 It is one of the best spinning reels on the market. Abu Garcia has put a lot of effort and knowledge into creating this product. This reel offers high performance at an affordable price. The model is equipped with 10 stainless steel ball bearings and also has a roller bearing. They allow the reel to perform smoothly. This product is known for its lightness. Your hands will not get tired thanks to the ultra-light aluminum frame. The accessory is equipped with the Rocket Line Management System. This allows you to control all types of lines. It is a durable and strong product thanks to the Everlast bail system. Last but not least, I would like to highlight the stylish and attractive design of this reel. The combination of green, black, and red looks attractive and mesmerizing.
2# Abu Garcia Revo IKE Spinning Fishing Reel – Best Under 200$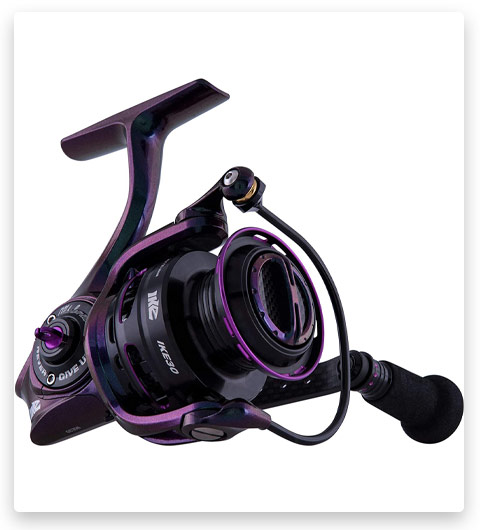 This is a state-of-the-art spinning reel with many innovative details. The Abu Garcia Revo Ike series was designed by Mike Iaconelli. It offers the power, comfort, speed, and action that every angler would expect from their fishing tackle. In addition to these characteristics, the character of the reel is reflected in the distinctive design. The accessory is equipped with 10 ball bearings for smooth operation. It is equipped with the well-known Carbon Matrix drag system. Your hands will not get tired throughout the entire fishing trip thanks to the IM-C6 body design and C6 carbon rotor.
3# Abu Garcia Black Max & Max X Spinning Fishing Reels – Best Price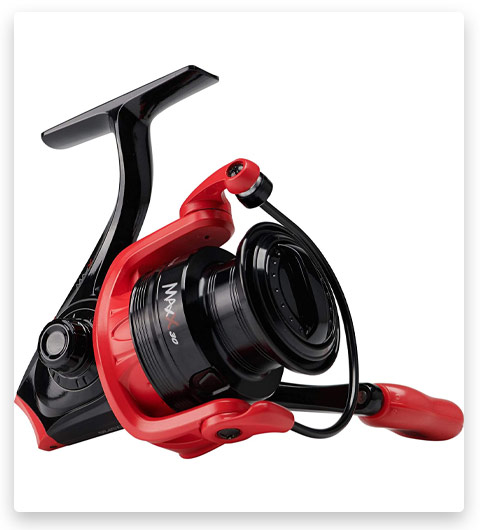 Abu Garcia Black Max is an inexpensive and reliable reel with a modern design! Functionality and stability without unnecessary details. The model offers precision and high quality in all components. This lightweight reel offers high performance at a low cost. The graphite frame and rotor provide a lightweight reel. This model is famous for its Rocket Line Management System. Long casts without line tangling. You can control any type of line. It comes with 4 ball bearings and a lightweight aluminum spool.
4# Abu Garcia Revo X Low Profile Baitcasting Fishing Reel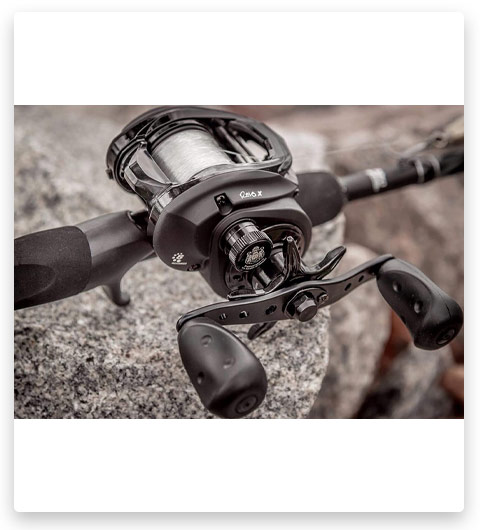 This reel is built for tough conditions. Its powerful parameters are designed for fishing with massive lures and for hunting large predators. The body is made of X2-Cräftic™ metal alloy. With this material, the engineers were able to achieve high strength with a low weight reel. It has a Carbon Matrix™ hybrid drag system. It can withstand a load of 10.8 kg. The reel has 7 closed HPCR ™ stainless steel bearings and 1 roller bearing.
5# Abu Garcia Zata Baitcast Low Profile Fishing Reel – Best Baitcasting Reel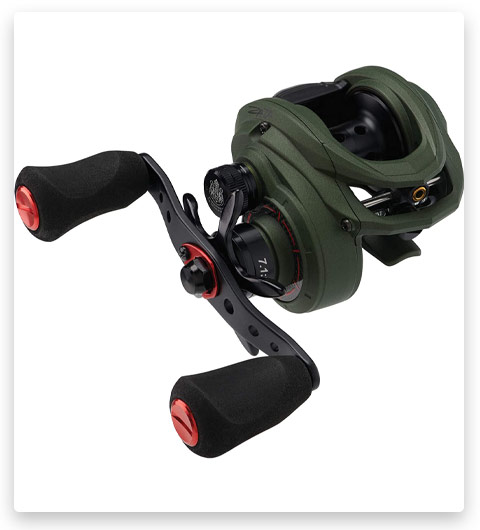 The graphite body and rotor give the reel a lighter weight without sacrificing reliability. The main mechanism and its components are made of stainless steel. The model contains 10 stainless HPCR bearings + 1 roller bearing. The Carbon Matrix drag system gives the line a smooth toe-off of the spool under heavy loads. The Infini brake system gives you the flexibility to adjust at any time. The model is equipped with a Duragear brass tackle. This extends the life of the tackle. This stylish and reliable reel will bring you a new fishing experience.
6# Abu Garcia Revo SX Low Profile Fishing Reel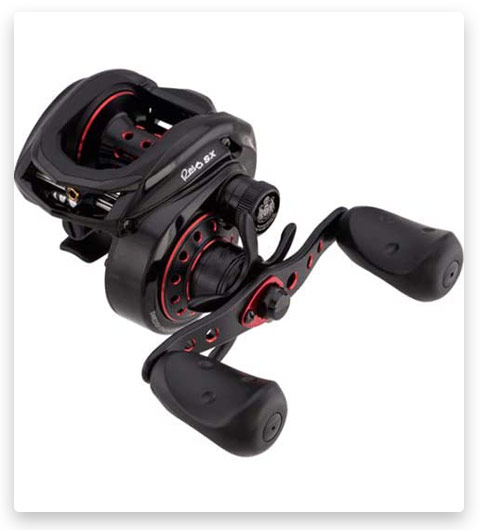 Abu Garcia Revo SX is an elegant low-profile baitcasting reel with state-of-the-art technology. This series of reels use the Infini brake system. The surface of the line guides is titanium-coated for extra friction protection. For added strength, the pinion and pawl shaft is Everslik coated. The main Duragear movement is made of bronze, while the case and case cover are made of X2-Craftic alloy. 9 HPCR ball bearings and one roller bearing have a high degree of corrosion protection. All this significantly extends the life of the reel.
7# Abu Garcia Abumatic 170 Spincast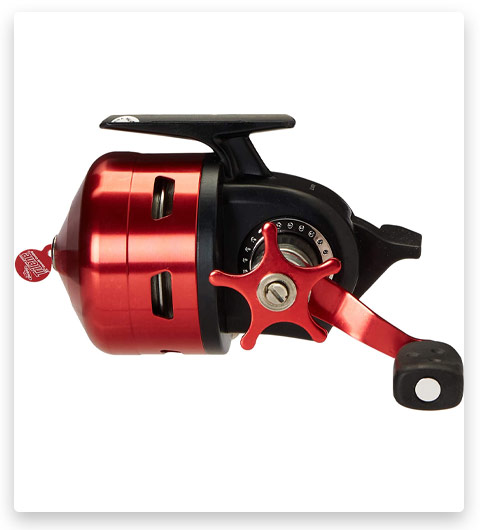 This red, closed-spool reel was born in Sweden in 1965. Respectable appearance and ease of use were quickly appreciated by fishing enthusiasts. Manufacturers have filled the successful form of the model with new content by applying the latest engineering developments and materials for its modern modification. It has become an order of magnitude better, stronger, and more durable. The classic Syncro braking system has been redesigned with Carbon Matrix materials.
The new clutch works exceptionally smoothly and reliably. The casting range has increased significantly. Control over hooking, playing and fatigue of fish is conveniently done by pressing one key. The use of the latest promising Duragear mechanism, an increase in the strength of the reel units, expanded the possibilities of its operation in extreme conditions. The use of modern materials has reduced the weight of the reel by 20%. The Abu Garcia Abumatic 170UI reel body, made of high-strength aluminum, will provide it with long service life.
8# Abu Garcia Ambassadeur Round Baitcast Fishing Reel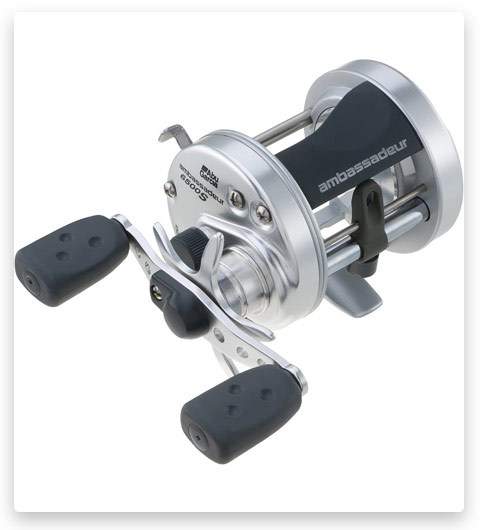 The Abu Garcia Ambassadeur reel has become a shining expression of impeccable Swedish professionalism. This model is specialized for sea fishing, but it also recommends itself well in freshwaters. The increased spool width allows the use of up to two hundred meters of thick cord, which makes the reel an indispensable tool for dealing with such giants as tarpon, grouper or large seabass. The reel adopts two high-quality high-speed bearings. The carbon fiber brake clutch provides excellent control over the flight of the lure. The braking system has a high tuning accuracy and allows even the most experienced anglers to tune the reel for themselves, without any significant inconvenience.
9# Abu Garcia C3 Species Baitcast Round Fishing Reel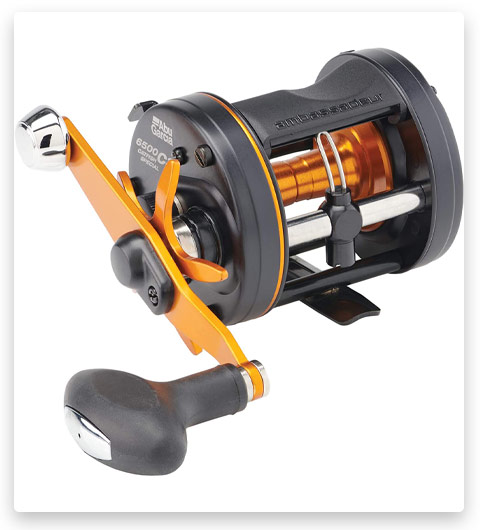 The reel is made in the shape of a barrel, which orientates it for use with large baits. The mechanism consists of three corrosion-resistant ball bearings and one roller. This model is ideal for fishing with large lures with great depth. Smooth casting is achieved using bearings, which are made of steel. The internal mechanism is endowed with high power, which is designed to play large fish. The reel is equipped with a Carbon Matrix brake system, which has an accurate setting. Depending on the fishing conditions, the reel can be adjusted for effective fishing.
Abu Garcia Reels
Fishing reels are one of the main elements of the Abu Garcia collection. They offer many advantages such as low weight, optimized braking pressure, and smooth running.
Lightweight Abu Garcia Reels
Comfort is important, especially on long fishing trips. It's just not interesting when, after a short time, you have muscle pain in your arm. Abu Garcia knows this problem, so all the reels here are especially light. There are several ways to do this. The reel and body can be made of high-quality carbon fiber, which is distinguished by its lightness and high tensile strength. Some models are equipped with an X-Powerful gearbox, carbon rotor, and light metal frame, which also contribute to weight reduction. Abu Garcia also uses aluminum for the coils. The peculiarity here is that it is used in a quality that is also used in aircraft construction. Here you can count on maximum resilience.
Braking
Another highlight of Abu Garcia reels is the braking performance. Among other things, this is guaranteed by centrifugal brakes, like those installed in the IVCB-4 brake system. It has very precise settings, so you can cast a wide variety of lures with it. The Carbon Matrix drilling system provides uniform braking pressure throughout the entire retract braking range. This means that both very hard and smooth brake settings are possible. So if you're just starting to find your own style of throwing, there are many ways to try it out here. The classic Abu Garcia models also offer you high-quality technology. For example, the MKIUI 506 capsule reel uses the super soft Syncro brake instead of the IVCB-4 brake system. It differs, on the one hand, inhomogeneity, and on the other, in ease of use.
A Smooth Line Long Distances
The weak point of many reels in the lower end is that the reels unwind and release the line in an uncontrolled manner. However, Abu Garcia did much to avoid such problems. By the way: many Abu Garcia reels are made of forged aluminum. You can also use braided lines without any problems. But unreeling is not only supported by the roll. The rings are also designed for optimal throwing distance. Among other things, they have TI coatings. This creates less friction and the line can move faster and further. This is accompanied by a significant increase in comfort. It also uses a synchronized level wind system to ensure even line placement on the baitcasting reels.
Comfort
Abu Garcia takes care of you and therefore carefully approaches the creation of the handles on the reels. Therefore, you can find models with such handles:
Round cork knob for better grip and more power.
Flat knob EVA for more comfort and greater accessibility.
Long, curved handle for more efficient cranking.
Large PVC handles for better grip.
Breakthrough in Abu Garcia with Ambassadeur Baitcast Fishing Reel
In 1941, the first model of a fishing reel appeared on the market under the name ABU Record. These were the very first Swedish bait fishing reels and entered the market as the Record 1500, 1600, 1700, and 1800 models. However, the company failed to attract media attention. Abu Garcia only achieved their breakthrough with the release of the legendary Ambassadeur Baitcasting reel. This role model is still distinguished by high precision workmanship and the use of the best materials. It was the world's first aluminum fishing reel. I talked about this reel in more detail a little higher.
Also interestingly, Ambassadeur was originally designed in three different colors: red, gold, and green. To find out which color customers would like, it was presented at the presentation and customers were allowed to vote. The vast majority of users chose the green option. The owner of the company Goethe Borgström had already fallen in love with the red model by that time. And he decided that the model should be red, and thus challenged the opinion of consumers.
Abu Garcia Spinning Reel Review
This type of reel has an open, fixed reel that is located below and in line with the shaft. The coil is secured by a rotating linear guide that bends around the coil. This type of reel is held in the right hand and the handle is operated with the left. Spinning reels are some of the best for beginner and experienced anglers because they are easy to use and great for many fishing conditions. They are best for the light line where you need to cast very light bait. And also if you do not want to damage live bait when casting from a long distance. They are available for every budget and are the most popular type of fishing reel on the market.
Abu Garcia Baitcasting Fishing Reel Review
A reel of this type has a swivel spool, a trigger handle, and is located on the top of the rod. This is really the opposite of a spinning reel. It offers anglers the ability to use certain techniques when they want to use a heavier rod. Some less experienced anglers avoid baitcasting reels because they have heard stories of line tangling on the reel. They are really easy to get used to with a little practice. They are considered by experienced anglers to be among the best fishing reels. The bait-casting reels are available in both left and right-handed versions.
Conclusion
Choosing an Abu Garcia reel is a serious matter. Whether you are a seasoned fisherman or a professional, you need to have the right equipment for fishing. Abu Garcia is definitely one of the largest manufacturers of fishing rods, reels, and accessories. The quality and consistently good reviews from experts and buyers speak for themselves. The price is also absolutely affordable with unrivaled product quality!
Convince yourself and discover the great selection of Abu Garcia reels now! This article presents both spinning and baitcasting fishing reels from the Abu Garcia brand. If you still find it difficult to make a choice, then I advise you to pay attention to such models as 2# Abu Garcia Revo IKE Spinning Reel and 4# Abu Garcia Revo X Low Profile Baitcasting Reel.
Tags: #abu garcia reel review / #abu garcia revo sx spinning reel review / #abu garcia spinning reel review / #abu garcia pro max spinning reel review / #abu garcia revo spinning reel review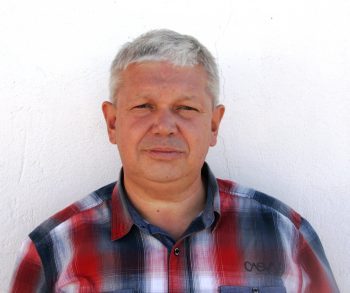 Sergio Smirnoff
Professional fisherman with 40+ years of experience.
Fishing and the ocean is a passion of my life. I am passionate about all kinds of sea fishing: fishing from the shore (spinning, float, baitcasting), from a boat, and spearfishing day and night.
I live in Tenerife (Canary Islands) for the last 10+ years and share my daily fishing experiences on my website. Many years of personal experience as a fisherman and the vast experience of my friends allow me to write professionally on any fishing topics (from choosing a flashlight and equipment to deep-sea fishing).
All of my advice is based on practical real-world experience and will be useful to both novice anglers and professionals.
Read more
about the author.
Affiliate Disclosure: FishReeler.com sometimes gets paid for listings, through sponsors or affiliate programs like Amazon, Ebay, Cabelas, Bass Pro Shop, Shimano, Daiwa, Rapala, Renn, Okuma, KastKing, etс. Clicking a link helps keep FishReeler.com free, at no extra cost to you!
About the author: Each article is verified by the fishing expert Sergio Smirnoff. The articles are written by professional and amateur fishermen with 20+ years of fishing experience.
Note: The views and opinions expressed in this article are those of the authors and do not necessarily reflect the official policy or position of any agency. The articles are for informational purposes only, share your opinions in the comments and join the fishing discussions, let's share our fishing experiences together!