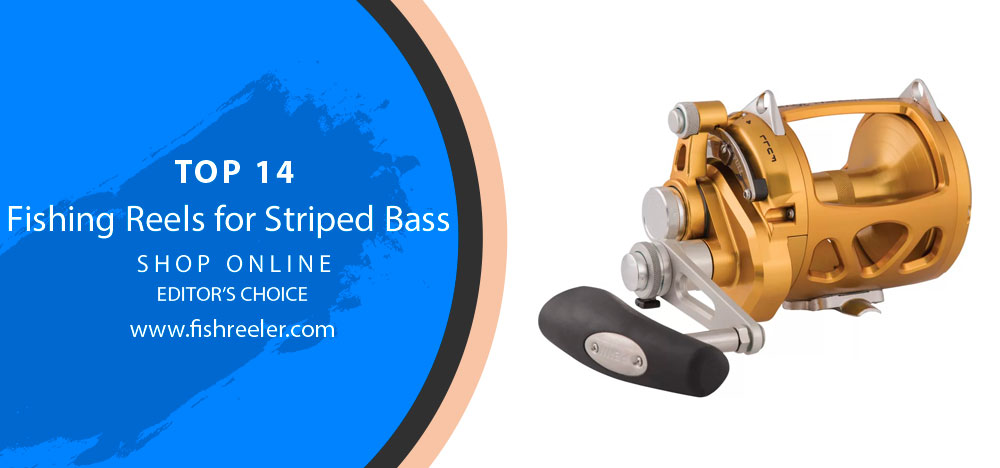 Reel in the Action: Top Fishing Reels for Striped Bass Success

Discover the Thrill of Striped Bass Fishing
Striped bass, also known as "stripers" or "rockfish," are highly sought-after gamefish that inhabit coastal waters and freshwater rivers along the East Coast of the United States. These powerful fish are known for their thrilling fights and the rewarding experience they provide to anglers. Striped bass can grow quite large, with some specimens exceeding 50 pounds, making them an exciting challenge for both novice and seasoned fishermen alike.
Gear Up for Success: The Right Reel Makes All the Difference
When it comes to striped bass fishing, having the right gear can make all the difference between a successful day on the water and a disappointing one. A crucial component of your fishing setup is the reel, which is responsible for efficiently casting your bait or lure, managing your line, and providing the necessary power and control during a fight with a trophy-striped bass. Choosing the right fishing reel is essential for ensuring you have the best possible experience when targeting these highly prized fish.
Unlocking the Best Reels for Striped Bass Anglers
This article aims to provide a comprehensive guide to selecting the perfect fishing reel for striped bass. We will discuss the various types of reels available, the key features to look for, and recommend some of the top options on the market for striped bass fishing. By the end of this article, you'll be well-equipped to make an informed decision and choose a reel that suits your needs, preferences, and budget, maximizing your chances of success when pursuing the elusive striped bass.
Reel in the Action: Top 14 Fishing Reels for Striped Bass Success
Do you love fishing for striped bass? Although there are many ways to fish for striped bass, using a reel is one of the most popular methods. If you're looking for the best fishing reel for stripers, you've come to the right place.
We've compiled a list of the top-rated reels for striped bass, so you can hit the water confidently knowing that you have the best gear possible. So, what are you waiting for? Start browsing our selection and find the perfect reel for your next fishing adventure!
1# Abu Garcia Ambassadeur C3 Striper Baitcast Reel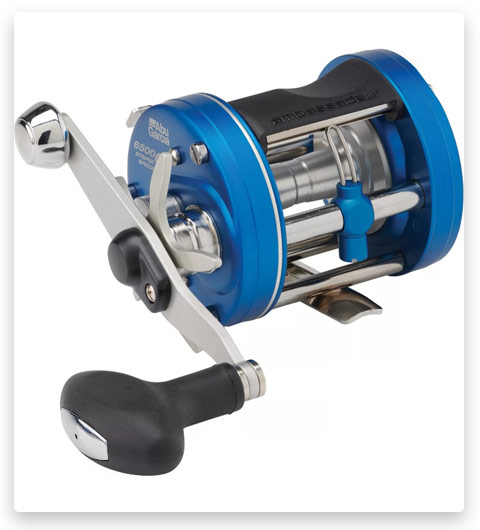 The Abu Garcia Ambassadeur C3 Striper Baitcast Reel is just what you need for a successful day of striped bass fishing. With a synchronized level wind system and 6-pin centrifugal brake, this reel provides superior cast control and smooth retrieves. The 3+1 system with stainless steel ball bearings ensures maximum torque, while the high-performance Carbon Matrix drag can handle even the toughest fish.
2# Shimano TranX 300/400 Baitcast Reel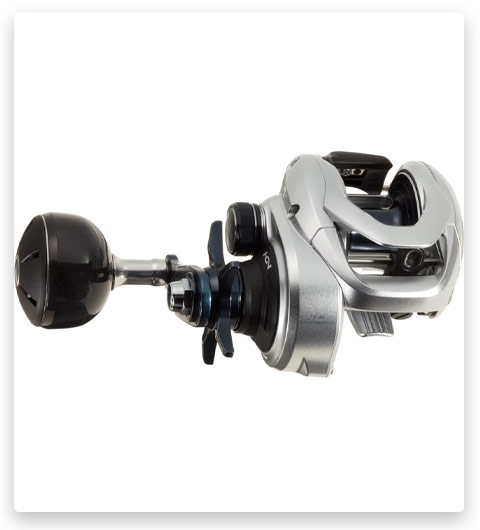 Looking for a superior baitcasting reel that can handle anything you throw at it? The Shimano TranX 300/400 Baitcast Reel is perfect for anglers who demand the best in terms of power and durability. With its diecast aluminiumHagane body, oversized HEG Gearing, and X-Ship internal reinforcement, this reel can handle anything you throw at it.
Additionally, the Advanced Coreprotect sealing system ensures your reel stays protected from the elements, while the Precision aluminium S3D spool provides smooth casting performance. And with the QuickFire II clutch bar and Variable Braking System, you'll have total control over your line. So whether you're using it with single or double handles, this reel will help you!
3# Okuma Makaira Two Speed Lever Drag Reel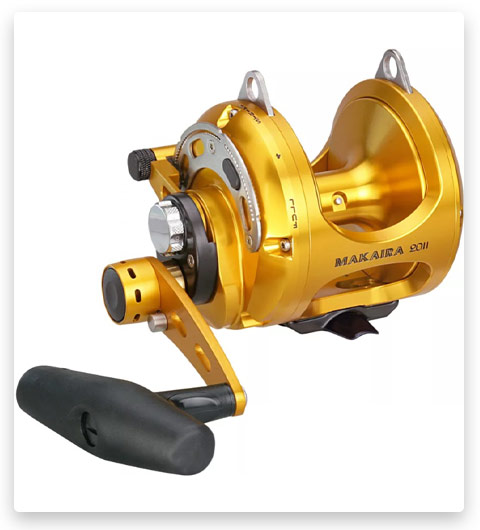 The Okuma Makaira Two Speed Lever Drag Reel is one of the highest-quality reels on the market, perfect for serious anglers. The 6061-T6 machined aluminium frame and forged side plates are incredibly strong and durable, while the Carbonite Dual Force Drag system ensures smooth, consistent performance.
The helical cut gears provide extreme smoothness and gear meshing, while the gold anodized two-speed gear shifter housing looks great. The CRC: Corrosion Resistant Coating process provides unbeatable corrosion protection, and the patented spool pin system allows for use with braided or mono lines.
4# PENN International VIS Gold Two-Speed Lever Drag Reel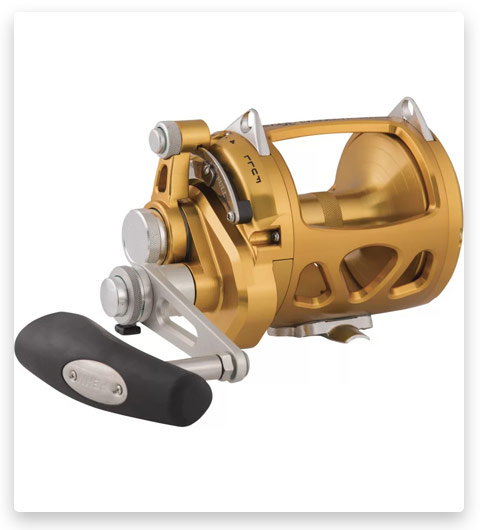 The PENN International VIS Gold Two-Speed Lever Drag Reel is a top-of-the-line fishing reel that features a Quick-Shift II 2-speed system, machined and anodized aluminium body and side plates, braid-ready spool with line capacity rings, stainless steel main and pinion gears, 5 shielded stainless steel ball bearings, double-dog ratchet anti-reverse, Versa-Strike Adjustable Strike Stop, hesitation-free sealed Dura-Drag system and Line Shedding Lug. This reel is perfect for serious anglers who demand the best in terms of performance and durability.
5# Shimano Tiagra Conventional Two-Speed Saltwater Reel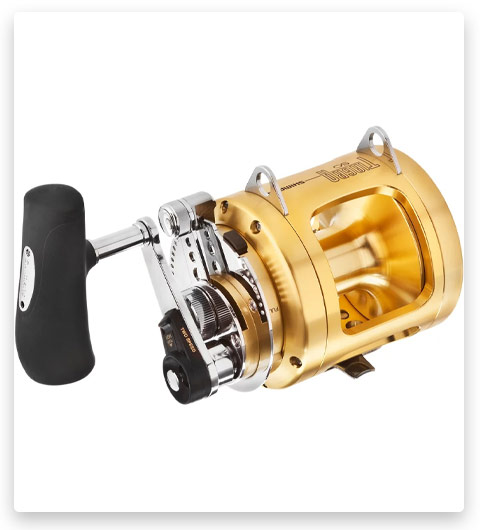 The Shimano Tiagra is a conventional two-speed saltwater reel that's built to withstand the elements. It features specially treated A-RB anti-rust bearings for exceptional corrosion resistance, and a metal frame for increased durability. The PermaLube lubrication system ensures effortless free spooling and long-term protection, while the ratcheting drag lever eliminates play due to boat vibration. The offset ergonomic power grip with soft, nonslip Septon grip allows natural hand, arm, and wrist angles for greater power and comfort.
6# Accurate Dauntless DX2 Two-Speed Conventional Saltwater Reel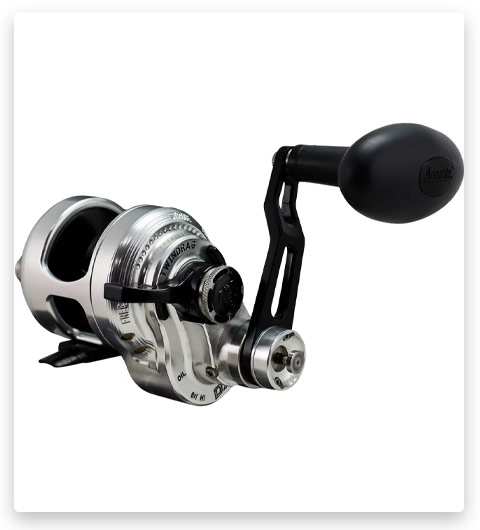 The Accurate Dauntless DX2 Two-Speed Conventional Saltwater Reel is one of the most durable and powerful reels on the market. It's made of 6061 T6 aircraft aluminium and features stainless steel gears, an oversized stainless steel gear shaft, six Class 5 ABEC stainless steel bearings, a stainless steel anti-reverse bearing, and a double anti-reverse dog system. Plus, it comes with Greased AccuDrag to provide smooth drag performance when you need it most.
7# Shimano Ocea Jigger Conventional Reel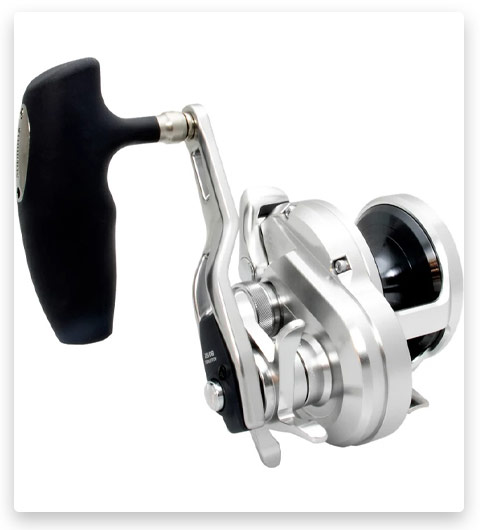 Shimano's Ocea Jigger reel is perfect for star-drag jigging. With its Infinity Drive technology, this reel reduces rotational resistance by up to 60%. You'll experience maximum cranking power and exceptional smoothness with the MicroModule gearing.
The Water-repellent X-Protect coating enhances durability, while the adjustable, two-position, long-crank handle with spool lock makes it easy to use. The Auto-Clutch easily engages the reel out of the free spool, and the exciting Drag Sound alerts you to breaking off or pulling hooks. The Rigid Hagane body reduces flex under strain, and S A-RB bearings come shielded for greater protection.
8# Shimano Trinidad Series Star Drag Conventional Reel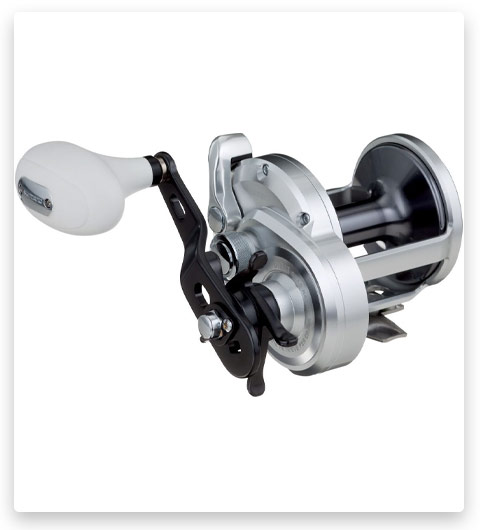 Shimano's HEG gearing system provides amazing efficiency, while the X-Ship gear support system ensures smooth, consistent performance. The Dartainium II drag system offers powerful and reliable stopping power, while the lightweight aluminium spool minimizes wobble. The frame is made from rugged one-piece aluminium for long-lasting use, and the drag star features Micro-Click for precise adjustments. This reel also comes with 8 S A-RB bearings and 1 A-RB roller bearing for ultra-smooth operation.
9# PENN Squall Two-Speed Lever Drag Reel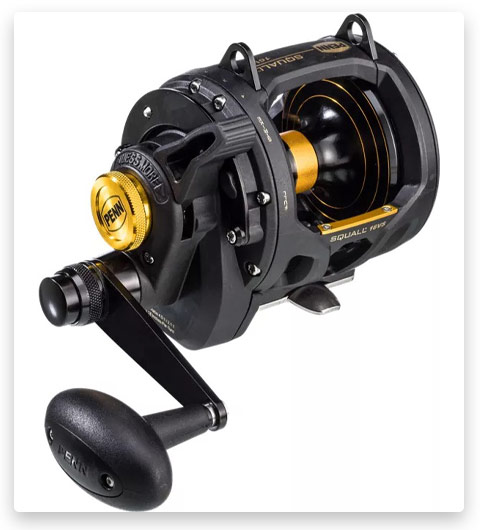 Looking for a reel that can handle big fish and powerful waves? Look no further than the Penn Squall Two-Speed Lever Drag Reel. This reel is made with a graphite frame and side plate, stainless steel main and pinion gears, and a quick shift two-speed system ensuring smooth performance even in tough conditions.
Plus, the Dura-Drag system provides maximum drag pressure while the double-dog anti-reverse system prevents backlash. And if you're looking to take your fishing game to the next level, the forged aluminium spool with line capacity rings is perfect for your needs. So what are you waiting for? Order your Penn Squall Two-Speed Lever Drag Reel today!
10# Okuma Tesoro Casting Reels
The Okuma Tesoro Casting Reels are perfect for serious fishermen. The self-lubricating gear system ensures smooth operation, even after hours of use, and the XL gearing provides increased drag surface area for greater power. The corrosion-resistant coating process protects these reels from the harshest environments, while the ergonomic design ensures hours of comfortable fishing. With four corrosion-resistant ball bearings and dual anti-reverse systems, you can be sure that these reels will perform under any conditions.
11# PENN Fathom Baitcast Reel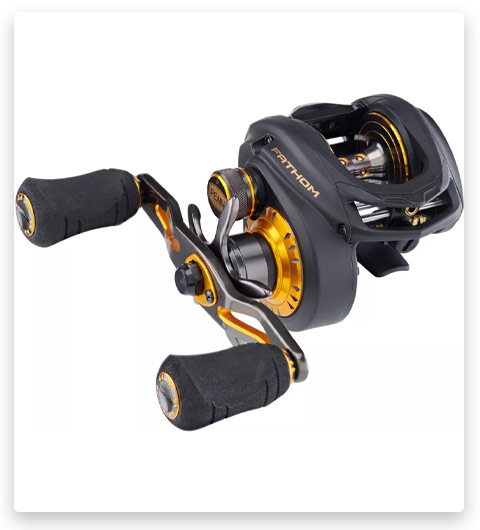 The PENN Fathom baitcasting reel was designed with one purpose in mind – to help you bring in the big ones. The full-metal body and crank side plate protect internal components, while the smooth 6+1 stainless steel bearing system ensures smooth, consistent performance. Brass main gear and bearing-supported bronze pinion gear provide durability under harsh conditions, while HT-100 carbon-fiber drag washers apply relentless pressure at all settings.
The dual-action casting brake dials in control and the line-capacity rings tell you line status with a quick glance. The TiN-coated level wind system lays the line straight and even, so you're always ready to make that next big cast.
12# Daiwa Lexa 300/400 WN Casting Reel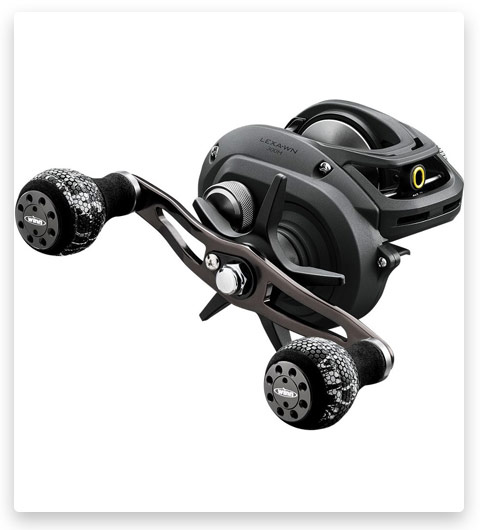 The Daiwa Lexa 300/400 WN Casting Reel is a top-of-the-line choice for serious anglers. With its superior comfort and leverage, this reel is perfect for those long days out on the water. The aluminium frame and gear-side side plates make for a durable design, while the smooth 6+1 bearing system ensures a smooth retrieve.
The infinite anti-reverse with dual stopper provides ultimate control, and the swept handle with weight-reducing cutouts makes for a comfortable grip. The oversized Winn custom handle grips provide even more comfort and support, making this reel an excellent choice for any angler looking to up their game.
13# Offshore Angler Ocean Master Star Drag Conventional Reel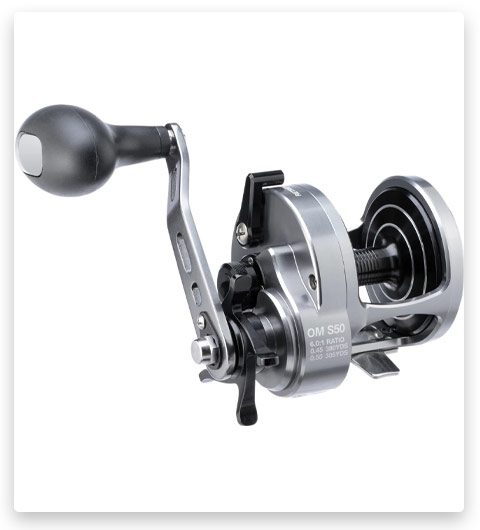 Fishing for something a little bigger? Bring in the big ones with this Ocean Master Star Drag reel from Offshore Angler. With its standout star drag system, you'll be able to easily take on the biggest fish around. Plus, it's got plenty of other features that make it great for serious anglers, like a hard-anodized frame and side covers, 5 carbon fibre drag discs, and stainless steel bearings. So get ready to haul in some trophies with this high-quality reel!
14# PENN Fathom Lever Drag Reel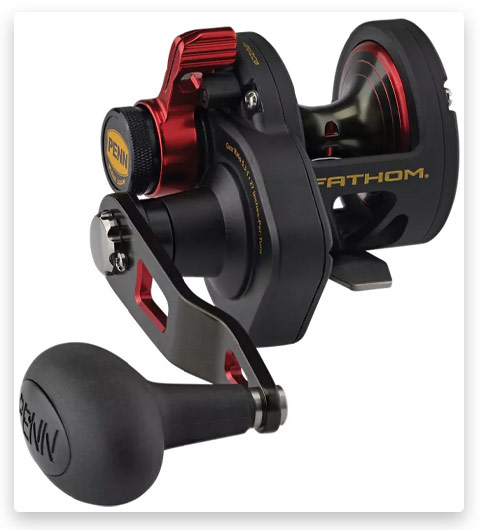 Looking for a top-of-the-line fishing reel that can handle anything you throw at it? Check out the PENN Fathom Lever Drag Reel. This bad boy is built with a full metal body and sideplates, so it's extra durable. Plus, it has 5 shielded stainless steel ball bearings for a smooth operation. And if that's not enough, it also features a forged and machined aluminium spool, stainless steel main and pinion gear, and Dura-Drag technology. So whether you're an experienced angler or just getting started, the PENN Fathom Lever Drag Reel is perfect for you.
Understanding Striped Bass Fishing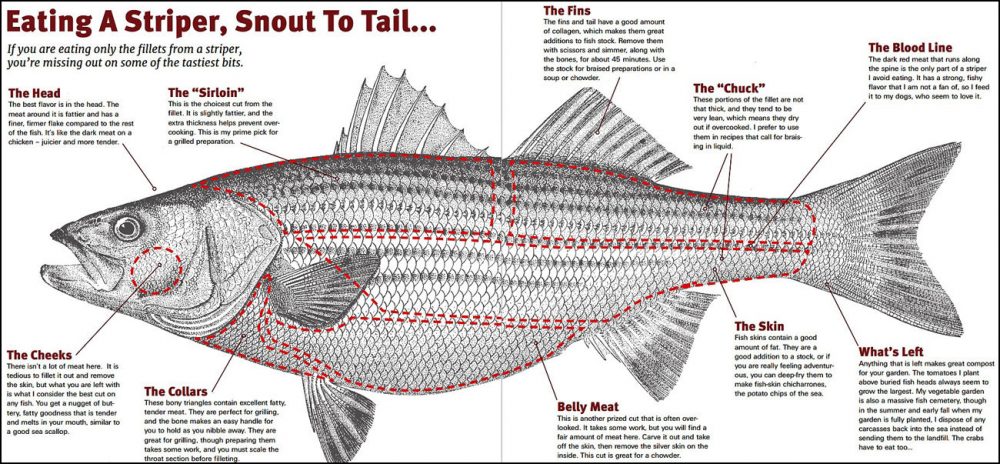 The World of Striped Bass: Habitat and Habits
Striped bass is anadromous fish, which means they live in both saltwater and freshwater environments, migrating between the two throughout their life cycle. They can be found along the Atlantic coast from Canada to the Gulf of Mexico, with some of the most popular fishing spots located in the Chesapeake Bay, the Hudson River, and the Delaware River.
Striped bass prefers water temperatures between 55 and 68°F and is often found near structures like rocks, pilings, and sandbars. They are opportunistic feeders and have a varied diet, consuming baitfish like menhaden, herring, and shad, as well as crustaceans and other invertebrates. Understanding their habitat and behavior is crucial for selecting the proper reel and technique when targeting striped bass.
Striped Bass Techniques: Mastering the Art of the Catch
There are several popular techniques for catching striped bass, including:
| Technique | Explanation |
| --- | --- |
| Casting and Retrieving Artificial Lures | Using plugs, jigs, or soft plastics to imitate prey; cast to holding areas and adjust retrieval speed and depth as needed. |
| Live Bait Fishing | Using live baitfish with circle hooks and a leader; can be free-lined, fished with a float, or bottom rig. |
| Trolling | Pulling lures or rigged live bait behind a boat at a controlled speed; covers a larger area and effective in locating schools of striped bass. |
The tackle used for striped bass fishing varies depending on the technique but often includes medium to heavy rods, braided or monofilament lines, and various types of terminal tackle, such as hooks, swivels, and sinkers.
Reel Choices: Finding the Perfect Match for Striped Bass Fishing
When choosing a reel for striped bass fishing, several factors should be considered, including:
| Feature | Explanation |
| --- | --- |
| Type of Reel | Spinning, baitcasting, and conventional reels have pros and cons. Choice depends on personal preference, skill, and technique. |
| Line Capacity | Striped bass make long, powerful runs; reels need enough line capacity to handle these bursts. |
| Gear Ratio | A suitable gear ratio helps efficiently retrieve lures or baits and maintain control during fights with striped bass. |
| Drag System | A smooth, reliable drag system prevents line breaks and helps tire out large, hard-fighting striped bass. |
| Durability & Corrosion Resistance | Quality materials and corrosion-resistant design ensure the reel lasts for many successful fishing trips in saltwater environments. |
Types of Fishing Reels for Striped Bass
Spinning Reels: Versatile and User-Friendly
Spinning reels are among the most popular choices for striped bass fishing due to their ease of use, versatility, and excellent casting distance. They work well with lighter lines and lures, making them suitable for various techniques like casting and retrieving artificial lures or live bait fishing. Spinning reels also have a more manageable learning curve compared to other reel types, making them an ideal option for beginners and experienced anglers alike.
Baitcasting Reels: Precision and Control
Baitcasting reels offer greater control and precision, allowing anglers to cast heavier lures and lines with accuracy. They are often used for trolling or casting larger swimbaits and plugs. Baitcasting reels also typically have a higher line capacity and stronger drag systems, making them suitable for handling larger striped bass. However, baitcasting reels can be more challenging to use, especially for novice anglers, as they require more skill to prevent backlash or bird's nest tangles.
Conventional Reels: Classic Performance
Conventional reels, also known as round reels, are similar in appearance to baitcasting reels but are typically larger and more robust. They are designed for heavy-duty fishing and are commonly used in saltwater environments. Conventional reels excel at trolling and bottom fishing techniques, often using heavy lines and sinkers. They can handle large striped bass and are known for their durability and power. However, conventional reels may not be the best choice for casting artificial lures or lighter lines, as they can be bulkier and more cumbersome compared to spinning or baitcasting reels.
Reel Rumble: Comparing the Pros and Cons
Each reel type has its pros and cons, and the choice depends on the angler's preferences, skill level, and intended fishing techniques.
Spinning reels are user-friendly, versatile, and excellent for casting lighter lures and lines. They are ideal for novice anglers and those who prefer casting and retrieving lures or live bait fishing. However, spinning reels may lack the power and line capacity needed for handling larger striped bass or heavy-duty applications.
Baitcasting reels offer greater control, precision, and power, making them suitable for casting heavier lures and lines. They work well for anglers targeting larger striped bass and those who prefer trolling or casting large swimbaits and plugs. However, baitcasting reels have a steeper learning curve and can be prone to backlash if not used correctly.
Conventional reels are built for heavy-duty fishing and are well-suited for trolling and bottom fishing techniques. They have the power and durability needed to handle large striped bass in saltwater environments. However, conventional reels may be less suitable for casting lighter lures and lines, and their bulkier design can make them more challenging to use compared to spinning or baitcasting reels.
Key Features to Look for in a Striped Bass Fishing Reel
The Need for Speed: Understanding Gear Ratios
The gear ratio of a fishing reel indicates the speed at which the line is retrieved. For example, a 6:1 gear ratio means that the spool turns six times for every turn of the handle. Striped bass fishing often requires a balance between speed and power, so a moderate gear ratio, typically between 5:1 and 6.5:1, is usually ideal. A lower gear ratio provides more power for hauling in larger fish, while a higher gear ratio enables faster retrieval for covering more water or maintaining contact with moving lures.
Line Capacity: The Backbone of Your Striped Bass Setup
Line capacity is the amount of fishing line that can be loaded onto the reel's spool. For striped bass fishing, it's essential to have enough line capacity to handle the fish's powerful runs and potential encounters with structure. Depending on the fishing situation, you may need a reel with a line capacity ranging from 150 to 300 yards of monofilament or braided line, typically between 20 and 40-pound test.
Smooth Operators: The Importance of a Reliable Drag System
The drag system is the mechanism that controls the amount of resistance a fish encounters when pulling a line from the reel. A smooth, reliable drag system is crucial for fighting and landing powerful striped bass. Look for a reel with a high-quality drag system that can be easily adjusted to accommodate different line strengths and fish sizes. A front drag system is generally preferred for its durability and consistent performance, but rear drag systems can also be suitable, particularly for spinning reels.
Built to Last: Ball Bearings and Reel Construction
The number and quality of ball bearings in a reel contribute to its smoothness and overall performance. Generally, a higher number of ball bearings results in smoother operation and better casting distance. Look for a reel with at least four to six quality ball bearings, preferably shielded or sealed to protect them from debris and corrosion. The overall build quality of the reel should also be considered, with sturdy materials such as aluminum or graphite being preferred for their combination of durability and lightweight performance.
Battle-Ready: Reels That Can Withstand Saltwater
Striped bass is often found in both fresh and saltwater environments. Saltwater can be highly corrosive to fishing gear, so it's essential to choose a reel with features that resist saltwater corrosion. Look for reels with sealed components, anodized or coated finishes, and stainless steel or sealed bearings. Proper maintenance and cleaning after each saltwater outing will also help prolong the life of your reel and keep it in top condition for your next striped bass adventure.
Top Fishing Reel Recommendations for Striped Bass
Spinning Success: The Best Spinning Reel for Striped Bass
The Penn Battle II is a top choice for striped bass anglers looking for a reliable spinning reel. With a full metal body and side plate, it boasts excellent durability and performance. The Battle II's HT-100 carbon fiber drag system provides a powerful and smooth drag, essential for battling strong fish. With a 5.6:1 gear ratio and ample line capacity, it is well-suited for various striped bass fishing scenarios, from casting lures to live bait.
Baitcasting Brilliance: Top Baitcasting Reel for the Stripes
The Shimano Curado K is an outstanding baitcasting reel for striped bass. Its Hagane body construction and X-Ship technology ensure exceptional rigidity, smoothness, and casting performance. The Curado K features a 6.2:1 gear ratio, providing the ideal balance of speed and power. Its SVS Infinity brake system offers precise casting control, while the MicroModule Gearing delivers smooth retrieval. Overall, the Curado K is an excellent choice for anglers looking for top-of-the-line baitcasting performance.
Conventional Reel Champion: Leading the Striped Bass Pack
For striped bass anglers who prefer conventional reels, the Daiwa Saltist Black Gold is a fantastic option. This reel boasts a sturdy aluminum frame and side plates, along with a high-strength, corrosion-resistant main gear. The Saltist's carbon fiber drag system offers smooth and powerful performance, ideal for fighting powerful striped bass. With a 6.4:1 gear ratio, it strikes a balance between speed and power. Its line capacity is also more than sufficient for most striped bass fishing situations.
Honorable Mentions: More Great Reels and Budget-Friendly Picks
| Reel Model | Type | Key Features | Recommended for |
| --- | --- | --- | --- |
| Okuma Cedros CJ-65S | Spinning | High-speed gear ratio, multi-disc drag system, aluminum body | Anglers seeking a high-performing reel on a budget |
| Abu Garcia Ambassadeur C3 | Baitcasting | Carbon matrix drag system, synchronized level wind | Striped bass anglers looking for a reliable option |
| Penn Fathom II Level Wind | Conventional | Full-metal body, fast gear access side plate, HT-100 drag | Budget-conscious anglers who prefer conventional reels for striped bass fishing |
The Okuma Cedros CJ-65S is a spinning reel that offers high performance features such as a fast gear ratio, multi-disc drag system, and durable aluminum body, making it a great choice for anglers on a budget who still want a quality reel.
The Abu Garcia Ambassadeur C3 is a classic baitcasting reel that has proven its reliability over time. Its carbon matrix drag system and synchronized level wind ensure smooth performance and consistent line lay, making it a solid choice for striped bass anglers.
The Penn Fathom II Level Wind is a conventional reel that offers a full-metal body, fast gear access side plate, and HT-100 drag system, making it a dependable option for budget-conscious anglers who prefer conventional reels for striped bass fishing.
Tips for Maximizing Reel Performance and Longevity
Keep it Clean: Maintaining Your Reel for Long-Lasting Success
To ensure your fishing reel continues to perform optimally and lasts for years, regular maintenance and cleaning are crucial. After each fishing trip, rinse your reel with fresh water, making sure to remove any salt or dirt buildup. Occasionally, disassemble your reel according to the manufacturer's instructions and clean each part thoroughly. Lubricate all moving components with fishing reel grease and oil to reduce friction and ensure smooth operation. Remember to check for any damaged or worn parts, and replace them as needed.
Perfect Partners: Pairing Your Reel with the Ideal Rod and Line
For maximum performance, it's essential to match your reel with a suitable rod and line. First, choose a rod with the appropriate power and action for your target species and fishing technique. Ensure that the rod's line and lure weight ratings are compatible with the reel's line capacity and the lures you intend to use. Next, select a fishing line with the proper test strength and diameter for your reel, considering factors such as water clarity, cover, and fish size. Lastly, remember to use a proper knot to secure the line to the reel, as a poorly tied knot can reduce the line's strength and lead to lost fish.
Safe and Sound: Protecting Your Gear During Storage and Transport
Proper storage and transportation of your fishing gear can significantly impact the longevity and performance of your reels. When not in use, store your reels in a cool, dry place away from direct sunlight and extreme temperatures. If possible, remove the spool and line to avoid potential damage or line memory. When transporting your gear, use a rod and reel case to protect them from scratches, dents, or other damage. Additionally, separate the rod and reel if they're detachable, to minimize stress on the connection points. By following these tips, you can help ensure that your fishing reels remain in top condition for many fishing adventures to come.
FAQ: Striped Bass Secrets
Conclusion: Cast Your Way to Striped Bass Victory
Reeling in Victory: Why Choosing the Right Reel Matters
In conclusion, selecting the right reel for striped bass fishing is crucial to your success on the water. By understanding the different types of reels available and the key features to look for in a striped bass fishing reel, you can make a well-informed decision and significantly enhance your fishing experience. Whether you prefer spinning, baitcasting, or conventional reels, choosing the appropriate reel will enable you to target striped bass more effectively and enjoy this popular sport.
Seize the Day: Get Out There and Catch Some Striped Bass!
With the top fishing reel recommendations provided in this article, you now have a great starting point to find the perfect reel for your striped bass adventures. We encourage you to try out these reels and see how they improve your angling experience. Remember that finding the right reel is often a personal preference, so don't hesitate to test different options and find what works best for you.
Join the Conversation: Share Your Reel Experiences and Recommendations
Lastly, we invite you to share your own experiences and reel suggestions with fellow anglers. Your insights and recommendations could help others in their quest for the perfect striped bass fishing reel. So, please feel free to leave your comments, tips, and favorite reels below. Let's continue to grow and learn together as a fishing community!
It's important that your fishing reel has features like castability and drag capacity in order to get the most out of it before it needs repairs or replacement parts. With this buyer's guide full of product reviews and tips about what makes one model better than another, we hope you find exactly what you're looking for when shopping around!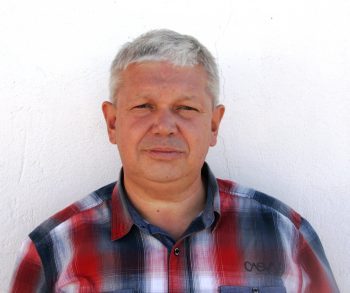 Sergio Smirnoff
Professional fisherman with 40+ years of experience.
Fishing and the ocean is a passion of my life. I am passionate about all kinds of sea fishing: fishing from the shore (spinning, float, baitcasting), from a boat, and spearfishing day and night.
I live in Tenerife (Canary Islands) for the last 10+ years and share my daily fishing experiences on my website. Many years of personal experience as a fisherman and the vast experience of my friends allow me to write professionally on any fishing topics (from choosing a flashlight and equipment to deep-sea fishing).
All of my advice is based on practical real-world experience and will be useful to both novice anglers and professionals.
Read more
about the author.
Affiliate Disclosure: FishReeler.com sometimes gets paid for listings, through sponsors or affiliate programs like Amazon, Ebay, Cabelas, Bass Pro Shop, Shimano, Daiwa, Rapala, Renn, Okuma, KastKing, etс. Clicking a link helps keep FishReeler.com free, at no extra cost to you!
About the author: Each article is verified by the fishing expert Sergio Smirnoff. The articles are written by professional and amateur fishermen with 20+ years of fishing experience.
Note: The views and opinions expressed in this article are those of the authors and do not necessarily reflect the official policy or position of any agency. The articles are for informational purposes only, share your opinions in the comments and join the fishing discussions, let's share our fishing experiences together!