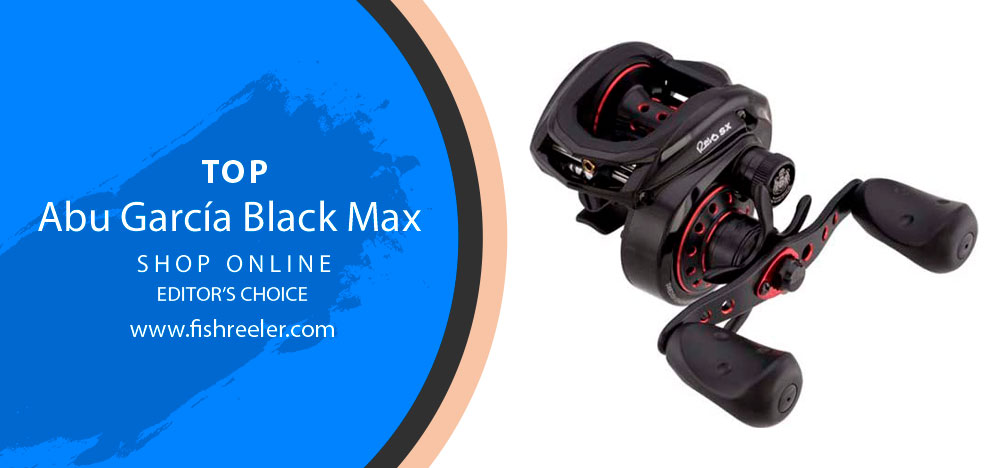 Abu Garcia Black Max Baitcasting Fishing Reel Full Review
Most beginners are afraid that the high costs of buying baitcasting reels won't be worth it. This is some kind of "complex" for beginners – to consider that some gear is intended only for extra professionals. But this is not so. And if you're looking for an inexpensive low-profile baitcasting reel that will suit any fisherman, regardless of whether he is a beginner or a professional, then in this article we will talk about this!

About Abu Garcia
Abu Garcia has recently become as popular a brand as Shimano, Daiwa, or KastKing. This company makes very high-quality and at the same time inexpensive fishing reels. Although initially, this company was generally engaged in the production of taximeters, watches, and other mechanical equipment. This company has been on the market since 1880 and has a rather rich history.
The company has been manufacturing fishing reels for 65 years – since 1955. In America, about the reels of Abu Garcia learned only to the 60s. In almost any review or top of baitcasting fishing reels, you'll definitely find 1-2 models from Abu Garcia. And this is not without reason. The manufacturer works in a fairly wide range and does not the only baitcasting, spinning, and fly reels, but also hooks, lures, and other fishing equipment.

And if Shimano and Daiwa put a very high price for their reels, because they know that their goods are in demand and they're doing quality things, then Abu Garcia is not like that. Yes, this company also makes excellent equipment. But only these guys don't ask for a fortune for their products. That's why I decided to do a detailed review of this reel. Abu Garcia Black Max has excellent characteristics. But with all this, it's not so expensive. You have to pay only about $ 50 for this model. Now let's move on to the fishing reel itself.
Design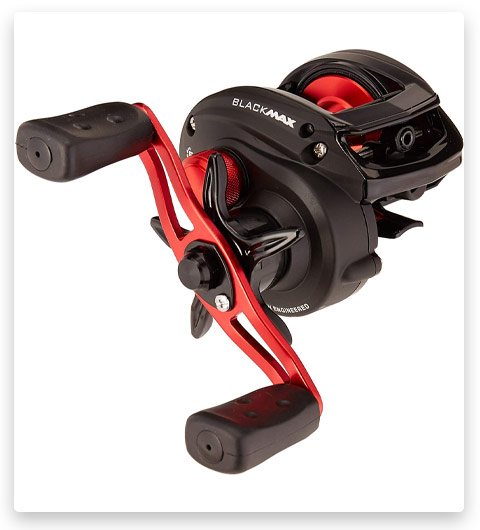 To be honest, for the price I expected to see a low-quality reel in a cheap cardboard box. But immediately starting with the packaging, BMax 3 pleased us. The reel is packaged in a monotonous black box with the company logo on the side and technical information about the reel on the other. Everything is done with style and quality.
Right out of the box we get the fishing reel itself. The manufacturer says it weighs 7.03 ounces. In fact, my scales showed a weight of 7.37 ounces, including the spool and line. A spool with a wound line weighs 0.84 ounces. The weight of the cord from my experience on such a deep spool is about 7-8 grams or 0.2-0.3 ounces.
Based on this, we can immediately consider the range of lures with which this reel will work well. A minimum of 0.2-0.3 ounces and up to 1-1.2 ounces will be a very comfortable cast. The frame and side panels of the reel are made entirely of graphite. Almost everywhere I didn't notice backlash or wiggle.
Black Max handles are very comfortable. The handle is aluminum, which gives us the potential for tuning (you can install a lightweight carbon handle). Knobs are made of rubber and practically don't slip even when the hands are in fish mucus. Such knobs are even on more expensive reels, so this solution from Abu Garcia is very impressive.
The spool doesn't have a side perforation have and the perforation of the spool itself is also negligible. Regarding options, the manufacturer offers you 2 types of Abu Garcia Black Max: for the left hand and for the right hand. This is very convenient and regardless of whether you are right-handed or left-handed, you can always choose the type of reel for yourself.
Brake System

The brake system of this reel is submitted by two brake systems. This is traditionally an axial brake and a magnetic brake system. Let's talk separately about each. The magnetic brake system is made quite qualitatively in the form of a horseshoe with 5 magnets mounted on it. Its adjustment is carried out as standard – the adjustment knob is on the side cover. I'd like to note a very good realization of the body in a magnetic brake system. The construction centers the entire magnetic element, which prevents the bracket from tilting relative to the spool. The axle brake design is quite typical. The brake is hidden behind a carbon washer and nut. There are no micro-clicks or something like that here. But given the price of the reel, this is not a big minus.
Performance, Bearings, And Gear Ratio
Before starting the review, I tested this reel. And judging by how smooth the controls were, I thought that there were 7-8 bearings like Shimano or more expensive brands. But I was very surprised when I disassembled Bmax and saw that there were only 4 ball bearings + 1 roller. Despite this, the reel behaves very stably and smoothly. The gear ratio here is 6.4:1. Many believe that this is not the best gear ratio. But in practice, it's fast enough to return the line and not too fast for reactionary lures.
Drag System
Here we have a Power Disk Drag System. Very simple and unpretentious in use drag, which always works stably. When fishing, simply tighten the drag down and control the line a little with your thumb with strong swings of the boat. Black Max will do the rest of the work itself. If you use both deep-sea and shallow-water techniques, this reel has sufficient winding power for both. The star is frictional and has a micro-click, which in my opinion is quite a pleasant moment. But on the other hand, clicks are often very loud and lovers of "quiet" fishing may not like this.
My Own Experience

I tested this reel on two types of lures. On bottom-contact lures, such as rigs and jigs, and on moving lures, such as wobblers and jerk baits. In both cases, the Bmax performed well. But with moving lures, Abu Garcia Black Max works just tiptop. It showed itself best on wobblers. I managed to catch the tuna at 10 pounds and I never felt that the reel is unstable or uncontrollable. But when I caught the 19 lb. bass, I had to make a little effort to pull it out. So I can calmly say that this reel copes with fish up to 18 pounds perfectly. I always tighten the drag down and have almost no problems with the smooth retrieval of the line.
In strong winds or rain, Abu Garcia also behaves at a high level. You can don't be afraid to fish in the rain thanks to the graphite body. Graphite is resistant to corrosion, which means that you definitely will not have problems with this. The line never deviated or dangled in the wind thanks to the quality management of the line. Also, rubber knobs played their role here. Due to rain and fish slime, I had very slippery hands. Thanks to the knobs, reel control has always been reliable.
Key Features of The Abu Garcia Black Max:
Graphite frame and side plates
4 stainless steel ball bearings + 1 roller bearing
Star drag with micro-click
Dual brake system with axis and magnetic brakes
The gear ratio of 6.4:1
Aluminum handle
Rubber knobs
Power disk drag system
Machined aluminum spool
Dimensions: 7 x 4 x 3 inches
Weight: 7.3 oz.
Color: red and black
Alternatives From Abu Garcia
But if the Abu Garcia Black Max reel is not suitable for you (lack of performance or don't like the construction), then take a look at some alternative reels from this manufacturer:
1# Abu Garcia Silver Max Low Profile Baitcasting Reel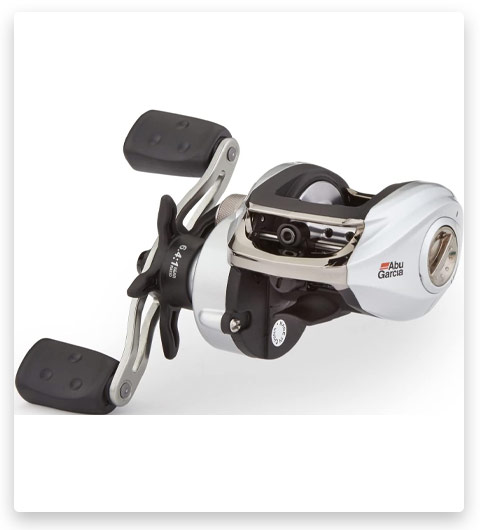 This is a reel in the same price segment as Black Max (about $ 50). Silver and Black Max are two almost identical reels, but Silver has a couple of differences. Firstly, the color. Maybe, for someone it's important, so Abu Garcia Silver Max is made in white. Secondly, the number of bearings. If in Black Max we saw 4 balls + 1 roller bearings, then here we already have 5 balls + 1 roller bearings. This means that the reel should work a little smoother. In the remaining parameters, the reels are completely identical.
2# Abu Garcia Pro Max Low Profile Baitcasting Reel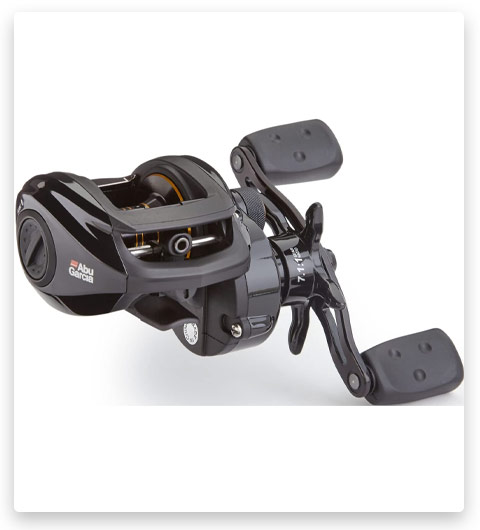 If you add $ 30, you can purchase the Abu Garcia Pro Max. With this reel, you already get 7 stainless steel bearings + 1 roller. And also, a more durable spool – in this version, the manufacturer put a double anodized spool into the reel. This means that you can use heavier lures and work with larger fish. Well, it's clear that a larger number of bearings provides you with more reliable, and, most importantly, smooth use. In addition, the Pro Max has a larger gear ratio of 7.1:1. This gives a faster line retrieval speed, but therefore less control. Here already choose for yourself what's more important to you. By the way, the reel is made in matte black. The remaining characteristics of this reel and Black Max coincide.
3# Abu Garcia Revo SX Low Profile Baitcasting Reel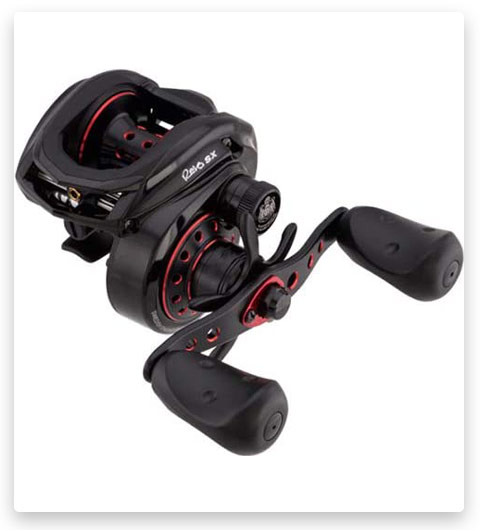 And the most expensive and therefore the most powerful analog of Black Max is Abu Garcia Revo SX. For a price of $ 160, you get as many as 9 ball bearings and 1 roller. So, you'll definitely get the most smooth and fast cast and line retrieval. In addition, an anti-reversing bearing is also installed here. The gear ratio is 6.6:1. This is the average between very fast line extraction and lure control. With that and with another, this reel will cope perfectly. There's also an option for the version with an increased ratio of 7.3:1.
The construction is already made not of cheap graphite but of a durable alloy of metal and carbon. The spool, brakes, and drag system have become much stronger and more powerful. They're made using a different technology. Thanks to this, you can use an almost unlimited range of lures and fight fish up to 25 pounds. Personally, I use this reel on an ongoing basis. Recommended buying.
FAQ About Abu Garcia Black Max
In Conclusion
If you have a limited budget or you're a fisherman who is just starting to try his hand at baitcasting fishing, then Abu Garcia Black Max will be a great tool for your fishing. Yes, maybe it doesn't have such a strong performance as that of Abu Garcia Revo Toro or Shimano 200IHG, but it costs 5-6 times cheaper. Most of my fisherman friends who used to work with this reel never spoke badly about it. And I myself didn't feel any very strong flaws in testing. I think that fishing should bring only pleasure, so I wouldn't recommend this reel if it was of poor quality. Just adjust the drag and brakes and make a cast. And the Black Max will do the rest. Have good fishing!
Tags: #abu garcia black max / #abu garcia black max review / #abu garcia black max combo review / #abu garcia black max 3 review / #abu garcia black max combo walmart review / #abu garcia black max reel review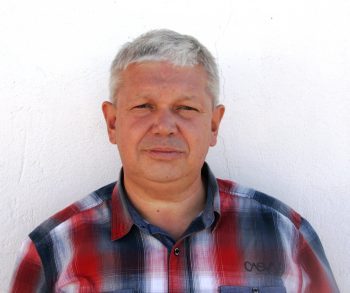 Sergio Smirnoff
Professional fisherman with 40+ years of experience.
Fishing and the ocean is a passion of my life. I am passionate about all kinds of sea fishing: fishing from the shore (spinning, float, baitcasting), from a boat, and spearfishing day and night.
I live in Tenerife (Canary Islands) for the last 10+ years and share my daily fishing experiences on my website. Many years of personal experience as a fisherman and the vast experience of my friends allow me to write professionally on any fishing topics (from choosing a flashlight and equipment to deep-sea fishing).
All of my advice is based on practical real-world experience and will be useful to both novice anglers and professionals.
Read more
about the author.
Affiliate Disclosure: FishReeler.com sometimes gets paid for listings, through sponsors or affiliate programs like Amazon, Ebay, Cabelas, Bass Pro Shop, Shimano, Daiwa, Rapala, Renn, Okuma, KastKing, etс. Clicking a link helps keep FishReeler.com free, at no extra cost to you!
About the author: Each article is verified by the fishing expert Sergio Smirnoff. The articles are written by professional and amateur fishermen with 20+ years of fishing experience.
Note: The views and opinions expressed in this article are those of the authors and do not necessarily reflect the official policy or position of any agency. The articles are for informational purposes only, share your opinions in the comments and join the fishing discussions, let's share our fishing experiences together!