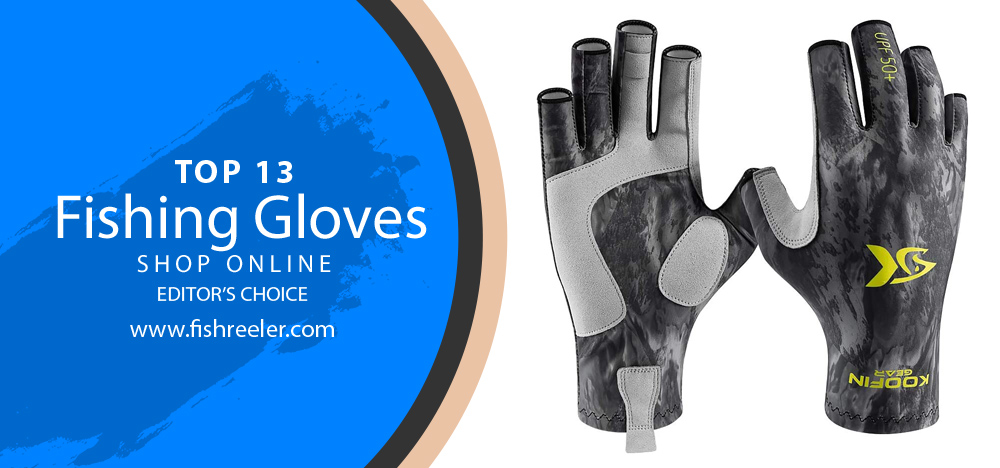 🎣🧤 Welcome to the Angler's World: The Importance of Fishing Gloves
Fishing, a hobby for some, a profession for others, and a competitive sport for many, is a delightful activity that many people around the globe cherish. Among all the fishing gear, one piece is often overlooked yet incredibly essential – the humble fishing glove.🧤
In the vibrant realm of fishing, fishing gloves are as vital as your fishing rod, reel, or bait. They offer you not just comfort, but safety, and can significantly impact your overall fishing performance. From a serene freshwater lake to the tumultuous waves of the ocean, regardless of where you cast your line, a pair of fishing gloves is a reliable companion for every angler.
In this article, we aim to shed light on the pivotal role of fishing gloves in angling. We'll explore different types of gloves, delve into the materials used to craft them, and guide you in selecting the ideal glove for your needs. Moreover, we'll review some of the top-rated gloves in the market and share essential tips on their maintenance and care. 🧐💡🎣🌊👍
🧤🎣 The Role of Fishing Gloves: Essential Gear for Anglers

Fishing gloves play an integral role in the angler's world, offering far more benefits than meets the eye. To some, they might just seem like a layer of fabric for the hands, but their significance runs deep, covering protection, performance enhancement, and control. 🙌
🛡️Protection: Guarding Against Hazards
First and foremost, fishing gloves act as a protective shield for your hands. Fish hooks, sharp teeth, and fins can pose potential dangers to bare hands, and gloves provide the necessary barrier against these hazards. 🐟🪝
Picture this – you've just reeled in a sizable fish, and as you attempt to remove the hook, it jabs into your unprotected hand. Not only can this be painful, but it could also potentially lead to infections or serious injuries. A good pair of fishing gloves prevent such mishaps.
In addition, exposure to harsh weather conditions is a reality for every angler. Be it the biting cold of early mornings or the scorching heat of the afternoon sun, the weather can take a toll on your hands. Fishing gloves provide much-needed insulation in cold weather and shield against harmful UV rays in sunny conditions. ☀️❄️
💪Performance Enhancement and Control
The relationship between fishing gloves and enhanced performance is a tale as old as time. Ever tried to reel in a fish with slippery, wet hands? Not an easy task, right? 🐠🎣
Fishing gloves improve your grip, making it easier to handle your fishing rod and reel, especially in wet conditions. With enhanced grip, you're less likely to lose control of your gear or have that prized catch slip away.
Additionally, good fishing gloves allow for better rod control and sensitivity, helping you detect those subtle nibbles and bites. This can greatly improve your chances of success, especially when targeting elusive or light-biting species. 🏆
In conclusion, fishing gloves are an essential piece of gear that provides protection, enhances performance, and offers better control. They not only improve your fishing experience but also increase your safety and success rate on the water. So, the next time you gear up for a fishing trip, don't forget your trusty pair of fishing gloves! 🧤🎣👍
Keep a Firm Grip with Our Top 13 Fishing Gloves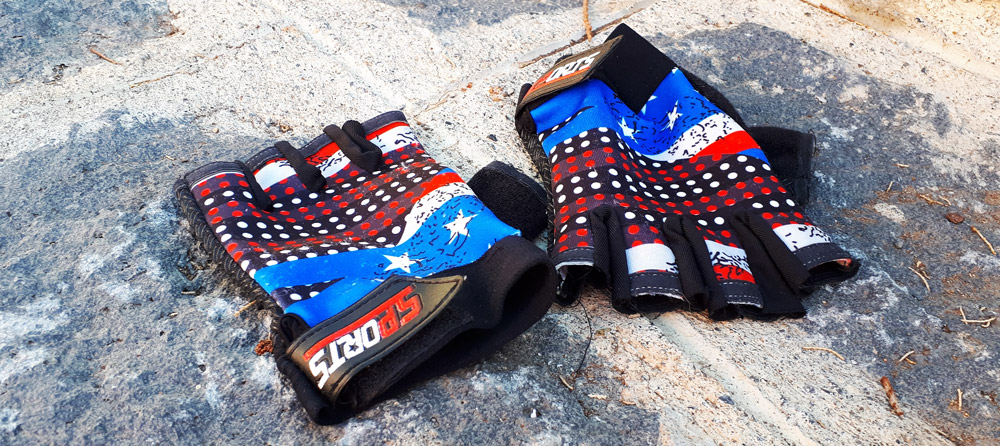 Fishing gloves are commonly used for fishing, both in the cold and in the warm season. They offer us, above all, protection. They protect us from adverse weather conditions, as well as from the friction and mistakes that we make during fishing. Thus, we avoid moisture, extreme temperatures, friction, and wounds.
This allows us to work much better with our hands. And also fishing gloves are excellent protection against frost during winter fishing. Fishing gloves differ in their characteristics and therefore they should be chosen depending on your purpose of use. I have made a review for you on the 13 best fishing gloves with different functionality. Let's get a look!
| Image | Product | Brand | Link |
| --- | --- | --- | --- |
| | KastKing Sol Armis Sun Gloves UPF50+ Fishing Gloves UV Protection Gloves Sun Protection Gloves Men Women for Outdoor, Kayaking, Rowing, Silver Mist Prym1,Small - Medium | KastKing | |
| | Berkley BTNFGG NEOPENE FISH GRIP GLOVES Neoprene Fishing Gloves, Grey | Berkley | |
| | The Fishing Tree Fingerless Fishing Gloves, Certified Sun Protection UPF50+ Block, Kayak, Hiking, Paddling, Sailing, Rowing, Driving, Protect Hands from Sun Damage, Chemical Free | The Fishing Tree | |
| | RUNCL Ice Fishing Gloves Convertible Mittens Flip Fingerless Mittens with 3M Thinsulate-Winter Fishing Gloves, Windproof Gloves for Men Women-Ideal for Winter Fishing, Photography, Kayaking… | RUNCL | |
| | KastKing Gil Raker Gloves UPF50+ Fishing Gloves UV Protection Gloves Sun Gloves for Men Or Women for Fishing, Outdoor, Kayaking, Rowing, Sailing, Canoeing, Hiking, Biking | KastKing | |
| | Goture UV Fishing Gloves Men, Sun Protection Fingerless Gloves UPF 50+ Breathable Cooling Gloves for Fishing for Hiking Kayaking Padding Canoeing Rowing Black L XL | Goture | |
| | Palmyth UV Protection Fishing Fingerless Gloves UPF50+ Sun Gloves Men Women for Kayaking, Hiking, Paddling, Driving, Canoeing, Rowing (Light Gray, Large) | Palmyth | |
| | BASSDASH ALTIMATE Sun Protection Fingerless Fishing Gloves UPF 50+ Men's Women's UV Gloves for Kayaking Paddling Hiking Cycling Driving Shooting Training (Fire Camo, M) | BASSDASH | |
| | Fish Handling/Cleaning Gloves Textured Grip Palm Soft Lining Fillet Gloves – One Size Fits Most L to XL | BIG WORM FISHING | |
| | Palmyth UV Fishing Gloves Sun Protection Fingerless Kayaking Glove Men Women UPF 50+ SPF for Sailing, Hiking, Paddling, Canoeing, Rowing, Driving | Palmyth | |
| | RexRod LED Flashlight Gloves for Men - Unique Gifts for Dad, Husband, Boyfriend and Father's Day, Hands-Free Lights and Stretchy Straps, Ideal for Camping, Fishing, Repairing and Car Gadgets Idea | RexRod | |
1# KastKing Sol Armis Sun Gloves UPF50+ Fishing Gloves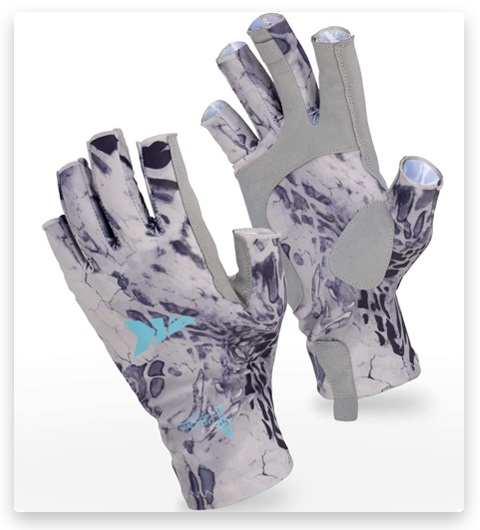 These fishing gloves are not only able to protect your hands from the wind, injuries and provide an excellent grip of fish, but also protect your hands from exposure to sunlight. Your hands will feel comfortable throughout the day thanks to the breathable poly-spandex fabric. They sit perfectly on your hands and don't limit your movements. The manufacturer offers you interesting colors so that you look stylish even while fishing!
2# Berkley BTNFGG Neoprene Fishing Gloves – Amazon's Choice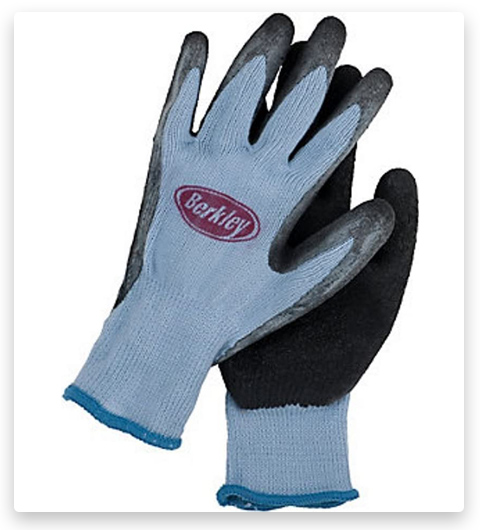 Berkley's textured finger pads on gloves will give you the confidence to grab even the most slippery fish without losing your grip. They are available in several styles, including a pink version that would look sporty on any angler.
3# The Fishing Tree Fingerless Fishing Gloves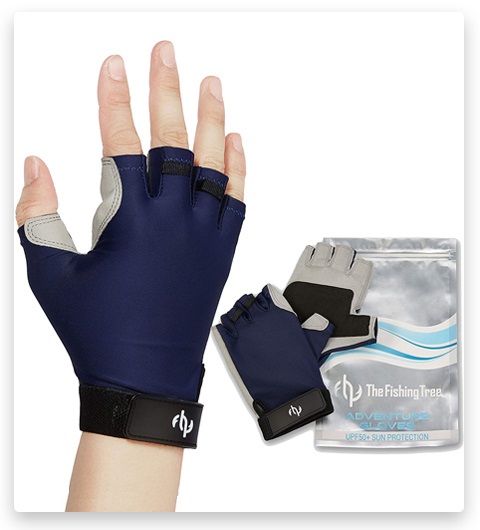 These gloves are suitable for both male anglers and women. They provide excellent sun protection. This is especially important if you are in the sun all day. This will protect your skin from premature aging. They are great for spring/summer use thanks to their open fingers. Gloves don't require complex washing and they dry quickly.
4# RUNCL Fishing Gloves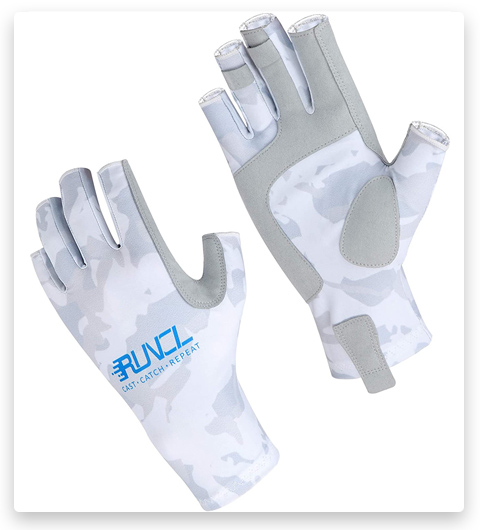 These fishing gloves protect your hands from dirt, scratches, and also provide excellent maneuverability and make fishing as comfortable as possible. This is achieved through the design with open fingers. You will not be afraid of the scorching sun in these gloves. Your hands will not sweat. While pulling the fish, you can firmly hold the fishing rod with the reel thanks to the polyurethane palm.
5# KastKing Gil Raker Gloves – #1 New Release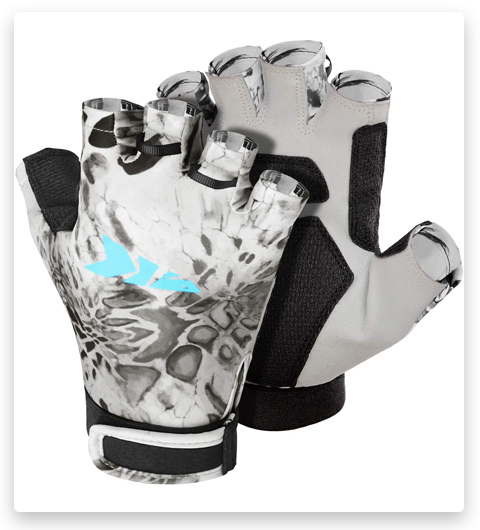 Choose your size and enjoy comfortable fishing all day long. These gloves are designed for men and women. Protect your hands from the sun, dangerous fish, and wounds from fishing equipment. A double layer of material provides double protection.
6# Goture UV Fishing Gloves Men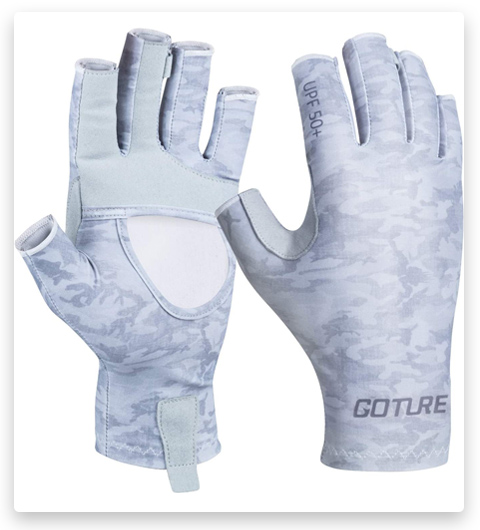 Three gloves colors are available for you to meet your desires. Even if the gloves are wet, they will dry out very quickly thanks to the lightweight fabric. But at the same time, the fabric is durable which makes gloves durable to wear. They are made of poly spandex.
7# Palmyth UV Protection Fishing Fingerless Gloves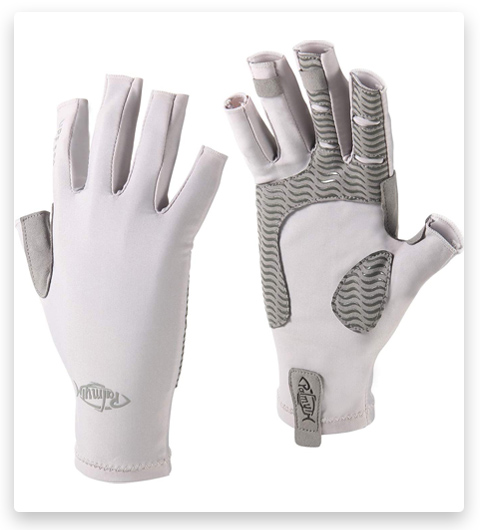 These gloves are noted by professional anglers as one of the best. They protect not only your palms and fingers but also your wrists thanks to the long cuffs. Don't let calluses, scratches, and burns appear on your hands. They also prevent insects from biting you. Your hands will be cool due to the elastic breathing fabric.
8# Bassdash ALTIMATE Sun Protection Fingerless Hunting Fishing Gloves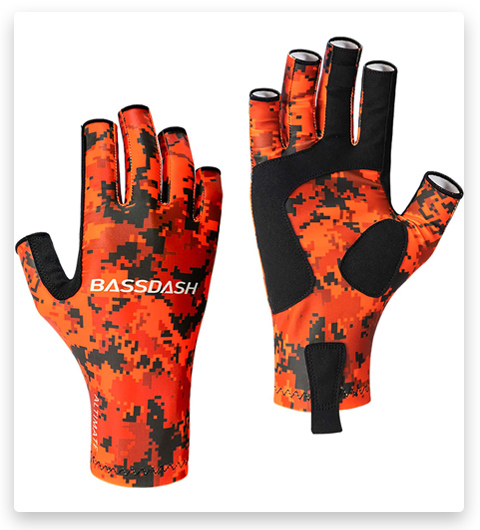 The bright design of these gloves doesn't allow you to pass by. They are made of synthetic leather with microfiber. This material is distinguished by its durability. They provide excellent grip and are 3/4 finger long.
9# Big Worm Fishing Fish Handling Gloves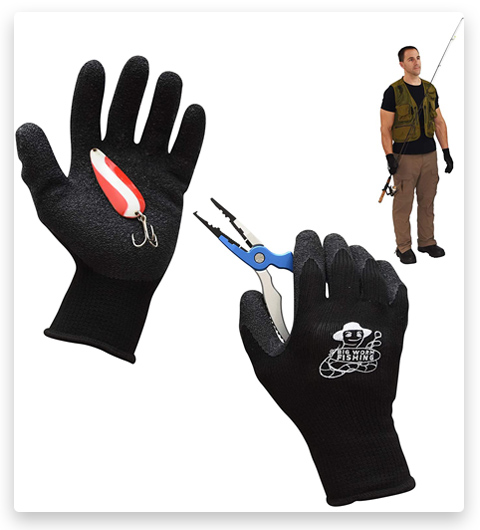 Without a doubt, the best option you can choose if you are looking for a fully covered glove, very protective, comfortable and that will last you many days. The price is high enough, but to be honest, they are very worth it, being better than others. You have them in different sizes, they have perfect seams, high protection, especially considering their minimal thickness (something is very difficult to see ), and perfect touch.
10# Palmyth UV Fishing Gloves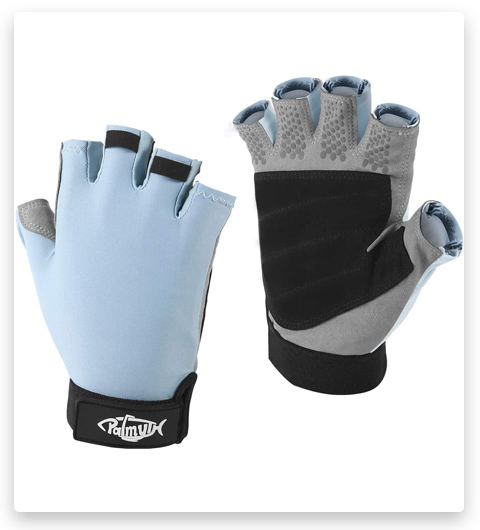 Another great choice is the Palmyth model, universal gloves designed for use in all situations. The palm comes completely from synthetic leather, gloves have all free fingers and a short cuff. You will find them in 6 sizes, they are very soft and comfortable inside, with a Velcro strap and reinforcements on the index finger to avoid reducing maneuverability and for better grip on the fishing rod.
11# RexRod Fingerless Outdoor LED Glove Flashlight Torch Cover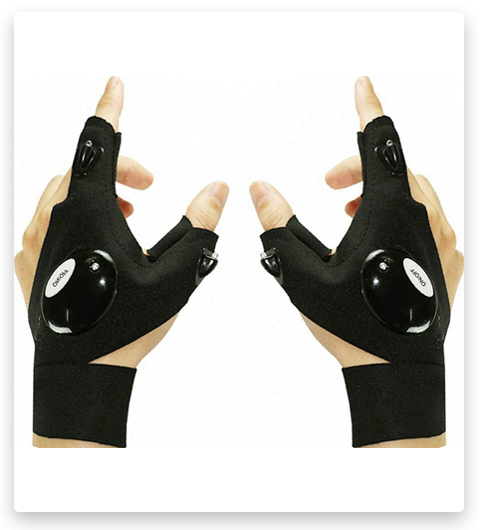 This glove is special for several reasons. The glove has an LED light, so it is designed for use at night, as well as in deep and dark rooms as a flashlight without having to carry it with you. In addition, it has a great price for its functionality. The rest of this is a neoprene product of basic quality, with index fingers, thumb, and wrist strap, adjusted using adhesive tape. This makes them very suitable for those who seek maximum maneuverability.
🧤🔍 Types of Fishing Gloves: Your Guide to the Perfect Pair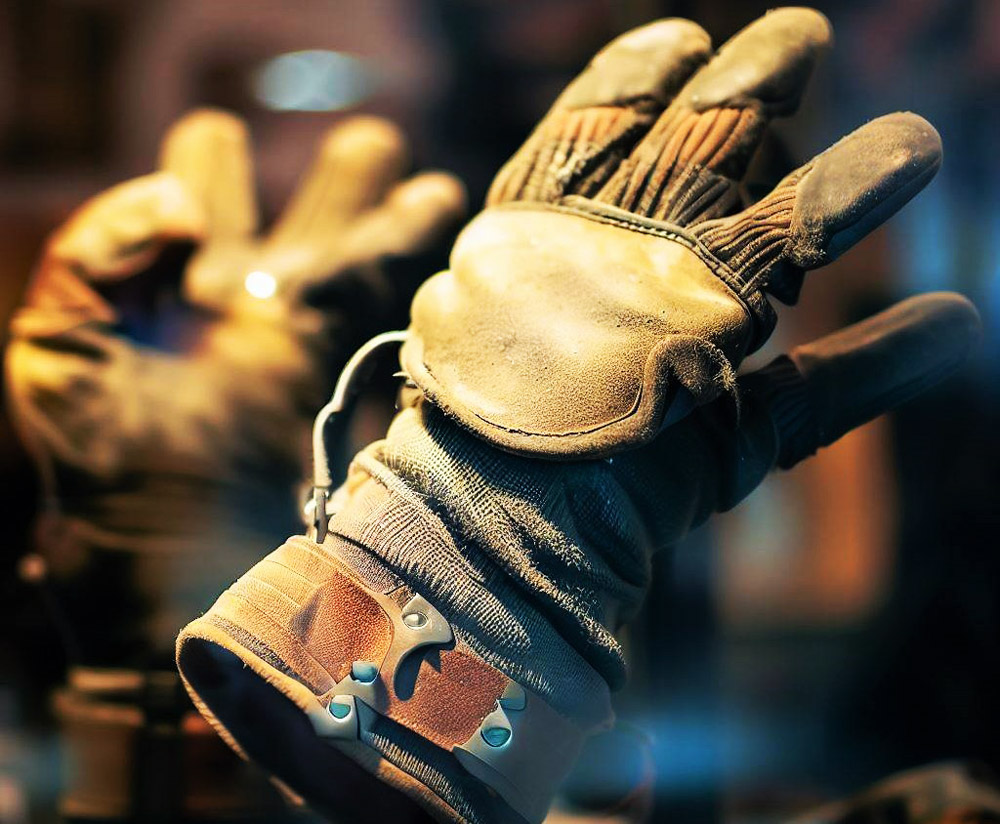 In the vast sea of fishing equipment, fishing gloves have evolved to cater to the diverse needs of anglers. With a myriad of types available, choosing the right pair might seem like finding a needle in a haystack. To ease your decision, let's delve into the three major types of fishing gloves: full-finger, three-finger, and fingerless gloves. 🧐🎣
🌐 Full Finger Fishing Gloves
As the name suggests, full-finger fishing gloves cover the entire hand, from the wrist to the fingertips. These gloves are a popular choice, especially for those venturing out in colder climates. 🥶❄️
☝️🤘 Three Finger Fishing Gloves
Three-finger fishing gloves, often called mitts, offer a unique blend of protection and dexterity. They cover the thumb and index finger while leaving the other three fingers free. This design is highly beneficial for tasks that require precision and subtlety. 👌
👌 Fingerless Fishing Gloves
Fingerless fishing gloves, also known as half-finger gloves, leave the fingers exposed while covering the rest of the hand. This type is a go-to option for those who prioritize dexterity and tactile sensation. 🌞🎣
🧤🔬 Fishing Glove Materials: A Deep Dive into What's Beneath the Surface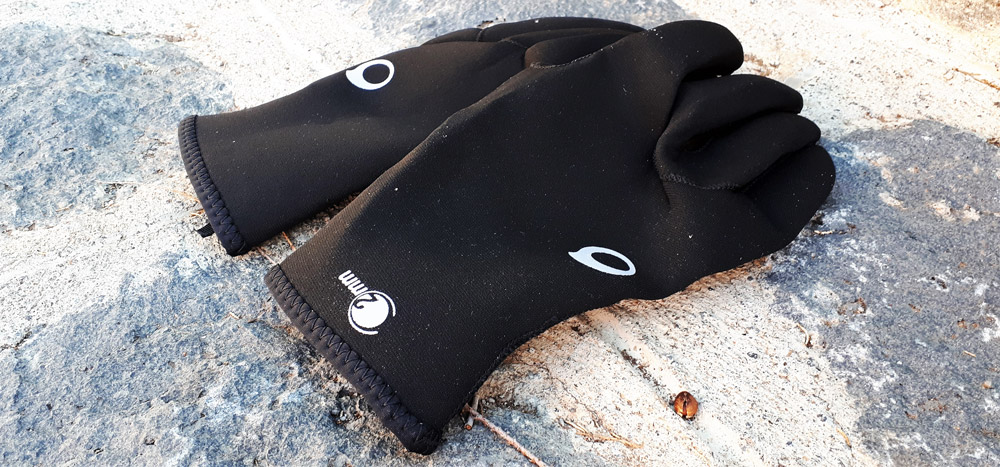 Just as there's an art to catching a fish, there's a science to crafting the perfect pair of fishing gloves. The secret lies in the materials used, each with its unique characteristics, pros, and cons. In this section, we're dissecting three of the most popular fishing glove materials: Neoprene, Fleece, and Synthetic Leather. 🧪🎣
💦 Neoprene Fishing Gloves
Neoprene, a type of synthetic rubber, is a popular choice for fishing gloves. Known for its excellent insulating properties, it's a go-to material for cold weather and water applications. 🥶
🐑 Fleece Fishing Gloves
Fleece is another favorite material, especially when warmth and comfort are a priority. It's incredibly soft and provides excellent insulation, making it a good choice for cold-weather fishing. 🌨️
🧤 Synthetic Leather Fishing Gloves
For anglers prioritizing durability and a good grip, synthetic leather is a prime choice. It's often used in combination with other materials to reinforce specific areas, like the palm and fingers. ☀️
Each material has its strengths and shortcomings, and the choice depends largely on your fishing conditions and personal preferences. Always keep in mind the environment you'll be fishing in, and your need for warmth, water resistance, durability, and dexterity. 🎣🧤👍
🧤🔎 Key Features to Look For in Fishing Gloves: Making the Right Catch

Just like choosing the right fishing rod, selecting the perfect pair of fishing gloves can greatly enhance your angling experience. But with a multitude of options, it might seem daunting to zero in on the ideal pair. To make this task easier, let's uncover the key features you should consider while purchasing fishing gloves: insulation, waterproofing, flexibility, durability, dexterity, and fit. 🎯
🔥 Insulation
Insulation is a crucial factor, especially if you plan to fish in cold weather. Look for materials like fleece and neoprene, which are known for their excellent insulating properties. Remember, keeping your hands warm can drastically improve your fishing performance. 🧤❄️
💦 Waterproofing
Planning to fish in wet conditions or handle fish directly? Opt for gloves that offer waterproofing or water resistance. This feature not only keeps your hands dry but also extends the life of the gloves. Neoprene gloves can be a great choice in this case. 🌧️🎣
🤸 Flexibility
Flexibility in fishing gloves is paramount to ensure smooth and unrestricted movement of your hands and fingers. High flexibility allows for better casting and reeling. Consider gloves with pre-curved fingers or flexible fabric for optimal comfort. 🤲
💪 Durability
Fishing can be tough on your gear, and gloves are no exception. Durability is a key feature to look for in order to withstand the rigors of fishing. Synthetic leather gloves often offer high durability and can resist tears and abrasions effectively. 💼
🎹 Dexterity
Dexterity refers to the glove's ability to handle intricate tasks. For tasks requiring precision like tying knots or unhooking fish, gloves with high dexterity, such as fingerless gloves, are ideal. 🤞
👌 Fit
Last but definitely not least, the glove's fit is vital. Ill-fitting gloves can be uncomfortable and hamper your fishing performance. Look for gloves that fit snugly but not too tight and allow free movement of your fingers. Most brands offer a range of sizes to choose from. 👍
Remember, the right glove can vary greatly depending on your specific fishing scenario. Whether you're ice fishing in freezing temperatures or fly fishing under the hot sun, there's a perfect pair of fishing gloves waiting for you. Armed with this guide, you're all set to make an informed choice. 🎣🧤🎉
🏆🧤 Review of Top Fishing Gloves in the Market: Gloves that Make the Cut
Finding the perfect fishing gloves can be as complex as mastering the art of fishing itself. To save you the hassle, we've done the legwork and rounded up some of the top fishing gloves currently dominating the market. Each product has been evaluated based on its key features, pros, cons, and user feedback. Let's dive in! 🎣
1️⃣ Best Overall: The Ultimate Angler Glove
The Ultimate Angler Glove takes the cake for being the best overall. Combining durability, flexibility, and ample protection, it's loved by anglers of all stripes.
Key Features:
Made from premium synthetic leather for durability.
Full finger design offers maximum protection.
Waterproof and offers excellent grip even in wet conditions.
2️⃣ Best for Cold Weather: FrostBite Ice Fishing Gloves
When it comes to fishing in cold weather, the FrostBite Ice Fishing Gloves are a clear winner. With their superior insulation and waterproofing, these gloves are a favorite among ice anglers.
Key Features:
Made from high-quality neoprene for excellent insulation.
Features a waterproof design to keep hands dry.
Comes with a non-slip grip for enhanced performance.
3️⃣ Best for Professionals: ProAngler Performance Gloves
For professional anglers looking for the perfect balance of protection, dexterity, and durability, the ProAngler Performance Gloves come highly recommended.
Key Features:
Made from a blend of synthetic leather and neoprene for durability and flexibility.
Three finger design allows for greater dexterity.
Features reinforced padding for added protection.
When choosing your perfect pair of gloves, remember to factor in your specific needs and fishing conditions. Whether you're a casual angler or a seasoned pro, there's a glove out there that fits you to a T. Happy shopping! 🎣🛍️🧤
🎦Video YouTube: Why You Should Wear Fishing Gloves & What Are The Best Fishing Gloves

🧤💦 Proper Maintenance and Care of Fishing Gloves: Prolonging Your Glove's Lifespan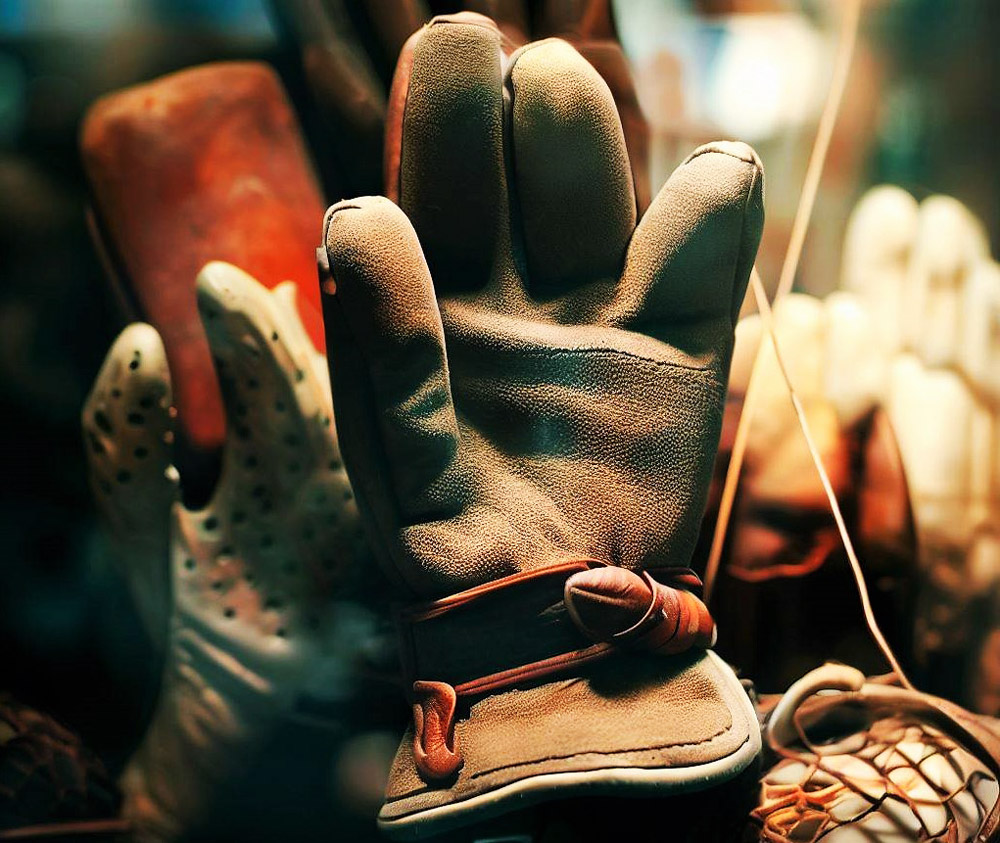 Just like your trusty fishing rod, your fishing gloves need proper care to serve you effectively and last longer. Maintaining and cleaning your gloves isn't as daunting as it may seem, and a little effort goes a long way. Here are some handy tips and guidelines to ensure your fishing gloves stay in shipshape condition. 👌
1️⃣ Cleaning Your Fishing Gloves
Fishing gloves can accumulate dirt, fish slime, and other residues that can degrade the material over time. Here's a step-by-step guide to cleaning them effectively: 🧼
Rinse your gloves under fresh water after each use to remove dirt and other residues.
For a deeper clean, hand wash your gloves in mild soapy water. Avoid using strong detergents that can damage the glove material.
Rinse thoroughly to ensure no soap residue is left.
Do not wring the gloves; instead, gently squeeze out the excess water.
2️⃣ Drying Your Fishing Gloves
Correctly drying your gloves is just as important as cleaning them. Incorrect drying methods can lead to material degradation or even mold growth. 🌬️
Pat your gloves with a towel to remove excess water.
Let the gloves air dry naturally. Do not expose them to direct heat or sunlight, as it can damage the material.
Ensure the gloves are completely dry before storing them to prevent mold and mildew growth.
3️⃣ Storing Your Fishing Gloves
Proper storage of your fishing gloves can prevent unnecessary wear and tear, and prolong their lifespan. 🗄️
Store your gloves in a cool, dry place away from direct sunlight.
Avoid folding the gloves in a way that might crease or strain the material.
If possible, keep them in a breathable bag to prevent moisture build-up.
Remember, fishing gloves are a vital part of your fishing gear, and they deserve the same care and attention as your other equipment. Follow these maintenance guidelines, and your gloves will continue to serve you well, casting after casting. Happy fishing! 🎣🧤👍
FAQ: Don't Let Your Catch Slip Away
🎣🧤🎉 Conclusion: Wrapping Up the Fishing Gloves Journey
We've embarked on quite an angling adventure together! From understanding the role of fishing gloves 🧤 in protecting your hands from potential hazards to diving into the types and materials of gloves available in the market, we've navigated through every essential aspect of fishing gloves.
We learned that the ideal fishing glove isn't just about protection, but also about how it impacts grip, control, and overall fishing performance. We saw how different gloves suit different fishing scenarios, be it freezing ice fishing or sunny fly fishing. 🥶🌞
We took a tour of the market, reviewing the top fishing gloves 🏆, and understanding their key features, pros, cons, and user feedback. This showed us how there's a perfect pair of gloves for everyone, from the casual weekend angler to the seasoned pro.
We also explored how to care for these vital pieces of fishing gear to ensure they serve you longer and better. Cleaning, drying, and storing – each step plays a critical role in prolonging your gloves' lifespan. 🧽🌬️🗄️
At the end of the day, choosing the right pair of fishing gloves goes beyond comfort and style. It's about enhancing your fishing experience, ensuring safety, and stepping up your angling game. So next time you're out on the water, you won't just catch fish but also admire glances for your well-chosen gloves. Here's to a better, safer, and more successful fishing experience! 🎣🧤🎉
📣🤝 Join the Conversation: Your Thoughts Matter!
We hope this comprehensive guide on fishing gloves was as exciting for you as it was for us to compile. However, the journey isn't over yet – it's just beginning! 🚀
Got a favorite pair of fishing gloves that have been your loyal companions on your fishing adventures? We'd love to hear about it! 💬 Have some additional tips on caring for your gloves or selecting the perfect pair? Don't keep them to yourself – share them with the community! 💡
Have any questions, or perhaps a different take on some of the things discussed? Drop them in the comments below, and let's get the conversation rolling! 🗣️ Remember, every question, thought, or story could be the missing piece of the puzzle for a fellow angler.
And if you found any of the reviewed gloves intriguing, go ahead and give them a try. Each glove comes with its unique charm and utility. Just click on the links below to check them out! 🖱️🛍️
ProAngler Performance Gloves
Remember, fishing is more than a hobby; it's a community. And every interaction, no matter how small, makes us all better anglers. So, let's reel in those comments! 🎣💬🎉
Tags: #best fishing gloves / #best ice fishing gloves / #best cold weather fishing gloves / #best fly fishing gloves / #best waterproof fishing gloves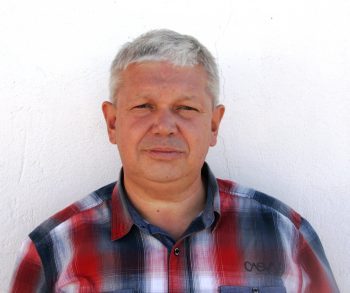 Sergio Smirnoff
Professional fisherman with 40+ years of experience.
Fishing and the ocean is a passion of my life. I am passionate about all kinds of sea fishing: fishing from the shore (spinning, float, baitcasting), from a boat, and spearfishing day and night.
I live in Tenerife (Canary Islands) for the last 10+ years and share my daily fishing experiences on my website. Many years of personal experience as a fisherman and the vast experience of my friends allow me to write professionally on any fishing topics (from choosing a flashlight and equipment to deep-sea fishing).
All of my advice is based on practical real-world experience and will be useful to both novice anglers and professionals.
Read more
about the author.
Affiliate Disclosure: FishReeler.com sometimes gets paid for listings, through sponsors or affiliate programs like Amazon, Ebay, Cabelas, Bass Pro Shop, Shimano, Daiwa, Rapala, Renn, Okuma, KastKing, etс. Clicking a link helps keep FishReeler.com free, at no extra cost to you!
About the author: Each article is verified by the fishing expert Sergio Smirnoff. The articles are written by professional and amateur fishermen with 20+ years of fishing experience.
Note: The views and opinions expressed in this article are those of the authors and do not necessarily reflect the official policy or position of any agency. The articles are for informational purposes only, share your opinions in the comments and join the fishing discussions, let's share our fishing experiences together!