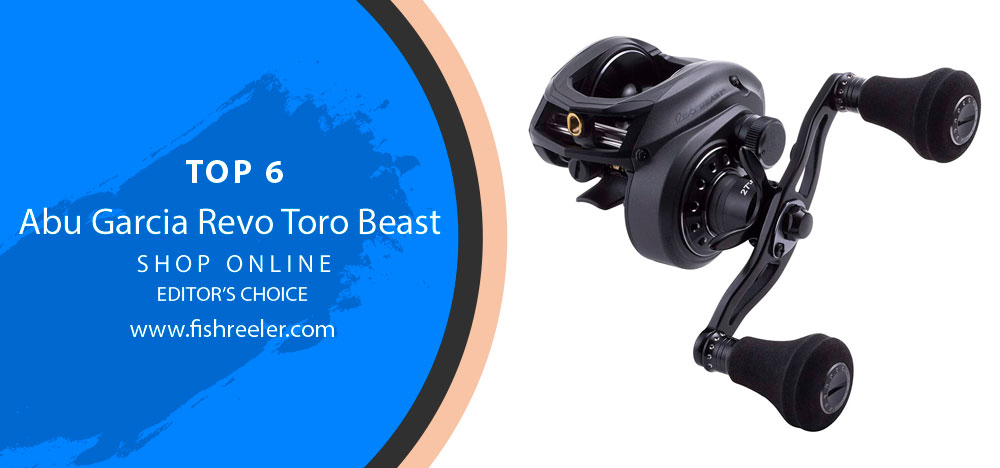 Abu Garcia Revo Toro Beast – Amazing and Perfect Reel
Big bait lovers always want their baitcasting fishing reel to be smooth, large, and powerful. Speaking "smooth", we mean that the reel will cope with large baits and weights without jerking. So that you can pull out any fish without much difficulty.
When we say "big" we mean line capacity. It doesn't matter if it is a monoline or a braid, a good baitcasting reel should contain a sufficient amount of any type of line. By the word "powerful" we mean productive, having a rigid body and sufficient drag.
There are many baitcasting reels that have one, or at best two of these characteristics. But finding a reel with these three characteristics is a needle in a haystack. Especially if you prefer left-handed reels. Fortunately for you, we just found that reel that combines all these characteristics and even has a little more. Abu Garcia Revo Toro Beast – in this article we'll talk about this reel.

History of the Reel
For a very long time, the reel favorites in this category were Shimano Curado 300 and Shimano Tranx. But firstly, they have a larger gear ratio and secondly, they are too expensive, in the budget segment there are practically no similar reels.
Yes, Daiwa and Okuma have cheaper low-profile reels with a size of 300, but they have the same problem with ratios as Shimano. Besides, they have a retrieve only for the right hand. Therefore, without thinking twice, Abu Garcia presented their solution to this problem at ICast 2015 – a low-profile reel with a large capacity line, Abu Garcia Revo Toro.
The reel is available in two versions – 50 and 60. They're available with a gear ratio of 4.9:1 and 6.2:1 with an extract for the left and right hand. In general, this reel is not revolutionary, it's a combination of the popular reel Abu Garcia Toro and the fast Abu Garcia Revo Beast.
Quick Review – Abu Garcia Revo Toro Beast Main Features
5 stainless steel ball bearings + 1 roller
Special X2-Craftic alloy frame and side plates
Dura Gear technology
Dura Clutch design
Oversized handle
Infinity magnetic brakes
Infinity II spool design
The gear ratio of 4.9:1 or 6.2:1
Left or right-handed
Detailed Review on Abu Garcia Revo Toro Beast and Professional Opinion

Design of The Box
Abu Garcia makes a very attractive design not only for their reels but also for packages too. Abu Garcia reels pack no worse than smartphones or expensive watches. The box is made in black matte color, on the top cover is the company logo. On the side, we see information about the reel and model. Below is information about the manufacturer.
There is a soft black liner under the lid so that the reel doesn't hit during transport. Under the liner, we find the reel itself and two handles in the kit. Everything is packed quite firmly, nothing staggers and doesn't fall out. Additional handles are located in a special cardboard pallet that can be easily removed from the box. Initially, a handle with two knobs is installed in the reel.
Additional handles have only one knob. Each of the handles is designed for specific weights and has a specific shape for them. And traditionally, the box contains oil, a drawing of reel parts, a warranty card, and, of course, a user manual. As I said, the packaging is on top. Swedish and Chinese companies bother with packaging better than others.
Reel Construction
We see a stylish low-profile black baitcaster with grey accents. To reduce the weight of the reel and protect the main parts from corrosion, the brand X2-Craftic alloy is used. On the side plates of the reel are inscriptions on the number of bearings and the model of the reel.
The coating with titanium additives (it is used in the entire Beast line) is well-protected from abrasion – as always, after the first few fishing trips, there are minimal traces of operation. Therefore, for 2-3 years, the appearance of the reel is almost unchanged. The weight of the reel is 13.5 ounces. For not a full-metal bait-caster, this is a pretty high weight.
On the lid, there's an InfiniMax magnetic brake switch. To remove the side plate, unscrew the fixing screw and turn the cover counterclockwise. Thanks to the corrugated shape of the screw, everything is done without the use of tools.
Handles
One of the best solutions, which I met in the bait-casters. Sufficiently heavy and durable handles with a bent profile made of thick metal, with excellent (without exaggeration) EVA knobs. It doesn't have backlash at all, there's a minimal feeling of backlash with all the brakes completely turned down, but it doesn't interfere with catching. Knobs fit perfectly in the hand, very convenient for power fighting. Plus: complete with a new reel comes a set of handles (2 pieces) with larger knobs – they are probably suitable for sea fishing, where the loads are completely different. For 1 turn, from 24 to 34 inches of the line are unwound. An anti-reverse system is also provided. The length of the main handle is 110 millimeters.
Braking Systems
Here, the Revo Toro Beast is doing well: an axial brake on the handle side, a magnetic brake on the lid side. Both brakes are regulated intuitively, with a minimum of fishing experience with the multipliers, you can adjust the braking so that the bait flies far and there are almost no problems with bird nests. The magnetic brake adjuster is located on the side plate. Under the plate, we see 8 magnets, the height of which is regulated by the dial on the side panel. The axial brake regulator has a micro-click. This allows for more accurate tuning.
An additional plus is 6 centrifugal weights on the spool: they turn on and off without tools (my nails are very short, therefore I usually put on something sharp) and provide precise adjustment of the braking force. In general, 3 levels of brake adjustment are more than enough, especially if you don't play with weights within the same fishing range.
Drag
Revo Toro Beast uses the famous Abu Garcia Carbon Matrix Drag System. According to my tests, this system has a maximum drag of 30 pounds (13 kg) instead of specified by the manufacturer 25. With a full lockdown, the drag works smoothly and stably, unlike most reels that have jerking. So you can don't worry about smoothness. Like the centrifugal brake adjuster, the drag star has a micro-click.
Spool
The reel is equipped with a spool of aviation aluminum, 5000 in size, weighing just over 31 grams (this is with a system of centrifuges and bearings, i.e., fully assembled). There is enough capacity – for trophy fishing it is advisable to use a thick strong line, and at face value,190 meters of 0.35 line should fit on the spool. For catching trophies and fishing in the largest bodies of water – more than enough. The retrieve is quite standard, just made with a safety margin and quite high-quality. The eye is oval, large enough, with an insert of a very smooth, durable material that protects the line from abrasion. It's a very important nuance because fishing with heavy jerks can really kill lines, so it's a plus for the designer.
Filling
Filling – bronze/brass gears and other elements. The gears are made at the highest level, the reel after the first use works like a clock. The manufacturer claims the DuraGear Heavy Duty transmission with increased wear resistance – the solution is not the cheapest but justified from the standpoint of power qualities. This model has a fast enough gear ratio of 6.2:1. Another worth noting is the presence of 6 bearings. 5 of them are ball-type HPCR made of stainless steel and 1 roller is also protected against corrosion.
Catching a Big Fish with Abu Garcia Revo Toro Beast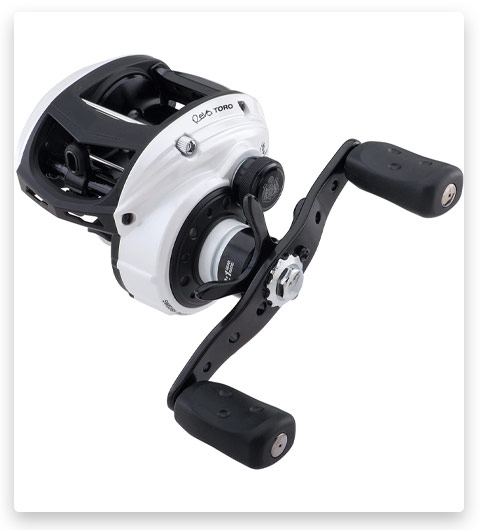 The Abu Garcia Revo Toro Beast is a pure model designed for catching large fish. The lower limit of the weight of the bait, which is comfortable to work with, is 16-18 grams, and during the test sessions, I mostly threw baits from 20 to 35 grams. I'm not a fan of fishing for heavy jerks, but the reel works with weights of up to 80 grams without any tension at all – the main thing is that the rod allows.
The only remark: if the eye is in the lateral position when casting, it's better to move it to the middle, otherwise the line will wear out. The eye lock function is located behind the spool.
About casting distance. I'll say this – it all depends on how you set up the brake system: sometimes it makes sense to simply turn off all centrifugal weights and adjust the force with axial and magnetic brakes. On average, from Abu Garcia Revo Toro Beast gives out more than 20 grams on light baits to 45+ meters on baits without stress – but for a greater casting distance, you need a rod with maximum casting qualities and the level of performance technique. But anyway, casts the Revo Toro Beast on honest A+, here it's a sin to complain.
There's simply nothing to complain about the quality of the mechanism. Of course, the reel should be well-groomed (in the box there's a bottle of grease, not bad by the way). But if you don't neglect prevention, then the fitting of parts and bearings resistant to corrosion provides the perfect cast.
I met complaints in the network about uneven spooling of the fishing line, especially when fishing on the stream – I can neither confirm nor deny: the model I was fishing cast perfectly in a variety of conditions.
Finally, fighting with fishing. By themselves, the power qualities are very good, the reel crushes the resistance of even large fish without visible tension. Of course, I wouldn't use it as a winch, but this is a great tool.
Separately, I praise the star drag Power Carbon Matrix – it's designed for 30 pounds (almost 13 kg) and adjusted very easily and very clearly. A micro-click is built-in, which allows literally hundreds of grams to dose the braking force – on an active pike, a little less than 3 kg I specially tested and adjust the drag. The braking system works very effectively, using a fishing line, it slows down the fish, tiring it.
Replacements for the Abut Garcia Revo Toro 
Consider the full line of this type of reels, so that you have a choice of fishing reels that you will like and at a price.
| Image | Product | Model | Link |
| --- | --- | --- | --- |
| | Abu Garcia Revo Toro Beast Low-Profile Baitcast Fishing Reel,Blue,Black,60-HS | REVO T2 BST60-HS | |
| | Abu Garcia Revo Toro Beast Low-Profile Baitcast Fishing Reel, REVO T2 BST50 | REVO T2 BST50 | |
| | Abu Garcia REVO4 Beast 41 HS Spinning Rod & Reel Combos | REVO4 BEAST 41 HS | |
| | Abu Garcia Revo Toro Rocket Low Profile Reel, Red, Right | REVO T2 RCKT60 REVO TORO ROCKET 60 | |
| | Abu Garcia RVO3 BEAST-L REVO Beast Left Hand Baitcast Reel | 1339959 | |
| | Abu Garcia 1430435 Revo x Low Profile Baitcasting Reel, 6.75: 1 Gear Ratio, 27" Retrieve Rate, 18 lb Max Drag, 8 Bearings, Right Hand ,Black | REVO4 X | |
| | Abu Garcia REVO4 SX-HS Revo SX Low Profile Fishing Reel | REVO4 SX-HS | |
1# Abu Garcia Revo Toro Beast Low-Profile Baitcasting Reel (Other Model)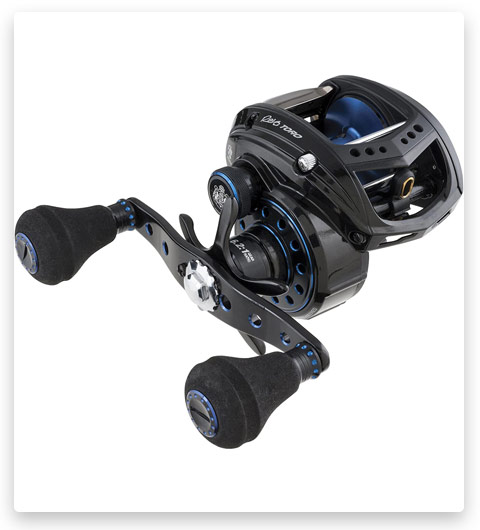 A similar model to the old version, which is slightly different in appearance and gears. This reel is made in black and blue from the brand X-Kraftic alloy. Inside there are 7 + 1 bearings, a carbon matrix drag system, and a DuraGear transmission.
2# Abu Garcia Revo Beast Low-Profile Baitcasting Reel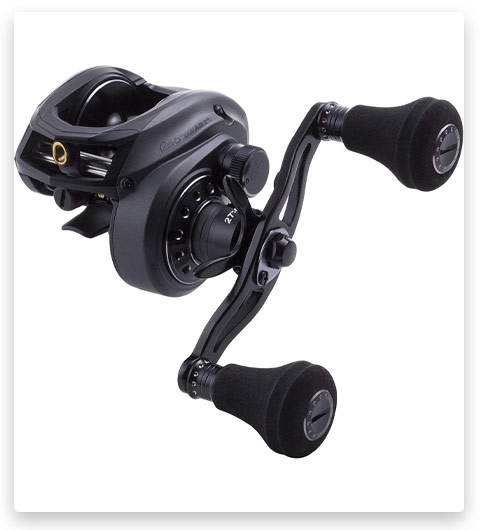 As I said, the model Abu Garcia Revo Toro Beast was created by combining the reels of Toro Beast and Revo Beast. This reel is one of its predecessors. The Revo Beast has 2 sizes 40 and 41 for the left and right hand. Inside are 7 + 1 HPCR bearings with corrosion protection. The body material is the same as in the review, X2-Kraftic, and the gear ratio is 6.2 or 7.3 to 1. The reel has a metal handle with EVA knobs, a double brake system, an axial brake, and a drag star with a micro-click. 
3# Abu Garcia Revo Toro Rocket Low-Profile Baitcasting Reel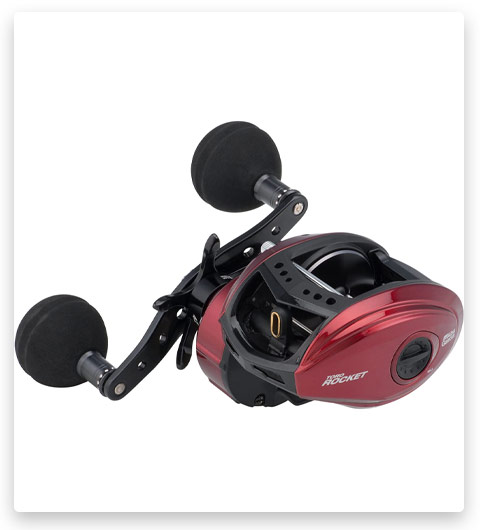 From the previous one, this model differs only in gear ratio, body, and handles. Otherwise, it's still the same Revo Beast. This model has a metal construction made of X-Kraftic alloy. The Rocket Ratio is one of the fastest in the reels of Abu Garcia. This allows retrieving a line to reel very fast. About 42 inches of fishing line is unwound in one turn of the handle. The metal handle has enlarged rubber EVA knobs, which allows you to more efficiently grab the reel and work even with slippery hands. The braking system is double, axial brake, and star drag have a built-in clicker.
4# Abu Garcia Revo Beast 3 Baitcasting Reel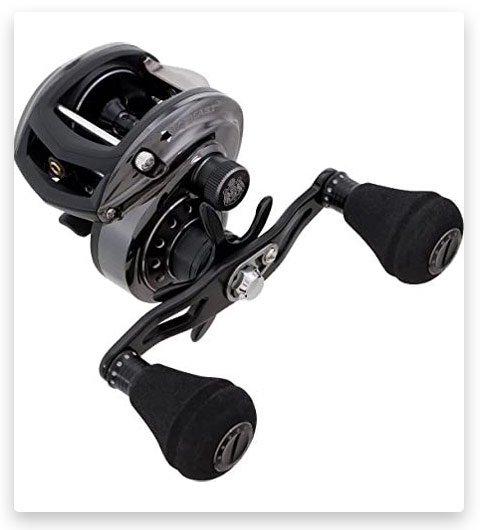 If you prefer round reels more, then you should look at the older REVO-3 model. The reel comes in modifications for the left and right hands, has 8 bearings, a metal body made of X-Kraftic alloy, and an enlarged metal handle with EVA knobs. Internal materials are perfectly protected from corrosion, the gear ratio is quite fast – 7.1:1. This reel has a dual brake system with anti-reverse installed.
5# Abu Garcia Revo X Baitcasting Low-Profile Reel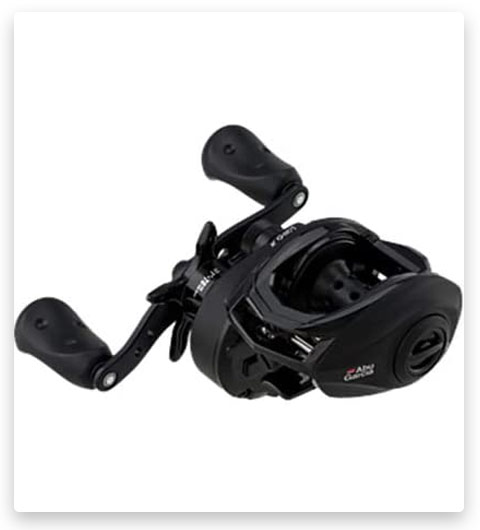 If you need an inexpensive reel for $100, then it's better to go down to the lower price segment and look at the Revo X model from Abu Garcia. For its price, this reel gives a very good performance. It has full corrosion protection thanks to its metal construction and internal components. The handle is also made of metal, but the knobs are already made of ordinary rubber, not EVA. The prefix is ​​7.3:1 in the HS version or 6.6:1 in the simple version. The mechanism works stably and smoothly thanks to the DuraGear technology and the carbon matrix drag system. This reel works great with both a single line and a braid.
6# Abu Garcia Revo SX Baitcasting Low-Profile Reel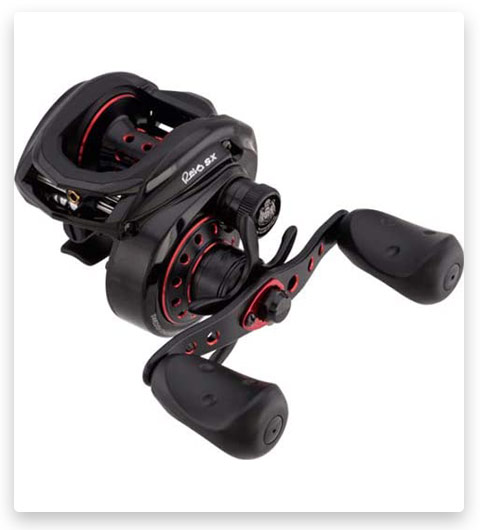 For better performance, you can add $50 and purchase the Revo SX. There are already 9 ball bearings +1 roller, the spool is perforated, and the side panels are made of carbon. Also, the reel has an installed anti-reverse, DuraGear mechanism, and a double brake system. 
Conclusion
The Abu Garcia Revo Toro Beast is in the heavy reel segment for catching large fish. If we talk about high-quality gear, then frankly cheap or just inexpensive models are not here. Therefore, lovers of trophy fishing should take a closer look at this reel. But as far as working qualities are concerned, in the "heavy" weight category the model boldly receives my A+ – in any case, I didn't hold the better bait-casters in my hands (yet!).
Tags: #revo toro beast / #abu garcia revo toro beast / #abu garcia revo toro beast baitcast reel / #abu garcia revo toro beast 60 / #abu garcia revo toro beast review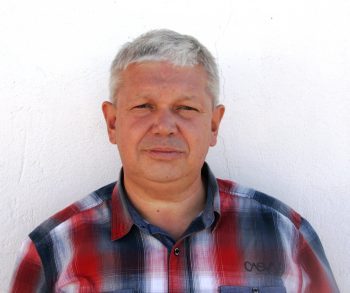 Sergio Smirnoff
Professional fisherman with 40+ years of experience.
Fishing and the ocean is a passion of my life. I am passionate about all kinds of sea fishing: fishing from the shore (spinning, float, baitcasting), from a boat, and spearfishing day and night.
I live in Tenerife (Canary Islands) for the last 10+ years and share my daily fishing experiences on my website. Many years of personal experience as a fisherman and the vast experience of my friends allow me to write professionally on any fishing topics (from choosing a flashlight and equipment to deep-sea fishing).
All of my advice is based on practical real-world experience and will be useful to both novice anglers and professionals.
Read more
about the author.
Affiliate Disclosure: FishReeler.com sometimes gets paid for listings, through sponsors or affiliate programs like Amazon, Ebay, Cabelas, Bass Pro Shop, Shimano, Daiwa, Rapala, Renn, Okuma, KastKing, etс. Clicking a link helps keep FishReeler.com free, at no extra cost to you!
About the author: Each article is verified by the fishing expert Sergio Smirnoff. The articles are written by professional and amateur fishermen with 20+ years of fishing experience.
Note: The views and opinions expressed in this article are those of the authors and do not necessarily reflect the official policy or position of any agency. The articles are for informational purposes only, share your opinions in the comments and join the fishing discussions, let's share our fishing experiences together!