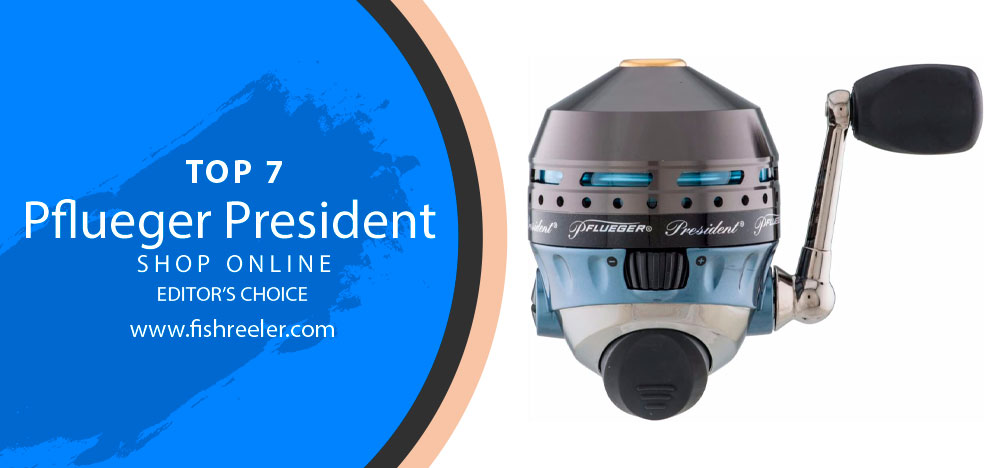 Quick Summary
☑️Why Pflueger President Reels Should be Your Next Angling Investment
There are a plethora of fishing reels available on the market, but few can compete with the efficiency, robustness, and versatility of Pflueger President Reels. As an angler, you seek a reel that will not only enhance your fishing experience but also add to your successful catches – this is where Pflueger President Reels stand out.
✅Unparalleled Durability and Performance
Constructed with high-quality, anti-corrosive materials, Pflueger President Reels offer unmatched durability. These reels are designed to withstand tough fishing conditions and offer an extended lifespan, providing you with a reliable partner on all your fishing expeditions.
✅Superior Drag System and Ball Bearings
One of the main distinguishing features of Pflueger President Reels is their smooth and reliable drag system. This system ensures a seamless reeling experience and significantly improves your chances of successfully catching and landing fish. Coupled with high-quality ball bearings, these reels ensure an ultra-smooth performance, reducing friction and facilitating easy and efficient retrieves.
✅Optimal Gear Ratio for Quick Retrieves
The Pflueger President Reels feature an optimal gear ratio that ensures quick and efficient retrieves. The gear ratio is balanced perfectly to provide you with enough power to reel in larger fish, while also offering sufficient speed for quick retrieval, making it a versatile choice for both freshwater and saltwater fishing.
✅User-friendly and Comfortable Design
The Pflueger President Reels are designed with user comfort and convenience in mind. With a lightweight design and comfortable handle, you can fish for extended periods without experiencing hand fatigue. The reels also feature a sturdy bail design that prevents any misalignment, providing you with a hassle-free fishing experience.
✅Easy Maintenance and Excellent Value for Money
Maintaining Pflueger President Reels is a breeze. With simple and clear instructions, you can ensure your reel stays in top-notch condition, promising a long product life. Given the reel's superior performance, durability, and ease of maintenance, it offers excellent value for money, making it a worthy investment for both novice and experienced anglers.
🎣 Welcome to the World of Pflueger: A Commitment to Quality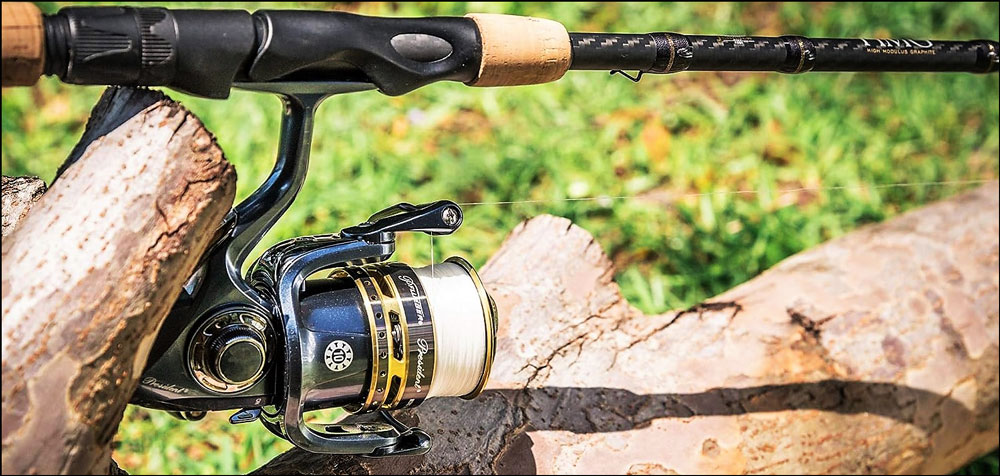 Pflueger, a renowned name in the fishing industry, has been serving angling enthusiasts since 1881. They are known for their unwavering commitment to quality, consistently delivering top-tier fishing gear that transforms the angling experience. Pflueger's legacy is built upon a solid foundation of innovation, craftsmanship, and dedication to enhancing the thrill of the catch. 🏆
Introducing the Pflueger President Reels: A Titan in the Fishing Reel Category 🌊
Among Pflueger's stellar lineup, the President Reels have carved out a unique niche. They've earned a solid reputation among novice and veteran anglers alike, becoming synonymous with reliable, top-performance fishing.🥇 The President Reels encapsulate Pflueger's commitment to excellence and innovation, setting a benchmark in the industry.
Pflueger President Reels stand out for their superior construction, smooth drag system, exceptional ball bearing design, and optimal gear ratio. But that's not all – these reels also offer an impressive aesthetic appeal, adding a touch of sophistication to any angler's gear.🎣
The Crucial Role of Reliable Fishing Reels for Successful Fishing Trips 🚣‍♂️
As any angler will attest, a reliable fishing reel can make or break your fishing adventure. It's not just about casting the line and waiting for a bite – it's about having the confidence that your gear won't let you down.
A fishing reel's role is multi-faceted:
It aids in accurate casting 🎯
It controls the line during the catch 🐠
It smoothly retrieves the line for a successful haul 🎣
In all these stages, the Pflueger President Reels shine with their unparalleled performance. They've been engineered to enhance your control and precision, promising not just a good fishing trip, but a great one.
🔶In the world of angling, Pflueger President Reels have truly set a high tide, offering an unrivaled combination of reliability, performance, and value. No matter where your fishing journey takes you, with Pflueger President Reels, you're always prepared for the catch of a lifetime! 🏆🐟
🎦Video YouTube: Pflueger President Spinning Reel Review – Best Reel for $50!
| Image | Product | Brand | Link |
| --- | --- | --- | --- |
| | Pflueger President Spinning Reel, Size 30 Fishing Reel, Right/Left Handle Position, Graphite Body and Rotor, Corrosion-Resistant, Aluminum Spool, Front drag System | Pflueger | |
| | Pflueger President Xt Spinning Reel (30) | Pflueger | |
| | Pflueger President XT Low Profile Baitcast Reel, Size LP Fishing Reel, Right Handle Position, Aluminum Spool, Star Drag System | Pflueger | |
| | Pflueger President Spincast Reel, Size 6 Fishing Reel, Right/Left Handle Position, Aluminum Spool, Dial Drag System | Pflueger | |
Pflueger President Spinning Fishing Reel
This is one of the best-known and best-selling Pflueger brand reels. This model is for those anglers looking for high-performance spinning reels at a good price. This model offers solid construction and reliable performance. The lightweight composite construction matches the durability of the aluminum reel. This reel also features a super-sensitive auto freewheel stop button with a magnetic reel brake for improved wiring. The (6+1) bearing system contributes to smoother operation, while the spool lock and the extended spool stem help guide the line for fewer tangles both on and off the ice.
1# Pflueger President Spinning Fishing Reel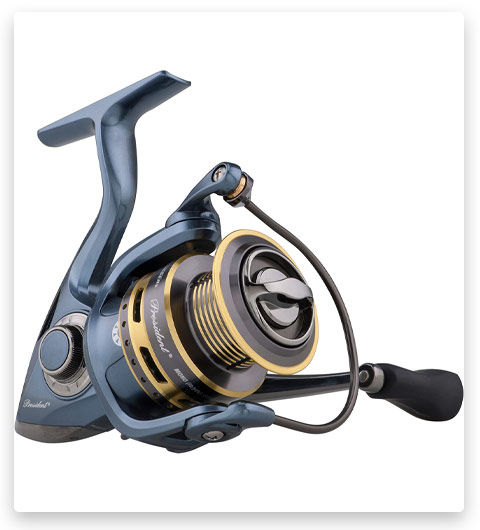 If aesthetics are a priority when choosing ultralight fishing gear, you'll love the Pflueger President spinning reel. Its beautiful graphite blue body looks as good as it looks in the photo, and its gold coil finish provides the perfect contrast. Graphite construction also serves a practical purpose. The total coil weight is only 6.2 ounces. The handle is made of aircraft-grade aluminum, and the slow swing mechanism allows the line to lie evenly on the spool ready for weaving. The sealed braking system has a maximum drag limit of 6 pounds and provides a smooth ride with seven corrosion-resistant ball bearings. Other features include an instant anti-reversal system and a 5.2: 1 gear ratio that allows you to return 20.7 inches of line with each handle.
Pflueger President XT Spinning Reel
This is an improved version of the previous Pflueger president spinning reel. It differs in that it is lighter in weight and works faster than the previous model. It is the perfect choice for those who are crazy about spinning fishing. This reel does an excellent job of pulling large fish. Thanks to the aluminum gear and the main shaft, the reel is strong and resistant to various deformations. That is why this Pflueger president is suitable for dealing with big fish.
2# Pflueger President Xt Spinning Reel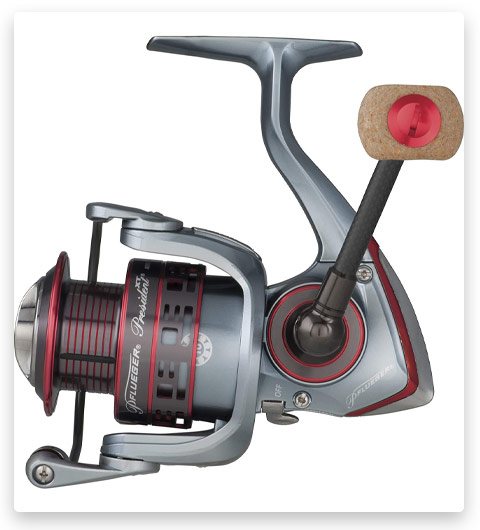 As mentioned earlier, this model is extremely lightweight and reliable to work with. This model is characterized by durability and corrosion resistance. It has a graphite frame and rotors, sealed drag systems, and machined aluminum handles. The model allows you to make smooth casts and pulls. The aluminum shaft is lighter than stainless steel. This reduces the weight of the coil without sacrificing strength. 10 sealed bearings ensure the smooth operation of the oil in all conditions. You can also easily tie the braided line to the spool thanks to the braid-ready spool.
Pflueger President XT Low Profile Reel
This model also carries the president's name however it is a baitcasting reel. This reel is distinguished by its good number of bearings, namely 9 pieces. This model is resistant to corrosion and thus can be safely used in seawater. If you are looking for a coil that will perform excellently with a braided line then the Pflueger president is what you need! This product is also available in the market at a good price!
3# Pflueger President XT Low Profile Reel – Amazon's Choice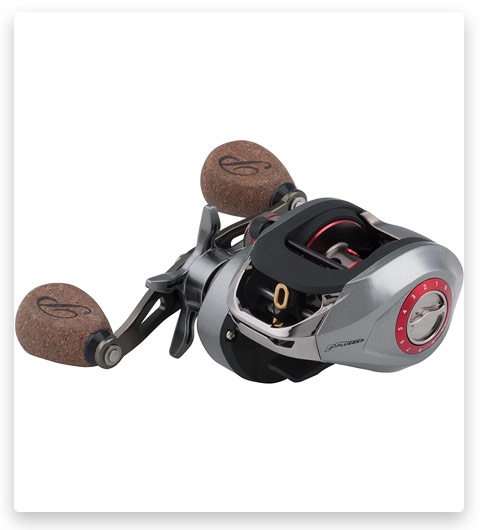 The President XT low-profile lure reel is lightweight, durable, and comfortable to use. No details were ignored during the development process. The C45 side plates make this reel lightweight yet extremely strong, and 9 bearings provide exceptionally smooth casts. 9 corrosion-resistant stainless steel ball bearings. A low-profile XT magnetic braking system provides smooth and quiet operation. An externally adjustable brake adjusts the spool and backlash rotation. The handle is made from aircraft-grade aluminum for exceptional durability. The soft rubber handle provides excellent grip.
Pflueger President Spincast Fishing Reel
Pflueger President spincast fishing reels are suitable for both beginner and professional anglers. If you are fishing with your children and are thinking about purchasing more professional equipment for them, then I advise you to take a closer look at this series of reels. The product comes in 4 reel models. They have dual titanium pins that provide protection when gripping the line. This indicates that your reel has excellent performance and good service life. They are made of durable aluminum. This material is resistant to rust, corrosion, and also provides a stylish appearance. Also, the reels of this series are lightweight. Your hands will not get tired even if you spend the whole day fishing.
4# Pflueger President Spincast Fishing Reel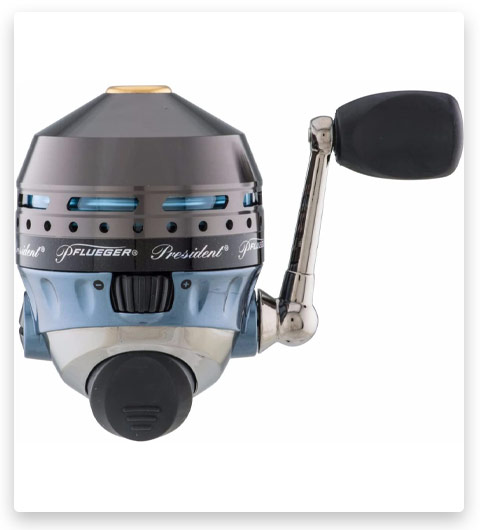 This is a top-quality reel that will surely appeal to the backcasting enthusiasts in your family. This model offers superior performance and durability thanks to its dual titanium pins. The aluminum body provides additional strength. This indicates a high resistance to corrosion and rust. In addition, the aluminum body adds ergonomics to the design of this device. The rubber grip provides an improved grip. This model has 5 bearings that ensure flawless extraction. As you may have already noticed, this spinning reel will last you a long time and will work without interruption.
The Unveiling: First Encounter with Pflueger President Reels 📦🎣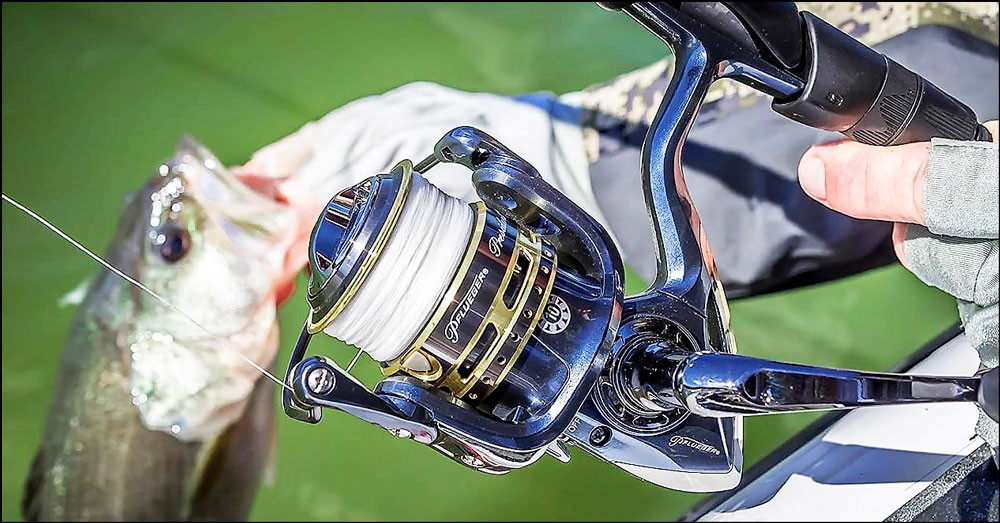 When it comes to first impressions, the Pflueger President Reels make a striking one. The packaging is thoughtfully designed, protecting the product while offering an enticing preview of what's inside. As you unbox your new gear, you are immediately greeted by a meticulously crafted reel, promising an enhanced angling experience right from the start.
A Masterstroke in Design and Aesthetics 🎨
Pflueger President Reels are a prime example of the harmonious blend of function and form. Beyond their superior performance, they're designed to impress visually. Featuring a sleek body with an elegant finish, the Pflueger President Reels hold a certain allure that distinguishes them from typical fishing reels.
Here are a few notable design features that add to their aesthetic appeal:
Sophisticated Finish 🌟: Each reel boasts a polished and sophisticated finish, giving it a premium look. The attention to detail is evident, adding to the overall user experience.
Ergonomic Handle ✋: The handle is not only designed for a secure grip but also has an ergonomic design. This makes for a comfortable fishing experience, even during extended periods.
Compact and Lightweight ⚖️: Despite the robust build, the President Reels are compact and lightweight. This makes them easy to handle and ensures they are not a burden during long fishing sessions.
Sturdy Bail Design 💪: The reels feature a solid, well-designed bail that ensures smooth and trouble-free line management. The design enhances both the reel's functionality and visual appeal.
🔶In essence, Pflueger has successfully combined power, performance, and aesthetics in their President Reels. They're not just a tool, but a statement of style and an embodiment of the brand's commitment to quality. Whether you're an amateur angler or a seasoned veteran, the Pflueger President Reels are sure to elevate your fishing game and gear aesthetic alike! 🏆🐟
Inside the Machine: Specifications and Features of Pflueger President Reels 🎣⚙️
When we delve into the technical aspects of Pflueger President Reels, it's easy to see why they are celebrated for their high-performance features and specifications. From durable construction to a high-performing drag system, these reels are packed with elements that elevate them beyond ordinary fishing gear.
Built to Last: Material and Construction 🏗️🔩
Pflueger President Reels are a testament to solid construction and quality materials. Crafted with a graphite body and rotor, these reels are not only robust but also resistant to corrosion, making them ideal for both freshwater and saltwater fishing. The use of high-grade materials ensures longevity, promising countless fishing trips ahead.
Smooth Operator: The Drag System 💪🌊
At the heart of the Pflueger President Reels lies a smooth and reliable drag system. Utilizing a stainless steel and oiled felt system, the reels provide a smooth drag pressure and quick adjustments, which is vital when you're fighting a fish. This feature significantly enhances your control and precision during the catch, making the battle between angler and fish an evenly matched one.
Smoother Performance: The Role of Ball Bearings ⚙️
Ball bearings play a crucial role in any reel's performance. The Pflueger President Reels come equipped with 6-10 high-quality stainless steel ball bearings (depending on the model), ensuring an ultra-smooth performance. These bearings reduce friction between moving parts, leading to better casting and reeling experience, and ultimately, more successful catches.
Speedy Retrieves: Understanding the Gear Ratio 🏎️
A reel's gear ratio determines the speed at which you can reel in your catch. Pflueger President Reels boast an optimal gear ratio, striking a perfect balance between power and speed. Whether you're battling a stubborn catch or need quick retrieval, these reels provide the needed strength and efficiency.
🔶In conclusion, Pflueger President Reels are meticulously designed with the angler's needs at heart. Their thoughtful construction and technical features provide a seamless fishing experience, whether you're a beginner or a seasoned angler. With their superb performance and long-lasting durability, these reels truly stand out in the crowded market of fishing gear. 🎣🏆
On the Water: A Personal Account of the Pflueger President Reels Performance 🚣‍♂️🎣
Engaging with the Pflueger President Reels in various fishing scenarios offers a unique insight into their performance. The reels exhibit consistent high-quality performance, regardless of the conditions, proving their versatility and reliability.
Casting Excellence: Distance, Accuracy, and Smoothness 🏹🎣
My experience with casting using the Pflueger President Reels was nothing short of impressive. The casting distance exceeded expectations, extending reach and improving the chances of a successful catch. The accuracy was spot-on, helping target specific fishing spots with precision. The smoothness of the cast further contributed to the superior performance, ensuring the line glided effortlessly across the water.
Reeling Mastery: Smoothness, Speed, and Handle Comfort 👌⚡
Reeling in with Pflueger President Reels was a smooth and swift experience. The high-quality ball bearings ensured a frictionless retrieval, while the optimal gear ratio provided both speed and power when needed. The ergonomically designed handle added to the comfort, making even prolonged reeling less strenuous.
Battle Ready: Tackling the Fish 🐟🥊
Perhaps the most critical performance aspect of any fishing reel is how it handles during the fight. The President Reels shone in this aspect, thanks to their robust drag system. It provided excellent control over the catch, allowing for a perfect balance between letting the fish run and reeling it in. The reel's strength and stability during these encounters were remarkable, proving their worth in the most critical moments of fishing.
🔶In conclusion, the Pflueger President Reels demonstrated their prowess across various fishing scenarios. Their superior casting ability, smooth and quick reeling, and excellent control during the fight, all contribute to an exceptional fishing experience. For both seasoned anglers and novices, the President Reels serve as a reliable and performance-oriented companion on any fishing adventure. 🎣🏆🚣‍♂️
Setting the Bar: Pflueger President Reels vs. The Competition 🏋️‍♂️🎣
When setting the Pflueger President Reels against other popular models in the category, their unique features and performance advantages quickly become evident. At the same time, like any product, they aren't without their areas for improvement.
The Pflueger Advantage: What Sets Them Apart 👑
The Pflueger President Reels shine in several key areas. Their robust construction, top-quality materials, and innovative design make them stand out. The stellar drag system and optimal gear ratio contribute to an unparalleled angling experience:
Exceptional Value for Money 💰: The Pflueger President Reels offer a range of high-end features at a mid-range price point, setting them apart in the market.
Superior Performance 🎣: Their casting and reeling capabilities outshine many competitors, offering a smooth and enjoyable angling experience.
Versatility 🌊: The Pflueger President Reels excel in a variety of fishing conditions, making them an excellent choice for diverse angling needs.
A Balancing Act: Potential Areas for Improvement ⚖️
Despite their many strengths, there are a few areas where the Pflueger President Reels could potentially improve:
Line Capacity 📏: Some anglers might find the line capacity on the smaller side, especially for bigger game fish.
Limited Gear Ratio Options ⚙️: While the gear ratio provided works well for a range of scenarios, offering more options could cater to a wider range of fishing styles and conditions.
🔶When compared to other fishing reels in the market, the Pflueger President Reels hold their own, offering a balance of quality, performance, and affordability. They are a testament to Pflueger's commitment to providing top-tier angling gear that does not compromise on value. 🏆🎣💪
Ensuring the Catch: Maintenance and Longevity of Pflueger President Reels ⏳🧹
The longevity and performance of fishing reels are directly linked to their upkeep. Proper maintenance of the Pflueger President Reels not only ensures they perform optimally but also enhances their lifespan, providing true value for money.
Maintenance 101: Caring for your Pflueger President Reels 👩‍🔧🛠️
Adhering to regular maintenance can significantly extend the life of your reel. Here are some straightforward tips for maintaining your Pflueger President reels:
Regular Cleaning 🧽: After each fishing trip, especially in saltwater, rinse your reel with freshwater. Avoid spraying it directly; a gentle mist will do.
Proper Drying ☀️: Ensure that your reel is completely dry before storage to prevent any rust or corrosion.
Lubrication 🛢️: Regularly lubricate moving parts with reel oil. Pay special attention to the gear system, ball bearings, and the drag system.
Storage 📦: Store your reel in a cool, dry place to prevent any damage or warping from heat and moisture.
Longevity: An Investment That Lasts ⌛💰
When it comes to longevity, the Pflueger President reels truly stand the test of time. Their robust construction and anti-corrosive materials ensure their durability even under heavy usage. The reel's design and high-quality components ensure a consistent performance over the years, providing great value for money. Properly maintained, these reels can be a long-lasting addition to any angler's arsenal.
🔶In conclusion, the Pflueger President reels offer a blend of performance, durability, and value that is hard to match. With regular upkeep, these reels are a worthy investment for any angler looking to elevate their fishing game. 🎣💎🚀
❓ FAQ: Pflueger President Reels 🎣💭
Pflueger President Reels – The True Companion for Every Angler 🎣🏆
Pflueger is one of my all-time favorite fishing tackle brands. This company has been a leader in its niche for many years and produces high-quality fishing reels and other tackle at affordable prices. If after my review you are still facing the question of which reel to buy, then let's summarize.
As we conclude our deep dive into the Pflueger President Reels, a few crucial points come to the forefront:
The Pflueger brand's reputation and commitment to quality reflect clearly in the President Reels 🏅.
The President Reels shine through their design, aesthetic appeal, and top-quality materials used in their construction 🔧.
Their remarkable specifications, including an exceptional drag system, high-quality ball bearings, and optimal gear ratio, contribute to their superior performance ⚙️.
An angler's experience is greatly enhanced, owing to the reel's excellent casting, reeling capabilities, and formidable performance during the fight 🐟.
When compared with other popular models, the President Reels offer value for money, high performance, and versatility, despite minor areas for improvement ⚖️.
Proper maintenance can significantly increase the reel's longevity, enhancing the overall value for your money ⌛💰.
🔶In sum, the Pflueger President Reels prove themselves to be a reliable and efficient choice for any angler. Their unique blend of performance, durability, and affordability makes them a highly recommended addition to any angler's gear. 🎣🌊👍.
Tags: #pflueger president / #pflueger president xt / #pflueger president xt review / #pflueger president spinning reel / #pflueger president combo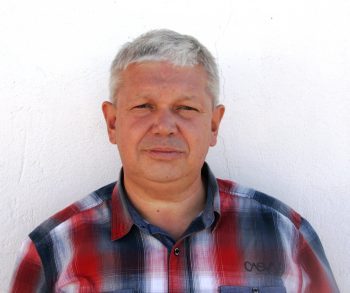 Sergio Smirnoff
Professional fisherman with 40+ years of experience.
Fishing and the ocean is a passion of my life. I am passionate about all kinds of sea fishing: fishing from the shore (spinning, float, baitcasting), from a boat, and spearfishing day and night.
I live in Tenerife (Canary Islands) for the last 10+ years and share my daily fishing experiences on my website. Many years of personal experience as a fisherman and the vast experience of my friends allow me to write professionally on any fishing topics (from choosing a flashlight and equipment to deep-sea fishing).
All of my advice is based on practical real-world experience and will be useful to both novice anglers and professionals.
Read more
about the author.
Affiliate Disclosure: FishReeler.com sometimes gets paid for listings, through sponsors or affiliate programs like Amazon, Ebay, Cabelas, Bass Pro Shop, Shimano, Daiwa, Rapala, Renn, Okuma, KastKing, etс. Clicking a link helps keep FishReeler.com free, at no extra cost to you!
About the author: Each article is verified by the fishing expert Sergio Smirnoff. The articles are written by professional and amateur fishermen with 20+ years of fishing experience.
Note: The views and opinions expressed in this article are those of the authors and do not necessarily reflect the official policy or position of any agency. The articles are for informational purposes only, share your opinions in the comments and join the fishing discussions, let's share our fishing experiences together!