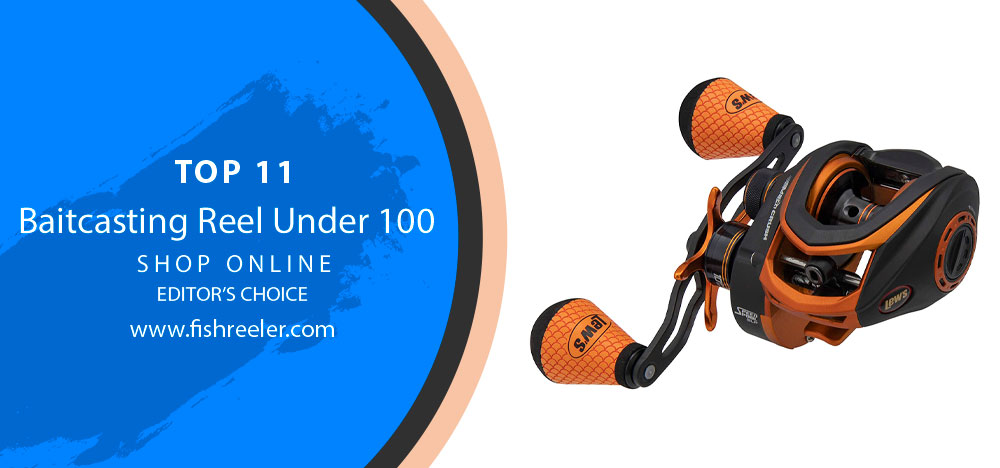 Best Baitcasting Reels Under 100$ – My Top 11 Reviewed in Detail
As with all hobbies, you should continuously hone your skills and strive for perfection. Do you want to know the best way to get more skilled at fishing? The answer is simple: by using the appropriate equipment like Baitcasting Reels. What's that? Did you hear about them before? You think you don't have enough experience or that your budget makes it impossible to upgrade fishing gear just yet?
Don't fret! Using my guide, you'll find the best Baitcasting reels under $100 and get your fishing skills to the next level! So, what are Baitcasting Reels, and what makes them so popular among professional anglers? Let's find out.
How Baitcasting Reel Works?
Many fishermen are indeed too afraid to tackle baitcasting reels. At the same time, professionals prefer it. Why are bait-casters better, you might ask? Let's start with the basics. To put it simply, a bait caster is a reel that you place on top of a casting rod. It consists of the drag, the braking system, and the spool tension knob. The mechanism is basically the same in all reels. Still, there are variants for left-handed and right-handed anglers, as well as low-profile and round versions.
Drag
By tightening this part of the mechanism, you can regulate the tension on the line while you fight fish.
Level-Wind (optional)
The level-wind allows fishermen to distribute the line evenly on the spool by guiding it from the left to right side of the reel.
Braking System
The braking system is quite similar to the brake system in cars. It's responsible for the rotation speed of your spool during casting. If you're new to baitcasting reels and want to get accustomed to their "feel," you'll find it easier to experiment using more brakes.
Spool Tension Knob
This part is used to adjust the spool speed kind of like a braking system but to a much greater degree. If you want to become an expert angler, you'll need to master these mechanisms. Except for level-wind because it's optional. You can distribute the line using your thumb with some practice. Still, learning how to control braking, dragging, and a mastering spool tension knob separates amateurs from professionals.
Baitcasting Reels: Advantages and Differences
It's no accident that professional anglers consider baitcasting to be the most advanced yet also advantageous type of reels. But is it better for amateurs? Not exactly. I consider baitcasting reels to be an advanced tool that requires a lot of practice to master. If you're only starting to get the hang of the angling, then this type of reel may not the best choice for you.
However, in the hands of an experienced angler, baitcasting can make a huge difference compared to spin-cast reels. Want to know why? Then stick with us to the advantages and differences of baitcasting reels!
More advanced braking system. Want to quickly adjust the reel while fishing? No problem! With this reel, you'll have a great time with a user-friendly mechanism that can help you adjust braking.
Less line twisting. Getting tired of lines getting twisted up? That's one of the main cons of spinning reels. However, due perpendicular spool axis, you can forget about this with baitcasting reels.
Heavier lures and lines. Want to cast lures up to 1 ounce or even heavier? That's not a problem! The reason for this is the spool's rotation axis. It's perpendicular to the rod guides, which ensures that your line goes straight to them. It also makes it easier to use not only larger lures but also heavier lines. With baitcasting, your average line can get up to 20-25 lb.
They are more customizable and reliable. There are all sorts of setting even in baitcasting reels under 100$. For example, right drag and brake settings will prevent backlashes and bird nests.
More power and control. A baitcasting design easily outperforms that of a spinning reel. You can apply much more power due to the spool that lines with the handle and gears. There's also little flex. This reel gives you total control over the speed and distance of your lure, granting you more accuracy during fishing.
Sturdiness. I find them to be more durable and long-lasting compared to other types of reels. That makes them more expensive. Still, you can find amazing baitcasting reels even for under 100$ in this very article! But let's not get ahead of ourselves. We'll get to that in a minute. Before deciding to look through the best baitcasting reels, you should also know about some other stuff that makes them stand out.
They are more expensive. Of course, not every bait cast would cost you a fortune. It's just a general rule of thumb.
They are heavy. Spinning reels are usually lighter and more compact.
Requires proper handling. Do you want more control of the flow of the line? Then you should hold the reel properly with your thumb positioned over the reel spool at a slight angle. Fo course, that's not everything! Just remember that practice makes perfect.
Left-handed and right-handed versions. No, there are no such things as universal baitcasting reels that would suit both left- and right-handed anglers. However, you shouldn't fret if you're a "lefty." There are myriads of reels with handles on the left or on the right side on the market.
They require adjusting. As I mentioned before, baitcasting reels are highly customizable with a lot of flexible options. Professional anglers take advantage of that. You'll need to fine-tune your reel to get the maximum performance. Don't worry if that sounds complicated. You'll get the hang of it very quickly, just not from the get-go.
Steep learning curve. Master fishermen can indeed get the most out of baitcasting reels. Just remember that you will need experience and a lot of dedication to get the hang of it.
Top 11 Best Baitcasting Reels Voted Best 
So, now you should know what makes baitcasting reels the best choice for professional anglers. What about you? Are you willing to try them? If your answer is "yes," then keep on reading!
Today, I want to introduce you to my Top 11 Best Baitcasting Reels you can get for under 100$. Without further ado, let's jump right in!
Introducing a summary table of all our fishing reels
| Image | Product | Brand | Link |
| --- | --- | --- | --- |
| | Piscifun Torrent Baitcaster Fishing Reel, 18LB Carbon Fiber Drag, Magnetic Braking System Baitcasting Reel, 7.1:1 Gear Ratio Innovative Low Profile Casting Reel, Right Handed | Piscifun | |
| | KastKing Royale Legend II Baitcasting Reels, Gear Ratio 7.2:1, Right Handed Fishing Reel | KastKing | |
| | KastKing Royale Legend High Speed Profile Baitcasting Fishing Reel | KastKing | |
| | Shimano SLX 150, Low Profile Baitcasting Reel | SHIMANO | |
| | Mach Crush Baitcast Reel | Lew's | |
| | Pflueger President XT Low Profile Baitcast Reel, Size LP Fishing Reel, Right Handle Position, Aluminum Spool, Star Drag System | Pflueger | |
| | KastKing MegaJaws Baitcasting Reel,7.2:1 Gear Ratio Fishing Reel,Right Handed Baitcaster,Blacktip | KastKing | |
| | Piscifun Phantom X Baitcasting Fishing Reels, Right Handed 7.6:1 Gear Ratios, Carbon Reel Handle, 18lb Carbon Drag, Centrifugal Brake, Ultra Smooth Baitcaster | Piscifun | |
| | KastKing Speed Demon Elite Baitcasting Reels,10.5:1 Gear Ratio Fishing Reel,Left Handed Baitcaster | KastKing | |
| | Abu Garcia 1365366 Black Max Low Profile Reel, 6.4: 1 Gear Ratio, 5 Bearings, 26" Retrieve Rate, 18Lb Max Drag, RH, Boxed | Abu Garcia | |
| | Abu Garcia REVO4 X-HS Revo x Low Profile Fishing Reel, Black | Abu Garcia | |
1# Piscifun Torrent Baitcasting Reel 18 LB – Editor's Choice
If you're looking for a versatile and reliable Baitcast reel for a reasonable price – Piscifun Torrent may be an excellent option for you. It's a low-profile, silent, and high-speed product. It makes it easy to catch fish that weigh up to 18 pounds. The durable reel will show top performance for years to come. My only complaints are about the spool tension knob that doesn't click well when tightened down and the fact it's time-consuming to maintain it in shape. Other than that, Piscifun Torrent offers fantastic value for a low price.
Highlighted features:
Carbon fiber drag.
Climate-resistant brass gears.
Unique side-plate oil port.
Comes in a 5.3:1 and 7.1:1 version for right-handed and left-handed users.
Drags over 18 pounds.
Over 30 inches of line retrieval.
Weights 8 ounces.
2# KastKing Royale Legend II – Best Easy to Use Reel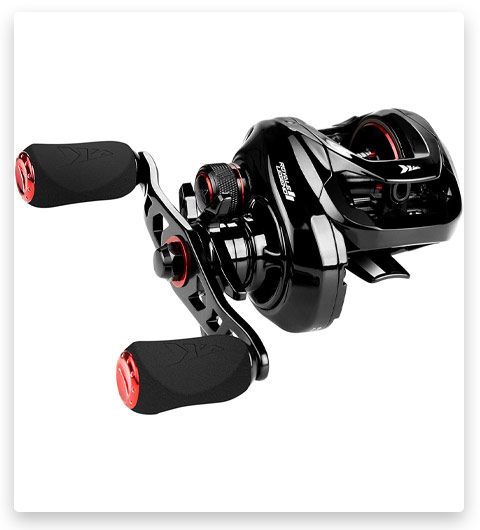 Do you want a smooth-looking and sturdy baitcasting reel? KastKing Royale Legend II is a fantastic choice for anglers looking for a good reel for pitching jigs and burning baits at high speed. I tried many KastKing's accessories in the past, and this one lines up with the best of them. It offers an amazing value for the price. I also advise you to oil it before using it for the first time. And before your second time. Actually, you should oil it regularly if you want it to serve for a long.
Highlighted features:
Cross-fire 8 magnet button braking system.
Double bearing pinion gear technology.
CNC aluminum spools.
Weights about 7.2 oz.
17.6 pounds of drag.
Comes in 5.4:1 and 7.2:1 gear ratio in left-handed and right-handed versions.
3# KastKing Royale Legend Whitemax – Best Adjustable Reel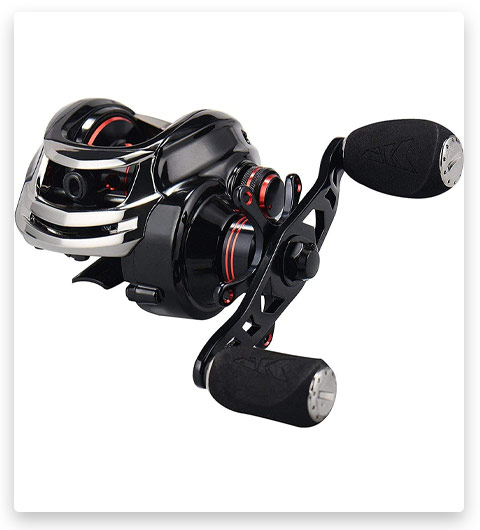 With top-grade built and a reasonable price, this product is a great solution for fishermen who want to master baitcasting reels quickly. With some practice, you'll be able to boost your accuracy and feel the rod in your hands much better than you would with other types of reels. I recommend you watch some guides online set the magnets correctly before you start practicing with this reel. Soon, you'll find out this is a perfect gateway for baitcasting fishing.
Highlighted features:
Low-Profile design.
High-speed 7.0:1 ration.
Over 17.5 pounds of drag.
Maxi-Dur corrosion-resistant ball bearings.
Weights under 7.7 ounces.
Available in 2 colors in versions for right-handed and left-handed users.
4# SHIMANO SLX 150XG – Best Shimano Baitcasting Reel Under $100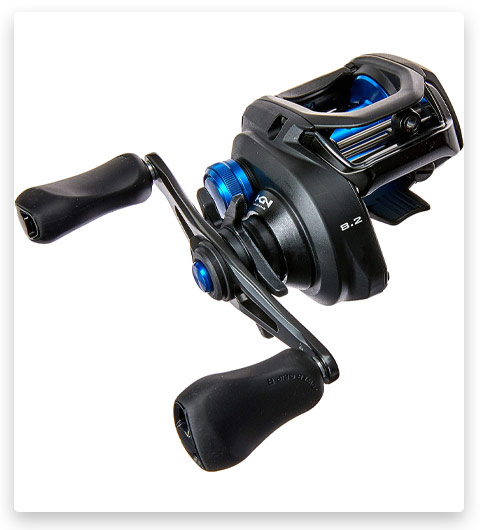 Some baitcasting reels just offer much more value for a price. Shimano's SLX 150XG comes just a few dollars under 100$. However, it can show great performance for that price. It's an excellent low-profile baitcasting reel with nice casting distance and crank smoothness. Want a high-quality product? You won't be disappointed with this one! Honestly, it's easily among the best baitcasting reels under 100$ you should absolutely get in 2020.
Highlighted features:
150 PowerPro line capacity.
Metal reel body with excellent impact resistance.
6 pins VBS adjustments.
Various retrieve options.
Low-profile reel.
3+1 ball bearings (3 for normal reeling, 1 for pulling on drag).
About 12 pounds of drag.
Line capacity: Nylon (10 pounds) – 120 yards, Braid (20 pounds) – 150 yards.
Comes in 6.3:1, 7.2:1, and 8.2:1 ratio with versions for lefties and righties.
5# Lew's Mach Crush Speed Spool Baitcast Reel – Best Ergonomic Baitcasting Reel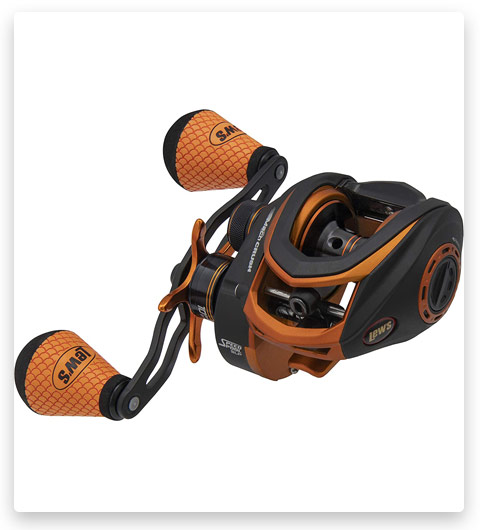 A slick-looking and sturdy reel, which shouldn't be a surprise if you consider its price. Looking for an amazing cast and retrieve in your spool? Then Lew's product is a great choice! When I received it, it left a good first impression. And it still didn't disappoint me! Fits perfectly in my hand and weights just right. I can wholeheartedly recommend this product for any baitcasting reel fan out there. Just make sure to oil properly and take care of it.
Highlighted features:
10-bearing system
Double-shielded stainless-steel ball bearings
Zero reverse one-way clutch
Side plate for quick release
Lightweight aluminum 32mm spool
Winn Dri-Tac handles
Dual-braking centrifugal and magnetic brakes
Can get up to 200 yards of pool with 20 lb braided line
7.1:1 ratio
About 20 lb of maximum drag
Left-handed and right-handed versions available
6# Pflueger President XT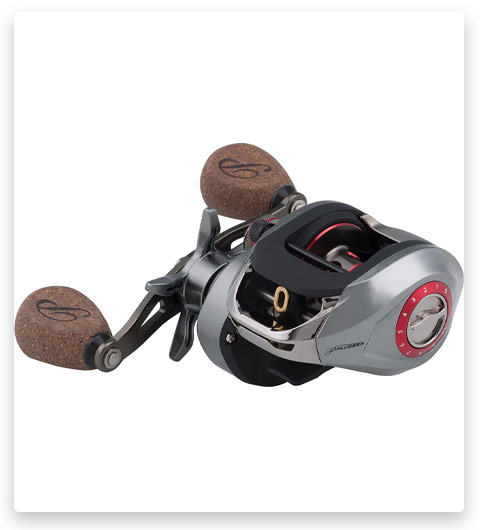 Do you hate backlashes and bird nests? Well, who doesn't? Pflueger will make sure you can forget about stuff like that, as long as you dedicate some time to practice. It has everything professional fishermen love in a baitcasting reel. The casting distance is great, and you can fight massive fish that weigh up to 15 lb. Even if you find it difficult at first, as long as you master, you'll find it to be a perfect reel for all your needs!
Highlighted features:
9 bearing system.
Low-profile.
7.3:1 ratio.
Made from stainless steel with an aluminum frame.
Adjustable magnetic brake system.
Weights about 7.4 ounces.
Holds up to 170 yards of line.
Over 12 lb of drag.
7# KastKing MegaJaws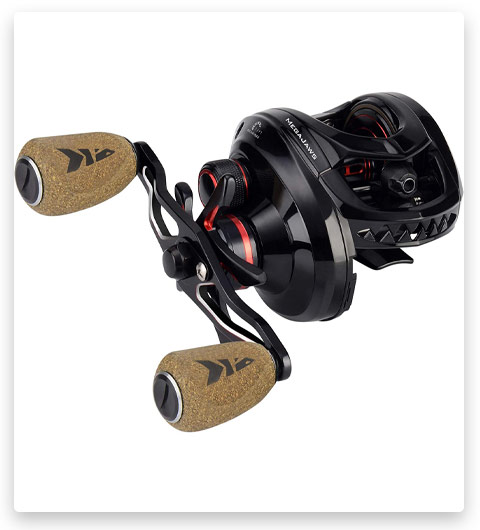 Sometimes I get amazed at how much performance baitcasting reels under 100$ can offer. KastKing's MegaJaws offers terrific value for a reasonable price. It's smooth, fasts, and rests so comfortable in your palm you'll think it has become an extension of your hand. I also love how adaptive the spool tension is. It really makes it easy to fine-tune this reel. Want high-end performance at a budget price? This product should be right up your alley!
Highlighted features:
Funnel-shaped line.
Low-profile frame.
Aluminum handle with rubber knobs.
8 magnets.
10 adjustment settings for control.
11+1 double shielded bearings.
17.6 lb drag.
It comes in 4 colors.
Available in 5.4:1, 6.5:1, 7.2:1, and 9.1:1 ratio.
8# Piscifun Phantom Carbon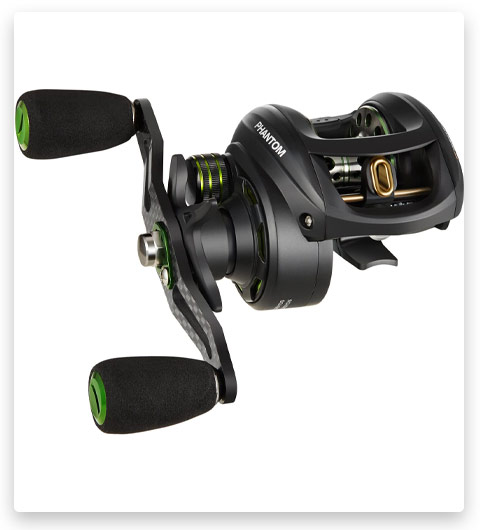 Accuracy, tightness, precision. These are the qualities that come to my mind when I think about Piscifun's Phantom Carbon. It's incredible how excellent this baitcasting reed is, considering it costs so little compared to other professional products. The handles are super comfortable and would fit any hand quite nicely. It's also highly adjustable. It might take some time, but after fine-tuning, this might feel like the smoothest reel you have ever cast!
Highlighted features:
Dual brakes.
17 lb drag.
Premium carbon fiber frame.
7.0:1 gear ratio.
6+1 stainless steel ball bearings.
Dynamic 6-pin centrifugal and magnetic brake.
Super lightweights (about 5.7 oz).
Available for right- and left-handed people.
9# KastKing Speed Demon
– Cheap Price For Such Quality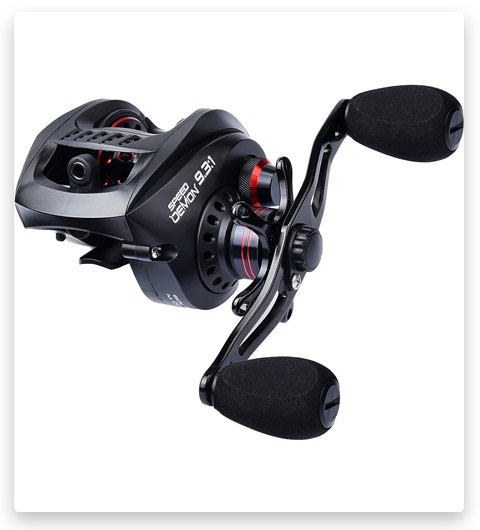 For a reasonable price, KastKing offers this extra fast baitcasting reel. Just think how fast it can get with a 9.3:1 ratio! It's also smooth, precise, and extremely sturdy. Are you planning on getting the best baitcasting reels under 100$? Then do yourself a favor and try this one!
Highlighted features:
Superb 9.3:1 ratio.
12+1 shielded ball bearings.
3 disc carbon fiber star drag system.
Trilateral magnetic brake system
Over 13.2 lb of drag.
Suits any lines up to 20 lb.
115mm handle
Versions for left-handed and right-handed anglers.
Weights 8.3 oz.
10# Abu Garcia Black Max (Bmax3) – Best Low Profile Reel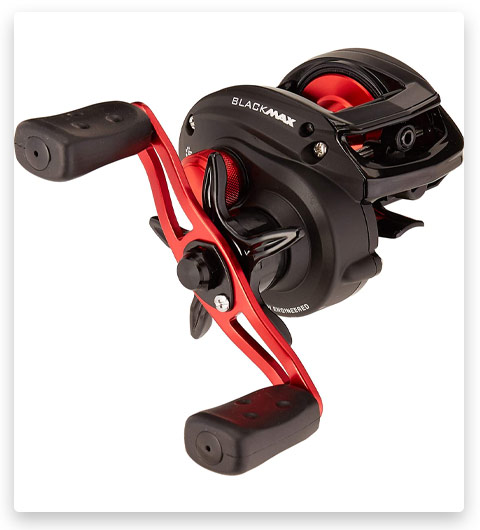 Are you new to baitcasting reels? Then try this one. Black Max is a great model for beginners who want to get into it. You'll enjoy the smoothness, good casting, and plenty of drag it offers. If you can spend a few weeks practicing, this reel might be perfect for you! You should know that Bmax3-L and Bmax3-C are made for left-handed anglers. Be careful to make sure you are getting the version that suits you.
Highlighted features:
4 stainless ball bearings.
Low-Profile reel.
Power Disk and MagTrax brake system.
6.4:1 ratio.
Holds over 80 yards of line with 30 lb mono, and over 110 yards with braided 30 lb line.
18 lb of maximum drag.
It comes in black and red colors.
Right and left-handed versions.
11# Abu Garcia Revo X (Revo 4X & Revo 4SX)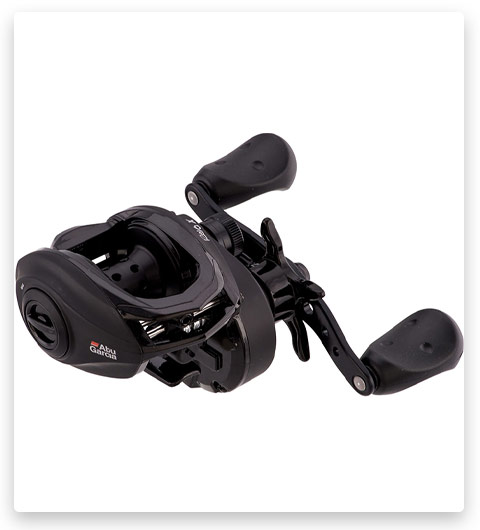 As someone who's looking for smooth and cost-efficient baitcasting reels, Revo 4X and Revo 4SX would make a perfect choice. Yes, it's very close to 100$ price point. On the other hand, it offers good quality for this price tag. It's light but not lightweight. You can be confident that with this baitcasting reel, you'll experience fewer backlashes. You can also forget about birds nesting. Overall, if you're looking for something sleek and powerful, this reel is worth every cent!
Highlighted features:
Low-profile reel.
8 ball bearings om Revo 4X version.
10 ball bearings on Revo 4SX version.
18 lb of maximum drag.
Weighs 7.9 ounces.
Works great with a braided line up to 30 lb.
Available in 6.6:1 and 7.3:1 ratio for left-handed and right-handed fishers.
FAQ About Baitcasting Reels
Final Thoughts
Now you should know why professional anglers prefer baitcasting reels. Enhanced reliability, better adjustability, and a more advanced braking system – this is what makes baitcasting reels different from regular spin-cast ones. Rumors are being spread among amateur fishermen that baitcasting reels are too hard to master and that they are extremely expensive. Even though this type of reel does require a lot of practice, I think we managed to dispel the rumor about the high price tag. Because now you know you can easily find one of the best baitcasting reels for under 100$! So, are you ready to get one today? I hope you are! I wish you the right amount of luck and great fishing!
Tags: #best baitcasting reel under 100 / #best baitcasting reel under $100 / #best saltwater baitcasting reel under 100 / #best baitcasting reel under 100 dollars / #best baitcasting reel for under 100 / #what is the best baitcasting reel under 100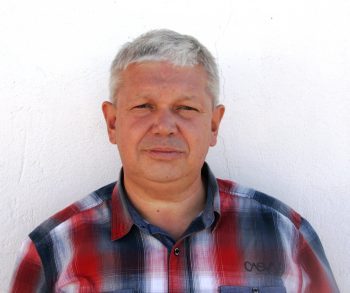 Sergio Smirnoff
Professional fisherman with 40+ years of experience.
Fishing and the ocean is a passion of my life. I am passionate about all kinds of sea fishing: fishing from the shore (spinning, float, baitcasting), from a boat, and spearfishing day and night.
I live in Tenerife (Canary Islands) for the last 10+ years and share my daily fishing experiences on my website. Many years of personal experience as a fisherman and the vast experience of my friends allow me to write professionally on any fishing topics (from choosing a flashlight and equipment to deep-sea fishing).
All of my advice is based on practical real-world experience and will be useful to both novice anglers and professionals.
Read more
about the author.
Affiliate Disclosure: FishReeler.com sometimes gets paid for listings, through sponsors or affiliate programs like Amazon, Ebay, Cabelas, Bass Pro Shop, Shimano, Daiwa, Rapala, Renn, Okuma, KastKing, etс. Clicking a link helps keep FishReeler.com free, at no extra cost to you!
About the author: Each article is verified by the fishing expert Sergio Smirnoff. The articles are written by professional and amateur fishermen with 20+ years of fishing experience.
Note: The views and opinions expressed in this article are those of the authors and do not necessarily reflect the official policy or position of any agency. The articles are for informational purposes only, share your opinions in the comments and join the fishing discussions, let's share our fishing experiences together!