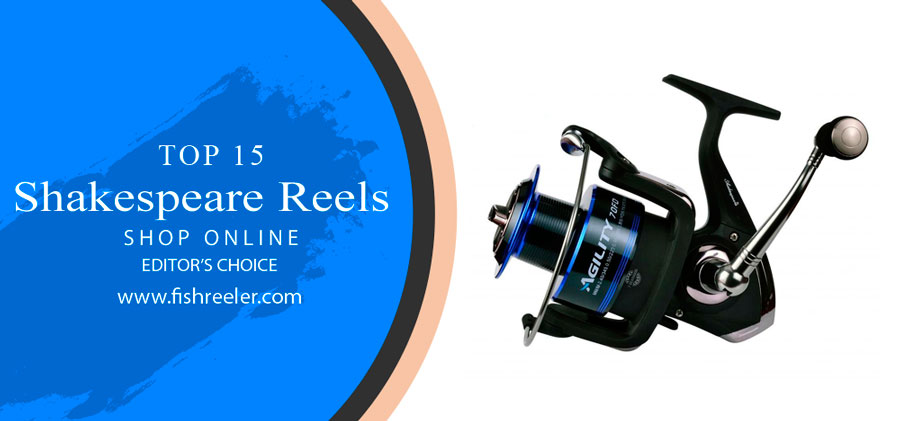 The Timeless Tackle: An In-Depth Review of Shakespeare Fishing Reels

🎣 Welcome to the World of Shakespeare Fishing Reels
In the vast landscape of angling, one name stands as an undisputed leader – Shakespeare. Founded in 1897 by William Shakespeare Jr., the company has truly stood the test of time, carving out its own legacy in the fishing industry. Shakespeare didn't just create fishing reels, they revolutionized the way we fish today.🏞️
Unraveling the Thread: A Brief History of Shakespeare Fishing Reels
Tracing its roots back to the late 19th century, the Shakespeare Company initially made its mark by introducing the level-wind reel – a design that greatly simplified the task of casting and retrieving the line. This was just the beginning of Shakespeare's commitment to innovation. As the years rolled by, the company was propelled by a continuous streak of inventive design and technological breakthroughs that have helped it maintain a steady course in the ever-evolving world of fishing. 🌊🎣📜
The Ripple Effect: The Impact of Shakespeare on the Angling Industry
The impact of Shakespeare's fishing reels extends far beyond their functional use. They've had an influential role in shaping the fishing industry and have helped democratize angling by providing high-quality, affordable equipment that appeals to both beginners and seasoned professionals.
With its long history and wide range of products, Shakespeare has fostered a deep connection with the angling community, transforming the simple act of fishing into an immersive experience. In essence, they have forever changed the way we interact with the watery world beneath us.🌎💦
Stay tuned as we delve deeper into the specifics of Shakespeare's innovative fishing reels, exploring why they've remained a firm favorite in tackle boxes around the globe. 🌍🎣🌟
🔍 Delving into the Shakespeare Legacy

Since its inception, the Shakespeare brand has been synonymous with quality and reliability in the world of angling. It's a brand built on a simple yet powerful mission – to make fishing accessible and enjoyable for all, regardless of experience or skill level. 🎣🌎
The Mission that Steers the Ship
Shakespeare's primary mission is to provide every angler, from novices to seasoned professionals, with high-quality, durable, and user-friendly fishing gear. The brand truly believes that everyone should have the opportunity to enjoy the tranquillity and thrill of fishing, and it has been tirelessly working towards this goal since day one. 🎣💫
🎦Video YouTube official channel: Fishing 101 – How to Cast a Spinning Reel
Unique Selling Propositions of Shakespeare Reels
So what sets Shakespeare reels apart in a sea of fishing equipment? Let's look at the unique selling propositions that make these reels the top choice for anglers worldwide:
1️⃣ Innovative Designs: With a penchant for embracing new technologies and design ideas, Shakespeare reels are always a step ahead of the curve. They offer a wide range of reels, including spinning, baitcasting, spincast, and fly reels, each uniquely designed to enhance your fishing experience.🎣🔄
2️⃣ Unparalleled Quality: Shakespeare is committed to quality. Each reel is meticulously crafted to ensure durability, performance, and ease of use. Whether you're battling a feisty bass or patiently waiting for a nibble, you can rely on your Shakespeare reel to perform when it counts.👌💪
3️⃣ Accessible to All: Despite their high quality, Shakespeare reels are affordably priced. They believe in the joy of fishing and strive to make it a pastime that is accessible to everyone, regardless of budget. 💰👥
4️⃣ Ease of Use: Shakespeare reels are user-friendly, making them an excellent choice for beginners. The simplicity and functionality of their design eliminate the learning curve often associated with other types of fishing reels. 🔄👍
At its core, the Shakespeare brand is all about enhancing your angling adventure. Their focus on quality, innovation, accessibility, and simplicity has made them a trusted companion for anglers around the globe. 🌍🎣🌟
Tangle-Free Triumph: Dive into the World of Top 15 Shakespeare Fishing Reels
It is time to review the most popular Shakespeare reels. I have written this review so you can see the excellent quality of the reels of this brand. Choose your reel and enjoy a wonderful fishing pastime!
| Image | Product | Brand | Link |
| --- | --- | --- | --- |
| | Shakespeare® Agility® Low Profile Reel | Shakespeare | |
| | Shakespeare® Alpha® Spinning Reel | Shakespeare | |
| | Shakespeare® Contender® Spinning Reel, 20, Black | Shakespeare | |
| | Shakespeare Synergy TI Spincast Reel, SYN2TI20X | Shakespeare | |
| | Shakespeare 400-Yards Tidewater Linecounter Reel (6.3:1 20-Pound) | Shakespeare | |
| | Shakespeare ATS Trolling Reel, 20 w. Line counter, Plastic Clam/Blister , Black | Shakespeare | |
| | Shakespeare Excursion Spinning Reel | Shakespeare | |
| | Shakespeare Crusader Spinning Reel (200/8) | Shakespeare | |
| | Shakespeare® Synergy® Steel Reel, 4U, Box | Shakespeare | |
| | Shakespeare Durango Reel | Shakespeare | |
| | Shakespeare CCPRFLY78B Cedar Canyon Fly Reel,Black | Shakespeare | |
| | Shakespeare Ugly Stik GX2 Ice Fishing Reel & Rod Combo, 26" Light Action Rod, USGXICE26LCBO | Shakespeare | |
| | Shakespeare 1402968 Disney Moana Fishing Kit,Medium | Shakespeare | |
| | Shakespeare Unisex Cypry Freespool 40 Reel, Black, One Size | Shakespeare | |
| | Shakespeare Unisex's Omni 60 Front Drag Reel, Red, One Size | Shakespeare | |
1# Shakespeare Agility Fishing Reel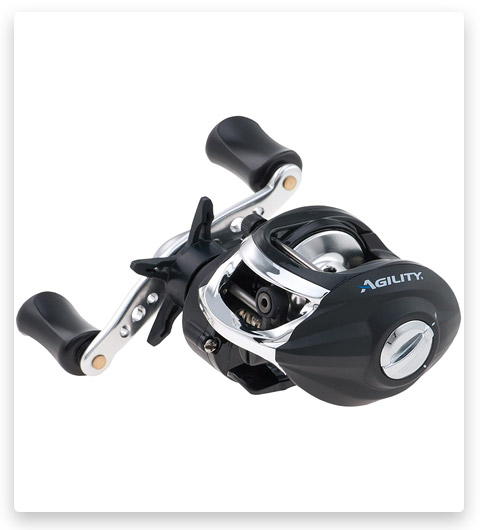 If you are looking for an affordable low-profile reel, then take a look at this one. Its quality is amazing for the price. You will definitely be satisfied and will be able to use this device for many years. You will achieve excellent success in fishing due to its smooth characteristics. Also, if you are a beginner and don't want to get a complex design, then this option is also for you. This reel is lightweight and you will have no difficulty installing it. Many fishermen choose this model due to its gear ratio. It is at 6.2: 1. Why can you be sure of the durability of this reel? It has a brass drive and gears that prevent the device from wearing out.
2# Shakespeare Alpha Spinning Reel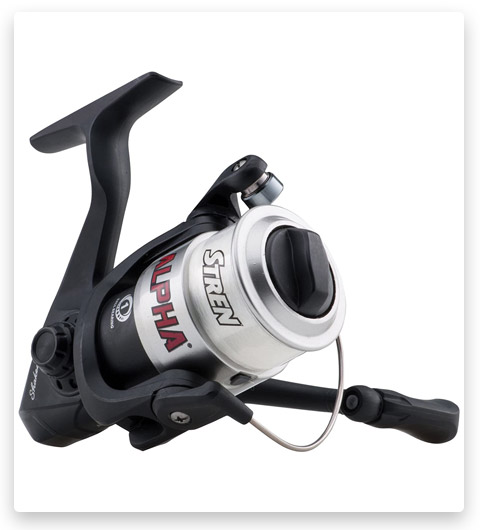 Regardless of whether you are a beginner or an avid fisherman, this reel will exceed all your expectations. This is one of the most popular models that has proven its quality in practice. This device is suitable for both right-handed and left-handed people. You will feel comfortable while fishing. This reel is equipped with a multi-disc drag system for reliable drum action. You will get this reel already pre-wound with a monofilament line.
3# Shakespeare Contender Spinning Fishing Reel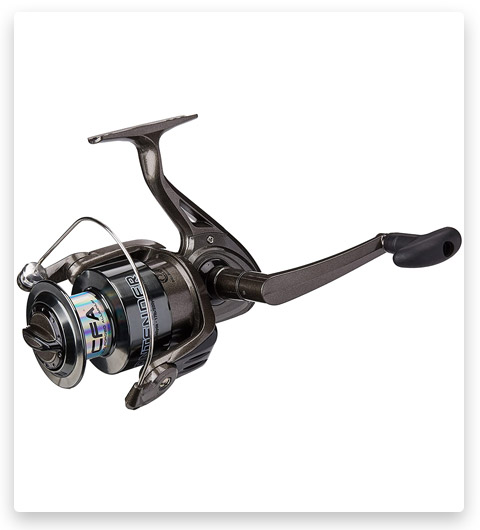 This reel gives you a guarantee that your fishing trip will be excellent. Thanks to it, your caught fish will not be able to escape and you will go home with the catch. It has a handle that is convenient to use for everyone. Therefore, you don't need to worry about it. The reel provides smooth casting and reliable use.
4# Shakespeare Synergy TI Spincast Reel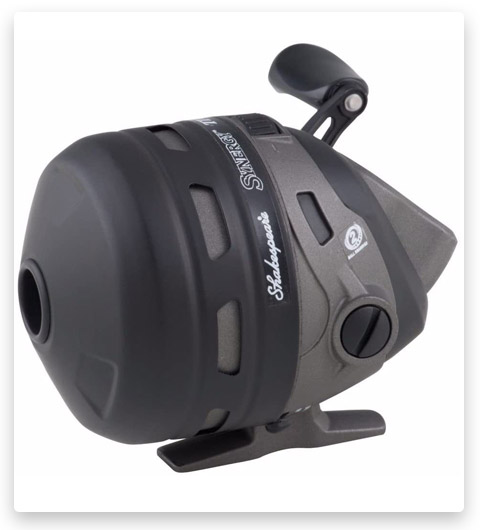 Don't be afraid of dropping water on your reel. This model is made of stainless steel which resists not only rust but also corrosion. Stylish design and rugged construction ensure durability and reliability. The coil is equipped with 2 ball bearing system.
5# Shakespeare 400-Yards Tidewater Linecounter Reel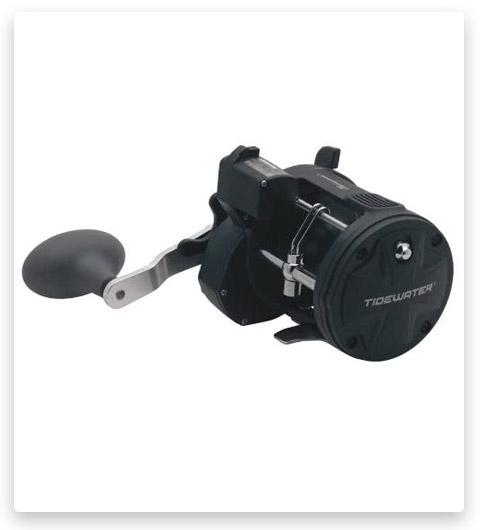 A unique reel that is distinguished by its 6.3 gear ratio: 1. Stainless steel ensures the durability of the device and prevents corrosion. Use in any weather and in any terrain. It is equipped with an aluminum handle which isn't only high quality, but also reliable.
6# Shakespeare ATS Trolling Reel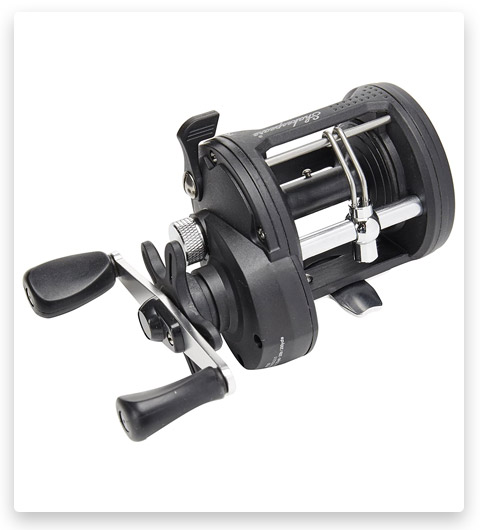 You will feel the smoothness of the reel thanks to 2 bearings. The equipment is made of stainless steel so you can not be afraid of corrosion. This is an ideal device for use not only in freshwater but also in saltwater.
7# Shakespeare Excursion Spinning Reel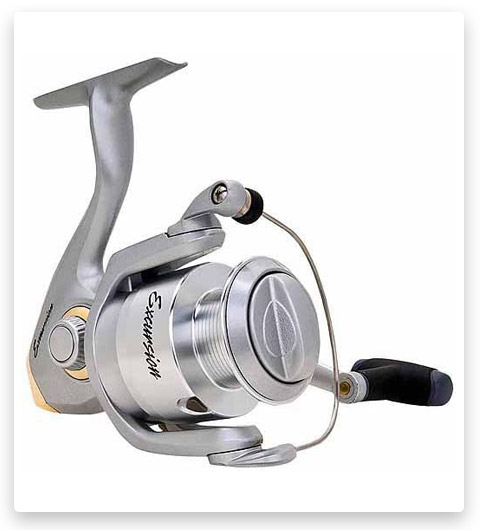 You will return home with the desired catch! Set this reel on your fishing rod and achieve results. Any angler will be happy to receive such a device as a gift. It is equipped with a multi-disc drag system and has an anti-reverse bearing. You can easily clean the reel after use. You just need to rinse it with fresh water.
8# Shakespeare Crusader Spinning Reel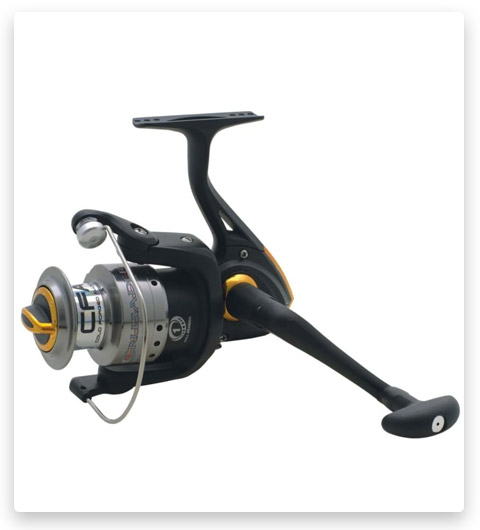 If you are looking for a reel with an excellent drag and drop system, then you have already found it! It will help you cope with the most stubborn fish and win. It provides excellent power and helps improve your fishing. The reel is made of aluminum. This material is not only resistant to corrosion, but also lighter than others.
9# SHAKESPEARE Synergy Steel Reel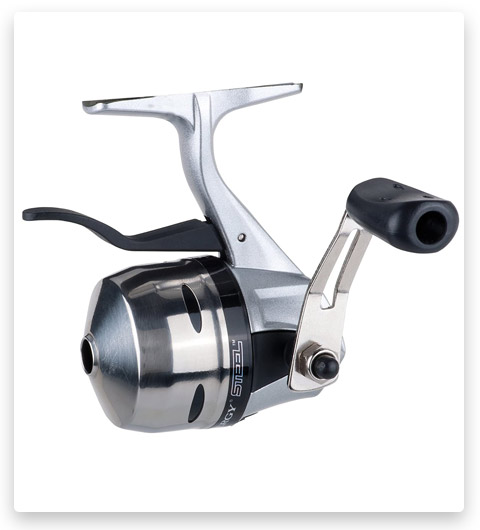 Your fishing will be much more productive after acquiring this reel. It is equipped with a steel handle that provides not only reliability but also durability.
10# Shakespeare Durango Reel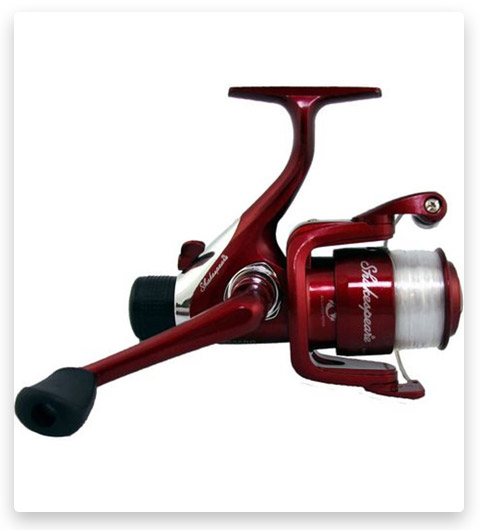 Bright red design motivates you not to give up while fighting with fish. Its multi-disc drag system provides you smoothness and reliability.
11# Shakespeare CCPRFLY78B Cedar Canyon Fly Reel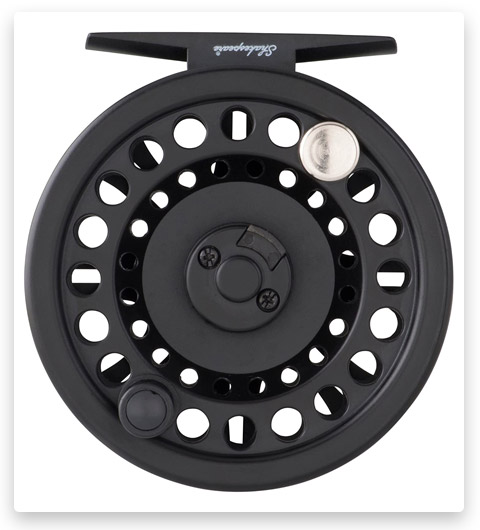 This reel is what you need for fly fishing. It has not only an attractive design but also a sturdy construction. Its price fully justifies the quality.
12# Shakespeare Ugly Stik GX2 Ice Fishing Reel & Rod Combo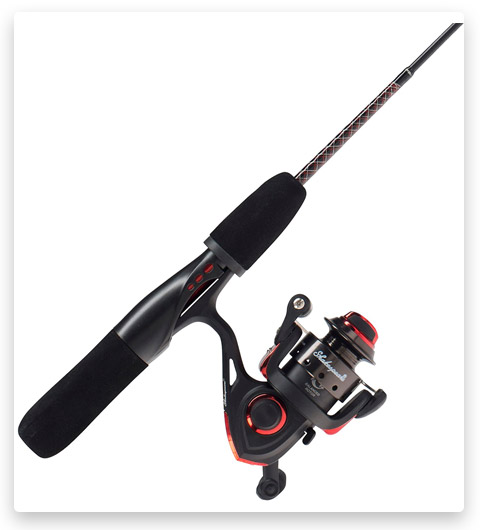 Get the reel immediately with the fishing rod. This set includes spinning rods fishing rod and reel (size 20). You can fish with such equipment not only in summer but also in winter on the ice.
13# Shakespeare Youth Fishing Kits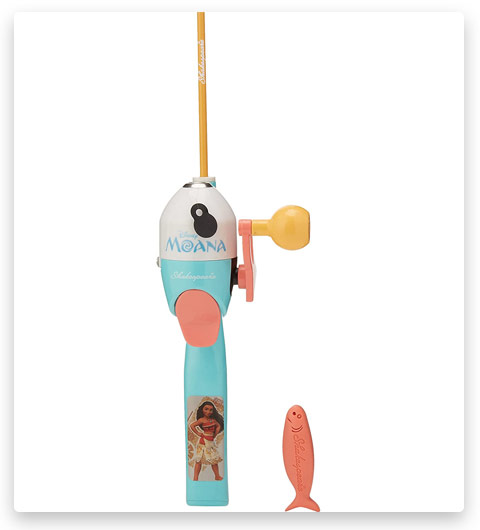 This fishing rod with reel is perfect for your child as a starter kit. This is suitable for both toddlers and teens. The coil is equipped with the function of turning on and off instant anti-reverse bearing. It is made of aluminum which makes it durable.
14# Shakespeare Cypry Freespool Reel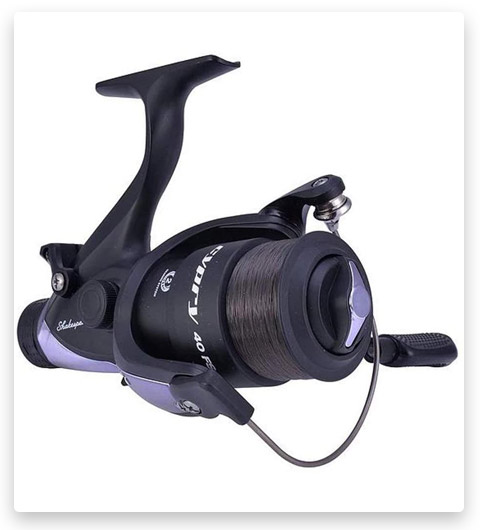 This reel was specifically designed for carp fishing. With it, you can catch using different fishing methods. It has a graphite handle that is very comfortable.
15# Shakespeare Unisex's Omni 60 Front Drag Reel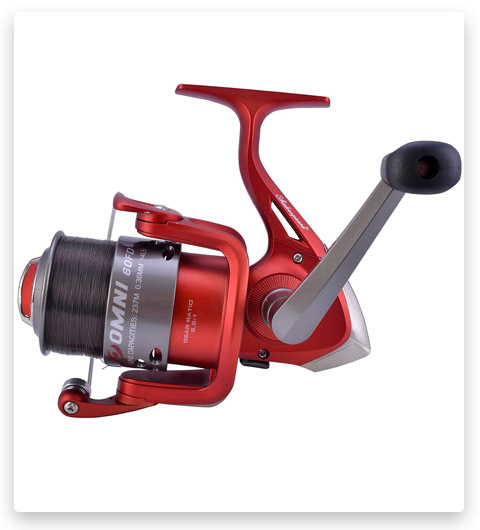 Such a reel could be more expensive. It has excellent quality and at the same time affordable prices for everyone. This is perfect for beginner anglers. The coil has a graphite handle and a spool pre-wound with mono.
Shakespeare Fishing Rod & Reel Combo
In the angling world, the name Shakespeare is synonymous with excellence, reliability, and innovation. Their products stand as a testament to their commitment to making fishing more accessible and enjoyable for all. One such product that truly embodies the brand's ethos is the Shakespeare Fishing Rod & Reel Combo.
The Shakespeare Fishing Rod & Reel Combo is a culmination of years of technological advancements, fine craftsmanship, and a deep understanding of the needs of anglers. Combining the strength and durability of a Shakespeare fishing rod with the smooth operation of a Shakespeare reel, this combo takes the hassle out of choosing separate pieces of equipment. It's perfect for those who are just starting their angling journey, as well as experienced fishers looking for a dependable and efficient fishing solution. So, whether you're casting off a pier or trudging through a river, this combo will not disappoint.
| Image | Product | Brand | Link |
| --- | --- | --- | --- |
| | Shakespeare Amphibian Spinning Combo, Blue , 5'6"/Medium | Shakespeare | |
| | Shakespeare Alpha Medium 6' Low Profile Fishing Rod and Bait Cast Reel Combo (2 Piece),Black, White | Shakespeare | |
| | Shakespeare® Catch More Fish™ Surf/Pier | Shakespeare | |
| | Shakespeare AGLPCBO Agility Low Profile Baitcast Rod and Reel Combo, Black, 6.6 Feet, Medium Power | Shakespeare | |
| | Shakespeare 1424499 Jolt Spinning Combo, 5'6" Length, 2Piece, 6-12 lb Line Rate, Medium Power, Blue, Ambidextrous | Shakespeare | |
| | Shakespeare Sturdy Stick Medium 30 Reel Size 7' Fishing Rod and Bait cast Reel Combo (1 Piece) | Shakespeare | |
| | Shakespeare® Wild Series Panfish Combo | Shakespeare | |
| | Shakespeare® Crusader™ Spinning Combo | Shakespeare | |
| | Shakespeare FUEL25ULCBO Fuel Ice Combo | Shakespeare | |
| | Shakespeare Ladies Glacier Ice Combo, 26"/Medium | Shakespeare | |
| | Shakespeare 1423944 Navigator Spincast Combo, 6' Length, 2Piece, 6-12 Line Rate, Medium Power, Ambidextrous,Blue | Shakespeare | |
| | Shakespeare® Agility® Spinning Combo | Shakespeare | |
🎣 Exploring the Ocean of Options: Shakespeare Fishing Reels

Diverse in its offerings, the Shakespeare brand caters to all angling preferences and needs. Whether you're a beginner dipping your toe into the waters of fishing, or a seasoned angler scouting for a robust reel, Shakespeare has a reel designed just for you. Let's navigate through some of the brand's most popular models, spotlighting their features, advantages, and considerations. 🚀🌊
Shakespeare Ugly Stik GX2 Spinning Reel and Fishing Rod Combo
The Ugly Stik GX2 is a fan favorite, known for its balanced combination of durability, sensitivity, and affordability. This combo includes both the rod and the reel, making it an excellent choice for beginners.
✅ Features:
Balanced graphite and fiberglass construction for increased sensitivity
Lightweight EVA grips for a comfortable handhold
Clear Tip design for extra strength
❗ Considerations:
The reel might not be as smooth as high-end models
Some users have reported line twists during extensive use
Shakespeare Crusader Spinning Reel
The Crusader is a testament to Shakespeare's commitment to providing affordable yet high-performing fishing reels. It's a versatile, lightweight reel suitable for various types of fishing.
✅ Features:
Cold-forged aluminum spool for added durability
The smooth multi-disc drag system
Convertible left/right hand retrieve
❗ Considerations:
May not be the best choice for very heavy fishing
The drag might require adjustment over time
Shakespeare ATS Trolling Reels
The ATS reels are robust and designed specifically for saltwater trolling. With high line capacity and an excellent drag system, they're great for targeting bigger saltwater species.
✅ Features:
Line counter to keep track of your line
Stainless steel pinion gear for increased longevity
Right and left-hand options available
❗ Considerations:
The larger size may not be suitable for small hands
Not ideal for those who prefer lighter, freshwater fishing
By focusing on the unique features and considerations of each model, Shakespeare ensures that every angler can find the perfect fishing reel to suit their needs. The brand's commitment to quality, innovation, and diversity truly shines through in its product range. 🌟🌍🎣
💡 Reeling in Innovation: The Design & Tech of Shakespeare Fishing Reels
Shakespeare fishing reels are more than just tools; they are the result of years of innovation, design refinement, and technological prowess. Their design and technology are meticulously tailored to provide an unparalleled angling experience. Let's dive into what makes Shakespeare reels unique. 🎣🔬🔍
Embracing Innovation: The Tech Behind the Tackle
One of the hallmarks of Shakespeare reels is their innovative technology. From the level-wind system introduced in the early days to modern drag systems, Shakespeare has always been at the forefront of making fishing more efficient and enjoyable. 🚀💡
For instance, many Shakespeare spinning reels come with the 'Anti-Twist Line Roller' technology. This reduces line wear and twist, ensuring a smoother and more accurate cast. Additionally, their 'Multi-Disc Drag System' provides a smooth and consistent drag pressure, critical when reeling in a feisty fish.🐠🐟
Crafted with Precision: The Design Aspect
Shakespeare fishing reels aren't just technologically advanced; they're designed with the angler in mind. The reels are known for their comfort, durability, and user-friendly nature. They are made with high-quality materials to withstand the elements, ensuring longevity and great performance. 🏋️‍♂️🎨
Consider the 'One-Way Clutch Instant Anti-Reverse Bearing' featured in many of their reels. This prevents the handle from turning backward, providing anglers with more control and a solid hook set. The 'Convertible Left/Right Hand Retrieve' offers adaptability to accommodate all anglers. Moreover, the 'Comfort Grip' incorporated in the design of many Shakespeare reels ensures a comfortable and firm grip, enhancing the overall fishing experience.🎣🔄
Shakespeare's reels truly stand out due to their commitment to infusing innovation in design and technology. The brand seamlessly blends form and function, creating reels that are both a pleasure to look at and use, enhancing every angler's journey with every cast. 🌟🌊🎣
👥 Reel Talk: Anglers Share Their Shakespeare Stories
The Shakespeare fishing reels are more than just tools; they're trusted companions that have shared countless dawn patrols and sunset casts with anglers across the globe. Now, let's hear from those who've made Shakespeare reels an integral part of their fishing journey. 🌅🎣
Casting Personal Experiences
My personal experience with Shakespeare reels has been nothing short of excellent. As an angler, I've always admired their resilience and versatility. I remember using the Shakespeare Ugly Stik GX2 on a fishing trip, and despite the challenging weather conditions, the reel performed remarkably well. Its sensitivity and strength left a lasting impression on me. Moreover, the comfort grip provided ease even during extended fishing sessions. 🐠🌧️
Voices from the Water
Let's hear from other seasoned anglers about their experience with Shakespeare reels:
1️⃣

Jake, a professional bass angler from Texas, says

: "I've been using Shakespeare reels for years now. The Crusader spinning reel is my go-to for freshwater fishing. It's smooth, easy to use, and incredibly durable. Truly a great value for the price!"
2️⃣ Mia, a saltwater angler from Florida, shares: "The Shakespeare ATS Trolling Reel is a beast when it comes to saltwater fishing. It's sturdy, reliable, and handles big fish like a champ. I would recommend it to anyone interested in saltwater fishing."
3️⃣ Dylan, a fly fisher from Montana, states: "The simplicity and functionality of the Shakespeare Cedar Canyon Fly Reel are impressive. It's a fantastic, affordable option for anyone getting into fly fishing."
These firsthand accounts underline the key reason why Shakespeare reels have been a staple in the fishing community for over a century. By consistently delivering high-quality, durable, and user-friendly products, they've succeeded in creating not just satisfied customers, but loyal fans. 🌍🎣🌟
🔍 Reel Rumble: Shakespeare vs. Other Popular Brands

With a sea of fishing reels available on the market, choosing the right one can seem daunting. To help you navigate, let's compare Shakespeare reels to other popular brands and see what makes them stand out. 🌊🎣
Shakespeare vs. Penn
Penn is a highly reputable brand known for its heavy-duty, durable saltwater reels. While Penn reels offer great corrosion resistance and are perfect for big-game fishing, they tend to be on the pricier side. In contrast, Shakespeare reels, like the ATS Trolling Reel, also provide great durability and performance but at a more accessible price point. Shakespeare offers a broader range for various fishing types, making it a more versatile brand overall. 💪💰
Shakespeare vs. Shimano
Shimano is another strong contender, renowned for its technologically advanced reels. While Shimano reels provide smooth performance and high-quality materials, they require more maintenance and can be complex for beginners. On the other hand, Shakespeare reels, like the Crusader Spinning Reel, offer user-friendly operation and low maintenance at a competitive price, making them perfect for anglers of all skill levels. 🔄🔧
Shakespeare vs. Abu Garcia
Abu Garcia is praised for its baitcasting reels and high line capacity. However, these reels often come with a steeper learning curve and can be challenging for novice anglers. In comparison, Shakespeare's range, including the Ugly Stik GX2 combo, provides an easier gateway into fishing with its easy-to-use design, making fishing a breeze for both new and experienced anglers. 🎣🌬️
Why Shakespeare Stands Out
While each brand has its strengths, Shakespeare stands out for its commitment to making fishing accessible and enjoyable for all. They offer a diverse range of high-quality, durable, and user-friendly reels at an affordable price. Their focus on innovation and customer satisfaction has cemented their reputation as a reliable and trusted brand in the angling world. 🌟🌍
When it comes to choosing the perfect fishing reel, Shakespeare is a catch you won't regret! 🏆🎣
🎣 Mastering the Tackle: Practical Tips for Using Shakespeare Reels
Every angler knows that knowing your gear is half the battle. With a bit of guidance and practice, you can get the most out of your Shakespeare fishing reels. Here, we'll share some tips on using these reels effectively and pinpoint scenarios where each type shines the brightest. 📝🌟
Shakespeare Spinning Reels
Spinning reels, like the Shakespeare Crusader, are incredibly versatile and user-friendly. Here's how you can maximize their potential:
👉 Tip: Make sure to spool your line properly to prevent line twists. Fill the spool until there's only a 1/8 inch gap left. This prevents the line from slipping off during casting.
🎯 Best Scenario: Spinning reels excel in lightweight fishing applications. They are perfect for casting light lures or bait and are great for freshwater fishing targeting species like bass or trout.
Shakespeare Baitcasting Reels
Baitcasting reels are more advanced but offer precision and power. Here's a handy tip for Shakespeare's baitcasting reels:
👉 Tip: Adjust the brake system correctly. Too loose, and you may end up with a bird's nest; too tight, and your casting distance will be reduced.
🎯 Best Scenario: Baitcasting reels, like Shakespeare's Agility Low Profile Reel, shine when you're targeting larger, more aggressive fish. They're excellent for heavy line fishing and when you need a good distance in your cast.
Shakespeare Trolling Reels
Trolling reels, like the Shakespeare ATS series, are designed for the big game. Here's a suggestion to utilize them fully:
👉 Tip: Regularly check your line for wear and tear. Trolling puts a lot of stress on your line, and the last thing you want is your line snapping when you've hooked a big one.
🎯 Best Scenario: These reels are your best bet when fishing in deep water for large species like salmon or lake trout. They are designed to handle the pressure of pulling large fish up from the depths.
Shakespeare Fly Fishing Reels
Fly fishing reels, such as the Cedar Canyon series, require a different skill set. Here's a useful tip:
👉 Tip: Regularly clean your line and reel. Fly fishing often involves getting in the water, and dirt or grit can impact your reel's performance.
🎯 Best Scenario: These reels are specifically designed for fly fishing scenarios, where precision and quick casting are necessary. They're perfect when you're targeting fish species in rivers or streams.
Shakespeare reels, when used correctly, can significantly enhance your angling experience. Remember, patience and practice are the keys to mastering any fishing reel. 🌊🎣
⚙️ Keeping Your Tackle Tip-Top: Caring for Your Shakespeare Reels

Maintaining your Shakespeare reels isn't just about ensuring they run smoothly. It's about preserving them for the many fishing trips to come. Here, we'll share some practical tips on caring for your reels and discuss the impressive longevity and durability they offer. ⏳🎣
Caring for Your Reels: Top Tips
1️⃣ Clean Regularly: After each fishing trip, especially saltwater ones, rinse your reels with fresh water. This helps remove any grit or salt that may cause corrosion. Remember, it's a rinse, not a soak—don't submerge the reel completely. 🌊🚿
2️⃣ Dry Properly: After rinsing, make sure to dry your reel properly. Use a soft cloth to wipe it down and let it air dry. This prevents moisture from causing any damage. ☀️🌬️
3️⃣ Lubricate: Every now and then, apply reel oil to the moving parts of your reel, such as the ball bearings and gear mechanisms. This helps to maintain the smooth performance of your reel. Be careful not to over-lubricate, as it may attract dirt and grit. 💧⚙️
4️⃣ Store Correctly: When not in use, store your reels in a cool, dry place. If possible, loosen the drag to relieve pressure on the springs. Also, it's a good idea to keep your reels in a reel bag for added protection. 🏠🛍️
The Longevity Game: Shakespeare Reels
Shakespeare reels are known for their durability and longevity. They are built with high-quality materials designed to withstand the rigors of fishing. But remember, the life of your reel largely depends on how you treat it. Regular maintenance can prolong the lifespan of your Shakespeare reel significantly, allowing it to be a part of your fishing adventures for years to come. 🏋️‍♂️🎣⏳
In the realm of fishing reels, Shakespeare has proven time and time again that their products are designed to last, offering reliability and performance that withstands the test of time. That's why Shakespeare reels are not just purchases—they're investments in your angling future. 🌟🕰️
💰 Securing the Catch: Pricing and Availability of Shakespeare Reels

When it comes to fishing, the right gear matters. But so does the right price. Here, we'll delve into the pricing range of Shakespeare reels and where you can snag one for yourself. 🏷️🎣
What's the Price Tag?
Shakespeare reels offer great value for money. From the budget-friendly models to the more advanced reels, you can expect quality at every price point. Here's a rough estimate of what you can expect:
1️⃣

Spinning Reels

: For an entry-level spinning reel like the Shakespeare Crusader, prices start at around $15. More advanced models like the Shakespeare Ugly Stik GX2 combo come at approximately $50.
2️⃣

Baitcasting Reels

: Shakespeare's baitcasting reels, such as the Agility Low Profile, fall in the $30 – $60 range.
3️⃣

Trolling Reels

: For the heavy-duty Shakespeare ATS Trolling Reel, prices start at around $50.
4️⃣

Fly Fishing Reels

: The Cedar Canyon Fly Reel is an affordable option for fly fishing enthusiasts, costing around $30.
Please note that prices may vary depending on the vendor and location. Always check for the latest prices. 💸🔍
Where to Find Shakespeare Reels?
Finding a Shakespeare reel is as easy as casting a line. You can find them in numerous places, both offline and online:
1️⃣

Offline Stores

: Most sporting goods stores or specialized fishing tackle shops will stock a range of Shakespeare products.
2️⃣

Online Platforms

: If you prefer shopping from the comfort of your home, major online retailers like Amazon, Walmart, and eBay offer a wide selection of Shakespeare reels. Also, don't forget to check the official Shakespeare website for their complete product range and the latest deals.
Whether you're a seasoned angler or a beginner looking to make your first catch, Shakespeare reels are accessible, reliable, and affordable choices. They truly are a fantastic catch in the world of fishing equipment! 🌍🎣💻
FAQ: The Impact of Shakespeare on Modern Fishing
1️⃣ Q: Where are Shakespeare fishing reels made?
A: While Shakespeare was originally an American company based in Kalamazoo, Michigan, it's now part of Pure Fishing, which has multiple manufacturing sites worldwide. Some Shakespeare products are made in the USA, while others are manufactured overseas.
2️⃣ Q: Are Shakespeare fishing reels suitable for beginners?
A: Absolutely! Shakespeare offers a range of fishing reels that are very beginner-friendly, with easy-to-use features and affordable pricing. An example would be the Shakespeare Crusader spinning reel.
3️⃣ Q: Can I use Shakespeare reels in saltwater?
A: Yes, many of Shakespeare's fishing reels are suitable for both freshwater and saltwater fishing. However, always rinse your reel with fresh water after use in saltwater to prevent corrosion.
4️⃣ Q: How do I maintain my Shakespeare fishing reel?
A: Regular cleaning, proper drying, periodic lubrication, and correct storage are key to maintaining your Shakespeare fishing reel. After each use, especially in saltwater, rinse your reel with fresh water and dry properly. Every now and then, lubricate the moving parts with reel oil.
5️⃣ Q: Where can I buy Shakespeare fishing reels?
A: Shakespeare fishing reels can be bought from various offline and online retailers, including sporting goods stores, fishing tackle shops, Amazon, Walmart, eBay, and more. You can also check the official Shakespeare website for their complete product range.
6️⃣ Q: What is the warranty on Shakespeare fishing reels?
A: Shakespeare generally offers a one-year warranty from the date of purchase, covering defects in materials and workmanship. For more details or specific warranty information, it's best to check the paperwork that came with your reel or contact Shakespeare's customer service directly.
7️⃣ Q: How do I choose the right Shakespeare reel for me?
A: Choosing the right reel depends on your fishing style, target species, and personal preferences. Consider factors like reel type (spinning, baitcasting, etc.), gear ratio, line capacity, and durability. You can explore the product range on Shakespeare's website to find the reel that best suits your needs.
Remember, if you have any other questions or need more specific advice, don't hesitate to reach out to Shakespeare's customer service. They're there to help you make the most of your angling experience! 🎣🌊
Conclusion: The Unmistakable Charm of Shakespeare Fishing Reels
Today, Shakespeare is one of the most prestigious brands in the world of sport fishing for the quality of developed products that range from fishing rods to fishing reels for a variety of fish methods and species. Shakespeare fishing reels are one of the best among famous fishing brands!
You benefit from more than a century of experience when you choose Shakespeare because the unity of high-quality material and excellent processing is based on close cooperation with professional engineers and the latest scientific knowledge.
Thus, you can count on high functionality at a low price. Shakespeare's fishing reels prove that high-quality materials and excellent technology are also available for a small budget. Shakespeare's reels are corrosion-resistant, durable, and light. This combination is important so that you can fully concentrate on fishing and safely rely on your equipment.
🔚 Reeling it In: Final Thoughts on Shakespeare Fishing Reels
Fishing is a journey, and every journey needs reliable companions. Throughout this article, we've dived deep into the world of Shakespeare reels, and it's clear why these tools have earned their reputable standing in the angling community. 🎣💡
Strength in the Cast
Shakespeare reels stand out for several reasons. The brand combines innovative design with robust build quality, ensuring you have a reliable tool on your fishing trips. 🏗️🚀
From the affordable yet effective Crusader spinning reel to the heavy-duty ATS trolling reel, each Shakespeare product offers a distinct set of features and benefits to suit different fishing styles and conditions. Whether it's the user-friendly operation, the durable construction, or the versatile performance, these reels check all the boxes for novice and experienced anglers alike. 📋✅
Shakespeare's commitment to offering quality products at a reasonable price is another strength worth mentioning. These reels provide exceptional value, offering top-notch performance without breaking the bank. 🏦💰
A Worthy Investment
The longevity and durability of Shakespeare reels make them a worthy investment for any angler. Properly cared for, these reels will serve you for years, making each fishing trip more enjoyable and rewarding. Their wide range of products ensures that there is a Shakespeare reel for every angler and every fishing scenario. 💎🎣
As an angler myself, I can personally endorse the value and quality that Shakespeare reels offer. They've been a part of countless successful fishing trips and have never let me down.
To sum up, whether you're just getting started with your fishing journey or looking to upgrade your existing gear, Shakespeare reels are a stellar choice. They represent the perfect balance of quality, reliability, and value, making them a go-to for anglers worldwide. 🌎🎣🏆
Remember, the right reel can make or break your fishing experience. With a Shakespeare reel, you're casting not just a line, but also a vote of confidence in every fishing trip you embark on. 🌅🎣
📣 Get Hooked: Make Your Next Catch with a Shakespeare Reel!
Now that we've explored the captivating world of Shakespeare reels, it's time for you to cast your own line. Whether you're a novice angler learning the ropes or a seasoned pro looking for your next reliable reel, Shakespeare has you covered. 🎣🌍
We've covered a range of Shakespeare reels, each offering unique features and strengths. The best way to understand them, though? Try them out for yourself! There's a Shakespeare reel waiting to be a part of your fishing adventures, ready to bring those impressive catches even closer. 🐟🏞️
💻 Discover More about Shakespeare Reels
To learn more about the various models, their specific features, and how they can enhance your fishing experience, visit the Shakespeare's official website. Here, you can dive deeper into each product and find the perfect reel to match your angling needs.
🛒 Buy Your Shakespeare Reel Today
Ready to make the catch? You can purchase your very own Shakespeare reel from Amazon, Walmart, eBay, or other trusted retailers.
No matter your angling style or target catch, there's a Shakespeare reel out there for you. Experience the difference in quality, reliability, and performance that these reels offer. And remember—every great catch starts with a great cast. Make yours with Shakespeare today! 🏹🎣🌊
Let your fishing journey start—or continue—with the strength of Shakespeare. Happy angling! 🎉🎣
Tags: #shakespeare fishing reels history / #old shakespeare fishing reels / #antique shakespeare fishing reels / #vintage shakespeare fishing reels / #best shakespeare fishing reel / #shakespeare tiger fishing rod and reel / #shakespeare tiger fishing reel / #how to fix a shakespeare fishing reel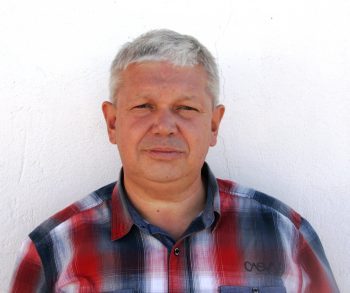 Sergio Smirnoff
Professional fisherman with 40+ years of experience.
Fishing and the ocean is a passion of my life. I am passionate about all kinds of sea fishing: fishing from the shore (spinning, float, baitcasting), from a boat, and spearfishing day and night.
I live in Tenerife (Canary Islands) for the last 10+ years and share my daily fishing experiences on my website. Many years of personal experience as a fisherman and the vast experience of my friends allow me to write professionally on any fishing topics (from choosing a flashlight and equipment to deep-sea fishing).
All of my advice is based on practical real-world experience and will be useful to both novice anglers and professionals.
Read more
about the author.
Affiliate Disclosure: FishReeler.com sometimes gets paid for listings, through sponsors or affiliate programs like Amazon, Ebay, Cabelas, Bass Pro Shop, Shimano, Daiwa, Rapala, Renn, Okuma, KastKing, etс. Clicking a link helps keep FishReeler.com free, at no extra cost to you!
About the author: Each article is verified by the fishing expert Sergio Smirnoff. The articles are written by professional and amateur fishermen with 20+ years of fishing experience.
Note: The views and opinions expressed in this article are those of the authors and do not necessarily reflect the official policy or position of any agency. The articles are for informational purposes only, share your opinions in the comments and join the fishing discussions, let's share our fishing experiences together!