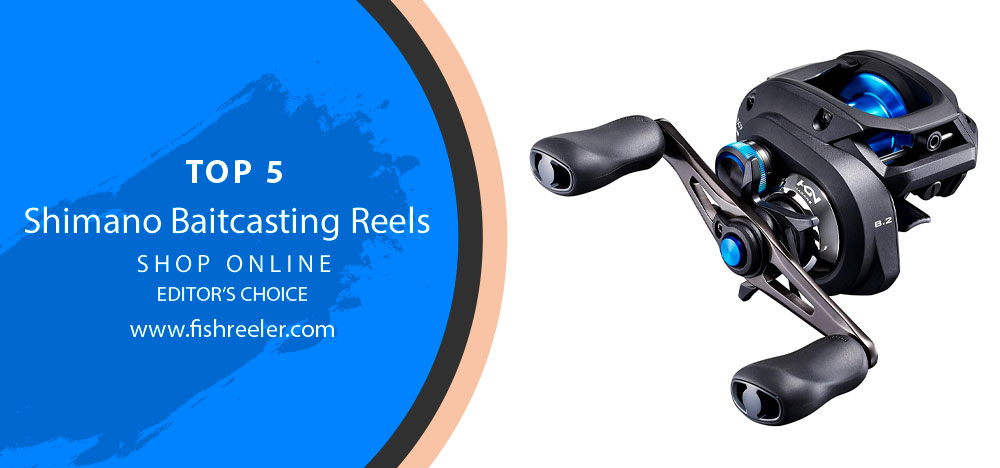 Detailed Review and Practical Tips: Shimano Casting & Baitcasting Reels
Since we started talking about baitcasting fishing reels, it's time to discuss the real giant in the field of fishing reels, which is the most popular brand in fishing and for many years has been making equipment of excellent quality. Yes, today we'll talk about Baitcasters from Shimano.

Why Shimano Reels Are So Good?
In fact, there is no secret formula or mystery that makes Shimano one of the best equipment. The history of the Shimano company began almost 100 years ago. Initially, the company was engaged in the production of parts for bicycles, but we are not particularly interested in it, because we are talking about fishing reels, right? Not really.
The production of fishing reels made the whole world talk about Shimano. And it was thanks to the production of bicycles that the company had an excellent basis for the production of reels. In Shimano, they are able to work with metals, to introduce and develop modern technologies. In 1980, the first Shimano reel, Aero, was created. This model was remembered as a record in the cast range. Aero series is still in the lineup, having undergone significant changes.
Shimano constantly chases to increase service life, reduce weight, improve balance in their equipment. This is achieved in different ways. So, Shimano Stella is considered to be the standard, the pinnacle of technology, and build quality. However, everything that has been successfully tested on the most expensive models is subsequently used already in models of the lowest price category. The technology of "cold forging"; a combination of parts X-Ship, bearing protection A-RB; high power from the handle to the rotor thanks to the Hypergear design. Each individually and together they serve for greater durability, reliability, and ease of use of the reel.
A series of various alloys, composite materials, and exclusive ones, such as CL4 and the more advanced CL4 +: all this is aimed at reducing weight without loss of strength of the reel and its individual elements. The more such technologies are applied in a particular model, the higher its class, and, consequently, the price. In this position, Shimano is absolutely clear and transparent. The buyer is not offered a beautifully decorated cake, stating that many bearings are hidden inside, which means that this reel will be reliable. A reel is a mechanism; a good mechanism cannot be too cheap. However, when the company has sufficient production capacities, it can afford to apply some optimized developments in lower-cost versions. After all, product quality is important at any level.
Shimano Baitcasting Fishing Reels Line

Start with the fact that Shimano only makes low-profile reels. It's unlikely that you'll meet traditional Baitcasters forms them. In total, the company offers 17 baitcasting reels but if divided by series, then we get only 8 lines. These are – Antares, Tranx, Metanium, Aldebaran, Bantam, Cronarch, Curado, SLX. I will tell you more about the features of each one.
Antares Reels Series
This is the latest reel line. The desire to unify their reels has led to the fact that Antares is now at the top of the company's extensive line of bait casters. These is reels that set the standard for quality. But also, these reels are the most expensive and are intended only for the most experienced angler enthusiasts. The design of these reels is distinguished by a polished coating and a smooth liquid-metal look. Besides, they have the most compact and aggressive style. Here, the latest Shimano technologies are installed: X-Ship, SVS cast control, Silent Tune, S3D spool design, etc. This line has very large gear ratios and a rather small number of models for lefties. At least they are very hard to get in the USA.
Tranx Reels Series
The most powerful reels. When it comes to them, Shimano always has a relatively small selection. Tranx has been on the market for quite some time but still continues to be very popular with anglers. Curado's previous reels needed more power and more capacity. Therefore, Shimano developed new reels using modern technology, such as X-Ship, and HEG. This allows anglers to better cope with heavy fish in salt and freshwaters. The Tranx series is available in four models: 300, 400, and for the left hand – 301 and 401. They have a large gear ratio, line capacity, and handles. Their main difference is that they ideally combine power and spaciousness. With these reels, you can catch the largest fish even in saltwater.

Metanium Reels Series
Although many could have suggested that Metanium is a completely new reel, it's actually just an analog that replaced JDM. It's becoming increasingly difficult to notice the differences between new generations of reels, but this line, fortunately, managed to excel. Here we have a lightweight, high-speed MGL spool, SVS Infinity brake system, and Ci 4+ side panels. The reels of this series are lightweight, smooth as air, thanks to the design of the spool and bearings.
Aldebaran Reels Series
Aldebaran debuted back in 2009 and has since undergone many quality improvements. Cast technology has been especially improved. The Aldebaran range has a modified reel finish and increased spool capacity. The reels of this series are the most versatile and can work with baits of almost any weight. The cast will always be on top, regardless of whether you make it with smooth, light movements or whether you prefer the precise and sharp distant cast.
Bantam Reels Series
The Bantam series is not something completely new. The first reel of this series was released 40 years ago. Their distinguishing feature is that Bantam virtually eliminates the distinction between low profile and round traditional reels. These are some of the most talked-about Baitcasters on the market and they really differ from the previous generation reels. Here combined side plates, frame and wind protection to give more stiffness to the reel. Reels are very easily connected to almost any rod and combine several of the latest technologies: X-Ship, SVS Infinity, Cross Carbon drag system, and Infinity cast control.
Cronarch Reels Series
If you need a low-profile reel that will show how capacious bait-casters can be, then Cronarch is your choice. These are graphite reels with a rather hard structure and excellent casting distance. The manufacturer combined the improvements in the SVS Infinity brake system and the results were amazing. In addition, gear contact was improved in these reels, which further increased performance. Given the brass material, we get a reel that can withstand the most serious abuse. Reels have three gear ratios – 6.2:1, 7.1:1, and 8.1:1. These high-gear ratios give you more line retrieve.
Curado Reels Series
Curado is one of the most important segments in Shimano. This series has the greatest demand and is aimed at ordinary anglers who need a simple everyday reel. After the release of this line, ordinary anglers were finally able to try the X-Ship technology and get both power and smooth retrieval. In general, the Curado series is reels with an angular design, black trim, and an enlarged handle, which almost anyone can afford.
SLX Reels Series
After the release of SLX, the battle for 100 dollar reels only flared up more. Shimano SLX looks like a real rival in this matter and has almost all the flagship characteristics. Shimano remained true to tradition and still use an aluminum frame, rather than graphite as in most budget reels. The SLX series is adjusted so that all reels remain daily workhorses using improved gears, an enlarged handle, and a VBS brake system. Many cyclists will immediately recognize the abbreviation SLX, which is used by Shimano for the production of mid-market bicycles. As with bicycles, the SLX class reels provide you with reliable and versatile fishing models. Okay, now you know almost everything about the Shimano reel lines. But this is not the end. Now, I'll tell you about the bait-caster, that I consider being the best child of Shimano. This is Shimano Cronarch MGL 150.
Shimano Cronarch MGL 150 Review & Buyer's Guide

What Comes Out Of a Box?
Let's start, by tradition, with packaging. Cronarch comes to us in black glossy packaging. Above, we immediately see a huge inscription in white letters – "Cronarch MGL", and below the model number. In our case, this is 150. By the way, a little later, when we'll talk about the spool, I'll tell you what the abbreviation MGL means. On the side of the box, we see the main features of this reel, and on the bottom, there's information about the manufacturer and warnings that are duplicated on the top side. Let's open it.
So, after opening the box, we are greeted by a user manual and a detailed guide on parts of the reel. And then we see what I simply adore Shimano for. They put their specialty reel oil here! Of course, it must be there for its money, but anyway, this is a pleasant addition. That's all. Apart from the reel itself, nothing else lies inside. In general, the box inside looks rather poor, but if you don't take into account the appearance of the box, then everything is packed pretty and beautifully.
What About Design?
Yes, finally the reel itself. As for the design, everything here is excellent too. Shimano didn't just make a new series with Ci4+ and the other spool and called it Cronarch. There may be a similar approach to design, but this reel is made in a more severe, dark gray style.
Comparing the frame and side plates with the reels of the previous generation, I can say that this is the same Ci4+, but tougher to the touch. The material of the reel is composite carbon. Let's weigh and understand that the coil is in the average weight range – 6.48 ounces. In general, the reel look is quite elegant and aggressive. On our left is a metal handle with two very large rubber knobs. Although these are not my favorite EVA knobs, the handles don't slip out even if the hands are greasy or wet. Also, on the side of the handle, there are inscriptions about the company and the version of the reel. HG means a High Ratio.
Brakes
Here we have the traditional for Shimano SVS Infinity. The axial brake is located near the handle, but the Infinity brake is on the side panel on the other side. There's also an adjustment panel. Open the brake and see what's inside. This brake system is presented with four shoes. What's really cool is that the developers made the brakes out of new material. This material allows you to adjust the reel so that you can easily feel and adjust it even with heavy baits. Personally, I like it when two on and two off, this gives a good feeling and excellent casting efficiency. The brake controller can be set from 1 to 6. Of course, with this, you'll want to adjust the tension of your spool with which the axial brake will help you.
Gears & Bearings, Gear Ratio
Like all Cronarchs Ci4+, this model comes with an X-Ship. X-Ship is a fundamentally new design for gears in a reel that give you great durability. It also helps to get more smoothness during casts and retrieval. In addition, the X-Ship gives you the opportunity to cast with lighter baits that you love so much and that can't afford reels without this technology. Still not enough smoothness? Well, just for this, the manufacturer put here 8 + 1 bearings, which, in combination with the X-Ship, give you a feeling of wonderful smoothness. Cronarch has a gear ratio of 6.2:1. This is pretty average for Shimano reels. When working with fish, it's good at retrieving both heavy and light weights.

Drag System
The drag star has a micro-click, and it's not too loud as in many bait-casters and doesn't cut the ear when working. Maximum drag power – 11 pounds. The adjustment is very precise and accurate, but I just put it in the middle position. For me, this is an ideal position.
Quality of The Spool
So, what does MGL mean in the abbreviation of the reel? MGL designates the new Magnum Light material, which increases casting efficiency and distance. The spool of this reel is just made of such material. Unlike other reels, the spool in this reel is much lighter. This improvement allows you to cast 10-15% further. In addition, you'll need to make much less effort to cast your bait as far as you want.
How It Does On The Water?
I didn't spend so much time putting the Cronarch MGL on my Ugly Stik USCA662МН and starting casting. The first bait that I used was the Megabass Diving FlapSlap. This 3/8 ounce jerk bait is the best fit for our combo. And here, the MGL spool and the brake system give a very great performance. If you haven't tried this, you're losing a lot. I tested the reels with the usual SVS Infinity, but when Shimano combined it with the new magnum lite spool, it became brilliant.
Both productivity and ease of casting have become much better, so that in terms of caste, Cronarch is doing great. As I've already said, micro-modular gears give a smoother and denser contact between parts. Add to this the use of brass instead of aluminum and you get a reel that'll be ready to work under extreme loads and use. I'm sure that this reel is much better than its predecessors. The increased gear ratio and the increased handle give me even more confidence in this.
Final Impressions
Shimano Chronarch Saltwater Baitcasting Reel leaves the impression of a great super-smooth and lightweight reel. It has all the features that you expect from a quality reel. New technology combinations, such as SVS Infinity, X-Ship, and MGL spool, allow this reel to cast and have a performance that other baitcasting reels don't have.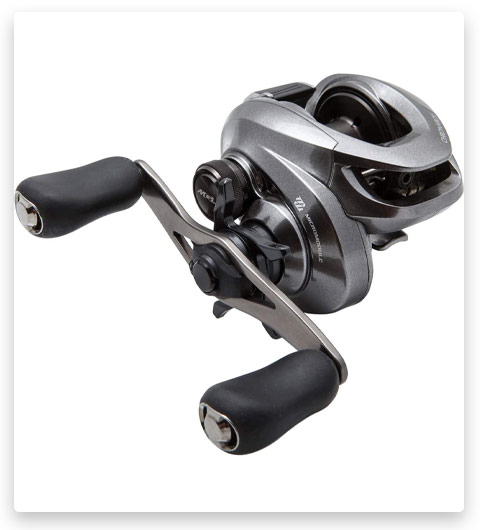 If I had to choose only one reel with which I have to fish for a very long time, I would definitely choose Shimano Chronarch MGL Casting Reel.
Alternatives Products
I have already listed the main features of each line, so I'll just show you some alternative reels that can compare in performance with the Shimano Chronarch.
1# Shimano SLX Baitcasting Reel
It differs from the Chronarch in that it has more gear ratios to choose from. Also, this model is much cheaper, but on the other hand, there's neither a lightweight spool, nor the Infinity braking system, nor X-Ship technology. Despite this, the reel still copes well with its tasks. This is just a good workhorse for every day.
2# Shimano Curado K Baitcasting Reel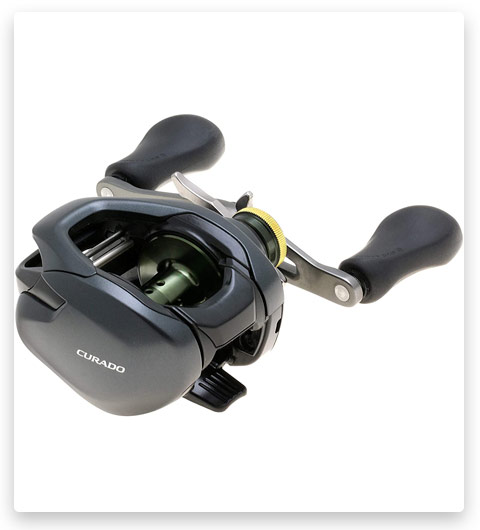 This is the most popular reel among anglers. Curado just has those big handles that we love so much. In addition, the reel has excellent drag, line capacity, and gear ratio. Despite its low price of $ 150, it has X-Ship and SVS Infinity.
3# Shimano Tranx 200 Baitcasting Reel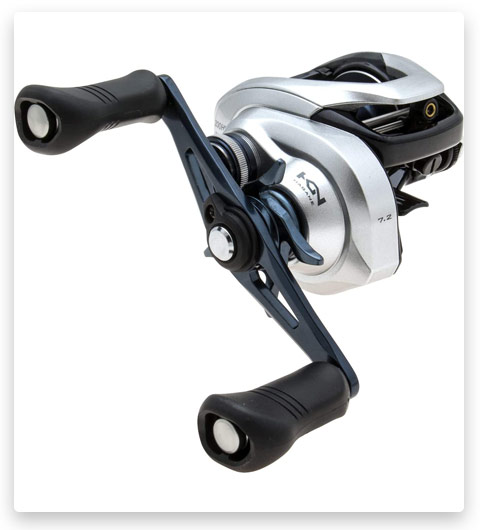 Tranx is closest to our Chronarch in terms of characteristics and price. If you didn't like the Chronarch's body or gear ratio, then you can substitute it with this model with a Hagane design and choose any gear ratio from 6.2:1 to 8.5:1. This reel is essentially different only in production technologies, but in fact, you get the same Chronarch with slightly modified materials. The feeling of this reel, of course, is also different.
4# Shimano SLX DC Baitcasting Reel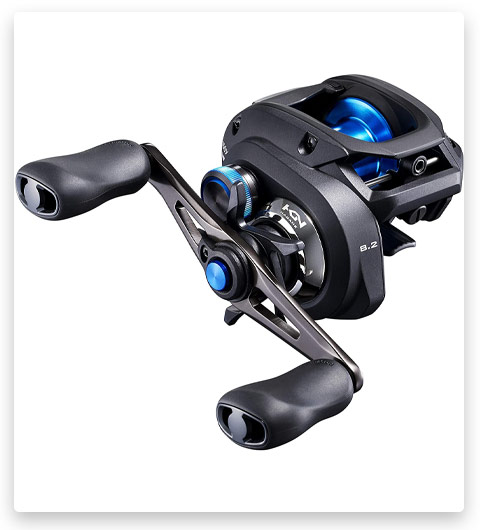 Yes, this is another SLX, but much more powerful than the first. This version is more suitable for those who aren't going to save on reels and want to invest enough money in their fishing for an excellent result. SLX can just give you such a result. Here we have not a Ci4+ body, but a Hagane material of the side panels and frame. It's a durable metal resistant to corrosion. And unlike the Chronarch with this reel, you can fish in saltwater. The SLX took over the brake system from Chronarch, but the spool was made using another technology and has a slightly larger weight, but at the same time they have almost the same casting distance. The gear ratio is also slightly larger – 8.2:1. Otherwise, these reels are very similar.
5# Shimano Citica Baitcasting Reel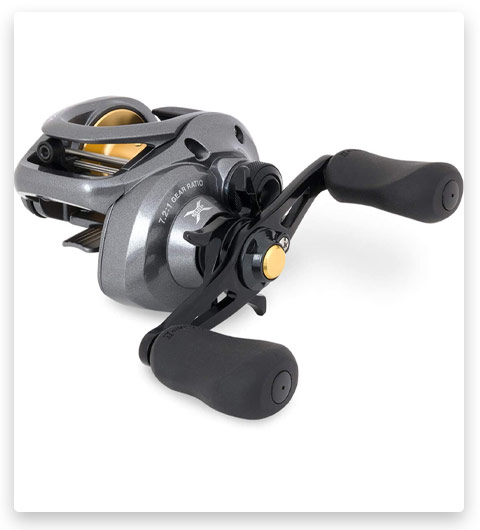 This is a budget reel that officially went out of production, but which Shimano is still selling for some reason. This is a great reel that can please you with its lightweight, large gear ratio, and large spool capacity. The only minus that it has is not a very large number of bearings – only 5 pieces.
FAQ – Shimano Baitcasting Reels
Tags: #shimano baitcasting reels / #shimano reels baitcasting / #shimano saltwater baitcasting reels / #cheap shimano baitcasting reels / #shimano baitcasting reels for sale / #who works on shimano baitcasting reels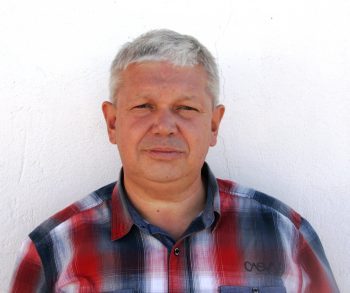 Sergio Smirnoff
Professional fisherman with 40+ years of experience.
Fishing and the ocean is a passion of my life. I am passionate about all kinds of sea fishing: fishing from the shore (spinning, float, baitcasting), from a boat, and spearfishing day and night.
I live in Tenerife (Canary Islands) for the last 10+ years and share my daily fishing experiences on my website. Many years of personal experience as a fisherman and the vast experience of my friends allow me to write professionally on any fishing topics (from choosing a flashlight and equipment to deep-sea fishing).
All of my advice is based on practical real-world experience and will be useful to both novice anglers and professionals.
Read more
about the author.
Affiliate Disclosure: FishReeler.com sometimes gets paid for listings, through sponsors or affiliate programs like Amazon, Ebay, Cabelas, Bass Pro Shop, Shimano, Daiwa, Rapala, Renn, Okuma, KastKing, etс. Clicking a link helps keep FishReeler.com free, at no extra cost to you!
About the author: Each article is verified by the fishing expert Sergio Smirnoff. The articles are written by professional and amateur fishermen with 20+ years of fishing experience.
Note: The views and opinions expressed in this article are those of the authors and do not necessarily reflect the official policy or position of any agency. The articles are for informational purposes only, share your opinions in the comments and join the fishing discussions, let's share our fishing experiences together!