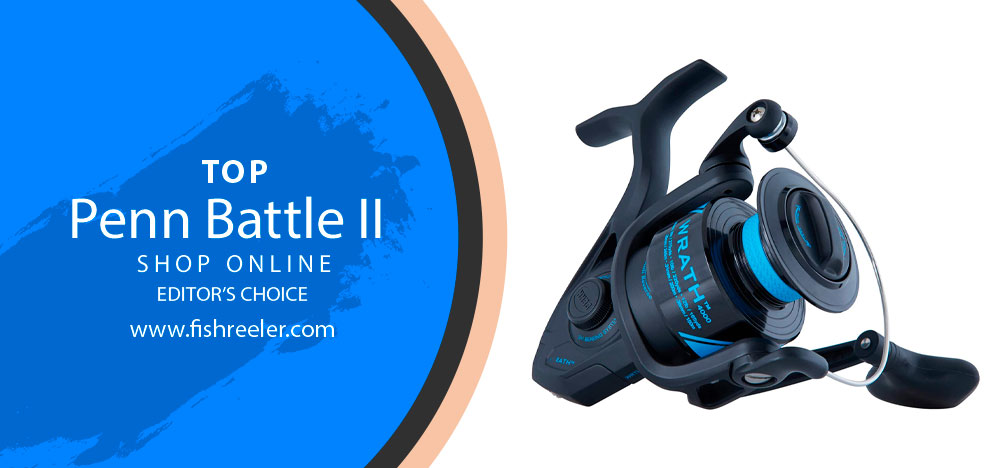 Penn Battle II Saltwater Spinning Reel: Best Brand – All Models
We keep talking about spinning reels. Today we have the Penn Battle II in turn. I think you've heard a lot about this reel, but if not, then in this article you can get acquainted with it in detail. We'll analyze in detail every single component of this reel, test its performance, and also learn how it'll show itself on the water. This is another review on the reel from Fishreeler and let's get started!
Penn Reels Company
You know, many companies, especially those who produce spinning reels, sin by having a similar history. But Penn is different from many of them. Therefore, the history of this company should definitely hook you. The founder of this company, Otto Henze, at 25 moved from his native Germany to the United States. Henze needed some money, so he went to work as a machinist in one company. Guess what this company did? Yes, the production of fishing reels. The company was called Ocean City Reels.
Mr. Henze showed great promise, he carefully studied each reel at his work, looked for flaws, and thought about how to improve this. The guy dreamed that someday he would create his own company, the name of which will thunder throughout the world. And so it happened.

Henze left Ocean City in 1932 and began to create and sell his fishing reels to the general public. And after 4 years he managed to create something very interesting and new, which had never been done before. It was the world-famous "Senator" reel. At those times it was a revolutionary reel; it could challenge even the most powerful fish.
Unfortunately, in 1948 Otto Henze died. The company, which is just starting to flourish, is worth it to his wife, Martha. And she more than coped with this task. Under her leadership, the company has reached a new level. In the 55's, all 5 world records were set on reels from Penn.
Since then, no one could say that Penn is an outsider in the production of fishing equipment. And although several leaders have already been replaced in it, the company continues to flourish to this day, making more and more modern and high-tech equipment for fishermen.
What is Penn Producing Today?
If we're talking about reels, Penn produces only 2 types of reels: offshore (conventional) and spinning. Let's quickly go over the conventional ones, and then we'll analyze the spinning segment.
Penn's offshore reels are represented by 10 lines of reels, the most popular of which are Penn Senator and Penn Squall Level Wind. Moreover, these are not very expensive budget reels ranging from 100 to 150 dollars. Someday we'll talk about this in another article.
We are most interested in spinning reels. In total, Penn has 11 lines of spinning reels. In fact, almost every reel is a separate line, so the number of reels and series is almost the same. Torque, Clash, Conflict, Passion, Slammer, Spinfisher, Pursuit, Fierce, Wrath, Z Series, and, of course, Battle – that's what they are called.
PENN Battle II & III Spinning Fishing Reel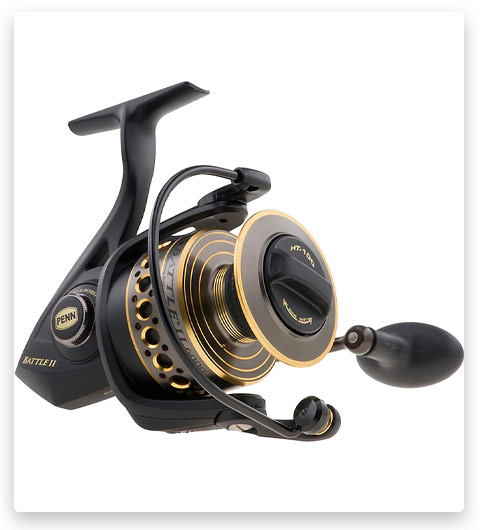 Penn Torque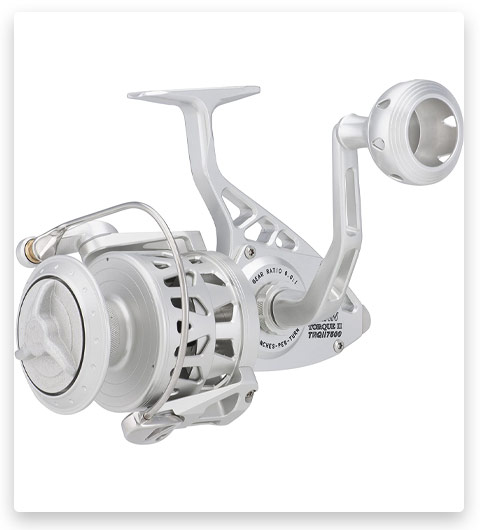 Torque is not Penn's most popular lineup. Because it's the most expensive. Of course, such reels are in demand mainly by professional anglers. This series is characterized by maximum casting rates, luxurious appearance, steel body, and simply huge line capacity. The feeling of such a reel is just gorgeous. A smooth, fast, brilliant, and accurate monster is what you hold in your hands. Almost all of my friends who have used this say that this is the best thing you can invest in fishing. If you're going to catch big trophies and giants and you do not mind a cent on this, then this is the best option for you.
Penn Clash II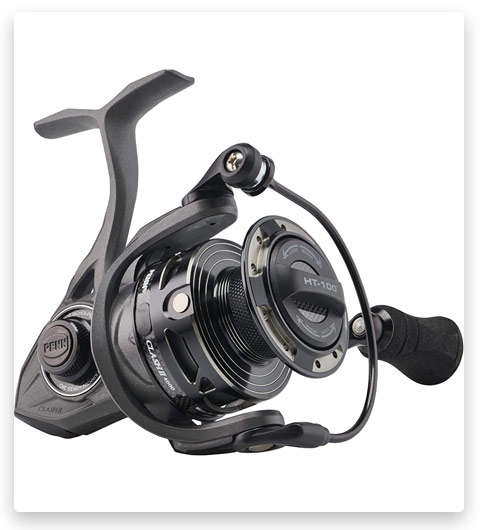 Penn Clash is the latest Penn reel line, which is not yet available for sale. What can we expect from it? It seems to me that Penn wants to make an analog of Torque from this line. Very many characteristics of these two series coincide. For example, the number of bearings here is only 1 less. But here is also a one-piece metal body, which allows you to fish in saltwater. Of course, drag and brakes here are an order of magnitude slower, but they aren't so far behind the torque indicators. In general, these reels are suitable for you if you want something powerful and cool but already in the middle-price segment.
Penn Conflict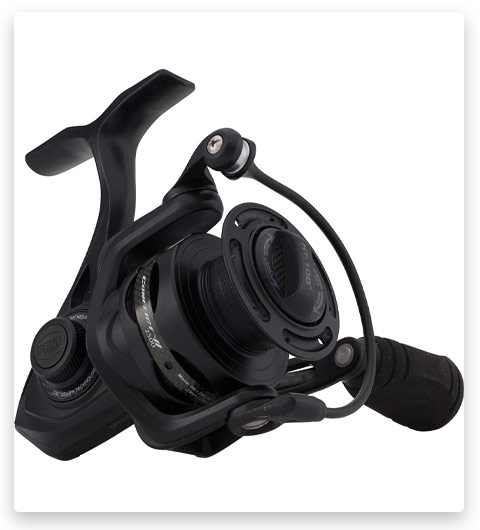 A characteristic feature of this line is the presence of a manual bail trip on all reels. This helps to avoid reel failure, especially with powerful casts. But even without this feature, these reels are quite productive. They are just designed for the fact that you'll constantly expose them to loads. This is indicated, firstly, by the hard resin body and rotor. Secondly, drag washers here are made of carbon fiber. And finally, the spool and rings are configured to accommodate as many lines as possible, and so that the caste is as far away as possible. If you're a fan of hunting medium-sized large fish from the shore, then this is your choice.
Penn Passion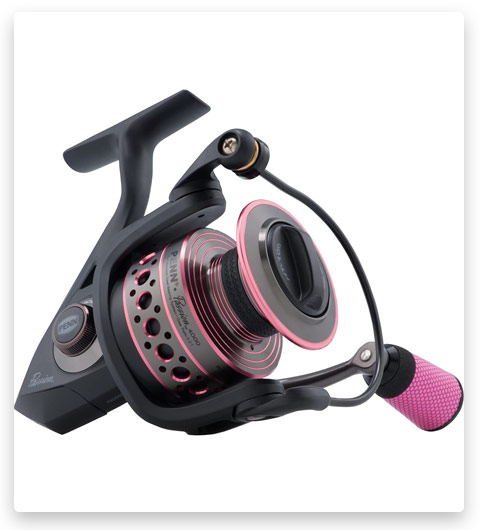 The extra budget option of Penn Conflict. After the Conflict, this reel is felt much weaker and not so powerful. But for the average fisherman, this will be an excellent workhorse for every day. What about the internal characteristics? This model differs from Conflict only in the number of bearings. Here we have 5 balls and 1 roller bearing. All other characteristics are the same.
Penn Slammer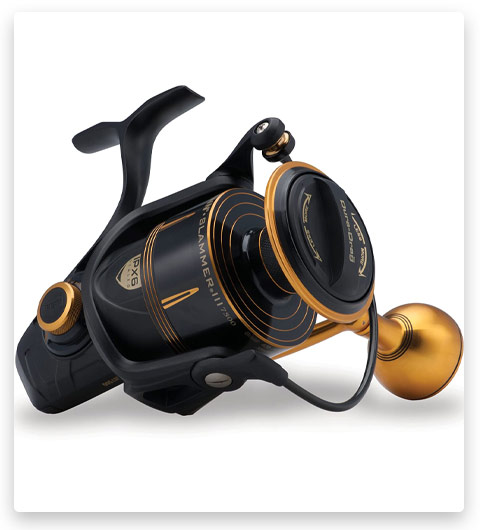 And this is already interesting. I like this line most in design. The honey-black metal body stands out from the rest and looks very solid. 7 bearings feel very smooth, moreover, this is complemented by CNC Gear technology. The most prominent feature is that, depending on the size of the reel, you can choose a manual or automatic bail trip. So this is a very flexible series of fishing reels.
Penn Spinfisher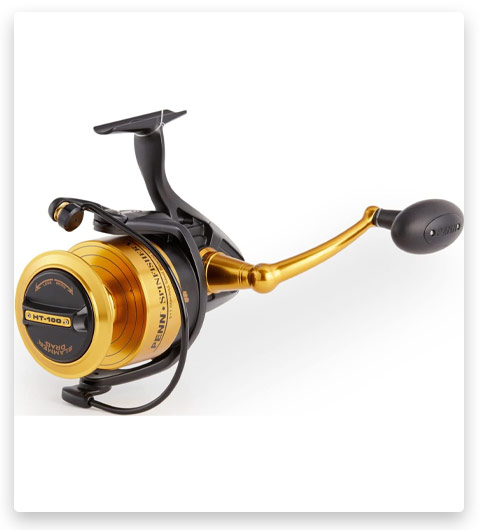 I must say that these are very large reels with powerful drag. They are designed for large trophies. The maximum weight is 35 pounds. At the same time, the price is not that big. These reels are completely sealed and provide sufficient power for large marine fish. The CNC gear system completely levels and distributes heavy loads.
Penn Pursuit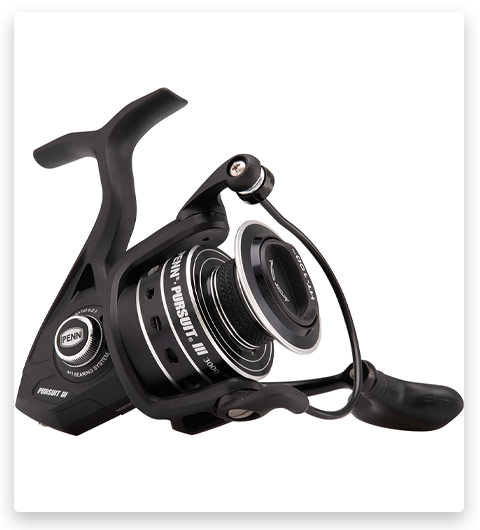 Almost the cheapest line of reels. If you're on a budget, then you should definitely take a look at it. Personally, I started with this spinning reel and I can vouch for its quality. Yes, maybe you should not expect flagship performance from it, but it's capable of much more than most reels of this price category. A small number of bearings almost doesn't affect smoothness, because they are correctly installed inside. Moreover, there are even some technologies present in the more expensive Penn reels. Penn tried to ensure that their budget options were not inferior in quality to expensive analogs. Recommended buying.
Penn Fierce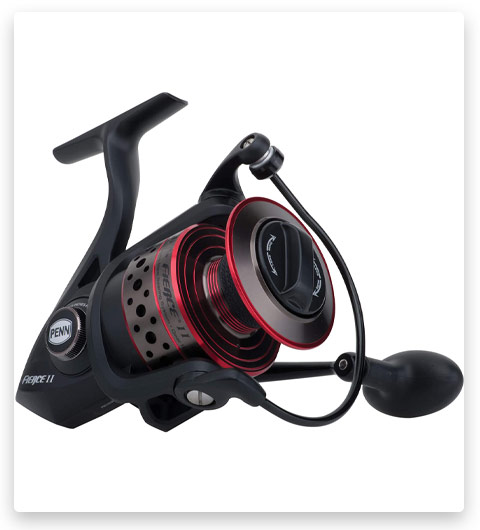 Penn Fierce is a cheaper alternative to Penn Battle. This absolute series is identical to the Penn Battle except for the number of bearings and the line capacity indicator.
Penn Wrath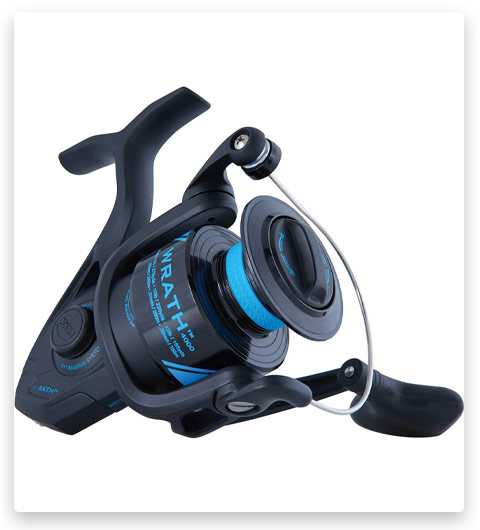 And this is definitely the cheapest line. Only $35 for a very good performance and reel quality. This is not a cache, and these reels do not give space readings. But if you have only a couple of dollars in your pocket, then this series is ideal for you. The reels have 2 shielded stainless bearings, and anodized aluminum spool, and even an anti-reverse bearing. The case is not aluminum. This is some kind of carbon alloy. All in all, a pretty good reel for budget fishermen.
Penn Z Series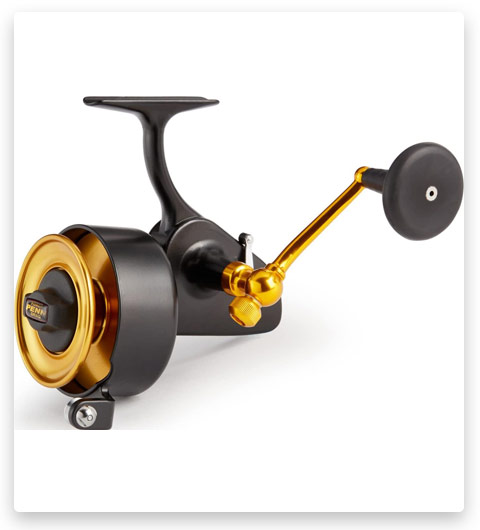 Classics of the genre. The Penn Z Series is the type of reel that almost everyone loves. But for what? Everything is simple – they are inexpensive and of high quality. In terms of price and quality, this is one of the best lines. Ideal for fishing in salt and freshwater, these full-metal reels feature the high-quality and popular HT-100 drag system. And also, machined aluminum spool and stainless pinion. The number of bearings here is only 1 to 3, but this doesn't prevent the reel from working smoothly. A low gear ratio allows you to maximize the control of heavy fish up to 8 kg.
We got to the line that I think is the best on this list. Of course, different reels will be good for different needs, but the Penn Battle is the most universal solution.
Penn Battle II Spinning Fishing Reel – Full Review & Test of The Reel
Penn Battle II came to me in a matte black box. Initially, 8 models are available for you, weighing from 8 to 30 ounces. In this review, I'll tell you about Penn Battle II 4000. The box itself is made with high quality, a lot of information about both the reel itself and the manufacturer.
Package & Unpacking
But inside we just have bare cardboard walls without any linings, as KastKing or Abu Garcia do, making their boxes look like boxes from iPhones. Inside are the reel itself and the spare spool. About the second spool, we'll talk later. The reel and spool are packed in bubble polyethylene. The manufacturer didn't spend money on increasing the strength of the box. I think this is due to the fact that this reel has a sturdy metal construction, and nothing bad will happen if the box with the reel falls. But anyway, it would be much better to see the beautiful packaging inside.
Body Design
The whole body, including the side plates, and the rotor, is made of solid metal. Internal components too. You can don't worry, it's 100% suitable for fishing in saltwater. The reel is made in an elegant black and yellow style. The handle included in the kit is screwed into the reel body. So, guys who were worried about a backlash in past reels – you can breathe out calmly. The handle can be installed both on the right and on the left side.
The handle is equipped with a flat, T-shaped, or reinforced knob. It's very convenient that the handle can be pushed to the body of the reel during storage or transportation. You just need to unscrew the handle a little. On the bottom is a reverse switch, but not on all models. In larger reels, the spool can spin only in winding mode.
I also note the presence of reinforced metal staples and clutch HT-100 on the front side of the spool. In general, the reel doesn't weigh so much, but with a braided line, your hand will be pretty tired during constant castes. On the other hand, this gives you great power and cast range. In general, the design of the reel is well done. Penn finally got rid of their mistakes with backlash and heavy designs.
The Spool
This is perhaps the most interesting thing that is in this reel. As I said, the kit comes with a spare spool, and a conical form, in contrast to the already installed conical. What's it for?
The fact is that a conical spool is more convenient for a braided fishing line. With a conical spool, the braided line comes off much faster and more efficiently. This increases the casting distance when using a braided cord. Such a spool contains 300 m of 0.18 woven lines.
Both spools are made of solid stainless steel anodized aluminum, in a silver-gold design. They have perforation and a clip for fixing. In addition, a rubber insert is installed on the spool, which will help to avoid turning the wound fishing line. On the inside, we see annular notches. They help determine the number of remaining lines.
In addition, the reel has additional washers included. By changing their number under the spool, you can adjust the quality and shape of the line winding – from the straight cone to the reverse.
What's Inside?
Let's start with drag. Penn Battle II has an HT-100 drag system that uses carbon washers instead of conventional felt washers. This greatly prolongs the life of the reel and provides a smooth drag without jerking. Keyed washers provide access to both sides of the washer, thanks to which you can ensure smooth braking when the drag pressure is increased by 1/5.
HT stands for Hi-Tech, which consists of carbon fiber. And 100 is 100 miles in the line taken from the stock reel in the original test. A pretty impressive show, huh? Here we also have 5 stainless-steel sealed bearings. They are installed in the right places. In the fishing line layer, on the main shaft, on the spool, and additional bearings on the supports. In addition to these 5 bearings, the reel is equipped with an anti-reverse function. The anti-regrind bearing instantly eliminates backlash on the rotor when installing the hook.
The reel has a medium-high gear ratio starting from 5.2:1 on the smallest model and ending with 6.2:1 on the 8000 model. These ratios can catch fish of any kind, from small trout to what this reel is best for – carp.
As I said, the drag system HT-100 works just fine. The maximum drag power starts at 9 pounds on the 1000 model and ends at 30 pounds on the largest and strong model 8000. The largest models of this reel weigh quite a lot – 30 ounces. The smallest weight of this series is an 8 oz. model 1000. If you're concerned about weight, then below you can find lighter alternatives to this reel for the same price.

Testing It On The Water
Well, it's time to go out and test this reel "in battle". I must say right away that I used a tapered spool and a 30-pound braided fishing line. But I think, in general, the sensations will be similar on both spools. The first thing that catches your eye is a very smooth, silky drag when you retrieve the line. Seriously, I didn't feel any jerking or twitching at all. The caste distance is also quite impressive. Standing from the shore, I could throw a line up to 275 yards away.
At the same time, I always came across fish, a little heavier for the maximum drag of this reel. First I caught a carp of 22 pounds, and then a small shark weighing 18 pounds. No problems with bait or hooking. Absolutely. The only thing I found a puncture in is that the reel is not completely sealed. I deliberately immersed it a little in water, and it turned out that the water gets inside. Therefore, if you do so, then don't forget to immediately clean the reel as you return home. Bearings will not suffer, but some parts may begin to rust. But overall, this reel proved to be very impressive on the water.
Penn Battle II Highlighted Features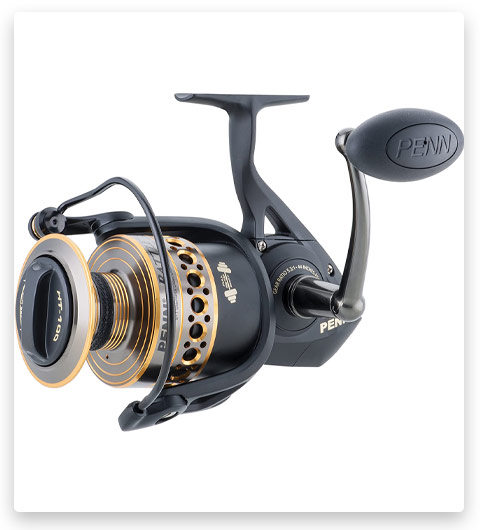 Full stainless steel aluminum construction, rotor, and side plates
HT-100 carbon drag
5 sealed corrosion-resistant bearings
Anti-reverse function
Heavy-duty aluminum bail wire
Spare spool for braided line
Line capacity rings
Penn Battle II Spinning Fishing Reel Alternatives
To make it easier for you to choose the coil of your dreams, we present a complete list of possible options. They are all excellent and worthy of your attention.
1# Penn Clash Fishing Reel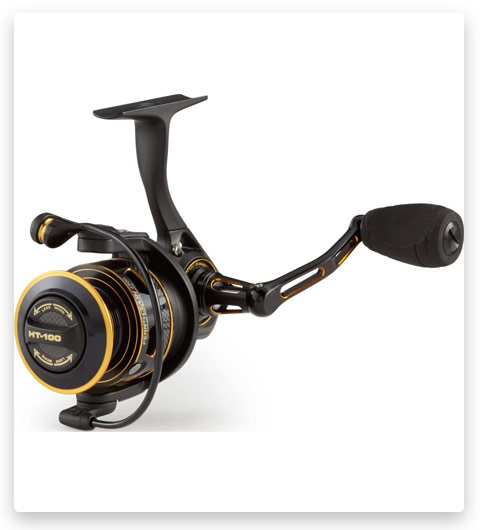 If the Penn Battle II seems to be a little heavy for you, then try Penn Clash. This reel with the largest model weighs a little more than 25 ounces instead of 30 for the Battle. In addition, it has a smoother retrieval due to the greater number of bearings (8+1).
2# Penn Fierce Fishing Reel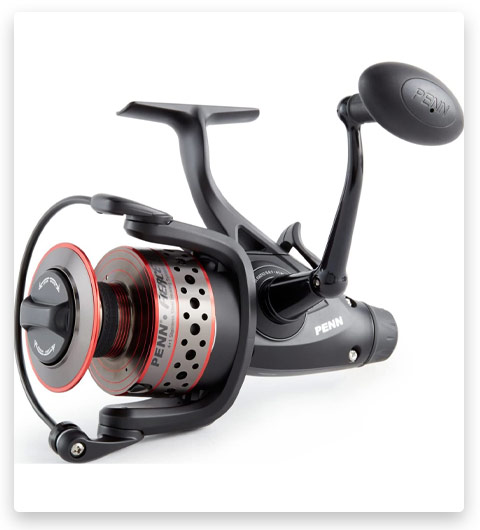 Don't want to break the bank? Then you should take a look at Penn Fierce. Everything is the same here, a full-metal body, anti-reverse, perforated aluminum spool, rigid loop, and drag washers HТ-100. The only difference is fewer bearings (4 BB) and less smooth line extraction, as well as lower line capacity.
3# Penn Pursuit III Fishing Reel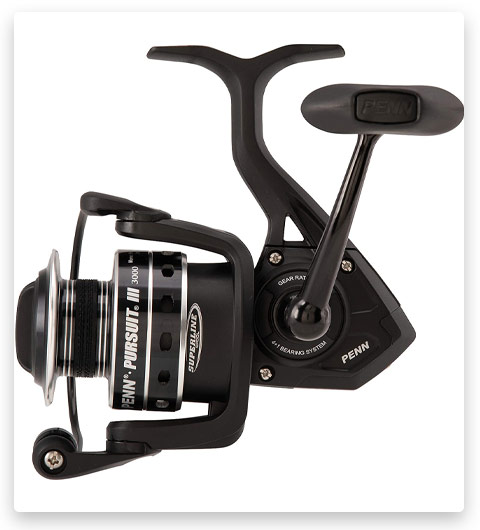 We go down even lower in the price range of 30-75 dollars. Penn Pursuit III doesn't already have a metal body, but it's nevertheless suitable for fishing in saltwater due to the robust graphite construction. And graphite, as you know, doesn't rust. Traditionally, this reel has an HT-100 drag washer with a maximum drag value of 25 lbs. on the 8000 model. As in the previous reel, 4 ball bearings + 1 roller are installed here. The gear ratio is 5.2:1-6.2:1.
4# Penn Slammer Fishing Reel
And the last representative who can make an alternative to the Penn Battle II is Penn Slammer. Reels are similar in their metal structures, rotor and side plates, CNC gears, bearings, and retrieval smooth as silk. But Slammer has famous Dura-Drag technology. It allows you to get a smooth grip with almost any type of caste. Be it jigging, trolling, casting, or anything else.
Conclusion
Penn Battle II really impressed me. If you're just starting and want a good reel for the money, then this is what you need. It's nice to see Penn refresh and make their reels better and better every time. In this version, the manufacturer installed increased drag, spool rings capacity, the quality of paint and bearings became much better.
However, it's worthwhile to ensure that this reel is not immersed in saltwater. If you accidentally immersed it, then it's better to quickly clean it when you get home than then look for new components for the reel. Penn Battle II will be a great choice for any angler without breaking the bank. Among spinning reels, this option is one of the best. If you liked this article, share it on social networks. Have good fishing!

Tags: #penn battle ii / #penn battle ii spinning reel / #penn battle ii spinning / #penn battle ii combo / #penn battle ii spinning fishing reel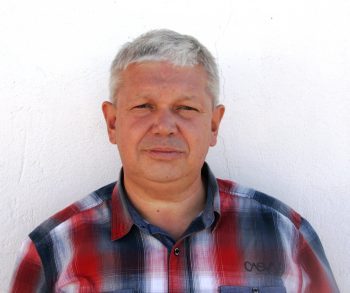 Sergio Smirnoff
Professional fisherman with 40+ years of experience.
Fishing and the ocean is a passion of my life. I am passionate about all kinds of sea fishing: fishing from the shore (spinning, float, baitcasting), from a boat, and spearfishing day and night.
I live in Tenerife (Canary Islands) for the last 10+ years and share my daily fishing experiences on my website. Many years of personal experience as a fisherman and the vast experience of my friends allow me to write professionally on any fishing topics (from choosing a flashlight and equipment to deep-sea fishing).
All of my advice is based on practical real-world experience and will be useful to both novice anglers and professionals.
Read more
about the author.
Affiliate Disclosure: FishReeler.com sometimes gets paid for listings, through sponsors or affiliate programs like Amazon, Ebay, Cabelas, Bass Pro Shop, Shimano, Daiwa, Rapala, Renn, Okuma, KastKing, etс. Clicking a link helps keep FishReeler.com free, at no extra cost to you!
About the author: Each article is verified by the fishing expert Sergio Smirnoff. The articles are written by professional and amateur fishermen with 20+ years of fishing experience.
Note: The views and opinions expressed in this article are those of the authors and do not necessarily reflect the official policy or position of any agency. The articles are for informational purposes only, share your opinions in the comments and join the fishing discussions, let's share our fishing experiences together!