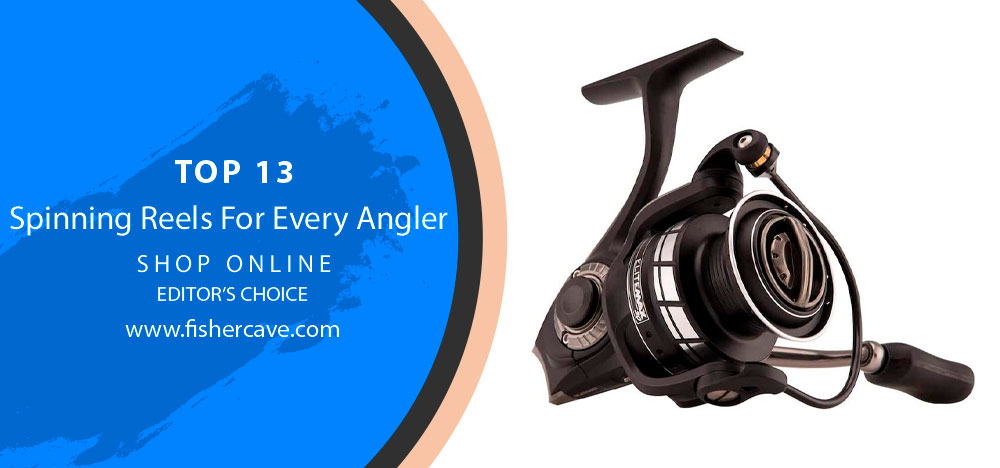 Reeling in the Best: A Comprehensive Guide to Spinning Reels for Every Angler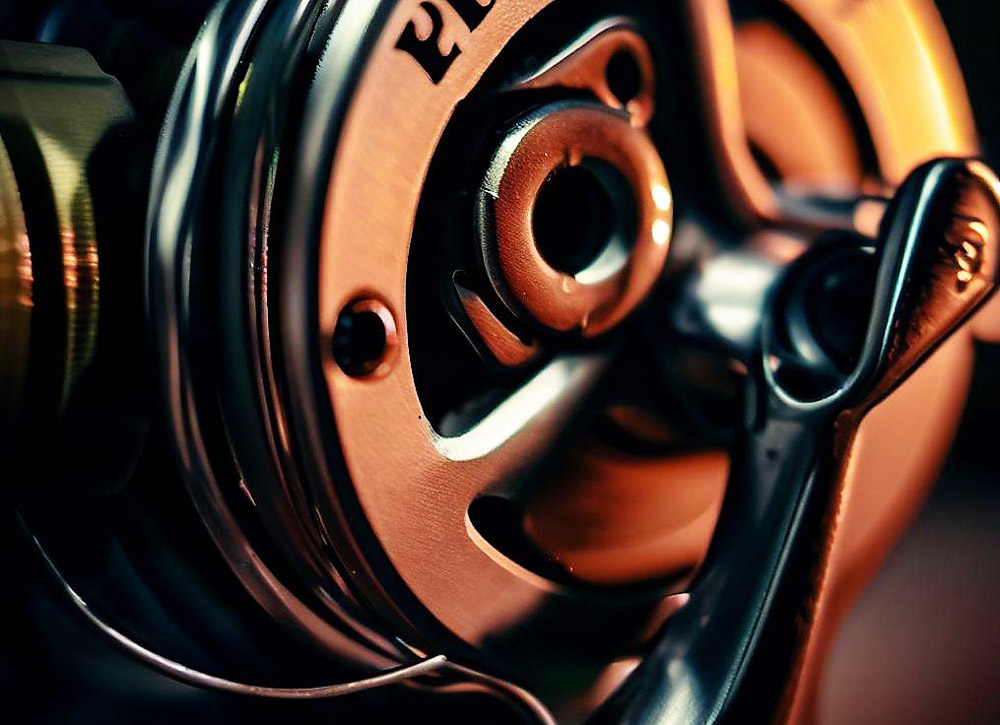 Setting the Hook: The Undeniable Importance of Quality Spinning Reels
Whether you're an angling aficionado or a beginner just dipping your toes into the vast waters of fishing, a good spinning reel is an absolute necessity. The spinning reel is the heart of your fishing gear, a critical interface between the angler and the catch. It's your main line of control, handling the precision and power that can make the difference between an exhilarating successful catch and a disappointing 'one that got away.'
A quality spinning reel not only improves your angling efficiency but also enhances the overall fishing experience. Its smooth operation can reduce fatigue during long fishing hours, while its robust construction ensures it can stand up to the challenges of different fishing environments. From casting the line smoothly to reeling in a stubborn fish, a good spinning reel serves as your most trusted companion in the art of angling.
An Angler's Guide: What's to Come in This Comprehensive Reel Review
In this comprehensive guide, we will venture into the intricate world of spinning reels. We'll start by demystifying the basics, explaining what spinning reels are, how they function, and why they're a popular choice for anglers of all skill levels.
Next, we will navigate the diverse landscape of spinning reels, highlighting different types, from freshwater and saltwater to ultralight and heavy-duty models. We'll guide you through the scenarios where each type shines the brightest, helping you match the reel to your fishing environment.
Choosing the right spinning reel can seem like a daunting task, but we've got you covered. We'll discuss the key factors to consider when making your choice, including the material, size, gear ratio, drag system, and line capacity. Plus, we'll share some insider tips on matching the reel to your rod and fishing line, as well as make suggestions tailored to your skill level.
We'll introduce you to the leading brands in the spinning reel market, providing a snapshot of their unique strengths, popular models, price range, and durability. We'll also delve into the maintenance side of things, showing you how to keep your reel in top shape and troubleshooting common problems.
To bring it all to life, we'll share some inspiring case studies of successful angling with various types of spinning reels. By the end of this guide, you'll have a wealth of knowledge to help you reel in the best catch and truly enjoy the fishing experience. Let's cast off on this exciting journey!
TOP-Rated Spinning Reels Review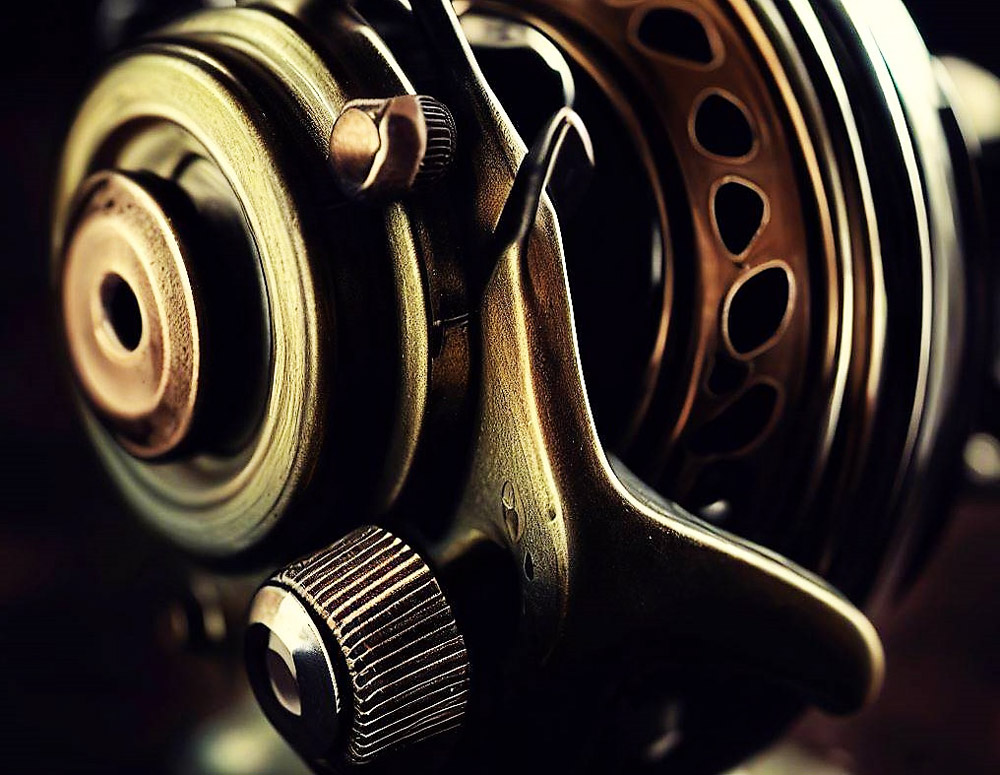 If you're like most fishermen, you're constantly searching for the best fishing gear on the market. And if you're looking to buy a new spinning reel, then you've come to the right place. In this blog post, we'll take a look at some of the top-rated 13 spinning reels available today. So whether you're a beginner or a seasoned pro, read on for the best spinning reel recommendations.
Spinning reels are a great choice for many anglers because they are easy to use and require very little maintenance. They are also very versatile and can be used for a variety of fishing techniques.
The first thing you need to consider when choosing a spinning reel is the type of fish you plan on catching. There are three main types of fish: freshwater, saltwater, and gamefish. If you plan on fishing for freshwater fish, then you need to choose a reel that is designed for that type of fishing. These reels are typically smaller and have a lighter drag system.
Gamefish are a type of fish that are hunted for sport. They can be found in both freshwater and saltwater environments. When choosing a reel for gamefish, you need to consider the size of the fish and the type of water you will be fishing in.
The next thing you need to consider is the size of the reel. The size of the reel will determine the line capacity and drag system. Line capacity is the amount of line that a reel can hold. The larger the line capacity, the longer you can fish before having to change lines. The drag system is the mechanism that allows you to control the amount of line being let out while fishing.
The final thing to consider when choosing a spinning reel is the type of water you plan on fishing in. There are two types of water: freshwater and saltwater. Now that you know the different factors to consider when choosing a spinning reel, let's take a look at the top 13 best spinning reels on the market today.
1# Shimano Stradic FL Spinning Reel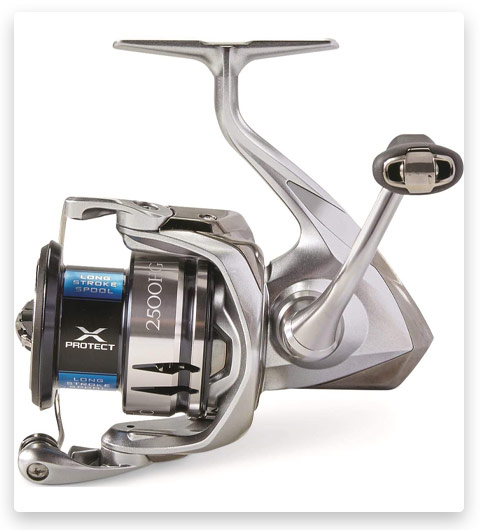 View on Amazon View on BassProShops View on AcademySportsOutdoors
The Shimano Stradic FL Spinning Reel is the perfect choice for anglers who demand the very best. This reel is packed with top-of-the-line features and technology, including SilentDrive, a total redesign of all moving parts to eliminate noise and vibration. With its ultra-hard Hagane cold-forged drive gear, the Stradic FL is twice as strong as its predecessor, making it capable of handling any fish imaginable.
The MicroModule Gear II and X-Ship pinion gear-support system work together to ensure perfect gear mesh at all times, resulting in unflinchingly smooth control and exceptional durability. Whether you're fishing for bass, trout, or other freshwater fish, or going after inshore saltwater species, the Shimano Stradic FL Spinning Reel has the power and performance to get the job done.
In addition, the Propulsion Line Management System provides excellent line management and eliminates vibration for a smooth experience out on the water. The SR-Concept also helps reduce friction for enhanced performance. For added durability, the 3000–5000 sizes feature a rugged Cross Carbon drag, while the 5000 size comes fitted with a power handle. So whether you're fishing for trout in a river or chasing marlin in the ocean, the Shimano Stradic FL has you covered.
2# Shimano Stella Sw C Saltwater Spinning Reel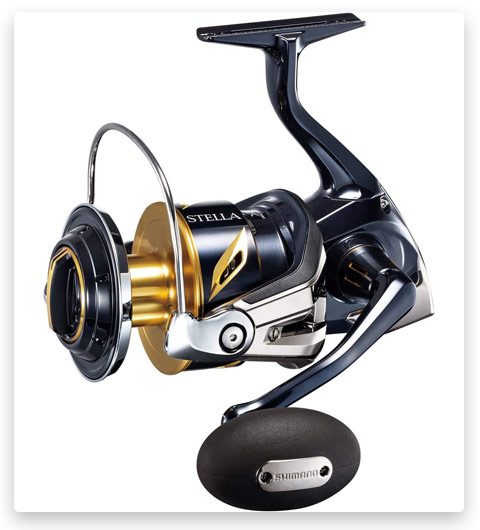 View on Amazon View on BassProShops
Experience the strength, power, and smoothness of the latest Shimano Stella SW Spinning Reel. With major improvements and exciting innovations, the Stella SW is the toughest, smoothest, most durable spinning reel in saltwater.
The new X-Protect roller and X-Shield roller bearing protection system provide superior waterproofing and corrosion resistance, while the improved X-Rigid Rotor design reduces inertia for outstanding precision and control.
In addition, the new Infinity Drive Technology optimizes the winding torque by 26%, plus Silent Drive internal meshing eliminates winding noise. Finally, Shimano's advanced HeatSink Drag actively transfers heat away from the spool during heavy runs, reducing surface temps by as much as 100°F.
Whether you're fishing for fun or competition, the Shimano Stella SW Spinning Reel is your perfect choice for a smooth, powerful spin.
3# Abu Garcia Revo Rocket Spinning Reel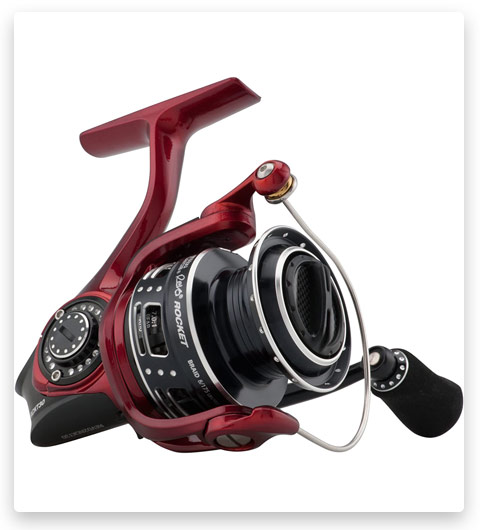 View on Amazon View on BassProShops
The Abu Garcia Revo X Spinning Reel is a high-quality reel that is designed for durability and performance. The light, tough IM-C6 carbon body, and corrosion-resistant X2-Cräftic alloy frame make this reel perfect for use in all conditions.
The graphite rotor with Everlast bail system ensures smooth operation, while the braid-ready machined aluminum spool and Rocket Spool Lip Design provide exceptional line management. The Slow Oscillation ensures even line lay, while the Stainless steel main shaft and internals provide superior strength and durability.
The Smooth 6+1 system provides smooth operation, while the HPCR™ stainless steel ball bearings plus roller bearings ensure long-lasting performance. The Silky-strong Carbon Matrix drag system provides smooth, consistent drag, while the large, comfortable PVC handle knobs provide a comfortable grip.
This reel is perfect for anglers of all levels who want to step up their game. It's easy to use and provides the power and precision you need to land big fish. Order your Abu Garcia Revo X today and see what all the fuss is about!
4# KastKing Summer Centron Spinning Reel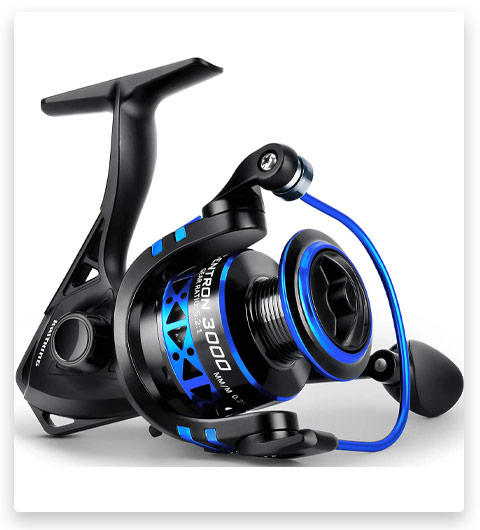 Are you looking for a spinning reel that offers great value for the price? Then check out the KastKing Summer and Centron Spinning Reels. These reels are packed with features, yet they are still low in price.
The KastKing Summer Fishing Reel is the perfect choice for anglers of all levels. The lightweight design and computer-balanced system make the Summer/Centron an excellent choice for fishing enthusiasts.
Plus, the Superior Drag System offers incredible stopping power of up to 17.5 pounds. With nine quality ball bearings and one instant stop one-way anti-reverse bearing, the summer/centron provides smooth performance every time. Don't miss out on this great opportunity. Get your KastKing Summer and Centron Spinning Reels today!
5# PENN Battle III Spinning Fishing Reel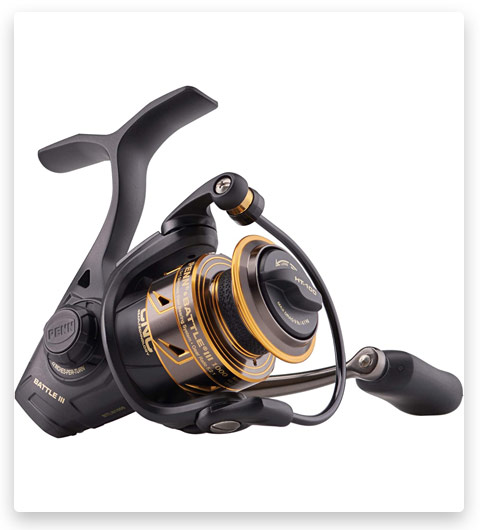 View on Amazon View on BassProShops
Looking for a top-of-the-line spinning reel that can stand up to all your saltwater fishing adventures? Look no further than the PENN Battle III.
This reel is stronger, smoother, and more durable than its predecessors, thanks to features like its Full Metal Body and side plate, braid-ready Superline Spool with line capacity rings, and power-driven CNC Gear Technology.
Plus, the 5+1 sealed stainless steel ball bearing system ensures reliable performance, while PENN's legendary HT-100 Carbon Fiber Drag Washers provide smooth, consistent drag at all settings.
So whether you're battling giant tuna or feisty redfish, you can rest assured that Battle III will give you the power and precision you need to come out on top.
6# Pflueger President Spinning Fishing Reel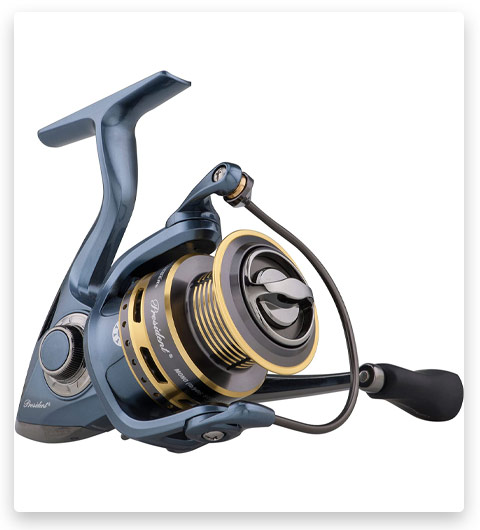 View on Amazon View on BassProShops View on AcademySportsOutdoors
The Pflueger President spinning reel is a great choice for anglers looking for a smooth-performing and tough reel. The President's lightweight graphite body houses a rugged, corrosion-resistant stainless steel main shaft and components, making it resistant to the elements.
The system runs effortlessly on 9 stainless steel ball bearings (Model PRESSP20 has 6), plus 1 instant anti-reverse bearing, for smoothness and strength that will give you the edge when reeling in your catch. The machined and ported, the double-anodized aluminum spool is braid-ready and provides excellent line management.
The President also features a smooth multi-disc drag, solid aluminum bail wire, graphite body and rotor, slow oscillation gearing, soft touch handle knob, on/off anti-reverse, and easy left/right conversion. Get the performance and value you deserve with the Pflueger President spinning reel.
7# Daiwa Bg Spinning Reel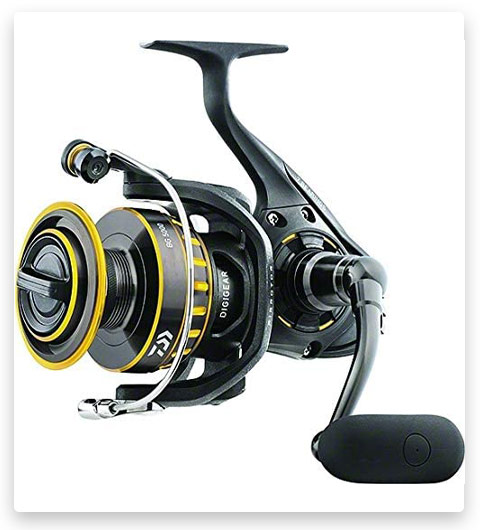 View on Amazon View on BassProShops
The Daiwa BG Spinning Reel is a high-performance reel that doesn't break the bank. Its industrial-grade Hardbodyz body and side cover provide maximum strength without extra weight, while the uniquely shaped Air Rotor cuts out up to 15% of excess weight for a balanced design.
The oversized Digigear machine-cut gears can handle hard-charging fish, and the braid-ready Dynamic Cut aluminum ABS spool is ready for whatever you throw at it.
This reel also features a quality 7-bearing system, an impressive waterproof Carbon ATD drag system, and a machined aluminum screw-in handle for maximum leverage. Whether you're fishing in fresh or salt water, the Daiwa BG Spinning Reel is up to the task.
8# Abu Garcia Elite Max Spinning Reel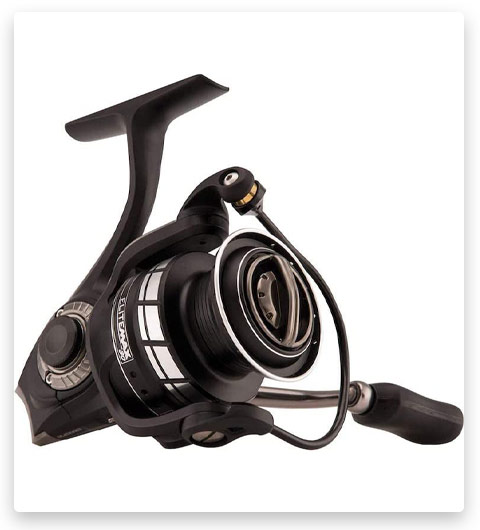 View on Amazon View on BassProShops
If you're looking for an affordable way to upgrade your fishing gear, look no further than the Abu Garcia Elite Max Spinning Reel. These reels are built tough and loaded with features that ensure smooth, consistent performance every time you hit the water.
From its rugged IM-C6 carbon body to its braid-ready aluminum spool, the Elite Max is designed for maximum durability and efficiency. And thanks to its Slow Oscillation design, you'll enjoy evenly-balanced line lay with every cast. Whether you're a weekend angler or a seasoned pro, the Elite Max is sure to take your fishing game to the next level.
9# Shimano Saragosa SW A Saltwater Spinning Reel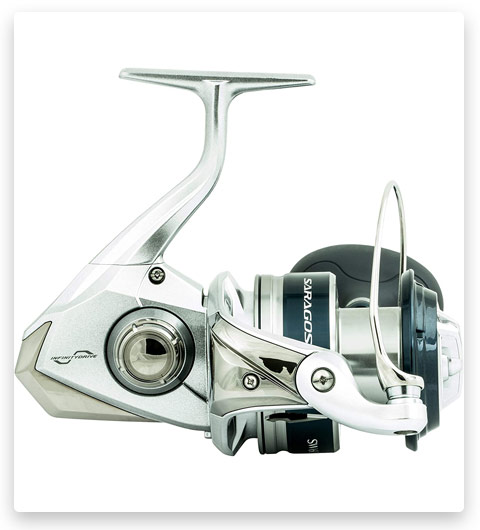 View on Amazon View on BassProShops
The Shimano Saragosa SW Spinning Reel is a top-of-the-line choice for offshore fishing. With its versatile design, powerful drag system, and smooth operation, it can handle even the toughest saltwater conditions.
The Hagane body is certified waterproof to IPX8 standards, meaning it can withstand Heavy rain and waves without any damage. This level of protection is continued throughout the reel, with water-repellent X-Protect technology covering the gears and rotor assembly, a gasket waterproof drag, and X-Shield seals preventing entry at 12 more critical locations.
The Saragosa SW also features Shimano's seamless, all-stainless steel One-Piece Bail; Propulsion Line Management System for longer casts with fewer wind knots; Dyna-Balanced rotor for reduced vibration; Aero Wrap II Oscillation for precise line lay; and 5+1 Shielded A-RB ball bearings for smooth performance.
10# Daiwa Saltiga Spinning Reel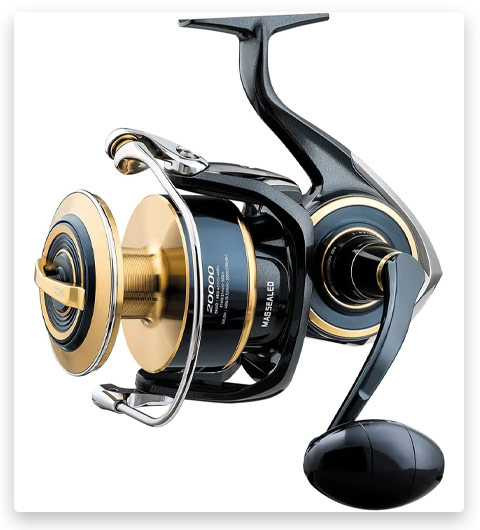 View on Amazon View on BassProShops
The Daiwa Saltiga Spinning Reel is the perfect choice for anglers targeting the biggest fish in the sea. With its incredible strength-to-weight ratio, superior corrosion-proof construction, and smooth performance, the Saltiga provides everything you need to come out on top.
The heavy-duty aluminum frame features a screwless Monocoque 1-piece body design that seals out contaminants and maintains utmost rigidity. Daiwa's exclusive Magsealed technology is used in all crucial body zones to keep contaminants out of the internal systems, for smooth operation in all conditions. The aluminum Air Rotor with Ai-Fill spool delivers an ultra-light feel and increased sensitivity, while the 10+1 ball bearing system ensures smooth and reliable operation.
Whether you're fishing in saltwater or freshwater, the Daiwa Saltiga Spinning Reel has the power and performance you need to land the big one.
11# Piscifun Carbon X Spinning Reel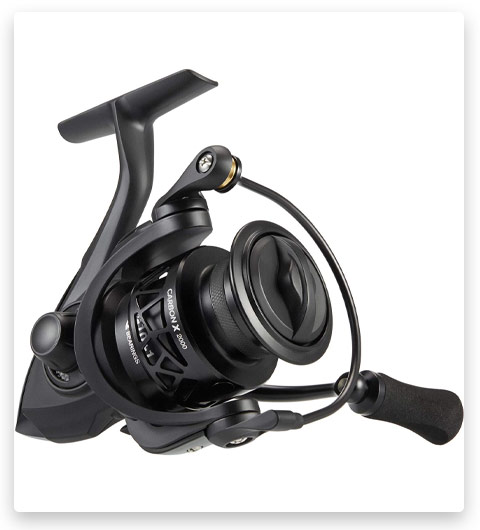 View on Amazon View on Piscifun
If you're looking for a feather-light, silky smooth spinning reel that can handle the strongest of fish, then you need the Piscifun Carbon X. This reel is meticulously crafted with an all-carbon fiber body and rotor, making it one of the lightest reels in its class. It's also got 10+1 shielded stainless steel ball bearings for increased smoothness and retrieval performance.
Plus, with its high-speed 5.2:1 or 6.2:1 gear ratio, you can battle even the strongest fish runs and land your next big one. But that's not all – the Carbon X also features a consistent and powerful drag system with three premium oversized carbon fiber drag washers.
So if you're looking for the ultimate in strength, performance, and durability, then you need the Piscifun Carbon X spinning reel.
12# RUNCL Spinning Reel Titan II Fishing Reel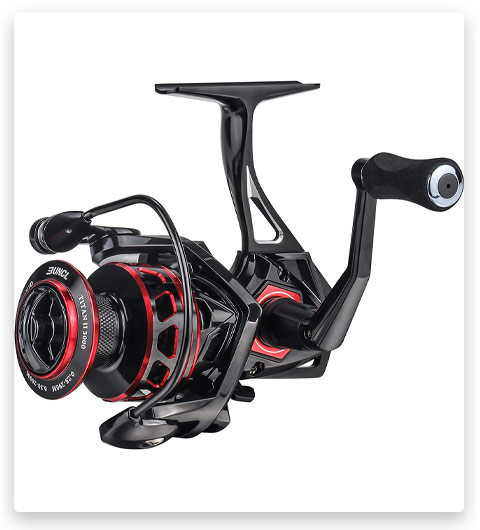 The RUNCL Titan II Spinning Reel is a top-of-the-line choice for serious anglers. Constructed of a full metal body with two-color anodized after polishing and precision-machined single-piece frames, the Titan II is built to last.
The surface of the rotor component is protected by phosphating coating for enhanced wear resistance, and the spinning reel has passed a 168-hour Salt Mist Test to ensure saltwater corrosion resistance.
The Titan II features a superpower drag system with premium multi-disc carbon fiber washers for reliable stopping power. The drag system has been enhanced to boost maximum drag by 40% (up to 44lbs), making it ideal for larger catches.
The spinning reel also features 9+1 precise stainless steel shield bearings and a stronger precision NCTM (No Clearance Transmission Mechanism) solid main shaft for silky smooth operation.
13# Shimano FE Sienna Spinning Reel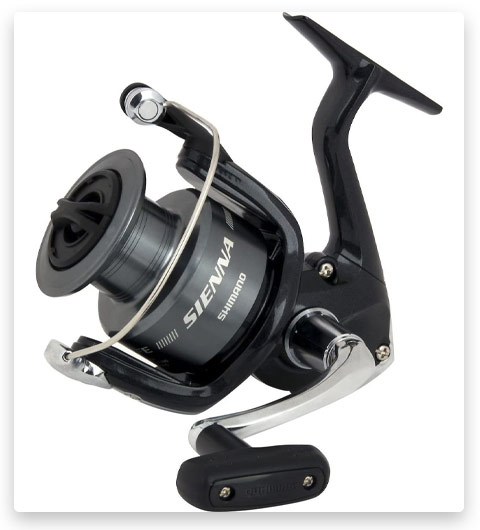 View on Amazon View on AcademySportsOutdoors
Looking for a versatile reel that can handle anything from panfish to bass? The Shimano Sienna Spinning Reel is a great choice for your next fishing trip. The 4 bearings help keep out debris, while the anti-reverse reel prevents reverse spinning.
The reinforced graphite and aluminum spool construction ensures durability, and the gear ratios allow for fast returns. So whether you're an experienced angler or just getting started, the Shimano Sienna Spinning Reel is a great option for a wide range of fishing applications.
The Basics of Spinning Reels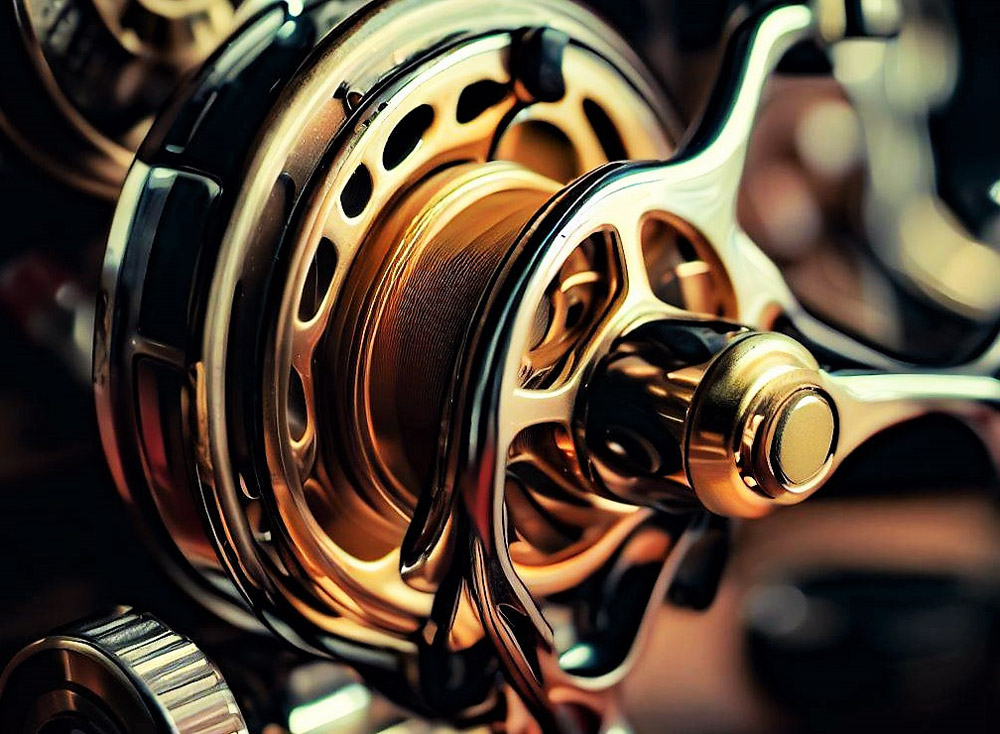 Behind the Spin: Understanding the Mechanics of Spinning Reels
Spinning reels, also known as fixed-spool reels, are one of the most common types of fishing reels. They are called "spinning" reels because the spool (the part of the reel that holds the line) does not rotate as you cast the line, unlike in other types of reels. Instead, the line is released in a circular motion, or 'spins' off the fixed spool.
The mechanics of a spinning reel are fairly straightforward. When you cast, the line is drawn out by the weight of the lure or bait. This action is facilitated by the bail (a wire arm on the reel that guides the line onto the spool) being in the open position. Once the cast is completed, you manually close the bail, and the line is then wound back onto the spool as you turn the handle, ready for the next cast or to reel in a catch.
Dive In: The Integral Parts of Your Spinning Reel
A spinning reel is made up of several key components, each serving a specific function:
✅Reel Handle: This is what you turn to retrieve your line. Some models allow you to switch the handle to either side of the reel, catering to both right and left-handed anglers.
✅Spool: This is the part of the reel that holds the fishing line. Its design allows the line to flow off freely during a cast.
✅Bail: A wire arm that guides the line back onto the spool evenly when reeling in. It also holds the line in place when it's closed and lets the line release when it's open during a cast.
✅Drag System: This is a set of friction plates inside the reel that allows the line to be pulled out under pressure even when the bail is closed. A good drag system is smooth and adjustable, allowing you to fight a fish without breaking the line.
✅Gear Box: This houses the gears that translate the turn of the handle into the rotation of the spool when retrieving the line.
Spin to Win: The Versatility of Spinning Reels for All Anglers
Spinning reels are a favorite choice among anglers of all skill levels for several reasons. For beginners, they are straightforward and easy to use. Unlike baitcasting reels, spinning reels are more forgiving of mistakes in casting technique, and they rarely backlash or create a tangled line.
For the advanced angler, spinning reels offer versatility and precision. They can handle a wide variety of fishing lines, from light to heavy, and are suitable for an extensive range of fishing scenarios. Whether you're targeting small trout in a freshwater stream or casting long distances from the beach, there's a spinning reel fit for the purpose.
Furthermore, spinning reels are known for their superior line capacity, allowing for longer casts and the ability to hold more lines, which can be crucial when battling larger fish. Finally, the drag systems on spinning reels have improved significantly over the years, offering smooth and consistent pressure to safely land even the hardest fighting fish.
Different Types of Spinning Reels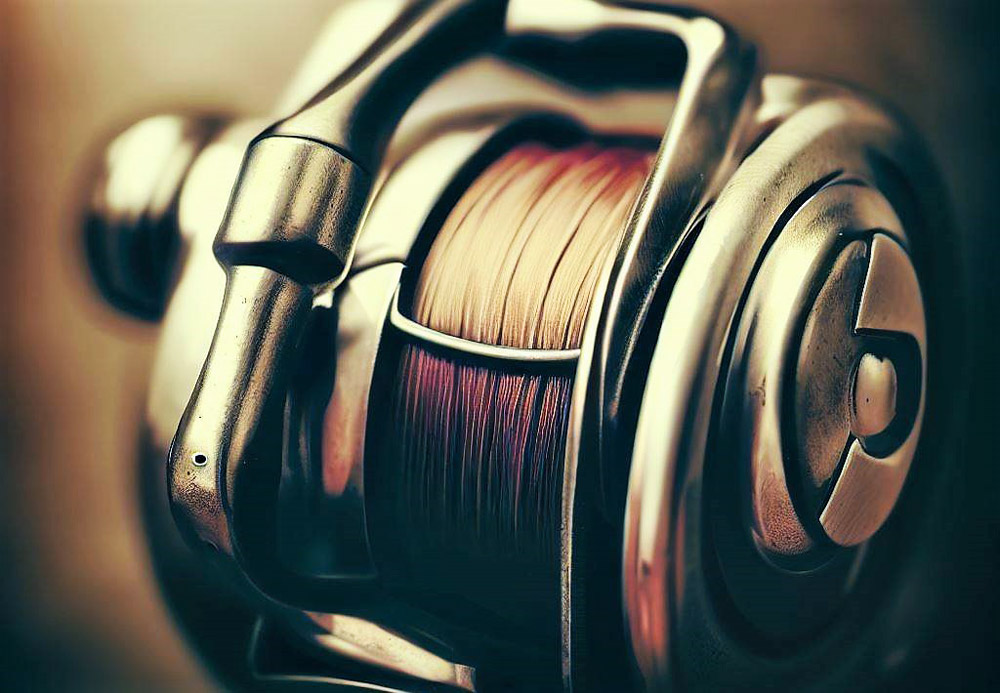 A Reel for Every Catch: Exploring the Variety of Spinning Reels
🟫Freshwater Spinning Reels: These are designed specifically for freshwater fishing environments like lakes, rivers, and streams. Freshwater reels are typically made of materials that resist rust and corrosion but may not withstand the corrosive effects of saltwater over time.
🟫Saltwater Spinning Reels: These are constructed to handle the corrosive nature of the saltwater environment. They are usually made of durable materials like stainless steel and have sealed components to prevent saltwater infiltration. Saltwater reels are often larger and have a higher line capacity to handle larger ocean-dwelling fish species.
🟫Ultralight Spinning Reels: These are compact and lightweight reels designed for light line and small lure fishing. They are perfect for targeting small species in both freshwater and saltwater environments. Ultralight reels are often favored for their ease of use and the fun challenge they provide, making every small catch feel like a big one.
🟫Heavy-Duty Spinning Reels: These are larger, more robust spinning reels designed to handle heavy lines, big lures, and larger fish. They are often used in both saltwater and freshwater situations where larger species are targeted. These reels usually have a larger spool for increased line capacity and a stronger drag system to handle the pressure exerted by hefty fish.
Casting the Right Line: Matching Your Reel to Your Fishing Conditions
♊Freshwater Spinning Reels: Ideal for fishing in inland waters such as lakes, rivers, and streams. They're perfect for targeting species like bass, trout, and walleye. Freshwater reels are typically used with lighter lines and lures.
♊Saltwater Spinning Reels: Best for coastal fishing, whether from a boat, a pier, or shore casting. They are designed to handle larger, stronger fish species often found in the ocean, like redfish, snapper, or even larger pelagic species when appropriately sized.
♊Ultralight Spinning Reels: Perfect for situations requiring finesse and light tackle. They're the go-to option for trout fishing in streams, panfish in ponds, or any situation where small to medium-sized fish are the primary target. They are also popular for ice fishing due to their size and sensitivity.
♊Heavy-Duty Spinning Reels: These come into their own when battling big fish that put up a significant fight. They're ideal for deep-sea fishing, big game fishing, or whenever you're targeting large freshwater species like pike or carp. Their strong drag systems and large line capacities make them well-suited to handle heavy lines and big lures.
Choosing the Right Spinning Reel for You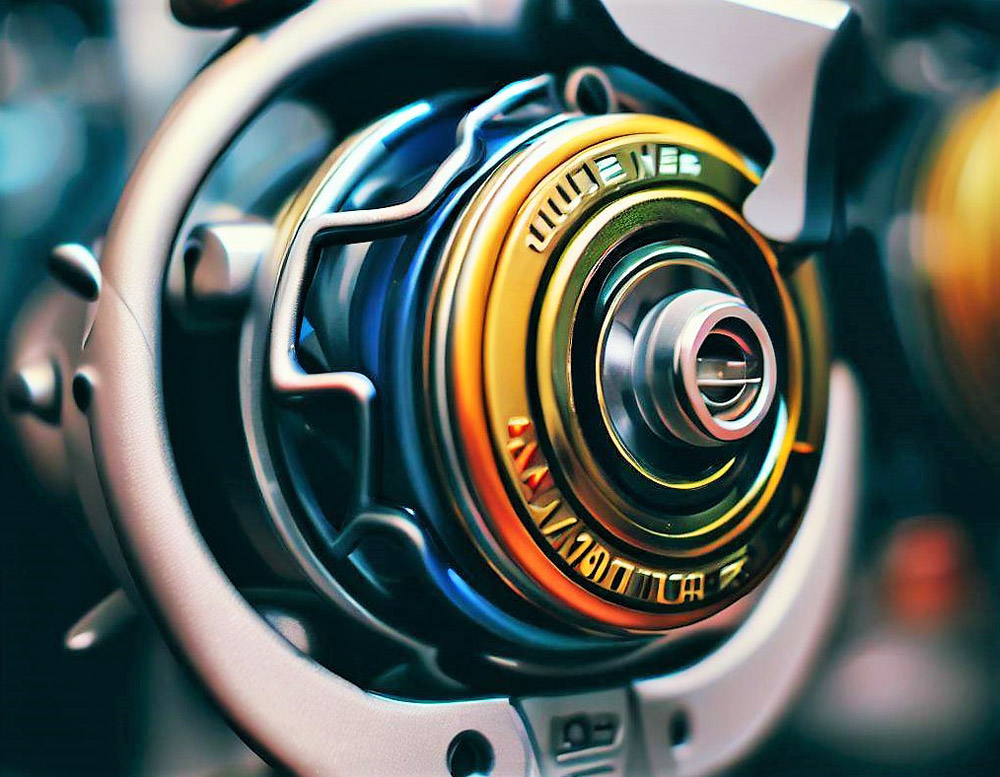 Reel Talk: Key Factors to Consider in Your Spinning Reel Selection
| Factor | Explanation |
| --- | --- |
| Material | The material of the reel impacts its durability, weight, and corrosion resistance. Aluminum reels are sturdy and robust but slightly heavier, while graphite reels are lighter and corrosion-resistant but may not be as durable in the long run. |
| Size | The size of the reel should match the type of fishing you plan to do. Bigger reels can handle heavier lines and have a higher line capacity, making them suitable for larger fish and saltwater environments. Smaller reels are perfect for light lines and are typically used for freshwater fishing. |
| Gear Ratio | This is the number of times the bail rotates around the spool with a single turn of the reel handle. A high gear ratio retrieves the line quickly (ideal for fast-moving lures), while a low gear ratio retrieves more slowly but provides more power for reeling in large fish. |
| Drag System | A good drag system is essential for fighting and landing fish. It should operate smoothly, allowing the line to be pulled out under pressure without jerking or sticking, which could result in a broken line or lost fish. |
| Line Capacity | This is the amount of line the reel can hold. If you're targeting larger fish or fishing in deep water, you'll need a reel with a high line capacity. |
Perfect Pairings: Aligning Your Reel, Rod, and Fishing Line
☑️Matching Reel to Rod: The reel should be balanced with the rod. A heavy reel would make a light rod tip-heavy and vice versa. Typically, rod manufacturers will specify the recommended line and reel size for each rod.
☑️Matching Reel to Line: The line you plan to use plays a crucial role in selecting the appropriate reel. Heavier lines require a larger reel, while lighter lines can be used with smaller, more compact reels. Most reels will have the line capacity marked on the spool, indicating the line strength and the amount it can hold.
Skill-Based Selections: Ideal Reel Choices for Every Experience Level
🟨Beginners: If you're new to fishing, an ultralight or small to medium-sized spinning reel would be a good start. They are easy to use and perfect for learning the basics of casting and retrieving.
🟨Intermediate Anglers: As you gain experience and start to target specific species or environments, you may want to consider specialized reels. A freshwater reel for river fishing or a heavy-duty reel for saltwater fishing could be good options.
🟨Advanced Anglers: Advanced anglers might have a variety of reels for different fishing scenarios. They might also look at high-end models with superior build quality, advanced drag systems, and high gear ratios. This is also the stage where customizing and fine-tuning your gear becomes more common, based on personal preference and the specific requirements of your preferred type of fishing.
Top Spinning Reel Brands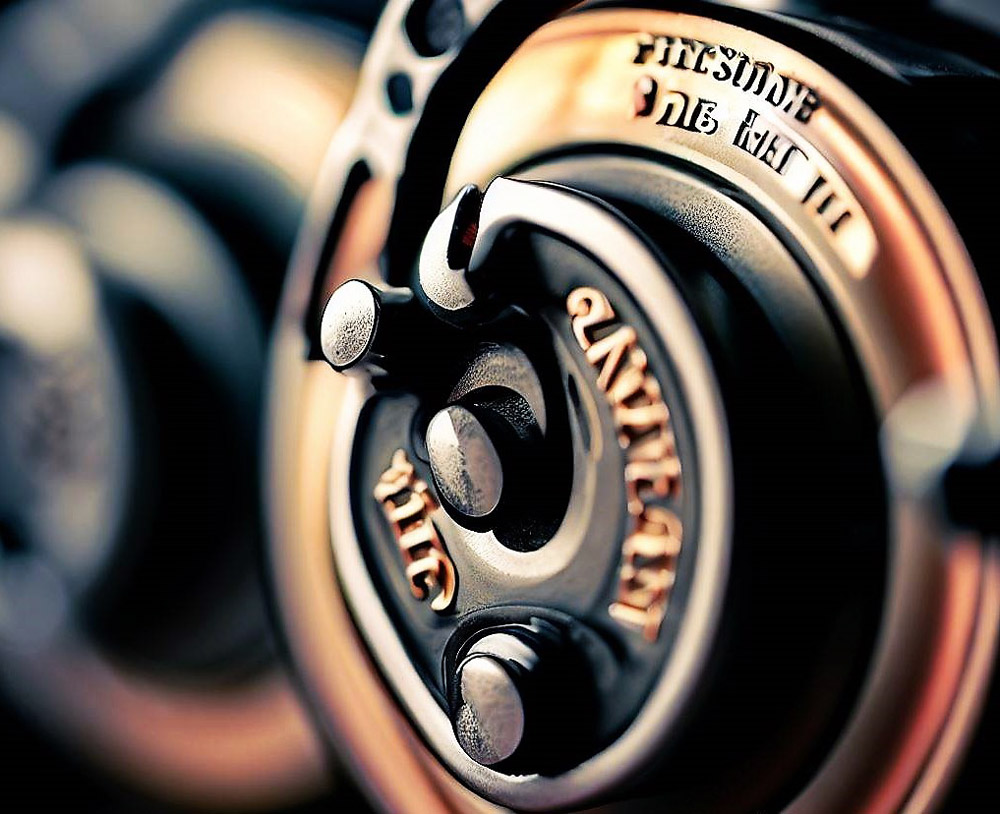 Reel Champions: Leading Brands in the Spinning Reel Market
There are numerous brands in the market that manufacture high-quality spinning reels, each with its unique strengths and specialties. Some of the leading brands include Shimano, Penn, Daiwa, Abu Garcia, and Pflueger.
Unraveling Success: Key Models and Strengths of Top Reel Brands
| Brand | Description |
| --- | --- |
| Shimano | Known for its innovative technology and high-quality construction, Shimano offers a wide range of spinning reels for all types of fishing. Popular models include the Shimano Stradic Ci4FB, praised for its smooth operation and lightweight feel, and the Shimano Stella, renowned for its superior strength and durability. |
| Penn | Penn is famous for its heavy-duty saltwater reels. The Penn Battle II and Penn Spinfisher VI are popular models lauded for their robust build, smooth drag system, and excellent line capacity, making them ideal for battling larger saltwater species. |
| Daiwa | Daiwa is recognized for its precision engineering and innovative designs. The Daiwa BG is a fan favorite, known for its sleek design, solid construction, and smooth performance. Another notable model is the Daiwa Fuego LT, appreciated for its lightness and strength. |
| Abu Garcia | This brand is renowned for its reliable and durable reels. The Abu Garcia Revo SX is a popular model that offers an excellent blend of performance and affordability. It's known for its smooth operation and high line capacity. |
| Pflueger | Pflueger is celebrated for its high-quality, affordable reels. The Pflueger President is a standout model, offering great value with its smooth operation, durable construction, and excellent drag system. |
Price, Performance, and Durability: What You Can Expect from Top Brands
| Brand | Description |
| --- | --- |
| Shimano | Shimano reels range from mid-tier to high-end prices, reflecting their advanced technology and premium build quality. They are known for their longevity, providing value over time. |
| Penn | Penn reels are priced in the mid-range and are built to last, making them a good investment for saltwater anglers who need durable, reliable gear. |
| Daiwa | Daiwa offers a wide price range, catering to budget-conscious anglers and those willing to invest in higher-end models. Their reels are recognized for their durability and performance. |
| Abu Garcia | Abu Garcia reels are priced in the mid-range. They offer reliable performance and are built to last, providing excellent value for money. |
| Pflueger | Pflueger reels are among the more affordable options, making them great for beginners or budget-conscious anglers. Despite their lower price point, they offer a level of quality and durability that many users appreciate. |
Maintaining Your Spinning Reel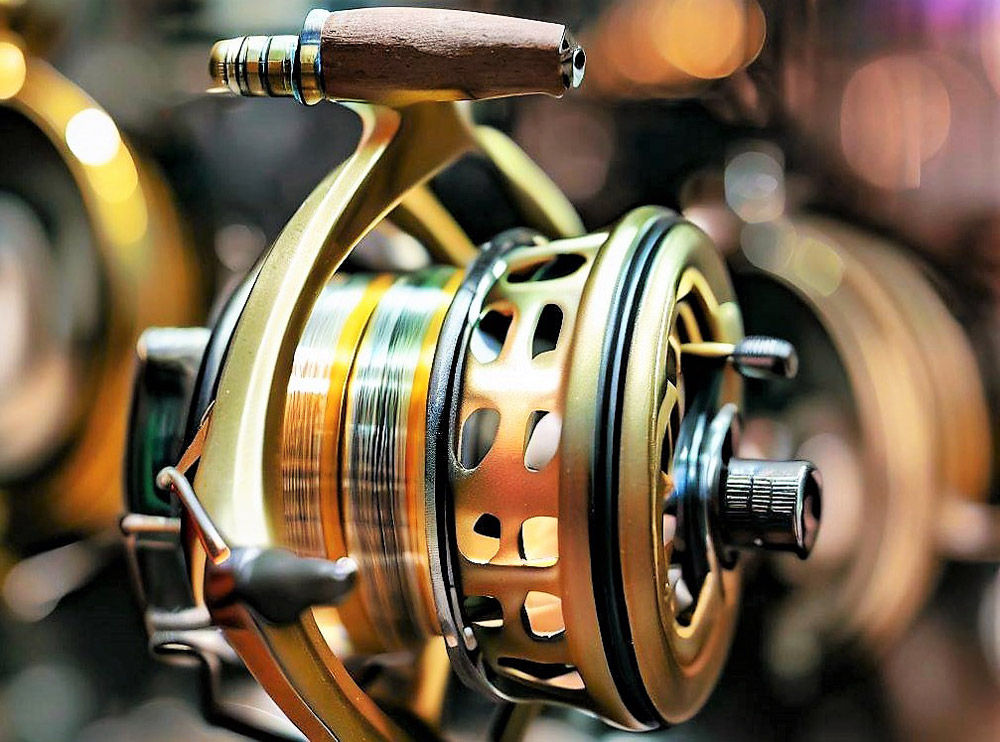 Reel Care 101: Simple Steps to Keep Your Reel at Its Best
Regular maintenance of your spinning reel can significantly extend its lifespan and ensure a smooth operation on every fishing trip. Here's a basic guide:
🧿

Cleaning: After each use, especially in saltwater, rinse your reel gently with fresh water to remove any debris or salt. Avoid high-pressure water as it can push contaminants into the reel. Dry it thoroughly before storing it.

🧿

Lubrication: Regularly lubricate the moving parts of the reel with quality reel oil. This includes the main shaft, the handle, and the bail arm springs. Be careful not to over-lubricate as excess oil can attract dirt.

🧿

Periodic Disassembly and Cleaning: Every few months, or after a particularly heavy fishing period, disassemble the reel for a thorough cleaning. Remove the spool and handle, clean out old grease and grime, and reapply new grease and oil. If you're not comfortable doing this, consider a professional service.
Tackling Troubles: Common Reel Problems and How to Fix Them
Here are a few common issues and their solutions:
💍

Reel Feels Rough or Sticks: This could be due to dirt or lack of lubrication. Try cleaning and lubricating the reel. If that doesn't work, it may be due to worn-out parts, which will need replacement.

💍

Drag Isn't Smooth: This might be due to dirty or worn-out drag washers. Clean or replace them as needed.

💍

Line Keeps Tangling: This could be due to overfilling the spool, using the wrong type of line for the reel, or not laying the line properly onto the spool. Ensure you're using the correct line, don't overfill the spool, and keep line tension when reeling in.
When to Call in the Pros: Seeking Professional Reel Maintenance and Repairs
While basic cleaning and maintenance can be done at home, more complex issues or an overall tune-up might require professional help. If you notice persistent problems despite your maintenance efforts, or if parts need replacing, it's time to seek professional help. Many tackle shops offer reel servicing, or you can send the reel to the manufacturer's service center. Always ensure you use a reputable professional to avoid further damage to your reel.
Case Studies: Successful Angling with Spinning Reels
Reel Stories: Anglers' Successes with Various Types of Spinning Reels
🆘The Freshwater Triumph: Jane, an avid freshwater angler, shared her experience of landing a 30-pound catfish using a Shimano Stradic Ci4FB reel. Her reel's robust drag system handled the weight and fight of the catfish, allowing her to reel in her biggest catch yet.
🆘Saltwater Victory: Tom, a saltwater fishing enthusiast, recalled his exhilarating experience of catching a 60-pound amberjack off the Florida coast. Using his Penn Battle II reel, he was able to withstand the hard-fighting amberjack's powerful runs and eventually land the fish.
🆘Ultralight Excitement: Mike, a fan of ultralight fishing, talked about the thrill of catching a 5-pound largemouth bass on his Daiwa Fuego LT reel. Despite the reel's lightness, it held up excellently against the energetic bass, making for an unforgettable fishing experience.
Casting and Catching: Testimonies from Anglers Across Skill Levels
⬜Beginner: Sarah, a beginner angler, shared how her Pflueger President reel made her initial foray into fishing easy and enjoyable. She appreciated its smooth operation and affordable price, making it a perfect entry-level reel.
⬜Intermediate: Alex, an intermediate angler, praised his Abu Garcia Revo SX for its reliable performance and durability. He found it to be an excellent reel for various fishing scenarios as he explored different fishing techniques and species.
⬜Advanced: Lisa, an experienced angler, lauded her high-end Shimano Stella reel. She highlighted its superior strength, smooth drag system, and high line capacity, enabling her to confidently target larger species and weather-challenging fishing conditions.
FAQ: Spinning Reels for Every Kind of Angler
Conclusion: Picking the Perfect Spinning Reel for You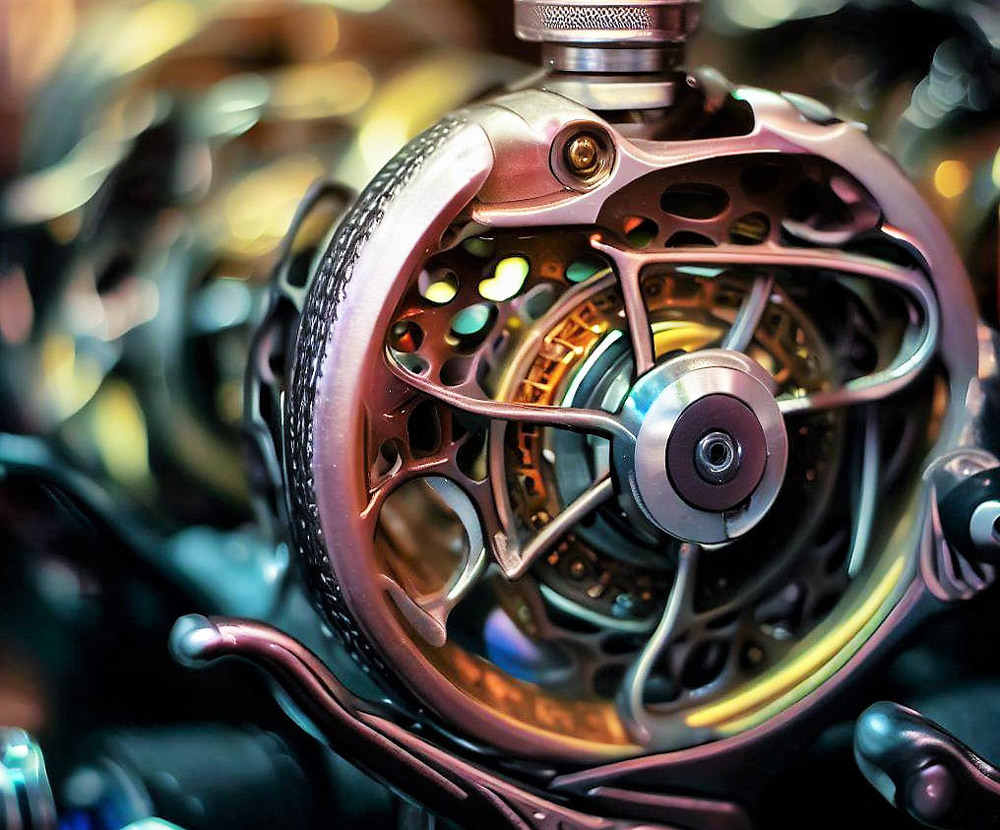 Reeling It All In: A Recap of Your Comprehensive Guide to Spinning Reels
In this comprehensive guide, we've delved into the world of spinning reels, shedding light on their basics and discussing their various types, including freshwater, saltwater, ultralight, and heavy-duty reels. We've highlighted the factors to consider when choosing the right spinning reel for you, focusing on aspects like material, size, gear ratio, drag system, and line capacity.
We've also introduced some of the leading brands in spinning reels, such as Shimano, Penn, Daiwa, Abu Garcia, and Pflueger, and provided insights into their strengths, popular models, price ranges, and durability.
Moreover, we've emphasized the importance of maintaining your spinning reel through regular cleaning and lubrication, troubleshooting common problems, and seeking professional maintenance when necessary. We've also shared success stories and testimonies from anglers at varying levels of expertise who have had remarkable experiences with different types of spinning reels.
Catch More with the Right Reel: A Final Word of Encouragement for All Anglers
Choosing the right spinning reel can significantly enhance your angling experience. Whether you're a novice angler just starting or an experienced one looking for an upgrade, there's a spinning reel out there that fits your needs perfectly. The key is to understand what you require based on your preferred fishing style and environment, and not to shy away from seeking expert advice or doing a bit of research.
Remember, fishing is not just about the catch—it's about the joy of being in nature, the thrill of the chase, and the satisfaction of a well-planned strategy coming together. So, equip yourself with the right gear, embrace the learning process, and most importantly, enjoy the journey.
Additional Resources
Beyond the Spin: Further Readings and Tutorials for the Avid Angler
There's a wealth of information available online to help you further your understanding of spinning reels and enhance your angling skills. Here are some recommended resources:
➰Further Reading: Check out Angler's Guide for a range of articles on fishing techniques, gear reviews, and tips for anglers of all levels.
➰Tutorials: Fishing Mastery has a host of video tutorials covering everything from reel maintenance to casting techniques.
➰Purchasing Reels: Recommended spinning reels can be purchased from a variety of online retailers such as Amazon, Bass Pro Shops, and Cabela's. Always remember to compare prices and check user reviews before making a purchase.
Keep the Conversation Going: Where to Reach Out for More Angling Advice
We're here to support you in your angling journey. If you have any further questions, need more detailed advice, or simply want to share your fishing experiences, feel free to reach us.
Our team of experienced anglers and gear experts will be more than happy to assist you. Remember, there's no such thing as a silly question when it comes to fishing. We're all here to learn and grow in our angling pursuits.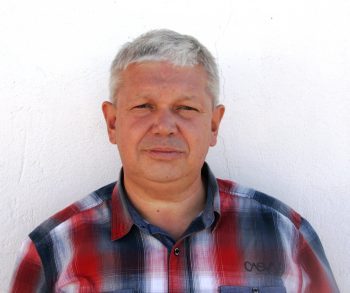 Sergio Smirnoff
Professional fisherman with 40+ years of experience.
Fishing and the ocean is a passion of my life. I am passionate about all kinds of sea fishing: fishing from the shore (spinning, float, baitcasting), from a boat, and spearfishing day and night.
I live in Tenerife (Canary Islands) for the last 10+ years and share my daily fishing experiences on my website. Many years of personal experience as a fisherman and the vast experience of my friends allow me to write professionally on any fishing topics (from choosing a flashlight and equipment to deep-sea fishing).
All of my advice is based on practical real-world experience and will be useful to both novice anglers and professionals.
Read more
about the author.
Affiliate Disclosure: FishReeler.com sometimes gets paid for listings, through sponsors or affiliate programs like Amazon, Ebay, Cabelas, Bass Pro Shop, Shimano, Daiwa, Rapala, Renn, Okuma, KastKing, etс. Clicking a link helps keep FishReeler.com free, at no extra cost to you!
About the author: Each article is verified by the fishing expert Sergio Smirnoff. The articles are written by professional and amateur fishermen with 20+ years of fishing experience.
Note: The views and opinions expressed in this article are those of the authors and do not necessarily reflect the official policy or position of any agency. The articles are for informational purposes only, share your opinions in the comments and join the fishing discussions, let's share our fishing experiences together!