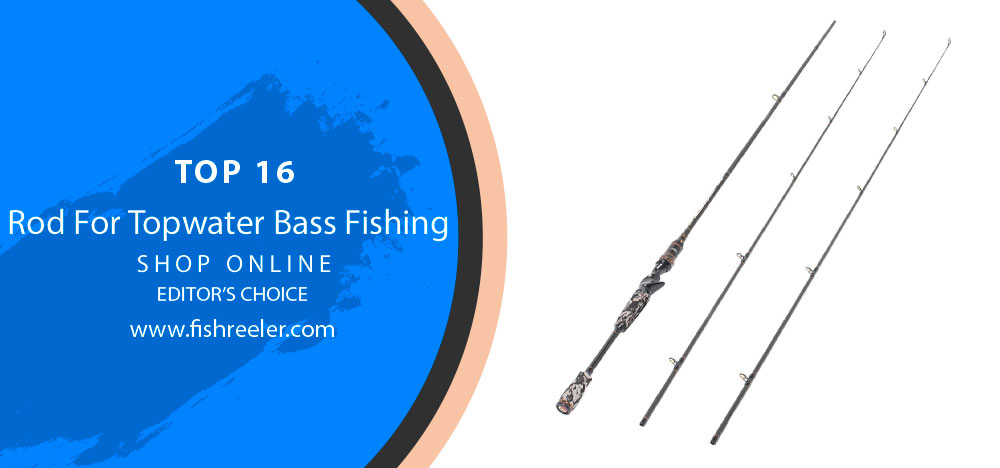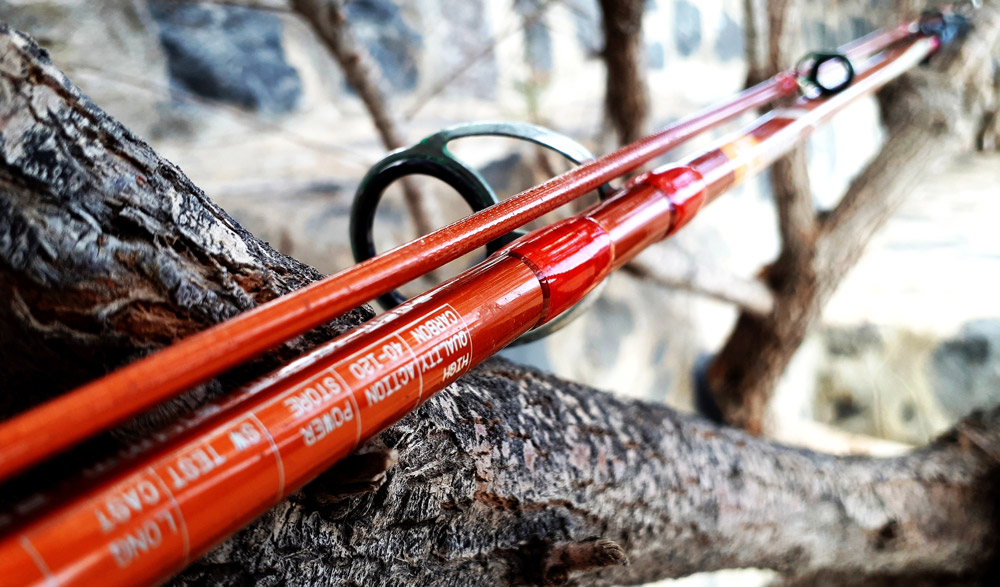 Your Ultimate Guide to Topwater Bass Fishing Rods
In the exhilarating world of sport fishing, few things match the pure adrenaline rush of topwater bass fishing. This method, which involves enticing bass to leap out of the water to catch your bait, offers not just a thrilling visual spectacle but also an engaging challenge that distinguishes it from other forms of fishing.
Dive into the Excitement: The Allure of Topwater Bass Fishing
Topwater bass fishing is a dance between angler and fish, a game of strategy and finesse that requires patience, skill, and the right equipment. The splash and struggle of a bass as it breaks the surface and strikes your lure is a sight that keeps anglers coming back for more. It's a moment of triumph that reflects the culmination of precise casting, perfect timing, and choosing the right location.
However, the success of this exciting fishing technique is heavily reliant on one crucial factor – the fishing rod. Just as a craftsman needs the right tools, a topwater bass angler needs the right rod. The fishing rod is not merely a line holder, but a sophisticated piece of equipment that can significantly impact your performance and success rate in topwater bass fishing.
Selecting the right rod for topwater bass fishing is not a decision to be made lightly. The right rod enhances your casting accuracy, improves your bait control, and helps you hook and reel in that trophy bass. The wrong rod, on the other hand, could lead to missed opportunities and frustration.
This guide is designed to take you through the ins and outs of choosing the best rods for topwater bass fishing. Whether you're a seasoned angler or a beginner just getting your feet wet, understanding the importance of the right rod will significantly improve your topwater bass fishing experience. So, let's cast our lines and dive into the exciting world of topwater bass fishing rods!
Conquer the Waves: Top Rods for an Unforgettable Topwater Bass Fishing Experience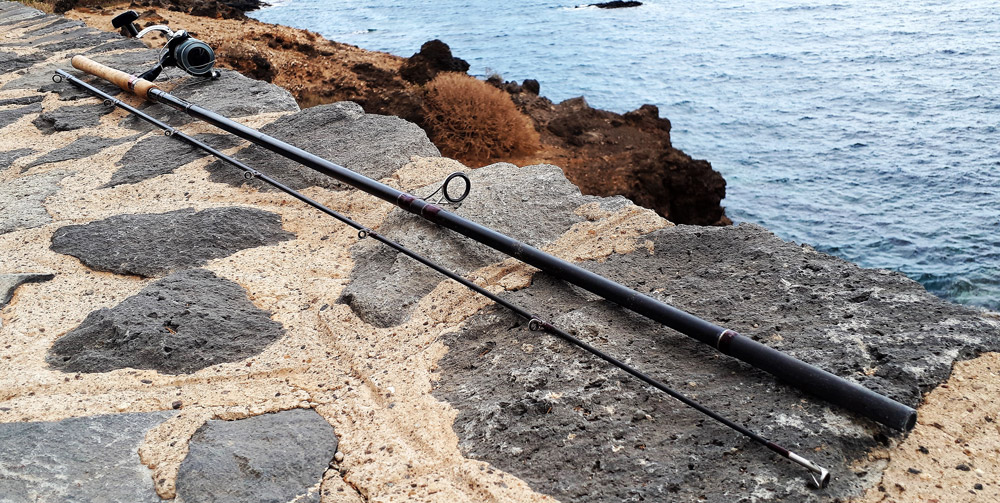 There is no thrill quite like the explosiveness of a topwater bass strike. When done correctly, this fishing method can result in some of the most heart-pounding catches imaginable. In order to capitalize on this type of fishing, anglers need the right rod.
Are you looking for the best rod for topwater bass fishing? If so, you're in the right place! In this post, we'll take a look at some of the best rods on the market and help you choose the one that's right for you. Whether you're a beginner or an experienced fisherman, we've got you covered. So without further ado, let's get started!
1# Piscifun Flame Spinning Rod IM6 Carbon Blank Freshwater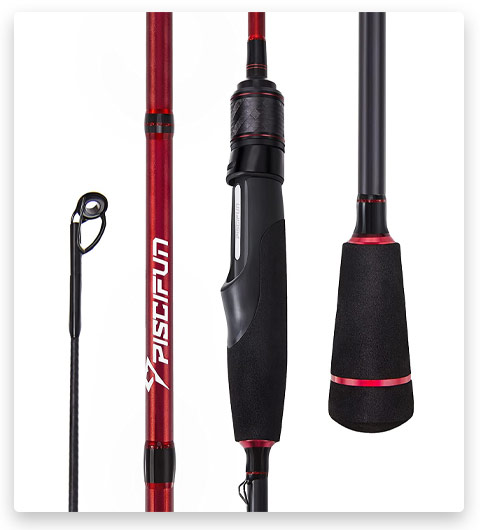 Piscifun® Flame Spinning Rod Two Pieces is perfect for anglers who are looking for an incredible performance at an affordable price. The IM6 graphite blank is powerful and sensitive, and the perfect spigot joint design ensures smooth power transition throughout the bend. This high-performance spinning rod is also durable, thanks to its two-piece design.
2# Dobyns Rods Champion XP Series Casting Bass Fishing Rod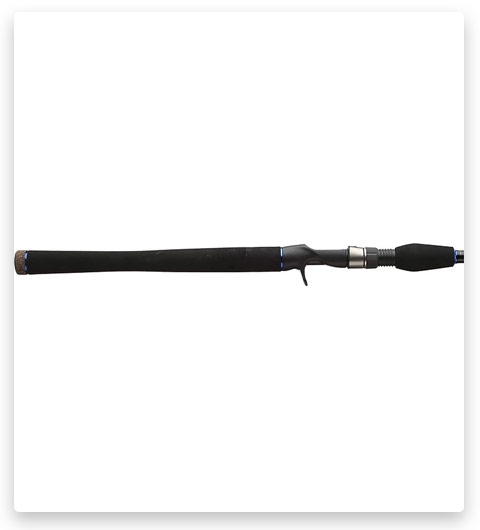 Introducing the Dobyns Rods Champion XP Series 7'9" Casting Bass Fishing Rod. This high-performing rod is designed for swimbaits and mag topwater and offers exceptional quality, sensitivity, strength, and balance. Made from the highest quality materials, including a modulus graphite blank and Fuji reel seat, this tournament-favourite rod provides pinpoint accuracy and smooth casting all day long. Choose from 63 different technique-specific models to find the perfect match for your fishing needs.
3# St. Croix Rods Mojo Bass Glass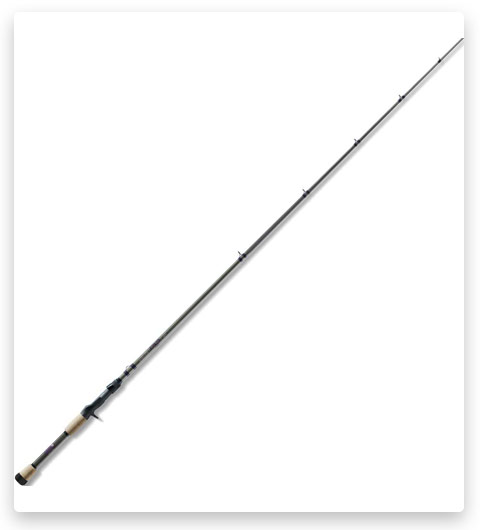 The St. Croix Rods Mojo Bass Glass Casting Rod is designed for serious anglers who demand the very best. This high-performance rod is made with super-premium 100% linear S-glass construction, which is stronger and lighter than traditional glass rods while providing exceptional sensitivity. The integrated Poly Curve (IPC) tooling technology eliminates transitional points for smoother actions and increased strength, while the Kigan Master Hand 3D guides with slim, strong aluminium-oxide rings provide superior casting performance. The Fuji DPS reel seat with a black hood ensures comfort and durability, and the select-grip premium-grade cork handle provides a comfortable grip.
4# Piscifun Torrent Baitcasting Rod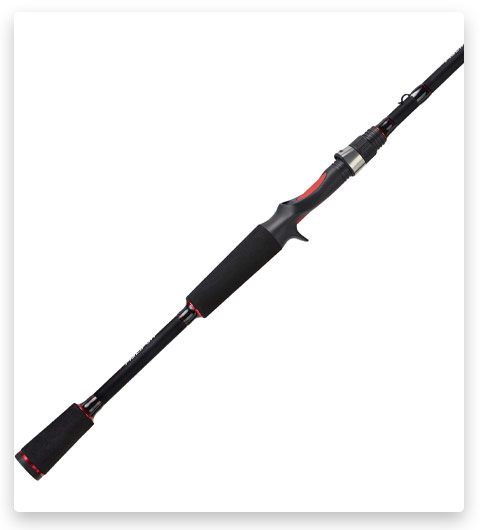 The Piscifun Torrent Baitcasting Rod is the perfect choice for anglers who demand the best in terms of performance and durability. Featuring high-quality IM6 carbon construction, precisely wrapped guides at four different angles, and X-shaped high-temperature moulding resin, the Torrent provides exceptional sensitivity and is light in the hand for easy manoeuvring. With specialized computer control wrapping at three angles and 8+1 strategically distributed guides, the Torrent ensures consistent and smooth power transition throughout the bend for better control on strong hooksets and long battles with big fish. The Torrent is available in a variety of technique-specific actions and lengths to suit every angler's needs.
5# Lew's American Hero Speed Stick Heavy Flipping Casting Rod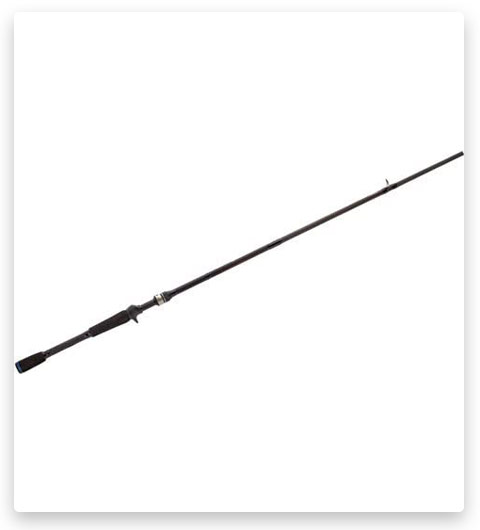 Looking for a high-quality, durable rod that can handle any challenge? Look no further than the Lew's American Hero Speed Stick 7'6″ Heavy Flipping Casting Rod. This rugged rod is built to last with gunsmoke stainless steel guide frames and premium IM7 one-piece graphite blanks. The EVA split-grips provide comfortable and secure handling, while the pistol grip design makes it easy to control your costs. Plus, a portion of the profits from each sale goes towards helping select veterans' programs, so you can feel good knowing that your purchase is supporting a worthy cause. Get the Lew's American Hero Speed Stick 7'6″ Heavy Flipping Casting Rod and tackle anything that comes your way.
6# KastKing Crixus Fishing Rod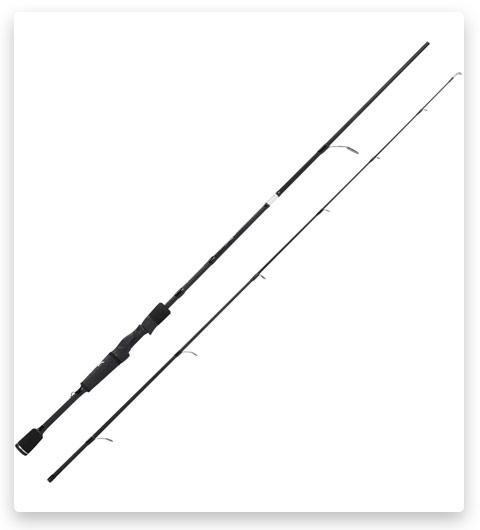 Check out the KastKing Crixus! These rods are built with KastFlex technology, making them powerful and sensitive, and they come in a range of lengths and powers to suit any angler's needs. Whether you're fishing for freshwater or saltwater species, then Crixus is up to the task. Plus, it features a comfortable and durable SuperPolymer handle for better control in all conditions. Don't miss out on this great value – grab a KastKing Crixus today!
7# KastKing Speed Demon Bass Fishing Rod Series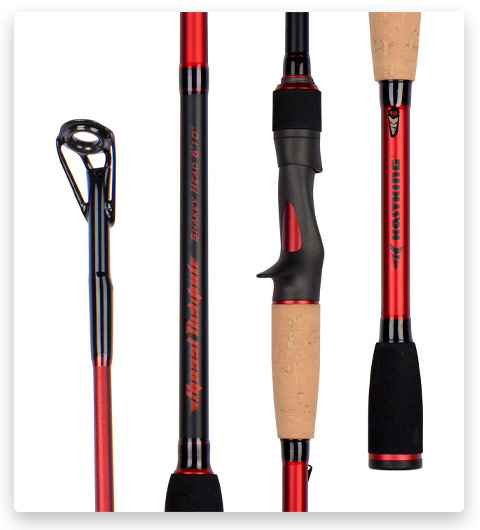 The KastKing Speed Demon Bass Fishing Rod is built for anglers who demand the very best. Featuring proprietary dimensional 16 graphite blank technology, this rod delivers incredible hook setting and lifting power while still being exceptionally light and sensitive. Fuji guides and reel seats provide optimal performance and durability, while the 11 technique-specific action and length options allow you to tailor your rod to your specific fishing needs. Incredible performance and value make the KastKing Speed Demon Bass Fishing Rod the perfect choice for serious anglers.
8# One Bass Fishing Pole 24 Ton Carbon Fiber Casting and Spinning Rod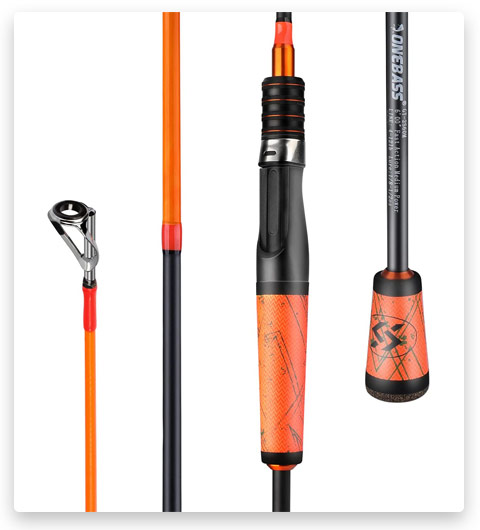 One Bass 24 Ton Carbon Fiber Casting and Spinning Rods are the perfect choices for anglers who want a high-quality rod without spending a fortune. These rods are made with a 24-ton carbon matrix blank that delivers sensitivity and performance, making them ideal for bass fishing or other types of freshwater fishing with artificial lures. The unique colour of the rods will add different styles to your fishing tackle and the eye-catching appearance brings you a different fishing mood. The One Bass 24 Ton Carbon Fiber Casting and Spinning Rods feature multiple floating line guides that improve casting performance, deliver a consistent and smooth taper, and eliminate flat or dead spots in the blank.
9# Entsport E Series Camo Legend Casting Rod Bass Fishing Rod Baitcaster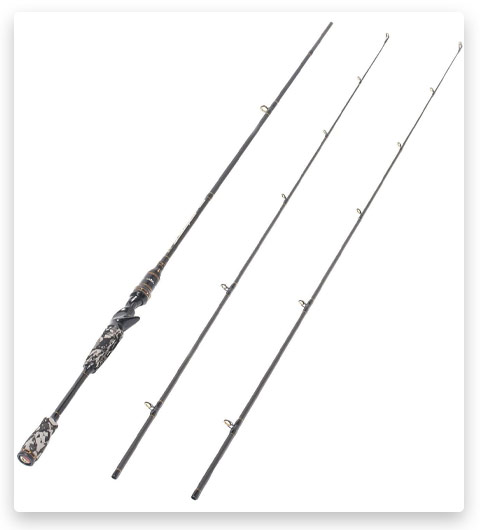 If you're looking for a versatile and durable casting rod, the Entsport E Series – Camo Legend 2-Piece 7-Feet Casting Rod is a great choice. Made with 24-ton carbon fibre, it's lightweight yet extremely strong, and will stand up to vigorous use. The extreme exposure reel seat with corrosion-resistant aluminium hoods keeps your reel firmly in place, while the full-contact reel seat with a soft-touch finish provides added comfort and sensitivity. This rod also comes with two tips (medium and medium-heavy) so you can easily adjust to different casting weights.
10# Abu Garcia Vendetta Spinning Rod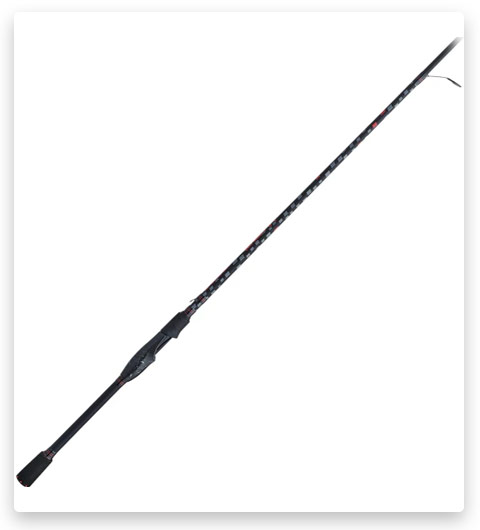 Abu Garcia's Vendetta Spinning Rod is just the tool you need to give you an edge in any fishing situation. This top-of-the-line rod is constructed with a rock-solid 30-ton graphite blank, which incorporates Intracarbon multidirectional carbon fibres to deliver unbelievable durability and power without sacrificing sensitivity or balance. The stainless steel guides are fitted with lightweight Zirconium inserts for smooth manoeuvrability, while the Carbon Constructed Reel Seat provides both comfort and sensitivity. No matter what you're up against, the Vendetta has the strength and feel to help you land the big one.
11# Ugly Stik GX2 Spinning Rod
When you need a reliable, tough spinning rod that won't let you down, reach for the Ugly Stik GX2. This rod is built with Ugly Tech construction, combining graphite and fibreglass in just the right proportions to create a blank that's sensitive and lightweight yet practically unbreakable. The Ugly Tuff guides feature 1-piece stainless steel inserts for smooth line feeding and trouble-free performance, while the clear fibreglass tip provides added power and sensitivity. Whether you're fishing for fun or trolling for trophy fish, the Ugly Stik GX2 is up for the challenge.
12# Favorite Rush Spinning Rod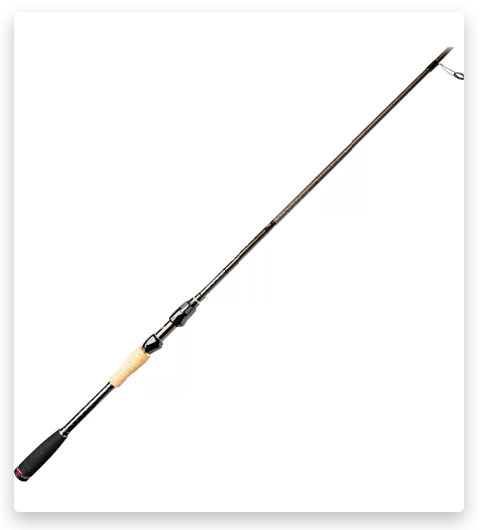 Looking for a reliable and durable spinning rod that won't let you down? Check out the Ugly Stik GX2! Its unique construction combining fibreglass and graphite makes it sensitive and unbreakable, while the Ugly Tuff Guides with 1-piece stainless steel inserts ensure your line feeds through smoothly. Plus, with Ugly Stik's signature clear fibreglass tip, you'll have no trouble detecting bites. Order yours today and see why anglers everywhere love this spinning rod!
13# Bass Pros Shops Johnny Morris Platinum Signature Spinning Rod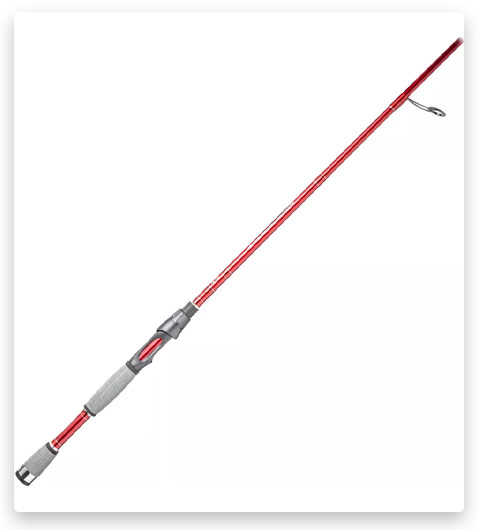 The Bass Pros Shops Johnny Morris Platinum Signature Spinning Rod is an extraordinary fishing rod that is unlike any other. We've used the highest quality materials to create aRod that is 15% lighter and 35% stronger than our previous model. The RTX5 graphite blank is ultra-lightweight and provides anglers with an amazing feel and control. The Fuji SiC guide is incredibly durable, making this rod perfect for those long days out on the water. The comfortable non-slip Winn grips will keep your hands comfortable even when the action gets heated. And finally, our handy Line ID System will help you keep track of your line so you can focus on landing that big one!
14# Crowder Rods E-Series Light Spinning Rod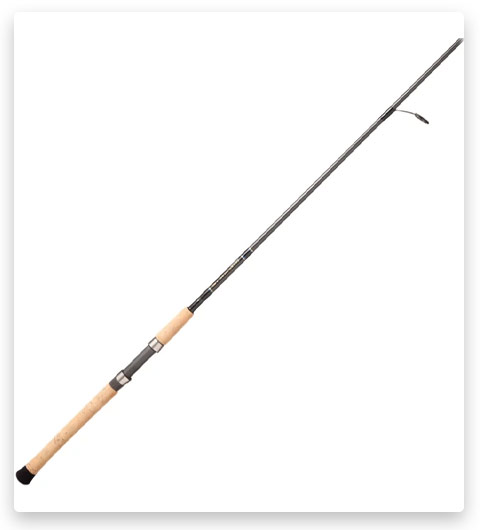 Looking for a premium, tournament-level saltwater spinning rod? Look no further than the Crowder Rods E-Series Light Spinning Rod, custom-built in Stuart, Florida. This top-of-the-line rod features a 42 million-modulus graphite fibre blank, designed specifically for all types of inshore and light saltwater fishing. With quality Fuji components and premium cork grips, the E-Series Light Spinning Rod provides unbeatable performance at a comfortable price point. Don't settle for anything less when it comes to serious saltwater fishing – choose the Crowder Rods E-Series Light Spinning Rod.
15# Lew's KVD Spinning Rod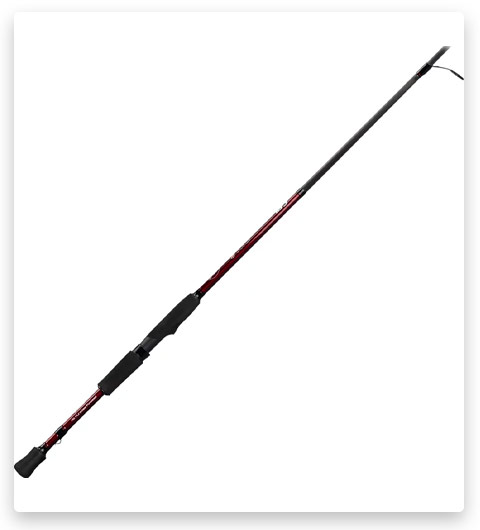 Check out the Lew's KVD Spinning Rod. This top-of-the-line rod is inspired by tournament superstar Kevin VanDam and is perfect for serious anglers who demand the best. The premium IM8 graphite blank provides exceptional strength and sensitivity, while the stainless steel guides and aluminium oxide inserts offer durability and smooth performance. The Zirconia insert tip-top provides superior casting accuracy, and the Full Contact reel seats maximize blank contact for increased sensitivity. The "No Foul" hook keeper ensures quick-casting readiness, while the lightweight EVA split-grip handles provide sure-handed contact and control.
16# Star Rods Stellar Lite Split Grip Spinning Rod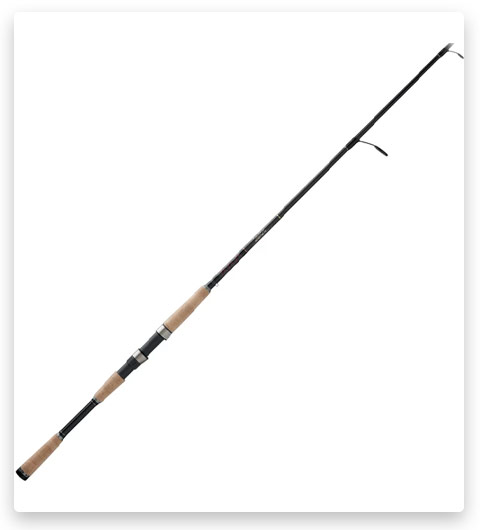 When it comes to getting the job done on the water, there's no better choice than a Star Rods Stellar Lite Split Grip Spinning Rod. Precision-crafted from high-modulus IM6 graphite, these rods are designed to deliver all the power and responsiveness you need, while still being incredibly lightweight and comfortable to use. The split-grip design is perfect for kayak fishing, as it provides excellent weight distribution and improved balance. Fuji Concept guides and a high-grade cork handle complete the package, making this an outstanding choice for anglers of all skill levels. Whether you're chasing tarpon, trout, bull reds, or any other inshore fish species, a Stellar Lite rod will help you!
Understanding Topwater Bass Fishing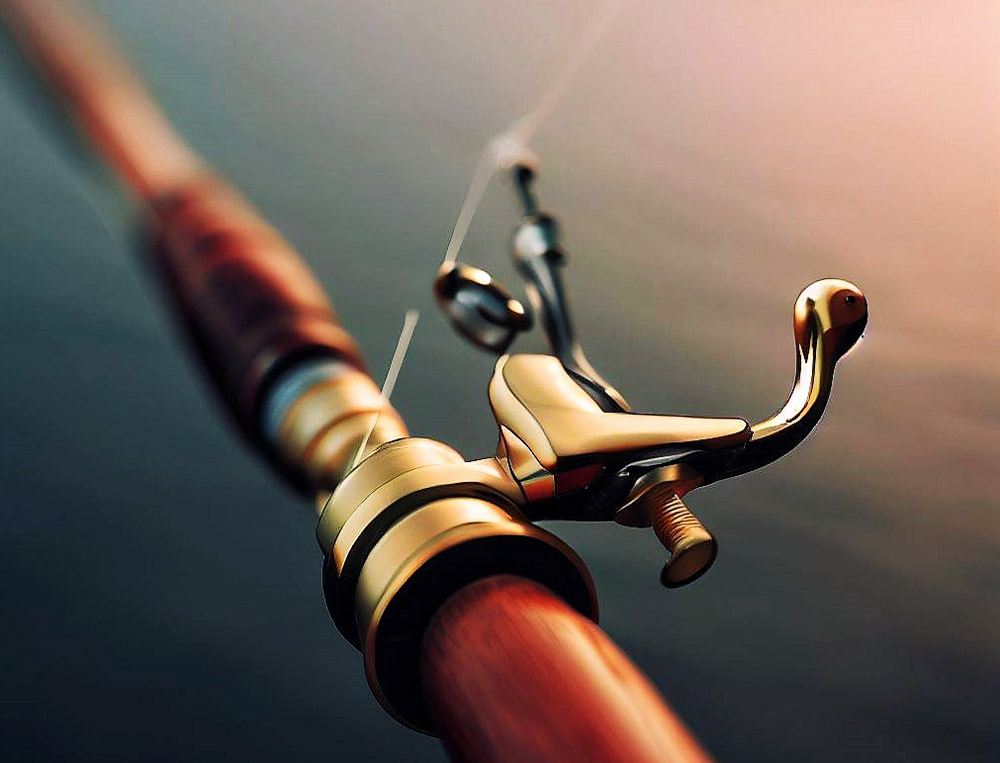 Topwater bass fishing is a unique subset of the broader bass fishing discipline that focuses on luring bass to the surface of the water. Unlike other methods that involve sinking the bait to the depths where the fish reside, topwater techniques provoke bass to strike bait that appears to be floating or moving on the water's surface. This results in a highly visual and exhilarating experience as the bass leaps out of the water in a spectacular display of natural predatory instincts.
The Splash and Dash: Unraveling the Mystery of Topwater Bass Fishing
The core thrill of topwater bass fishing lies in the anticipation and eventual strike of the fish. When a bass takes the bait, it's a sudden, often explosive event that sends ripples of excitement down every angler's spine. Seeing a bass break the surface, feeling the tug on the line, and hearing the splash creates a sensory experience that's simply unmatched in the fishing world.
When to Walk the Dog: The Ideal Conditions for Topwater Bass Fishing
But topwater bass fishing isn't just about the thrill – it's a strategic game. Knowing when and why to use topwater techniques can significantly increase your success rate. There are a few key factors to consider:
Weather Conditions: Topwater bass fishing tends to be most effective in calm, warm weather. Bass is more likely to be active near the surface when the water is warmer, and a still surface makes it easier for them to spot and strike your bait.
Time of Day: Early morning and late evening, known as the "golden hours" among anglers, are prime times for topwater bass fishing. Bass are most active during these times and are more likely to be hunting for food near the surface.
Bass Behavior: Understanding bass behavior is also critical. Bass is predatory fish that are drawn to movement and disruption on the water's surface, often perceiving them as potential prey. Using topwater lures that mimic the behavior of wounded or scurrying creatures can incite bass to strike.
In summary, topwater bass fishing is an art that combines strategy, understanding of fish behavior, and the right conditions. Mastering this technique not only brings the adrenaline rush of seeing a bass strike your bait but also deepens your connection with nature and the sport of fishing itself.
The Role of the Rod in Topwater Bass Fishing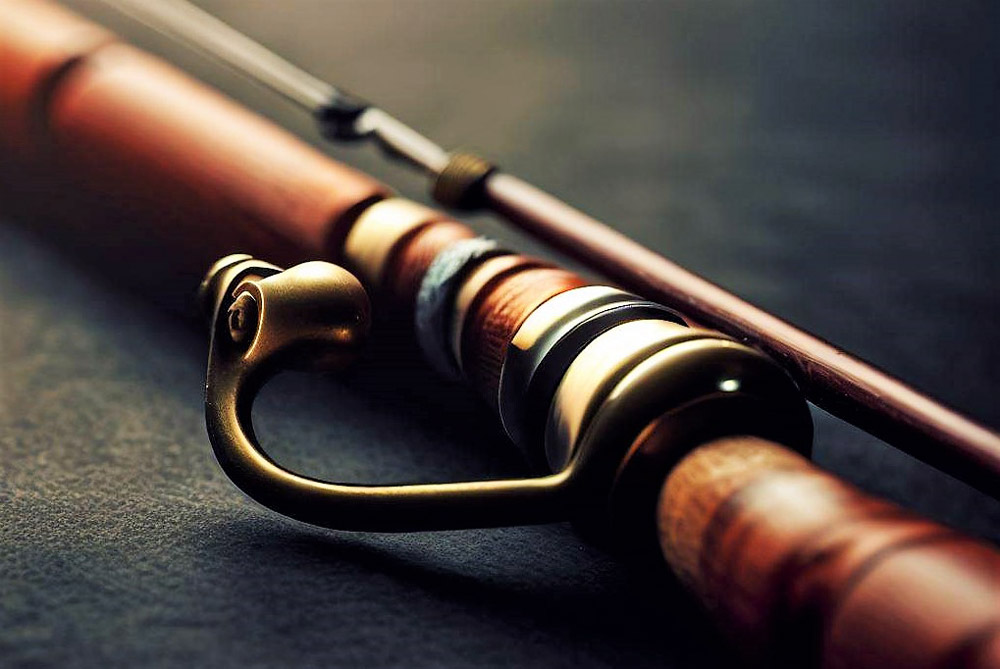 The fishing rod, in topwater bass fishing, is more than a simple tool; it is a true extension of the angler. It serves multiple critical functions that directly influence your fishing experience and the results you can achieve. The importance of the rod in topwater bass fishing cannot be overstated.
More Than a Stick: The Crucial Role of Your Fishing Rod
| Function | Explanation |
| --- | --- |
| Casting Distance | One of the primary functions of a fishing rod is to facilitate casting. In topwater bass fishing, the ability to cast your lure accurately over a long distance can be the difference between a successful catch and an uneventful day. A good rod allows you to cover more water, reach distant spots where bass might be lurking, and do so without scaring away the fish. |
| Accuracy | Precision is paramount in bass fishing. You often need to land your lure in specific locations, such as close to submerged structures or in shaded areas where bass are likely to be hiding. The right rod will provide the control you need to place your lure exactly where you want it. |
| Bait Control | Once your lure is in the water, the rod becomes your primary tool for controlling the bait. This is especially important in topwater bass fishing, where the lure's movement needs to mimic a living creature to attract bass. A good rod will allow you to twitch, jerk, or slide your lure across the water surface convincingly. |
| Setting the Hook | When a bass strikes, setting the hook properly is crucial to ensure the fish doesn't escape. The rod must have the right balance of flexibility and rigidity to set the hook effectively without breaking under the strain of a fighting bass. |
Turning the Tides: How the Right Rod Overcomes Topwater Challenges
Topwater bass fishing presents its unique set of challenges. Bass can be cautious and picky, often inspecting a potential meal closely before deciding to strike. This behavior demands stealthy casting and convincing lure action, both of which are heavily influenced by the type of rod you use.
Furthermore, the visual aspect of topwater fishing can sometimes make anglers too eager, causing them to react prematurely when a bass strikes. The right rod can help compensate for this by providing enough give to withstand a premature hook set, while still having the strength to keep the fish on the line once properly hooked.
In essence, the right rod for topwater bass fishing can enhance your casting, improve your bait control, aid in setting the hook, and ultimately help you overcome the challenges associated with this method. It's the key to turning near-misses into trophy catches.
Characteristics of a Good Topwater Bass Fishing Rod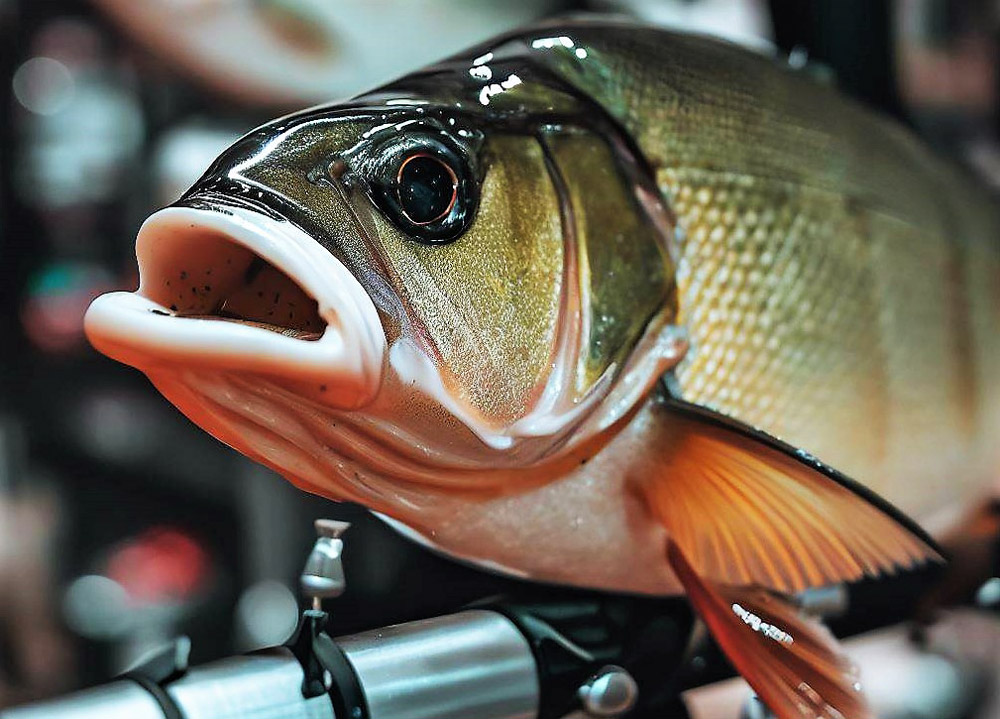 When it comes to topwater bass fishing, not just any rod will do. Certain characteristics can make a rod more suitable for this specific style of fishing. Here, we'll break down the key features to look for in a topwater bass fishing rod: length, action, power, material, and handle design.
Crafted for Success: The Blueprint of a Perfect Topwater Bass Fishing Rod
| Characteristic | Explanation |
| --- | --- |
| Length | The length of the rod is a critical consideration for topwater bass fishing. Rod lengths typically range from 6 to 8 feet, and each has its benefits. Longer rods (7-8 feet) can provide greater casting distance and leverage when fighting a fish, making them ideal for open-water situations. Shorter rods (6-7 feet) offer more accuracy and control, which can be beneficial when fishing around structures or in tight spaces. |
| Action | The action of a rod refers to where it bends when pressure is applied. Fast-action rods bend more toward the tip, while slow-action rods bend more toward the base. For topwater bass fishing, a medium to fast action rod is typically preferred. These rods offer a good balance of casting accuracy and hook-setting power, which is essential for this style of fishing. |
| Power | Power refers to the rod's resistance to bending. Rod power ranges from ultra-light to heavy. For topwater bass fishing, a medium to medium-heavy power rod is usually ideal. These rods have enough backbone to set the hook firmly in a bass's mouth but are still flexible enough to effectively manage the fight without pulling the hook out. |
| Material | The material of the rod also plays a crucial role. Most modern fishing rods are made from graphite, fiberglass, or a composite of both. Graphite rods are lighter and more sensitive, which can help detect subtle bites. Fiberglass rods, on the other hand, are more durable and offer a slower action, which can be beneficial for certain topwater baits. Composite rods aim to provide a balance of these characteristics. |
Why It Matters: The Impact of Rod Characteristics on Your Topwater Catch
Each of these characteristics plays a vital role in topwater bass fishing. The right combination can significantly improve your casting, bait control, and hook setting, enhancing your overall fishing experience. While there's no one-size-fits-all answer, understanding these features can guide you to a rod that best fits your style, the specific conditions you fish in, and the specific topwater baits you prefer to use.
Top Picks for Topwater Bass Fishing Rods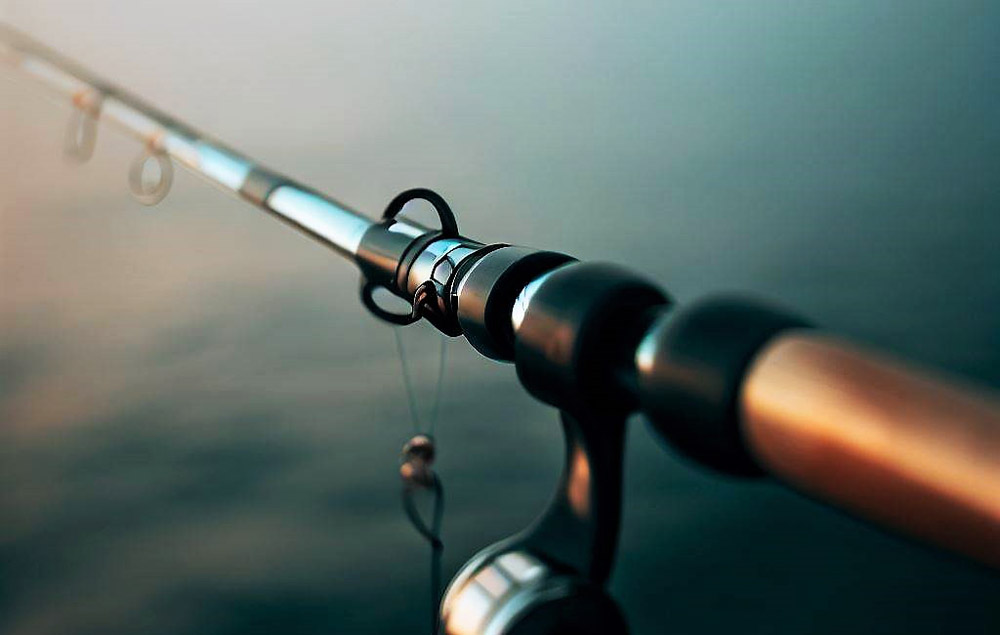 Choosing the right rod for topwater bass fishing can be a daunting task, given the multitude of options available on the market. To assist you in this endeavor, we've curated a list of top-performing rods suitable for a variety of budgets, experience levels, and fishing scenarios.
The Rod Rundown: Top Contenders for Topwater Bass Fishing
🔶St. Croix Bass X BXC71MF: The St. Croix Bass X is an excellent choice for those just getting into topwater bass fishing or working with a tighter budget. Despite its affordable price, this rod doesn't skimp on quality or performance. It features a 7'1″ medium power, fast action graphite construction, providing a good balance of sensitivity and strength. This rod stands out for its exceptional value, delivering performance typically seen in higher-priced models.
🔶Shimano Expride A Casting Rod: Shimano is a well-respected name in the fishing industry, and the Expride A Casting Rod illustrates why. This rod, available in various lengths and power/action combinations, is a versatile choice for topwater bass fishing. Its advanced Hi-Power X construction improves casting distance and accuracy while reducing blank twists. The Expride A is a bit pricier but offers excellent durability and performance, making it a worthwhile investment.
🔶G. Loomis E6X: For the discerning angler looking for high-end performance, the G. Loomis E6X is a top contender. This rod is available in various lengths, but the 7'1″ medium-heavy, fast-action model is especially suitable for topwater bass fishing. The E6X features Multi-Taper Technology, resulting in a powerful, lightweight, and responsive rod. While it falls into a higher price range, its superior sensitivity and strength justify the investment.
🔶Daiwa Tatula Casting Rod: The Daiwa Tatula is another great option that offers a high-quality experience without breaking the bank. The 7'2″ medium-heavy, fast-action model is particularly suitable for topwater bass fishing. This rod is known for its X45 Bias Graphite construction, which reduces blank twists and increases strength. This combination of affordability and performance makes the Tatula a standout choice.
The Nitty Gritty: Analyzing the Best Rods for Topwater Bass Fishing
Each of these rods offers a unique blend of characteristics tailored to topwater bass fishing. From budget-friendly options to higher-end models, these recommendations aim to enhance your fishing experience regardless of your budget or skill level. Remember, the best rod for you is one that matches your personal fishing style and the specific conditions in which you fish.
Tips for Using Your Topwater Bass Fishing Rod Effectively
Casting for Champions: Mastering Your Topwater Bass Fishing Rod
Mastering the use of your rod for topwater bass fishing takes practice, but there are some pro tips that can fast-track your progress. From casting techniques to bait control and setting the hook, here's how you can get the most out of your rod:
Master Your Casting: Topwater bass fishing often requires precise casting. Practice casting to specific targets to improve your accuracy. Also, experiment with different casting techniques, such as overhead, sidearm, and pitch casts, to adapt to various scenarios you may encounter on the water.
Control Your Bait: The lure's movement is crucial in topwater bass fishing. Work on manipulating your rod to make your bait mimic a wounded or startled prey. This could mean twitching your rod tip, doing a steady retrieve, or even letting the lure sit still at times. The key is to make your lure's movement as natural as possible.
Set the Hook Properly: In the excitement of a strike, it's easy to jerk the rod back too soon. Remember to wait until you feel the weight of the fish before setting the hook. This ensures the bass has taken the bait into its mouth, increasing the chances of a secure hook set.
Play the Fish: Once a bass is hooked, the real battle begins. Maintain pressure on the fish but allow your rod to bend and absorb the runs and jumps of the bass. This balance reduces the risk of the hook tearing free or the line breaking.
Keep Your Line Tight: A slack line makes it difficult to detect bites and set the hook effectively. Always reel in the slack and keep your line tight to increase your hook-up ratio.
Avoid the Splashdown: Common Pitfalls in Topwater Bass Fishing and How to Dodge Them
Here are a few common mistakes to avoid when using topwater techniques:
Casting Too Close to Target: Bass can be easily spooked by a lure landing too close. Aim to cast beyond your target and retrieve your lure past it.
Rushing the Retrieve: Bass often follow a lure for a while before deciding to strike. Don't rush your retrieve; give the bass time to react.
Ignoring Weather Conditions: Topwater techniques are most effective in calm, warm weather conditions. Trying to force topwater tactics in unsuitable conditions can lead to frustration.
Remember, every angler has their unique style and approach, and what works best for you might vary. Don't be afraid to experiment and learn from every fishing trip. With time, patience, and practice, you'll find the techniques that make you most successful on the water.
FAQ: Expert Picks for Topwater Bass Fishing Rods
Conclusion: : The Ultimate Rods for Topwater Bass Fishing
Topwater bass fishing offers an unparalleled thrill in the sport of angling, and the right rod plays an instrumental role in that experience. Throughout this guide, we've explored the essence of topwater bass fishing, the critical role of the rod, and the characteristics to consider when choosing your ideal rod. We've also shared some top picks to suit a range of budgets and experience levels and provided tips and common mistakes to keep in mind while on the water.
Rounding Up: The Path to Becoming a Topwater Bass Fishing Pro
Investing in the right rod is an essential step towards elevating your topwater bass fishing game. A rod that aligns with your style, the fishing conditions, and the specific topwater techniques you employ can make a significant difference in your fishing experience. However, even the best rod is only as good as the angler using it. Regular practice, patience, and a willingness to learn are vital to mastering the nuances of topwater bass fishing.
We hope this guide has provided valuable insights to enhance your topwater bass fishing adventures. We encourage you to experiment, learn, and continually refine your technique. Remember, every fishing trip is an opportunity to learn and improve.
We'd love to hear your experiences and tips regarding topwater bass fishing. Have you tried any of the rods we recommended? Do you have a particular technique that works wonders for you? Feel free to share your stories or ask any questions you may have. Let's continue to learn and grow as a community of passionate anglers. Here's to tight lines and thrilling topwater strikes!
But the learning and sharing shouldn't stop here. If you found this article helpful, why not pass it on to your fellow fishing enthusiasts? Whether they're seasoned bass anglers or beginners just dipping their toes into the exciting world of topwater bass fishing, they might find these insights valuable. Let's grow our angling community and enhance our collective knowledge through shared experiences and tips.
Remember, success in topwater bass fishing comes not just from the gear you use, but also from the time and effort you put into honing your technique. So, grab your rod, hit the water, and enjoy the thrill that comes with a bass exploding onto your topwater bait.
Feel free to return and share your fishing stories or questions. We're all here to learn, improve, and most importantly, fuel our passion for fishing.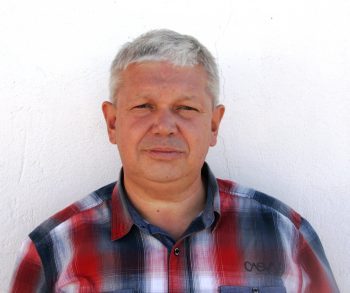 Sergio Smirnoff
Professional fisherman with 40+ years of experience.
Fishing and the ocean is a passion of my life. I am passionate about all kinds of sea fishing: fishing from the shore (spinning, float, baitcasting), from a boat, and spearfishing day and night.
I live in Tenerife (Canary Islands) for the last 10+ years and share my daily fishing experiences on my website. Many years of personal experience as a fisherman and the vast experience of my friends allow me to write professionally on any fishing topics (from choosing a flashlight and equipment to deep-sea fishing).
All of my advice is based on practical real-world experience and will be useful to both novice anglers and professionals.
Read more
about the author.
Affiliate Disclosure: FishReeler.com sometimes gets paid for listings, through sponsors or affiliate programs like Amazon, Ebay, Cabelas, Bass Pro Shop, Shimano, Daiwa, Rapala, Renn, Okuma, KastKing, etс. Clicking a link helps keep FishReeler.com free, at no extra cost to you!
About the author: Each article is verified by the fishing expert Sergio Smirnoff. The articles are written by professional and amateur fishermen with 20+ years of fishing experience.
Note: The views and opinions expressed in this article are those of the authors and do not necessarily reflect the official policy or position of any agency. The articles are for informational purposes only, share your opinions in the comments and join the fishing discussions, let's share our fishing experiences together!