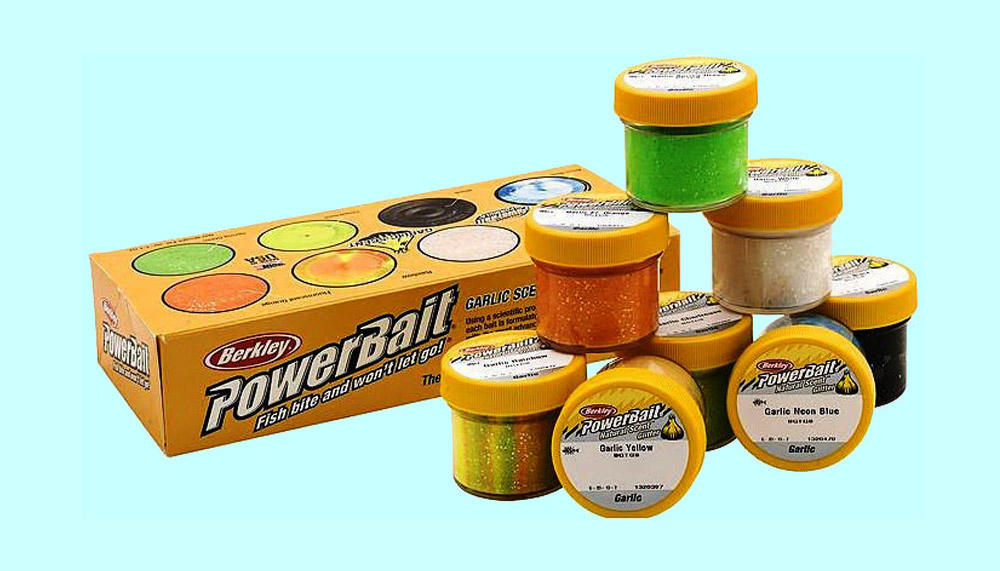 Introduction
If you love fishing for trout as much as I do, then you should read this article. One of the most famous trout lures in lakes is the power bait. In my opinion and experience, this is one of the best trout baits currently available. Power Bait revolutionized trout fishing when it was invented and launched a few years ago! PowerBait hooks trout faster than any other bait. Over the years I've been fishing, I've realized that with the help of power bait and the right technique, you can easily catch trout every time you cast. Here I will tell you – how to use power-bait to catch trout.
About Berkley Fishing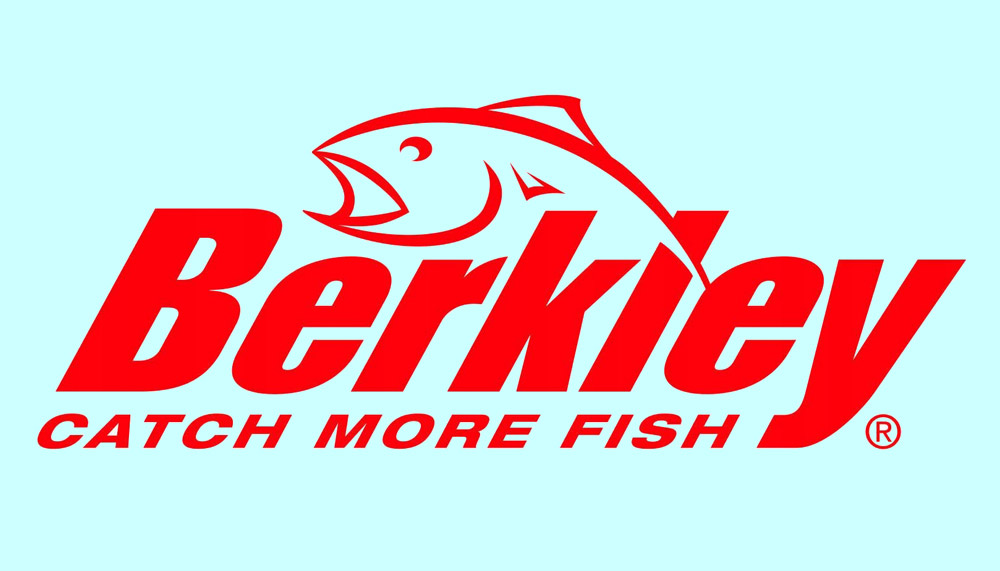 Berkley is an American leader in fishing tackle. Professional fishermen from all over the world choose this company and trust in Berkley's quality. This brand produces the most catchy soft baits. The most popular series is the Berkley Powerbait. The line includes powerful attractants that are effective and can be combined with almost any bait from different manufacturers.
But the most famous is the Berkley Powerbait silicone-based baits, which initially contain an attractant. In this case, when the twister is immersed in water, an aroma that can lure any fish is dispersed around it. Therefore, fish such as eel, trout, catfish, and salmon will catch this smell from a great distance. These silicone baits not only lure the fish but also prevent it from leaving. That is, having an attractive smell and taste, the bait differs in that it is soft. And the fish, as it were, relish it, which gives the fisherman enough time to hook it.
What Is PowerBait?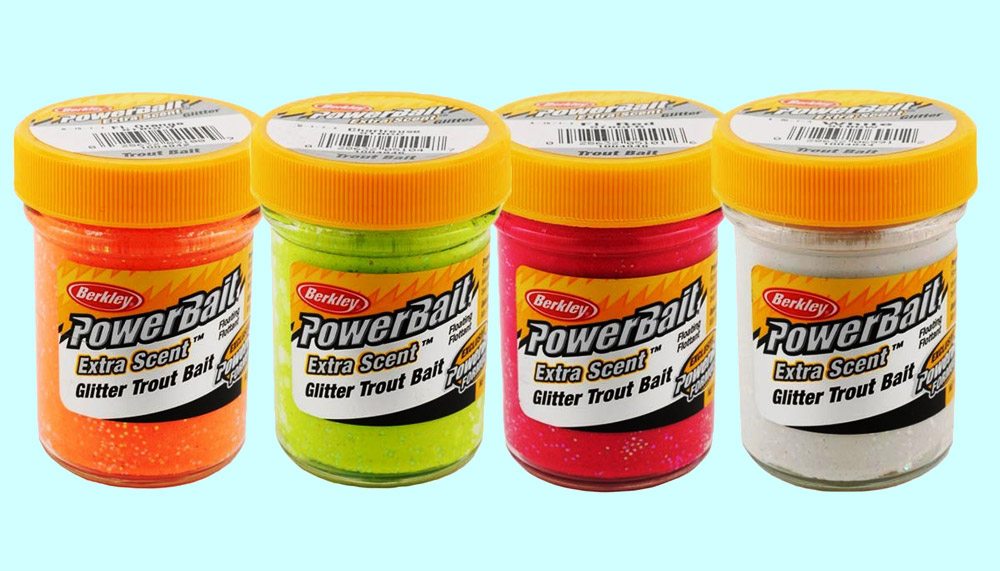 Even many experienced fishermen may have difficulty answering this question. In fact, everything is simple. PowerBait is a plasticine-like bait made of oil-based resin and PVC. This material is very soft and dough-like in structure.
In the production of soft baits, the company's experts focus on the use of various attractants that give an attractive taste and aroma. Some Berkley lures are sold in special packaging with an attractant. This allows you to preserve the taste and smell attractive to the predator for a long time. Berkley's wide range of soft lures is available in a variety of colors to please even the most demanding anglers.
Perfectly thought-out shapes, a variety of colors, and sizes make Berkley silicone lures the best for our waters. The Berkley Company produces exclusively edible rubber. When it gets into the water, Berkley silicone baits exude a special aroma, if the fish captures your bait, it will not let it go, as it will feel a tempting attractant.
How Do Rig Power Bait?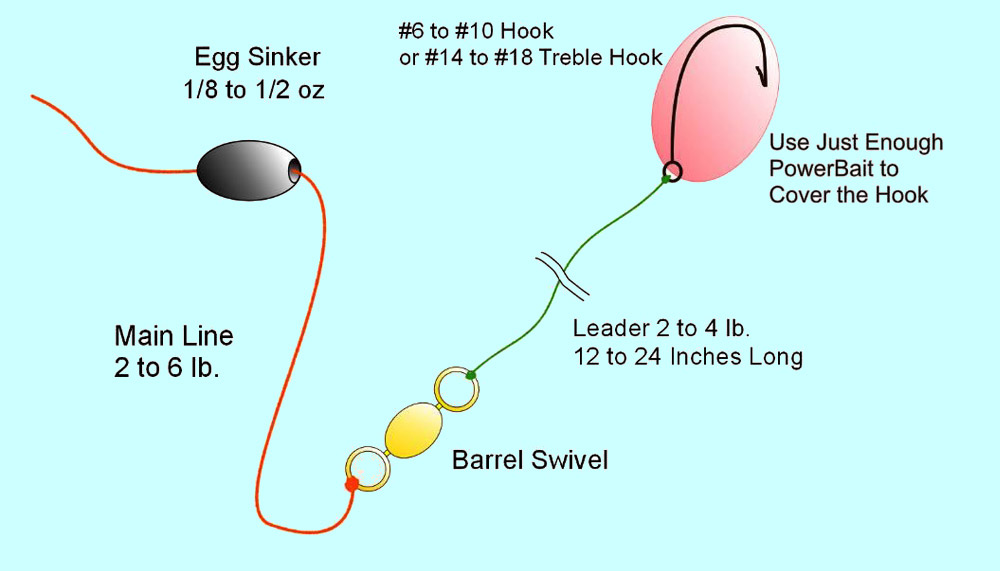 Here I would like to give you some useful advice. Always use the thin base fishing line. In my opinion, nothing more than a 0.20mm mainline is absolutely unnecessary. This is necessary since power bait is mainly used for fishing rainbow trout, other salmon like sea trout are less interested in this bait. One reason for this is that rainbow trout are mainly sourced from fish farms and used in other food sources than their relatives.
That is why this line is better than others because rainbow trout have relatively good eyesight. If the line is too thick, fish can see it underwater and are less likely to bite. Likewise, the by-catch of larger predatory fish is extremely unlikely. So make sure the color of your line is transparent or water-adapted if possible, or that the diameter when fishing for trout does not exceed 0.20 mm.
The best way to fish with the Powerbait is as follows:
At the end of the mainline, thread a small cord (5-10 grams). Now you attach a small swivel to the main-line, which stops the leash before it reaches the hook.
Ideally, a rubber bead should be installed between them, which slows down the blows of the reins to the spinal node when it is thrown out.
On the other side of the barrel swivel, which should be a carabiner, you attach a pre-assembled leash with hooks of the optimum size for trout, that is, approximately 8 to 10.
It does not matter if the leash is pre-assembled, the size of the hook is critical. Of course, the leash should be thinner than the mainline, so that in the case of suspensions, the entire assembly is not lost.
How to Use a Powerbait for Catching Trout?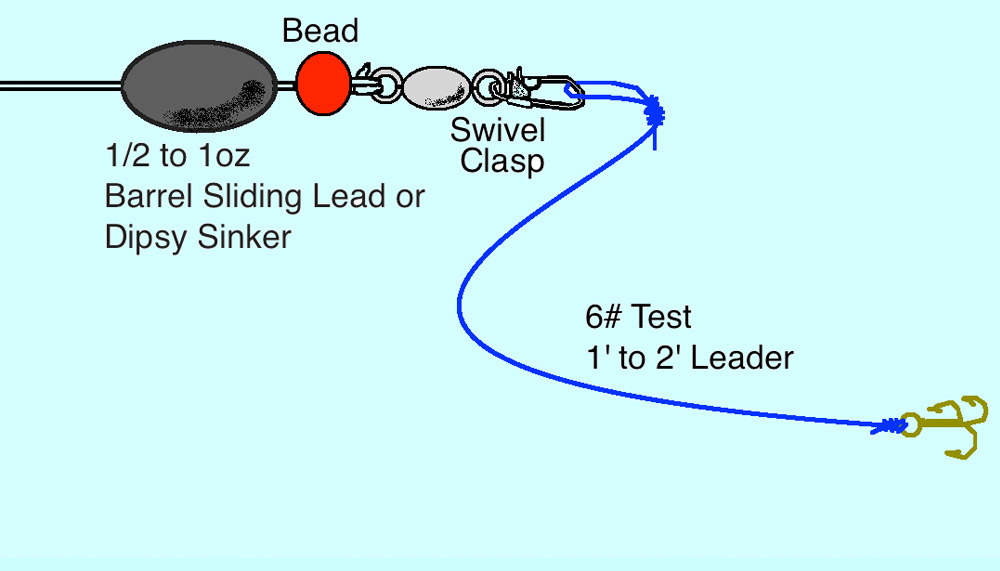 As I mentioned in the previous section, trout have reasonably good eyesight. She can see your rod underwater. That is why you should not use a very heavy rod and line. You also need to choose the right place where you are going to fish. Another feature is that power bait is more successful in calm waters such as lakes than in rivers. I also advise you to fish at the right time. Check the weather in advance.
Your bait should be float. This is an important aspect. Make a Powerbait rig. And don't forget to add synthetic bait to each hook. This is necessary to cover the hook. After that, you just need to throw it away and wait for it to sink. Then you need to rewind the slack very slowly. Wait until the line is fully learned. And then you need to place your rod where it will not move. It remains only to wait for the fish to bite. This simple technique will allow you to successfully fish for trout.
What Color PowerBait is Best for Trout?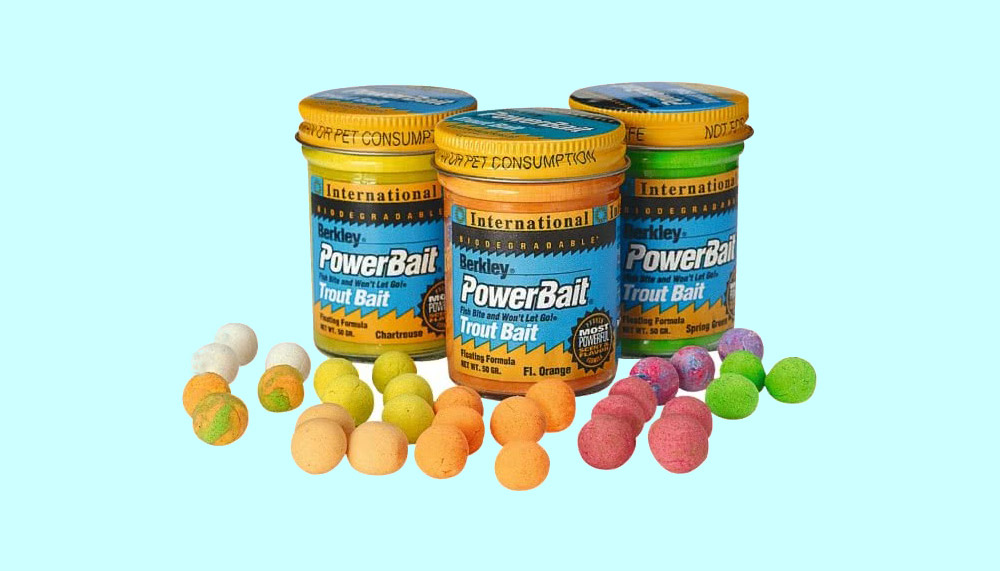 I have fished trout with the PowerBait many times. My lures were different colors and they gave different results. When it is raining or at dusk, prominent colors such as neon green, pink, or white give good results. Even when the water is cloudy, colorful lures have an edge. In particular, the UV active dough attracts fish-like magnets on a hook. Quite the opposite, on clear days or in clear water, the best catch can be done with natural flowers. Color combinations are good too. Trout perceives contrasts very well. The added glitter is meant to mimic the animals in the form of yet another fish in a shiny scaly dress. It is not yet clear why trout like to eat bait that smells like cheese or garlic.
How Often Should You Change PowerBait?
There is no specific answer here. However, based on my experience, I would advise you to do this often enough. Your bait can always shrink or go unnoticed. With frequent checking, you will have the opportunity to replace it and not waste your time. Also, when biting a fish, it is necessary to check whether all sets of hooks are in place.
Also, always check to see if the fish is off the bait after a missed hit. However, it happens that the fish does not bite, so do not rush to change the bait. Give the prey a maximum of 20 minutes more to get caught.
It happens that when checking your hook is always empty. This may be because the bait was initially incorrect or insufficiently secured. And thus fell when casting.
Where to Fish Powebait for Trout?
I envy you very much so that you can now find out the main places of the best trout fishing. I had to learn this for a fairly long period, learning from my mistakes.
Since trout loves clean and cool water, its main habitats are mountain rivers, mountain lakes, where only trout and possibly grayling are found, as well as in large lakes, where other fish species are found along with this fish. This is a very cautious and shy fish, so it is advisable to catch it in complete silence. She can be frightened off by a loud stranger voice or a silhouette of a person. In this case, she will try to go to quieter places where there are no such noises.
I highlight three places for myself where you can achieve the best results. First, there are dams. This place is especially popular with trout on hot summer days. As a rule, there is deep cold water in the area of dams. Large trout are found especially in these places.
The second place I prefer for trout fishing is the Long main Lake points. They have deep water where the fish feel safe.
And the third place is the ramps for boats. Trout are bred in these lakes.
When to Fish for Trout?
Trout can be caught throughout the year, and only the spawning season is an exception. Trout is a fish that prefers clean, cool water, which is why it can be found in mountain rivers, which are distinguished by their special purity of water. In the summer, when the water begins to warm up with the rising of the sun, the trout goes deep and waits for the sun to set and the water starts to cool again. Therefore, the best hours to fish for trout in the summer are evening, night and morning. Fishing trout during the day is a waste of time unless the weather favors it.
In the spring, it is better to fish for trout in the afternoon, and in the fall, it bites around the clock. She can only be caught in crystal clear water. If it becomes cloudy, the activity of this fish also decreases. As a rule, this is the end of May and the beginning of June. In summer, the activity of trout decreases due to the heat, but in autumn its activity increases again and it is hardly possible to be left without a catch.
Powerbait Trout Fishing Tips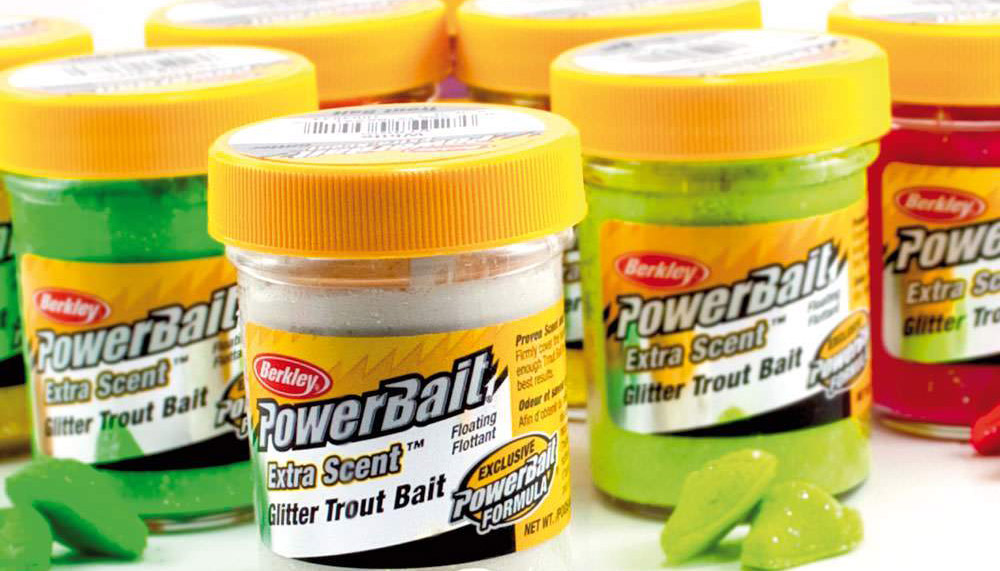 Above all, PowerBait has revolutionized bottom fishing with floating bait. Powerbait is denser than water so it floats. That is why it is necessary to use weight when fishing. Remember to keep the bait below the surface of the water.
I would also advise you not to use just one Powerbait color. Even after reading a hundred articles, only from your own experience, you will understand which color works best in a certain place and day. Therefore, if you have several colors with you, you can easily change them and thus understand which one suits you best.
Using the right amount of Powerbait is also important. You should use the amount that covers the triple hook.
Error When Fishing With Powerbait
One mistake many who actively fish with power baits make is that they fish with a hook that is too big. I fish myself with a 20 or 22 wooden hook. This makes the bait thinner, resulting in a livelier pass through the water. In my opinion, it is best to start with the shape of the tail. To do this, you need to take a small piece of bait and form a ball around the hook. Then fold it in your palms so that you get a wedge-shaped tail. Press lightly on the tip of the bait. This leads to the fact that he has a living movement in the water. The length of the formed bait should be 5-7 cm.
Powerbait Ice Fishing And Passive Fishing
During the winter months, passive fishing on the Powerbait can pay off as the water temperature does not make the fish particularly active. Usually, the bait should be 30-70 cm above the ground. Although this is called passive fishing, you should still be active until you find fish. After you have cast the rod, it doesn't take more than 10-15 minutes to quietly pull out the bait 2-3 meters.
Do this until your bait is 3-5 meters from the lakeshore. Your next throw looks like this: throw a new line over the bait. Do this until something moves in the water. In winter, fish often remain in the same areas.
So, you know in which area to cast the bait. It is not for nothing that baits are classics of Danish trout lakes. Many fish were tricked into this bait during their last meal. A visit to the trout lake is now not only fishing but also enjoying nature and relaxation. However, we feel good when we fish to take home.
The Secret to the Catchy Powerbait
Some anglers believe that the effectiveness of the paste is not so great, but most often this is due to its incorrect use.
There are some subtleties when fishing for trout:
In no case should the paste be frozen, and in winter it is best to keep it near the body, otherwise, it may lose half of its qualities in the cold.
To prevent the Powerbait from disintegrating during the cast and in contact with the water surface, first press down well with your fingers.
The chances of a successful catch increase in proportion to the amount of bait (the more, the better, of course). Trout can eat an amount of food equal to one-third of their weight, so in this case, it is better not to save.
Conclusion
Using PowerBait is a great way to catch trout. I would advise you to fish for trout where you are most likely to succeed. I have described these places in this article. Today, on a trout lake, you practically won't find an angler who doesn't have at least two or three different colored power baits in his pocket. Meanwhile, the choice of Powerbait is huge.
Berkley is constantly expanding its range, you can find pastes from other manufacturers in stores. There are bright, dark, multi-colored, with sparkles and without, some smell like fish, others – garlic, granules, or cheese. I hope this article helped answer your question on how to use power bait.
Tags: #how to use powerbait for trout fishing / #how to use powerbait / #best powerbait setup for trout fishing / #ways to use powerbait / #berkley powerbait natural trout bait / #how do rig power bait / #berkley powerbait natural scent trout bait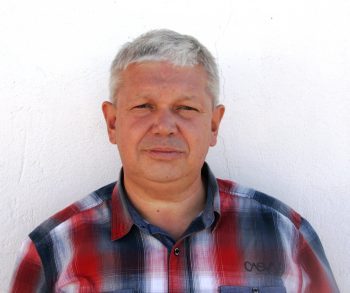 Sergio Smirnoff
Professional fisherman with 40+ years of experience.
Fishing and the ocean is a passion of my life. I am passionate about all kinds of sea fishing: fishing from the shore (spinning, float, baitcasting), from a boat, and spearfishing day and night.
I live in Tenerife (Canary Islands) for the last 10+ years and share my daily fishing experiences on my website. Many years of personal experience as a fisherman and the vast experience of my friends allow me to write professionally on any fishing topics (from choosing a flashlight and equipment to deep-sea fishing).
All of my advice is based on practical real-world experience and will be useful to both novice anglers and professionals.
Read more
about the author.
Affiliate Disclosure: FishReeler.com sometimes gets paid for listings, through sponsors or affiliate programs like Amazon, Ebay, Cabelas, Bass Pro Shop, Shimano, Daiwa, Rapala, Renn, Okuma, KastKing, etс. Clicking a link helps keep FishReeler.com free, at no extra cost to you!
About the author: Each article is verified by the fishing expert Sergio Smirnoff. The articles are written by professional and amateur fishermen with 20+ years of fishing experience.
Note: The views and opinions expressed in this article are those of the authors and do not necessarily reflect the official policy or position of any agency. The articles are for informational purposes only, share your opinions in the comments and join the fishing discussions, let's share our fishing experiences together!