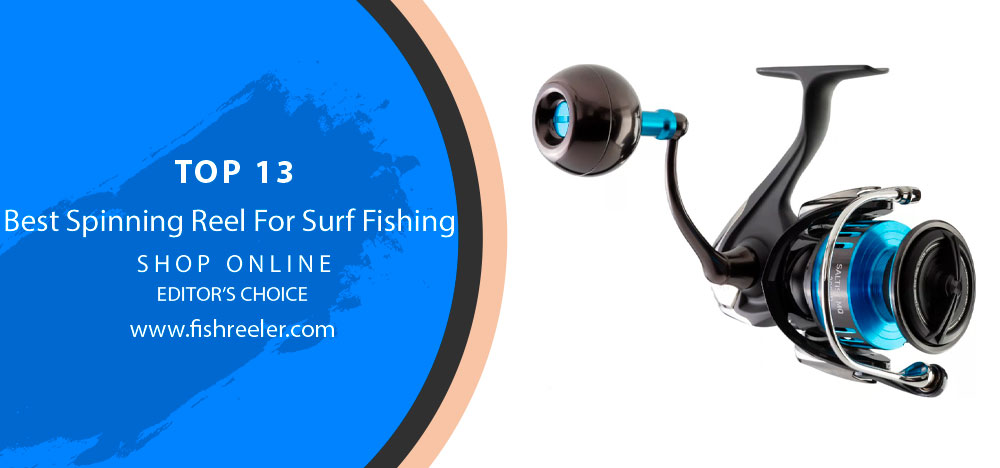 Ride the Wave: Discover the Ultimate Spinning Reels for Surf Fishing Success!
Catch the Perfect Wave: An Introduction to Surf Fishing
Surf fishing is a popular and thrilling form of angling that takes place along the shoreline, usually in the ocean or other saltwater environments. Anglers stand on the beach, pier, or jetty and cast their lines into the surf, hoping to catch a variety of species such as striped bass, redfish, flounder, and more. This form of fishing presents unique challenges due to the ever-changing tides, currents, and wave conditions, making it essential for anglers to have the right gear and techniques to increase their chances of success.
Reeling in the Best: What This Article Offers
This article aims to provide a comprehensive guide for anglers seeking the perfect spinning reel for surf fishing. We will discuss the key features to consider when selecting a reel, review some of the top spinning reels available in the market, and offer helpful tips to optimize your surf fishing experience. By the end of this article, you will have a clear understanding of what makes a great spinning reel for surf fishing and be better equipped to choose the ideal reel to enhance your angling adventures.
Unleash Your Surf Fishing Potential: Top 13 Spinning Reels to Make a Splash
Selecting the right spinning reel for surf fishing is a crucial aspect of this angling adventure. A suitable spinning reel can greatly enhance the angler's ability to cast longer distances, withstand harsh saltwater conditions, and handle the hard-fighting fish commonly found in the surf zone. With numerous options available in the market, it's essential to know what features to look for in a spinning reel and understand how they can impact your surf fishing experience. The right reel not only improves your chances of success but also ensures durability and longevity for your investment.
1# Daiwa Saltiga Spinning Reel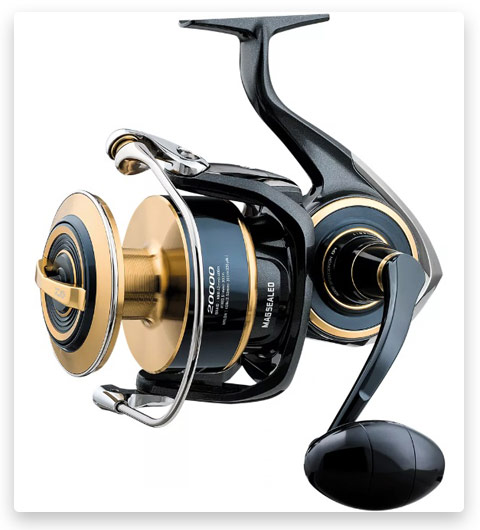 The Daiwa Saltiga Spinning Reel is perfect for serious anglers. It features a one-piece aluminium body, magnesium seal, and advanced tournament drag system. You'll appreciate the oversized handle knob and 13-bearing system when you're fighting a big fish!
2# Shimano Stella SW Spinning Reel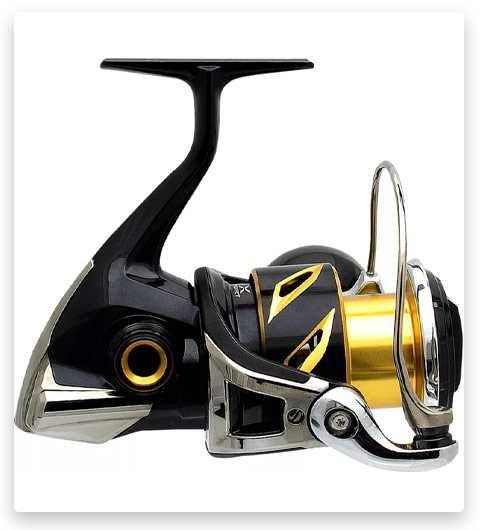 The Shimano Stella SW Spinning Reel is the toughest, smoothest, most durable spinning reel in saltwater. With an IPX8-rated waterproof body and rigid, all-metal HAGANE Body design, this reel can handle anything you throw at it.
The inertia-reducing X-Rigid Rotor design ensures smooth operation, while the X-Rigid 1-Piece Bail and X-Protect water-resistant roller protection keep your equipment safe. The Propulsion Line Management system ensures a smooth drag during retrieval, while the Cold-forged, super-strong HAGANE Gears provide incredible torque and longevity. The Infinity Drive torque enhancement system ensures consistent performance even under extreme pressure.
3# Okuma Makaira Spinning Reel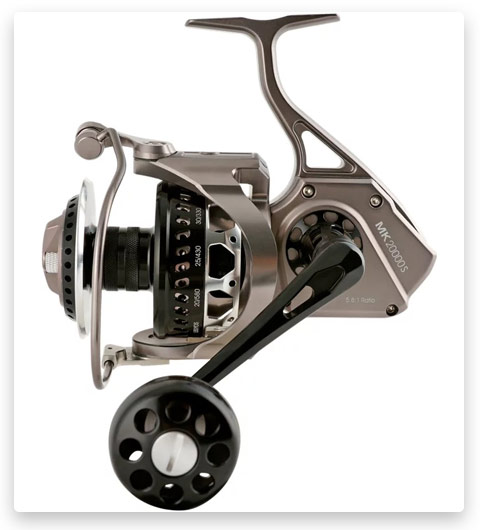 The Okuma Makaira spinning reel is designed for saltwater big game fish. It features astonishing drag performance and a Hydro Sealed body and drag for protection against the elements. The forged aluminium body, side plate, and rotor are coated in the full-body corrosion-resistant coating, while the rotor brake ensures smooth operation.
The oversized spool shaft is made of 17-4 grade stainless steel, and the gearbox features a 9 + 1 system with HPB bearings. The reel is available in left- or right-hand retrieve, and comes with a machined aluminium handle arm and knob.
4# Van Staal X Series Spinning Reel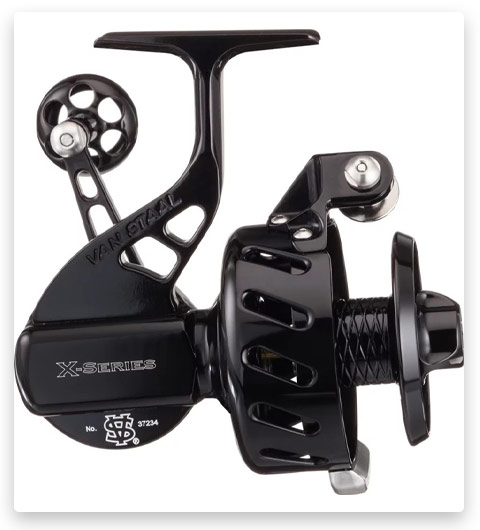 Looking for a reel that can handle the rigours of surf fishing? Look no further than the Van Staal XD Series Spinning Reel. This reel is designed specifically for surf fishing, and it delivers maximum performance on every cast. With its sealed, waterproof drag system, you can bring in big fish with ease. And with its massive line capacity, you'll never run out of line again.
5# Daiwa Certate SW Spinning Reel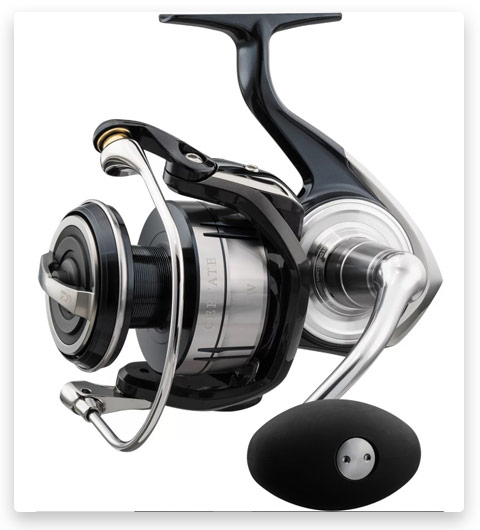 Daiwa Certate SW spinning reels are incredibly tough and well-built, perfect for saltwater anglers who demand the best performance. With features like Magseal technology and an ATD Automatic Tournament Drag system, these reels are designed to deliver smooth and consistent drag pressure while you're fighting big fish. The egg-shaped Soft Touch handle knob is comfortable to use all day long, and the 7+1 bearing system ensures smooth operation.
6# Shimano Stella FJ Spinning Reel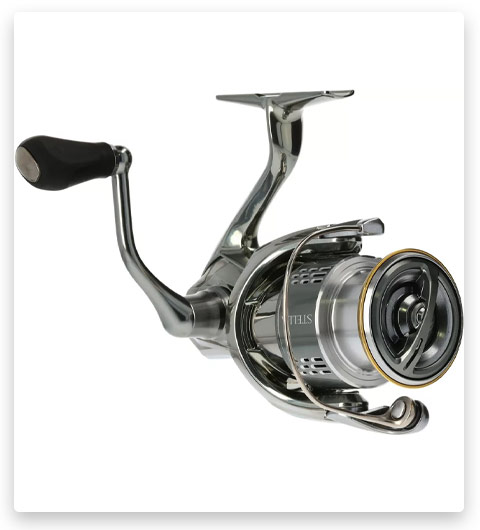 Shimano's Stella FJ spinning reel is the pinnacle of performance and design. Shimano has incorporated their most advanced technologies into this reel to deliver an incredible experience. From the super smooth rotation and silent operation to the extra-strong Hagane gearing, this reel delivers in every way.
The X-Protect technology ensures that your reel will perform flawlessly even in the harshest conditions, while the DLC Line Roller keeps your line tangle-free. The One-Piece bail construction prevents line tangles even when casting at high speeds, and the S-ARB bearings provide an incredibly smooth drag system.
7# Abu Garcia Zenon Spinning Reel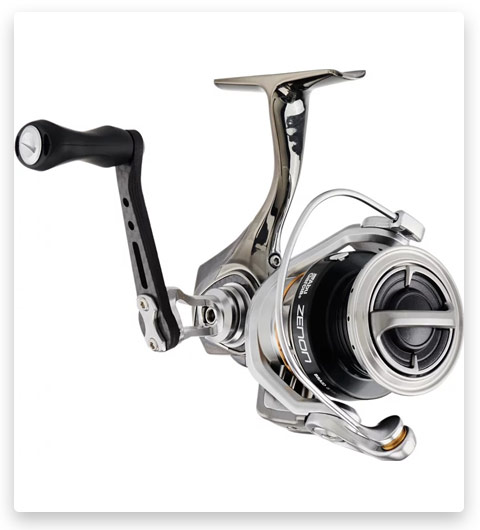 The Abu Garcia Zenon Spinning Reel is perfect for professional anglers. Its one-piece magnesium body makes it strong and lightweight, while the Superlight C6 V-Rotor ensures smooth operation. The aluminium Air-Fin Spool helps keep your line tangle-free, and the Rocket Line Management System ensures precision casting. The reel also features a premium 11-bearing system for unbeatable performance, plus a carbon fibre drag for impressive power.
8# Daiwa Saltist MQ Spinning Reel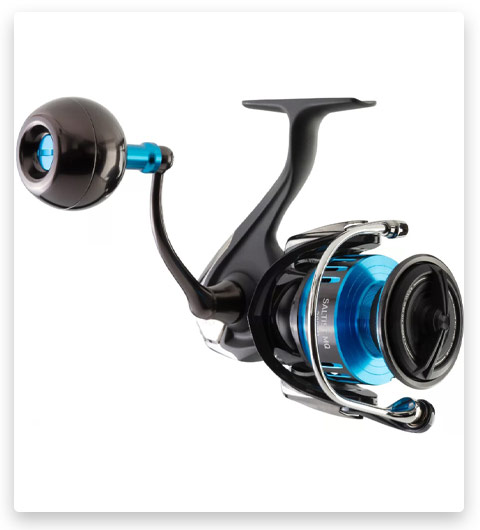 This Daiwa Saltist MQ spinning reel is strong yet lightweight, perfect for saltwater fishing. With its simple and compact design, it's easy to use and provides smooth power with every turn of the handle. The Zaion Air Rotor ensures effortless rotation, while the Magsealed main shaft ensures a smooth, waterproof drag.
9# Daiwa BG MQ Spinning Reel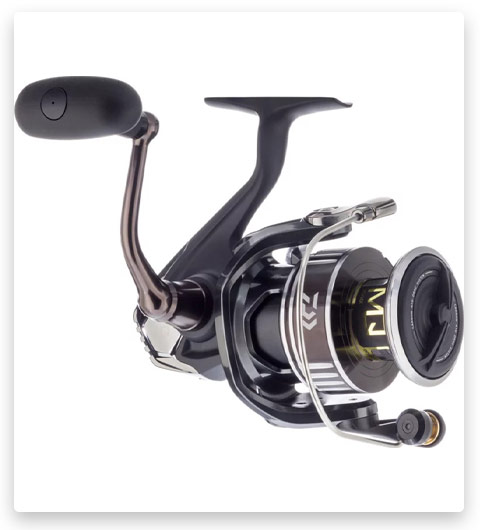 The Daiwa BG MQ spinning reel is a strong, light and durable reel that is perfect for both inshore and offshore fishing. This reel features an enhanced Digigear technology that provides a smooth and efficient performance. The Zaion Air Rotor keeps the weight of the reel to a minimum, while the quality 6+1 bearing system ensures smoothness and durability. The Automatic Tournament Drag also allows you to easily adjust the drag on the fly.
10# PENN Spinfisher VI Live Liner Spinning Reel
Meet the Penn Spinfisher VI Live Liner spinning reel. This bad boy is built with a sealed drag system and HT-100™ carbon-fibre drag washers, meaning you'll be able to fight against even the biggest fish without worrying about your gear.
Plus, the 4-position Live Liner drag system makes it easy to adjust your drag settings when you need them most. And if that's not enough, the full metal body and side plates provide maximum durability for those long days on the water. So don't go another day without the Penn Spinfisher VI Live Liner spinning reel – order yours today!
11# Quantum Cabo PT Spinning Reel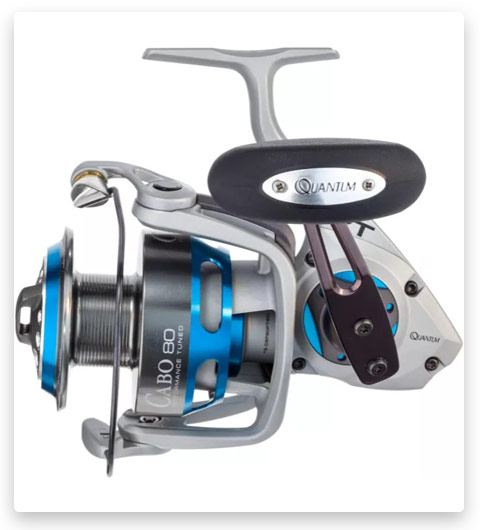 The Quantum Cabo PT Spinning Reel is perfect for anglers who demand the best in performance and quality. This reel features 8 PT bearings, hybrid ceramic bearings in high-load areas, a sealed Magnum CSC Drag, a sealed Magnum Clutch, and much more.
With its TiMag titanium fail-proof bail system and SCR™ alloy body and side cover, the Quantum Cabo PT reel is built to last. And thanks to its SaltGuard 2.0 multi-layer corrosion protection system, it can tackle even the most challenging conditions. So don't go fishing without your Quantum Cabo PT Spinning Reel!
12# Abu Garcia Revo SX Spinning Reel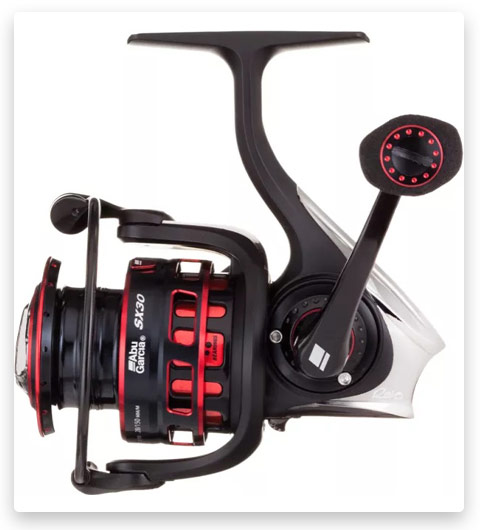 We designed the Abu Garcia Revo SX Spinning Reel with one purpose in mind – to make it easy for you to take your fishing experience to the next level. We started with a lightweight graphite rotor and Everlast bail, then added our Rocket line management system to make sure your line is always under control.
The 8 stainless steel HPCR bearings + 1 roller bearing provide smooth operation, while the Carbon Matrix hybrid drag system ensures that you can land any fish that comes your way. Finally, we equipped this reel with our K-Clutch anti-reverse for extra protection against those pesky backlashes.
13# Shimano Sustain FJ Spinning Reel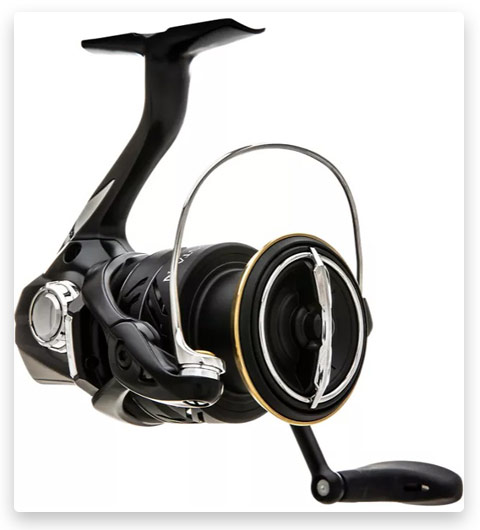 Shimano Sustain FJ Spinning Reel is excellent for novice anglers and experienced fishermen alike. It's built with an aluminium HAGANE Body for strength and durability, plus X-Protect water-resistant technology to keep your reel functioning flawlessly in any condition.
The MagnumLite rotor makes it easy to wind in your line quickly, while the 1-piece titanium bail ensures a smooth, responsive experience when casting. And don't worry about those big catches – the Cross Carbon Drag system can handle them with ease. Get ready to make your next fishing trip an unforgettable one with Shimano Sustain FJ Spinning Reel.
Key Features to Consider in Spinning Reels for Surf Fishing
Gearing Up: The Significance of Gear Ratio in Surf Fishing
🔷Explanation of Gear Ratio
The gear ratio of a spinning reel refers to the number of times the spool revolves with one turn of the handle. For example, a 5.2:1 gear ratio means that the spool rotates 5.2 times with a single turn of the handle. The gear ratio determines the speed at which the line is retrieved, affecting your ability to catch fast-swimming fish or efficiently work lures in the surf.
🔷Ideal Gear Ratio for Surf Fishing
For surf fishing, a medium to high gear ratio (ranging from 5.0:1 to 6.2:1) is recommended. This provides a good balance between speed and power, allowing you to retrieve lures at a faster pace while still maintaining enough torque to handle hard-fighting fish in the surf.
Going the Distance: Line Capacity for the Ultimate Catch
💢Importance of Line Capacity
Line capacity refers to the amount of fishing line a reel can hold. In surf fishing, it is crucial to have a reel with sufficient line capacity, as longer casts are often required to reach the fish beyond the breaking waves. Additionally, fish caught in the surf can be strong and may make long runs, so having enough lines on the spool helps prevent being spooled by a large fish.
💢Recommended Line Capacity for Surf Fishing
For surf fishing, a reel should have a line capacity of at least 200 yards for monofilament or 300 yards for braided lines. This ensures that you have enough lines for casting and battling fish without the risk of running out.
Dragging in the Big Ones: The Power of a Quality Drag System
🌟Role of Drag System in Surf Fishing
The drag system is a crucial component of a spinning reel, providing resistance to the line when a fish is hooked. It allows the angler to control the pressure applied to the fish, preventing break-offs or pulled hooks during the fight. A reliable and smooth drag system is essential in surf fishing to handle the powerful fish commonly encountered in the surf zone.
🌟Sealed Drag Systems and Their Advantages
Sealed drag systems are particularly advantageous for surf fishing, as they prevent saltwater, sand, and debris from entering the drag components. This ensures consistently smooth and reliable performance, reduces maintenance requirements, and extends the lifespan of the reel.
Smooth Operators: The Role of Ball Bearings in Spinning Reels
➰Function of Ball Bearings
Ball bearings play a vital role in spinning reels, reducing friction between moving parts and ensuring a smooth, effortless operation. They impact the overall performance, longevity, and smoothness of the reel during both casting and retrieval.
➰Number and Quality of Ball Bearings to Look For
When choosing a spinning reel for surf fishing, look for a reel with a higher number of quality ball bearings (5 or more). Reels with more ball bearings usually provide smoother performance and increased durability. In addition, consider reels with shielded or sealed bearings, as they offer better protection against saltwater corrosion and debris.
Saltwater Showdown: How Corrosion Resistance Makes a Difference
🎡The Impact of Saltwater on Reels
Saltwater is highly corrosive and can cause significant damage to the internal and external components of a spinning reel. If not properly protected, saltwater can cause a reel to seize up, become less smooth, or even fail entirely.
🎡Materials and Coatings that Enhance Corrosion Resistance
Choose a reel made from materials with high corrosion resistance, such as aluminum, stainless steel, or carbon fiber. Additionally, look for reels with protective coatings, such as anodization or corrosion-resistant paint, to further safeguard the reel from saltwater damage. Sealed components, like the drag system and ball bearings, also help improve corrosion resistance.
Perfectly Balanced: Finding the Ideal Weight and Size
🙆Balancing Weight and Durability
When selecting a spinning reel for surf fishing, it's essential to find a balance between weight and durability. A lighter reel reduces fatigue during long casting sessions, while a more substantial reel is typically more robust and able to handle larger, more powerful fish. Look for reels made from lightweight yet strong materials, such as carbon fiber or aluminum, to achieve the ideal balance.
🙆Optimal Size for Surf Fishing
The optimal size of a spinning reel for surf fishing depends on the target species, fishing conditions, and the type of line and rod you plan to use. Generally, a reel size of 4000 to 6000 (or 40 to 60 in some brands) is suitable for most surf fishing applications, as it provides sufficient line capacity and drag capabilities while remaining relatively lightweight and manageable. Consider your specific needs and preferences to select the right reel size for your surf fishing adventures.
Top Spinning Reels for Surf Fishing
Riding the Waves with Penn Battle III DX
The Penn Battle III DX is a sturdy and reliable spinning reel built to handle the harsh conditions of surf fishing. Constructed with a full metal body, side plate, and rotor, this reel features a sealed HT-100 carbon fiber drag system and 5+1 sealed stainless steel ball bearings for smooth and dependable performance.
🔶Pros and Cons
The Penn Battle III DX is perfect for anglers who prioritize durability and reliability in their surf fishing reel while still offering smooth performance.
Make a Splash with Shimano Ultegra XTD
The Shimano Ultegra XTD is a high-performance surf fishing reel, designed for long-distance casting and smooth retrieves. With its Aero Wrap II line lay system, the reel ensures optimal casting distance and precision. It features a Hagane gear system and X-Ship technology, providing exceptional strength and smoothness.
🔶Pros and Con
The Shimano Ultegra XTD is well-suited for surf anglers who emphasize casting distance and smooth retrieves, making it a great choice for working lures or targeting elusive species.
Surf's Up with Daiwa BG
The Daiwa BG is a versatile and affordable spinning reel designed for saltwater fishing, including surf fishing. It features a rigid aluminum body and side plate, ensuring durability and longevity. The reel also boasts an oversized Digigear system and 6+1 stainless steel ball bearings, providing a smooth and powerful performance.
🔶Pros and Cons
The Daiwa BG is ideal for budget-conscious anglers who seek a durable and versatile reel for surf fishing without compromising on performance.
Dive into Success with Van Staal VR Series
The Van Staal VR Series is a premium, fully sealed surf fishing reel, built to withstand harsh saltwater conditions. Constructed with a high-grade aluminum body and rotor, the reel offers exceptional strength and durability. The VR Series features a fully sealed and waterproof drag system, ensuring consistent and smooth performance in any environment.
🔶Pros and Cons
The Van Staal VR Series is perfect for serious surf anglers who demand a fully sealed and waterproof reel, capable of withstanding the toughest saltwater conditions.
Catch the Big Ones with Okuma Cedros CJ-65S
The Okuma Cedros CJ-65S is a high-speed spinning reel designed specifically for saltwater fishing, including surf fishing. It features a lightweight aluminum body, rotor, and side plates, as well as a high-speed gear ratio of 5.7:1, allowing for rapid line retrieval. The Cedros CJ-65S also includes 4+1 stainless steel ball bearings and a multi-disc, high-output drag system for smooth and powerful performance.
Pros and Cons
The Okuma Cedros CJ-65S is ideal for surf anglers who require a high-speed reel for quick line retrieval, particularly when targeting fast-swimming species or working lures effectively in the surf.
Tips for Surf Fishing with Spinning Reels
Reel Care: The Art of Maintenance and Cleaning
To ensure the longevity and optimal performance of your spinning reel, it's essential to maintain and clean it regularly, especially when fishing in saltwater environments. After each use, rinse the reel thoroughly with fresh water to remove salt, sand, and debris. Periodically, disassemble the reel according to the manufacturer's guidelines, clean the internal components, and apply appropriate lubrication to gears, bearings, and other moving parts.
Cast Away: Mastering Long-Distance Casting Techniques
💥Casting distance is crucial in surf fishing, as it allows you to reach fish that are feeding beyond the breaking waves. To improve your casting distance, practice the following techniques:
Use the right gear: Choose a reel with a large spool diameter, and pair it with a long surf casting rod to help increase casting distance.
Maintain proper line tension: Ensure that the line on your spool is wound tightly and evenly, as this reduces friction during casting and improves distance.
Master your technique: Learn and practice different casting techniques, such as the pendulum cast or off-the-ground cast, to maximize distance and accuracy.
Opt for the braided line: Braided line is thinner and lighter than monofilament, which can result in increased casting distance.
The Dynamic Duo: Pairing the Perfect Rod and Reel
🏆Selecting a well-balanced rod and reel combination is critical for optimal surf fishing performance. When choosing a surf rod, consider the following factors:
| Aspect | Description | Recommendations |
| --- | --- | --- |
| Length | Rod length affects casting distance and leverage | Choose 9 to 14 feet long for better casting distance and leverage in surf fishing |
| Power and Action | Relates to rod's resistance to bending and response to fish/lure | Match to fish size/weight and the weight of lures or baits used |
| Line and Lure Ratings | Compatibility with chosen reel and line | Ensure rod's ratings align with reel and line selection for optimal performance |
Line Em Up: Selecting the Right Fishing Line for Surf Fishingine
✅The fishing line you choose can significantly impact your surf fishing success. Consider these factors when selecting your line:
| Aspect | Braided Lines | Monofilament Lines | Recommendations |
| --- | --- | --- | --- |
| Line Type | Increased casting distance, sensitivity, strength | Less visible, stretchier (shock absorption) | Choose based on preference and water conditions |
| Line Weight | Varies | Varies | Match to species/target and reel size (20-50 lb) |
| Line Color | More visible in water | Less visible in water | Match to water conditions (high/low visibility) |
Drag Control: Optimizing Settings for Every Situation
🐞Properly adjusting your drag settings can make the difference between landing a fish and losing it. Keep these tips in mind:
Start with a lower drag setting: Begin with a drag setting that is approximately one-third of your line's breaking strength, then adjust as needed during the fight.
Adjust during the fight: If the fish is making long, powerful runs, slightly loosen the drag to avoid break-offs. If the fish is tiring and coming in close, tighten the drag to help land it more efficiently.
Test and fine-tune: Periodically test your drag settings by pulling the line from the reel, ensuring that the drag is smooth and consistent throughout the range of adjustment.
FAQ: Surf Fishing Sensations
Conclusion: : Spin Your Way to Unforgettable Fishing Adventures
The Ultimate Catch: A Summary of Key Spinning Reel Features
In summary, when selecting a spinning reel for surf fishing, consider the following key features:
| Feature | Explanation |
| --- | --- |
| Gear Ratio | Choose a reel with an appropriate gear ratio for the type of fishing you will be doing, whether it's a high-speed ratio for fast retrieves or a lower ratio for more power. |
| Line Capacity | Ensure that the reel can hold an adequate amount of line to cover the distance you need to cast and fight fish. |
| Drag System | Look for reels with sealed drag systems, as they offer consistent and smooth performance in harsh saltwater environments. |
| Ball Bearings | Opt for a reel with a sufficient number of high-quality ball bearings to ensure smooth operation. |
| Corrosion Resistance | Select a reel made from materials and coatings that are resistant to saltwater corrosion, to ensure durability and longevity. |
| Weight and Size | Balance weight and durability by choosing a reel made from lightweight yet strong materials, and consider the optimal size for your specific surf fishing needs. |
Reel Recommendations: Our Top Picks for Surf Fishing Success
Based on the top spinning reels for surf fishing discussed in this article, the Penn Battle III DX and Shimano Ultegra XTD are both excellent options for a wide range of anglers, offering durability, smooth performance, and suitable line capacities. For budget-conscious anglers, the Daiwa BG is a versatile and reliable choice, while the Van Staal VR Series is ideal for those who prioritize a fully sealed and waterproof reel. Finally, the Okuma Cedros CJ-65S is a great option for anglers seeking a high-speed reel for quick line retrieval.
Making Waves: Enjoying Surf Fishing with Your Ideal Spinning Reel
Surf fishing can be an incredibly rewarding and exciting experience, offering the opportunity to catch a variety of fish species in stunning coastal environments. With the right spinning reel matched to your specific needs and preferences, you will be well-equipped to enjoy surf fishing to its fullest. So, take your time to choose the best reel for your surf fishing adventures, and get ready to cast your line into the waves and reel in the catch of a lifetime.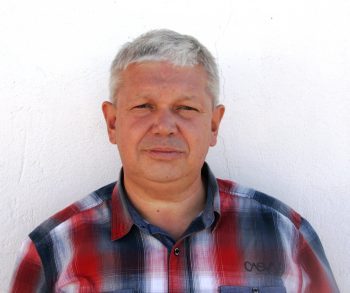 Sergio Smirnoff
Professional fisherman with 40+ years of experience.
Fishing and the ocean is a passion of my life. I am passionate about all kinds of sea fishing: fishing from the shore (spinning, float, baitcasting), from a boat, and spearfishing day and night.
I live in Tenerife (Canary Islands) for the last 10+ years and share my daily fishing experiences on my website. Many years of personal experience as a fisherman and the vast experience of my friends allow me to write professionally on any fishing topics (from choosing a flashlight and equipment to deep-sea fishing).
All of my advice is based on practical real-world experience and will be useful to both novice anglers and professionals.
Read more
about the author.
Affiliate Disclosure: FishReeler.com sometimes gets paid for listings, through sponsors or affiliate programs like Amazon, Ebay, Cabelas, Bass Pro Shop, Shimano, Daiwa, Rapala, Renn, Okuma, KastKing, etс. Clicking a link helps keep FishReeler.com free, at no extra cost to you!
About the author: Each article is verified by the fishing expert Sergio Smirnoff. The articles are written by professional and amateur fishermen with 20+ years of fishing experience.
Note: The views and opinions expressed in this article are those of the authors and do not necessarily reflect the official policy or position of any agency. The articles are for informational purposes only, share your opinions in the comments and join the fishing discussions, let's share our fishing experiences together!