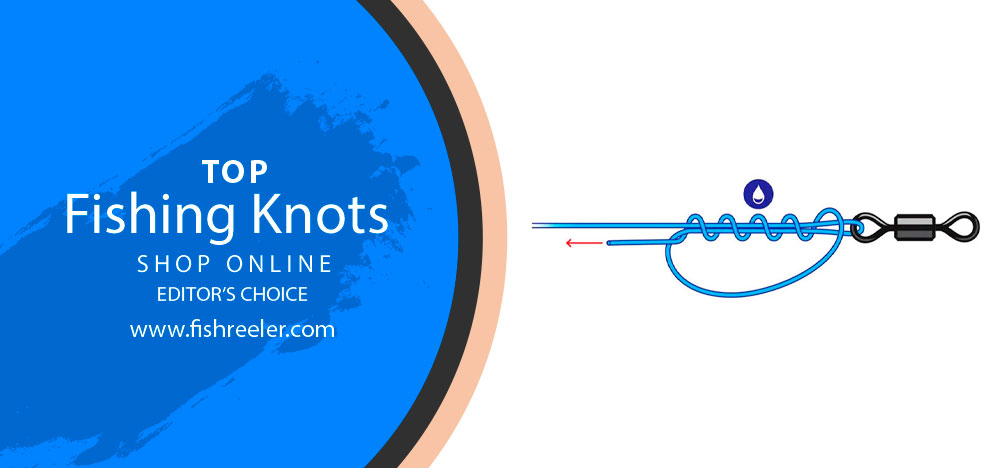 What Is The Best Knot For Fishing
A long time ago fishing was the way to get food: the size of the prey depended on whether the fisherman's family was fed or hungry. Nowadays, fishing in this form has remained only as authentic fishing of some peoples, as well as a type of professional activity, which involves fishing on a large scale with the help of a professional tackle. For most of us, fishing has become a fascinating hobby that promotes an adrenaline rush and unity with nature, which is so lacking for residents of modern megalopolises.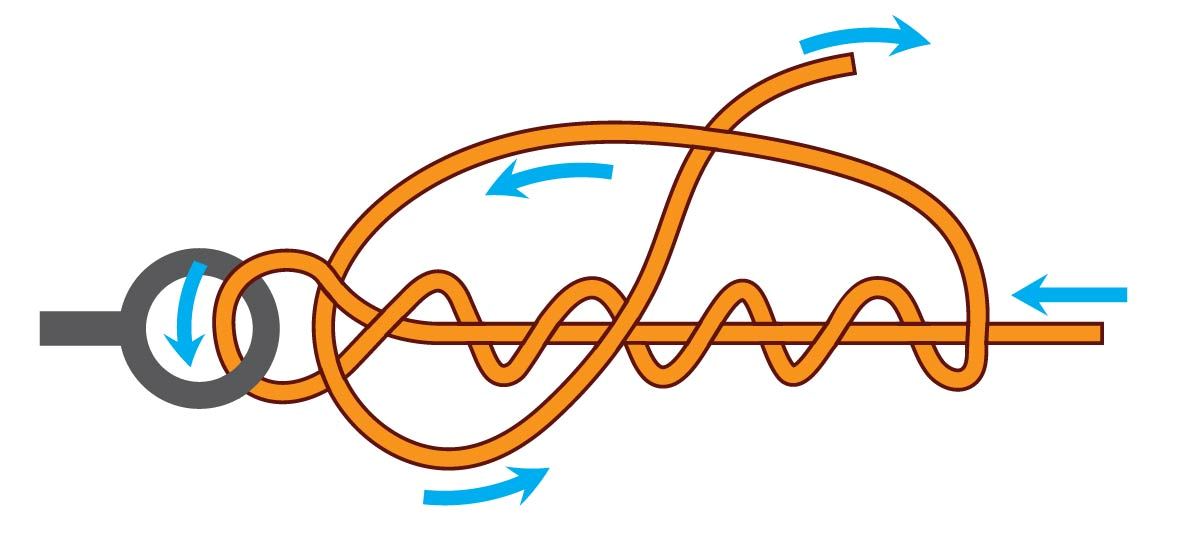 Everyone can try this hobby, despite age and physical condition. Human has invented many ways of extracting the inhabitants of the underwater world and the corresponding gear, so everyone can choose the best option for himself.
Do you want to sit down quietly on the shore, enjoying the birdsong and contemplating the float? Would you like to experience an adrenaline rush from fighting a pike caught in a spinning? There are no problems: the appropriate gear can be purchased, and for a new fisherman they will not be very expensive. And our article will provide you with the necessary information free of charge!
Fishing Preparation
During the preparation for fishing, it is advisable to study the forecast: if a radical change in weather, squally wind, choking heat, or thunderstorms is planned, it is better to move the day of fishing to another day.
Do not forget to collect all the necessary equipment:
In addition to the equipped fishing rods, it is advisable to bring along spare parts for equipment, and sometimes ready-made installations, so as not to lose precious time in the pond.
Baits and nozzles. The bait mixture is usually taken with it in a dry form, preparing it already in the pond. It is advisable to stock up on several nozzles in order to manipulate them in conditions of a weak nibble.
Other accessories. In this case, we are talking about a container for caught fish (a bucket, or rather a cage), a landing net for large specimens, as well as a knife or extractor for extracting a hook from a prey's mouth.
Things for your own comfort. With passive fishing methods, the fisherman is in one position for a long time, which means that you will need a convenient folding chair with a back and fishing rod stands. For protection from the sun, glasses with tinted glasses and a hat are useful.
Do not forget about the free comfortable clothing for the season, raincoat, and rubber boots!
How to Tie a Reliable Knot For a Fishing Line?
There are no trifles when you do fishing – this is an axiom that experienced fishermen constantly repeat. Very often, not only the quantity of the prey but also its quality depends on the reliability of the selected tackle: trophy fish are not to be caught by unprepared equipment. Knots on the fishing line – one of such important trifles. The knot itself is small, even almost invisible. But this is an extremely important part of fishing equipment because without knots it does not exist.
Before Starting:
Choose the right fishing knot and tie it.
Add moisture to the knots with water or saliva before tightening it down.
Check if your knots perfectly tighten.
Cut tag ends of your knot.
Try, use, practice!
During the fishing, the fishing line inevitably carries a certain load. Knots on it, too.
The main factors of successful fishing depend on the reliability of the knot:
The catch of large or highly resistant fish is impossible without strong joints;
A reliable knot will allow you to save tackle with hooks and any other load;
An improperly tied, too voluminous knot can ruin and nullify all fishing: it will be too noticeable in the water and therefore scaring away the fish, and passing through the rings, it may interfere with the range and accuracy of these castings.
So, what the best fishing knot for braided Line to swivel, hook, or lure connection is?
Let's match the most popular knots against one another to determine which one truly is the best fishing knot for a braided line to a swivel, hook, or lure.
Knots That We'll Describe in This Article
Palomar Knot.
Uni Knot.
Improved Clinch Knot.
Trilene Knot.
San Diego Jam Knot.
Palomar Knot
Many fishermen believe that the Palomar Knot is the best fishing knot.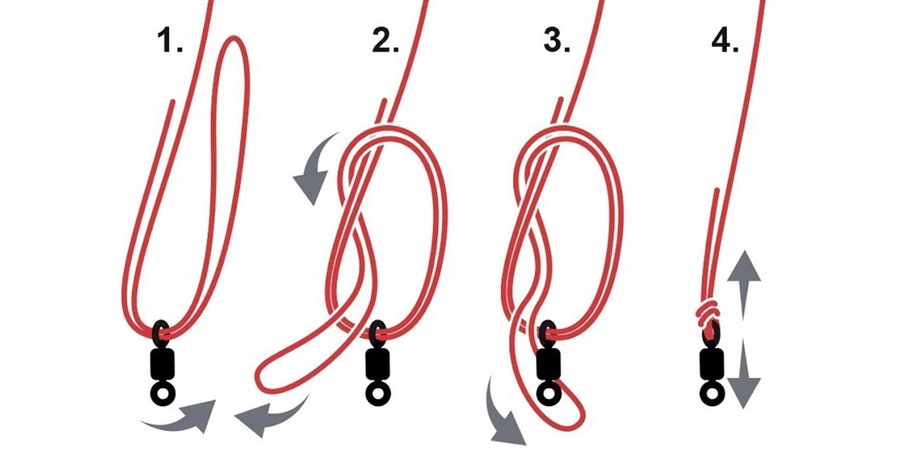 Palomar Knot is an excellent knot when tied properly. Be sure that when the hook or lure is passed through the loop that all parts of the knot girth up together. The knot can fail if tied in an incorrect manner. This is also the best knot to use with braided lines. If you want to see the video of this process click here:
Uni Knot
The uni knot is a multipurpose fishing knot that can be used for attaching the fishing line to the arbor of a reel, for joining lines, and for attaching lures, snaps, and swivels.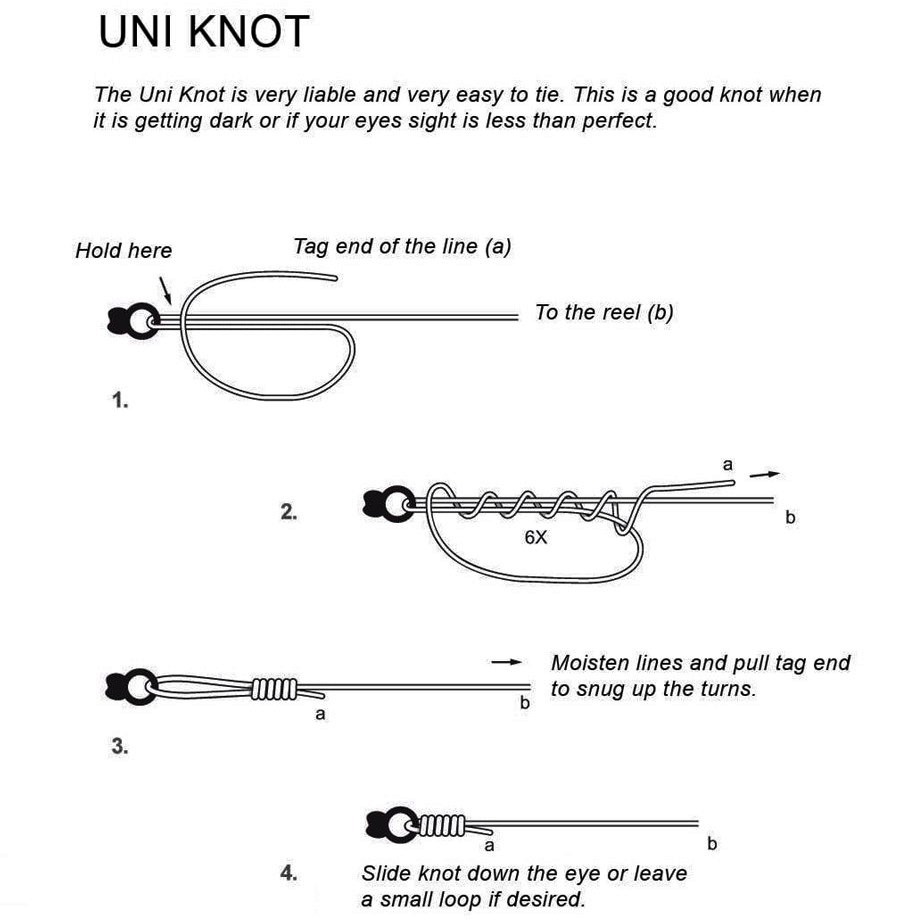 The Uni Knot was invented by Norman Duncan and is also known as the Duncan Knot. It was also published later under the name Uni Knot by the outdoor writer Vic Dunaway as being a versatile knot that can have many applications. When used to join two lines it is known as a Double Uni Knot.
Double Uni Knot
How to tie the Double Uni Knot?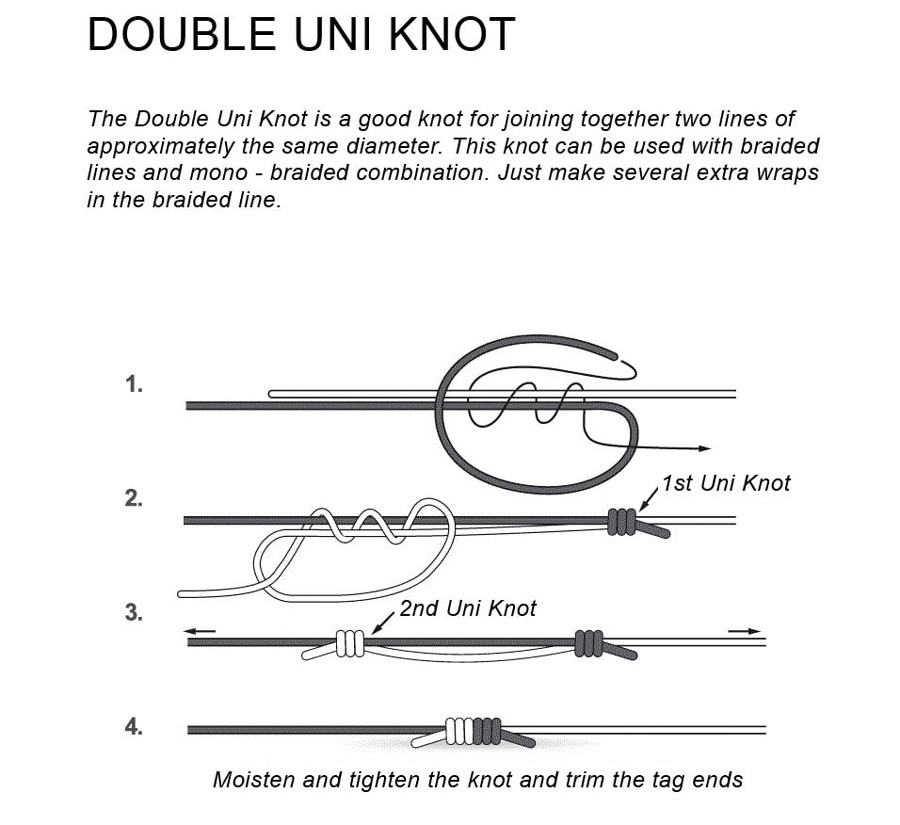 This knot is used by anglers in both salt and freshwater to join lines of similar or different strengths. It works very well and some think that it was easier to tie than the Blood Knot. When tying in braided line to monofilament, make 8 turns with the slippery braided line and 5+ turns with the mono. Click here to see the instructions on how to tie both kinds of knots:
Improved Clinch Knot
The Improved Clinch Knot is one of the most widely used fishing knots. It provides a good method of securing a fishing line to a hook, lure, or swivel. The "improved" version shown here includes an extra tuck under the final turn.
The Improved Clinch Knot is seen as a fisherman's reliable knot. It is suited for attaching a small diameter tippet to a heavy wire hook. This particular knot is strong, firm and reliable for every fisherman for it can withstand a battle with big fish.
How to Tie an Improved Clinch Knot?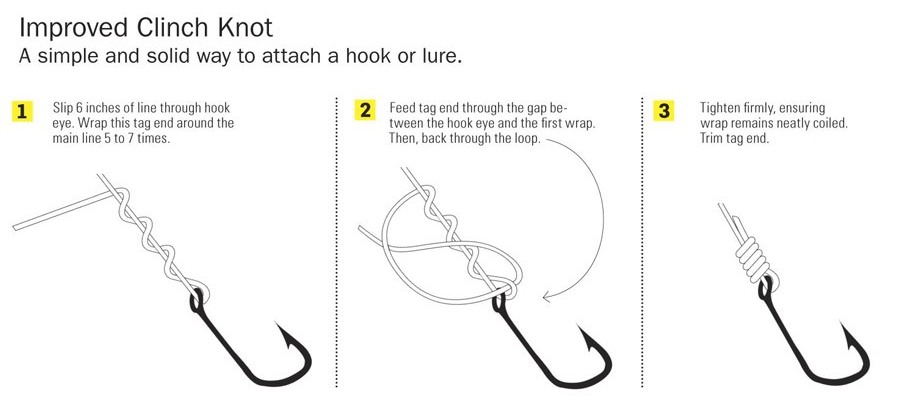 Given its performance and relative difficulty to tie, I recommend not using this one so did not include a how-to video. Click here:
Trilene Knot
The Trilene knot is a powerful and reliable fishing knot that is effective in tying a monofilament or fluorocarbon line to swivels, hooks, snaps, and lures. It is known to retain about 85-90% of the line's original strength. It was researched and developed by the Berkley tackle company and is recommended by them to tie the monofilament. I find it works especially well on the fluorocarbon line and leaders, preventing the knot from coming loose in the fight.
How to Tie a Trilene Knot?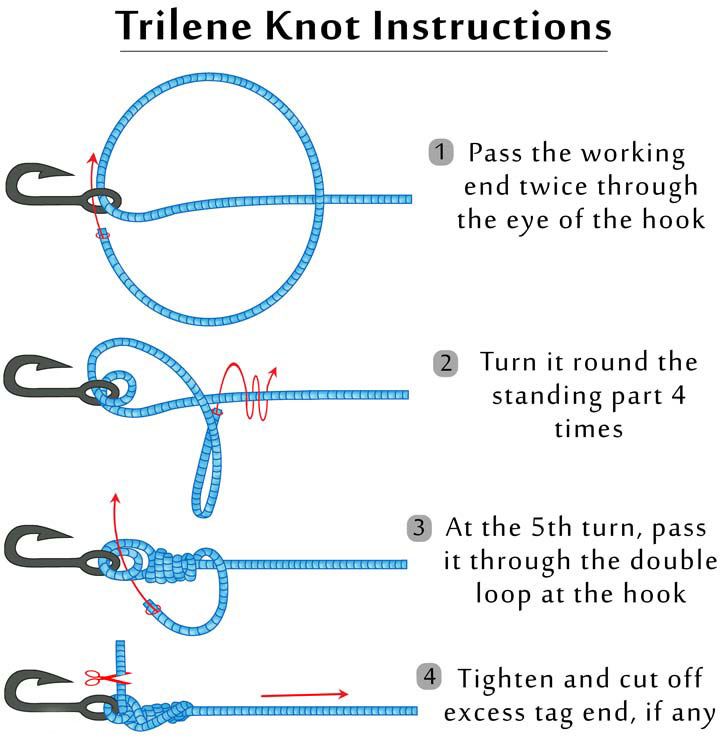 Click here:
San Diego Jam Knot
This knot was very "famous" only in the fishing capital of San Diego but later gained widespread recognition with anglers all over the world as an excellent knot. It attaches a line to a swivel, hook, artificial fly, or clip. Also known as the reverse clinch or the Heiliger knot it can be tied with many types of fishing lines including fluorocarbon, monofilament, and braided v/s the Palomar knot is not as powerful with braid as it is with mono. It has won "stormy" reviews with fishermen.
How to Tie a San Diego Jam Knot?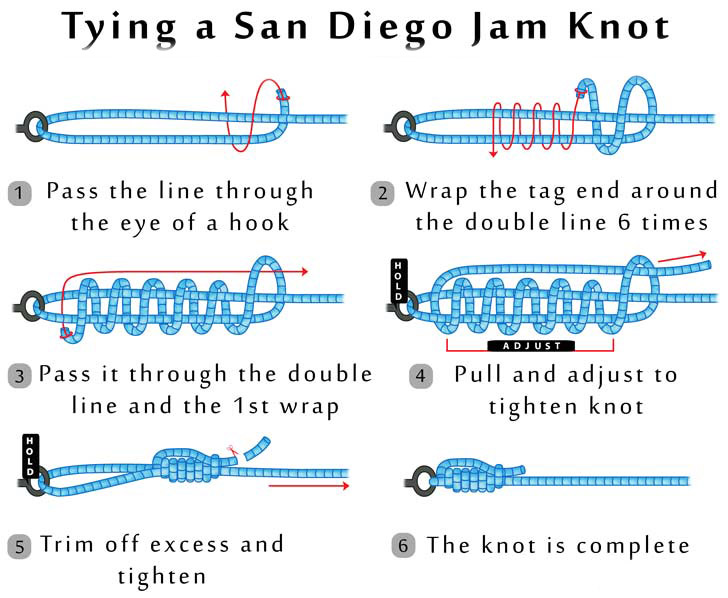 Click here:
Conclusions and Practical Guidance
So, this analysis was very close to the 5 famous kinds of knots. Given the slightly stronger hold of the Uni knot along with the fact that it's a bit easier to tie, I recommend the Uni for this connection. This diagram shows the head-to-head matches that took place as part of this analysis. The test consisted of 3 rounds, the 3rd round was the winning knot tied against itself to test its strength. The red values below the names of the knots represent the amount of pull strength that the knots were able to withstand in each round. Lines used were 10 lb PowerPro braid and 30 lb Ande Fluorocarbon.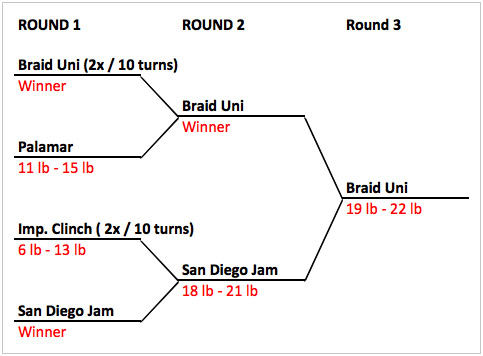 This knot testing is continuous because people are always seeking out the best method.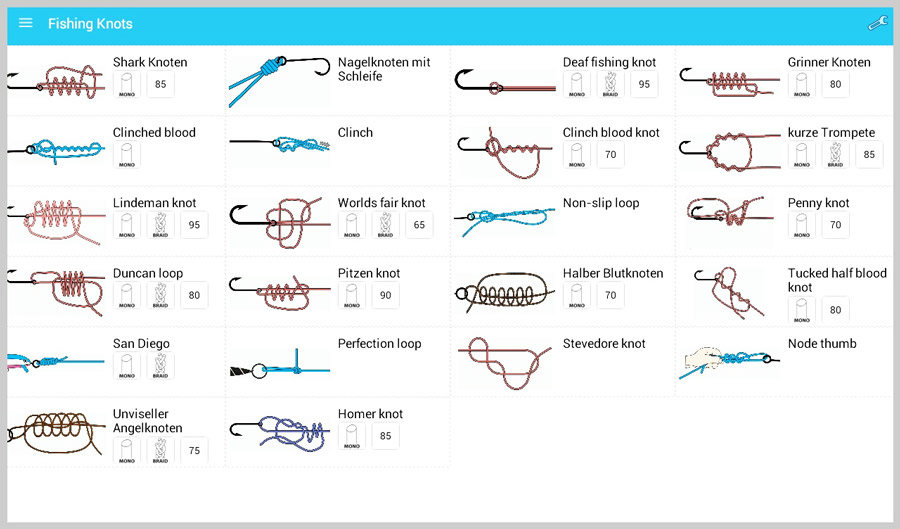 That's all! By learning these 5 easy fishing knots, you'll probably be more flexible, much more prepared, and ready for your next fishing trip. Some practice and you will become an expert in no time!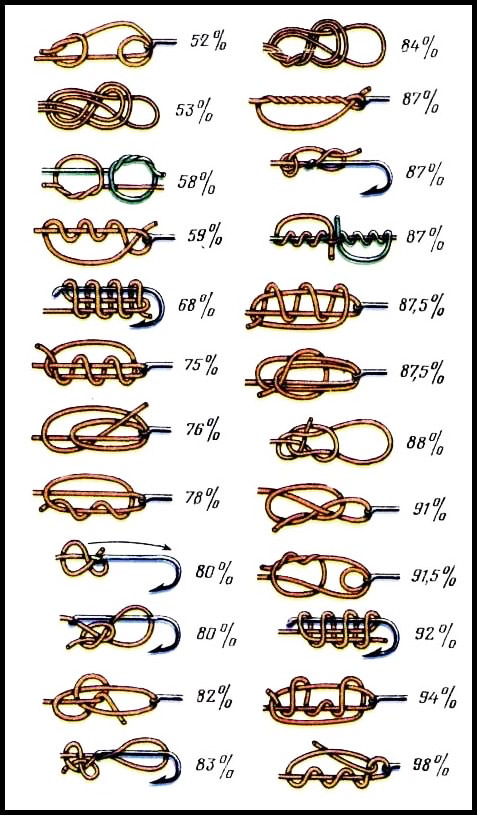 I add a description and drawings of how to knit the main knots of the fisherman. In fishing, a large number of fishing units can be used. They can be divided into several categories according to their purpose.
Types of Fishing Units:
Knots for hooks and lures
Loop nodes
Knots for attaching fishing line to the reel
Fishing nodes for linking two lines
Specific nodes
Knots can also be divided by the type of fishing line for which they are better suited.
Types of Fishing Lines Used:
For braids
For monofilament
For fluorocarbon fishing line
Palomar Knot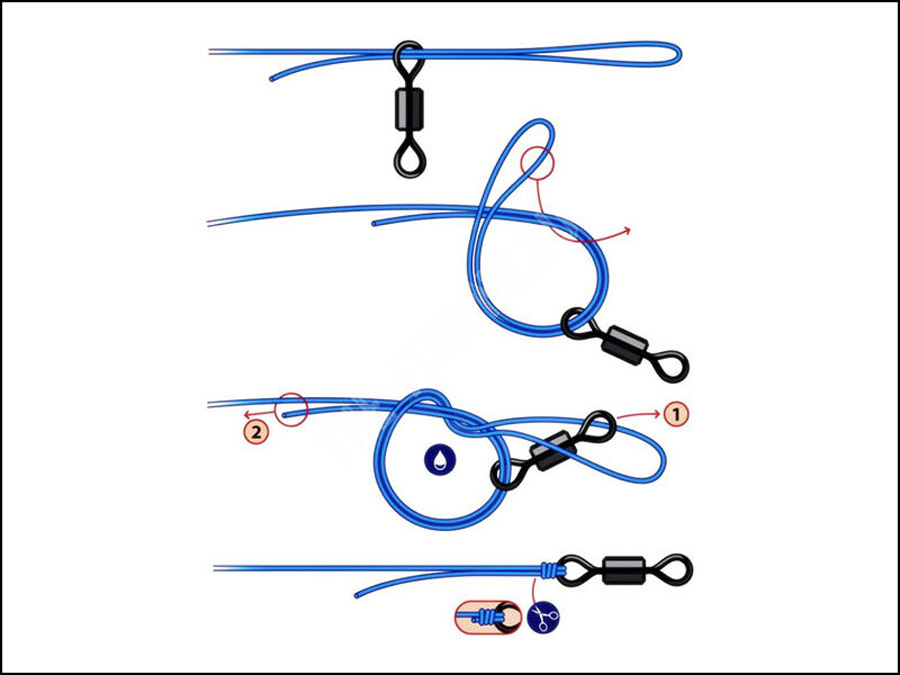 The Palomar knot is a simple but very reliable knot for tying hooks, swivels, and other accessories. This is the main knot for some braided cords. The Palomar node is used everywhere when you need to bind something small. Suitable for woods of any type – for monofilament and braided cord, nylon, and fluorocarbon.
Grinner Knot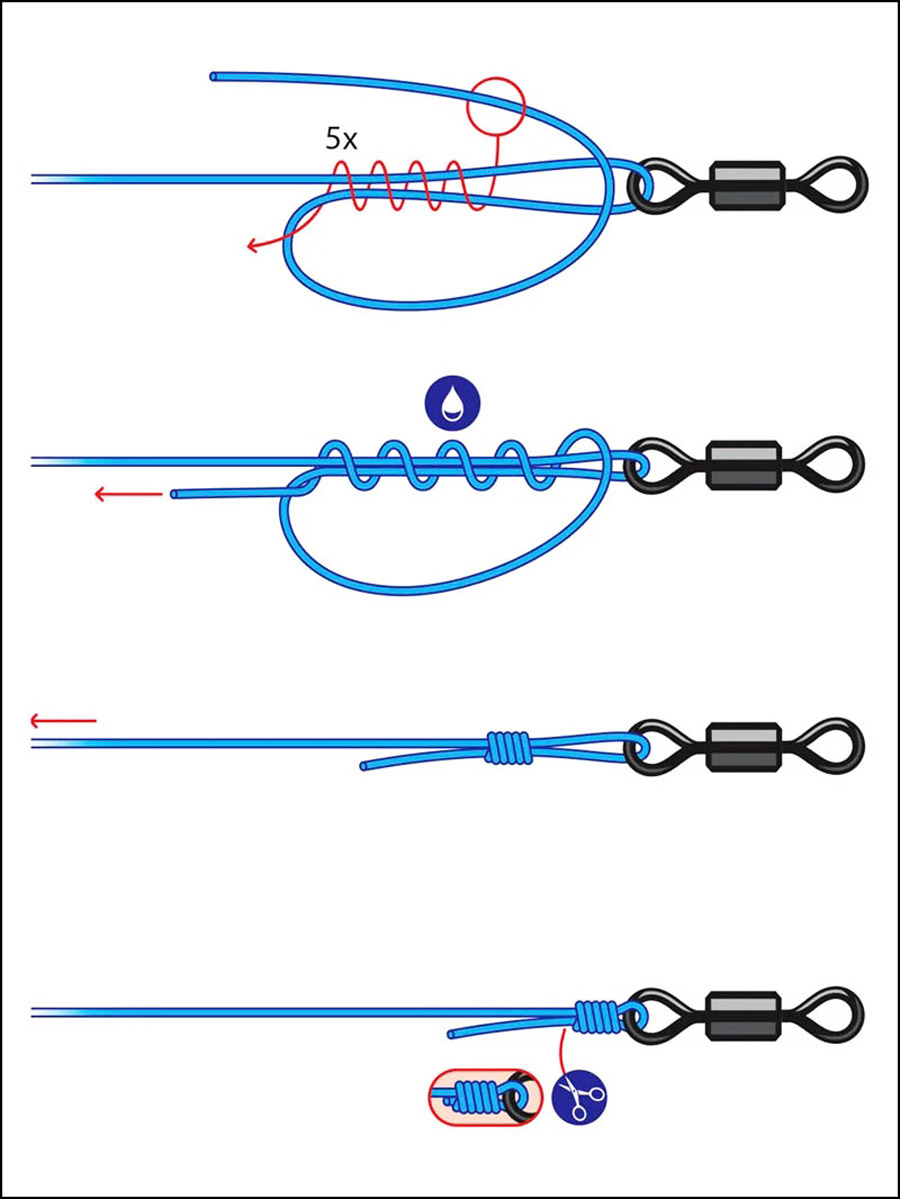 The Grinner or Uni Knot node is essentially the same node with different names. It is used for fastening hooks, swivels in various snap-ins. No less than the previous Palomar knot is popular, and also, it is one of the main ones for some wicker woods. In addition to its direct purpose, in feeder fishing, Grinner is used for looping floating Pop-Up nozzles in some types of carp and feeder assemblies.
Improved Clinch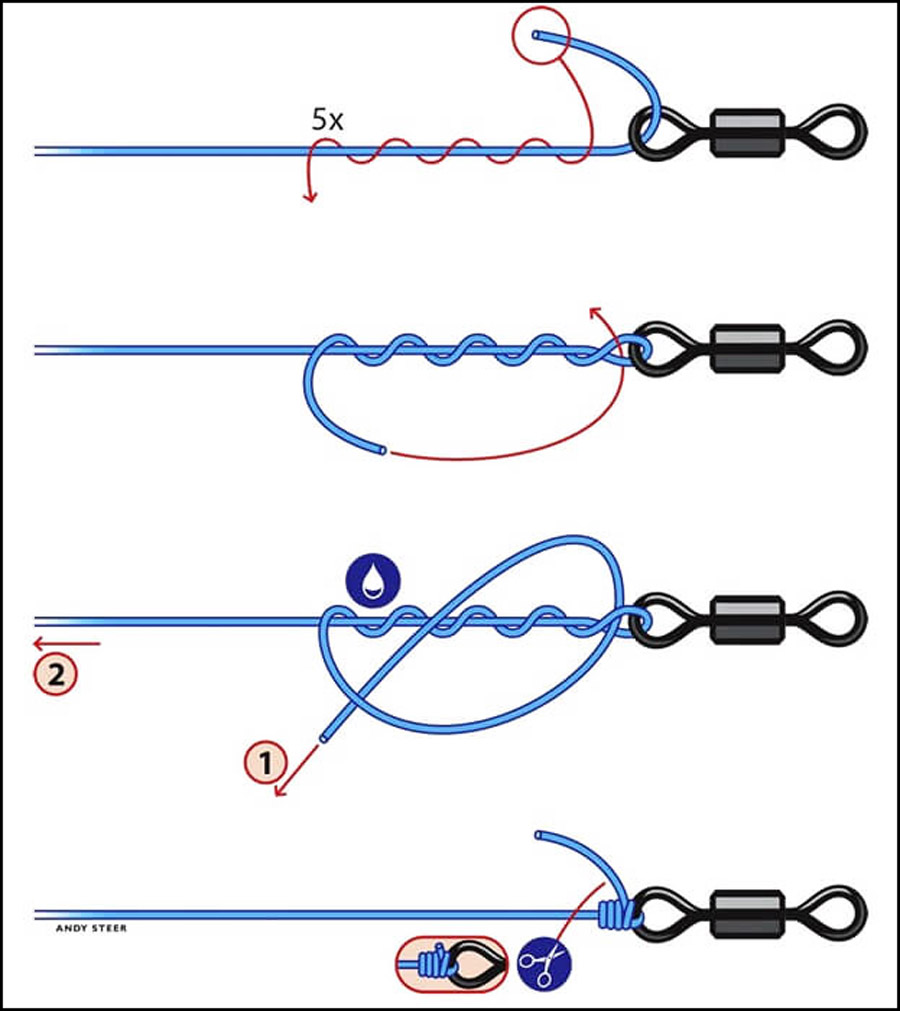 Improved Clinch is a knot that many anglers can tie with their eyes closed or in total darkness. Suitable for different woods and flood materials. A simple Clinch differs little from an improved one, in it, at the last step, the tip of the fishing line is not held in a large loop. They are considered the best fishing units for hooks, leashes, nozzles, carbines, and swivels. It has high strength, but only when using braids or monofilaments with a diameter of up to 0.4 mm. If you take more, the reliability of the node is reduced. It is easy to tie since it does not have complex weaves.
Knotless Knot
A knotless knot, allows you to quickly snap a hair snap hook. This is the knot that every "carp" knows. The length and freedom of hair can be determined by the number of turns of fishing line around the forend of the hook. Node Fishing Knot is used to create a hair snap. It is mainly used for braids. Simple in execution, but very sturdy and reliable. To make it even more reliable, it is recommended to lay the turns of the fishing line evenly, without fly fishing. You can additionally use glue.
Marker Fishing Unit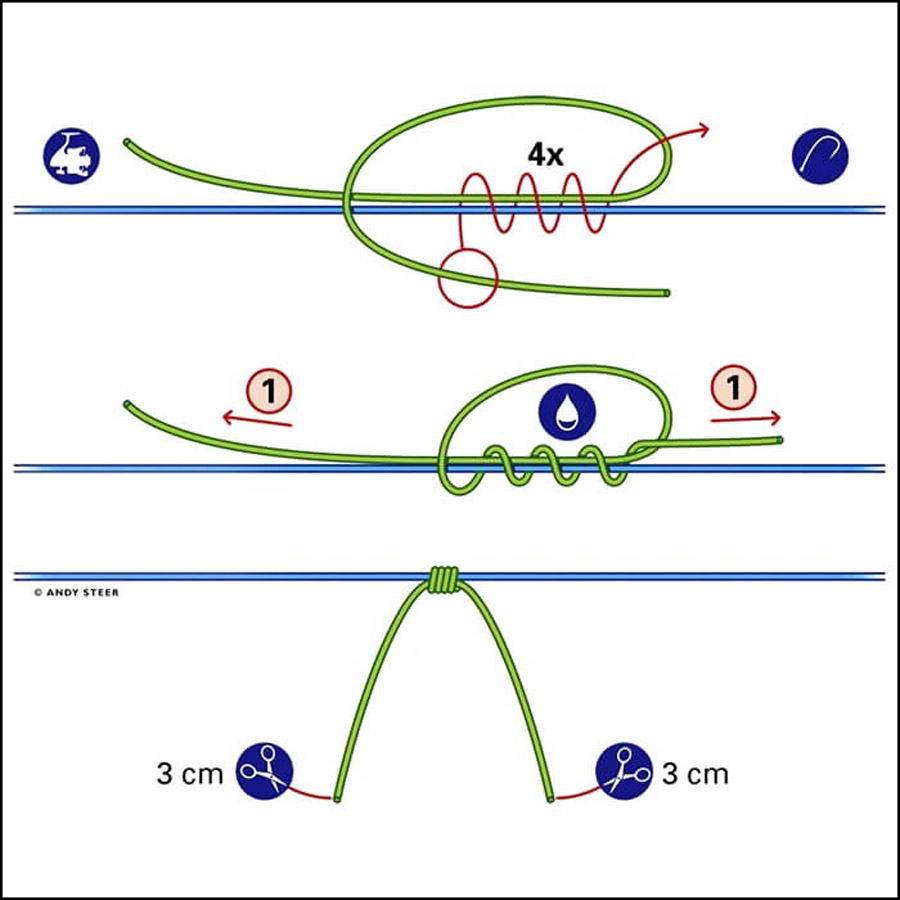 It is used for feeder gear. Usually, a special elastic material is used, which is attached to the main fishing line and serves to indicate the measuring marks. This is the most durable fishing unit, does not slip on the fishing line. If necessary, it can be quickly removed: pull the ends of the elastic thread and pull it out of the knot. After removal, a slight deformation will remain, but it will not have a negative impact on the working qualities of the fishing line.
Leader Knot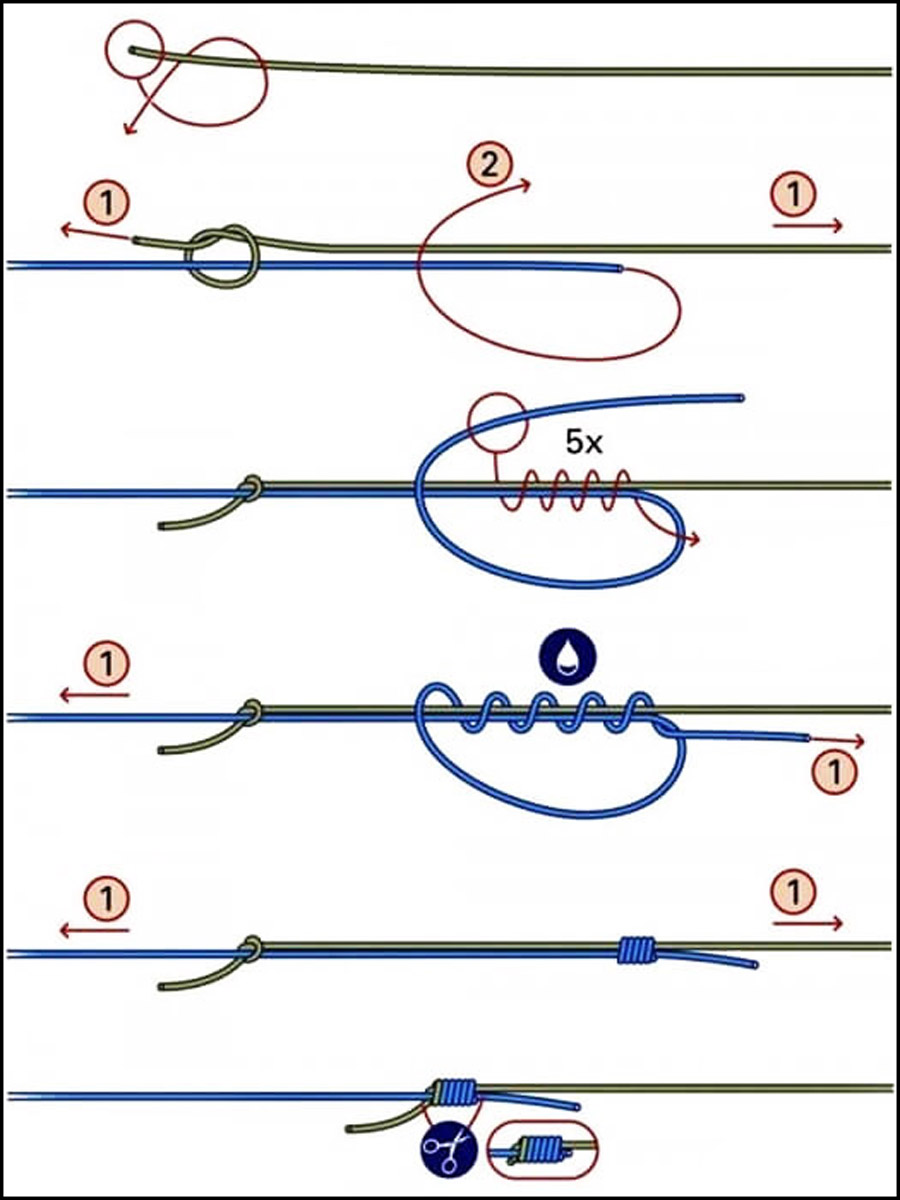 Leader Knot is a simple knot that serves to connect the shock leader with the Main Line of the feeder gear. The shape of the knot allows the fishing line to pass through the rod rings almost unhindered. Used for feeder gear: tie the shock leader to the main fishing line. Securely fastens the 2 ends of the fishing line, even with different diameters and types. At the junction, the knot is very neat, but the strength is 80%. Any novice fisherman can learn to knit such a knot.
Mahin Knot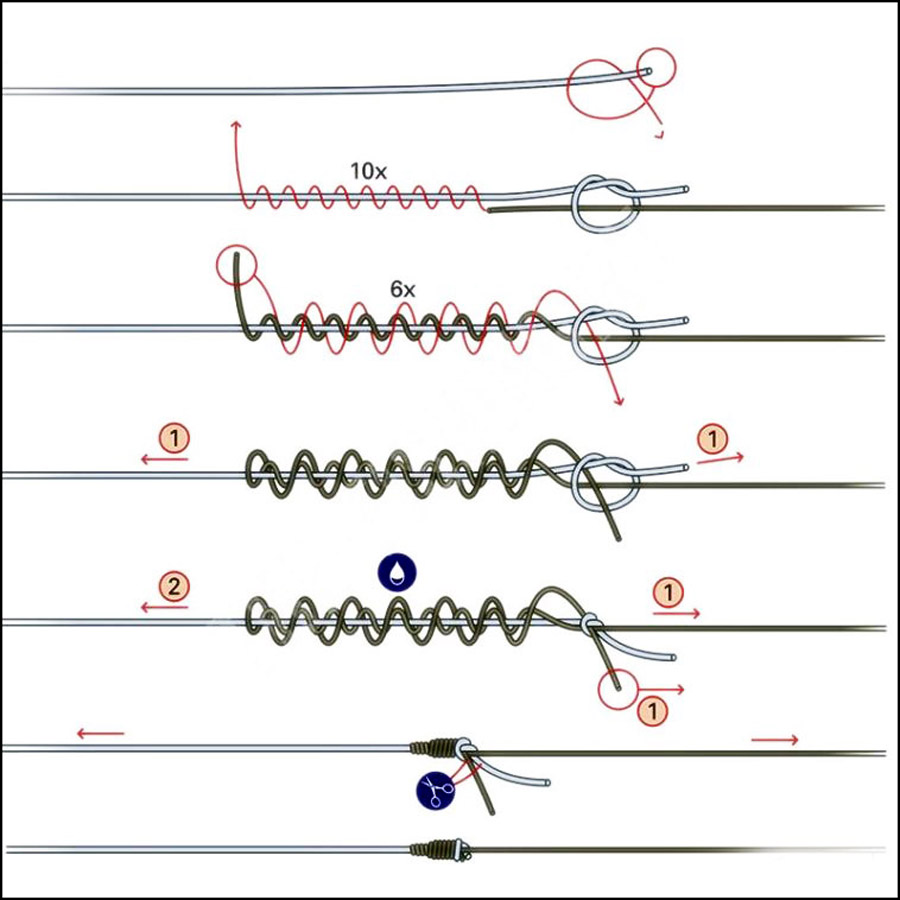 Mahin Knot is one of the few knots suitable for binding fluorocarbon to another fishing line, whether it be a braided cord or monofilament. The pointed form of the knot, for which it was called Carrot, allows you to use it to connect the main fishing line with the shock leader. Suitable for linking any woods in different combinations among themselves.
Simple Loop Fishing Knot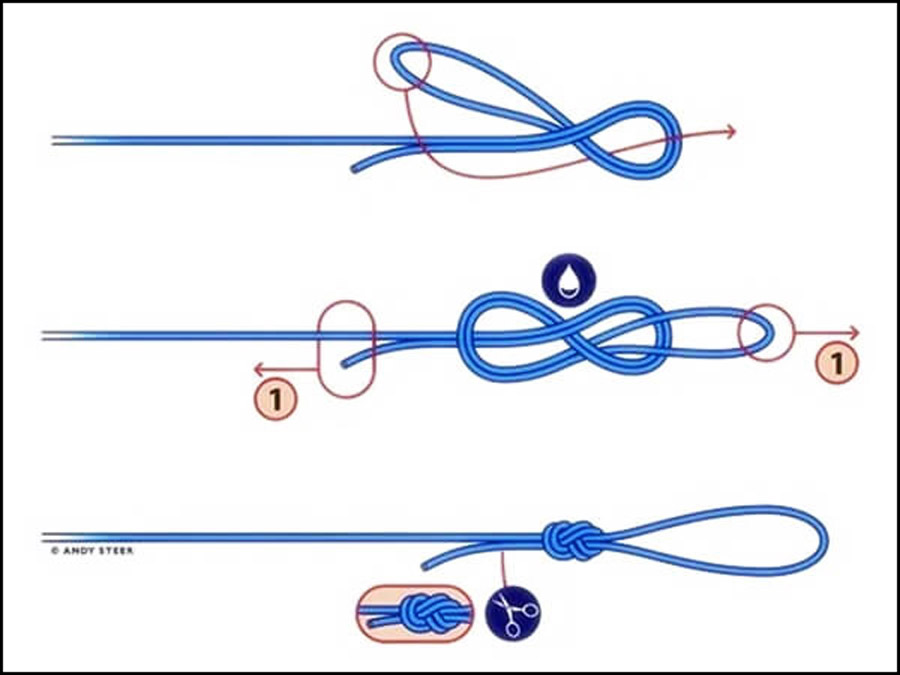 Universal node. Bits of help fasten leashes and floats. In water, it is invisible. Its strength is very high, but it is performed quite simply. Suitable for monofilament and braids. Such a node is used on an industrial scale. And also there are all kinds of variations.
Albright Fishing Unit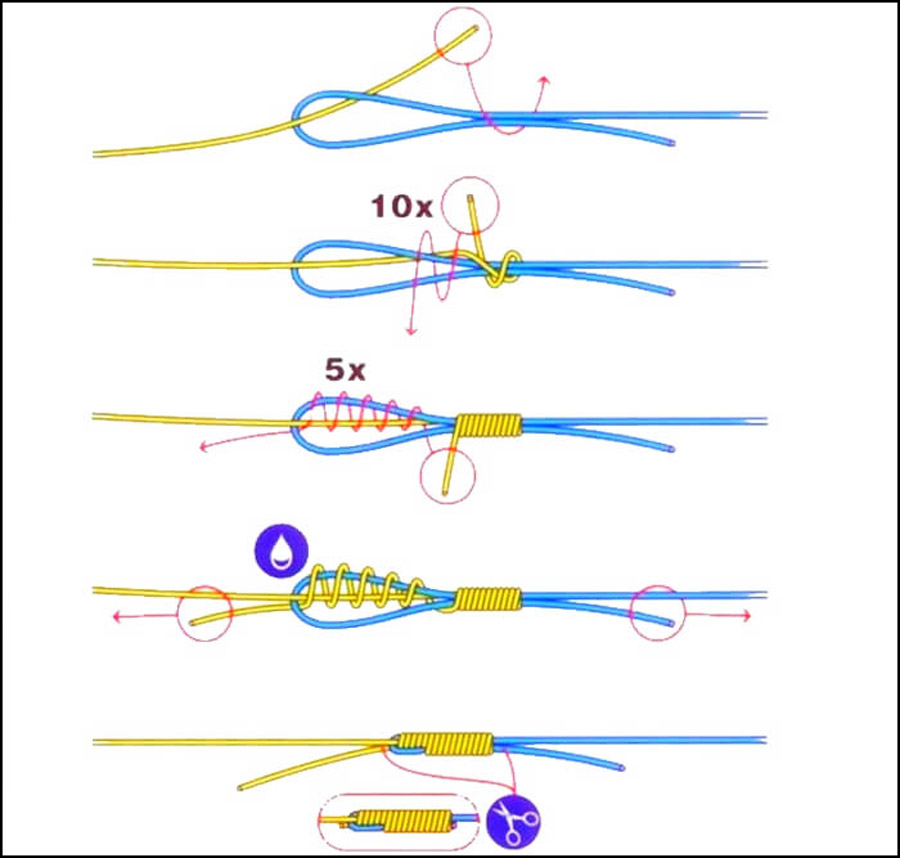 It has high strength. It is used to fasten the leash and the shock leader to the baseline and when fishing in difficult conditions, when there is a risk of tearing the equipment. Tightly connects 2 fishing lines with each other, even of different diameters and structures. It's easy to master.
Snell Fishing Unit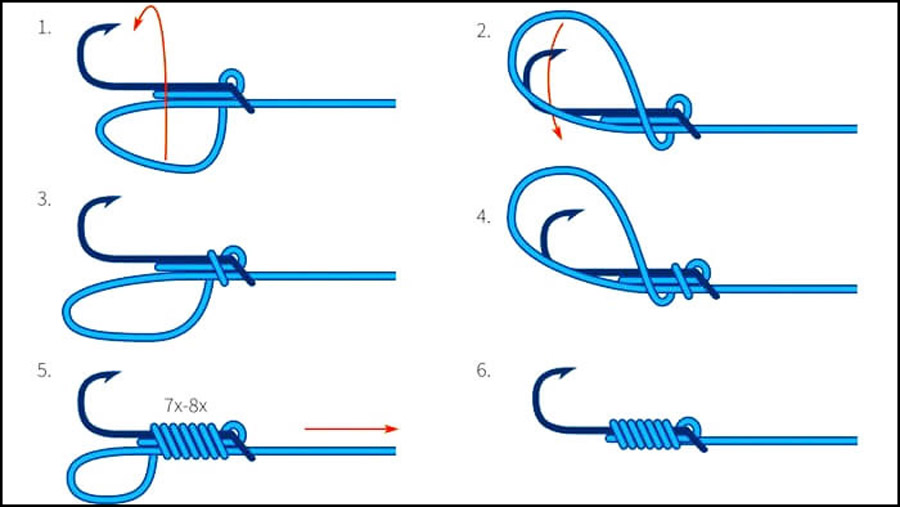 This is the simplest hook fishing unit that applies to different fishing lines: monofilaments and braids of various diameters. It is attached to the forearm and has excellent durability. When pulling a caught fish, it distributes the load throughout the entire rig. Therefore, aggressive jerking fish will not spoil the fishing line.
How To Tie Two Fishing Lines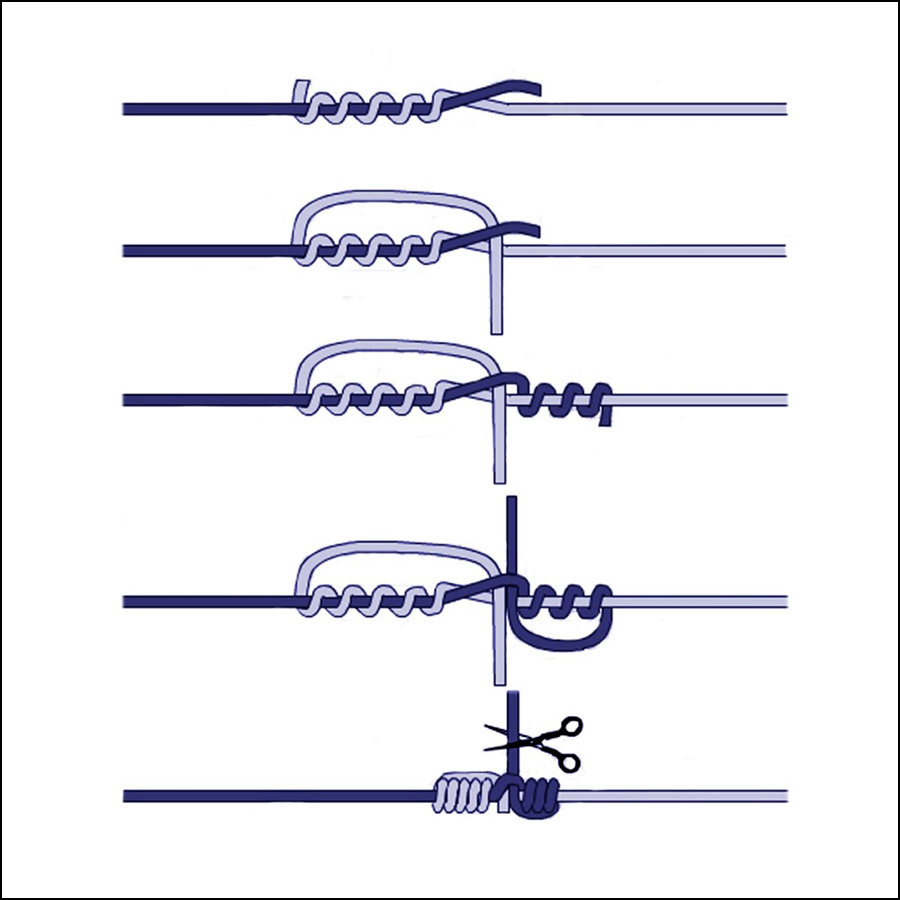 Quick Loop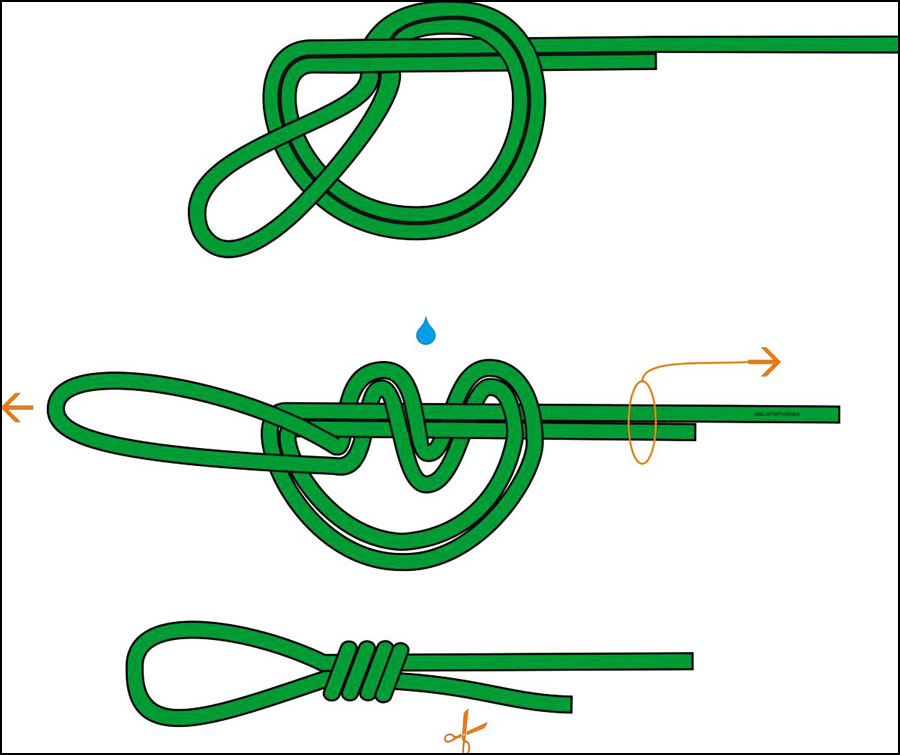 Comfortable Loop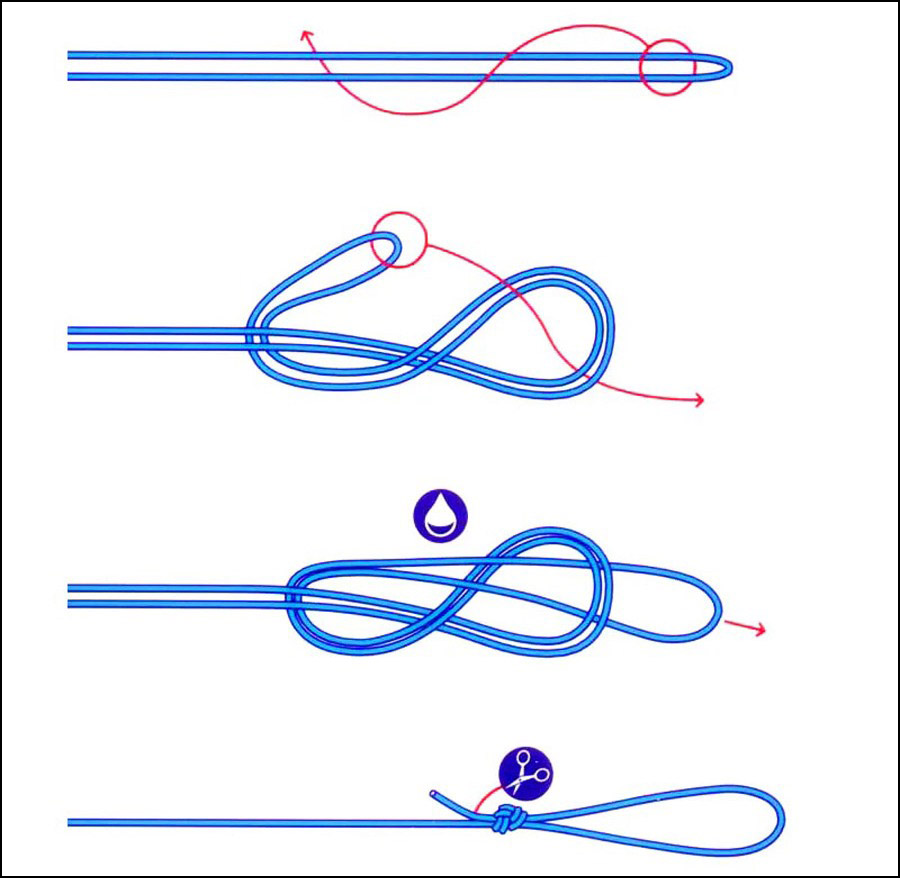 Dead Fishing Loop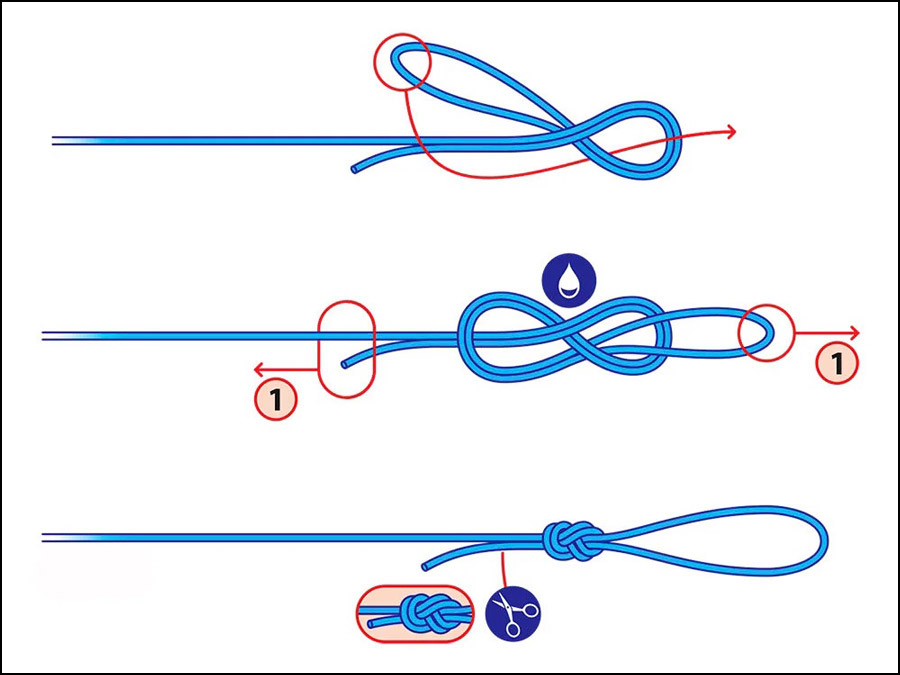 Reinforced Fishing Loop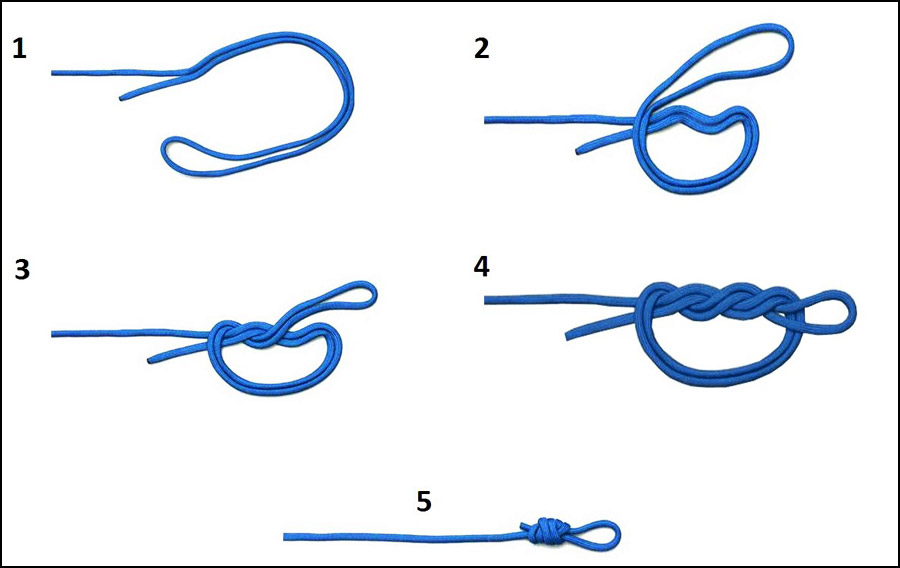 Fixed Loop Assembly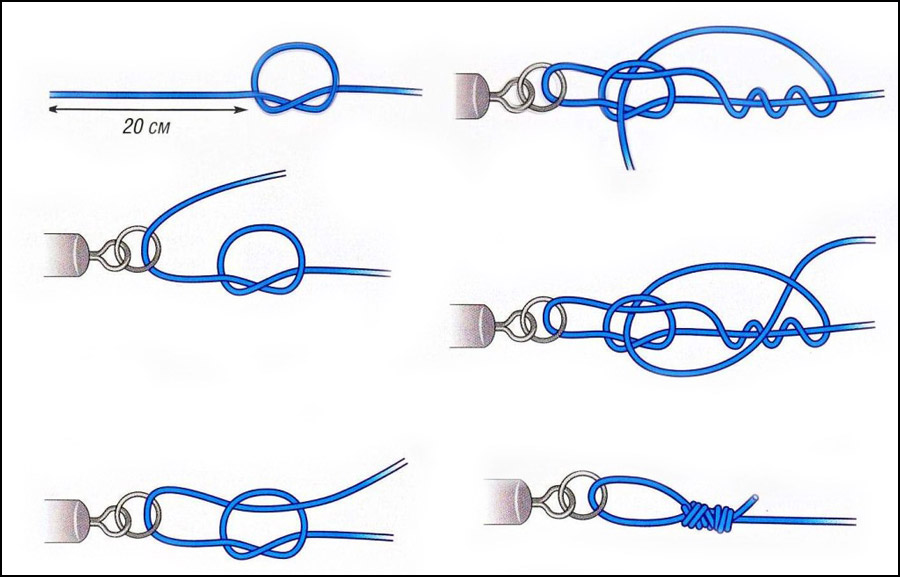 The Loop On The Main Line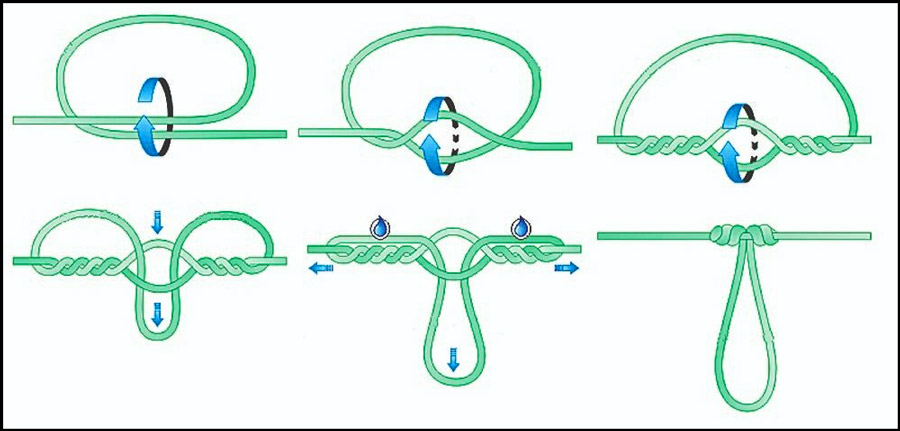 Useful Knots for Fishing
Best Fishing Knot for Lures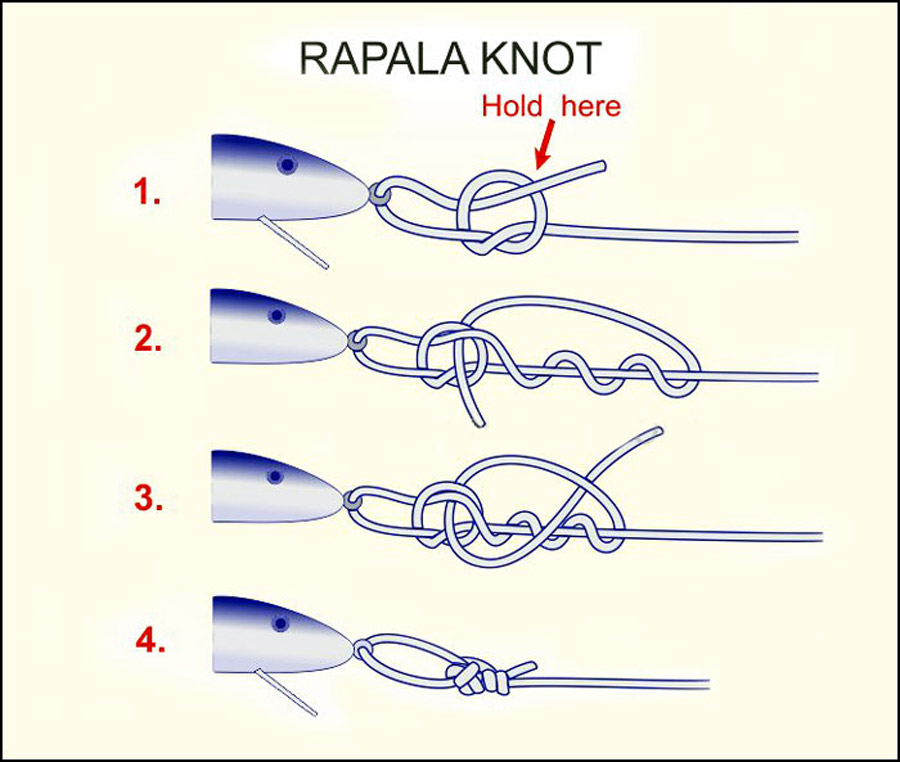 Tags: #best fishing knot / #best knot for fishing hook / #best knot for fishing line / #best bass fishing knot / #what is the best knot for fishing / #how to tie the best fishing knot / #what is the best knot for braided fishing line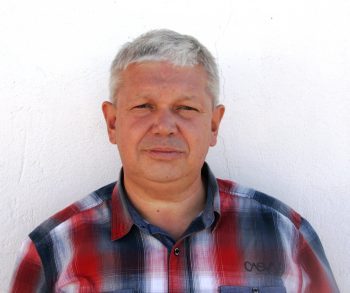 Sergio Smirnoff
Professional fisherman with 40+ years of experience.
Fishing and the ocean is a passion of my life. I am passionate about all kinds of sea fishing: fishing from the shore (spinning, float, baitcasting), from a boat, and spearfishing day and night.
I live in Tenerife (Canary Islands) for the last 10+ years and share my daily fishing experiences on my website. Many years of personal experience as a fisherman and the vast experience of my friends allow me to write professionally on any fishing topics (from choosing a flashlight and equipment to deep-sea fishing).
All of my advice is based on practical real-world experience and will be useful to both novice anglers and professionals.
Read more
about the author.
Affiliate Disclosure: FishReeler.com sometimes gets paid for listings, through sponsors or affiliate programs like Amazon, Ebay, Cabelas, Bass Pro Shop, Shimano, Daiwa, Rapala, Renn, Okuma, KastKing, etс. Clicking a link helps keep FishReeler.com free, at no extra cost to you!
About the author: Each article is verified by the fishing expert Sergio Smirnoff. The articles are written by professional and amateur fishermen with 20+ years of fishing experience.
Note: The views and opinions expressed in this article are those of the authors and do not necessarily reflect the official policy or position of any agency. The articles are for informational purposes only, share your opinions in the comments and join the fishing discussions, let's share our fishing experiences together!