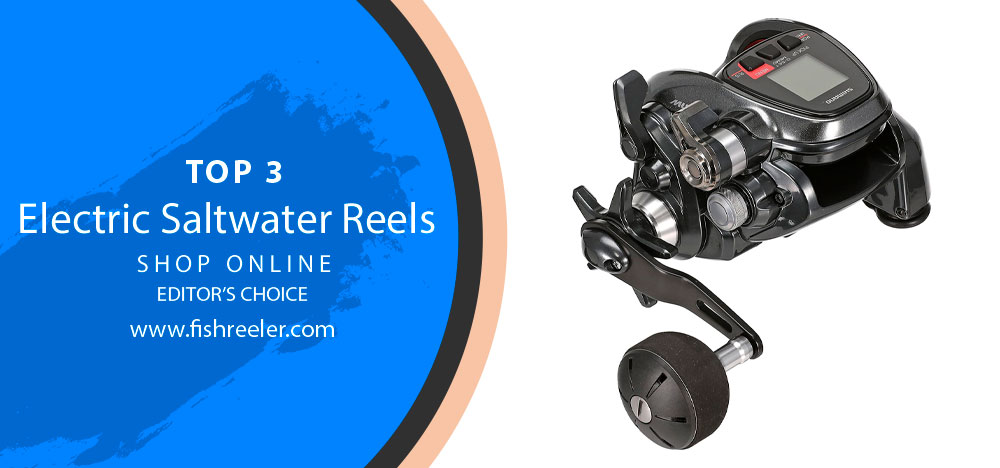 Electric Saltwater Reels Review for Deep Drop Fishing
Deep-sea fishing is fishing at a depth of at least 100 feet (30 meters), which allows fishermen to catch large fish that are usually impossible to catch in shallow waters. They can catch fish such as swordfish, shark, tuna, and marlin.

Fish that live in the open sea or ocean need space and an abundance of food. And some fishing areas, especially those that are properly supervised and cared for, can please fishermen with a large variety of marine fish. Very often, a boat equipped for deep-sea fishing goes so far out to sea that the land completely disappears from view.
Because catching large sea fish is quite a difficult task and challenges both the physical training of a person and his specific skills. Such fishing can cause a lot of positive emotions and it can become a source of seafood in the home menu.
Deep-sea fishing is practiced all over the world and if you live, or somehow ended up in a locality located on the beach, then most likely, you can easily find and rent a motorboat or boat with all the necessary equipment, designed for fishing in the open sea. For people who love fishing and active recreation on the water going out on a boat to the open sea can bring a lot of pleasant experiences.
If necessary, the boat team will provide all the necessary equipment for deep-sea fishing and support. Many owners of boats and motorboats have extensive experience in deep-sea fishing and can help the novice angler understand the secrets and subtleties of this craft.

For deep-sea fishing, you will need:
A boat (boat or yacht) equipped appropriately (sonar, radio station, etc.);
Protective equipment (safety belt, safety rope);
Fishing gear (rod, reel, fishing line, sinker, and leash with a hook or artificial bait);
Bait;
Deep-sea fishing is always a team way of fishing. Every member of the crew of a swimming vehicle participates in it. Each member has its own mission, its own role.
This method of fishing is used both in Northern latitudes and in temperate and tropical climates. In the tropics and near the equator deep-sea fishing is effective all year round. In Northern latitudes and in temperate climates this method of fishing is used in the warm months. Since deep-sea fishing always takes place in the open sea, experts recommend paying attention to individual protection from sunlight, prevention of seasickness and careful preparation for such an exit.
Features of Deep-Sea Fishing Gear
Sea spinners are used up to 1.3 meters long with a test of up to 600 grams for deep-sea fishing. These spinners are made of particularly strong materials.
A feature of sea spinning is considered to be:
Especially strong transmission rings used in the construction, which are often replaced by rollers;
In the spinning design, the rings are located above the surface of the form.
Elements of sea spinning equipment are considered to be:
Multiplicator type reel. This is the most expensive and complex piece of equipment. Reels for deep-sea fishing are characterized by increased forest capacity and can accommodate up to 1 km of fishing line with a cross-section of up to 0.5 mm. These coils are divided into high-speed and power. Each type has its own scope of application and often has to take both types of fishing. In addition, many anglers use electric and motorized reels.
Fishing line (monofilament, braided cord, and braided cord). The section and type of fishing line are selected based on the fishing conditions. But usually on a large trophy fish anglers go using a Dacron cord in the snap. It is a braided cord in a protective braid;
In principle fish metal leashes are used with rare exceptions for the large sea. The main requirement is the maximum tensile strength;
It is a mandatory element of equipment for deep-sea fishing. Sinkers weighing up to 2 kg are used in the equipment;
Hooks are used as large and forged. Most often, several hooks are used in deep-sea rigging at once.
In this article, I want to consider exactly the reel. It is best to use electric reels. Electric reels are designed for hanging rods and are the latest inventions in the recreational fishing market (in the past they were exclusive to commercial deep-sea operators).

Their modern design, improved functionality, and reduced-price have made them more attractive for fishing enthusiasts. As more and more anglers chase large fish in the open sea, the electric reel allows for more efficient and less tedious deep-sea fishing. The ability to automatically drop lures or devices and catch fish over long distances significantly reduces the fatigue of the angler.
When removing the fish, you can leave the rod in the rod holder and put the reel on autopilot. At any stage, the angler can take over and use the reel manually, as if it were a suspended reel. Also, the electric reels are additionally equipped with a display that displays the depth meter data. Most models retain data even when the power supply is interrupted for a short time.
Equipped with an electric drive, the multiplier coils greatly facilitate the life of the angler and allow you to get the maximum pleasure from catching fish in the open sea. They are powered by a removable battery and significantly save time and effort on deep-sea trophy fishing.
Main features of electric reels:
More power;
High winding speed.
Also, the electric coils are additionally equipped with a display that displays the depth meter data. Most models retain data even when the power supply is interrupted for a short time.
It is accepted to evaluate coils based on the following criteria:
The number of bearings usually varies from 0 to 15. Their main function is the smooth operation of mechanisms: the larger the number, the longer the service life of the device, but also the higher its price.
Gear ratio. This parameter determines the speed of the functioning of mechanisms. In power models, the indicator is usually lower. In this case, the angler needs to make much less effort to fish out large prey that provides significant resistance.
The presence of an anti-vibration system during the winding of the working line. It usually has the designation AVS or Dyna Balance. This reduces oscillations of the spool during winding. This eliminates unwanted vibration of the entire coil, which negatively affects its condition.
The presence of an anti-twisting system. It is designated as an Anti-Twist or Power Roller. This effect is created by the special shape of the line-laying roller, which reduces the twisting of the working line by about 20-40%.
Operability and quality of the scaffold bracket. To check this detail, you need to open the shackle and observe its behavior, spontaneous slamming should be excluded.
The presence of a friction brake is a prerequisite. It is impossible to count on successful fishing of large and strong prey without it. It allows you to suppress the resistance of the predator and play off the line if it makes too strong jerks.
Daiwa, Shimano, Banax are the best manufacturers of electric reels. If you don't know which electric coil to buy, choose these brands. Why choose these brands? Because they have repeatedly proved that they are the best in their field. But Daiwa is the most powerful in the world. So that you do not doubt what I'm talking about, I have decided to briefly talk about these manufacturers.
Daiwa
This brand has been on the market for almost 100 years. The world-famous Japanese manufacturer Daiwa was registered on December 26, 1945, in Tokyo. The main activity of Daiwa is the creation, production, sale, and repair of fishing equipment, lures, gear, and accessories. The colossal assortment, revolutionary technologies, and concepts, the author's execution of leading experts, excellent quality of gear in each element of Daiwa allowed the company to earn its well-deserved fame and generate true love in the hearts of many anglers. Currently, Daiwa is the whole world! Namely, the world of unbreakable quality! A world of respect and love for nature and people. Angler's world.
Shimano
Shimano is not only engaged in the production of fishing gear, but it also specializes in Cycling and rowing equipment. In 2021 it will be 100 years since the Japanese company pleases all fishermen and athletes with high-quality equipment.
Banax
Banax is the youngest of the three companies. It was founded in 1973. For more than 30 years Banax has been creating not just fishing gear, but the most precise tools for fishing. Reliability and functionality are the main qualities of Banax fishing gear (reels and spinners, float, carp, and feeder rods, powerful special-purpose rods, and much more), without which modern fishing is almost impossible. I want to tell you about the best reel for each brand. Anglers note that they are the highest quality of all that they have tried.
Top 3 Guide to Electric Fishing Reels
1# Daiwa Tanacom 1000 Dendoh Fishing Power Assist Reels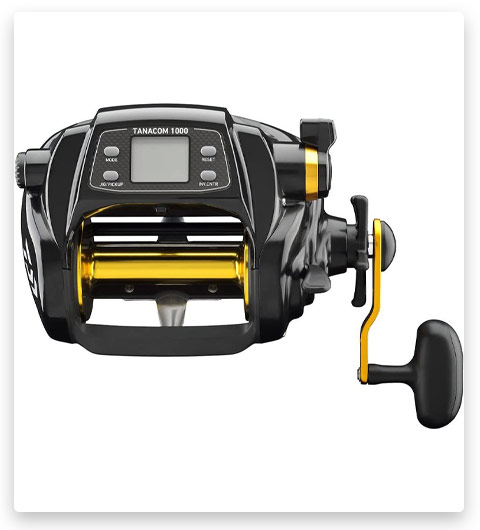 An electric coil is an expensive thing. Not everyone can afford to buy an expensive coil. Therefore, there are options at affordable prices. Daiwa Tanacom is exactly that. If you have never used an electric reel and do not know what to expect, then this is exactly what you need.
You understand that even if the thing is expensive it is not always equal to the quality. I can be responsible for the quality of this electric reel. Despite the fact that this is a budget option, it has good traction characteristics. Although this model was made for the Japanese market, it has a display in English. This greatly simplifies our lives. The coil has an automated jig function, a powerful lever for instant control of the wind speed with a digital display.
It has a cool feature that I really like. Winding stops automatically when the bait reaches the surface. And it is easy and convenient to use. There is a power switch for instant control of wind speed and power. The coil can be washed under running water and nothing will happen to it. If we talk about its characteristics, which is, of course, important, the maximum traction force – 236 kg, but the real thrust – 27 kg.
Maximum lifting speed – 120 m/min. And the weight of the electric reel is 1510 grams. It has 4 bearings, and its gear ratio is 2.3:1. There are many pluses, but there are also minuses. You must make sure that the battery is charged. When it hits more than 1,000 feet or more, it needs the full power of a 12-volt battery. If you don't have one, you will have a problem. Also in the instructions poorly explained how to use the coil, so I advise you to read articles on the Internet or watch a video. It is best told there. As you can see, there are more pluses than minuses. I can honestly say that this reel is worthy of your attention.
2# Shimano PLAYS 3000 Electric Reel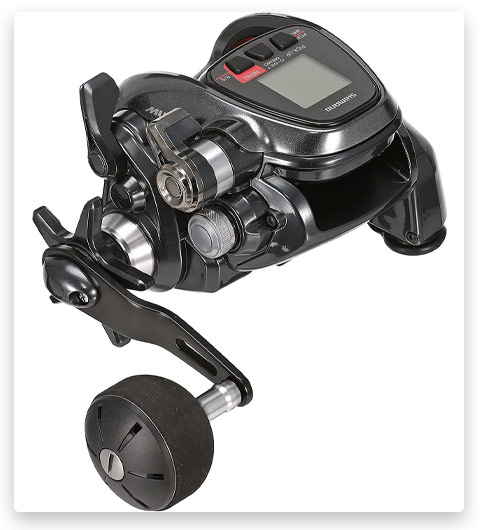 This is another budget electric reel but from Shimano. This coil does its job perfectly. With it, you can easily pull a large fish. It has an increased maximum draw force of 50kg. it impressed me with its capabilities, while the weight of the coil is 685 grams. It has a compact body. The wood capacity of the spool is amazing, it can hold 300 m (PE 0.41 mm).50 kg of maximum draw force, thanks to the special design with the engine inside, the power of 15 kg of maximum braking is saved, the maximum speed is 190 m / min. The full menu with double jigging mode, a smart adjustment will allow you to adjust the depth at which you want to fish up to a millimeter.
This electric reel is especially great for jigging in Norway, as well as tropical and Adriatic waters. The reel has an electric pulse of 12 VCC. Its spool capacity, (Pe/m) 4-400, 5-350, 6-300, Gear ratio 1: 3.5. I like this reel very much in use. There are no difficulties except one. But this is not specifically because of the functions of the reel, but because of its instructions. It is written in Japanese. Few of us know this language, so you need to spend a lot of time translating the text and understand what it is about
3# Banax Electric Jigging Fishing Version 7000 Electric Reel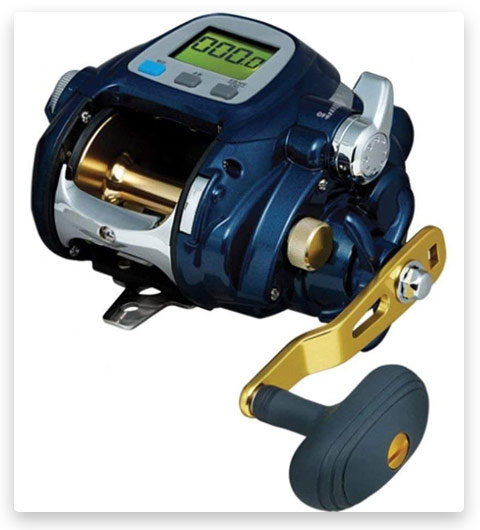 This electric reel is not in such demand among fishermen as the previous two, but it is no less high-quality. Made in Korea. For an affordable price, you will get a device that works well. The reel adjusts to the depth. The gear ratio of the coil is 3, 5: 1. This is the standard ratio.  You can change the speed while fishing thanks to the speed controls.
But do not expect that the coil will work perfectly at high speeds. It is more suitable for small fish. It will serve you for many years. Its material is aluminum, which is durable. Bearings ensure the smooth operation of mechanisms. Therefore, the number of them in the electric coil is important. This model has 7 bearings.
This means that the reel will run smoothly during the process. This electric coil can be connected to a 12-volt battery. This can be done using the cord that is included. Also, the bag comes with the reel in which you can put an electric reel after use. The speed of the coil is 12 feet per second, the maximum drag force is 66 pounds.
For such a small price for the reel, you will still find the function of jigging the drum. Usually, only expensive models have it. I have long thought about the disadvantages of this electric reel. I have found only one. You will not find batteries in the kit.
Conclusion
Electric reels are great for deep-sea fishing. These models are used for such types of fish as cod, halibut, red perch, and so on. In my article, I have told you about the three best manufacturers of electric reels. And specially selected one of their best models. I hope this will help you make the right choice. And you will fish productively during deep-sea fishing.
Tags: #electric fishing reels / #electric fishing reels reviews / #daiwa electric fishing reels / #electric saltwater reels review / #big game electric fishing reels reviews / #best electric saltwater fishing reels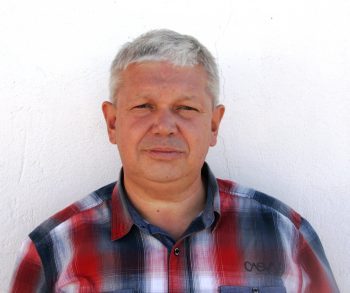 Sergio Smirnoff
Professional fisherman with 40+ years of experience.
Fishing and the ocean is a passion of my life. I am passionate about all kinds of sea fishing: fishing from the shore (spinning, float, baitcasting), from a boat, and spearfishing day and night.
I live in Tenerife (Canary Islands) for the last 10+ years and share my daily fishing experiences on my website. Many years of personal experience as a fisherman and the vast experience of my friends allow me to write professionally on any fishing topics (from choosing a flashlight and equipment to deep-sea fishing).
All of my advice is based on practical real-world experience and will be useful to both novice anglers and professionals.
Read more
about the author.
Affiliate Disclosure: FishReeler.com sometimes gets paid for listings, through sponsors or affiliate programs like Amazon, Ebay, Cabelas, Bass Pro Shop, Shimano, Daiwa, Rapala, Renn, Okuma, KastKing, etс. Clicking a link helps keep FishReeler.com free, at no extra cost to you!
About the author: Each article is verified by the fishing expert Sergio Smirnoff. The articles are written by professional and amateur fishermen with 20+ years of fishing experience.
Note: The views and opinions expressed in this article are those of the authors and do not necessarily reflect the official policy or position of any agency. The articles are for informational purposes only, share your opinions in the comments and join the fishing discussions, let's share our fishing experiences together!