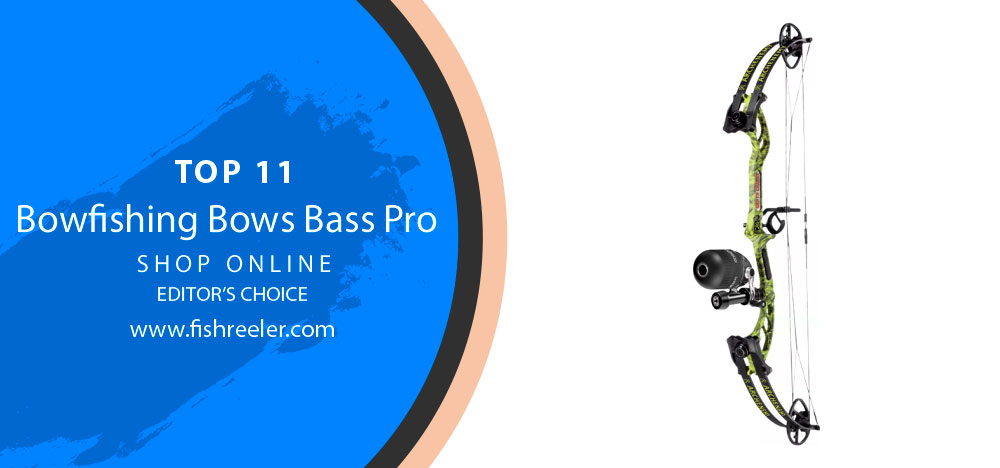 Are you looking for the best bowfishing bow? You don't have to worry anymore! In this article, I have listed 11 models that enjoy the highest ratings and are liked by the people who use them. More and more anglers are discovering the appeal of chasing fish with a bow. In fact, bow fishing is a great way to introduce young anglers to hunting, as there is no camouflage clothing and you don't need much patience to sit still like a statue for hours in silence.
The 11 Bass Pro Best Bowfishing Bows – Tips & Reviews
Below you will find a list of the best bowfishing bow for the money models. Whatever your requirement, this list contains bow-fishing bows that will satisfy you!
1# Muzzy LV-X Lever Action Bowfishing Bow Kit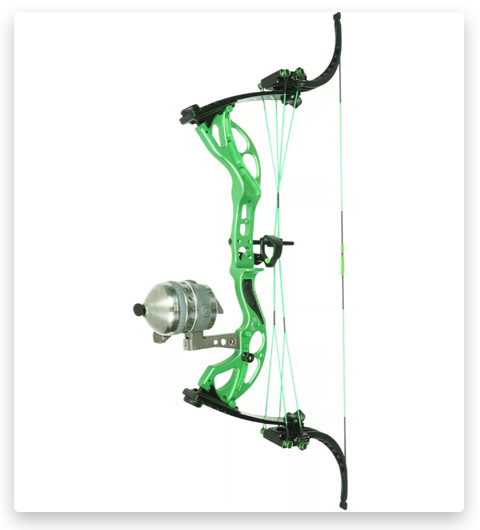 This is one of the highest quality and most popular bowfishing bows. It is suitable not only for advanced anglers but also for beginners. After purchasing the product, you can immediately use it as it does not need assembly. It is a powerful and accurate product that allows you to shoot arrows at 230 fps. The draw length is adjustable from 25″-29″ and the draw weight can be adjusted from 25-50 lbs. It has a perfectly comfortable 4-pound weight. You will be comfortable holding this accessory during the whole fishing trip. It also comes with a reel, line, reel seat, arrow with carp as well as installed finger guards.
2# AMS Bowfishing Hooligan Bow Bowfishing Kit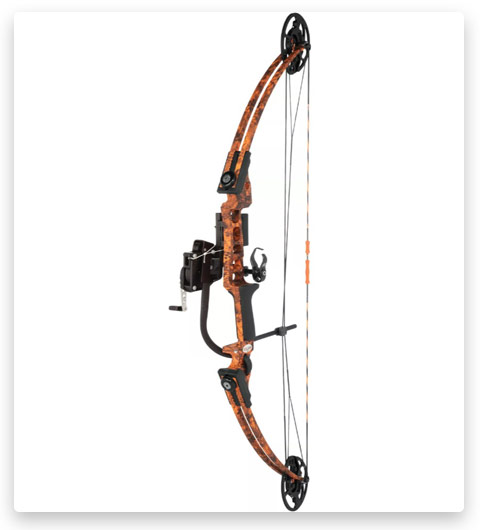 Popular bow fishing bow. It is a versatile bow with the widest range of adjustments and a complete set! The bow is lightweight and durable and available at a great price. The accessory has a unique tension and stretches adjustment system. This bow has a Rapid Adjustment Post (RAP) cam system. Its draw weight is 24- to 50-lb. and the draw length reaches 32″. The parameters and characteristics of this bow allow it to take its place in the line of products for bow fishing. A common problem with bow-fishing bows is excessive power in conditions of shooting at short distances. In the AMS bow, this problem completely disappears. allowing you to calmly fish with a bow, without fear that a powerful and accurate shot will simply tear the fish apart.
3# Oneida Eagle Osprey Lever Action Bowfishing Bow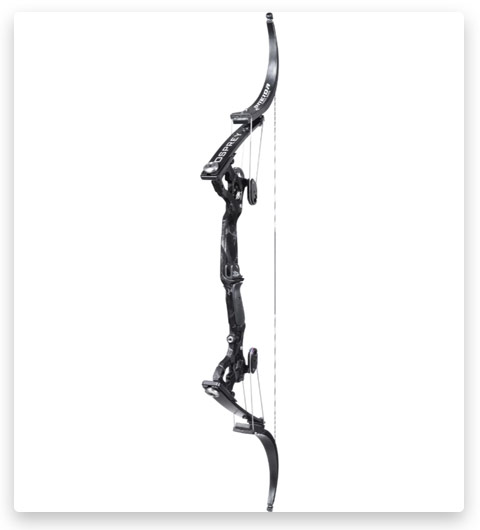 You will achieve incredible success with this bow from Oneida. It is one of the iconic bass pro bowfishing models. In terms of technical parameters, the bow combines a powerful functional base and a convenient form of construction. Among experienced hunters, this model is notable for the widest range of adjustments, combined with the effectiveness and accuracy of destruction. You can also note the accuracy of the bow when shooting an arrow. The visiting card of the accessory is the ease of use. It has interchangeable modules for easy adjustment and absorbs recoil perfectly.
4# Cajun Archery Sucker Punch RTF Bow Package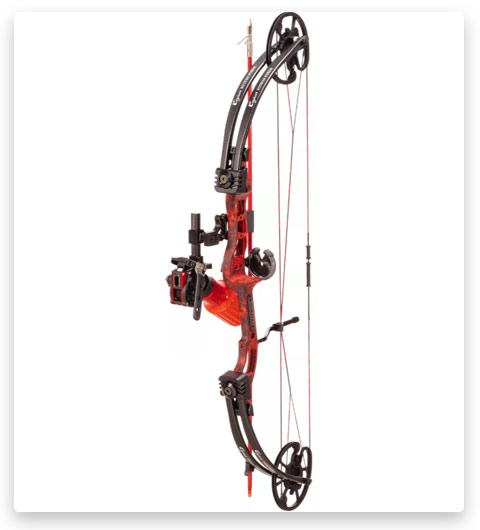 The Cajun block bow features a fashionable design, high quality, and superior performance. With a completely inexpensive cost, the product will serve you for a long time. Having decided to purchase fishing accessories from the American company Cajun, you opt for reliable equipment that will provide you with indescribable feelings of comfort, confidence, and quality. It is an ideal tool for catching large fish such as carp. It has blister buster finger pads for convenience during the shot. The maximum draw weight is 50 pounds.
5# Oneida Eagle Phoenix Lever Action Bow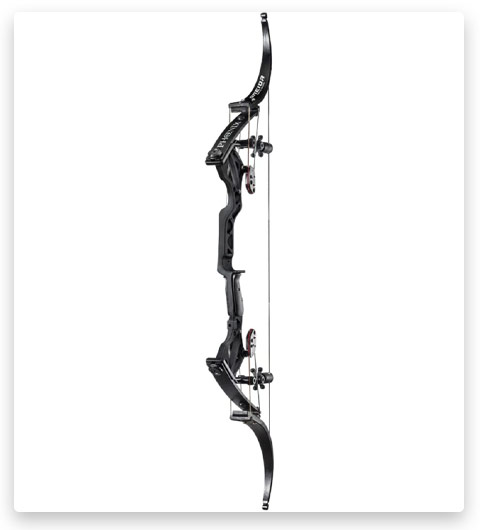 If you are a beginner, then perhaps you should pass by this model. This is an expensive product that will be blissful for avid anglers who want to experience all the delights of bow fishing. The bow is made of shock-resistant materials that prevent mechanical damage, which ensures long operational life. The lack of excess power when shooting at long distances minimizes the possibility of gutting fish. The model is equipped with a long sight window that will allow you to quickly locate your prey. This is a very handy feature that increases your chances of success. The vibration suppression system makes the product quiet and thus does not scare your fish away.
6# Archenemy Depth Charge Bowfishing Compound Bow Package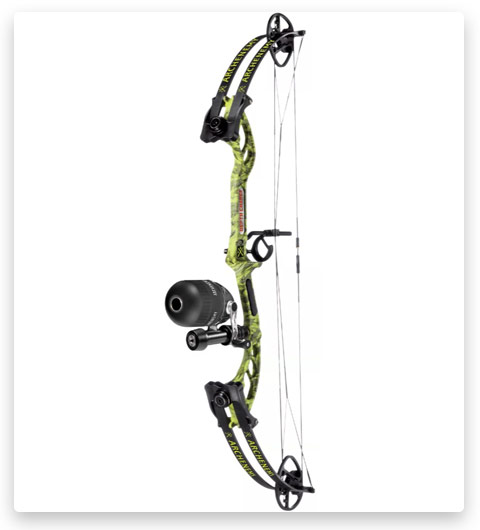 The powerful Archenemy bow is designed for both fishing and entertainment purposes. One of the main competitive advantages of the product is the range of arrows, which guarantees to hit the target even at a great distance. The belligerent appearance combined with the graceful shape attracts the attention of any angler. The basic settings of the accessory are easily adjustable so that both experienced anglers and novice amateurs can use this model. The bow is equipped with a reliable reel that is only suitable for bow fishing. It is also fitted with a reel seat. Draw length reaches 30″.
7# Cajun Bowfishing Shore Runner RTF Compound Bow Package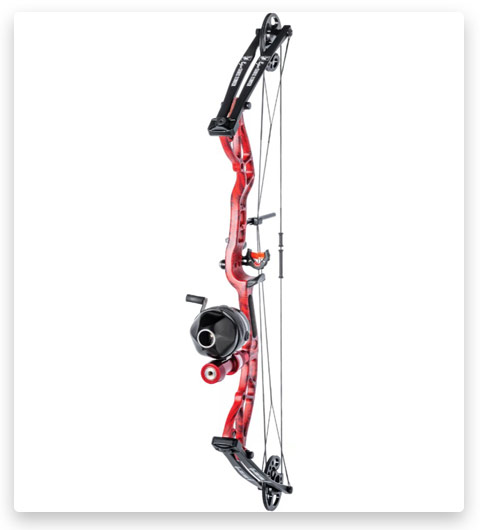 If you are looking for a budget version of the bow, then you should check out this model from the Cajun brand. This accessory is made in a bright red color and thus provides the fisherman with a good mood. It has a fairly wide tension range from 15 to 45 lb. In addition to the bow, you will receive a reel, brush fire arrow rest, blister buster finger pad, and 1 piranha arrow. This is a versatile set for successful bow fishing.
8# Muzzy LV-X Lever Action Bowfishing Bow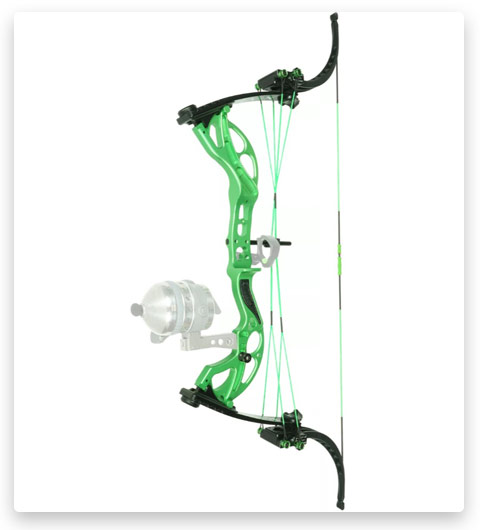 This bow includes all the functions you need to fish. Durable design with Oneida Eagle limb power. The Muzzy LV-X bow is easy to learn and learn to shoot for both adults and teenagers. The accessory has a good distance from the axis, there are additional tension and extension adjustments. Combining bulletproof construction is prized by anglers for its high quality and reliability. It also provides a smooth performance. The draw length is adjustable from 25″ to 29″. The draw weight can vary from 25 to 50 pounds.
9# Muzzy Bowfishing Vice Compound Bow Package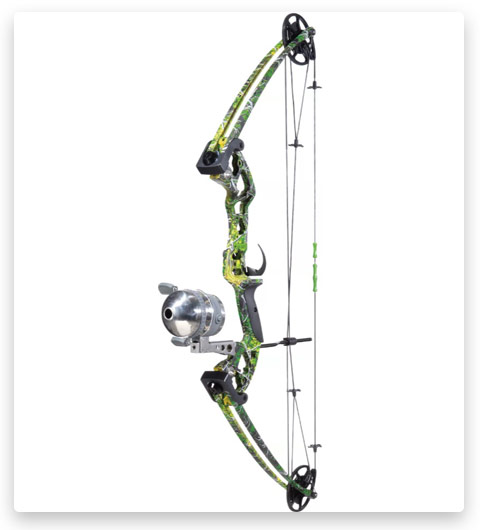 With this device, you can catch big fish fast! This is a high-quality adjustable bow that provides 25 to 55 pounds of tension. The high speed of the arrow increases the fly of the bow. Good elasticity provides a guarantee of the long service life of the accessory. It is a lightweight model that is easy to carry in your hands.
10# PSE Archery Discovery Cajun Bowfishing Compound Bow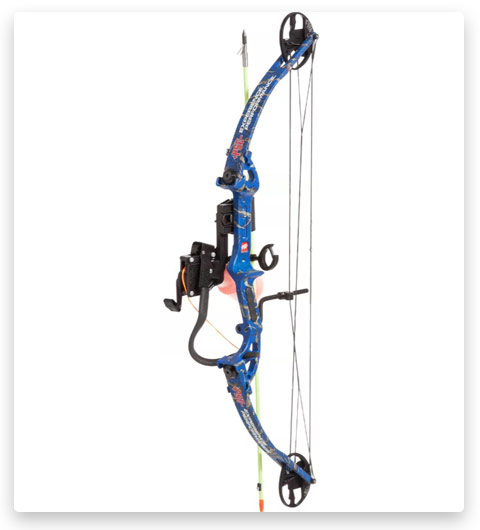 The bow from the world-famous American brand PSE Archery is an excellent weapon that is guaranteed to be your best friend in sports, entertainment, and fishing. The modern, versatile PSE DISCOVERY bow is perfect for active fishing. Also, the bow is fully equipped with the necessary tackle for successful bow fishing. The product is convenient to use as it is very compact with a practical length between axles over 30 inches. This in turn increases maneuverability on small boats or in confined spaces. The bow is made from durable, proven materials, making it suitable for use even in extreme weather conditions. Additionally, the weight can be adjusted up to 40 pounds by being able to loosen the screws.
11# CenterPoint Typhon Bowfishing Kit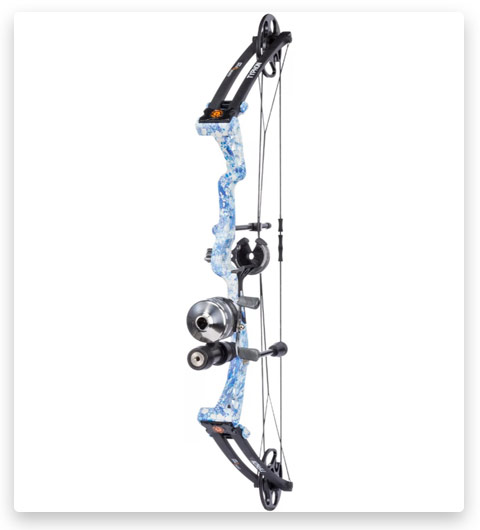 Buying a bow is considered a very profitable and useful purchase, especially for fishing enthusiasts, as it can easily pierce the thickest fish scales. This model is available at a great price and provides ease of use for users of different experiences. It only weighs 3.3 pounds. This suggests that you will not feel tired after holding the bow in your hands for a long time. It has Draw weights from 15 to 55 pounds and draws lengths from 19″-29″.
What is Bowfishing?
When we think of bows and arrows, famous Indians from American Western films or even ancient hunters who used primitive hunting tools to capture their prey come to mind. The use of a bow for hunting is far more common than the discipline I am about to tell you about. Bowfishing is a nascent technique that has become popular in recent years.
Many fishermen might say that this has nothing to do with traditional fishing. And they may be right, but it would not be a good idea to ignore this technique, since knowing new fishing styles and techniques is the best way to find out how to choose what we like and what we don't.
Bowfishing is about launching an arrow from our chosen fishing position towards the point where we see the school of fish. Then you pull the fish with the line. It attaches to the boom at one end and the reel at the other. This technique is native to the United States and is very popular, especially with the youngest looking for new forms of entertainment.
Bowfishing Technique
Boat Fishing. Fishing with a bow in a boat is interesting. This method allows you to travel long distances and a variety of choices for fishing sites. The difficulty is to bring the boat close enough to the fish (visibility in the water, the direction, and speed of the wind and the current of the reservoir must be taken into account) without intimidating the fish. The best hunting spots are rocky shores where two currents of water meet to form shoals. Fishing from a boat can be a good and effective option as long as the fisherman doesn't mind getting wet. Wading along rivers allows the shooter to get close to the fish if he does so discreetly and skillfully.
Another technique for such fishing is to stand on large rocks in shallow rivers. This provides a better view of the water. Moving from rock to rock in the river makes the fish move if they are inactive. It is good to walk together, while one hunter is wading, and the other stands motionless on the rock. All of these river methods are best for carp or catfish and depending on the area you are in.
How to be Successful at Bowfishing?
Knowing where to aim an arrow can be one of the most difficult skills. Due to the refraction of water and the way it optically distorts the position of objects in a liquid element, aiming directly at a target usually fails. Aiming well below the target compensates for the optical illusion. The depth and distance to the target also affect which direction the arrow should shoot.
Aiming 10 cm down for every 3 meters of distance we are from our target can compensate for this distorting effect of objects in the water. Although the actual compensation for refracted light must be taken into account not only for distance and depth but also for the angle. As is always the case with fishing, practice will tell you the optimal sizes and distances to shoot correctly and increase your chances of success.
How to Choose a Bowfishing Bow – Buying Guide
What is the best bow for bow fishing? It is difficult to answer this question unambiguously. You should be looking for a high-quality product that suits your needs and budget. In this section, I have collected the main points to look out for when choosing the best bow fishing gear for beginners.
Coating
This tackle is made from different materials. It can be made of plastic, wood, metal alloys, as well as laminated and waterproof materials. I would advise you to choose bows from laminated and waterproof materials. Also, bows made of metal alloys are famous for their strength and high performance. They are waterproof and salt water-resistant.
Weight
Onion weight is very important. I would not advise you to go for a model of over 4 pounds. Your hands will not get tired and the lightweight makes storage and transport easier. During such fishing, you will have to walk a lot and hold the device in your hands, so do not neglect this point. You will not be distracted by heavy equipment and thus hit the target accurately. Also, pay attention to draw weight. It will also affect the power and speed of the shot. Choose between 20 and 40 pounds.
Handle
The handle will allow you to hunt accurately. When the fisherman is feeling relaxed, the process goes much better. Therefore, the handles should be comfortable. Bowfishing bows usually have functional grips. Do not forget about this characteristic when choosing a bow.
The Size
This tackle is available in lengths from 30 to 50 inches. But I would advise you to choose an axle with a length of 31-32 inches with a draw length of 17 to 30 inches. These are important characteristics that affect not only speed but also the stability of use.
Arrows for Bowfishing Bow
Bowfishing bows are significantly heavier and more durable than arrows used in other types of archery. They are most commonly made from five to sixteen inches fiberglass, but materials such as aluminum and carbon fiber are also used. And also glass fiber reinforced with carbon fiber to give it a greater consistency.
Fishing Line
Bow fishing lines are often made from braided nylon, dacron, or spectra. Resistance or weight of commonly used line ranges from 35 to 180 kg (80 to 400 lb weight) or up to 275 kg (600 lb weight). The line color is usually light green, white, or neon orange.
Conclusion
Bow fishing is one of the fastest-growing sports in the United States. It is suitable for anglers of all skill levels. If you're looking for a high-quality and reliable best recurve bow for bow fishing then you've come to the right place! All of the above models are made from good materials and have all the necessary characteristics for a successful hunt. If you still can't make up your mind, then I advise you to pay attention to the Muzzy LV-X Lever Action Bowfishing Bow Kit.
Tags: #bowfishing bows / #bowfishing bows kits / #left handed bowfishing bows / #used bowfishing bows for sale / #oneida bowfishing bow / #bass pro shops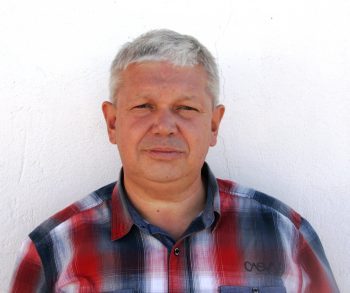 Sergio Smirnoff
Professional fisherman with 40+ years of experience.
Fishing and the ocean is a passion of my life. I am passionate about all kinds of sea fishing: fishing from the shore (spinning, float, baitcasting), from a boat, and spearfishing day and night.
I live in Tenerife (Canary Islands) for the last 10+ years and share my daily fishing experiences on my website. Many years of personal experience as a fisherman and the vast experience of my friends allow me to write professionally on any fishing topics (from choosing a flashlight and equipment to deep-sea fishing).
All of my advice is based on practical real-world experience and will be useful to both novice anglers and professionals.
Read more
about the author.
Affiliate Disclosure: FishReeler.com sometimes gets paid for listings, through sponsors or affiliate programs like Amazon, Ebay, Cabelas, Bass Pro Shop, Shimano, Daiwa, Rapala, Renn, Okuma, KastKing, etс. Clicking a link helps keep FishReeler.com free, at no extra cost to you!
About the author: Each article is verified by the fishing expert Sergio Smirnoff. The articles are written by professional and amateur fishermen with 20+ years of fishing experience.
Note: The views and opinions expressed in this article are those of the authors and do not necessarily reflect the official policy or position of any agency. The articles are for informational purposes only, share your opinions in the comments and join the fishing discussions, let's share our fishing experiences together!