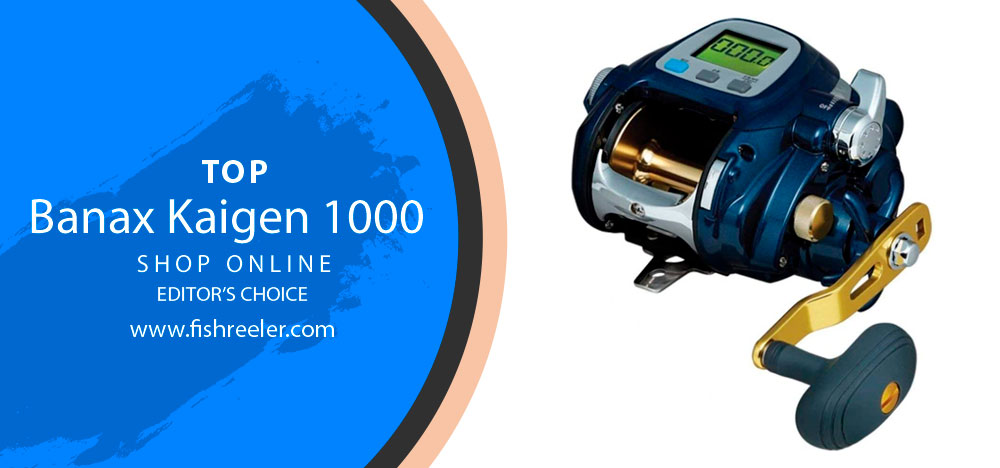 Model Banax Kaigen 1000 Electric Deep Dropping Fishing Reel
I'm an experienced angler. I used different types of reels but finally chose electric ones. For me, they are the most powerful, durable, and convenient. If you've been fishing for a long time, you probably know what I'm talking about. Electric reels are better in all respects than other types. Now I use a Banax electric spool. You may not have come across this brand yet, but now it's your time. I'm sure you'll want to try out their fishing equipment. Namely, electric reels. In my article, I will tell you about this brand, about my reel, its pros and cons, and also about another reel of this brand that I can recommend. If you are interested in electric reels, this article will be useful for you.
About Banax
Banax was founded in 1973 in South Korea as Bando Sports Ltd, which was created as a joint venture with the Japanese company Daiwa. While still under the brand name Bando Sports, the company scored quite high points for the quality of its products and its wide range of products. Goods were produced not only for General consumption but also for a special purpose. For a variety of types of fishing and conditions. Judging by the large sales of Bando Sports Ltd, it is already possible to judge the reputation of the Banax brand, which was renamed the Bando trademark in 1996. The changes occurred in connection with the separation of Bando Sports from Daiwa and the transition to a large company Lucky Goldstar, also based in South Korea.
The abbreviation Banax consists of the following words:
Ba – Ba(ndo) – the name of the company
Na-Na (ture) – Nature
X (S became X'om) – S (cience) – Science
This interpretation speaks for itself – Nature+Science. High-tech processes in the manufacture of rods and reels for spinning, their high quality, and wide range brought the company Banax to the group of the most popular manufacturers of fishing products in America. Having its own production, Banax can control the quality of the entire manufacturing process, which undoubtedly affects the durability of products.

A personal design base allows you to produce original products designed for specific applications such as spinning rods and reels of fine orientation. All Banax spinners are designed specifically for a particular type of fishing and the reels are a very high-quality and reliable high-quality working tool for the angler.
Banax guarantees the quality of its products and the reliability of all declared characteristics. The main requirements for the reel in modern fishing are the ability to ensure the maximum free descent of the fishing line or braided cord. This is necessary to cast the bait as long and accurate.
The presence of decent traction characteristics is important for fishing out fish or for the bait wiring to be performed freely without requiring the angler to concentrate all attention on the rotation of the handle of a weak or poorly working mechanism. In addition, the reel must be able to lay the line efficiently, even when working under heavy loads. So that you can perform a new cast unhindered, far and accurately, as mentioned earlier.

By focusing on these, BANAX has gained the respect of anglers who value the working qualities of their equipment first and foremost. For example, the fact that such models as Hera, SI, ISO have been present on the world market for ten years without changes is proof that everything is extremely good with these very working qualities at BANAX. Interest in them not only doesn't weaken but from year to year continues to grow. By the way, the friction brake constructed in the same years is still the record holder for the duration of uninterrupted (without jamming) operation.
1# Banax Kaigen 1000 Electric Reel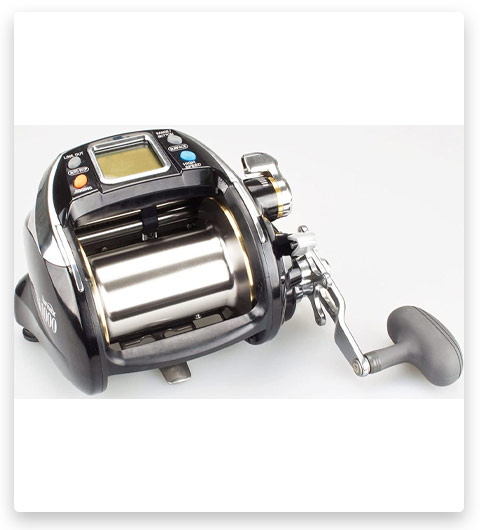 I managed to try fishing with this electric reel and I will say that the fishing was excellent and I enjoyed the process. That's why I decided to tell you more about this spool. I am sure that even if you are new to fishing, this electric reel will suit you. It is easy to use. The reel is made of aluminum. The frame is strong. I easily controlled the speed with a lever.
You can set the desired depth using the digital block. I liked the display. It is highlighted and wide. You will have no problems reading what is written. Comfortable rubber handle for this reel. If you use the automatic reel function, its speed can reach up to 160m/min. The ratio of the coil is 2.8:1. And the force of its dragging is 45 kg.
This is less than in my electric reel, but it is also quite a lot. Especially if you are fishing in freshwater, this will be enough for you. You will not lose your catch as the line stretches steadily. However, it remains the same even with manual control. If you are afraid that the tip of your fishing rod will break due to gravity, then you don't need to worry. Since the reel stops automatically before going up. I also want to note that the instructions are in English, not in Korean.
Therefore, you definitely shouldn't have problems with how to use it. It is easy to wash. The weight of the reel itself is 1630 grams. I will not say that the spool weighs a little, but not much. If I am looking for a new electric car right now, I would buy this one.
2# Banax Kaigen 7000CP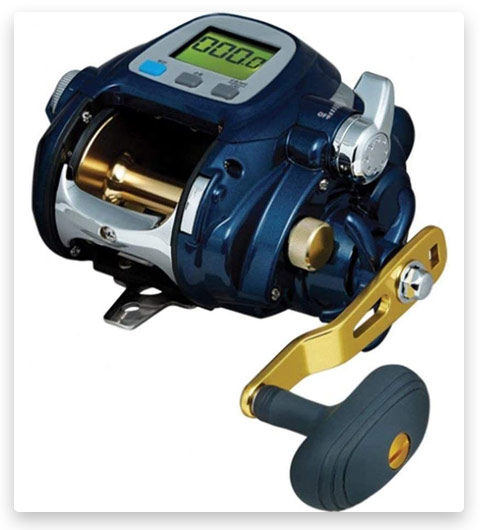 I have been using this reel for many years and it has never failed me. This electrical reel is valued by many anglers for its quality and durability. I like to go fishing for a few days and so often the batteries don't last for all that time. And my old spool didn't have manual controls. This electric reel has the possibility of manual control.
It works perfectly both in electric mode and in manual mode. There is an automatic stop function, horizontal wind, and linear counter. I compare it with my previous reel and with those with which I sometimes had to fish and I can say that this electric reel is much lighter and quieter than many electric reels. I also like that the lever for manual control remains stationary during electrical control.
Only if you want to turn it, it will move. The 12V battery is quite powerful. You can charge the device using the power cord that comes with the electric coil. Its length is 9 pounds. The electric reel itself is made in Korea and this also indicates its quality. I love deep-sea fishing and I love it because it is possible to catch big fish. But with a bad reel, this can only happen because of your luck.
But with this electric spool, you will succeed. Drag force up to 65 kg. This is quite a lot. Thanks to the grip, I control everything that the coil does, while its speed is 12 pounds. As for me, it works perfectly when the speed is high. But still, it will work best in cold waters when you catch small fish. Its gear ratio is 3.5: 1.
The engine is powerful, but it has a cast aluminum body that is very light. The maximum load on the line is 80 pounds. The only thing I didn't like when I bought this electric reel is that the battery needs to be purchased separately. You won't find it in the kit with the electric reel. There are no more things that I wouldn't like in this electric spool. Almost all my friends who fish went to this reel on my advice and were satisfied.

Have Frequently Asked Questions & Answers
What are the main characteristics of reels?
There are several parameters that you should pay attention to when choosing reels for sea fishing:
A number of bearings. Bearings are responsible for the smooth operation of the coil mechanism. The more of them, the better the mechanism works, but the heavier and more expensive the reel. The optimal number of bearings is from 4 to 6 pieces. This is enough for a good smooth operation of the mechanism.
Gear ratio. This parameter indicates how many revolutions the spool makes per one complete turn of the handle reel. Power reels designed for catching large fish have a higher gear ratio (up to 4.6 units), while more sensitive speed spools have a lower gear ratio (from 5.5 units). There are also universal reels with a gear ratio in the range from 4.6 to 5.5 units.
The presence of a friction brake. This is a mandatory element of the marine reel; it can be front or rear. It is important to correctly adjust the clutch so that it allows you to play off the line with strong jerks of large fish in the process of survival, thus removing the load from the tackle and preventing their breakage.

What reels are there?
Depending on the design features, there are different types of marine reels:
Inertia-free (characterized by a high range of casting);
Baitcasting reel (designed for deep-sea fishing);
Electric (electric multiplier coils).
Each of them has its own advantages and application features depending on the conditions and types of fishing. Let's define their main characteristics and application conditions.
Inertia free reels
Marine inertia free reel is designed for fishing in the cast:
When fishing from the shore in the surf (or, as it is also called, surf fishing);
When catching a cautious marine predator from a boat that doesn't come close to the ship.
Thanks to the special design, the inertia-free reel easily drops the fishing line providing a high casting range. But it doesn't have the same power as the multiplier, and for trophy deep-sea fishing is not suitable.

Baitcasting reel
To catch fish from a ship in a plumb line you can use marine multiplier reels. They don't have such a high casting range as inertial, but they are lighter, stronger and more powerful. The larger the size of the intended fish, the more powerful it is necessary to choose a reel. But often the multiplier breaks down not from the load when the trophy is displayed, but from the wrong treatment of the angler himself. In order for the multiplier coil to serve you for more than one year, it is important to be able to correctly adjust the clutch.

So, when adjusting the actuation force of the friction brake in the multiplier coil:
Follow the correct sequence of actions;
Adjust the clutch only when the spool is fully released;
Never adjust the clutch directly when fishing large fish.
Electrical reel
Equipped with an electric drive, the multiplier reels greatly facilitate the life of the angler and allow you to get the maximum pleasure from catching fish in the open sea. They are powered by a removable battery and significantly save time and effort on deep-sea trophy fishing. Main features of electric reels:
More power;
High winding speed.
Also, the electric reels are additionally equipped with a display that displays the depth meter data. Most models retain data even when there is a short power interruption.
Conclusion
Without an electric reel, my fishing would not have been so successful and enjoyable. In my experience, I realized that quality equipment is the first thing you need for good fishing. No matter what skills a fisherman has with poor equipment, he has little chance of getting a big catch and getting satisfaction from the process.
In my article, I decided to share my favorite electric reel that serves me for many years. And also told you about the no less cool electric reel that you can also choose for yourself. I have almost no fishermen in my environment who use other types of reels. They use electric ones. Including the brand Banax. They, like me, also tried using other brands, but this one was the most successful of all. This is a brand that knows what quality is. You will understand this as soon as you spend your fishing with their electric reels!
Tags: #banax kaigen / #banax kaigen 1000 / #banax kaigen 1000 manual / #banax kaigen 1000 high technology electric reel / #banax kaigen 1000 review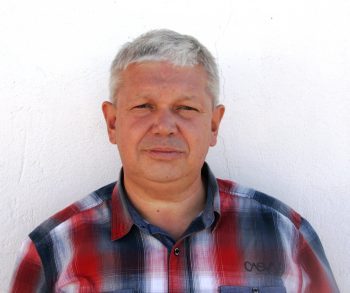 Sergio Smirnoff
Professional fisherman with 40+ years of experience.
Fishing and the ocean is a passion of my life. I am passionate about all kinds of sea fishing: fishing from the shore (spinning, float, baitcasting), from a boat, and spearfishing day and night.
I live in Tenerife (Canary Islands) for the last 10+ years and share my daily fishing experiences on my website. Many years of personal experience as a fisherman and the vast experience of my friends allow me to write professionally on any fishing topics (from choosing a flashlight and equipment to deep-sea fishing).
All of my advice is based on practical real-world experience and will be useful to both novice anglers and professionals.
Read more
about the author.
Affiliate Disclosure: FishReeler.com sometimes gets paid for listings, through sponsors or affiliate programs like Amazon, Ebay, Cabelas, Bass Pro Shop, Shimano, Daiwa, Rapala, Renn, Okuma, KastKing, etс. Clicking a link helps keep FishReeler.com free, at no extra cost to you!
About the author: Each article is verified by the fishing expert Sergio Smirnoff. The articles are written by professional and amateur fishermen with 20+ years of fishing experience.
Note: The views and opinions expressed in this article are those of the authors and do not necessarily reflect the official policy or position of any agency. The articles are for informational purposes only, share your opinions in the comments and join the fishing discussions, let's share our fishing experiences together!