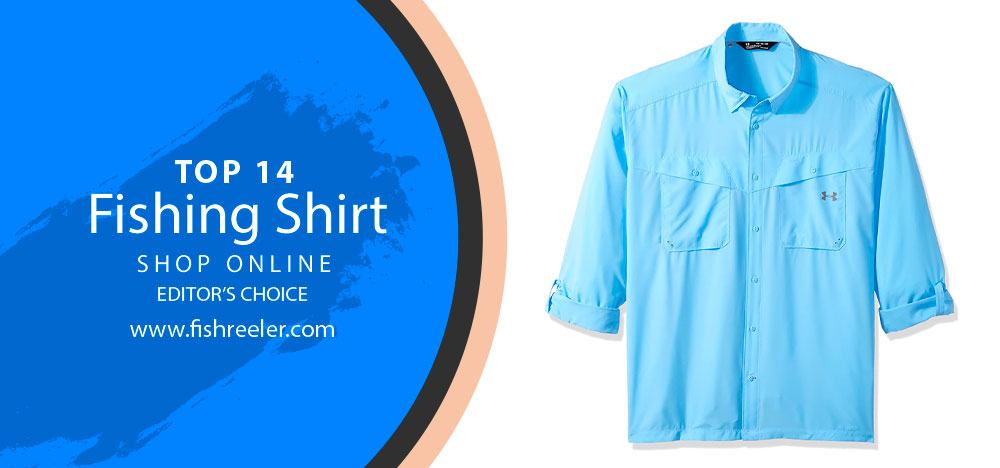 Reeling in Comfort: The Ultimate Guide to Fishing Shirts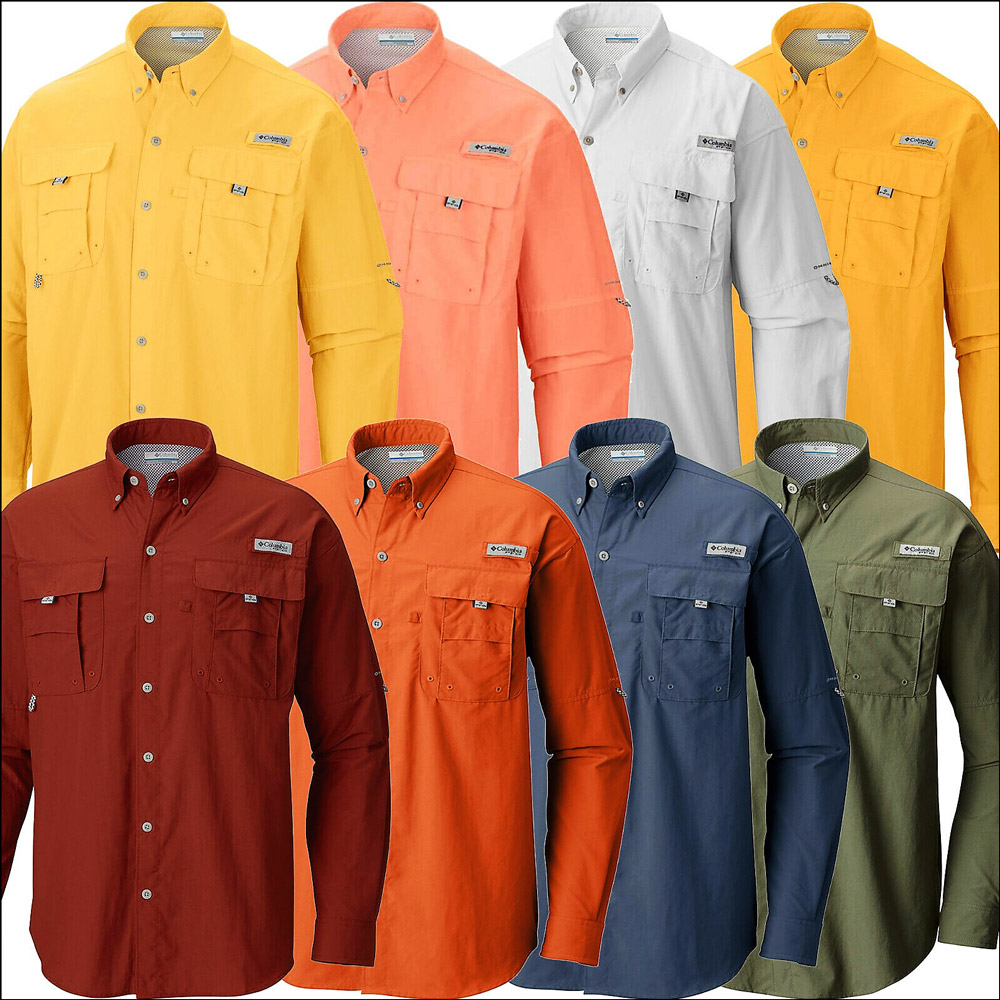 🎣 Setting the Stage: The Role of Attire in Fishing
As the old saying goes, "There's no such thing as bad weather, only unsuitable clothing." This rings particularly true for fishing, a sport that's just as much about patience and preparation as it is about skill. 🌤️☔🌬️
Having the right gear not only enhances your comfort but also can make a significant difference in your performance and safety. One of the most overlooked but essential pieces of fishing attire is the humble fishing shirt. Why, you may ask? Well, fishing shirts are designed to withstand the rigors of the sport, ensuring you stay cool, dry, and protected all day long. 🏞️🎽
In the pursuit of the perfect catch, anglers often find themselves exposed to various elements. Sun, wind, water, and even the occasional fish splash can take a toll on your comfort and protection. This is where the right fishing shirt steps in. It's more than just a piece of clothing; it's your shield against the elements and your ticket to a more comfortable, enjoyable fishing experience. 🌞💦🐟
📚 Navigating the Article: What to Expect
In this comprehensive guide, we're diving deep into the world of fishing shirts. We'll explore why they're an essential addition to your fishing wardrobe, what factors you should consider when buying one, and some of the best brands and models out there. 🧭📖
Whether you're a seasoned angler looking to up your fishing game or a beginner wanting to equip yourself with the right gear, this article is for you. By the end, you'll be armed with the knowledge you need to choose a fishing shirt that's comfortable, durable, protective, and yes – even stylish. So, let's dive in! 🏊‍♂️🎣
Stay tuned as we embark on this exciting journey through the world of fishing shirts. Let's reel in some knowledge together! 🎓🤝
🎦Video YouTube Best Fishing Shirts for Fishing

🎣 Unhooking the Mystery: Why Environment Matters in Fishing
Fishing, like any other outdoor activity, comes with a unique set of conditions. Anglers find themselves under the 🌞 sun, exposed to 💦 water, and often in close contact with 🐟 fish. Let's explore why these elements play a significant role in the need for a dedicated fishing shirt.
Sun exposure can lead to sunburn and, over time, more serious skin conditions. When you're out on the water, the sun's rays are not only coming from above but also reflecting off the water's surface, increasing the intensity of exposure.
Water exposure comes in two forms – sweat and the water environment itself. A long day of casting, reeling, and wrestling with fish can work up a sweat. If your shirt can't manage this moisture, you'll be left feeling clammy and uncomfortable. At the same time, you're likely to encounter spray from the water, rain, or even an overenthusiastic fish!
🔶Finally, fish. While they are the star of the show, they can be pretty messy. Scales, slime, and bait residue can all end up on your shirt, leading to stains and odors.
🎯 Beyond the Catch: The Underestimated Necessity of Comfort & Protection
In this unique environment, comfort and protection become more than just desirable qualities; they are essential. You want to focus on the thrill of the catch, not be distracted by an uncomfortable, wet, or smelly shirt. By keeping you dry, fresh, and safe from the sun, a good fishing shirt ensures that your energy is spent where it matters most – on the fishing! 🎣💪
🛡️ The Perfect Companion: How Fishing Shirts Cater to Angler's Needs
So, how do fishing shirts rise to these challenges? Let's reel in the details.
Fishing shirts are typically made from lightweight, breathable materials such as polyester or nylon. These fabrics wick sweat away from your skin, keeping you dry and cool. Many are also quick-drying, so any encounter with water is a minor inconvenience rather than a day-long discomfort.
For sun protection, many fishing shirts come with a UPF (Ultraviolet Protection Factor) rating. A UPF-rated shirt can block most of the sun's harmful rays, protecting your skin even on the sunniest days.
Fishing shirts are also typically designed to resist stains and odors. Some have antimicrobial treatments to keep you smelling fresh, while others have stain-resistant finishes to ensure that fish slime and bait residue wash right out.
🔶In a nutshell, a fishing shirt isn't just a shirt – it's your best friend out on the water. With its unique blend of comfort, protection, and practical features, it's designed to enhance your fishing experience from cast to catch. 🎽👍
The Big Catch: The 14 Best Fishing Shirts for Long Hours on the Water
Do you know that you definitely need a fishing shirt on a hot day? Fishing is most enjoyable during the summer months or hot and sunny weather. This means that fishermen have to endure the scorching sun and its harmful UV rays, moisture, wind, and even insects. Under these conditions, fishing without proper clothing can be difficult and hazardous to skin health. You will need one of the best fishing shirts to get the most out of every fishing trip. It will provide you with comfort and protection, allowing you to fish as much as you like. I have researched and compiled top-rated men's fishing shirts that provide protection, comfort, and performance.
| Image | Product | Brand | Link |
| --- | --- | --- | --- |
| | Columbia Men's Bahama II Long Sleeve Shirt, Fossil, XX-Small | Columbia | |
| | Men's UV UPF 50+ Sun Protection Soild Anti-Static Waterproof Breathable Fast Dry SPF Hiking Fishing Short Sleeve Shirts (8# S Spring) | Tuna | |
| | Swiss Alps Mens Long Sleeve Lightweight Breathable Outdoor Fishing Shirt Alaskan-Blue Small | Swiss Alps | |
| | Men's SPF 50 Sunscreen Shirts,UPF UVA Protection Hiking Fishing Shirt,Outdoor Long Sleeve Quick Dry Cool Tops (5039 Blue S) | Jessie Kidden | |
| | Huk Men's Beaufort Button Down | Fishing Shirt with Sun Protection, Black, Medium | HUK | |
| | Under Armour Men's Tide Chaser 2.0 Fish Short Sleeve T-Shirt , Aqua Float (791)/Aqua Float , Small | Under Armour | |
| | Under Armour Men's Tide Chaser Long Sleeve Fishing Shirt, Carolina Blue (477)/Steel, Small | Under Armour | |
| | Little Donkey Andy Men's UPF 50+ UV Protection Shirt, Long Sleeve Fishing Shirt, Breathable and Fast Dry Blue XS | Little Donkey Andy | |
| | Columbia Men's PFG Tamiami II UPF 40 Short Sleeve Fishing Shirt, Aegean Blue, Small | Columbia | |
| | Long Sleeve Fishing T-Shirt for Men and Women, UPF 50 Dri-Fit Performance Clothing - Southern Fin Apparel (Largemouth Bass, Small) | Southern Fin Apparel | |
| | Willit Men's UPF 50+ Sun Protection Hoodie Shirt Long Sleeve Rash Guard Fishing SPF Outdoor UV Shirt Lightweight Blue S | Willit | |
| | EAG Elite Elements Long Sleeve Performance Fishing Shirt (Small, Manta) | Paramount Outdoors | |
| | Huk Men's Standard Icon X Camo Long Sleeve Performance Fishing Shirt, Boca Grande-Fade, Small | HUK | |
| | GOT Sports UPF 50+ Long Sleeve Fishing T Shirt for Men and Women - UV Sun Protection, Moisture Wicking (Sailfish X-Small) | GOT Sports | |
1# Columbia Men's PFG Bahama Ii Shirt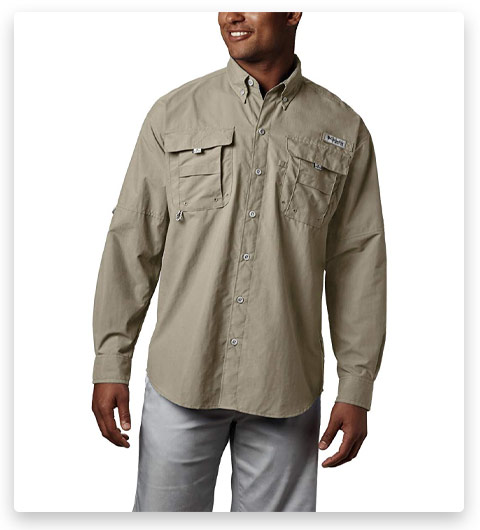 This is a high-quality fishing shirt available in a variety of colors. Omni-Shade UPF 30 technology blocks harmful solar radiation, protecting not only from sunburn but also from long-term UV exposure. It is made from nylon. This fabric is incredibly comfortable and allows your skin to breathe. The ventilation system ensures maximum breathability. You can convert the long sleeve to the short one. The shirt has a loose fit, fits well, and is lightweight.
2# Tuna Men's Fishing Shirts Short Sleeve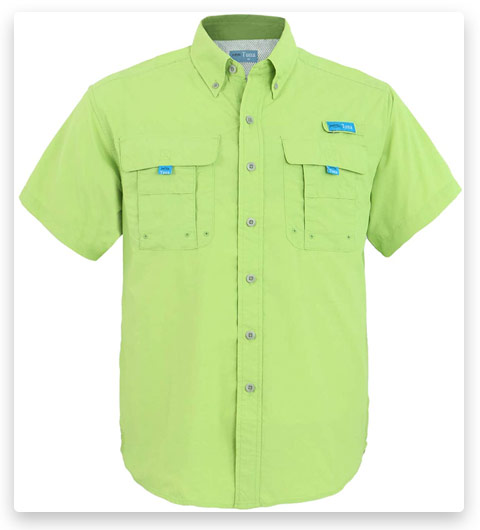 The Hot Tuna brand is one of the world's most renowned surf clothing brands. This shirt is designed for outdoor activities and is very popular. It is made from durable nylon. The accessory has the highest UV protection UPF 50+. You will be able to stay under the sun all day long and not be afraid of burning your skin. This is a waterproof shirt so you will feel comfortable even if you get wet. It has two pockets as well as a fishing rod holder.
3# Swiss Alps Men's Fishing Shirt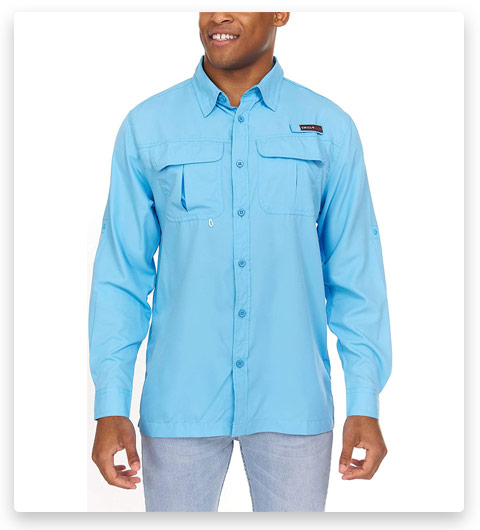 I felt comfortable in all weather conditions when I wore this shirt. I was not hot or cold and my movements were not constrained. This is a classic fishing outfit. Long sleeve stretch shirt. This model was developed as a result of an active exchange of views between hunters and fishermen. It has a vent on the back and two chest pockets for your belongings. Cooling and antibacterial Pure Cool technology combined with a high UV protection, UPF 50+, extra ventilation in this model are combined with a form-fitting fit.
4# Jessie Kidden Men's Fishing Shirts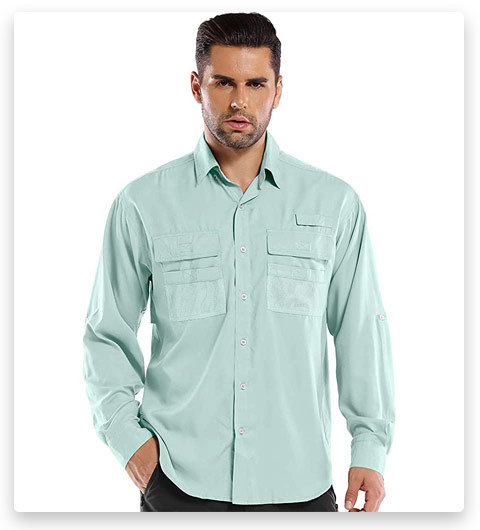 This is a summer lightweight shirt for hot weather made from quick-drying durable polyester. This removes excess moisture and cools the body. There are two pockets on the chest and an eyelet for attaching accessories, there are ventilation holes on the back, buttons on the sleeves for securing rolled-up sleeves. Your skin will be completely protected from UV rays as the fabric has UPF 50+ protection.
5# Huk Men's Long Sleeve Shirt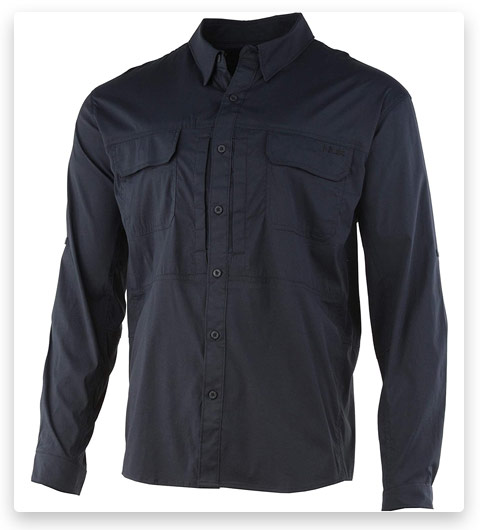 This is ideal for summer fishing. This model looks stylish and at the same time has many necessary characteristics for being fishing. It is made of 100% polyester which dries quickly and is lightweight. The shirt contains sun protection materials that have a protection rating of +30 UPF. This blocks UVA and UVB rays. The material is highly breathable and allows your skin to breathe.
6# Under Armour Men's Fish T-Shirt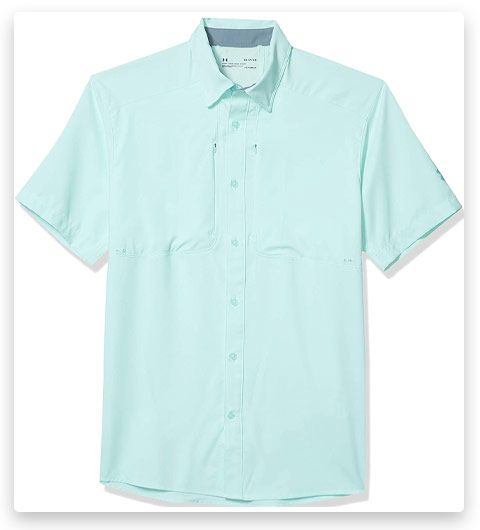 I like this model because it has textiles with Anti-Odor technology, which prevents the growth of bacteria and the appearance of unpleasant odor and sweat. It is buttoned up and has a loose straight fit. Thanks to UPF 30, your skin is protected from direct sunlight. Even if you get your shirt, it will dry out in no time thanks to its fabric. You will feel comfortable thanks to the special panels made of elastic mesh.
7# Under Armour Fishing Shirt Men's Tide Chaser Long Sleeve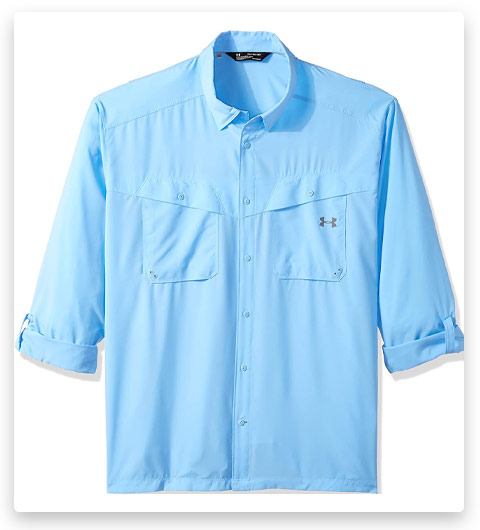 Unlike the previous model, this one has long sleeves. You will be completely protected from the scorching sun. However, you can roll up the sleeves if necessary. Thanks to the loose fit, your movements will not be restricted and you will feel maximum comfort. The shirt is equipped with a Moisture Transport System that wicks moisture away and you get dry in a short amount of time. Despite the fact that the accessory has good breathability, you will not freeze in the evening. Thanks to the French Terry design, the shirt keeps you warm.
8# Little Donkey Andy Men's Fishing Shirt
This is one of my favorite brands of clothing for anglers. All things from this brand serve me for many years and look like new. I love the fact that this shirt is made from fast-drying nylon and offers the highest degree of sun protection (UPF 50+). On the back, you'll find a mesh lining that allows air to enter and cool you when needed. This model is available in various colors and sizes.
9# Columbia Men's Tamiami Ii Fishing Shirt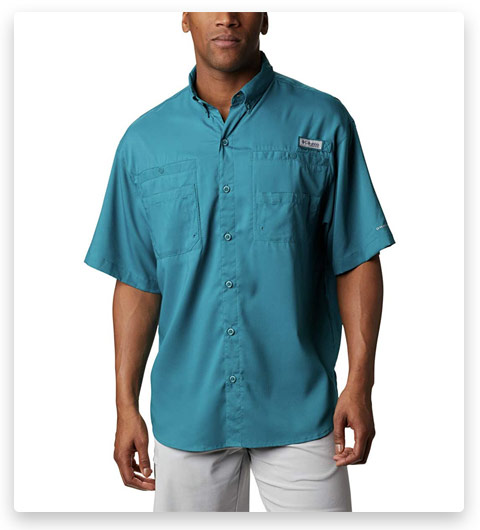 This lightweight option delivers superior thermal balance and comfort for long journeys. It is made of polyester with Omni-Shade technology that keeps the sun out of your skin. And the Omni-Wick technology wicks moisture from the skin into the fabric very quickly. I love the Columbia brand for its high quality and reliable products.
10# Southernfinapparel Fishing T-Shirt for Men and Women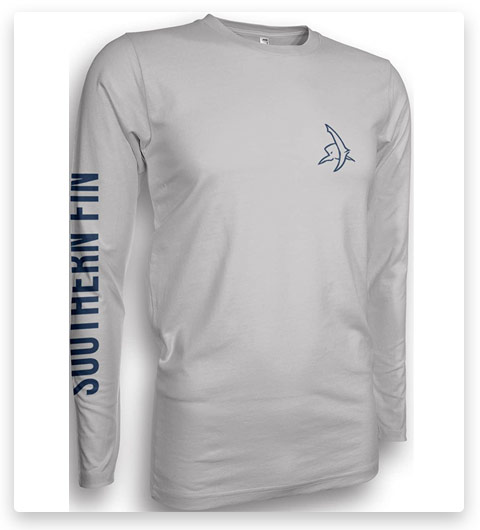 This is an indispensable piece of clothing for those fishermen who spend a lot of time in the sun or on a boat. Thanks to the long sleeve, your upper body will be fully protected. This model has built-in sun protection with a UPF 50+ rating. It is made of a soft 100% microfiber material. The Dri Fit System wicks moisture away to keep you comfortable all day fishing.
11# Willit Men's Fishing Shirt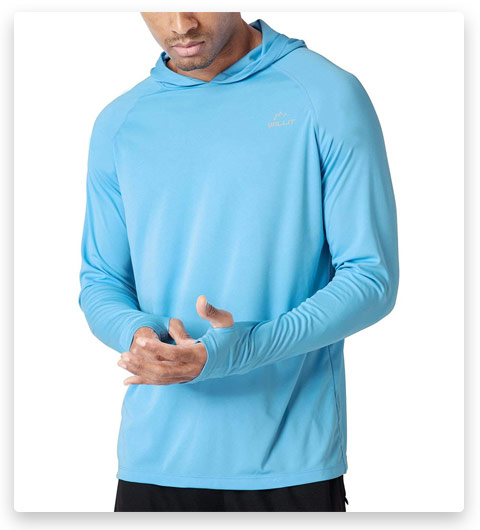 You will feel comfortable with every use. These are high-quality long-sleeved garments that will keep you from sweating even at the highest temperatures. The accessory is available in various bright colors, so everyone can choose the one that suits them. It is made from silky polyester with a UPF 50+ protective fabric.
12# Paramount Fishing Shirt EAG Elite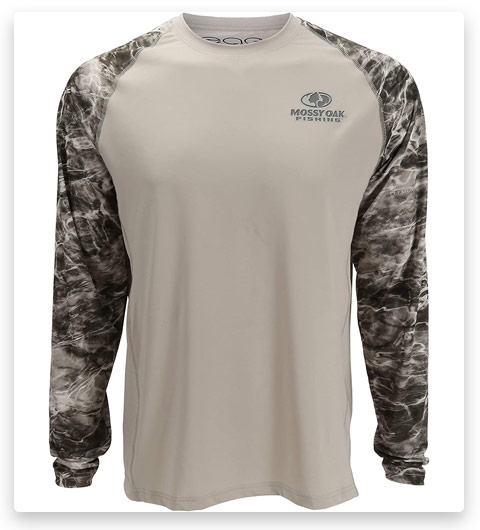 This is another great option to wear when fishing. It is made from a breathable stretch fabric made of 90% polyester and 10% spandex. It is equipped with side mesh panels which are excellent for air permeability and keeps you dry. You don't have to worry about your skin thanks to the long sleeve. The fabric offers UPF 50 sun protection. Thanks to the relaxed fit, you can do whatever you want without restricting your movements.
13# HUK Men's Fishing Shirt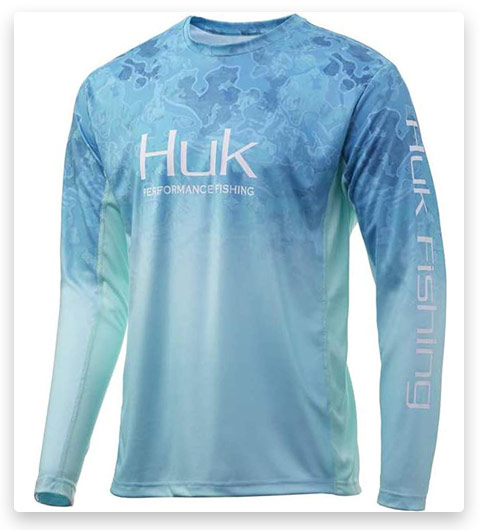 Huk has created an effective angler shirt that has an original style. This model is available in different sizes from smallest to largest and has long sleeves. It is made of high-quality polyester which offers good breathability. It also has antibacterial treatment and +30 UPF UV protection.
14# GOT Sports Shirt for Fishing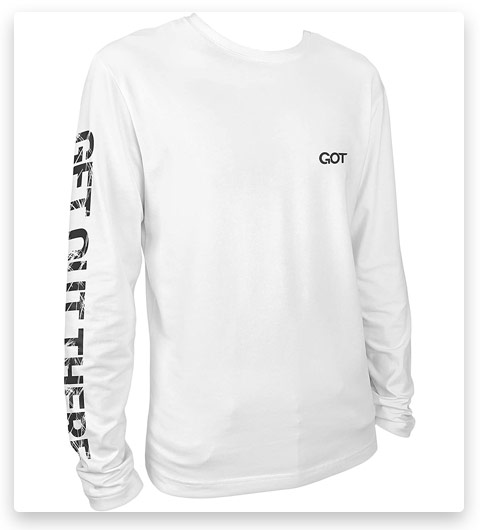 And finally, I want to tell you about the shirt of the GOT Sports brand, which differs in its bright pattern from other models on my list. If you like bright things, then this option is for you. You will find a drawing of a large fish on the back. It is great for fishing as it has long sleeves. Also, sun protection is provided by a fabric that has protection against UVA / UVB rays. Quick-drying polyester wicks moisture away and provides superior ventilation.
👕 Factors to Consider When Choosing a Fishing Shirt
Choosing the right fishing shirt is more than picking your favorite color. You need to consider a variety of factors from material to additional features. Let's dive into the details.
Material 🧶
The material of your fishing shirt plays a significant role in your comfort and protection. Here are some key aspects to consider.
Breathe Easy: The Importance of Breathability 💨
A breathable shirt wicks away sweat, helping you stay cool and dry. Look for materials like polyester or nylon blends that excel in moisture-wicking.
Stand the Test of Time: Evaluating Durability ⏳
Fishing can be tough on clothes. Your shirt needs to withstand not just the elements, but also the occasional fish fight. Choose a shirt made of sturdy, high-quality materials that can stand up to the rigors of fishing.
Stay Dry & Clean: The Perks of Water and Stain Resistance 💦
A water-resistant shirt dries quickly, so a little water won't ruin your day. Stain resistance is also crucial to keep your shirt looking and smelling fresh, despite any messy fish encounters.
Protection 🛡️
A good fishing shirt offers protection against potential hazards.
Sun-safe: The Crucial Role of UV Protection ☀️
Look for shirts with a UPF (Ultraviolet Protection Factor) rating. A UPF-rated shirt can block a significant amount of the sun's harmful rays, reducing your risk of sunburn and skin damage.
Keeping Pests at Bay: The Advantage of Insect Protection 🦟
Some fishing shirts come treated with permethrin, a synthetic insecticide, that repels mosquitoes, ticks, and other pests. It can add a layer of protection, particularly if you're fishing in bug-infested areas.
Comfort 😌
Fishing requires patience. You'll want a shirt that keeps you comfortable during those long waits.
Made to Measure: Understanding Fit 👕
A shirt that's too tight or too loose can hinder your movements and make you uncomfortable. Choose a fit that gives you enough room to move, but without excess fabric that might get in the way.
Stay Cool: The Value of Ventilation 🔆
Some shirts have ventilation features, like mesh-lined vented back panels, to promote air circulation and keep you cool.
Extra Features 🎒
Extra features can enhance the practicality of your fishing shirt.
Stow & Go: The Utility of Pockets 🩸
Pockets can be handy to store small items like fishing lures, sunglasses, or sunscreen. Look for a shirt with enough pocket space for your needs.
Hands-Free: The Convenience of Rod Holders 🎣
Some shirts feature rod holders, which can be handy when you need to free up your hands.
Securing the Collar: The Benefit of Loop Collars 🧵
A loop collar can be flipped up to provide additional sun protection for your neck.
Style 🌟
Who says you can't be stylish while fishing?
Your Style, Your Rules: Picking the Right Color and Design 🎨
Choose a color and design that reflect your personal style. But remember, light colors reflect heat better and can keep you cooler.
Strike a Pose: Finding the Balance between Fashion and Functionality 🏄‍♂️
A good fishing shirt should provide a blend of fashion and functionality. You want a shirt that looks good but doesn't compromise on the essential features.
🔶Taking the time to consider these factors can help ensure you choose a fishing shirt that serves you well on your angling adventures.
🏆 Fishing's Finest: Spotlight on Top Brands and Models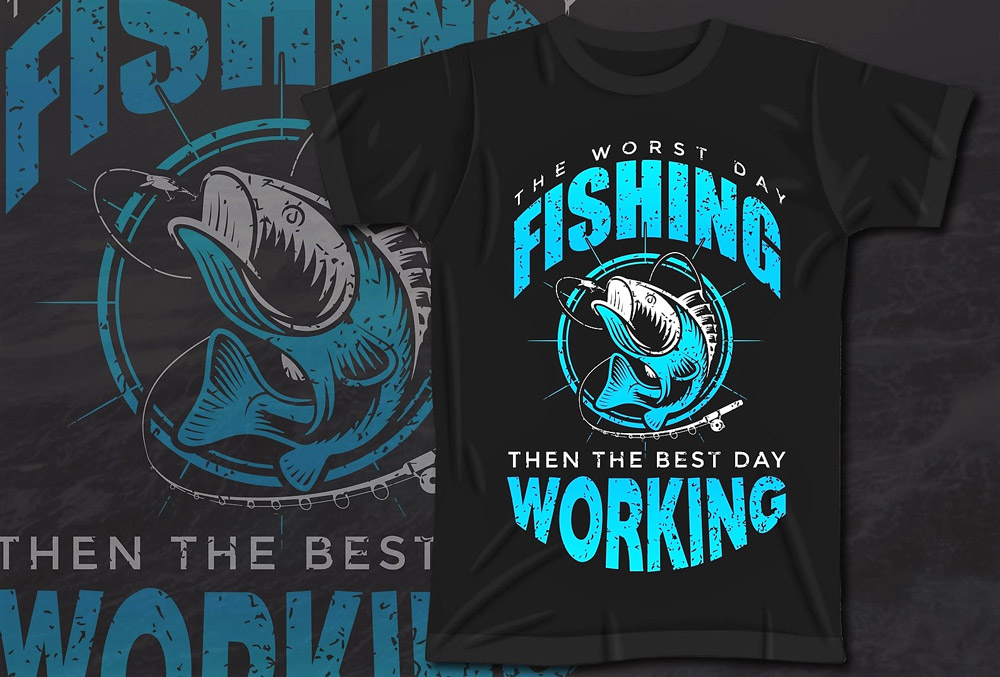 While there are many brands and models of fishing shirts out there, a few standout names consistently reel in rave reviews for their top-notch features, style, and durability. Let's take a closer look at some of these high-performers.
Columbia PFG Tamiami II
Columbia's Performance Fishing Gear (PFG) line is beloved by anglers, and the Tamiami II is a top-rated choice. This shirt features Omni-Wick fabric for excellent moisture management and Omni-Shade technology for UPF 40 sun protection. It comes in a variety of colors and has a relaxed fit for comfort.
Huk Men's Icon X
Huk is known for producing gear specifically for anglers, and the Icon X shirt is no exception. It offers UPF 30+ sun protection, superior breathability, and even has an anti-microbial treatment to prevent bacterial growth and odors.
BALEAF Men's UPF 50+
The BALEAF UPF 50+ shirt offers excellent sun protection at an affordable price. Its lightweight, breathable fabric helps keep you cool, and it even has a neck loop collar for additional sun coverage.
Pricing and Availability 💰
Prices for fishing shirts can range widely depending on the brand, model, and specific features. Generally, you can expect to pay anywhere from $20 to over $100.
As for availability, these shirts can be found in most outdoor or sporting goods stores, as well as online retailers like Amazon. Always remember to check customer reviews and ratings before purchasing to ensure you're getting a quality product.
🔶Investing in a quality fishing shirt from a trusted brand can make a significant difference in your comfort and protection while angling. So take your pick and get ready to enjoy your best fishing experience yet! 🎣👕
🧼 Caring for Your Catch: The Lowdown on Fishing Shirt Maintenance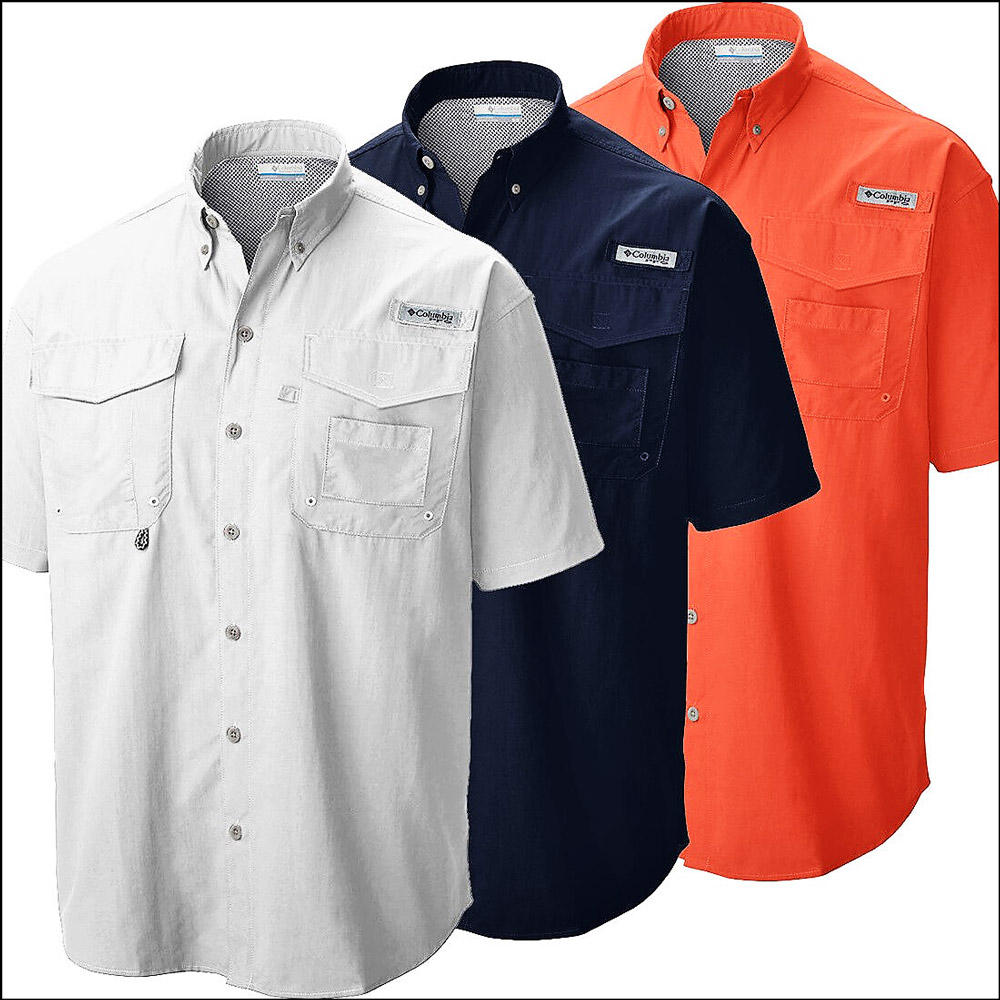 Investing in a good fishing shirt is one thing; maintaining it well to ensure it serves you for many fishing trips to come is another. Here are some tips to keep your fishing shirt in the best shape possible.
Cleaning Instructions 🧽
When it comes to washing your fishing shirt, always check the care label first. Most fishing shirts can be machine washed in cold water on a gentle cycle. However, some might require hand washing or specific cleaning solutions.
Here are some general steps you can follow:
Before washing, pretreat any stains with a mild stain remover. This can be particularly helpful if you've had a successful but messy day on the water.
Turn the shirt inside out to protect the color and any printed or embroidered designs.
Use a mild detergent. Avoid using bleach or fabric softeners as they can degrade the material and reduce the effectiveness of any special treatments (like UV protection or water resistance).
After washing, hang the shirt to dry. While many fishing shirts can be tumble-dried on low heat, air drying can help prolong the life of the fabric.
Tips to Increase Longevity 📅
Beyond cleaning, there are a few other things you can do to extend the lifespan of your fishing shirt:
Avoid prolonged exposure to direct sunlight when not wearing the shirt. UV rays can fade colors over time and break down the fabric.
Handle your shirt with care. While fishing shirts are designed to be durable, avoid unnecessary rough treatment like pulling or stretching the fabric too hard.
Store your shirt in a cool, dry place. This prevents mildew growth and color fading.
🔶Caring for your fishing shirt correctly can extend its lifespan, ensure its protective features remain effective, and keep it looking great. Your fishing shirt is more than just clothing – it's your companion out on the water. So, let's take good care of it together! 🎣👕🧺
🎣 Hooked on Comfort: My Personal Experience with Fishing Shirts
One of the best things about being an avid angler is getting to test out various gear, including fishing shirts. Over the years, I've donned many different types and have collected some unforgettable memories – and fish – along the way.
My Journey with Fishing Shirts 🛤️
I remember my early fishing days when I'd wear just about any shirt, not realizing the difference a specialized fishing shirt could make. On one memorable summer day, I wore a regular cotton t-shirt, thinking it would keep me cool. By noon, I was soaked in sweat, and my skin was starting to feel the harsh effects of the sun. That's when I decided to invest in my first real fishing shirt – a Columbia PFG Tamiami II.
The difference was night and day. With its breathability and UPF protection, I felt much more comfortable and protected from the sun. Plus, the shirt was quick-drying, meaning any splashes from my exuberant catches didn't leave me soggy for long.
As my fishing adventures expanded, I've tested other shirts like the Huk Men's Icon X. This shirt's anti-microbial treatment proved a real advantage on a multi-day fishing trip, keeping odors at bay longer than I'd thought possible.
My Top Picks and Why 🏆
While each shirt has its strengths, my personal favorite is the Columbia PFG Tamiami II. Its breathability, durability, and UV protection tick all the right boxes for me. Plus, I've come to appreciate the abundant pocket space, perfect for stashing small items.
For those on a budget, the BALEAF Men's UPF 50+ is an excellent choice. Despite its lower price point, it offers great sun protection and a comfortable fit. It's a testament that you don't need to break the bank to get a quality fishing shirt.
🔶Your fishing shirt plays a vital role in your comfort and protection on the water. Trust me, once you've tried a good one, you won't look back! So, get out there and find the perfect fishing shirt for your next adventure. 🎣👕🌞
FAQ: Fishing Shirts – The Ultimate Blend of Function and Fashion
Below are some of the common questions people often have about fishing shirts:
🔶Do you have a question that's not covered here? Feel free to drop it in the comments, and we'll do our best to answer it!
Conclusion: Your Guide to the Best Fishing Shirts
In order for your fishing to be comfortable, you must provide maximum protection for your body on hot days. Protect your skin from the scorching, harmful rays of the sun with a special fishing shirt. I suggest you take a closer look at such an option as the 1# Columbia Men's PFG Bahama Ii Shirt.
🎣 Reeling in the Summary: Wrapping up the Ultimate Guide to Fishing Shirts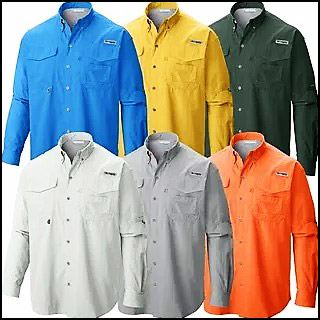 Fishing shirts are more than just pieces of fabric – they are essential gear that can significantly impact your comfort and protection while out on the water. From breathability, durability, and UV protection to additional features like pockets and rod holders, there's a lot to consider when choosing your perfect fishing shirt.
In our journey through this article, we've dived deep into the world of fishing shirts, exploring their importance, unique benefits, and the top factors to consider when choosing one. We've also cast a spotlight on some of the top brands and models available, such as the Columbia PFG Tamiami II, Huk Men's Icon X, and the BALEAF Men's UPF 50+.
Maintenance matters too. Proper care, including correct washing and storage, can extend the life of your shirt, ensuring it stays with you for many fishing trips to come.
My personal experiences as an angler have only reinforced the value of these shirts. Investing in the right one is a decision I've never regretted, and I encourage you to do the same.
🔶So, whether you're a seasoned angler or just starting to get your feet wet, make sure to choose a fishing shirt that suits your needs, preferences, and style. Your fishing adventures deserve the best gear, so don't settle for less when it comes to your attire. Here's to many comfortable, protected, and successful fishing trips ahead! 🎣👕🌞
🎣 Join the Angler's Conversation: Share Your Experiences and Shop Your Favorites!
Your journey with fishing shirts doesn't have to end here. In fact, it's just beginning! We want to hear about your experiences. Have you tried any of the shirts mentioned? Do you have another favorite not listed? Share your insights and join the conversation in the comments section below. Your input could help fellow anglers make their next great catch! 🗨️🐟
If you're ready to reel in one of the recommended fishing shirts, you're in luck! You can find the Columbia PFG Tamiami II, Huk Men's Icon X, and BALEAF Men's UPF 50+ on most major online retailers like Amazon or directly from the manufacturers' websites. Just remember to check the sizing charts and customer reviews to ensure a perfect fit. Happy shopping! 🛍️👕
🔶Remember, fishing is more than a hobby – it's a lifestyle. With the right shirt, you'll be ready for anything the waters throw at you. So, get out there, make your choice, and let the world of fishing open up in comfort and style. See you on the water! 🎣👕🌞
Tags: #best fishing shirt / #best fishing shirt hot weather / #best long sleeve fishing shirt / #best fishing shirt brands / #best fishing shirt uv reviews / #who makes best saltwater fishing shirt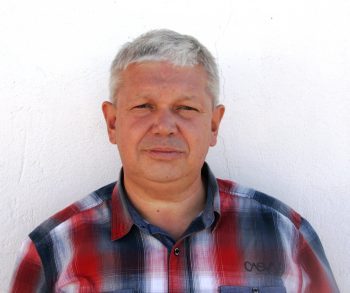 Sergio Smirnoff
Professional fisherman with 40+ years of experience.
Fishing and the ocean is a passion of my life. I am passionate about all kinds of sea fishing: fishing from the shore (spinning, float, baitcasting), from a boat, and spearfishing day and night.
I live in Tenerife (Canary Islands) for the last 10+ years and share my daily fishing experiences on my website. Many years of personal experience as a fisherman and the vast experience of my friends allow me to write professionally on any fishing topics (from choosing a flashlight and equipment to deep-sea fishing).
All of my advice is based on practical real-world experience and will be useful to both novice anglers and professionals.
Read more
about the author.
Affiliate Disclosure: FishReeler.com sometimes gets paid for listings, through sponsors or affiliate programs like Amazon, Ebay, Cabelas, Bass Pro Shop, Shimano, Daiwa, Rapala, Renn, Okuma, KastKing, etс. Clicking a link helps keep FishReeler.com free, at no extra cost to you!
About the author: Each article is verified by the fishing expert Sergio Smirnoff. The articles are written by professional and amateur fishermen with 20+ years of fishing experience.
Note: The views and opinions expressed in this article are those of the authors and do not necessarily reflect the official policy or position of any agency. The articles are for informational purposes only, share your opinions in the comments and join the fishing discussions, let's share our fishing experiences together!