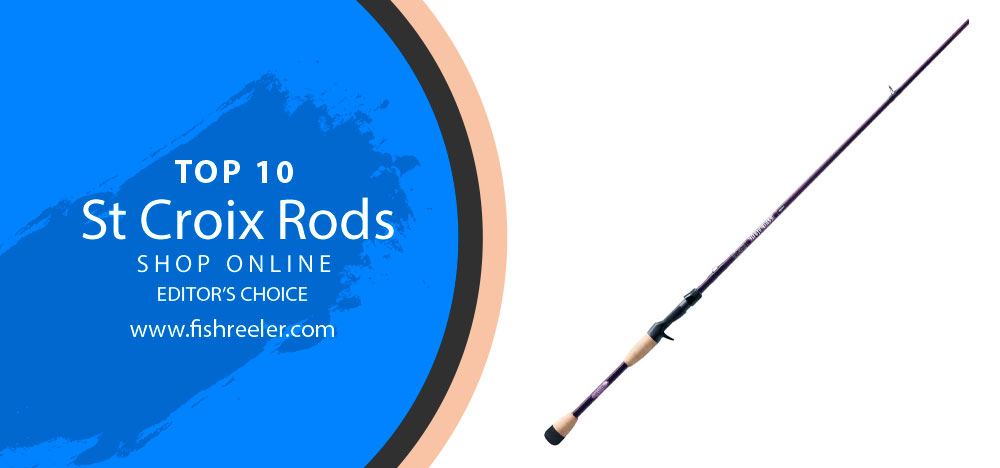 St Croix Rod Company
My acquaintance with St Croix began after the Spanish Mackerel fishing tournament, where one of the prizes was a 6-foot spinning blank from St Croix. Since then I've used this rod on almost every fishing trip I've gone. At the next fishing tournaments, bass fishing, or on the high seas – this rod was with me everywhere.
And even 10 years later, this rod is still in my inventory. Although I've changed my tastes and preferences in rods a long time ago, I often use St Croix. This is the brand that brings you the best rod quality and durability.
Therefore, I decided to write an article for you with an overview of the best rods from St Croix. This guide will help you choose the right rod if you're not already familiar with this brand's products. Scroll below and you will find what you need!
Why Should You Choose Rod By St Croix?
St Croix has been manufacturing fishing rods for a long time, for about 70 years in a row. But if for you a long time on the market isn't a very serious reason, we have collected 7 more good reasons for you.
First, every St Croix rod is handcrafted, either in Wisconsin or Mexico. For maximum quality, the rods are tested several times, and the most experienced craftsmen follow the production.
Their rod lines and rod series are constantly undergoing changes and redesigns (for example the Mojo line) to achieve maximum durability and most efficient functionality. This way, you always get the best quality fishing rod.
The materials from which the rods are made are purchased only from the most reliable suppliers. The materials themselves are some of the toughest on the market (just look at the graphite from which the rods are made), which once again guarantees you reliability and durability.
Each rod comes with a 5 to 15-year warranty! This is much more than similar brands can offer you. Each line of fishing rods has models designed for a specific type of fishing or a specific fish. This will especially appeal to bass or walleye fishermen who are looking for something specific for their catch.
These rods can serve you almost your entire life. My rod from St Croix has been used for more than 10 years, and my fisherman friends have been using these rods for 17 and 20 years without a single call to a service center to repair or replace a fishing rod. It's always visible when a company puts a lot of effort into its product, and this primarily concerns St Croix.
Our Selection of 10 St Croix Premier Rod & Triumph Rod & Tidemaster Rod
| Image | Product | Brand | Link |
| --- | --- | --- | --- |
| | St. Croix TRS60MF Triumph Graphite Spinning Fishing Rod with Cork Handle, 6-feet | St. Croix Rods | |
| | St. Croix Rods Premier Spinning Rod Classic Black Pearl, 7'0" | St. Croix Rods | |
| | St. Croix TIS70MF3 Tidemaster 3-Piece Carbon Inshore Travel Spinning Fishing Rod with Cork Handle, 7-feet | St. Croix Rods | |
| | St. Croix Rods Avid Series Spinning Rod | St. Croix Rods | |
| | St. Croix Rods Mojo Bass Casting Rod | St. Croix Rods | |
| | St. Croix Rods Legend Elite Musky Fishing Rod | St. Croix Rods | |
| | St. Croix Rods Eyecon Spinning Rod | St. Croix Rods | |
| | St. Croix Rods Avid Series Inshore Spinning Rod Mxf Seafoam Green Metallic, 7'0" - Feet | St. Croix Rods | |
| | St. Croix TSRS90M2 Triumph Surf 2-Piece Graphite Spinning Fishing Rod with Cork Tape Handle, 9-feet | St. Croix Rods | |
| | St. Croix Rods Bass X Casting Rod | St. Croix Rods | |
Below I present to you a list of the top 10 St Croix rods. Each rod is described in detail and all its good and bad sides are indicated so that you know every detail in any model. After detailed reviews, I have provided information about rods, which will also be useful for you.
1# St Croix Triumph Fishing Spinning Rod – Best Affordable Pick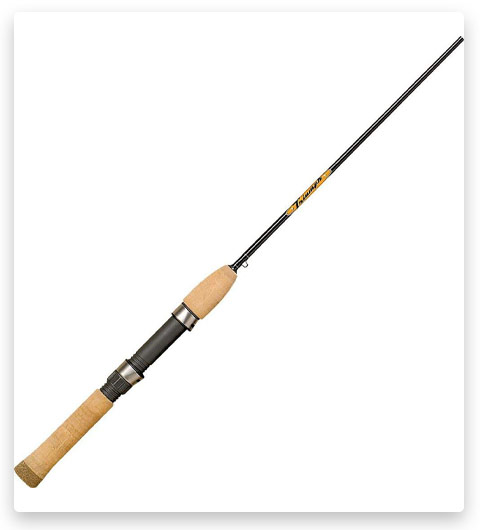 Let's start with the best and most affordable spinning rod from St Croix in the Triumph series. This is the most affordable rod the company makes. Despite this, it's of very good quality. There are almost 20 options in this line of various lengths and types. This gives you a wide range of choices depending on the catch and style you prefer.
These rods have a range of 5 models with an extra-light and medium-heavy blanks with fast action. A unique feature of this series is that these rods have the same features as the other series, but these come in four pieces and have a very comfortable grip. All rods feature high-quality graphite construction, comfortable wooden handles, and a responsive tip. The main advantage of these rods over others is a large selection and availability with good quality.
2# St Croix Premier Spinning Rod 2-Part – Most Popular Pick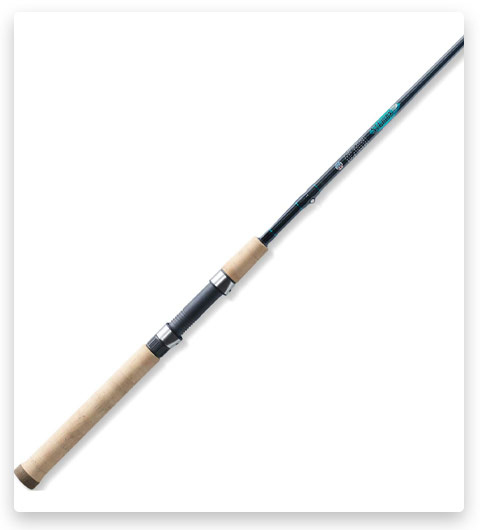 The St Croix Premier two-piece rods have been the most popular rods among all the other lines for several years now. You can choose from 30 different types of fishing rods of different lengths and actions! Regardless of whether you are going to do freshwater or saltwater fishing, you can always find an option for yourself.
From small 5.6ft ultralight rods to 8.6ft heavy blanks, St Croix has created options for virtually all anglers. Whether you love deep-sea fishing or long-distance casting, you get a quality rod when you choose the Premier. All of these rods are made from high-quality composite graphite. They also include high-quality comfortable grips, smooth guides, and a 5-year warranty.
3# St Croix Tidemaster 3-Piece Graphite Casting Fishing Rods – Best Lightweight Pick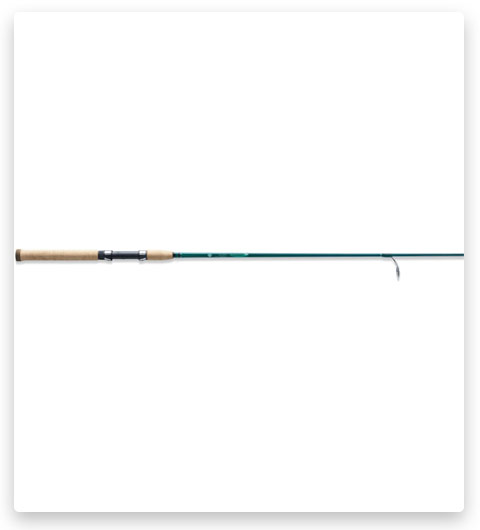 The Tidemaster line is distinguished by its lightness and sensitivity. They're extremely lightweight, made of high-modulus SCII graphite, cork handles, and Fuji DPS seats for reels. For example, a 7'6″ medium-fast action weighs only 6 ounces. Among all casting rods, you can choose from 7' to 7'6″ feet.
Plus, the 3-piece version saves you the trouble of transporting the rod because you can fold it down easily. Most models offer fast and super-fast action, and we think that in most cases this is what you need. Although if you prefer medium action rods you can buy that too.
The sensitivity of these rods is top-notch. We used the Tidemaster for fish that require heavier gear and this blank did a great job. Of the minuses, we identified only cork handles, which deteriorate over time and foam. And like any graphite rod, these can break when gripping large, heavy fish. Fortunately, St Croix has an excellent customer service team to help you even outside of the warranty.
4# St Croix Avid Spinning Graphite Fishing Rod – Best Durable Pick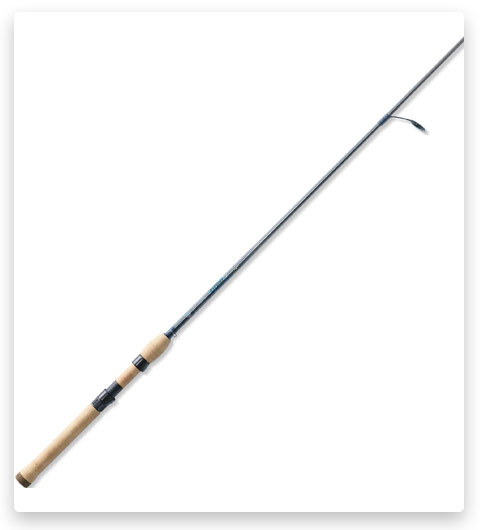 Combining strength and lightness, the St Croix Avid series of spinning rods is a great addition to our list. Thanks to its robust construction and SCIII graphite, it is one of the brand's most durable rod series. The manufacturer gives a 15-year warranty for a reason.
There are a variety of options in this line, from short 4'6″ medium-heavy models to 8-foot lightweight blanks. We're sure you'll find something for your style and type of fish. These rods are made for the discerning angler who needs durability above all else. Because the high modulus carbon fiber prevents the rod from breaking even under extreme loads.
The rods are also equipped with nice features like Poly Curve and Fuji reel seats. Two layers of coating keep the rods intact, preventing them from scratching immediately. But still, after some time, the paint wears off.
5# St Croix Mojo Bass Casting Rods – Best Value For Money Pick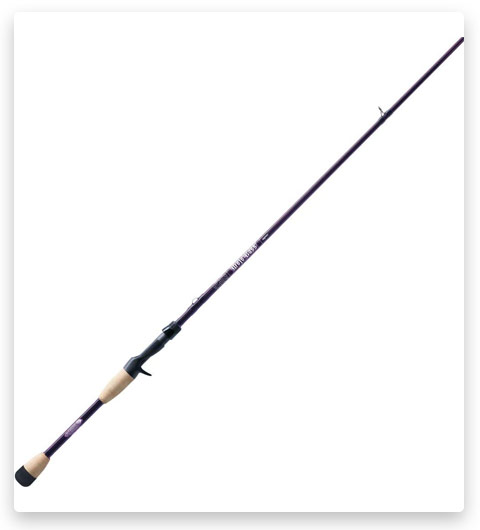 The Mojo line was redesigned in 2016, so it is now at its peak. The manufacturer removed all the disadvantages of the previous models and strengthened the old advantages. All bass rods in this range are made of durable graphite materials (excluding Mojo Bass Glass rods) using high-quality guides and tips.
Mojo Bass casting rods are available in sizes from 6'8 "to 7'6". You can choose from medium to medium-heavy or heavy power and an ultra-fast to medium-fast action. The previous generation of Mojo also had ultra-light rods, but now the manufacturer has decided to remove them. The Mojo Bass casting rods are very powerful and can handle both trolling and long casting if you want. The Mojo Bass rods are capable of fighting not only with bass but with many other types.
6# St Croix Legend Elite Musky Casting Fishing Rod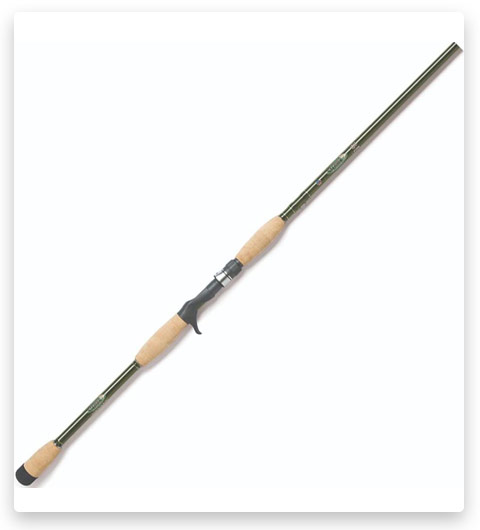 If you have a large budget, then you should pay attention to the Legend series from St Croix. These rods are A+ processed during design and manufacture to ensure you get the highest quality, most responsive, and durable rod you can buy. These rods are not only made from high-quality materials, they're additionally handcrafted at Park Falls. You get a 15-year warranty on each rod in this series.
The St Croix Musky is located on the opposite side of the pan fishing rods of the same series. These casting rods are for heavy bass fishermen and those who looking for bigger fish. There are only 6 rods in this collection, heavy, medium, and extra-heavy power, which gives you the strength you need to get any musky out of the water with ease.
7# St Croix Eyecon Powerful Spinning Fishing Rod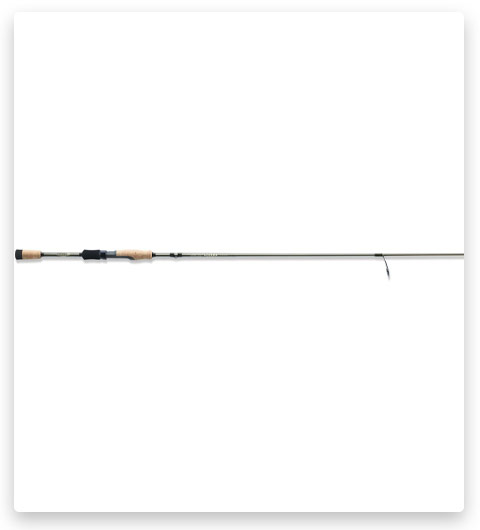 The Eyecon range is great for serious walleye catchers. The spinning rod range is designed around the technology. This means that each type of rod is made primarily for some kind of fishing technique.
Eyecon spinning rods range from 6'3″ to 8'. Power ranges from medium-light to medium, heavy, and medium-heavy rods in this range. But for walleye, they're not too necessary. Rods are fast or super-fast, solid, or 2-piece. We've tested these rods and claim that they are very good at the following techniques: jig and rig, classic vertical jig, rigging, cracking, big water, and drift and float.
The rod you choose will depend on the style you prefer to fish. Shorter rods are great for vertical jig and jig 'n rig, while longer rods are great for rigging and cracking. Medium lengths for other styles. Regardless of which rod you choose, each one is made with premium graphite, high-quality guides, and cork handles. Therefore, any choice won't disappoint you.
8# St Croix Avid Inshore Saltwater Graphite Spinning Fishing 7-Feet Rod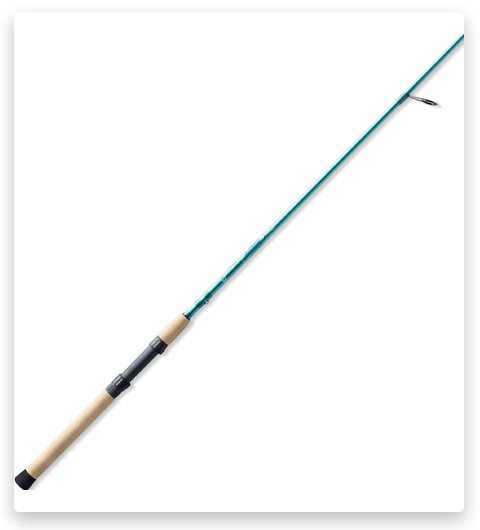 Separately from the entire Avid line, we decided to highlight this 7-foot rod. For a little money, you get an almost perfect balance of convenience, performance, and durability. The rod is made entirely of very durable graphite. Although graphite is the most fragile material in rods, it can outperform even some glass rods. The blank is covered with green metallic paint, which will retain its appearance for many months to come.
Unlike many of the St Croix models, the cork handles here are quite high quality. They don't foam and don't disintegrate after a long time, and even with slippery hands, the rod doesn't slip out. The only problem with this rod is the guiding lines. They're quite fragile, so you have to replace them every few months. Otherwise, this is an almost perfect spinning rod for the money.
9# St Croix Triumph Surf Spinning Rod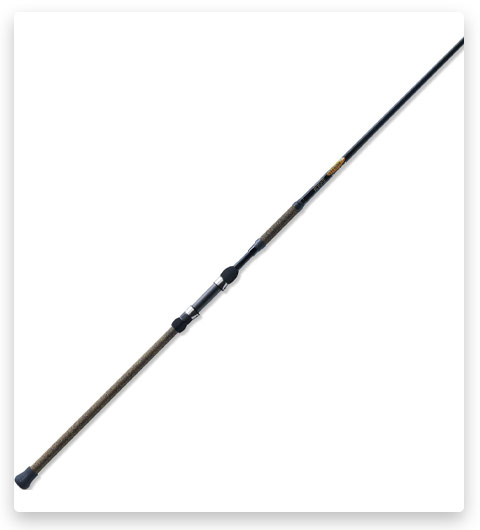 For fans of surf fishing, St Croix offers a separate series of Surf from the Triumph line. These rods are available in medium to medium weight configurations with moderately fast and fast action. In general, they're all quite long, from 9 to 10 feet, so they are best suited for surf fishing.
All rods are made of durable high modulus SCII graphite with reinforced inserts. This allows the rod not to break under too heavy a load and still have quite good flexibility. The cork handles and seat for the Fuji reel allow you to feel good in your hands not only the rod itself but also the reel. In general, the form works well and regardless of the technique, you can use this model effectively.
10# St Croix Bass X Series Casting Fishing Rod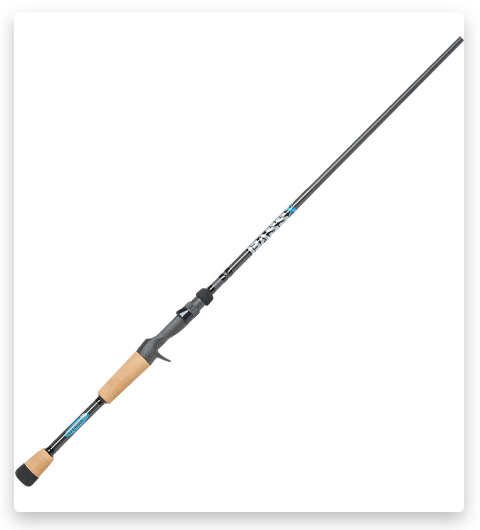 Bass X is one of the most efficient and popular lines that St Croix produces for bass fishermen. If you're into bass but don't have a big budget, this line has been created just for you. Casting rods are made of quality graphite, durable aluminum oxide guides, split cork handles, and Fuji seats. All these components are guaranteed to the user for 5 years. Each rod is handcrafted in Mexico.
There are 10 different Bass X casting rods in total. These range from 6'6″ to 7'11" feet. You can choose between different powers and actions, but generally, all rods come in medium to medium-heavy power with fast action. Such a wide selection allows the angler to choose the rod for his own needs, taking into account the type of fishing and preferences. Therefore, you can always find the rod you need!
Our Final Words
Traditionally, we take stock and select the best rods from the entire list. The best spinning rod for us was the 1# St Croix Triumph, which impressed us with its flexibility, sensitivity, and durability. We chose 3# St Croix Tidemaster as the best casting rod. A very lightweight, compact, and responsive rod suitable for almost any task.
Of course, this does not mean that all other rods are worse or anything like that. It's just that these two did the best with our tasks on the water. Of course, if you are a carp or zander fisherman, you will enjoy the other rods on our list better. Therefore, we have compiled it so that every angler can choose something for himself. Have a nice fishing!
Tags: #st croix rods / #st croix fishing rods / #st croix fly rods / #st croix spinning rods / #st croix rods reviews / #where are st croix rods made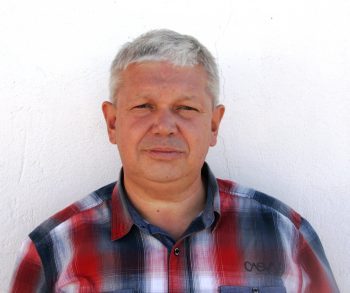 Sergio Smirnoff
Professional fisherman with 40+ years of experience.
Fishing and the ocean is a passion of my life. I am passionate about all kinds of sea fishing: fishing from the shore (spinning, float, baitcasting), from a boat, and spearfishing day and night.
I live in Tenerife (Canary Islands) for the last 10+ years and share my daily fishing experiences on my website. Many years of personal experience as a fisherman and the vast experience of my friends allow me to write professionally on any fishing topics (from choosing a flashlight and equipment to deep-sea fishing).
All of my advice is based on practical real-world experience and will be useful to both novice anglers and professionals.
Read more
about the author.
Affiliate Disclosure: FishReeler.com sometimes gets paid for listings, through sponsors or affiliate programs like Amazon, Ebay, Cabelas, Bass Pro Shop, Shimano, Daiwa, Rapala, Renn, Okuma, KastKing, etс. Clicking a link helps keep FishReeler.com free, at no extra cost to you!
About the author: Each article is verified by the fishing expert Sergio Smirnoff. The articles are written by professional and amateur fishermen with 20+ years of fishing experience.
Note: The views and opinions expressed in this article are those of the authors and do not necessarily reflect the official policy or position of any agency. The articles are for informational purposes only, share your opinions in the comments and join the fishing discussions, let's share our fishing experiences together!