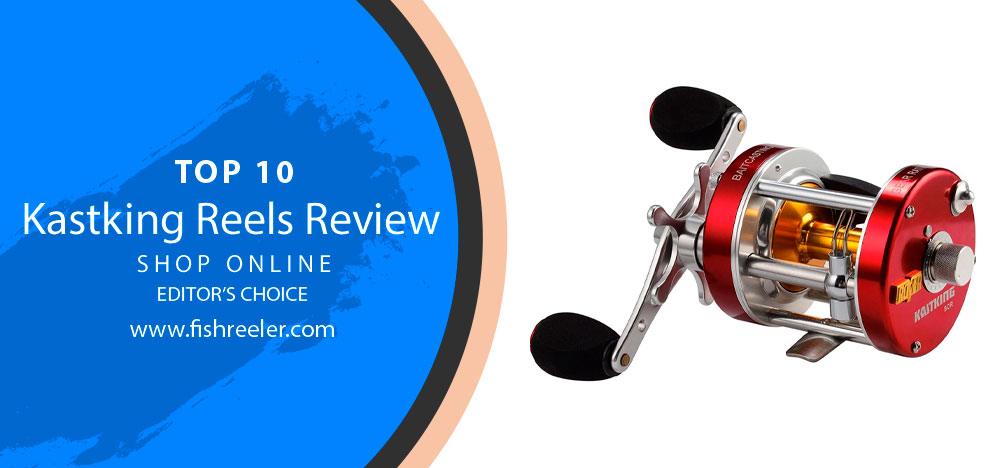 I and many fishermen are saddened by the fact that fishing is becoming more and more expensive every year. The price of new lures, hooks, and fishing equipment is growing faster than our wallets. Although this is because every year popular manufacturers improve production technologies, invest more in their products, many fishermen, especially beginners, want fishing to be not only a pleasant but also not a very expensive hobby.
This rule is basic for KastKing. This company stands out because it produces very high-quality, but rather cheap equipment for anglers around the world. And if before we could see professional fishermen only with Shimano and Daiwa reels, now more and more fishermen prefer Asian reels. For example, in the ICAST 2019, almost every third fisherman had a reel from an unpopular brand, and KastKing also stands out among them.
Our Top List 10 Best KastKing Fishing Reels
| Image | Product | Brand | Link |
| --- | --- | --- | --- |
| | KastKing Royale Legend High Speed Low Profile Baitcasting Fishing Reel | KastKing | |
| | KastKing Sharky III Spinning Fishing Reel,Size 2000 | KastKing | |
| | KastKing Centron Spinning Reel, Size 3000 Fishing Reel | KastKing | |
| | KastKing Spartacus Plus Baitcasting Fishing Reel,Rubber Cork Version,Right Handed Reel | KastKing | |
| | KastKing Crixus Baitcasting Reels,Dark Star,7.2:1 Gear Raio,Right Handed Fishing Reel | KastKing | |
| | KastKing Lancelot Spinning Reel,Size 2000 Fishing Reel | KastKing | |
| | KastKing Kapstan Elite Baitcasting Fishing Reel,Size 300,Right Handed Reel | KastKing | |
| | KastKing Speed Demon Spinning Reel,Size 3000 | KastKing | |
| | KastKing Rover Round Baitcasting Reel, Right Handed Fishing Reel,Rover50 | KastKing | |
| | KastKing ReKon Line Counter Trolling Fishing Reel,Round Baitcasting Reels,Size 20,Left Handed | KastKing | |
Well, have you already become interested in the reels of this brand? So let's look at the 10 best casting reels from KastKing according to our editorial staff!
1# KastKing Royal Legend– Best Baitcasting Reel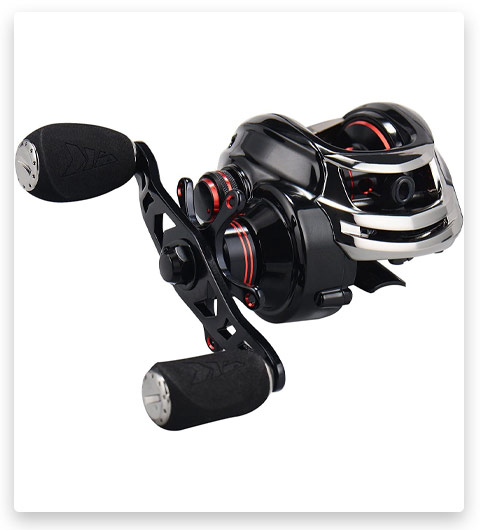 Let's start with a reel that outperforms models from Abu Garcia and Daiwa, but has a lower price. You can buy it on Amazon for about $40. What do we get for this money?
Firstly, there are already 12 ball bearings inside, so there is no doubt about the smooth operation and durability of the product. Besides, brass gears and carbon drag are inside. When tested, it proved to be quite good – it can withstand loads of up to 18 pounds. At the same time, the weight of the reel is small – 7.5 ounces, thanks to the anodized aluminum from which the body is made.
Double brakes inside, a reliable centrifugal brake plus a magnetic system for added precision. When choosing a line, you are also not limited – you can use both a monoline and a braided one. The reel performs well when fishing for trout, perch, and pike.
2# KastKing Sharky III Fishing Reel – Best Spinning Reel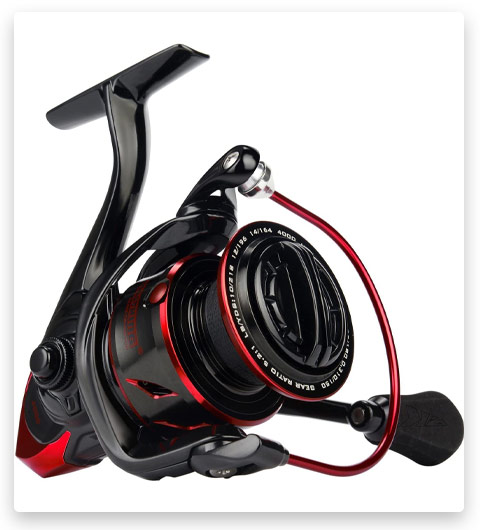 The KastKing Sharky III reel is more robust in design and smoother than its predecessor. For production, a highly effective three-cylinder carbon fiber is used, which allows it to be used for catching large fish. Product features include 11 shielded bearings made of stainless steel. To protect the device from moisture, the KastKing KISS system is used, which allows to increase the life of the device.
The handle of the reel is removable. It can be attached both on the left and on the right side, depending on the preference of the fisherman. The reel has a unique bracket and ready spool. The fisherman no longer needs to use support when releasing the line. The reel body is resistant to saltwater due to carbon fiber housing. The model does an excellent job with any fish thanks to its powerful carbon fiber drag that can withstand up to 40 pounds of load.
3# KastKing Centron Spinning Reel – Best Budget Reel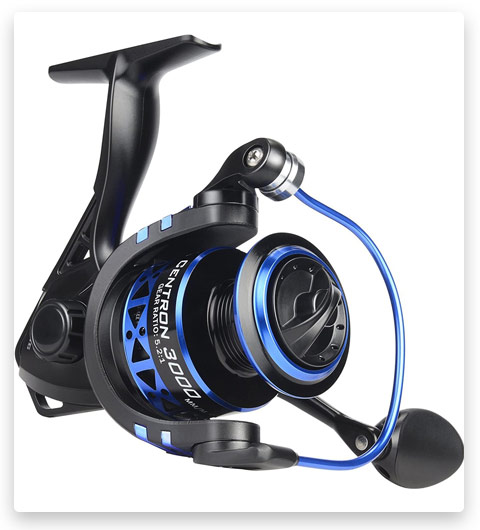 One of the cheapest reels on the list (only $28), but certainly not the worst. Inside it has 9 bearings and they are all very smooth. Even after releasing the handle, the bearings make no noise and are well lubricated inside.
The case here is graphite, quite durable, and light. Outwardly, it has a very nice color with blue accents on the body. The drag is quite powerful, up to 19 lbs, it is always very smooth and light, you practically don't need to make an effort to cope with it. It would seem that the good should end at this moment, but no. Also, the reel has an anodized spool that is protected against corrosion and an anti-reverse bearing. For a reel for $28, this is a giant plus.
4# KastKing Spartacus Baitcasting Reel – Best Value For Money Reel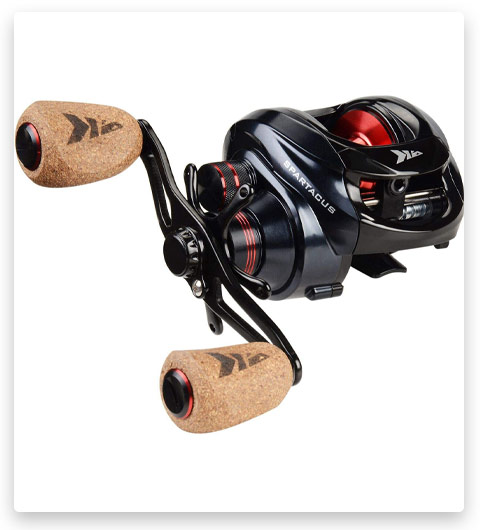 The universal KastKing Spartacus reel quickly gained popularity among beginners and experienced fishermen who prefer baitcasting fishing. The secret of the device's success is the high quality of the product, the use of wear-resistant materials, and affordable price.
It has a smooth and reliable brake that is easy to adjust to specific fishing conditions. The reel can be wound up to 150 meters of braided cord. The reel also has 11 + 1 bearings, which guarantees smooth retrieval and uniform fishing line winding. The modern design and functionality of the reel make it one of the most convenient options for fishing on the river or sea.
5# KastKing Crixus Baitcasting Reel – Best Durable Reel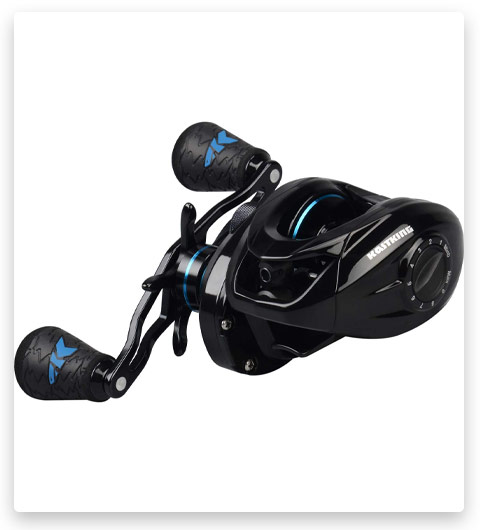 The KastKing Crixus reel features a robust design and smooth running. Because of its performance, many compare it to a Gladiator. Besides, it looks good, works well, and has a nice appearance. The reel has an excellent metal body and side plates, thanks to which rust doesn't fall on the reel body and inside.
The Crixus include the brass main and gears. This is done for the strength and durability of the reel. In its composition, the reel has an aluminum CNC spool. This reel has as many as 7 smooth ball bearings for the convenience of the angler. We are sure that the catch will always be yours!
6# KastKing Lancelot Spinning Reel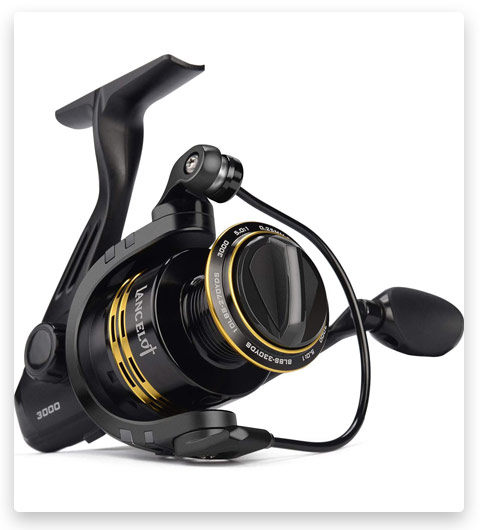 KastKing Lancelot is as good as its price. This reel is incredibly well-made. Components include a quality aluminum spool and an instant anti-reverse system. It has a removable handle that can be used on the left or right, depending on what your strong point is. It also has a fair level of drag force (up to 17.5 pounds), allowing you to catch bass and trout. Despite its low price, Lancelot has 5 high-quality bearings inside. They work fine, but, unfortunately, are not intended for saltwater. Besides, a rather fast gear ratio is installed in the reel and any angler will feel this reel in his hands just great.
7# Kastking Kapstan Elite Baitcasting Fishing Reel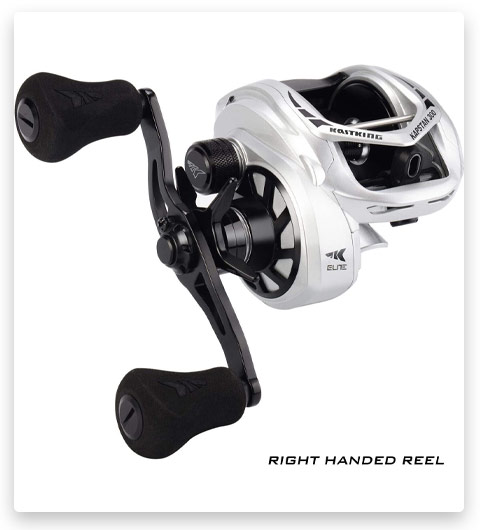 KastKing Kapstan is a relatively new reel in the series. The manufacturer decided to achieve a very compact, but the roomy frame and he did it. The graphite construction of the reel holds a huge amount of fishing line, but at the same time, it fits comfortably in the palm. Besides, a stainless steel main shaft allows maximum power and productivity. Internal components are also very encouraging. The reel has brass gears and a 35-pound carbon braking system. The brake is equipped with 6 adjustable pads, which provide incredible adaptability. Inside there are 8 + 1 bearings, which work very smoothly and provide instant anti-reverse. The reel has no backlashes and creaks and in the hands of a fisherman sits very comfortably.
8# KastKing Speed Demon Spinning Reel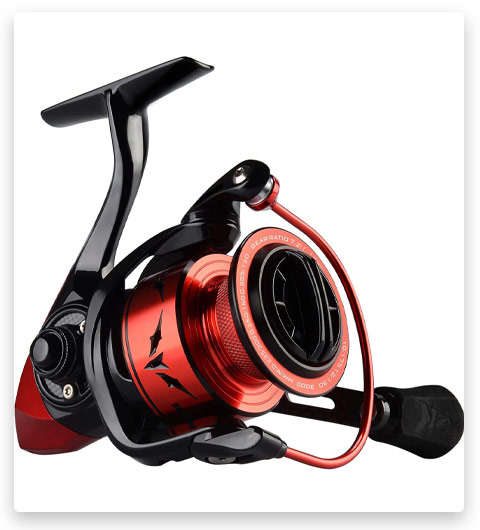 Don't confuse this with its predecessor – Baitcasting Speed ​​Demon. This spinning reel entered the market recently but has already managed to gain popularity among fishermen. The manufacturer claims that this is the fastest spinning reel in the world and it is very similar to the truth. The gear ratio of this reel is 7.2:1. Thanks to these indicators, the reel very quickly retrieves the fishing line and removes fish from the water.
Also, speed complements the excellent drag up to 25 pounds, which allows you to fight even with the most stubborn fish. Inside, there are smooth 10 + 1 bearings, and the frame and spool of the reel are made of ultra-light aluminum, so your hands will never get tired. Working with this reel will always be your pleasure.
9# KastKing Rover Round Baitcasting Reel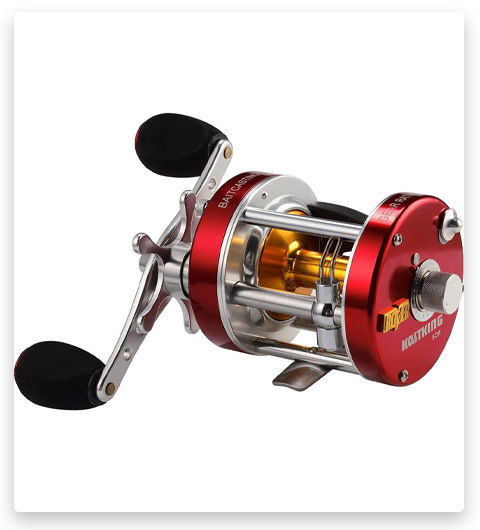 The very elegant and classic style of this reel is complemented by an incredibly rugged case and efficiency. KastKing Rover has not only a robust spool and light aluminum shaft but also stainless components inside the reel itself. When combined, they prevent corrosion from attacking your reel even in saltwater.
The handle will never slip out of your hand's thanks to the coating, and its gear ratio is 3.6:1. You'll get a very effective combo if you connect the reel to the braided line, but even if you don't have one, the Rover comes with its own. If you are new to masking fishing or looking for a great reel for several seasons, then KastKing Rover is just what you need.
10# KastKing ReKon Trolling Fishing Reel With Line Counter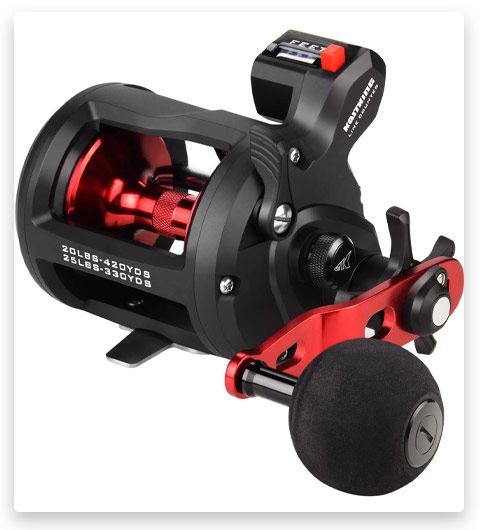 And the trolling reel from KastKing will end our list. The first thing that catches your eye is the line counter installed at the top of the reel. It is worth noting that it works perfectly, without errors and random dumps. The meter is mechanical, so you don't need electricity for it. The components inside are designed for heavy trolling, so the reel can handle any fish from trout and salmon to heavy bass and saltwater fish. Inside are 3 stainless steel bearings and another 1 for anti-reverse. The maximum drag is 30 pounds, more than enough for sea and especially river fishing. The reel is available in two models, 10 and 20. Therefore, KastKing has developed different types of handles for different models. One with a large and round handle and a second smaller for small fish.
FAQ About KastKing Production
We reviewed the top 10 reel models that KastKing now has available. But it seems to us that we have not fully disclosed the products of this company. Therefore, in this section, we'll answer your most popular questions regarding KastKing products as usual. Go downstairs and most likely you'll find something that bothers you. And if not, feel free to ask your question in the comments!
Final Words
You now have a complete understanding of KastKing reels. We told you about the top 10 reels that are in great demand among professional fishermen. Now you know everything you need for a successful reel selection and even a little more. If you are interested in reading about the reels of other companies, you can take a look at our previous articles in which we reviewed other brands. We hope this guide has been helpful to you. If so, then share the article on social networks and send it to friends! Have good fishing!
Tags: #kastking reels / #who makes kastking reels / #kastking baitcast reels / #kastking spinning reels / #kastking reels review / #who makes kastking reels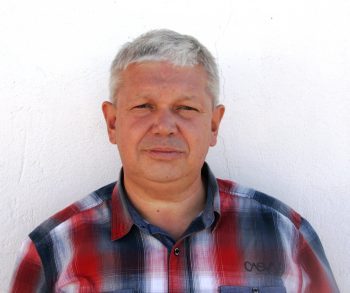 Sergio Smirnoff
Professional fisherman with 40+ years of experience.
Fishing and the ocean is a passion of my life. I am passionate about all kinds of sea fishing: fishing from the shore (spinning, float, baitcasting), from a boat, and spearfishing day and night.
I live in Tenerife (Canary Islands) for the last 10+ years and share my daily fishing experiences on my website. Many years of personal experience as a fisherman and the vast experience of my friends allow me to write professionally on any fishing topics (from choosing a flashlight and equipment to deep-sea fishing).
All of my advice is based on practical real-world experience and will be useful to both novice anglers and professionals.
Read more
about the author.
Affiliate Disclosure: FishReeler.com sometimes gets paid for listings, through sponsors or affiliate programs like Amazon, Ebay, Cabelas, Bass Pro Shop, Shimano, Daiwa, Rapala, Renn, Okuma, KastKing, etс. Clicking a link helps keep FishReeler.com free, at no extra cost to you!
About the author: Each article is verified by the fishing expert Sergio Smirnoff. The articles are written by professional and amateur fishermen with 20+ years of fishing experience.
Note: The views and opinions expressed in this article are those of the authors and do not necessarily reflect the official policy or position of any agency. The articles are for informational purposes only, share your opinions in the comments and join the fishing discussions, let's share our fishing experiences together!