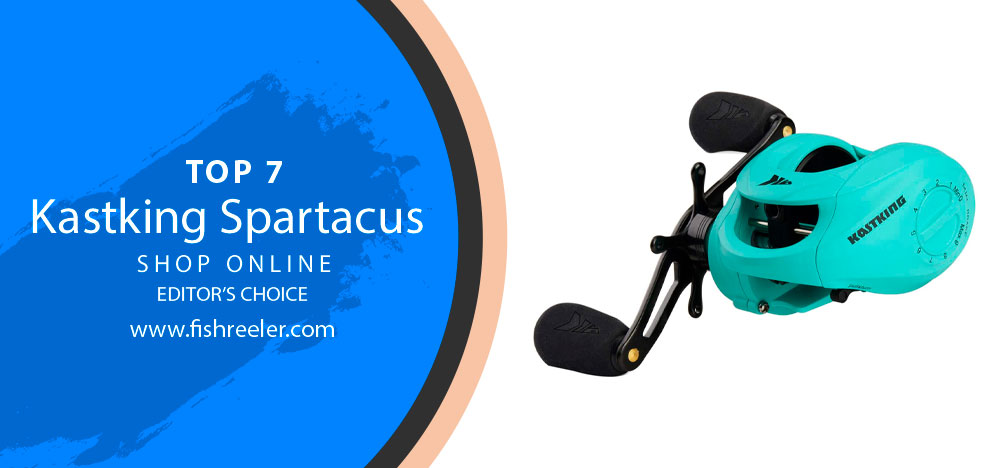 Because goods from China are often cheap, you can hear a lot of bad things about their quality. One brand that I've read a lot of good stuff about over the past few weeks is KastKing. This review will focus on the Kastking Spartacus fishing reels. You will be surprised that high-quality spinning or baitcasting reels can be purchased for little money.
About Brand Kastking
The company was founded on March 15th, 2013 in New York. The company's products are sold in more than 150 countries around the world and are a popular and recognizable brand in the USA, Canada, and Europe. The main office of the company is located in Shenzhen, China, official warehouses are open in New York (USA), Frankfurt (Germany), Vancouver (Canada), Birmingham (UK). In 2013, KastKing became the largest seller of fishing tackle and the exclusive brand supplier for Amazon.
In 2015, he won the prestigious Best Fishing Brand award at the prestigious US Fishing Trade Show. KastKing is the only award-winning Chinese manufacturer in the US for the first time since 1933. In 2015, KastKing products are represented in the largest US sporting goods store DICK'S. The chain has 640 stores in more than 500 US cities. This is a brand that produces exceptionally high-quality products. The advantage over competing companies is the price. All Kastking products are significantly cheaper because they are made in China.
The 7 Best KastKing Spartacus Plus – Fishing Rods, Reels, Line & Knots
| Image | Product | Brand | Link |
| --- | --- | --- | --- |
| | KastKing Spartacus II Spinning Reel, Size 3000 Fishing Reel, IPX5 Waterproof Rating,Sliver | KastKing | |
| | KastKing Spartacus II Spinning Reel, Size 5000 Fishing Reel, IPX5 Waterproof Rating,Sliver | KastKing | |
| | KastKing Spartacus Plus Baitcasting Fishing Reel,Rubber Cork Version,Right Handed Reel | KastKing | |
| | KastKing Spartacus Baitcasting Reel,Seafoam Green,Right Handed Reel | KastKing | |
| | KastKing Spartacus Maximus Baitcasting Reels,6.3:1 Gear Ratio,Right Handed Reel | KastKing | |
| | KastKing Spartacus II Baitcasting Fishing Reel, 6oz Ultralight, Super Smooth with 17.6 LB Carbon Fiber Drag, 7.2:1 Gear Ratio, 39mm Palm Perfect Lower Profile Design,lash Silver,Right Handed | KastKing | |
| | KastKing Spartacus Fillet Knife, Boning and Food Prep Knife, Razor Sharp 8Cr14 Stainless Steel Blade, 9 inch Fishing Knife | KastKing | |
This Kastking Spartacus reel in a fairly short period was able to gain popularity among a large number of anglers who use it for spinning fishing. The secret of such success lies in the affordable price, high quality of the coil itself, and its sufficient reliability. Kastking Spartacus has high technological characteristics and is made of quality material. In terms of its characteristics, the reel is not inferior to the brand models, and in terms of price policy, it surpasses them. After all, it is difficult to find a similar model that combines high quality and affordable prices for most anglers. During the casting, the angler can sometimes hear a rustling at the location of the bearings. This drawback is easily solved by lubricating the bearings located in the reel housing with oil. Based on feedback from anglers, the reel is best suited for fishing with wobblers.
Kastking Spartacus Spinning Reel
1# KastKing Spartacus II Fishing Reel 3000 – Amazon's Choice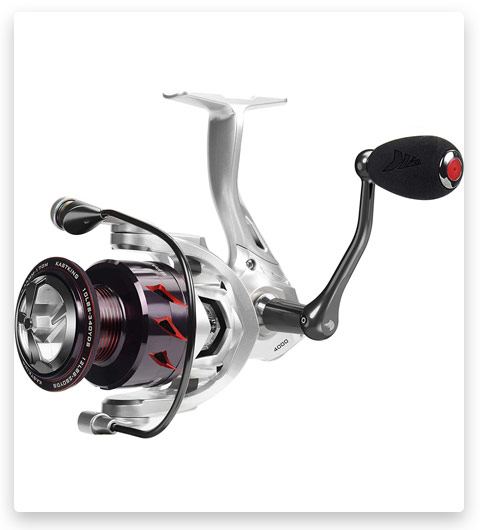 This is a high-quality fishing reel that has won the love of fishermen from all over the world in a fairly short period of time. This model is suitable for a variety of fishing conditions, whether you are fishing in seawater or freshwater. The reel contains 7 + 1 bearings, which ensures smooth casting and uniform line exhaust. They are made of stainless steel and resist corrosion. This is a triple-disc fishing reel that weighs 22 lbs. This product is made from carbon fibre. This reel can be used with light fishing lines. This model is equipped with an aluminum EVA handle knob. It ensures smooth rotation.
2# KastKing Spartacus II Fishing Reel 5000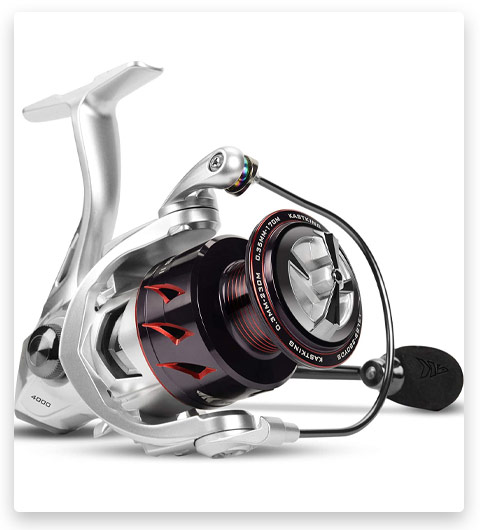 The new KastKing Spartacus spinning reel captivates with its design and technical equipment. Smooth running is one of the main characteristics of the reel. Thanks to the triple-disc carbon fiber drag, Kastking engineers have significantly reduced weight. For example, the weight of a size 5000 reel has been reduced by more than 10%. The new pinion design provides this reel with better load distribution and a smoother ride than other models. This product is equipped with 7 + 1 double-shielded stainless steel ball bearings and also has a reinforced nylon body and rotor. You can use the coil in both sea and freshwater.
Fastking Spartacus Baitcasting Reel
3# KastKing Spartacus I & II Baitcasting Fishing Reel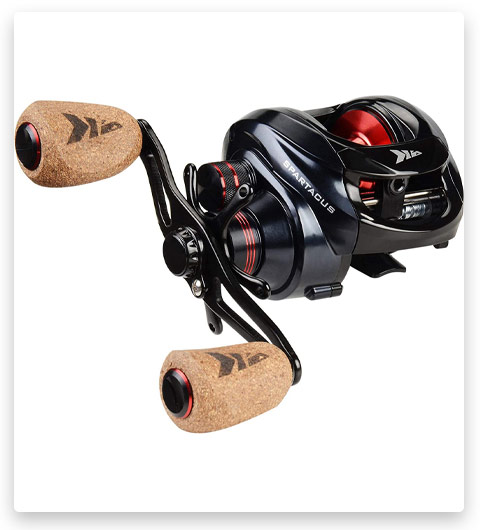 The reel has a sturdy plastic body and a red aluminum spool. There are two EVA knobs on the CNC milled aluminium handle which I especially like because of their grip. The reel works easily and quietly.  I recommend beginners initially throwing larger lures, so I mostly had jerk-baits that were over 40 g into the water. The more training, the higher the throw distance. However, do not be careless and accelerate the bait too quickly or abruptly, otherwise, the reel will rewind and the hated bird nests will appear. In the worst case, the bait stops so abruptly that the line breaks, and the bait fly away. There were no problems with the rig, the finely adjustable sprocket resistance started out smoothly and so many (albeit smaller) peaks could be safely landed. This reel has 7 + 1 ball bearings. They are made of stainless steel and are corrosion resistant.
4# KastKing Spartacus Baitcasting Reel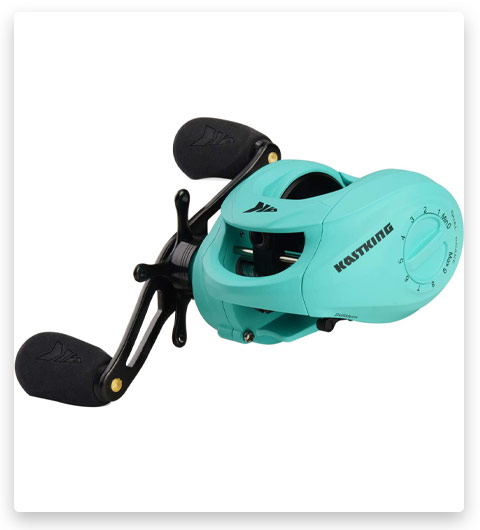 The washers of the device are made of carbon fiber, which allows them to withstand the weight of the extraction up to 8 kg 12 bearings provide smooth running and even line unwinding. The gear ratio of the model is 6.3: 1, so it is classified as a high-speed mechanism. The ability to catch large fish is also due to the presence of magnetic and centrifugal brakes, which regulate the process of deflecting the line from the reel. For the manufacture of the handle, aluminum material is used, which provides a long service life and a comfortable hand-holding. The body has a comfortable shape and no sharp corners. The device weighs 222 grams. The spool weighs almost 20g.
5# KastKing Spartacus Maximus Metal Baitcasting Reels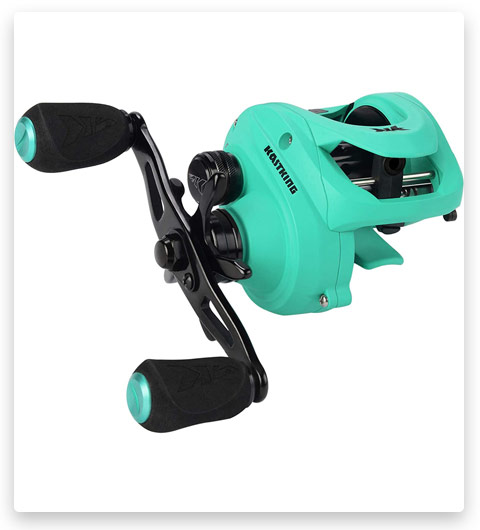 This reel can be wound up to 150 meters of braided cord. The presence of 11 bearings guarantees smooth performance and uniform stretching of the line. The reel gear ratio is 6.3: 1 and 11.33 kg of carbon fiber drag. The reel runs very smoothly without a coiled string, but one cannot deny a very slight grinding noise. Although this is only noticeable in a quiet environment. Kastking Spartacus star brake adjuster wheels, reel brakes, and reel brake buttons operate smoothly and thus make a good impression. Visually, the coil also makes a good impression, birch and black go very well with each other. In addition, KastKing did not exaggerate and only discreetly placed the logo on top and on the foam handles. The brand and name of the reel are also printed on the right and left side of the reel.
6# KastKing Spartacus I & II Baitcasting Fishing Reel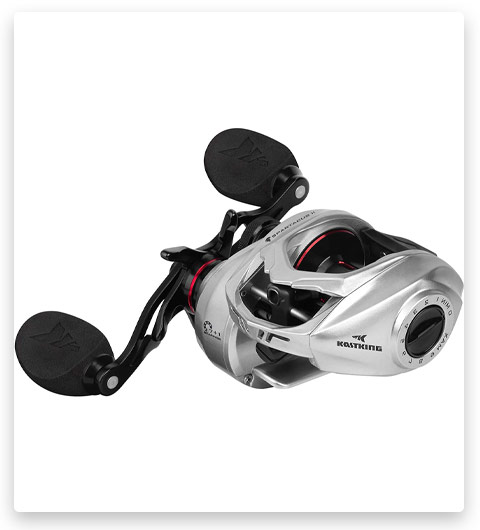 KastKing Spartacus is available in 7 different colors. The colors are amazing! For me, the look of my fishing equipment plays an important role. Therefore, I consider this to be an important advantage of this coil. On the first inspection, I noticed that the color is really sharp, the photos were not exaggerated. The difference between the highlights on the handles and the color of the body is minimal. This is also logical since the body does not feel at all like the metal of the handles to the touch.
When it comes to brakes, Spartacus is playing to its fullest. I like it when nothing is left out. There is, of course, a reel break just like any other baitcasting reel. Then comes a centrifugal brake with six possible settings and a magnetic brake with five magnets and 25 possible settings. When it comes to ball bearings, the KastKing Spartacus shines with 7 + 1 ball bearings. By the way, according to the manufacturer, they are safe for saltwater.
KastKing Spartacus Fillet Knives
7# KastKing Spartacus Fillet Boning Food Prep Knives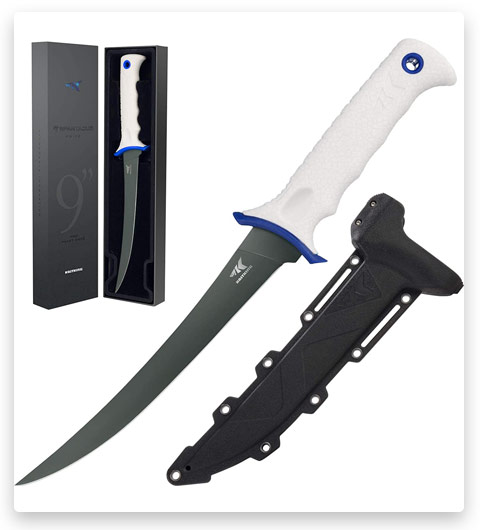 This KastKing Spartacus fishing knife will come in handy when fishing so read its specifications. This model is designed for cutting fillets, and also easily peels skin, film, and separate fish veins from the bone. A uniformly tapering 8Cr14 stainless steel blade with an extra sharp blade and full-length shank. The blades stay sharp for a long time due to their high carbon content. In addition, the blade contains a sufficient amount of chromium which provides increased resistance to corrosion. Also, the blade has a ceramic coating that also protects against corrosion and can withstand temperatures up to 2000 degrees. The polymer handle is UV resistant and provides a comfortable grip.
Conclusion
Kastking is an American company that produces various fishing products. The products quickly gained popularity among users. In order to preserve their quality and reduce the price, the owners moved their production facilities to China. In production, only durable materials are used, which reduces the risk of breakage during intensive use. The Kastking Spartacus fishing reels are suitable for both experienced anglers and beginners. My favorite models from my review are 1# KastKing Spartacus II ing Reel – Amazon's Choice and 3# KastKing Spartacus I & II Baitcasting Fishing Reel.
Tags: #kastking spartacus / #kastking spartacus maximus / #kastking spartacus plus / #kastking spartacus review / #kastking spartacus rod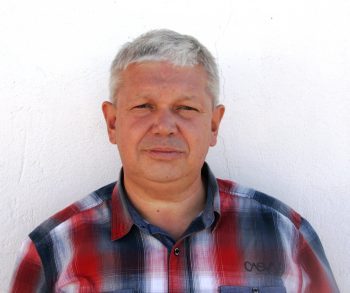 Sergio Smirnoff
Professional fisherman with 40+ years of experience.
Fishing and the ocean is a passion of my life. I am passionate about all kinds of sea fishing: fishing from the shore (spinning, float, baitcasting), from a boat, and spearfishing day and night.
I live in Tenerife (Canary Islands) for the last 10+ years and share my daily fishing experiences on my website. Many years of personal experience as a fisherman and the vast experience of my friends allow me to write professionally on any fishing topics (from choosing a flashlight and equipment to deep-sea fishing).
All of my advice is based on practical real-world experience and will be useful to both novice anglers and professionals.
Read more
about the author.
Affiliate Disclosure: FishReeler.com sometimes gets paid for listings, through sponsors or affiliate programs like Amazon, Ebay, Cabelas, Bass Pro Shop, Shimano, Daiwa, Rapala, Renn, Okuma, KastKing, etс. Clicking a link helps keep FishReeler.com free, at no extra cost to you!
About the author: Each article is verified by the fishing expert Sergio Smirnoff. The articles are written by professional and amateur fishermen with 20+ years of fishing experience.
Note: The views and opinions expressed in this article are those of the authors and do not necessarily reflect the official policy or position of any agency. The articles are for informational purposes only, share your opinions in the comments and join the fishing discussions, let's share our fishing experiences together!