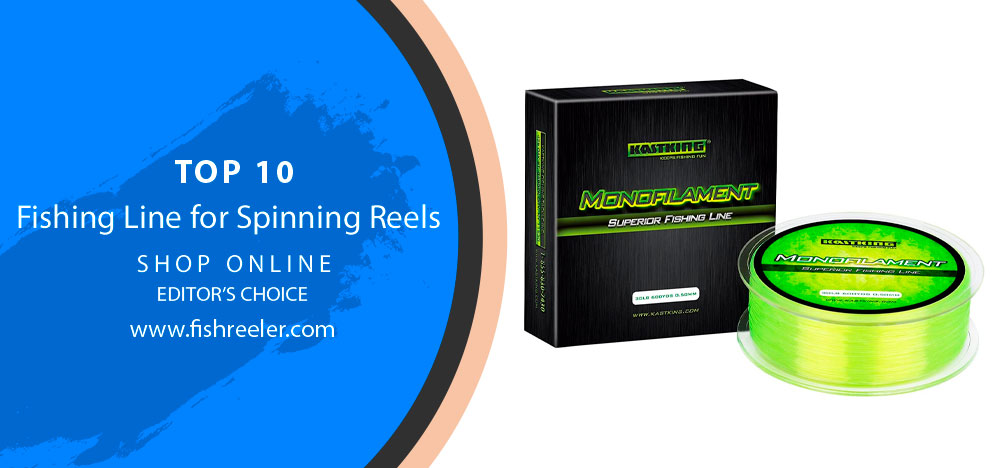 Reeling in Success: Unraveling the Best Fishing Lines for Spinning Reels

There's nothing quite like the feeling of casting your line into tranquil waters under the serene sky, waiting for that exhilarating tug of a bite, is there? Ever since I held my first fishing rod, I was utterly smitten. The thrill of the catch, the calming effect of nature, the camaraderie among fellow anglers – fishing is my passion, my obsession, and my favorite pastime. 🐟
🎣 Hooked on Fishing: An Angler's Tale
However, I quickly realized that the joy of fishing is not just about being out there on the water; it's about mastering the art and science behind it. In particular, choosing the right fishing line, often overlooked, is a game-changer.
Why, you ask? 🤔 Well, imagine this: after hours of patient waiting, you finally feel a pull. A strong, promising pull. Heart racing, you start to reel in, only to feel the line snap! All that anticipation, excitement, and struggle, all gone in an instant, all because of a poor choice of fishing line. Trust me, I've been there, and it's a situation no angler wants to find themselves in.
🔶In this article, we're going to dive deep into the world of fishing lines for spinning reels – your silent partners in each successful catch. We'll explore the different types of lines, their strengths and weaknesses, and factors you should consider when choosing the best one for your spinning reel. Also, I'll share my top picks for fishing lines based on years of experience, so you can reel in your catch with confidence. So, buckle up and let's embark on this angling adventure together! 🚀
🔄 The Art of the Spin: Unraveling Spinning Reels

Before we cast our lines deep into the ocean of fishing lines, let's take a moment to appreciate our trusty companions: the spinning reels.
What is a Spinning Reel, Anyway? 🎣
Simply put, spinning reels, also known as open-faced reels, are the modern angler's best friend. They're user-friendly, versatile, and exceptionally well-suited to lightweight lures and baits. The unique design features a fixed spool positioned in line with the rod, and a ball that wraps the line onto the spool as you turn the handle – this eliminates the tangling problems often encountered with other reel types. Hence, they're an absolute favorite, especially for those fishing enthusiasts who are after smaller game, or fishing in freshwater or saltwater conditions.
The Reel Deal: Why Spinning Reels? 👌
Spinning reels are popular for a plethora of reasons:
Ease of use: They are less likely to backlash, making them perfect for beginners.
Versatility: They work well with a variety of lines and can handle a wide range of lure weights.
Durability: Many models are designed to resist the corrosive effects of saltwater.
However, the true prowess of a spinning reel shines through when it's paired with the right line.🤝
Line- Reel Matchmaking: A Crucial Balance ⚖️
Choosing the right line for your spinning reel is not just an afterthought, but an essential part of your fishing success. Why so? Well, not all lines are created equal. Some lines are more visible in water, some stretch more, while others are more resistant to abrasion. The wrong type of line can lead to poor casting, lost fish, and a frustrating day on the water.
🔶But don't worry! With a bit of guidance and the right line, your spinning reel can be your most reliable ally, leading you to memorable fishing triumphs. So let's unravel the mystery of fishing lines together in the next part of this angling adventure. 🌊🐟
🔎 The Great Line-up: Monofilament, Fluorocarbon, and Braided
Navigating the world of fishing lines can feel like being a kid in a candy store – it's both exciting and overwhelming. But fear not! Here, we'll dive into the three main types of fishing lines – monofilament, fluorocarbon, and braided – and discuss their merits and demerits when used with spinning reels.
1️⃣ Monofilament Lines: The Jack of All Trades 🎣
Monofilament, or 'mono,' is the most common type of fishing line and often the go-to choice for many anglers. It's made from a single strand of plastic, typically nylon, and comes in a rainbow of colors.
2️⃣ Fluorocarbon Lines: The Invisible Warrior 💪
Fluorocarbon lines are made from a single strand of polyvinylidene fluoride, which gives them some unique properties.
3️⃣ Braided Lines: The Power Player 💥
Braided lines are exactly what they sound like – multiple strands of material braided together. They are the oldest type of fishing line, but modern versions are made from synthetic materials like Dacron or Spectra.
🔶As you see, each type of fishing line brings its own strengths to the table when used with spinning reels. The key is to determine which factors are most important to you and your specific fishing circumstances. So keep on reading, as we'll navigate the considerations for choosing the right fishing line for your spinning reel in the next section. 🌟
Top 10 Fishing Lines for Spinning Reels
As every seasoned angler knows, the right equipment can make all the difference when you're out on the water. This isn't just about the perfect rod or the shiniest lure – it's also about the fishing line. Especially when it comes to spinning reels, your choice of line can significantly impact your casting distance, sensitivity to bites, and the overall enjoyment of your fishing experience.
In this blog post, we'll dive into the world of fishing lines, highlighting the top 10 options for spinning reels. Whether you're a weekend hobbyist seeking the thrill of the catch or an avid sports fisher fine-tuning your gear for the best performance, our comprehensive guide aims to help you navigate your choices. Let's reel in some knowledge and find the perfect line to elevate your next fishing adventure!
1# Berkley BGQS50C-15 Trilene Big Game Monofilament Custom Spool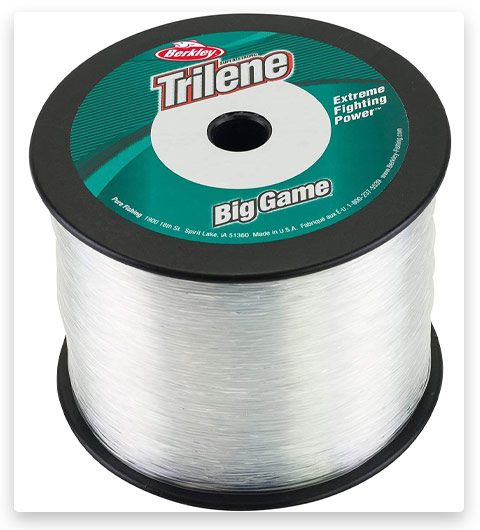 One of the most popular monofilament lines in the United States, which speaks for itself. This model demonstrates extreme fighting power for big fish, both for saltwater and freshwater thanks to its incredible reliability and strength.
Extreme durability gives you confidence and full control of any situation. The shock-resistant material ensures a controlled stretch for terrific fighting power. The line shows extraordinary abrasion resistance, as well as exceptional knot strength. A really good chance of catching your Big Fish. The line shows extraordinary abrasion resistance, as well as exceptional knot strength. A really good chance of catching your Big Fish.
2# RUNCL Material Multiple Freshwater Saltwater Braided Fishing Line 8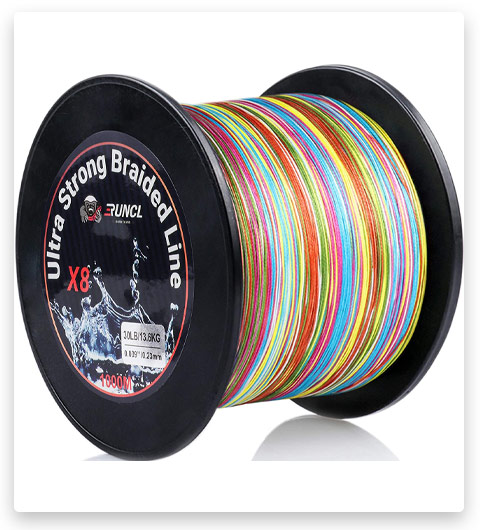 This durable fishing line is made of polyurethane material with eight braids. It is extra strong and resistant to abrasion and offers excellent knot strength. You will never worry about line breakage when a hooked fish pulls hard on the line.
A thinner diameter helps you to spool more fishing lines onto your reel and makes it easy to cut water faster. And it allows the bait to faster reach the needed water depth to catch the fish. The smooth sheathing without burr lets you easily slip the line through the rod guides for a superior casting. You can cast farther to reach any fish you aiming at. This fishing line has zero extension and high sensitivity, letting you feel the slightest bite of fish. Your catch ratio has never been higher!
3# Power Pro Spectra Fiber Braided Fishing Line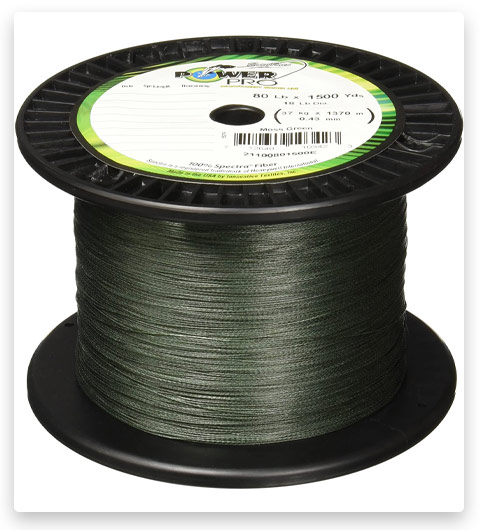 Today's fishermen are getting more and more demanding. They consider many facts when making a decision about picking a fishing line for spinning reels. This Microline fiber braided line was created especially for clearer water bodies. The thin diameter allows more action of lures in the water. It is an extra-sensitive fish line thanks to its three-end braided construction and low stretch. This perfect Microline line will change the way you think about fishing forever.
4# KastKing Superpower Braided Fishing Line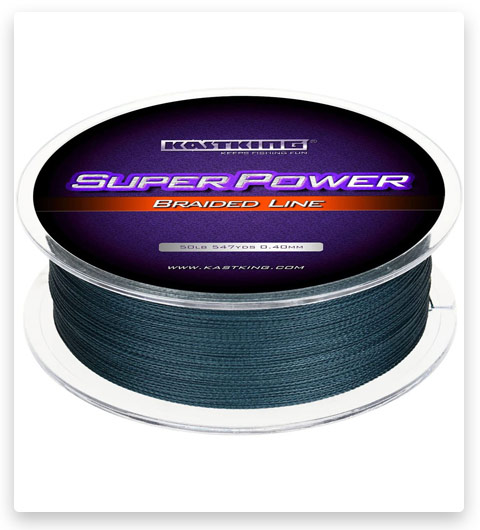 This braided fishing line has everything you need to catch big fish. It allows you to fish from shore or offshore with much confidence. Ensures better, farther casts, less chance of wind knots. Dynamically incorporated strands allow you to easily tie a more solid knot. The special proprietary treatment ensures the supple fishing line to zip through the guides to your target and gives you better lure swimming action. Smaller diameter allows you to spool more fishing lines onto your reel. No matter if you're fishing in a rocky mountain river or along the beach this braided line ensures superior abrasion resistance. Experienced anglers rely on this line's extra strength whenever they fish sharks or trout. You can really rely on this guaranteed quality.
5# KastKing Worlds Premium Monofilament Yards Fishing Line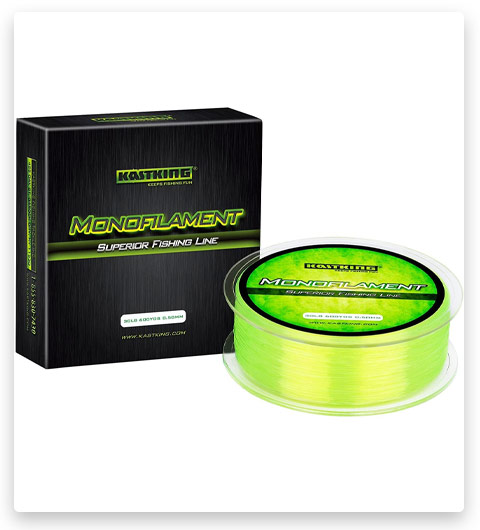 This durable fishing line demonstrates the finest monofilament line manufacturing technology on 275-meter spools in the various tests. The monofilament line is offered in clear, green, yellow, red, and blue colors. A single strand of nylon fiber gives the monoline superior abrasion resistance and provides powerful tensile strength when fighting with fish. This fishing line is thin, durable, and abrasion-resistant. No matter if you are fishing in fresh or saltwater, in a tournament, or for fun,  the great performance of the KastKing monofilament fishing line confidently beats more other monofilament line brands. Maximum efficiency in moving baits. With a monoline, you can fish in almost any condition using any technique.
6# Stren SHIQS10-15 High Impact Monofilament Fishing Line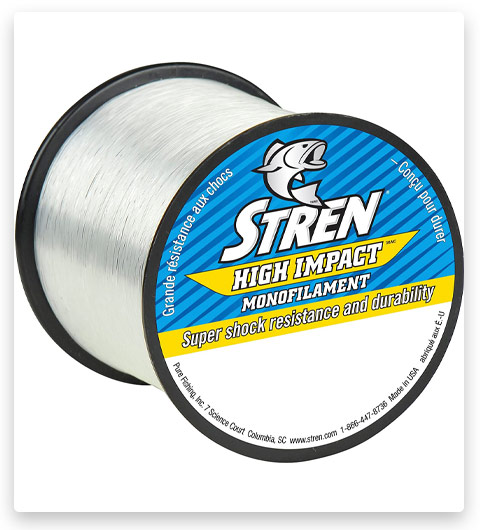 Ensures extreme shock resistance for hard-hitting fish. Extensively durable and great for saltwater fishing from the bay and coastal fishing to blue water. A brilliant combination of strength, durability, and impact resistance. Perfect for avid coastal and offshore anglers with casting, spinning, and trolling reels.
7# Berkley VPS6-15 Vanish Fluorocarbon Fishing Line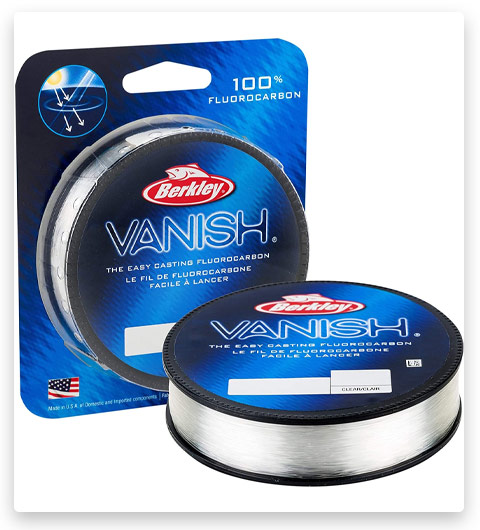 Remains transparent underwater. Virtually invisible and proven not to spook fish. Fluorocarbon material refracts light similar to water and literally disappears in it. Non-absorbing and maintains strength and abrasion resistance underwater. State line weight. Casts well, and is sensitive enough to detect the softest bites. Also, it offers excellent shock absorbency when you set the hook.
8# Yo-Zuri Hybrid-600 Yard Fishing Line 8 Pound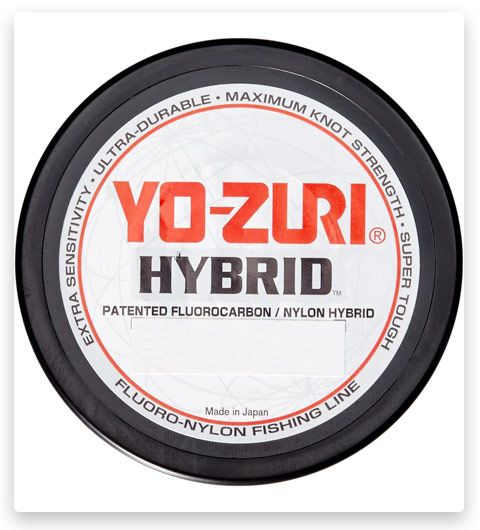 The go-to line for anglers who prefer a stealthy approach with smooth handling. The unique, patented co-polymer line contains a 50/50 blend of fluorocarbon and nylon bringing out the best features of both. This fishing line combines extreme abrasion resistance and sensitivity of fluorocarbon with the flexibility and stretch of nylon. Waterproof and UV-resistant, invisible in the water.  Easily flows off the reel spool thanks to its low memory. Great for all species and technics.
9# Piscifun Braided Fishing Backing Fluorescent Fly Line Backing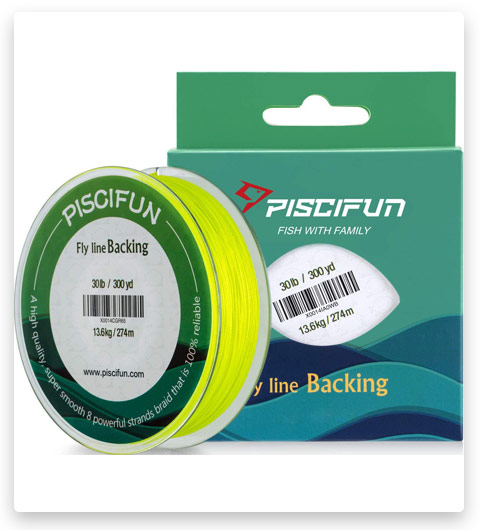 There is no longer any reason to overpay for high-quality fishing tackle. Piscifun offers everything avid fishers need in tackles at more than affordable prices. This fishing line shows a perfect compromise between thinness and the ability to make blind splice loops. Extremely abrasion-resistant, virtually no stretch. A low coefficient of friction will prevent your fly rod guides from damage. The line retains all its qualities while underwater. One of the most popular lines in the whole industry. Available in three colors: white, orange, and fluorescent yellow.
10# RUNCL PowerFluoro Fishing Line 100%Fluorocarbon Coated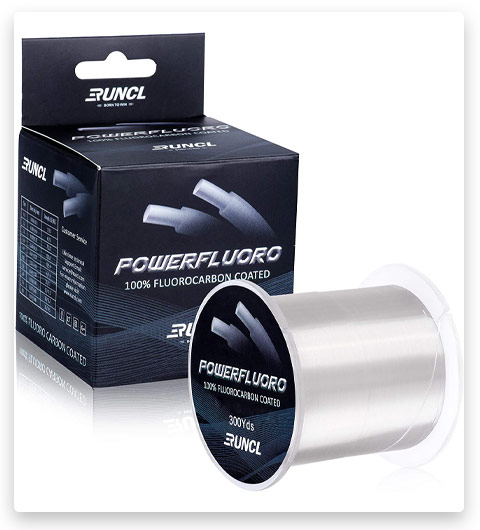 The amazing strength of this fishing line allows it to withstand sudden, aggressive fish strikes. The fluorocarbon coating ensures outstanding shock strength, abrasion resistance, and knot strength. The fluorocarbon's light-refractive index is close to water, which makes the line literally invisible to fish in the water. Extra strength allows it to withstand aggressive strikes of big fish and ensure solid hooksets.
The line shows high-density construction with non-absorbency, it sinks faster than monofilament of the same diameter. It won't freeze, which makes it great for ice fishing. A constant uniform diameter with low stretch and extra sensitivity allows feeling the slightest fish bites. Get ready to see your catch level shooting up!
💡 Tailoring Your Tackle: Choosing the Right Line for Your Spinning Reel
Just like every angler has a unique fishing style, every fishing scenario calls for a specific line. So, what are the main factors you should consider when choosing the right line for your spinning reel? Let's dive in! 🌊
1️⃣ The Fishing Environment: Your Underwater Stage 🏞️
Are you planning to fish in freshwater or saltwater? Are you venturing into deep sea or sticking to shallow waters? Each environment presents different challenges that your line needs to withstand. For example, saltwater is corrosive, so you might want to choose a line with high durability, like fluorocarbon.
2️⃣ The Targeted Species: Know Your Adversary 🐠
The type and size of the fish you're after will greatly influence your line choice. For example, if you're targeting a species known to put up a fight, you may need a strong, stretchy line like monofilament. On the other hand, if your goal is a wary fish that gets spooked easily, the invisibility of fluorocarbon might be your best bet.
3️⃣ Your Personal Technique: The Angler's Signature 🎣
Do you prefer casting long distances or dropping your line straight down? The distance you plan to cast can influence the weight and material of your line. A braided line is a great option for long casts due to its high strength-to-diameter ratio.
4️⃣ The Reel Type: The Silent Partner 🔄
Last but not least, your reel type should be considered. Spinning reels work best with flexible and lightweight lines. In general, monofilament and braided lines are excellent choices for these reels, but fluorocarbon can also be used, especially for leader lines.
Striking the Balance: Durability, Visibility, Stretch, and Sensitivity 🏋️
Finding the perfect fishing line is all about balancing these four factors. It's like tuning a musical instrument – adjusting one factor might require you to tweak the others to achieve the best performance.
🔶To sum it up, choosing the right fishing line for your spinning reel can make a world of difference. Up next, I'll share my top picks based on my years of experience. So stay tuned and let's continue this journey to reel in the success together! 🎈
🏆 The Line-Up: Top Recommended Fishing Lines for Spinning Reels
After casting hundreds of lines into the water, I've rounded up my top three fishing lines for spinning reels. Here, I will share not just their features, but also my firsthand experiences with each of them. So let's dive into the details! 🚀
1️⃣ Berkley Trilene Big Game Monofilament Custom Spool 🎣
If you're looking for a reliable monofilament line, Berkley Trilene Big Game line is my go-to recommendation. It stands out for its incredible strength and versatility. This line has saved my day multiple times when I've battled with heavy, feisty fish. Its ability to stretch and absorb shocks like a champ never ceases to amaze me! Plus, it's available in a range of colors to match your fishing environment.
2️⃣ Seaguar InvizX 100% Fluorocarbon Line 🕵️
For those stealthy fishing missions, Seaguar InvizX Fluorocarbon line has proven itself to be a trusted ally. It's virtually invisible underwater, providing an edge when targeting those finicky fish. I've found it to be impressively abrasion-resistant, even in the harshest conditions. Its low-stretch factor increases sensitivity, helping detect those subtle bites, ensuring that no catch slips away unnoticed.
3️⃣ PowerPro Spectra Fiber Braided Fishing Line 💪
If strength and sensitivity top your list, PowerPro Spectra Fiber Braided line is a stellar choice. This line is incredibly durable and provides excellent sensitivity, thanks to its low-stretch nature. I've been astounded by the distance I can cast with this line, which has been instrumental in reaching spots I previously thought were out of bounds.
Each of these fishing lines has been a game-changer in my fishing adventures, enhancing my experience and upping my game. Up next, I'll share some tips on how to care for your fishing lines, so they serve you well for many exciting fishing trips to come. Let's keep reeling in the wisdom together! 🌟
🔧 Line Longevity: Care and Maintenance of Fishing Lines
Ensuring the durability of your fishing line is just as important as selecting the right one. A well-maintained fishing line not only extends its lifespan but also significantly enhances your overall fishing performance. Here, I'm sharing my personal maintenance regimen that keeps my fishing lines in top shape. 🌟
1️⃣ Regular Inspection: The Power of Prevention 🔍
Make it a habit to inspect your line for any signs of wear or damage before and after every fishing trip. Look out for nicks, frays, or weak spots. Remember, a tiny nick can lead to a massive disappointment when a big catch is on the line.
2️⃣ Cleaning: A Fresh Line for Fresh Catches 🧽
After every trip, especially in saltwater, rinse your line with fresh water to remove dirt, grime, and salt. This simple step can significantly extend the life of your line by preventing corrosion and weakening.
3️⃣ Storage: Keep it Cool 😎
Store your reels and lines in a cool, dry place away from direct sunlight. UV rays can degrade your lines over time, reducing their strength and effectiveness.
4️⃣ Re-Spooling: Out With the Old, In With the New 🔄
No matter how well you maintain your line, it's crucial to replace it periodically. The frequency of replacement will depend on how often you fish and the conditions you fish in, but as a rule of thumb, consider re-spooling at least once a year.
5️⃣ Line Conditioner: The Secret Weapon 🧴
Consider using a line conditioner. It reduces memory, increases casting distance, and prolongs the life of your line.
🔶Properly caring for your fishing lines can make all the difference between a disappointing day on the water and reeling in your new personal best. Remember, a well-cared-for line means a well-prepared angler. Up next, some final thoughts on our journey to find the perfect fishing line for your spinning reel. 🌈
🎦Video YouTube: Best Way to Tie Line to Any Reel – 100% Reliable
Knots to Know: The Beginner's Guide for Securing Line on Spinning Reels
Becoming a successful angler is more than just knowing how to cast or reel in. An important skill that every angler should master is knot tying. It's the foundation of a good fishing setup, and can mean the difference between landing that trophy catch and telling a story about the one that got away. Here's a beginner's guide to some of the most essential knots you need to know for securing a line on spinning reels.
The Arbor Knot
The Arbor Knot is your starting point – it's the knot you use to tie your fishing line to the reel spool. Follow these steps:
Wrap your line around the spool and tie a simple overhand knot around the standing line.
Tie another overhand knot just in the line's end to act as a stopper.
Pull the standing line to slide the first knot down to the spool and snug up against the stopper knot.
The Palomar Knot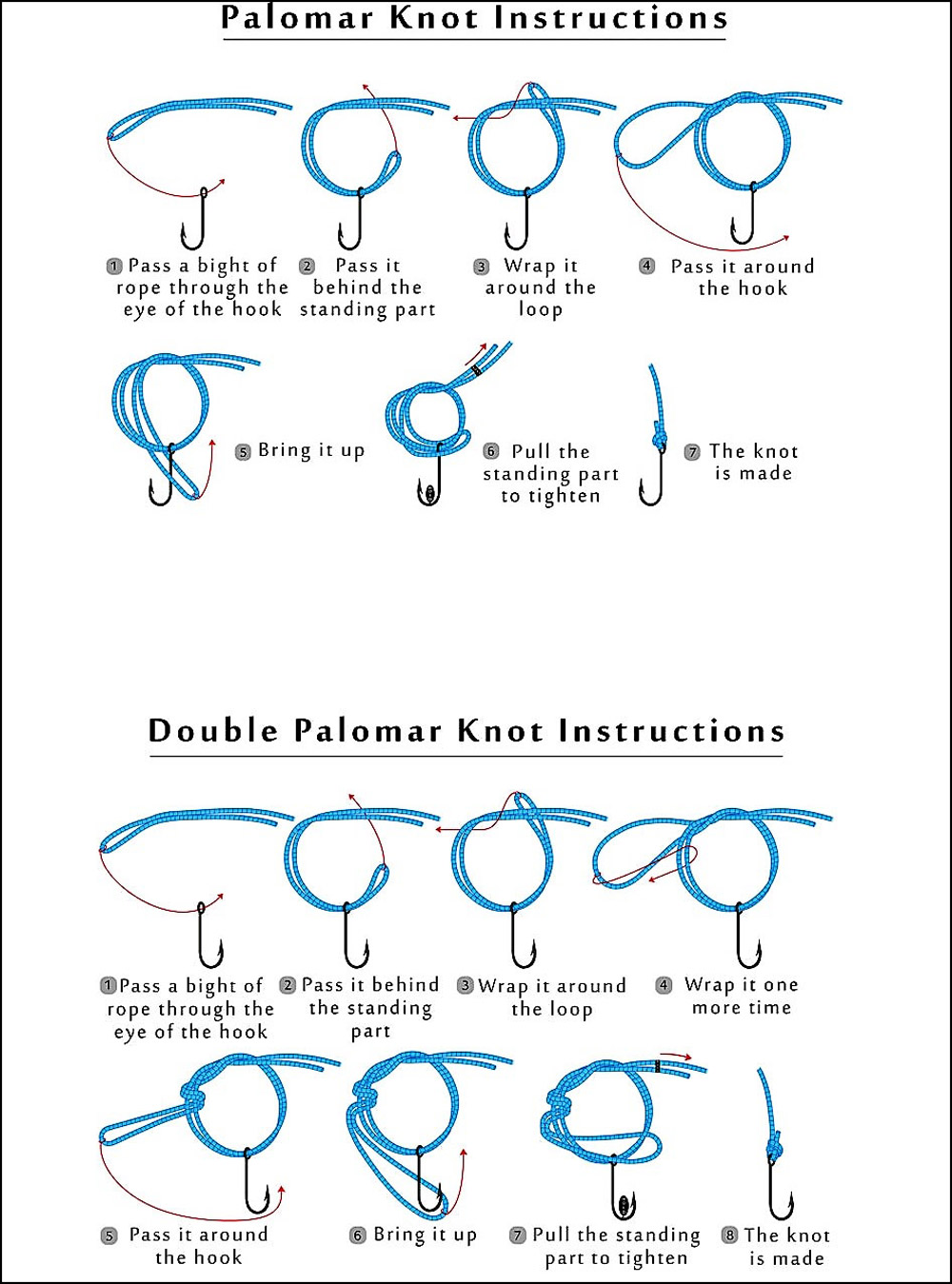 Renowned for its strength, the Palomar Knot is ideal for securing your hook or swivel to your line:
Double about 6 inches of line and pass the loop through the eye of the hook or swivel.
Tie a loose overhand knot with the loop and the doubled line.
Pass the loop over the end of the hook or swivel.
Pull on both the tag end and the standing line to tighten the knot. Trim the tag end.
The Uni Knot (or Duncan Loop)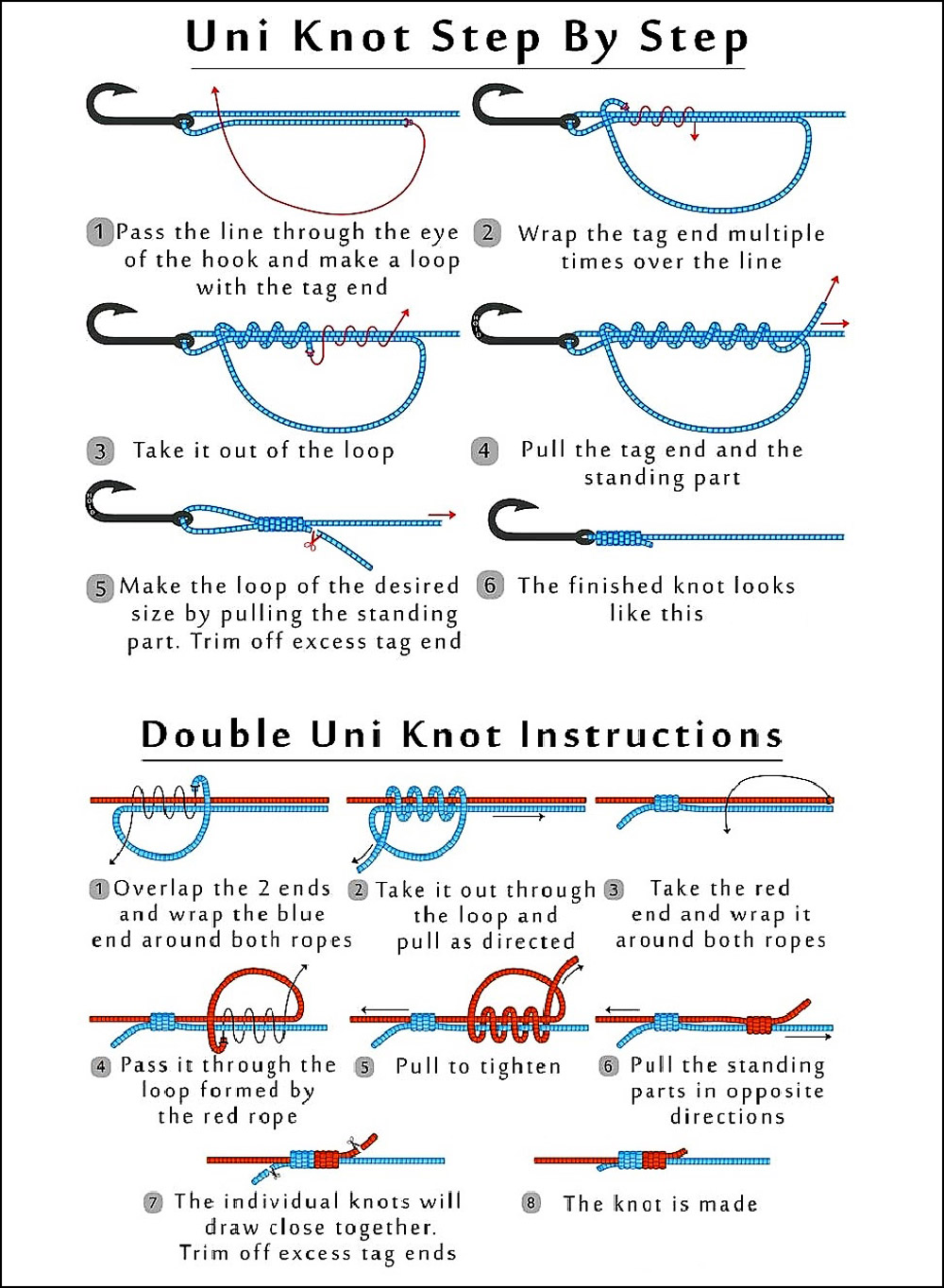 The Uni Knot is versatile, easy to tie, and strong. It can be used to tie your line to the hook, or for line to line connections:
Pass the line through the hook eye and double back parallel to the standing line.
Make a loop by laying tag end over the doubled line.
Make 6 turns with the tag end around the double line and through the loop.
Moisten the lines, then pull the tag end to snug up the turns.
Slide the knot down to the hook eye or leave a small loop if desired. Trim the tag end.
The Improved Clinch Knot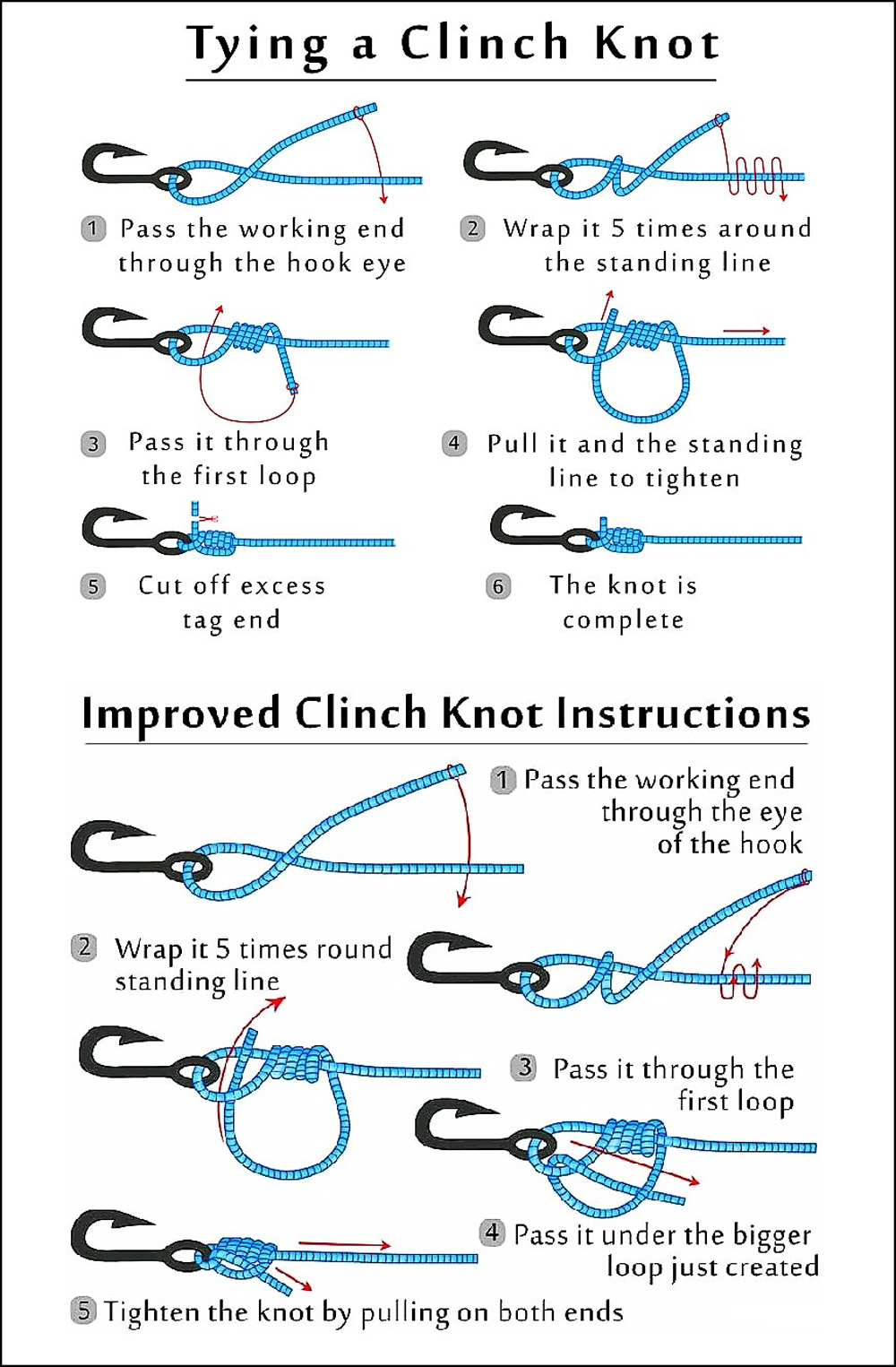 A tried and true favorite, the Improved Clinch Knot is commonly used to secure the line to the lure or hook:
Thread the line through the eye of the hook, then make 5-7 wraps around the standing line.
Thread the end of the line (tag end) through the loop that's closest to the eye of the hook, then back through the big loop you just made.
Wet the knot, then pull it tight. Trim the tag end.
🔶Remember, tying fishing knots is a skill that improves with practice. So, grab your line and start tying! It might seem complex at first, but with time you'll be tying these knots without even thinking about it.
Devices for Line Spooling on a Spinning Reel

In the world of angling, the importance of a well-spooled fishing line on your spinning reel cannot be overstated. It is crucial for accurate casting, avoiding frustrating tangles, and ensuring an efficient, smooth retrieval. But let's face it, the task of spooling can be a bit tricky and time-consuming, especially when done by hand or in the absence of a helpful fishing buddy.
That's where line spooling devices come into play, providing a hands-free, hassle-free solution to get your line onto the reel just right. In this blog post, we will delve into these innovative tools designed to make your fishing prep a breeze. We'll explore different types of spooling devices, their unique features, and how they can improve your overall fishing experience.
Our recommendations of the best brands:
Piscifun Speed Spooler Fishing Line Winder
PLUSINNO Spooler Spooling Station System Machine Multifunction Fishing Line Winder

❓ FAQ: Choosing the Right Fishing Line for Your Spinning Reels
🔶Have more questions? Feel free to ask in the comments section. Our community is always ready to share and help! 🎣
🎣 Wrapping It Up: Reeling in the Perfect Line
After this deep dive into the world of fishing lines for spinning reels, it's clear that the choice of line is as significant as the thrill of the chase. Every angler's journey is unique, and the perfect line can enhance that journey, turning good days into great ones. 🌟
Selecting the right fishing line is not just about the catch, it's about creating unforgettable fishing stories. Each knot you tie, every cast you make, and every fish you catch (or almost catch!) is a testament to your skill, patience, and the trusty line at the end of your spinning reel. 🎈
So, take your time, understand your gear, and find the line that syncs with your angling style. Remember, every line has a purpose, and the best line for you is the one that enhances your experience and elevates your fishing adventure.
Don't forget, the joy of fishing goes beyond the catch. It's in the calm of the early morning lake, the sudden tug of a hopeful bite, and the shared excitement of reeling in a catch. So invest in your hobby, equip yourself with the right line, and make every fishing trip an unforgettable tale. 🌊
Thank you for joining me in this journey. I hope you found the insights helpful and that they add to your fishing success. Keep exploring, keep learning, and most importantly, keep fishing. After all, the world is your fishing spot! 🌍
🔶Next, your experiences and wisdom. I invite you to share your fishing line stories in the comments. Let's keep the conversation going, because the angling community grows richer with every shared experience. 🎣
🔔 The Reel Talk: Share Your Line Stories!
Now that we've shared this fishing line adventure, it's time for you to take the bait and dive into the conversation! 💬
We want to hear from you! What's your go-to fishing line for your spinning reel? Have you tried any of the lines mentioned in this article? Perhaps you have a secret angling tip that can help the rest of us land that elusive catch. 🎣
This isn't just an article, it's a meeting spot for fishing enthusiasts from around the world. So cast your comments below, and let's turn this post into a treasure trove of shared fishing wisdom. Let's create a wave of dialogue, exchanging tips, advice, and those oh-so-sweet success stories! 🌊
Remember, each one of us brings a unique perspective to the table, and your voice could be the one that helps a fellow angler make their next big catch. So let's reel in the camaraderie and keep the conversation flowing. The fishing community is eager to hear from you. 🏞️
🔶Go ahead, drop us a line below! Let's turn this comment section into the biggest fishing spot on the internet. It's time to hook, line, and share your stories! 🚀
Tags: #best fishing line for spinning reels / #best monofilament fishing line for spinning reels / #best mono fishing line for spinning reels / #best braided fishing line for spinning reels / #best trout fishing line for spinning reels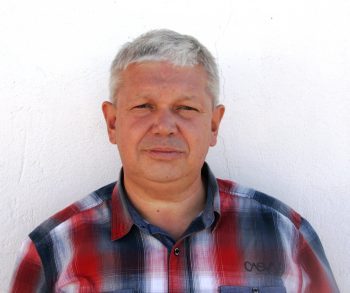 Sergio Smirnoff
Professional fisherman with 40+ years of experience.
Fishing and the ocean is a passion of my life. I am passionate about all kinds of sea fishing: fishing from the shore (spinning, float, baitcasting), from a boat, and spearfishing day and night.
I live in Tenerife (Canary Islands) for the last 10+ years and share my daily fishing experiences on my website. Many years of personal experience as a fisherman and the vast experience of my friends allow me to write professionally on any fishing topics (from choosing a flashlight and equipment to deep-sea fishing).
All of my advice is based on practical real-world experience and will be useful to both novice anglers and professionals.
Read more
about the author.
Affiliate Disclosure: FishReeler.com sometimes gets paid for listings, through sponsors or affiliate programs like Amazon, Ebay, Cabelas, Bass Pro Shop, Shimano, Daiwa, Rapala, Renn, Okuma, KastKing, etс. Clicking a link helps keep FishReeler.com free, at no extra cost to you!
About the author: Each article is verified by the fishing expert Sergio Smirnoff. The articles are written by professional and amateur fishermen with 20+ years of fishing experience.
Note: The views and opinions expressed in this article are those of the authors and do not necessarily reflect the official policy or position of any agency. The articles are for informational purposes only, share your opinions in the comments and join the fishing discussions, let's share our fishing experiences together!