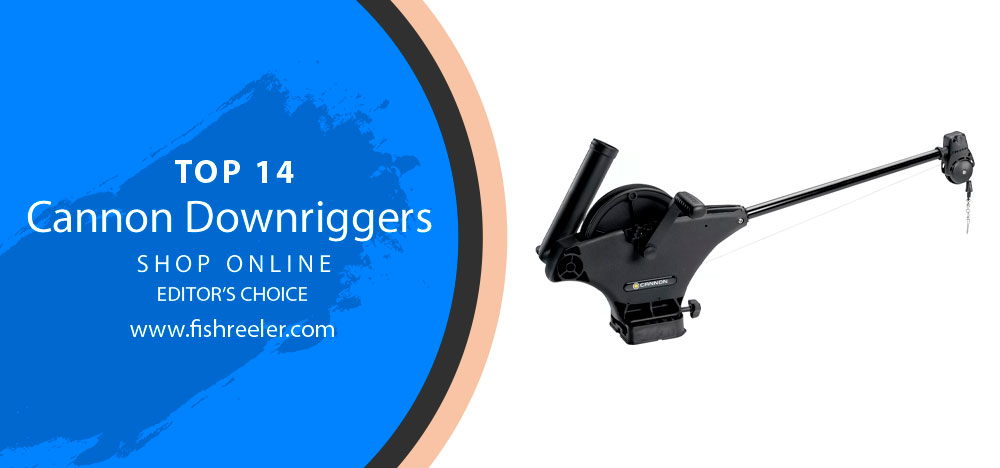 Cannon Downriggers – Best Manual & Electric Downriggers
| Image | Product | Brand | Link |
| --- | --- | --- | --- |
| | Cannon 1901020 Easi-Troll Manual Downrigger | Cannon | |
| | Cannon 1901250 Lake Troll Manual Downrigger Black | Cannon | |
| | Cannon 1901200 Mini-Troll Manual Downrigger | Cannon | |
| | Cannon 1902300 Magnum 5 Electric Downrigger | Cannon | |
| | Cannon 1902305 Magnum 10 Electric Downrigger | Cannon | |
| | Cannon Magnum 10 STX TS Electric Downrigger - Metric | Cannon | |
| | Cannon Clamp Mount Downrigger Mount | Cannon | |
| | Cannon 1904031 Aluminum Fixed Base Pedestal Mount - 6",Silver | Cannon | |
| | Cannon 2450169-1 Three-Position Adjustable Track Mounted Rod Holder, Black Composite | Cannon | |
| | Cannon Adjustable Rod Holder Single Axis | Cannon | |
In this article, I have collected the best downriggers from Cannon for you. Whether you came here to review electric or manual downriggers, I'll show you the best models in both categories. Because, as practice shows, anglers look for good electric downriggers no less than manual ones. We'll also cover a few holders and accessories for your downrigger, so this review will appeal to just about any downrigger trolling angler.
Why Should I Choose Cannon?
Firstly, Cannon is one of the largest and oldest downrigger companies that specialize only in them. Therefore, it is very important for them that their equipment is of high quality and that users are satisfied with their product.
Secondly, Canon downriggers have very high ratings from users on various marketplaces like Amazon. Each product is rated at least 4 stars, which indicates the high quality of their products.
And thirdly, the Cannon has very extensive information and technical base in their materials. On their blogs, you can find almost any information regarding the use of downriggers. From the inside of the downrigger to the right weight for your device. So the guys know what they are talking about and what they are producing.
Top 6 Best Manual Downriggers Review
I will start with an overview of Cannon's manual downriggers. Since this is the most popular and affordable type of downrigger. Below I have compiled for you 6 great manual downrigger options that will work great on your boat.
1# Cannon Easi-Troll Manual Downrigger – Best Value for Money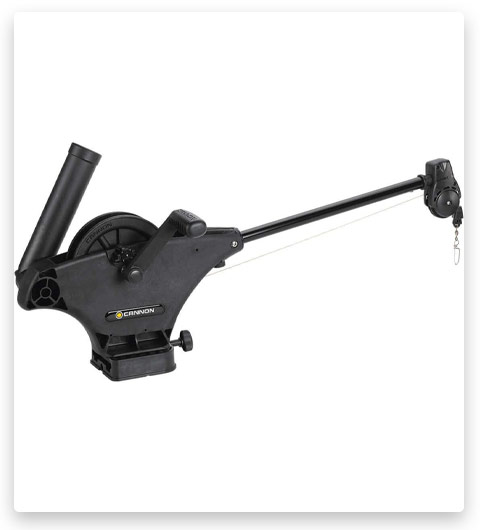 It's a great choice if you want to get a powerful downrigger without breaking a bank. This downrigger is incredibly easy to use. All you need to do is loosen the drag on your reel and attach that to the weight you use. I used the 10-pound weight, by the way, also by Cannon, and this downrigger works great with it.
Easi-troll has a very accurate and convenient line counter. But it sometimes crawls out of the slot a bit and doesn't fit well with the gears, but that's easy to fix if you push it back into the slot. Fortunately, this doesn't happen too often or in the middle of the process, so it's not a big disadvantage.
It was much more comfortable for me to work with this downrigger on large weights. Because weight of 10 pounds or more has no error in the 2 mph dive depth. This is exactly the speed with which I usually work. With this weight, my bait dropped very precisely to the depth I needed. But when using 6 and 8-pound weights, the depth was a couple of feet less.
The only thing that upset me here is that this downrigger does not come standard with a bolt and nut that would allow you to hang a load close to the device while driving. But I contacted support and they provided them for me.
2# Cannon Lake Troll Black Manual Downrigger – Best for Lake Trolling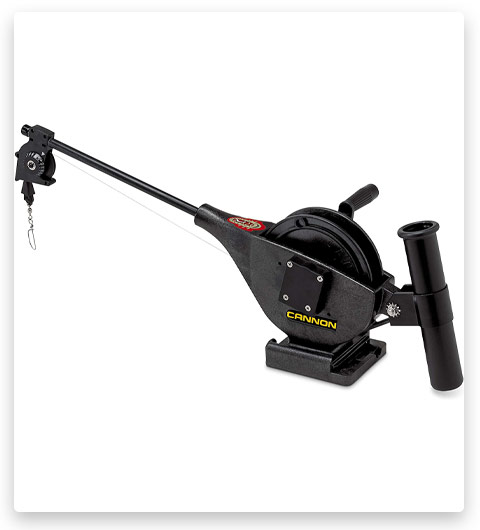 This is a great downrigger if you like lake trolling. I have heard a lot of users complaining about the boom depth meter not working. But I had no problem with that. Perhaps I was just lucky. In any case, the company will provide you with a new meter for free if there are any problems with yours, so you can not worry.
The only thing I found uncomfortable was that the rod holder requires a wrench to adjust. This is a great downrigger for lakes, but if you trolling a lot in the ocean, you might want to check out other models with an adjustable rod holder and faster speed.
3# Cannon Mini-Troll Manual Downrigger – Best Budget Pick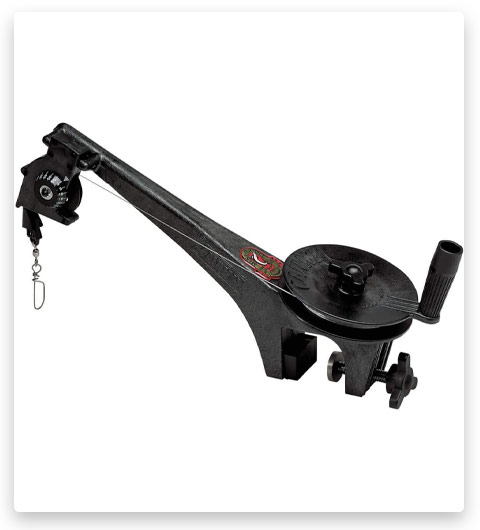 If you are looking for a second downrigger for the other side of the boat, or you just want to hunt small fish, this is a great choice. The Cannon Mini Troll is a very inexpensive, compact, and fast downrigger. It is about three times the size of most downriggers. I use it on 4-6 lb weights for lake trout and bass, and this rigger does a great job. The only thing I can draw your attention to is the knobs and the mount. The knobs sometimes can loosen and release the line at the most inopportune moment, as the bolts at the mount.
4# Cannon Easi-Troll ST Manual Downrigger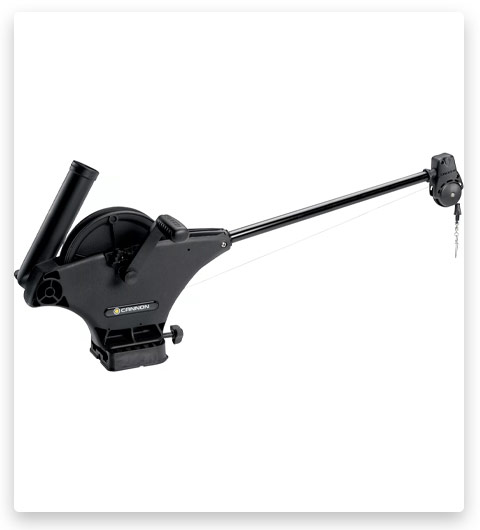 Very easy to use, powerful, and inexpensive downrigger. The downrigger has a fairly short and comfortable boom, unlike the 40+ inch boom models.
5# Cannon Uni-Troll 10 Manual Black Downrigger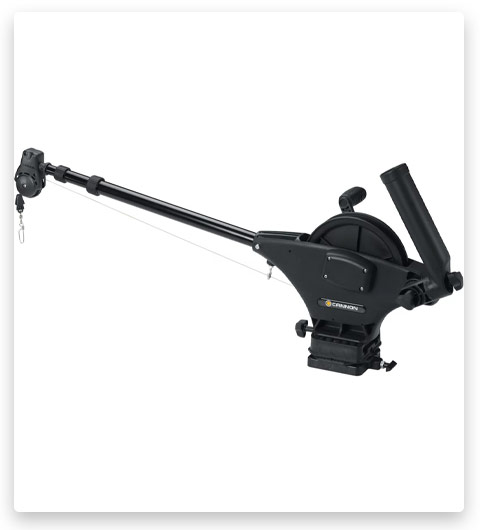 It is one of the most powerful downriggers of any manual model. It turns incredibly fast despite the mechanical handle. The kit contains everything you need to attach to your boat.
6# Cannon Mini-Troll Downrigger (No Accessory)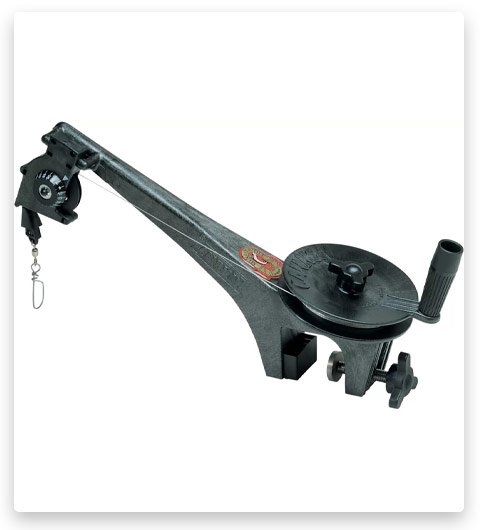 It is a very compact and cheap downrigger. Perfect for those who don't use the downrigger very often.
Top 4 Best Electric Downriggers
Now let's talk about quality electronic downriggers. Yes, they are more expensive than manual downriggers, but they completely free you from the need to monitor the downrigger and raise and lower weights. So you can easily focus on fighting the fish and your rod. And many anglers love it and appreciate the electronic downriggers for it.
7# Cannon Magnum Electric Downrigger 10 TS – Best Electric Pick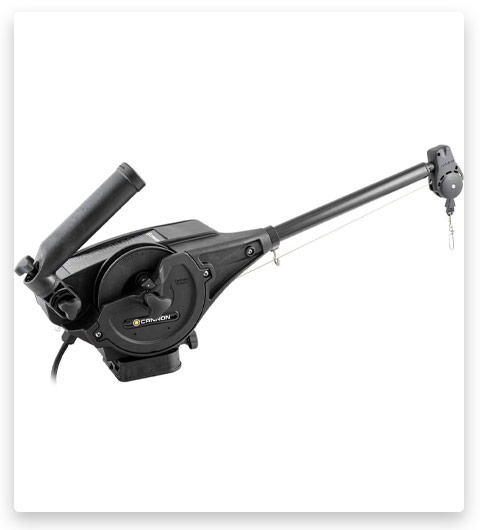 I have two of these Cannon 10 TS downriggers and they both work great. But there are two drawbacks that I noticed while using them. The first is that if you use 2 rods on 1 line, then at 20 feet or more they will 100% get tangled no matter how you try to fix it. The second disadvantage is the quality of the pulleys at the end. If you don't notice, and you drop the line and hit the bottom, the line will jump and take off the pulley.
It takes some getting used to and being careful when using the Cannon pulleys, but I decided not to waste time on it and just replaced the pulleys. Overall, downriggers are great, and the only thing you need to get used to is the pulley twitching and being careful with the line stacking.
8# Cannon Magnum 10 Electric Downrigger – Great Budget Electric Pick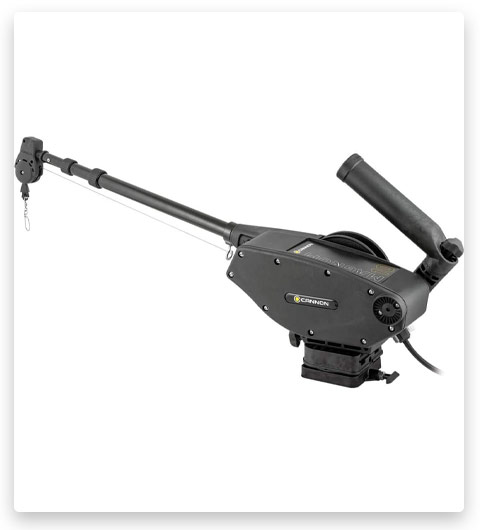 The Cannon 10 Magnum corresponds to the Cannon 10 TS in almost all characteristics. It also has Auto Up, Positive Ion Control, and most importantly a 360-degree rotating base for which many anglers love this series of downriggers. The only difference is in the material. This Downrigger is made of composite material, not stainless steel like the Magnum 10 TS. Therefore, it costs almost half the price. So, if you don't want to break the bank but have a high-quality and powerful electric downrigger, then this is your choice.
9# Cannon Magnum 10 STX TS Series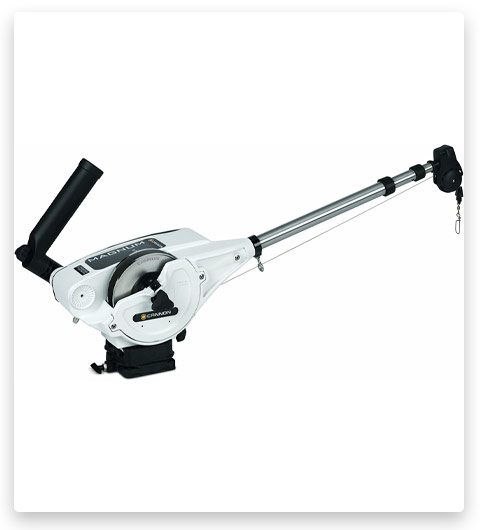 There is the same Cannon Magnum 10 TS, but with a slightly modified design. The specs for this model are the same as the Cannon Magnum 10 TS that the company is selling now.
10# Cannon Optimum 10 TS Electric Downrigger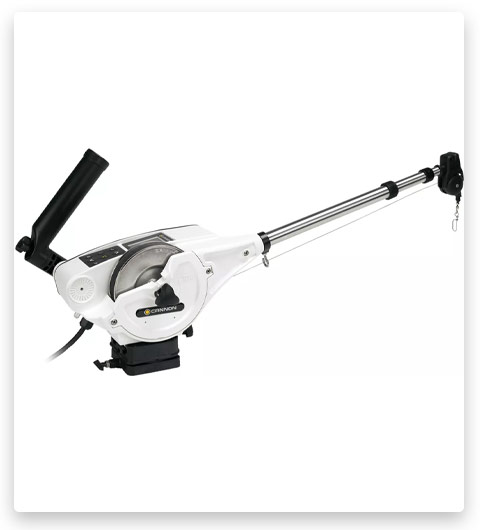 This is one of the very best downriggers from Cannon, but also one of the most expensive. If you want to invest in your trolling fishing, then this model will pay off completely. Optimum is made of very high-quality stainless steel construction and can be wirelessly connected with 3 more downriggers. Through the mobile app, you can adjust the depth, speed, and temperature of your dive based on your weight. One of the smartest downriggers to provide you with depth data and help you catch the fish you want.
Cannon Rod Holders – Top 4 Best Accessories for Your Downrigger
Often the basic set of a downrigger is not always enough and many anglers are looking for accessories, mounts, rod holders in addition to their downrigger. I decided to save you from these worries and have collected 4 of the most important accessories that you may need when rigging a downrigger.
11# Cannon Downrigger Clap Mount – Best Side Mount
Easi-troll or lake-troll models are very convenient to install with this mount. Therefore, I recommend that you take them together. It comes with all the nuts and bolts you need, so you don't have to worry about finding the right ones to attach. The only thing I don't like about this model is the short length of the bolts. It would be much more convenient to attach them if they were a little longer. But they still hold the base very firmly despite their length.
12# Cannon Fixed Base Aluminum Pedestal – Best Surface Mount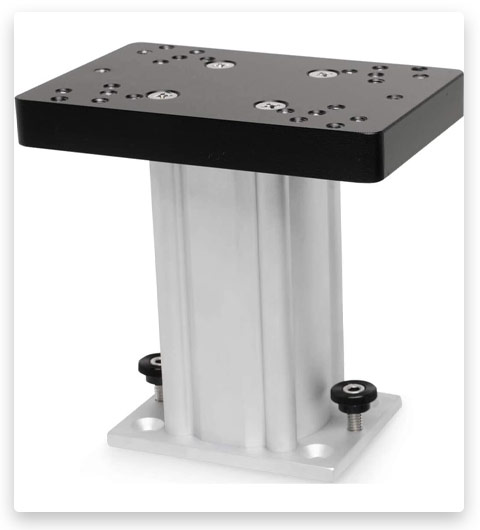 If you find it inconvenient to use the side mounts, or your boat does not allow you to do it, you can buy this vertical mount for the downrigger. It is available in 4″ and 6″ heights, so you can choose the size that suits you best. All necessary nuts and bolts are still included. Besides, this model is compatible with the Cannon rail system.
13# Cannon Three-Position Rod Holder – Best Rod Holder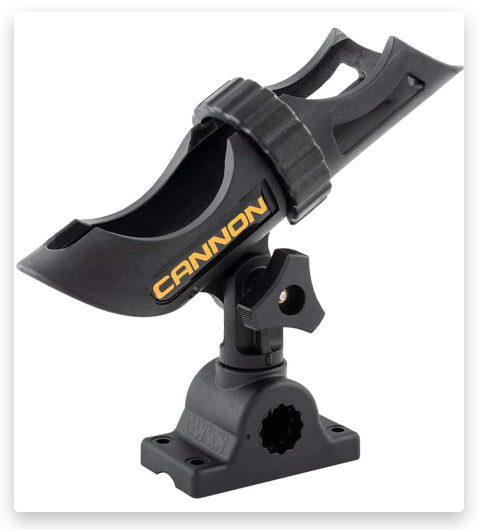 Very good rod holders. Possibly the best from Cannon and at an attractive price. They have a very high-quality base that you can place on the floor or side of your kayak. Besides, it also rotates 360 degrees. Also, the holder is easily adjusted using a spring-loaded handle and can be set in 1 of 3 positions.
14# Cannon Single Axis Adjustable Rod Holder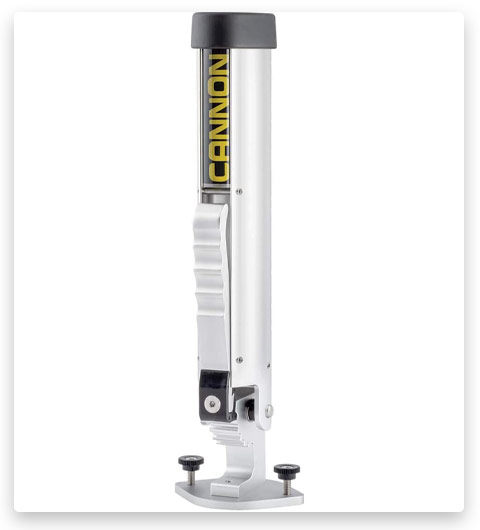 Another good holder for your rod, but this one only mounts to the floor of the boat. But it is compatible with the cannon rail system, which is very convenient. They rotate 90 degrees, but as in the previous case, at first, they are a little tight to rotate. But over time, the holders become very comfortable and easy to turn.
FAQ About Cannon Downriggers
In this section, I've collected the most frequently asked questions about Cannon's downriggers. Here you will most likely find everything that interests you.
In Conclusion
Remember that many downriggers are available in several variations and sizes, especially the Cannon downriggers. This will help you get a quality downrigger and stay within your budget. Also, keep in mind that many models you will need to attach to your boat and purchase accessories for this.
My list will help you decide when to choose a downrigger, whether you prefer manual or electric models. Also in it, you can select the accessories that you need for installation. Hope my review was helpful to you. Have a nice trolling!
Tags: #cannon downriggers / #cannon electric downriggers / #cannon downriggers manual / #cannon downriggers cannon rod holder / #cannon downriggers for trolling / #cannon downriggers for boats / #cannon downriggers for fishing / #cannon downriggers for sale / #cannon downriggers parts / #cannon downriggers for sale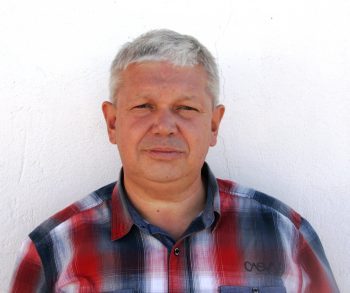 Sergio Smirnoff
Professional fisherman with 40+ years of experience.
Fishing and the ocean is a passion of my life. I am passionate about all kinds of sea fishing: fishing from the shore (spinning, float, baitcasting), from a boat, and spearfishing day and night.
I live in Tenerife (Canary Islands) for the last 10+ years and share my daily fishing experiences on my website. Many years of personal experience as a fisherman and the vast experience of my friends allow me to write professionally on any fishing topics (from choosing a flashlight and equipment to deep-sea fishing).
All of my advice is based on practical real-world experience and will be useful to both novice anglers and professionals.
Read more
about the author.
Affiliate Disclosure: FishReeler.com sometimes gets paid for listings, through sponsors or affiliate programs like Amazon, Ebay, Cabelas, Bass Pro Shop, Shimano, Daiwa, Rapala, Renn, Okuma, KastKing, etс. Clicking a link helps keep FishReeler.com free, at no extra cost to you!
About the author: Each article is verified by the fishing expert Sergio Smirnoff. The articles are written by professional and amateur fishermen with 20+ years of fishing experience.
Note: The views and opinions expressed in this article are those of the authors and do not necessarily reflect the official policy or position of any agency. The articles are for informational purposes only, share your opinions in the comments and join the fishing discussions, let's share our fishing experiences together!