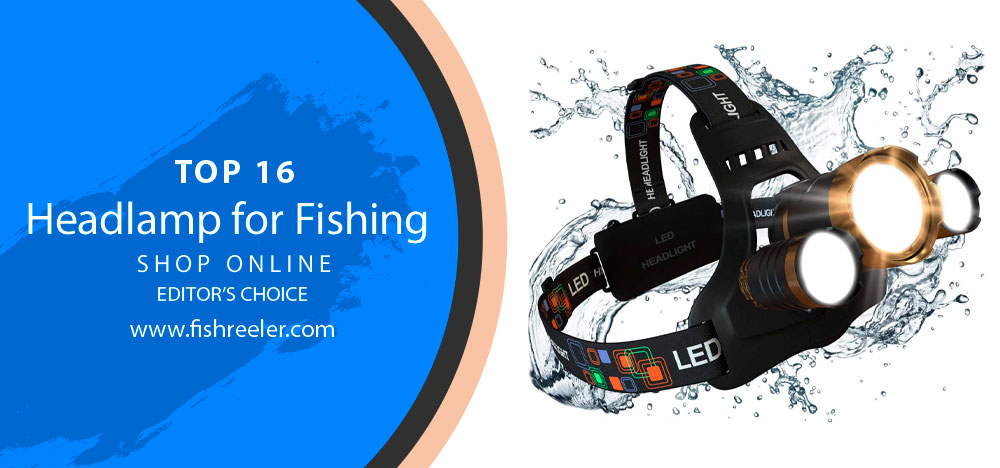 Brighten Your Nighttime Catch: The Best Headlamps for Fishing Enthusiasts

Picture this: it's the crack of dawn, and you're standing at the edge of a serene, mist-covered lake. In your hand is a fishing rod, its line just breaking the water's surface. The world is quiet, save for the occasional splash of a fish or the distant call of a bird. You're in the heart of nature, engaged in the age-old tradition of fishing. But this time, you've got a secret weapon. Strapped to your forehead, a headlamp cuts through the darkness, lighting your way and enhancing your angling experience.
The Luminous Revolution in Fishing: Headlamps
In recent years, fishing headlamps have become an essential piece of gear for anglers around the globe. No longer are we confined to fishing under the bright sun or relying on bulky, inconvenient lanterns. With the advent of modern, lightweight, and powerful headlamps, fishing can be a round-the-clock activity, extending into the calm and quiet of the night or the cool, tranquil hours of the morning.
Shining a Light on the Angler's Best Friend: The Fishing Headlamp
These headlamps, designed specifically with the angler in mind, have been game-changers. They not only provide light in the darkness but also improve safety, free up both hands for fishing tasks, and enhance overall visibility. This guide aims to shed light on the world of fishing headlamps, helping you choose the right one for your needs, and maybe, just maybe, making your fishing trips a bit more bright and fruitful. So strap in, and let's embark on this illuminating journey.
The Role of Headlamps in Fishing

Headlamps, once considered an accessory or afterthought, have now become a vital part of the angler's toolkit. Their role in fishing, especially during the early morning hours and at nighttime, is multi-faceted and indispensable.
Fishing in a New Light: The Indispensable Role of Headlamps
The first and most obvious advantage of a headlamp is illumination. Early morning and late-night fishing offer unique opportunities – some fish species are more active during these times, and there's a certain tranquility that comes with fishing in the quiet, dim hours of the day. However, the lack of natural light can pose challenges. This is where the headlamp comes into play, cutting through the darkness and providing a clear, bright view of your surroundings, your equipment, and, most importantly, the water.
Safety is another crucial aspect where headlamps play an integral role. Navigating the banks of a river, walking along a pier, or moving around on a boat in low-light conditions can be dangerous. A headlamp illuminates potential hazards, making it safer to move around.
Why Headlamps are a Game-Changer for Fishing
The need for both hands to be free is another reason why headlamps have become essential fishing gear. Fishing requires a great deal of dexterity – casting lines, baiting hooks, and reeling in fish all require the use of both hands. Traditional handheld torches or lanterns are inconvenient in these situations because they tie up one of your hands. A headlamp, strapped comfortably to your forehead, provides ample light while leaving both hands free to handle your fishing tasks.
Finally, the improved visibility offered by headlamps cannot be overstated. Not only do they allow you to see your environment and equipment better, but they also help you spot fish in the water, identify species, and notice subtle movements or ripples that can indicate the presence of fish.
🚩In essence, a good headlamp enhances the angler's capabilities, extends the fishing day, and increases overall safety. It's an investment that pays off in a brighter, more efficient, and more enjoyable fishing experience.
Light Up Your Night-time Angling with the Perfect Fishing Headlamp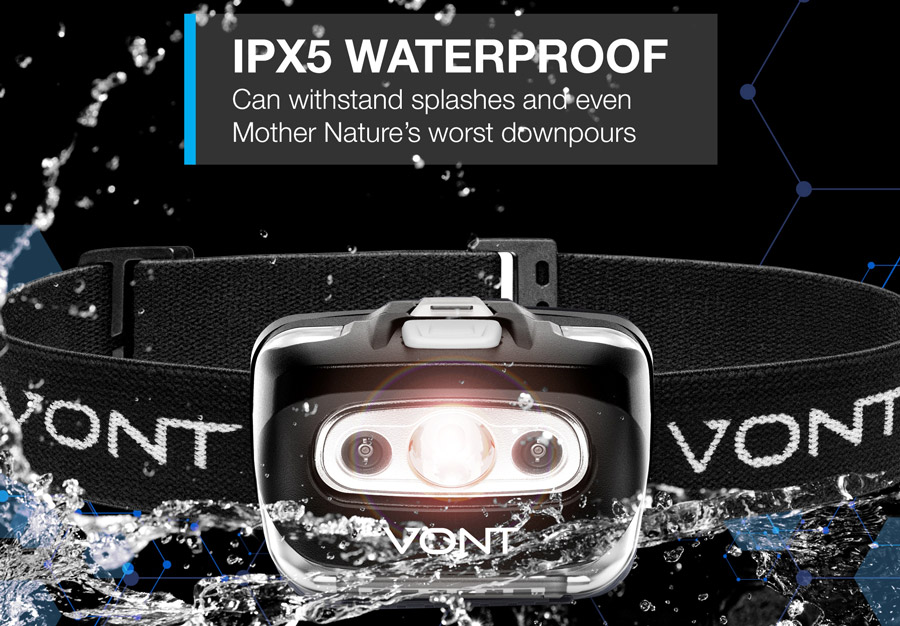 Many fishermen prefer to fish at night. The time when it is really quiet and peaceful. Most people choose nighttime because it is a great way to relax after a hard day's work. But night fishing will be in vain if you do not have a night lamp. What is it for? The fisherman needs to see what is happening on the water.
| Image | Product | Brand | Link |
| --- | --- | --- | --- |
| | Vont LED Headlamp [Batteries Included, 2 Pack] IPX5 Waterproof, with Red Light, 7 Modes, Head Lamp, for Running, Camping, Hiking, Fishing, Jogging, Headlight Headlamps for Adults & Kids, Red | Vont | |
| | Black Diamond Equipment - Spot 350 Headlamp - Aluminum | Black Diamond | |
| | Petzl TACTIKKA +RGB Headlamp - Compact and Powerful 350 Lumen Headlamp, for Hunting and Fishing With White or Red Lighting - Desert | Petzl | |
| | BioLite HeadLamp 330 Lumen No-Bounce Rechargeable Head Light, Midnight Grey | BioLite | |
| | Fenix Power Bundle HM50R v2.0 Headlamp Bundle with 2X ARB-L16, 700 Lumen USB-C Rechargeable, Lightweight with Red Light and Lumentac Organizer | Fenix | |
And I advise you to choose a headlamp for fishing. Your hands will be free and the lamp will not interfere with your movements, but you will have light. There are a lot of them, so the choice is not easy to make. I have found 16 high-quality lamps for you. I did it to save you time. I will tell you about the best lamps and about their pros and cons. And after reading the article, it will be easier for you to make a choice.

We present to you best pick headlamp for fishing – editor's choice
1# Vont Spark LED Headlamp Flashlight – #1 Best Seller in Headlamps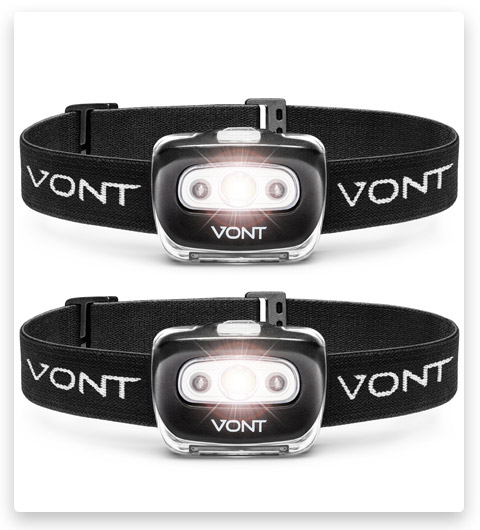 When it comes to finding the best headlamp for fishing, the Spark Headlamp from Vont is second to none in the market. Performance-wise, the Spark Headlamp gives you around 200 lumens of illumination from its proprietary LED lights, that's enough to light up, up to 100 meters of surroundings ahead of you, whether you're on the water or on the road on your way to your fishing trip. And with its one-touch control button, you can easily toggle through its various modes (low/medium/high/strobe or SOS) depending on the level of brightness you need for your activity.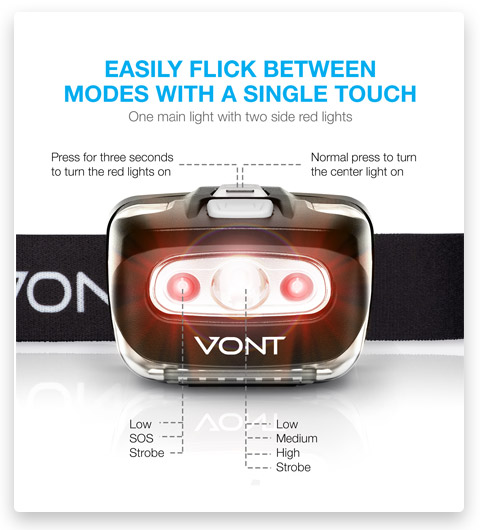 Built with military-grade materials, the Vont Spark Headlamp has passed stringent tests and evaluations to prove that it's water and drop resistant—again, making it the ideal headlamp to use not only for your fishing expeditions but also for other outdoor and night activities, where it can be used even under extreme pressure and weather conditions.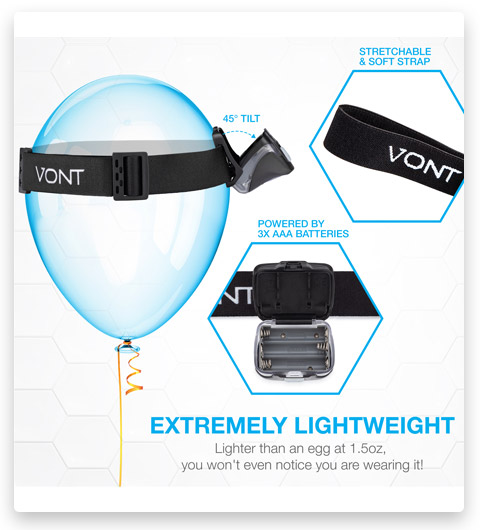 The Vont Spark Headlamp also comes with an adjustable strap precision designed with a sturdy stretch so you have both your hands free to go about your activities without having to worry about your headlight loosening up every now and then.

Top all that with the lifetime quality promise that the Vont Spark Headlamp carries, as with all the other innovations from Vont's product line, it should be no surprise why this monster of a headlamp has consistently stayed as one of Amazon's best-selling headlamps.

2# Black Diamond Spot 350 Headlamp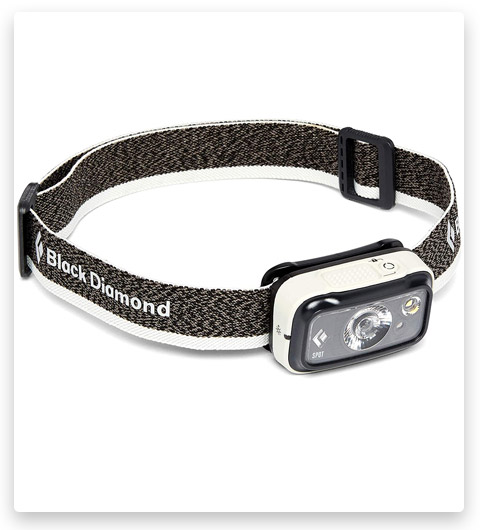 View on BassProShop View on Amazon
The Black Diamond Spot 350 is a high-performance headlamp designed for outdoor adventurers and anglers who demand the very best. The Spot 350 offers a perfect blend of brightness, durability, and versatility, making it a top choice for any fishing expedition.
🐋Brightness and Power. With a maximum output of 350 lumens, the Spot 350 provides bright, clear light that cuts through the darkest conditions. Its TriplePower LED, paired with a DoublePower white LED, ensures excellent illumination coverage. The headlamp also features a red night-vision mode, which has both proximity and strobe settings and activates without cycling through the white mode.
🐋Battery Life and Efficiency. The Spot 350's power comes from three AAA batteries, providing a long-lasting light source you can rely on. It features a three-level power meter that shows remaining battery life for three seconds after switching on the headlamp, ensuring you're never left in the dark.
🐋Adjustable Settings. One of the standout features of the Spot 350 is its Brightness Memory feature. This allows you to turn the light on and off at a chosen brightness without reverting back to full power. In addition, the headlamp features a fully adjustable headband for a comfortable, secure fit, and a tilt-able head for directing light where it's needed most.
🐋Durability and Water Resistance. Built to last, the Spot 350 is housed in a sleek, low-profile design that's sturdy and durable. Whether you're fishing in the rain or the spray from a powerful cast, the Spot 350 can handle it – it boasts an impressive IPX8 water resistance rating, meaning it's tested to operate up to 1.1 meters underwater for 30 minutes.
🐋Compact and Lightweight. Despite its high power output and features, the Spot 350 remains compact and lightweight, making it easy to pack and comfortable to wear for extended periods. It weighs just 90 grams (including batteries), so it won't weigh you down on your fishing adventures.
3#
Petzl TACTIKKA +RGB Headlamp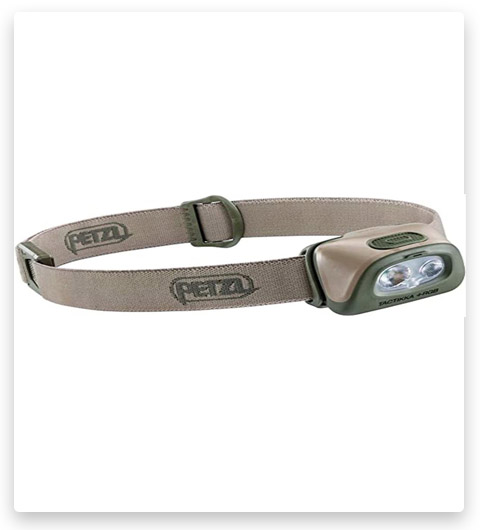 The Petzl TACTIKKA +RGB Headlamp is a high-quality, versatile lighting tool designed for outdoor enthusiasts who need dependable and adjustable lighting for varied conditions. Known for its compact design, the TACTIKKA +RGB is perfect for anglers who require both functionality and comfort in their gear.
🐳Brightness and Power. The TACTIKKA +RGB boasts a powerful 350 lumens of light output, providing bright illumination for your nighttime or early morning fishing adventures. It also features several lighting modes to suit different needs, including proximity, movement, and distance vision. The red, green, and blue (RGB) lighting preserves night vision and stealth, making it an excellent choice for anglers.
🐳Battery Life and Efficiency. Running on three AAA batteries or a CORE rechargeable battery (available separately), the TACTIKKA +RGB offers flexibility in power options. It also features a burn time management function that adjusts brightness automatically as batteries deplete, extending the headlamp's usability in the field.
🐳Adjustable Settings. The TACTIKKA +RGB is equipped with Petzl's Hybrid Concept design, allowing it to use either the three AAA batteries included or Petzl's CORE rechargeable battery. The headlamp's single-button usage makes it simple to switch between light modes and colors, even with gloves on.
🐳Durability and Water Resistance. Designed to withstand various weather conditions, the TACTIKKA +RGB has an IPX4 water resistance rating, meaning it can endure splashes of water from any direction. It's robust and durable, making it suitable for fishing environments where it might be exposed to rain or water splashes.
🐳Compact and Lightweight. Weighing only 85 grams, the TACTIKKA +RGB is lightweight and comfortable to wear for long periods. Its compact design makes it easy to pack and carry, while the adjustable headband ensures a secure fit for any head size.
4# BioLite HeadLamp 330 Rechargeable Headlamp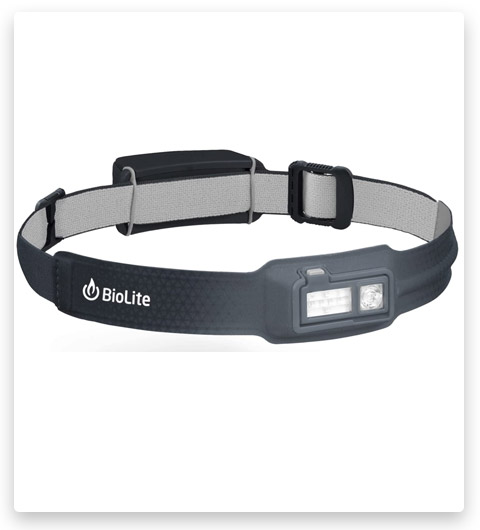 View on BassProShop View on Amazon
The BioLite HeadLamp 330 Rechargeable Headlamp is a top-tier lighting solution for serious anglers and outdoor enthusiasts. Combining comfort, balance, and high illumination, this headlamp is perfect for those who require a reliable and hands-free light source for their fishing expeditions.
🐟Brightness and Power. The BioLite HeadLamp 330 delivers a maximum output of 330 lumens, providing a crisp, clear light that can turn night into day. It features both spot and flood settings, allowing you to customize your illumination based on your needs – whether you need to light up a broad area or focus on a specific spot.
🐟Battery Life and Efficiency. One of the standout features of the BioLite HeadLamp 330 is its rechargeable 900mAh lithium-ion battery. It offers up to 40 hours of light on the low setting and 3.5 hours on the high, so you won't have to worry about the light dying in the middle of your fishing trip. Plus, with a charge time of just 2.5 hours via micro USB, you can quickly recharge it between uses.
🐟Adjustable Settings. The BioLite HeadLamp 330 provides tilt functionality, allowing you to adjust the light beam's direction according to your needs. It also offers four lighting modes: white spot, white flood, red flood, and strobe, giving you flexibility and control over your light source.
🐟Durability and Water Resistance. Constructed with a robust, high-quality band and light casing, the BioLite HeadLamp 330 is designed to endure the rigors of outdoor use. It has an IPX4 rating, meaning it's resistant to splashing water from any direction – an essential feature for any fishing trip.
🐟Compact and Lightweight. Weighing only 69 grams, the BioLite HeadLamp 330 is one of the lightest rechargeable headlamps on the market. The headlamp's 3D SlimFit Construction design ensures the weight is evenly distributed, and it sits flush on the forehead without bouncing or slipping, providing comfortable wear for long periods.
5# Fenix HM50R V 2.0 Rechargeable Headlamp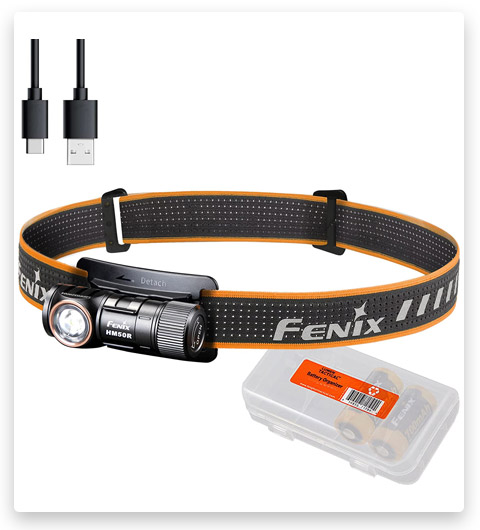 View on BassProShop View on Amazon
The Fenix HM50R V2.0 Rechargeable Headlamp is a compact, high-performance lighting tool designed for the most demanding anglers and outdoor enthusiasts. Known for its durability and versatility, the Fenix HM50R V2.0 is an ideal companion for those seeking reliable lighting in their outdoor activities, particularly fishing.
🐬Brightness and Power. This headlamp boasts an impressive 700 lumens maximum output, providing bright and clear illumination for your fishing needs. Its Cree XM-L2 U2 white LED is built to last 50,000 hours and features four output modes – Turbo, High, Med, and Low – allowing you to adjust the light intensity according to your needs.
🐬Battery Life and Efficiency. The Fenix HM50R V2.0 runs on a rechargeable 16340 Li-ion battery but is also compatible with CR123A Lithium batteries. It delivers up to 24 hours of runtime on low mode and 4 hours on Turbo, providing consistent lighting for extended fishing trips. The headlamp features a battery level indicator to prevent power surprises.
🐬Adjustable Settings. With a 90-degree tilt mechanism, the Fenix HM50R V2.0 allows you to focus the light where you need it most. Its one-switch control ensures ease of use, even in the darkest conditions or when your hands are occupied with fishing equipment.
🐬Durability and Water Resistance. Built to withstand tough conditions, the Fenix HM50R V2.0 features rugged aluminum housing with a premium Type III hard-anodized anti-abrasive finish. It has an IP68 rating, making it fully resistant to dust and submersible up to 2 meters, perfect for fishing in various weather conditions.
🐬Compact and Lightweight. Weighing only 63 grams (excluding the battery), the Fenix HM50R V2.0 is lightweight and easy to wear for long periods. Its compact design doesn't compromise its performance, making it an excellent choice for anglers seeking a balance of comfort and high illumination.
6# VITCHELO V800 Headlamp Flashlight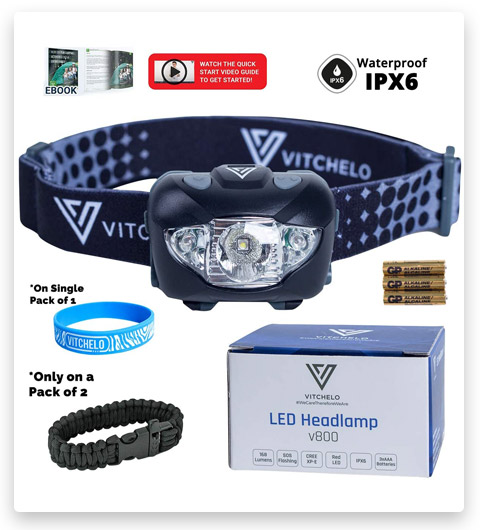 You will fall in love with this lamp. White and red light is what really attracts buyers in this headlamp. Red light is perfect when you need to turn on the light sharply in the dark. Thanks to this color, you do not blind your eyes. During fishing, this is especially necessary. I would like to note that the red light has a flashing mode.
This is great when you want to give some kind of signal. For example, to show a passing car that you are going to. White light has several brightness levels. So you can adjust it from the least bright to the brightest. And there are two different buttons for these two lights. It's convenient. No need to switch in search of what you need.  The headlamp has a great battery. Capable of working up to 120 hours at low brightness.
7# Soft Digits Headlamp Flashlight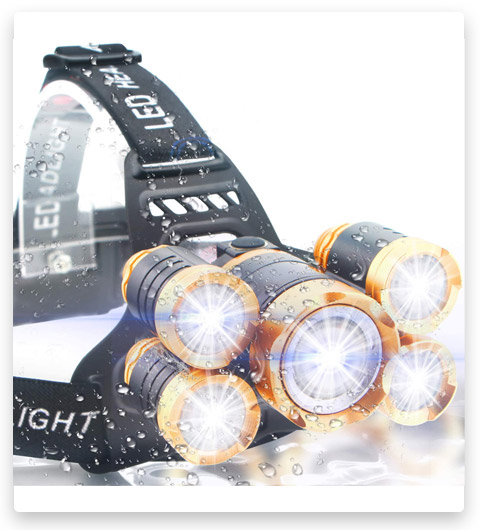 If you like to fish at night, you know how light is needed. And it is also important that it does not occupy your hands. This headlamp was invented for this purpose. It will not cause you any problems. But it is worth warning that its size is quite large. It shines so brightly that even a plane flying over you may think that this is the place of its landing. The lamp has 4 light functions. Bright, medium, low, and flash. You can switch between them with a single button. The lamp has a USB rechargeable battery. It works for a long time. This allows you not to worry about the fact that the device may stop lighting at the most inopportune moment.
8# EverBrite 2-Pack Headlamp Flashlight – Amazon's Choice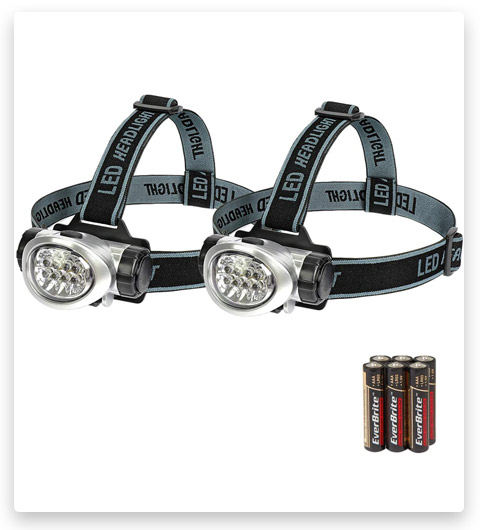 The construction of this lamp is designed so that you can comfortably wear it on your head. You can adjust as you need. Suitable for any head size. Therefore, it can be used by both adults and children. Review of the light 90 degrees. You don't miss anything out of sight. You can use the lamp not only during fishing but also for other purposes. And this is especially easy to do when there is a choice of light brightness. You have the ability to adjust the light in different ways. Make it dim or too bright. 4 levels of light. Powerful batteries allow you to use the lamp for up to 5 hours.
9# Elmchee Rechargeable Headlamp Flashlight – Amazon's Choice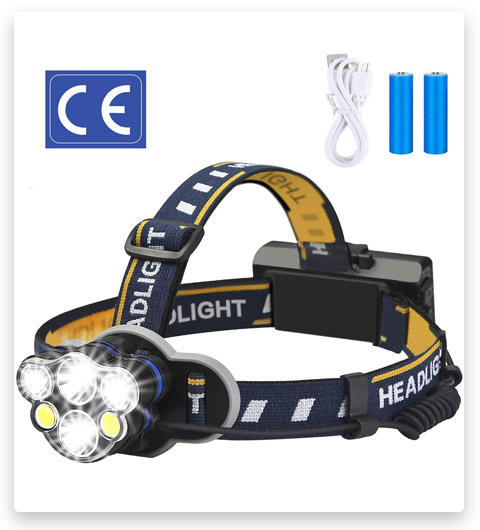 If you are looking for a light version of the lamp, then this model will not work for you.  But the size justifies itself. It shines very brightly. It illuminates well even at a long distance. Convenient to use. No need to take out the batteries to charge them. This can be done with a USB wire. They work long hours. I can forget about recharging for the next 8 hours.
10# MsForce Ultimate LED Headlamp Bright 1200 Lumens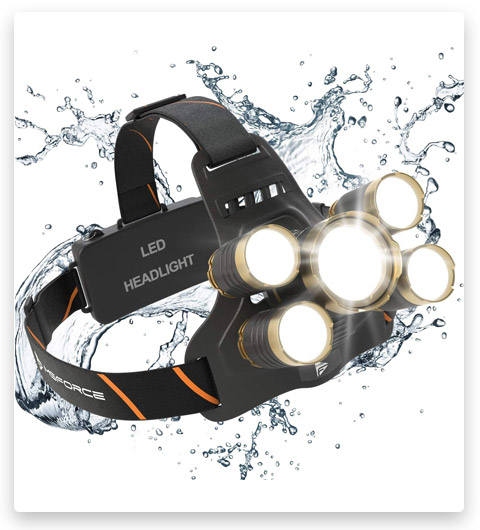 This lamp is capable of illuminating at close and far distances. It can even work 180 degrees at maximum illumination. The battery can work all night. Buyers note that they like that the batteries are on the back of the head. This balances the weight. Great lamp for your night fishing!
11# Lighting EVER LED Rechargeable Headlamp Flashlights – Amazon's Choice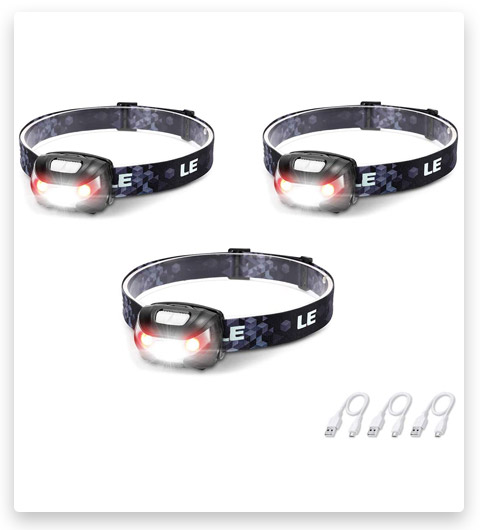 You will get 3 lamps. Their advantage is that they are light. Their weight is only 2.86 ounces. At the same time, they sit perfectly on your head. You won't even feel a lamp on your head. It shines white and red light. White light has 3 brightness levels, and red light has 2. You can use it continuously for 30 hours. After 4 hours of charging, you can use the lamp again.
12# EverBrite 5-Pack LED Headlamp Flashlight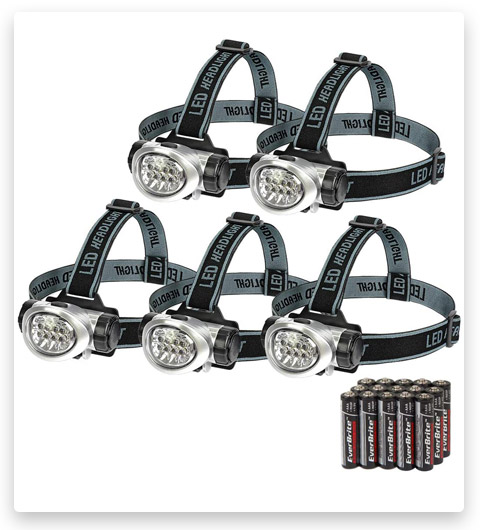 An indispensable device during night fishing. With this lamp, you can even see what is happening far away from you. The ray of light has a range of 20 meters. You can choose from 4 lighting modes. Or choose 2 or 4 lamps at the same time. It depends on your goals. The light has a view of up to 90 degrees. The headlamp will be convenient for any head. It has a great design that adapts to any size.
The Bright Choices: Different Types of Fishing Headlamps

Illuminating the Options: A Guide to Headlamp Types
When it comes to headlamps, you'll encounter a variety of types, each with its own set of strengths and weaknesses. The most common types of headlamps include LED, halogen, and incandescent. Understanding the differences between these types can help you make an informed choice for your fishing needs.
LED Headlamps
LED, or Light Emitting Diode headlamps, have become extremely popular in recent years. Their rise in popularity can be attributed to their energy efficiency and long lifespan. LED lights can run for thousands of hours before needing to be replaced. They're also incredibly bright and often feature adjustable brightness settings, making them versatile for different fishing conditions.
On the downside, LED headlamps can be more expensive upfront than other types of headlamps. However, the long lifespan and low power consumption of these lights can make them a more economical choice in the long run.
Halogen Headlamps
Halogen headlamps use halogen gas to increase the brightness and lifespan of the light bulb. These headlamps are known for their bright, white light, which can be helpful for seeing details clearly when fishing.
However, halogen lamps tend to consume more energy than LED lights, which means you may find yourself replacing batteries more often. They also emit more heat, which can be a concern if you plan to use your headlamp for extended periods.
Incandescent Headlamps
Incandescent headlamps are a traditional type of lighting that uses a filament that glows when heated. While these headlamps are typically cheaper upfront, they have a shorter lifespan and consume more energy than LED or halogen lights. The quality of light can also be somewhat yellowish, which may not be as sharp or clear as the light emitted by LED or halogen lamps.
🚩In conclusion, while each type of headlamp has its pros and cons, LED headlamps are generally the most suitable for fishing due to their longevity, energy efficiency, and the quality of light they produce. However, your specific needs, budget, and preferences should guide your choice.

What Makes a Headlamp Shine: Key Features to Look For

The Brightest Picks: Essential Features of a Top-Notch Fishing Headlamp
Choosing the right headlamp for fishing is not just about picking the one with the most impressive specifications. It's about finding a headlamp that fits your unique needs and provides a comfortable, efficient, and reliable source of light during your fishing adventures. Here are some key features to consider:
Brightness (Lumens)
Lumens measure the total amount of visible light a headlamp can produce. Higher lumens mean brighter light, but remember that brighter isn't always better. Extremely bright light can be blinding and can scare away fish. Look for a headlamp with adjustable brightness levels, allowing you to adapt to different situations and preferences.
Battery Life
Battery life is a critical factor, especially for extended fishing trips. You don't want your light to die in the middle of a catch! LED lamps tend to have longer battery life compared to halogen and incandescent lamps. Consider also the type of batteries required – some lamps use standard AA or AAA batteries, while others use rechargeable packs.
Comfort and Weight
Comfort is paramount when you're wearing something on your head for hours at a time. Look for a headlamp with an adjustable strap that can fit comfortably around your head or hat. The weight of the headlamp also plays into comfort; lighter headlamps reduce strain and are generally more comfortable to wear for extended periods.
Water Resistance
Fishing can be a wet business, and a good fishing headlamp should be able to handle splashes, rain, or even the occasional drop in the water. Look for headlamps with a good water resistance rating. This information is usually listed in the product specifications.
Adjustable Settings (Beam Distance, Floodlight vs. Spotlight, etc.)
A good fishing headlamp should have adjustable settings to suit different scenarios. Beam distance is the measure of how far ahead the light reaches. A longer beam distance can be useful for spotting fish or navigating in the dark.
The ability to switch between floodlight and spotlight modes is also a useful feature. Floodlight mode illuminates a wide area, good for setting up your fishing gear or navigating your boat. Spotlight mode produces a narrower, more concentrated beam, ideal for focusing on a specific spot in the water or highlighting details.
🚩By keeping these key features in mind, you can select a fishing headlamp that not only lights up your angling adventures but also adds convenience, safety, and versatility to your fishing experience.
Lighting the Way: Top 5 Headlamps for Your Fishing Needs

Bright Ideas: Our Top 5 Picks for Fishing Headlamps
Selecting the right headlamp for your fishing needs can be a daunting task, given the myriad options available. To help narrow down your choices, here are our top 5 recommendations, catering to a range of budgets and needs:
Black Diamond Spot 350
For the angler looking for versatility and power, the Black Diamond Spot 350 is hard to beat. Offering up to 350 lumens of brightness and an impressive beam distance, this headlamp is perfect for a variety of fishing scenarios. It's also water-resistant and has a power-saving mode to conserve battery life. It's lightweight, comfortable to wear, and, best of all, it features a dimming function, allowing you to adjust the light output to suit your needs.
Petzl Tactikka +RGB
The Petzl Tactikka +RGB is a fantastic option for those who value compactness and stealth. With a max output of 350 lumens, it's bright enough for most fishing situations. Its standout feature is the RGB (Red, Green, Blue) lighting, which preserves night vision and ensures stealth when fishing. This headlamp is also lightweight and has a long battery life, making it a reliable companion for your fishing trips.
BioLite HeadLamp 330
This headlamp offers an ideal balance of comfort, brightness, and battery life. The BioLite HeadLamp 330 provides up to 330 lumens of light and has an innovative design that distributes the weight evenly, reducing the chances of it slipping or causing discomfort. It also features a rechargeable battery, saving you from the hassle and expense of constantly buying replacements.
Fenix HM50R
For those willing to invest a bit more for a premium option, the Fenix HM50R is worth considering. It offers robust construction, excellent water resistance, and a maximum output of 500 lumens. It's also rechargeable and can serve as a standalone flashlight, making it a versatile choice.
Vont 'Spark' LED Headlamp
If you're on a budget but still want a reliable headlamp, consider the Vont 'Spark'. Despite its affordable price, it offers up to 200 lumens of light, seven lighting modes, and a comfortable, adjustable strap. Its water and shock resistance also makes it a durable choice for fishing.
🚩Remember, the best headlamp for you ultimately depends on your individual needs, preferences, and budget. These recommendations should serve as a great starting point in your search for the perfect fishing headlamp.
Keep the Light On: How to Properly Care for Your Headlamp

Shine On: Tips for Headlamp Maintenance
A headlamp can be a significant investment, and like any investment, it deserves to be taken care of. Proper maintenance and care can extend the life of your headlamp, ensuring it continues to light your way for many fishing trips to come. Here are some key tips and advice:
Proper Cleaning
After each fishing trip, take a few moments to clean your headlamp. Wipe off any dirt or grime from the lamp and strap using a soft, damp cloth. Avoid using any harsh or abrasive cleaners, which can damage the lens or housing. If your headlamp is waterproof and has been submerged, rinse it in fresh water and allow it to dry thoroughly to prevent corrosion.
Battery Care
Batteries are the lifeblood of your headlamp. If your headlamp uses disposable batteries, remove them if you're not planning to use the headlamp for a while. This prevents potential leakage and damage. For rechargeable batteries, try to maintain at least a 50% charge when not in use, and avoid running them completely flat.
Storage
When not in use, store your headlamp in a cool, dry place away from direct sunlight. Extreme temperatures, whether hot or cold, can reduce the lifespan of the batteries and potentially damage the headlamp's components. The original packaging often makes for a good storage solution, offering protection from dust and impact.
Spare Batteries and Backup Headlamp
Even with the best care, batteries can run out, and equipment can fail. Always carry spare batteries with you, and if you're going on a long trip or fishing in remote locations, consider bringing a backup headlamp. This ensures that you're never left in the dark. With proper care and maintenance, your fishing headlamp can continue to be a reliable and effective tool for many years.
🚩Remember, a well-maintained headlamp not only lasts longer but also performs better, ensuring you can fish safely and effectively, no matter the hour.
From Dusk till Dawn: Personal Adventures with Fishing Headlamps

The value of a good headlamp becomes truly apparent when you hear about real-world experiences from those who've used them. Here are a few personal anecdotes that highlight the importance of a headlamp while fishing:
Casting Light on Experience: Real-Life Fishing Stories with Headlamps
I remember one winter morning when I was fishing for a steelhead. The sun wasn't up yet, and the riverbank was pitch black. I spotted a promising pool where I was sure the fish would be lurking. With my headlamp, I was able to safely navigate the slippery riverbank and set up my gear. As the first light of day emerged, I had already caught my first fish of the day, thanks to the headlamp that allowed me to get started while others were still waiting for daylight.
Lighting the Way: Personal Tales of Fishing with a Headlamp
One late summer day, I was deep-sea fishing, and the time slipped away. As the sun started to set, we realized we were not prepared for fishing in the dark. Luckily, I had packed my headlamp. With the headlamp illuminating the deck, we continued fishing and ended up having one of the most productive fishing sessions ever, landing several big tunas well after sunset.
Testimonials from Professional Anglers
Don't just take my word for it. Many professional anglers also swear by their headlamps.
Renowned fly fisherman, Jake Michaels, says, "I never head out for a fishing trip without my headlamp. It's as essential as my fishing rod. Whether I'm tying a fly in low light conditions, or packing up my gear after sundown, my headlamp is a tool I can't do without."
Another testament comes from seasoned angler, Laura Patterson, who says, "My headlamp has saved me more times than I can count. Once, while night fishing, my boat's lights failed. My headlamp was the only source of light we had. It helped us safely navigate back to shore. I never underestimate the value of a good headlamp."
🚩These stories serve as a powerful reminder of how useful a headlamp can be during fishing. It's not just about convenience, but also about safety and extending your fishing opportunities.
FAQ: Get Hooked on the Best Fishing Headlamps

🚩Remember, these answers should serve as a starting point in your search for the perfect fishing headlamp. Don't hesitate to do further research or ask professionals for more personalized advice.
Conclusion: Fishing After Dark

Keeping It Lit: The Final Word on Fishing Headlamps
We've covered quite a bit of ground in this exploration of fishing headlamps. We've discussed their crucial role in providing visibility and safety during early morning or nighttime fishing. We've delved into the various types of headlamps available and their respective strengths and weaknesses, from the brightness of LEDs to the compactness of halogens.
The Final Flash: Wrapping Up Your Guide to Fishing Headlamps
We've also explored the key features to look for in a fishing headlamp, including brightness (measured in lumens), battery life, comfort, weight, water resistance, and adjustable settings like beam distance and the option to switch between floodlight and spotlight modes.
We presented our top 5 headlamp recommendations, offering a range of options to cater to different budgets and needs. We also shared tips on how to properly care for and maintain your headlamp to extend its life, emphasizing the importance of carrying spare batteries or a backup headlamp.
Lights Out: The Final Word on Fishing Headlamps
Finally, we shared personal experiences and testimonials that underscore the pivotal role a headlamp plays in successful fishing adventures.
🚩In conclusion, a headlamp is more than just a tool—it's your partner in every fishing expedition. A good headlamp doesn't just light your way; it enhances your fishing experience, making it safer, more convenient, and ultimately, more fruitful. As we often say, the best fishing gear is the one that enables you to focus on what you love most—fishing. And a quality headlamp does just that.
Light Up Your Fishing Experience: It's Time to Invest in a Quality Headlamp

You've seen the importance, you've heard the stories, and you've got the recommendations—it's clear that a good headlamp is an essential part of any angler's toolkit. Now, it's time for you to take action.
Brighten Your Fishing Future: Invest in a Quality Headlamp Today!
Don't let poor visibility hinder your next fishing adventure. Equip yourself with a quality headlamp, and you'll not only enhance your fishing experience but also ensure your safety.
Don't Leave Your Catch in the Dark: Get a Fishing Headlamp Now
Our top 5 recommendations are a great place to start. Whether you choose the versatile Black Diamond Spot 350, the compact Petzl Tactikka +RGB, the comfortable BioLite HeadLamp 330, the premium Fenix HM50R, or the budget-friendly Vont 'Spark', you'll be making a wise investment in your fishing future.
Most of these headlamps can be found at popular outdoor retailers or ordered online. For your convenience, we've provided links to each product on our website. Simply visit [website-link] and head to the 'Recommended Gear' section.
🚩Remember, the best fishing trips are those where you're fully prepared. So, invest in a quality headlamp today, and be ready to cast your line, no matter the time of day.
Tags: #best headlamp for fishing / #best fishing headlamp / #best headlamp for night fishing / #best led headlamp for fishing / #what is the best headlamp for fishing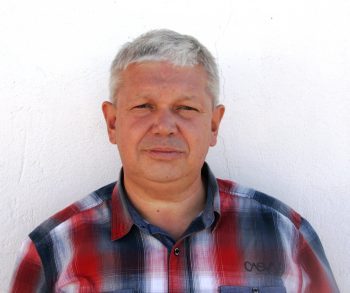 Sergio Smirnoff
Professional fisherman with 40+ years of experience.
Fishing and the ocean is a passion of my life. I am passionate about all kinds of sea fishing: fishing from the shore (spinning, float, baitcasting), from a boat, and spearfishing day and night.
I live in Tenerife (Canary Islands) for the last 10+ years and share my daily fishing experiences on my website. Many years of personal experience as a fisherman and the vast experience of my friends allow me to write professionally on any fishing topics (from choosing a flashlight and equipment to deep-sea fishing).
All of my advice is based on practical real-world experience and will be useful to both novice anglers and professionals.
Read more
about the author.
Affiliate Disclosure: FishReeler.com sometimes gets paid for listings, through sponsors or affiliate programs like Amazon, Ebay, Cabelas, Bass Pro Shop, Shimano, Daiwa, Rapala, Renn, Okuma, KastKing, etс. Clicking a link helps keep FishReeler.com free, at no extra cost to you!
About the author: Each article is verified by the fishing expert Sergio Smirnoff. The articles are written by professional and amateur fishermen with 20+ years of fishing experience.
Note: The views and opinions expressed in this article are those of the authors and do not necessarily reflect the official policy or position of any agency. The articles are for informational purposes only, share your opinions in the comments and join the fishing discussions, let's share our fishing experiences together!