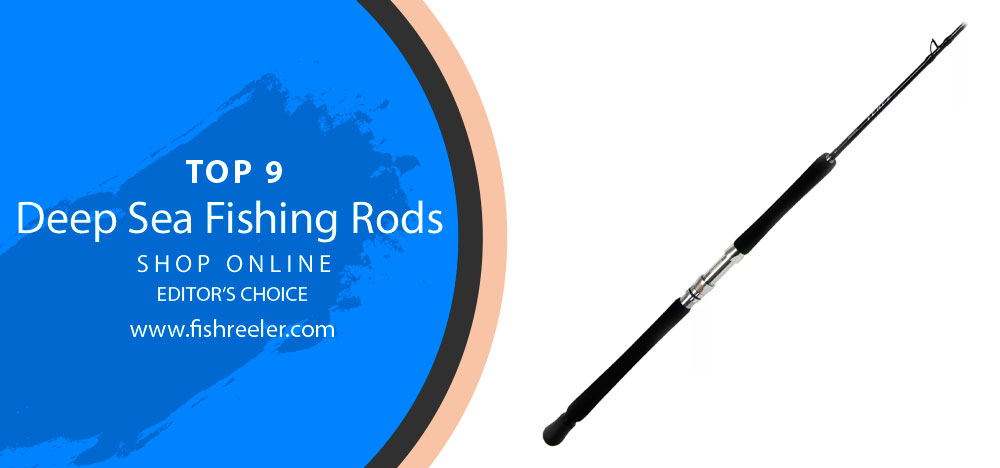 Unraveling the Depths: A Comprehensive Look at Deep Sea Fishing Rods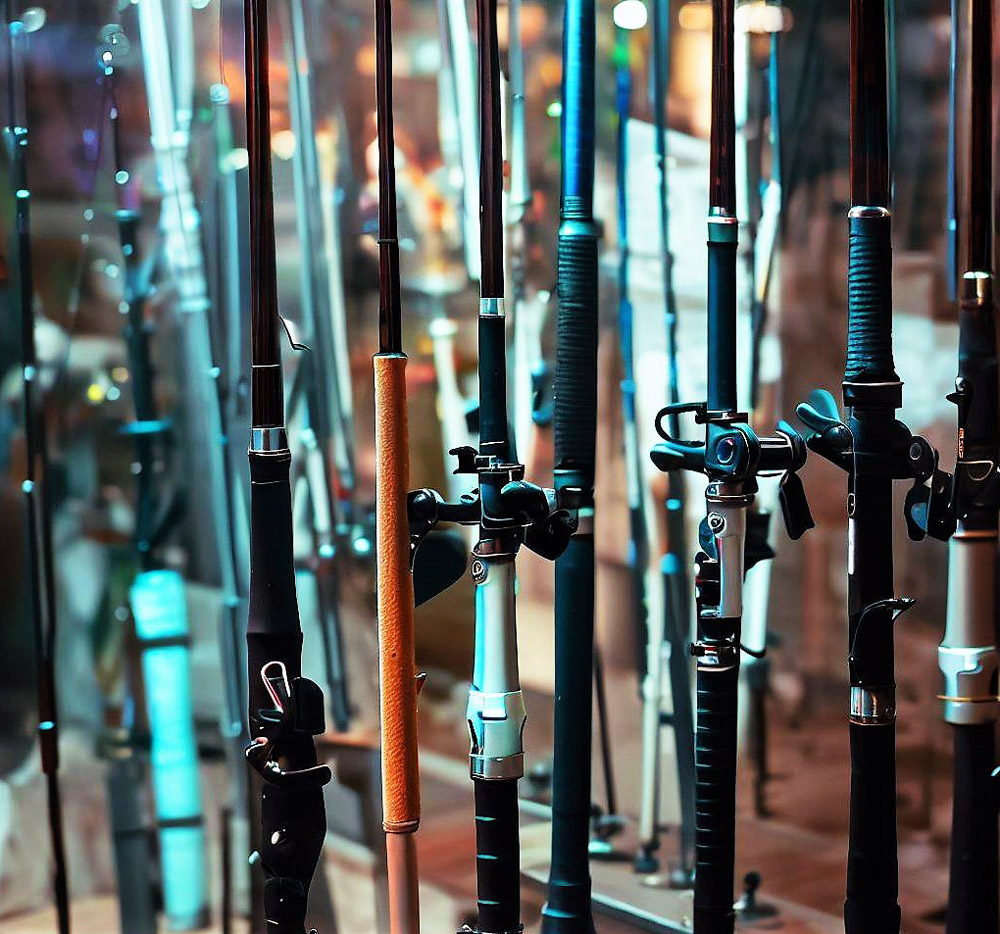 Diving into History: The Evolution of Deep-Sea Fishing
Deep-sea fishing, an enthralling pastime, and vital industry, traces its roots back to ancient civilizations. The first evidence of this maritime activity emerges from the indigenous societies residing near oceans, where fishing was integral to their survival and economy. The Phoenicians, renowned seafarers, were among the earliest cultures known to venture far from shore in pursuit of more plentiful catches.
However, the concept of deep-sea fishing as we understand it today, purely for sport or leisure, didn't truly start to take shape until the late 19th and early 20th centuries. During this period, technological advancements led to more robust vessels and durable fishing gear, capable of handling the harsh conditions of the open sea. Over the years, the evolution of equipment has continued in sync with advancements in technology and a better understanding of marine biology.
The Unsung Hero of the Deep: The Role of Deep-Sea Fishing Rods
When it comes to deep-sea fishing, a suitable rod is not just another piece of equipment—it's an angler's essential tool. The right deep-sea fishing rod plays a pivotal role in successfully landing a catch. A fishing rod's purpose extends beyond simply being a line holder; it serves as a casting tool, a fish-fighting tool, and a mechanism that aids in reeling.
Deep-sea fishing presents unique challenges not seen in other types of fishing—extreme depths, large and strong fish species, and often unpredictable and tumultuous weather conditions. In these circumstances, the rod becomes even more critical. It needs to be strong enough to handle the weight of the fish, sensitive enough to detect even the faintest nibble, and flexible enough to withstand the vigorous battles with the ocean's toughest.
Setting the Course: The Aim of This Comprehensive Guide
The central objective of this article is to serve as a comprehensive guide to selecting the right deep-sea fishing rod. By understanding the history and significance of deep-sea fishing rods, their anatomy, various types, and how they should be chosen and maintained, readers will be better equipped to make an informed decision when purchasing their next rod. This article aims not only to impart knowledge but also to enhance the overall deep-sea fishing experience by helping readers choose the best rod for their specific needs.
Video: SALTWATER FISHING GEAR Rods, Reels & Lines for Deep Sea Fishing
The 9 Deep Sea Fishing Rods From Bass Pro Shops
When it comes to deep sea fishing rods there are many options on the market, so choosing the one that works best for you can be a daunting task. Choosing the best deep-sea fishing rod will give you a better chance of a successful day, but there is a lot to consider first.
There are more and more fans of deep-sea fishing. Every year the number of people interested in this activity at sea is increasing. And when that happens, it's okay to have doubts about which tackle to use. The most important tool is undoubtedly the fishing rod. The first thing you should know is that there are many types of saltwater fishing rods. And to choose the right one, several aspects must be considered, such as weight, length, and so on.
I have developed a buying guide to guide you through the process of finding high-quality models. I also looked at a variety of rods to compile a list of the best products on the market so you can choose the most popular deep-sea fishing rod for you.
1# PENN Ally Conventional Boat Rod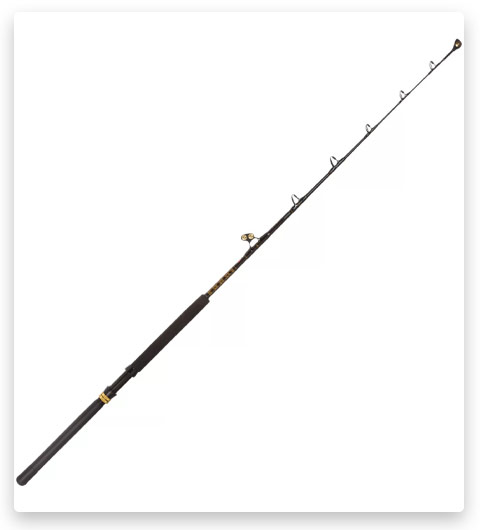 This is the highly regarded PENN® Ally rod. What makes this rod special is that it comes with a hard glass tip that has the power and sensitivity you need. This rod has very high-performance thanks to the fact that it has an incredibly tough tubular glass blank. This reduces the overall weight of the rod while still providing great responsiveness in your hands.
The life of your line will be extended with Fuji guides with aluminum oxide inserts. The reel seat is made of non-corrosive aluminum which holds the reel in place when installed. The uprights provide very smooth casting with minimal friction, and the handle gives you a greater degree of control when casting. The handles are made of EVA material. They are resistant to saltwater and scorching sun. At the same time, they provide a secure grip. This balanced rod is great for deep-sea fishing.
2# Daiwa Tanacom Dendoh Deep Drop Rod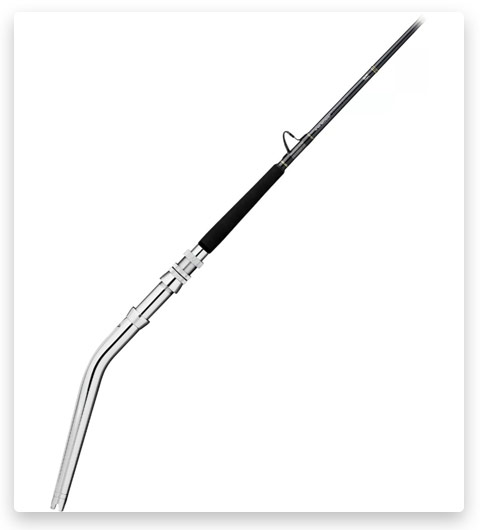 Daiwa Tanacom rods are designed for catching the real giants of the deep sea. This carbon rod resembles a hero for whom nothing is impossible. Daiwa Tanacom allows you to wield heavy lures weighing up to 800 grams, which will open the door to the wonderful world of deep-sea fishing. Glatech blank construction is the source of not only endless power but also sensitivity.
This rod has a soft tip that signals irregularities in the bottom and even a timid bite. The extended EVA handle is a very comfortable grip that will help you fight trophy fish. Fishing at record depths means perfect execution of every piece of the rod. In this case, ALPS rings are the best way to reveal the full potential of the blank. With these rings, you don't have to worry about the successful outcome of the game, because the entire production power of the Japanese company Daiwa will be on your side!
3# St. Croix Mojo Salt-Series Conventional Rods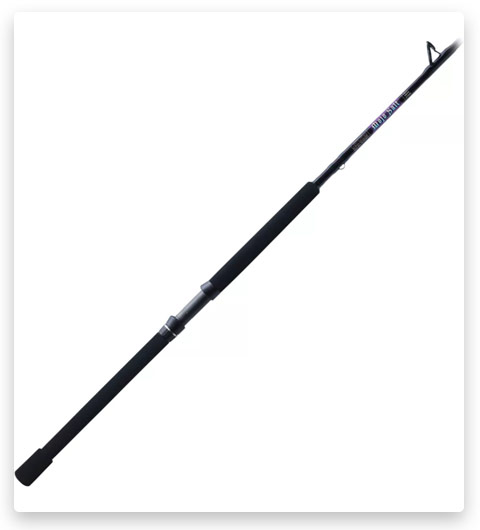 This is a high-quality rod that is ideal for saltwater fishing. Advanced technologies are used in the design. Using this technology, the ends of the rod knees are processed to increase their strength. Literally a molecular layer of carbon-containing material is applied to the ends, which increases the load carried by the end of the rod by 10 times, without a tangible increase in the weight or diameters of the rod knees. The rod has two layers of flex coat for added durability. The reliable Fuji® reel seat will hold your reel without any problem. I love this rod for its useful features and stylish design.
4# Ugly Stik Bigwater Stand-Up Rod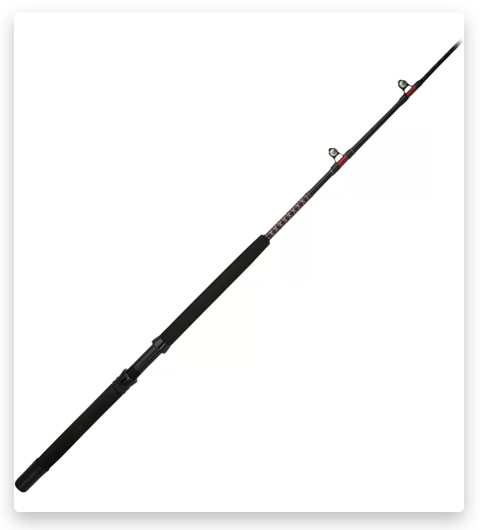 This rod provides great strength when fishing from a boat. It's perfect for big fish fishing thanks to the Ugly Tech ™ technology. The model is made from a combination of graphite and fiberglass. The material provides high strength and makes the rod lightweight. Pac Bay roller guides prevent line friction and let you win big fish fights.
5# Shimano Terez Conventional Rod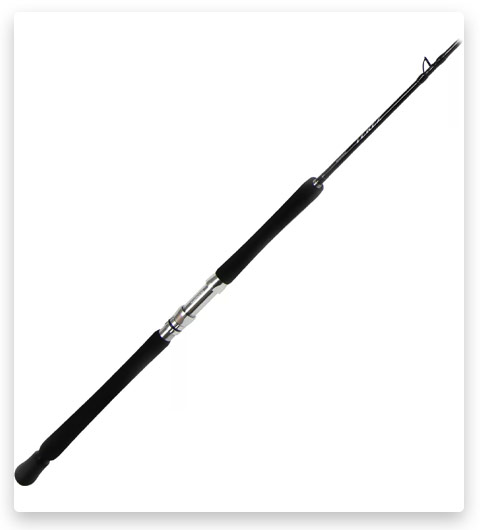 If you are looking for a powerful rod that will work with braided lines, then you've come to the right place. This rod is designed for deep sea fishing and catching large fish species. Shimano Spiral X and Hi-Power X technology allow the rod to remain lightweight while still being 25% more powerful than analog products. Fuji E-Series guides prevent tangling and chafing of your line.
6# Okuma SST Halibut Casting Rod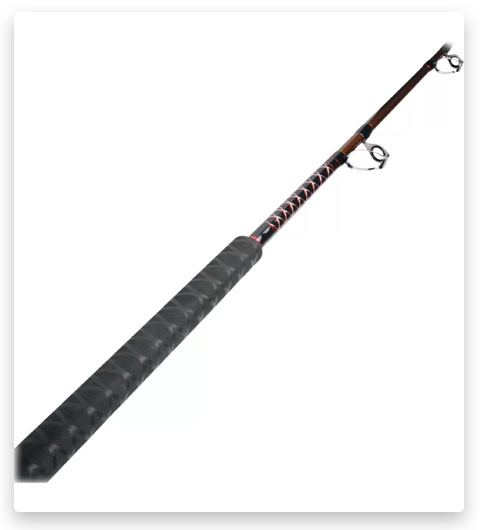 Each OKUMA rod model is designed not only for fishing but also for inspiration and energy. The company's goal is to expand your experience, to get the most out of your time on the water. The rod has sensitive E-glass blanks. The frames of the guide rings are made of stainless steel. The ring inserts are made of zirconium, which reduces the vibration of the braided line. Integrated back cover in compressed EVA foam. The product is equipped with a stainless steel hook holder.
7# Tsunami Trophy Series Wire Line Rod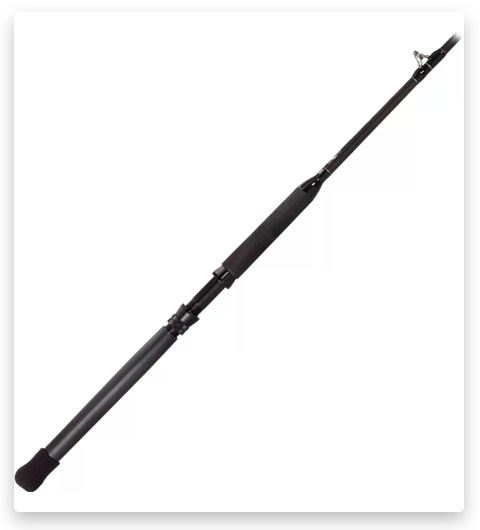 This rod has high performance and high build quality. After purchasing this rod, you will immediately feel the full power of deep-sea fishing. braced tungsten carbide guides provide superior performance. They avoid premature wear and are highly durable. The reel seat is made of lightweight aluminum and corrosion-resistant.
8# PENN Carnage II Conventional Boat Rod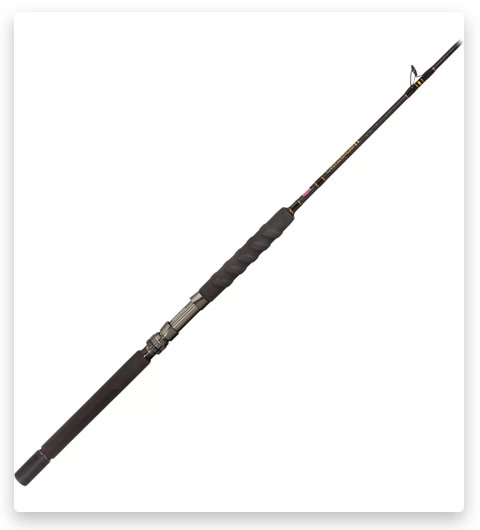 This is the next generation of super lightweight and powerful rods. They are designed to be used with a braided line and will handle any fish. The design of the SLS3 composite material assumes a small diameter, which makes them virtually weightless and ergonomic. I love the lightness of this rod and its high power and performance.
9# Offshore Angler Power Stick Conventional Boat Rod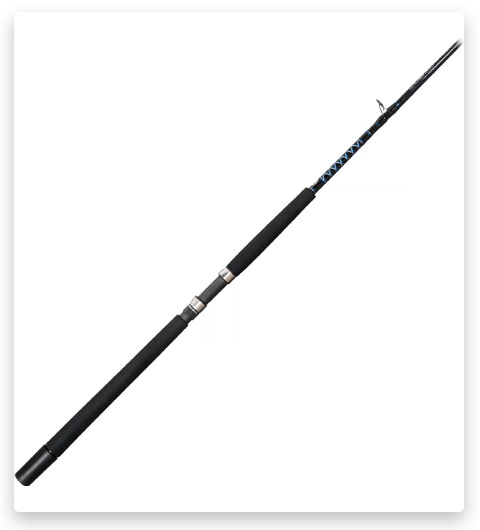 If you've never done deep sea fishing before, this is the tackle for you! It is available at a very low price, but it is made from high-quality materials and offers high performance. Tubular E-glass blank construction provides durability. Double foot aluminum oxide guides will reduce the friction of your line. They are also resistant to corrosion. It has a graphite reel seat with stainless steel hoods.
What is Deep Sea Fishing?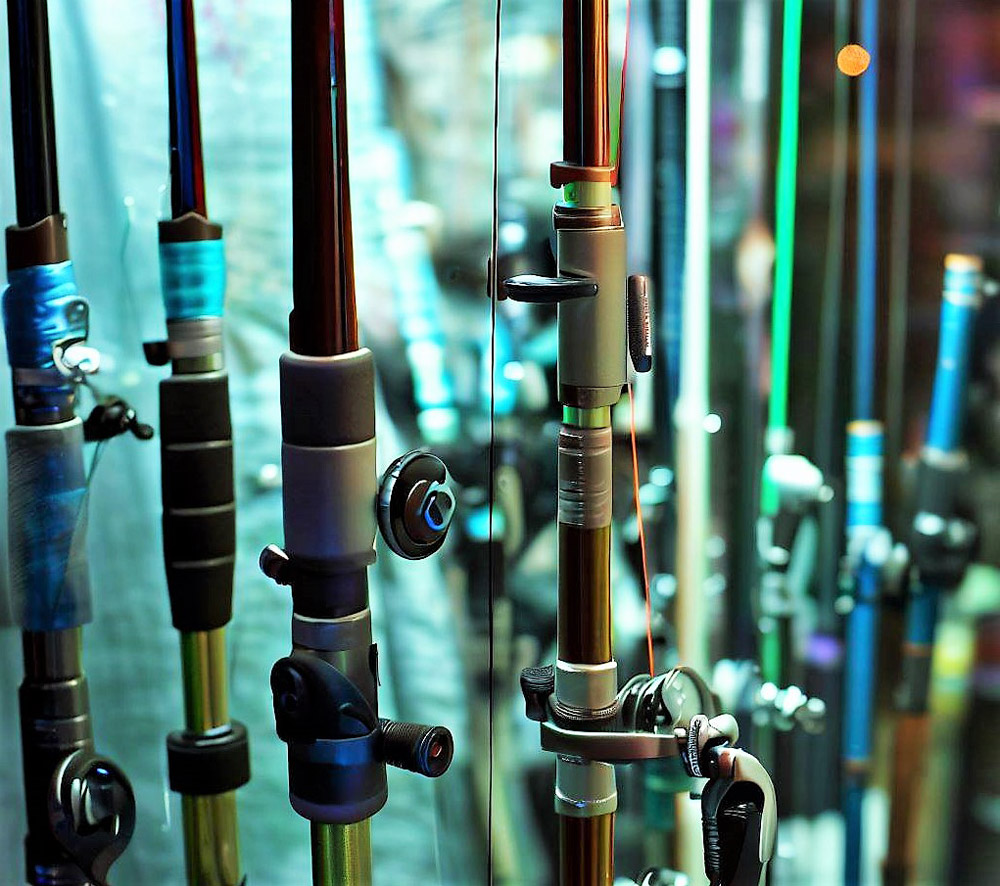 Deep-sea fishing, also known as offshore fishing or sport fishing, is a type of fishing that takes place in deep waters away from the shoreline. This activity is typically conducted at depths of at least 30 meters (around 100 feet) and often takes place several miles offshore.
Deep-sea fishing is primarily a recreational activity, enjoyed by anglers seeking the thrill of catching large, powerful, and often exotic species of fish that inhabit the deep ocean. These species may include marlin, tuna, swordfish, shark, and various types of large grouper, among others.
Deep-sea fishing requires specific gear and equipment due to the challenging environment of the open ocean and the size of the fish targeted. This equipment includes sturdy, durable fishing rods and reels, heavy-duty fishing lines, and a variety of baits and lures designed to attract the target species.
This form of fishing often involves different techniques, such as trolling (dragging a baited line behind a moving boat), bottom fishing (dropping bait to the ocean floor), and jigging (moving a bait vertically in the water column).
🚩Deep-sea fishing charters are common in many coastal regions, offering guided trips for individuals or groups who want to experience this exciting form of angling but lack the necessary equipment or experience.
The Anatomy of a Deep Sea Fishing Rod
Deconstructing the Rod: A Close Look at Its Core Components
Let's delve into the four main parts of a deep-sea fishing rod:
Handle: The handle, also known as the grip, is where an angler holds the rod. Its function is to provide a firm, comfortable grip while casting and retrieving the line. Handles are typically made from materials like cork or EVA foam for comfort and durability.
Reel Seat: Located above the handle, the reel seat is where the fishing reel is attached. It must be robust and secure as it has to endure significant pressure, especially during the tug-and-pull of reeling in a large catch.
Guides: These are the circular loops that run along the length of the rod, guiding the fishing line from the reel to the tip. The number and placement of these guides can affect the performance of the rod significantly. They help distribute the pressure exerted by a fighting fish evenly along the rod, protecting it from breakage.
The Blank: This is the actual rod itself. Its design significantly influences the rod's power (ability to fight a fish) and action (flexibility of the rod). The tip of the blank is usually flexible to allow for efficient casting and sensitivity to fish bites, while the butt end is rigid for better control and power.
From Graphite to Fiberglass: The Materials That Shape Your Rod
Several materials are used in the construction of deep-sea fishing rods, each bringing its unique characteristics:
Graphite: Graphite rods are popular due to their light weight, sensitivity, and strength. They allow anglers to feel even the slightest nibble, making them excellent for targeting elusive species. However, they tend to be more brittle than their counterparts and are often more expensive.
Fiberglass: These rods are known for their robustness and durability. They may lack the sensitivity of graphite rods but make up for it with their strength and flexibility. They are generally more affordable.
Composite: A blend of fiberglass and graphite, composite rods offer a balance between strength, flexibility, and sensitivity. They are suited for various fishing conditions and are moderately priced.
The Balancing Act: Size and Weight Considerations for Deep Sea Rods
When considering the size and weight of a deep-sea fishing rod, you have to bear in mind the species you're targeting and the fishing conditions:
Length: Deep-sea rods usually range from 5 to 8 feet. Shorter rods (5-6 feet) offer better control and are ideal when fishing for larger, stronger species. Longer rods (7-8 feet) provide longer casts and are better suited for trolling or when fishing from a pier or shore.
Weight: Rods are categorized by their line weight, indicating the range of line strength that can be used with them. Heavy rods can handle higher line weights and are designed for large, strong deep-sea fish species. Always match the weight of your rod to the species you are targeting to prevent equipment failure and fish loss.
🚩Choosing the ideal rod involves finding the right balance between these considerations, along with your comfort and fishing style.
Types of Deep Sea Fishing Rods
Beyond One Size Fits All: Diverse Types of Deep-Sea Fishing Rods
Navigating the vast array of deep-sea fishing rods can seem overwhelming. But the secret is understanding that different rods are designed for various types of fishing. Some are designed for general use, while others serve specific techniques like trolling, jigging, or popping. The primary types of deep-sea fishing rods include trolling rods, jigging rods, popping rods, and spinning rods.
Fishing Rod Face-Off: Analyzing Each Rod Type in Detail
Trolling Rods:
These rods are designed for a specific fishing technique called trolling, where a baited line is dragged through the water from a moving boat. Trolling rods are typically robust, with a fast to medium action. They are also longer, which helps in dispersing the strain along the length of the rod when a fish takes the bait.
Pros: Great for targeting larger fish species, easy to use, allows covering a large area.
Cons: Not ideal for casting, requires a moving boat for effective use.
Suitable Situations: Best used in open ocean waters for game fishing, targeting species like marlin and tuna.
Jigging Rods:
These are used for jigging, where a weighted lure (jig) is repeatedly moved up and down in the water column. They are typically shorter, but highly robust to handle the vertical strain of the jigging motion and large catches.
Pros: Excellent for targeting bottom-dwelling species, allows the angler to feel the lure's movement and can handle big fish.
Cons: Technique-specific, can be physically demanding.
Suitable Situations: Best when targeting species like grouper or snapper in deep water.
Popping Rods:
These rods are designed for using popper lures that sit on the water's surface and mimic distressed prey. Popping rods are usually longer, with a strong backbone and fast action to create the popping effect and handle aggressive surface strikes.
Pros: Exciting visual strikes, effective for aggressive surface-feeding species.
Cons: Not suitable for bottom-dwelling species, requires a specific type of lure.
Suitable Situations: Ideal when targeting surface-feeding species like giant trevally.
Spinning Rods:
Spinning rods are versatile and can be used for a variety of fishing techniques, making them popular among anglers. They are designed with a large, flexible tip and a sturdy base.
Pros: Versatile, good for casting, suitable for beginners.
Cons: Might lack the specific advantages of technique-specific rods.
Suitable Situations: Can be used in a variety of situations depending on the specifications of the individual rod.
Understanding these differences helps in choosing the right rod type for your preferred deep-sea fishing technique and target species.
How to Choose the Right Deep Sea Fishing Rod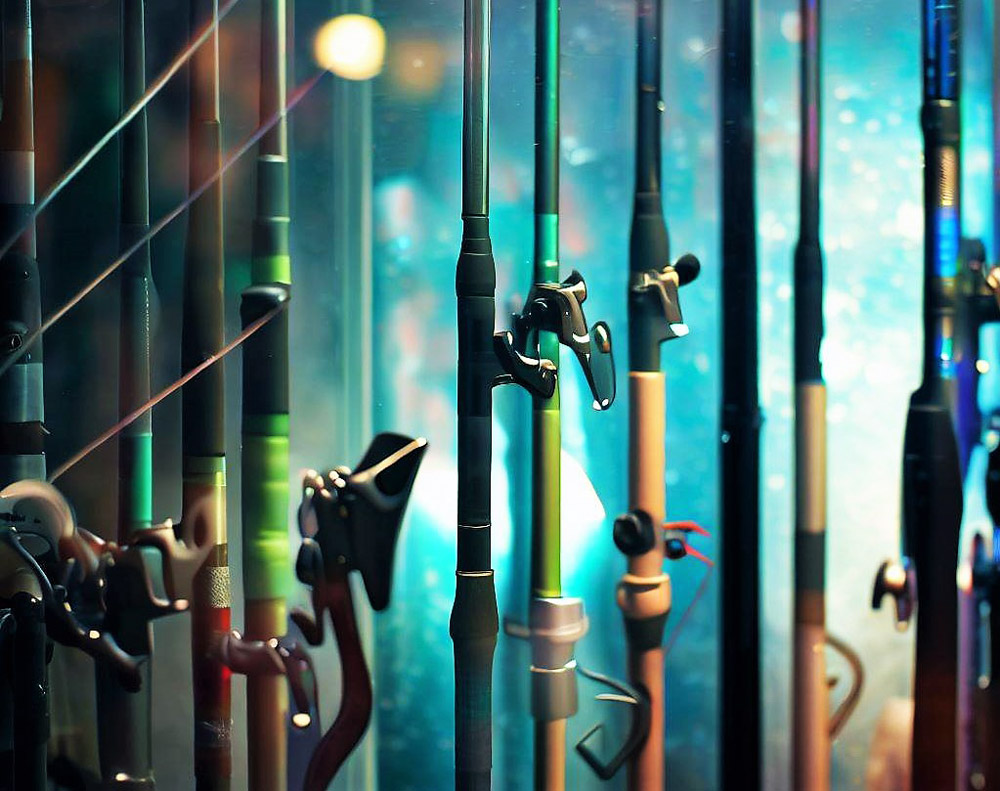 Target Practice: Matching Your Rod to Your Desired Catch
When it comes to deep-sea fishing, selecting the appropriate rod for the species you're targeting is critical. For instance, if you're targeting larger, stronger species like marlin or tuna, you'll need a rod with substantial power and strength—likely a heavy-duty trolling rod. Conversely, for smaller, more elusive species, a sensitive, lighter rod that allows you to detect subtle bites may be more suitable. The size and power of the rod must be in line with the size, weight, and fighting ability of the targeted species.
Rods and Styles: Aligning Your Fishing Techniques with Your Rod
Your preferred fishing technique plays a significant role in choosing the right rod. If you're trolling, you'll need a long, sturdy trolling rod designed to handle the stress of dragging lures through the water at speed. For jigging, a shorter, robust rod capable of handling the up-and-down movement of the jig is appropriate. And if you're popping, a longer rod with a fast action to give a good 'pop' to your lure is the order of the day. Understanding the demands of your chosen technique will guide you in selecting a rod with the right characteristics.
Beyond the Rod: Other Crucial Factors in Your Buying Decision
While the primary considerations will be the rod's suitability for your target species and fishing technique, there are several other factors to bear in mind:
Budget: Fishing rods can vary widely in price. Decide on your budget before starting your search and try to find the best rod within that range.
Brand Reputation: Some brands have built a reputation for quality and durability in their rods. Researching various brands and their customer reviews can provide insight into the performance of their products.
Warranties: A good warranty can provide peace of mind when investing in a fishing rod. It shows that the company stands by its product and is willing to address any issues that might arise.
Personal Comfort: The best rod for you is the one that feels comfortable in your hands. Consider the grip material and the weight of the rod, as these factors will affect your fatigue levels during a long day of fishing.
Expert Recommendations and Reviews: Check out what experienced anglers and experts in the field are saying about the rod you're considering.
🚩By taking all these factors into account, you can ensure you're making an informed decision that will enhance your deep-sea fishing experience.
Maintenance and Care for Deep Sea Fishing Rods
Spick and Span: Cleaning and Storage Tips for Your Rod
Proper cleaning and storage of your deep-sea fishing rod can significantly enhance its longevity. Here are some practical tips:
Cleaning: After each fishing trip, wash your rod gently with mild soapy water to remove salt, grime, and fish residues. Ensure all components, including the handle, blank, reel seat, and guides, are clean. Rinely thoroughly and dry before storage.
Storage: Store your rod in a cool, dry place out of direct sunlight. UV rays can degrade certain rod materials over time. A vertical storage rack is ideal to prevent the rod from bending. For added protection, consider using a rod sleeve or case.
Prevent and Mend: Avoiding Damage and Basic Repairs for Your Rod
Damage to your fishing rod is often inevitable, but with care, you can prevent most of it, and some can even be repaired:
Damage Prevention:
Don't high-stick: High-sticking (angling the rod over 90 degrees) puts excessive stress on the rod tip, which may cause it to snap.
Don't yank on snagged lines: If your line gets snagged, don't yank it free with the rod. This can lead to breakage. Instead, cut the line and re-rig.
Transport carefully: Use a protective case when transporting your rod to prevent damage.
Basic Repairs:
Guide Replacement: If a guide gets damaged, you can replace it with a new one. You'll need rod epoxy, thread, a new guide, and a little patience.
Handle Replacement: If the handle becomes worn out, you can replace it, usually by sliding it off the blank and replacing it with a new one.
Remember, not all damages are repairable at home. If the rod blanks itself breaks or is severely damaged, it's typically best to replace the rod or seek professional repair.
🚩Your deep-sea fishing rod is an investment, and maintaining it well can provide you with years of successful fishing adventures.
Recommendations
Best Bets: Top Deep-Sea Fishing Rod Picks for Different Needs
Whether you're a seasoned angler or a novice, finding the right deep-sea fishing rod for your needs and budget is crucial. Here are a few standout picks:
Budget Option: The "Penn Squadron II" is a popular choice for those on a budget. It offers decent power and durability without breaking the bank.
High-End Option: For a top-of-the-line choice, the "Shimano Talica" is hard to beat. Its top-notch build quality, power, and sensitivity make it a favorite among seasoned deep-sea anglers.
Beginner-Friendly: The "Ugly Stik GX2" is an excellent choice for beginners. It's versatile, durable, and offers good value for money.
Versatile Option: If you're looking for versatility, the "Okuma Cedros CJR Series" can handle various fishing techniques and species, making it a good all-around rod.
Trusted Shops: Where to Buy Quality Deep-Sea Fishing Rods
There are many places where you can buy quality deep-sea fishing rods, both online and in brick-and-mortar stores:
Online Marketplaces: Websites like Amazon, eBay, and Alibaba offer a vast selection of fishing rods from various manufacturers.
Specialty Online Stores: Stores like TackleDirect, Bass Pro Shops, and Cabela's specialize in fishing gear and offer an extensive range of deep-sea fishing rods.
Local Fishing Stores: These stores often provide personalized advice based on local fishing conditions and species. Plus, you can feel the rods before buying.
Manufacturer Websites: Many fishing rod manufacturers sell their products directly through their websites.
🚩Remember, always check customer reviews and ratings before making a purchase, and don't hesitate to ask for advice from experienced anglers or store personnel.
FAQ Unraveling Queries: Your Questions About Deep-Sea Fishing Rods Answered
Remember, these answers are general guidelines. Specific circumstances may require different approaches, so don't hesitate to seek professional advice when needed.
Conclusion: Understanding Deep Sea Fishing Rods
Deep-sea fishing is a type of fishing in which people hunt for large, open sea fish species. Deep-sea fishing is practiced all over the world. To be successful, you need high-quality gear. First of all, you should get a deep-sea fishing rod. I advise you to get the 1# PENN Ally Conventional Boat Rod.
In this comprehensive exploration of deep-sea fishing rods, we've journeyed through a sea of knowledge. We've examined the origins of deep-sea fishing and the critical role that the right rod plays. We've dissected the anatomy of these rods, looking at their parts, functions, materials, and size considerations.
Rounding Off: Revisiting the Key Points of Deep-Sea Fishing Rods
We've also discussed various types of deep-sea fishing rods—trolling rods, jigging rods, popping rods, and others—highlighting their features, pros, cons, and suitable situations. Furthermore, we've provided guidance on choosing the right rod based on your target species, fishing style, and other considerations like budget and brand reputation.
To help you care for your investment, we've offered practical tips for cleaning, storing, and repairing your rod. And lastly, we've suggested top picks for different needs and shared trusted sources for purchasing quality rods.
Join the Conversation: Share Your Deep-Sea Fishing Experiences
Now, it's your turn! We invite you to dive into the discussion. Share your experiences with deep-sea fishing rods. Which ones have you found to be the best? Do you have any handy maintenance tips or exciting stories about a catch you made with your favorite rod? Perhaps you have questions or topics you'd like us to explore further. Whatever your thoughts, we'd love to hear from you. Let's continue the conversation and together deepen our understanding and appreciation of the fascinating world of deep-sea fishing.
References/Credits
Citations: The Foundations of Our Deep-Sea Knowledge
This article was crafted using a wide range of resources to ensure its accuracy and comprehensiveness. Here are some key references:
"The Complete Guide to Sea Fishing" by Chris Endean (2018)
"Deep Sea Angling: Techniques and Tools" by Richard Arnold (2019)
"Fishing Rods: An In-Depth Look" – Angling Times, Issue 34 (2022)
Shimano's Official Website (2023) – For details on the Shimano Talica rod
Ugly Stik's Official Website (2023) – For information on the Ugly Stik GX2 rod
"A Comprehensive Review of Fishing Rod Materials" – Journal of Materials Science (2021)
🚩Please note, the product recommendations were based on customer reviews and expert ratings from various online platforms, including Amazon, TackleDirect, and Bass Pro Shops.
Gratitude: Acknowledging Those Who Made This Article Possible
This article was enhanced by the contributions and insights of various individuals:
James McAllister, a seasoned angler and owner of McAllister's Fishing Store, shared his vast knowledge and firsthand experiences with different fishing rods.
Dr. Emily Patterson, a materials scientist provided insights into the materials used in rod construction.
All the anonymous reviewers and online contributors whose shared experiences helped shape our recommendations.
🚩Their collective wisdom has significantly enriched the content of this article, and we extend our sincere gratitude to them all.
Tags: #deep sea fishing rods / #deep sea fishing rods and reels combo / #best deep sea fishing rods / #best deep sea fishing rods and reels / #best fishing rods for deep sea fishing / #bass pro shops / #best rods for deep sea fishing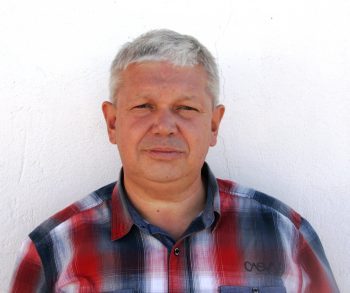 Sergio Smirnoff
Professional fisherman with 40+ years of experience.
Fishing and the ocean is a passion of my life. I am passionate about all kinds of sea fishing: fishing from the shore (spinning, float, baitcasting), from a boat, and spearfishing day and night.
I live in Tenerife (Canary Islands) for the last 10+ years and share my daily fishing experiences on my website. Many years of personal experience as a fisherman and the vast experience of my friends allow me to write professionally on any fishing topics (from choosing a flashlight and equipment to deep-sea fishing).
All of my advice is based on practical real-world experience and will be useful to both novice anglers and professionals.
Read more
about the author.
Affiliate Disclosure: FishReeler.com sometimes gets paid for listings, through sponsors or affiliate programs like Amazon, Ebay, Cabelas, Bass Pro Shop, Shimano, Daiwa, Rapala, Renn, Okuma, KastKing, etс. Clicking a link helps keep FishReeler.com free, at no extra cost to you!
About the author: Each article is verified by the fishing expert Sergio Smirnoff. The articles are written by professional and amateur fishermen with 20+ years of fishing experience.
Note: The views and opinions expressed in this article are those of the authors and do not necessarily reflect the official policy or position of any agency. The articles are for informational purposes only, share your opinions in the comments and join the fishing discussions, let's share our fishing experiences together!