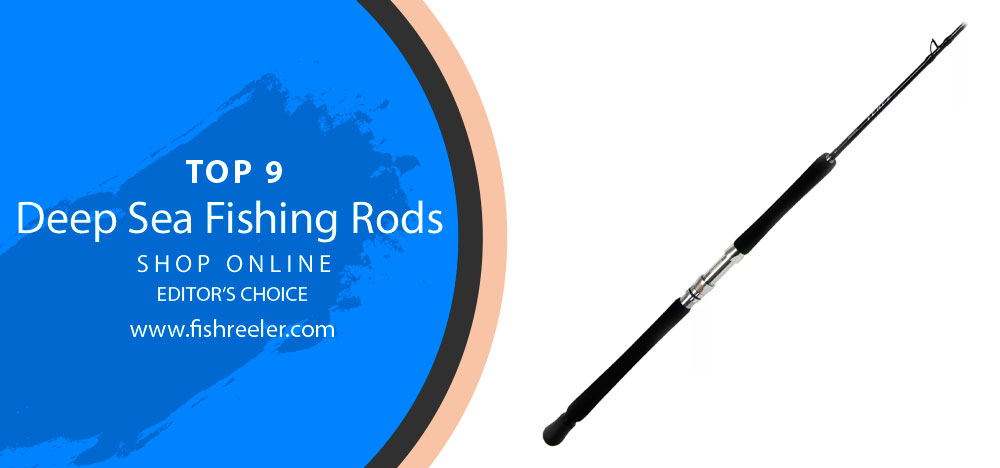 When it comes to deep sea fishing rods there are many options on the market, so choosing the one that works best for you can be a daunting task. Choosing the best deep-sea fishing rod will give you a better chance of a successful day, but there is a lot to consider first.
There are more and more fans of deep-sea fishing. Every year the number of people interested in this activity at sea is increasing. And when that happens, it's okay to have doubts about which tackle to use. The most important tool is undoubtedly the fishing rod. The first thing you should know is that there are many types of saltwater fishing rods. And to choose the right one, several aspects must be considered, such as weight, length, and so on.
The 9 Deep Sea Fishing Rods From Bass Pro Shops
I have developed a buying guide to guide you through the process of finding high-quality models. I also looked at a variety of rods to compile a list of the best products on the market so you can choose the most popular deep-sea fishing rod for you.
1# PENN Ally Conventional Boat Rod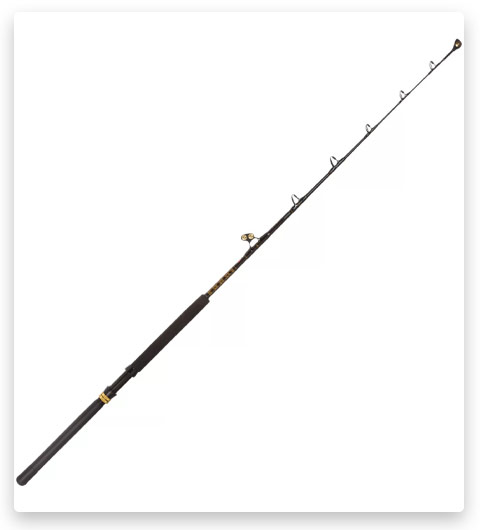 This is the highly regarded PENN® Ally rod. What makes this rod special is that it comes with a hard glass tip that has the power and sensitivity you need. This rod has very high-performance thanks to the fact that it has an incredibly tough tubular glass blank. This reduces the overall weight of the rod while still providing great responsiveness in your hands.
The life of your line will be extended with Fuji guides with aluminum oxide inserts. The reel seat is made of non-corrosive aluminum which holds the reel in place when installed. The uprights provide very smooth casting with minimal friction, and the handle gives you a greater degree of control when casting. The handles are made of EVA material. They are resistant to saltwater and scorching sun. At the same time, they provide a secure grip. This balanced rod is great for deep-sea fishing.
2# Daiwa Tanacom Dendoh Deep Drop Rod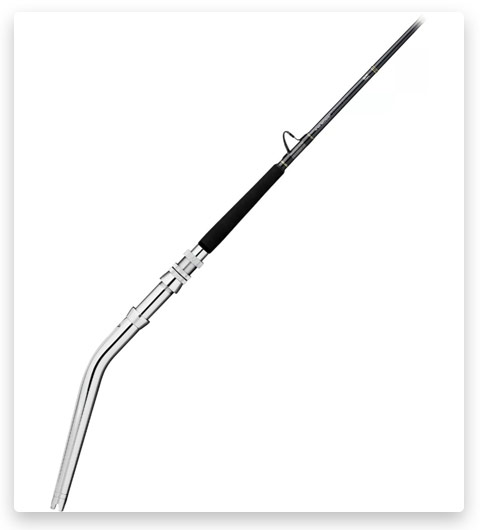 Daiwa Tanacom rods are designed for catching the real giants of the deep sea. This carbon rod resembles a hero for whom nothing is impossible. Daiwa Tanacom allows you to wield heavy lures weighing up to 800 grams, which will open the door to the wonderful world of deep-sea fishing. Glatech blank construction is the source of not only endless power but also sensitivity.
This rod has a soft tip that signals irregularities in the bottom and even a timid bite. The extended EVA handle is a very comfortable grip that will help you fight trophy fish. Fishing at record depths means perfect execution of every piece of the rod. In this case, ALPS rings are the best way to reveal the full potential of the blank. With these rings, you don't have to worry about the successful outcome of the game, because the entire production power of the Japanese company Daiwa will be on your side!
3# St. Croix Mojo Salt-Series Conventional Rods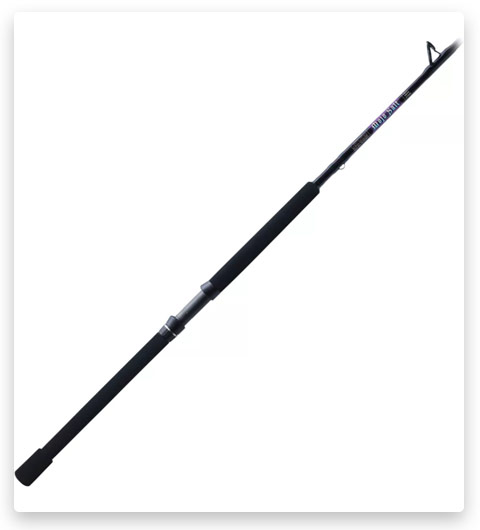 This is a high-quality rod that is ideal for saltwater fishing. Advanced technologies are used in the design. Using this technology, the ends of the rod knees are processed to increase their strength. Literally a molecular layer of carbon-containing material is applied to the ends, which increases the load carried by the end of the rod by 10 times, without a tangible increase in the weight or diameters of the rod knees. The rod has two layers of flex coat for added durability. The reliable Fuji® reel seat will hold your reel without any problem. I love this rod for its useful features and stylish design.
4# Ugly Stik Bigwater Stand-Up Rod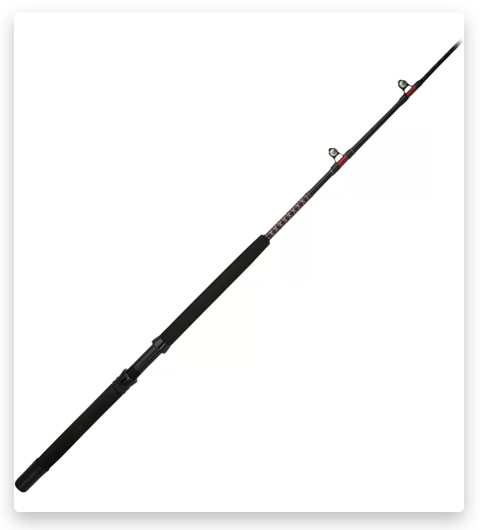 This rod provides great strength when fishing from a boat. It's perfect for big fish fishing thanks to the Ugly Tech ™ technology. The model is made from a combination of graphite and fiberglass. The material provides high strength and makes the rod lightweight. Pac Bay roller guides prevent line friction and let you win big fish fights.
5# Shimano Terez Conventional Rod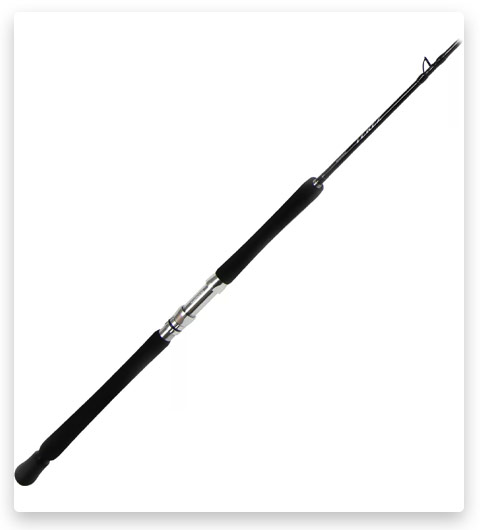 If you are looking for a powerful rod that will work with braided lines, then you've come to the right place. This rod is designed for deep sea fishing and catching large fish species. Shimano Spiral X and Hi-Power X technology allow the rod to remain lightweight while still being 25% more powerful than analog products. Fuji E-Series guides prevent tangling and chafing of your line.
6# Okuma SST Halibut Casting Rod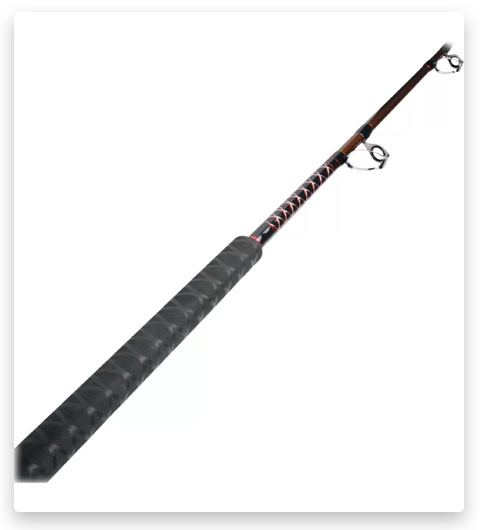 Each OKUMA rod model is designed not only for fishing but also for inspiration and energy. The company's goal is to expand your experience, to get the most out of your time on the water. The rod has sensitive E-glass blanks. The frames of the guide rings are made of stainless steel. The ring inserts are made of zirconium, which reduces the vibration of the braided line. Integrated back cover in compressed EVA foam. The product is equipped with a stainless steel hook holder.
7# Tsunami Trophy Series Wire Line Rod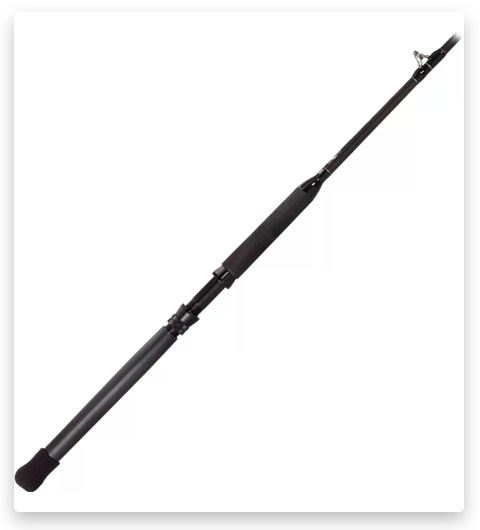 This rod has high performance and high build quality. After purchasing this rod, you will immediately feel the full power of deep-sea fishing. braced tungsten carbide guides provide superior performance. They avoid premature wear and are highly durable. The reel seat is made of lightweight aluminum and corrosion-resistant.
8# PENN Carnage II Conventional Boat Rod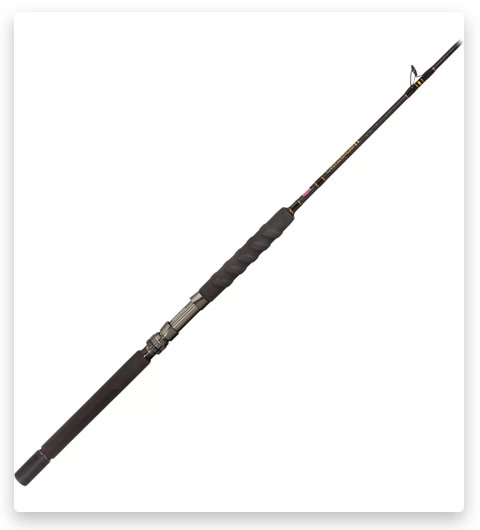 This is the next generation of super lightweight and powerful rods. They are designed to be used with a braided line and will handle any fish. The design of the SLS3 composite material assumes a small diameter, which makes them virtually weightless and ergonomic. I love the lightness of this rod and its high power and performance.
9# Offshore Angler Power Stick Conventional Boat Rod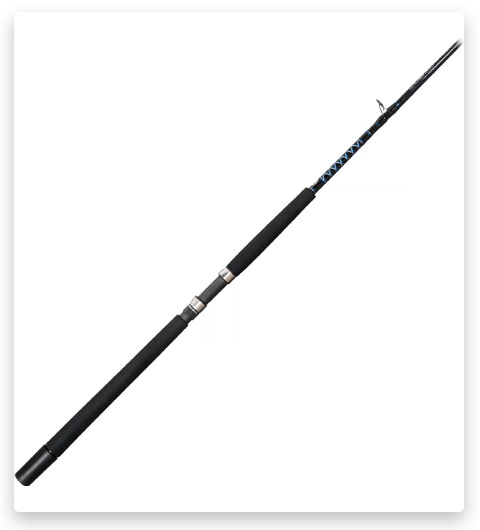 If you've never done deep sea fishing before, this is the tackle for you! It is available at a very low price, but it is made from high-quality materials and offers high performance. Tubular E-glass blank construction provides durability. Double foot aluminum oxide guides will reduce the friction of your line. They are also resistant to corrosion. It has a graphite reel seat with stainless steel hoods.
What is Deep Sea Fishing?
Surely many of us perfectly keep in mind the images of those fishermen who leave their home shortly before dawn to perform one of the most difficult jobs for a person. It's deep-sea fishing. These representations are already out of date because this type of fishing has come a long way thanks to technological innovations and new boats. Although this can still be a problem for inexperienced fishermen. Deep-sea fishing is nothing more than fishing at a great distance from the shore or at great depths with boats prepared for this. You can also fish from rocks where there is depth.
Canyons and Continental Shelf
The area is ideal for deep-sea fishing, as in the upper part you can encounter species such as sailboats or tuna, while in the lower part, in deeper waters, you will have perch. Fishermen use a trawl by mixing artificial bait with natural bait.
Reefs, shipwrecks, and other rocky locations. These places are a treasure for fishermen, as there are dozens of species of fish and other marine animals that correspond to different stages of the food chain. There are species that are always found in these places, while others will only be there in the harsh sea conditions. You can encounter high-speed predators such as sailboats or tuna, but you can also spot species that are caught with high-speed trolling or live bait. Snapper or sea bass are common and are easily reached with jigging.
Features to Look for in Best Deep Sea Fishing Rods
High-quality deep-sea rods are essential for catching big fish. Choosing the right model can be a daunting decision. These rods have to withstand the strength of big fish and the ravages of saltwater.
Length
The deep-sea fishing rod is distinguished by its high power, but at the same time, it has a short length. For deep-sea fishing from a boat, it is not necessary to take a very long rod. The optimal length is up to 2.4 m. Short rods have a number of advantages. They are more accurate and are best used with artificial lures. For deep-sea fishing, you don't need a long rod. You do not have to make long casts, but simply put it into the water when you are fishing on a boat.
Weight
The weight of your rod is not a key factor, as most will be well balanced so that you can feel the heaviness in your hands. Most of these rods are now made of lightweight materials to keep your wrists from getting tired of supporting the weight of the rod. The lightweight also doesn't put much pressure on your shoulders and back.
Action
The action shows the degree of deflection of your rod under load. Fast action and super-fast action rods bend at the tip. If your rod has a slow action, then the bend will occur over most of your tackle length. For deep water fishing, you don't need to choose a slow-action rod as you won't need long casts.
Material
Best Deep Sea Fishing Rods are usually made from two materials: fiberglass or graphite. There is a clear difference in quality between them. Fiberglass is a standard material that has been used for a long time. It is an excellent material for making rods because of its high strength, as well as its flexibility and the power it can create.
Perhaps the biggest disadvantage of fiberglass is its weight, as it is much heavier than the two materials. This extra weight not only makes it difficult to handle but also means you are less likely to find small bites on your line. While the fiberglass rod will still be light enough to handle, it is not as light as graphite.
Graphite is a more efficient and more expensive material due to its advantages, one of the main ones being its low weight. This means you can better detect fish bites. It also makes the rod easier to handle.
However, graphite has a major drawback, namely its durability. Graphite rods are simply not as strong as their fiberglass cousins, so you'll have to pay more for a rod that won't last that long.
However, a new solution has appeared on the market, consisting of graphite and fiberglass. This can be seen as getting the best out of both materials.
Conclusion
Deep-sea fishing is a type of fishing in which people hunt for large, open sea fish species. Deep-sea fishing is practiced all over the world. To be successful, you need high-quality gear. First of all, you should get a deep-sea fishing rod. I advise you to get the 1# PENN Ally Conventional Boat Rod.
Tags: #deep sea fishing rods / #deep sea fishing rods and reels combo / #best deep sea fishing rods / #best deep sea fishing rods and reels / #best fishing rods for deep sea fishing / #bass pro shops / #best rods for deep sea fishing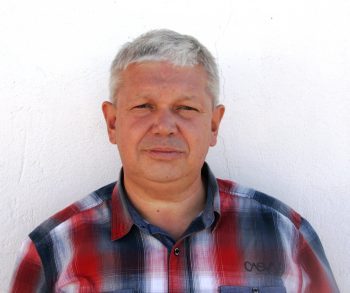 Sergio Smirnoff
Professional fisherman with 40+ years of experience.
Fishing and the ocean is a passion of my life. I am passionate about all kinds of sea fishing: fishing from the shore (spinning, float, baitcasting), from a boat, and spearfishing day and night.
I live in Tenerife (Canary Islands) for the last 10+ years and share my daily fishing experiences on my website. Many years of personal experience as a fisherman and the vast experience of my friends allow me to write professionally on any fishing topics (from choosing a flashlight and equipment to deep-sea fishing).
All of my advice is based on practical real-world experience and will be useful to both novice anglers and professionals.
Read more
about the author.
Affiliate Disclosure: FishReeler.com sometimes gets paid for listings, through sponsors or affiliate programs like Amazon, Ebay, Cabelas, Bass Pro Shop, Shimano, Daiwa, Rapala, Renn, Okuma, KastKing, etс. Clicking a link helps keep FishReeler.com free, at no extra cost to you!
About the author: Each article is verified by the fishing expert Sergio Smirnoff. The articles are written by professional and amateur fishermen with 20+ years of fishing experience.
Note: The views and opinions expressed in this article are those of the authors and do not necessarily reflect the official policy or position of any agency. The articles are for informational purposes only, share your opinions in the comments and join the fishing discussions, let's share our fishing experiences together!