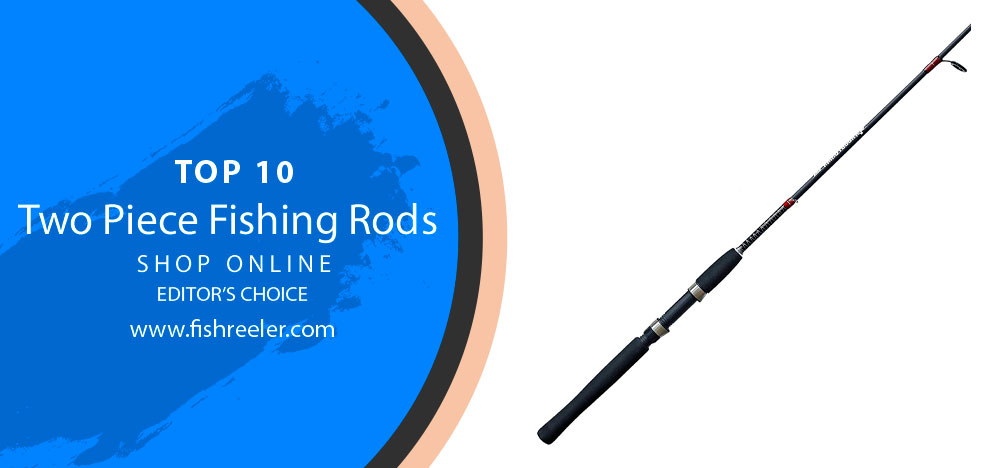 All anglers will tell you that patience is the key to catching fish, but a good two-piece fishing rod will surely add the odds. Of course, only if you find the right one! If you are looking for a new rod, I have a list for you.
Our Selection 10 Best Two Piece Fishing Rods
| Image | Product | Brand | Link |
| --- | --- | --- | --- |
| | Ugly Stik Elite Spinning Rod 7' - Ultra Light - 2pc | Shakespeare | |
| | PLUSINNO Two-Piece Spining Casting Fishing Rod, Graphite Medium Light Fast Action Bass Baitcasting Fishing Rods 7FT 2pc Freshwater Saltwater Fishing Rods | PLUSINNO | |
| | KastKing Crixus Fishing Rods, Spinning Rod 6ft 6in-Medium - Fast-2pcs | KastKing | |
| | KastKing Perigee II Fishing Rods, Spinning Rod 6ft 6in - Medium - Fast - Two Pieces One Tip Rod | KastKing | |
| | St. Croix TRS56ULF2 Triumph 2-Piece Graphite Spinning Fishing Rod with Cork Handle, 5-feet 6-inches | St. Croix Rods | |
| | Zebco Rhino Tough Cross-Weave Glowtip Spinning Fishing Rod, 2-Piece with Heavy Duty Guides, 6-Foot 6-Inch Medium Power Fast Action, EVA Foam Handle RNGS662MB.PB2 | Zebco | |
| | Berkley Lightning Rod Trout Rod, 8' Ultra Light- 2pcs, 8 feet | Berkley | |
| | Okuma Celilo Graphite Salmon/Steelhead Spinning Rods, CE-S-962MLa, Green, 9-Feet 6-Inch, Medium Light | OKUMA | |
| | Shimano Solara 5'6 M Spinning Freshwater Spinning Rod | SHIMANO | |
| | TAIRYO Spinning Fishing Rods 2-Piece, 24 Ton Carbon Fiber Rod with Durable Stainless Steel Guides for Travel Surf Saltwater Freshwater Bass Boat Fishing | TAIRYO | |
I spent a lot of time writing this article. I tested many two-piece fishing rods before compiling a list of the top 10. You can rest assured that only the best products are published here that will change your fishing experience!
1# Ugly Stik Elite Spinning Fishing Rod – #1 Best Seller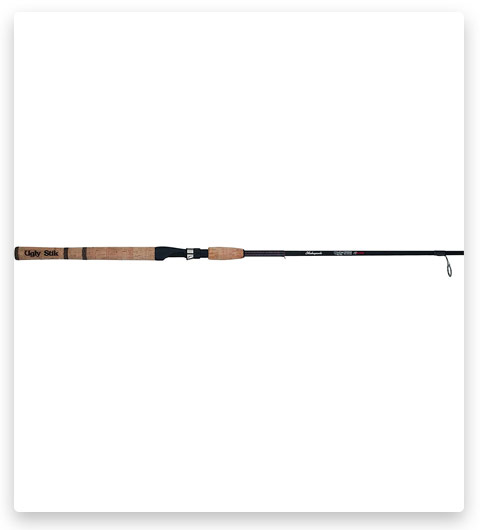 The Ugly Stik Elite spinning rod is the famous two-piece fishing rod. This line is manufactured using a special, proprietary Howald Process technology. This technology consists of a special way of winding carbon fiber. This allows you to achieve a specific, ultra-strong structure. This rod is ideal for big fish. The tip perfectly captures even the weakest bites. The powerful spinning rod is perfectly balanced and quite light, so it does not overload the angler's hand. The rod is equipped with reliable guides and high-quality Ugly Tuff fittings, as well as a comfortable EVA reel seat and handle.
2# PLUSINNO Elite Hunter 7FT Fishing Rod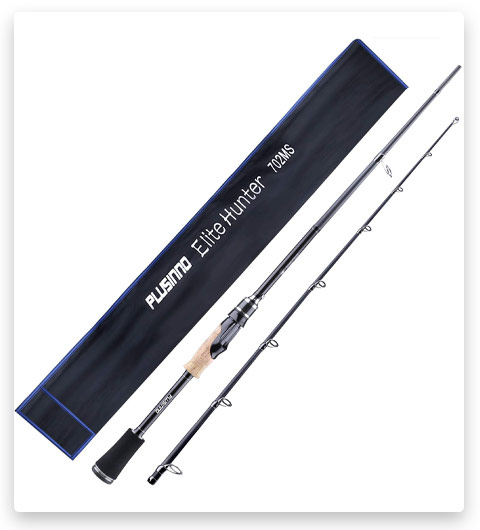 I can say that this is an incredibly sensitive and powerful rod. I purchased it because of its material. It is made with IM6 Carbon matrix technology blanks. During use, I also realized that this rod is incredibly light. When the rod is light, it reduces reel wear. I was convinced of this from my great experience. This rod allows you to feel even the smallest fish bites. The line does not get stuck in the guides due to their high quality. They are made of stainless steel with ceramic inserts.
3# KastKing Crixus Fishing Rods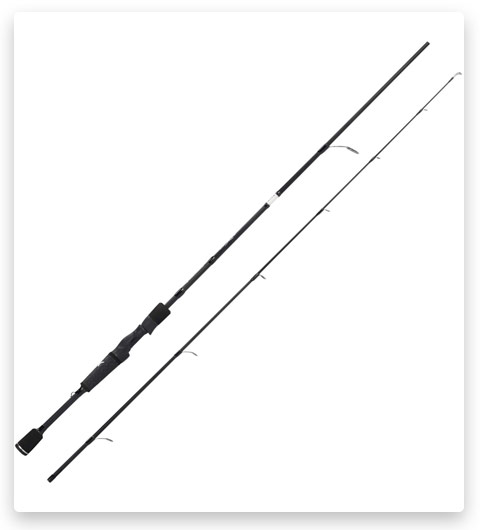 I use this accessory for both freshwater and saltwater fishing. It is a versatile rod that is pleasant and comfortable to hold. The rod provides high-quality performance at an affordable price. It is made of delicate IM6 graphite. The handle is made of super polymer and is slip-resistant. This ensures a comfortable grip under all circumstances. Stainless steel guides with zirconium oxide guides reduce line friction for smooth, long casts.
4# KastKing Perigee II Fishing Rods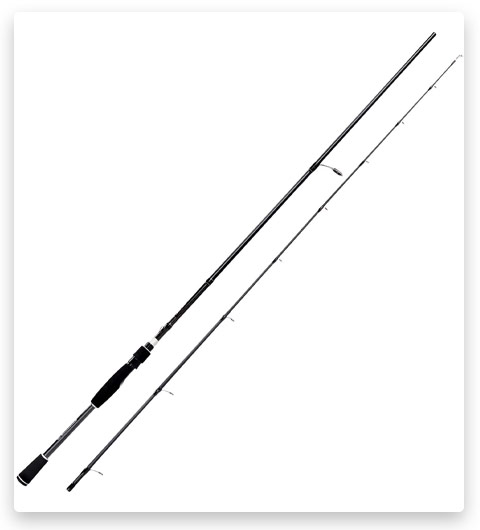 If you want to take it to the next level, then this is the rod for you. This model is chosen by those who believe that they should no longer be called beginners. With this rod, you can catch more fish and get a real fishing experience. This two-piece model features a 24-ton carbon matrix KastFlex blank technology. This material makes the rod strong, powerful, and precise. I can say that this rod has the best balance and action among the rod in its price range. Regardless of whether you cast the line slowly or hard, you will have no problem pulling the fish.
5# St Croix Triumph Spinning Rods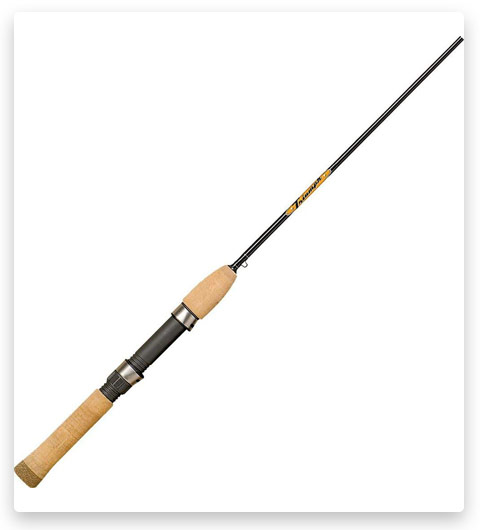 This Triumph series can rightfully be called workable. Spinning rods are made of cheaper, but no fewer quality materials than other models. However, the price of the accessory is significantly lower. The blanks are based on high-quality SC-II graphite. This material has increased strength properties. As a result, all Triumph spinning rods are characterized by lightness, excellent sensing, and the assortment range allows the angler to choose a rod for almost any type of fishing for very little money. The model has a classic Fuji DPS reel seat with bottom locking.
6# Zebco Rhino Tough Spinning Fishing Rod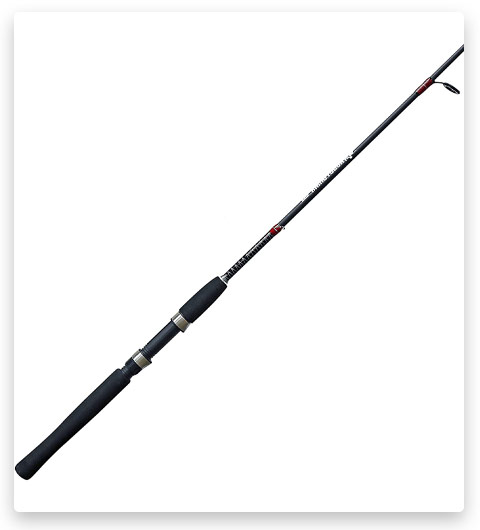 Zebco Rhino has a two-piece design as well as fast action. Based on this, the spinning rod has two sections, which positively affects the ease of use. The maximum bait weight can be 80 grams. The handle of the spinning rod is made of cork, a very environmentally friendly material. At the same time, the rod is distinguished by a relatively low weight, since the body itself contains carbon. Spinning rods are great for coastal fishing.
7# Berkley Lightning Rod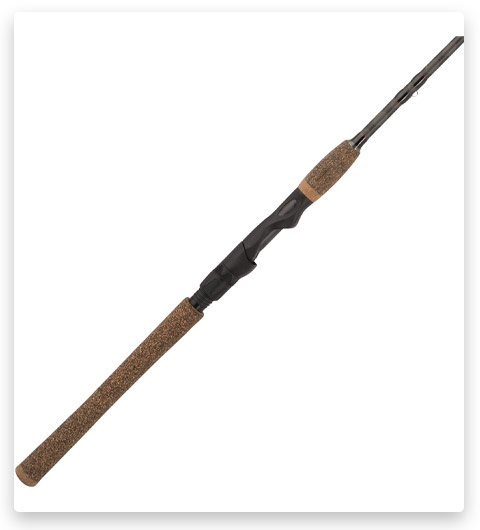 This rod demonstrates amazing lightness and speed. These are useful qualities that made it possible to create a very light and super sensitive spinning rod. They have been obtained using the modern IM6 Carbon material. The rod blank has a plug-in design that is made of two pieces. And the comfortable spaced handle is made of durable cork. Everything in this model is perfectly balanced down to the smallest detail and is specially designed for fishing aggressive fish.
8# OKUMA Celilo Spinning Rods
After years of use, I can tell that this is a really high-quality product at a great price. It is equipped with unique guides and a reel seat. This makes this product unique to use. This rod deserves 5 stars. It has a sensitive graphite construction. This accessory features grade fore and rear cork grips.
9# SHIMANO Solora 2 Piece Spinning Rod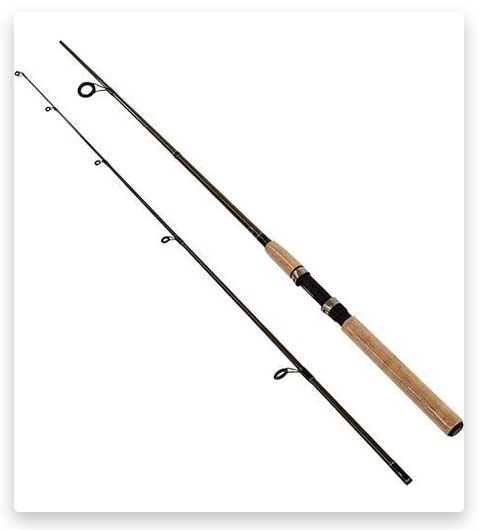 This is a new series specially designed for saltwater fishing. It is specially designed for beginners and has an easily recognizable Sonora design. The rod is ideal for those starting to master sea fishing. The rod blank is made of XT30 + GLASS carbon fiber with a progressive curve and ensures reliable fishing after a bite. The ideal rod for fishing species such as mullet and sea bream. Also suitable for freshwater fishing.
10# TAIRYO Spinning Fishing Rods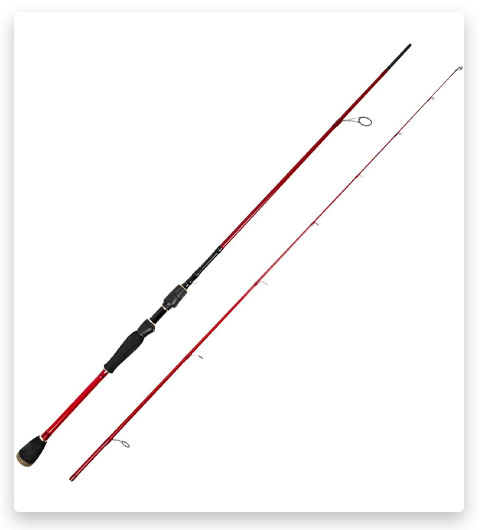 This two-piece rod has 24-ton carbon blanks. This material provides high strength, power, and precision when casting. The tip is very durable and offers high sensitivity. You will feel even very small bites. The reel seat is made of graphite and holds any reel.
What are Two-Piece Fishing Rods?
This is a tackle that consists of two parts, which are connected by a plug method. With this fastening, one part is inserted into the other. When the rod is disassembled, the pieces are separated from each other. Another type of connection is telescopic. With this design, the parts of the rod are inserted into each other when the rod is folded. But such rods are less popular than two-piece spinning rods. Telescopic rods are less flexible, durable, and comfortable. They lose to spinning rods in casts. Next, we'll take a closer look at the benefits of two-piece fishing rods.
Two-piece fishing rods, unlike solid ones, are more convenient for transportation. You can use them if you like to go fishing quite far from home. When folded, these rods are very compact. Usually, a set of such tackles includes a durable case with a fastener for carrying the handle. For their manufacture, they choose modern materials (carbon fiber or fiberglass), less often traditional bamboo.
Features and Benefits of Two-Piece Fishing Rods
Telescopic spinning rods are often preferred by beginners. They are much more convenient for transportation. But two-piece fishing rods have their advantages:
These rods have an optimal action, as a result, long and accurate casts are possible. When fishing with telescopic rods, you cannot achieve such a throw range. It is also important that on telescopic rods, guide rings are attached to the ends of the knees. Only then can the telescopic rod be folded.
In the case of the two-piece rod, the rings can be placed anywhere on the blank. There is nothing stopping from positioning them so as to ensure optimal distribution of the load on the tackle, which is what the manufacturers do.
Sensitivity
When fishing with a two-piece rod, information is transferred to the hand better than when using a telescopic model.
Durability
Two-piece rods resist loads much better than telescopic rods. The first reason for this is that the telescopic connection is not as strong as the plug one. The second is that the load on the two-piece rods is distributed more evenly due to the optimal placement of the rings.
Factors to Consider When Buying a Fishing Rod
If you are a beginner, then you need to read this section. I will help you find the best rod for you.
Length
The specificity of the two-piece fishing rod is that its length is the maximum distance for fishing. In sales, you can find fishing rods from 7 to 20 meters long. The universal size is considered to be a length of 12-14 meters. Some models offer pairing options with optional knees, which can be purchased separately. Tackle over 14 meters is for professionals, and they are rarely used in amateur fishing.
Material
A fishing rod made of composite materials and fiberglass will be a weighty tool, but at the same time, it has high strength and is not afraid of squeezing. The thick walls of the material will provide the required stiffness parameters for a long rod. Composite tackle belongs to the budget direction rods and will completely cover the needs of a novice angler.
Tackle made of graphite and carbon fiber makes fishing easier due to its low weight. The price of carbon rods is much higher than for composite. The material, however, is quite fragile and is afraid of squeezing and even small impacts, which is reflected in the cracking of the structure and the loss of its original rigidity. Therefore, when using a fishing rod made of carbon fiber, special attention is paid to the accuracy of the rod operation both when fishing and transporting the tackle.
Easy to Operate
I love two-piece fishing rods for their ease of use. Even a beginner will immediately understand how such a tackle works. You can handle the rod even with wet and cold hands.
Conclusion
Hopefully, now that you've learned more about the two-piece fishing rods, you've got some inspiration to try this tackle! You can start your acquaintance with the Ugly Stik Elite Spinning Fishing Rod.
Tags: #best two piece fishing rods / #best two piece fishing rods for big fish / #best two piece saltwater fishing rods / #best two piece casting fishing rods / #two piece fishing rods nomenclature / #two piece musky or striper fishing rods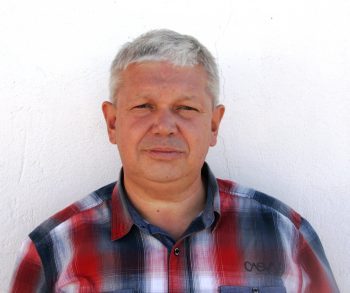 Sergio Smirnoff
Professional fisherman with 40+ years of experience.
Fishing and the ocean is a passion of my life. I am passionate about all kinds of sea fishing: fishing from the shore (spinning, float, baitcasting), from a boat, and spearfishing day and night.
I live in Tenerife (Canary Islands) for the last 10+ years and share my daily fishing experiences on my website. Many years of personal experience as a fisherman and the vast experience of my friends allow me to write professionally on any fishing topics (from choosing a flashlight and equipment to deep-sea fishing).
All of my advice is based on practical real-world experience and will be useful to both novice anglers and professionals.
Read more
about the author.
Affiliate Disclosure: FishReeler.com sometimes gets paid for listings, through sponsors or affiliate programs like Amazon, Ebay, Cabelas, Bass Pro Shop, Shimano, Daiwa, Rapala, Renn, Okuma, KastKing, etс. Clicking a link helps keep FishReeler.com free, at no extra cost to you!
About the author: Each article is verified by the fishing expert Sergio Smirnoff. The articles are written by professional and amateur fishermen with 20+ years of fishing experience.
Note: The views and opinions expressed in this article are those of the authors and do not necessarily reflect the official policy or position of any agency. The articles are for informational purposes only, share your opinions in the comments and join the fishing discussions, let's share our fishing experiences together!