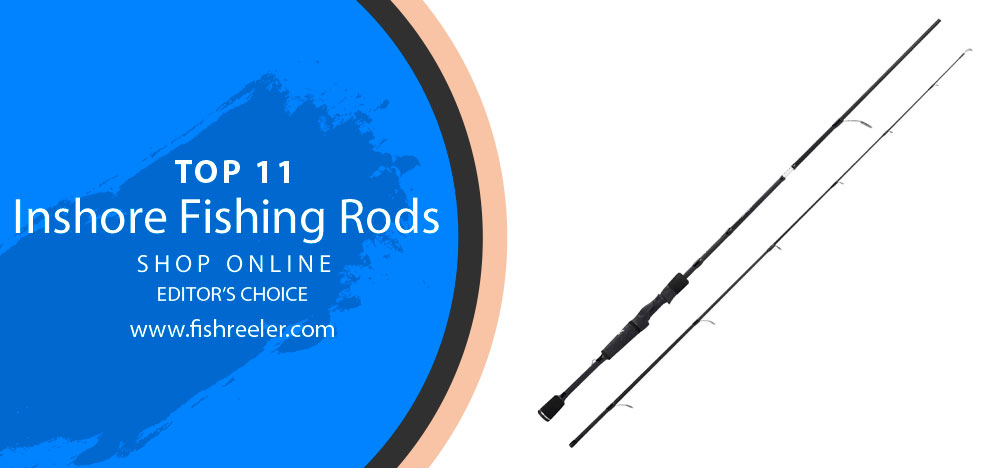 🎣 Conquer the Coast with the Ultimate Inshore Fishing Rod 🌊
Quick Summary
Why an Inshore Fishing Rod? 🤔
🔷For starters, inshore fishing rods are specially designed for coastal fishing, offering a balance of strength, sensitivity, and flexibility that's just not available in other rods. Here's what makes them stand out:
✅ Versatility: 🔄 Inshore rods are versatile powerhouses, perfect for catching a wide range of fish species, from the feisty redfish to the elusive sea trout.
✅ Durability: 💪 These rods are made with high-quality materials to resist the corrosive effects of saltwater, ensuring long-term use and saving you the hassle of frequent replacements.
✅ Precision: 🎯 With an inshore rod in your hands, you can cast your line with unparalleled accuracy, thanks to its specialized design and lighter weight.
✅ Sensitivity: 🔍 Feel even the subtlest nibbles with the high sensitivity of inshore rods, increasing your chances of hooking a bite! 🐟💫
Master the Tide: Your Comprehensive Guide to Inshore Fishing Rods
🌊 Welcome to Inshore Fishing: Your Adventure Begins Here! 🐠
Fishing in coastal waters, estuaries, and other inshore areas presents a unique set of challenges, but also opens up a world of exciting opportunities to catch a variety of species, from flounder to red drum, snook, and much more. 🎣
But here's the catch – without the right equipment, even the most dedicated fishing enthusiast can find themselves at sea. And when it comes to inshore fishing, there's one piece of gear that reigns supreme – the inshore fishing rod.
An inshore fishing rod is your direct link to the underwater world. Its performance can make all the difference between an average day on the water and a truly memorable one filled with great catches. Whether you're casting your line into the surf, a coastal lagoon, or the shallows around an island, your inshore rod should be the most trusted companion in your fishing arsenal.
🔶Think of it this way: a painter wouldn't use a hammer for their artwork, would they? 🎨🔨 In the same vein, a specialized inshore rod is the right 'tool' to create your perfect fishing 'masterpiece.' Equipped with the perfect inshore rod, you will not only amplify your fishing success but also enrich the overall angling experience.
Decoding the Inshore Fishing Rod: More than Just a Tool 🧩

An inshore fishing rod, simply put, is a specialized tool designed to perform best in waters that are relatively close to the coast – think bays, estuaries, and coastal lagoons. The design features of inshore rods cater specifically to the challenges and species diversity found in these environments. These rods are typically medium-light to medium-heavy, with lengths ranging from 6 to 8.5 feet. Their construction focuses on balancing strength, flexibility, and sensitivity, allowing anglers to effectively target a broad range of fish species.
Versatility Unleashed: All the Fish You Can Catch 🐠🐟
When it comes to versatility, an inshore fishing rod is a real game-changer. With a single inshore rod, you can successfully target and land an impressive array of species. From speckled trout and redfish to flounder and snook, the list goes on. This is largely due to the balance of strength and flexibility these rods offer, allowing them to handle the variability of inshore fishing.
Designed to Last: The Saltwater Survival of Inshore Rods ⚙️🌊
The durability of an inshore fishing rod is a testament to its superior design. These rods are made with materials resistant to the corrosive effects of saltwater, such as graphite, fiberglass, or composite blends. Additionally, many inshore rods have corrosion-resistant hardware, like stainless steel or ceramic guides, and high-quality epoxy coatings. This results in a fishing rod that not only stands up to the rigors of inshore fishing but also lasts longer, saving you the hassle and cost of frequent replacements.
Sensitivity & Precision: Feel the Bite, Hit the Target 🎯
Sensitivity and precision are two features where inshore rods truly shine. The high sensitivity of these rods allows you to feel even the most subtle bites, meaning you're less likely to miss out on a potential catch. Furthermore, their design also improves casting accuracy. Thanks to their lighter weight and balanced construction, you can cast your bait exactly where you want it, increasing your chances of a successful day on the water.
TOP 11 Best Inshore Saltwater Spinning Rods
For every angler, of course, not only the catch is important, but also the process of fishing itself. Many anglers prefer inshore fishing. For a big catch and comfortable fishing, you need the right inshore fishing rods.
I dedicated this article to the topic of inshore fishing and wrote a guide to choosing the best inshore saltwater fishing rods. But before moving on to the selection guide, let's take a look at an overview of the 11 best fishing rods for inshore fishing.
| Image | Product | Brand | Link |
| --- | --- | --- | --- |
| | KastKing Resolute Fishing Rods, Spinning Rod 6ft -Ultra Light - M Fast-2pcs | KastKing | |
| | Cadence CR7 Spinning Rod, Fishing Rod with 40 Ton Carbon,Fuji Reel Seat,Durable Stainless Steel Guides with SiC Inserts,Full Assortment of Lengths, Actions for Spinning Reels | Cadence | |
| | St. Croix Rods Avid Series Inshore Spinning Rod | St. Croix Rods | |
| | St. Croix Rods Avid Series Inshore Casting Rod, Seafoam Green Metallic, 7'0" - Feet | St. Croix Rods | |
| | Fiblink Inshore Fishing Rod 2 Piece Saltwater Spinning Rod Portable Travel Carbon Fiber Fishing Pole(7' 15-30lbs Blue) | Fiblink | |
| | Hurricane Calico Jack Inshore Spinning Rod, 7'6" - Medium | Hurricane | |
| | TFO 7 foot Inshore Spinning Angler Fishing Rod, Fuji Guides, Medium Light Power | TFO | |
| | Gloomis Fishing E6X 902S Xf Inshore [12760-01] | G. Loomis | |
| | KastKing Crixus Fishing Rods, Spinning Rod 7ft 6in-Medium Heavy - Fast-2pcs | KastKing | |
| | Okuma Nomad Xpress Inshore Rod 3pc 7ft Spin Med Hvy | OKUMA | |
| | PENN® Battalion™ Inshore Spinning | PENN | |
1# KastKing Resolute Fishing Rods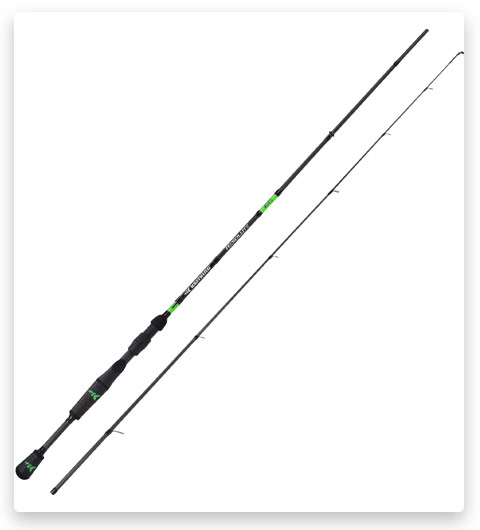 KastKing designed this rod especially for those who want the best rod performance at an affordable price. From my own experience, I can say that this is one of the best fishing rods for inshore fishing. I didn't have any problems with him. It features IM7 carbon blanks which are responsible for the high sensitivity and durability of the product. You will be able to use this accessory for many years without losing performance.
It is available in 4'6 to 7'6 lengths. You can catch all freshwater fish thanks to KastKing's Power Transition System. It is equipped with an innovative MicroWave Air Guide that increases casting range and accuracy. You can use all types of lines. It has SuperPolymer handles that are slip-resistant and allow you to control your rod in all weather conditions.
2# Cadence CR7 Spinning Rod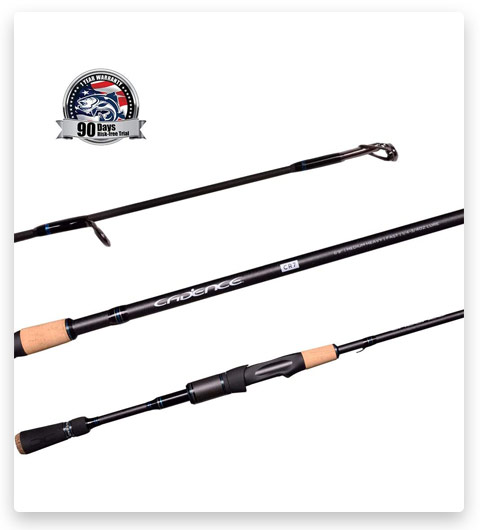 The Cadence CR7 rod offers high-quality fittings, a striking, memorable design, an ergonomic handle, and fast action. This model is made from 40-ton graphite, which is a durable material. It also provides excellent sensitivity. Stainless steel rails with SiC inserts. They provide smooth casts, reduce line friction, and resist corrosion. It is a durable model that stands up to any challenge. The accessory is equipped with a Fuji reel seat and the handles are made of cork and EVA. Ideal for zander, perch, and trout fishing.
3# St Croix Avid Inshore Salt Water Spinning Rod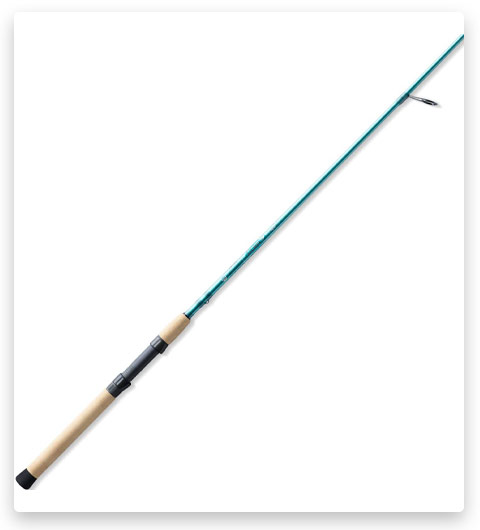 Lightweight, sensitive, and very reliable spinning rods. The ergonomic shape and premium cork on the handle ensures that the angler never gets tired even after fishing all day. The blanks are made of advanced high modulus SC-III graphite for maximum strength and sensitivity. The model is equipped with a Fuji DPS reel seat with a smoke guard that securely fixes the reel.
4# St. Croix Avid Inshore Saltwater Casting Fishing Rod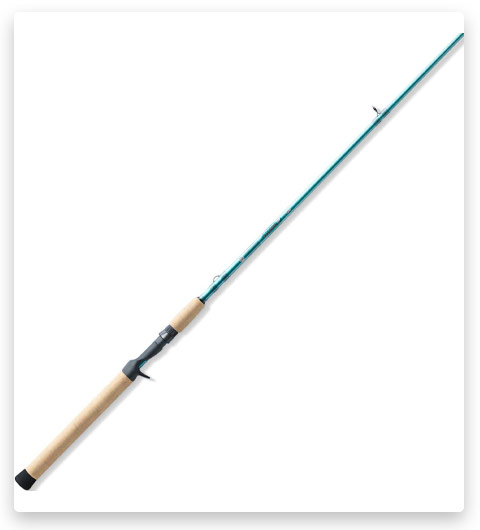 This is a high-quality Casting Fishing Rod. It is designed for long-distance casting while inshore fishing. It is made of graphite fiber which ensures reliable use. This material gives the rod sensitivity and high strength. This model has an excellent length of 7 feet. It has fast action and H power. The accessory is equipped with a titanium hook-keeper. The model has been thoroughly tested for corrosion resistance. You will be able to fish for a long time without hand fatigue thanks to the premium cork handle.
5# Fiblink Inshore Fishing Rod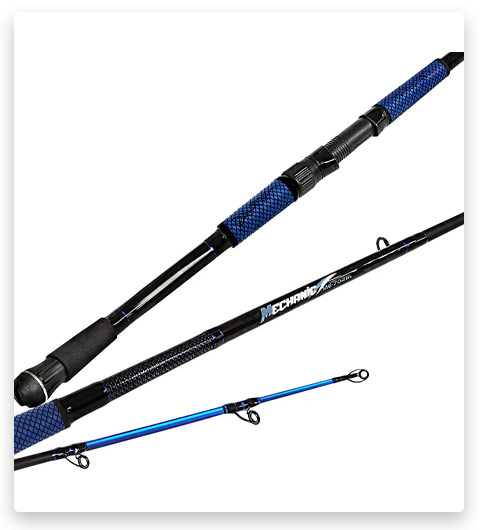 This sensitive rod will give you a lot of emotions and a great catch! It features a carbon fiber construction which makes this product durable and responsive. This material is ideal for saltwater use. You will be able to control your rod in all conditions thanks to its construction and material. It is made from premium EVA and has durable polymer grips. The model is equipped with stainless steel guides with ceramic inserts. This reduces friction between the line and prevents them from getting stuck in the guides.
6# Hurricane Calico Jack Inshore Spinning Rod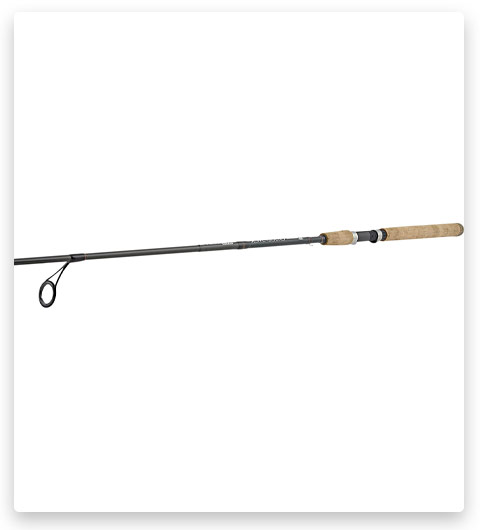 You will find this rod on all of the best saltwater inshore fishing rod lists. It features IM7 graphite billets that provide high sensitivity and unmatched product strength. The model is equipped with a Fuji reel seat that holds your reel securely in place. You can catch all kinds of fish that live in the seawater. This is ideal for bass, tarpon, and more. You can safely catch these types of fish and not be afraid that the rod will break.
7# TFO Inshore Spinning Fishing Rod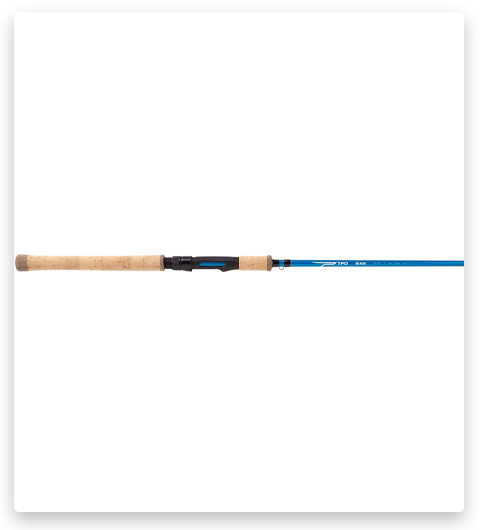 This product has been developed using the latest materials that reduce weight while maintaining a unique combination of aggressive power and strength. All this combined gives the rod incredible performance at a surprisingly low price. The rod has a fast action and performs best on long casts. Fuji corrosion control guides with Fazlite inserts are built to withstand the harshest fishing conditions while maximizing weight savings. They provide outstanding reliability in both fresh and saltwater fishing.
8# G. Loomis E6X Inshore Inshore Fishing Rod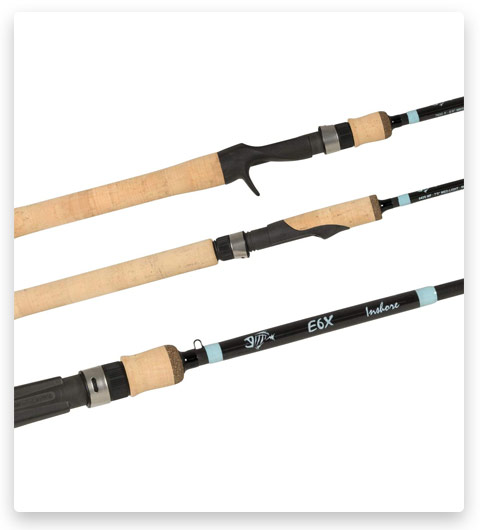 This model is made of high modulus graphite and equipped with high-quality guides with SIC inserts. An ergonomic spaced handle is installed on the spinning rods, thanks to which the product fits perfectly into the hand, becoming its continuation. Overall rod balancing allows you to fish all day without getting tired. At the height of such indicators as sensitivity and strength.
9# KastKing Crixus Fishing Rods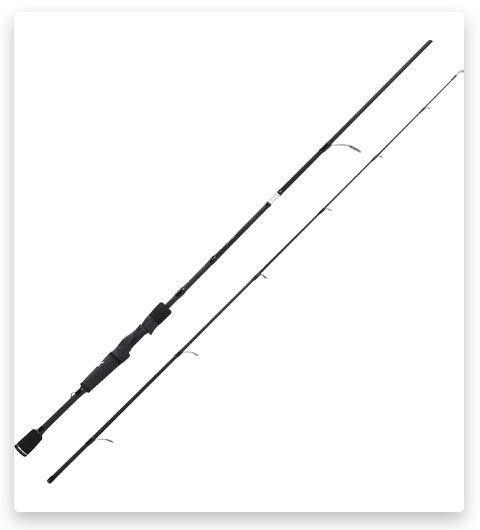 This is a high-quality rod that is made from IM6 carbon blanks. Accessories are available 5 'to 7'6" in length. It is ideal for inshore fishing as it resists corrosion and salt. The handle is made of SuperPolymer. This material is durable, slip-resistant, and provides comfort in a variety of conditions. This model has robust stainless steel guides with zirconium oxide rings. This allows you to make long and smooth casts.
10# Okuma Nomad Xpress Inshore Rod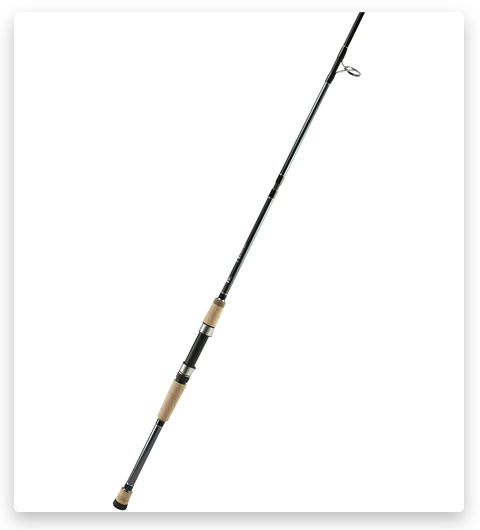 Okuma specialists create their art for those who seek to make the most of their experience and defining situation. This is one of the best spinning rods you can find for inshore fishing. It is 7 feet long and has a graphite construction. It is a portable and ultralight rod. You can fish up to 20 pounds without worrying about your rod warping or breaking. The location of the guide rings and their shape reduces the chance of braided cord tangling.
11# PENN Battalion Inshore Spinning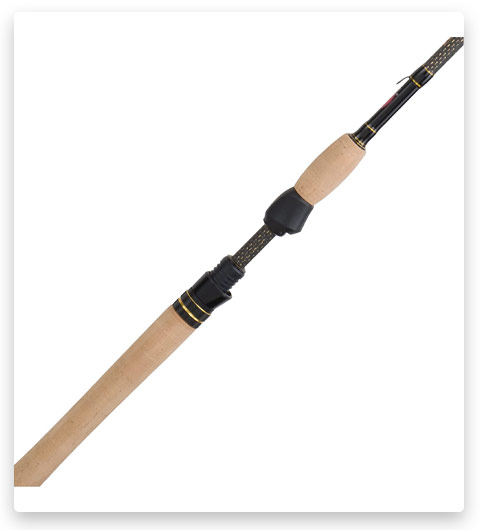 Penn Battalion is one of the most reliable inshore fishing rods known today. The one-piece rod blank is made using high-quality carbon and composite materials, ideal for fishing large marine fish such as tuna, cod. The model features high power, excellent sensitivity, and low weight. It has a Fuji reel seat and Fuji Aluminum Oxide Guides. The handle is made of EVA material. The sensitivity of the blank is so high that it is able to instantly transmit the fish bite.
🏆 Meet the Titans: Top 5 Inshore Rods to Elevate Your Fishing Game

To save you the hassle of sifting through countless options, we've curated a list of the top 5 inshore fishing rods in the market. These rods not only stand out for their superior features but have also garnered rave reviews from the angling community for their performance and reliability.
Rod A – The All-Rounder 🌐
Boasting a perfect balance of strength and sensitivity, Rod A is a top choice for any inshore angler. The high-quality construction ensures durability, while the light weight enhances casting accuracy. One thing to note, however, is its premium price tag – a worthwhile investment for the serious angler.
Rod B – The Durable Champion 🏋️
For those frequently braving saltwater environments, Rod B offers unmatched corrosion resistance. Its high-quality materials and top-notch hardware make it a long-lasting companion. Some users have reported a slightly stiff action, so it may be better suited to larger species.
Rod C – The Sensitivity Specialist 🔬
If you're all about feeling the slightest nibble, Rod C is for you. This rod's exceptional sensitivity does not compromise its strength, making it a powerful tool in your angling arsenal. Its lightweight design might require a bit of practice to handle heavier lures.
Rod D – The Budget-Friendly Beast 💰
Looking for top-tier performance without breaking the bank? Meet Rod D, an affordable yet feature-packed inshore rod. While it excels in most aspects, keep in mind that its durability might fall short when compared to pricier options.
Rod E – The Versatility Victor 🔄
With Rod E, catch everything from trout to snook with ease. Its design is truly versatile, handling a wide range of species and conditions. However, its versatility may come with a slight trade-off in specialized features, such as ultra-high sensitivity.
🔶Each of these rods offers something unique, so the best choice depends on your specific needs and preferences. 🎣
🎣 Unlock Your Rod's Full Potential: Pro Tips for the Savvy Angler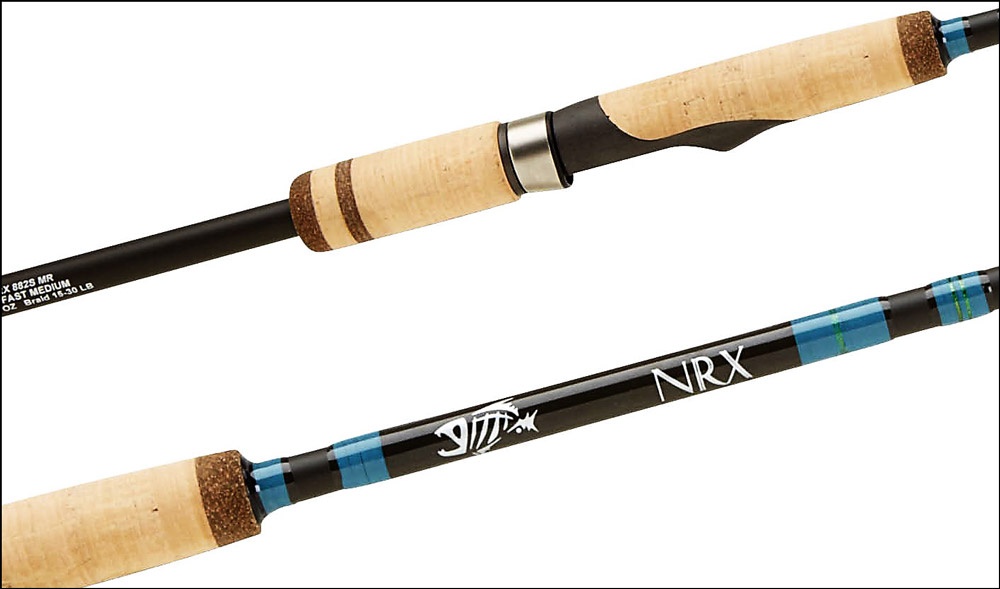 Maximizing the performance of your inshore fishing rod is not just about selecting the right rod – it's also about knowing how to use it effectively. Here are some expert tips to help you get the most out of your inshore rod:
Master Your Casting Technique 🎯
Your cast is your first interaction with the fish, and a precise cast can significantly improve your chances of a catch. With inshore rods, the aim is to cast longer distances with accuracy. For this, the overhead cast technique works best. Remember, it's all about the timing and fluid motion of your body rather than sheer force.
Choose the Right Tackle 🔗
Inshore fishing rods are versatile, but pairing them with the right tackle can elevate their performance. Light to medium-sized lures work best, and using a braided line can enhance the rod's sensitivity. Depending on the species you're targeting, adjust your bait and hook size accordingly.
Regular Maintenance is Key 🔧
Saltwater is harsh on fishing gear. Rinse your rod with fresh water after each use, ensuring you remove any salt residue from all parts, including the guides. Dry it properly before storage. Periodically check for any signs of damage and address them promptly to prolong the life of your rod.
Practice Makes Perfect 🔄
Every inshore fishing rod has its unique feel and performance. Spend time familiarizing yourself with your rod. Practice casting and reeling in different conditions. Over time, you'll gain an intuitive understanding of your rod's capabilities, which can significantly improve your angling success.
Safety First ⛑️
Remember, your inshore rod is a tool, and like any tool, it must be used safely. Be aware of your surroundings when casting to avoid any accidents. Also, ensure your hands are dry when handling the rod to prevent slips.
🔶By following these tips, you can unlock the full potential of your inshore fishing rod, ensuring not only a productive day on the water but also a more enjoyable angling experience. Keep casting, keep learning, and most importantly, keep fishing! 🐠
5️⃣ Essential Accessories for Inshore Fishing: Gear Up for Success 🎒
Apart from your inshore fishing rod, certain accessories can greatly enhance your coastal angling experience. These supplementary pieces of equipment are the secret sauce in a successful angler's recipe. Here's our top selection:
Line Types: The Silent Support 🧵
The type of line you use plays a critical role in inshore fishing. Braided lines are a popular choice due to their superior strength, thin diameter, and excellent sensitivity. Monofilament lines can also be useful due to their versatility and good knot strength.
Bait: Entice Your Catch 🐟
When it comes to bait, live options like shrimp, mullet, or pinfish can be extremely effective for inshore fishing. If you prefer artificial lures, topwater plugs, soft plastic jigs, or spoons can work wonders, depending on the species you're targeting.
Safety Equipment: Better Safe Than Sorry 🚑
Safety should always be your priority. A well-fitting life vest is a must-have, even if you're a strong swimmer. Other safety items like a whistle, flashlight, and a first-aid kit should be part of your gear. Remember, an accident-free fishing trip is a successful fishing trip.
Fishing Pliers: Your Handy Tool 🛠️
A good pair of fishing pliers is invaluable for inshore fishing. They can help you remove hooks, cut lines, and even assist in rigging. Choose one that's corrosion-resistant to withstand the saltwater environment.
Tackle Box: The Angler's Treasure Chest 💼
Organizing your tackle effectively can save a lot of time and trouble. A well-sorted tackle box with an assortment of hooks, lures, sinkers, and extra line is a must-have for any inshore angler.
Polarized Sunglasses: Eye on the Prize 😎
Seeing beneath the water surface can give you a significant edge. A good pair of polarized sunglasses reduces glare, allowing you to spot fish movements and underwater structures more easily.
🔶Remember, your inshore fishing rod is the star of the show, but these accessories are the supporting cast that can turn a good fishing trip into a great one. Happy casting, and tight lines! 🎣
🎯 Wrapping Up: The Journey Towards Inshore Fishing Mastery
As we've journeyed through the world of inshore fishing, it's clear that having a quality inshore fishing rod is not just a luxury – it's a game-changer. A well-chosen rod can transform your angling experience, opening the door to catching a broader range of species and enabling you to handle the unique challenges and rewards that inshore fishing offers 🐟🌊.
Your fishing rod is an extension of you, the link between you and the underwater world. Its features – whether it's the superior durability, heightened sensitivity, or the precise casting – all converge to give you the edge in every fishing escapade 🎣.
But remember, the rod is only as good as the angler who wields it. Investing time in choosing the right rod is crucial, but so is honing your skills and understanding your gear. From mastering your casting technique, maintaining your rod, to choosing the right accessories, every detail contributes to your success 🏆.
🔶So, embrace the journey, relish every moment on the water, and never stop learning. As you continue to grow and evolve as an angler, so will your catch. Here's to many days of fruitful fishing and the incredible adventures that await you! 🥂🚣‍♂️
🔔 Join the Conversation: Your Thoughts Matter!
Now that we've taken a deep dive into the world of inshore fishing rods, it's time to hear from you! Your experiences, insights, and questions enrich our community and help us all become better anglers 🎣🌐.
Have you tried any of the rods we mentioned? Do you have a personal favorite? Or perhaps you have some pro tips you'd love to share with fellow anglers? We're all ears! Leave your comments below and let's get the conversation started 💬👇.
If you have any questions or need further clarification on anything we've discussed, don't hesitate to ask. Remember, there's no such thing as a silly question in the quest to become a better angler 📚🎓.
And lastly, if you found this article helpful, why not share it with your fellow fishing enthusiasts? Who knows, they might find that golden nugget of information they've been searching for!
🔶Looking forward to hearing from you, and until then, tight lines and happy fishing! 🐠🏆🚣‍♂️
❓📚 FAQ: Inshore Fishing Rods
Tags: #best inshore fishing rods / #best inshore saltwater fishing rods / #best spinning rods for inshore saltwater fishing / #best saltwater inshore fishing rods / #best rods for inshore fishing / #best fishing rods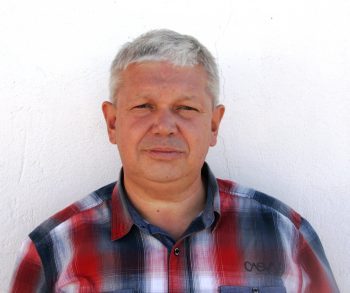 Sergio Smirnoff
Professional fisherman with 40+ years of experience.
Fishing and the ocean is a passion of my life. I am passionate about all kinds of sea fishing: fishing from the shore (spinning, float, baitcasting), from a boat, and spearfishing day and night.
I live in Tenerife (Canary Islands) for the last 10+ years and share my daily fishing experiences on my website. Many years of personal experience as a fisherman and the vast experience of my friends allow me to write professionally on any fishing topics (from choosing a flashlight and equipment to deep-sea fishing).
All of my advice is based on practical real-world experience and will be useful to both novice anglers and professionals.
Read more
about the author.
Affiliate Disclosure: FishReeler.com sometimes gets paid for listings, through sponsors or affiliate programs like Amazon, Ebay, Cabelas, Bass Pro Shop, Shimano, Daiwa, Rapala, Renn, Okuma, KastKing, etс. Clicking a link helps keep FishReeler.com free, at no extra cost to you!
About the author: Each article is verified by the fishing expert Sergio Smirnoff. The articles are written by professional and amateur fishermen with 20+ years of fishing experience.
Note: The views and opinions expressed in this article are those of the authors and do not necessarily reflect the official policy or position of any agency. The articles are for informational purposes only, share your opinions in the comments and join the fishing discussions, let's share our fishing experiences together!