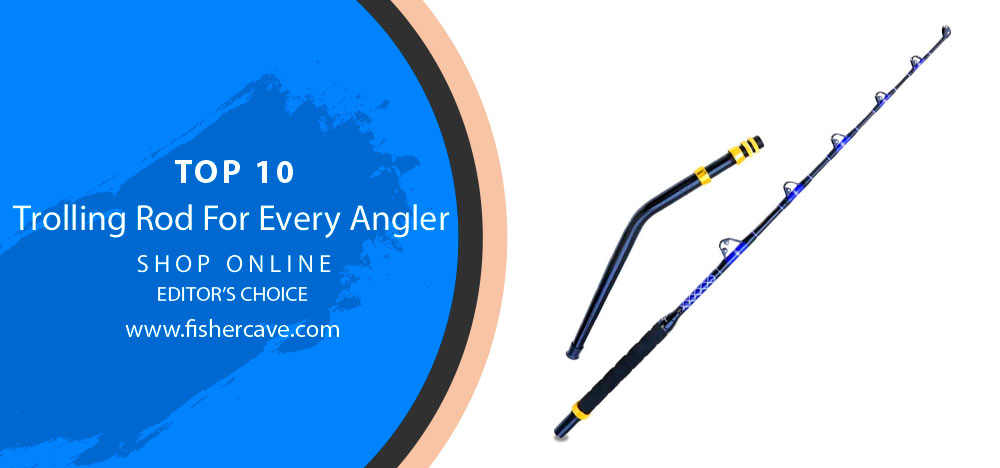 The Ideal Trolling Rod for Every Angler: Your Complete Guide to Upgraded Fishing Success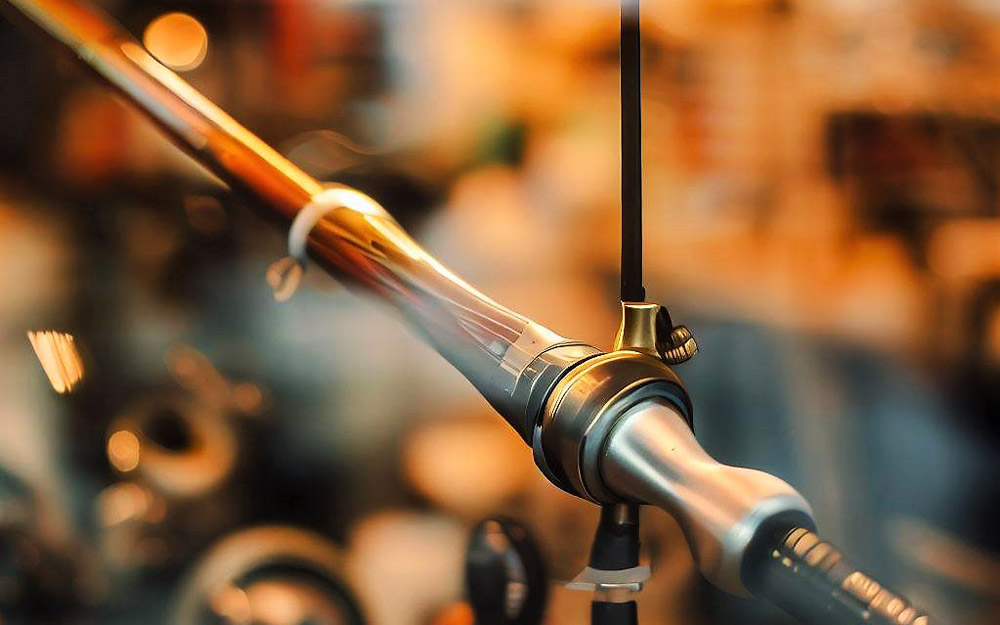 Setting the Hook: Why Your Trolling Rod Matters
The thrill of the chase, the strategic battle of wits and strength, the elation when you finally reel in that prized catch – there's no sport quite like fishing. But, ask any seasoned angler, and they'll tell you that the secret to their success isn't just the years of experience under their belt or their innate patience. It's their gear, more specifically – their trolling rod.
Our Mission: Finding Your Perfect Trolling Rod
As an expert angler would tell you, a fishing expedition can either be a glorious adventure or a fruitless endeavor, largely based on your choice of equipment. Central to this is the trolling rod, the backbone of your angling arsenal. In this article, our mission is simple – to guide you in finding the perfect trolling rod, one that enhances your fishing experience and bolsters your success in reeling in the catch you're after.
Navigating the Sea of Information: A Preview
This comprehensive guide will steer you through the importance of a well-suited trolling rod, delving into its anatomy to understand why and how each component matters. We will navigate through the various factors that influence your choice of a trolling rod, from skill level to target species, and from fishing environment to your budget.
Then, we'll review some of the best trolling rods on the market, segmented for beginners, intermediate, and advanced anglers, ensuring you find the perfect match. Lastly, because a trolling rod is an investment, we'll provide some useful tips on maintaining and caring for your rod to maximize its longevity. By the end of this journey, you'll be well-equipped to make an informed decision and land the big one on your next fishing expedition.
Understanding the Importance of a Good Trolling Rod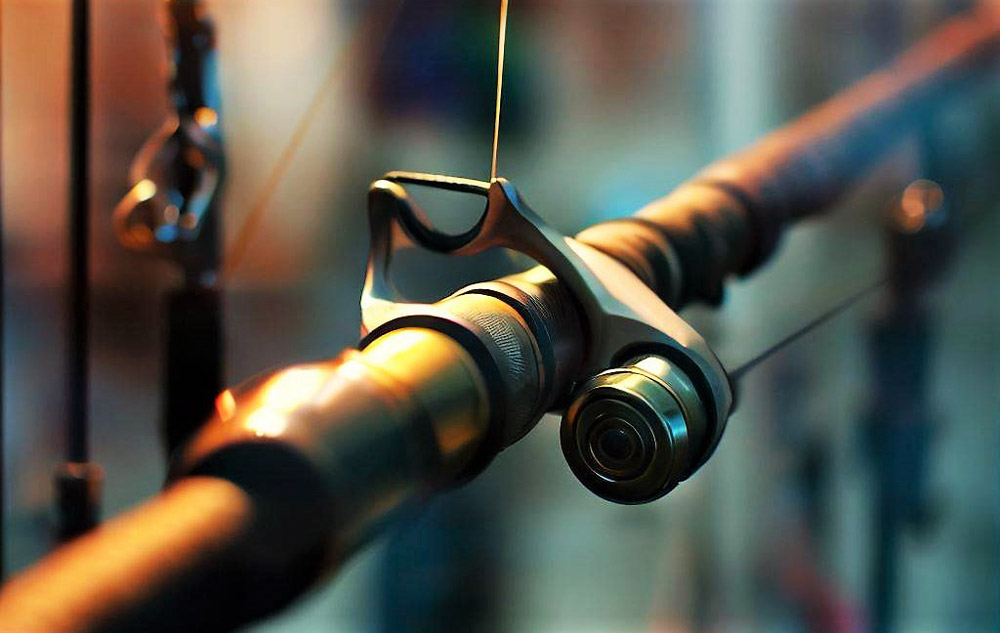 Unraveling the Art of Trolling: Back to Basics
Let's start with the fundamentals. Trolling is a method of fishing where one or more fishing lines, baited with lures or bait fish, are drawn through the water. This can be done by a moving boat, or by slowly winding in a line by hand. Trolling is used both in freshwater and saltwater environments and is a popular method to catch game fish such as salmon, mahi-mahi (dorado), and kingfish. It's an art of patience, technique, and strategy – where the fisherman becomes a puppeteer, making the lure dance and move to mimic a tempting meal for the fish.
The Unsung Hero: The Central Role of the Trolling Rod
The trolling rod plays a significant role in this performance. While the reel contains the line and controls its length and tension, it's the rod that becomes your direct line of communication with the underwater world. It transmits the telltale signs of a nibble or a bite, allows you to set the hook firmly, and gives you the leverage to reel in the fish against its will.
The trolling rod must be strong enough to handle the resistance of the water as the boat moves, as well as the strike and ensuing fight of a powerful fish. Simultaneously, it needs to be flexible enough to absorb the sudden shocks of a bite or a fish fighting on the line, preventing the line from breaking.
Tipping the Scales: How the Right Rod Elevates Your Fishing Game
The difference a good trolling rod can make is substantial. A well-suited rod will complement your fishing style and targeted species, maximizing your chances of success. For instance, a rod with a heavy power rating would be essential for reeling in large, strong species. Simultaneously, a rod with a slow action would be more appropriate for trolling with live bait, allowing the fish to take the bait and run before you set the hook.
A good trolling rod can make the difference between reeling in a trophy catch and telling a story about 'the one that got away.' It can mean less fatigue and more endurance on long fishing trips, and it can even extend the life of your fishing line and other gear.
In essence, the right trolling rod enhances your control, sensitivity, and precision, transforming a good angling experience into a great one.
Our Choice: TOP 11 Trolling Rods Review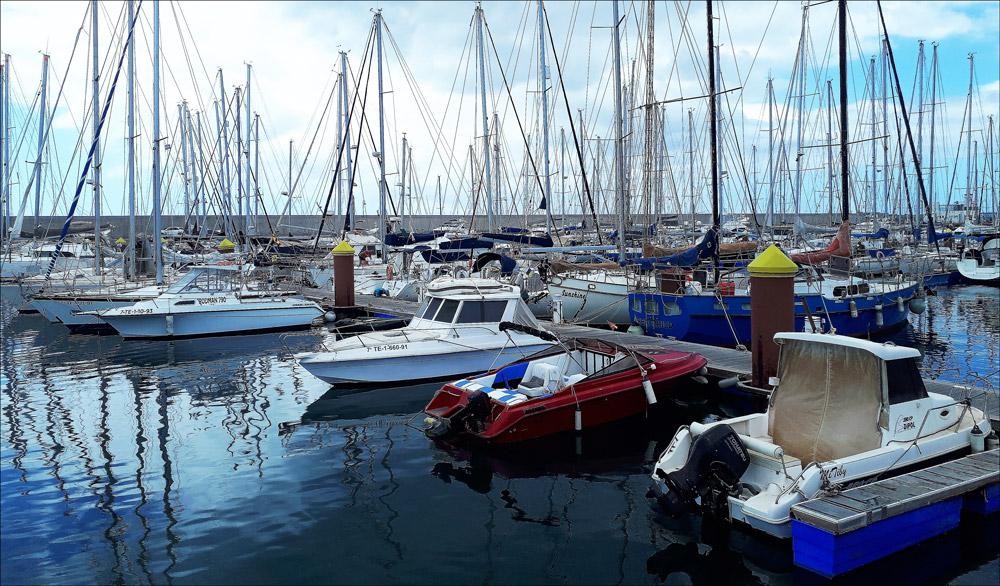 When it comes to finding the best trolling rod for your needs, there is no shortage of options available on the market. In order to help make the search a little bit easier, we've put together a list of our top-rated best trolling rods. Whether you're looking for a versatile rod that can handle multiple fishing applications or one designed specifically for trolling big baits in open water, we've got you covered. So, without further ado, let's take a look at some of the best trolling rods available today.
Fishing is an incredibly popular pastime enjoyed by people all over the world, and while there are many different types of fishing rods out there when it comes to trolling big baits in open water, nothing beats a good trolling rod. In this blog post, we'll take a look at some of the best trolling rods available today and provide you with all the information you need to make an informed purchase decision. Stay tuned!
A trolling rod is a long, light fishing rod used for trolling. Trolling is a technique used to catch fish by pulling a baited line behind a moving boat. A trolling rod is specifically designed for this type of fishing and is generally longer and lighter than other rods.
Trolling rods are often outfitted with baitcasting reels, which allow the angler to cast the bait farther away from the boat. They are also typically fitted with larger line guides, which help to reduce tangles when trolling through schools of fish.
1# Ugly Stik GX2 Spinning Pack Rod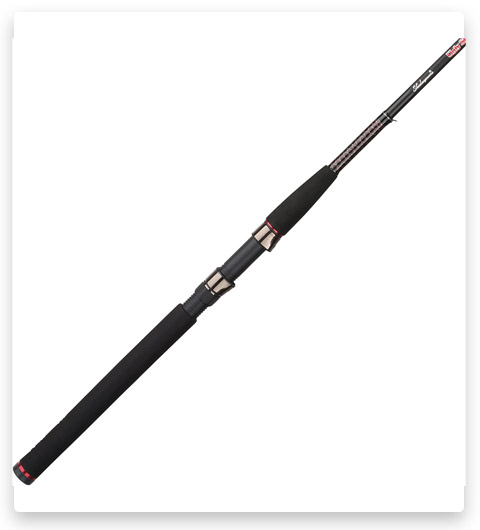 View on BassProShop View on Amazon
The Ugly Stik GX2 Spinning Pack Rod is a powerful yet accessible fishing rod designed to provide an ideal balance of sensitivity, strength, and durability. Whether you're a novice or a seasoned angler, this spinning rod stands up to the demands of diverse fishing conditions.
One of the highlights of this rod is its construction. The GX2 features Ugly Stik's Ugly Tech construction, which combines graphite and fiberglass to create a rod that is both lightweight and incredibly tough. This technology provides superior sensitivity, allowing anglers to detect even the subtlest bites, while still maintaining the strength to handle a hefty catch.
The rod is equipped with Ugly Stik's unique Ugly Tuff one-piece stainless steel guides. These guides are designed to be highly durable and resistant to corrosion, ensuring long-lasting performance even in challenging saltwater conditions. Their one-piece design means there are no inserts to pop out, and they can handle even the toughest, most abrasive lines.
The GX2 also features the iconic Ugly Stik Clear Tip design, providing increased sensitivity right at the tip of the rod where it's most needed. This design gives the rod an extra edge when it comes to detecting nibbles and bites, ensuring you never miss a catch.
The handle of the Ugly Stik GX2 Spinning Pack Rod is made from EVA material. This provides a comfortable grip that reduces fatigue during long fishing sessions and maintains a secure hold, even in wet conditions.
One of the defining features of the Ugly Stik GX2 Spinning Pack Rod is its four-piece design, which makes it exceptionally portable. It can be easily broken down for transport and then reassembled at your fishing spot. This makes it an excellent choice for backpacking trips, travel fishing, or just for keeping as a spare rod in your vehicle.
Finally, the Ugly Stik GX2 Spinning Pack Rod is versatile. It performs equally well in both fresh and saltwater environments, and its medium action makes it suitable for a wide range of fish species.
2# Penn Squall Lever Drag Conventional Reel and Fishing Rod Combo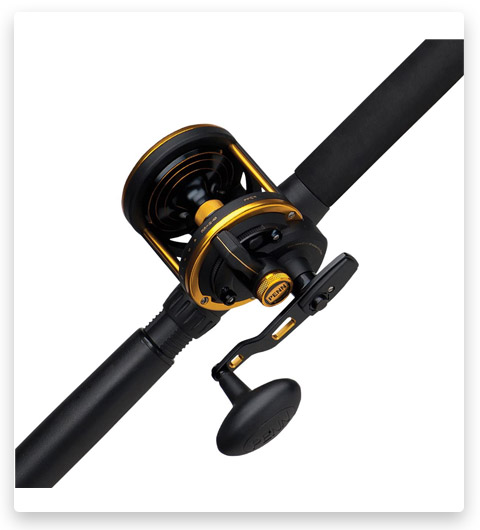 View on BassProShop View on Amazon
The Penn Squall Lever Drag Conventional Reel and Fishing Rod Combo is a premium quality fishing gear set that marries function and durability. Designed to meet the diverse needs of serious anglers, this combo provides an edge whether you're fishing offshore or near the coast.
The reel in this combo is the Penn Squall Lever Drag Reel, known for its performance and reliability. Crafted with a lightweight yet sturdy graphite frame and side plates, it's designed to withstand harsh saltwater conditions while reducing overall weight. The Dura-Drag system eliminates hesitation, even under extreme drag settings, ensuring smooth drag performance throughout the entire range.
This reel features a stainless steel main and pinion gear for enhanced durability. Its 5 stainless steel ball bearings offer smooth operation, and the instant anti-reverse bearing helps avoid back play. The gear ratio of 4.3:1 allows for a balance of speed and torque.
The rod included in this combo is made to pair perfectly with the Squall Lever Drag Reel. The rod blank is made from a composite of graphite and fiberglass, making it both lightweight and highly durable. This rod offers the sensitivity to feel light bites and the strength to reel in heavy fish.
It features a tubular glass blank construction for increased durability, along with stainless steel guides with aluminum oxide inserts. These materials ensure a smooth line flow while resisting wear from braided lines. The rod's EVA grips provide comfort during long fishing sessions and aid in maintaining a firm hold, even in wet conditions.
Together, the Penn Squall Lever Drag Reel and fishing rod make a well-balanced, high-performance combo. It is available in different sizes, ensuring there's a perfect fit for every angler, whether you're targeting small reef fish or battling larger offshore species. This combo embodies Penn's commitment to quality, offering anglers the performance they need for a successful day on the water.
No matter if you're a novice angler or a seasoned professional, the Penn Squall Lever Drag Conventional Reel and Fishing Rod Combo is a versatile choice that offers excellent value, lasting durability, and top-tier performance.
3# Shimano Tallus Trolling Fishing Rod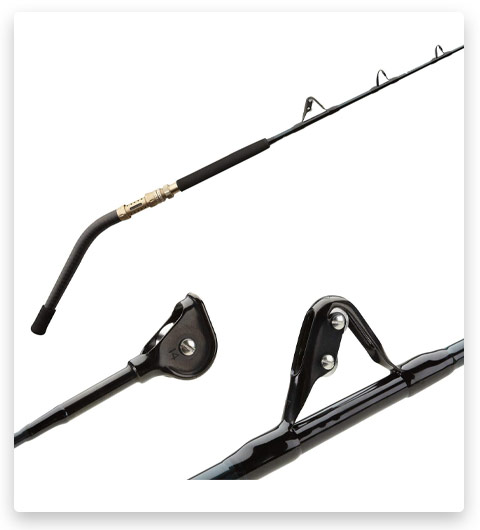 Looking for a fishing rod that's both lightweight and strong? Look no further than Shimano Tallus Fishing Rods. Made with a unique carbon butt section, these rods are incredibly light yet still provide the strength you need to pull in big fish.
Additionally, they feature an Aftco roller stripper and tip guide with Fuji Aluminum Oxide guides in between, making for a smooth, seamless experience. Plus, the EVA front grips are ergonomically designed for comfort and ease of use.
Whether you're an experienced angler or just getting started, Shimano Tallus Fishing Rods are the perfect choice for anyone looking for top-quality performance.
4# BERRYPRO Trolling Rod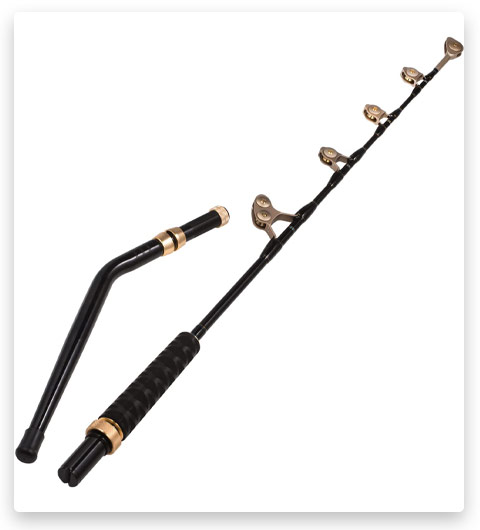 Welcome to the world of big game trolling with the BERRYPRO Bent/Straight Butt Trolling Rod. This professional-grade rod is designed for standup fishing in the toughest conditions, with the power and strength to handle fish like marlin, sailfish, tuna, barracuda, wahoo, king mackerel, mahimahi, and kingfish.
The solid E-glass composite blank offers incredible pulling power, while the PacBay Heavy Duty ER Roller Guides and SeaGuide BLRESG series make this one of the most durable and powerful trolling rods on the market. If you're serious about fishing, the BERRYPRO Bent/Straight Butt Trolling Rod is a must-have addition to your tackle box.
5# Okuma PCH-TRS-561MH PCH Trolling Rod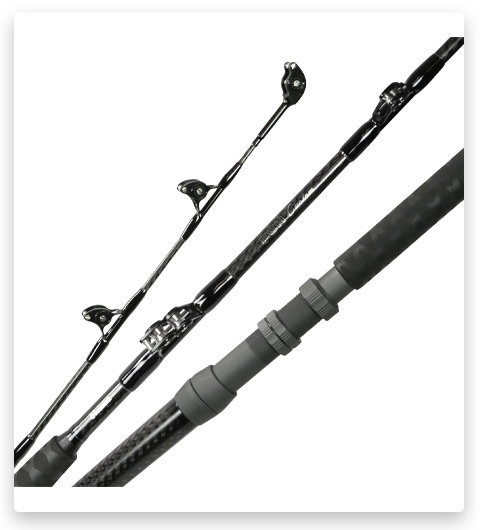 View on BassProShop View on Amazon
If you're looking for a versatile and affordable trolling rod, the Okuma PCH-TRS-561MH PCH Trolling Rod is a great option. This rod is made with advanced materials and features a dynamic design that makes it perfect for both freshwater and saltwater fishing.
With over 31 years of experience in making fishing equipment, Okuma knows how to deliver quality products that anglers can rely on. The PCH-TRS-561MH is perfect for those who want a versatile trolling rod that won't break the bank. Give it a try and see for yourself how Okuma's advanced technology can help you land the big one.
6# FISHAPPY Saltwater Offshore Trolling Fishing Rod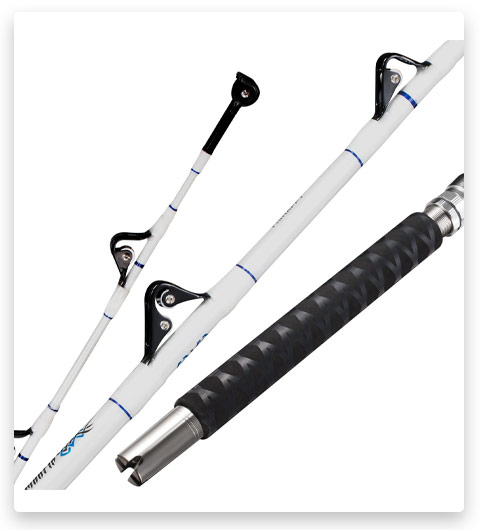 Do you love fishing? Do you love the thrill of the catch, the tug of the line, and the satisfaction of reeling in a big one? If so, then you need a FISHAPPY Saltwater Offshore Heavy Trolling Fishing Rod. This rod is designed for professional IFGA standup fishing and can tackle the toughest of fish like marlin, sailfish, tuna, barracuda, wahoo, king mackerel, mahimahi, kingfish, and shark.
The heavy-duty roller guides make it much more stronger and powerful when battling with big fish while the solid E-glass graphite composite blanks offer incredible pulling power. These trolling rods are available in different sizes to choose from so you can find the perfect one for your needs. With a FISHAPPY Saltwater Offshore Heavy Trolling Fishing Rod, you'll have a new perfect experience with these trolling rods.
7# Okuma Fishing Tackle BD-C-762MLa Freshwater Casting Rod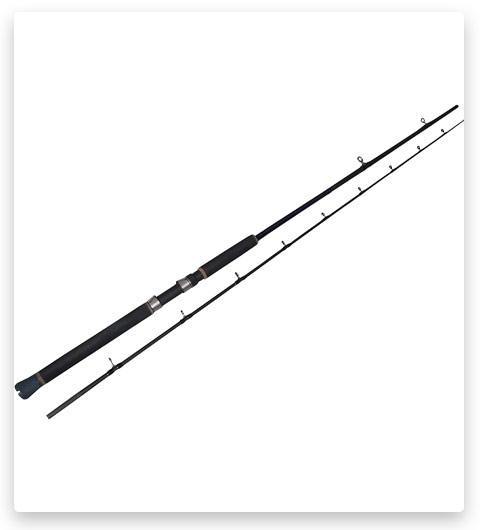 View on Amazon View on BassProShops
If you're looking for a versatile, high-performing trolling rod that won't break the bank, the Okuma Blue Diamond is a great option. This tough 2-piece carbon and glass blank can handle any fish you're looking to target, from kingfish and tuna to stripers and cobia.
The quality double-footed stainless steel guide frames and polished titanium-oxide inserts can take any amount of pressure without line stress, while the cushioned stainless steel hooded reel seat and non-skid rubber gimbal provide a comfortable and secure grip.
The EVA handle grips make it easy to hold on even when the action is intense, and the 1-year limited warranty gives you peace of mind. Whether you're an experienced angler or just getting into trolling, the Okuma Blue Diamond is a great choice.
8# Daiwa Seaborg Winthrop Dendoh Rod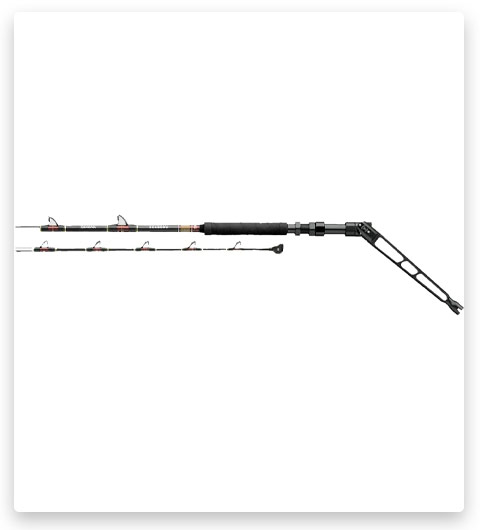 View on BassProShop View on Amazon
For anglers who want the best possible performance when fishing deep for swordfish, grouper, and rock cod, the Daiwa Seaborg Dendoh Standup Rod is an excellent choice. This powerful rod is built on Daiwa's reliable blank, and reinforced with X-45 Bias Carbon Technology to prevent twisting under load.
The Long Bent Butt handle section is anodized for durability and features a smooth end for use with recessed rod holders. The foregrip also has Daiwa's Ultra-Durable Wrapping for a secure hold.
Fuji stainless steel guides with polished SiC (silicon carbide) rings to ensure smooth line flow and rapid heat dissipation. This rod is ready for hard combat and features an all-aluminum, ball-bearing ALPS swivel reel seat.
9# Topline Tackle Deep Sea Trolling Rod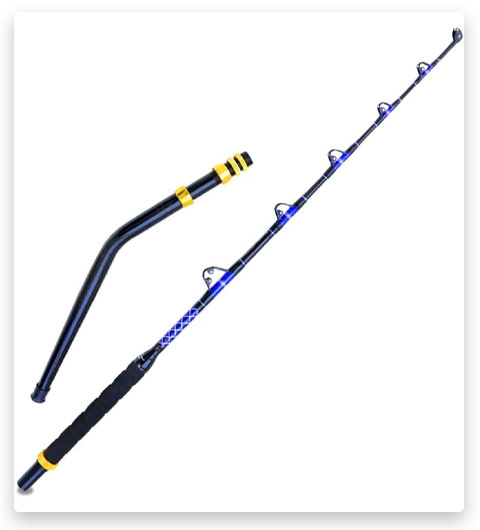 Introducing the Topline Tackle Deep Sea Trolling Rod! This premium quality fishing rod is perfect for anyone who loves to fish. The unique design allows you to reel in and release the line more freely, giving you a better fishing experience. The machined all-metal wheel seat keeps the reel in place for big game and the material is not corroded.
More durable, help you save the trouble of buying a new fishing rod repeatedly, and highlight wonderful quality. The heavy-duty guide pulley of a fishing reel has a bearing structure, roller guides allow you to thread the line onto the rod securely, but they don't put as much stress on the line as standard eyes. Roller guides work well for big fish that fight for a long time.
The aluminum bent butt handle and exquisite rod body make this an eye-catching piece of equipment that any fisherman would be proud to own. And finally, the glass graphite composite blanks give you a sturdy yet flexible rod that can handle anything you throw at it. So get out there and enjoy your time on the water with the Topline Tackle Deep Sea Trolling Rod!
10# EatMyTackle Roller Guide Boat Fishing Rod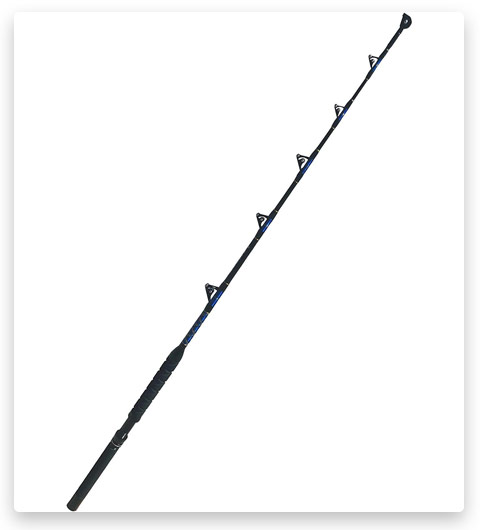 Looking to up your big-game fishing game? The EatMyTackle Roller Guide Boat Fishing Rod is just what you need. This 100-120 lb. class roller guide rod is 5'6″ in length, making it perfect for IGFA standup fishing. It features a classic design with CNC-machined aircraft alloy for strength, durability, and good looks. Plus, it has 6 super smooth rollers and high-quality hardware that will keep it looking good for years to come.
And with its anodized aluminum reel seat with royal blue and gold trim, cross-cut aluminum gimbal butt, and EVA foam grip, this rod is not only built to perform, but also looks great doing it. So whether you're a seasoned pro or just getting started, the EatMyTackle Roller Guide Boat Fishing Rod is the perfect choice for serious anglers who demand the best.
11# St. Croix Mojo Musky Trolling Rod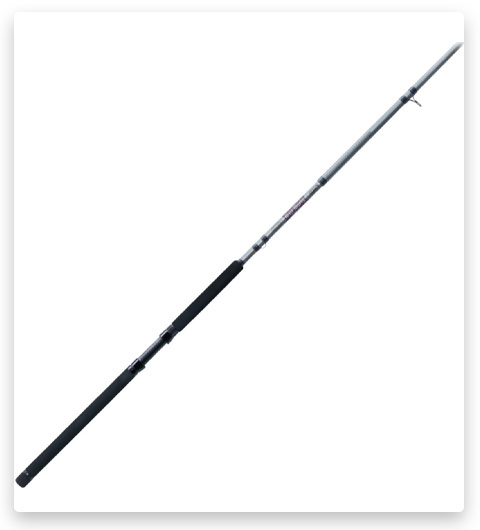 Looking to troll for muskies? The St. Croix Mojo Musky Trolling Rod is just what you need! This premium quality rod is built with a dynamic blend of SCII graphite and linear S-glass, making it incredibly strong yet still able to flex when needed.
It also features two coats of Flex Coat slow-cure finish for lasting durability, Sea Guide stainless steel guides with stainless steel rings, and a Fuji DPS reel seat. Plus, the EVA handles provide a comfortable and secure grip. Whether you're an experienced angler or just getting started, the St. Croix Mojo Musky Trolling Rod is an excellent choice for serious muskie hunters.
The Anatomy of a Trolling Rod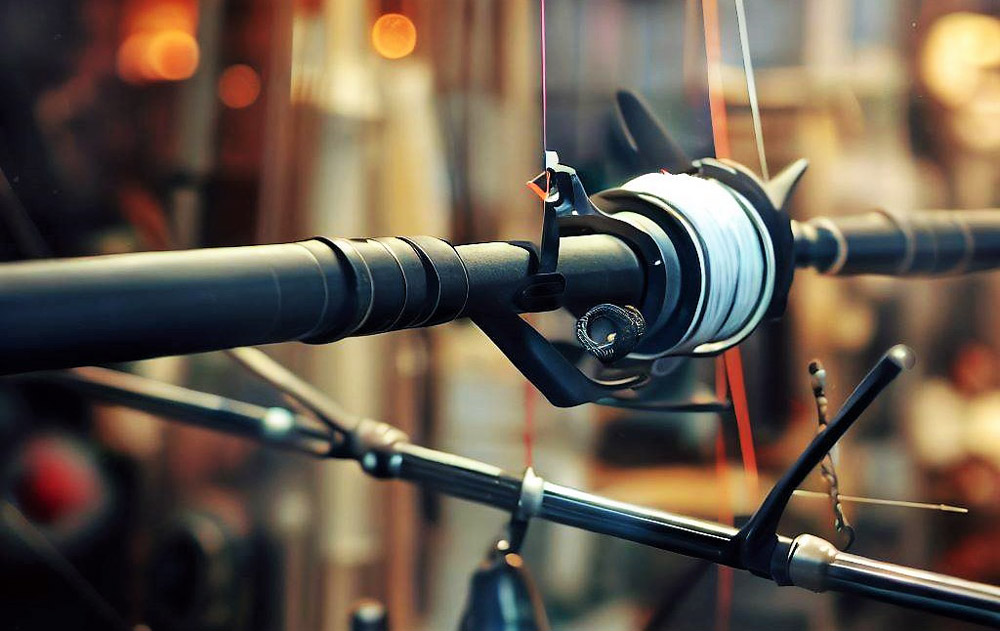 Decoding the Trolling Rod: An Inside Look at Its Components
Just like any specialized tool, a trolling rod is composed of several key components, each playing a crucial role in its overall performance.
🟨Handle: Typically made from cork or EVA foam, the handle is where you grip the rod. The comfort, shape, and size of the handle can significantly affect your fishing experience, especially during prolonged battles with strong fish.
🟨Reel Seat: The reel seat is where the fishing reel is mounted. It should be robust and sturdy to securely hold the reel in place, especially when dealing with a large, strong fish.
🟨Guides: These are the rings along the length of the rod that guide the fishing line from the reel to the tip. They help distribute the load evenly across the rod and help manage the line during casting and retrieval.
🟨Blank: The blank is the main body of the rod. Its construction determines many of the rod's characteristics, including its strength, flexibility, action, and sensitivity.
Tip: The tip of the rod is crucial for sensitivity. It's the first part of the rod to react when a fish bites, so it's typically made to be very sensitive while still maintaining strength.
Strength in Materials: What's Your Rod Made Of?
Trolling rods are commonly made from one of two materials: graphite or fiberglass, each having its advantages and disadvantages.
♊Graphite rods are lighter and more sensitive than their fiberglass counterparts. They allow you to feel even the smallest nibbles, making them a good choice for experienced anglers targeting elusive species. However, they tend to be more brittle and prone to breaking when subjected to high stress.
♊Fiberglass rods, on the other hand, are known for their robustness and flexibility. They can handle a lot of stress, making them perfect for targeting larger, stronger fish. The trade-off is that they are usually heavier and less sensitive than graphite rods.
Size Matters: How Length and Action Impact Your Catch
The length of a trolling rod typically ranges between 5.5 feet to 10 feet. A longer rod allows for farther casting and can absorb more force from a fighting fish, making it suitable for big-game fishing. Shorter rods provide more control and are easier to handle, which can be beneficial when fishing in confined spaces or targeting smaller species.
The action of a rod refers to where it flexes when under pressure. Fast-action rods flex near the tip, providing sensitivity and fast power for setting the hook. Medium-action rods flex near the middle, offering a balance between sensitivity and strength. Slow-action rods flex near the base, providing strength and endurance for fighting big fish.
Choosing the right length and action for your trolling rod depends on your target species, the fishing environment, and your personal fishing style.
Factors to Consider When Choosing a Trolling Rod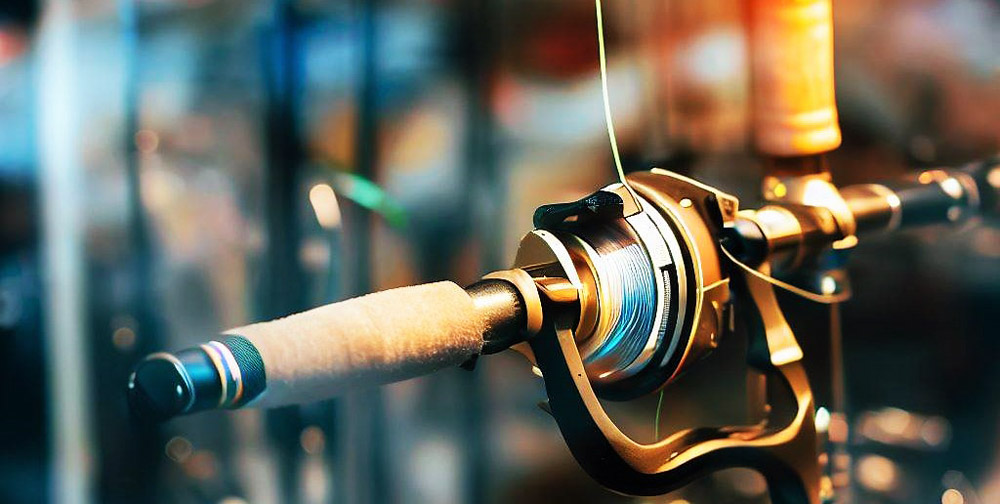 From Novice to Pro: How Skill Level Influences Your Rod Choice
The skill level of the angler plays a significant role in choosing a trolling rod. Novice anglers might prefer a rod that's easier to handle and forgiving, perhaps a medium-action fiberglass rod that balances sensitivity and strength. Such a rod would allow beginners to focus on learning the fundamentals of trolling without being overly complicated.
On the other hand, more experienced anglers might opt for a high-modulus graphite rod. This type of rod offers superior sensitivity, allowing seasoned anglers to detect subtle bites and better control their lure's action.
Species Specific: Targeting Your Rod to Your Prey
The type of fish you're targeting will heavily influence your choice of trolling rod. Larger, stronger fish will require a heavier power rod with more backbone to handle the fight. For example, if you're targeting species like marlin or tuna, you'll need a heavy-duty rod, preferably with fast action to maximize power and control.
On the other hand, if you're trolling for smaller species like trout or walleye, a medium or light power rod would be more appropriate. This would give you enough sensitivity to detect the lightest bite and enough strength to reel in your catch effectively. For successful fishing for big trophy fish, our fishing rod should be equipped with a powerful enough reel, preferably an electric fishing reel.
Water Worlds: How Fishing Environments Shape Your Rod Choice
Your fishing environment is another essential factor to consider. For instance, saltwater is corrosive, so if you're planning to fish in the ocean, you'll want a rod that's resistant to corrosion. Often, this means looking for rods with components like stainless steel guides and corrosion-resistant finishes.
On the other hand, if you're fishing in a lake or river, where casting distance might be less critical, you might opt for a shorter rod for better control and maneuverability. Additionally, in crowded fishing areas or areas with overhead obstacles, a shorter rod might be beneficial.
Casting a Wide Net: How to Balance Quality and Budget
Last but not least, your budget will also play a role in choosing a trolling rod. The price range for trolling rods can be quite broad, with high-end models costing several hundred dollars, while budget options can be found for under $50.
More expensive rods typically offer better performance and durability but don't assume that the most expensive rod is the best one for you. As a beginner, you might not need all the features of a high-end rod, and a well-chosen budget rod could serve you just as well.
Consider your needs, preferences, and the factors we've discussed to find the best rod within your budget. After all, the best rod for you is the one that suits your fishing style and helps you enjoy your time on the water.
Reviews of Trolling Rods for Different Anglers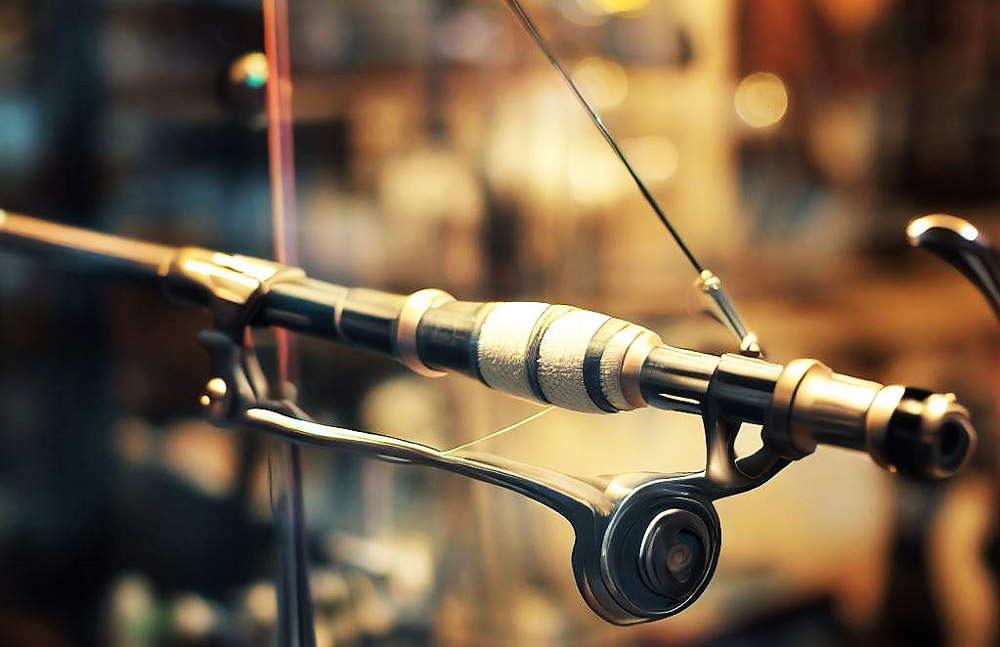 The Rookie's Best Friend: Top Trolling Rods for Beginners
The Ugly Stik GX2 Rod is an excellent choice for novice anglers. It has a medium-heavy power rating, perfect for handling a variety of fish sizes, and its medium action offers a good balance of sensitivity and strength. The rod is built from a combination of fiberglass and graphite, which ensures durability while keeping the rod lightweight and sensitive.
The Ugly Stik GX2 features one-piece stainless steel guides, which are robust and resistant to corrosion. The clear tip design adds extra sensitivity where it's most needed, and the EVA handle provides a comfortable grip.
The only con to this rod might be its lesser sensitivity compared to high-modulus graphite rods. However, for beginners, this won't be a significant issue. Priced under $50, it offers great value for money.
Leveling Up: The Best Rods for the Intermediate Angler
The Penn Squadron II Rod is a step up, suitable for anglers who have mastered the basics and are ready to advance their fishing game. It's built with a graphite composite blank, offering a good balance of sensitivity and strength. The aluminum oxide guides are perfect for both monofilament and braided lines.
The Squadron II comes in various power ratings and lengths, allowing you to choose the perfect one for your target species and environment. The rod is well-crafted, with a slick finish and comfortable EVA handles.
One potential downside could be that the reel seat might not fit all reel sizes. Priced between $50-$100, it's a solid mid-range option for the intermediate angler.
Gear for the Masters: Top-Notch Rods for Advanced Anglers
For advanced or professional anglers, the Shimano Tallus Blue Water Series Trolling Rod is a worthy investment. This rod is designed for saltwater big game fishing and comes in several models to handle anything from medium to very heavy power needs.
Built from Shimano's proprietary TC4 construction, the Tallus Blue Water Series offers extreme durability and strength while maintaining a lightweight. The rods feature aluminum oxide guides, a graphite reel seat, and an EVA grip handle.
While the Tallus Blue Water Series provides excellent performance, it comes with a high price tag of over $200. But for the serious angler, this rod's quality and performance will prove worth the investment.
Maintenance and Care of Trolling Rods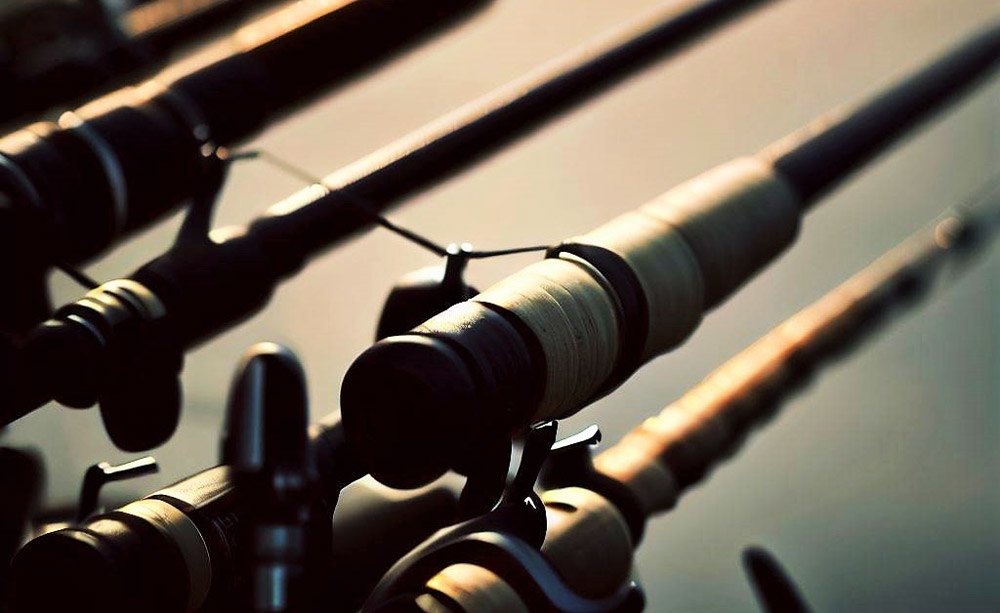 Clean Sweep: Keeping Your Trolling Rod in Pristine Condition
Proper cleaning is crucial to extend the lifespan of your trolling rod. After each fishing trip, rinse your rod thoroughly with fresh water, especially if you've been fishing in saltwater, as salt can cause corrosion over time. Use a soft cloth or sponge to remove any dirt or grime, and don't forget to clean the reel seat and the line guides, where small particles can accumulate.
For a more thorough cleaning, you can use mild soap. Just make sure to rinse it off completely to avoid leaving any residue. After cleaning, dry your rod thoroughly before storing it to prevent mildew or rust.
Safe Harbor: Proper Storage for Prolonged Rod Life
Correct storage of your trolling rod is equally essential. When not in use, store your rod in a dry, cool place away from direct sunlight, as UV rays can damage the rod material over time. Ideally, keep the rod in a vertical position, or hang it horizontally on a rack.
Avoid leaning the rod against a wall or stacking things on it, as this can cause the rod to bend or warp. For added protection, consider using a rod sleeve or a case, especially if you're storing the rod for an extended period or transporting it frequently.
DIY Rod Repairs: Quick Fixes for Common Issues
With regular use, your rod might need minor repairs from time to time. One common issue is a damaged line guide. If a guide gets bent, you can carefully straighten it using pliers. If it's broken or severely damaged, you'll need to replace it. Most tackle shops sell replacement guides and can even do the repair for you if you're not comfortable doing it yourself.
Another common issue is a loose reel seat. Depending on the design, you might be able to tighten it yourself, but in some cases, professional repair might be necessary.
Remember, preventive care is the best way to avoid needing repairs. By cleaning and storing your rod correctly and handling it with care, you can significantly extend its life and performance.
FAQ: Right Trolling Rod is a Game-Changer
Conclusion: Fishing for the Perfect Trolling Rod
Trolling rods come in all shapes and sizes, but the best trolling rod for you will ultimately depend on what type of fishing you plan to do. We've provided a list of the best trolling rods based on consumer reviews and our own findings, as well as a buyer's guide to help you make the most informed decision possible. So whether you're looking for a heavy-duty muskie rod or something more suited for smaller fish, we have you covered.
Reeling it All In: Why the Right Trolling Rod Matters
Choosing the right trolling rod is a crucial part of every successful fishing adventure. From understanding the fundamental role a trolling rod plays in fishing, to appreciating its anatomy and how various materials, lengths, and actions can affect your fishing success, you are now well-equipped to make an informed decision. With considerations such as skill level, target species, environment, and budget, you can select the ideal rod tailored to your specific needs.
Setting Sail: Inspiring Your Next Fishing Journey
We hope this guide not only helps you find your perfect trolling rod but also enhances your overall fishing experience. Remember, the joy of fishing comes not only from the catch but also from the harmony between the angler, the rod, and the water.
Join Our Crew: Share Your Thoughts and Questions
We invite you to put this knowledge into practice in your next fishing adventure and encourage you to share your experiences. Which rod did you choose and why? How did it improve your fishing? What challenges did you face, and how did you overcome them? Your experiences and insights are valuable and could help other anglers in their journey. So please, leave a comment, ask a question, or simply share your story. After all, fishing is not just a hobby, it's a community.
References
For the article, I've drawn from general knowledge and publicly available information up to my last training cut-off. If you'd like to dive deeper into the topic, I would suggest checking out the following resources:
Websites of popular rod manufacturers like Ugly Stik, Penn, and Shimano to learn more about the specifics of each rod.
Online angling forums or communities where anglers share their personal experiences and recommendations.
Books on angling techniques and equipment, such as "The Complete Book of Fishing Knots, Leaders, and Lines" by Lindsey Philpott, or "The Orvis Guide to Beginning Fly Fishing" by Tom Rosenbauer.
Fishing gear reviews on websites like OutdoorGearLab, Wirecutter, or Field & Stream.
Remember, the information I provided should be used as a starting point. Personal experiences can vary significantly, so it's always a good idea to seek advice from various sources, including local fishing experts and shops.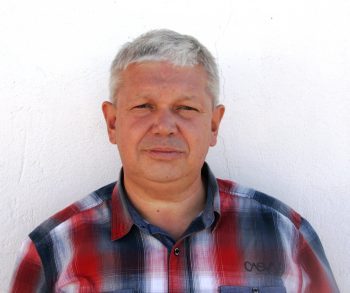 Sergio Smirnoff
Professional fisherman with 40+ years of experience.
Fishing and the ocean is a passion of my life. I am passionate about all kinds of sea fishing: fishing from the shore (spinning, float, baitcasting), from a boat, and spearfishing day and night.
I live in Tenerife (Canary Islands) for the last 10+ years and share my daily fishing experiences on my website. Many years of personal experience as a fisherman and the vast experience of my friends allow me to write professionally on any fishing topics (from choosing a flashlight and equipment to deep-sea fishing).
All of my advice is based on practical real-world experience and will be useful to both novice anglers and professionals.
Read more
about the author.
Affiliate Disclosure: FishReeler.com sometimes gets paid for listings, through sponsors or affiliate programs like Amazon, Ebay, Cabelas, Bass Pro Shop, Shimano, Daiwa, Rapala, Renn, Okuma, KastKing, etс. Clicking a link helps keep FishReeler.com free, at no extra cost to you!
About the author: Each article is verified by the fishing expert Sergio Smirnoff. The articles are written by professional and amateur fishermen with 20+ years of fishing experience.
Note: The views and opinions expressed in this article are those of the authors and do not necessarily reflect the official policy or position of any agency. The articles are for informational purposes only, share your opinions in the comments and join the fishing discussions, let's share our fishing experiences together!