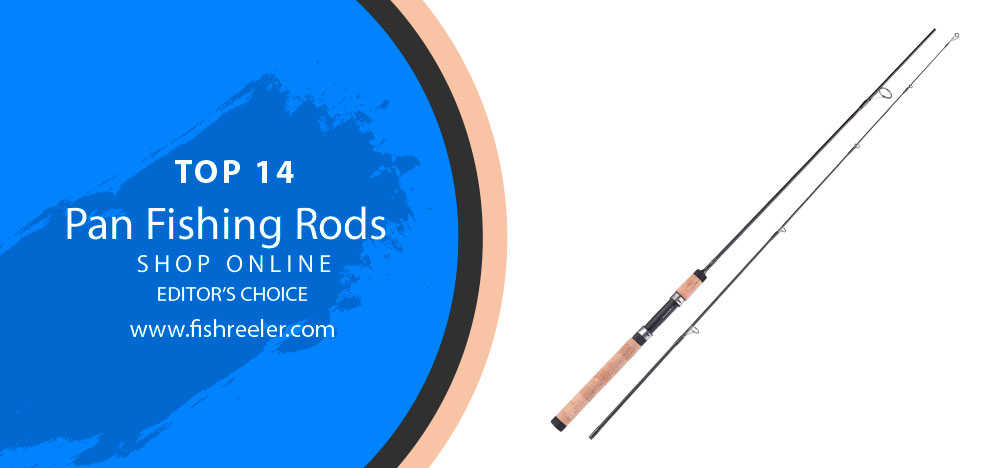 Mastering the Art of Panfishing: The Ultimate Guide to Choosing the Perfect Rod
🎣Hooked for Life: My Love Affair with Fishing
Ever since I first felt the exciting tug of a fish on my line as a child, I've been enamored with fishing. The tranquil environment of the water, the anticipation of the catch, and the sheer thrill of landing a fish—it was as though I had found a secret, peaceful corner of the world. Each fish I caught told a new story, and the rod became my pen.
🐠Panfishing: A Hobby That Casts a Spell
One particular chapter in my angling life revolves around panfishing. Small yet spirited, panfish capture the very essence of why I love fishing. It's not just about the catch—it's about the chase, the strategy, and connecting with nature in a playful, often challenging pursuit. Be it a colorful sunfish, a feisty crappie, or the ever-popular bluegill, panfishing offers an accessible yet incredibly rewarding experience that can be enjoyed by both beginners and seasoned anglers.
🎯The Journey Begins: Choosing Your Perfect Panfish Rod
Now, if you're considering joining the panfishing club or are already a member looking to level up your game, you're in the right place. In this article, I aim to be your trusted guide to choosing the perfect fishing rod for panfishing. 📝✅
From the core components of a fishing rod and how they influence your fishing experience, to the top recommended rods for panfish, along with expert tips and tricks—this comprehensive guide covers it all. So, tighten your drag and let's dive deep into the fascinating world of panfishing! 🌊👇
🔶Remember, the right rod can make a good fishing day unforgettable. And with panfishing, the journey is just as important as the destination. So let's start this incredible journey together. 🛶🌟
🌟What's the Catch? The Unique Charm of Panfishing
Panfishing holds a special allure, a magic that's hard to replicate. Part of its charm lies in the simplicity and accessibility. Whether you're a first-timer, a weekend angler, or a seasoned pro, panfishing presents the perfect blend of challenge and fun.
🔶Unlike some of the more daunting species targeted by anglers, panfish are generously distributed and incredibly varied. But don't be fooled by their abundance or small size. The fight these little dynamos put up is truly unmatched, providing a thrill that keeps anglers coming back time and again. It's not just fishing; it's an adventure packaged into a vibrant, palm-sized creature. 🐟💪
📖Meet the Stars: Common Types of Panfish
When we talk about panfish, it's not just one species we're referring to. It's a delightful array of fish, each with its own unique characteristics. Here are some of the common types:
Bluegill (Lepomis macrochirus): Known for their distinct coloring and shape, bluegills are the quintessential panfish and a favorite among anglers.
Crappie (Pomoxis spp.): These speckled beauties come in black and white varieties, and are prized for their size and taste.
Sunfish (Lepomis spp.): This group includes several species, such as the longear sunfish and pumpkinseed, both popular for their vibrant colors.
Perch (Perca spp.): Yellow perch are particularly popular panfish, known for their distinctive stripes and delicious flavor.
😌The Joy of the Catch: Why Panfishing Captivates Hearts
There's an unmatched satisfaction derived from panfishing. The moment your bobber dips underwater, indicating a catch, your heart skips a beat in excitement. Whether it's the quick reflexes required to hook a curious bluegill or the patience needed to reel in a crappie, each experience sharpens your skills and deepens your connection with nature.
Panfishing also brings us closer to our communities, as these fish often inhabit local waters. It's a hobby that encourages sharing—sharing spaces, experiences, and tales of the one that got (or didn't get) away. It fosters a sense of camaraderie and passion, cementing panfishing as not just a hobby, but a way of life. 🏞️💖
🔶Every angler has their own reason for loving panfishing. Mine? The moment I release a catch back into the water, only to have it return with a bigger, feistier challenge. It's an ongoing dialogue between me and the water, the fish, the rod—a dialogue I cherish, and one I invite you to experience. 🎣🌊💌
📚From Handle to Tip: Demystifying the Fishing Rod
Before we dive into the specifics of a panfish rod, let's unravel the mystery of the fishing rod itself. A rod might seem like a simple tool, but it's a well-orchestrated ensemble of various parts, each playing a crucial role. Here are the key components of a fishing rod, from butt to tip: 🎣🔎
Butt/Handle: This is where you hold the rod. It's designed for a comfortable grip and is usually made of cork or EVA foam.
Reel Seat: This is where the reel is attached. It should firmly hold the reel in place and provide easy access to the handle.
Rod Blank: The main part of the rod, it's usually made of graphite or fiberglass. Its flexibility and strength determine how the rod performs.
Guides: These are the rings that line the rod, guiding the line from the reel to the tip.
Tip: The end of the rod, it's usually the most sensitive part, allowing you to detect even the slightest bites.
🔶Understanding these elements will help you choose the right rod and also maintain it properly for a long lifespan. 🛠️👍
🎯Why Details Matter: How Rod Features Shape Your Fishing Experience
A fishing rod isn't a one-size-fits-all tool. Different types of fishing call for different features. Here are some crucial rod characteristics and how they affect your fishing experience:
Length: A longer rod allows for longer casts and better line control, while a shorter rod offers more power for reeling in your catch.
Material: Rods made from graphite are sensitive and lightweight, ideal for detecting subtle bites. Fiberglass rods, on the other hand, are tougher and more durable, suitable for bigger, stronger fish.
Power: Also known as rod weight, it refers to how much force it takes to bend the rod. Lighter power rods bend easily and are ideal for smaller fish, while heavier power rods are suitable for larger fish.
Action: This refers to where the rod bends. Fast action rods bend at the top third or less of the rod, offering more sensitivity and quicker power for setting the hook. Medium or slow action rods bend more towards the base, providing a greater casting distance.
🔶These features form the basis of how your rod performs. In our next section, we'll explore how these details shape the perfect rod for panfishing. 🏹🐟🎉
🎦Video YouTube: The Best Rod, Reel and Line for Panfish
Best Pan Fishing Rods Review
Fishing is a great way to relax and enjoy the outdoors. If you're looking for a new hobby, fishing may be the perfect activity for you. In order to have a successful pan fishing experience, you need to have the proper equipment. In this blog post, we will discuss some of the best pan fishing rods on the market. We will also provide a buyer's guide to help you choose the right rod for your needs. So, whether you are a seasoned fisherman or just getting started, read on to learn more about pan fishing rods!
1# St. Croix Panfish Series Spinning Rod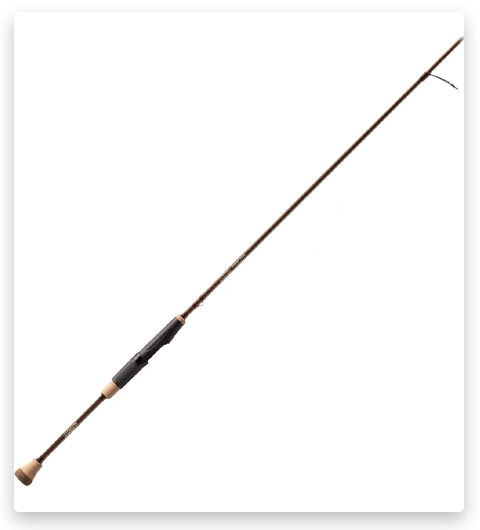 Looking for a professional-grade panfish rod? Look no further than the St. Croix Panfish Series Spinning Rod. This finely crafted rod has been reengineered with SCII carbon fibre to deliver precision actions and is outfitted with top-quality components, including Sea Guide Atlas performance guides and a PVD-coated tiptop. The cork handle provides a comfortable grip and the manufacturer's 5-year warranty ensures long-lasting use.
2# Bass Pro Shops Panfish Elite Spinning Rod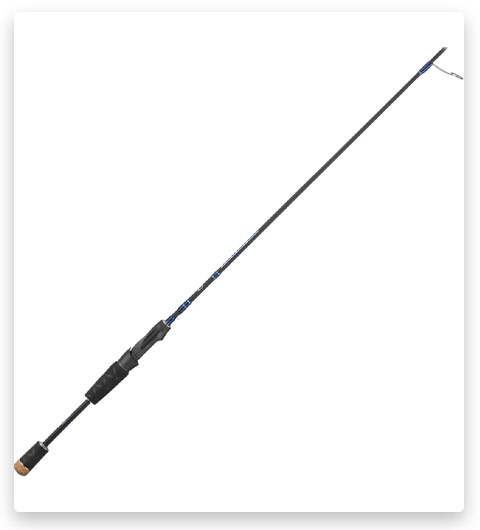 3# Ugly Stik Elite Spinning Rod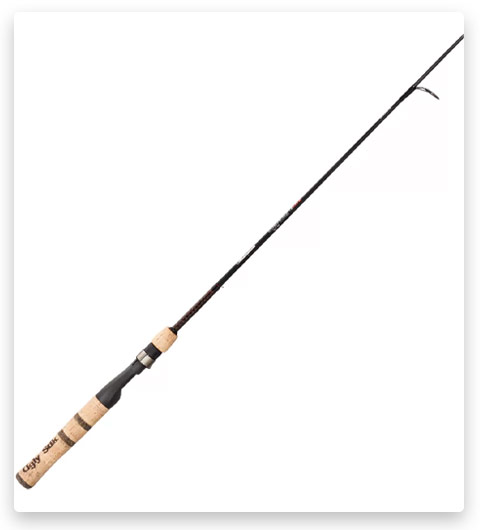 The Ugly Stik Elite Spinning Rod is perfect for serious anglers who demand the very best. With 35% more graphite than the GX2, this rod delivers incredible strength and reliability. The exposed blank style reel seat ensures a solid connection between you and your bait, while the ugly Tuff 1-piece guides provide maximum durability. And thanks to the clear Tip fibreglass tip, you can always be sure of a good bite. Finished with premium cork grips, the Ugly Stik Elite Spinning Rod is comfortable to use even in wet conditions.
4# St. Croix Premier Series Spinning Rod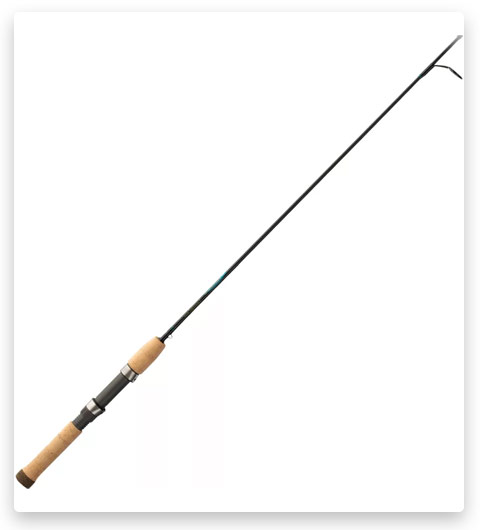 The Premier spinning rod is perfect for anglers who demand the highest quality and performance from their gear. Featuring SCII graphite blanks, aluminium oxide guides, and Fuji reel seats, this rod is built to perform like a custom stick. And with its lightweight and fast action, it's easy to handle and delivers crisp, clean casts every time.
5# Shakespeare Catch More Fish Spincast Rod and Reel Combo for Panfish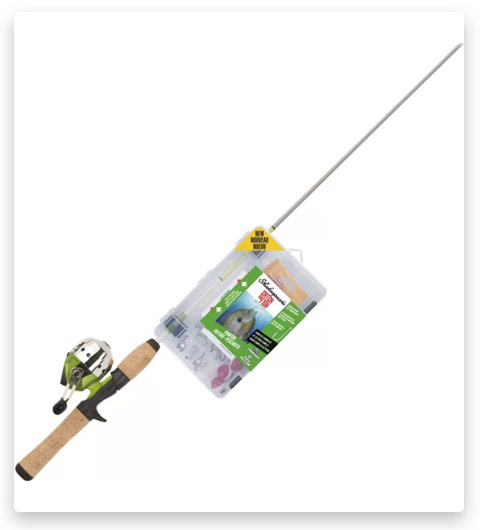 The Shakespeare Catch More Fish Spincast Rod and Reel Combo for Panfish make it easy for beginning anglers to catch more fish. This combo comes with a complete setup including a rod, reel, and specially chosen tackle. The 04-6″ ultra-light rod is perfect for panfish, while the 06-size spin cast reel is pre-spooled with 4-lb. Stren mono line. The tackle box is preloaded with proven Powerbait lures, as well as an informative rigging guide.
6# St. Croix Avid Series Spinning Rod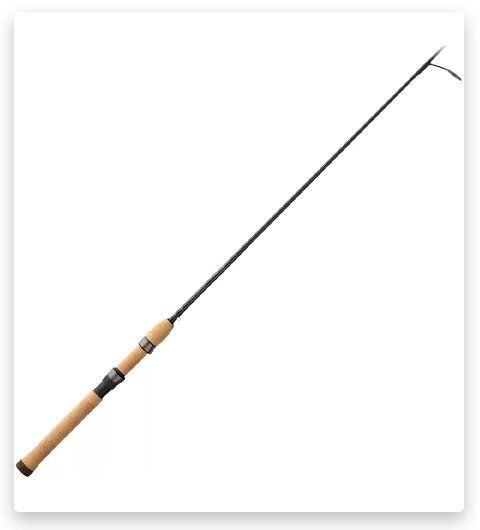 Looking for a high-quality spinning rod that feels weightless in your hand? Look no further than the St. Croix Avid Series Spinning Rod. Featuring SCIII graphite blanks, black-framed Fuji Alconite Concept guides, and Fuji reel seats, this rod is built to perform. And with a Manufacturer's 15-year transferrable warranty, you can rest assured that it will last for years to come. So don't wait any longer – order your St. Croix Avid Series Spinning Rod today!
7# Pflueger Trion Spinning Combo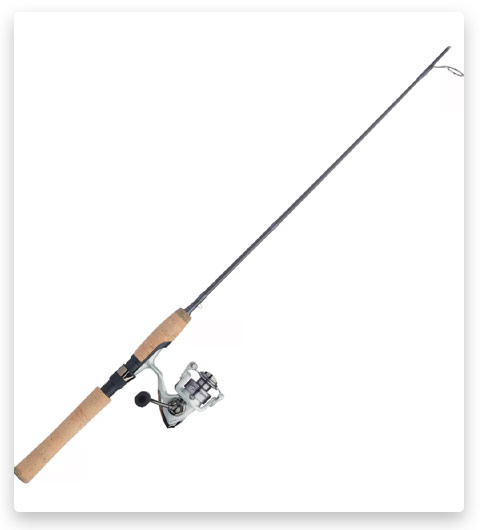 The Pflueger Trion Spinning Combo is perfect for anglers who demand the best in terms of performance and durability. The reel features a double-anodized machined aluminium spool, sure-click bail, and an anti-twist titanium bail roller for smooth operation. Additionally, the 7-bearing system ensures smooth retrieves, while the instant anti-reverse prevents fish from escaping. The multi-disc stainless steel and oiled felt drag system provides smooth drag even under heavy loads, while the aluminium handle with a soft-touch knob ensures comfortable use. The rod is constructed from a rugged, lightweight IM6 blank and features stainless steel guides and inserts for durability. The top-grade cork handle provides a comfortable grip.
8# Frabill Panfish Popper Ice Fishing Spinning Combo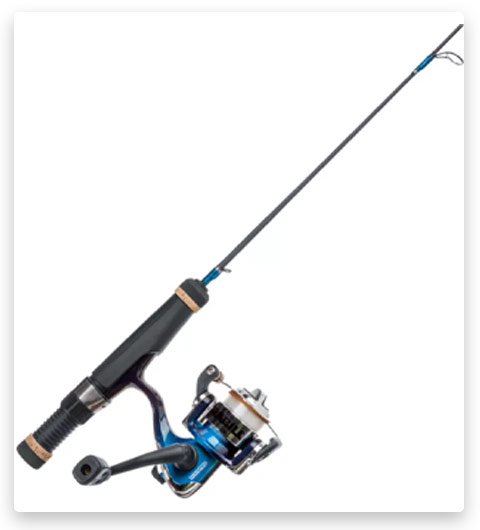 The Panfish Popper Ice Fishing Combo is perfect for anglers looking for a quality, durable setup that can handle even the smallest panfish. The combination of a solid composite blank and lightweight ice guides makes it easy to reel in your catch, while the ultra-sensitive spring bobber ensures you never miss a bite.
9# G.Loomis Classic Trout Panfish Spinning Rods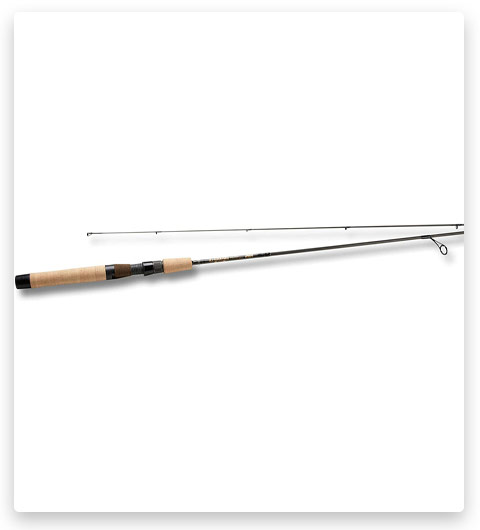 Introducing the G.Loomis Classic Trout Panfish Spinning Rods. These rods have been specially developed for trout fishing, with a fast tip for ultimate control. Their proprietary fibre blend ensures durability and sensitivity, while Fuji, one-foot aconite guides provide smooth action and consistent performance. Cork and foam handles offer a comfortable grip, even when wet. Whether you're a beginner or a seasoned pro, these rods will help you land more trout than ever before.
10# Okuma Celilo Graphite Lightweight Ultra Light Trout Rods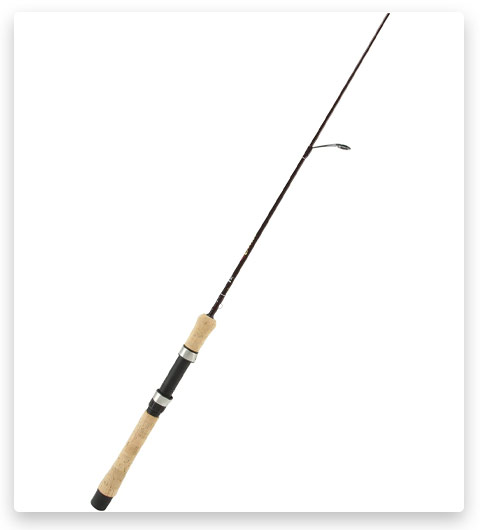 Okuma Celilo Graphite Lightweight ultralight trout rods are made from the highest quality materials and are ideal for indoor and outdoor use. Made in China, these rods feature delicate graphite blank construction and alumina guide inserts for added durability. The hooded stainless steel reel seat and high-quality cork grips provide a comfortable grip for both the front and rear. Whether you're a beginner or a seasoned pro, these rods are perfect for fishing enthusiasts of all levels.
11# Temple Fork Outfitters TFO Trout Panfish Spinning Rod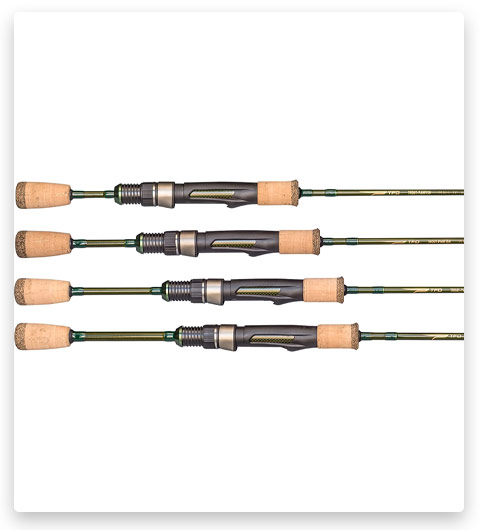 Temple Fork Outfitters TFO 7ft L Trout Panfish Spinning Rod is perfect for professional anglers. This fast action rod is designed for trout and panfish and features a cork handle and skeletal reel seat. The carbon fibre insert provides strength and stability, while the half-wells handle ensures a comfortable grip.
12# Jenko HyperSense Panfish Rod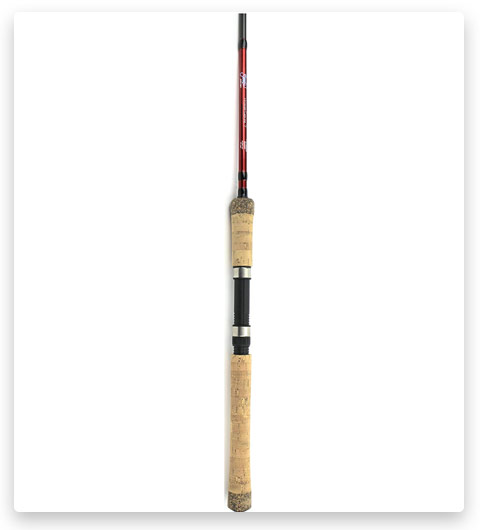 Looking for the perfect rod to help you land those big bass? Then check out the Jenko HyperSense panfish rod. The cork handle provides unbeatable comfort and grip, while the super sensitive blank ensures you feel even the smallest bite. The durable guides can take any abuse you throw at them, and the overall build quality is second to none. So don't wait any longer, pick up a Jenko HyperSense today and see what you've been missing!
13# Sougayilang Fishing Rods Graphite Lightweight Ultra Light Trout Rods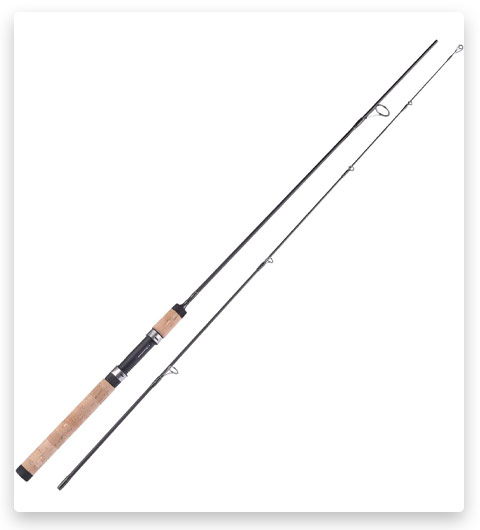 The Sougayilang Fishing rod is designed with sensitivity and security in mind. The hybrid design of the composite graphite blanks provides anglers with unmatched sensitivity, while the cork handles offer added comfort and grip. The ultra-light trout rods are perfect for anglers of all ages and levels of experience, and the stainless steel guides with inserts provide reliable and durable performance.
14# Dobyns Rods Sierra Trout & Panfish Series Spinning Rods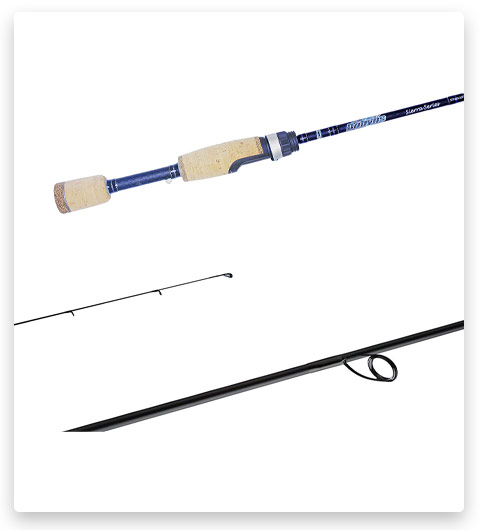 The Dobyns Sierra Trout and Panfish Series Spinning Rods are perfect for anglers who demand the very best. These rods feature high modulus graphite blanks for exceptional strength and sensitivity, Sea Guide's XO guides for maximum durability and smoothness, and Fuji reel seats for a solid connection between you and your reel, Kevlar wrapping for added strength, and balanced and splined blanks for truly amazing performance. Additionally, the Portugal cork–split handle designs provide superior comfort and grip, while the solid carbon tip sections enhance sensitivity and add even more strength to these already impressive rods.
🔎Size Matters: Identifying the Ideal Rod Length for Panfish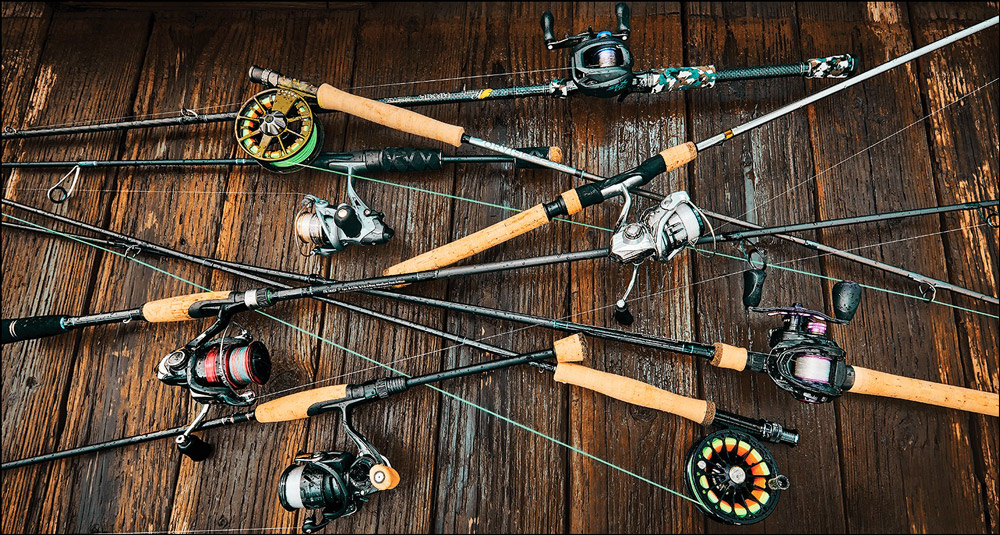 When it comes to panfishing, precision, control, and sensitivity are key, and your rod's length plays a pivotal role in ensuring these. A rod between 5 to 7 feet long is typically ideal for panfishing.
Shorter rods within this range (5-6 feet) offer more control, making them perfect for casting in tight spaces or for young or beginner anglers. On the other hand, a slightly longer rod (6-7 feet) provides a greater casting distance, useful when fishing from the shore or targeting panfish in deeper water. 📏🎣
🌊Feel the Thrill: The Role of Rod Action and Power in Panfishing
Rod action and power are critical when chasing panfish. A light to medium-light power rod is generally the sweet spot for panfishing. This provides the necessary sensitivity to feel the light bites of panfish while having enough backbone to reel them in. 🪄💪
As for action, a fast action rod is usually the go-to for panfishing. With the bend concentrated near the tip, you can easily feel the panfish bite and quickly respond, ensuring more successful hook sets. 🎯🐠
✨A Cut Above: Material and Build Quality in Panfish Rods
The material of your rod largely determines its performance and durability. Graphite rods, being lightweight and sensitive, are a fantastic choice for panfishing. They allow you to feel the slightest nibble, which is crucial given the often delicate bites of panfish.
But the quality doesn't stop at the material. Consider the construction of the rod—how well are the guides attached? Is the reel seat sturdy? Does the handle provide a comfortable grip? A well-constructed, quality rod can significantly enhance your panfishing experience and stand up to countless fishing adventures. 🏗️🏆
🔶Remember, the ideal panfish rod is a delicate balance of these factors. In the end, it should match your personal preferences and the specific conditions you plan to fish in. In our next section, we'll discuss some top-notch panfish rods that tick all these boxes! 📦✅
🏅Top Contenders: The Best Fishing Rods for Panfish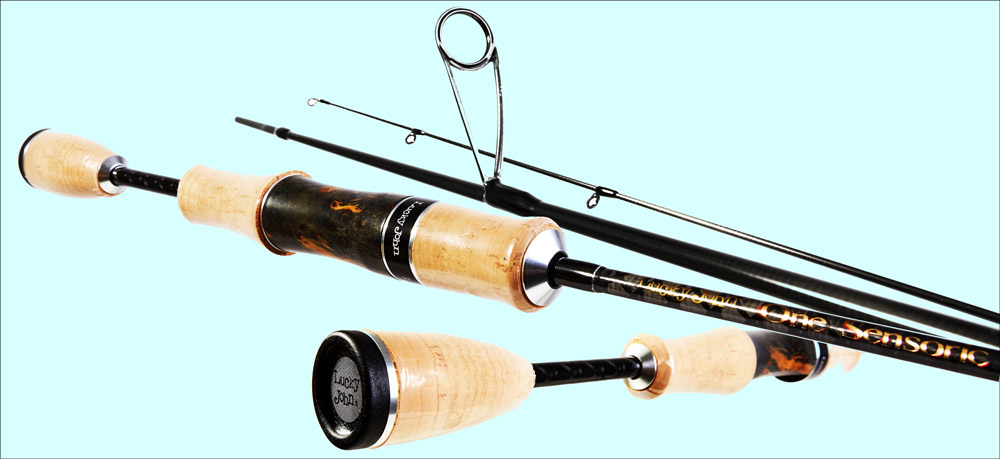 Let's dive into some rods that have consistently proven their worth in the world of panfishing. Based on a mix of personal experience, professional recommendations, and user reviews, here are three models that stand out:
Ugly Stik Elite Spinning Rod
The Ugly Stik Elite is a champion when it comes to durability and sensitivity. With its graphite and fiberglass construction, it provides a balance that's hard to beat. I've caught countless bluegills and crappies with this rod and it never disappoints.🏆🐠
St. Croix Panfish Series Spinning Rod
St. Croix's Panfish Series rods are designed specifically for panfish. With a high-modulus graphite blank and fast action, these rods deliver sensitivity at its best. There's a unique thrill in feeling the smallest nibble transmitted clearly through the rod – it's as if the rod is speaking fish language! 🐟💬
Shimano Stimula Spinning Rod
The Shimano Stimula is a value-for-money choice that doesn't compromise on performance. It offers a blend of power and action suitable for a range of panfish. This rod and I share quite a history, including a memorable sunset duel with a feisty perch. 🎣🌅
🔶Remember, the right rod for you will depend on your specific needs, preferences, and budget. Consider these options as a starting point and explore from there! 🧭✨
In the next section, we'll delve into some expert tips that will help you maximize your panfishing success with these rods! 🚀🎣
🎓Your Masterclass: Expert Tips for Successful Panfishing
Over the years, I've gathered a trove of wisdom from both my experiences and fellow anglers. Allow me to share some tips and tricks that could make your panfishing outings even more rewarding! 🎣🏅
Patience is a Virtue: Panfish can be finicky biters. Maintain a steady hand and don't rush to set the hook at the slightest tug. Instead, wait for a clear, confident pull before you react.
Size Down Your Gear: Panfish have small mouths and can be spooked by larger gear. Opt for lighter lines, smaller hooks, and less intimidating baits to attract more bites.
Study Their Behavior: Understand the panfish species in your fishing area. Some species prefer hiding under vegetation, others near structures. Knowing their habits will help you find more fish.
🎯Maximizing Your Rod: Advice for Efficiency
The fishing rod is an extension of you. Here's how to make the most of it:
Feel the Bite: Utilize the sensitivity of your rod. Practice feeling for bites, differentiating them from your lure or bait hitting underwater structures.
Master Your Cast: Different rods offer different casting advantages. Practice your casting technique to capitalize on what your rod offers. For instance, if you have a longer rod, experiment with different casting techniques to maximize your distance.
Utilize the Power: Don't be afraid to use the backbone of your rod when setting the hook and reeling in fish. This is especially important if you're fishing with a light or medium-light power rod.
🛠️Long Live Your Rod: Maintenance Tips
Taking care of your rod ensures it lasts many fishing trips. Here are a few maintenance tips:
Clean After Every Trip: Rinse your rod with freshwater after each use, especially if you've been saltwater fishing. This removes any debris and salt that can corrode your rod over time.
Check for Damage: Regularly inspect your rod for any signs of damage, paying particular attention to the guides. Even minor cracks can cut into your fishing line and cause unexpected breakages.
Store Properly: When not in use, store your rod in a cool, dry place, ideally in a rod rack or a similar setup that keeps it off the floor and away from high traffic areas.
🔶Remember, successful panfishing is a mix of the right gear, knowledge, and experience. And most importantly, don't forget to enjoy the process! 🎣💙
Let's wrap things up in the next section. 🌅
❓ Frequently Asked Questions: Fishing Rod for Panfish
🔶Remember, every angler is unique, and what works best for you may depend on your personal preferences, fishing style, and the specific conditions in which you fish.
🎣The Last Cast: Wrapping Up Your Panfishing Journey
In the realm of panfishing, choosing the right rod is no less than a game-changer. It enhances sensitivity, control, and precision, thereby shaping your entire experience on the water. Your rod is your most trusted ally in your pursuit of panfish. It's the bridge that connects you with the watery world beneath the surface, a world teeming with life and countless fishing adventures. 🌉🐟
A good rod not only elevates your chances of catching panfish but also deepens your connection with nature. It's about more than just catching fish—it's about immersing yourself in the serenity of the outdoors, mastering a new skill, and experiencing the adrenaline rush of a tug on the line. 🌳💚
And with that, it's your turn to cast a line into the world of panfishing. Embark on this journey with an open heart and a keen eye. The waters are waiting to share their stories, and who knows, maybe a record-breaking panfish is swimming in the depths, waiting for your bait. 🌊🏆
Pan Fishing Rods can be a lot of fun, and with the right equipment, you can make the most of your fishing trips. In this article, we've provided reviews of some of the best Pan Fishing Rods on the market today. We've also answered some common questions about these rods and included tips to help you choose the right one for you. So, whether you're just getting started in pan fishing or you're looking for an upgrade, we hope this article helps you find the perfect rod for your needs.
🔶Whether you're a seasoned angler or a budding fisher, remember that every fishing adventure offers its own unique rewards. The true catch isn't merely the fish—it's the memories, the tranquility, and the thrill of the sport. So gear up, cast your line, and savor every moment on the water. Here's to countless fishing tales in the making! 🎣🥂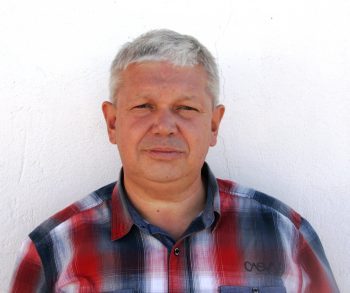 Sergio Smirnoff
Professional fisherman with 40+ years of experience.
Fishing and the ocean is a passion of my life. I am passionate about all kinds of sea fishing: fishing from the shore (spinning, float, baitcasting), from a boat, and spearfishing day and night.
I live in Tenerife (Canary Islands) for the last 10+ years and share my daily fishing experiences on my website. Many years of personal experience as a fisherman and the vast experience of my friends allow me to write professionally on any fishing topics (from choosing a flashlight and equipment to deep-sea fishing).
All of my advice is based on practical real-world experience and will be useful to both novice anglers and professionals.
Read more
about the author.
Affiliate Disclosure: FishReeler.com sometimes gets paid for listings, through sponsors or affiliate programs like Amazon, Ebay, Cabelas, Bass Pro Shop, Shimano, Daiwa, Rapala, Renn, Okuma, KastKing, etс. Clicking a link helps keep FishReeler.com free, at no extra cost to you!
About the author: Each article is verified by the fishing expert Sergio Smirnoff. The articles are written by professional and amateur fishermen with 20+ years of fishing experience.
Note: The views and opinions expressed in this article are those of the authors and do not necessarily reflect the official policy or position of any agency. The articles are for informational purposes only, share your opinions in the comments and join the fishing discussions, let's share our fishing experiences together!