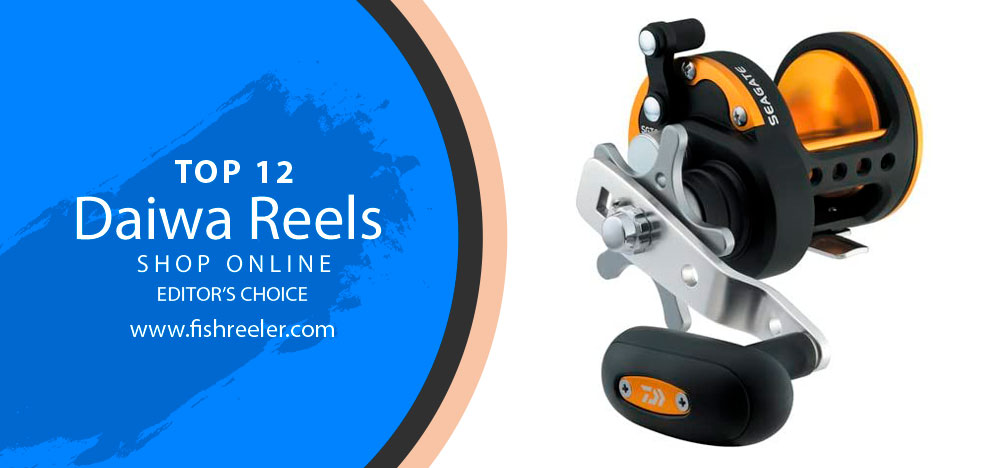 Our Top List 12 Best Daiwa Fishing Reels – Editor's Choice
| Image | Product | Brand | Link |
| --- | --- | --- | --- |
| | Daiwa BG5000 BG Saltwater Spinning Reel, 5000, 5.7: 1 Gear Ratio, 6+1 Bearings, 47.40" Retrieve Rate, 22 lb Max Drag,Black/Gold | Daiwa | |
| | Daiwa TANACOM1000 Dendoh Fishing Reel, 30-40 lb, Black | Daiwa | |
| | Daiwa Tatula TASV103XS Baitcasting Fishing Reel | Daiwa | |
| | Daiwa Tatula LT 6.2:1 Left/Right Hand Spinning Fishing Reel - TALT3000-CXH | Daiwa | |
| | Daiwa Goldcast Spincast Reel, GC120 | Daiwa | |
| | Daiwa CLTW200HS Coastal TWS Reel, 7.3: 1 Gear Ratio, 7CRBB, 1RB, 15.40 lb Max Drag, Right Hand | Daiwa | |
| | Daiwa Saltist 4000 5.7:1 Saltwater Spinning Fishing Reel - SALTIST4000 Black | Daiwa | |
| | Daiwa 0001-4676 Fglt2500D-XH Fuego Lt,Black | Daiwa | |
| | Daiwa SGT50H Seagate Star Drag Saltwater Conventional Reel, Black and Orange Finish | Daiwa | |
| | Daiwa Sealine-X SHA Conventional Saltwater Reel SL-X50SHA 6.1:1 High Speed | Daiwa | |
| | Daiwa LEXA-HD300XS-P Lexa Type-HD Baitcasting Reel, 300 Hyper Speed, 8.1: Gear Ratio, 6CRBB, 1RB Bearings. 22 Max Drag, RH | Daiwa | |
| | Daiwa Legalis LT 6.2:1 Left/Right Hand Spinning Fishing Reel - LGLT2500D-XH | Daiwa | |
For many anglers, the quality of the equipment comes first. Daiwa is a company that makes the finest quality fishing equipment in Japan and the USA and receives thousands of positive reviews from anglers every year.
In 1966, the brand was founded, which operated in a small factory. Over the years, the company has improved its quality and gained a reputation around the world. Daiwa is now in the top ten fishing companies and offers you its services. Fishing reels are among the topmost requested products from Daiwa because of their superior quality, performance, and low price. Here are 12 of the best Daiwa reels available on the market today.
1# Daiwa BG Saltwater Spinning Fishing Reel – Best Spinning Reel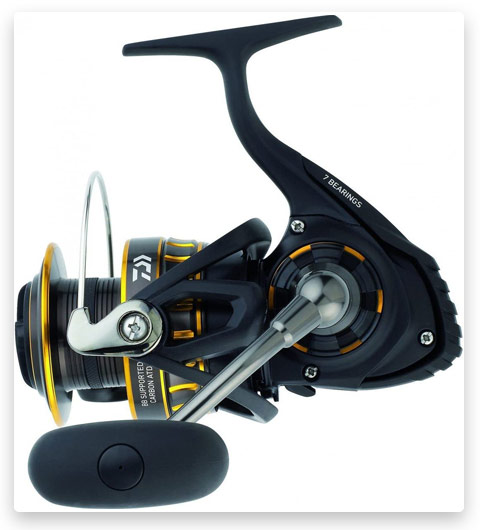 You probably know that anodized aluminum reels are very strong and durable. But with this model, the manufacturer has taken anodization to the next level with the release of the "Hard Bodyz". The layer of anodized aluminum here is very thick and can withstand shocks, drops, and scratches that simple anodizing in reels cannot. Inside there are oversized gears, which allows more teeth to contact each other. This means you get longer life and smoother retrieval.
The gear ratio is slightly increased and ranges from 5.3: 1 to 5.7: 1 on different models. You can count on catching quite large fish, use the reel with different lures and styles thanks to this gear ratio. Thanks to the aluminum spool, the line runs very evenly. During the casting, I did not get a single twist that I had to unwind for several minutes. The reel also does not have the jerks that are typical for cheap reels.
The reel has 6 + 1 stainless steel bearings and you will definitely not get rust, but the bearings are not protected from water. And in general, only the ATD Tournament drag system has water protection. All other parts are exposed to water. Except for water resistance, there is nothing to complain about in this reel. For her money, she completely pays for herself and will work for a very long time.
2# Daiwa Tanacom 1000 Electric Fishing Reel – Best Electric Reel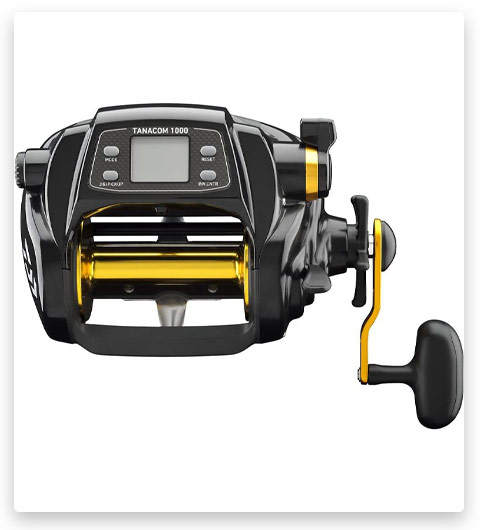 The Daiwa Tanacom is a great electric reel for an affordable price. The reel is very easy to use and set up and even comes with wires to connect to the battery. This model is designed for powerful fish and great depth. It is capable of submerging the bait up to 2,000 pounds. The lifting speed of the reel is very impressive and fast. Line capacity is 550 yards by 80 pounds.
The reel has a backlit display, so you can even go on a night fishing trip with it. In total, the display has 4 modes of operation, you can even customize the configuration and save it. On average, this takes only 10-15 minutes. When the desired depth is reached, the reel beeps. If something goes wrong and your line gets stuck accidentally, you can always switch to manual retrieval. It is very easy to take care of the reel, it comes with detailed instructions in English.
3# Daiwa Tatula SV Baitcasting Fishing Reel – Best Baitcasting Reel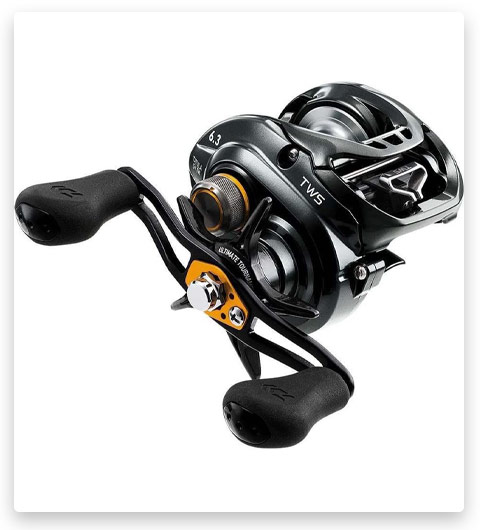 The Tatula reel appeared relatively recently and has already managed to displace the Zillions reels from the leading positions, which for almost 7 years were considered the best baitcasters in Daiwa. It is the smallest, most compact, and lightest SV reel.
This reel is equipped with an attractive SV Concept design, with anodized areas. But most importantly, it only weighs a little over 6.7 ounces without a reeled line. The gears inside are made of aircraft-grade aluminum for very long-lasting, smooth, and reliable extraction. I cast this model with different lines and lures – everything works like clockwork.
The brakes are also very powerful. Although they are made from standard carbon fiber, the manufacturer has greatly improved the quality of the magnets and brake discs. You won't spend a lot of time adjusting the system, it is very smooth and responsive. The reel is great for strong and fast fish.
The lightweight frame and side plates reduce the weight even more, but because of this, the reel is not waterproof. You will have to protect it from falling into the water and take care of it. But given the performance it gives you, it's well worth it.
4# Daiwa Tatula LT Spinning Fishing Reel – Best Lightweight Spinning Reel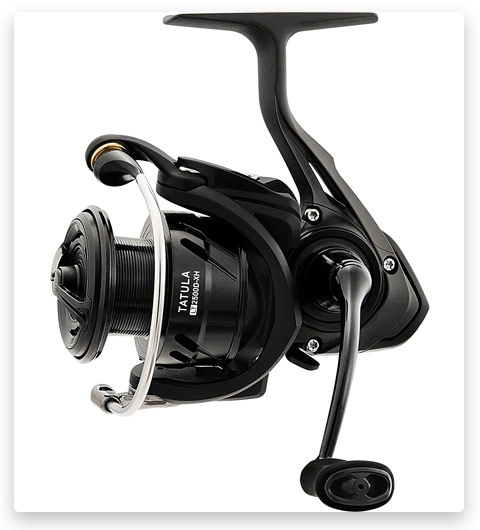 Another model from the Tatula line, but a spinning class. Has the same achievements and disadvantages as the previous model. Lightweight, powerful, beautiful, but expensive. The body is made of high-density carbon that can withstand drops, rough handling, and scratches. Even after a year and a half of use, this reel remains in its original form. It's like I bought it yesterday.
The gears inside are powerful, made of aircraft-grade aluminum. Thanks to this, the reel casts very accurately, has a smooth, careful move. The brake setting is also very accurate and fast. The reel has an air rotor and bail, which makes it even lighter. But because of this, it lost its protection from water. So don't drop it in water and clean it often.
5# Daiwa GoldCast Spincast Right Hand Reel – Best Spincast Reel
Daiwa is an above-average freshwater reel. The stand-out feature of this tackle is durable metal construction with a vibrating spool for accurate level-winding. This feature makes fishing flawless. This model has one of the smoothest spincast drags, which can be adjusted when playing the fish. Such a spin cast reel has a lightweight and intended body to catch medium size fish.
The reel comes in a right-handed configuration and can't be changed for left-handed. It's a perfect choice for beginner anglers who love closed face reel design. Important to remember that this reel can be used exclusively for freshwater fishing or parts will rust from salt water.
6# Daiwa Coastal TWS Reel Baitcasting Right-Handed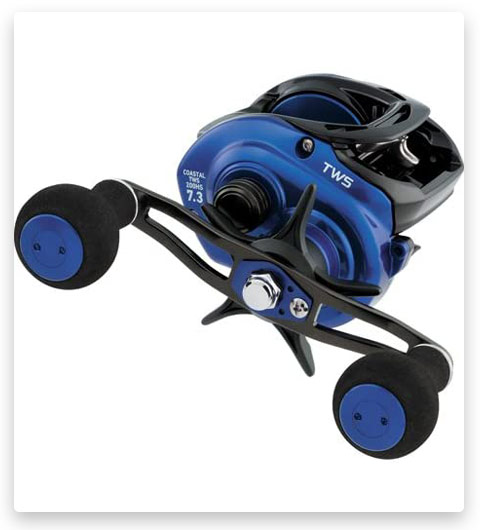 Daiwa Coastal TWS 200 is a fantastic reel for the money. It has excellent quality, lightweight, and high sensitivity. This inshore bait caster is extra rugged, durable, and stable because of the high-strength gearing material.
The key feature is corrosion-resistant ball bearings which ensure that this reel is safe for saltwater fishing. This model is a level wind reel and equipped with an anti-backlash control system which makes the fishing process trouble-free. The reel has a metal frame with a plastic cover and an aluminum deep spool. This baitcaster made for casting 10-20 lb braid. Suits for inshore fishing targeting redfish, bonefish, and large predators.
7# Daiwa Saltist Spinning Metal Fishing Reel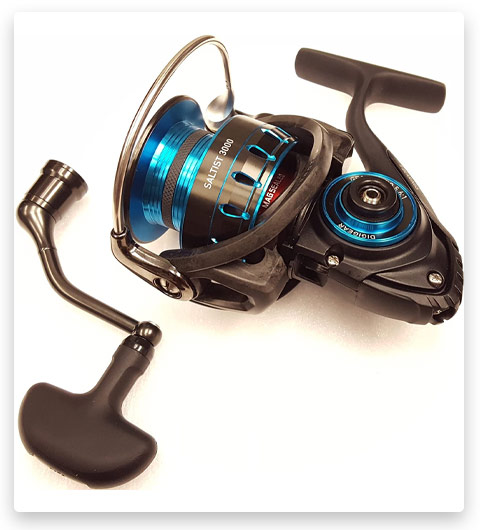 High-quality spinning reel for saltwater fishing. It has a powerful and reliable Digigear construction, enclosed in the aluminum Hard Bodyz body. The ferromagnetic Mag sealed grease is responsible for protection from the external environment, which protects the rotor space and the line roller from water, dust, and dirt. The updated ATD braking system provides a uniform impact on the friction clutch without harsh efforts. A light-alloy handle that is screwed straight into the drive wheel of the main pair eliminates the possibility of backlash. The reel is equipped with nine bearings (7 of which are anti-corrosion), a neon-colored aluminum spool, a lightweight Air Rotor with Air Bail.
8# Daiwa Fuego LT Spinning Reel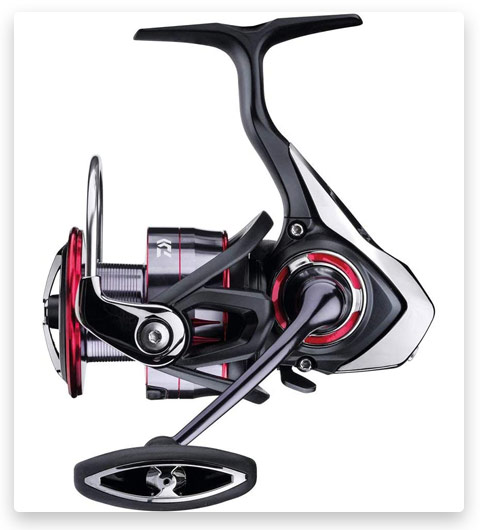 This model of reel fully corresponds to its catchy name Fuego. The Daiwa Fuego FG LT reel is an updated version of the famous Japanese reel, which will be appreciated by lovers of light fishing, as well as lovers of quality and aesthetically perfect products.
The reel has four undeniable advantages that will make the fishing process an absolute thrill. The material used to make the reel body is lighter than carbon. The strength of the body is provided by the carbon material, which has made possible the philosophy of the LT concept, which says – "Lighter and stronger!"
The reel has excellent sealing and contamination protection. And the magnetic main shaft ensures excellent performance. The reel has perfect assembly and absolutely no backlash. The handle screwed into the main gear shaft is an indicator that the reel belongs to the top level! This is an example of a new level in the production of quality spinning reels.
9# Daiwa Seagate Conventional Saltwater Fishing Reel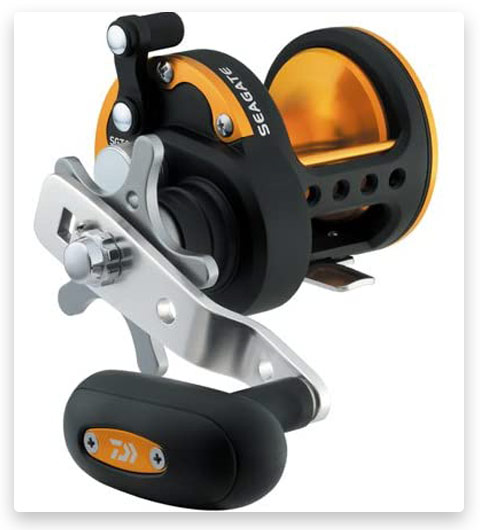 The Daiwa SGT50H Seagate Star Drag Saltwater is a great conventional reel at a reasonable price. It can cater to the most demanding requirements of anglers. The beneficial feature of the reel is the corrosion-resistant graphite frame and side plates to place durable gears. The reel is lightweight, but it is strong enough to catch up with species that are great fighters and runs out of you. The aluminum spool is quite spacious and allows for long casting. The brakes are also very precise and powerful. Good reels have quality bearings and this one is not an exception it has 4 strong ball bearings for smooth casting. Such a reel will be a perfect option for those anglers who just start using conventional reels.
10# Daiwa Sealine-X Conventional Saltwater Reel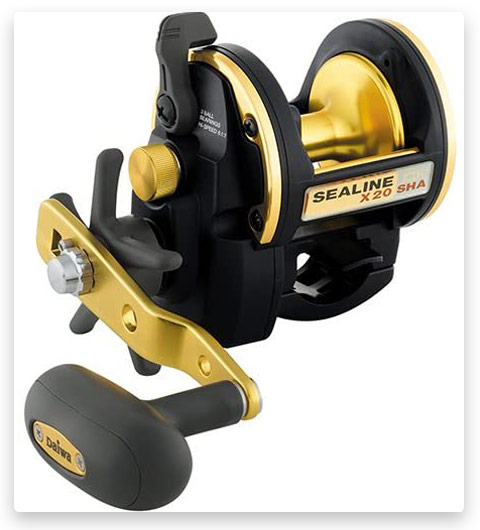 Power, speed, distance – everything is included in the "sphere of influence" of this reel. The Daiwa Sealine-X reel has a high-speed, and smooth running due to the shaft design and bearing arrangement.
The model also features a balanced aluminum handle, a steel seat for attaching the reel to the rod, and waterproof parts. CRBB bearings have high corrosion resistance. Besides, the reel has a very powerful aluminum spool and durable and lightweight composite frame and side plates. This is a surf reel that's great for drift fishing and jigging.
11# Daiwa Lexa-Type-HD Baitcasting Reel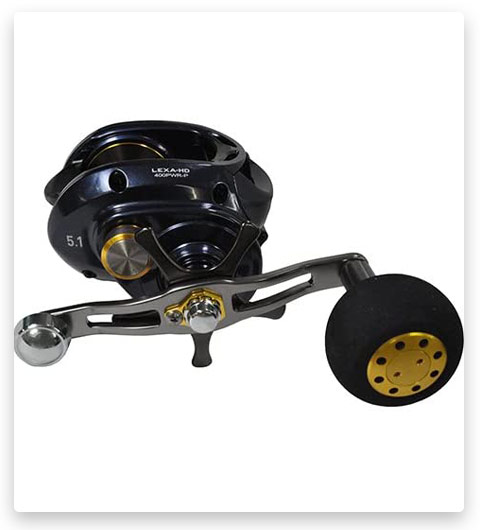 The Daiwa Lexa reel is a powerful and reliable baitcasting reel, ideal for saltwater fishing. All units and parts are protected from corrosion, water, and sand ingress. The reel has fairly lightweight, allowing you to fish all day without noticeable fatigue in your hands. This little reel casts great and can handle a 50 lb. braided line and large fish like a sturgeon. The reel can be used for twitching large wobblers or trolling. The ideal reel for hunting predators. Such reels can be used by anglers with different levels of experience in fishing. As well as it will be an excellent choice for ladies and teenagers.
12# Daiwa Legalis LT Left/Right Hand Spinning Reel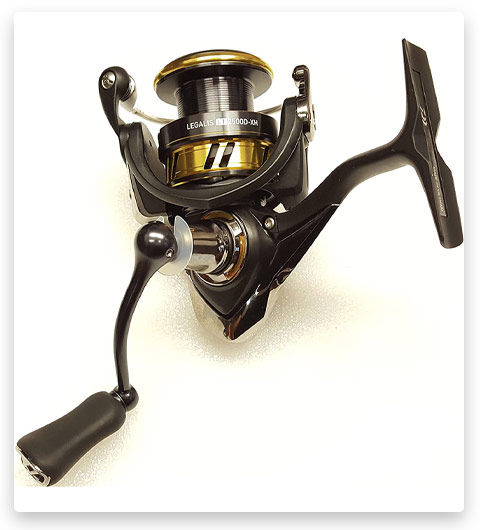 An updated series of reels made with Light & Tough technology (light and durable). The reel has a sleek modern design and very good performance at a low weight. The carbon-based composite material used in the manufacture of the rotor made it possible to create a reel with the lightest rotor. The excellent friction construction allows for the most precise setting. The reel is extremely durable and powerful despite the lightweight. The drag clicker is nice and light but has loud clicks. One more benefit of this model is both-sided retrieve. With careful care, the reel will serve you for many years and not a single fish will be missed by you.
What To Look For In A Good Daiwa Reel?
Daiwa has a lot of reels, but like any brand, it has good and bad models. Below we list the qualities that good quality Daiwa reels have:
Fishing Type. But before doing this, decide on the type of fishing for which you are going to buy a reel. If you take a cheap spinning rod for trolling fishing that breaks after the first use is not very correct. And many then complain about the poor quality of the reel or the manufacturer's defects, although initially it was not intended for such loads. Therefore, take a reel that will work well for the fish you are using. How to choose a reel for a certain type of fishing is written on our website.
Body Material & Weight. The first thing you should pay attention to is what the reel is made of. It directly depends on how long it will last and how far it will cast. Also, the weight of the reel will affect your hand fatigue if you fish for several hours. So choose a lightweight reel made of aluminum, magnesium, or graphite. These three materials are the strongest, lightest, and most durable.
Possibility To Use Braided Line. The braided line allows the angler to improve casting range, line strength, line capacity, and overall fishing efficiency. If you want to use a braided line in your spool, make sure it is designed for it. Usually, the manufacturer (Daiwa 100% does this) will always indicate if the reel is not suitable for the braided line.
Line Capacity. This point follows from the definition of the type of fishing. If you want to go trolling or ice fishing, then you need a reel with a fairly large capacity. The larger the capacity, the deeper you can lower the lure, and the further you can cast. Plus, you won't be able to chase strong fish that resist for a long time if your line isn't long enough. You will simply lose your line due to insufficient capacity.
Corrosion Resistance. A very important point if you are going to fish in the sea and saltwater in general. If saltwater gets on a reel that is not made of a corrosion-resistant material, it will rust pretty quickly. Especially if you often forget to clean your reel after every fishing trip. Your reel must either be well anodized / made of corrosion-resistant material (graphite, stainless steel), or be sealed to prevent water from getting inside and wagging on the internal components.
Drag. If you want to fish for big prey, the worst thing that can happen is if your drag can't handle the weight of the fish. The reel must have a powerful and smooth drag to handle serious fish. Even better, the drag is sealed and corrosion-resistant.
Fishreeler Overview
Good fishing tackle plays a key role in good and productive fishing. Daiwa makes excellent reels for anglers of all levels and styles. To make it easier for you to choose from hundreds of models from this company, we have put together this short guide for you, which includes 12 of the best reels from Daiwa. In listing the models, we have followed the advice and experience of professional anglers who use Daiwa reels in various competitions and tournaments. We hope our article was helpful to you. If it was interesting for you to read, share our content with your friends. Have a nice fishing!
Tags: #best daiwa reels / #daiwa spinning reels / #daiwa fishing reels / #daiwa salt water reels / #daiwa saltwater reels / #where are daiwa reels made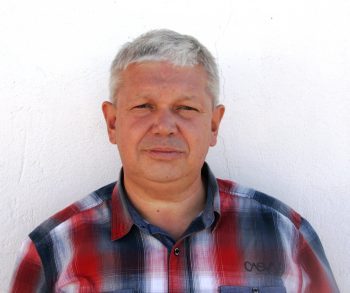 Sergio Smirnoff
Professional fisherman with 40+ years of experience.
Fishing and the ocean is a passion of my life. I am passionate about all kinds of sea fishing: fishing from the shore (spinning, float, baitcasting), from a boat, and spearfishing day and night.
I live in Tenerife (Canary Islands) for the last 10+ years and share my daily fishing experiences on my website. Many years of personal experience as a fisherman and the vast experience of my friends allow me to write professionally on any fishing topics (from choosing a flashlight and equipment to deep-sea fishing).
All of my advice is based on practical real-world experience and will be useful to both novice anglers and professionals.
Read more
about the author.
Affiliate Disclosure: FishReeler.com sometimes gets paid for listings, through sponsors or affiliate programs like Amazon, Ebay, Cabelas, Bass Pro Shop, Shimano, Daiwa, Rapala, Renn, Okuma, KastKing, etс. Clicking a link helps keep FishReeler.com free, at no extra cost to you!
About the author: Each article is verified by the fishing expert Sergio Smirnoff. The articles are written by professional and amateur fishermen with 20+ years of fishing experience.
Note: The views and opinions expressed in this article are those of the authors and do not necessarily reflect the official policy or position of any agency. The articles are for informational purposes only, share your opinions in the comments and join the fishing discussions, let's share our fishing experiences together!