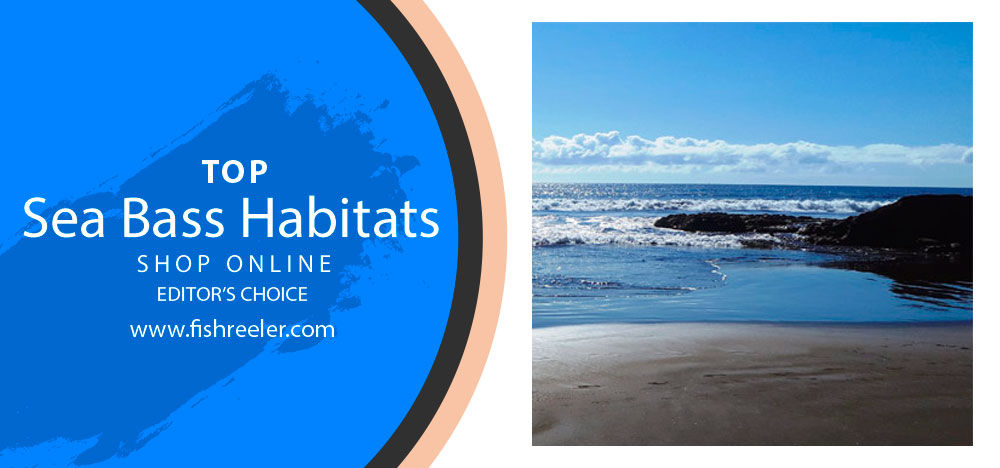 Tips From a Professional – Where and How to Catch Sea Bass
How can you spend and vary your vacation? I think you can not only swim, snorkel or dive in the ocean. You can fish in the evening or early in the morning or otherwise to hunt the "sea wolf"!
Seabass fishing is a great pleasure for the fisherman. Many fishing enthusiasts are interested in this fish. In order to fish for seabass in Tenerife, you need to buy a corresponding license for 3 years per fishing rod at a price of about 25 US dollars. Below is a sample fishing permit.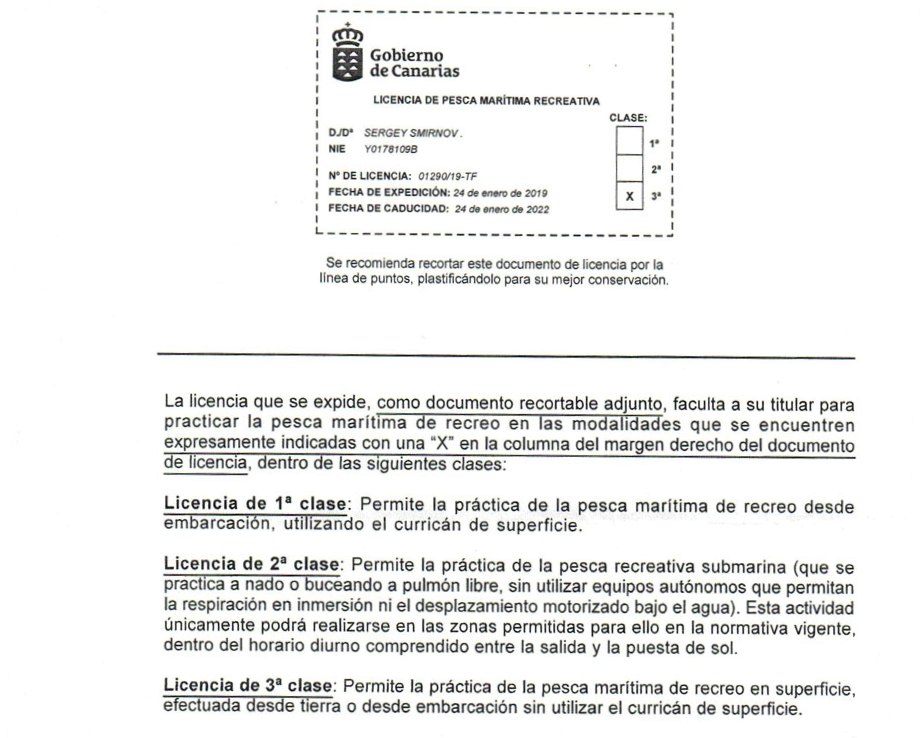 When these fish bite, a fisherman has the most pleasant feeling. The fish is the desired trophy for amateur fishermen and athletes for its taste. This predator has a cautious, even timid nature. The omnivorous glutton is able to make the fisher run along the shore. Seabass is fidget that's why it doesn't stay in one place for a long time and moves from one place to another as part of the pack. Sea bass is not tied to certain depths and moves freely in the water from the bottom to the surface.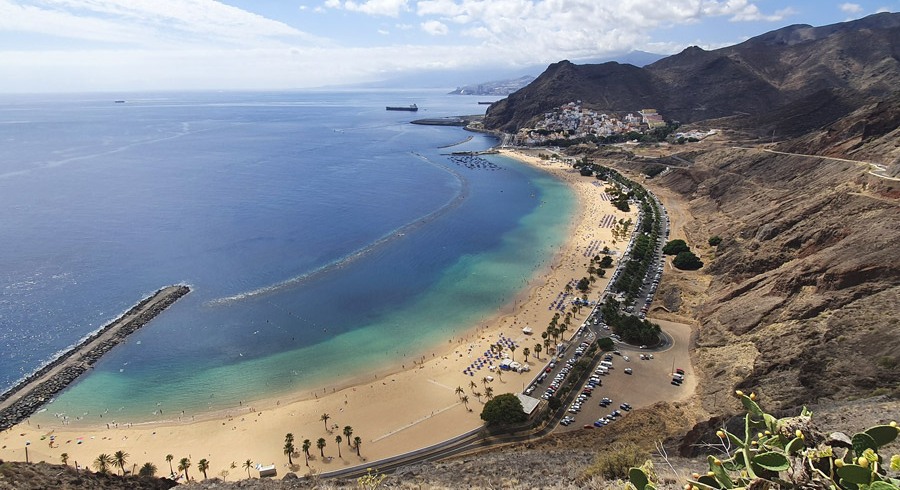 How to catch the squirt? How to feel the fish on the hook? What tackle and bait to use when fishing sea wolf? How to lure and get the long-awaited trophy? Answers to these questions and not only you will find in this article. It is a nimble and fast predator. Most often this fish is caught in high tide zones where it feeds. The bottom should be stony or sandy. The fish can be found in shallow waters, which are formed after ebbs.

It is better to catch sea bass for 3 hours before the main peak of the tide. Fishing lasts no more than 3 hours. When the ebb starts, it is time to end fishing. The most optimal time for sea bass fishing is from June to December. The most active biting occurs at dusk at sunset. Excellent to catch seabass with spinning at night. Biting is often better when the wind blows. You can also experience all the delights of fishing for this fish with a spinning tackle. The most effective lures are silver spinners or white silicone fish.

It is best to catch with spinning from a rocky shore because the fish tends to these shores at high tide. A lot of small fish coming out of hiding at low tide accumulates there at this time. The catch is almost at the shore that's why it is not necessary to make long-distance casts. When fishing for seabass, you can use both sinking and surface lures. It is also convenient to catch sea wolf on sandy beaches. In this case, the casting is done, as a rule, at a distance of 30 meters. If the depths are small, it is more practical to use surface models.

General Description of Sea Wolf
The seabass has a massive and elongated body towards the tail, the head has a pointed shape, covered with minute scales, with silver color on the sides and olive shade on the back. There are two sharp fins on the back. The fins can pierce a man's hand without problems. Also, there are spines on the head, near the gill part of the fish. Nature rewarded sea bass with a big mouth. Most often people catch fish with a length of 30-60 cm.
Distribution and Habitats
This fish lives in the Atlantic Ocean, including the Canary Islands. It prefers to stay close to the coast, preference is given to the base of the rocks. It is best to catch sea bass there. Young seabass usually lives in a school of fish, then growing up, it becomes single. Seabass is a predatory fish and its ration consists of small fish, crabs, shrimps, and shellfish.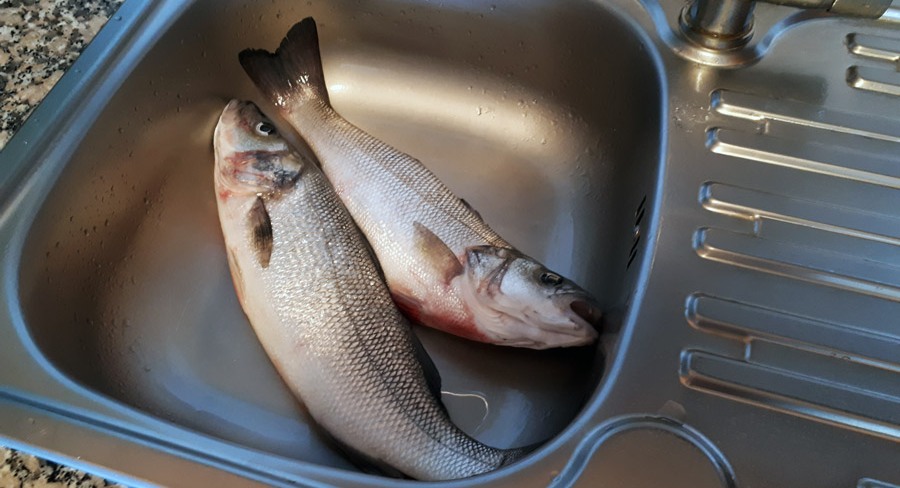 During hunting or search for food, sea bass enters the port area, shallow coastal areas, where it feeds on shrimp, worms, crabs, and shellfish. At dawn, if in such coastal places small fish jumps out of the water, then here you can hunt.
Age and Size
Seabass is a large strong fish, body length can reach 1 m. At the same time, the weight can be 10 kg. Seabass refers to long-lived fish. The age of sea bass can reach 15 years.
Seabass Lifestyle
The fish live in surf zones at a depth of no more than 30 m, rich in oxygen and sharp descents to deep-sea places. Sea wolf leads to a predatory lifestyle. The fish also keeps in small groups. Mature large individuals prefer single swimming. There is no real-time when to catch this fish. It can be active throughout the day and you can catch a predator all the year round.

Small seabass hunts a flock of shoals of small fish. She practically swims to the shore just behind the wave, which sometimes you can see even during the day on the beach. Large individuals attack their prey quickly, making a short and sharp throw. They pull their prey right to the bottom.

How, Where, When and What to Catch
Fishing takes place all-year-round and round-the-clock in coastal areas. The main fishing methods are fly fishing and spinning. Fishing rods should be selected suitable for fishing in seawater. As for the coil, she also shouldn't be afraid of saltwater.

In What Weather is it Best to Catch Sea Bass?
Active biting is observed after the storm when all the small fish are carried to the shore by the waves. The successful catch will be at dawn is calm and windless weather from the piers and berths. The ideal water temperature is 18 degrees.
In What Places is it Best to Catch?
Rocky areas;
Sandy bottom with algal vegetation;
Zone of the breakwaters;
Coastal cliffs;
Piers;
Berths;
Seaport (especially in places of the release of food waste).
What Tackle is Best to Catch Sea Bass?
If fishing occurs from the pier, from the berth, or with big stones, the best tackle will be an afloat rod for long-range casting, equipped with a sinking sinker. It is better to use a thin fishing line when using a spinning rod or wicker, as the "sea wolf" by nature is timid and easily notices the snap. A carp fishing rod length up to 3.5 meters, with a small fixed-spool or multiplier reel, is quite suitable for fishing. The fishing line is used with dough for a gap of up to 10 kg.
Example, equipping rods:
Tackle length not less than 4 m with dough from 50 g
Fixed-spool reel with salt protection;
The main fishing line length from 0.20 to 0.25 mm, transparent, fast-sinking, and durable;
Weight 45-65 g (elongated and flat);
Sharp hooks numbers 6, 7, 8.
Advice:
It is possible to use different types of fishing cords (slow, floating, fast-sinking).
The rod is recommended for spinning fishing, elastic which allows you to throw the bait far.
As bait you can use:
Pieces of fillet of small fresh fish
Crustaceans (shrimps, crabs)
Chicken pieces
Mixture: special paste marked " for sea bass», sardine oil, black granules for lubina
A variety of bait based on mixtures of flour, oil, dough, processed cheese, bait for sardines, pasta with the smell
Method of preparation of bait: finely chopped pieces of crab (shrimps) and fish are mixed in a capacity. In this mince, you can add aromatizers, for example, the juice of the fish meat, best-suited juice from sardine meat.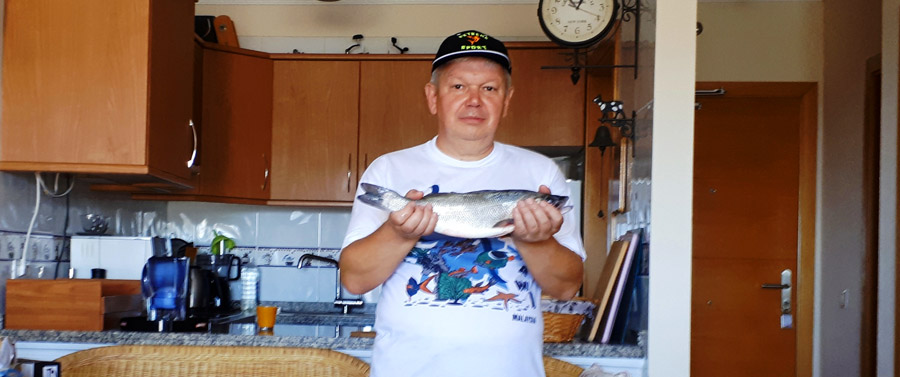 Next, the mixture is laid out in the feeder, from which in contact with water is gradually washed away, leaving behind a long and fragrant trail of fish smell. The feeder is equipped with a sinker for lowering to the seabed.
On What Baits and Nozzles Sea Bass is Caught?
Animal baits:
Live bait – any small fish with a light color. This bait is hooked on a hook under the dorsal fin. It is recommended to use a tackle with two wires, where one hook is attached near the edge of the ridge and the other on the lip. The sting of the hooks should be free so that it could definitely enter the bony jaw of the predator.
Shrimp. Bait should be alive or fresh because when the shrimp spoils it loses its pink color and fishing efficiency is reduced.
Pieces of squid.
Worm (Nereis, Dendrobena).
Cuttlefish.
Octopus.
Pieces of chicken fillet.
The main types of artificial baits and lures:
Metal lure length from 5 to 15 cm with two tees for adult fish weighing more than 2 kg.
Plastic lure length from 5 to 10 cm.
Silicone baits size from 5 to 9 cm, white or gray shades (maybe glowing);
Castmaster;
Foresight;
Spoon (flat and silver);
Poppers;
Octopus;
Artificial fish (they are applied when fishing from rocky areas).

Tactics of using baits in different weather conditions:
In calm and with a wave up to 0.5 meters – soft silicone lures
Wave from 1 meter with foam – wobblers from 70 to 100 mm
What colors of nozzles to use at different times of the day?
Dawn-white, silver, white-yellow;
Early in the morning – red, white, blue;
From lunch to evening-white;
In the dark time of day — glowing purple color nozzles.
Advice:
Interrupted wiring when you use artificial tips,
it is better to use slowly sinking artificial shrimps and foresight when fly fishing.
The search for the school of fish and catching better start with the use of more small nozzles and gradually increase their size.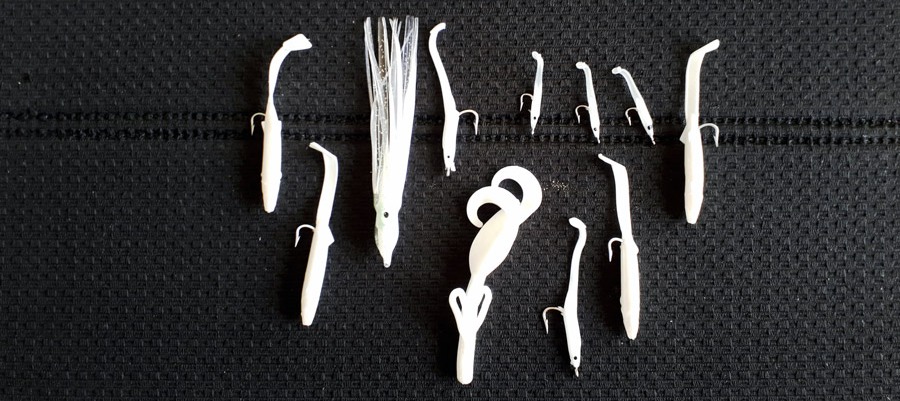 How Do the Fish Get Hooked?
Seabass cautiously tries and studies the bait before getting hooked. Then the fish sharply attacks and captures. It has no teeth, that's why immediately swallows the bait.
How to Catch "Sea Wolf»? Basic Technique.
Wiring should be carried out until the end because the "sea wolf" is able to chase prey to the shore. When using a floating tackle, the landmark of throwing is the "wave of the sea wolf». This is a water area on which the water foams from the waves. Throwing should be done at 5 or 10 m for this foamy area.
Secrets of fishing float tackle:
Places are rocky shores, boulders;
Small wave;
To use sensitive tackle, but high quality and durable;
To use a strong fishing line;
To use not large and sharp hooks;
Sensitive and lightweight float.

It is recommended to do the wiring slowly from the foamy water to the coastline when spinning fishing. The best option in choosing a fishing spot is rocky shore at high tide and time of day are evening and night.
Important!
Hooking fish is necessary when you are sure of its strong hook. Seabass is a cautious fish. Don't make a rush wiring. The most important moments when catching sea bass.

In the process of fishing, you need to be in constant search of fish in coastal areas, fishing in one place may not bring results. Bait is better to throw over the crest of the wave and lead to the next. if it was covered by a wave, then wait for a little and continue wiring. It is better to put everything you need in a bag on your belt because fishing occurs in constant motion.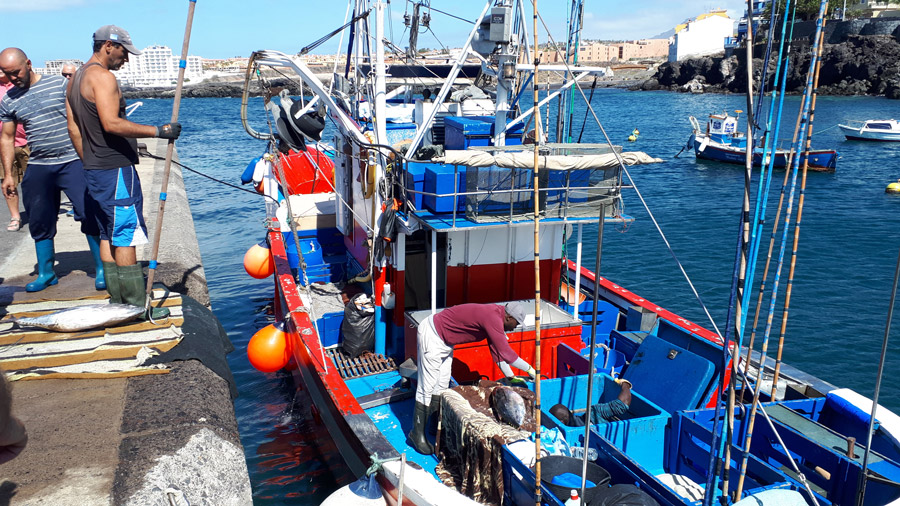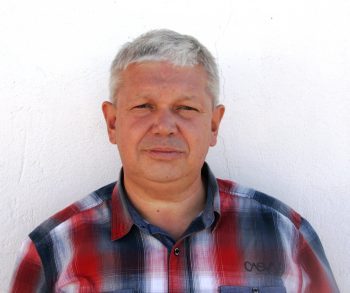 Sergio Smirnoff
Professional fisherman with 40+ years of experience.
Fishing and the ocean is a passion of my life. I am passionate about all kinds of sea fishing: fishing from the shore (spinning, float, baitcasting), from a boat, and spearfishing day and night.
I live in Tenerife (Canary Islands) for the last 10+ years and share my daily fishing experiences on my website. Many years of personal experience as a fisherman and the vast experience of my friends allow me to write professionally on any fishing topics (from choosing a flashlight and equipment to deep-sea fishing).
All of my advice is based on practical real-world experience and will be useful to both novice anglers and professionals.
Read more
about the author.
Affiliate Disclosure: FishReeler.com sometimes gets paid for listings, through sponsors or affiliate programs like Amazon, Ebay, Cabelas, Bass Pro Shop, Shimano, Daiwa, Rapala, Renn, Okuma, KastKing, etс. Clicking a link helps keep FishReeler.com free, at no extra cost to you!
About the author: Each article is verified by the fishing expert Sergio Smirnoff. The articles are written by professional and amateur fishermen with 20+ years of fishing experience.
Note: The views and opinions expressed in this article are those of the authors and do not necessarily reflect the official policy or position of any agency. The articles are for informational purposes only, share your opinions in the comments and join the fishing discussions, let's share our fishing experiences together!