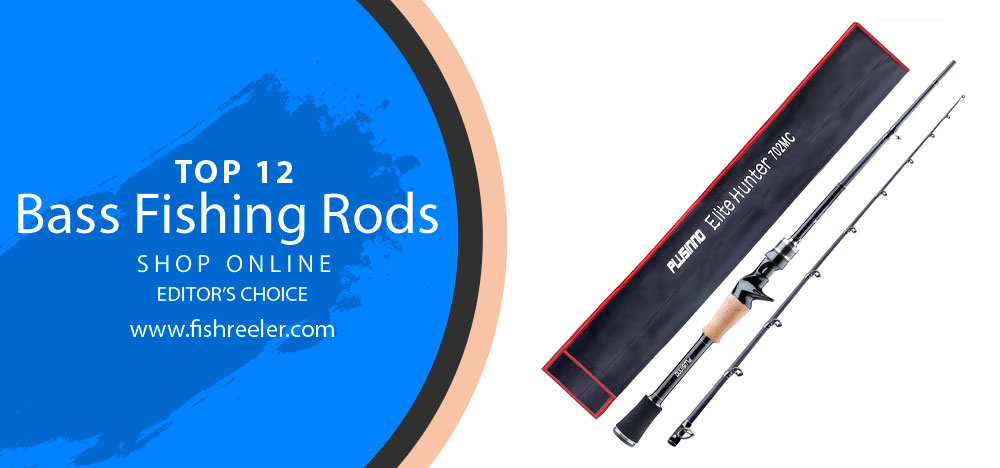 Reeling in Success: An Expert's Guide to Selecting the Best Rods for Bass Fishing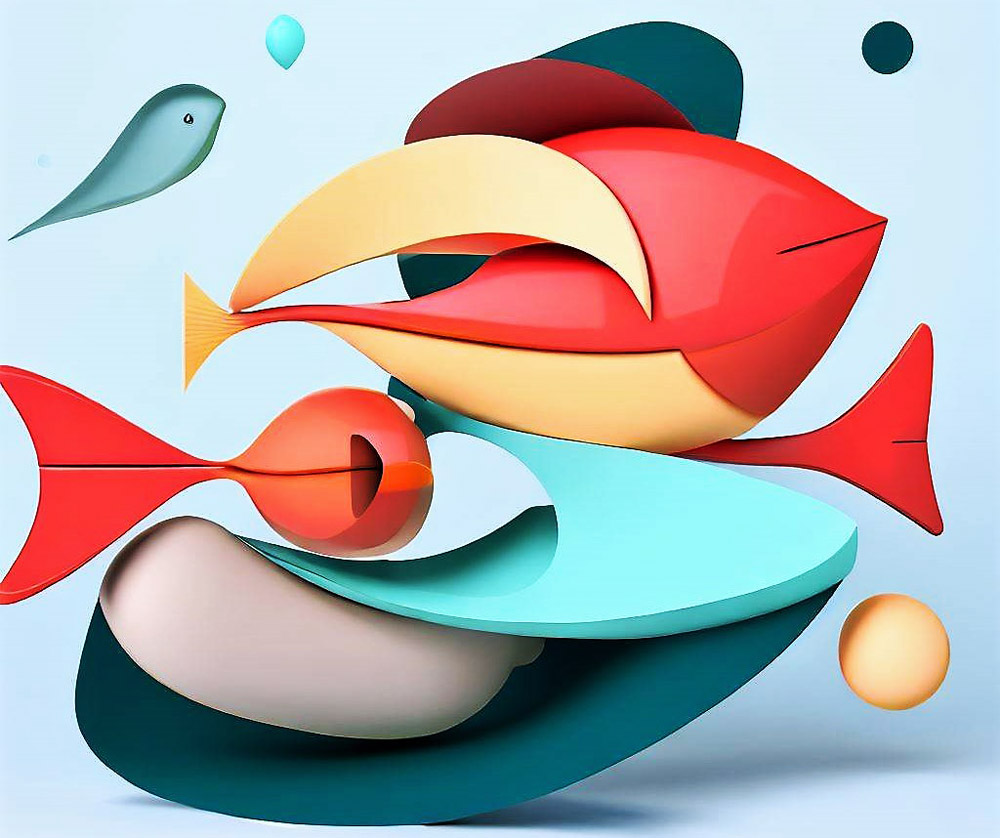 Welcome, fellow anglers! Picture this: it's the perfect day out on the water, the sun is shining, and the bass are biting, but your line remains still. Why? Your fishing rod isn't right for the job. Yes, that's correct – your success in bass fishing is significantly influenced by the type of rod you use. This piece of equipment, often overlooked, can be the deciding factor between a bountiful catch or an empty hook.
Setting the Hook: Why Your Bass Fishing Success Starts Here
In this comprehensive guide, we will dive deep into the world of bass fishing rods, unearthing the factors that make a rod perfect for bass fishing. We'll talk about the basics of bass fishing, the anatomy of a fishing rod, and different types of rods suitable for bass fishing, and I will even share my top picks for the best rods available on the market.
By the time you finish reading, you'll not only understand the importance of choosing the right rod but also be armed with the knowledge to pick the perfect rod tailored to your needs. So, whether you're a beginner trying to understand the basics or a seasoned angler looking to up your game, you're in for a treat! Join me on this journey, and together, let's reel in success.
Bass Fishing 101: Essential Knowledge for Every Angler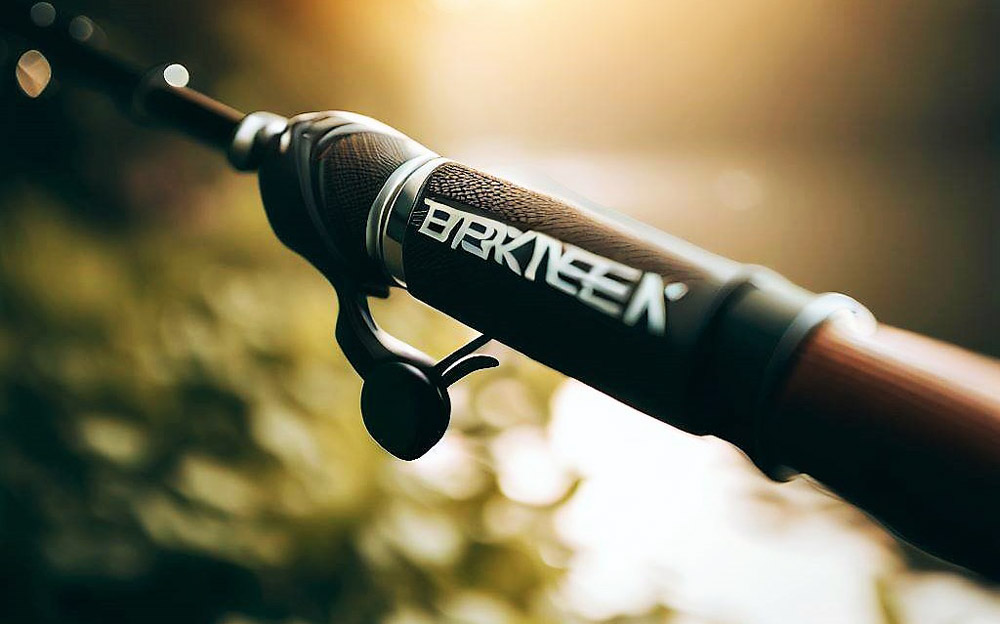 Bass fishing – a passion, a sport, a lifestyle, all rolled into one. This popular angling pursuit centers around the numerous species of Black Bass – from the ubiquitous Largemouth and Smallmouth Bass to the feisty Spotted Bass. Each species provides a unique challenge and thrill, earning a revered spot among anglers' favorites. These species typically dwell in freshwater habitats, such as lakes, rivers, and reservoirs, with a preference for areas rich in cover like submerged structures, weeds, and fallen trees where they can ambush their prey.
Bass fishing's widespread popularity is due to its accessibility – you can find bass in waters across the globe – and the sheer excitement of the catch. There's something thrilling about the moment when a bass hits your lure, offering a blend of challenge and satisfaction that's addictive.
A key element of this sport, however, lies in having the right equipment. While each component of your fishing setup plays a crucial role, the fishing rod is a fundamental tool that can make or break your fishing experience. After all, it's the rod that creates the essential connection between you and the fish.
Selecting the perfect bass fishing rod isn't as simple as picking the first one you see off the rack. A variety of factors come into play, including the type of water you're fishing in (are you navigating a calm lake or a fast-moving river?), the species of bass you're after (Largemouth, Smallmouth, or perhaps the Spotted Bass?), and your own skill level as an angler.
Furthermore, the rod's action and power, its material, and even the type of lures or baits you intend to use play into the selection process. It's not a one-size-fits-all scenario but a highly personalized choice. Your perfect rod will complement your style of fishing, making each cast feel like second nature.
🔶In the following sections, we'll dive deeper into these factors and guide you in selecting the best rod for your bass fishing adventures. As they say in angling circles, the rod is the extension of an angler's arm. So let's arm you with the best!
The Heart of Angling: Dissecting the Intricacies of Fishing Rods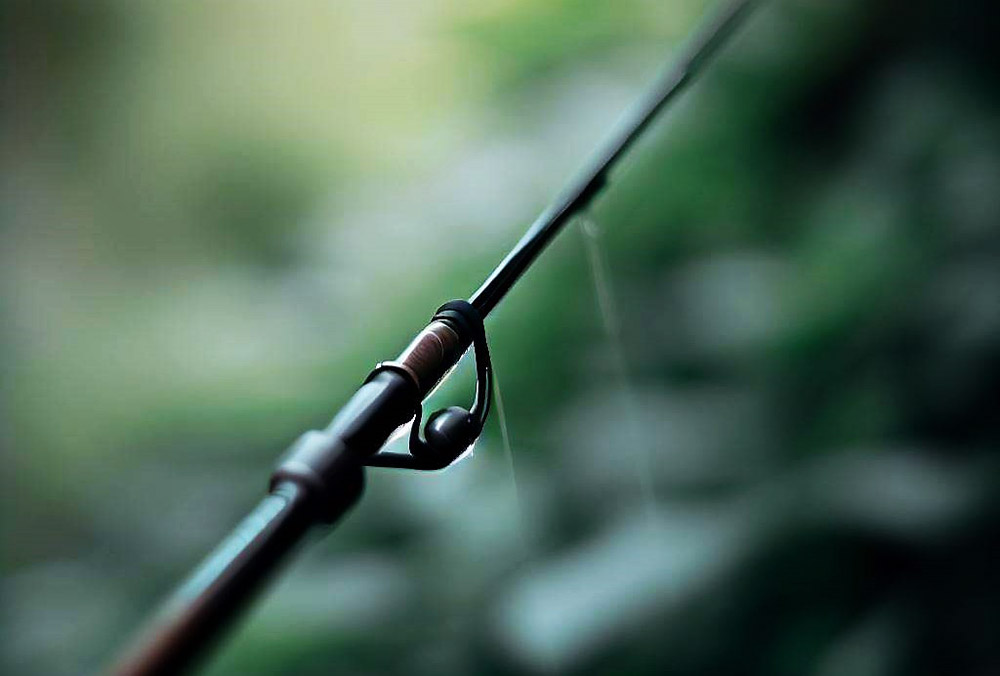 To truly appreciate the art of bass fishing, one must first understand the key player – the fishing rod. Let's break down this essential tool into its basic components and functions:
| Component | Description |
| --- | --- |
| The Rod Blank | The main body of the rod, tapering from the handle to the tip. It provides the rod's structure and plays a significant role in determining its action and power. |
| The Handle or Grip | Usually made of cork, EVA foam, or sometimes even wood. It allows you to comfortably and firmly hold the rod. The length and style of the handle often depend on the type of fishing you're doing. |
| Reel Seat | This is where your reel gets attached to the rod. It needs to be sturdy and hold the reel securely in place. |
| Guides or Eyes | These are the loops that run along the length of the rod blank. They guide your line from the reel to the tip of the rod. The number, size, and placement of the guides can affect the rod's performance. |
| Tip | The extreme end of the rod blank. It's the most delicate part and crucial for detecting bites. |
The choice of material used in rod construction significantly influences its performance and feel. The most common materials are graphite, fiberglass, and composite (a combination of graphite and fiberglass).
Graphite rods are lightweight, sensitive, and offer great 'action,' making them a popular choice for bass fishing. However, they are relatively more brittle and might not endure high-stress situations as well as their counterparts.
On the other hand, fiberglass rods are incredibly durable and possess a more moderate to slow action, which can be advantageous in specific fishing scenarios, like throwing crankbaits. They are less sensitive and heavier than graphite rods, but their robustness makes them a favorite for beginners and seasoned anglers alike.
Composite rods offer the best of both worlds – the sensitivity of graphite and the durability of fiberglass. They're versatile and can be used in various bass fishing scenarios.
Understanding rod action and power is crucial when selecting the perfect bass fishing rod. 'Action' refers to where and how much a rod bends when pressure is applied, classified as fast, moderate, or slow. Fast-action rods bend near the tip, providing sensitivity and quick power for hook sets – ideal for single-hook lures like jigs and worms. Moderate and slow action rods bend more towards the middle or the base, offering a wider bend which is great for treble hook lures like crankbaits.
'Power' (also referred to as 'weight') talks about the rod's resistance to bending. Ranging from ultra-light to ultra-heavy, bass fishing usually calls for medium, medium-heavy, or heavy power rods that can handle the size and fight of the fish.
🔶In the realm of bass fishing, there isn't a universal perfect rod. Instead, it's about finding the rod with the right balance of action, power, and material to suit your specific needs. The following sections will further help you understand these aspects as we explore different types of bass fishing rods.
Video YouTube: Fishing Rod For EVERY Situation! Beginner To Advanced
Top 12 Champions: The Best Bass Fishing Rods Revealed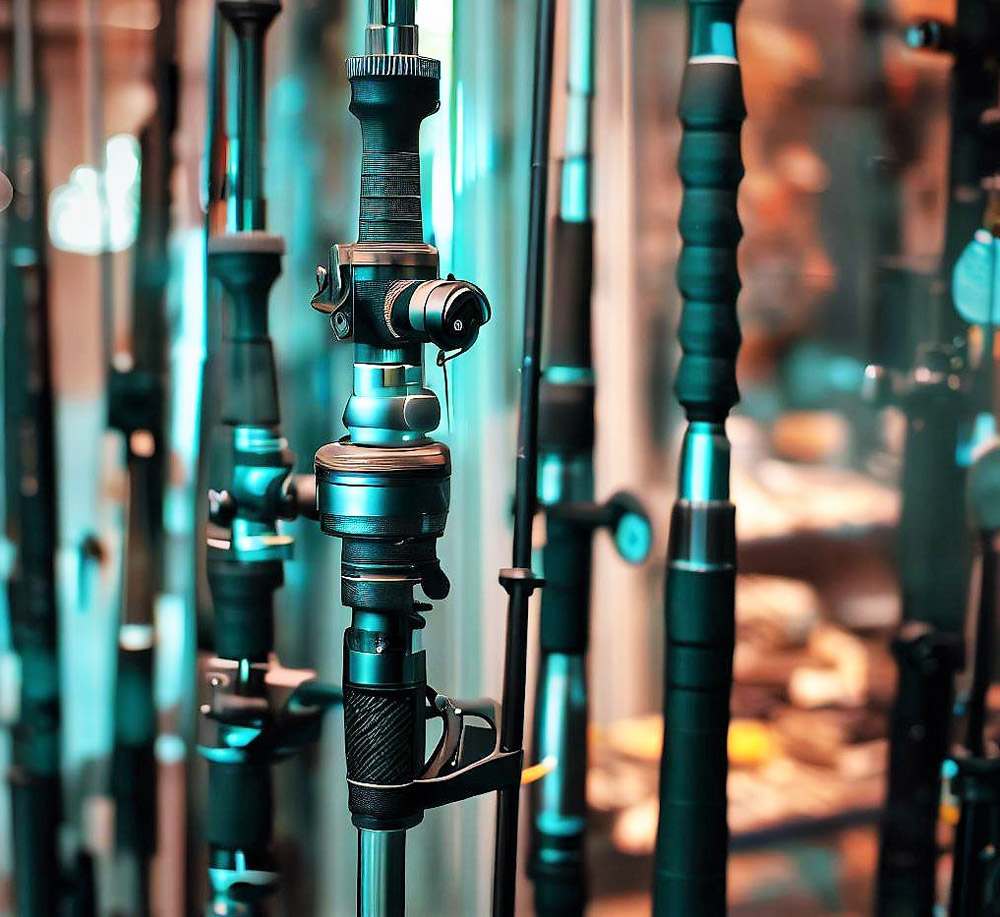 The best bass fishing rods will increase your chances of catching and make you a more successful angler. Bass fishing is a very exciting sport. One thing that is essential for successful bass fishing is a good bass rod. The product should be an extension of your hands. It should work well with your bait and lure, be sensitive enough. It also should be strong and flexible enough to pull out the fish without breaking like a stick and be comfortable to handle.
| Image | Product | Brand | Link |
| --- | --- | --- | --- |
| | KastKing Crixus Fishing Rods, Spinning Rod 6ft 6in-Medium - Fast-2pcs | KastKing | |
| | St. Croix Rods Mojo Bass Spinning Rod | St. Croix Rods | |
| | Abu Garcia 7' Vengeance Casting Fishing Rod, 1-Piece Graphite Medium Heavy Power Fishing Rod for Freshwater or Saltwater Fishing, Shock Absorbing Tip | Abu Garcia | |
| | SHIMANO ZODIAS SPN 69 M | SHIMANO | |
| | Entsport E Series - Camo Legend 2-Piece 7-Feet Casting Rod 24 Ton Carbon Fiber Baitcasting with 2 Tips - Medium and Medium Heavy Portable Bass Fishing Rod Baitcaster | ENTSPORT | |
| | St. Croix Rods Mojo Bass Casting Rod, Black Cherry Metallic, 7'1" | St. Croix Rods | |
| | KastKing Speed Demon Pro Bass Fishing Rods, Spinning Rod-Jig-Worm-7ft 3in Medium - Fast | KastKing | |
| | PLUSINNO Elite Hunter Two-Piece Spining Casting Fishing Rod, Graphite Medium Light Fast Action Bass Baitcasting Fishing Rods 7FT 2pc Freshwater Saltwater Fishing Rods-B | PLUSINNO | |
| | Dobyns Rods Fury Series 7'3" Casting Fishing Rod | FR735C | Mag Heavy Extreme Fast Action | Modulus Graphite Blank with Kevlar Wrapping | Fuji Reel Seats | Baitcasting Rod | Line 12-25lb Lure ¼-1 ½ oz., Black/Green | Dobyns Rods | |
| | Piscifun Torrent Casting Rod, High Sensitive Baitcaster Fishing Rod, IM6 Carbon Fiber Strong Quality, Lightweight Baitcasting Fishing Rod, Zirconium Oxide Rings, One&Two Pieces Baitcast Rods | Piscifun | |
| | Sougayilang Speed Bass Fishing Rods, Portable Light Weight High Carbon 4 Pc Blanks for Travel Freshwater Fishing-2.1M/6.89FT Casting Rod -Blue | Sougayilang | |
| | Enigma Fishing Phenom Titanium Gen2 High-Performance Bass Fishing Rods, Japanese Toray High Modulus 30 Ton Graphite Blanks, Alps Guides, Quality Eva Grip, 10 Lengths & Actions - Spinning Rod | Enigma Fishing | |
If you are an avid angler or want to explore this popular fishing destination, then this article will help you find what you are looking for. Let's start with the 12 best bass fishing rods.
1# KastKing Crixus Fishing Rods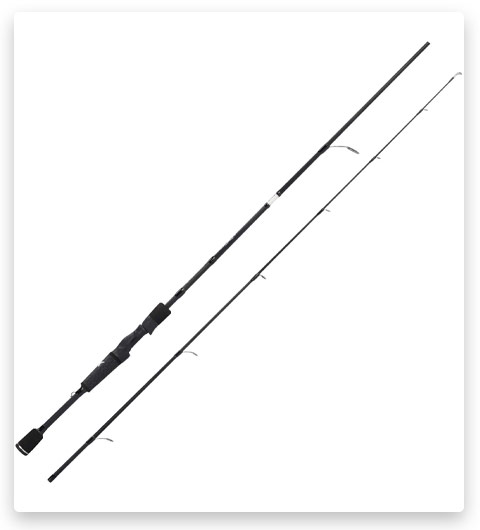 This is a powerful bass rod! If you want to get the best result then choose this model. I use it whenever I want to catch this particular type of fish. The design is based on IM6 graphite blanks. The rods are available in 5 'to 7'6 lengths. They range in power from light to heavy thanks to the new KastFlex technology. The accessory is highly sensitive and durable. You can feel even the smallest fish bite. Regardless of your experience, you will be able to fish with this rod. It is suitable for anglers of all levels. The model is equipped with a golf-style super polymer handle. This is an incredibly comfortable and durable grip that will allow you to fish all day long without hand fatigue.
2# St. Croix Mojo Bass Graphite Spinning Fishing Rod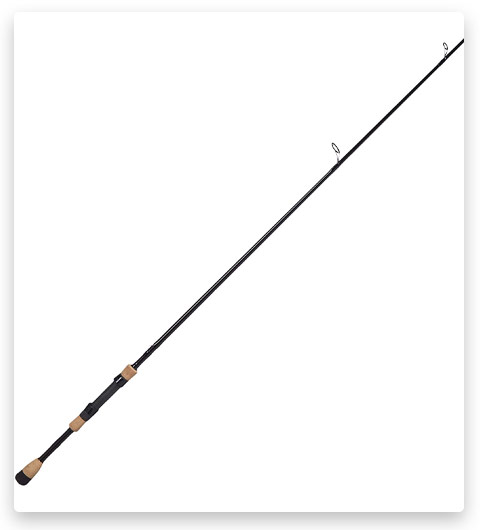 View on BassProShop View on Amazon
This handmade spinning rod from the American brand St. Croix is ​​perfect for big bass fishing. The rod has phenomenal reliability, lightness, and sensitivity. The blank is made of SCII graphite, which ensures high performance. The bass orientation of the model allows you to use it when fishing with wobblers using the twitching method, silicone lures with spaced weight, and spinning lures. Thanks to the one-piece design, the sensitivity is at a height when compared to competitors in the budget segment. The blank is covered with a double layer of Flex Coat, high-quality Batson forecast guides, and a Fuji reel seat is installed. The cork handle is presented in a spaced version. The St. Croix Mojo Bass is a great value for money.
3# Abu Garcia Vengeance Casting Fishing Rod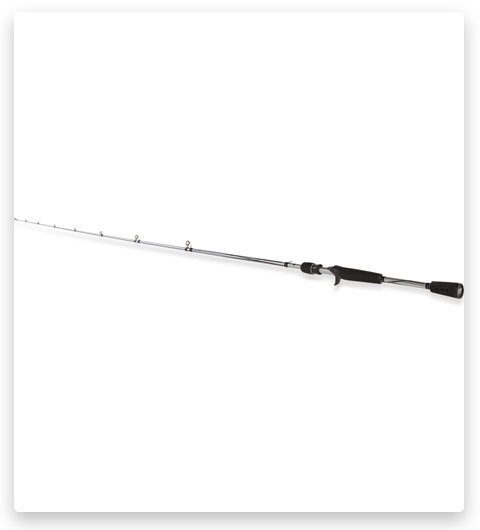 View on BassProShop View on Amazon
The Casting Fishing Rod by Abu Garcia is stronger than meets the eye. The blank is made of high-modulus graphite weighing 24 tons, and the guides are made of stainless steel with titanium oxide inserts. High-density EVA handles provide comfort during long fishing trips. This is a high-quality rod, very responsive and relatively stiff. Works especially well with smaller and lighter baits. It is also versatile and can be used for different types of fishing.
4# Shimano Zodias Spinning Bass Fishing Rods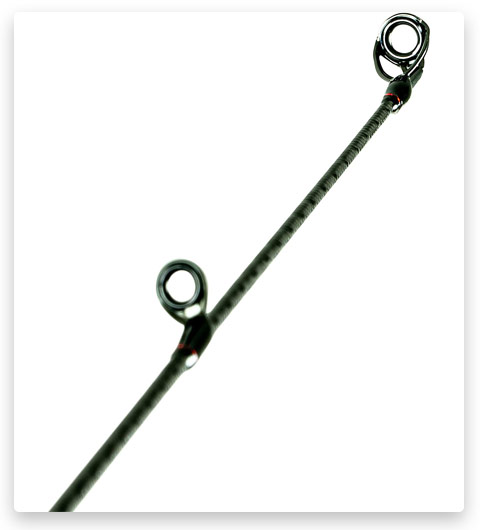 View on BassProShop View on Amazon
The Zodias spinning rod is built on a strong and well-balanced blank with a progressive action that allows you to cast far and accurately. The Shimano Hi-Power X construction used reduces blank twisting under load and allows you to accurately convey all the nuances of the bite. This is done on a 98.7% carbon blank using the new "Hi-Power X" technology. The model is equipped with high-quality Fuji Alconite guides, a new ultra-light proprietary CI4 + reel seat, and a Monocoque carbon handle. It is made in an effective design solution.
5# Entsport E Series Baitcasting Fishing Rod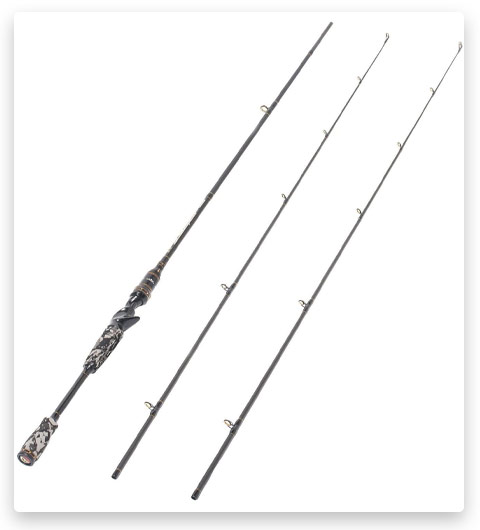 This is a top-end rod with a great design that you will want to have in your hand today. You will love not only the appearance of the rod but also its characteristics. You will be able to adjust the casting weight and adjust it as you need for successful fishing. It doesn't take long to set up. Even a beginner can handle this task. It has two tips so you can use it for different applications. The accessory is made of carbon fiber, which is durable and lightweight. You will be able to catch bass for years thanks to its high-quality construction.
6# St Croix Mojo Bass Casting Rods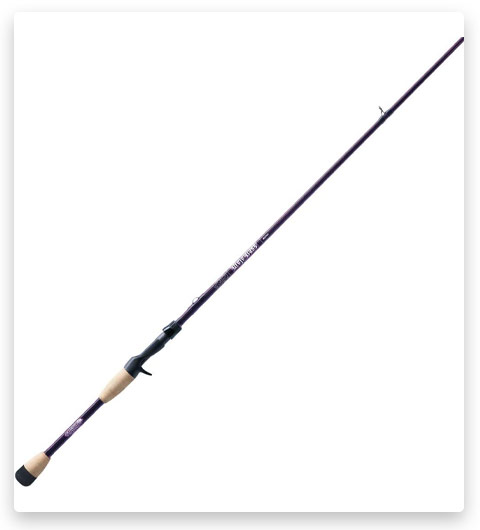 View on BassProShop View on Amazon
I suggest you take a look at yet another high-quality fishing gear for catching aggressive bass! The blank is made on the basis of SCIII high modulus carbon. This material is perfect for a fisherman expecting high performance. IPC technology for creating a perfect blank cone, due to which the rods have the best sensitivity, great power, and very comfortable action when animating various types of lures. It features Kigan Master Hand 3D guides with slim alumina inserts. The Flex-Coat double coat is designed for greater durability of the blank. An incredibly lightweight, super sensitive, and durable rod.
7# KastKing Speed Demon Pro Tournament Series Bass Fishing Rods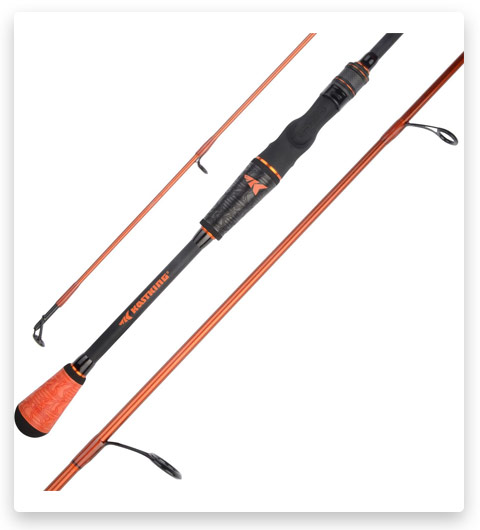 This is an affordable fishing rod that is no worse than the $200 models. The model is equipped with Elite Carbon blanks. Thanks to Carbon Nano Tube resin technology, their weight is reduced and their strength is increased. You can take the accessory with you on trips without fear of damaging it. It is equipped with a Fuji reel seat. This indicates that your coil will be securely attached. High-quality guides reduce line friction and thus keep your line intact.
8# PLUSINNO Elite Hunter 7FT Fishing Rod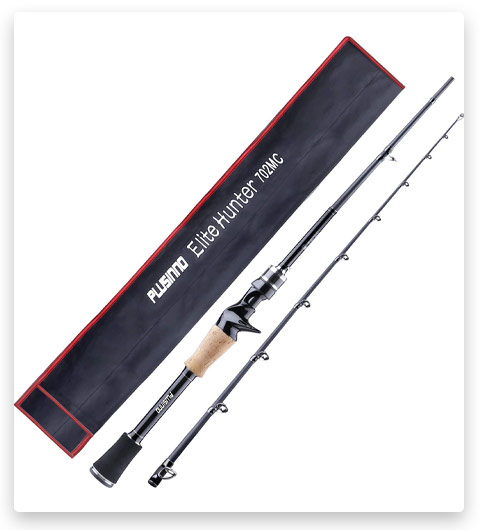 PLUSINNO is a leading brand in the fishing tackle industry and has earned a reputation for superior quality. This model is of high quality and performance, manufactured using advanced brand technology. It is made from IM6 carbon fiber. This allows the rod to remain responsive. This material makes the accessory very light and easy to handle, responsive, and precise, as well as strong and durable.
9# Dobyns Rods Fury Series Casting Rod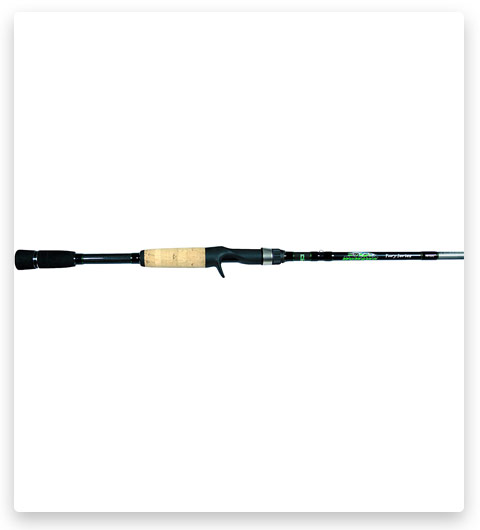 The 24-ton carbon fiber construction makes this rod lightweight while maximizing strength and retaining sensitivity. Other components include high-density EVA handles, corrosion-resistant guides, and an improved reel holder that is also corrosion-resistant. It is rated for lure weights from 0.1 to 1.1 ounces and is ideal for casting. It is sensitive enough to transmit the bite of even the smallest fish.
10# Piscifun Torrent Baitcasting Rod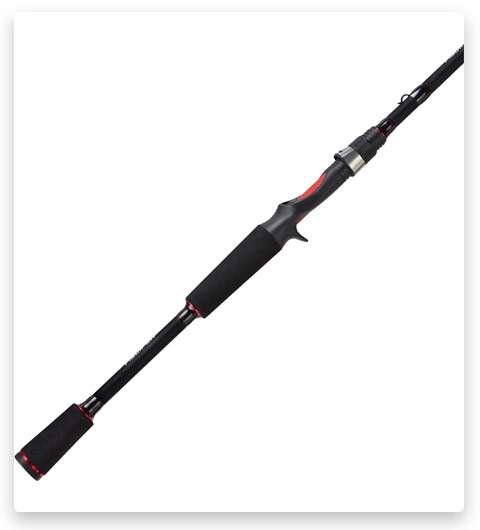 This accessory works smoothly, is easy and comfortable to use, durable and responsive, and is highly recommended for intermediate anglers and novice anglers. It has an attractive and modern look. Split EVA handles improve sensitivity, control, and fishing comfort. The reel seat is reliable during big fights with bass and is ergonomically designed for ease of use. It has 8 + 1 strategically distributed guides. The fishing rod differs from others by the presence of computer control wrapping at three angles (0⁰, 45⁰ – 45⁰).
11# Sougayilang Speed Bass Fishing Rods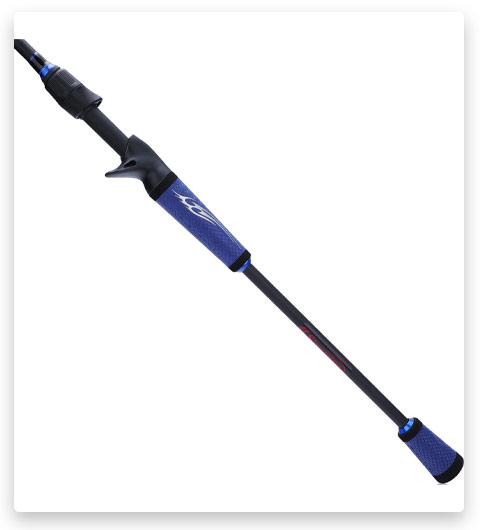 Sougayilang is one of the favorite brands of anglers. It is a composite rod made of carbon fiber. This makes it strong and durable, as well as lightweight and with good sensitivity. The handle is made of EVA for comfort and durability. The rod is lightweight and comfortable to use. This offers a good balance.
12# Enigma Bass Fishing Rods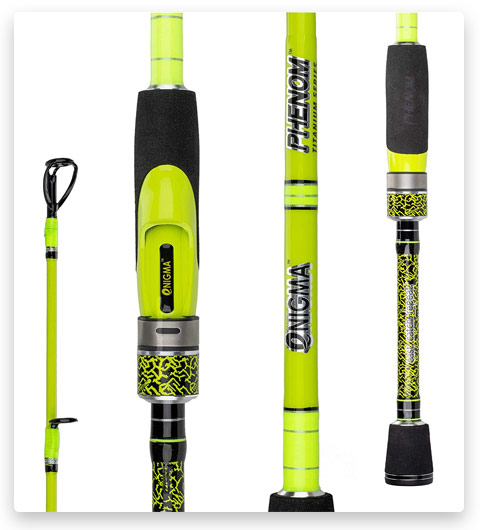 A responsive bass rod. It is manufactured on Japanese graphite. A responsive blank with fast action and ample spring to fight fish. These spinning rods have good qualities, the secret of this quality lies in the use of high-quality raw materials. The model is perfect for both beginners and experienced fishermen and will satisfy the needs of any angler.
How to Choose the Right Bass Fishing Rod?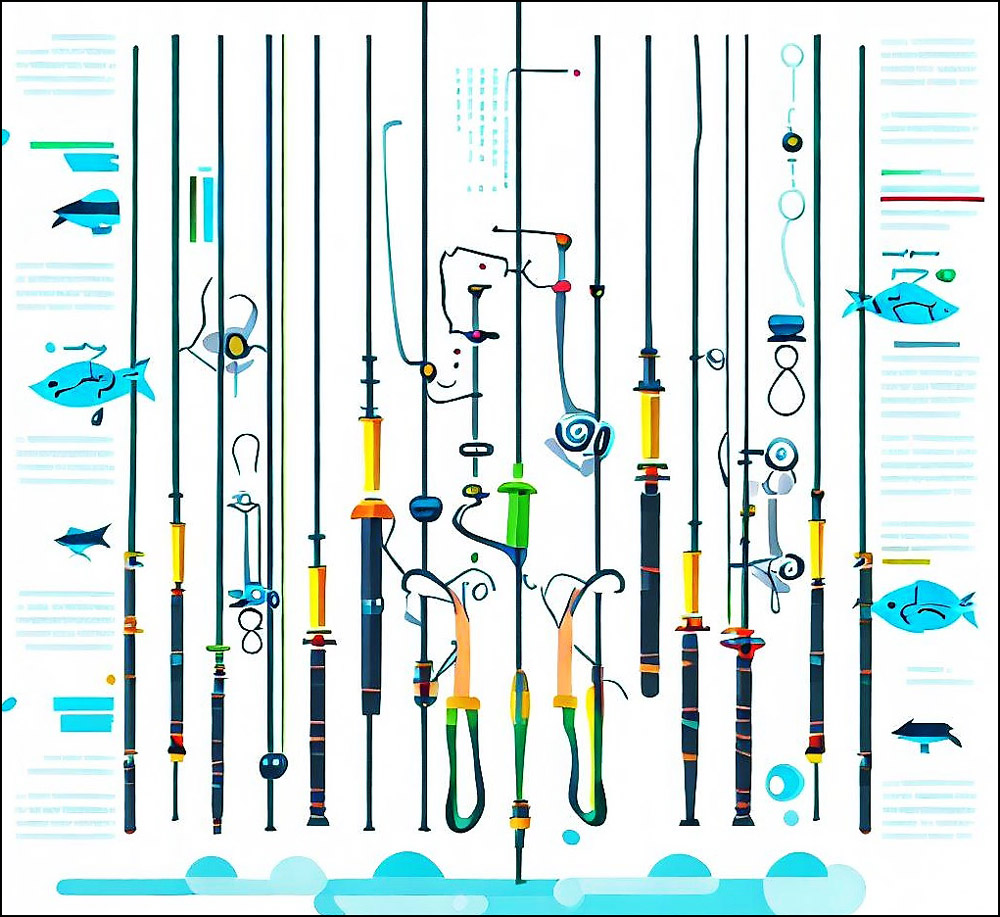 The aforementioned rods are the best for bass, but there is no model that everyone will love.  Buying a rod can be overwhelming if you don't understand what the technical terms used to describe the characteristics of a rod mean, or if you are just getting started with bass fishing. To make it easier to choose the best bass rod, I decided to explain to you the factors that affect rod performance and the terms used to describe it.
Handle
You will be holding the rod in your hands and it is important that you have a firm and comfortable grip. It will allow you to get the fish out no matter the circumstances. This is why the grip type on a bass rod is an important factor to consider. The three main grip types for this accessory are cork grips, EVA grips, and wooden grips:
The cork handles provide a secure grip and are more sensitive, making bite detection easier. They are lighter than wooden handles.
Foamed EVA handles are very easy to use and very durable.
The wooden handles look great but don't hold up very well, especially in cold weather. In cold weather, they become very cold and easily damaged. However, well-made wooden handles last longer than cork handles.
The Action
The action of a rod is understood as its stiffness or flexibility in bending. The action of the rod can be seen in the shape it takes when a load is hanging from it. There are superfast, fast, medium, or slow action rods. In some cases, the action is described as medium or heavy, which can be confusing because these are the same terms used to describe rod power:
Superfast rods are less flexible and aggressively bend at the top with a very little bend along the shaft. They are also very sensitive to any vibration. They are best suited for larger fish. The faster action of the tip puts more pressure on the bass.
Fast-action rods are more flexible than ultra-fast rods and tend to bend towards the middle of the rod. They are powerful and flexible.
Medium action rods curve towards the center making them best for use with light lines and fine tactics. They tend to make it easier to cast baits.
Slow action rods are the most flexible and have almost no bending along the entire length of the rod. They are better suited for small bass, small and light lures.
Power
This characteristic shows how much pressure is needed to bend the rod. The power of the rod also determines the weight of the line and lure that can be used with the rod. The higher the rod power, the heavier the line and lure.
Material
Rods need to be sensitive so that they transmit vibrations efficiently and reliably, be strong and flexible at the same time. Bass fishing rods are made from graphite, fiberglass, or a combination of the two.
Guides
Good guides are an important component of a bass rod as it allows you to cast longer and reduces line friction. Ceramic or titanium guides are of the highest quality and provide the best performance.
Length
The typical bass rod length is 6 to 8 feet. Short rods are usually 6 to 7 feet long. Long models are 7 to 9 feet long. The longer the rod, the more distance you can cast. When choosing the length of your rod, take into account the casting distance, the casting location, and the type of bait. A short model is required for casting over short to medium distances. Longer distances require longer rods from 7.5 to 12 feet, for example, if you fish in open areas. The short rod is ideal for fishing with small to medium lures to catch small to medium bass. Since you will need heavier lures and lines for larger bass, you will need a longer rod.
The Right Rod for the Job: Exploring Your Options in Bass Fishing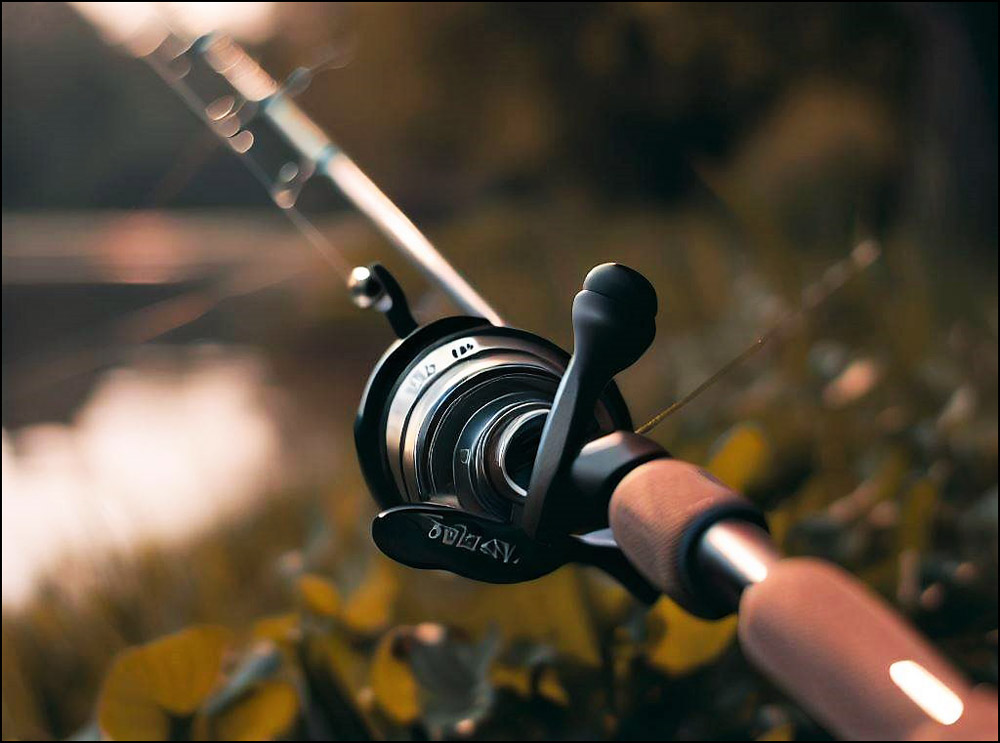 When it comes to bass fishing, there are several types of rods to choose from. Each type is designed with a specific purpose in mind, making it more suitable for certain situations and conditions. Here's a look at some of the most common rod types used in bass fishing:
| Type of Rod | Description |
| --- | --- |
| Spinning Rods | Known for their versatility, spinning rods are a staple in any bass angler's arsenal. Their design makes them ideal for light to medium lures and lines. The reel and line guides are placed on the underside, providing excellent balance for longer casts and continuous fishing without fatigue. They excel when you're fishing with lighter lures or in windy conditions that make accurate casting challenging. |
| Casting Rods | Available as baitcasting or spin casting rods, these are designed for more accuracy and power, making them excellent for medium to heavy lures. They're great when you're targeting larger bass or fishing in areas with lots of covers, where accuracy is key. However, they have a steeper learning curve and may not be the best choice for beginners. |
| Fly Rods | While not the conventional choice for bass, fly fishing for bass has its unique appeal. Fly rods are designed to cast lightweight flies and are used with a specific casting technique. They excel in situations where stealth is required and are perfect for catching bass in clear, shallow waters. |
Each type of rod has the attributes that make it suitable for bass fishing. For instance, the flexibility and lightness of spinning rods make them excellent for techniques requiring finesse, such as drop-shotting or jigging. On the other hand, the power and accuracy of casting rods make them ideal for techniques like flipping and pitching, or when casting larger lures or handling heavier lines.
🔶Understanding these types of rods, their strengths, and ideal scenarios will help you make a more informed choice. Remember, the goal is to match the rod to your fishing situation and personal style, not the other way around. Choosing the right rod is a game-changer – it can be the difference between reeling in that trophy bass or telling a story about the one that got away.
Casting Rods vs Spinning Rods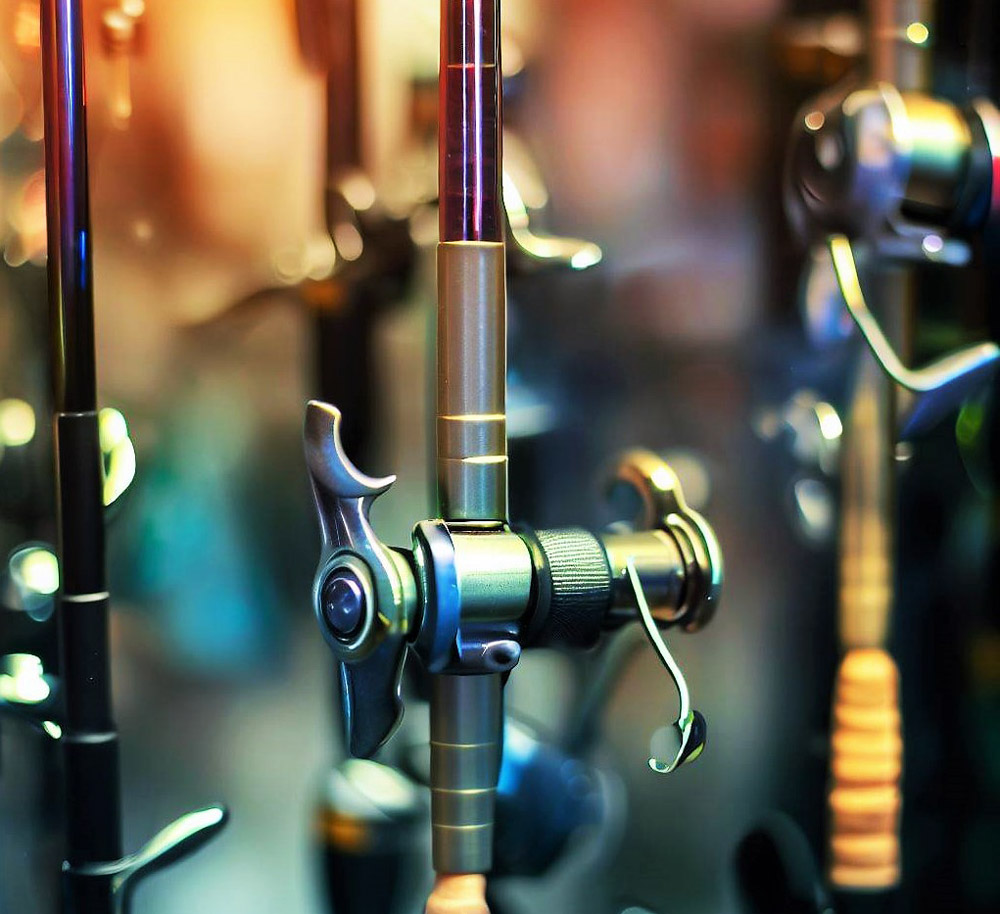 Casting and spinning are two types of bass fishing rods. So what do you need: casting or spinning?
Casting Rods
This rod is suitable for heavier lines and lures and is better suited to catching larger, more aggressive bass. Most anglers prefer this type of rod. If you want to use such techniques as lipping, deep cranking, spinner baiting you will definitely need a casting rod. Casting reels are often intimidating to beginners, but once they learn how to use them, it becomes easy and convenient for them.
Spinning Rods
Spinning rods are best for lighter baits and are best for smaller bass. They are also ideal for fishing in tight spots. Most beginners find spinning rods easier to use and learn. Some specific actions such as Skipping tubes under docks, working a shaky head, micro cranks, and topwater, and some other specialized techniques require the use of a spinning rod.
Pro Angler Picks: The Best Bass Fishing Rods You Should Consider
Now that we've dissected the world of bass fishing rods, let's dive into some specific models that truly stand out in the crowd. These rods have been chosen based on their quality, performance, and customer reviews. Let's explore:
🔷St. Croix Bass X Spinning Rod: This rod is a top choice for its exceptional value and performance. Made with premium SCII graphite, it provides fantastic sensitivity, so you'll feel every nibble. Its fast action is ideal for bass fishing techniques that require sensitivity and quick hook sets. However, the rod is slightly heavier than some others in the same category.
🔷Shimano Curado Casting Rod: Designed for those who prefer accuracy and power, this rod shines in its performance. With a hybrid high-modulus UD carbon with Nanoresin blank, it's lightweight, responsive, and strong. It also offers a comfortable grip, ensuring those long fishing sessions aren't a pain. The only con could be its price, which is on the higher side, but it's well justified by its performance.
🔷Ugly Stik Elite Spinning Rod: If you're a beginner or on a tight budget, this rod is an excellent choice. Ugly Stik is known for its durability, and the Elite series is no exception. While it may not have the sensitivity of a high-end graphite rod, it is robustness and exceptional value for money make it a popular choice among beginners and experienced anglers alike.
🔷G. Loomis E6X Spinning Rod: This rod delivers on both fronts: sensitivity and durability. The E6X technology allows for a lightweight feel and high sensitivity, making it easier to detect those light bites. While it is a bit of an investment, its excellent performance and build quality make it worth every penny.
🔷Orvis Clearwater Fly Rod: For those looking to explore fly fishing for bass, the Orvis Clearwater provides a fantastic balance between price and performance. It offers versatility and power, making it a great option for beginners to fly fishing. While it might not have the sensitivity of higher-end models, it's hard to beat at its price point.
🔶Remember, the best rod for you will depend on your specific requirements, personal preferences, and budget. Whether you're a seasoned pro or just dipping your toes into the bass fishing waters, there's a rod out there that's perfect for you. These are just a few excellent options to consider in your quest for the best bass fishing rod.
Longevity in Every Cast: How to Properly Care for Your Bass Fishing Rod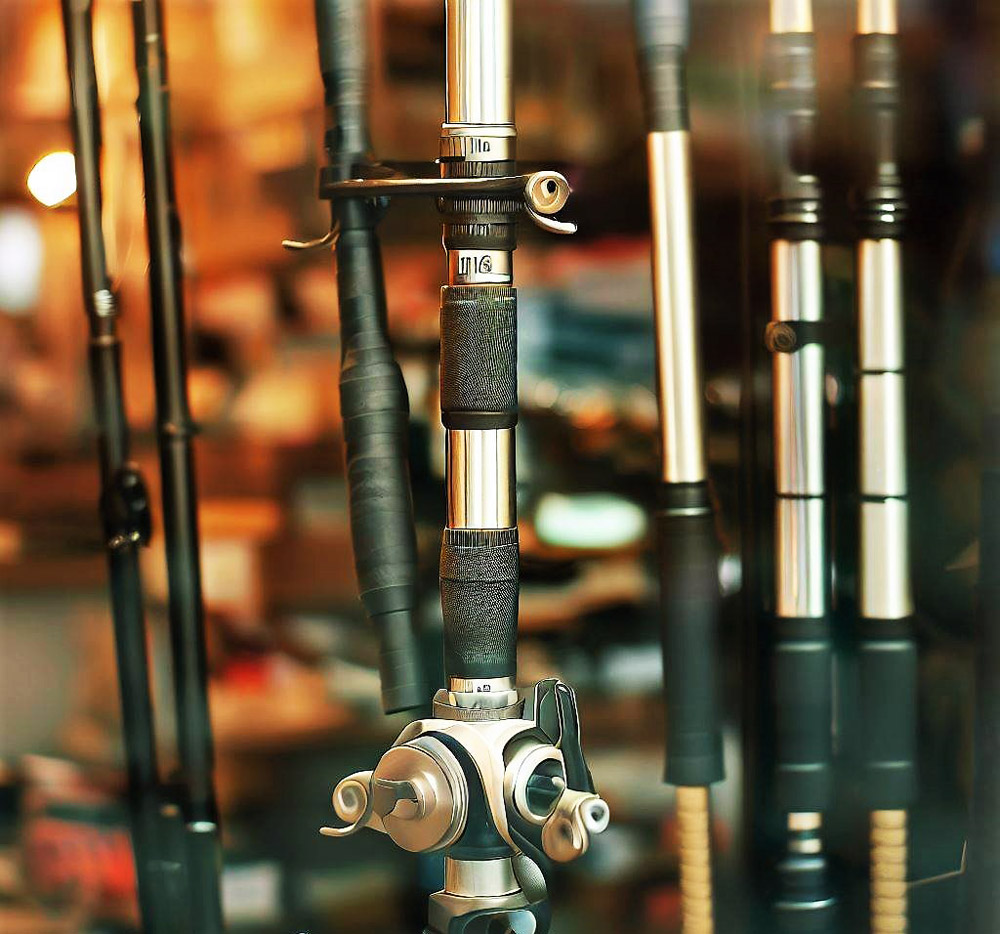 A fishing rod is more than a tool – it's an investment, a faithful companion in your bass fishing adventures. As with any cherished possession, caring for your rod ensures its longevity and maintains optimal performance.
The importance of rod maintenance cannot be overstated. A well-maintained rod not only performs better, allowing for accurate casts and better catches but also lasts longer, providing more value for your money. On the other hand, neglecting rod care can lead to problems such as line guides breaking, reels not fitting properly, and reduced sensitivity, which could impact your fishing experience negatively.
Here are some tips on how to care for your bass fishing rod:
| Rod Care Tip | Explanation |
| --- | --- |
| Cleaning | After each fishing trip, it's essential to clean your rod to remove dirt, grit, and salt that can wear down the rod's components. A simple wipe-down with a cloth dampened with warm soapy water is usually sufficient. Be sure to dry it thoroughly afterward to prevent rusting. |
| Inspection | Regularly inspect your rod for any signs of damage. Pay close attention to the line guides – even a small nick can damage your line over time. If you notice any damage, it's best to have it repaired immediately to prevent further issues. |
| Storage | Store your rod properly when not in use. Ideally, it should be kept in a cool, dry place away from direct sunlight. Use a rod rack or holder to keep it off the ground and in a position where it won't be bent or stressed. If possible, store the rod in a protective case, especially when transporting it. |
| Avoid High Heat | Extreme heat can damage your rod, especially if it's made of graphite. Never leave your rod in the trunk of your car on hot days or anywhere else where it can become extremely hot. |
| Use Proper Technique | Believe it or not, one of the best ways to care for your rod is to use it correctly. Avoid high-sticking (bending the rod over 90 degrees) and don't use the rod to lift heavy fish out of the water. |
🔶Caring for your bass fishing rod is part of the angling experience. With proper care and attention, your rod can serve you faithfully for years to come, helping you reel in those trophy bass time and time again.
FAQ: Finding the Ideal Bass Fishing Rod
🔶Remember, these are just general guidelines. The best rod for you will depend on a variety of factors, including your skill level, fishing style, and personal preferences.
Conclusion: Discover the Best Rods for Bass Fishing
Thanks to my list, you can easily find the bass fishing rod that suits you. My list is quite extensive so that everyone can find a suitable model for themselves. However, if you need additional advice, then go for KastKing Crixus Fishing Rods.
Wrapping Up: Reeling in the Perfect Rod for Your Bass Fishing Adventures
In conclusion, we've taken a deep dive into the world of bass fishing rods. From understanding the basics of bass fishing and the components of a fishing rod to exploring different types of rods and some of the best models available on the market, we've covered quite a bit of ground. The importance of properly maintaining your fishing rod was also stressed, ensuring your tool of the trade remains in top-notch condition for many angling trips to come.
🔶Remember, there is no "one-size-fits-all" when it comes to fishing rods. What works best for you depends largely on your personal preferences, fishing style, target species, and the conditions you most often fish in. Some might prefer the versatility of a spinning rod, while others might gravitate towards the precision of a casting rod or the unique challenge of a fly rod.
Reel in Your Thoughts: Wrapping Up the Quest for the Best Bass Fishing Rod
As you venture forth in your bass fishing journey, consider the factors we've discussed here today. Reflect on your specific needs, do your research, and don't be afraid to ask for advice. Whether you're a seasoned pro or a beginner, remember that choosing the right rod is not just about landing the most bass – it's about enhancing your overall fishing experience. After all, there's nothing quite like the thrill of a successful catch, made even sweeter by the perfect rod in your hand.
Join the Angling Conversation: We Want to Hear from You!
Now that we've cast a wide net over the subject of bass fishing rods, we'd love to hear from you. Have a fishing story to share? Any questions about the rods we've discussed, or perhaps you have a personal favorite that deserves a shout-out? Leave your thoughts in the comments below. Your insights and experiences not only enrich our fishing community but also help other anglers in their quest for the perfect bass fishing rod.
🔶Remember, sharing is caring. If you found this article helpful, why not share it with your fellow anglers? They might find it useful too, and who knows, you might just start the next big discussion in your fishing circle.
For those eager to delve deeper into the world of bass fishing, we have a treasure trove of articles waiting for you. From technique guides to gear reviews and fishing stories, there's something for everyone.
And finally, if one of our recommended rods caught your eye, why not take a closer look? We've provided links below for you to explore further or even make a purchase. Remember, the perfect rod can make all the difference in your bass fishing adventures.
🔶Here's to many successful fishing trips ahead, armed with knowledge, the right gear, and a passion for bass fishing.
Dive Deeper: Further Reading to Master Your Bass Fishing Gear
While this article aims to provide a comprehensive guide to choosing a rod for bass fishing, we understand that you might want to dig a little deeper into the topic. To that end, we've included some references and additional resources for further reading and exploration.
References:
While no specific studies or reports were directly cited in this article, our recommendations and insights are based on a combination of personal experience, expert opinions, and customer reviews from trusted online retailers and fishing forums.
Further Reading:
"The Complete Book of Striped Bass Fishing: A Thorough Guide to the Baits, Lures, Flies, Tackle, and Techniques for America's Favorite Saltwater Game Fish" by Nick Karas – While primarily aimed at striped bass, much of the advice given is applicable to all types of bass fishing.
"Bass Tactics for the 21st Century" by Jon Storm – A book that covers more advanced bass fishing techniques, useful once you've got the basics down.
"Advanced Bass Fishing Skills: Best Lures, Techniques and Presentations" by John E. Phillips – A more detailed look into bass fishing, covering everything from lures to best practices.
Websites like Bassmaster (www.bassmaster.com) and Wired2Fish (www.wired2fish.com) have a wealth of articles and videos on bass fishing, including equipment reviews and technique guides.
Online forums such as Bass Resource (www.bassresource.com/bass-fishing-forums) offer a great place to ask specific questions and get advice from experienced anglers.
🔶Remember, knowledge is power, especially when it comes to successful fishing. The more you learn, the more you're likely to enjoy your time on the water.
Tags: #best bass fishing rod and reel / #best bass fishing rod for the money / #best bass fishing rod and reel setups / #best bass fishing rod and reel for beginners / #best bass fishing rod length / #best bass fishing rod brands / #best bass fishing rod combo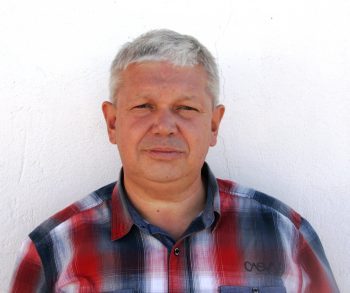 Sergio Smirnoff
Professional fisherman with 40+ years of experience.
Fishing and the ocean is a passion of my life. I am passionate about all kinds of sea fishing: fishing from the shore (spinning, float, baitcasting), from a boat, and spearfishing day and night.
I live in Tenerife (Canary Islands) for the last 10+ years and share my daily fishing experiences on my website. Many years of personal experience as a fisherman and the vast experience of my friends allow me to write professionally on any fishing topics (from choosing a flashlight and equipment to deep-sea fishing).
All of my advice is based on practical real-world experience and will be useful to both novice anglers and professionals.
Read more
about the author.
Affiliate Disclosure: FishReeler.com sometimes gets paid for listings, through sponsors or affiliate programs like Amazon, Ebay, Cabelas, Bass Pro Shop, Shimano, Daiwa, Rapala, Renn, Okuma, KastKing, etс. Clicking a link helps keep FishReeler.com free, at no extra cost to you!
About the author: Each article is verified by the fishing expert Sergio Smirnoff. The articles are written by professional and amateur fishermen with 20+ years of fishing experience.
Note: The views and opinions expressed in this article are those of the authors and do not necessarily reflect the official policy or position of any agency. The articles are for informational purposes only, share your opinions in the comments and join the fishing discussions, let's share our fishing experiences together!