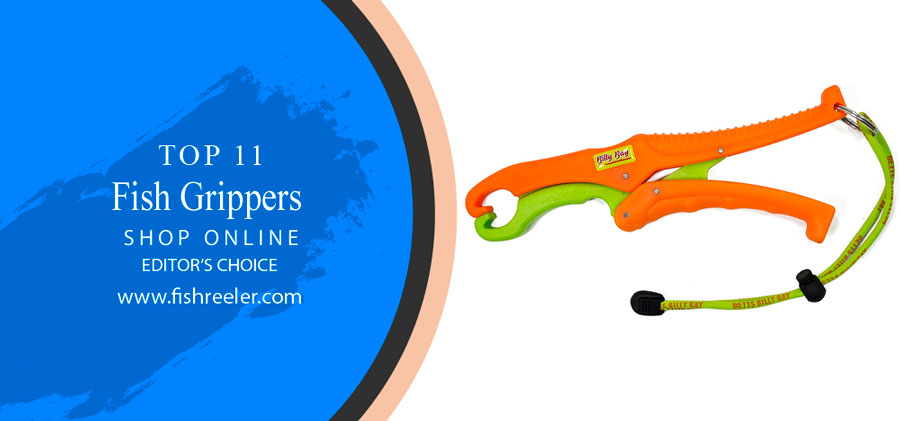 Best Fish Gripper With Scale: Useful Reviews & How-Tos & Price Guide

If you still don't know what a fish grip is, then it is time to find out! This is what will make your fishing even better and more enjoyable. The fish grip is designed to hold the lips of the fish. This allows you quickly, and most importantly safer to get a hook. Continue reading my article and you will learn more about using this tool! And also I will help you choose the best fish grip model.
The 11 Best Fish Lip Grippers: Your Fingertips Will Thank You
| Image | Product | Brand | Link |
| --- | --- | --- | --- |
| | Rapala 9" Floating Fish Gripper 9", white/black | Rapala | |
| | Piscifun Fish Gripper with Digital Fish Scale, Memory Function Fishing Scale, Save Up to Most 10 Set of Weight, Water-Resistant, Portable Stainless Steel Fish Lip Gripper, Fishing Gear Gift for Men | Piscifun | |
| | KastKing Waterproof Floating Digital Fishing Scale with No-Puncture Lip Gripper. Dual Mode - Pounds/Ounces & Kilograms. 0-50 Lbs/22.68 Kg, Lightweight ABS Frame, Non-Slip Handle | KastKing | |
| | ZACX Fish Lip Gripper, 8½-inch Grabber Grip Tool Stainless Steel Fish Holder Fishing Tool with Extended Edition EVA Foam Handle Fishing Gifts for Men Fishing Gear (Package A) | ZACX | |
| | ENTSPORT Fish Lip Gripper Fish Scales Professional Fish Holder Stainless Steel Fish Lip Grabber 40 Pound Fish Lip Grip Tool with Weight Scale | ENTSPORT | |
| | Fishing Pliers Fish Grip Tools Set, Fish Lip Gripper Grabber Grip Holder with Scale Ruler/Measuring Tape Stainless Steel Hook/Two-Sided Trigger, Weigh 40lb, Lanyard Pliers Portable Tackle Combo | Z ZANMAX | |
| | SAN LIKE Fishing Pliers Fish Lip Gripper,Multipurpose Non-Slip Fish Hook Remover with Sheath and Coiled Lanyard Split Ring Tool,Aluminum,Lightweight,No Rust Fishing Gripper | SAN LIKE | |
| | Booms Fishing G11 Fish Gripper with Scale | Booms Fishing | |
| | Fiblink Portable Fish Lip Grabber Gripper Grip Tool Aluminum Fishing Pliers Fish Holder Aluminum Fishing Tackle 40lb (40lb Gripper) | Fiblink | |
| | SAN LIKE Digital Fishing Gripper with Scale - Fish Lip Grip with LED Display,360°rotatable Skid-Proof Handle,Lightweight Fish Controller,Support 55lb Max | SAN LIKE | |
| | Fishing Pliers, Fish Lip Gripper Muti-Function Pliers Set,Braid Cutters Split Ring Pliers Hook Remover Fish Holder (C-Single-Fish Lip Grip) | Sensu | |

1# Rapala RFFG9 Floating Fish Gripper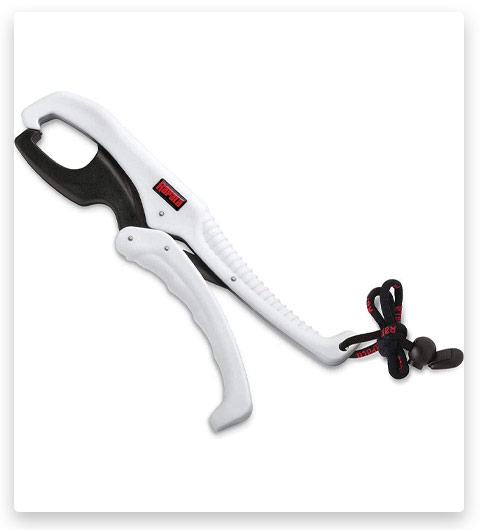 One of the best fish grip on the market in my opinion. As you already noticed, it is made of plastic. This material will save your grip from corrosion. This means that the instrument is light and well floating. It is also quite durable. The item has a 9-inch grip which is specially designed for easy release of fish. And most importantly, the fish will remain safe and sound. You will not do it any harm. You can use the tool even with one hand. This is great news for those who like to capture their prey in the photo. In order not to think where your tool is when you are not using it or not to store it, attach the grip with a lanyard. I advise you to purchase this grip! You will be surprised at the result.
2# Piscifun Fish Lip Gripper with Digital Scale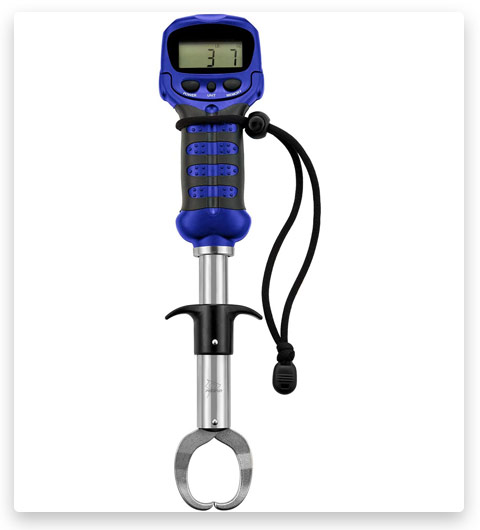 I think you already want to know more about this model. Yes, this tool can't only help you safely get a hook from the mouth of the fish, but also find out its weight right after you catch it. These are digital scales that clearly display the weight of the fish. The bright LCD allows you to immediately see the weight. Don't worry about the display stopping due to water ingress. The manufacturer took care of this and made the device waterproof. The plus of this fish grip is that it can withstand up to 60 pounds. It has a T style. You will learn more about this at the end of the article. This style doesn't cause difficulties in use. Also on the grip, you will not see rust or corrosion since the model is made of stainless steel.
3# KastKing Waterproof Floating Digital Fishing Scale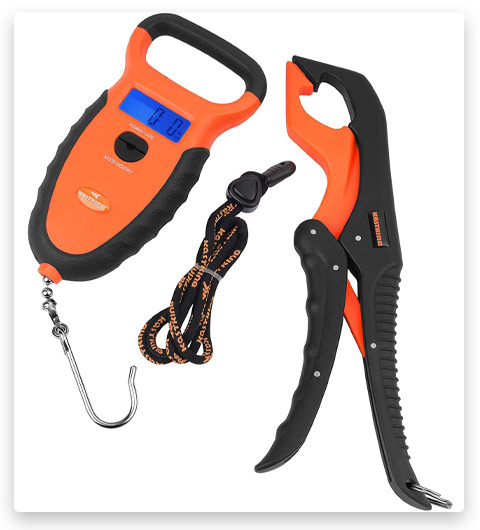 You already know how fish grips look that can weigh your catch. This is another model with this feature. But first, let's talk about the fish lip gripper itself. This is a floating model that is lightweight and easy to use. Made of plastic. A hand of any size will be comfortable to hold this tool thanks to a convenient handle. Now let's talk about the scales. You can find out the weight of the fish in pounds or kilograms, and the device also remembers the weight. This is available for 9 scales, which you can always return to remember the weight of the fish. Two-in-one device for the best fishing experience!
4# ZACX Fish Lip Gripper Muti-Function Pliers Set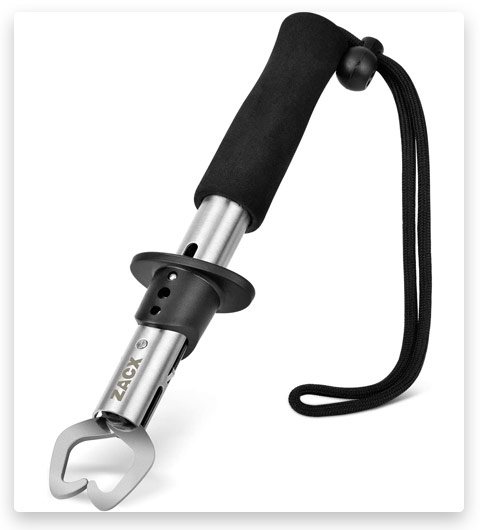 Give yourself a present! This fish gripper will change your fishing for the better. And so let's start with the material. The tool is made of aluminum. This material is one of the best for such things. It allows you to use the tool in any water. The handle is made in the traditional form of T. It is also spring-loaded so you can use the grip with one hand, and you can take a free photo if you need it. The device includes a lanyard that can be adjusted. This allows you to not lose your device.
5# Entsport Fish Lip Gripper Fish Scales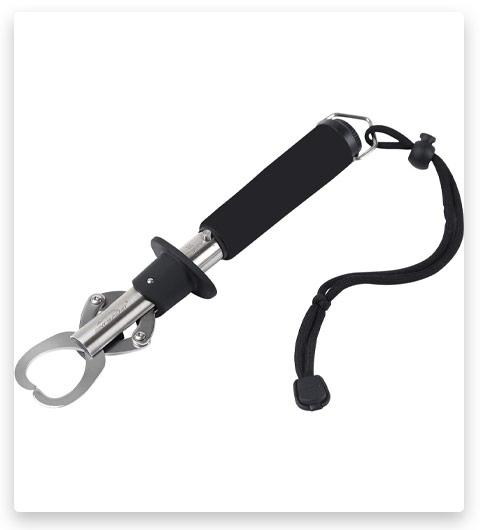 Anglers value this model for quality and price. The quality of this device could be worth higher. Therefore, don't miss your chance. The tool is made of stainless steel so forget what rust and corrosion are. Durability is one of the characteristics of this thing. Use on for any fishing. The grip holds up to 33 pounds. You can use it at least all day due to its lightweight. Your hand will not get tired. If you want to always have it with you when fishing, but don't want to carry it in your hands, then hang it on your wrist with a strap. The handle doesn't slip. This is another advantage for which anglers choose this product. And to all these pluses the fish lip gripper has scales. They weigh up to 60 pounds.
6# Z ZANMAX Fishing Pliers Fish Grip Tools Set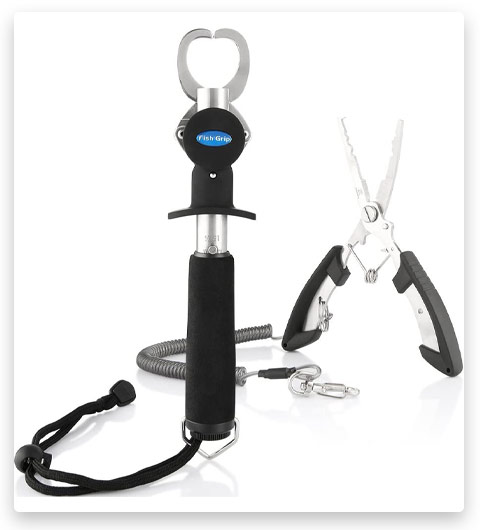 When you need to remove the hook, you need not only a grip but also pliers. Grabbing helps to hold the mouth of the fish, and with a pair of pliers you pull out the hook. In order not to buy these two tools separately, you can purchase this kit. The fish grip also has built-in scales to find out immediately to recognize the captured trophy. They are able to show weight up to 15 kg. Good handle material prevents your hands from slipping and holding the tool firmly. Pliers have sharp cutters. They allow not only to remove the hook but also help to trim any fishing line. Set two in one for comfortable and safe fishing!
7# SAN LIKE Fishing Pliers Fish Lip Gripper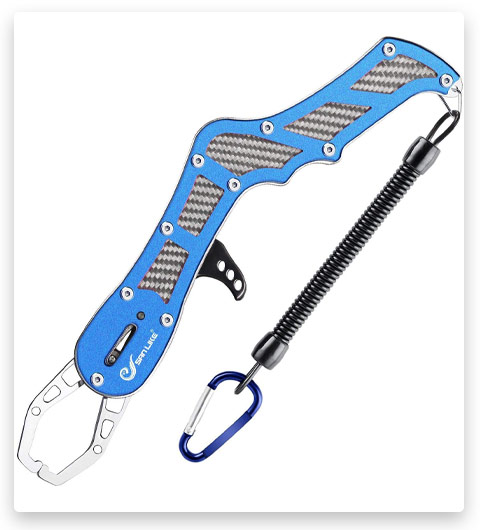 This model has the shape of a pistol. And the grip is made of aluminum which allows the device to last longer. The handle is lightweight and also made of stainless steel anti-corrosion material. The grips are long enough for you to avoid injuries to your hands. Let your fishing find new colors!
8# Booms Fishing G11 Fish Gripper with Scale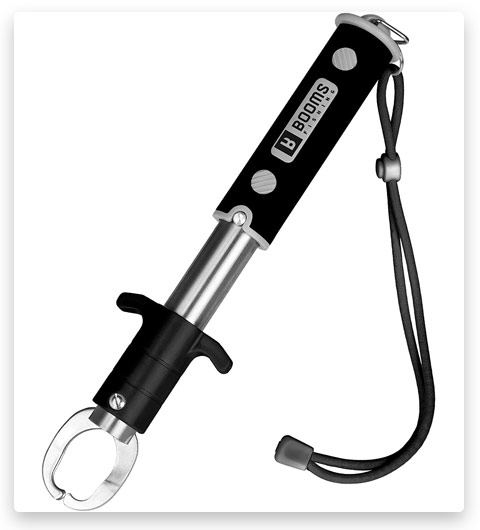 Classic black design attracts attention. The robust grip design makes this tool a favorite with many fishermen. It is easy to use, and most importantly safe. Built-in scales will help you immediately know the weight of the catch. The handle is sturdy and comfortable for any hand!
9# Fiblink Portable Fish Lip Grip Tool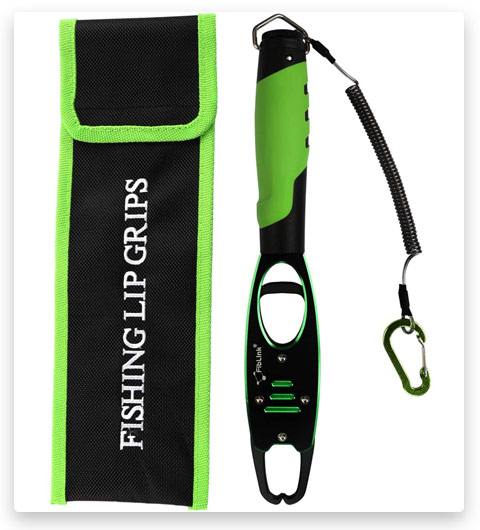 This is one of the best options for T shape aluminum grip. But its mechanism of work is that you only need to release the mechanism with one finger. Aluminum will allow your device to avoid corrosion, which means it will last you for many years. The handle rotates. It is not only convenient for the fisherman but also safe for fish. You will feel better about the device.
10# SAN LIKE Digital Fishing Gripper with Scale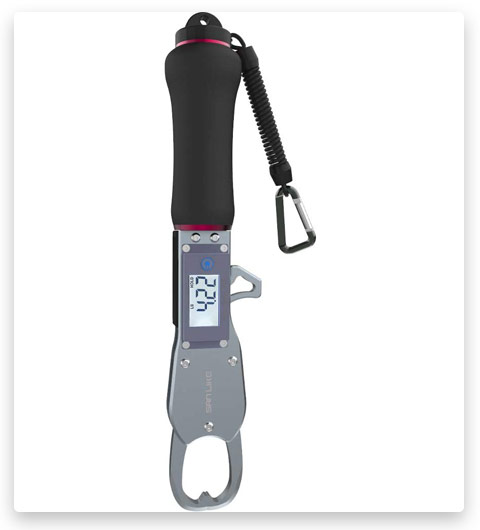 The rotary handle allows you to comfortably reach the hook and not harm the fish. Aluminum provides tool durability. The scales accurately show the weight of the fish and the result you see on the LCD. The backlight allows you to see the weight in any condition. Thanks to the lanyard you won't lose the device!
11# Sensu Fish Lip Gripper Muti-Function Pliers Set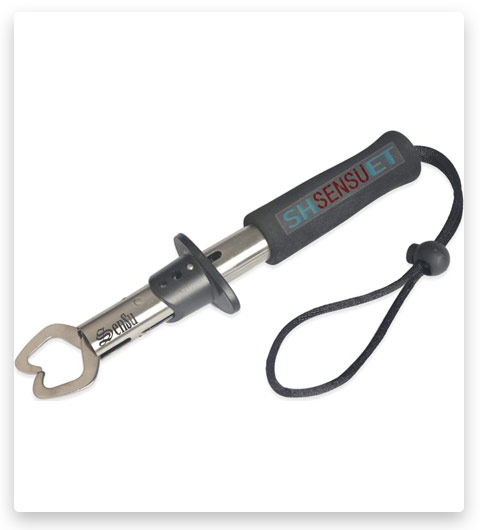 Remove the hook safely from the mouth of the fish with a firm grip! You will not harm the fish as the jaws have blunt tips. You can use it with one hand without any difficulty. Indulge yourself with a new fishing tool!
What is Fish Gripper?

You will find many reasons to use this tool. You no longer need to risk your fingers by pulling a hook from the jaws of the fish. Fingers and hands will not be scratched on the sharp teeth of the fish. Also, if you spend time fishing just for fun, grabbing the fish can save the life of the fish. You can remove the hook without harming the fish and release it back. You can also use this tool to save your catch.
This helps keep the fish when it tries to dodge. The fish has mucous skin. And therefore, when you hold it with your hand, a large percentage that you will miss it. But with the fish grip, this will not happen. As a rule, such a tool is used for any type of fishing. But it is especially useful for you when fishing from a boat or during sea fishing.
How to Use a Fish Gripper
If you haven't been familiar with this tool before, then don't worry. The mechanism of its work is simple so you will quickly understand how to use it. All fish grips have one principle, but their difference is how they open the jaw of the fish. The tool has a clamp that allows you to set the jaw of the fish in one position. Some models have a special button to open the jaw, while some work manually. After opening the jaw, you remove the hook and the fish can be released back into the water. More information on each model can be found in the instruction. Certain models have built-in scales that let you know the weight of the fish right away.
In order not to make a mistake with the choice, consider the following points:
Material
Choose a tool from either plastic, or aluminum, or stainless steel. These are the three best materials. If you are looking for a cheaper option, then plastic is suitable for you. But despite the price, it is durable and resists corrosion. Tools made of this material can be quite fragile, but here it is worth paying attention to the manufacturer. Aluminum and stainless steel are the two materials that can no doubt be trusted. They are durable and don't cause rust and corrosion.

Types of Fish Grippers
You have the opportunity to choose from three types of grips:
T-Style Gripper. This is the type that is used most often. We can say that this is a classic. This model resembles the letter T and is designed to grip large fish. They have a solid construction and are made of either stainless steel or aluminum.
Plastic Or Floating Gripper. The next type will be a great choice for those who have just decided to start using the fish grip. It is made of plastic and therefore has a lightweight construction.
Pistol Gripper. The latter model is somewhat similar in form to the first, but there are differences. Firstly, these grips are smaller and easier to use. However, they are just as durable. Its working mechanism is that it can open or close the movable jaw.
Size

This is not one of the most important points, but to work without problems, take this point into account. In general, all grips are approximately the same size. But if you are going to catch only small fish, then take a smaller size. If you are going to catch large fish, then a grip with a larger size will work better.
Handle
This item is one of the most important as it is responsible for your comfort. But there is no right answer. Each person is individual and everyone needs a different grip. The pistol grip is in great demand. Fishermen say that for them it is the most comfortable device. But other styles are no less convenient, it may take a little more time to get used to.
Durability
Don't neglect this moment. How long you will use the tool will depend on this. There are three factors to consider. The first is the strength of the materials used. The second is to build quality. And the most important factor is material. It must be resistant to corrosion and rust. And also don't forget to take care of the thing. Rinse after use in water.

Conclusion
I am sure that now you want to get the fish lip gripper for your fishing. This tool must have every fisherman. In my article, I have told you about this device and how to choose it correctly. Choose one and use it!
Tags: #best fish gripper / #best fish lip gripper / #best fish gripper with scale / #best fish gripper scale / #best fish gripper kayak / #what is the best fish lip gripper/grabber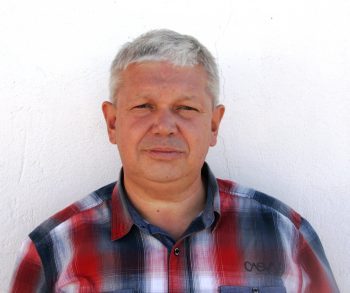 Sergio Smirnoff
Professional fisherman with 40+ years of experience.
Fishing and the ocean is a passion of my life. I am passionate about all kinds of sea fishing: fishing from the shore (spinning, float, baitcasting), from a boat, and spearfishing day and night.
I live in Tenerife (Canary Islands) for the last 10+ years and share my daily fishing experiences on my website. Many years of personal experience as a fisherman and the vast experience of my friends allow me to write professionally on any fishing topics (from choosing a flashlight and equipment to deep-sea fishing).
All of my advice is based on practical real-world experience and will be useful to both novice anglers and professionals.
Read more
about the author.
Affiliate Disclosure: FishReeler.com sometimes gets paid for listings, through sponsors or affiliate programs like Amazon, Ebay, Cabelas, Bass Pro Shop, Shimano, Daiwa, Rapala, Renn, Okuma, KastKing, etс. Clicking a link helps keep FishReeler.com free, at no extra cost to you!
About the author: Each article is verified by the fishing expert Sergio Smirnoff. The articles are written by professional and amateur fishermen with 20+ years of fishing experience.
Note: The views and opinions expressed in this article are those of the authors and do not necessarily reflect the official policy or position of any agency. The articles are for informational purposes only, share your opinions in the comments and join the fishing discussions, let's share our fishing experiences together!