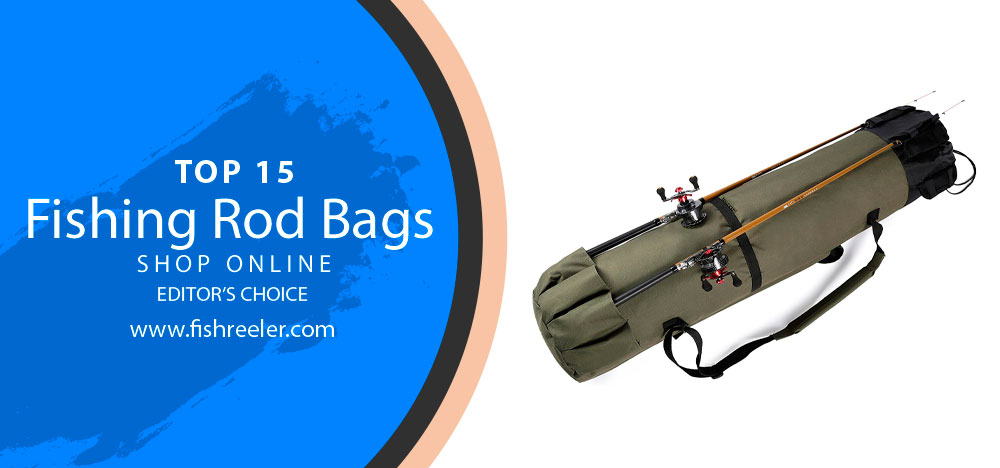 Best Fishing Rod Travel Tubes & Cases: Compared & Tested & Reviewed
I am willing to spend a lot of money on fishing equipment as this is my favorite pastime and what I really love. I think you understand. But I used to save on things like a fishing rod case. I didn't think it was the right thing to do. But after I broke my fishing rod just by transporting it in the car, I thought about a good defense.

Now I always carry my fishing rod in a protective case and you will not believe it, but it has been intact for a long time. A fishing rod is a fragile thing that needs protection. This is especially important when you transport it in a car, plane or take it with you on a trip. The case is a great thing for such cases. If you want to choose a really high-quality and practical case, then read my article further. I selected good things in my opinion and on the advice of my friends.
My best choice is Plano Airliner Telescoping Rod Case.
Its key features:
The case expands to 88 inches and folds up to 47 for easy storage.
The perfect combination of quality and price.
Very durable, great for carrying fishing rods when traveling.
1# Plano Airliner Telescoping Rod Case – Best Fishing Rod Bag For Travel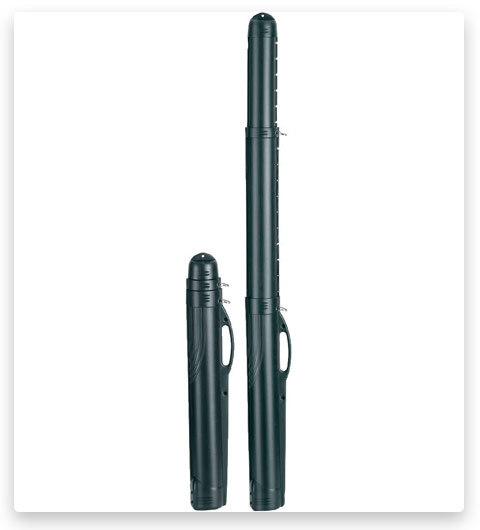 If you are a fisherman who likes to fish in different places or especially in different countries, then this case will really be great protection for your fishing rod. The manufacturer developed a hard case so that you can safely transport your fishing rod during air travel, transportation in the car.
I have a friend who flies very often and his fishing rod broke during an airport inspection. But after he started using this case, there were no more such cases. The case is very durable and can withstand any tests. Therefore, you can safely transport the fishing rod in it as you like.
The case is versatile as it can expand up to 88 pounds in length. But when you don't use it, you can fold it and put it where it will not interfere with you. It folds up to 47 inches. The case has a three-tier design and an almost five-inch diameter. This allows you to store eight rods. And a great bonus is its price. For this quality, it has a good price. You will understand this after using it.
2# Etna Fishing Rod Case Organizer – Best Roomy Case For Fishing Rods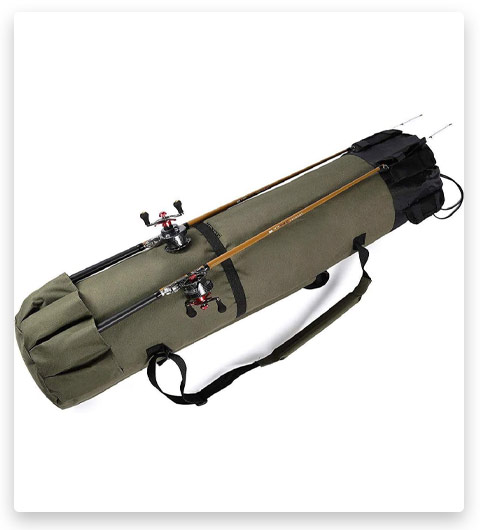 This model is used by my friend whose whole family loves fishing. It was always a problem for him to carry all the fishing equipment in the car. Since he has a wife and two sons he has to take 4 fishing rods and other equipment with him at a time. And this bag was a godsend for him. It not only protects fishing rods well from damage but also holds many other things.
This is very convenient. You can carry up to 5 rods on the outside of the bag. Also in the inner compartment, you can store fishing rods, reels, and other things that you will need during fishing. There is a pocket on the side where you can also put some things. This is especially convenient if you take your children fishing with you.
Easy to transport. Just put the case with all the equipment in the trunk and be sure that nothing will happen to them during the trip. The case has a great design and color. I like it when the case doesn't have a bright color. It isn't conspicuous and doesn't distract you from the process. Velcro and fasteners are strong and my friend has never complained that he has any problems with this. The quality justifies the price.
3# Booms Fishing PB1 Fishing Pole Bag – Best Quality Bag
I have no doubt about the quality of this fishing rod case. I had an accident when I put my fishing rod in this case and went on fishing by bike. Due to my carelessness, it turned out that the case fell to the ground relatively at high speed. At that moment I thought my fishing rod was over.
How surprised I was when I saw that it was intact and didn't even get more than one scratch. Now I am confident in the quality of this case and I recommend it to everyone. The case itself is designed to store the fishing rod along with the reel. It is made in this form so you don't need to separate the reel and fishing rod. The case has a standard size, 4.6 meters in length. And I also want to note such a thing as an adjustable shoulder strap.
This is very convenient as you can hang the case on your shoulder and free your hands. I usually take a lot of things with me, so it's important that I can carry them in my hands. There is a waterproof inner lining. The case is made of nylon fabric so it is resistant to abrasion. In general, this case is convenient and most importantly practical and high-quality.
4# Flambeau Outdoors 4455BB Rod Bunk Box – Best Case for All Fishing Gear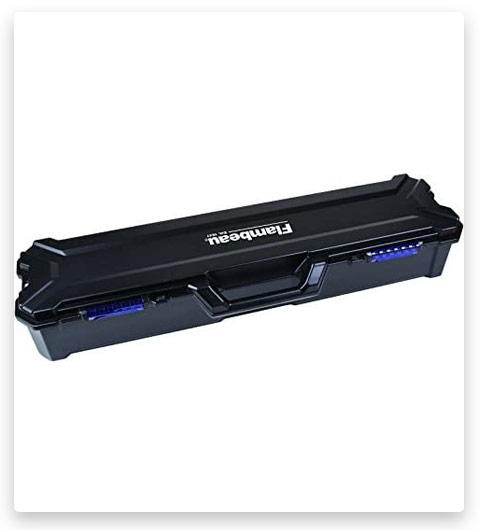 You will love this fishing rod case! It has a very strong construction, something even resembles a toolbox. Your fishing rod will be completely safe. It won't get bumps or scratches. And the coolest thing is that you can put your reel, your tackle boxes, and lures in addition to the fishing rod.
I like the fact that the foam that holds the reel isn't glued. Therefore, it can be moved and put into gear. But the inside of the lid is lined with foam. And this protects the fishing rod from both sides. The latches are very well made and durable. So you don't need to worry about them opening during a car or air flight. And it has one plus for air travel.  If you need to close it for additional baggage check-in, there are 2 places where you can hang additional locks. This is the perfect case for any occasion!
5# Allen Cottonwood Fishing Rod – Best Spacious Bag For Fishing Pole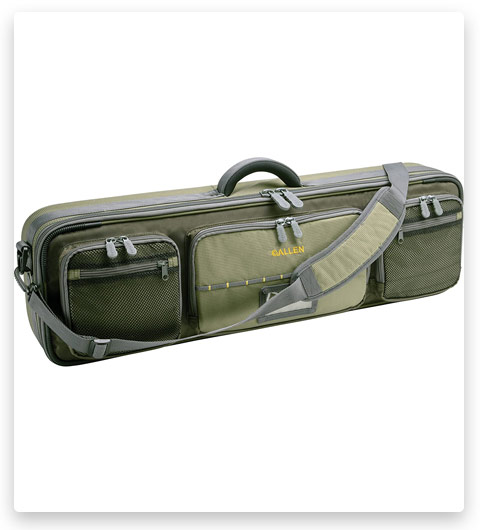 This case differs in its capacity. It is suitable for 4 rods. Also inside there are 8 compartments that are divided. In them, you can store the reels or other equipment. There are also transparent pockets in which you can also put everything you need. In them, all your equipment will be well protected.
Do you think that's all? But that's not all. The manufacturer has provided additional storage space on the outside of your bag. If you are the kind of person who always takes a lot of things on a fishing trip, then this bag was definitely created for you. Easy to carry thanks to the soft handle. Also, the bag itself weighs only 5 pounds.
You can carry the bag on your shoulder, but if it is inconvenient for you, you can unfasten the shoulder straps. I would recommend this bag if you travel a lot and take a lot of fishing gear. It is able to accommodate all this and keep it intact.
6# Hoovy Fishing Rod Carrying Case – Best Protection For Fishing Rods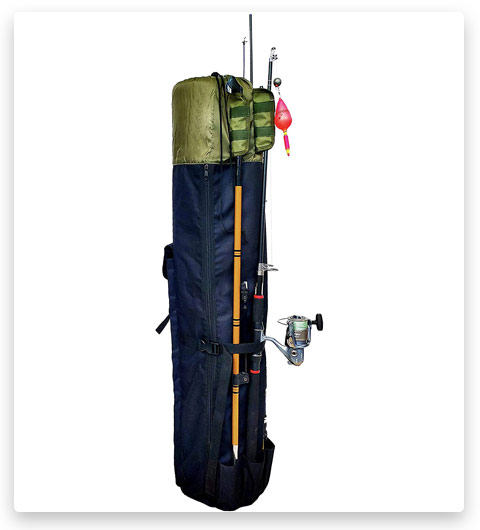 This is my brother's favorite case! He has been using it for more than three years and doesn't think about changing it. He is an avid fisherman, but he uses this case not only for storing equipment for fishing but also takes it with him on hikes and trips. Because you can fit everything in there. It has 5 compartments for fishing rods, as well as pockets for other equipment. To keep your things in place, there are special straps for this. For your convenience, it can be carried as a backpack. It is made of polyester fabric that is water-resistant. This case is great protection for your fishing rod!
7# Huntvp Fishing Rod Reel Case Bag – Best Storage Bag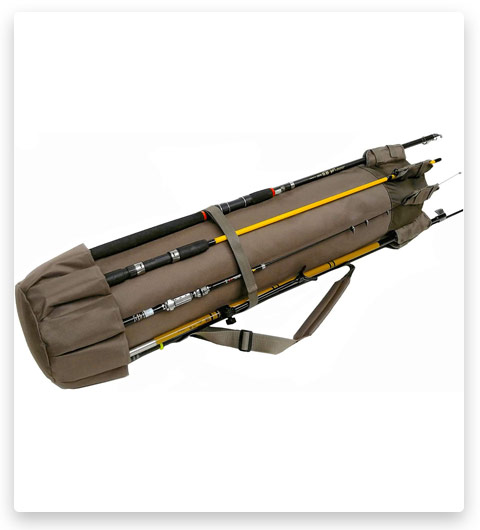 In my opinion, this is a roomy and practical bag for storing your fishing rods. You can store up to 5 rods and reels on the outside of the bag. There is also space inside the bag for other gear. Your fishing rods will be safe as they are secured on top with two straps. There is also a clasp around the outer center. For ease of carrying there is a shoulder strap. If this type of carrying doesn't suit you, then there is a convenient handle. This bag has everything you need and most importantly there is nothing extra!
8# Plano 4448 Fabric Rod Tube – Best Bag for Transporting Fishing Rod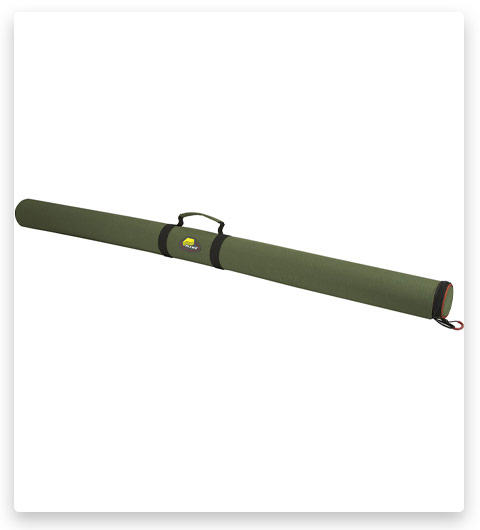 I can tell you that this is an affordable and good option for storing your fishing rod. I haven't heard complaints about damage from my friends who use this case. Since the ends of the bag are filled with foam this provides additional protection for the fishing rod tips. The case doesn't take up much space so it is perfect for transporting in a car or on a plane. The handle is made of nylon and is convenient for carrying the case. It has a simple and practical design. Neutral green color. I would say that this is a simple and at the same time durable case for your fishing rod!
9# Clear Creek Fishing Rod & Gear Bag – Best Travel Fishing Case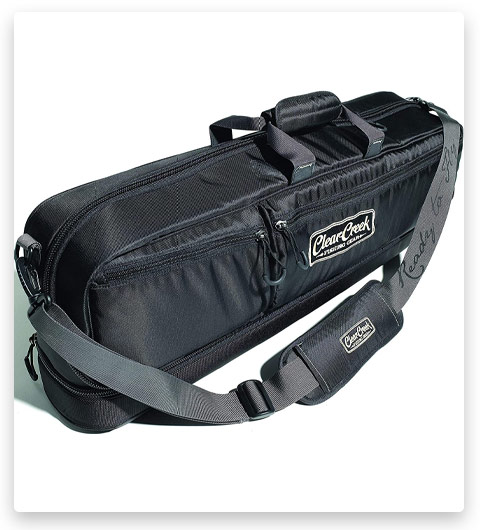 This is the case that is made of good material and spacious. It is made of denier fabric. It is water-resistant and durable. The manufacturer uses high-quality zippers that work well. You can carry the bag on your shoulder using the shoulder strap, you can adjust it to fit you. If you want, you will be able to take it off. And use the handle to carry the case. It is durable and so don't worry about it breaking. The lower section of the bag can accommodate 6 rods at once. You can also put reels, lures, and other fishing equipment in the bag. You can even put clothes and other items that you will need for fishing. An excellent case in black color for storing your fishing equipment!
10# Entsport E Series – Best Simple Case For Your Pole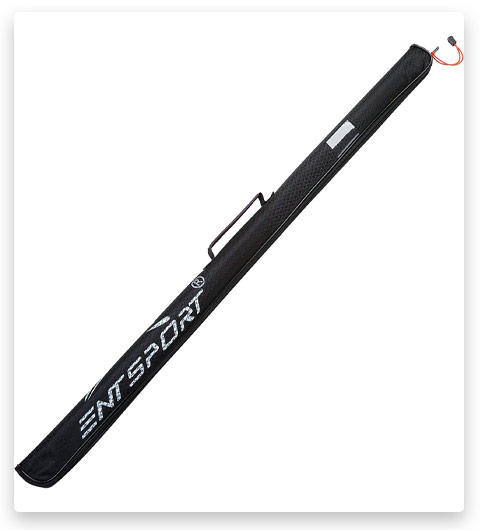 I like this case because the fishing rod is safe and easy to carry. It has a simple design. It can be carried using the handle that is located in the middle of the case. A durable and high-quality zipper that fastens well. You won't have any problems with it. Because not high-quality zippers are a frequent drawback for many cases. If you are looking for something simple and durable at an affordable price, then this case is what you need!
11# Lixada Fishing Rod Case – Best Portable Case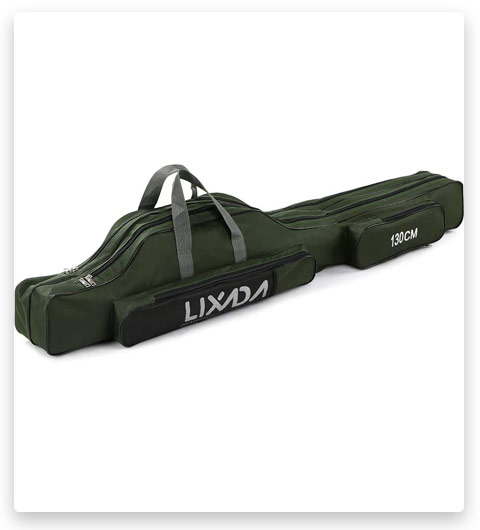 A great case that is suitable not only for storing fishing rods, but also other equipment. It has two main compartments and many additional pockets. All departments are closed with zippers that are of good quality. The case is made of Oxford fabric 420D. It doesn't tear and it is water-resistant. The case is convenient to carry. This can be done with a handle or straps and hung on the back. If you don't use it, you can fold it and put it away.
12# Valterra Black A04-5094BK EZ Adjustable Hose Carrier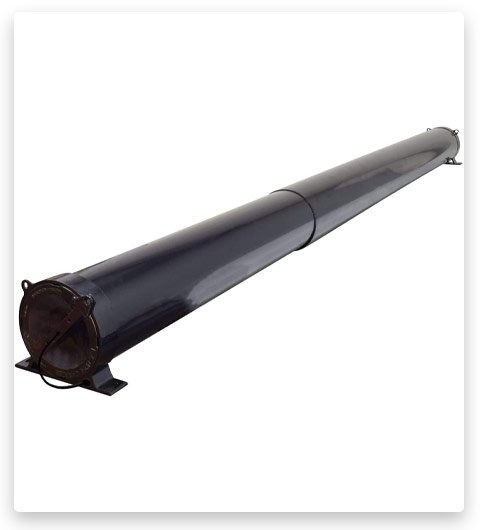 This case resembles the shape of a pipe and perfectly copes with its protection. It is durable and not bulky. It can be attached wherever you need with screws and is easy to transport. For example, my friend attached it along the side of his trailer to make it easy to transport. Everything was going well. There is a place for an additional lock if you want to increase security.
13# Vexan ICE Fishing Rod & Tackle Bag Semi-Soft Case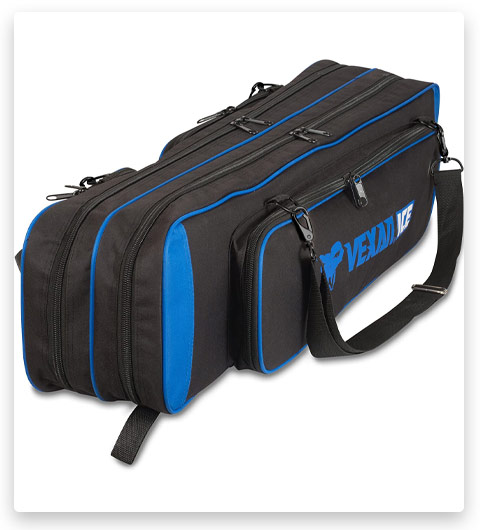 This is a very large bag that can hold all your fishing rods and equipment. You can put 8 fishing rods in it if they have a length of up to 36 inches. The fabric is water-resistant. There are pockets on the outside of the bag where you can put everything you need. There are two handles on both sides for easy carrying of the bag! Your fishing rods will be completely safe with this case!
14# Docooler Folding Fishing Rod Case – Best Water-Resistant Case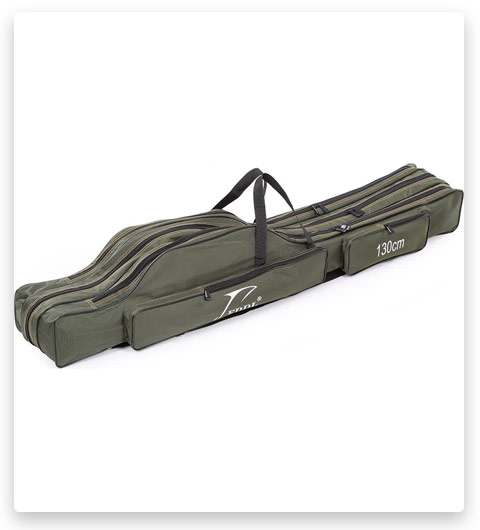 I think that this is a convenient case for storing your fishing rods and equipment. It has three separate compartments for fishing poles, as well as two pockets for other fishing gear. All these 5 departments are closed with a zipper. Easy to carry with straps. It can be carried as a backpack.
15# Lixada Fishing Rod Case – Best Durable Case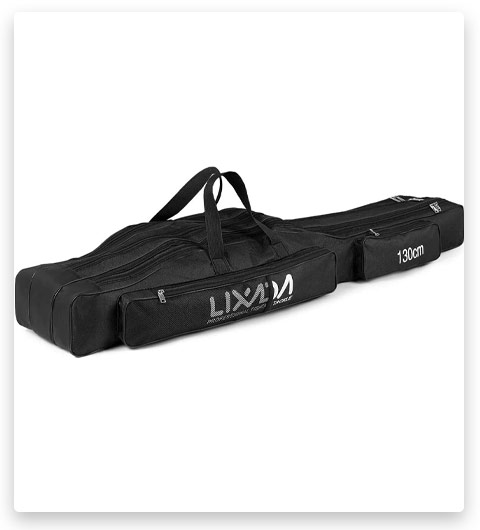 The last case on my list is a Lixada case. In it, you will find 3 main compartments for your fishing rods. There are 2 external pockets where you can carry lures or other things for fishing. There is also a mesh pocket. There you can put your essentials. The fabric is durable, waterproof, and difficult to tear. To make it easy to carry, use the handles or hang it on your shoulder using the shoulder strap.
Main Features of the Fishing Rod Case
Portability
This is an important point. You will have to carry a case with your gear and it should be convenient for you. If you know that you will have to carry the bag only to the car, you can consider models without a shoulder strap. And if you know that your bag will be heavy and you will have to carry it for a long time, then the shoulder straps should be there. Even better when the case can be carried as a backpack.
Durability and Protection
Look for a case that will be made of durable materials. Since its main task is to protect your fishing rod. Consider such a factor as water resistance. Especially if you are fishing from a boat.
Size
You have to decide for yourself what size you need. If you often carry a lot of fishing rods and equipment for fishing, then look for a case with a large number of sections and which can accommodate more than 2 fishing rods. If you don't need a large bag, choose simple models. Don't forget that not all large bags can fit in the trunk of the car. And also think about whether you will make flights with your case. And read whether your case will be included in the classification of large items.
Conclusion
A protective case for fishing rods and other fishing equipment is something that shouldn't be neglected. Fishing rods are fragile things that are worth keeping an eye on. You especially need a case if you are carrying a fishing rod in a car or plane. This is absolutely necessary. Without protection, there is a small chance that your fishing rod will be intact. In my review, I have shown you the 15 best cases that you can choose as your own.
Tags: #best fishing rod case / #best ice fishing rod case / #best fishing rod travel case / #best travel fishing rod case / #fishing rod case / #best fishing rod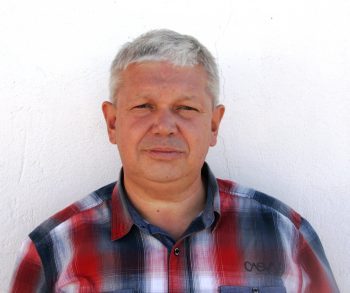 Sergio Smirnoff
Professional fisherman with 40+ years of experience.
Fishing and the ocean is a passion of my life. I am passionate about all kinds of sea fishing: fishing from the shore (spinning, float, baitcasting), from a boat, and spearfishing day and night.
I live in Tenerife (Canary Islands) for the last 10+ years and share my daily fishing experiences on my website. Many years of personal experience as a fisherman and the vast experience of my friends allow me to write professionally on any fishing topics (from choosing a flashlight and equipment to deep-sea fishing).
All of my advice is based on practical real-world experience and will be useful to both novice anglers and professionals.
Read more
about the author.
Affiliate Disclosure: FishReeler.com sometimes gets paid for listings, through sponsors or affiliate programs like Amazon, Ebay, Cabelas, Bass Pro Shop, Shimano, Daiwa, Rapala, Renn, Okuma, KastKing, etс. Clicking a link helps keep FishReeler.com free, at no extra cost to you!
About the author: Each article is verified by the fishing expert Sergio Smirnoff. The articles are written by professional and amateur fishermen with 20+ years of fishing experience.
Note: The views and opinions expressed in this article are those of the authors and do not necessarily reflect the official policy or position of any agency. The articles are for informational purposes only, share your opinions in the comments and join the fishing discussions, let's share our fishing experiences together!