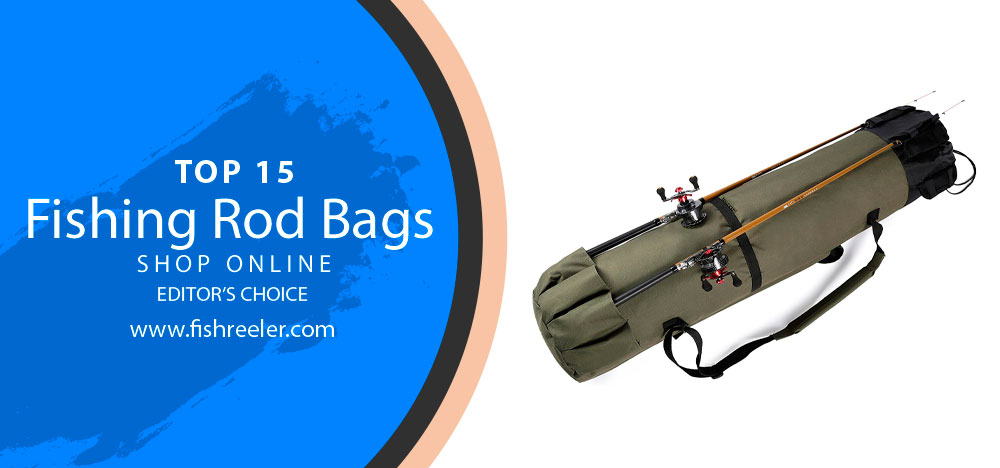 Safeguard Your Rods: Discover the Best Fishing Rod Cases & Tubes
Quick Summary
✅Fishing Rod Cases, Bags, and Tubes aren't simply storage options—they're the first line of defense in protecting your fishing rods from damage. The
rigors of travel, the unpredictable weather, and accidental mishaps
can all take a toll on your gear. With these cases and tubes, your rods are shielded from harm, keeping them in perfect condition for that moment when you reel in the big one.
✅But what truly sets these cases, bags, and tubes apart is their meticulous design. They don't just protect—they do it with style and convenience. Crafted with lightweight, durable materials, these accessories provide easy transport without adding unnecessary bulk to your gear. Some cases come with shoulder straps for comfortable carrying, others feature multiple compartments for extra tackle.
🔶In essence, the Fishing Rod Cases, Bags, and Tubes are more than just protective gear—they are an angler's best friend, designed to make your fishing adventure more enjoyable, efficient, and successful. Your rods deserve the best care, and there's no better way to provide that than with these high-quality cases, bags, and tubes.

Preserving the Life of Your Rod: An Insider's Guide to Fishing Rod Cases & Tubes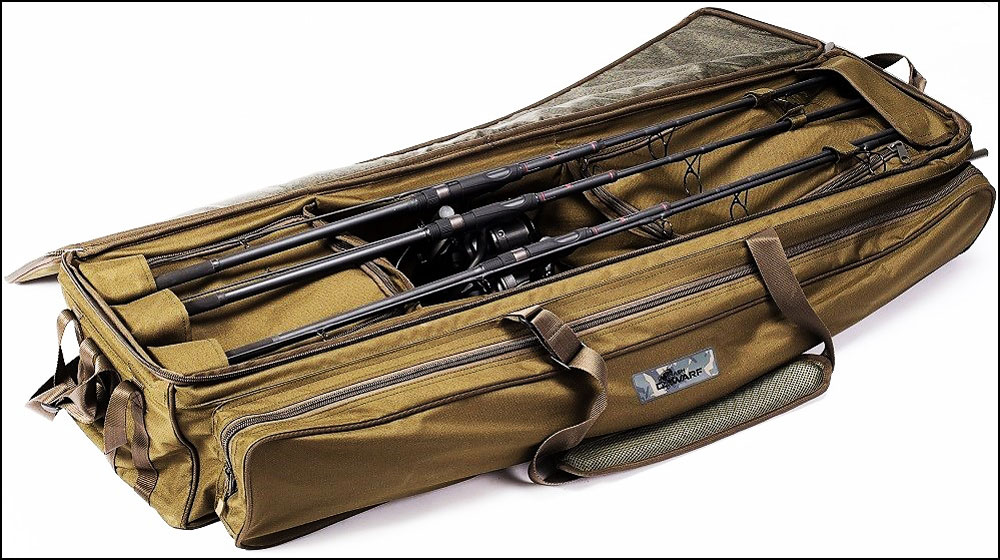 When it comes to fishing, there's a lot more to consider than just the bait and rod. One often-overlooked aspect that can make or break your fishing experience is how you store and transport your equipment. Yes, we're talking about fishing rod cases, bags, and tubes. These unsung heroes of your fishing gear not only make it easy for you to carry your equipment but also protect your precious rods from damage.
The Unsung Hero of Fishing Gear: Cases, Bags & Tubes 🎣
They are the guardians that keep your gear safe from dust, water, sunlight, and other environmental factors that can degrade your rods. Moreover, they help prevent scratches, bends, or other physical damage that can occur during transport. Simply put, if you want your fishing rods to last, you need a good case, bag, or tube to store them in.
My Personal Lesson: A Rod Tragedy That Could've Been Avoided 🚫
Let me share a personal story that highlights the importance of proper rod storage. As an avid angler and a professional in the field, I've always invested in top-quality fishing gear. But like many, I overlooked the value of good rod cases and tubes.
I once owned a premium-grade graphite fishing rod that was my go-to for most fishing trips. One day, I was headed out for a weekend fishing expedition and decided to stow my beloved rod in the back of my truck, without any protective case. Disaster struck when a heavy piece of camping gear slid and fell on the rod during the journey, snapping it clean in half. The heartbreak was immeasurable. 💔
Not only was the rod expensive, but it also held sentimental value, being my first major purchase as a professional angler. If I had invested in a decent rod case or tube, my prized possession would still be with me today. From that day forward, I understood the invaluable role of fishing rod cases, bags, and tubes.
🔶This experience taught me a tough lesson about the value of protecting your gear. I share this story not to discourage you, but to underscore the importance of proper rod care and maintenance. You may not realize the worth of a good rod case until you've suffered a loss like I did. Don't wait for that moment—invest in quality rod storage now, and give your fishing gear the protection it deserves.
Best Fishing Rod Travel Tubes & Cases: Compared & Tested & Reviewed

Fishing is far more than the adrenaline rush of a catch. It's the tranquility of nature, the precision of your equipment, and the entire journey that revolves around it. In the grand scheme of this adventure, careful preparation and the right gear are key. Among these, one often underappreciated piece of equipment is how we store and transport our precious fishing rods. Let's embark on an exploration of Fishing Rod Cases, Bags, and Tubes.
As an ardent lover of fishing, I'm no stranger to investing generously in top-notch fishing gear. After all, it's my beloved pastime, my passion. However, like many others, I often overlooked the importance of a quality fishing rod case, considering it an optional accessory rather than a necessity. That perception changed the day I damaged my favorite rod while merely transporting it in my car. It was a wake-up call to the significance of a reliable defense mechanism for my fishing equipment.
Since that day, my fishing rod has found a steadfast companion in its protective case. And guess what? Not only has my rod stayed intact for a significantly longer time, but I've also found peace of mind knowing it's secure. Let's face it – a fishing rod is delicate and demands protection, particularly during transportation, whether by car, plane, or on outdoor excursions. A sturdy case is the unsung hero in these situations.
If you're looking to invest in a robust, practical case that ensures your rod's longevity, you've landed in the right place. Based on personal experiences and suggestions from fellow fishing enthusiasts, I've curated a selection of exceptional rod cases and tubes. So, dive in and discover the protection your fishing rod deserves..
1# Plano Airliner Telescoping Rod Case – Best Fishing Rod Bag For Travel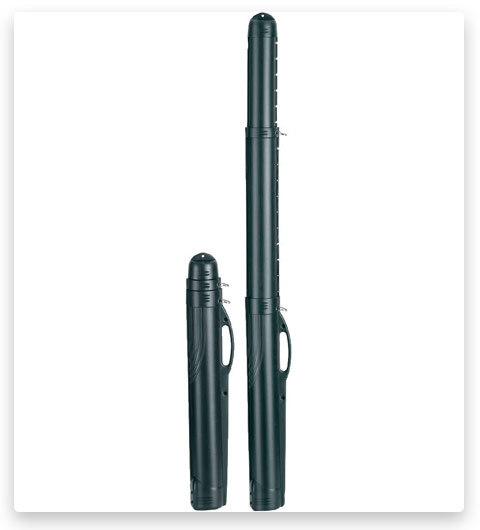 If you are a fisherman who likes to fish in different places or especially in different countries, then this case will really be great protection for your fishing rod. The manufacturer developed a hard case so that you can safely transport your fishing rod during air travel, transportation in the car.
I have a friend who flies very often and his fishing rod broke during an airport inspection. But after he started using this case, there were no more such cases. The case is very durable and can withstand any tests. Therefore, you can safely transport the fishing rod in it as you like.
The case is versatile as it can expand up to 88 pounds in length. But when you don't use it, you can fold it and put it where it will not interfere with you. It folds up to 47 inches. The case has a three-tier design and an almost five-inch diameter. This allows you to store eight rods. And a great bonus is its price. For this quality, it has a good price. You will understand this after using it.
2# Etna Fishing Rod Case Organizer – Best Roomy Case For Fishing Rods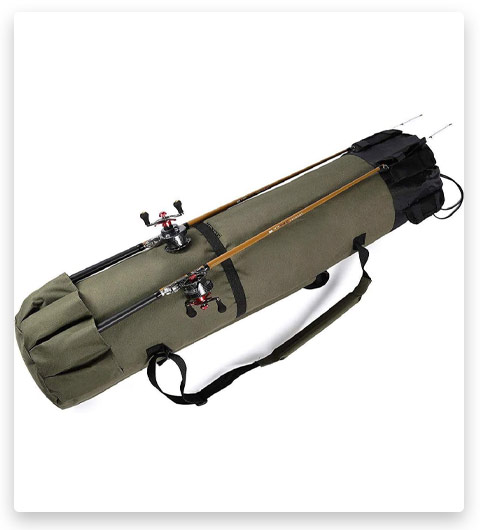 This model is used by my friend whose whole family loves fishing. It was always a problem for him to carry all the fishing equipment in the car. Since he has a wife and two sons he has to take 4 fishing rods and other equipment with him at a time. And this bag was a godsend for him. It not only protects fishing rods well from damage but also holds many other things.
This is very convenient. You can carry up to 5 rods on the outside of the bag. Also in the inner compartment, you can store fishing rods, reels, and other things that you will need during fishing. There is a pocket on the side where you can also put some things. This is especially convenient if you take your children fishing with you.
Easy to transport. Just put the case with all the equipment in the trunk and be sure that nothing will happen to them during the trip. The case has a great design and color. I like it when the case doesn't have a bright color. It isn't conspicuous and doesn't distract you from the process. Velcro and fasteners are strong and my friend has never complained that he has any problems with this. The quality justifies the price.
3# Booms Fishing PB1 Fishing Pole Bag – Best Quality Bag
I have no doubt about the quality of this fishing rod case. I had an accident when I put my fishing rod in this case and went on fishing by bike. Due to my carelessness, it turned out that the case fell to the ground relatively at high speed. At that moment I thought my fishing rod was over.
How surprised I was when I saw that it was intact and didn't even get more than one scratch. Now I am confident in the quality of this case and I recommend it to everyone. The case itself is designed to store the fishing rod along with the reel. It is made in this form so you don't need to separate the reel and fishing rod. The case has a standard size, 4.6 meters in length. And I also want to note such a thing as an adjustable shoulder strap.
This is very convenient as you can hang the case on your shoulder and free your hands. I usually take a lot of things with me, so it's important that I can carry them in my hands. There is a waterproof inner lining. The case is made of nylon fabric so it is resistant to abrasion. In general, this case is convenient and most importantly practical and high-quality.
4# Flambeau Outdoors 4455BB Rod Bunk Box – Best Case for All Fishing Gear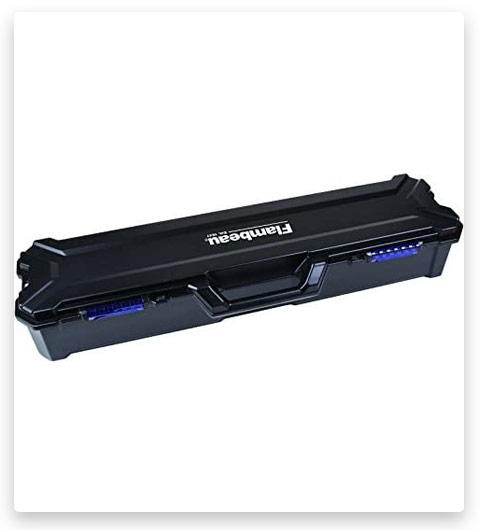 You will love this fishing rod case! It has a very strong construction, something even resembles a toolbox. Your fishing rod will be completely safe. It won't get bumps or scratches. And the coolest thing is that you can put your reel, your tackle boxes, and lures in addition to the fishing rod.
I like the fact that the foam that holds the reel isn't glued. Therefore, it can be moved and put into gear. But the inside of the lid is lined with foam. And this protects the fishing rod from both sides. The latches are very well made and durable. So you don't need to worry about them opening during a car or air flight. And it has one plus for air travel.  If you need to close it for additional baggage check-in, there are 2 places where you can hang additional locks. This is the perfect case for any occasion!
5# Allen Cottonwood Fishing Rod – Best Spacious Bag For Fishing Pole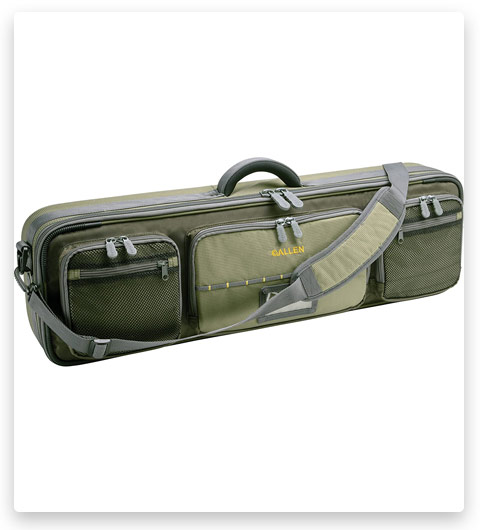 This case differs in its capacity. It is suitable for 4 rods. Also inside there are 8 compartments that are divided. In them, you can store the reels or other equipment. There are also transparent pockets in which you can also put everything you need. In them, all your equipment will be well protected.
Do you think that's all? But that's not all. The manufacturer has provided additional storage space on the outside of your bag. If you are the kind of person who always takes a lot of things on a fishing trip, then this bag was definitely created for you. Easy to carry thanks to the soft handle. Also, the bag itself weighs only 5 pounds.
You can carry the bag on your shoulder, but if it is inconvenient for you, you can unfasten the shoulder straps. I would recommend this bag if you travel a lot and take a lot of fishing gear. It is able to accommodate all this and keep it intact.
6# Hoovy Fishing Rod Carrying Case – Best Protection For Fishing Rods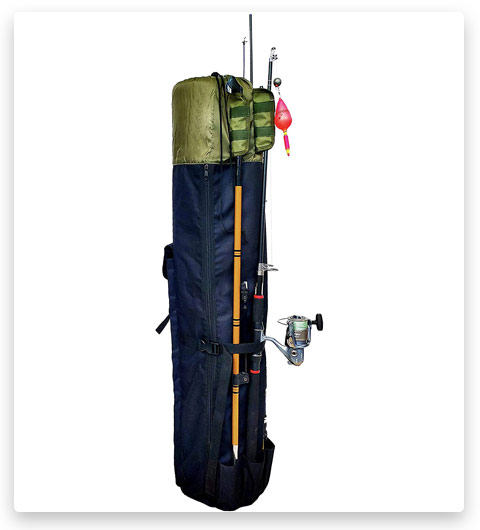 This is my brother's favorite case! He has been using it for more than three years and doesn't think about changing it. He is an avid fisherman, but he uses this case not only for storing equipment for fishing but also takes it with him on hikes and trips. Because you can fit everything in there. It has 5 compartments for fishing rods, as well as pockets for other equipment. To keep your things in place, there are special straps for this. For your convenience, it can be carried as a backpack. It is made of polyester fabric that is water-resistant. This case is great protection for your fishing rod!
7# Huntvp Fishing Rod Reel Case Bag – Best Storage Bag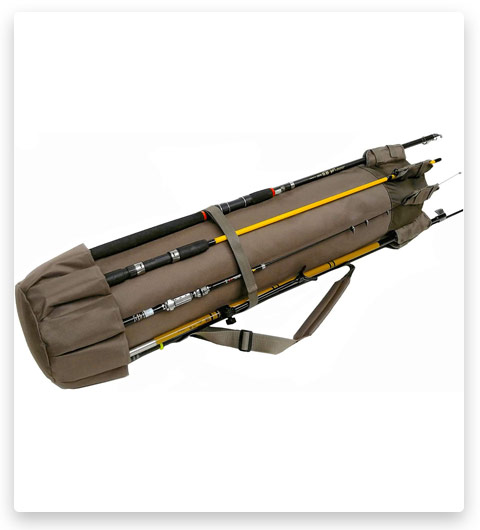 In my opinion, this is a roomy and practical bag for storing your fishing rods. You can store up to 5 rods and reels on the outside of the bag. There is also space inside the bag for other gear. Your fishing rods will be safe as they are secured on top with two straps. There is also a clasp around the outer center. For ease of carrying there is a shoulder strap. If this type of carrying doesn't suit you, then there is a convenient handle. This bag has everything you need and most importantly there is nothing extra!
8# Plano 4448 Fabric Rod Tube – Best Bag for Transporting Fishing Rod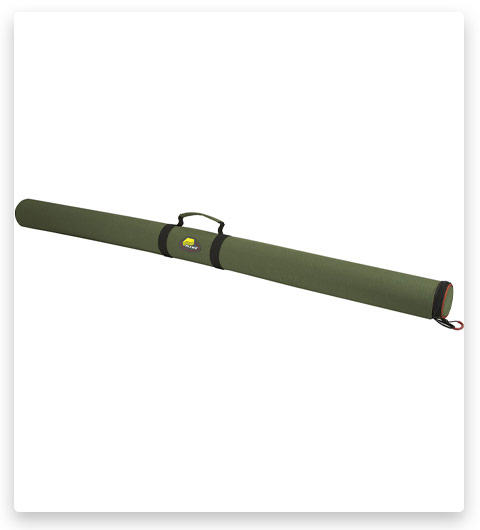 I can tell you that this is an affordable and good option for storing your fishing rod. I haven't heard complaints about damage from my friends who use this case. Since the ends of the bag are filled with foam this provides additional protection for the fishing rod tips. The case doesn't take up much space so it is perfect for transporting in a car or on a plane. The handle is made of nylon and is convenient for carrying the case. It has a simple and practical design. Neutral green color. I would say that this is a simple and at the same time durable case for your fishing rod!
9# Clear Creek Fishing Rod & Gear Bag – Best Travel Fishing Case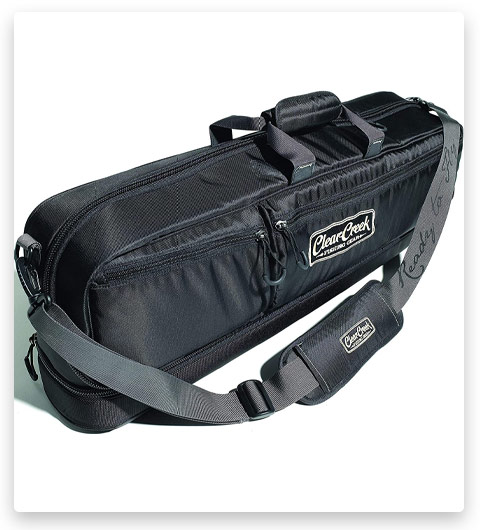 This is the case that is made of good material and spacious. It is made of denier fabric. It is water-resistant and durable. The manufacturer uses high-quality zippers that work well. You can carry the bag on your shoulder using the shoulder strap, you can adjust it to fit you. If you want, you will be able to take it off. And use the handle to carry the case. It is durable and so don't worry about it breaking. The lower section of the bag can accommodate 6 rods at once. You can also put reels, lures, and other fishing equipment in the bag. You can even put clothes and other items that you will need for fishing. An excellent case in black color for storing your fishing equipment!
10# Entsport E Series – Best Simple Case For Your Pole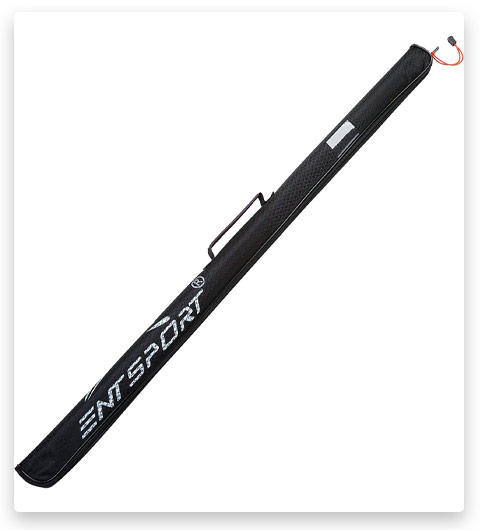 I like this case because the fishing rod is safe and easy to carry. It has a simple design. It can be carried using the handle that is located in the middle of the case. A durable and high-quality zipper that fastens well. You won't have any problems with it. Because not high-quality zippers are a frequent drawback for many cases. If you are looking for something simple and durable at an affordable price, then this case is what you need!
11# Lixada Fishing Rod Case – Best Portable Case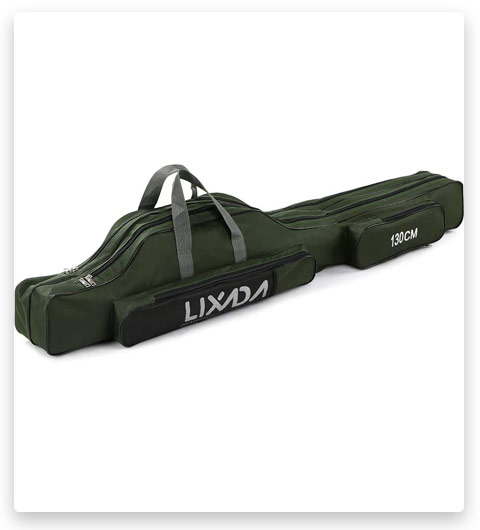 A great case that is suitable not only for storing fishing rods, but also other equipment. It has two main compartments and many additional pockets. All departments are closed with zippers that are of good quality. The case is made of Oxford fabric 420D. It doesn't tear and it is water-resistant. The case is convenient to carry. This can be done with a handle or straps and hung on the back. If you don't use it, you can fold it and put it away.
12# Valterra Black A04-5094BK EZ Adjustable Hose Carrier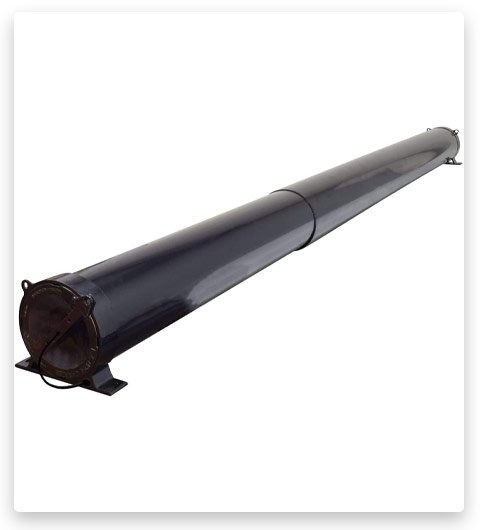 This case resembles the shape of a pipe and perfectly copes with its protection. It is durable and not bulky. It can be attached wherever you need with screws and is easy to transport. For example, my friend attached it along the side of his trailer to make it easy to transport. Everything was going well. There is a place for an additional lock if you want to increase security.
13# Vexan ICE Fishing Rod & Tackle Bag Semi-Soft Case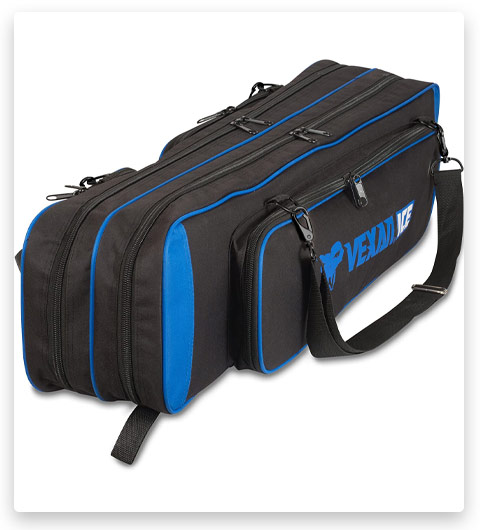 This is a very large bag that can hold all your fishing rods and equipment. You can put 8 fishing rods in it if they have a length of up to 36 inches. The fabric is water-resistant. There are pockets on the outside of the bag where you can put everything you need. There are two handles on both sides for easy carrying of the bag! Your fishing rods will be completely safe with this case!
14# Docooler Folding Fishing Rod Case – Best Water-Resistant Case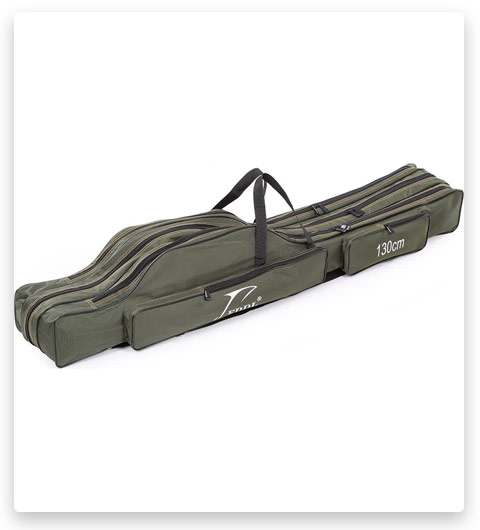 I think that this is a convenient case for storing your fishing rods and equipment. It has three separate compartments for fishing poles, as well as two pockets for other fishing gear. All these 5 departments are closed with a zipper. Easy to carry with straps. It can be carried as a backpack.
15# Lixada Fishing Rod Case – Best Durable Case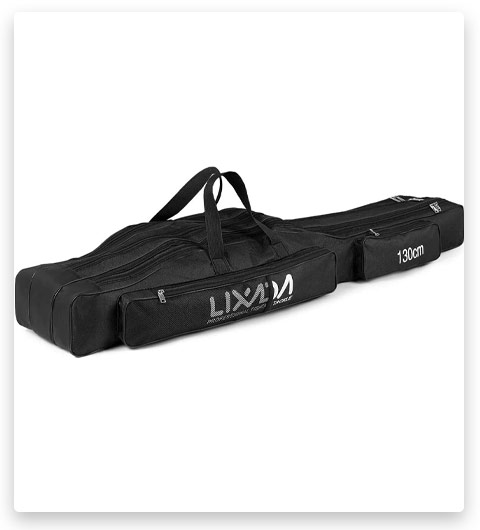 The last case on my list is a Lixada case. In it, you will find 3 main compartments for your fishing rods. There are 2 external pockets where you can carry lures or other things for fishing. There is also a mesh pocket. There you can put your essentials. The fabric is durable, waterproof, and difficult to tear. To make it easy to carry, use the handles or hang it on your shoulder using the shoulder strap.
Understanding the Value of Proper Rod Storage

More Than Just Storage: The Life-Saving Role of Rod Cases & Tubes 🛡️
Fishing rod cases, bags, and tubes are not merely storage options—they're the lifeline of your rods. So, how exactly do they extend the life of your rods?
Protection from Environmental Factors: 🌦️ Cases, bags, and tubes safeguard your rods from harsh environmental conditions such as excessive sunlight, rain, snow, or even saltwater spray, all of which can affect the performance and lifespan of your gear.
Physical Damage Prevention: 🚧 These protectors keep your rods safe from accidental bumps, falls, or mishandling that could lead to scratches, breaks, or bends in your rod.
Organizational Efficiency: 🗄️ By keeping your rods neatly stored away, you reduce the risk of lines getting tangled or hooks causing accidental damage. It also makes it easier for you to find the right rod when you need it.
Transportation Ease: 🚚 When moving from one fishing spot to another, cases and tubes make transportation easier and safer. They protect the rod from damage during transit and make it convenient for you to carry them around.
Simply put, rod cases, bags, and tubes act as a shield, increasing the longevity of your rods and ensuring they perform optimally every time you cast your line.
Why Your Rods Are Worth More Than You Think 💰💖
Owning a fishing rod isn't just about the financial investment you put into purchasing quality gear. It goes beyond that. Each rod often carries a sentimental value that's priceless. From the rod you used to catch your first fish, to the one passed down from your grandfather, every rod has a story attached to it. Protecting these rods means preserving these memories.
Financially, it makes sense too. High-quality fishing rods can be a significant investment. By keeping them in top-notch condition, you are ensuring that you don't need to replace them frequently due to avoidable damage. Plus, should you ever decide to sell a rod, maintaining it in a good state can fetch you a better resale value.
🔶In short, by investing in fishing rod cases, bags, and tubes, you're not just protecting a piece of equipment—you're preserving your memories, your investment, and your love for fishing. 🎣💕
The Anatomy of a Good Fishing Rod Case or Tube

Key Features of a Reliable Rod Case: What to Look For 🔍
When it comes to fishing rod cases and tubes, not all are created equal. To get the maximum benefit, you should look for certain key features:
Durability: 💪 Choose cases and tubes that are robust and can withstand wear and tear. They should be able to handle knocks and bumps without damaging the rod inside.
Waterproof: 🌧️ Your case or tube should provide protection from water and moisture. This is especially important if you're a sea or rain-prone area angler.
Lightweight: 🍃 Cases and tubes shouldn't add too much extra weight to your gear. They should be easy to carry around during your fishing trips.
Padding: 🛡️ Good cases and tubes have an inner padding or lining that provides an additional layer of protection for your rod.
Size Adjustability: 📏 Many cases and tubes come with adjustable sizes, accommodating different lengths of rods.
Lockable: 🔒 For extra security, especially during travels, opt for lockable cases.
Remember, the right case or tube can significantly enhance your fishing experience by taking care of your rod while you focus on the catch.
The Battle of Materials: Making the Right Choice for Your Rod Case 🎚️
Various materials are used in manufacturing rod cases and tubes, each with its own set of advantages:
Plastic/PVC: 🧴 Affordable, waterproof, and reasonably durable. However, they might not offer the best shock protection.
Canvas: 🎒 Durable, lightweight, and often come with padding for extra protection. However, they may not be fully waterproof.
Leather: 💼 High-quality and durable with a classy look. But, they can be heavier and require more maintenance.
Aluminum: 🥫 Premium, high durability, lightweight, and excellent protective properties. However, they can be more expensive.
The choice of material will often depend on your budget, the type of fishing you do, and your personal preference.
One Size Doesn't Fit All: Matching Your Case to Your Rod 📐
When choosing a case or tube, it's essential to consider the type of fishing rod you own. Cases and tubes come in different lengths and diameters. Make sure your case or tube can accommodate your rod's length and the number of pieces it breaks down into.
For example, if you use a telescopic rod that collapses down small, a shorter, more compact case might be ideal. If you own a one-piece rod, you'd need a longer tube.
🔶Investing some time in understanding what makes a good case or tube will go a long way in enhancing the lifespan and performance of your beloved fishing rods. 🎣💖
Key Considerations for Choosing a Fishing Rod Case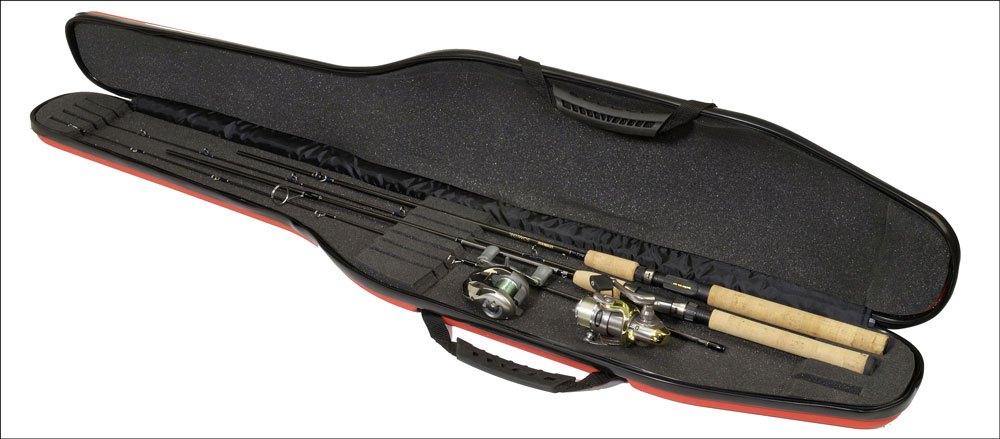 Convenient Carrying
Ease of transportation plays a pivotal role in your choice of fishing rod case. Given that you'll be carrying your gear within this case, it should cater to your convenience. If your usage primarily involves moving the case to and from your vehicle, you may opt for a case without shoulder straps. However, if you foresee long durations of carrying a heavy bag, a model with sturdy shoulder straps, or even a backpack-style case, might be your best bet.
Robustness and Safety
Select a case constructed from tough, long-lasting materials, as its primary duty is to safeguard your fishing rod. Water resistance becomes a particularly vital factor if you're an angler who loves boat fishing. A case that can withstand the elements will ensure your gear stays dry and protected.
Perfect Fit
The size of your case is highly personal, contingent upon your fishing habits. Frequent fishers who carry several rods and abundant fishing equipment should look towards a case with multiple compartments, capable of housing more than just a couple of rods. However, if your needs are more modest, a simpler design might suffice. Remember that larger cases might not fit in your car's trunk easily, and air travel could also pose restrictions on size. Before you decide, ascertain whether your case falls under the category of oversized items for flights.
Remember, a case is not just a protective shell; it's an investment in the longevity and performance of your fishing rods. Choose wisely.
Choosing the Right Type of Storage: Cases, Bags, and Tubes

Decoding Rod Storage: Cases, Bags & Tubes Explained 🗂️
While it might seem that fishing rod cases, bags, and tubes serve the same purpose, they each have unique characteristics that cater to different needs. Let's dive deep into the specifics:
Rod Cases: 🧳 Rod cases are typically hard-sided, offering robust protection. They're ideal for storing one-piece rods or multiple rods without reels attached.
Pros: Excellent for travel, provide superior protection, usually lockable.
Cons: Can be bulky, more expensive, not as versatile for storing other gear.
Rod Bags: 🛍️ Rod bags are generally soft-sided, often made from durable fabrics. They come with multiple compartments to store other gear along with your rods.
Pros: Lightweight, flexible storage, can accommodate other fishing gear.
Cons: Lower protection level, not always waterproof, may not protect against heavy impacts.
Rod Tubes: 🗜️ Rod tubes are cylindrical storage options. They're best suited for single rods and are popular for their portability and ease of use.
Pros: Compact, easy to carry, usually waterproof.
Cons: Limited to one rod, no extra storage for other gear.
Choosing Your Protector: Factors to Consider 🤔
How do you choose between a case, bag, or tube? The answer lies in considering your specific needs:
Type of Fishing: 🐟 If you're into high-impact fishing like surf fishing, a sturdy case may be a better choice. For a more relaxed fishing style like freshwater fishing, a bag or tube could suffice.
Travel Requirements: ✈️ If you travel frequently, especially by air, hard-sided cases or tubes would be ideal for their robust protection. For local trips, a bag might be more comfortable and versatile.
Number of Rods: 🎣 If you carry multiple rods, a case or a bag with enough compartments would be the way to go. A tube would work best for a single rod.
🔶The key is to consider your unique requirements and choose a storage option that best caters to those. After all, the right storage choice is the one that ensures your fishing adventures are always smooth sailing! 🚣‍♂️💖
Care and Maintenance of Fishing Rod Cases & Tubes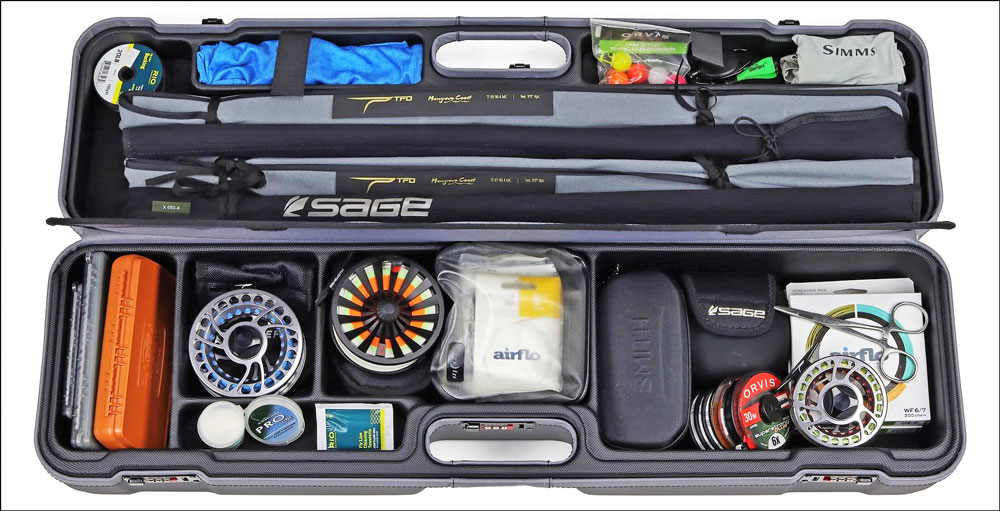 TLC for Your Rod Protectors: Cleaning and Caring 101 🧼
Your fishing rod cases and tubes do a stellar job protecting your precious rods, but they too need some care to perform their best. Here's how you can keep them clean and cared for:
Cleaning: 🧹 Regularly clean the interior and exterior of your case or tube. For most materials, a mild soap solution and a soft cloth should do the trick. For leather cases, a specialized leather cleaner is advisable.
Drying: ☀️ Always ensure your case or tube is completely dry before storing your rod. This prevents mold and mildew. If your case gets wet during your fishing trip, open it up and let it air dry thoroughly.
Check for Damage: 🔍 Regularly inspect your case or tube for any signs of wear or tear. Look for any cracks, tears, or broken zippers that may compromise the protection of your rod.
Proper Storage: 🗄️ When not in use, store your case or tube in a cool, dry place away from direct sunlight to prevent any material degradation.
Long Live Your Case: Maximizing Lifespan 🏋️
To extend the lifespan of your fishing rod cases and tubes, consider these tips:
Avoid Overloading: 🏋️‍♂️ Avoid stuffing too many rods or other gear into your case or bag. This could lead to stretching, tearing, or a broken zipper.
Routine Maintenance: 🛠️ Regular cleaning and inspection can help you spot potential issues early and address them before they escalate.
Handle with Care: 💖 Although cases and tubes are designed to be durable, treating them gently will add years to their life. Avoid tossing them around or placing heavy objects on them.
🔶Remember, a well-maintained rod case or tube not only lasts longer but also offers better protection to your rods. When you care for your case, you care for your rods too! 🎣💕
🎦Video YouTube: How to make a DIY Fishing Rod Carrier for 9$
Case Studies: Top-Rated Fishing Rod Cases & Tubes on the Market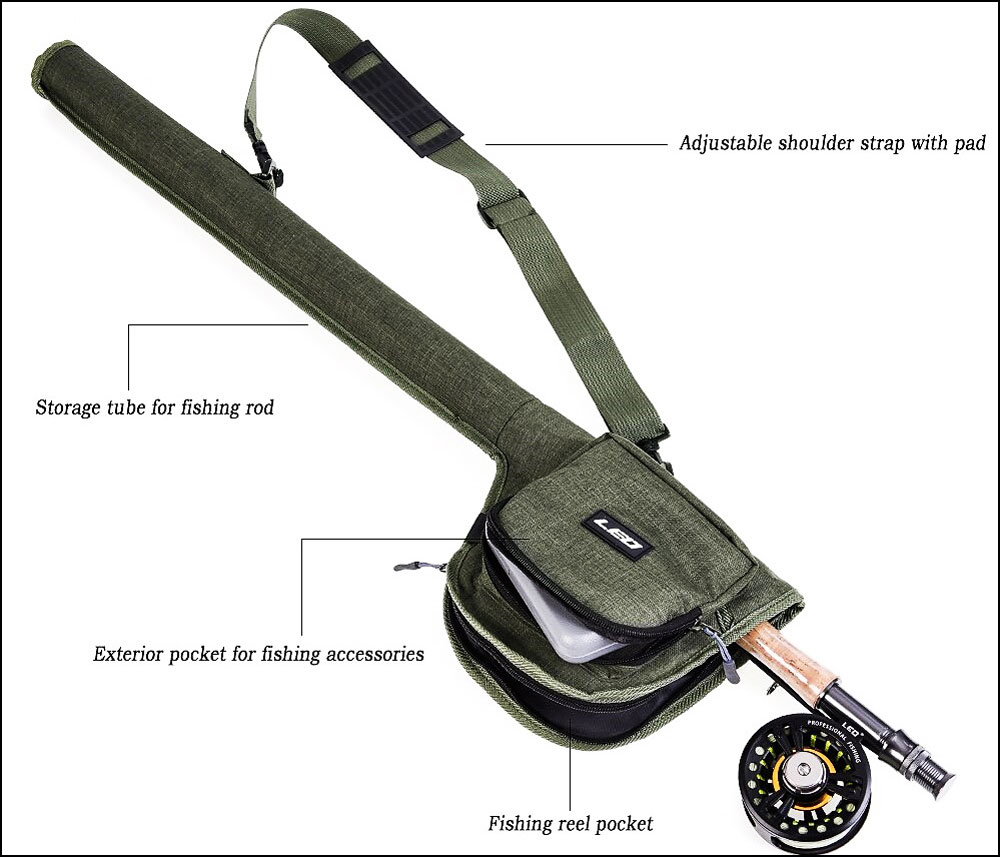 The Titans of Rod Protection: Reviews and Comparisons 🏆
Navigating the sea of fishing rod cases and tubes can be challenging. So, here are a few top-rated models that have won the favor of fishermen worldwide:
Case Master Deluxe: 🥇 An incredibly sturdy and durable rod case, it offers solid protection with foam padding and hard-sided construction. Perfect for travelling, it can hold up to 4 rods and has additional compartments for gear storage. Check it out here.
BW Sports Dual Fly Rod & Reel Case: 🥈 Designed specifically for fly rods, it features a unique dual tube design with integrated reel pouches. It's lightweight, rugged, and can hold up to two 9-foot rods with reels attached. See more here.
Plano Airliner Telescoping Rod Case: 🥉 Excellent for the traveling angler, this case can extend up to 88 inches but collapses down to 47 inches for easy storage. It can hold several rods and is lockable for added security. Find it here.
Hear it From the Pros: Testimonials 🗣️
Don't just take our word for it. Here's what some professional anglers have to say:
Mark Sullivan, Competitive Bass Angler: 💬 "The Case Master Deluxe has been my trusty companion on many fishing trips. It's reliable, robust, and really takes the stress out of transporting my rods."
Alice Thompson, Fly Fishing Instructor: 💬 "The BW Sports Dual Fly Rod & Reel Case is a game-changer. It's super convenient to have my fly rods and reels in one compact, easy-to-carry case."
Daniel Kim, Tournament Angler: 💬 "Travelling for tournaments is so much easier with the Plano Airliner Telescoping Rod Case. I love that it can hold multiple rods, and the lockable feature gives me peace of mind."
🔶Finding the right rod case or tube can truly elevate your fishing experience. Remember, what works best for you will depend on your individual needs and preferences. So choose wisely and fish freely! 🎣💖
A Guide to Packing Your Rods for Travel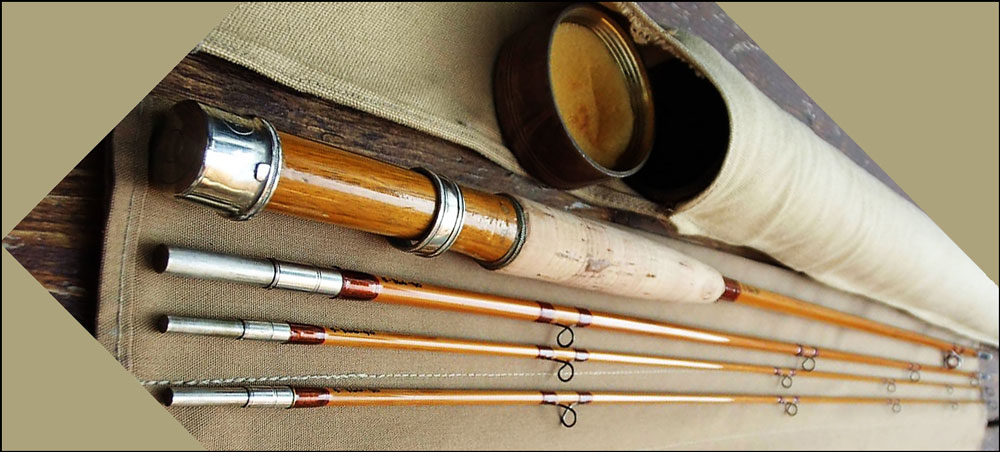 Safeguarding Your Rods: Step-by-Step Packing Guide 📦
Ensuring your rods are safely packed can make all the difference when traveling. Follow this simple step-by-step guide to pack your rods like a pro:
Inspect Your Rod: 🔎 Check your fishing rod for any existing damage or loose parts.
Disassemble: 🛠️ If possible, disassemble your rod into smaller parts. This reduces the risk of damage during transit.
Wrap Individual Pieces: 📜 Use bubble wrap or a soft cloth to wrap each section of the rod individually. This provides extra padding and prevents scratches.
Place in Case or Tube: 🗄️ Carefully place the wrapped rod sections into your chosen case or tube. If your case has specific compartments, use them accordingly.
Secure Everything: 🔒 Make sure everything is snug and secure inside. There should be no movement when you shake the case or tube.
On the Move: Handling Tips for Transit 🚚
Once your rods are safely packed, how you handle your case or tube during transit is crucial. Here are some tips:
Handle with Care: 💼 Whether you're carrying your case by hand or stowing it in a vehicle, always handle it gently.
Position Correctly: ↔️ Always place your case or tube horizontally and secure it to prevent any movement. Avoid placing heavy items on top of it.
Climate Control: ☀️🌧️ Avoid leaving your case or tube in extreme heat or cold for prolonged periods. This can cause damage to both the case and the rods inside.
Check Regularly: 👀 Regularly check your case or tube during your trip to ensure it hasn't moved or been damaged.
🔶Remember, packing and handling your rods correctly can go a long way in extending their life and performance. So take the time to do it right, and happy fishing! 🎣
❓ Frequently Asked Questions: Fishing Rod Cases & Tubes 🎣💼
🔶Remember, if you treat your rods right, they'll treat you to many exciting fishing adventures! 🎣💖
Wrapping Up: The Journey to Rod Longevity 🏁
And just like that, we've navigated the ins and outs of fishing rod cases, bags, and tubes! 🎣💼 Here are the key takeaways:
Understand the Value: 🤔 Recognize the role of rod cases and tubes in extending the life of your fishing rods and protecting your investment.
Know Your Gear: 🧠 Look for key features in a good case or tube like durability, waterproof properties, and suitability for your specific rod.
Choose Wisely: 🕵️‍♀️ Different types of storage options exist—cases, bags, tubes—and each has its pros and cons. Your choice should depend on your type of fishing, travel needs, and number of rods.
Maintain Your Case: 🧹 Cleaning and regular maintenance can significantly extend the lifespan of your cases and tubes.
Travel Safely: ✈️ Proper packing and handling techniques are vital when traveling with your rods.
Just as your fishing rods are a crucial part of your fishing experience, so are the cases, bags, and tubes that protect them. Investing in a high-quality rod case or tube is an investment in your passion for fishing. 🎣💖
🔶Remember, the right care and protection can ensure you and your rods enjoy many more fishing adventures together. So make the wise choice today and let your fishing gear live its longest, most fruitful life! 🚀🌟
Tags: #best fishing rod case / #best ice fishing rod case / #best fishing rod travel case / #best travel fishing rod case / #fishing rod case / #best fishing rod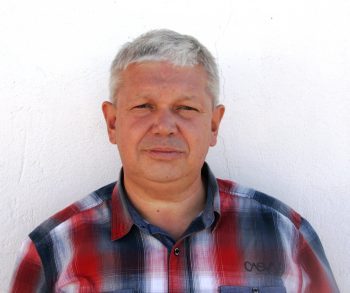 Sergio Smirnoff
Professional fisherman with 40+ years of experience.
Fishing and the ocean is a passion of my life. I am passionate about all kinds of sea fishing: fishing from the shore (spinning, float, baitcasting), from a boat, and spearfishing day and night.
I live in Tenerife (Canary Islands) for the last 10+ years and share my daily fishing experiences on my website. Many years of personal experience as a fisherman and the vast experience of my friends allow me to write professionally on any fishing topics (from choosing a flashlight and equipment to deep-sea fishing).
All of my advice is based on practical real-world experience and will be useful to both novice anglers and professionals.
Read more
about the author.
Affiliate Disclosure: FishReeler.com sometimes gets paid for listings, through sponsors or affiliate programs like Amazon, Ebay, Cabelas, Bass Pro Shop, Shimano, Daiwa, Rapala, Renn, Okuma, KastKing, etс. Clicking a link helps keep FishReeler.com free, at no extra cost to you!
About the author: Each article is verified by the fishing expert Sergio Smirnoff. The articles are written by professional and amateur fishermen with 20+ years of fishing experience.
Note: The views and opinions expressed in this article are those of the authors and do not necessarily reflect the official policy or position of any agency. The articles are for informational purposes only, share your opinions in the comments and join the fishing discussions, let's share our fishing experiences together!