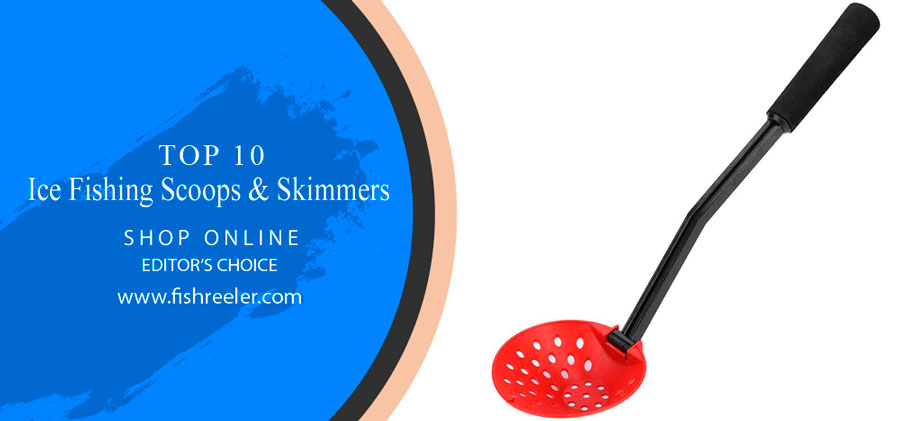 Top 10 Ice Skimmers & Scoops Pro Reviewed for Winter Anglers
Don't forget to take with you one of the most important and useful tools for ice fishing. To avoid freezing holes, use an ice fishing scoop. And also you can clean the hole so you can start fishing. You may need this tool to get the bait out of the bucket. My review will help you choose a quality scoop for ice fishing, and I will also tell you how to choose the right tool. Don't waste your time on a long search for a tool! For this, I have selected the 10 best ice scoops for ice fishing. Read my review and choose!
TOP 10 Best Ice Fishing Scoops – Editor's Choice

| Image | Product | Brand | Link |
| --- | --- | --- | --- |
| | Lakco 700 Slush Skimmer 12" | Lakco | |
| | Mega Scoop Retractable | Rapala | |
| | Frabill Ice Scooper | Extra-Large Ladle For Scooping Out Ice While Ice Fishing | FRABILL | |
| | Berkley Ice Fishing Scoop | | |
| | Celsius TS-3 Telescopic Skimmer 3'When Ext, Multi, One Size | Celsius | |
| | HT Enterprise ESK-2 All Metal Skimmer 18 Handle 6 Cup, Multicolor, One Size | HT Enterprise | |
| | VGEBY Ice Fishing Scoop Skimmer, Plastic Foldable Detachable Winter Ice Fishing Scoop Ice Fishing Scoop Skimmer | VGEBY | |
| | Jiffy 1840-D Chipper Dipper 4.75-Inch Ladle with D-Icer Armor | jiffy | |
| | kaaka Multipurpose Portable Ice Fishing Scoop Colander Tool Wood Handle Slush Skimmer Household Outdoor Garden Helper Tool | kaaka | |
| | Mega Scoop | Rapala | |
1# Lakco 700 Slush Skimmer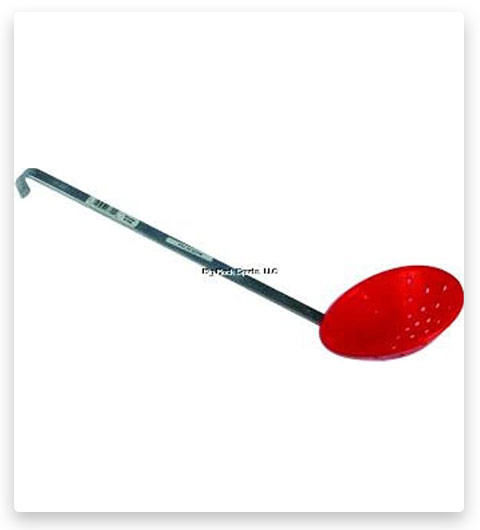 If you are looking for a quality scoop at a good price, then you have already found it. This is a good option for ice fishing. It does a good job of clearing the hole of slush and preparing the hole for fishing. But the functions of the tool don't end there. You can check the thickness of the ice or measure fish with a tape measure. The handle is long enough so you don't need to make much effort to clean the hole. You can even do this while sitting on a chair and not get up. The handle is sturdy. Also, this scoop is curved from above so you can easily hang it on a sled or bucket. This is for easy transportation. The red color of the tool makes it noticeable on the ice.
2# Rapala Retractable Mega Scoop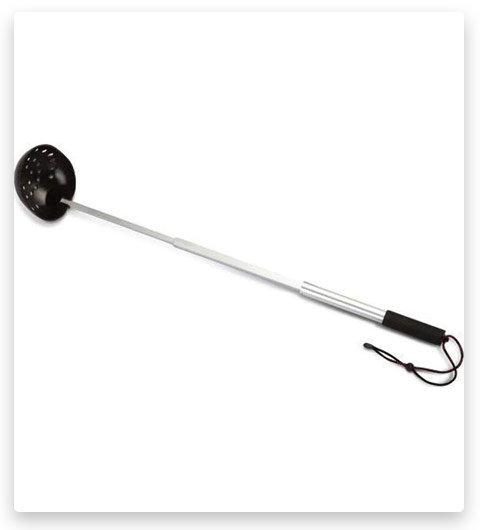 This scoop is in great demand among fishermen. Its quality and functionality make it possible to clean the hole of slush and do it with convenience. I would like to note the handle of this tool. It extends up to 34 in size. This means you don't have to bend over. Your back and arms will not hurt. When you don't use the tool, push the handle back. It is convenient for storage. The scoop is folding. Moreover, it is lightweight.
3# Frabill Ice Deluxe Scooper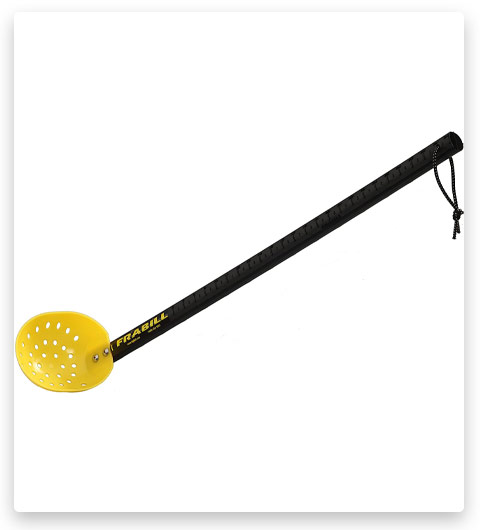 Most anglers value Frabill products. They have some of the best ice fishing tools. Therefore, there is no doubt about the quality of this scoop. It is made of durable plastic. It will not break at very cold temperatures. But if you choose a model from cheap plastic, then most likely the scoop will break. The handle is quite dense and thick. But it is made to be comfortable to hold. Even if you do it with thick gloves. Choose this scoop if you want to clear holes of large sizes starting with 8. You can clear the hole of ice without any problems thanks to a 3-foot handle. The producers also made sure that you can measure the thickness of the ice or the size of the fish. You can do this with a ruler.
4# Berkley Ice Fishing Scoop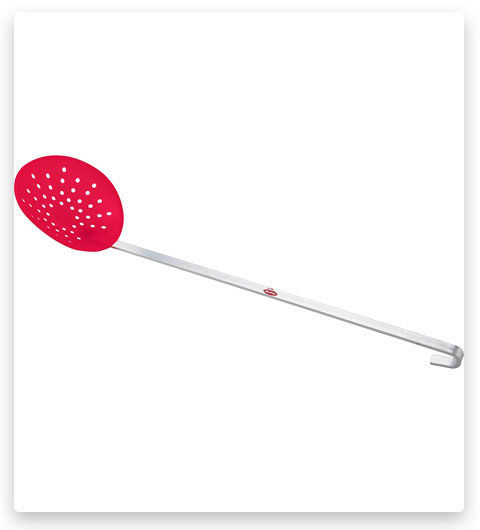 If you are a fishing enthusiast in harsh winter conditions, then you need a very durable product. It must withstand any frost and must cope with any thickness of the ice. The Berkley scoop can handle this all. It is done very well. The tool is made of stainless steel. This material can withstand any low temperatures, doesn't crack, and doesn't break. The ruler on the handle allows you to find out the size of the catch or measure the thickness of the ice. You will appreciate this product.
5# Celsius Telescopic EVA Handle TS-3 Ice Skimmer Extended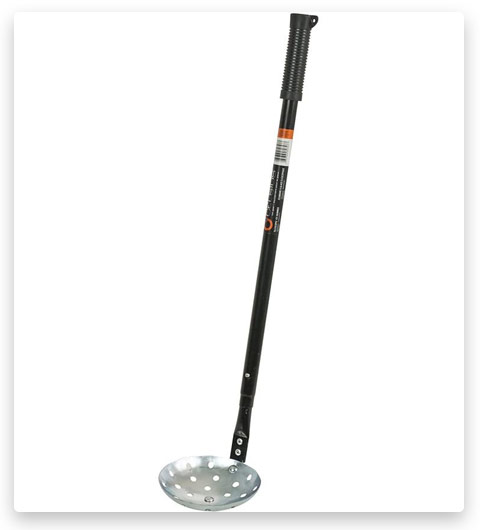 This tool will serve you for many seasons. Pull out the handle and clean the hole without even getting up from your chair. Length allows you to do your job without a burden on your body. You no longer need to bend over! The scoop is completely metal therefore durable. It can be used at low temperatures. This product is responsible for its quality and is loved by many anglers.
6# HT Enterprises Handle Metal Skimmer Cup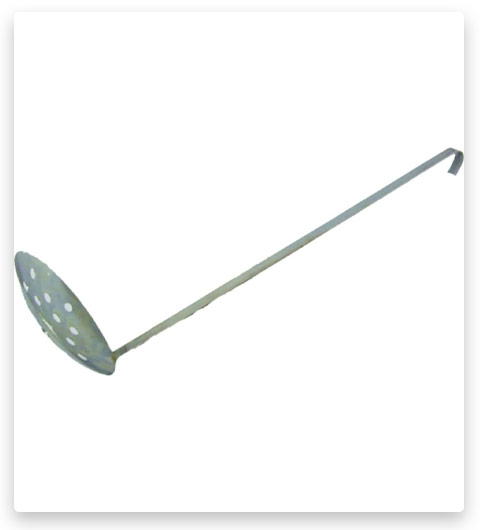 At first glance, the design of the scoop seems too simple, but the design is very durable. The tool does its job perfectly. It will help you clean the hole without any difficulty. It can also be used to measure the length of your catch. This is a great thing for ice fishing.
7# VGEBY Ice Skimmer Winter Ice Fishing Scoop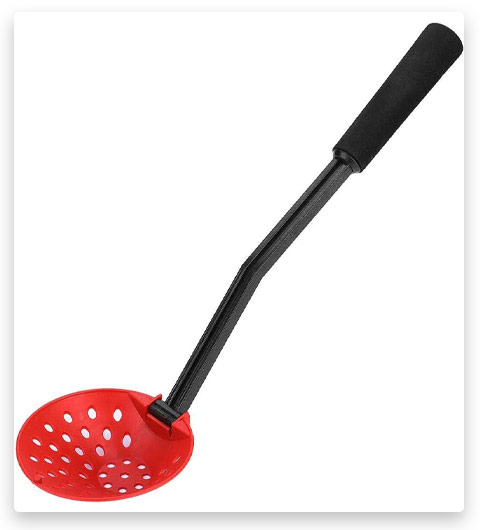 This scoop has collected the best qualities. An important point when choosing such a thing is material. This tool is made of high-quality plastic. The material is strong enough and can be used for ice fishing. But I would not recommend using a thing at the lowest possible temperatures. A great advantage of this tool is its folding handle. You can fold it for easy storage or take it with you. Also, the handle is comfortable to hold. The material doesn't slip and provides a reliable grip. The bright red color will help you not to lose the tool while fishing!
8# Jiffy 1840-D Chipper Dipper Ladle with D-Icer Armor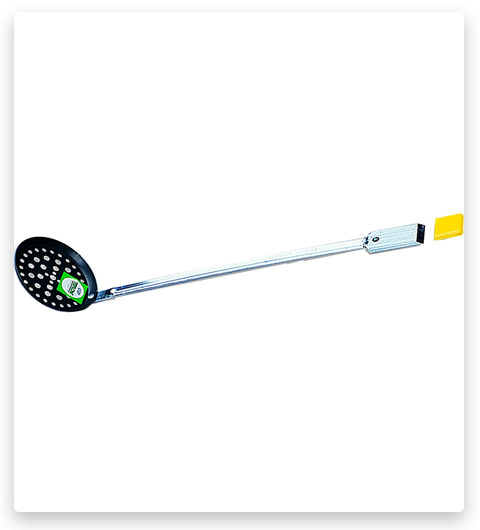 The ice fishing scoop must be strong and reliable. This tool is like that. It has a simple design and works as such a tool should. It is ideal for quickly clearing the hole of snow, slush, and ice. It is quite lightweight and portable. It withstands bad weather conditions, doesn't crack or break. This is what you need!
9# Kaaka Multipurpose Portable Ice Fishing Scoop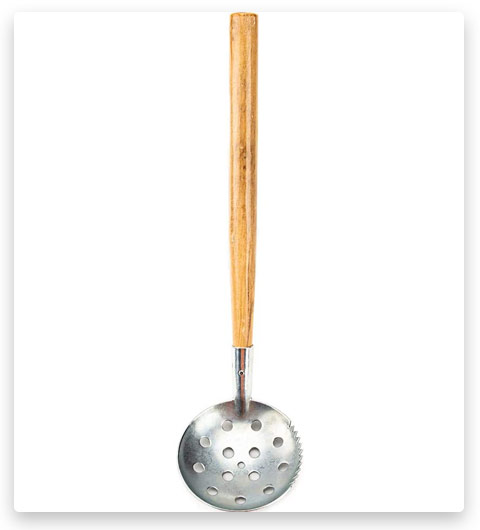 Make your shared fishing comfortable. With this scoop, you can quickly prepare the hole for fishing. Easy to use. The size allows you to transport the tool without effort and difficulty. The handle is made of wood and works well in the hand. It is comfortable and doesn't cause tension in your arms and back.
10# Rapala RMSC34 Mega Scoop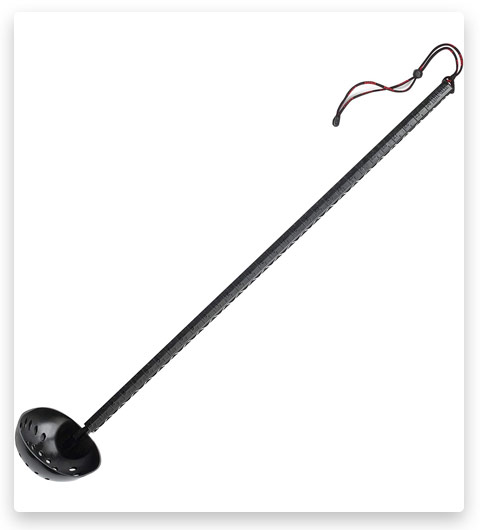 Clear the hole from slush, and also measure the thickness of your ice! Immediately you can measure the length of the fish thanks to the ruler on the handle. An adjustable wrist strap allows you not to lose the tool and convenient to carry. A long handle allows you to clean the hole without bending and back pain. The scoop is durable and suitable for fishing at low temperatures.
It would seem to choose a scoop is simple. If you know what to look for when choosing a tool, then so it is. I want to share with you important points that will help you make a choice.
Material
As a rule, manufacturers choose durable materials for their products. So their scoops work well and serve their customers for many years. The best materials are stainless steel and heavy-duty polyethylene. Stainless steel is used for many tools that are used in the cold. Such material withstands low temperatures and doesn't crack. It is strong and durable. They are certainly heavier than plastic things. But plastic can't withstand cold conditions and the thing will break. But this material has its advantages. It is lightweight and portable. If you have a small budget, plastic will work well for you. But don't forget that such material is prone to breaking at very low temperatures.

Portability
Portability is an important factor for almost all fishing tools. The fisherman has to carry a lot of equipment with him, so it is important that it is light. And also you can easily bring it with you. You need to try to find very heavy scoops for ice fishing. Most of them are lightweight and not bulky. But some models are even more versatile. You can fold the handle. You remove it if you don't need them. Or you can extend the handle. If you need to put a scoop in a sled or bag, then look for models with folds.
Scoop Size
Don't forget about this point. You need to know how tedious it can be to clear the hole of slush. It is difficult to keep in a comfortable position. Most likely you bend over and your back hurts. To avoid this, choose a scoop with a long handle. An ideal option would be a handle from 30 inches. And don't neglect the diameter of your tool. It should not be too wide. Otherwise, you can't install it in a 7-inch hole.
Conclusion
To make ice fishing comfortable, you will need a special scoop. It will help prepare the hole. You will quickly clear the hole of slush and ice. Some models also measure ice thickness. Choose any of my lists and you will not be mistaken!
Tags: #ice fishing scoop / #ice scoop for ice fishing / #homemade ice fishing scoop / #best ice fishing scoop / #metal ice fishing scoop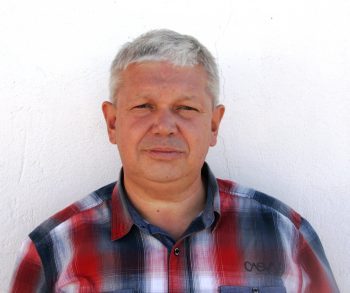 Sergio Smirnoff
Professional fisherman with 40+ years of experience.
Fishing and the ocean is a passion of my life. I am passionate about all kinds of sea fishing: fishing from the shore (spinning, float, baitcasting), from a boat, and spearfishing day and night.
I live in Tenerife (Canary Islands) for the last 10+ years and share my daily fishing experiences on my website. Many years of personal experience as a fisherman and the vast experience of my friends allow me to write professionally on any fishing topics (from choosing a flashlight and equipment to deep-sea fishing).
All of my advice is based on practical real-world experience and will be useful to both novice anglers and professionals.
Read more
about the author.
Affiliate Disclosure: FishReeler.com sometimes gets paid for listings, through sponsors or affiliate programs like Amazon, Ebay, Cabelas, Bass Pro Shop, Shimano, Daiwa, Rapala, Renn, Okuma, KastKing, etс. Clicking a link helps keep FishReeler.com free, at no extra cost to you!
About the author: Each article is verified by the fishing expert Sergio Smirnoff. The articles are written by professional and amateur fishermen with 20+ years of fishing experience.
Note: The views and opinions expressed in this article are those of the authors and do not necessarily reflect the official policy or position of any agency. The articles are for informational purposes only, share your opinions in the comments and join the fishing discussions, let's share our fishing experiences together!