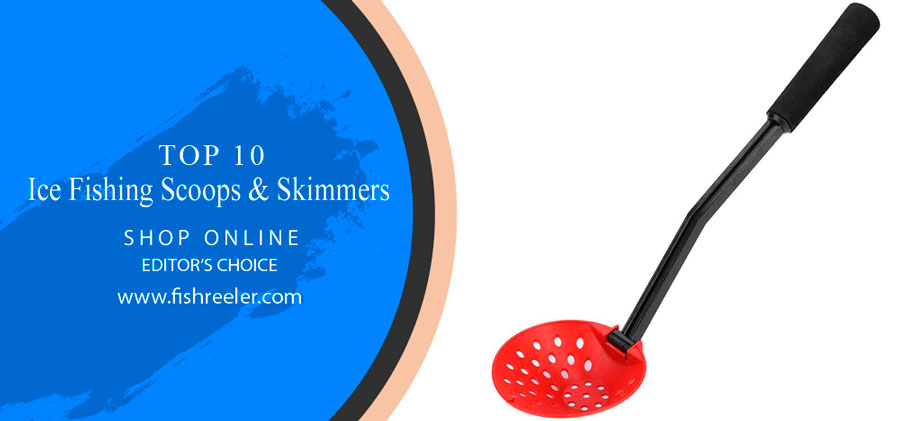 Mastering the Freeze: The Essential Guide to Using Ice Scoops in Ice Fishing

In the serene, stark beauty of winter, there lies a unique sport that's woven into the cultural fabric of cold-climate regions around the globe – ice fishing. A sport of patience and resilience, ice fishing has long been embraced as a beloved winter pastime, particularly in places like Canada, the Northern United States, Scandinavia, and Russia. This distinctive form of angling has its charms and challenges that lure thousands of people onto frozen lakes and rivers each year, despite frigid temperatures.
Breaking the Ice: The Thrill and Essentials of Ice Fishing
Yet, success in ice fishing isn't solely about braving the cold or mastering the art of patience. It's about the right gear. Like any sport, having the proper equipment is crucial, and in ice fishing, one of these essential tools is the ice scoop. This may seem like a simple, unassuming piece of equipment, but it plays a pivotal role in any ice fishing expedition.
This article aims to provide a comprehensive guide to understanding and utilizing an ice scoop to maximize your ice fishing experience. We'll delve into what an ice scoop is, why it's so important for ice fishing, how to choose the right one for you, as well as pro tips on using and maintaining it. Whether you're a seasoned ice angler looking to upgrade your equipment, or a beginner eager to start your icy adventure, this article will offer valuable insights that can make your ice fishing trips more effective and enjoyable. So, let's crack the surface and dig deep into the fascinating world of ice scoops.
Unearthing the Ice Scoop: Your Essential Ice Fishing Tool

An ice scoop, also commonly referred to as an ice skimmer, is a simple yet indispensable tool in the world of ice fishing. This instrument's primary function is to keep your ice fishing hole clear of slush and ice chips that form while drilling or that may freeze over the hole during your fishing expedition. A clear hole is essential for both your visibility into the water and for the unhindered movement of your fishing line.
Ice scoops come in a variety of types, sizes, and materials, each designed with specific fishing situations in mind. Most traditional ice scoops resemble a ladle or a large, elongated spoon with holes or a sieve at the scoop end. They are typically made of durable, lightweight materials like plastic, aluminum, or stainless steel, with the latter two being more resistant to cold and wear but slightly heavier.
The size of the scoop is typically dictated by the diameter of the ice fishing hole, with larger scoops being more suitable for wider holes. On the other hand, smaller, more compact scoops may be favored for their ease of use and portability, particularly for ice anglers who prefer to be mobile and drill multiple holes.
The design of the ice scoop greatly impacts its functionality. Some models feature long handles to reach deep into the ice hole without straining the user's arm, while others have shorter handles for easier storage and transport. Certain scoops also incorporate additional features like built-in rulers for measuring ice thickness or fish size, or ergonomic handles for a comfortable grip in cold conditions.
Ultimately, an ice scoop's design and construction influence its performance, durability, and ease of use, making the choice of scoop a key factor in shaping your ice fishing experience. So, it's important to understand these aspects before making your pick.
The Importance of the Ice Scoop in Ice Fishing

In ice fishing, the devil is in the details. The seemingly innocuous ice scoop is one such detail that can significantly impact the success of your ice fishing expedition. At first glance, it might appear to be a mere accessory in your gear, but in reality, the ice scoop plays several vital roles in the process of ice fishing.
The Ice Scoop: A Game-Changer in Your Ice Fishing Experience
First and foremost, an ice scoop is employed to maintain the clarity and integrity of your fishing hole. When drilling through thick ice, it's almost inevitable that some chips and shards will fall back into the hole, creating a murky barrier between you and the aquatic world beneath. The ice scoop is used to remove these intrusions, giving you a clear line of sight and ensuring your line can move freely in and out of the hole.
Keeping the hole clear is not just about visibility; it's also crucial for efficient fishing. Fish are sensitive to disturbances in the water. A hole filled with slush and ice chips can deter fish from approaching your bait. Thus, using an ice scoop to maintain a clean hole can significantly increase your chances of attracting and catching fish.
However, not using an ice scoop or using one incorrectly can lead to several problems. For one, an ice-filled hole can lead to your line getting caught or tangled, which can be particularly troublesome when you've got a fish on the hook. Additionally, if the hole is left uncleaned for too long, the freezing temperatures can cause the surface to refreeze rapidly, which can also interfere with your fishing activity.
Moreover, improper use of the ice scoop, such as aggressive or hasty scooping, could potentially scare away the fish with sudden noise and vibration. Therefore, learning to use the ice scoop effectively and gently is just as important as having one in the first place.
In essence, an ice scoop, though humble in appearance, is a tool of paramount importance in ice fishing. Its role in maintaining a clear and functional fishing hole directly contributes to a successful and enjoyable fishing experience.
TOP 10 Best Ice Fishing Scoops – Editor's Choice
As winter sets in and the lakes freeze over, ice fishing enthusiasts know it's time to gear up for the season. It's a unique and enjoyable form of angling that does require specialized equipment to ensure safety, efficiency, and overall success. Among the ice augers, insulated boots, and heated shelters, there's one unsung hero that often doesn't get the spotlight it deserves – the ice scoop.
In this blog post, we are going to delve into the world of ice scoops, a simple yet essential tool in your ice fishing arsenal. We'll guide you through our handpicked TOP 10 best ice fishing scoops currently available in the market.
Whether you're a seasoned ice angler or a beginner stepping on the ice for the first time, this list will help you make an informed decision, ensuring your scoop suits your needs and enhances your ice fishing experience. So, sit back, and let's break the ice on the top-rated scoops of the season!
| Image | Product | Brand | Link |
| --- | --- | --- | --- |
| | Lakco 700 Slush Skimmer 12" | Lakco | |
| | Mega Scoop Retractable | Rapala | |
| | Frabill Ice Scooper | Extra-Large Ladle For Scooping Out Ice While Ice Fishing | FRABILL | |
| | Berkley Ice Fishing Scoop | | |
| | Celsius TS-3 Telescopic Skimmer 3'When Ext., Multi, One Size | Celsius | |
| | HT Enterprise ESK-2 All Metal Skimmer 18 Handle 6 Cup, Multicolor, One Size | TANGDIAABBCC | |
| | VGEBY Ice Fishing Scoop Skimmer, Plastic Foldable Detachable Winter Ice Fishing Scoop Ice Fishing Scoop Skimmer Ice Fishing Hole Scoop Ice Fishing Hole Scoop Ice Skimmer | VGEBY | |
| | Jiffy 1840-D Chipper Dipper 4.75-Inch Ladle with D-Icer Armor | jiffy | |
| | kaaka Multipurpose Portable Ice Fishing Scoop Colander Tool Wood Handle Slush Skimmer Household Outdoor Garden Helper Tool | kaaka | |
| | Mega Scoop | Rapala | |
1# Lakco 700 Slush Skimmer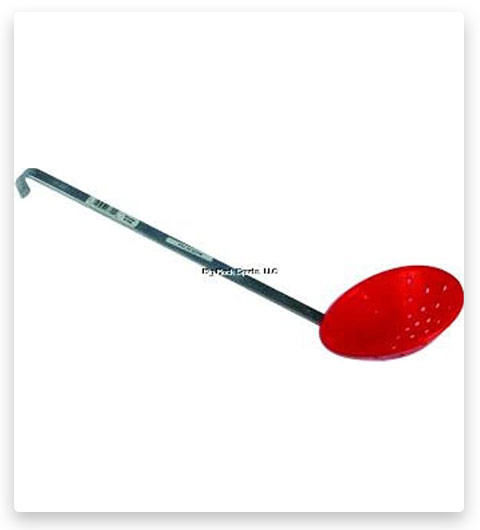 If you are looking for a quality scoop at a good price, then you have already found it. This is a good option for ice fishing. It does a good job of clearing the hole of slush and preparing the hole for fishing. But the functions of the tool don't end there. You can check the thickness of the ice or measure fish with a tape measure. The handle is long enough so you don't need to make much effort to clean the hole. You can even do this while sitting on a chair and not get up. The handle is sturdy. Also, this scoop is curved from above so you can easily hang it on a sled or bucket. This is for easy transportation. The red color of the tool makes it noticeable on the ice.
2# Rapala Retractable Mega Scoop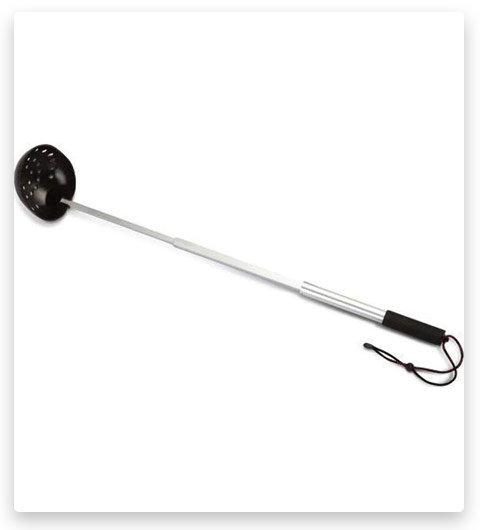 This scoop is in great demand among fishermen. Its quality and functionality make it possible to clean the hole of slush and do it with convenience. I would like to note the handle of this tool. It extends up to 34 in size. This means you don't have to bend over. Your back and arms will not hurt. When you don't use the tool, push the handle back. It is convenient for storage. The scoop is folding. Moreover, it is lightweight.
3# Frabill Ice Deluxe Scooper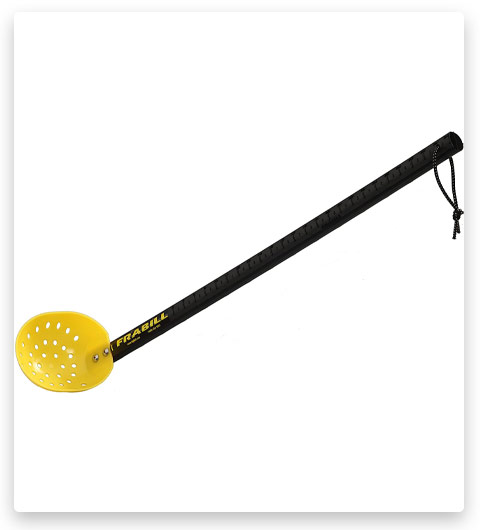 Most anglers value Frabill products. They have some of the best ice fishing tools. Therefore, there is no doubt about the quality of this scoop. It is made of durable plastic. It will not break at very cold temperatures. But if you choose a model from cheap plastic, then most likely the scoop will break. The handle is quite dense and thick. But it is made to be comfortable to hold. Even if you do it with thick gloves. Choose this scoop if you want to clear holes of large sizes starting with 8. You can clear the hole of ice without any problems thanks to a 3-foot handle. The producers also made sure that you can measure the thickness of the ice or the size of the fish. You can do this with a ruler.
4# Berkley Ice Fishing Scoop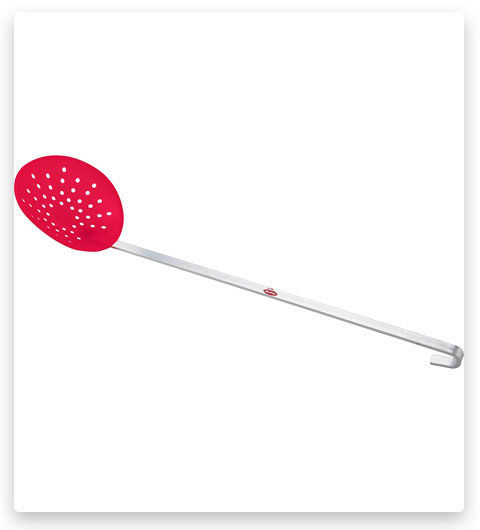 If you are a fishing enthusiast in harsh winter conditions, then you need a very durable product. It must withstand any frost and must cope with any thickness of the ice. The Berkley scoop can handle this all. It is done very well. The tool is made of stainless steel. This material can withstand any low temperatures, doesn't crack, and doesn't break. The ruler on the handle allows you to find out the size of the catch or measure the thickness of the ice. You will appreciate this product.
5# Celsius Telescopic EVA Handle TS-3 Ice Skimmer Extended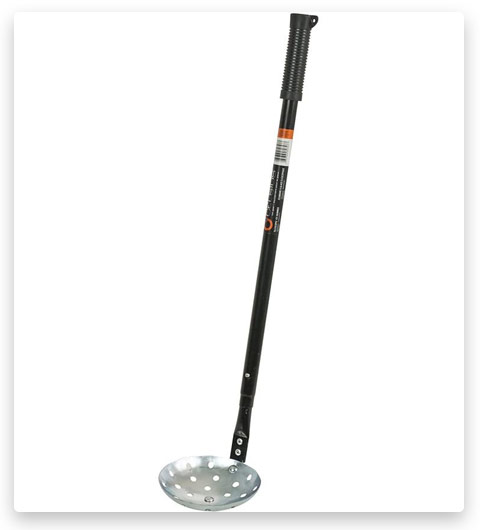 This tool will serve you for many seasons. Pull out the handle and clean the hole without even getting up from your chair. Length allows you to do your job without a burden on your body. You no longer need to bend over! The scoop is completely metal therefore durable. It can be used at low temperatures. This product is responsible for its quality and is loved by many anglers.
6# HT Enterprises Handle Metal Skimmer Cup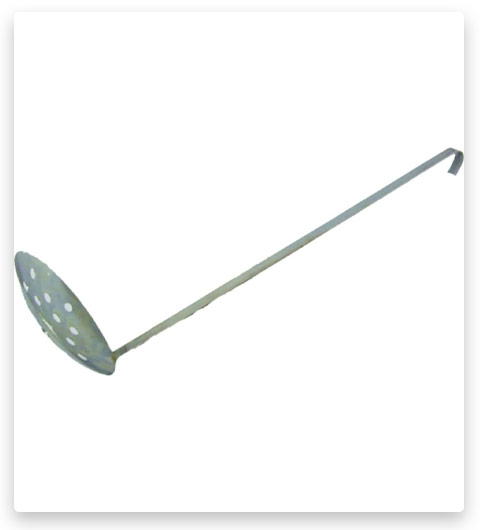 At first glance, the design of the scoop seems too simple, but the design is very durable. The tool does its job perfectly. It will help you clean the hole without any difficulty. It can also be used to measure the length of your catch. This is a great thing for ice fishing.
7# VGEBY Ice Skimmer Winter Ice Fishing Scoop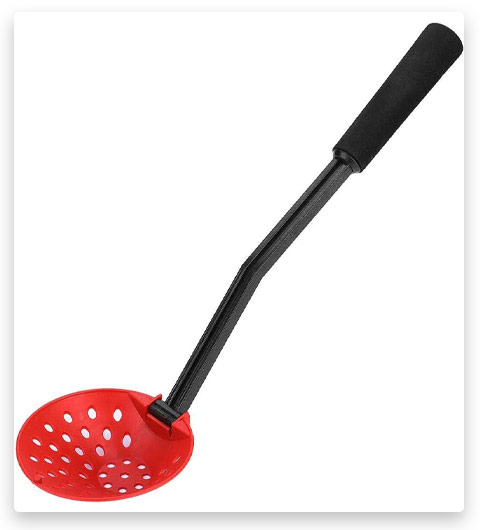 This scoop has collected the best qualities. An important point when choosing such a thing is material. This tool is made of high-quality plastic. The material is strong enough and can be used for ice fishing. But I would not recommend using a thing at the lowest possible temperatures. A great advantage of this tool is its folding handle. You can fold it for easy storage or take it with you. Also, the handle is comfortable to hold. The material doesn't slip and provides a reliable grip. The bright red color will help you not to lose the tool while fishing!
8# Jiffy 1840-D Chipper Dipper Ladle with D-Icer Armor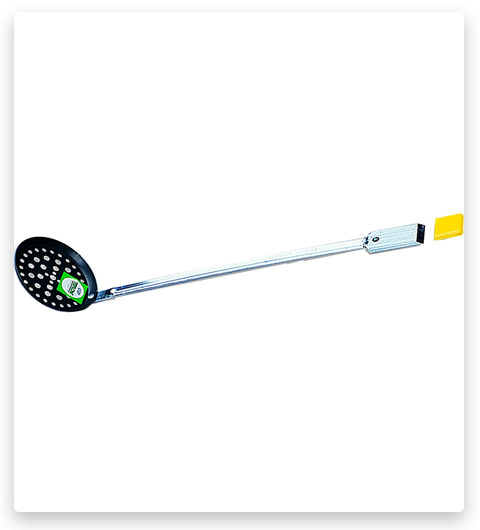 The ice fishing scoop must be strong and reliable. This tool is like that. It has a simple design and works as such a tool should. It is ideal for quickly clearing the hole of snow, slush, and ice. It is quite lightweight and portable. It withstands bad weather conditions, doesn't crack or break. This is what you need!
9# Kaaka Multipurpose Portable Ice Fishing Scoop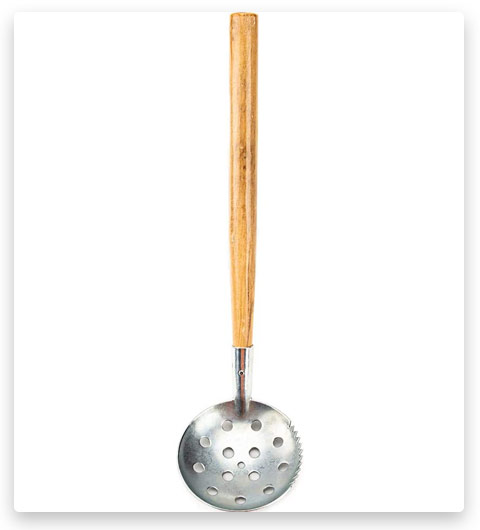 Make your shared fishing comfortable. With this scoop, you can quickly prepare the hole for fishing. Easy to use. The size allows you to transport the tool without effort and difficulty. The handle is made of wood and works well in the hand. It is comfortable and doesn't cause tension in your arms and back.
10# Rapala RMSC34 Mega Scoop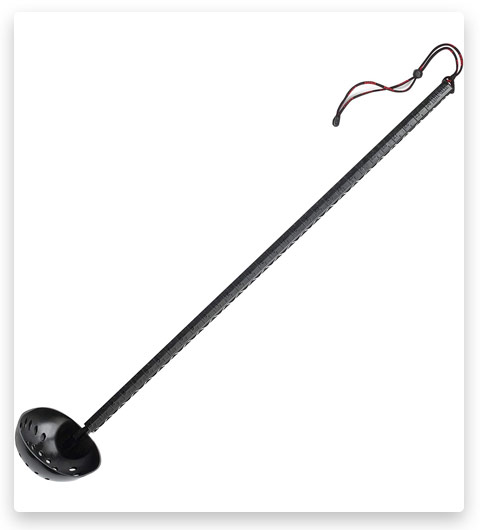 Clear the hole from slush, and also measure the thickness of your ice! Immediately you can measure the length of the fish thanks to the ruler on the handle. An adjustable wrist strap allows you not to lose the tool and convenient to carry. A long handle allows you to clean the hole without bending and back pain. The scoop is durable and suitable for fishing at low temperatures.
Ice Skimmers & Scoops Pro Reviewed for Winter Anglers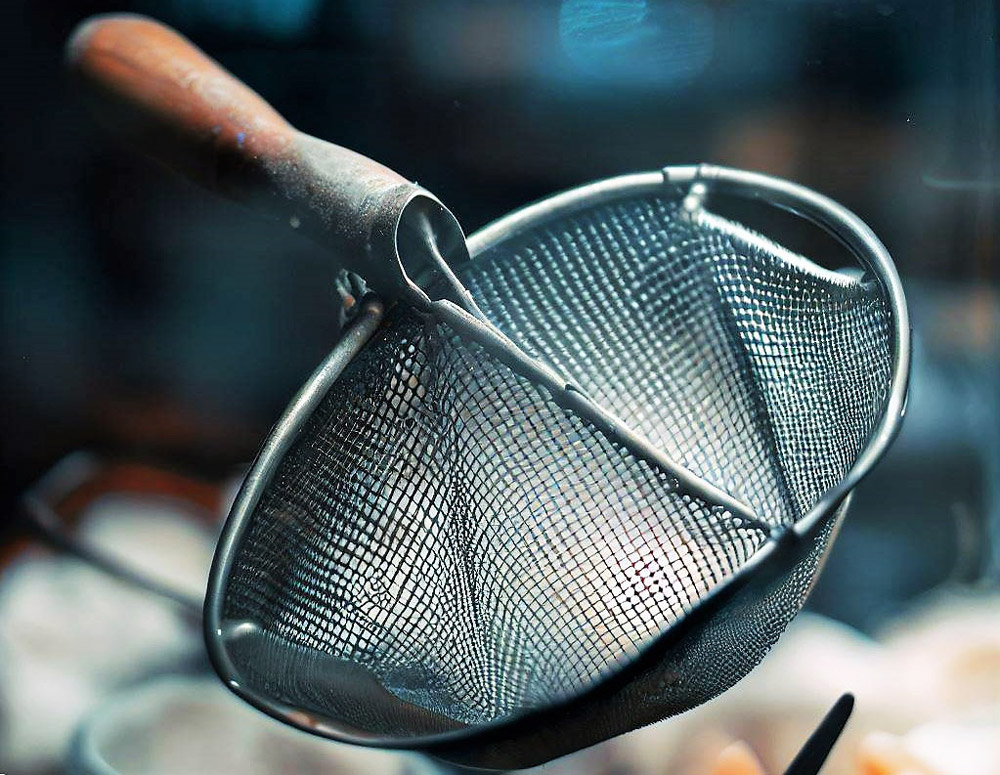 Don't forget to take with you one of the most important and useful tools for ice fishing. To avoid freezing holes, use an ice fishing scoop. And also you can clean the hole so you can start fishing. You may need this tool to get the bait out of the bucket. My review will help you choose a quality scoop for ice fishing, and I will also tell you how to choose the right tool. Don't waste your time on a long search for a tool! For this, I have selected the 10 best ice scoops for ice fishing. Read my review and choose!
It would seem to choose a scoop is simple. If you know what to look for when choosing a tool, then so it is. I want to share with you important points that will help you make a choice.
Material
As a rule, manufacturers choose durable materials for their products. So their scoops work well and serve their customers for many years. The best materials are stainless steel and heavy-duty polyethylene. Stainless steel is used for many tools that are used in the cold. Such material withstands low temperatures and doesn't crack. It is strong and durable. They are certainly heavier than plastic things. But plastic can't withstand cold conditions and the thing will break. But this material has its advantages. It is lightweight and portable. If you have a small budget, plastic will work well for you. But don't forget that such material is prone to breaking at very low temperatures.
Portability
Portability is an important factor for almost all fishing tools. The fisherman has to carry a lot of equipment with him, so it is important that it is light. And also you can easily bring it with you. You need to try to find very heavy scoops for ice fishing. Most of them are lightweight and not bulky. But some models are even more versatile. You can fold the handle. You remove it if you don't need them. Or you can extend the handle. If you need to put a scoop in a sled or bag, then look for models with folds.
Scoop Size
Don't forget about this point. You need to know how tedious it can be to clear the hole of slush. It is difficult to keep in a comfortable position. Most likely you bend over and your back hurts. To avoid this, choose a scoop with a long handle. An ideal option would be a handle from 30 inches. And don't neglect the diameter of your tool. It should not be too wide. Otherwise, you can't install it in a 7-inch hole.
Zeroing in on the Perfect Ice Scoop: Factors to Consider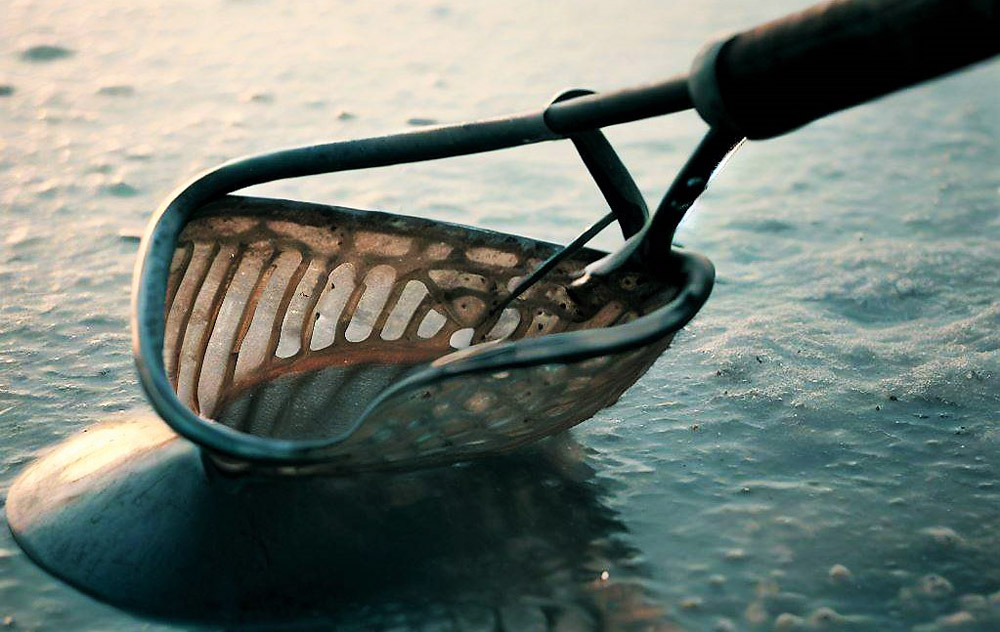 Choosing the right ice scoop can seem like a daunting task given the variety of options available in the market. However, the process can be simplified by considering a few key factors that can directly impact your ice fishing experience.
The first factor to consider is the size of your ice scoop. The size you need largely depends on the diameter of your fishing hole. If you are using an auger that creates larger holes, a scoop with a bigger basket will be needed to effectively remove ice and slush. Conversely, for smaller holes, a scoop with a smaller basket will suffice and might even be more convenient to handle.
Next, the type of fish you are targeting may also influence your choice. If you are fishing for larger species, you may need a larger hole and consequently a bigger ice scoop. The reverse holds true if you are fishing for smaller species.
Your personal comfort and ease of use should also play a crucial role in your decision. Features like the length and design of the handle, the weight of the scoop, and the presence of ergonomic grips can all contribute to the tool's ease of use. For example, a scoop with a longer handle can save you from having to bend down or reach far into the hole, while a lightweight scoop can reduce hand and arm fatigue.
Now let's look at some of the popular models available in the market:
The Frabill Ice Skimmer: This model is lightweight yet durable, thanks to its aluminum construction. Its 30-inch handle makes it suitable for deeper holes.
The Clam Outdoors Ice Scoop: A favorite among ice anglers for its smart design, this scoop has a long handle with a ruler for measuring ice thickness and a rubber grip for comfortable use.
The HT Polar Ice Skimmer: This one is made of tough poly material with a 21-inch handle, making it an excellent compact option for more mobile ice fishermen.
Remember, the right ice scoop isn't the most expensive or the one with the most features – it's the one that fits your fishing style, targets, and comfort the best.
Preserving Your Edge: Effective Use and Care for Your Ice Scoop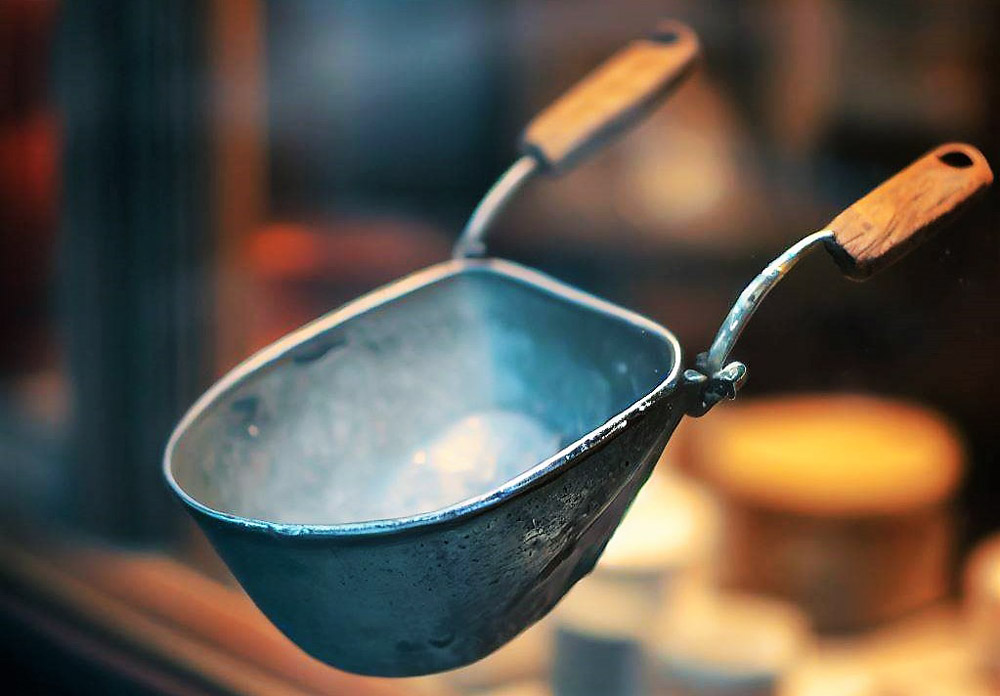 Understanding the proper use and maintenance of your ice scoop is just as critical as choosing the right one. This not only ensures that you make the most out of your tool but also significantly extends its lifespan.
Here's a step-by-step guide on how to use the ice scoop effectively during ice fishing:
✅Begin the Process After Drilling: Once you have drilled your hole, there will be slush and ice chips floating in it. This is when you first employ your ice scoop.
✅Scoop Out Debris: Use the scoop to gently remove the debris from the hole. Start at the edge of the hole, and work your way toward the center, ensuring that you do not cause excessive disturbance in the water.
✅Repeat as Necessary: Over the course of your fishing expedition, ice may continue to form in the hole due to the freezing temperatures. Make sure to occasionally clear out this ice to maintain a clear fishing hole.
When it comes to maintenance, here are some useful tips:
🟨Clean After Each Use: Rinse your ice scoop with warm water after each use to remove any salt, dirt, or grime that may have accumulated. This prevents corrosion, especially in metallic scoops.
🟨Dry Thoroughly: After cleaning, dry your scoop thoroughly to prevent rusting. This is particularly important for scoops made of materials susceptible to rust, such as steel.
🟨Regular Inspection: Check your scoop regularly for any signs of wear or damage. Addressing these issues early can prevent more serious problems in the future.
🟨Store Properly: Store your ice scoop in a dry place when not in use. Avoid leaving it exposed to harsh weather conditions, especially if it's made of material that can corrode or degrade.
By following these guidelines, you can ensure that your ice scoop stays in top shape, ready to assist you in many ice fishing seasons to come.
Fishing Like a Pro: Insider Tips for Using an Ice Scoop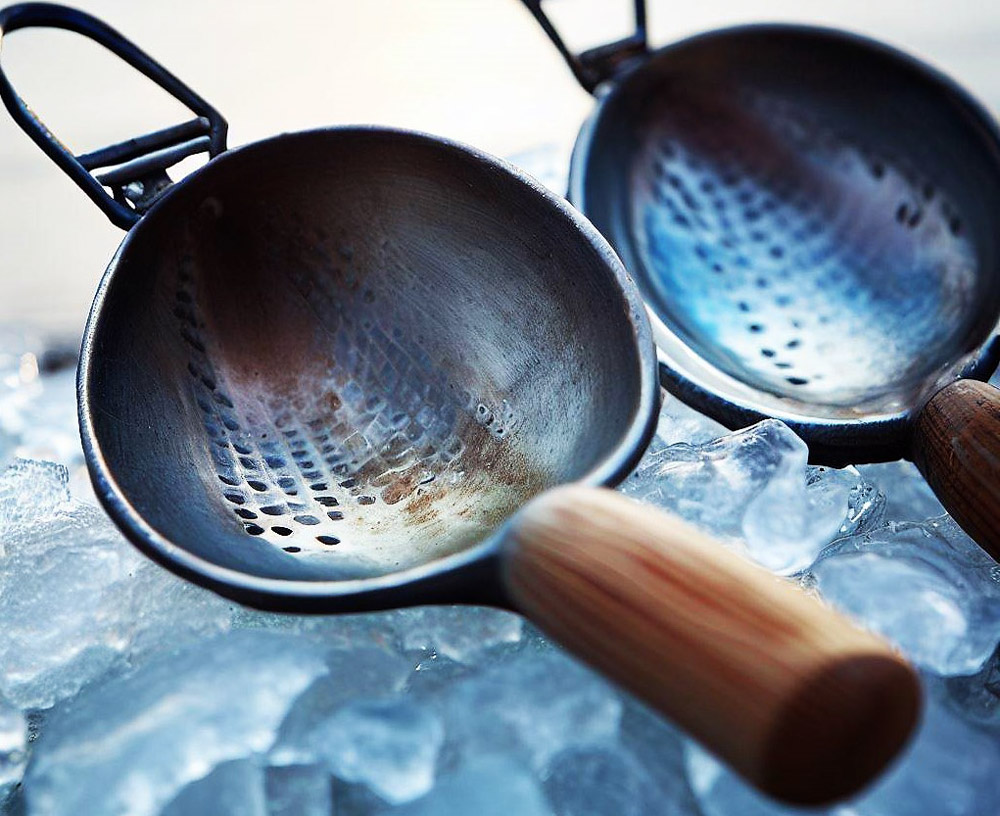 While using an ice scoop might seem straightforward, a few pro tips can take your efficiency to a new level. Here's a collection of wisdom from experienced ice fishermen that can enhance your scoop usage and, in turn, your ice fishing experience.
🟫Scoop Regularly, Not Just Initially: Many beginners make the mistake of only using their ice scoop right after drilling the hole. Experts recommend using the scoop regularly throughout your fishing session to keep the hole clear of newly formed ice and slush.
🟫Be Gentle, Avoid Noise: Fish are sensitive to vibrations and sudden noise. When using the ice scoop, it's important to be as gentle as possible to avoid scaring off the fish.
🟫Try Scoop with Built-in Features: Some ice scoops come with built-in rulers or fish measurers. These can come in handy for quickly assessing the size of your catch or the thickness of the ice.
🟫Keep a Spare Scoop: Seasoned ice anglers often recommend keeping a spare ice scoop. Scoops can sometimes fall into the hole or break, and having a backup ensures your fishing session isn't interrupted.
One real-life story that underlines the importance of these tips comes from a seasoned ice fisherman named Bill. Bill had been ice fishing for many years using a basic ice scoop, mostly clearing the hole just after drilling. But his catch rates were not as high as he'd have liked. Upon advice from a fellow angler, he started to regularly clean the hole using a quieter, gentler approach and switched to an ice scoop with a built-in ruler. The change was evident. Not only did his catch rates improve, but he also found the ruler immensely helpful in quickly gauging the size of his catch. This experience made him a firm advocate of using the right technique and tool for ice fishing.
Remember, ice fishing is a sport of patience and attention to detail. The more you understand about each component, including the humble ice scoop, the more enjoyable and successful your outings can be.
FAQ: Revolutionize Your Ice Fishing With the Right Ice Scoop
Conclusion: Embrace the Chill: The Impact of the Right Ice Scoop on Your Ice Fishing Adventure
To make ice fishing comfortable, you will need a special scoop. It will help prepare the hole. You will quickly clear the hole of slush and ice. Some models also measure ice thickness. Choose any of my lists and you will not be mistaken!
In the vast and frigid world of ice fishing, every piece of gear holds importance, and as we've explored in this article, the ice scoop is no exception. The scoop plays an indispensable role in keeping your fishing hole clear of slush and ice, directly contributing to the success of your ice fishing expedition.
From understanding the various types and designs of ice scoops to the factors to consider while choosing the right scoop, we delved deep into the world of this seemingly simple tool. We've also highlighted the importance of the correct use and maintenance of an ice scoop to ensure longevity. And finally, the expert tips and tricks shared should provide you with a greater edge on your ice fishing outings.
We encourage you not to underestimate this humble tool and to invest in a high-quality ice scoop that suits your needs. Remember, using it correctly and regularly can significantly enhance your ice fishing experience.
However, the learning doesn't stop here. We invite you to share your own experiences and tips about using ice scoops in the comments section below. Let's continue to learn from each other and make the most out of our ice-fishing adventures. Whether you're a seasoned angler or a beginner on the ice, every experience holds a valuable lesson. Let's together delve deeper into this intriguing activity of ice fishing.
Beyond the Ice: Delving Deeper into Your Ice Fishing Journey
This article was synthesized from various resources, with the intention of providing an all-inclusive guide to using ice scoops for ice fishing. Here are some references and resources used:
Mueller, T. (2018). "The Complete Guide to Ice Fishing." In-Fisherman.
Johnson, K. (2020). "Essential Gear for Ice Fishing: The Importance of Ice Scoops." Outdoor Life.
Petersen, M. (2022). "Choosing the Right Ice Scoop for Your Ice Fishing Expedition." Field and Stream.
If you wish to delve deeper into the topic of ice fishing or ice scoops, here are some suggestions:
"The Ultimate Guide to Ice Fishing" by Greg Thomas: This book offers a comprehensive insight into all aspects of ice fishing, including gear selection and maintenance.
"Ice Fishing: A Detailed Guide to Equipment, Techniques, and Safety" by Jeff Kolodzinski: This book provides expert advice and is a valuable resource for beginners and seasoned ice anglers alike.
In-Fisherman's "Ice Fishing Tactics": This video series provides in-depth coverage of various ice fishing techniques, including the effective use of gear like ice scoops.
Various ice fishing forums, such as IceShanty.com and IceFishin247.com, where experienced ice anglers discuss their experiences, tips, and tricks.
Always remember the key to becoming a better angler lies in continuous learning and application of the acquired knowledge.
Tags: #ice fishing scoop / #ice scoop for ice fishing / #homemade ice fishing scoop / #best ice fishing scoop / #metal ice fishing scoop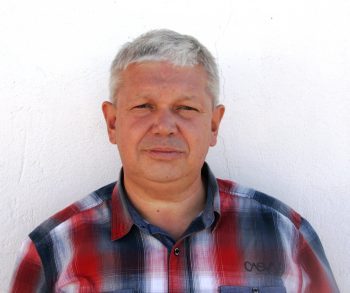 Sergio Smirnoff
Professional fisherman with 40+ years of experience.
Fishing and the ocean is a passion of my life. I am passionate about all kinds of sea fishing: fishing from the shore (spinning, float, baitcasting), from a boat, and spearfishing day and night.
I live in Tenerife (Canary Islands) for the last 10+ years and share my daily fishing experiences on my website. Many years of personal experience as a fisherman and the vast experience of my friends allow me to write professionally on any fishing topics (from choosing a flashlight and equipment to deep-sea fishing).
All of my advice is based on practical real-world experience and will be useful to both novice anglers and professionals.
Read more
about the author.
Affiliate Disclosure: FishReeler.com sometimes gets paid for listings, through sponsors or affiliate programs like Amazon, Ebay, Cabelas, Bass Pro Shop, Shimano, Daiwa, Rapala, Renn, Okuma, KastKing, etс. Clicking a link helps keep FishReeler.com free, at no extra cost to you!
About the author: Each article is verified by the fishing expert Sergio Smirnoff. The articles are written by professional and amateur fishermen with 20+ years of fishing experience.
Note: The views and opinions expressed in this article are those of the authors and do not necessarily reflect the official policy or position of any agency. The articles are for informational purposes only, share your opinions in the comments and join the fishing discussions, let's share our fishing experiences together!