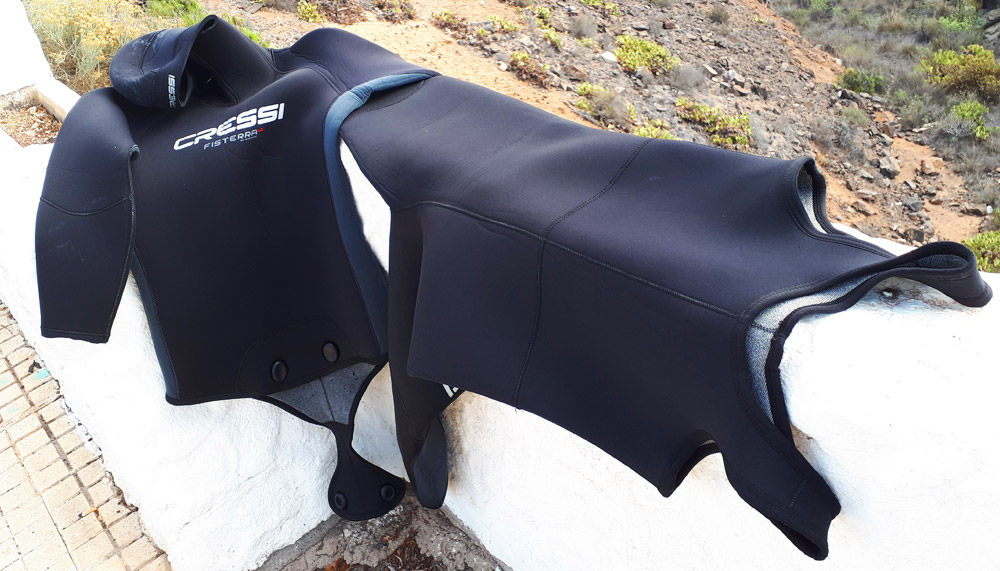 💡It is very important to know: This 8 mm thick model can only be used in cold waters from +2 to 15 degrees Celsius. Warmer water will overheat the swimmer's body.
Spearfishing, the thrilling sport that combines the thrill of the hunt with the serene beauty of the underwater world, has captivated the hearts of countless ocean enthusiasts. As a spearfisher, you know that the right gear is crucial to your success, and at the forefront of this equipment lies the wetsuit, designed to keep you warm, agile, and comfortable as you delve into the depths of the sea.
The Ultimate Review: Cressi Fisterra Spearfishing Wetsuit 8mm
Among the many options available, the Cressi Fisterra Spearfishing Wetsuit 8mm stands out as an exceptional choice, combining advanced technology and innovative design with the experience and reputation of the Cressi brand.
In this blog post, we'll embark on an exciting exploration of the Cressi Fisterra Spearfishing Wetsuit 8mm, delving into its features, performance, and benefits, as well as providing valuable insights on how this exceptional wetsuit can elevate your spearfishing experience
The Cressi Fisterra Spearfishing Wetsuit 8mm is a high-quality wetsuit designed specifically for spearfishing and freediving enthusiasts. Manufactured by Cressi, a renowned Italian company with a long-standing reputation for producing premium scuba diving, snorkeling, and swimming equipment, the Fisterra wetsuit offers an exceptional combination of comfort, durability, and functionality.
| Feature | Explanation |
| --- | --- |
| Materials & Construction | 8mm neoprene offers excellent thermal insulation, lined with Metallite material for enhanced heat retention and easy donning, and a high-density, abrasion-resistant outer layer for durability. |
| Anatomical Design | Pre-shaped anatomical cut for a snug and comfortable fit, optimized freedom of movement, reinforced knee and elbow pads, and a durable YKK back zipper for easy entry and exit. |
| Camouflage Pattern | Camouflage pattern blends into the underwater environment, increasing stealth and reducing the chances of fish detecting the diver. |
| Sealing System | Smooth neoprene cuffs and double-lined collar ensure a secure seal around wrists and neck, minimizing water entry and maintaining warmth. |
| Hood | Attached hood provides additional thermal insulation for the head and neck area and features a venting system to prevent air buildup and minimize potential buoyancy issues. |
Cressi Fisterra 8mm – Spearfishing Wetsuit
It's no secret that any diver needs a suit. And it seems that this is not a very big problem, because now almost every fishing or diving store has one.
But I will ask you something. Have you ever had a suit that sat on you like a second skin, and plunging into the water you felt in it just like fish swimming past you? A suit in which you feel comfortable and want to be, and after which your skin does not suffer and does not feel discomfort?
If not, then you're in luck because today I'm reviewing a top-class suit for you – the Cressi Fisterra Two Piece Wetsuit 8mm. This is the gold standard for low-temperature diving suits and if you often work in the water below 10 degrees, you will definitely benefit from this article.
This suit is made by the world-famous Cressi brand, which is known for the quality of its spearfishing gear. So let's take a look at this wetsuit!
Materials and Construction
The use of 8mm neoprene in the Cressi Fisterra Spearfishing Wetsuit serves as a crucial factor in providing excellent thermal insulation for spearfishers and freedivers. The 8mm thickness ensures that the wetsuit is well-suited for cold water conditions, keeping the wearer warm and comfortable during extended dives. The neoprene material is both flexible and durable, offering the right balance between comfort and resilience to withstand underwater elements.
The Metallite lining is another essential feature of the Cressi Fisterra Wetsuit. This unique material, found on the interior of the wetsuit, enhances heat retention and contributes to the overall thermal performance of the suit. In addition to its thermal properties, the Metallite lining also simplifies the process of putting on and taking off the wetsuit. The smooth, slippery texture of Metallite reduces friction against the skin, making it easier for divers to slip in and out of the wetsuit without the need for additional lubricants.
To further bolster the wetsuit's durability, the Cressi Fisterra features a high-density, abrasion-resistant outer layer. This robust exterior ensures that the wetsuit can withstand wear and tear from underwater elements, including rocks, corals, and other abrasive surfaces that divers may encounter during their dives. The tough outer layer not only extends the lifespan of the wetsuit but also provides an extra layer of protection for the wearer from potential injuries caused by contact with sharp or rough objects.
Custom Contours: Exploring the Anatomical Design of the Cressi Fisterra Wetsuit
The Cressi Fisterra Spearfishing Wetsuit boasts a pre-shaped anatomical cut, designed to provide a snug and comfortable fit for divers. This tailored design follows the natural contours of the human body, ensuring that the wetsuit moves with the wearer, allowing for unrestricted freedom of movement during dives. The anatomical cut also helps to minimize water circulation inside the wetsuit, which enhances thermal insulation and ensures that the diver stays warm even in cold water conditions.
One of the standout features of the Cressi Fisterra Wetsuit is the reinforced knee and elbow pads. These strategically placed reinforcements are designed to offer additional protection and durability in high-wear areas that are prone to damage during dives. The extra padding not only ensures that the wetsuit remains intact over time but also provides divers with the confidence that their gear will withstand the challenges posed by underwater environments, such as rocky terrains and submerged structures.
Watertight Wonder: Dive into the Innovative Sealing System of Cressi Fisterra
The Cressi Fisterra Spearfishing Wetsuit is designed with a unique sealing system that incorporates smooth neoprene cuffs. These cuffs are strategically placed around the wrists and ankles to ensure a secure, comfortable seal. The smooth neoprene material forms a tight fit against the skin, effectively minimizing water entry at these critical junctures. By reducing water flow in and out of the wetsuit, the neoprene cuffs play a vital role in preserving the diver's body heat and maintaining overall warmth during dives.
In addition to the smooth neoprene cuffs, the Cressi Fisterra features a double-lined collar that further enhances the wetsuit's sealing capabilities. This specially designed collar forms a secure seal around the neck area, preventing water from entering the suit from the top. The double-lined construction ensures both comfort and durability, preventing chafing while providing an effective barrier against water entry.
Minimizing water entry and maintaining warmth are crucial aspects of any spearfishing wetsuit, as they directly impact the diver's comfort, safety, and overall diving experience. The Cressi Fisterra's sealing system, with its smooth neoprene cuffs and double-lined collar, effectively addresses these concerns by creating a watertight barrier that keeps the diver warm and protected in cold water conditions. A well-insulated wetsuit allows divers to stay in the water for extended periods, enhancing their chances of a successful spearfishing expedition while also ensuring their safety and well-being.
Headfirst into Warmth: Discover the Integrated Hood of Cressi Fisterra Wetsuit
The Cressi Fisterra Spearfishing Wetsuit comes with an attached hood, offering several benefits to the diver. The integrated hood design provides additional thermal insulation for the head and neck area, which is essential for maintaining warmth in cold water environments.
The hood helps retain heat that would otherwise be lost through the exposed head and neck, significantly contributing to the overall comfort and safety of the diver. Additionally, the attached hood eliminates the need for a separate hood, ensuring a seamless fit with the rest of the wetsuit and minimizing the chances of water seepage between the wetsuit and hood.
Another noteworthy feature of the Cressi Fisterra's hood is its venting system, designed to prevent air buildup and minimize potential buoyancy issues. Air can sometimes become trapped in the hood, creating discomfort or affecting the diver's buoyancy control.
The venting system allows trapped air to escape from the hood while maintaining its insulating properties. This smart design ensures that divers can enjoy the warmth and protection provided by the hood without compromising their ability to control buoyancy, leading to a safer and more enjoyable diving experience.
Sizing and Fit
The Cressi Fisterra Spearfishing Wetsuit is available in a wide range of sizes, ensuring a suitable fit for divers of various shapes and builds. Sizes typically range from Small (S) to XX-Large (XXL), providing a comprehensive selection for both male and female divers. It is important to note that different manufacturers may have slight variations in sizing, so it's always advisable to refer to Cressi's specific sizing chart when selecting a size.
Choosing the right size for your Cressi Fisterra wetsuit is crucial in order to maximize comfort, warmth, and flexibility during your dives. To determine the best fit, start by taking accurate measurements of your body, including your height, chest, waist, and hips. Compare these measurements to Cressi's sizing chart, which can typically be found on their website or in product listings.
Keep in mind that a proper-fitting wetsuit should be snug but not overly tight, allowing for a full range of motion without causing discomfort or restricting blood circulation. If you find yourself between sizes or unsure about which size to choose, it's generally recommended to size up, as a slightly larger wetsuit will still provide insulation while ensuring greater comfort and ease of movement.
What Do I Love About This Suit?
Overall Impression
If you are a diver, you are exploring the ocean. And even a newbie knows that when cold water wraps around your body, it can take your breath away (and not in a good way). Luckily, the Cressi Fisterra 8 wetsuit is specially designed to keep you warm in extreme depths. It is made of waterproof and heat-resistant panels, so even if you dive deeper than 50 meters, you will stay warm.
Lightness & Comfort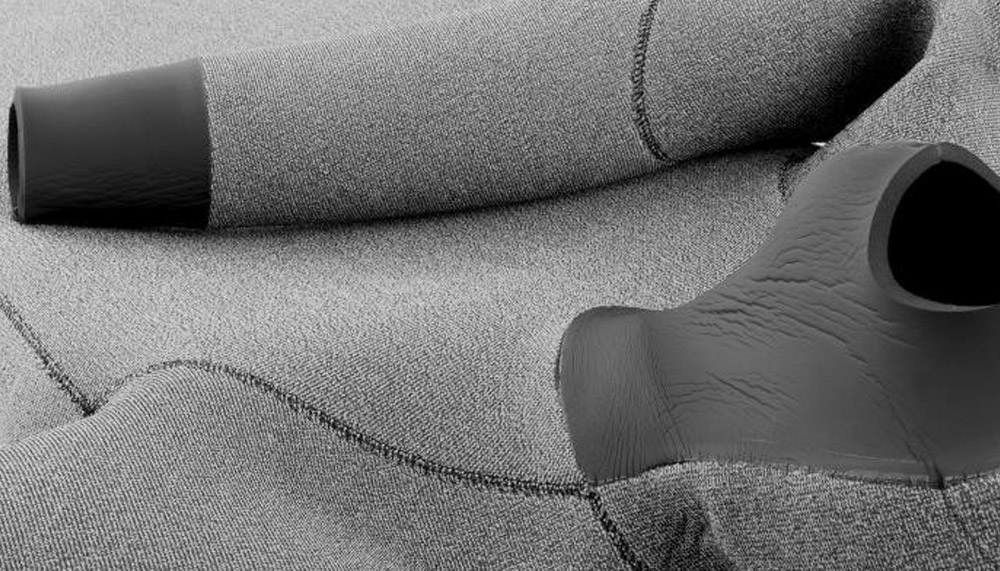 Diving in the Cressi Fisterra 8 wetsuit is like diving with a teddy bear. You will be so comfortable that you will no longer be able to feel the cold water on your skin. This wetsuit is very easy to swim in, making it a great choice for traveling divers who need reliable protection on their next expedition.
The Fisterra has been designed to meet the needs of professional cold water divers. This durable wetsuit is also ideal for commercial fishing.
Convenient Design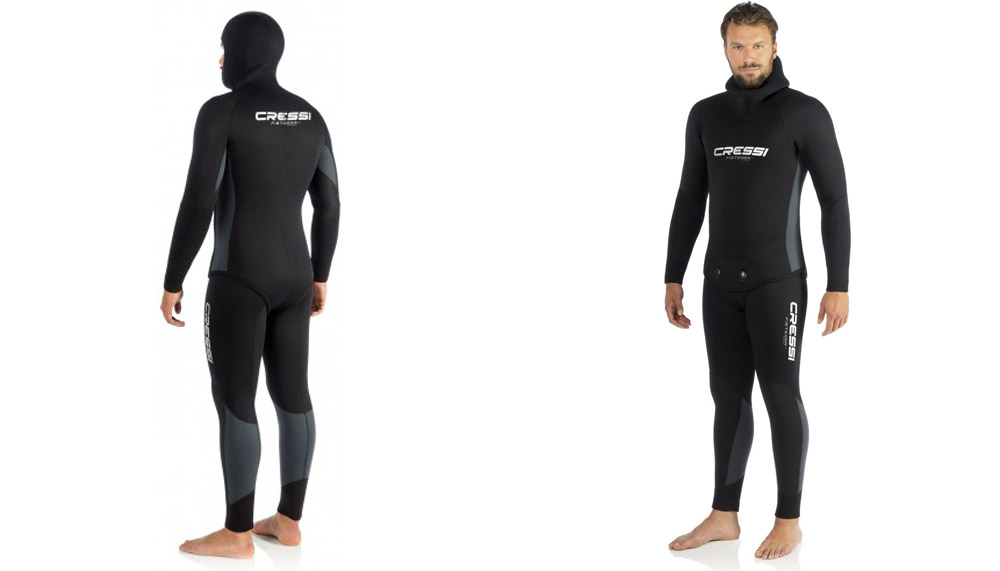 The Fisterra is designed for divers who demand maximum thermal performance and comfort. This model is durable, very waterproof, and has a heat-resistant combination with a no-zip jacket and high trousers with overalls.
Enhanced Thermal Protection
Low compression LC neoprene guarantees optimal thermal protection in the lower part thanks to its high compression resistance. The nylon outer lining is very durable, the inner elastic terry loop is X-Plush and highly slippery which makes the suit easy to put on and take off. Wide anti-wear knee and elbow pads in Supratex greatly extend the lifespan and make the suit durable.
Compactness
Many 8 mm thermal suits are very bulky and often difficult to carry around, especially when your 3mm suits fit so well in a bag. But this is not about Fisterra. Of course, this model will be heavier than any of your 5 mm and even more so 3 mm suits, but it fits into the bag quite easily and I never had to use too much force to zip up my bag with this suit.
Material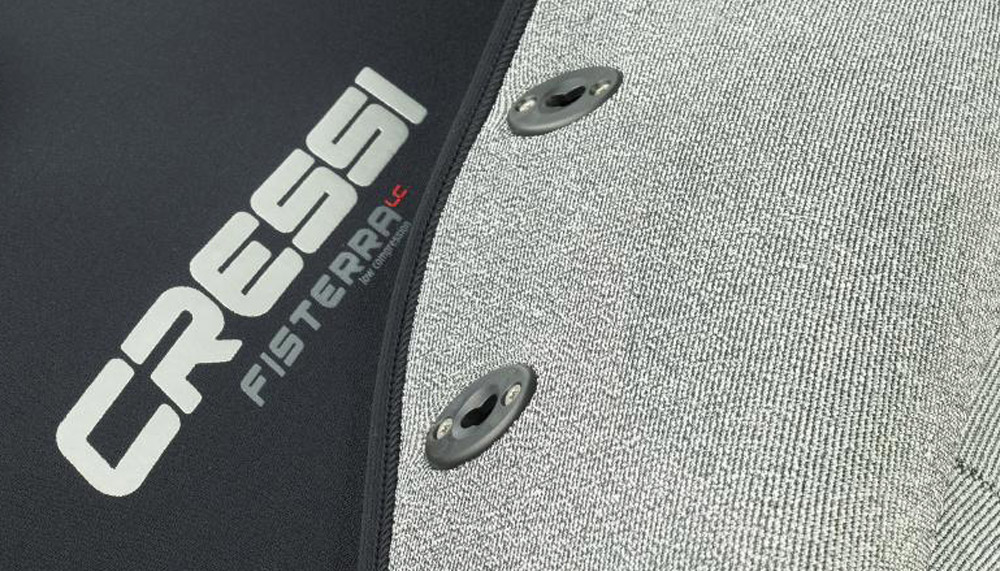 If the manufacturer had decided to make this suit only from neoprene, it is unlikely that they would have received such high ratings, because it would be too heavy and restrict your movements. In my opinion, Cressy made a brilliant decision to make this suit a composite of two materials – nylon and neoprene. Outer layer – nylon, very durable but very stretchy. But at the same time, there is an X-Plush terry loop inside, thanks to which it remains warm and the suit is very easy to put on, dry or wet.
Main Advantages and Features of the Cressi Fisterra Spearfishing Wetsuit
💡Useful video
The Cressi Fisterra Spearfishing Wetsuit 8mm offers several key advantages for spearfishing enthusiasts:
Cressi used double-lined neoprene with waterproof seals on the limbs to keep even the slightest wet out. Inside there is an X-Plush terry loop that makes it easy to put on.
Arms and legs have extra flexibility to allow you to move freely.
The knees have Powertex reinforcements. Extraordinarily durable reinforcement that saves the suit from abrasion and rapid wear.
The wetsuit consists of two parts 8 mm.
Many short users also complain about all Cressi suits and their length. The manufacturer does not have compact options for short people, so it often stumbles at the knees and elbows. So if you are rather short, you might want to look for something better. But personally, this suit suited me completely, so if you are of average height from 170 cm, then the suit will sit well on you.
How To Choose A Wetsuit?
Today, a wide range of dry, semi-dry, and wet wetsuits are presented. The main difference of the dry version is the complete prevention of water penetration thanks to waterproof zippers and special cuffs on the neck and sleeves. Such an example is ideal for long dives in winter when the water is very cold. Cressi Fisterra is just a drysuit option.
Drysuits are made from a special fabric (trilaminate) or compressed (compression) neoprene. The first option is lightweight, while the fabric dries quickly. Neoprene options have better heat capacity and durability. When choosing a drysuit, pay attention to the location of the fastener, which can be front, back, vertical and diagonal. The most convenient for self-dressing are products with a back zipper. But other options are also easy to get used to. Often there may not be a zipper at all (for example, on two-piece suits) and this is absolutely normal. The ease of putting on and taking off is not lost in any way.
Wetsuits are popular among divers, snorkelers, spearfishers, kite surfers, and other water sports.
Their main distinguishing feature is that water can penetrate under the outer neoprene layer, but this should not be considered a disadvantage or a problem, since the water heats up quickly and helps to retain heat.
For the production of such products, a special foam material is used, which forms a heat-insulating shell. During swimming, the diver feels as comfortable as possible, since the water that has penetrated under the suit does not cool the body, but maintains the required temperature. One of the advantages of wet suits over dry suits is their low cost, reliability, and ease of use.
Semi-dry suits are slowly but surely losing ground in front of dry suits. The reason is simple. The price difference is not so great, and the comfort of a light dry suit made of trilaminate is much higher, because semi-dry suits are made of neoprene, and this is extra weight and stiffness of movement in any case.
However, semi-dry suits also have a sealed zipper, which significantly increases water resistance, so that the diver can be underwater for a long time. A semi-dry suit (unlike a dry suit) does not require additional warming clothing, it can be worn on a naked body, and if necessary, thermal underwear can be used.
However, a semi-dry suit is never used for cold dives, it is impossible to wear serious warm clothing under it.
Neoprene Thickness
The most important decision you have to make is the thickness of your wetsuit. This is one of the main factors that determine how warm you will be underwater. There is no fixed rule for the relationship between water temperature and wetsuit thickness. Different people begin to freeze at different temperatures.
💡However, there are general rules for using suits depending on the temperature of the water, here they are:
2 mm – from 28° C and above;
3 mm – from 20 to 27° С;
5-6 mm – from 16 to 21° С;
6-7 mm – from 12 to 15° С;
7-9 mm – from 10° C and below.
Care and Maintenance
Proper care and maintenance are essential for preserving the performance and longevity of your Cressi Fisterra Spearfishing Wetsuit. To clean the wetsuit, rinse it thoroughly with fresh water after each dive, ensuring all salt, sand, and debris are removed from the neoprene material and zippers.
For more thorough cleaning, you may occasionally use a mild wetsuit cleaner or gentle soap, being careful not to use harsh chemicals that could damage the neoprene or other materials. When drying the wetsuit, always air dry it in a well-ventilated area away from direct sunlight, as UV rays can cause the material to degrade over time. To store the wetsuit, it's best to either lay it flat or hang it using a thick, wide hanger to prevent creases or damage to the neoprene.
Extending the life of your Cressi Fisterra wetsuit involves following proper care and maintenance practices, as well as taking some additional precautions. Avoid excessive exposure to sunlight and heat, which can weaken the neoprene and cause it to lose its insulating properties. Be mindful of sharp objects and rough surfaces when diving, as they can cause tears or abrasions to the wetsuit material.
Additionally, regularly inspect the wetsuit for any signs of wear or damage, paying particular attention to seams and high-stress areas. Address any issues promptly to prevent further damage and ensure the wetsuit remains in optimal condition. By taking these steps and treating your wetsuit with care, you can significantly prolong its lifespan and enjoy many successful spearfishing adventures.
Frequently Asked Questions
Even after reading the article, many users still have questions about underwater suits and this model. So I collected the most frequent and popular questions from you in one section. Just go down below and you will find the answers to everything that interests you.
Final Thoughts
The Cressi Fisterra Spearfishing Wetsuit 8mm is a top-quality wetsuit designed specifically for cold water spearfishing. Key features of this wetsuit include its 8mm neoprene construction, providing excellent thermal insulation, and the Metallite lining for enhanced heat retention and easy donning and doffing.
The anatomical design, featuring reinforced knee and elbow pads and a pre-shaped cut, ensures comfort and freedom of movement. The camouflage pattern helps spearfishers blend seamlessly into the underwater environment, while the effective sealing system minimizes water entry to maintain warmth. The attached hood adds further insulation to the head and neck areas and includes a venting system to prevent air buildup.
A wetsuit is an indispensable attribute for any diver, especially for those who dive in cold waters. It doesn't matter if you're going to invest a lot of money in a suit or if you want to go for a budget option, just remember to buy a suit that fits snugly against your body and won't let you get cold when you dive. If you don't want to go through a thousand options and compare them to pick the best, just go for Cressi Fisterra because it's already one of the best.
I recommend this suit as it has all the qualities to be considered the best. The most notable advantages of this model are premium materials, protection on the knees, seals on the extremities, and of course excellent heat retention. If you have already had experience with this suit or are considering buying it, I will be happy to discuss it with you in the comments. Thanks for reading this article.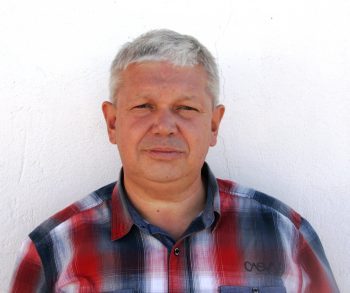 Sergio Smirnoff
Professional fisherman with 40+ years of experience.
Fishing and the ocean is a passion of my life. I am passionate about all kinds of sea fishing: fishing from the shore (spinning, float, baitcasting), from a boat, and spearfishing day and night.
I live in Tenerife (Canary Islands) for the last 10+ years and share my daily fishing experiences on my website. Many years of personal experience as a fisherman and the vast experience of my friends allow me to write professionally on any fishing topics (from choosing a flashlight and equipment to deep-sea fishing).
All of my advice is based on practical real-world experience and will be useful to both novice anglers and professionals.
Read more
about the author.
Affiliate Disclosure: FishReeler.com sometimes gets paid for listings, through sponsors or affiliate programs like Amazon, Ebay, Cabelas, Bass Pro Shop, Shimano, Daiwa, Rapala, Renn, Okuma, KastKing, etс. Clicking a link helps keep FishReeler.com free, at no extra cost to you!
About the author: Each article is verified by the fishing expert Sergio Smirnoff. The articles are written by professional and amateur fishermen with 20+ years of fishing experience.
Note: The views and opinions expressed in this article are those of the authors and do not necessarily reflect the official policy or position of any agency. The articles are for informational purposes only, share your opinions in the comments and join the fishing discussions, let's share our fishing experiences together!