The most important and useful thing to know! This underwater gun (75 cm) is an ideal purchase for beginner hunters only. Compact, simple, and reliable. More for learning and first experience.
There are not many spearguns in the world that can match the Omer Cayman GI Camu. I have wanted to get this gun for a long time and today I am going to share my thoughts with you. Because this gun impressed me a lot.
Power is not the main thing that makes it so impressive. This is also accuracy and shot, which each time flies out with a force equal to a more powerful gun. But this is only 75 cm.
This speargun is serious enough to catch a lot of fish every day, yet easy to use and compact enough to be used by anyone, even a novice angler. The Omer Cayman is the premium model that we will review in this article.
Omer Cayman – Product Overview
The new model's barrel has an integrated rail that helps keep the shot trajectory straight, eliminating barrel kinks and side clutter. This system has three fundamental advantages: the speargun remains stable during firing, even when multiple rubber bands are used. The possibility of accidental "slipping" of the underwater gun is excluded.
The recoil characteristic of classic open-muzzle spear guns is practically absent from this model. This prevents energy loss and gives the speargun more power. The speargun is no longer subject to lateral vibrations when exiting the barrel. As a result, the gun has more power and accuracy than comparable spearguns. The increased barrel volume ensures an optimal balance of the gun even with a 7mm spear and when using double rubber bands. The gun is streamlined and maneuverable regardless of length. The camouflage version differs from the usual unique 3D color of the barrel, applied using a special high-temperature technology.
The camouflage version also has an ergonomic grip. The thickness of the aluminum barrel wall is 1.2 mm for models up to 95 cm and 1.5 mm for longer spearguns. This ensures the best balance and rigidity of the barrel. The integrated guide allows the use of spears up to 7 mm thick. The spear inserted into the rail does not need additional fixation. During the shot, the rubber bands run strictly parallel to the barrel and do not rub against it. The new design of the close muzzle allows for the use of one or two rubber bands.
The Omer Cayman GI Speargun – Detailed Review
This speargun is slightly different from similar models. So it will take you some time to get used to it. But believe me, all the surprises and inconveniences at the first stage will justify themselves later.
I have a 75cm Omer Cayman GI speargun and I must say I'm very impressed. It is much easier to maneuver and lighter underwater, but still has the same accuracy as 100-115 cm spearguns. Because of this, the price of this gun is above average, but in return, you get a very high range, accuracy, and lightness.
Besides, this model is quite versatile. The track on the top fits all shafts up to 6.5mm, which also reduces whiplash during the shot. What I especially like is the very low recoil even when using heavy-duty or dual bands. The design of this model evenly distributes energy throughout the body and only part of the recoil from the shot reaches the shooter.
The Price
The price of this speargun will vary depending on the length you want to buy. The Cayman 75 is the third-longest speargun, only 50 cm and 60 cm shorter than the model. Therefore, they are inexpensive compared to longer models.
Key Features
Anatomical handle.
Sensitive trigger.
Reel seat.
Classic Cayman handles with an all-metal trigger mechanism.
Convenient small fuse.
The Handle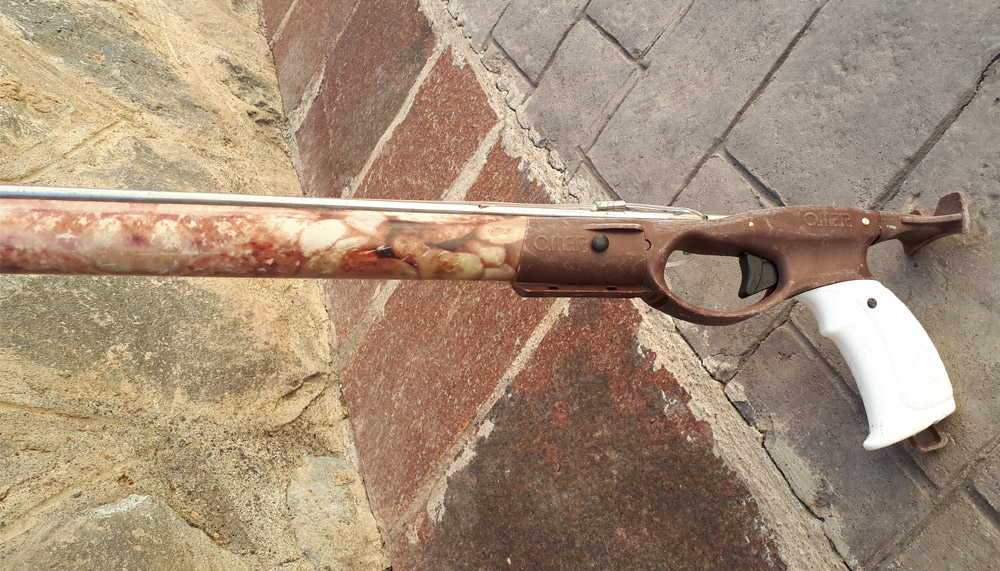 Cayman handles can withstand enormous stresses as they are made entirely of stainless steel. The grip angle is comfortable and ergonomic despite the high handle position. Options are available for both left and right hands. I like that the handle is made in bright white light. Thanks to this, it is very easy for me to search for a gun underwater, even in conditions of low transparency. The only thing that bothered me was the size of the loading area. But you can easily get used to it or replace it if you want.
Spears
Personally, I find it convenient to use the spears that come with the kit. But many of my friends say that they often bend or they lose fish, especially large ones with spears in the kit. Therefore, if you like to hunt bigger fish, then I advise you to change spears.
The Muzzle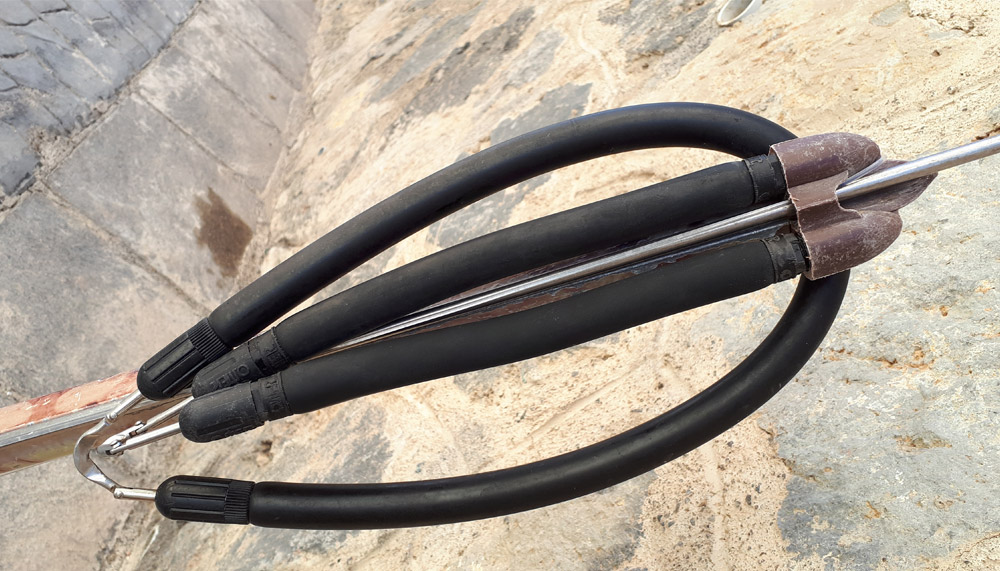 Everything here is like a traditional gun. The muzzle is closed, equipped with 16 mm rubber bands. But they are very tight and hard to reload. I couldn't use them. Therefore, I recommend that you immediately change them to thinner elastic bands. You can also put a second ring tape here up to 16mm. Thanks to the high handle, guide, and built-in stabilizer, recoil is minimal even with loaded double rubber bands. Most of the time you won't even feel the recoil in your hand.
The Barrel

The 75 cm model is made of anodized aluminum, but at the final stage of production, the manufacturer also puts a guide on the entire length of the barrel, which makes shooting much easier. This speargun feels very solid when I shoot, and there is no "shaft whip" that makes my spear fly higher than the target like other spearguns.
There is a handy safety catch at the bottom of the handle that will save you from an unnecessary or accidental shot. There is also a place to attach a coil and quickly recharge it. But this speargun only work with special transparent or black lines, you can't put a cord here. This design works well with fishing lines, as any line will slow down the arrow when fired.
How Does It Feel To Use?
This gun is incredible to use. I certainly expected it to be powerful after purchase, but not that much. The range of the Omer Cayman GI Camu is incredible. Even in the 75 cm version, it is quite capable of hitting large fish. This is what you need if you are looking for a short but powerful speargun. The barrel design balances the weight of the gun and will float alongside you in the water as soon as you fire.
In addition to speed and power, this speargun has incredible precision. Sure, loading this gun is quite exhausting for you, but that makes up for the power these tight bands give you. I also found that my arrow flies in a straight line after being fired, so I had to relearn to aim straight and not a little lower than I'm used to on other spearguns.
Omer Cayman Camu 75 Pros & Cons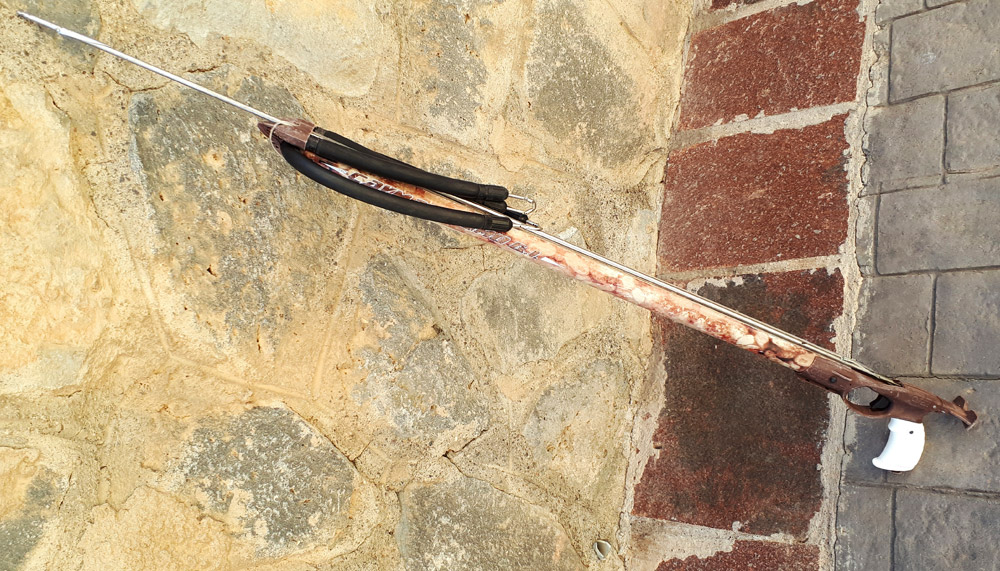 About The Brand
Omer started manufacturing spearguns back in the 70s for Italian spearfishing champions. But not by yourself. They partnered with Beretta which are manufacturers of firearms. Today, the brand has spun off from Beretta and is one of the world leaders in spearfishing, with Omer offering products for divers of all levels, from beginner to professional.
Omer Cayman Spearguns – FAQs
Many users often ask questions related to Omer Caiman spearguns. Below we have answered the most popular ones.
Summing Up
All in all, this is a decent speargun. It feels a bit like a compound bow when you fire a shot and you get 2-3 times more power than you expected. I fired several shots in a row while fishing and didn't feel the recoil like on other guns.
Underwater, it is incredibly light and maneuverable, the only thing you need to practice is to learn how to aim in a straight line, as this speargun is perfectly stabilized and does not let the spear go up or down. The gun works great with 16mm rubber bands as standard, but for most anglers, they are quite tight. So when you put lighter rubber bands on it, it feels incredibly light.
This gun will have a place in my boat due to its reliability, balance, lightness, and accuracy. I have never seen such a powerful gun with such a small barrel length. This is an excellent choice for every angler, regardless of their skills and experience. It will work well in the hands of a beginner as well as in the hands of an experienced diver. Have a nice fishing!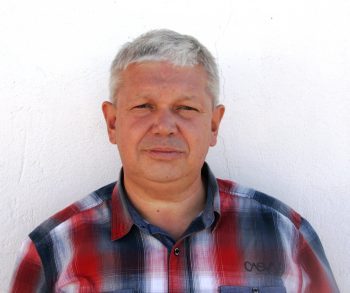 Sergio Smirnoff
Professional fisherman with 40+ years of experience.
Fishing and the ocean is a passion of my life. I am passionate about all kinds of sea fishing: fishing from the shore (spinning, float, baitcasting), from a boat, and spearfishing day and night.
I live in Tenerife (Canary Islands) for the last 10+ years and share my daily fishing experiences on my website. Many years of personal experience as a fisherman and the vast experience of my friends allow me to write professionally on any fishing topics (from choosing a flashlight and equipment to deep-sea fishing).
All of my advice is based on practical real-world experience and will be useful to both novice anglers and professionals.
Read more
about the author.
Affiliate Disclosure: FishReeler.com sometimes gets paid for listings, through sponsors or affiliate programs like Amazon, Ebay, Cabelas, Bass Pro Shop, Shimano, Daiwa, Rapala, Renn, Okuma, KastKing, etс. Clicking a link helps keep FishReeler.com free, at no extra cost to you!
About the author: Each article is verified by the fishing expert Sergio Smirnoff. The articles are written by professional and amateur fishermen with 20+ years of fishing experience.
Note: The views and opinions expressed in this article are those of the authors and do not necessarily reflect the official policy or position of any agency. The articles are for informational purposes only, share your opinions in the comments and join the fishing discussions, let's share our fishing experiences together!