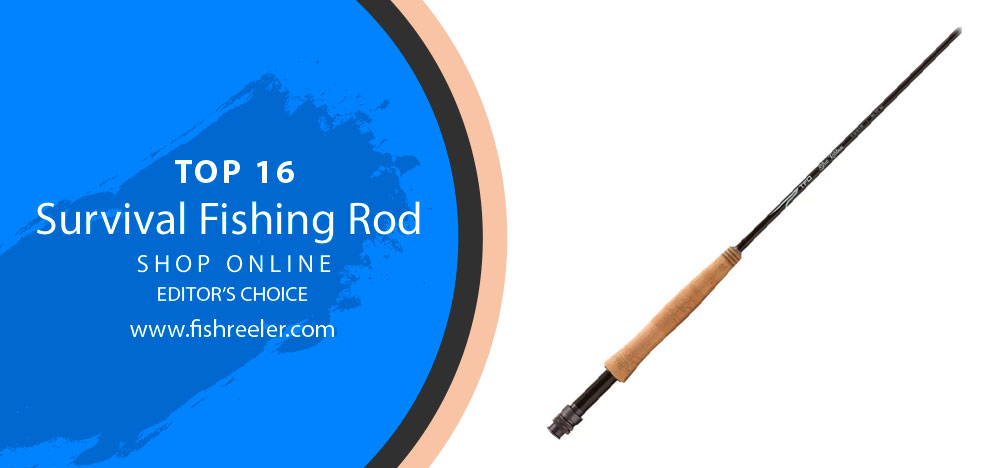 Survival Fishing Rods: Your Ultimate Guide to Thriving in the Wilderness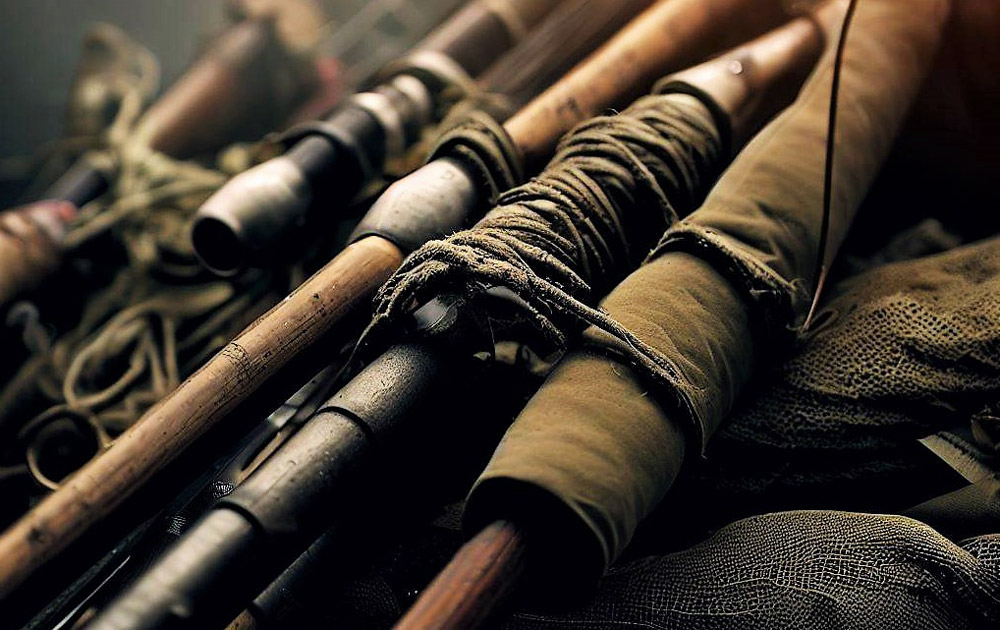 Hooked on Survival: The Crucial Role of a Fishing Rod
Picture this – you're stranded in the wilderness, miles away from civilization. Your provisions are dwindling, and your stomach growls with hunger. Your survival instincts kick in. Nearby, a river flows, teeming with fish, your potential dinner. But how will you catch them? Your hands? A makeshift spear? Here's where a survival fishing rod, compact and effective, becomes crucial, turning a dire situation into an opportunity for survival.
Fishing: Your Lifeline in Survival Situations
In a survival situation, the ability to procure food can be the difference between life and death. While hunting for larger game may be the first method that comes to mind, it's often more energy and time-consuming than fishing. Moreover, success isn't guaranteed. Fishing, on the other hand, is a lower energy and typically a more reliable way to secure food, provided there's a body of water nearby. By knowing how to fish, one can tap into a sustainable source of food that could potentially last for as long as needed. The key tool in this process? A fishing rod, specifically designed for survival situations.
Casting Off: What to Expect in This Article
In this article, we will delve into the world of survival fishing. We'll explore its importance in wilderness survival, the role of survival fishing rods, and the characteristics that make a good survival fishing rod. We'll also take a look at some of the best survival fishing rods currently on the market, how to use them, and even how to make one yourself. By the end, you'll have a comprehensive understanding of survival fishing rods and be better prepared for any wilderness survival scenario.
When the Going Gets Tough: 16 Survival Fishing Rods to Rely On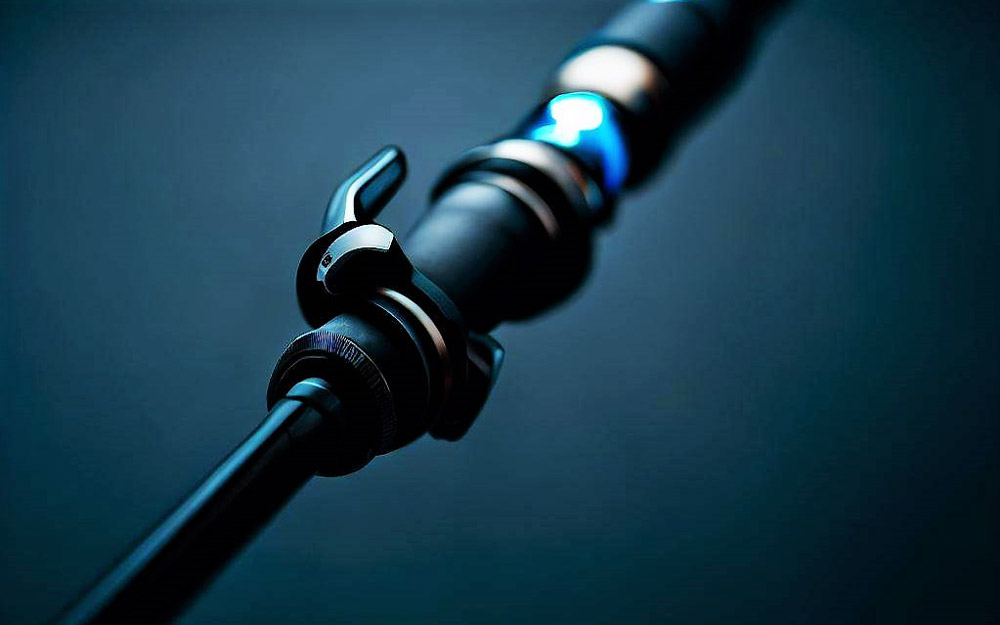 Survival fishing is a great way to catch food in an emergency situation. When it comes to finding the best survival fishing rod, there are a lot of different factors to consider. With so many rods on the market, it can be hard to know which one is right for you.
In this article, we will take a look at some of the top-rated survival fishing rods and help you decide which one is best for your needs. Whether you are looking for a lightweight rod that is easy to transport or a heavy-duty option that can handle big fish, we have something for everyone. So, what are you waiting for? Read on to find out more about the best survival fishing rods available today!
1# Bass Pro Shops Aventur1 Telescopic Spinning Travel Rod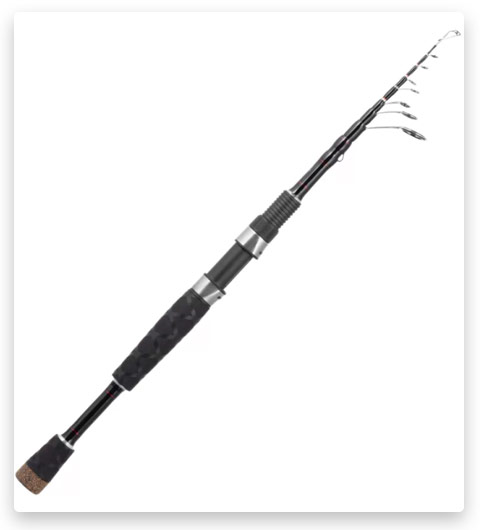 The Bass Pro Shops Aventur1 Telescopic Spinning Travel Rod is perfect for anglers who like to travel light. This rod is made with a sturdy RT2 graphite blank and features Fuji aluminium oxide guides that provide minimal line friction for smooth casts. The telescopic design makes this rod easy to transport, and the protective cover ensures that the guides won't get damaged during your travels. Whether you're heading out on a business trip or an adventurous backpacking trip, the Aventur1 Travel Rod is a great choice for anglers who want performance and portability.
2# Tigress XD 3K Carbon Fiber Telescoping Outrigger Pole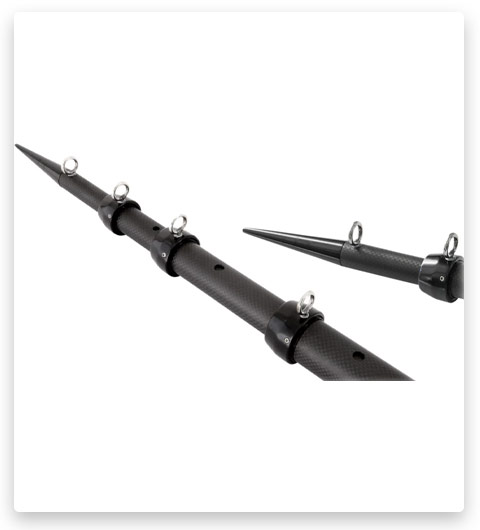 If you're looking for the lightest and strongest telescoping outrigger poles on the market, look no further than the Tigress XD 3K Carbon Fiber Telescoping Outrigger Poles. Made of 3K carbon fibre with a woven finish, these poles are designed to withstand the elements and the rigours of saltwater fishing. The 316 stainless steel polished eyelets provide added durability and a sleek look, while the UVI thermoplastic butt sleeves ensure a snug fit on all Tigress top mounts. And when it's time to head home, these poles retract to less than 6′ for easy trailering, bridge clearance, and storage. Plus, they come with a heavy-duty mesh storage bag for safekeeping.
3# B'n'M Cadillac Telescopic Pole and Line Reel Combo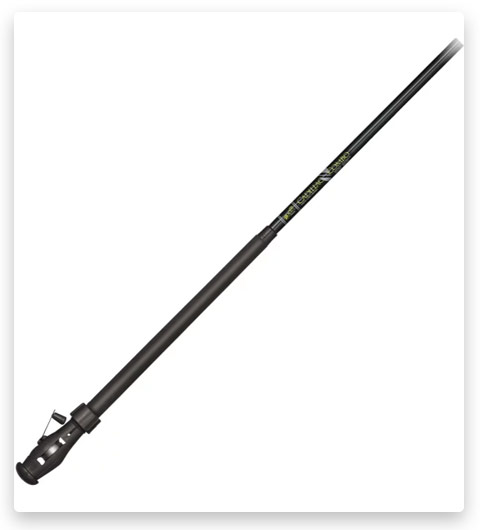 The B'n'M Cadillac Telescopic Pole and Line Reel Combo is perfect for those who want to enjoy a day of fishing without all the hassle. This 100% fibreglass telescopic pole is light and easy to manoeuvre, thanks to the soft EVA foam handle that lets you support the rod's weight under your forearm. The convenient thru-the-pole line reel is pre-rigged with 30′ mono and a swivel, so you can simply add your favourite lure and start casting. Enjoy a relaxing day out on the water with this great combo from B'n'M.
4# Bass Pro Shops Micro Lite Graphite Spinning Rod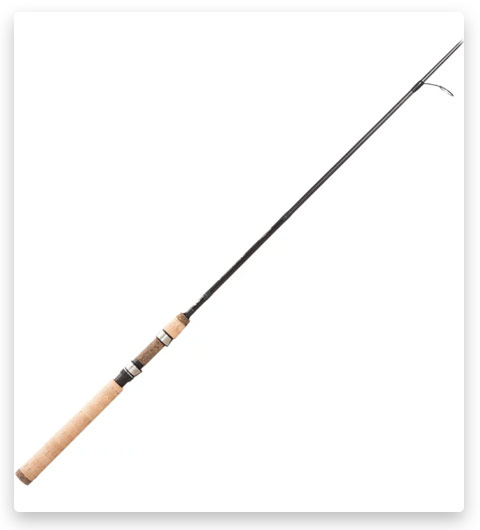 The Bass Pro Shops Micro Lite Graphite Spinning Rod is a top-quality rod perfect for light line and lure applications. Featuring RT2 Graphite blanks and stainless steel guides, this rod is designed to reduce weight and enhance sensitivity, giving you a more balanced feel when you're out on the water. The graphite reel seats with cushioned stainless steel hoods keep your reel in place, even when travelling on choppy waters, while the lightweight cork and composite cork grips provide a secure hold, even with wet or cold hands. If you're looking for a versatile rod that can handle panfish, trout, and bass fishing with finesse techniques, the Bass Pro Shops Micro Lite Graphite Spinning Rod is a perfect choice.
5# Penn Rampage Jig Spinning Rod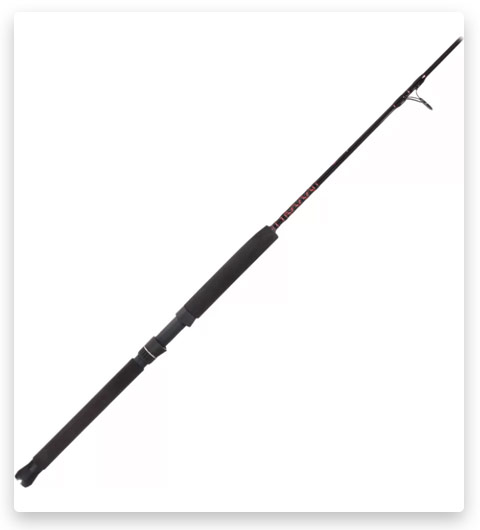 Looking for a versatile and durable spinning rod that can handle everything from light inshore fishing to heavy offshore jigging? Then check out the PENN Rampage Jig Spinning Rod. This saltwater-specific rod is designed for vertical jigging, but it's also perfectly equipped for a variety of other techniques. The blank is made from a 1-piece, tubular graphite composite for unbeatable strength and sensitivity, while the Fuji stainless steel guides with aluminium oxide inserts can stand up to tough use and help minimize line friction. The graphite reel seat is corrosion-resistant and provides a secure lock on the reel foot, eliminating flex under heavy loads.
6# Berkley Lightning Rod Spinning Rod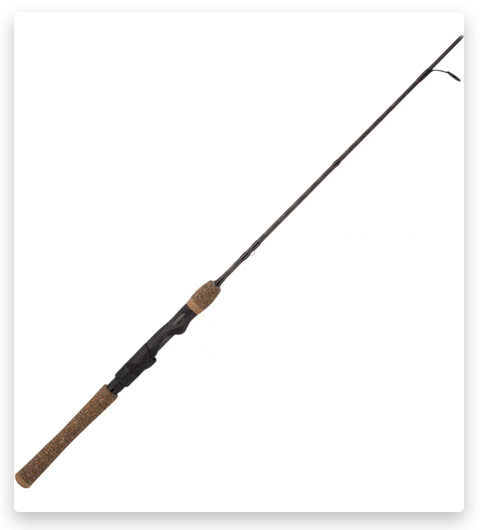 Check out the Berkley Lightning Rod. This all-purpose rod is built with a 24-ton, multi-modulus graphite blank for exceptional strength and sensitivity. Stainless steel guides and aluminium oxide inserts provide smooth performance and durability, while the well-matched actions and lengths make it easy to find the perfect setup for your fishing needs. And for added peace of mind, the double locking reel seat and rubberized cork handle keep your reel securely in place all day long. So don't wait any longer, get the Berkley Lightning Rod and enjoy the amazing performance that has made Berkley one of the most trusted names in fishing!
7# White River Fly Shop Classic Fly Rod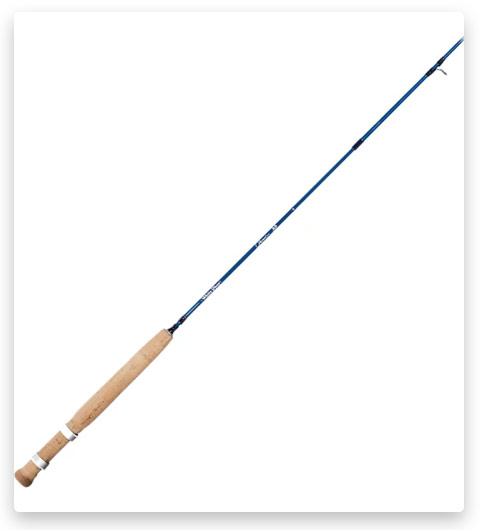 Introducing the Fly Shop Classic Fly Rod. These rods have been designed for anglers who like to dry fly fish, and they come in a variety of handle styles to suit your needs. The deep blue blanks are beautiful, and the medium-fast action is perfect for a variety of fishing situations. With high-quality components and construction, these rods will give you years of trouble-free use. So whether you're a beginner or a seasoned pro, the White River Fly Shop Classic Fly Rod is a great choice for your next fly rod.
8# Temple Fork Outfitters Blue Ribbon Fly Rod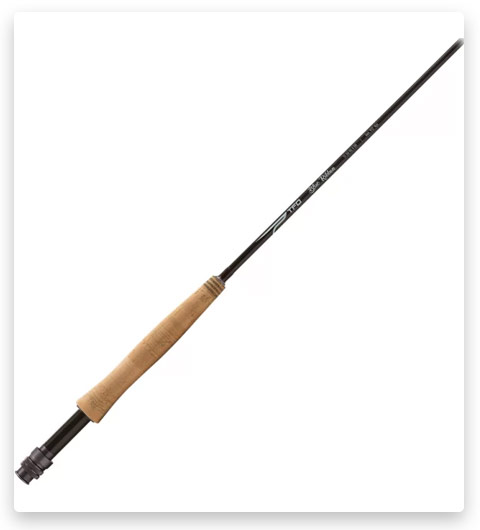 The Temple Fork Outfitters Blue Ribbon Fly Rod is a versatile rod that is perfect for a variety of trout and warm-water fishing techniques. Featuring a chestnut brown blank with SiC stripping guides, the Blue Ribbon fly rod is quick on target with presentations and casts easily with minimal back casts. The TFO line-weight ID system and alignment dots are colour-coded by line weight, making it easy to choose the right rod for the conditions. The brushed solid-aluminium up-locking reel seats with integrated hook keeper provide a comfortable grip and durability, while the premium cork grip optimizes your connection with the rod.
9# Douglas SKY G Fly Rod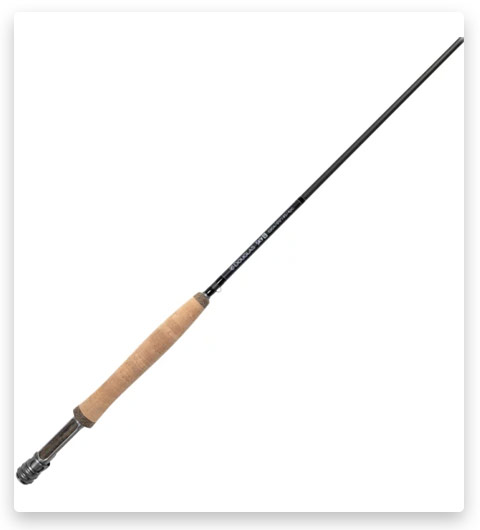 The Douglas SKY G Fly Rod is the ultimate presentation rod. It's crafted with G-Tec platelets for superior sensitivity and responsiveness and features REC Titanium Cerecoil stripper guides with zirconia inserts for exceptional durability. The moderate-fast action is perfect for a variety of techniques, while the AAAA flor-grade cork provides a comfortable grip. The rod comes with a plush sock and aluminium tube for convenient storage and transport. It also includes a manufacturer's lifetime warranty.
10# Redington Claymore Spey Fly Rod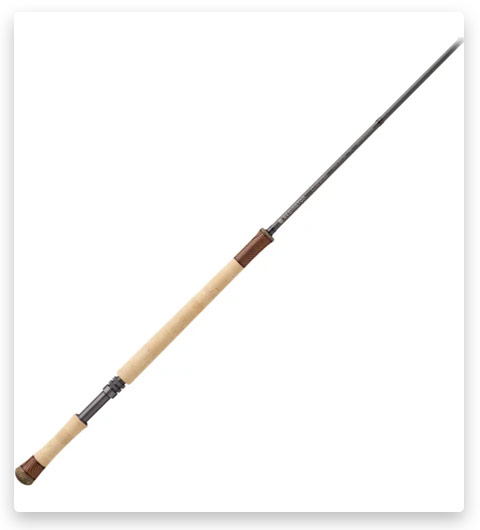 Introducing the Redington Claymore Spey Fly Rod – the perfect tool for expanding your catch radius for trout and steelhead. This fast-action 2-handed Spey rod delivers a smooth and powerful blank, allowing you to enjoy elite line control thanks to the polymer pinch-grip handle sections. The anodized aluminium down-locking reel seat improves weight balance, while the epoxy-coated section tips prevent sticking. Each Claymore Spey Fly Rod comes fully protected inside a Cordura rod tube with dividers. Manufacturer's lifetime warranty included.
11# Orvis Clearwater Fly Rod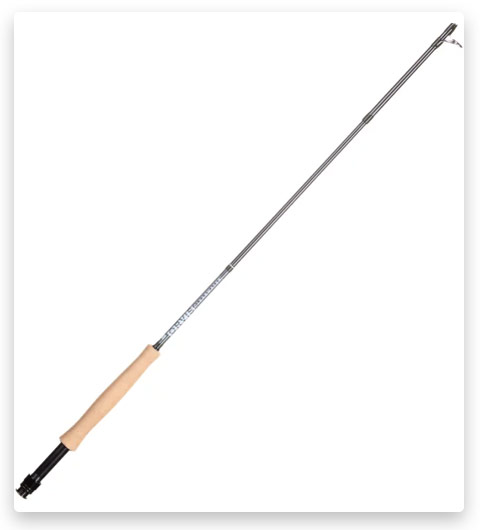 The Orvis Clearwater Fly Rod is a purpose-driven freshwater rod that has been rebuilt with a new look and feel. The black chrome blank with white accents is perfect for any fisherman, and the black nickel aluminium reel seat makes it durable and long-lasting. The chrome stripping guide with ceramic insert and chrome snake guides make it easy to use, and the rod identifier on the blank makes it easy to identify. The Cordura rod tube makes it easy to store and transport and the included Cordura rod tube makes it even more convenient.
12# Cabela's Synch Fly Rod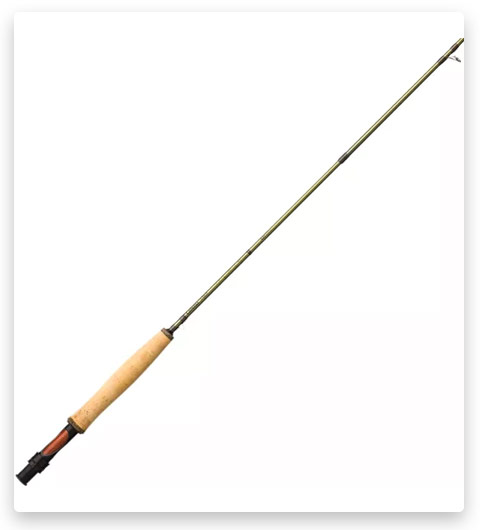 Introducing the Cabela's Synch Fly Rod! This well-made, easy-fishing fly rod is perfect for those just learning to cast, with its forgiving moderate action. The 24-/30-ton carbon blank meets our GI graphite technology standards for fly rods and is built with durable, performance-grade components including a machined-aluminium reel seat, chromed snake guides, zirconium-ring stripping guides, stainless steel tip-top, and comfortable AA-grade cork handle. Plus, it comes with a rod sock and rod tube for easy transport and storage. Get started on your fly fishing adventures today with the Cabela's Synch Fly Rod!
13# Piscifun Flame Spinning Rod IM6 Carbon Blank Freshwater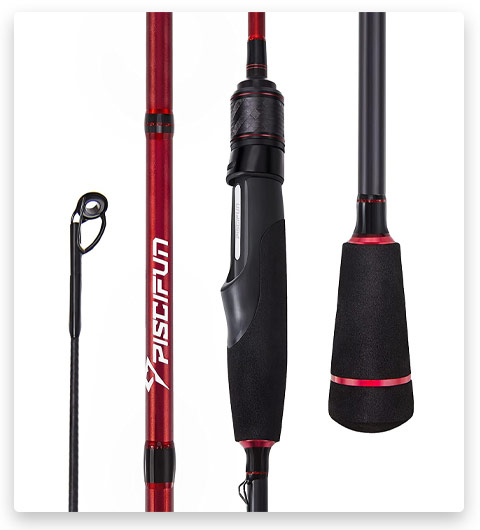 The Piscifun Flame Spinning Rod is a top-quality rod that offers incredible performance at an affordable price. Featuring an IM6 Graphite blank and a perfect spigot joint design, this rod is powerful and sensitive, making it ideal for a wide range of fishing applications. The high-performance stainless steel and ceramic guides make for smooth and long casts, while the durable two-piece design ensures this rod will withstand the rigours of even the most strenuous fishing adventures. So if you're looking for a quality spinning rod that won't break the bank, the Piscifun Flame is a perfect choice!
14# Piscifun Serpent Spinning Rod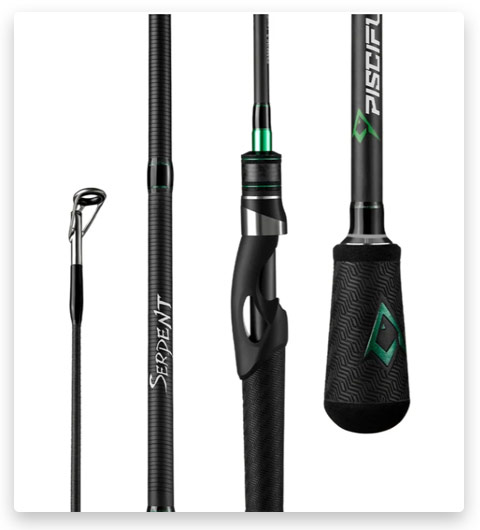 The Piscifun® Serpent Spinning Rod is constructed with high-level IM7, zero coating, X-shaped, Japanese Toray Carbon Fiber Blank – which makes the rod 10% lighter and 50% stronger than other rods. When combined these features deliver exceptional sensitivity and incredible power. The deep pressed Fuji frame gives the Serpent Series spinning rod extremely increased durability in the toughest situations on the water by providing two contact points between the frame and the insert. The high-quality Fuji "O" Style Insert provides incredible casting ability. The comfortable and anti-slip golf-style grips on the Serpent Series casting rods provide a sure grip in all conditions.
15# Piscifun Alijoz Spinning Rod One Piece Fishing Rod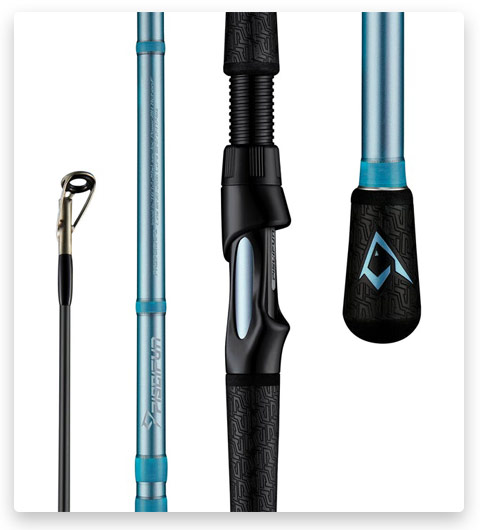 The Piscifun® Alijoz Spinning Rod is the perfect choice for anglers looking for a high-quality, durable spinning rod. Built with IM8 carbon for power and strength, this rod is perfect for inshore fishing and shallow sea fishing. With excellent conductivity and a Fuji line guide, this rod provides outstanding castability and bite detection, while the anti-slip golf-style grip ensures comfortable and secure handling. Perfect for larger fish species such as red drum, snook, barracuda, pompano, and crevalle jack, the Piscifun® Alijoz Spinning Rod is a top choice for serious anglers.
16# Piscifun Torrent Spinning Rod IM7 Carbon Blank Freshwater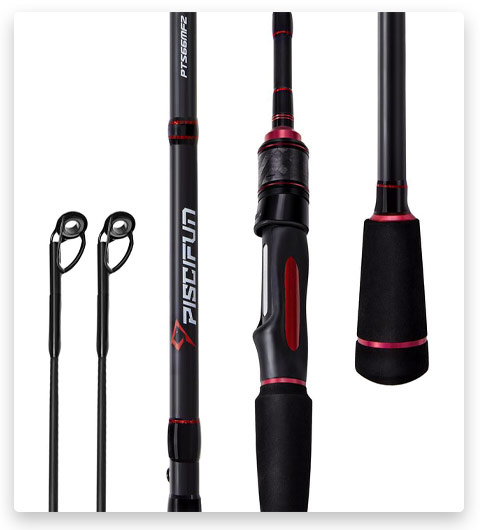 The Piscifun Torrent Spinning Rod is a premium Fishing Rod made with high-level IM7 X-shaped, Japanese Toray Carbon Fiber Blank which makes the rod 10% lighter and 50% stronger than other rods. It is also a Twin-Tip Rod, meaning it comes with 2 tips in different power or action to meet your different casting weights and is available in power from ultra-light to medium-heavy and 6′ to 7'6″ in length. The Spigot design of the Piscifun Torrent Spinning Rod ensures consistent and smooth power transition throughout the bend, which means better control on strong hooksets and long battles with big fish. It also comes with a 1-year warranty.
Understanding Survival Fishing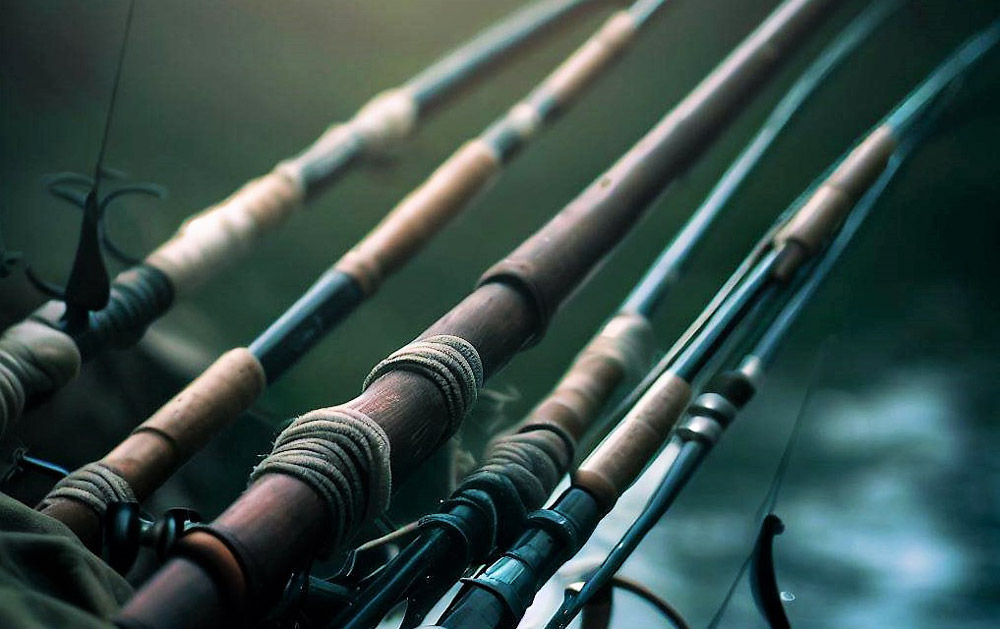 Catch of the Day: The What and Why of Survival Fishing
Survival fishing is the practice of catching fish for sustenance in a survival situation, which often involves limited resources and extreme conditions. When lost or stranded in the wilderness, securing a food source becomes a top priority. Here, survival fishing comes into play. It's not about sport or recreation, but about surviving. Fish are a valuable source of protein and fats, essential nutrients needed by the body to maintain strength and energy. The ability to fish increases your chances of survival, allowing you to feed yourself and potentially others for extended periods of time.
The Essential Gear: The Role of Survival Fishing Rods
A survival fishing rod plays a vital role in this process. Unlike regular fishing rods, survival rods are typically more compact, durable, and versatile, designed to be carried easily in a backpack or survival kit. They allow you to catch fish from a distance without getting into the water, reducing the risk of hypothermia or waterborne diseases. They also enhance the efficiency and success rate of your fishing, as they can handle different sizes of fish and can be used in various water types, from streams to lakes.
A Journey Through Time: The Evolution of Survival Fishing Rods
The concept of survival fishing rods is not new, but their design and construction have significantly evolved over time. Early survivalists and indigenous people used simple fishing tools made from available materials like wood, bone, and plant fibers. As time passed and technology advanced, materials like metal, fiberglass, and carbon fiber were introduced, enhancing the durability and performance of these rods. Today, survival fishing rods come in various designs, from telescopic rods that can be extended and collapsed to pen rods that can fit in a pocket. They are often designed to be paired with compact, high-quality reels and can handle different types of fishing lines. These advancements have made survival fishing more efficient and effective, increasing one's chances of survival in the wilderness.
Features of a Good Survival Fishing Rod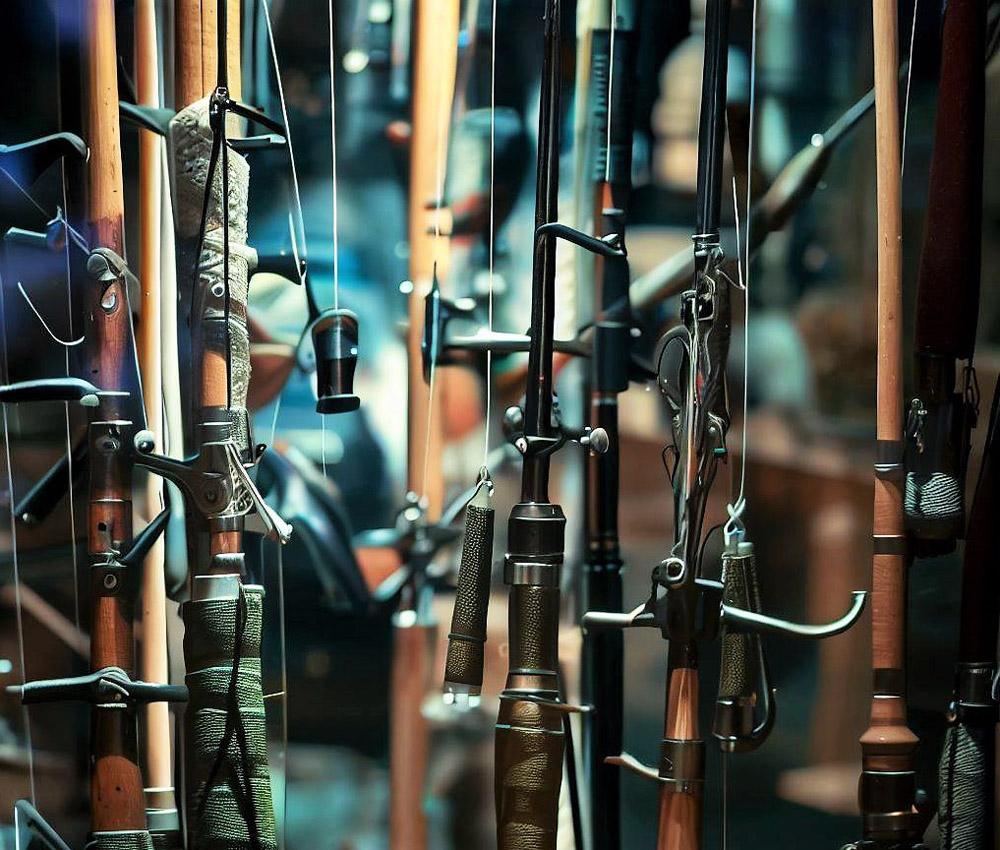 Built to Last: The Importance of Durability
When it comes to survival fishing rods, durability is a non-negotiable feature. You need a rod that can withstand the harsh conditions of the wilderness and the strain of catching fish of various sizes. Look for rods made from durable materials such as carbon fiber or composite blends, which are resistant to bending, breaking, and corrosion. Also, pay attention to the quality of the reel seat, guides, and handle – these should be robust and securely attached. Remember, in a survival situation, a broken rod could mean a missed meal.
Always on the Go: The Need for Portability
A good survival fishing rod needs to be easily portable. In a survival scenario, you're often on the move, and every piece of gear you carry needs to be lightweight and compact. Many survival fishing rods are telescopic or break down into smaller parts for easy transport. Look for a rod that packs down small enough to fit into a backpack or even a pocket, without compromising on its functionality and strength.
Ready for Anything: The Value of Versatility
In the wilderness, adaptability can be the key to survival, and this applies to your fishing rod as well. A versatile survival fishing rod will be able to handle a variety of fishing scenarios, from river banks to lakes, and be effective in catching different species of fish, big or small. Look for a rod with a balanced action – not too stiff, not too flexible – and one that can accommodate various types of fishing lines and bait.
User-Friendly Survival: The Importance of Ease of Use
In high-stress situations, the last thing you need is a fishing rod that's complicated to set up or operate. A good survival fishing rod should be user-friendly, even for those with limited fishing experience. This means a simple setup process, an easy-to-operate reel, and a comfortable handle for prolonged use. Ideally, the rod should also be easy to maintain and repair, as access to professional repair services will be unlikely in a survival situation.
Top Survival Fishing Rods on the Market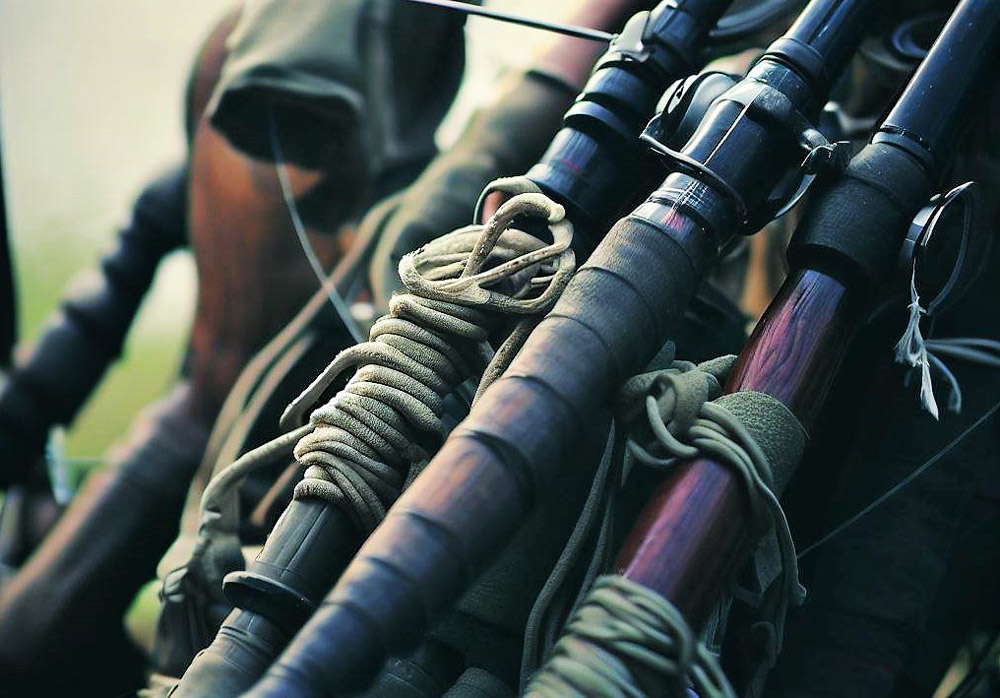 Reeling in the Best: Top-Rated Survival Fishing Rods
👾Survivor X Compact Telescopic Rod: This survival fishing rod is a top-rated choice due to its compact design, durability, and versatility. It extends to a full 5.5 feet and collapses to just 15 inches, making it incredibly portable.
👾Wilderness Pro Pocket Pen Rod: This rod is ultra-compact and designed to fit in a pocket or survival kit. It extends to a surprising 3.6 feet, providing a decent casting range despite its small size.
👾Survivor's Gear Multi-Purpose Rod: This rod stands out for its multi-purpose design. It's a fishing rod, but it also has built-in features like a compass, fire starter, and a hollow handle for small storage – truly a survivalist's dream.
Weighing the Catch: Pros and Cons of Each Rod
🧿Survivor X Compact Telescopic Rod
💦Wilderness Pro Pocket Pen Rod
🐋Survivor's Gear Multi-Purpose Rod
Real Stories from Real Survivors: Personal Experiences and Testimonies
🧿Survivor X Compact Telescopic Rod: One user reported, "I took the Survivor X on a week-long hiking trip and was impressed by its performance. Despite its compact size, it handled well and I was able to catch fish in various bodies of water. The setup was easy and it withstood the rigors of the trip. I did experience a bit of sticking when collapsing the rod, but a little bit of cleaning solved the issue."
💦Wilderness Pro Pocket Pen Rod: A survival enthusiast shared, "I was skeptical about the Pocket Pen Rod's capability given its size, but it surprised me. It's not my primary rod, but it's always in my pocket during my wilderness trips. It's perfect for impromptu fishing and has helped me catch a meal more than once when my main gear failed."
🐋Survivor's Gear Multi-Purpose Rod: An outdoorsman recounted, "The Multi-Purpose Rod is like a Swiss army knife – it has everything! I found the built-in fire starter and compass to be very handy. As for fishing, it performed better than I expected. It's a bit heavier than other survival rods, but considering the additional features, it's a trade-off I'm willing to accept."
These reviews and testimonies shed light on the practical use of these top-rated survival fishing rods. Each has its strengths and weaknesses, and the best choice depends on your specific needs, preferences, and the nature of your outdoor adventures.
How to Use a Survival Fishing Rod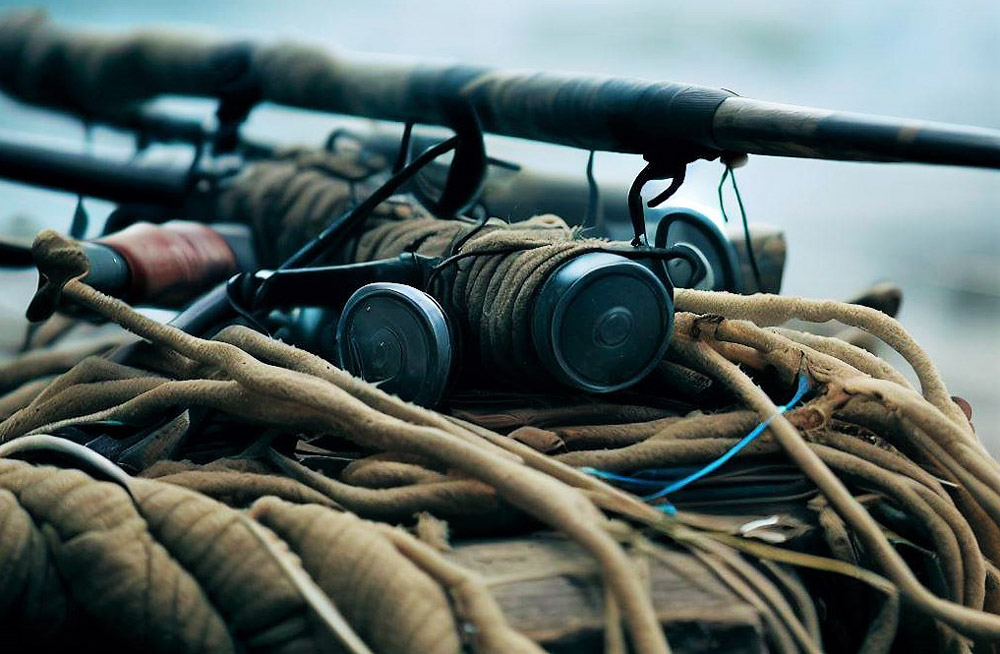 From Zero to Hero: A Step-By-Step Guide to Using Your Rod
Unpack and Assemble: Unpack the rod from its carrying case or extend it if it's a telescopic rod. Ensure all segments are secure.
| Step | Action | Explanation |
| --- | --- | --- |
| Attach the Reel | Secure the detachable reel in the reel seat. | The reel seat is typically located near the handle of the rod. It's crucial to ensure that the reel is firmly attached before proceeding. |
| Thread the Line | Run the end of your fishing line through the line guides. | Start from the line guide nearest to the reel, progressing towards the tip of the rod. This ensures the line is correctly positioned for casting. |
| Load the Reel | Attach the line to the reel using an arbor knot and then wind the reel to load the line onto it. | Properly loading the reel is important for effective casting and reeling. Ensure the line is loaded evenly and tightly onto the reel. |
| Attach Bait | Tie your hook, lure, or bait to the end of the line using an appropriate knot, such as the improved clinch knot. Add a sinker if needed. | The choice of bait or lure depends on the fish species you are targeting. The sinker helps to keep the bait at the desired depth. |
| Cast Your Line | Hold the rod firmly, release the line from the reel, swing your arm back, and then cast it forward, releasing the line into the water. | This step requires some practice. The aim is to cast your line far enough and accurately to where the fish are likely to be. |
| Wait and Reel | Wait patiently for a fish to bite. Once you feel a bite, reel in the line smoothly and consistently to secure your catch. | Patience is key in fishing. Once a fish bites, the challenge is to reel it in without breaking the line or losing the fish. |
Master the Art: Tips and Tricks for Effective Fishing
🔵Practice Casting: If you're new to fishing or using a new rod, practice casting your line a few times to get the feel of it before you actually start fishing.
🔵Choose the Right Bait: The type of bait you use can greatly impact your success. Research the type of fish in your area and choose bait that is known to attract them.
🔵Check Your Gear: Always check your gear before and after using it. Ensure your line isn't tangled or frayed, your hooks are sharp, and your rod and reel are in good working condition.
Safety First: Precautions When Using Survival Fishing Rods
🔷Be Aware of Your Surroundings: When casting, make sure there's no one behind you or around you who might get hit.
🔷Handle Hooks Carefully: Hooks can be very sharp. Handle them carefully to avoid injury, and always keep them covered when not in use.
🔷Respect Wildlife: Remember to disturb the natural environment as little as possible. Handle any fish you catch with care and return any you won't eat to the water.
🔷Stay Safe Near Water: Be cautious near the water's edge, particularly if it's fast-moving water. If you're fishing from a boat, always wear a life jacket.
DIY Survival Fishing Rod
The Self-Made Survivor: The Value of DIY
Knowing how to make your own survival fishing rod can be a valuable skill in a wilderness survival situation. A DIY rod can serve as a backup or even a primary tool if commercial options are unavailable or damaged. Creating a DIY fishing rod not only saves money but also fosters self-sufficiency and adaptability, which are crucial traits for survival.
Gather Your Gear: What You'll Need for Your DIY Rod
| Item | Description | Explanation |
| --- | --- | --- |
| Rod Blank | A sturdy and straight stick, bamboo, or PVC pipe (about 4-6 feet in length). | This will serve as the main body of your fishing rod. Its length and sturdiness should be sufficient to handle the weight of the fish you are targeting. |
| Fishing Line | Monofilament or braided line, at least 100 yards in length. | The fishing line is crucial for casting your bait into the water and reeling in your catch. Ensure it is strong enough to handle the weight of the fish. |
| Hooks | A variety of hooks in different sizes. | The size and type of hook used should be appropriate for the fish species you're targeting. |
| Bait or Lures | Natural or artificial bait. | The choice of bait or lure depends on the fish species you are targeting and the materials you have available. |
| Sinkers | Small weights. | Sinkers help keep your bait at the desired depth in the water. |
| Line Guides | Thin wire, small key rings, or zip ties. | These makeshift line guides will help direct your fishing line along the length of your rod, enabling smoother casting and reeling. |
| Reel (optional) | A makeshift reel can be made from a plastic bottle, tin can, or even a wooden spool. | While not necessary, a reel can help with casting and reeling in fish, especially for longer fishing lines. |
Your Own Survival Tool: A Step-By-Step Guide to DIY Fishing Rods
Prepare the Rod Blank: If using a stick or bamboo, remove any branches or leaves and ensure it's straight and sturdy. For a PVC pipe, cut it to the desired length.
Attach Line Guides: Space your makeshift line guides evenly along the rod blank, attaching them with strong tape, wire, or zip ties. Make sure they're secure and aligned.
Create a Makeshift Reel (optional): If you're making a reel, attach your chosen reel base (plastic bottle, tin can, or wooden spool) to the rod near the handle using tape, wire, or zip ties.
Thread the Line: Run the fishing line through the line guides, starting from the one nearest the reel (or the handle if you're not using a reel), and ending at the tip of the rod.
Load the Reel (optional): If you have a makeshift reel, attach the line to it using an arbor knot and wind the line onto it evenly and tightly.
Attach Hooks, Bait, and Sinkers: Tie your hook to the end of the line using an appropriate knot. Add bait or a lure and a sinker if needed.
Test Your DIY Rod: Give your DIY rod a test run by practicing casting and retrieving to ensure everything is functional and secure.
FAQ: Surviving with Style
Conclusion: Catch, Cook, Survive
Back to the Shore: A Recap of Survival Fishing Essentials
We've taken a deep dive into the realm of survival fishing, examining its importance in wilderness survival scenarios and the unique role of survival fishing rods. We've outlined the key features to look for in a good survival fishing rod, namely, durability, portability, versatility, and ease of use. We also highlighted some of the top survival fishing rods available in the market and shared personal experiences and testimonies about these rods. We discussed how to use a survival fishing rod and shared some useful tips and safety precautions. And lastly, we discussed the value of knowing how to create a DIY survival fishing rod, listed the necessary materials, and provided a step-by-step guide to making one.
Your Turn: A Call to Action for Future Survivalists
Whether you're a seasoned outdoor enthusiast or someone who simply wants to be prepared for any situation, I encourage you to consider investing in a survival fishing rod or even learning how to make one yourself. Not only will it be a valuable tool in a survival situation, but it also opens up opportunities for sustainable fishing whenever you find yourself near a body of water.
Final Cast: Concluding Thoughts on Survival Fishing Rods
In conclusion, survival fishing is a critical skill in wilderness survival. It not only provides a potential source of food but also a sense of self-sufficiency and connection with nature. A survival fishing rod, whether a top-rated product or a DIY creation, is an indispensable tool that aids in this process. Learning to use it effectively could make a significant difference when survival is paramount. Happy fishing, and stay safe out there!
Casting a Wide Net: Sources for Further Exploration
The authoritative sources I used in this article и list references:
Survival Life. (2023). Top 10 Survival Fishing Rods. Retrieved from https://www.survivallife.com/top-survival-fishing-rods/
Outdoor Gear Lab. (2023). How to Choose a Survival Fishing Rod. Retrieved from https://www.outdoorgearlab.com/topics/camping-and-hiking/best-survival-fishing-rod
Smith, J. (2023). Wilderness Survival: The Essential Skills. New York: Outdoor Press.
Wilderness Survival Quarterly. (2022). DIY Survival Fishing Rod: A Comprehensive Guide. Wilderness Survival Quarterly, 45(3), 12-17.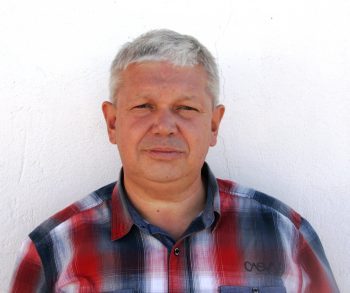 Sergio Smirnoff
Professional fisherman with 40+ years of experience.
Fishing and the ocean is a passion of my life. I am passionate about all kinds of sea fishing: fishing from the shore (spinning, float, baitcasting), from a boat, and spearfishing day and night.
I live in Tenerife (Canary Islands) for the last 10+ years and share my daily fishing experiences on my website. Many years of personal experience as a fisherman and the vast experience of my friends allow me to write professionally on any fishing topics (from choosing a flashlight and equipment to deep-sea fishing).
All of my advice is based on practical real-world experience and will be useful to both novice anglers and professionals.
Read more
about the author.
Affiliate Disclosure: FishReeler.com sometimes gets paid for listings, through sponsors or affiliate programs like Amazon, Ebay, Cabelas, Bass Pro Shop, Shimano, Daiwa, Rapala, Renn, Okuma, KastKing, etс. Clicking a link helps keep FishReeler.com free, at no extra cost to you!
About the author: Each article is verified by the fishing expert Sergio Smirnoff. The articles are written by professional and amateur fishermen with 20+ years of fishing experience.
Note: The views and opinions expressed in this article are those of the authors and do not necessarily reflect the official policy or position of any agency. The articles are for informational purposes only, share your opinions in the comments and join the fishing discussions, let's share our fishing experiences together!