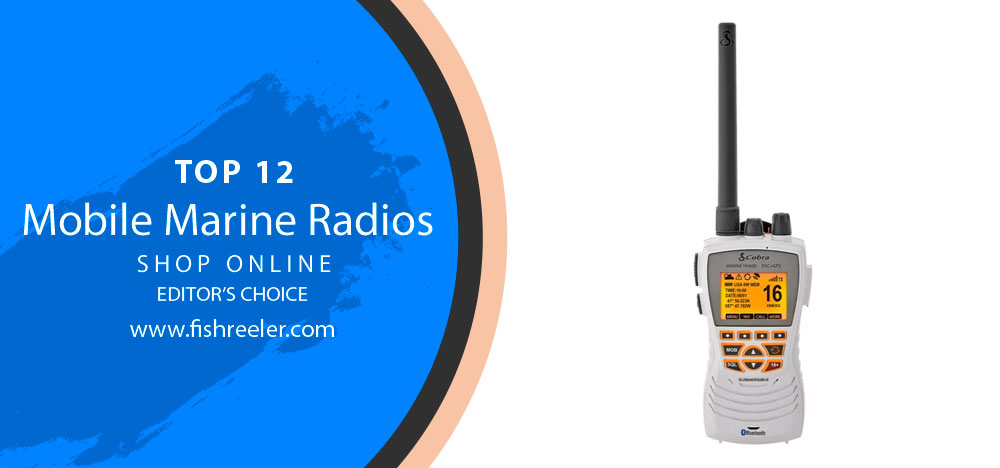 If you're a fisherman, then you know how important it is to have a quality marine radio. Not only do they allow you to stay in touch with others on the water, but they can also help keep you safe in emergency situations. With so many different mobile marine radios on the market, it can be hard to figure out which one is right for you. But don't worry – we've done the research for you!
Best Mobile Marine Radios Review
In this blog post, we'll take a look at the best mobile marine radios on the market today. We'll consider factors such as price, features, and portability to help you choose the right radio for your needs. So if you're in the market for a new mobile marine radio, be sure to read on!
1# Cobra F45-D Class D Marine Radio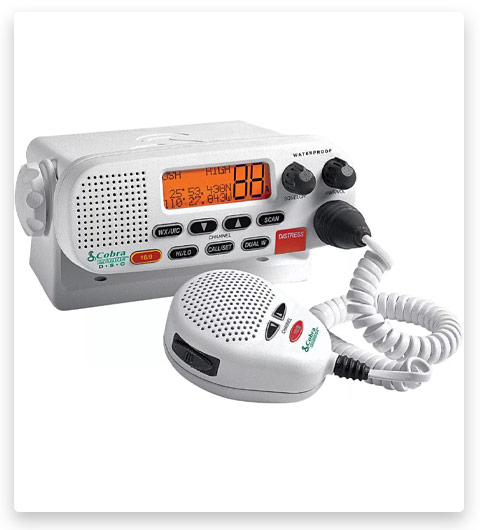 The Cobra MR F45-D Class D Marine Radio is a professional quality radio that complies with the latest FCC specifications. It has a digital selective calling, which allows you to send a distress signal at the touch of a button or exchange position information with other boats or stations. The DSC features on this Class-D radio include A Dedicated Channel 70 (DSC Channel) Receiver, GPS Position Display Capability, Illuminated Distress Button, Easy MMSI Entry, Position Send and Request, and Position Input Reminder, Coast Guard DSC Check Capability, etc.
2# Uniden Atlantis 275 Floating VHF Handheld Marine 2-Way Radio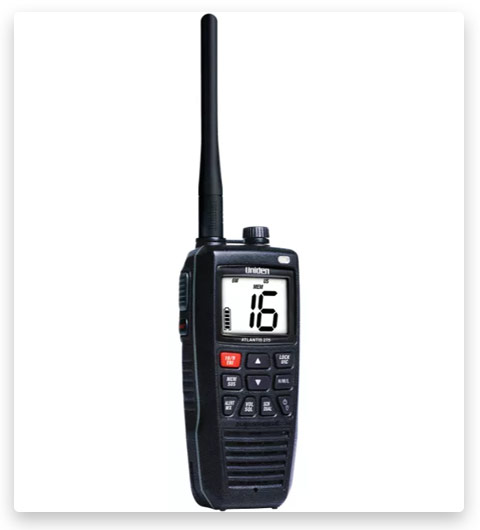 Introducing the Uniden Atlantis 275 Floating VHF Handheld Marine 2-Way Radio – perfect for keeping you safe on the open water. This powerful VHR boat radio boasts 6W output power and a pocketable frame, making it easy to take with you wherever you go. With the largest display in its class and backlights that can be customized for daytime or nighttime use, you'll have no trouble staying informed of your surroundings. The Atlantis 275 also includes a built-in flashlight, speaker vibrating tone, and emergency strobe light to keep you safe in any situation. And if things get rough, don't worry – this radio is buoyant and waterproof up to IPX8/JIS8 standards. Stay connected and safe with Uniden Atlantis 275 Floating VHF Handheld Marine 2-Way Radio!
3# Cobra MRHH350 FLT Floating VHF Handheld Marine Radio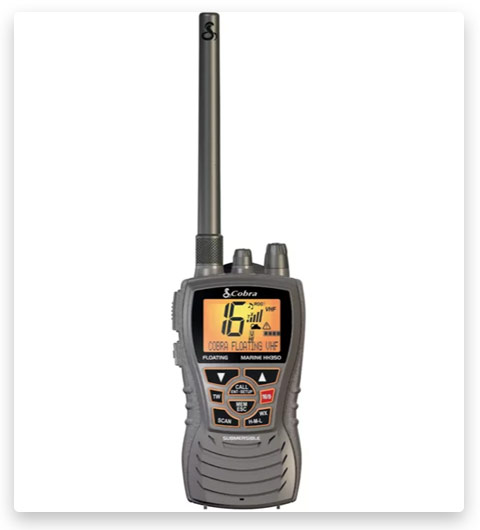 The Cobra MRHH350 FLT Floating VHF Handheld Marine Radio is perfect for any vessel. With its ultra-compact design, it can be easily stored and taken with you wherever you go. The MRHH350 FLT also features a noise-cancelling microphone to reduce background noise and optimize sound quality, so you can stay in touch with those onshore or on other boats clearly and easily. Plus, the included 1,000 mAh lithium-ion rechargeable battery ensures long use between charges.
4# Cobra HH 50 WX ST Handheld 2-Way CB Radio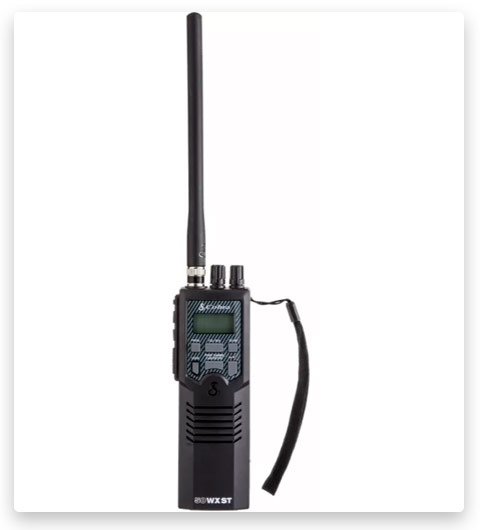 Introducing the new Cobra HH 50 WX ST Handheld 2-Way CB Radio. It's tough, rugged, and built to last! This powerful radio features 40 CB channels, 10 added weather channels for NOAA weather and emergency radio, Soundtracker System for up to 90% interference-noise reduction, Channel Scan, Dual Watch, and 4W power output. So whether you're out on the open road or caught in a storm, stay connected and informed with Cobra!
5# Uniden Atlantis 155 Handheld 2-Way VHF Floating Marine Radio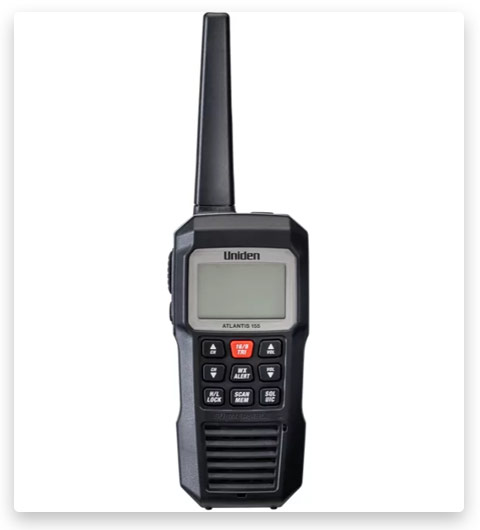 The Uniden Atlantis 155 Handheld 2-Way VHF Floating Marine Radio is perfect for all your boating needs. It includes all marine radio channels, USA, Canada, NOAA weather channels, and International marine VHF channels. You'll also appreciate the latest 4-digit channels and Canadian "B" channels. Plus, this great radio receives all weather channels and alerts. The large LCD screen is easy to read, even in challenging conditions. And you can choose between a white backlight for the day or an orange backlight for the night. The speaker's vibrating tone clears water from the speaker cavity so you can always hear clearly.
6# Cobra MRHH600 GPS Floating Bluetooth VHF Handheld Marine Radio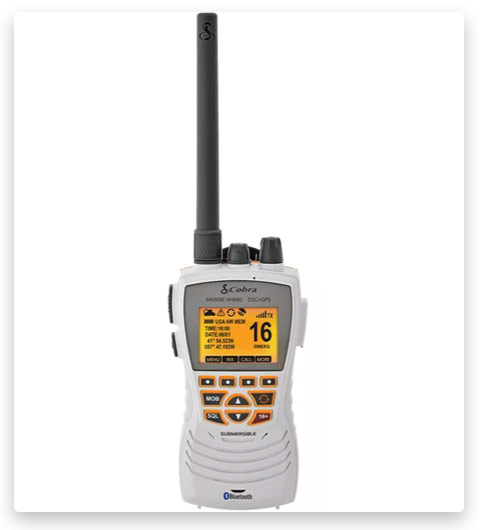 Introducing the Cobra MRHH600 GPS Floating Bluetooth VHF Handheld Marine Radio – perfect for keeping in touch while out on the open waters. This floating VHF radio comes with 6 watts of power and a GPS system, making it easy to stay connected and find your way back home. Plus, the Man Overboard feature will let you know if someone falls overboard so you can swiftly take action. The large display screen is easy to read, even in direct sunlight, while the noise-cancelling microphone ensures clear calling quality even in windy conditions. And for added safety, the emergency strobe light will help you be seen from a distance.
7# Icom America M73 or M73 Plus VHF Marine Transceiver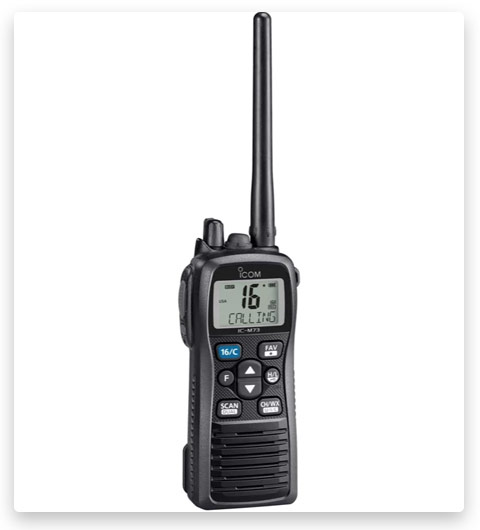 Icom America's M73 and M73 Plus VHF Marine Transceivers are the perfect radios for any captain or boater. With their slim, ergonomic design, they fit perfectly into any pocket, and their submersible construction (IPX8) means they can withstand even the most adverse conditions. With 6 watts of power and 700 mW of audio output, these radios provide clear, crisp communications even in the most challenging environments. And with features like AquaQuake™ function and LCD display, you'll always be able to stay informed and stay in touch.
8# Cobra Gimbal Mount VHF Radio with Rewind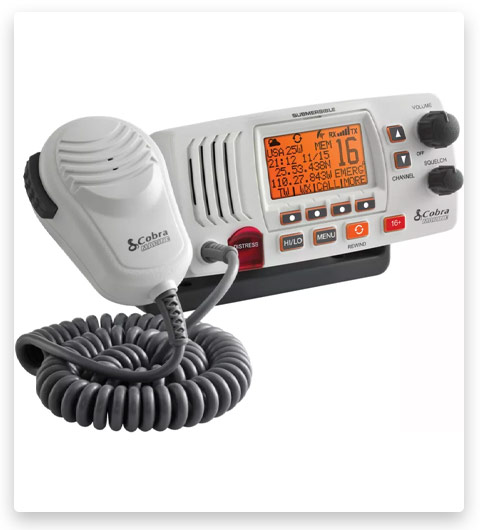 Looking for a VHF radio that's easy to use and packed with features? Look no further than the Cobra Gimbal Mount VHF Radio with Rewind. This radio boasts a large, bright LCD display, making it easy to see what you're doing, even in low light conditions. The theRewind-Say-Again feature allows you to playback the last 20 seconds of transmission, so you never miss a thing. Plus, the built-in SeaTow ARC menu makes it easy to access all of the radio's features. And with PA output to an external speaker, you can be heard loud and clear.
9# Uniden UM385BK Fixed Mount Marine Vhf Radio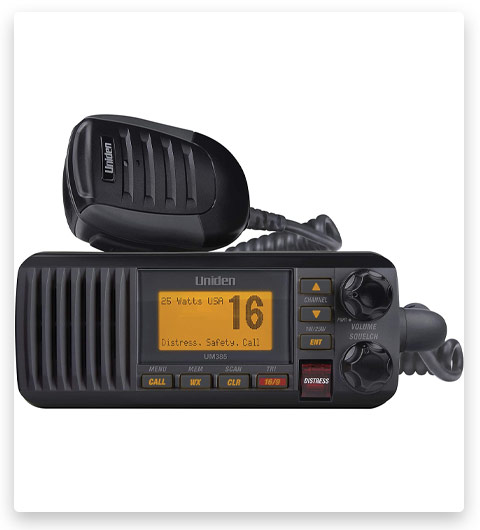 No matter what type of boat you have or where you plan on taking it, the Uniden UM385BK 25 Watt Fixed Mount Marine VHF Radio is a necessity. This radio protects you from storms, transmits your location in an emergency, and keeps you up-to-date on all the latest weather conditions. With triple watch features, DSC capabilities, and international marine channels, this radio has everything you need to stay safe on the water. The rugged handheld mic allows you to transmit easily from the wheel, even in rough conditions. And because it complies with IPX4 waterproof standards, you can rest assured that the Uniden UM385BK will keep working no matter what the weather throws at it.
10# Retevis RT73 Dual Band DMR Mobile Radios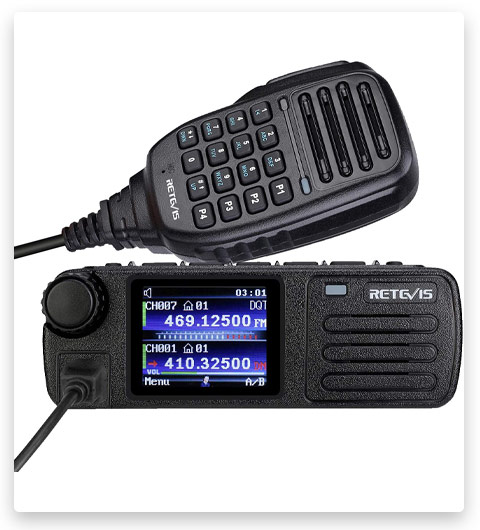 Taking radio communication to the next level, the Retevis RT73 Dual Band DMR Mobile Radio is a top-of-the-line choice for those who need a reliable, top-performing radio. This dual-band DMR radio supports both digital and analogue modes and is compatible with MOTO Tier II and other radios of the same frequency. It also features built-in GPS for APRS, and its dual time slot function ensures two group calls in one channel when you are under direct mode. With 4000 channels and 300000 contacts, you'll have plenty of options for communication, and its compact design makes it easy to install in your car. Plus, the handheld microphone provides all the controls you need at your fingertips.
11# Midland MXT115 GMRS MicroMobile Two-Way Radio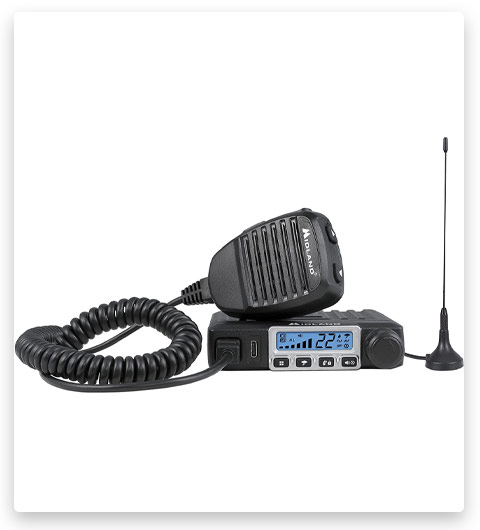 If you're looking for a reliable and affordable two-way radio, the Midland MXT115 is a great option. This radio is equipped with 15 high/low power GMRS channels and 8 repeater channels for increased communication range. It also features split-tone repeater capability for extended range. With a 50-mile communication range* in flat, open areas with little or no obstruction, this radio is perfect for staying in touch with family, friends, or co-workers.
12# Midland 50 Channel Waterproof GMRS Two-Way Radio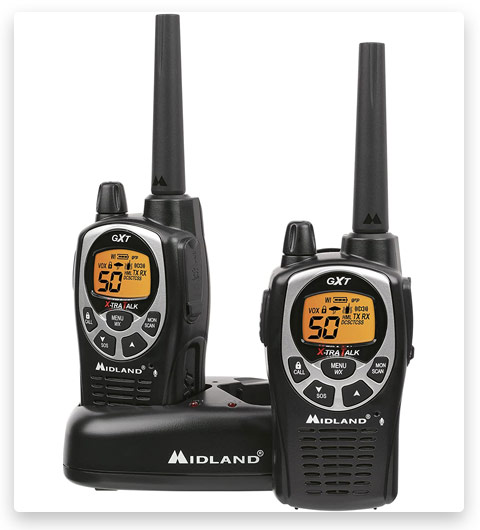 The Midland 50 Channel Waterproof GMRS Two-Way Radio is a high-quality, durable radio that is perfect for use in any environment. With 50 GMRS channels and channel scans, it is easy to stay connected with others, even in remote areas. The JIS4 waterproof protection prevents any damage from splash or exposure to water. The radio also has a 36-mile range for communication in open areas and 142 CTCSS/DCS privacy codes for blocking other conversations. The NOAA weather scan + alert feature keeps you updated on the latest weather conditions.
FAQ
Conclusion
When it comes to choosing the best mobile marine radios for your needs, there are a few factors you'll want to keep in mind. The most important is what type of boating you do – freshwater or saltwater? Marine radios come with different levels of protection against water and corrosion, so if you're doing a lot of saltwater fishing or sailing, you'll need to make sure your radio can withstand the elements. Other considerations include the features offered by different models and how easy they are to use. With these tips in mind, we hope you're able to find the perfect mobile marine radio for your needs!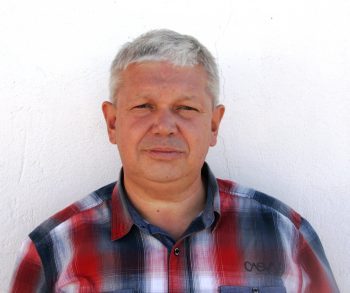 Sergio Smirnoff
Professional fisherman with 40+ years of experience.
Fishing and the ocean is a passion of my life. I am passionate about all kinds of sea fishing: fishing from the shore (spinning, float, baitcasting), from a boat, and spearfishing day and night.
I live in Tenerife (Canary Islands) for the last 10+ years and share my daily fishing experiences on my website. Many years of personal experience as a fisherman and the vast experience of my friends allow me to write professionally on any fishing topics (from choosing a flashlight and equipment to deep-sea fishing).
All of my advice is based on practical real-world experience and will be useful to both novice anglers and professionals.
Read more
about the author.
Affiliate Disclosure: FishReeler.com sometimes gets paid for listings, through sponsors or affiliate programs like Amazon, Ebay, Cabelas, Bass Pro Shop, Shimano, Daiwa, Rapala, Renn, Okuma, KastKing, etс. Clicking a link helps keep FishReeler.com free, at no extra cost to you!
About the author: Each article is verified by the fishing expert Sergio Smirnoff. The articles are written by professional and amateur fishermen with 20+ years of fishing experience.
Note: The views and opinions expressed in this article are those of the authors and do not necessarily reflect the official policy or position of any agency. The articles are for informational purposes only, share your opinions in the comments and join the fishing discussions, let's share our fishing experiences together!