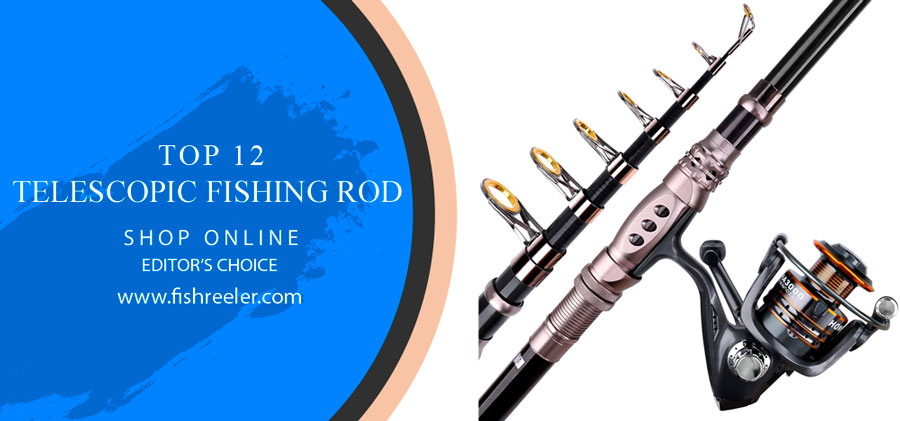 How to Choose the Best Collapsible Telescopic Fishing Rod

No ordinary carbon rod will surprise anyone today. Of course, they are durable, they can cope with their work. But there is one problem – they are rather bulky and you don't want to wear a huge multi-foot stick for fishing. Fortunately, fishing companies have long come up with salvation for us. These are telescopic rods. Why are they so good?
Very simple – they can fold several times and fit into a regular backpack or travel bag. With them, you no longer need to worry about a fishing case or how to put it in a car. You just fold the rod and put it in your backpack. Great stuff, right?

Everything You Need To Know Before Buying Telescopic Rod
At the moment, there are a lot of telescopic fishing rods on the market. And to be honest, not all of them are as good as they are said. Therefore, I decided to collect for you the 12 best telescopic fishing rods that are now available on the market and review them. What are you waiting for? Let's begin!
| Image | Product | Brand | Link |
| --- | --- | --- | --- |
| | Sougayilang Fishing Rod Combos with Telescopic Fishing Pole Spinning Reels Fishing Carrier Bag for Travel Saltwater Freshwater Fishing-1.8M/5.91FT | Sougayilang | |
| | KastKing Blackhawk II Telescopic Fishing Rods, Inshore Spinning 8ft -Mod Fast-H Power | KastKing | |
| | Daiwa Megaforce Tele Spin, 7.87 Feet, 1.41-3.17 Ounce, 6 Parts, Telescopic Fishing Rod | Daiwa | |
| | PLUSINNO Fishing Rod and Reel Combos, Toray 24-Ton Carbon Matrix Telescopic Fishing Rod, 12 +1 Shielded Bearings Stainless Steel BB Spinning Reel | PLUSINNO | |
| | Goture Telescopic Fishing Rod, Red Spinning Fishing Pole Sea Saltwater Freshwater for Bass Trout Salmon 11.9ft | Goture | |
| | Kalex Telescopic Fishing Kit (XTC1-NC, Full Kit no case) | Kalex | |
| | Fishing Pole – Telescopic 5.5-Foot Carbon Fiber and Cork Rod and Ambidextrous Reel Combo with Carry Case for Lake, Pond or River by Wakeman Outdoors | Wakeman | |
| | Magreel Telescopic Fishing Pole, 24T Carbon Fiber Portable Collapsible Fishing Rod with Stainless Steel Guides for Travel Saltwater Freshwater Bass Salmon Trout Fishing | Magreel | |
| | Fishing Rod and Reel Combo, Telescopic Fishing Pole Spinning Reels Fishing Tackle Kit Fishing Carrier Bag Fishing Gear with Fishing Line Lure Swivels Hooks for Sea Saltwater Freshwater Boat Fishing | AGOOL | |
| | Telescoping Fishing Rods and Reels Combo - Travel Fishing Poles with Spinning Reels Fishing Gear Carrier Bag Bass Fishing Rods Combos for Saltwater Freshwater Fishing (8.86FT Rod Kit) | Shaddock Fishing | |
| | C0mdaba Fishing Rod and Reel Combos Full Kit Telescopic Fishing Pole with Spinning Reels Fishing Carrier Bag for Travel Saltwater Freshwater Fishing Gear Set 2.4M Rod + VD350 + Bag | C0mdaba | |
Top 12 Telescopic Fishing Poles
1# Sougayilang Telescopic Fishing Rod – Best Rod Overall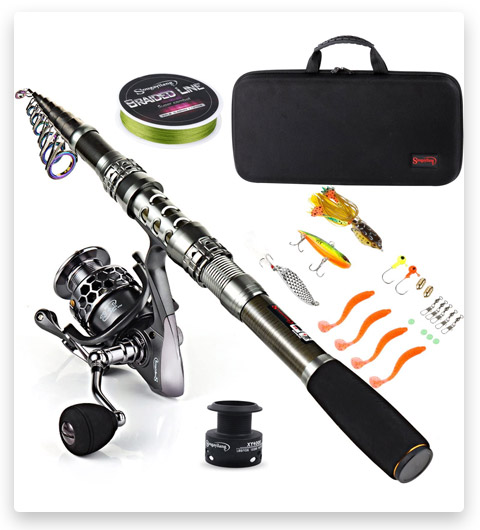 An excellent telescopic rod with a maximum working length of 6-8 feet (depending on size) and weighing 5-8 ounces. The upper two knees are graphite, and the remaining sections are lightweight fiberglass. This design of the model allowed to significantly reduce the cost of the product and maintain high reliability. Lightweight rings and one unloading ring on the upper knee are installed on the rod. This simplifies the unwinding/reeling of the fishing line and eliminates sagging and hooks. The rod is equipped with a high-speed reel seat, which facilitates its use. The non-slip handle provides a secure grip and comfortable retention of the rod for a long time.
2# Kastking Blackhawk II Telescopic Fishing Rod – Best Versatile Rod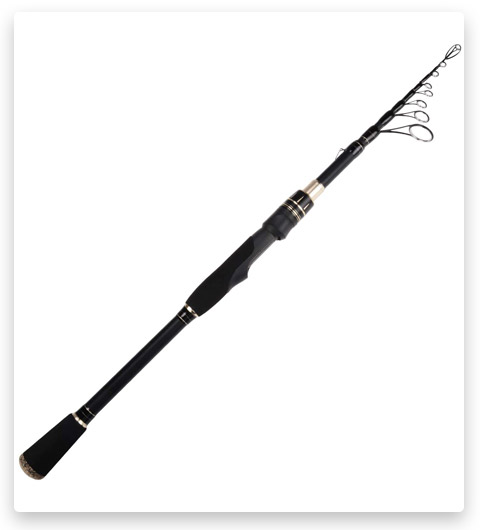 Compact telescopic rod, consisting of 14 sections, with a working length of 7'6″. A rod with a bent shape for summer fishing, which, thanks to a short folded length (0.5 m), is perfect for hiking or fishing in a pond. Despite a large number of sections, the rod has excellent rigidity and a bent shape. High-modulus graphite (carbon) served as the basis for the fishing rod, which provided the rod with extraordinary lightness – 14.4 ounces and at the same time "steel" strength. The anti-slip coating of the handle allows you to comfortably hold the model in any condition.
3# Daiwa Megaforce Tele Spin – Best Lightweight Rod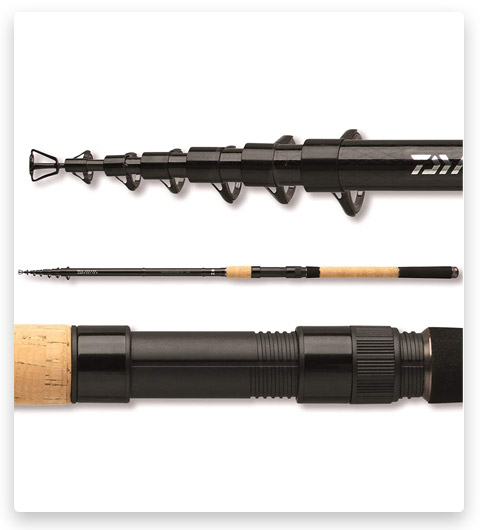 Large telescopic fishing rod. It allows the use of bait weights up to 0.88 ounces. The lower module is small in diameter and fits comfortably in the palm of your hand, which greatly distinguishes the model from similar products from other manufacturers. The anti-slip coating on the handle ensures a firm grip even with wet hands. The rod will not slip out of hand at the most inopportune moment. Ceramic rings with a brazed mount are installed on the rod. The surface of the rings with a low coefficient of friction protects the fishing line from premature wear and reinforced fastening increases the reliability of the model. The reel is very easy to mount on the handle. The rod can be used for bottom fishing with the long casting of the bait.
4# Plusinno Telescopic Fishing Rod – Best Durable Rod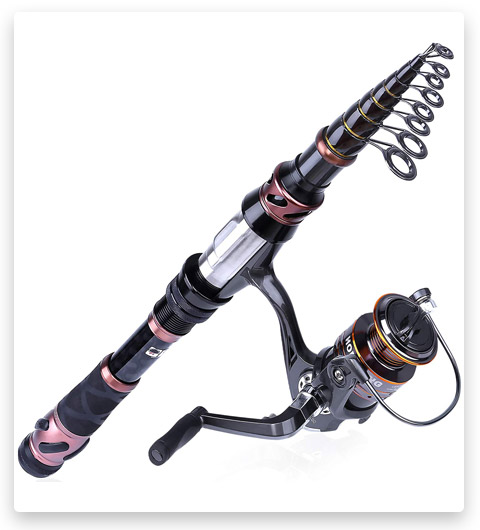 8-foot telescopic rod with a medium-fast action. A sufficiently rigid rod allows you to accurately throw the bait into the selected "window" between interference on the water, even in the absence of space for the swing. The model is made of carbon fiber and has a high resistance to bending, which is important when catching large fish. Lightweight, resistant to temperature extremes, and the vagaries of weather allow you to use the rod in almost any condition. Lightweight rings with inserts provide free movement of the fishing line and protect it from premature wear. The handle is equipped with a non-slip coating and is securely fixed even in wet hands.
5# Sougayilang Fishing Rod – Best Combo Rod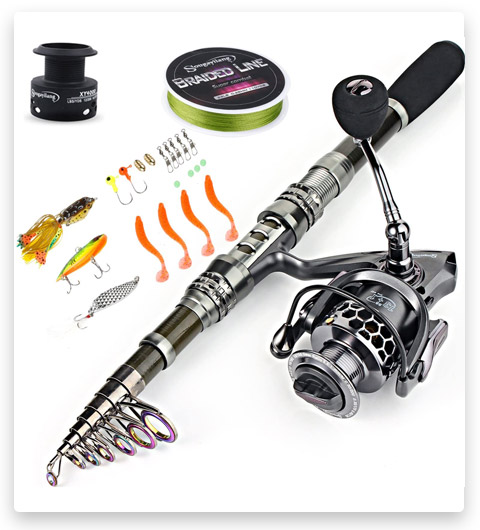 Lightweight telescopic rod for various types of fishing. One of the most versatile for fishing on water bodies of various types with different casting ranges. The telescopic design provides the most convenient transportation. Sections of different thicknesses stack one into another and do not need a case or screeds. The rod is equipped with lightweight guide rings with inserts for the smoothest and unhindered glide of the fishing line. The form is made of carbon fiber, which guarantees the durability of the product and provides high bending strength. To increase reliability and ease of use, there are models with an installed reel, fishing line, and lures in the kit.
6# Goture Telescopic Fishing Rod – Best Budget Rod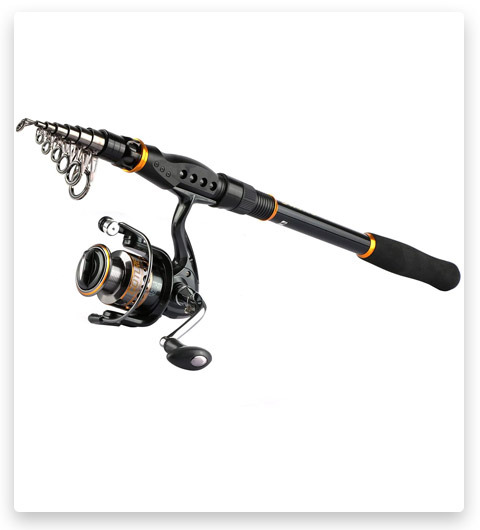 A well-assembled telescopic fishing rod of the type for different fishing styles. Perfect for fishing in various bodies of water with different speeds of the flow of water (lake, river, pond). Made of high-quality high-modulus graphite with a special technology of laying fibers. This provides high strength and flexibility while reducing the overall weight of the model. A careful fit of the modules increases the stability of the rod during fishing. Regardless of the number of knees, it can withstand heavy loads with minimal risk of breakage. The model is equipped with high-quality guide rings with aluminum oxide inserts, which significantly reduce thread wear and facilitate tool movement. The high-speed type seat provides reliable fixation of any type of reel and eliminates backlash and unnecessary vibrations.
7# Kalex Telescopic Fishing Rod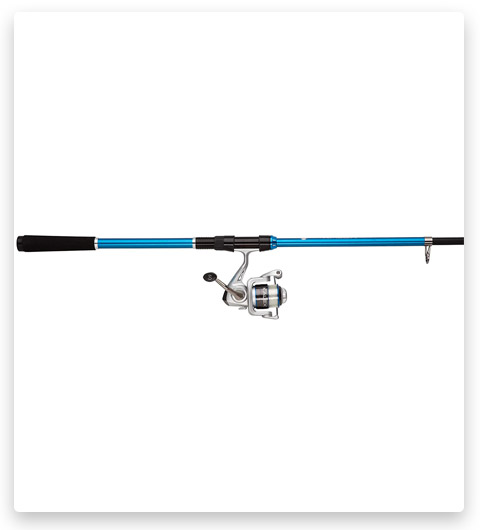 A spinning rod of a budget price category for fishing using various types of lures (wobblers, spinners, jigs). The rod is made of high modulus graphite. It is lightweight, but capable of withstanding fairly high loads and has excellent sensory characteristics. Lightweight rings with inserts are installed, which provide a smooth exit of the fishing line and prevent the occurrence of overflows. The lightweight body of the rod with fast action allows for very precise casting and demonstrates excellent sensitivity. The ergonomic "warm" reel seat completes the comfortable grip that rests comfortably in the hand and provides the most reliable handle on the rod.
8# Wakeman Ultra Series Telescoping Fishing Rod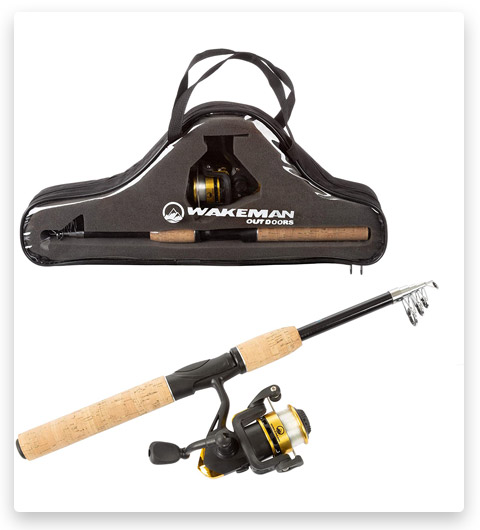 An updated model of the previously popular line of rods with universal performance to perform a variety of tasks. Thanks to the use of an innovative scheme, the guide rings are arranged to uniformly unload the rod and thereby ensure its safety. The optimal arrangement of the rings prevents the twisting of the fishing line and failure of the gear. Lightweight line rings reduce the total spinning mass, and the inserts protect the structure of the fishing line from premature destruction by friction.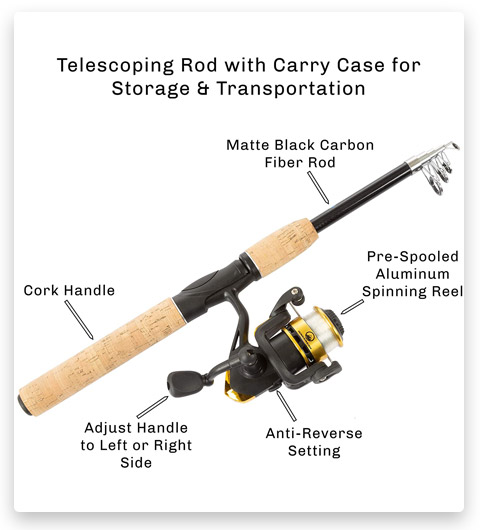 The three-module carbon blank with high sensitivity due to the reinforcing threading ensures reliability and long service life.
9# Magreel Telescopic Fishing Rod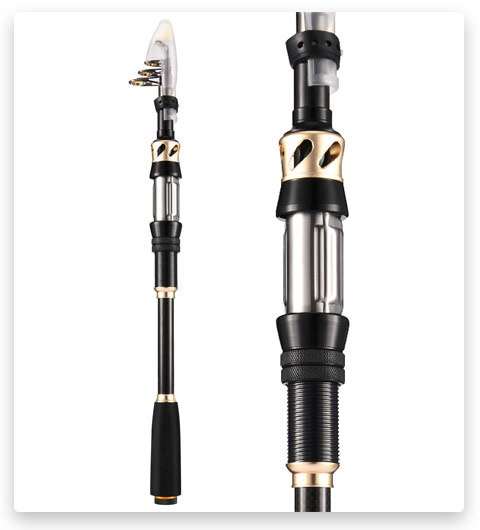 A medium-telescopic fishing rod with an optimal balance between rigidity and flexibility. The plug-in design of the joints of the knees provides a strong and reliable connection. The large reinforced line rings with classic spacing and mounting on sturdy legs are equipped with high-quality inserts that reduce friction and prevent fishing line breakage. The model provides a reliable reel seat made of stainless steel, which will not allow the rod to rust upon contact with saltwater. The composite material of the rod provides high reliability, sufficient rigidity, and resistance to large bending loads.
10# Agool Telescopic Fishing Rod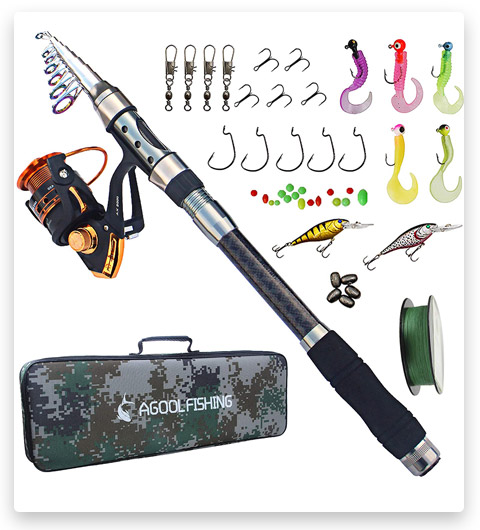 Seven-modular feeder fishing rod with a quick form blank and a length of 9 feet for bottom fishing. The access rings of the rod are equipped with inserts, which, thanks to the low coefficient of friction, protect the fishing line from premature failure. Fishing rod material – high modulus graphite. This gives the rod the necessary rigidity and maneuverability. The model is equipped with three interchangeable tips with varying degrees of sensitivity.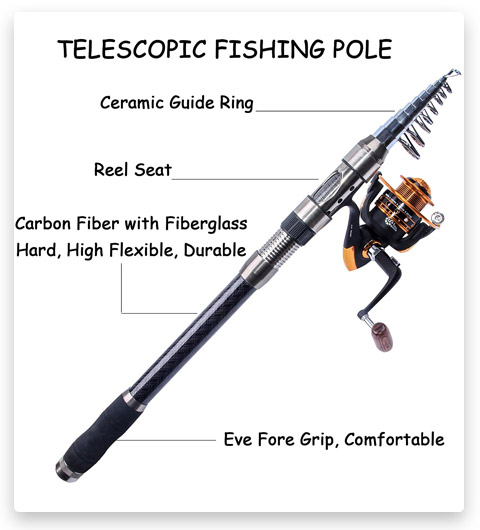 The classic type of knee joint is the most common because it provides maximum strength.
11# Shaddock Telescoping Fishing Rod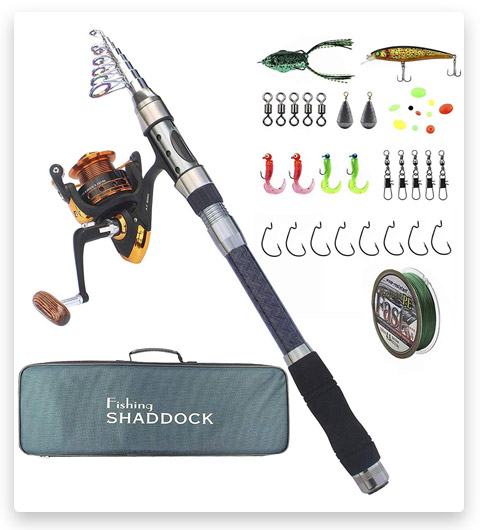 A high-quality fishing rod up to 12 feet in size with medium sensitivity designed for saltwater and freshwater fishing. A sufficiently rigid rod has a good casting. The base material is graphite, which provides high reliability and long service life. Reinforced double rings with inserts help increase casting distance and use braided fishing lines and cords. The classic knee joint provides the rod with high strength and resistance to loads. A soft neoprene handle fits comfortably in the palm of your hand, and a reliable reel seat increases the comfort of using the model.
12# Comdaba Telescopic Fishing Rod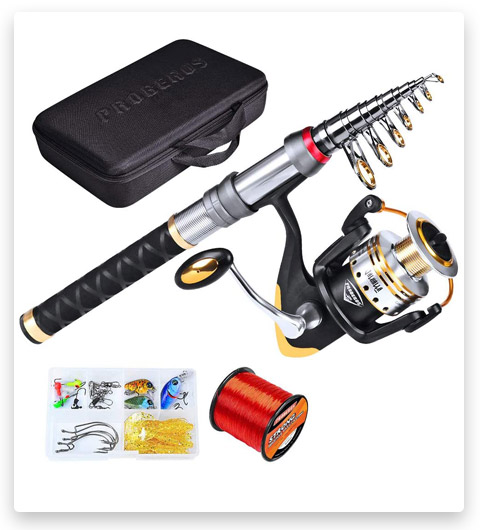 A telescopic rod with a complex system, which makes it possible to easily and accurately cast the bait to the selected fishing spot. The large length (up to 9 feet) allows fishing at a great distance. It has excellent sensitivity even with very weak bites. High-quality access rings facilitate line movement and protect it from premature wear or breakage under dynamic loads. The form is made of medium-modulus graphite, which gives it excellent rigidity and elasticity. This makes it easier to fight even with large fish. A convenient combination handle increases the comfort of use and provides a reliable grip.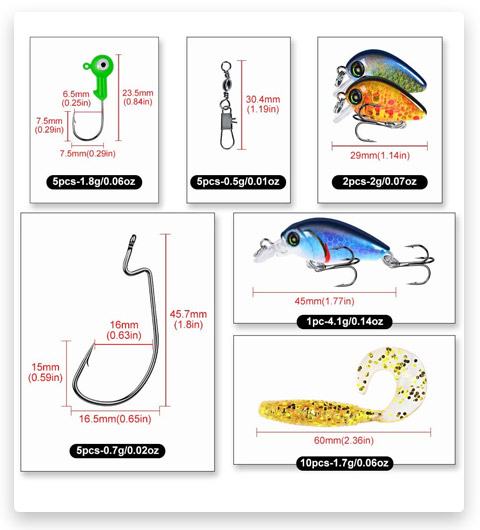 How to Choose a High-Quality Telescopic Rod?
We examined many telescopic rods, all have different characteristics. But we still haven't found out what qualities characterize a really good rod that will last you a long time. Let's get it right.

Material
Most rods are made of graphite or fiberglass. There is a significant difference between them.
Graphite models are much more powerful, therefore professional fishers are very fond of them. But their minus is that they can quite easily crack or break. Therefore, with such, you need to be extremely careful.
Fiberglass is much more durable. But with this durability, weight increases that not everyone will like. Therefore, each material has its pros and cons.
There are also combination rods that combine both materials in different concentrations. Good intelligence and strength together give an excellent result. But this type of rod is more expensive.
Length
The ideal length does not exist. It all depends on your preference. The longer the rod, the greater the casting distance and vice versa. Short rods perform well in the fight against strong fish because they bend less. Long rods, on the contrary, allow you to fish quite far and at great depths, which allows you to get large fish that loves depth. Typically, the length of the rod varies from 6 to 12 feet. If you are a fairly experienced fisherman, then you already know what length of rod you need. If you're a beginner, then I think a 7-foot rod would be the perfect choice for you.
Handle
As with rod lengths, handles come in different lengths, shapes, and materials. Here you choose what you need. Do you like to play long distances? Then you need a longer handle. For shorter distances, a shorter shaft. The more you swing the rod, the more you cast. Therefore, the long handle, which allows you to grab with both hands, allows you to make a stronger buildup, which means a more distant cast. The comfort of holding the rod is also important. It should not rub the calluses of your hands and slip out of your hands are wet or in fish slime. Most of all I like EVA handles, but not all rods have them. An excellent substitute for EVA is the cork tree or non-slip rubber.
Guide Rings
The rings through which you pass the line are called guide rings. Their quality affects the line speed and how quickly it will wear. Ceramic guides do this best. They are very smooth and practically do not create friction. Metal is also good, but it often rusts when saltwater gets on them, so I'm not sure of their quality.
Reel Seat
This is the part of the rod near the base to which you attach your fishing reel. It should be quite wide and comfortable. As for the type of reel, the seat can accommodate any type of fishing reel.
In Conclusion
Our review is coming to an end, now you know about such a beautiful type of fishing rods as telescopic. This type of fishing rod is very convenient and compact, so it was able to gain such popularity in the market. We have reviewed for you the 12 best telescopic fishing rods of different lengths, materials, prices, and quality so that you can precisely choose the fishing rod that suits you specifically. We hope this review has been helpful to you. If so, then share it on social networks. Thanks for reading us. Have good fishing!
Tags: #best telescopic fishing rod / #best telescopic fishing rod and reel / #best telescopic fishing rod and reel combo / #best telescopic fishing rod reviews / #what is the best telescopic fishing rod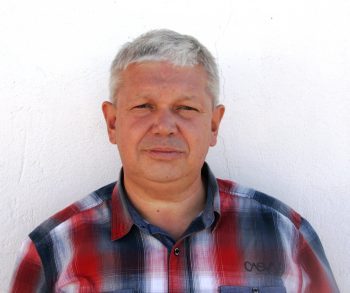 Sergio Smirnoff
Professional fisherman with 40+ years of experience.
Fishing and the ocean is a passion of my life. I am passionate about all kinds of sea fishing: fishing from the shore (spinning, float, baitcasting), from a boat, and spearfishing day and night.
I live in Tenerife (Canary Islands) for the last 10+ years and share my daily fishing experiences on my website. Many years of personal experience as a fisherman and the vast experience of my friends allow me to write professionally on any fishing topics (from choosing a flashlight and equipment to deep-sea fishing).
All of my advice is based on practical real-world experience and will be useful to both novice anglers and professionals.
Read more
about the author.
Affiliate Disclosure: FishReeler.com sometimes gets paid for listings, through sponsors or affiliate programs like Amazon, Ebay, Cabelas, Bass Pro Shop, Shimano, Daiwa, Rapala, Renn, Okuma, KastKing, etс. Clicking a link helps keep FishReeler.com free, at no extra cost to you!
About the author: Each article is verified by the fishing expert Sergio Smirnoff. The articles are written by professional and amateur fishermen with 20+ years of fishing experience.
Note: The views and opinions expressed in this article are those of the authors and do not necessarily reflect the official policy or position of any agency. The articles are for informational purposes only, share your opinions in the comments and join the fishing discussions, let's share our fishing experiences together!