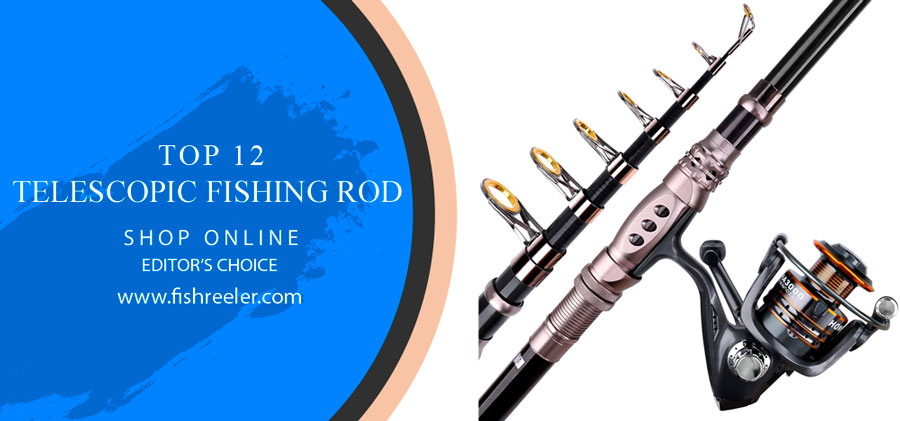 Unfolding Convenience: The Complete Guide to Telescopic Fishing Rods

Reeling in History: The Evolution of Fishing Rods
Fishing has a deep-rooted history that spans centuries, dating back to the early civilization period. In its inception, fishing was mainly a means of subsistence. As civilizations grew and developed, so did the tools they used for fishing. The evolution of fishing rods is a testament to human ingenuity and the pursuit of efficiency.
Primitive fishing rods were simple, rudimentary structures – often just a long stick with a line attached. Over time, these tools have been honed and refined. The introduction of materials like bamboo in the 19th century saw fishing rods become more resilient and flexible. In the mid-20th century, rods took another leap forward with the use of fiberglass and later, graphite and carbon fiber, providing unprecedented strength and sensitivity.
Embracing Convenience: Introducing Telescopic Fishing Rods
The quest for better performance and greater convenience led to the development of the telescopic fishing rod. As the name suggests, telescopic rods are designed to extend outwards and retract back into a compact size, much like a telescope. This design came to fruition in the late 20th century as an answer to the growing need for portable and easily stored fishing rods, catering especially to the traveling angler.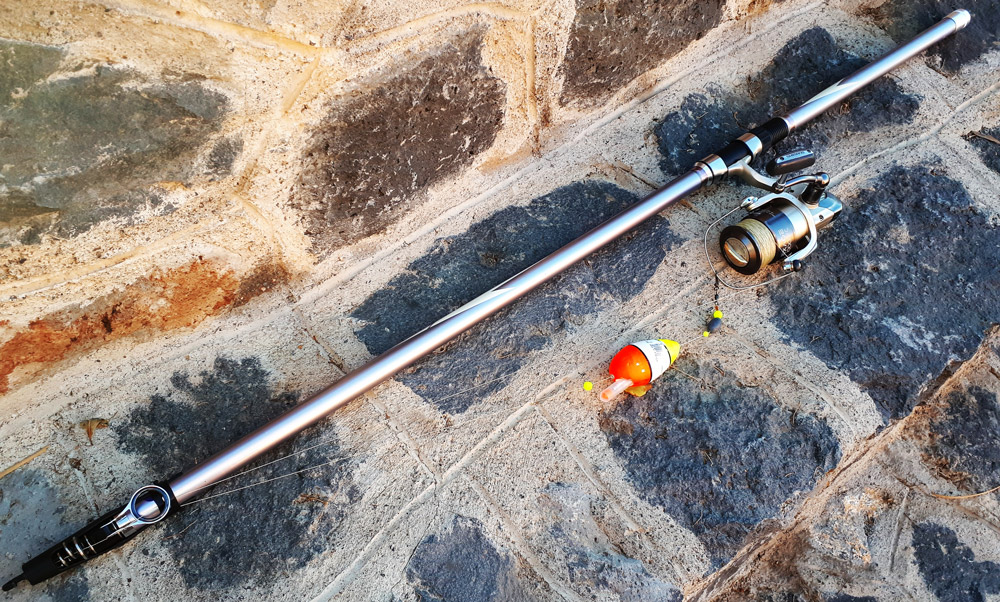 Compact Power: The Unique Benefits of Telescopic Rods
The appeal of telescopic fishing rods lies in their unique combination of performance and portability. Firstly, they can be collapsed down into a compact size, which makes them perfect for travel. Anglers no longer need to carry around long, unwieldy rods but can pack their rod in a backpack, suitcase, or even a glove box. This portability opens up a world of new fishing opportunities, allowing anglers to fish whenever and wherever the mood strikes.
Yet, despite their compact size when collapsed, telescopic fishing rods extend to full length, offering the same range and casting capabilities as traditional fishing rods. This ensures that you never have to compromise on performance for the sake of convenience.
🚩In essence, the emergence of telescopic fishing rods epitomizes the progression of fishing equipment – integrating the strength and performance of traditional rods with a level of compactness and convenience that fits the modern, mobile lifestyle.
Evolution of the Telescopic Fishing Rod

The Transformative Journey of Fishing Rod Technology
The evolution of fishing rod technology has been a journey of innovation and continuous refinement. Early rod designs were simplistic, often crafted from readily available materials such as bamboo or other woods. They were essentially long poles, which served their purpose but lacked the sophistication and versatility of modern designs.
The 20th century marked a significant turning point for fishing rod technology. The introduction of fiberglass in the 1940s brought about a revolution, offering greater flexibility and durability than ever before. Fiberglass rods were followed by the more rigid and sensitive graphite rods in the 1970s. In the decades since, composite materials like carbon fiber have further pushed the boundaries, combining the best characteristics of both for optimum performance.
The Dawn of a New Era: The Birth of Telescopic Rods
It was in the latter half of the 20th century that the telescopic fishing rod made its debut. The concept was driven by a need for convenience and portability. As travel became more accessible and popular, the demand for a compact yet effective fishing rod grew. The telescopic rod, with its ability to retract into a shorter, manageable size and then extend to full length when needed, offered the perfect solution.
Continuous Innovation: The Progressive Design of Telescopic Rods
The initial designs of telescopic rods had their limitations. Early models were sometimes prone to collapsing during casting or reeling in a fish. However, as with all technology, significant advancements and innovations were soon incorporated into the design of telescopic rods.
Materials used for the rod's construction saw an upgrade, with higher-grade fiberglass, graphite, and eventually carbon fiber being employed for superior strength and sensitivity. The locking mechanisms of each segment of the rod were also improved to prevent unwanted collapsing, resulting in a sturdier and more reliable fishing tool.
Modern telescopic rods also feature advanced line guides that align properly when extended and fold away neatly when the rod is collapsed. The inclusion of interchangeable tip sections in some designs has further enhanced the versatility of these rods, allowing anglers to customize the rod's action to suit different fishing scenarios.
🚩All these advancements and innovations have culminated in the creation of telescopic fishing rods that provide the perfect blend of performance, portability, and versatility – a testament to the evolutionary journey of fishing rod technology.
How to Choose the Best Collapsible Telescopic Fishing Rod

No ordinary carbon rod will surprise anyone today. Of course, they are durable, they can cope with their work. But there is one problem – they are rather bulky and you don't want to wear a huge multi-foot stick for fishing. Fortunately, fishing companies have long come up with salvation for us. These are telescopic rods. Why are they so good?
Very simple – they can fold several times and fit into a regular backpack or travel bag. With them, you no longer need to worry about a fishing case or how to put it in a car. You just fold the rod and put it in your backpack. Great stuff, right?
Everything You Need To Know Before Buying Telescopic Rod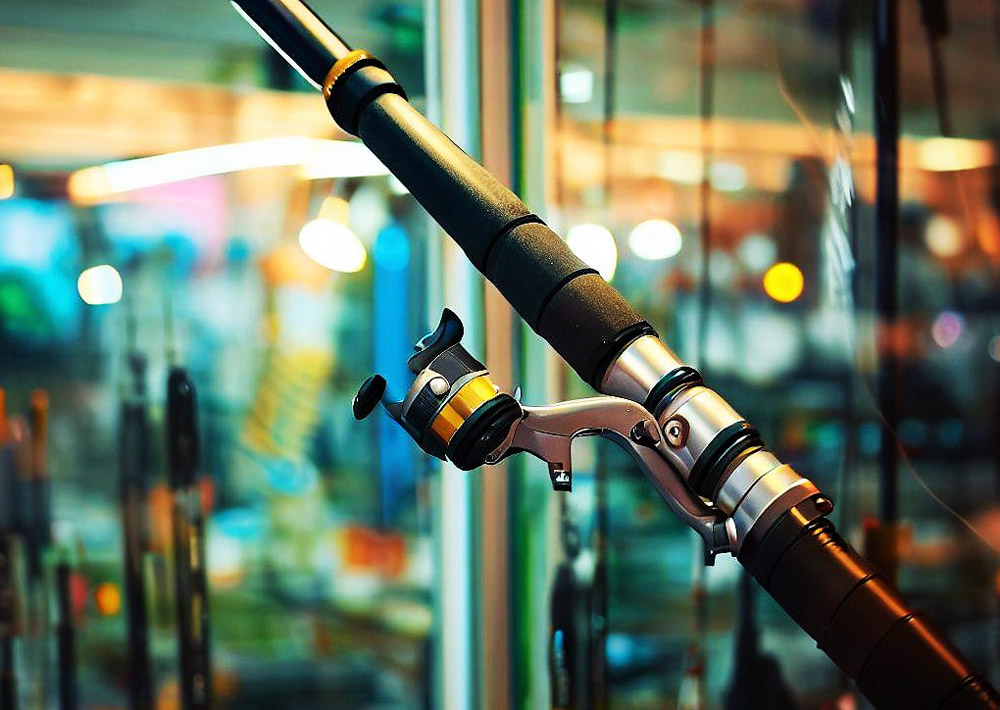 Among the many tools that an angler requires, the fishing rod holds a special place. It is the extension of an angler's arm, casting the bait, and reeling in the catch. However, not all fishing rods are created equal, and the advancement in technology has given us a unique, highly portable variant – the telescopic fishing rod.
If you're an adventurous angler who likes to explore and fish in remote, hard-to-reach areas, or if you appreciate the convenience of a compact, easily transportable rod, then the telescopic fishing rod might be your perfect fishing companion. In this blog post, we'll dive deep into the world of telescopic rods, providing you with a comprehensive guide and everything you need to know before investing in one.
At the moment, there are a lot of telescopic fishing rods on the market. And to be honest, not all of them are as good as they are said. Therefore, I decided to collect for you the 12 best telescopic fishing rods that are now available on the market and review them.
| Image | Product | Brand | Link |
| --- | --- | --- | --- |
| | Sougayilang Fishing Rod Combos with Telescopic Fishing Pole Spinning Reels Fishing Carrier Bag for Travel Saltwater Freshwater Fishing-1.8M/5.91FT | Sougayilang | |
| | KastKing Blackhawk II Telescopic Fishing Rods, Inshore Spinning 8ft -Mod Fast-H Power | KastKing | |
| | Daiwa Megaforce Tele Spin, 7.87 Feet, 1.41-3.17 Ounce, 6 Parts, Telescopic Fishing Rod | Daiwa | |
| | PLUSINNO Fishing Rod and Reel Combos, Toray 24-Ton Carbon Matrix Telescopic Fishing Rod, 12 +1 Shielded Bearings Stainless Steel BB Spinning Reel | PLUSINNO | |
| | Goture Telescopic Fishing Rod, Red Spinning Fishing Pole Sea Saltwater Freshwater for Bass Trout Salmon 11.9ft | Goture | |
| | Kalex Telescopic Fishing Kit (XTC1-NC, Full Kit no case) | Kalex | |
| | Fishing Pole – Telescopic 5.5-Foot Carbon Fiber and Cork Rod and Ambidextrous Reel Combo with Carry Case for Lake, Pond or River by Wakeman Outdoors,Tan | Wakeman | |
| | Magreel Telescopic Fishing Pole, 24T Carbon Fiber Portable Collapsible Fishing Rod with Stainless Steel Guides for Travel Saltwater Freshwater Bass Salmon Trout Fishing | Magreel | |
| | Fishing Rod and Reel Combo, Telescopic Fishing Pole Spinning Reels Fishing Tackle Kit Fishing Carrier Bag Fishing Gear with Fishing Line Lure Swivels Hooks for Sea Saltwater Freshwater Boat Fishing | AGOOL | |
| | Telescoping Fishing Rods and Reels Combo - Travel Fishing Poles with Spinning Reels Fishing Gear Carrier Bag Bass Fishing Rods Combos for Saltwater Freshwater Fishing (8.86FT Rod Kit) | Shaddock Fishing | |
| | C0mdaba Fishing Rod and Reel Combos Full Kit Telescopic Fishing Pole with Spinning Reels Fishing Carrier Bag for Travel Saltwater Freshwater Fishing Gear Set 2.4M Rod + VD350 + Bag | C0mdaba | |
💠Top 12 Telescopic Fishing Poles
1# Sougayilang Telescopic Fishing Rod – Best Rod Overall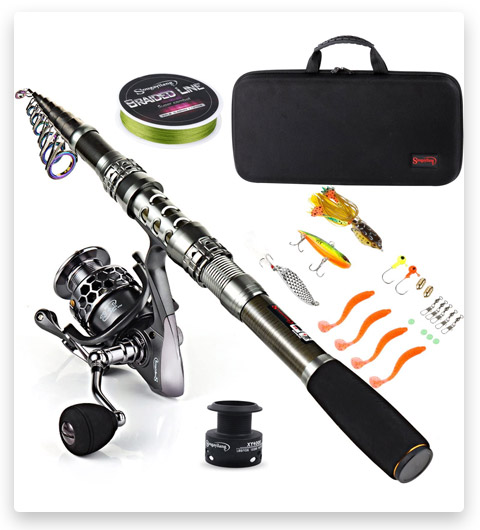 An excellent telescopic rod with a maximum working length of 6-8 feet (depending on size) and weighing 5-8 ounces. The upper two knees are graphite, and the remaining sections are lightweight fiberglass. This design of the model allowed to significantly reduce the cost of the product and maintain high reliability. Lightweight rings and one unloading ring on the upper knee are installed on the rod. This simplifies the unwinding/reeling of the fishing line and eliminates sagging and hooks. The rod is equipped with a high-speed reel seat, which facilitates its use. The non-slip handle provides a secure grip and comfortable retention of the rod for a long time.
2# Kastking Blackhawk II Telescopic Fishing Rod – Best Versatile Rod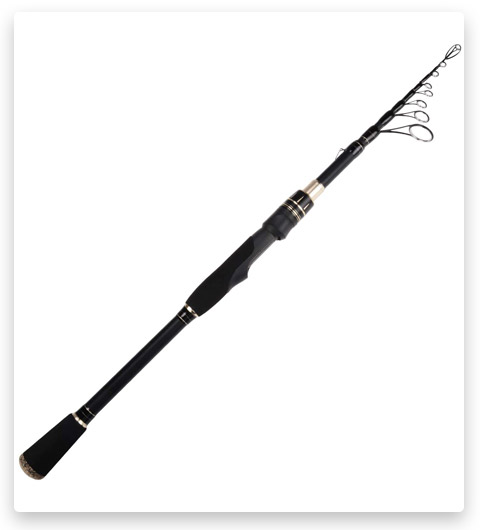 Compact telescopic rod, consisting of 14 sections, with a working length of 7'6″. A rod with a bent shape for summer fishing, which, thanks to a short folded length (0.5 m), is perfect for hiking or fishing in a pond. Despite a large number of sections, the rod has excellent rigidity and a bent shape. High-modulus graphite (carbon) served as the basis for the fishing rod, which provided the rod with extraordinary lightness – 14.4 ounces and at the same time "steel" strength. The anti-slip coating of the handle allows you to comfortably hold the model in any condition.
3# Daiwa Megaforce Tele Spin – Best Lightweight Rod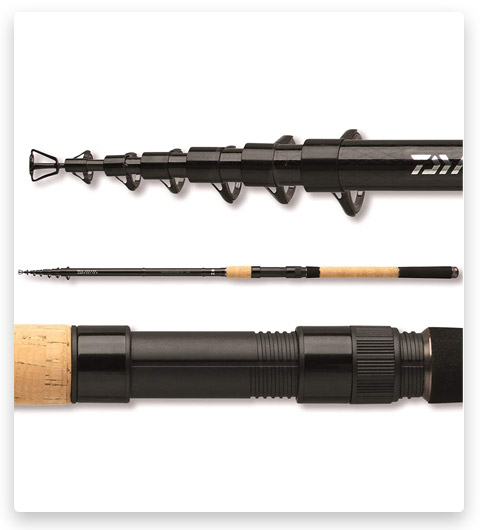 Large telescopic fishing rod. It allows the use of bait weights up to 0.88 ounces. The lower module is small in diameter and fits comfortably in the palm of your hand, which greatly distinguishes the model from similar products from other manufacturers. The anti-slip coating on the handle ensures a firm grip even with wet hands. The rod will not slip out of hand at the most inopportune moment. Ceramic rings with a brazed mount are installed on the rod. The surface of the rings with a low coefficient of friction protects the fishing line from premature wear and reinforced fastening increases the reliability of the model. The reel is very easy to mount on the handle. The rod can be used for bottom fishing with the long casting of the bait.
4# Plusinno Telescopic Fishing Rod – Best Durable Rod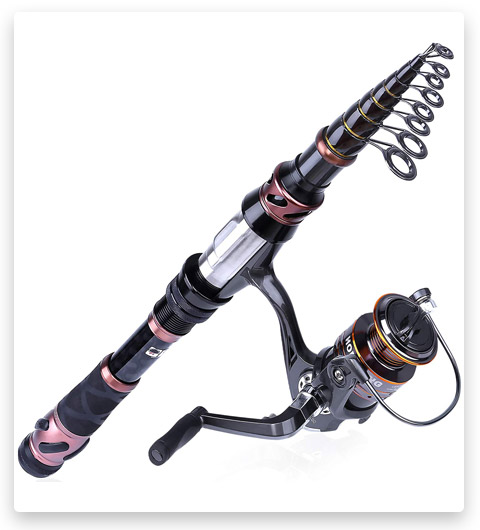 8-foot telescopic rod with a medium-fast action. A sufficiently rigid rod allows you to accurately throw the bait into the selected "window" between interference on the water, even in the absence of space for the swing. The model is made of carbon fiber and has a high resistance to bending, which is important when catching large fish. Lightweight, resistant to temperature extremes, and the vagaries of weather allow you to use the rod in almost any condition. Lightweight rings with inserts provide free movement of the fishing line and protect it from premature wear. The handle is equipped with a non-slip coating and is securely fixed even in wet hands.
5# Sougayilang Fishing Rod – Best Combo Rod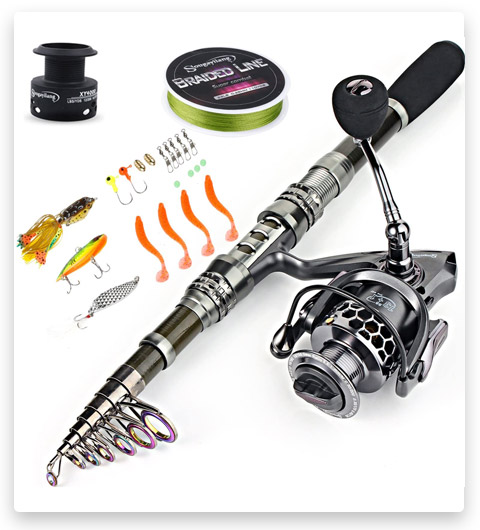 Lightweight telescopic rod for various types of fishing. One of the most versatile for fishing on water bodies of various types with different casting ranges. The telescopic design provides the most convenient transportation. Sections of different thicknesses stack one into another and do not need a case or screeds. The rod is equipped with lightweight guide rings with inserts for the smoothest and unhindered glide of the fishing line. The form is made of carbon fiber, which guarantees the durability of the product and provides high bending strength. To increase reliability and ease of use, there are models with an installed reel, fishing line, and lures in the kit.
6# Goture Telescopic Fishing Rod – Best Budget Rod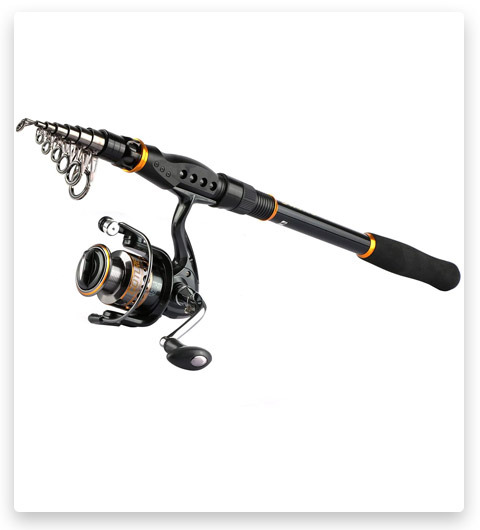 A well-assembled telescopic fishing rod of the type for different fishing styles. Perfect for fishing in various bodies of water with different speeds of the flow of water (lake, river, pond). Made of high-quality high-modulus graphite with a special technology of laying fibers. This provides high strength and flexibility while reducing the overall weight of the model. A careful fit of the modules increases the stability of the rod during fishing. Regardless of the number of knees, it can withstand heavy loads with minimal risk of breakage. The model is equipped with high-quality guide rings with aluminum oxide inserts, which significantly reduce thread wear and facilitate tool movement. The high-speed type seat provides reliable fixation of any type of reel and eliminates backlash and unnecessary vibrations.
7# Kalex Telescopic Fishing Rod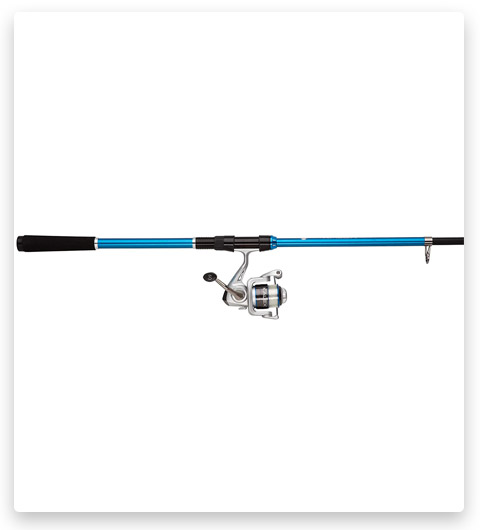 A spinning rod of a budget price category for fishing using various types of lures (wobblers, spinners, jigs). The rod is made of high modulus graphite. It is lightweight, but capable of withstanding fairly high loads and has excellent sensory characteristics. Lightweight rings with inserts are installed, which provide a smooth exit of the fishing line and prevent the occurrence of overflows. The lightweight body of the rod with fast action allows for very precise casting and demonstrates excellent sensitivity. The ergonomic "warm" reel seat completes the comfortable grip that rests comfortably in the hand and provides the most reliable handle on the rod.
8# Wakeman Ultra Series Telescoping Fishing Rod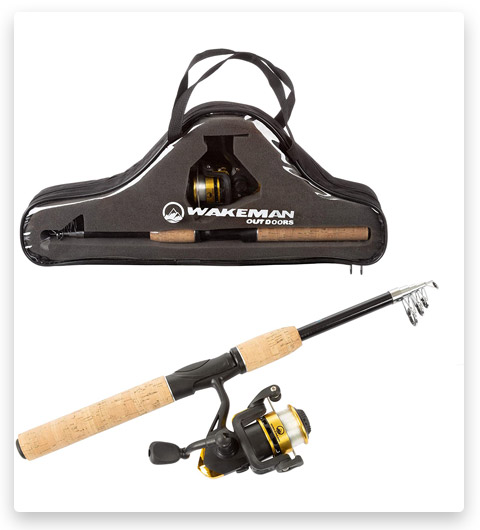 An updated model of the previously popular line of rods with universal performance to perform a variety of tasks. Thanks to the use of an innovative scheme, the guide rings are arranged to uniformly unload the rod and thereby ensure its safety. The optimal arrangement of the rings prevents the twisting of the fishing line and failure of the gear. Lightweight line rings reduce the total spinning mass, and the inserts protect the structure of the fishing line from premature destruction by friction.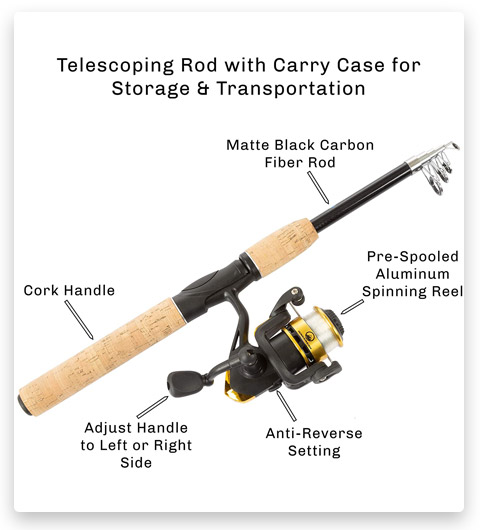 The three-module carbon blank with high sensitivity due to the reinforcing threading ensures reliability and long service life.
9# Magreel Telescopic Fishing Rod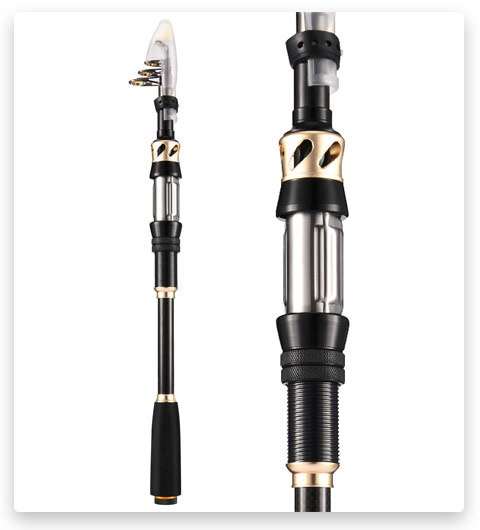 A medium-telescopic fishing rod with an optimal balance between rigidity and flexibility. The plug-in design of the joints of the knees provides a strong and reliable connection. The large reinforced line rings with classic spacing and mounting on sturdy legs are equipped with high-quality inserts that reduce friction and prevent fishing line breakage. The model provides a reliable reel seat made of stainless steel, which will not allow the rod to rust upon contact with saltwater. The composite material of the rod provides high reliability, sufficient rigidity, and resistance to large bending loads.
10# Agool Telescopic Fishing Rod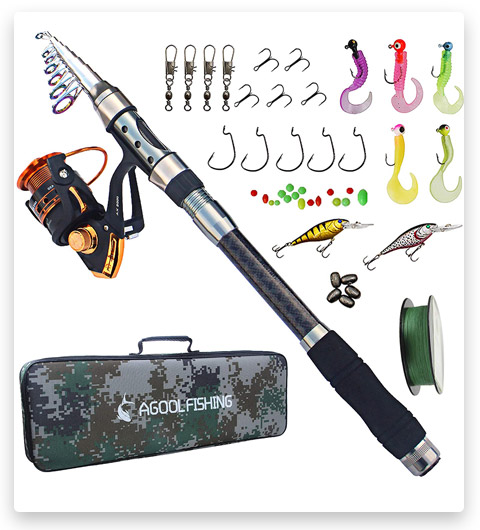 Seven-modular feeder fishing rod with a quick form blank and a length of 9 feet for bottom fishing. The access rings of the rod are equipped with inserts, which, thanks to the low coefficient of friction, protect the fishing line from premature failure. Fishing rod material – high modulus graphite. This gives the rod the necessary rigidity and maneuverability. The model is equipped with three interchangeable tips with varying degrees of sensitivity.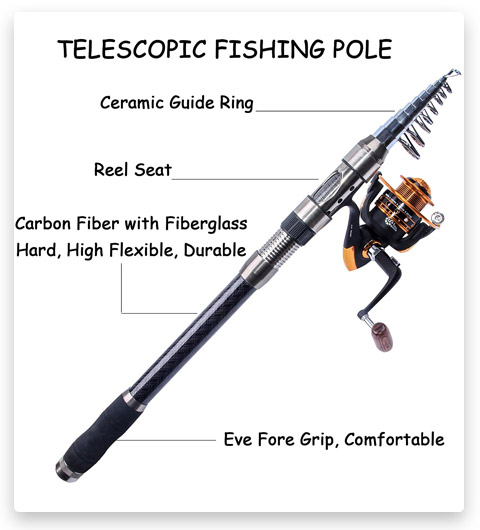 The classic type of knee joint is the most common because it provides maximum strength.
11# Shaddock Telescoping Fishing Rod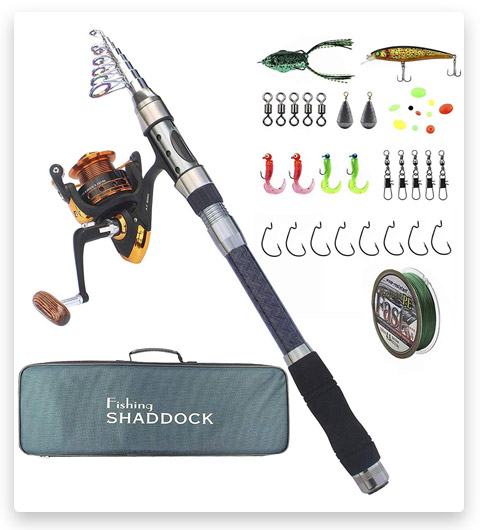 A high-quality fishing rod up to 12 feet in size with medium sensitivity designed for saltwater and freshwater fishing. A sufficiently rigid rod has a good casting. The base material is graphite, which provides high reliability and long service life. Reinforced double rings with inserts help increase casting distance and use braided fishing lines and cords. The classic knee joint provides the rod with high strength and resistance to loads. A soft neoprene handle fits comfortably in the palm of your hand, and a reliable reel seat increases the comfort of using the model.
12# Comdaba Telescopic Fishing Rod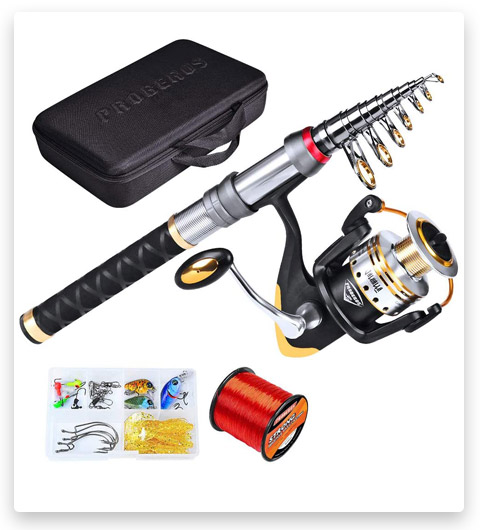 A telescopic rod with a complex system, which makes it possible to easily and accurately cast the bait to the selected fishing spot. The large length (up to 9 feet) allows fishing at a great distance. It has excellent sensitivity even with very weak bites. High-quality access rings facilitate line movement and protect it from premature wear or breakage under dynamic loads. The form is made of medium-modulus graphite, which gives it excellent rigidity and elasticity. This makes it easier to fight even with large fish. A convenient combination handle increases the comfort of use and provides a reliable grip.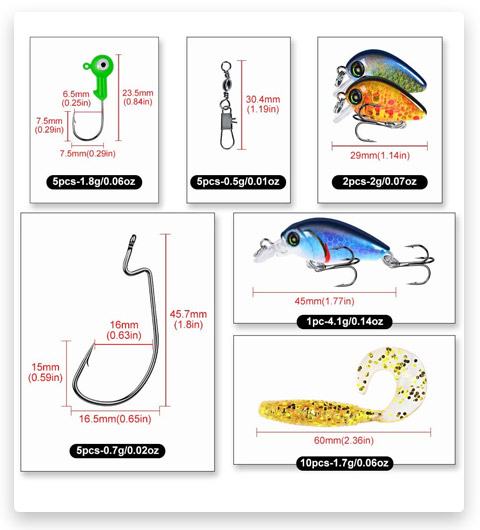 Anatomy of a Telescopic Fishing Rod

Unraveling the Components: A Close Look at Telescopic Rods
Telescopic fishing rods, although compact and retractable, share many components with traditional rods. These elements each play a critical role in ensuring the rod functions optimally and provides the best fishing experience.
The core components of a telescopic rod include the handle, segments, line guides, and reel seat.
The handle or grip is where the angler holds the rod. It is typically made from cork or EVA foam for comfort and grip, even when wet. Some telescopic rods come with a split handle design, which reduces weight and provides better balance.
Segments are the main body of the telescopic rod. These individual sections slide into one another, allowing the rod to extend and collapse. Each segment is thinner and shorter than the one before it, enabling the rod to retract neatly into a compact size.
The line guides are the rings attached along the length of the rod. They guide the fishing line from the reel to the tip of the rod, ensuring smooth line movement during casting and reeling. In telescopic rods, these guides are often designed to be foldable or retractable to protect them during transportation.
🚩The reel seat is where the fishing reel is attached. It's generally designed to accommodate different types of reels and has adjustable mechanisms for a secure fit.
The Symphony of Parts: The Functionality of Each Component
Each component of a telescopic fishing rod plays a vital role in its overall performance. The handle provides comfort and control, the segments give the rod its structure and flexibility, the line guides ensure smooth casting and retrieval, and the reel seat securely holds the reel in place.
From Graphite to Carbon Fiber: Material Choices for Telescopic Rods
🐠The choice of material for a telescopic rod significantly influences its performance, durability, and price. The most commonly used materials are graphite, fiberglass, and carbon fiber:
🎡Graphite is lightweight and provides high sensitivity, making it easier to detect bites. However, it's not as durable as other materials and may be prone to breaking when subjected to high stress.
🎡Fiberglass, on the other hand, is extremely durable and robust, but it's heavier than graphite and less sensitive. It's an excellent choice for beginners or for situations where robustness is more critical than sensitivity.
🎡Carbon fiber is a relatively recent addition to the material choices. It combines the best qualities of graphite and fiberglass, providing a rod that's lightweight, sensitive, and durable. The downside is that carbon fiber rods are generally more expensive.
🚩Ultimately, the choice of material will depend on the angler's preferences, the type of fishing, and the budget. Each material has its unique benefits and drawbacks, and understanding these can help you select the best telescopic rod for your needs.
How to Choose the Best Telescopic Fishing Rod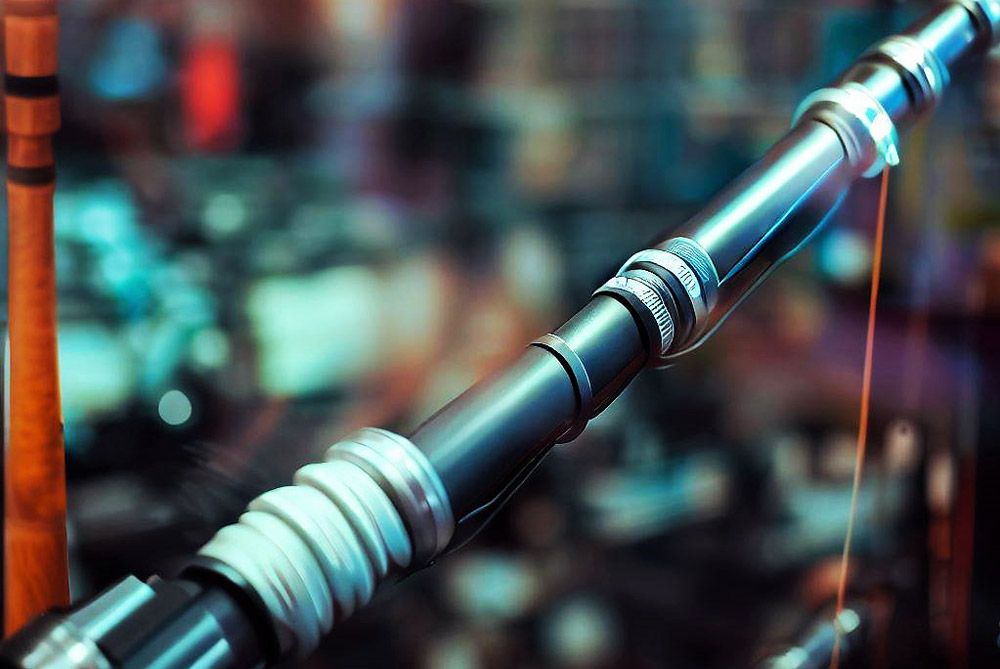 Navigating the Choices: Key Factors in Selecting a Telescopic Rod
🐠When choosing a telescopic fishing rod, it's essential to consider several key factors:
🔆

Size

is one such factor, which includes the length of the rod when extended and its size when collapsed. The extended length impacts the casting distance and the type of fishing suitable for the rod. The collapsed size affects the rod's portability.
🔆

The material

used in the rod's construction significantly impacts its weight, durability, and sensitivity. Graphite is light and sensitive, fiberglass is robust and durable, and carbon fiber offers a blend of both.
🔆

Flexibility

, often referred to as action (fast, medium, slow), describes how much and where the rod bends when pressure is applied. Fast action rods bend near the tip, medium action rods bend in the middle, and slow action rods bend near the base. The action affects casting distance and the rod's ability to handle specific fish sizes.
🔆

Durability

is essential, particularly for a rod that will be frequently transported and exposed to different environmental conditions. The material, quality of construction, and the rod's care significantly impact durability.
🚩Lastly, consider the price. While it's tempting to go for the cheapest option, remember that you often get what you pay for in terms of quality and longevity.
Tailoring to Your Fishing Style: Where Telescopic Rods Excel
Telescopic rods are incredibly versatile and can be used in a variety of fishing situations. However, they excel in areas where portability and convenience are paramount. This makes them ideal for traveling, hiking, backpacking, or whenever you want to keep a fishing rod handy just in case. They're also great for fishing off piers, jetties, or in situations where casting distance is less critical.
The Perfect Match: Pairing Rod Specifications to Your Fishing Needs
To choose the best telescopic rod for your needs, consider the species of fish you aim to catch and the type of fishing you plan to do. For instance, if you're fishing for smaller species in close quarters, a shorter, fast-action rod made of graphite could be ideal. If you're targeting larger species or casting longer distances, a longer, medium to slow action rod made of carbon fiber or fiberglass may be more appropriate.
🚩Remember, the 'best' rod isn't the most expensive or the one with the most features; it's the one that matches your specific needs and fishing conditions the best. Consider these factors, and you're sure to find a telescopic rod that will serve you well in your fishing adventures.
Caring for Your Telescopic Fishing Rod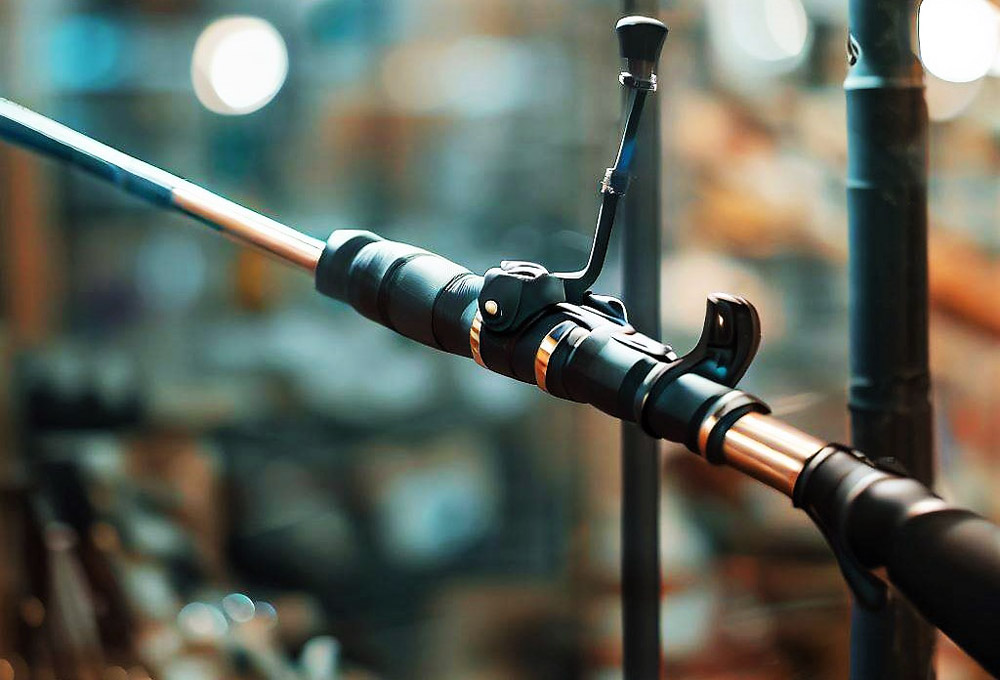 Preserving Your Investment: Maintenance and Storage Tips
🐠A well-cared-for telescopic fishing rod can provide years of enjoyment. Here are some tips to extend the life of your rod:
🎇

Cleanliness

: After each use, especially in saltwater, wash the rod with warm, soapy water, rinse thoroughly, and dry. Salt and dirt can cause corrosion and damage to the rod and its components.
🎇

Lubrication

: Occasionally lubricate the joints of the rod's segments with a suitable fishing rod lubricant. This helps keep the extension and retraction smooth and protects against wear.
🎇

Storage

: When storing the rod, make sure it's clean, dry, and fully collapsed. Store it in a cool, dry place away from direct sunlight. Some rods come with a storage case, which is excellent for protection.
🎇

Transport

: Be cautious when transporting your rod. Although it's designed for portability, rough handling can cause damage. Always secure it to prevent it from bouncing or falling.
Troubleshooting Potential Issues
🐠As durable as they may be, telescopic rods aren't immune to issues. Here are some common problems and how to address them:
🌟

Rod jamming or getting stuck

: This can be due to dirt or sand in the joints or lack of lubrication. Clean and lubricate the rod regularly to prevent this. If it still gets stuck, try gently twisting the segments while pulling to loosen them.
🌟

Collapsing during casting or reeling

: This could be due to worn-out locking mechanisms. Check if the locks are functioning properly and aren't loose. If they are, it might be time for a replacement.
🌟

Broken or bent line guides

: If a guide is bent, it can often be carefully bent back into shape. If it's broken, it will need replacing.
🚩By following these maintenance tips and being aware of potential issues, you can ensure that your telescopic fishing rod remains a reliable companion for your fishing trips for years to come.
Top Telescopic Fishing Rod Brands to Consider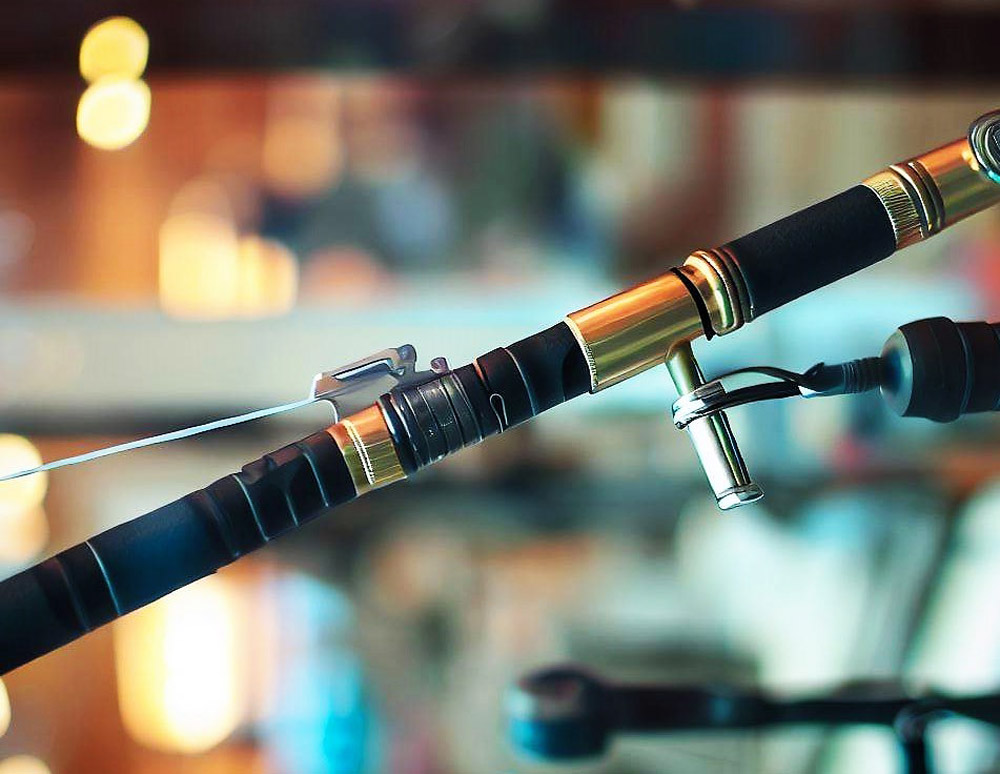 In the world of fishing equipment, a few brands have distinguished themselves through quality products and innovative design. When it comes to telescopic fishing rods, there are several top players to consider.
PLUSINNO Telescopic Fishing Rod
🅰️PLUSINNO is a brand known for its quality and affordability. Their telescopic fishing rods are no exception, offering excellent value for money. Standout features include a carbon fiber and fiberglass blend for optimal strength and flexibility and comfortable anti-slip handles. The rod comes with a full kit including a reel and accessories, making it perfect for beginners or as a convenient all-in-one solution. Customers often praise the rod for its durability and ease of use.
🎥Plusinno Fishing Rod & Reel Combo Video Review
KastKing Blackhawk II
⚕️The KastKing Blackhawk II is another excellent option. It's built with high-quality materials like a 24-ton carbon matrix for superior durability and sensitivity. Unique features like the Soloscopic Performance technology, which ensures a one-piece performance in an extendable rod, set it apart. Pricing is mid-range, making it a good choice for those willing to invest a bit more for high quality. Customers often mention the impressive strength and versatility of this rod in reviews.
Shimano STC
⏺Shimano is a reputable brand in the fishing industry, and their STC (Shimano Travel Concept) telescopic rods live up to this reputation. They are designed with high-quality XT60 + Geo-fibre blank construction, resulting in excellent balance and strength. While these rods are priced higher than others, their superior performance and build quality justify the investment. Customer reviews often highlight the rod's incredible sensitivity and casting precision.
Sougayilang Telescopic Fishing Rod
Sougayilang offers a range of telescopic rods that cater to different fishing needs. These rods are made with a high-density carbon fiber material mixed with fiberglass, making them hard and durable. A notable feature is the three-point welded stainless steel guides with ceramic inserts for use with braided or mono fishing lines. Sougayilang's rods are competitively priced and generally well-reviewed, with users praising their compact size and lightweight.
These brands represent some of the best offerings in the telescopic fishing rod market. When choosing, remember to consider the specific features that align best with your fishing style and needs, and of course, your budget.
Personal Experience and Tips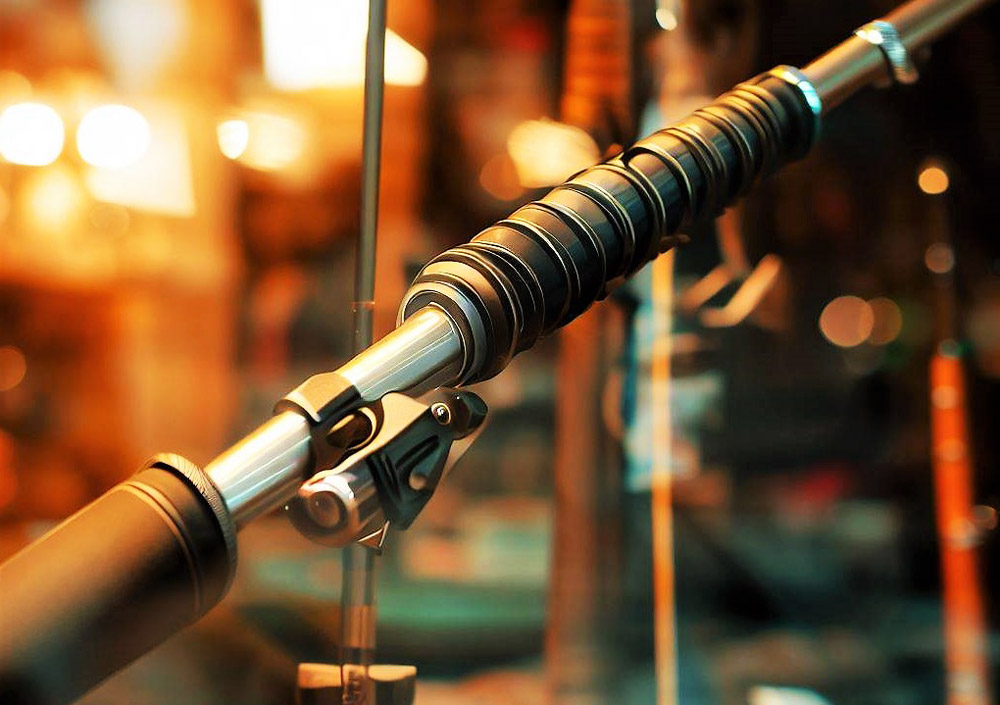 An Angler's Journey: My Experience with Telescopic Rods
Over the years, I've had numerous experiences using telescopic fishing rods, and they've become a staple in my fishing gear collection. One memorable instance was when I was hiking in a remote area and came across a beautiful, isolated lake. Thanks to the compact size of my telescopic rod, I had it with me and could seize the unexpected opportunity for a peaceful fishing session.
Mastering the Rod: Pro Tips for Maximizing Your Telescopic Rod
🐠Through my experiences, I've gathered some useful tips to maximize the benefits of a telescopic fishing rod:
🎆

Always Extend Fully

: When using your telescopic rod, ensure you've fully extended and properly secured each segment. This helps maintain the rod's integrity and prevents it from collapsing during use.
🎆

Handle with Care

: Even though these rods are designed for portability, they still need careful handling. Avoid rough treatment and always clean and dry the rod before collapsing it for storage.
🎆

Practice Casting

: Casting with a telescopic rod can feel different from a traditional rod due to its extended length and flexibility. Practice your casting to get used to the feel and improve your accuracy.
Navigating the Challenges: Potential Drawbacks and How to Overcome Them
Like any tool, telescopic fishing rods come with their own set of potential drawbacks. One common issue is that due to their design, these rods may not offer the same level of sensitivity as a one-piece rod. This can be mitigated by choosing a high-quality telescopic rod made of sensitive materials like high-density carbon fiber.
Another challenge could be that segments may sometimes get stuck or the rod may collapse during use. Regular cleaning and lubricating of the joints can help prevent these problems. If the rod collapses during use, make sure you've properly extended and secured all segments.
🚩Telescopic fishing rods, with their convenience and portability, have transformed my fishing experiences. Despite a few minor drawbacks, with proper care and handling, these rods can be a valuable addition to any angler's gear collection.
Frequently Asked Questions about Telescopic Fishing Rods
Conclusion: Reeling It In The Value of Telescopic Fishing Rods
Our review is coming to an end, now you know about such a beautiful type of fishing rod as telescopic. This type of fishing rod is very convenient and compact, so it was able to gain popularity in the market. We have reviewed for you the 12 best telescopic fishing rods of different lengths, materials, prices, and quality so that you can precisely choose the fishing rod that suits you specifically. We hope this review has been helpful to you. If so, then share it on social networks.
In conclusion, the telescopic fishing rod is an innovation in fishing technology that has undoubtedly revolutionized the sport. Its versatility, combined with its convenience, makes it an excellent choice for both novice and experienced anglers alike.
With their collapsible design, these rods offer unmatched portability, allowing you to carry them virtually anywhere – be it a distant hiking trail or a sudden roadside stream. The variety of materials used in their construction caters to different needs, be it sensitivity, durability, or a balance of both. And despite the few challenges they may pose, these can be easily overcome with proper care, handling, and a little bit of practice.
Whether you're planning a remote fishing expedition or simply want to have a rod handy for those unexpected opportunities, a telescopic fishing rod can be an invaluable tool in your fishing arsenal.
As with any fishing equipment, it's crucial to choose a rod that matches your needs and preferences. So, consider the insights provided, explore the offerings from the top brands, and you're sure to find a telescopic rod that suits you perfectly.
🚩Remember, fishing is as much about the journey as it is about the catch. So, pack light, tread far, and let your telescopic rod be your faithful companion on your angling adventures.
Casting a Wider Net: Expanding Your Knowledge Through Further Reading
While writing this article, various sources were consulted to provide accurate and up-to-date information. These include product websites, customer reviews, and expert insights. Here are a few of them:
PLUSINNO. (2023). PLUSINNO Telescopic Fishing Rod. Retrieved from https://www.plusinno.com/collections/fishing-rod
KastKing. (2023). KastKing Blackhawk II Telescopic Fishing Rod. Retrieved from https://www.kastking.com/blackhawk-ii-telescopic-fishing-rod_p0132.html
Shimano. (2023). Shimano STC Telescopic Fishing Rod. Retrieved from https://fish.shimano-eu.com/content/fish/eu/en/home/products0/rods/stc-telescopic.html
Sougayilang. (2023). Sougayilang Telescopic Fishing Rod. Retrieved from https://www.sougayilang.com/collections/telescopic-fishing-rod
The Ultimate Guide to Fishing Rods – Which Type of Rod to Buy and Why, by Kevin V. (2023). Retrieved from https://www.fishingperfect.com/fishing-rods-guide/
Choosing a Fishing Rod: Factors to Consider, Outdoor Canada (2023). Retrieved from https://www.outdoorcanada.ca/choosing-a-fishing-rod/
Proper Care and Maintenance of Fishing Rods, by Ben Team, Kipper Outdoors (2023). Retrieved from https://www.kipperoutdoors.com/maintenance/
Please note that while these sources offer valuable information, personal experience, and anecdotal evidence have also played a significant role in creating this comprehensive guide.
Tags: #best telescopic fishing rod / #best telescopic fishing rod and reel / #best telescopic fishing rod and reel combo / #best telescopic fishing rod reviews / #what is the best telescopic fishing rod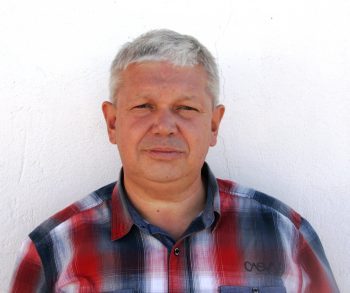 Sergio Smirnoff
Professional fisherman with 40+ years of experience.
Fishing and the ocean is a passion of my life. I am passionate about all kinds of sea fishing: fishing from the shore (spinning, float, baitcasting), from a boat, and spearfishing day and night.
I live in Tenerife (Canary Islands) for the last 10+ years and share my daily fishing experiences on my website. Many years of personal experience as a fisherman and the vast experience of my friends allow me to write professionally on any fishing topics (from choosing a flashlight and equipment to deep-sea fishing).
All of my advice is based on practical real-world experience and will be useful to both novice anglers and professionals.
Read more
about the author.
Affiliate Disclosure: FishReeler.com sometimes gets paid for listings, through sponsors or affiliate programs like Amazon, Ebay, Cabelas, Bass Pro Shop, Shimano, Daiwa, Rapala, Renn, Okuma, KastKing, etс. Clicking a link helps keep FishReeler.com free, at no extra cost to you!
About the author: Each article is verified by the fishing expert Sergio Smirnoff. The articles are written by professional and amateur fishermen with 20+ years of fishing experience.
Note: The views and opinions expressed in this article are those of the authors and do not necessarily reflect the official policy or position of any agency. The articles are for informational purposes only, share your opinions in the comments and join the fishing discussions, let's share our fishing experiences together!