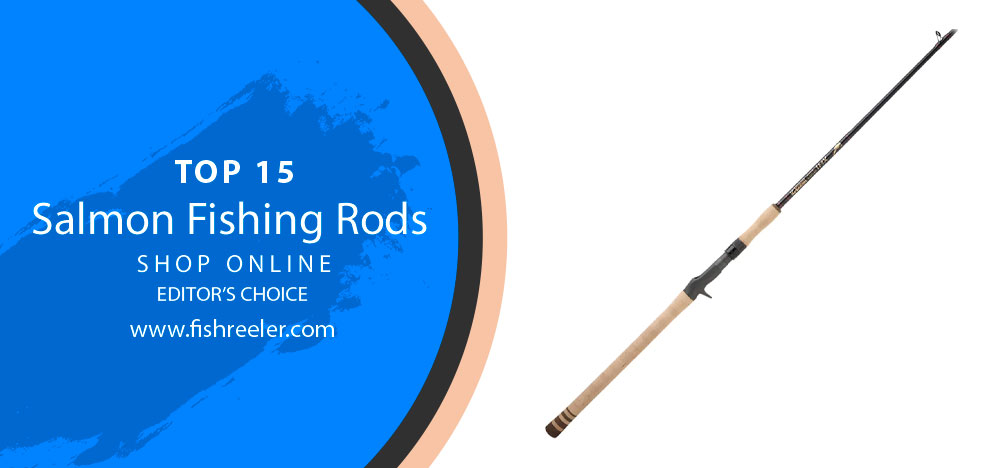 The Ultimate Guide to Salmon Fishing Rods: Choosing the Best Rod for Your Next Catch
The Role of the Perfect Salmon Fishing Rod
When it comes to salmon fishing, having the right fishing rod can significantly impact your success and enjoyment. A well-suited rod for salmon fishing not only improves your chances of hooking and landing these powerful and determined fish but also enhances your overall fishing experience. The appropriate rod will enable you to cast accurately, feel subtle bites, and effectively handle the strength and acrobatics of the fish.
Navigating the Waters: A Comprehensive Guide to Salmon Fishing Rods
The purpose of this article is to provide you with a comprehensive guide to help you select the best salmon fishing rod for your needs. Whether you're a seasoned angler or just starting out in the world of salmon fishing, this guide will offer insights into the essential features, materials, and brands to consider when choosing the right rod. By the end of this article, you'll have the knowledge and confidence to make an informed decision and ultimately improve your salmon fishing success.
Best Salmon Fishing Rods Review
If you're a fisherman, then you know that the right fishing rod is crucial for a successful catch. So, if you're in the market for a new salmon fishing rod, check out our list of the top-rated rods on the market today. We've got everything from affordable options to high-end models, so there's sure to be something perfect for your needs.
In this blog post, we will take a look at some of the best salmon fishing rods on the market today. These rods have been rated by fishermen as being some of the highest quality and most effective options out there. Whether you are a beginner or an experienced fisherman, read on to find the perfect salmon rod for you!
1# St. Croix Rods Triumph Salmon & Steelhead Casting Rod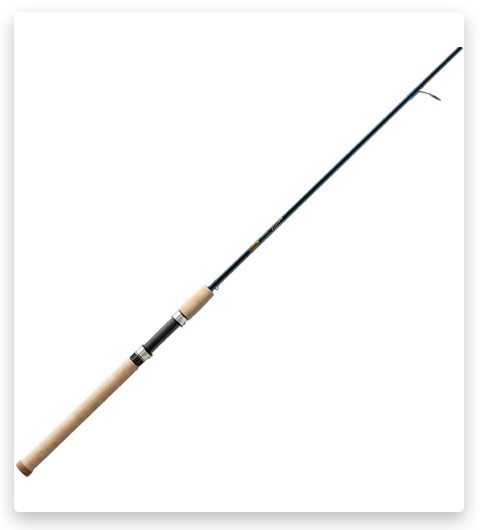 St. Croix Rods bring you the Triumph Salmon & Steelhead 2-Piece Casting Rod, a high-quality and reliable rod specifically designed for salmon and steelhead anglers. Combining exceptional performance and value, this rod is perfect for those who demand excellence on the water without breaking the bank. Key Features:
Premium SCII Graphite Blank Construction: The Triumph Salmon & Steelhead Casting Rod features a premium-quality SCII graphite blank, providing outstanding sensitivity, durability, and strength. This advanced material allows for a lightweight rod with the backbone needed to handle powerful salmon and steelhead.
Two-Piece Design: The 2-piece design of the rod makes it easy to transport and store, without compromising its performance. It conveniently breaks down into two sections, allowing you to pack it in your car, boat, or tackle bag with ease.
Fuji DPS Reel Seat: This casting rod is equipped with a high-quality Fuji DPS reel seat, ensuring a secure and comfortable fit for your reel. The reel seat is designed to keep your reel in place, providing a solid connection between the rod and reel for optimal performance.
Hard Aluminum-Oxide Guides with Black Frames: The Triumph Salmon & Steelhead Casting Rod features hard aluminum-oxide guides with sleek black frames, offering excellent durability and smooth line movement. These guides are designed to minimize friction, allowing for longer and more accurate casts.
Premium-Grade Cork Handle: The rod is fitted with a premium-grade cork handle, offering a comfortable and secure grip for extended periods on the water. The cork material also provides excellent sensitivity, helping you detect subtle bites and changes in your lure's movement.
Technique-Specific Actions: This casting rod comes in various lengths, power ratings, and actions to cater to different salmon and steelhead fishing techniques. Whether you're casting, trolling, or drift fishing, you can find a Triumph Salmon & Steelhead Casting Rod to suit your needs.
2# Okuma GSP-S-992ML Guide Select Pro Salmon Rod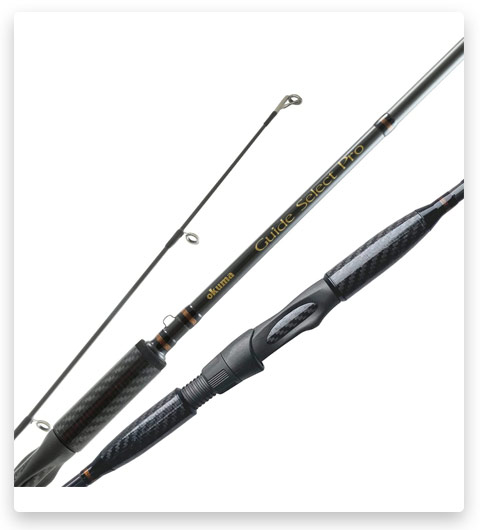 Looking for a high-quality salmon rod that won't break the bank? Check out the Okuma Guide Select Pro Salmon Rods. These rods are made of premium 3K woven carbon fibre, making them extremely responsive and durable. They also feature Fuji reel seats for maximum durability, making them perfect for both casting and spinning. So whether you're a beginner or a seasoned angler, the Okuma Guide Select Pro Salmon Rods are a great choice for anyone looking for a great value salmon rod.
3# Piscifun Flame Spinning Rod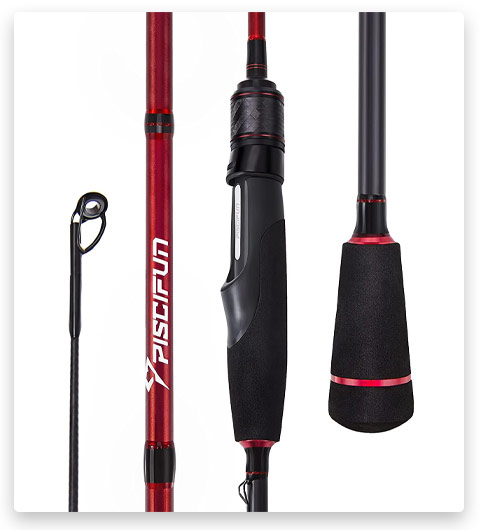 Check out the Piscifun Flame! This IM6 graphite rod is incredibly powerful and sensitive, perfect for a range of fishing styles. The spigot joint design ensures smooth power transition and unbeatable control, while the stainless steel and ceramic guides make for smooth, friction-free casting. And best of all, the Flame series is built to last, meaning you'll enjoy years of great fishing performances. So don't wait any longer, order your Piscifun Flame today!
4# Sougayilang Telescopic Fishing Rod for Salmon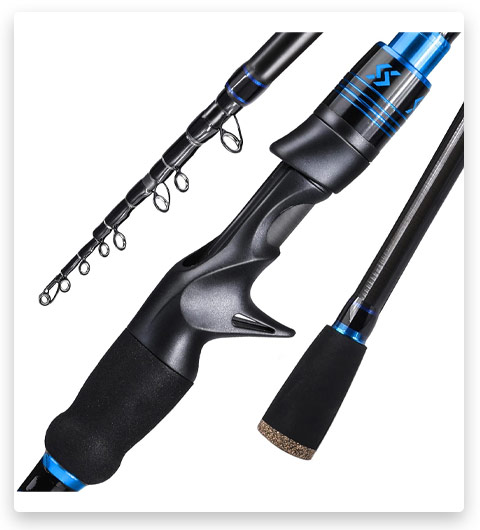 Introducing the Sougayilang Telescopic Fishing Rod. This rod is made from a durable carbon fibre matrix and can extend to accommodate different fishing situations. It's also available in three colours and 12 different sizes, so you're sure to find the perfect fit for your needs. Plus, the telescopic design makes it easy to transport and store, so you can enjoy fishing anytime, anywhere. So don't wait any longer, get your Sougayilang Telescopic Fishing Rod today!
5# KastKing Blackhawk II Telescopic Fishing Rod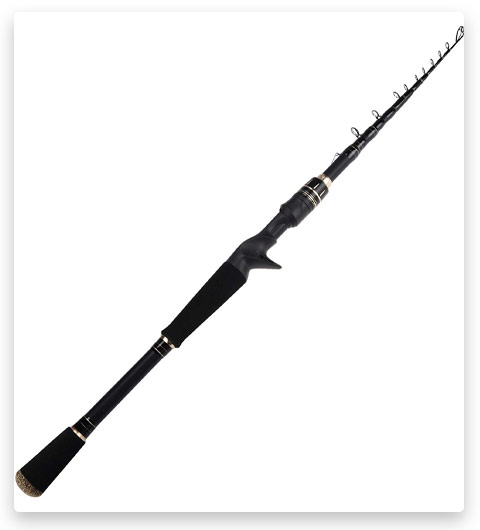 The KastKing Blackhawk II is a perfect choice if you need a high-quality, performance-driven telescopic fishing rod! These rods are designed with KastFlex Technology and a Toray 24-Ton Carbon Matrix blank to deliver unbeatable sensitivity and performance. Whether you're an experienced angler or just starting out, the Blackhawk II is perfect for any fishing adventure. The one-piece design in a six-piece telescopic rod is easy to use and transport and the multiple floating line guides improve casting performance. So don't miss out on your next big catch – get your KastKing Blackhawk II today!
6# Okuma Celilo Graphite Salmon/Steelhead Spinning Rod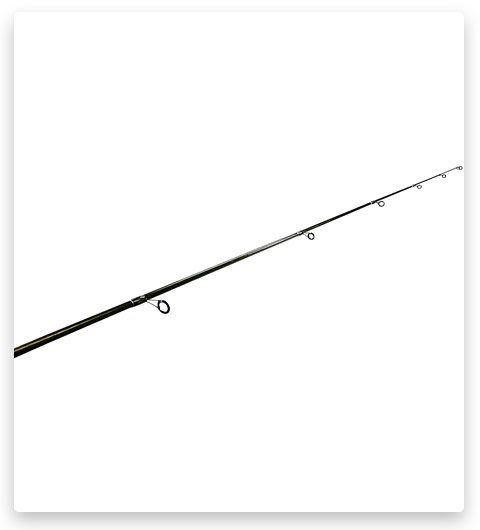 Looking for a versatile and reliable spinning rod that can handle anything you throw at it? Look no further than the Okuma Celilo Graphite Salmon/Steelhead Spinning Rods. These bad boys are made from the highest quality materials and are tested for reliability and quality, so you know they can take a beating. Plus, they're used by professionals worldwide, so you know they're the real deal. What sets the Okuma Celilo Graphite Salmon/Steelhead Spinning Rods apart from the competition is their sensitive graphite blank construction and aluminium oxide guide inserts. This combination gives you unbeatable strength and sensitivity, so you can feel even the slightest bit.
7# Tica HLHB Alaska Salmon Steelhead Fishing Rod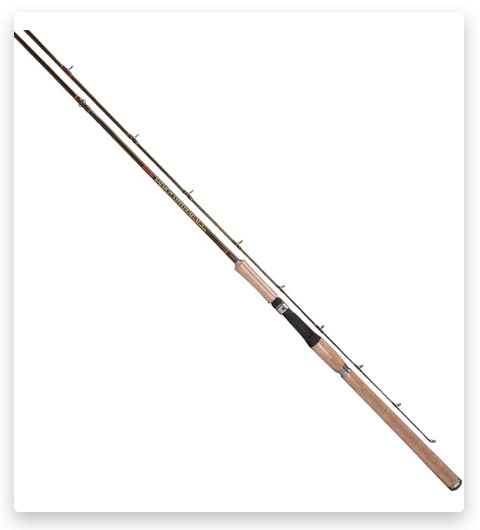 The Tica HLHB Alaska Salmon Steelhead Fishing Rod Series is perfect for anglers who demand the very best. These rods are constructed of high modulus TC2 graphite material for exceptional strength and sensitivity. The light and sensitive blank ensure perfect action, while the high-quality graphite trigger and TICA graphite APS reel seat provide outstanding casting performance. The Fuji Hardloy ring guides to complete the package, ensuring smooth line travel and durability. The comfortable cork handle provides all-day comfort, even during extended fishing sessions. Whether you're casting for salmon or steelhead, the Tica HLHB Alaska Salmon Steelhead Fishing Rod Series is sure to give you the edge you need to be successful.
8# 13 FISHING Fate Steel Salmon/Steelhead Spinning Fishing Rod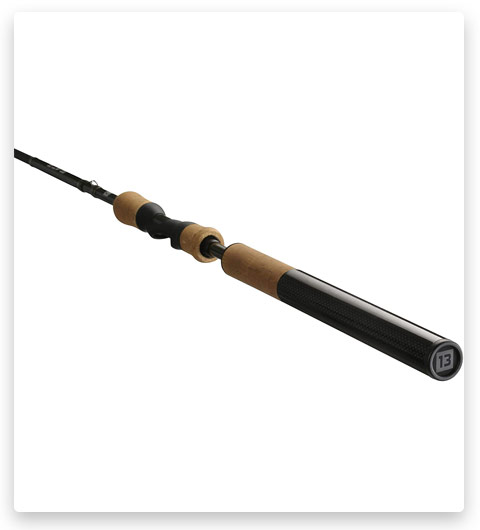 Hook into a good time with the Fate Steel Salmon/Steelhead Spinning Fishing Rod from 13 FISHING. This high-quality fishing rod is made of Japanese 30 Ton HTC 3 blank construction for reliable strength and sensitivity, while the Evolve soft touch engages the reel seat ensuring all-day comfort during your fishing adventures. The 2A cork handle provides a firm grip, even when wet, and the ALPS stainless steel guides with zirconia inserts keep your line in place for accurate casting. The black carbon fibre finish completes the modern look of this versatile fishing rod.
9# BERRYPRO Salmon & Steelhead Spinning Rod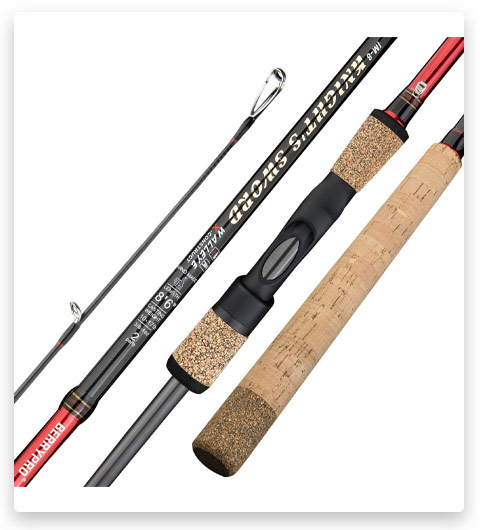 Check out the BERRYPRO Salmon & Steelhead Spinning Rod! This top-of-the-line rod is constructed with IM8 X-Carbon technology blanks, meaning it's incredibly light and strong. It's also specially designed for walleye, salmon, and steelhead fishing, but can be easily adaptable to other types of fish. Plus, the high-quality stainless steel guides with ceramic rings make for smooth and precise casting. And finally, the ergonomically shaped reel seat and cork handle provide added comfort and grip. So whether you're a seasoned pro or just starting out, the BERRYPRO Salmon & Steelhead Spinning Rod is a good choice.
10# Shimano Technium Casting Freshwater Salmon Fishing Rod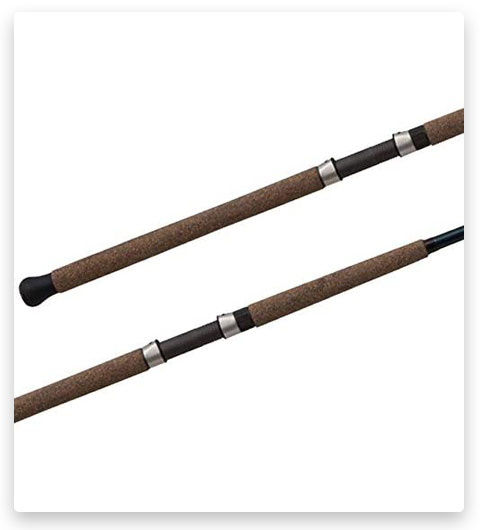 The Shimano Technium Casting Fishing Rods are perfect for the West Coast's unique fishing requirements. With a glass core and graphite carbon-wrapped blank, these rods offer a high strength-to-weight ratio, making them perfect for any angler. The Fuji O Guides and Fuji Reel Seat provide purpose-driven components that are of the highest quality, ensuring that you have a great day out on the water. The cork handle provides a comfortable grip, so you can fish all day without fatigue. Order your Shimano Technium Casting Fishing Rod today and enjoy the perfect day out on the water!
11# Bass Pro Shops Fish Eagle Salmon/Steelhead Spinning Rod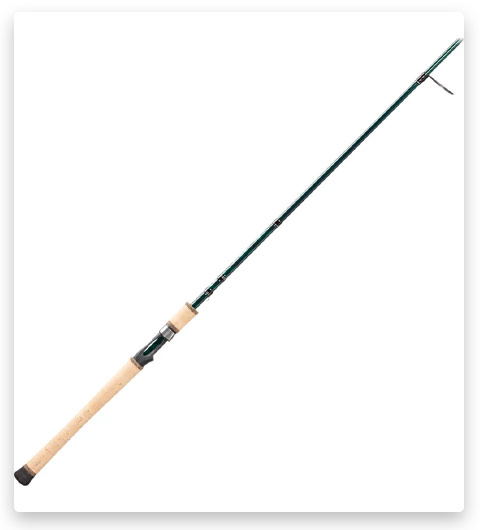 Introducing the Bass Pro Shops Fish Eagle Salmon/Steelhead Spinning Rod. This tough rod is made with RT3 graphite for exceptional strength and sensitivity, so you can feel even the lightest nibbles. It also has a carbon cross-wrap butt section for added strength, plus Sea Guide stainless steel tangle-free guides with aluminium oxide inserts. The result is increased casting distance and durability. For comfort, there's a premium cork handle with rubberized-cork trim and reverse-taper foregrip. Get ready to land your next trophy fish with the Bass Pro Shops Fish Eagle Salmon/Steelhead Spinning Rod.
12# G. Loomis IMX Salmon Trolling Casting Rod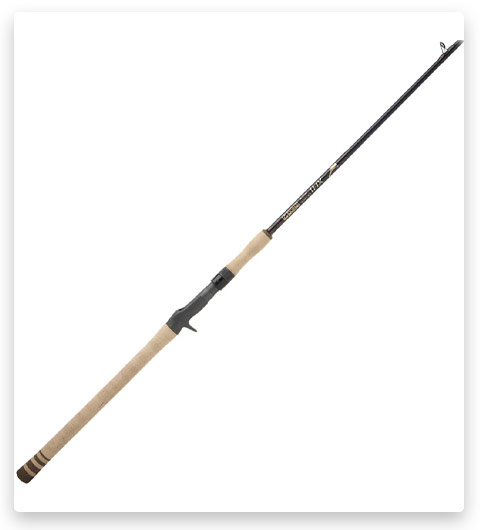 Do you love salmon fishing? Then you need a rod that can handle the big ones! The G. Loomis IMX Salmon Trolling Casting Rod is just what you need. With a butt section that's powerful enough to control large salmon and a softer upper blank for more delicate fish, this rod is the perfect blend of power and sensitivity. Plus, it's lightweight and balanced for total control and minimum fatigue. So whether you're working baits or fighting fish, this rod will give you the leverage and performance you need to land the big one!
13# Lamiglas Redline HS Series Casting Rod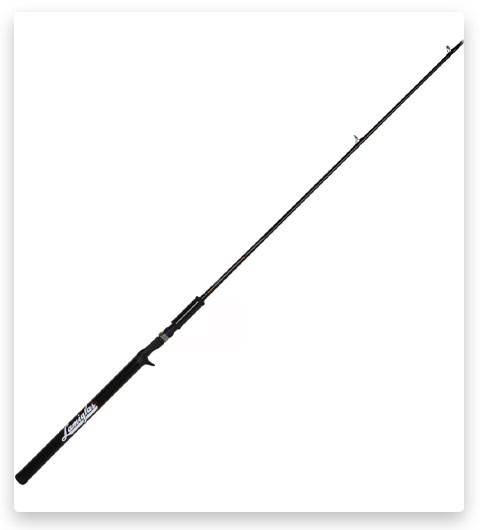 The Lamiglas Redline HS Series Casting Rod is the perfect choice for salmon and steelhead fishing. The rod is hand-crafted using a new production technique and graphite interlace system, and custom-made mandrels. This results in a high-quality rod that is extremely durable. The composite graphite handles provide a non-slip grip in wet conditions.
14# Eagle Claw EC2.5 Salmon/Steelhead Spinning Rod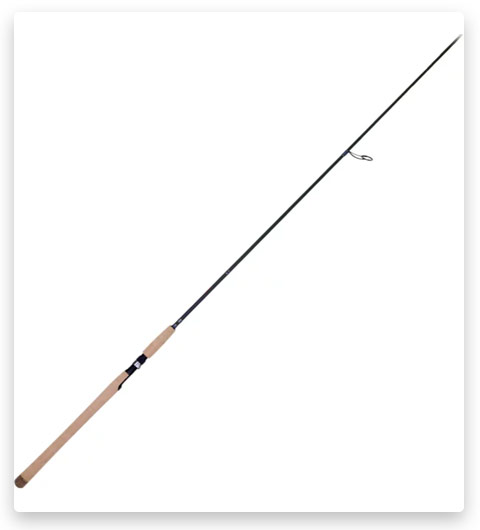 Looking to target salmon and steelhead? Then you're going to want the Eagle Claw EC2.5 Salmon/Steelhead Spinning Rod. Built on a durable 30-ton graphite 2-piece blank, this rod is both strong and sensitive – perfect for those classic salmon/steelhead presentations. The Seaside Hero guides provide smooth, consistent casting, while the lightweight graphite reel seat ensures hours of comfortable fishing. And for added control and comfort, the full cork handle provides a great grip. So whether you're a novice angler or a seasoned pro, the Eagle Claw EC2.5 Salmon/Steelhead Spinning Rod is sure to help you land the big one!
15# Douglas LRS Spinning/Trolling Rod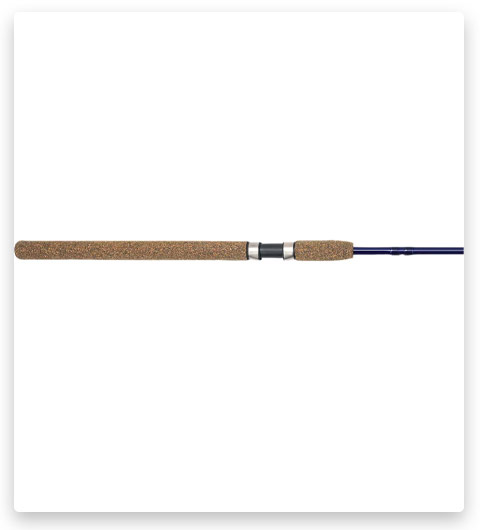 The Douglas LRS Spinning/Trolling Rod was designed with the angler in mind. The tactical, ergonomic design is comfortable to use and the superior strength-to-weight ratio ensures that you can fish all day without getting tired. The light, durable graphite/hybrid multi-modulus blank is perfect for fishing in all conditions, and the braid-friendly Fuji CC Fazlite guides make it easy to cast your line. The welded Fuji CC Fazlite tip-top prevents line wrap, and the quality reel seat with hidden thread is perfect for attaching your reel. The full cork, synthetic, or carbon grips provide a comfortable grip even when wet.
Understanding Salmon Fishing: Techniques and Environments
Know Your Catch: Salmon Species and Habitats Uncovered
👾There are several species of salmon that anglers target, each with its unique characteristics and habitats. The most common species include:
Chinook (King) Salmon: The largest and most sought-after salmon species, found primarily in the Pacific Northwest, Alaska, and parts of the Great Lakes.
Coho (Silver) Salmon: Smaller than Chinook, but still highly prized by anglers, Coho are native to the Pacific Northwest, Alaska, and some parts of the Great Lakes.
Sockeye (Red) Salmon: Known for their distinctive red color during spawning, Sockeye are found in the Pacific Northwest, Alaska, and parts of the Great Lakes.
Pink (Humpy) Salmon: The smallest and most abundant salmon species, found mainly in Alaska, the Pacific Northwest, and some areas of the Great Lakes.
Atlantic Salmon: Native to the Atlantic Ocean and some North American rivers, these salmon are more commonly found in Europe and the northeastern United States.
Mastering the Art of Salmon Fishing: Techniques for Every Angler
👾There are various techniques for salmon fishing, depending on the environment, targeted species, and personal preferences. Some of the most common methods include:
Trolling: A popular technique for open water and large rivers, trolling involves dragging lures or baited hooks behind a moving boat.
Casting: Using spinning, baitcasting, or fly rods, anglers cast lures or bait into areas where salmon are likely to be, such as around structure or current breaks.
Fly Fishing: A specialized form of casting, fly fishing uses lightweight artificial flies designed to imitate insects, baitfish, or other natural prey to entice salmon to bite.
Drift Fishing: Common in river environments, drift fishing involves allowing your bait or lures to drift naturally with the current, presenting it to salmon holding in deeper water or near the bottom.
Jigging: Jigging involves dropping a weighted lure to the bottom and then repeatedly lifting and dropping it, attracting salmon with its erratic, lifelike motion.
Factors to Consider: The Art of Choosing the Ideal Salmon Rod
👾When choosing the right salmon fishing rod, several factors can influence your decision:
Water Conditions: The size and type of water you're fishing (large rivers, small streams, or oceans) can dictate the length, power, and action of the rod you need.
Targeted Species: The species of salmon you're targeting will affect your choice of rod, as larger fish like Chinook may require heavier power and longer rods, while smaller species like Pink salmon may call for lighter power and shorter rods.
Preferred Technique: Your preferred fishing technique will play a significant role in choosing the right rod, as different methods require rods with specific actions, lengths, and powers for optimal performance. For example, fly fishing rods differ greatly from trolling or casting rods in terms of design and intended use.
Key Features of Salmon Fishing Rods
The Long and Short of It: Rod Length's Impact on Your Catch
🐟Rod Length: Casting Distance and Leverage
The length of a salmon fishing rod plays a crucial role in determining casting distance and leverage. Longer rods generally provide greater casting distance, allowing anglers to cover more water and reach farther-away salmon. Additionally, longer rods offer better leverage when fighting a strong fish, giving the angler an advantage in controlling and landing the catch.
🐟Ideal Rod Length for Techniques and Environments
Different salmon fishing techniques and environments call for varying rod lengths. Here are some general recommendations:
Trolling: 8-10 feet, providing longer casts and better leverage when fighting fish from a moving boat.
Casting: 8-10 feet for large rivers, 7-9 feet for smaller streams or confined spaces.
Fly Fishing: 9-12 feet, depending on the size of the water and desired casting distance.
Drift Fishing: 8-10 feet, offering greater sensitivity and control over drifting bait or lures.
Jigging: 6-8 feet, giving anglers better control over vertical jigging techniques.
Flex Your Fishing Muscles: The Power Factor in Salmon Rods
🐟Rod Power: Definition and Importance for Salmon Fishing
Rod power refers to the amount of force required to bend the rod. Ranging from ultralight to heavy, power determines the rod's ability to handle the size and strength of the fish being targeted. For salmon fishing, having a rod with the appropriate power is essential for effectively casting lures or bait, setting the hook, and battling the fish.
🐟Recommendations for Choosing the Right Power
When selecting the right power for a salmon fishing rod, consider the size of the salmon you are targeting:
Chinook: Medium-heavy to heavy power, for handling their strength and size.
Coho: Medium to medium-heavy power, as they are smaller but still strong fighters.
Sockeye, Pink, and Atlantic: Medium power, suitable for their size and fighting abilities.
Action Speaks Louder: Selecting the Right Action for Your Technique
🐟Rod Action: Definition and Role in Salmon Fishing
Rod action refers to the point at which the rod bends when pressure is applied. Actions range from slow (bending closer to the handle) to fast (bending near the tip). In salmon fishing, the action plays a significant role in casting, hook-setting, and overall rod performance.
🐟Benefits of Different Rod Actions
Different rod actions offer various benefits for salmon fishing techniques and situations:
Slow Action: Better for lighter lures and more delicate presentations, often used in fly fishing.
Moderate Action: Versatile for various techniques, providing a balance between casting distance and sensitivity.
Fast Action: Ideal for longer casts, quicker hook sets, and heavier lures or bait, commonly used in trolling, casting, and jigging techniques.
Material Matters: Comparing Graphite, Fiberglass, and Composite Rods
🐟Common Materials in Salmon Fishing Rods
Salmon fishing rods are typically made from graphite, fiberglass, or a composite of both materials. Each material has its characteristics that affect the rod's performance, weight, and durability.
🐟Benefits and Drawbacks of Each Material
Graphite: Lightweight, sensitive, and stiff, graphite rods are great for detecting subtle bites and providing quick hook sets. However, they can be more brittle and prone to breakage compared to fiberglass rods.
Fiberglass: Heavier and more durable than graphite, fiberglass rods offer greater flexibility and shock absorption, making them suitable for battling strong fish. They tend to be less sensitive, though and may require more effort to cast.
Composite: Combining the benefits of both graphite and fiberglass, composite rods provide a balance of sensitivity, durability, and flexibility. They may be slightly heavier than pure graphite rods but still offer a versatile option for salmon fishing.
Top Salmon Fishing Rod Brands and Models
Reeling in the Best: Leading Brands in Salmon Fishing Rods
When it comes to salmon fishing rods, there are several reputable brands that consistently produce high-quality, reliable products. Some of the leading brands in the market for salmon fishing rods include:
G. Loomis
St. Croix
Lamiglas
Ugly Stik
Fenwick
Cream of the Crop: Top Salmon Rod Models for Every Angler
Here's a brief overview of some top salmon fishing rod models from these leading brands, highlighting their features and specifications:
| Rod Series | Explanation |
| --- | --- |
| G. Loomis E6X Salmon Series | These rods are designed specifically for salmon fishing, featuring high-quality graphite blanks, Fuji reel seats, and premium cork handles. They offer a range of lengths, power, and actions suitable for various techniques. |
| St. Croix Wild River Salmon & Steelhead Series | Designed for salmon and steelhead fishing, these rods feature high-modulus SCII graphite blanks, high-quality components, and a variety of lengths and power ratings, catering to different techniques and environments. |
| Lamiglas X-11 Salmon & Steelhead Series | The X-11 series offers a balance of sensitivity, strength, and affordability, making them a popular choice among salmon anglers. The rods feature IM7 graphite blanks, Fuji reel seats, and stainless-steel guides, and they come in various lengths and powers. |
| Ugly Stik Elite Salmon & Steelhead Series | Known for their durability, these rods feature a combination of graphite and fiberglass construction, providing strength and sensitivity. The series offers various lengths, actions, and powers suitable for salmon fishing techniques. |
| Fenwick HMX Salmon & Steelhead Series | These rods are designed with a blend of power, balance, and sensitivity, featuring high-quality graphite blanks, stainless steel guides, and TAC and cork handles. The series includes different lengths, power ratings, and actions for versatility in salmon fishing. |
Tailor-Made Recommendations: The Perfect Rod for Your Fishing Style
| Technique | Rod Model & Explanation |
| --- | --- |
| Trolling | G. Loomis E6X Salmon Series and Lamiglas X-11 Series offer options with the right combination of length, power, and action for effective trolling. |
| Casting | St. Croix Wild River Series and Fenwick HMX Series provide a balance of sensitivity and power, suitable for casting techniques in various environments. |
| Fly Fishing | G. Loomis E6X Salmon Series and St. Croix Wild River Series both have fly fishing rod options designed specifically for targeting salmon. |
| Drift Fishing | Ugly Stik Elite Salmon & Steelhead Series and Lamiglas X-11 Series offer rods with the appropriate sensitivity and control needed for successful drift fishing. |
| Jigging | Fenwick HMX Series and G. Loomis E6X Salmon Series provide rods with the right power and action for effective jigging in salmon fishing situations. |
How to Properly Care for and Maintain Your Salmon Fishing Rod
Preserving Performance: The Importance of Rod Maintenance
Proper care and maintenance of your salmon fishing rod are crucial for ensuring optimal performance and extending its lifespan. A well-maintained rod will not only help you detect subtle bites more effectively but also increase your chances of landing a big catch. Regular maintenance can also prevent damage from wear and tear, saving you money on replacements or repairs in the long run.
TLC for Your Fishing Gear: Cleaning, Storing, and Transporting Tips
Cleaning: After each fishing trip, thoroughly rinse your rod with fresh water to remove any dirt, salt, or debris. For a deeper clean, use a mild soap and a soft cloth to gently wipe down the entire rod, paying special attention to the guides, reel seat, and handle. Rinse off the soap and allow the rod to air dry completely before storing it.
Storing: When storing your rod, ensure it is completely dry and kept in a cool, dry place away from direct sunlight. Use a rod rack or vertical storage system to keep the rod off the ground and prevent it from bending or warping over time. If possible, remove the reel and store it separately to avoid unnecessary stress on the rod.
Transporting: Use a rod case or protective sleeve to safeguard your rod during transportation. This will help prevent scratches, dents, or breakage caused by accidental impacts. Always disassemble multi-piece rods before transport to minimize potential damage.
Handling Hiccups: Tackling Minor Repairs and When to Seek Help
Minor Repairs: Some common minor repairs that anglers can handle themselves include replacing damaged line guides or fixing loose reel seats. To replace a damaged guide, carefully remove it from the rod, clean the area around the guide, and use rod guide adhesive to secure the new guide in place. For a loose reel seat, use a strong adhesive or epoxy to reattach it to the rod.
When to Seek Professional Assistance: In cases of more extensive damage, such as a broken rod blank or a severely damaged handle, it's best to consult a professional rod repair service. Attempting to fix these issues without the proper knowledge or tools can result in further damage or compromise the integrity of the rod. Additionally, if your rod is still under warranty, consult the manufacturer before attempting any repairs to ensure that the warranty remains valid.
FAQ
Conclusion
The Reel Deal: Reflecting on the Importance of the Right Salmon Fishing Rod
In conclusion, selecting the right salmon fishing rod is crucial to your success and enjoyment on the water. A well-matched rod for the specific techniques, environments, and targeted salmon species will not only enhance your ability to detect bites but also improve your chances of landing that trophy catch.
Empowering Your Next Purchase: Using Our Guide for Informed Decisions
We encourage you to use the information provided in this guide to make an informed decision when purchasing your next salmon fishing rod. By considering factors such as rod length, power, action, and materials, along with the top brands and models available, you can invest in a rod that will serve you well for many seasons to come.
Wishing You Tight Lines and Memorable Salmon Fishing Adventures
As you venture out on your next salmon fishing excursion, we wish you the best of luck and an enjoyable time on the water. With the right rod in hand, you'll be well-equipped to tackle the challenges and rewards that salmon fishing has to offer. Tight lines and happy fishing!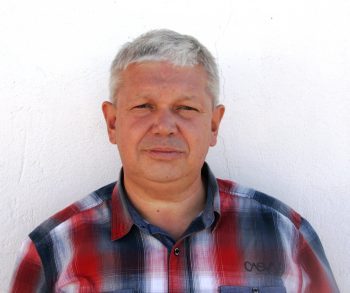 Sergio Smirnoff
Professional fisherman with 40+ years of experience.
Fishing and the ocean is a passion of my life. I am passionate about all kinds of sea fishing: fishing from the shore (spinning, float, baitcasting), from a boat, and spearfishing day and night.
I live in Tenerife (Canary Islands) for the last 10+ years and share my daily fishing experiences on my website. Many years of personal experience as a fisherman and the vast experience of my friends allow me to write professionally on any fishing topics (from choosing a flashlight and equipment to deep-sea fishing).
All of my advice is based on practical real-world experience and will be useful to both novice anglers and professionals.
Read more
about the author.
Affiliate Disclosure: FishReeler.com sometimes gets paid for listings, through sponsors or affiliate programs like Amazon, Ebay, Cabelas, Bass Pro Shop, Shimano, Daiwa, Rapala, Renn, Okuma, KastKing, etс. Clicking a link helps keep FishReeler.com free, at no extra cost to you!
About the author: Each article is verified by the fishing expert Sergio Smirnoff. The articles are written by professional and amateur fishermen with 20+ years of fishing experience.
Note: The views and opinions expressed in this article are those of the authors and do not necessarily reflect the official policy or position of any agency. The articles are for informational purposes only, share your opinions in the comments and join the fishing discussions, let's share our fishing experiences together!