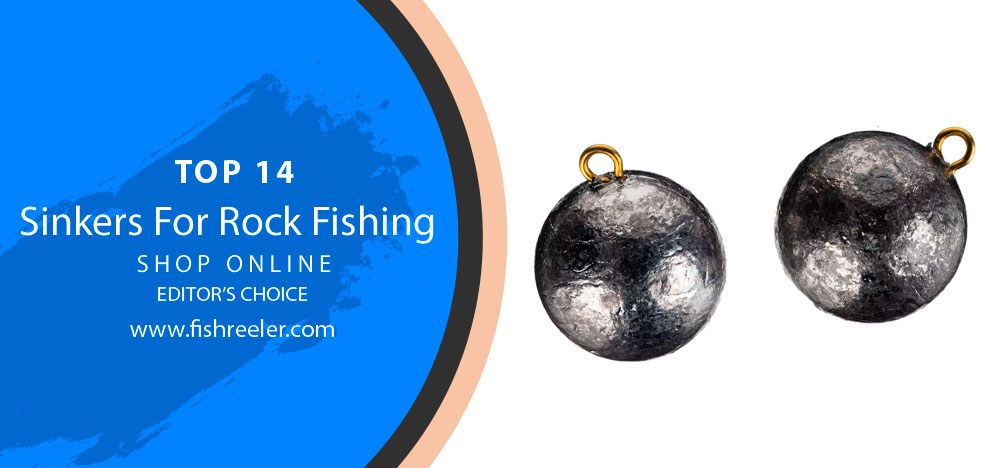 🎣 Mastering the Art of Rock Fishing: The Ultimate Guide to Sinkers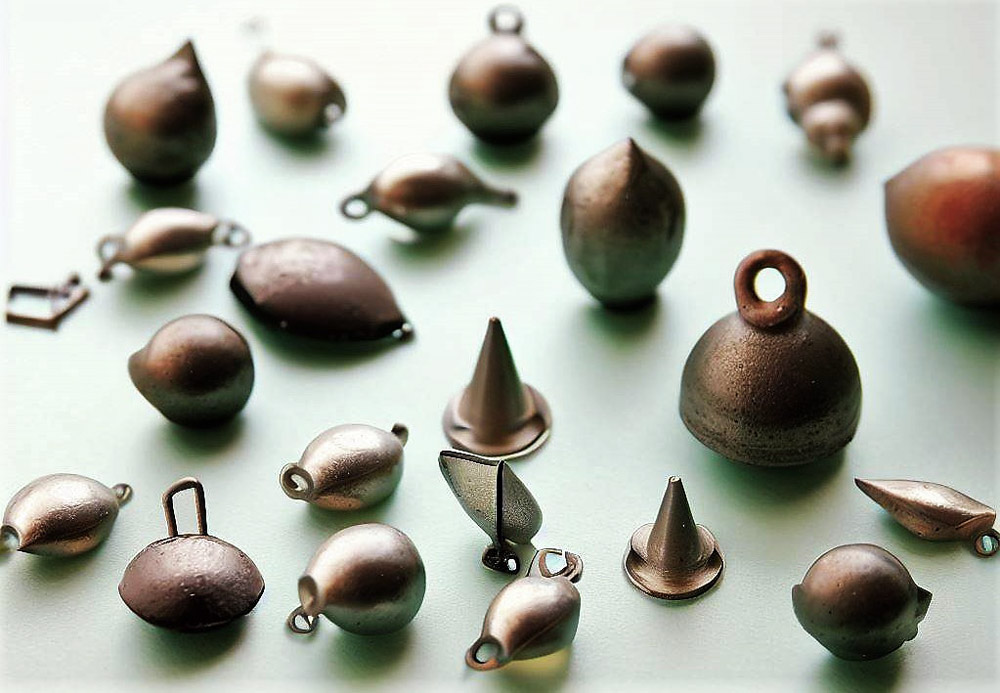 Setting Sail on the Journey of Rock Fishing 🚤
For those who seek thrill and tranquillity in the same place, rock fishing offers an unparalleled experience. Perched on rocky outcrops, with waves crashing against the rocks, it's not just fishing – it's an adventure!
But, as with any great adventure, being equipped with the right knowledge and gear is critical. This is where sinkers, the unsung heroes of your tackle box, come into play. 🏋️‍♂️
Understanding the role and effective use of sinkers can truly elevate your rock fishing experience. They help your bait reach the perfect depth, navigate the strong currents, and increase your odds of landing a successful catch. 🎯
In this article, we'll embark on a deep dive into the world of sinkers – from their basics and types to the art of choosing and using them in rock fishing. Whether you're a novice angler seeking to understand the fundamentals or a seasoned fisherman aiming to refine your skills, this guide has something for you. 📚
So, get ready to uncover the secrets of sinkers and transform your rock-fishing ventures into success stories. 🌟
🎯 The Basics of Sinkers – Your Ticket to Successful Rock Fishing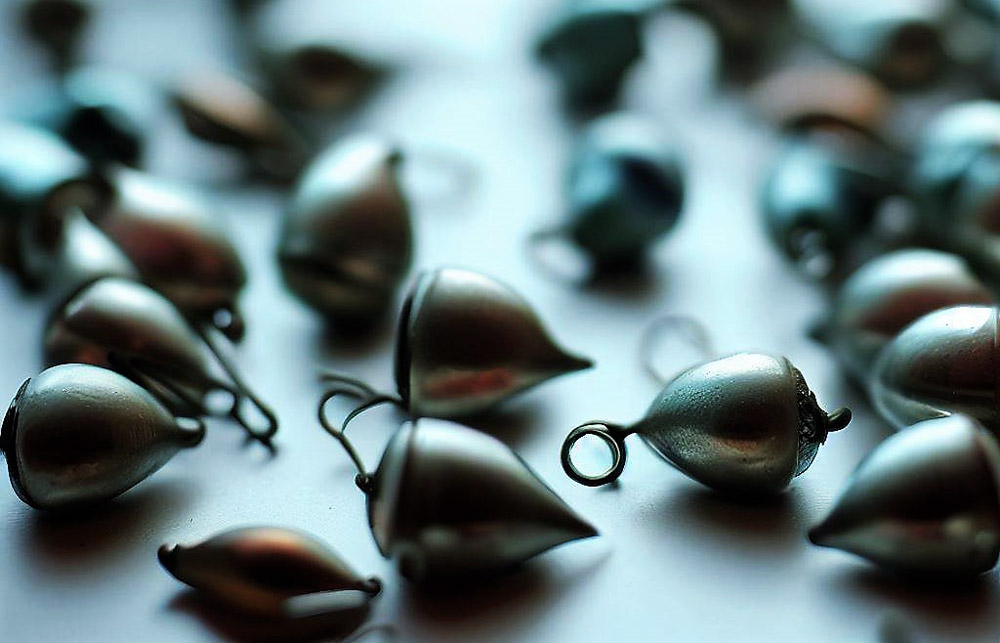 What's a Sinker? The Foundation of Your Fishing Tackle 🎣
So, what exactly is a sinker? Simply put, a sinker is a weight used in angling to force your bait or lure to sink more rapidly, reach the fish deeper in the water, and stay steadily in place amidst the pull of tides or currents. Its main objective? To get your bait where the fish are, and increase the chances of a fruitful catch. 🎯
Sinker in Action: Its Role and Function in Rock Fishing 🌊
The role of a sinker becomes even more significant in rock fishing. Why? Because you're often dealing with deep waters and strong currents. A sinker lets your bait descend to the depths where the rock-dwelling species are usually found. It also helps you to cast your line farther out into the sea. Simply put, a sinker enables you to fish more effectively, despite challenging conditions. 🌪️
Sinkers Unmasked: Materials and Their Impact on Your Fishing Experience 🏗️
Sinkers come in a variety of materials, each with its own set of advantages:
Lead: Lead sinkers are perhaps the most common and cost-effective. They're heavy for their size, which makes them great for casting long distances. However, they're being phased out in many places due to environmental concerns. 🌎
Steel and Tin: Steel and tin sinkers are environmentally friendly alternatives to lead. They're safe to handle, but may not cast as far or sink as quickly due to their lower density. 🔧
Tungsten: Tungsten sinkers are denser and harder than lead, allowing them to be smaller for the same weight. This makes them less noticeable to fish. They're a bit more expensive but are a great investment for serious anglers. 💎
Bismuth: Bismuth sinkers are another eco-friendly option. They're denser than steel or tin, but not quite as dense as lead. They're an excellent choice for anglers looking for a balance between performance and environmental impact. 🍃
Choosing the right material for your sinker can greatly affect your fishing performance. Remember, the right sinker doesn't just help you fish better – it also helps protect our aquatic ecosystems. So, choose wisely!
Stay with us as we plunge deeper into the different types of sinkers and their applications in the next part of our comprehensive guide. 🚀
🎦Video YouTube: Sinkers Needed For Rock Fishing
Best Sinkers For Rock Fishing Review
What's the best sinker for rock fishing? That's a question that has been asked by anglers for years, and there is no one-size-fits-all answer. Different sinkers work better in different situations, and it is important to know what type of sinker will work best for the type of rocks you are fishing on. In this article, we will take a look at some of the top-rated sinkers for rock fishing, and we will discuss when each type of sinker should be used. So if you're looking to buy a new sinker or just want to learn more about how they work, keep reading. In this blog post, we will share our top-rated sinkers for rock fishing and explain why they are so great. Stay tuned!
1# Offshore Angler Rock Cod Sinkers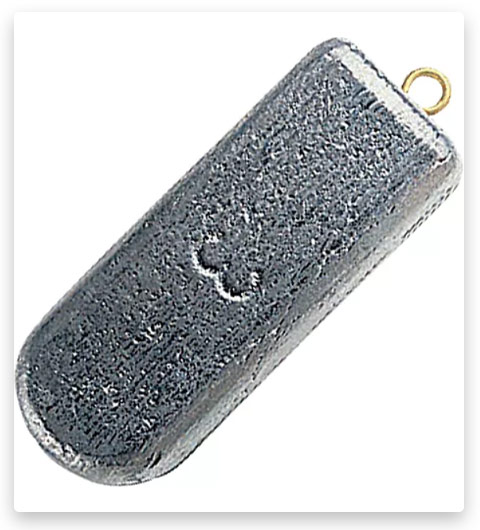 Looking to get down to the bottom where the big ones live? Offshore Angler Rock Cod Sinkers will take you there. These weights are up to 4 lbs and are sure to help you land that prize fish. So grab your pole and bait, and head on out for some serious fishing with these Rock Cod Sinkers.
2# Northland Fishing Tackle Rock Runner Slip Bouncer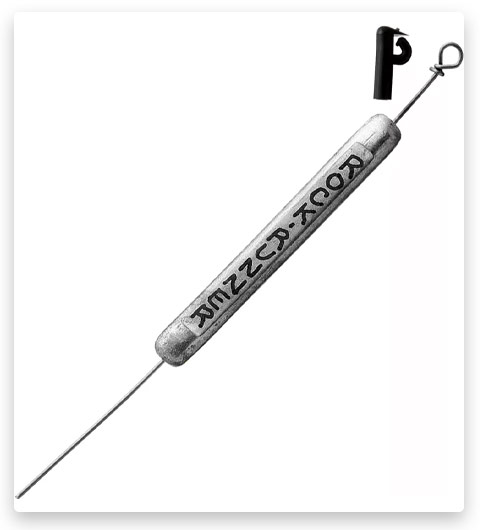 Quick-change versatility and superior feel make the Northland Fishing Tackle Rock Runner Slip Bouncer a must-have for serious anglers. This versatile bouncer can be used for trolling or drifting spinners, bait rigs, or shallow cranks, and features a 1-5/8″ wire feeler that glides over cover without hanging up. The included sliding snap makes it easy to change weights, making this an essential tool for any angler looking to up their game.
3# Bullet Weights Sturgeon Wedge Sinker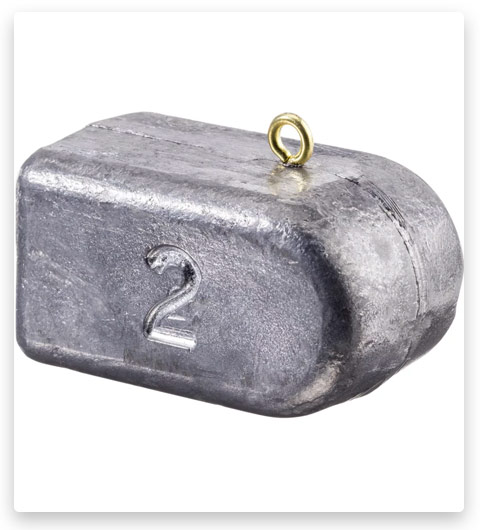 Bullet Weights Sturgeon Wedge Sinkers are designed for bottom fishing with heavy sturgeon gear. The Wedge Sinker style features unique eye placement that allows the weight to wedge into a rocky riverbed while maintaining direct-to-rod contact. Bullet Weights sinkers settle securely into the rocks and won't roll or drift, making them ideal for use in heavy currents.
4# Bullet Weights Ultra Steel Bass Casting Sinkers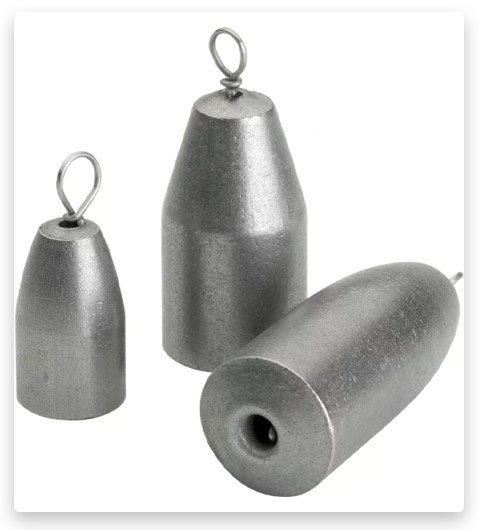 Lead weights can be a real pain, especially when they end up snagging on everything in sight. Say goodbye to those pesky weights with the Bullet Weights Ultra Steel Bass Casting Sinkers. These durable steel sinkers are environmentally friendly and retain their shape better than any other lead-free option out there. You'll be able to cast farther and quieter without worrying about your weight catching on to anything.
5# Bullet Weights Ultra Steel Egg Sinkers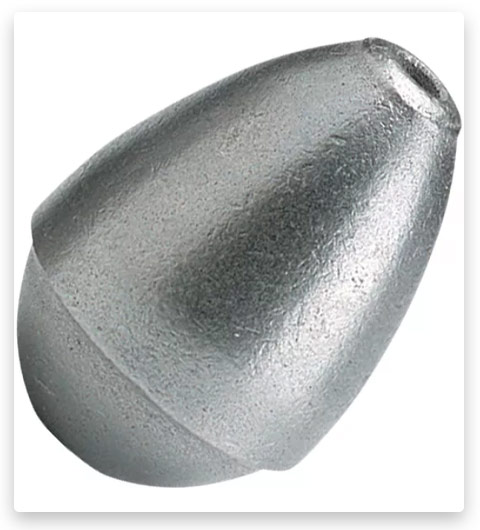 Bullet Weights Ultra Steel Egg Sinkers are the perfect choice for anglers looking for a lead-free and environmentally smart option. These sinkers are significantly harder and smoother than lead, which reduces line fray while delivering greater sensitivity and feel.
6# Bullet Weights Cannonball Lead Sinker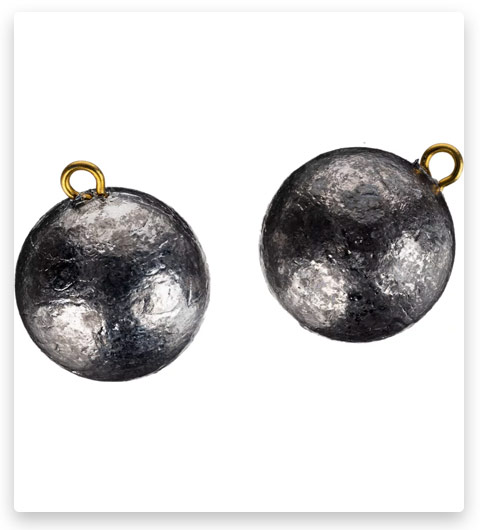 If you're looking for a lead sinker that quickly gets your rig down to the bottom, look no further than the Bullet Weights® Cannonball Lead Sinker. This spherical sinker minimizes water resistance on the drop, while its brass eye makes rigging easy.
7# Lunker City Lead-Free Round Bakudan Drop-Shot Weight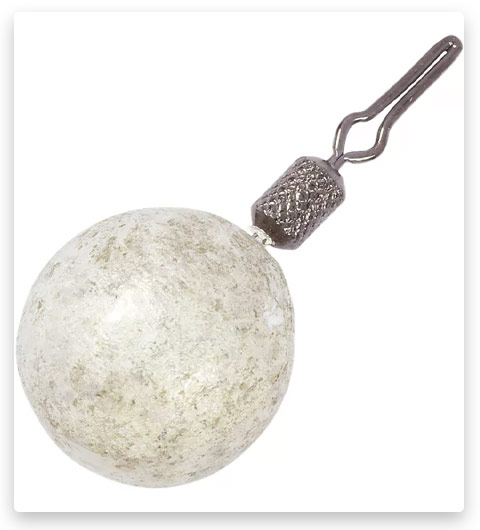 The Lunker City Lead-Free Round Bakudan Drop-Shot Weight is perfect for drop-shotting. This weight hugs the bottom and gives small lures a weightless action that can be shaken or drifted vertically to entice strikes. The swivel lets you change weights without tying or retying knots, and if you get hung up, the sinker can pull off without you losing your entire rig.
8# Bass Pro Shops Walleye Sinker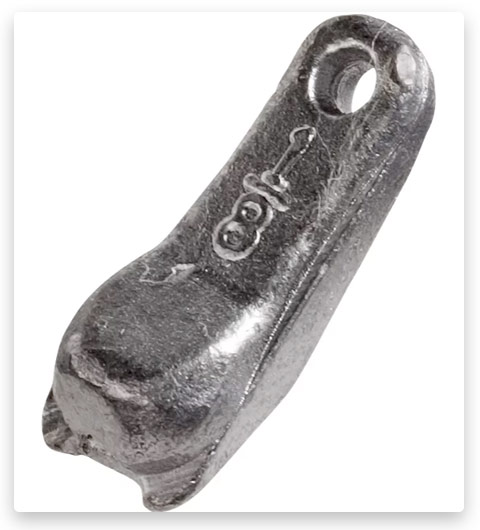 Looking to catch some walleye? Bass Pro Shops has you covered with our Walleye Sinker. These durable sinkers are designed to help you get your bait down to where the fish are hiding and keep it there. Plus, they come in a variety of weights so you can customize your tackle box for any situation. Get ready to reel in the big ones with Bass Pro Shops!
9# Lindy No-Snagg Slip Sinker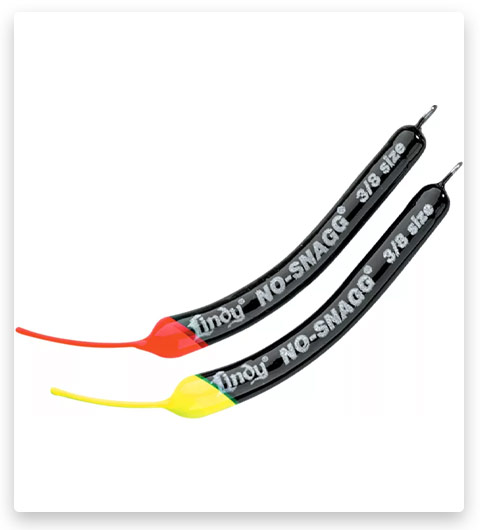 The Lindy® No-Snagg® Slip Sinker is a snag-free alternative for Carolina rigging or live bait presentations, designed by Ron Lindner. It offers a smooth, tangle-free glide over heavy cover without affecting bait presentation and action. The versatile slip sinker can be rigged as desired, but also works extremely well on a dropper line.
10# AMYSPORTS Fishing Weights Kit Lead Freshwater Fishing Sinkers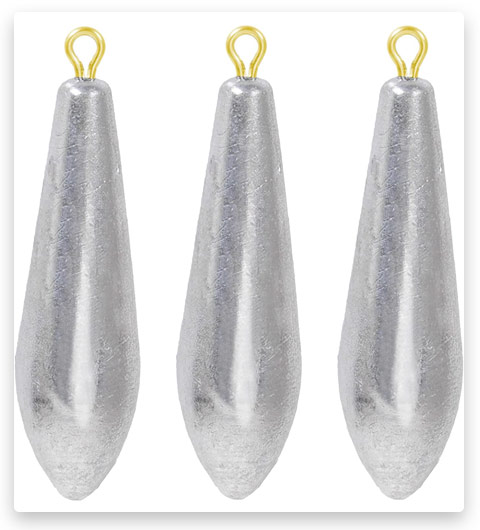 AMYSPORTS Drop Shot Fishing Weights Kit is a great addition to your fishing gear. These weights are designed to help you cast further and get your bait down quickly in the stream. The streamlined shape reduces splashes and noise, while the heavyweight ensures that your bait sinks fast. Get ready to reel in more fish with this essential kit!
11# Bullet Weights Disc Fishing Sinker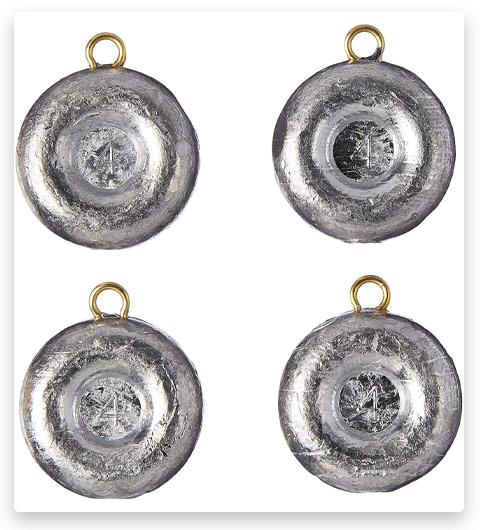 Bullet Weights Disc Fishing Sinkers are the perfect sinker for your next fishing trip. These weights are easy to use and require no batteries – simply insert them into your line and you're good to go! Made in the USA, these sinkers are high quality and durable.
12# Danielson Cannon Ball Fishing Sinkers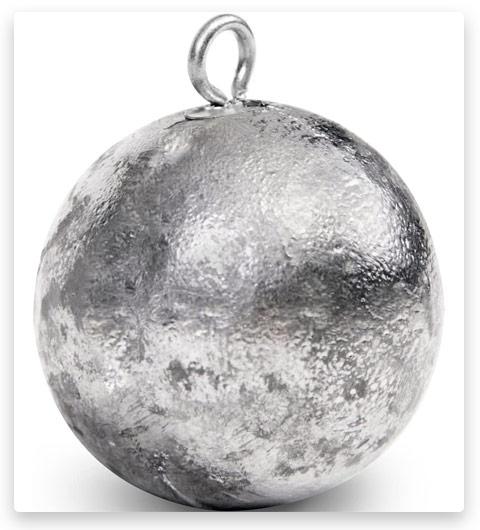 Looking for a quality fishing sinker that can help you get your line to the deepwater quickly and efficiently? Danielson Cannon Ball Fishing Sinkers are perfect for you! Made of high-quality, corrosion-resistant material, these sinkers are designed to last. Additionally, their round holes with no burrs make it easy for the fishing line to thread through, and their perfect design reduces the possibility of tangling with stones or rocks. So don't wait any longer – get yourself a Danielson Cannon Ball Fishing Sinker today and see the difference it makes in your fishing experience!
13# Croch Fishing sinkers Kits for Saltwater Freshwater Fishing Gear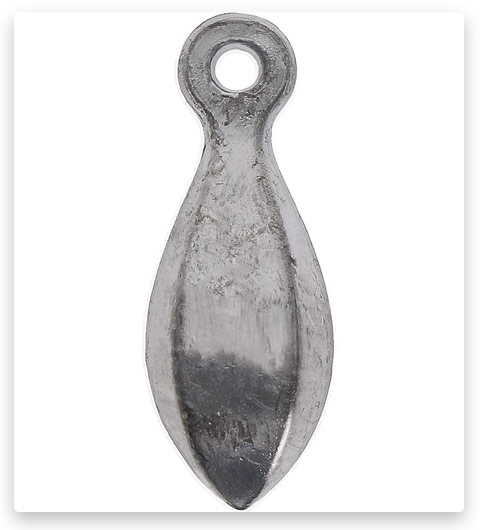 Are you an avid fisherman looking for high-quality sinkers that will help you get your line to the deepwater quickly and efficiently? If so, look no further than Croch Fishing Sinkers Kits. These sinkers are made of a high-quality material that is resistant to corrosion and ageing, meaning they will last you a long time. Additionally, their perfect design will reduce the possibility of tangling with stones or rocks, and the round holes with no burrs inside make it easy for wires or fishing lines to thread through. So don't wait any longer – get yourself a Croch Fishing Sinker Kit today and see the difference for yourself!
14# Sinrier Quick Set up Brass Fishing Sinker with Inner Swivel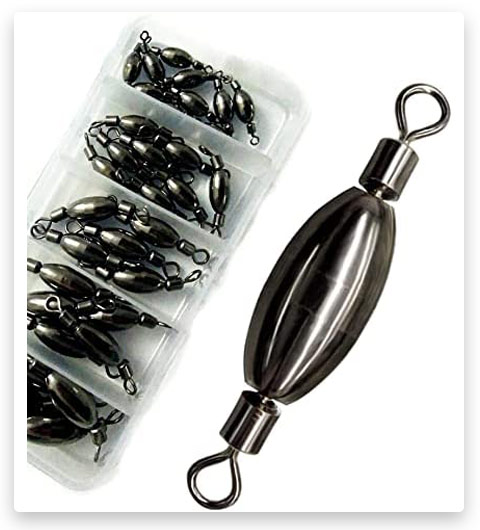 These Sinrier Saltwater Fishing Weights Swivel Bullet Sinkers are perfect for your next fishing expedition. Made of high-quality brass, these weights are strong and durable. The surface of the weights is nickel plated to prevent rusting, and they can be used in both saltwater and freshwater. The egg shape of the weights reduces resistance as they fall into the water, and they also rotate 360° Flexible from top to bottom with ease.
🎣 Types of Sinkers for Rock Fishing – A Close-Up on Your Key Fishing Ally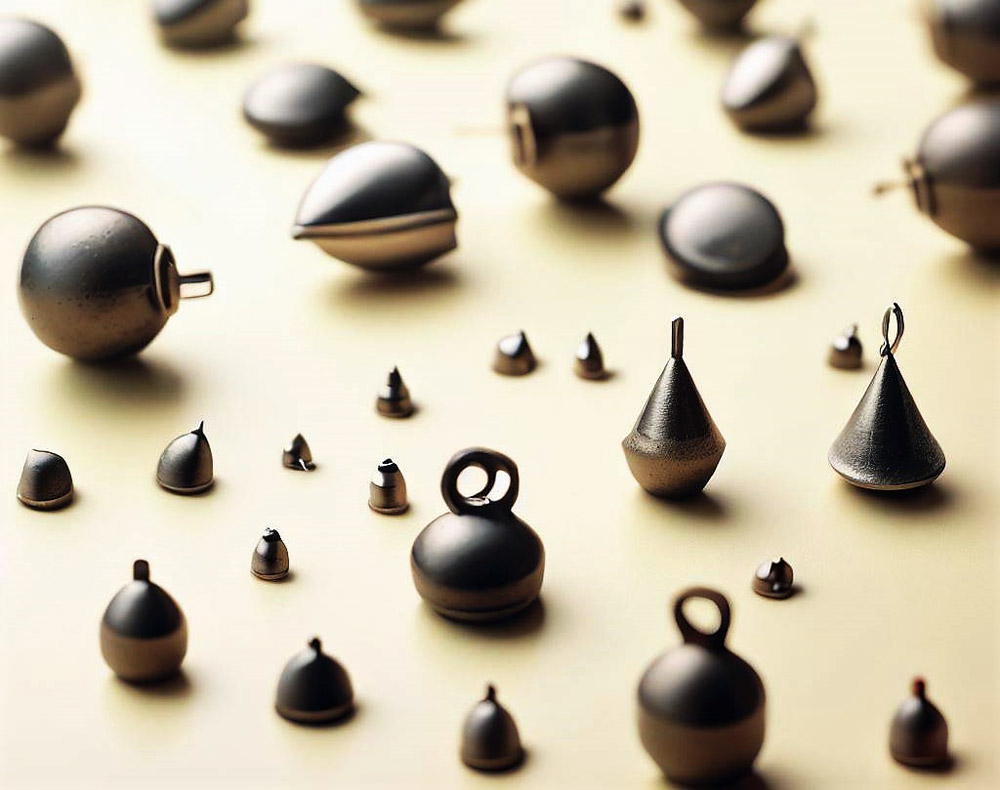 Plunging into the Depth: The Variety of Sinkers Used in Rock Fishing ⚖️
Sinkers aren't a one-size-fits-all piece of fishing gear. Just as you choose a fishing rod or reel specific to your situation, the selection of sinkers should also be done thoughtfully. Let's explore the different types of sinkers that can gear you up for success in rock fishing!
Bank Sinkers: The All-Rounder 🌐
Bank sinkers, with their rounded shape and versatile utility, are a popular choice among rock fishing enthusiasts. Their streamlined design allows for long casts and helps prevent snagging on the rocky bottom, making them ideal for heavy currents and uneven sea beds.
Egg Sinkers: The Stealthy Operator 🥚
Egg sinkers are shaped like an egg and have a hole through the center. They're perfect when you want your bait to move freely and naturally, as the line can pass through the sinker. They also enable a stealthy operation as the fish can take the bait without feeling the weight of the sinker. Smart, isn't it?
Pyramid Sinkers: The Sturdy Anchor ⚓
Pyramid sinkers are your best bet when you're dealing with strong currents. The unique pyramid shape helps them dig into the soft seabed, holding your bait in place. They're perfect for casting from rocks into deeper waters, ensuring your bait stays right where you want it!
Walking Sinkers: The Adaptable Companion 👣
Walking sinkers are a fantastic choice when you're unsure about the seabed's nature. Their unique design allows them to 'walk' over hard or rocky bottoms without getting snagged. It makes them particularly suited for rock fishing in areas with varied underwater terrains.
Other Sinkers: Exploring More Options 🔍
Other sinkers like bell, disc, or bullet sinkers can also be used in rock fishing under certain conditions. It's all about understanding your specific scenario and choosing the best tool for the job. Remember, the right sinker can make all the difference in your fishing expedition!
Having a good understanding of the different types of sinkers and their advantages can significantly improve your rock fishing game. The next step? Learning how to choose the right one, which we'll delve into in our next part. 📚
🎣 Choosing the Right Sinkers – Your Roadmap to a Successful Catch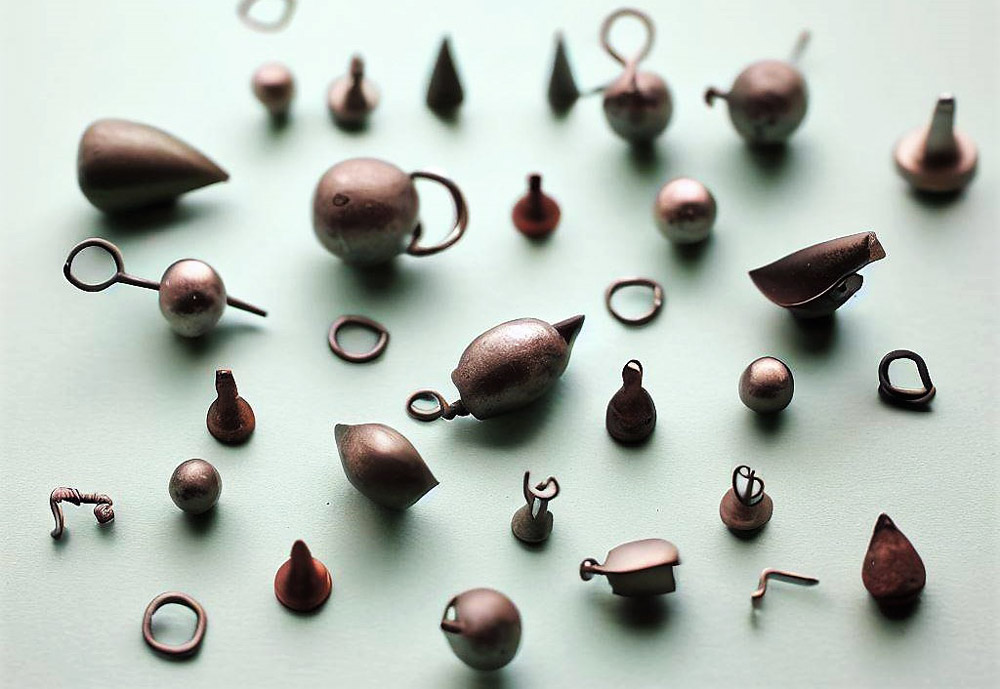 Casting the Right Weight: Factors to Consider in Sinker Selection 🤔
Picking the right sinker isn't just about grabbing the heaviest one and hoping for the best. It's an art that involves considering several factors to match your fishing needs perfectly. Let's dive into these crucial aspects:
Fishing Environment: The nature of the seabed and the strength of the currents are key considerations. For strong currents and soft bottoms, pyramid sinkers are a great choice. If

you're dealing with rocky or uneven bottoms, consider a bank or walking sinkers.

🌊
Weight: Weight selection is crucial. It should be heavy enough to keep your bait in place but light enough to cast accurately. Also, too heavy a sinker might scare off the fish when it hits the water. ⚖️
Shape: The shape of a sinker can influence how easily it gets snagged. Rounded sinkers like bank or egg sinkers tend to get stuck less on rocky bottoms. Pyramid sinkers, on the other hand, are designed to dig into the seabed, so they're best for sandy or muddy bottoms. 🪨
Material: The material of the sinker can affect its performance. For instance, tungsten sinkers are denser, thus smaller and less noticeable to fish. But if eco-friendliness is a priority, steel, tin, or bismuth may be the way to go. 🌱
Boosting Your Catch Rate: The Impact of the Right Sinker 🚀
Choosing the right sinker isn't just about making it easier to cast your line or keep your bait in place; it can also directly impact your success rate. With the right sinker, your bait can reach the depths where the fish are feeding, stay steady in the face of strong currents, and move more naturally to attract fish. It can truly be a game-changer for your rock-fishing endeavors!
In our next segment, we'll share practical tips for using sinkers in rock fishing and safety considerations to keep in mind. Stay hooked! 📘
🎣 Practical Tips for Using Sinkers in Rock Fishing – Steer Clear of the Snags and Catch More Fish
Casting Wisdom: Effective Tips for Using Sinkers in Rock Fishing 🧭
Using sinkers effectively can be the difference between a fruitful fishing day and a frustrating one. Here are some insider tips to get the most out of your sinkers:
Adaptability is Key: Be ready to change your sinker type or weight depending on the conditions. Different times of the day, tide levels, and species of fish can all call for different types of sinkers. 🔄
Balance Your Weight: Make sure your sinker is heavy enough to resist the current, but not so heavy that it scares off the fish when it splashes down. 🎯
Less is More: Sometimes, using a lighter sinker can make your bait look more natural and enticing to fish. Experiment with different weights to see what works best. 🕵️‍♀️
Avoiding the Sinkhole: Common Mistakes When Using Sinkers 🚫
Even experienced anglers can make mistakes when using sinkers. Here are a few to watch out for:
Using the Wrong Sinker: Using a sinker that's not suitable for your fishing environment can lead to snags and lost gear. Make sure to match the sinker to the conditions. 🌊
Overloading: Using a sinker that's too heavy can not only scare off fish but also make casting difficult and potentially dangerous. Balance is the key. ⚖️
Safety First: Important Considerations When Using Sinkers 👮‍♂️
Beware of Backlashes: Casting a heavy sinker without a well-adjusted reel can lead to backlashes, where the line tangles up into a 'bird's nest'. Practice casting with different sinker weights to prevent this. 🕸️
Mind Your Surroundings: When casting with a heavy sinker, always check your surroundings to avoid hitting people or objects. Always prioritize safety first! 🏞️
In our next section, we'll delve into some advanced techniques for using sinkers in rock fishing. 📘
🎣 Advanced Techniques and Strategies – Level Up Your Rock Fishing Game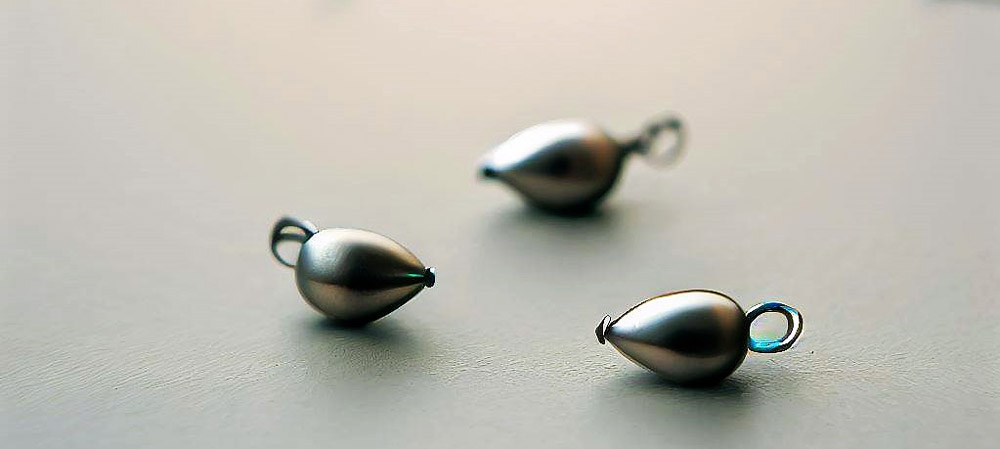 Mastering the Depths: In-Depth Strategies for Using Sinkers 🌊
Here's where we take your rock fishing expertise a notch higher. These strategies will help you adapt your sinker use to different conditions:
F

ast Currents

: In rapid currents, using pyramid sinkers can anchor your bait effectively due to their ability to dig into the soft seabed. For rocky bottoms, consider using a heavier bank sinker. 🚤
Deep Waters: For deep-sea rock fishing, a heavier sinker might be required to get your bait down to the fish. However, remember that a larger splash could potentially scare off fish. Experiment with different weights to find the sweet spot. 🌊
Rocky Seabed: For uneven or rocky bottoms, bank sinkers or walking sinkers are a wise choice. Their shapes are designed to reduce the chances of getting snagged. ⛰️
Targeting with Precision: Adapting Sinkers Based on Fish Species 🐟
Different fish species respond differently to bait and its presentation. Adapting your sinker use based on the targeted fish can enhance your chances of a catch:
For Shy Biters: For fish species that are sensitive to resistance, using a sliding sinker setup, like with an egg sinker, allows the fish to take the bait without feeling the weight of the sinker. 🐠
For Bottom Dwellers: Species that stay near the bottom, like many rockfish, may require heavier sinkers to keep your bait at their level. Bank or pyramid sinkers can be suitable choices. 🐡
The key to success is observation, patience, and the willingness to adapt your strategy as needed. Stay tuned for our conclusion where we'll summarize everything we've learned! 📘
❓ FAQ: Sinkers and Their Impact on Rock Fishing
🎣 Conclusion: Becoming the Master of Rock Fishing – It All Sinks In
Rock fishing can be a lot of fun, but it can also be a bit tricky. One of the most important aspects of successful rock fishing is using the right sinkers. In this article, we will take a look at some of the best sinkers for rock fishing and we will provide you with some tips on how to choose the right ones for your needs. One of the most popular types of sinkers for rock fishing is the egg sinker. This type of sinker is essentially a weight that is shaped like an egg. It is made from lead or other dense materials and it is designed to help you keep your bait in place while you are fishing in rocky waters.
As we reel in our comprehensive guide, let's take a moment to recap the key takeaways on the role of sinkers in rock fishing:
Understanding Sinkers: We learned that sinkers are not just weights, but specialized tools designed to enhance your fishing experience. The shape, weight, and material of a sinker can significantly impact its effectiveness. 🧱
The Art of Choice: Selecting the right sinker involves considering the fishing environment, targeted fish species, and the strength of the currents. The right sinker can boost your catch rate and make your fishing expedition more enjoyable. 🎨
Mastering Techniques: Advanced techniques, such as adapting the use of sinkers based on different conditions and targeted fish species, can help you level up your rock fishing game. 🎓
Your rock fishing journey is all about experimentation and adaptation. We encourage you to try out different types of sinkers, observe their performance, and learn from your experiences. You may be surprised at the impact a small change can make! 🧪
We hope this guide has deepened your understanding of sinkers in rock fishing. But the learning doesn't stop here. Share your experiences, your thoughts, and any questions you might have in the comments. After all, fishing is not just a solitary pursuit – it's a shared passion. 🎣
Keep casting, keep learning, and most importantly, keep enjoying the wonderful world of rock fishing. Here's to more successful catches and unforgettable fishing adventures! 🏆
📚 References: Dive Deeper into the World of Rock Fishing
Our guide on sinkers in rock fishing was compiled from a variety of reliable sources. If you're eager to continue your journey into the world of rock fishing, consider checking out the following resources. Whether you're a novice angler or a seasoned fisherman, these references offer a wealth of information to enhance your rock fishing expertise:
"The Complete Book of Fishing Knots, Leaders, and Lines" by Lindsey Philpott – For more on tying the perfect knot to match your sinker. 📘
"The Pocket Fishing Basics Guide: Freshwater Basics: Hook, Line, and Sinker" by Wade Bourne – An excellent starting point for beginners that covers all the fishing essentials. 📗
"Sea Angling Around Britain" by Mel Russ – For insights into sea fishing tactics, species, and venues around Britain, including sections on rock fishing. 📕
"Rock Fishing: A Practical Guide to Fishing from the Rocks" by Ian Griffiths – This book offers detailed strategies and techniques specifically tailored to rock fishing. 📙
"Sea Fishing Properly Explained" by Ian Ball – With a chapter on gear and tackle, this book helps you understand the nitty-gritty of sea fishing tools, including sinkers. 📖
Rockfishingcentral.com – An online resource full of tips and tricks specifically for rock fishing. 💻
TakeMeFishing.org – A comprehensive guide on different fishing techniques, gear, and safety tips. 🌐
These resources aim to provide a comprehensive and engaging overview of the use of sinkers in rock fishing. We encourage you to dive deeper, broaden your knowledge, and keep the fishing conversation alive. 🎣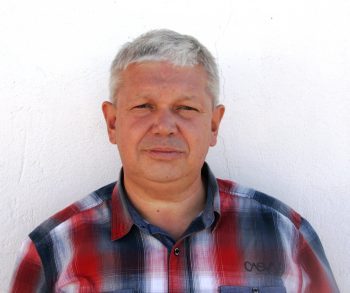 Sergio Smirnoff
Professional fisherman with 40+ years of experience.
Fishing and the ocean is a passion of my life. I am passionate about all kinds of sea fishing: fishing from the shore (spinning, float, baitcasting), from a boat, and spearfishing day and night.
I live in Tenerife (Canary Islands) for the last 10+ years and share my daily fishing experiences on my website. Many years of personal experience as a fisherman and the vast experience of my friends allow me to write professionally on any fishing topics (from choosing a flashlight and equipment to deep-sea fishing).
All of my advice is based on practical real-world experience and will be useful to both novice anglers and professionals.
Read more
about the author.
Affiliate Disclosure: FishReeler.com sometimes gets paid for listings, through sponsors or affiliate programs like Amazon, Ebay, Cabelas, Bass Pro Shop, Shimano, Daiwa, Rapala, Renn, Okuma, KastKing, etс. Clicking a link helps keep FishReeler.com free, at no extra cost to you!
About the author: Each article is verified by the fishing expert Sergio Smirnoff. The articles are written by professional and amateur fishermen with 20+ years of fishing experience.
Note: The views and opinions expressed in this article are those of the authors and do not necessarily reflect the official policy or position of any agency. The articles are for informational purposes only, share your opinions in the comments and join the fishing discussions, let's share our fishing experiences together!