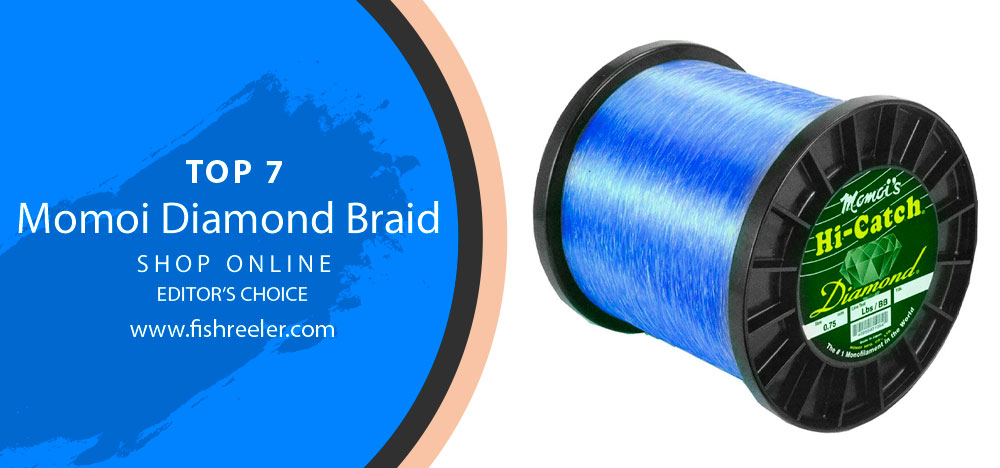 Buying a braided fishing line is a real problem these days. Hundreds of different braided lines are competing for the buyer. In this article, I would like to introduce you to the Momoi brand and its products. Here you will find the answer to the question which of the braided lines is right for me?
About Momoi Brand
Momoi is a Japanese brand with a century of history. He specializes in the production of high-quality fishing nets and lines. They, in turn, are intended for use in professional fishing. A unique product of the company can be called braided cords, which are characterized by high strength. The company was founded back in 1905 by the fisherman Yozo Momoi.
In 1951, Momoi Fishing was the first in the world to use nylon for fishing lines. The company is actively engaged in research and development in the field of materials development, production of fishing lines and cords and their processing. Over the years of serious scientific work, a number of unique technologies have been developed: "displacement technology", "weaving technology for PE fibres", "special processing technology for dyeing and coating" and others.
In 1952, the company's engineers, together with such a chemical giant as Mitsubishi Chemical, finally developed the formula for the synthetic material of monofilament yarn. And a patent was obtained for it. The composition and manufacturing technology of this thread is the Momoi know-how. Nylon monofilament, with a high level of elasticity and excellent heat resistance, was immediately used as a line for recreational and sport fishing. Now the company produces high-quality fishing lines in a very wide range.
This fishing line is appreciated by fishermen all over the world. Only in 2006, with her help, two records of IGFA, the most prestigious international fishing organization, were set in two categories – sea fishing and fly fishing. The vast experience accumulated over more than 100 years of the company's history allows us to create modern masterpieces of fishing lines and cords, with unique characteristics and qualities. Momoi Fishing products are distinguished by the presence of the traditional Japanese samurai spirit, which is characterized by consistency, quality, and reliability.
The 7 Best Momoi Diamond Braid Generation III Fishing
| Image | Product | Brand | Link |
| --- | --- | --- | --- |
| | Momoi Diamond Braid Generation III Fishing Line 8X - Orange - 65lb - 300 yds | Momoi | |
| | Momoi Diamond Braid Generation III Fishing Line X9 - Dark Green - 30lb - 300 yds | Momoi | |
| | Momoi / Hi-Liner Line Diamond Braid/Orange 300yds 20lb | Momoi / Hi-Liner Line | |
| | Momoi 31012 Hi-Catch Diamond | Momoi | |
| | Momoi's Diamond Line - 1000 yd. Spool - 40 lb. - Hi-Vis Yellow | Momoi | |
| | Momoi Diamond Braid Spectra - 300 yd. Spool - 10 lb. - Solid - Blue | Momoi / Hi-Liner Line | |
| | Momoi 12030 Hi-Catch Diamond | Momoi | |
This article provides an overview of fishing lines from the Momoi brand. As you read this review, you have a good opportunity to choose an excellent line at a good price for your fishing to be particularly successful. Every fisherman will understand how this or that type of line can behave in different fishing conditions. It is also important to note the main characteristics of each model.
1# Momoi Diamond Braid Generation III Fishing Line 8X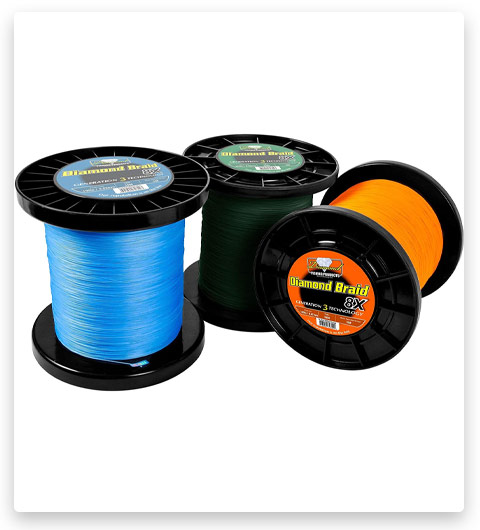 This braided line was voted Best 2019 at Big Rock Sport. It is absolutely smooth and round cord, made using Diamond braiding methods. This 8 carrier braid is a blend of modern materials and finishing coatings. This model is distinguished by its strength without stretching. The fishing line is recognized by professionals as one of the best in the world market since with the same diameter it has strength 30% higher than other cords of this class.
2# Momoi Diamond Braid Generation III Fishing Line X9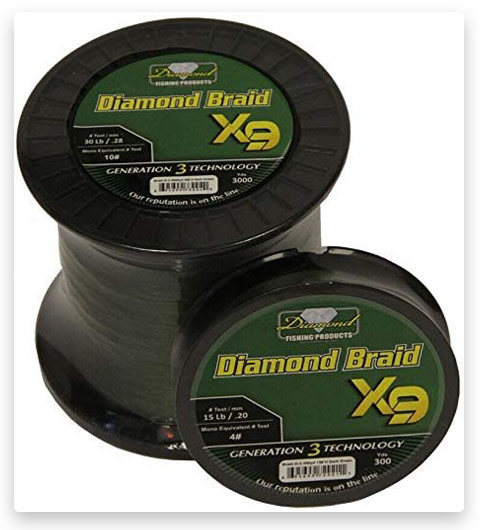 This line meets all the requirements of fishermen, as it is very durable and comfortable. When there is a strong current in the river, or when the sea is rough or in the lake, you can easily catch large specimens with this Momoi diamond braid. This line goes through the rings quickly and quietly, but it is soft and smooth in use. Fans of the Momoi Diamond Braid Generation III Fishing Line X9 are confident that everyone can perform long-distance throws with this equipment. This is a classic line with a 9-carrier construction. Those who use them assure that it is easy to catch pike perch and perch on them.
3# Momoi Hi-Liner Line Diamond Braid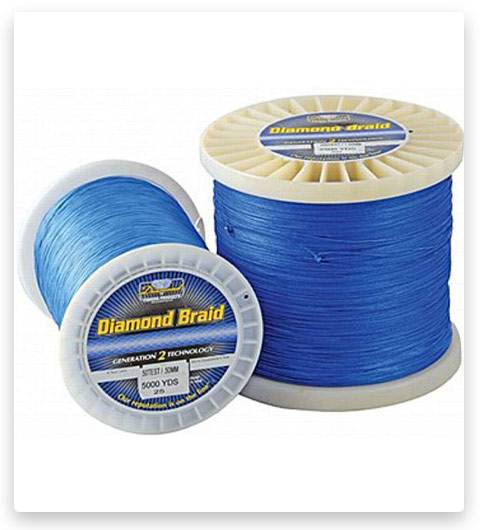 This is a braided line of universal use, dense weave. The fishing line is round, smooth, and slippery, due to this, the casting of the bait will be as long as possible. Due to its round cross-section, the braid has a surface of excellent smoothness. The line also has good abrasion resistance, so it is minimally prone to damage from various underwater obstacles and can be used for fishing in difficult conditions. The bright color of the line is visible even in low light and makes it easy to control the bait. This model has exceptional colorfastness and has 3% stretch.
4# Momoi 31012 Hi-Catch Diamond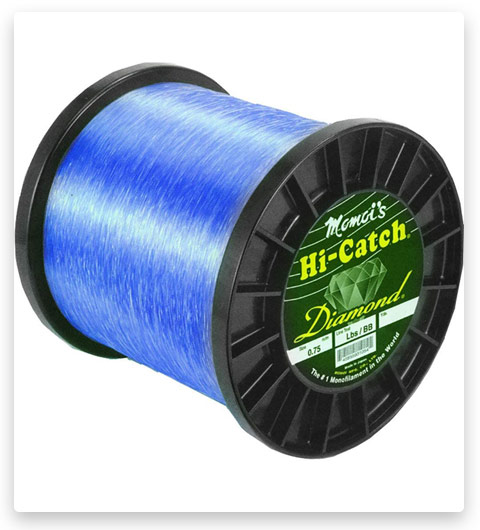 It is a fairly stiff line that has high abrasion resistance, tear-resistant, and round. Belongs to the segment of budget fishing lines for general use. This product is recommended for tough fishing conditions. The line is ideal for all types of fishing, at any time of the year. This model is also highly resistant to aggressive chemicals in the water. The line is invisible and very strong in the water.
5# Momoi Diamond Monofilament Line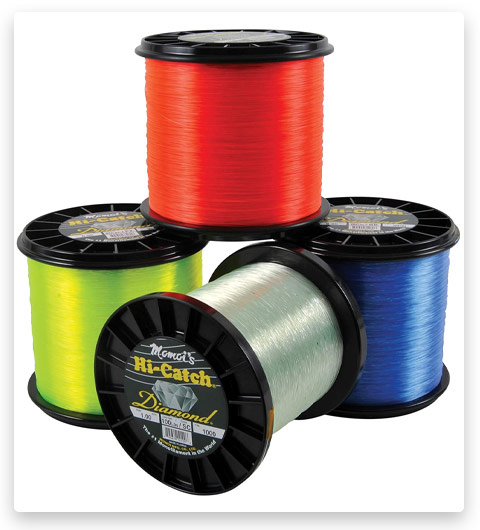 This line quickly gained popularity with American fishermen. It is available in a variety of colors so it is suitable for fishing on any terrain. Exceptional knot strength combined with a medium stretch greatly reduces fish climbing and allows long-range fishing. This line can be used in difficult conditions due to its high abrasion resistance.
6# Momoi Diamond Braid Spectra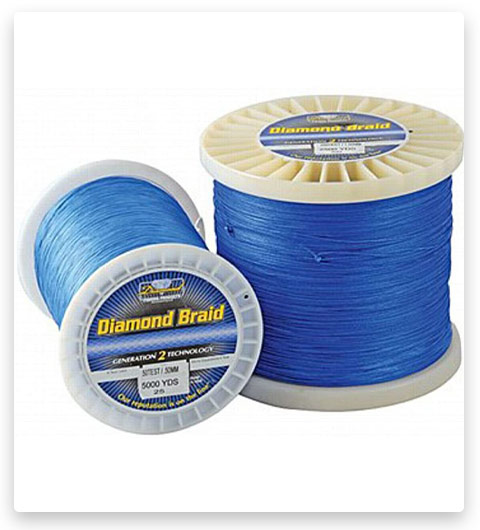 This is a high-quality braided line from the Momoi brand. This series was developed for the Japanese market but is now available for the American market. The braid has been tested under various conditions on freshwater bodies and the seashore. Spectra performed equally well. The process used to make the Diamond Braid produces a round shape. This results in a tighter reel winding. The line is made from modern Japanese. It has a protective coating that improves several characteristics at once such as wear resistance, smoothness, and strength.
7# Momoi Hi-Catch Diamond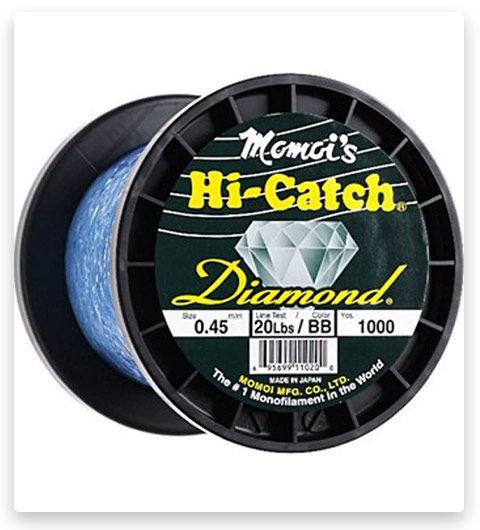 This is a high-quality Japanese line. The new Momoi formula has made this line stronger to break and also provides high knot strength. This model has incredible softness at a limited stretch and high tensile strength. This is a great line for catching heavy fish at short distances. It is a favorite fishing line for sports anglers both as the mainline and as a leader.
Braided Lines | Purchase Criteria
Braided cords come in many different types. It is important to know what to look for when buying to find a line that suits you. Therefore, I have compiled the most suitable purchase criteria for you:
Diameter
Lifting capacity
Weaving
Color
Length
More information on Braided Lines. To better understand what is meant by these criteria and how each of them matters, let's take a closer look at them below.
Diameter
Which diameter is correct depends on the application of the line. Thinner lines are more suitable for fishing from a distance, as they can be cast further. On the other hand, thicker lines have higher abrasion resistance. Please note that the thicker the line, the better it is visible in the water. The larger the diameter, the higher the lifting capacity. Braided cords are known primarily for their high load-bearing capacity even with a smaller diameter. However, these diameters are difficult to compare with each other, because manufacturers use different measurement methods, which lead to different results. Therefore, it is important not only to make a purchase decision depending on the diameter itself but also to take into account other properties of the line.
Lifting capacity
The required lifting capacity depends on the type of fish you want to catch. For example, trout can be caught with a carrying capacity of 2.5 to 5 kg, and for cod – from 14 to 19 kg. So before buying it is worth considering what kind of fish you want to catch.
Weaving
The braid is the number of strands from which the cord is twisted. The greater the number of strands and the closer they are intertwined, the harder, smoother, and more rounded the braided cord will be at the end. The higher the quality, the higher the price, but, on the contrary, does not mean that every expensive line is also of high quality. The most important thing is how accurately the weaving was done.
You have a choice between 3 or 12 sides weave. 8x braided line is now standard. This is mainly because such several strands give a very smooth surface and a rounded shape with a tight and precise braid. This not only has a positive effect on long casts but also reduces the noise level in the water. Density is measured based on the number of braids per cm. The more strands, the more expensive and better quality the cords are.
Color
The choice of color depends on the desired visibility of the braided line above and below the surface of the water. Some colors fade even at shallow depths, others are also visible at a distance of several meters underwater. Clearly visible colors can be intimidating. So when buying, pay attention to your target fish. Clearly visible colors have the advantage of allowing you to see the course of the line better and notice faster when fish are biting. But you can also choose a color that looks like water, and therefore it will be invisible.
However, when choosing a color, you should definitely consider what kind of fish you want to catch. Highly visible colors can scare away and negatively affect your fishing success. But the multi-colored cords change color every few meters. They are especially suitable for fishing at depth, as the depth of the lure can be calculated from the color change. However, when using all colored cords, remember that the color fades after a certain period of use.
Length
The required length depends on how many meters of the line you can fit on the fishing reel. Also, pay attention to the diameter. The thicker the line, the shorter it should be, since only a certain amount of line can be wound on your reel. So, you need to know what capacity it has in order to determine the required length. There is also the option of lining the braided line with a different, slightly cheaper line, which saves money. If you choose to do this, you should consider not only the diameter and length of the braided line but also its length.
Conclusion
Momoi's products are very popular among anglers all over the world. Separately, it is worth mentioning two records in sport fishing, recorded by the international fishing organization IGFA. It is hard to imagine that a tiger shark weighing about half a ton was caught with the help of a monofilament with a diameter of 0.45 mm! The practical experience accumulated over more than a hundred years allows the company to develop masterpieces of modern sport fishing in close contact with the consumer. Each stage of production is subject to strict control, bringing only the highest quality goods to the end consumer.
In conclusion, it can be said that you are unlikely to go wrong with the braided line if you choose the Momoi brand. The highlight is that they have a high load-bearing capacity due to their braiding and at the same time have a small diameter. They are also ideal for spinning and impress with their casting range. My favorites are 1# Momoi Diamond Braid Generation III Fishing Line 8X, 2# Momoi Diamond Braid Generation III Fishing Line X9, and 3# Momoi Hi-Liner Line Diamond Braid.
Tags: #momoi diamond braid / #momoi diamond braid review / #momoi diamond braid generation III fishing line 8x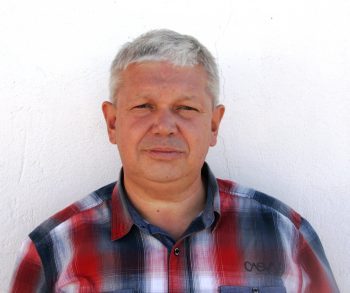 Sergio Smirnoff
Professional fisherman with 40+ years of experience.
Fishing and the ocean is a passion of my life. I am passionate about all kinds of sea fishing: fishing from the shore (spinning, float, baitcasting), from a boat, and spearfishing day and night.
I live in Tenerife (Canary Islands) for the last 10+ years and share my daily fishing experiences on my website. Many years of personal experience as a fisherman and the vast experience of my friends allow me to write professionally on any fishing topics (from choosing a flashlight and equipment to deep-sea fishing).
All of my advice is based on practical real-world experience and will be useful to both novice anglers and professionals.
Read more
about the author.
Affiliate Disclosure: FishReeler.com sometimes gets paid for listings, through sponsors or affiliate programs like Amazon, Ebay, Cabelas, Bass Pro Shop, Shimano, Daiwa, Rapala, Renn, Okuma, KastKing, etс. Clicking a link helps keep FishReeler.com free, at no extra cost to you!
About the author: Each article is verified by the fishing expert Sergio Smirnoff. The articles are written by professional and amateur fishermen with 20+ years of fishing experience.
Note: The views and opinions expressed in this article are those of the authors and do not necessarily reflect the official policy or position of any agency. The articles are for informational purposes only, share your opinions in the comments and join the fishing discussions, let's share our fishing experiences together!