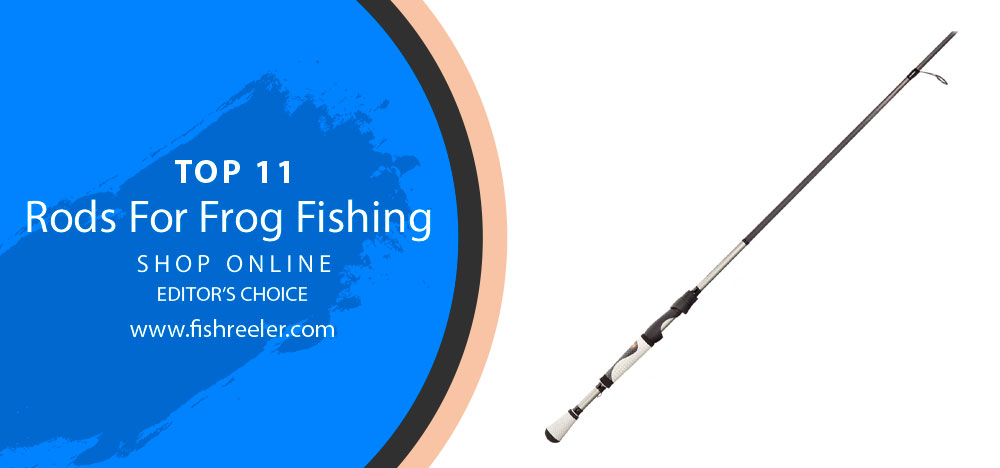 Art of Frog Fishing: Choosing the Perfect Rod 🎣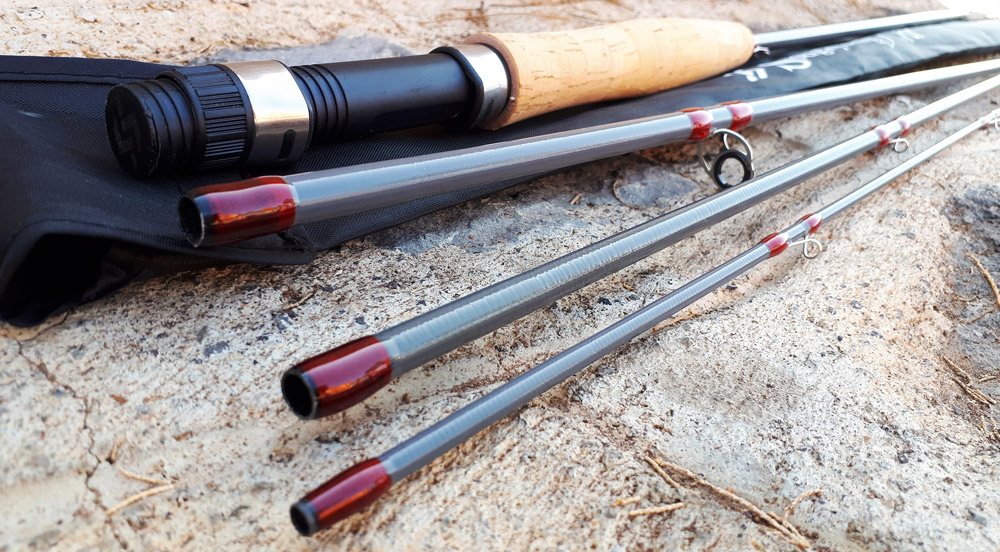 Have you ever seen a frog leap and thought, "That's a move I'd love to see at the end of my line"? 🐸 Welcome to the invigorating world of frog fishing, where every cast promises excitement and a test of your angling skills.
Setting the Bait: An Introduction to Frog Fishing and Its Unique Rods
Frog fishing, for the uninitiated, is a bass fishing technique where a hollow-bodied frog is used as a topwater lure. The exhilarating game of lure-and-chase, along with the suspense-filled moments before a bass breaks the surface, creates a fishing experience like no other. However, the challenges are equally thrilling. From navigating heavy lily pads to pulling your catch from the thickest weeds, frog fishing demands a lot more than just patience.
Enter the protagonist of our story: the frog fishing rod. 🎣 Not just any rod can make the cut when it comes to this special form of angling. Your success as a frog fisher depends significantly on your choice of rod. An ideal frog rod needs to have the right combination of length, power, action, and material to ensure that every cast counts.
In this article, we'll serve as your guide through the vast marketplace of fishing rods. By the end, you'll be equipped to make an informed choice when it comes to buying a frog fishing rod. So, let's dive in, and immerse ourselves in the fascinating world of frog fishing. Your perfect catch awaits! 🐟
Hooked on the Thrill: Understanding the Fascination and Hurdles of Frog Fishing 🐸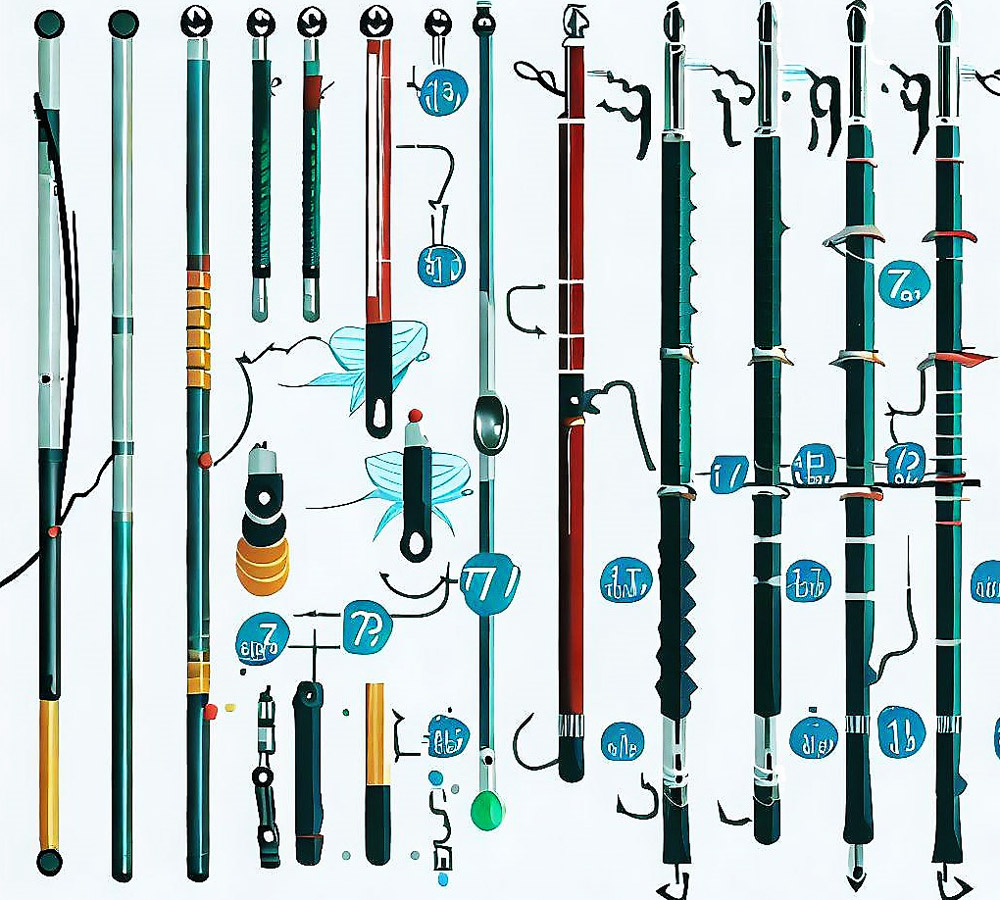 Frog fishing brings a unique thrill that only a true angler can appreciate. But what makes it such a captivating pursuit? 🎣
Unpredictable Anticipation: Unlike other forms of fishing, frog fishing engages you in an intense waiting game. As your lure bobs on the water's surface, the anticipation builds. Will the bass strike? The suspenseful moments before the bass explodes from beneath the lily pads are pure adrenaline.
Visual Spectacle: The sight of a giant bass breaking the surface and gulping down your frog lure is an exhilarating visual treat that never gets old.
Strategic Challenge: Frog fishing isn't just about casting and waiting. It requires precise casting, careful retrieval, and strategic maneuvers, giving it a chess-like quality that appeals to those who enjoy a mental challenge.
However, every thrilling story has its trials and tribulations, and frog fishing is no different. 🌊
Heavy Cover: Frog fishing typically takes place in thick, heavy cover – we're talking lily pads, grass, weeds, and logs. These conditions pose unique challenges, requiring the angler to master not just regular casting, but "pitching" and "flipping" techniques to get the lure in just the right spot.
Powerful Bass: Bass-attacking frog lures are often large, powerful specimens. They'll give you a run for your money, taking full advantage of the heavy cover to try and throw your hook.
This is where the importance of the right rod comes into play. A good frog fishing rod helps navigate these challenges by providing:
Controlled Casting: The rod's length and action will affect how accurately you can cast into tight spots.
Hook-Setting Power: The rod's power (or backbone) determines whether you can firmly set the hook and keep the bass from shaking loose.
Lure Retrieval: A good rod should handle the tension when you're reeling your catch in, ensuring that you can pull your prize through heavy cover without breaking.
In the next section, we'll explore in detail how to choose a rod that ticks all these boxes. 🎣
Stay tuned as we reel in more information on your soon-to-be trusty sidekick in the world of frog fishing!
🎦Video YouTube: A Relaxing Day Of Frog Bassin
The 11 Best Rods for Frog Fishing: A Guide for Successful Anglers
When it comes to fishing for frogs, there's no better way to do it than with a top-rated frog fishing rod. These rods are designed specifically for catching these slippery creatures, and they can make the process a lot easier and more fun. If you're looking to up your frog fishing game, you need the right gear. In this article, we'll take a look at some of the best rods for frog fishing. We'll also provide a few tips on how to use them to catch more frogs. So, if you're ready to start landing bigger frogs, keep reading!
1# Abu Garcia Veritas Tournament Casting Rod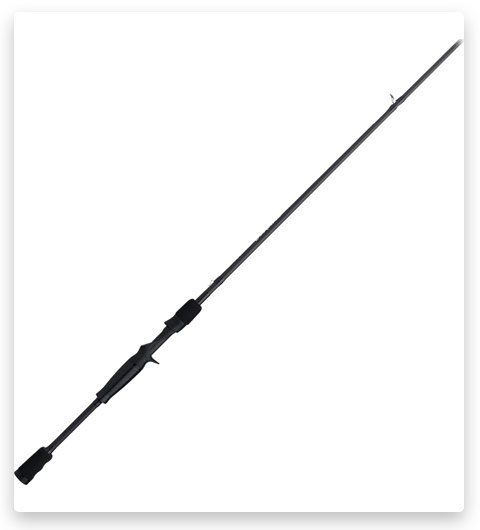 If you're serious about your fishing, you need a rod that can keep up with your demands. The Abu Garcia Veritas Tournament Casting Rod is just the piece of equipment you need to take your fishing game to the next level. This extremely lightweight and durable rod is built for a superior break and impact strength, meaning you'll be able to land bigger fish with ease. The exclusive Powerlux 200 blank and proprietary resin technology give this rod an unbeatable edge, while the precision ROCS guide train and titanium alloy guides with zirconium inserts keep your line in place no matter what. The custom open ergonomic reel seat and carbon split-grip handle provide ultimate comfort and control while you're out on the water.
2# St. Croix Mojo Inshore Casting Rod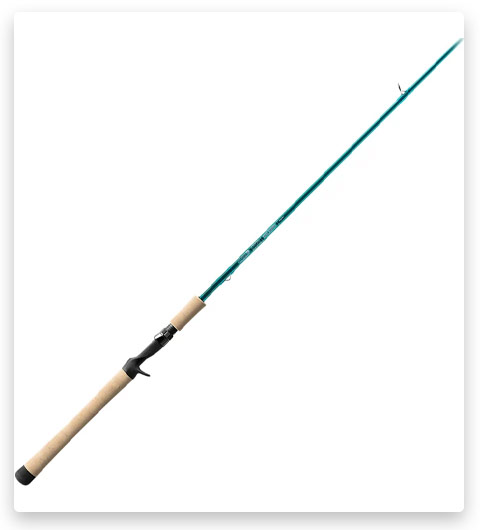 The St. Croix Mojo Inshore Casting Rod is perfect for anglers who demand the very best. Featuring Elite SCIII carbon blank construction and Integrated Poly Curve mandrel technology, this rod is built to perform. Additionally, it has two coats of durable Flex-Coat slow-cure finish for added durability and protection. Sea Guide Hero Hi-Grade guides with slim aluminium oxide rings provide smooth performance, while the SS316 stainless steel gunsmoke frames add strength and stability. The Fuji ECS or TCS Deluxe reel seat with gun-metal hoods provides a comfortable and secure grip, while the contoured cork handle (cork with EVA combination on select models) ensures a comfortable grip.
3# 13 Fishing Fate Steel Trolling Casting Rod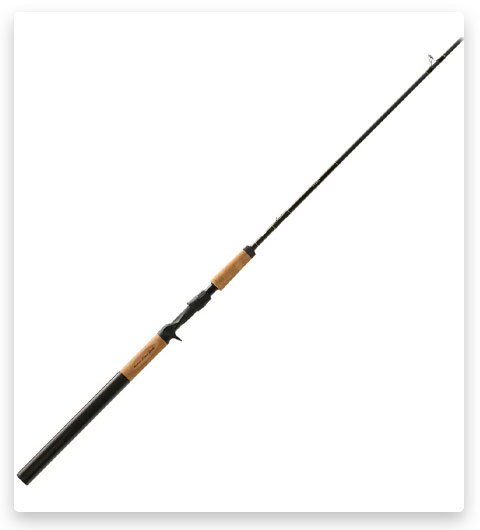 The 13 Fishing Fate Steel Trolling Casting Rod is built on a high-quality Japanese 30 Ton HTC 3 blank, each Fate Steel rod features ALPS stainless steel guides with Zirconia inserts. The Evolve Soft Touch Engage reel seat has a trigger. The AA-grade cork handle has 3K Carbon rear grip. Mfrs. 1-year warranty. The Fate Steel rod is adaptable to multiple techniques and is perfect for the avid angler.
4# Lew's Custom Lite Speed Stick Spinning Rod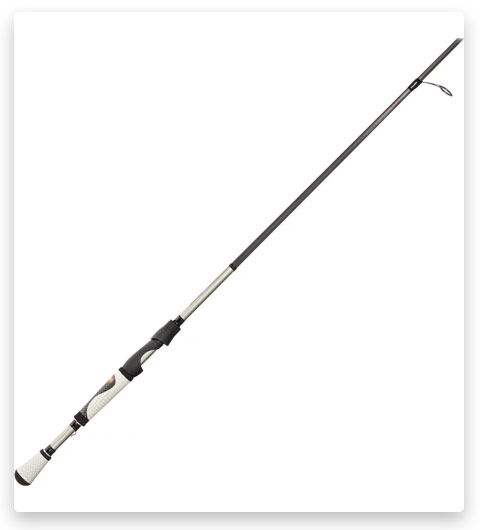 Looking for a sleek, high-performance spinning rod that won't let you down? Check out the Lew's Custom Lite Speed Stick. This ultra-lightweight and sensitive rod is perfect for anglers who demand the best in terms of performance and durability. The multiple layers of HM85 graphite and Power Core construction provide outstanding strength and sensitivity, while the titanium oxide inserts add even more durability. The Winn polymer split grips provide a comfortable and secure grip, while the technique-specific actions make this rod perfect for a variety of fishing styles. Plus, the No Foul hook keeper ensures your hooks are always securely in place. Get ready to up your game with the Lew's Custom Lite Speed Stick.
5# Shimano Trevala PX Split-Grip Jigging Trigger Rod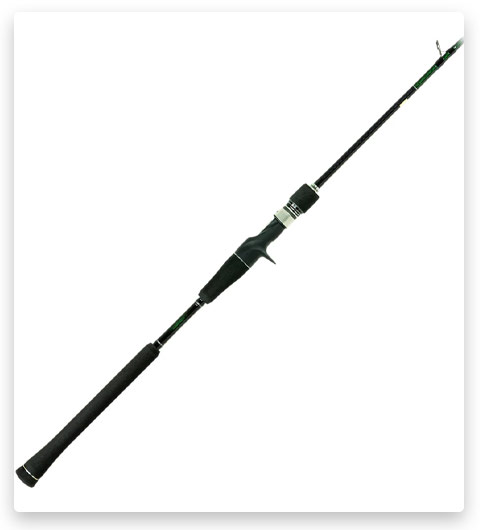 The Shimano Trevala PX Split-Grip Jigging Trigger Rod is the ultimate rod for Butterfly Jigging. It has been redesigned for greater strength and control and features a 1-piece blank with Hi-Power X reinforcement. The split handle design provides outstanding balance, while the durable, braid-tough SeaGuide zirconia guides ensure smooth casting and retrieval. The EVA handle grip ensures comfort during long fishing sessions, and the crossover versatility means this rod can also be used for other techniques.
6# G.Loomis E6X Walleye Spinning Rod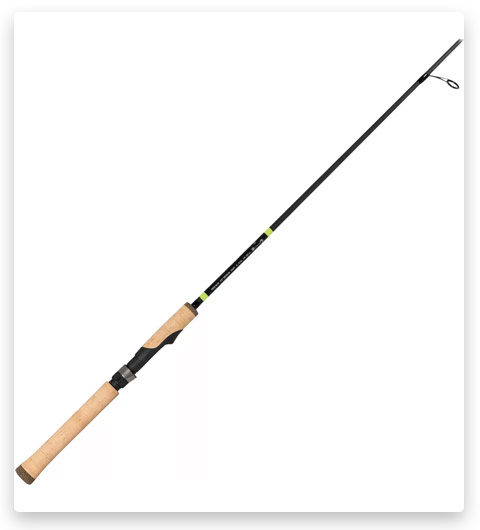 G.Loomis E6X Walleye Spinning Rod is designed for anglers looking for an extremely light and sensitive rod with the optimal feel and bait control. The E6X blank material is designed for superb balance, while the Multi-Taper Technology ensures excellent sensitivity. The Non-sanded "Paint Transfer System" buff finish provides a smooth, durable surface that is easy to grip. The Premium Fuji guides and reel seat provide a solid foundation for your fishing tackle, while the Full cork handle ensures a positive grip.
7# PENN Battalion II Slow Pitch Spinning Rod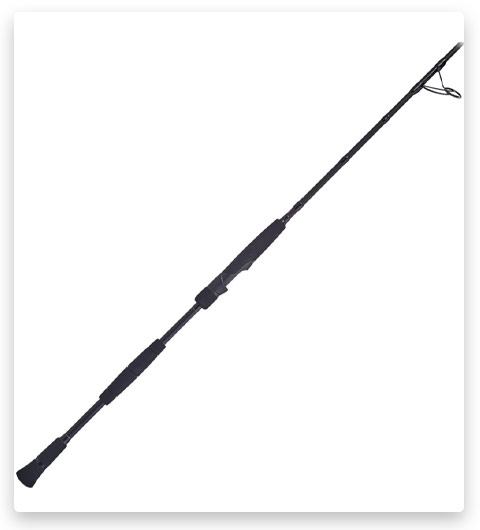 When it comes to slow-pitch jigging, the PENN Battalion II Slow Pitch Spinning Rod is in a class of its own. Specifically designed for this type of fishing, the RCB2 blank with composite core and glass overlay provides the perfect mix of power and sensitivity, while the parabolic bend is just what you need for wearing down those big fish. The lightweight yet insanely strong construction of this rod is thanks to the tangle-free Fuji K guides with Alconite inserts, while the quality Fuji reel seat ensures a comfortable and reliable experience. Finally, the tapered EVA grips provide maximum comfort and control.
8# KastKing Perigee II Fishing Rods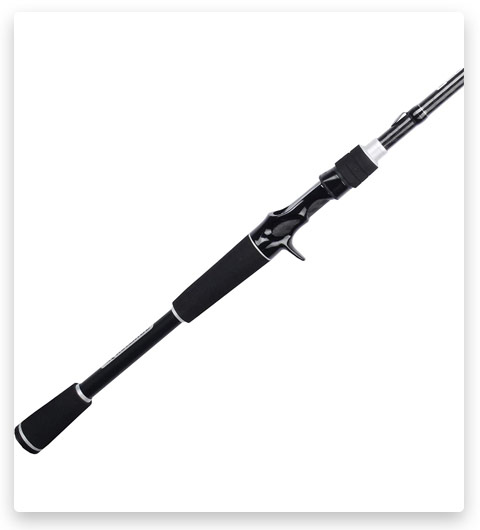 If you're looking for a great value fishing rod that won't break the bank, look no further than KastKing's Perigee II. Available in one- or two-piece configurations, the Perigee II features a durable build quality that belies its affordable price tag. Choose from a variety of power options to suit your fishing needs, and take advantage of the included twin tips (one medium light and one medium-heavy) to give you maximum versatility. reel in the big one with confidence, knowing that your KastKing Perigee II has you covered.
9# KastKing Speed Demon Pro Tournament Series Bass Fishing Rods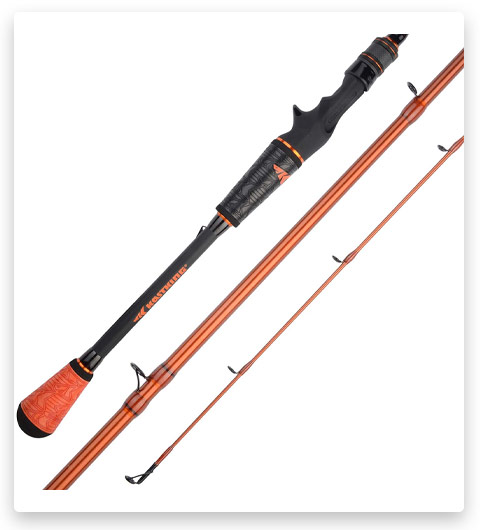 KastKing Speed Demon Pro Tournament Series Bass Fishing Rods are designed for professional bass fishermen. With our Elite Carbon blanks and Carbon Nano Tube Resins, these rods are built for sensitivity, strength, and weight reduction. Each blank is custom-designed for a specific fishing technique, so you can be sure you're using the right tool for the job. With the best components and perfect action, these rods will help you catch more fish with less effort.
10# Dobyns Rods Fury Series Casting Fishing Rod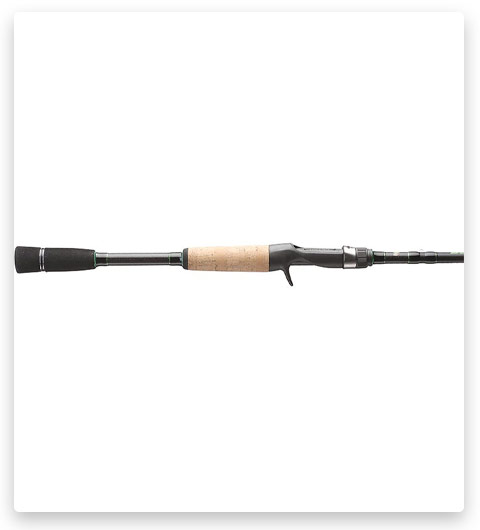 Looking for a top-of-the-line casting rod that can handle any situation? Dobyns Rods Fury Series Casting Fishing Rod is exactly what you need! Made from the highest quality materials, including a modulus graphite blank, Fuji reel seat, Kevlar Wrapping, and Portugal cork grip, this perfectly balanced rod offers maximum sensitivity and pinpoint accuracy. Whether you're trolling for big fish or trying to land that trophy catch, Dobyns Rods Fury Series Casting Fishing Rod has the power and performance you need to succeed.
11# St. Croix Rods Eyecon Spinning Rod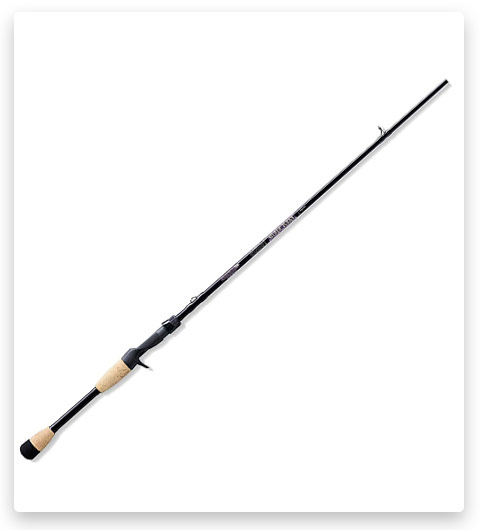 When serious anglers demand the best in performance and value, they turn to St. Croix rods. The Mojo Bass casting rod is constructed with high-modulus, high-strain graphite fibre that results in a sensitive and lightweight rod with incredible durability. Featuring integrated Poly Curve (IPC) tooling technology that eliminates all transitional points in the blank for smoother actions, increased strength, and greater sensitivity, this rod is sure to outperform the competition.
Unraveling the Reel: A Breakdown of Your Essential Frog Fishing Tool 🎣
Before we dive into the specifics of what makes a frog fishing rod stand out, let's take a step back and unravel the basic anatomy of a fishing rod. Understanding these key components will help you make an informed choice when you're in the market for your frog fishing companion.
Rod Blank: This is the main body of your rod, which can range from 6 to 8 feet for frog fishing. It's usually made from graphite, fiberglass, or a composite of both. In the context of frog fishing, the length, material, and flexibility of the rod blank are crucial for precise casting and sufficient hook-setting power.
Handle/Grip: Made from cork or EVA foam, this is where you hold the rod. Comfort and grip are essential for maintaining control during those thrilling battles with big bass.
Reel Seat: The reel seat holds the reel firmly attached to the rod. You need a sturdy reel seat that can withstand the strain of a fighting bass without loosening.
Guides: These are the loops attached along the length of the rod that guide the line from the reel to the tip. They need to be durable and smoothly lined to avoid line damage during a fierce tug-of-war.
Tip: The very end of the rod, it's usually more flexible and sensitive than the rest. In frog fishing, the tip's action influences casting precision and sensitivity to bites.
Hook Keeper: A small loop or ring to hold your hook when it's not in use. While not a dealbreaker for frog fishing, it's a handy feature that helps avoid accidental snags or injuries.
In the context of frog fishing, each of these components plays a unique role. The rod blank's strength and flexibility, coupled with the handle's comfort, can make a world of difference when wrestling with heavyweight bass in heavy cover. The guides and tips play a key role in delivering that perfect cast into the tightest spots, and the hook keeper can save you a lot of hassle on a busy day at the water.
In the next section, we'll delve into the specific features of a frog fishing rod and how each one contributes to your success on the water. 🎣
Casting a Wider Net: Decoding Key Features of a Frog Fishing Rod 🎣
When you're navigating the world of frog fishing rods, four features rise to the surface as the most crucial: length, power, action, and material. Each plays a significant role in your fishing experience, and understanding them is key to finding your perfect frog fishing companion.
Length: The rod's length directly impacts the casting distance and control. A longer rod provides a broader casting range, making it ideal for open water. Conversely, a shorter rod offers more control, crucial for precise casts in heavy cover. For frog fishing, a rod between 7 to 7.5 feet hits the sweet spot, providing a balance of distance and control. 📏
Power: Also known as the rod's 'backbone', power refers to the rod's resistance to bending. You'll need a rod with enough power (medium-heavy to heavy) to haul a bass out of thick lily pads or weeds. The right rod power will help you set the hook firmly and battle those heavyweight catches without fear of your rod snapping. 💪
Action: This is all about how and where the rod bends. Fast action rods bend near the tip, offering a high degree of sensitivity and quick hook sets – perfect for frog fishing. They allow you to feel even the slightest nibble and react swiftly to set the hook. 🎣
Material: The rod's construction material plays a crucial role in its sensitivity, weight, and durability. Most rods are made from graphite, fiberglass, or a combination. Graphite rods are lighter and more sensitive, helping detect bites faster. Fiberglass rods, on the other hand, are tougher and more flexible, able to withstand high tension. For frog fishing, a heavy-duty graphite rod, or a composite rod, is often the best choice, offering a balance between sensitivity and strength. 🏗️
In the next section, we'll use this newfound knowledge to explore the market's top frog fishing rod options. Your perfect rod is just around the corner, so stay tuned! 🐸
Best in Show: Scoping Out the Top Contenders in Frog Fishing Rods 🎣
The market for frog fishing rods is a crowded pond, with many brands vying for your attention. To simplify your choice, we've rounded up a few standout rods across a range of prices. These rods have been praised by avid frog anglers for their top-notch features that cater specifically to the needs of frog fishing.
High-End Choice: G. Loomis E6X Swimbait Frog Casting Rod 🏆
Features: This premium rod offers fast action, heavy power, and a length of 7'4″. It's made from high-grade graphite, offering superior sensitivity and strength.
Why It's Great for Frog Fishing: The length and fast action provide exceptional casting distance and precision. The heavy power is perfect for hauling bass out of the thickest cover.
Testimonial: "The G. Loomis E6X has never let me down. Its sensitivity and power make it a joy to use in frog fishing." – Sam, avid frog angler.
Mid-Range Choice: St. Croix Mojo Bass Casting Rod
Features: This rod boasts a 7'4″ length, heavy power, and fast action. It features a blend of SCII graphite and SCIII graphite, which strikes a balance between sensitivity and durability.
Why It's Great for Frog Fishing: Its composite graphite construction ensures you'll feel every nibble, while its heavy power can handle big bass. The fast action and length offer excellent casting and control.
Testimonial: "The St. Croix Mojo Bass has the perfect combination of sensitivity and strength. It's my go-to for frog fishing." – Denise, a seasoned bass angler.
Budget Choice: Ugly Stik Elite Casting Fishing Rod
Features: With a length of 7′, medium-heavy power, and fast action, this rod doesn't skimp on the essentials. It's constructed from a mix of graphite and fiberglass, which offers a unique blend of sensitivity and toughness.
Why It's Great for Frog Fishing: The Ugly Stik Elite provides reliable performance at an unbeatable price. The composite construction ensures durability, while the length and action keep casting precise.
Testimonial: "The Ugly Stik Elite is a reliable workhorse. Its performance in frog fishing is impressive for the price." – Alex, a long-time frog fishing enthusiast.
Remember, the best rod is the one that fits your unique needs and style. Stay tuned as we share practical tips for maximizing your frog fishing experience with your chosen rod! 🐸
Navigating the Lily Pads: Expert Tips for Mastering Your Frog Fishing Rod 🎣
Equipped with your frog fishing rod, you're all set to plunge into the world of frog fishing. But to truly maximize the potential of your rod, you'll need a few tricks up your sleeve. Here are some insider tips from experienced frog anglers to ensure you reel in the big ones.
The Art of Casting: In frog fishing, casting accuracy often trumps distance. Practice casting your frog to lure to specific targets, even when you're not on the water. Try flipping or pitching techniques to silently and precisely place your lure into tight spots. 🎯
Timing the Hook Set: When a bass strikes, it's natural to want to set the hook immediately. But in frog fishing, waiting for a second can improve your hook-up ratio. Remember, "They aren't hooked until they turn" is a good rule of thumb. ⏱️
Line Choice: Braided line is best for frog fishing. It's strong, has no stretch, and cuts through vegetation better than monofilament or fluorocarbon. Opt for a 50-65 lb test for the best results. 🧵
Rod Maintenance: Regularly clean your rod, paying special attention to the guides to ensure they're free of dirt and debris. Avoid storing your rod in extreme temperatures as it can damage the material. Regular maintenance can prolong the life of your rod. 🧹
Wise Words from Pro Angler, Scott Martin: "Frog fishing is all about anticipation and reaction. Make your casts count, keep a steady rhythm on your retrieve, and when that bass strikes, remember – patience is key. Wait for the fish to turn, then set that hook with all you've got!" 🥇
Remember, each day on the water will teach you something new. Stay patient, stay persistent, and most importantly, have fun with your frog fishing journey. Up next, we'll round up the key takeaways from our dive into the world of frog fishing rods. Stay tuned! 🐸
FAQ: The Secret to Frog Fishing Success
Conclusion: Getting a Grip on Frog Fishing
Frog fishing can be a great way to catch fish, and with the right equipment, it can be even more successful. In this article we have reviewed some of the best rods for frog fishing so that you can make an informed decision about what gear will work best for you. We hope that our reviews have helped you choose the perfect rod for your next frog fishing trip!
Reeling It In: Final Thoughts on Mastering Frog Fishing Rods 🎣
That concludes our deep dive into the exciting world of frog fishing rods. We've tackled everything from the unique thrill and challenges of frog fishing to the anatomy of a frog fishing rod. We've discussed crucial rod features – length, power, action, and material – and how they affect your fishing experience. We've introduced you to top rod choices at different price points and shared expert tips to help you maximize the potential of your frog fishing rod.
Here are the key takeaways from our journey:
The right frog fishing rod is an essential tool that can significantly enhance your frog fishing experience. 🛠️
Understanding the importance of rod length, power, action, and material can guide you to make an informed choice that fits your needs. 🧠
A range of frog fishing rods caters to different budgets, each with its unique benefits. You're bound to find one that suits your style and wallet. 💰
Utilizing pro tips can elevate your frog fishing game, helping you make the most of your time on the water. 🏆
Frog fishing is a thrilling pursuit filled with anticipation and adrenaline. The right rod is your ally in this journey, enhancing every cast, every bite, and every catch. So choose wisely, invest thoughtfully, and get ready for a truly rewarding frog fishing adventure.
Thank you for joining us on this exciting journey. We hope you feel equipped and inspired to tackle your next frog fishing expedition. So go ahead, make a splash! 🐸
Dive Deeper: References and Further Reading 📚
This article was prepared with the help of the following sources. Each contributed insights and information that have been instrumental in crafting a comprehensive guide to frog fishing rods.
"Choosing the Best Bass Fishing Rod" by Wired2Fish. Available at: Wired2Fish
"The Importance of Rod Length in Fishing" by The Online Fisherman.
"Frog Fishing 101: The Ultimate Frog Fishing Guide" by Beyond The Bounds.
For further reading, exploration, and shopping, we recommend these resources:
Online Stores:
Fishing Communities:
Product Reviews:
Remember, research is key to making an informed decision. Feel free to use these resources to further deepen your understanding of frog fishing and make the most of your fishing adventures. 📖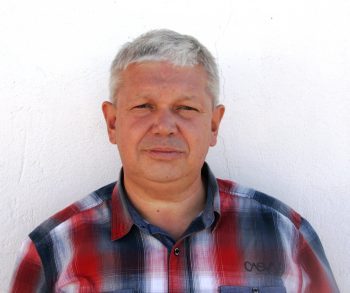 Sergio Smirnoff
Professional fisherman with 40+ years of experience.
Fishing and the ocean is a passion of my life. I am passionate about all kinds of sea fishing: fishing from the shore (spinning, float, baitcasting), from a boat, and spearfishing day and night.
I live in Tenerife (Canary Islands) for the last 10+ years and share my daily fishing experiences on my website. Many years of personal experience as a fisherman and the vast experience of my friends allow me to write professionally on any fishing topics (from choosing a flashlight and equipment to deep-sea fishing).
All of my advice is based on practical real-world experience and will be useful to both novice anglers and professionals.
Read more
about the author.
Affiliate Disclosure: FishReeler.com sometimes gets paid for listings, through sponsors or affiliate programs like Amazon, Ebay, Cabelas, Bass Pro Shop, Shimano, Daiwa, Rapala, Renn, Okuma, KastKing, etс. Clicking a link helps keep FishReeler.com free, at no extra cost to you!
About the author: Each article is verified by the fishing expert Sergio Smirnoff. The articles are written by professional and amateur fishermen with 20+ years of fishing experience.
Note: The views and opinions expressed in this article are those of the authors and do not necessarily reflect the official policy or position of any agency. The articles are for informational purposes only, share your opinions in the comments and join the fishing discussions, let's share our fishing experiences together!