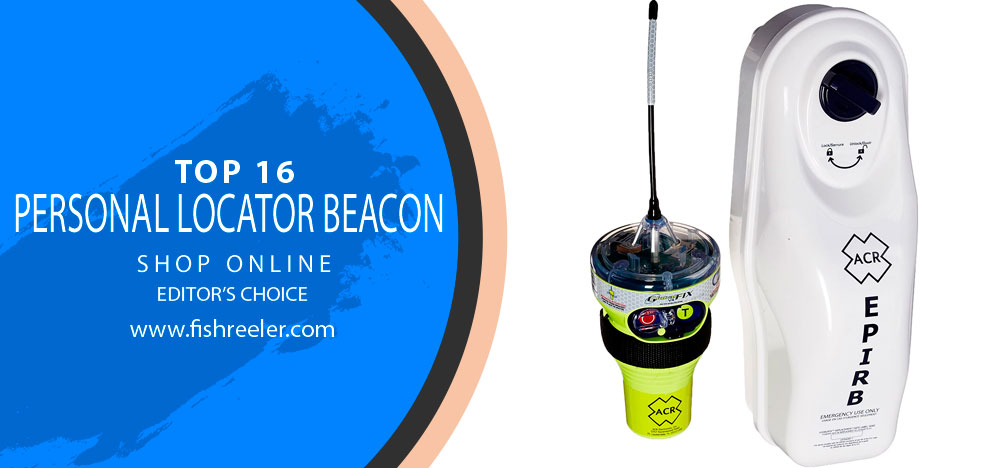 Fishing Just Got Safer: The Guide to Personal Locator Beacons in Fishing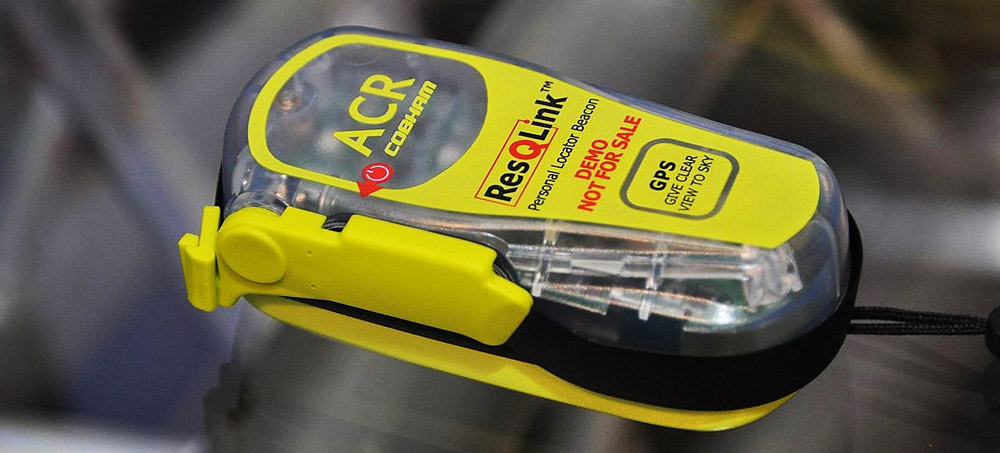 A Day on the Water: A Fisherman's Tale
It was a beautiful Saturday morning and the sun was just beginning to peak over the horizon. I had eagerly set out at dawn with my fishing gear in tow, anticipating a rewarding day out on the open water. The forecast promised calm seas and clear skies – the perfect setting for an undisturbed fishing expedition. Little did I know, by midday the tranquil sea would turn treacherous and I would find myself stranded miles away from shore. It was in that fateful moment, when my boat engine decided to give up and cell service was non-existent, that my Personal Locator Beacon (PLB) turned from a seldom thought-about gadget in my bag to my lifeline, my only connection to safety.
Riding the Waves Safely: The Role of Safety Equipment in Fishing
Being an angler is not just about having the best rods, the fanciest lures, or mastering the art of casting. It's about respect for the sea and the understanding that while it offers us great bounty, it can also be unpredictable and unforgiving. As a seasoned fisherman, I've learned that investing in reliable safety equipment is just as important as selecting the perfect bait. Over the years, I've seen how the right gear can prevent minor accidents from escalating into major emergencies. More so, it can make the difference between a harrowing experience and a tragic outcome.
Personal Locator Beacons: Your Lifeline at Sea
In the hierarchy of fishing safety gear, right on top is a device not everyone is familiar with, but one every angler should consider owning – the Personal Locator Beacon, or PLB. In the simplest terms, a PLB is a handheld device that, when activated in a distress situation, sends out a signal that is detected by a global satellite system. This signal carries your unique ID and precise GPS coordinates to a network of search and rescue services, who then initiate a rescue mission. In an environment as vast and unpredictable as the ocean, having a PLB in your fishing kit could literally be a lifesaver.
Understanding Personal Locator Beacons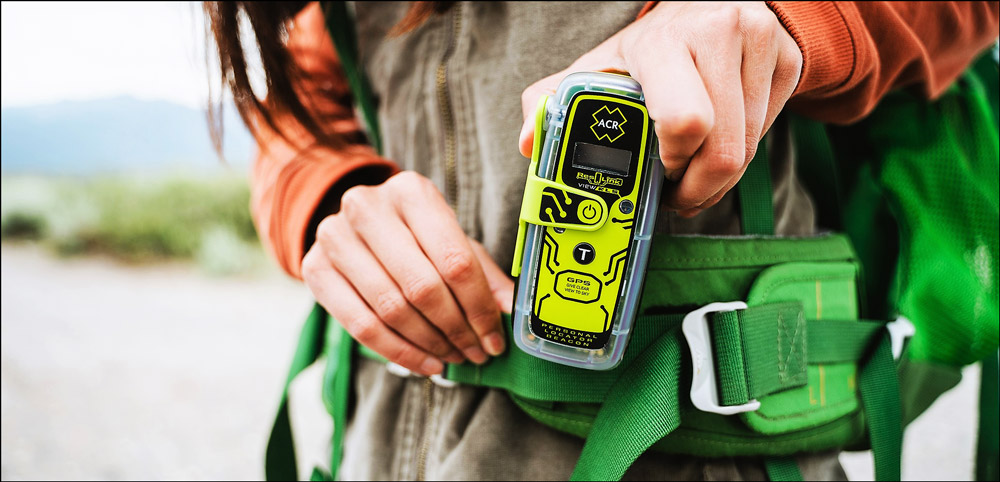 Decoding the Basics: What Exactly are PLBs?
To delve deeper into the realm of Personal Locator Beacons (PLBs), it's crucial to understand their fundamental purpose and function. In essence, PLBs are compact, handheld devices designed for one main purpose: to signal distress in life-threatening situations to rescue authorities, regardless of where you are. Designed for personal use, they're portable, battery-powered, and can be manually activated in an emergency. Their compact size makes them ideal for packing into a fishing kit, backpack, or survival bag, ready to be deployed when you need help the most.
Behind the Scenes: How Personal Locator Beacons Work
But how do these little gadgets work? Once activated, a PLB transmits a 406 MHz signal carrying a unique identification code, allowing authorities to identify you and access your registration information, which includes your name, emergency contact details, and other vital data. The beacon also broadcasts a 121.5 MHz homing signal, which search and rescue teams can use to pinpoint your location once they're in the vicinity. To further enhance its accuracy, most modern PLBs also incorporate a GPS receiver, providing your exact coordinates to rescuers. This two-fold system of satellite signal and homing frequency is designed to facilitate a fast and effective response, reducing rescue time and, consequently, increasing survival chances.
Choosing the Right Beacon: PLBs vs. EPIRBs and SPOT Devices
While PLBs may seem similar to other devices like EPIRBs (Emergency Position Indicating Radio Beacons) and SPOT devices, there are some crucial differences to note. EPIRBs, like PLBs, operate on the 406 MHz frequency and are primarily designed for maritime use. However, they are typically larger, designed to automatically activate upon immersion in water, and have a longer battery life. They're often mounted on vessels, not carried personally. SPOT devices, on the other hand, operate on a commercial satellite network and offer tracking and messaging services in addition to a distress signal. Unlike PLBs and EPIRBs, they require a subscription service. For the purpose of fishing, where you require something portable, reliable, and without ongoing costs, a PLB is usually the best fit.
ResQLink 400 Series Self-Test Guide Video
Why Every Fisher Needs a Personal Locator Beacon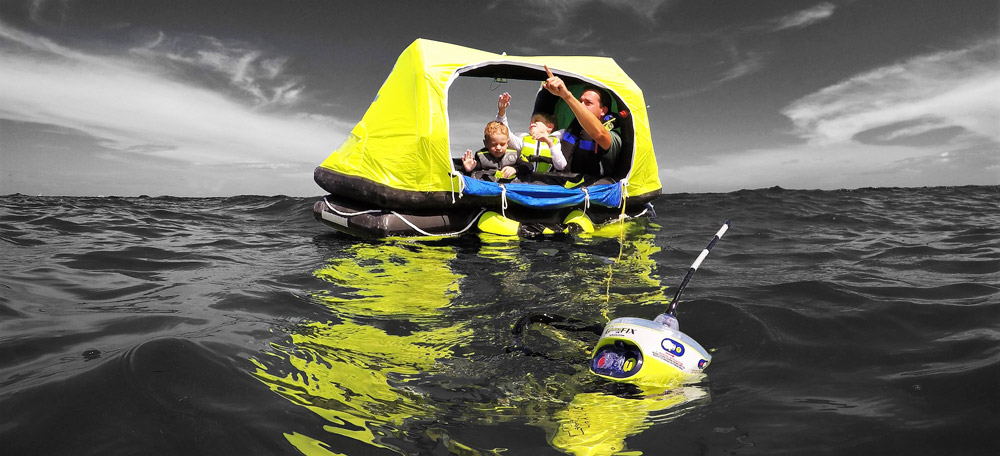 A Dive into Data: Fishing Accidents by the Numbers
You may think fishing is a serene and low-risk activity, but statistics tell a different story. According to the United States Coast Guard, in 2020 alone, there were 5,265 recreational boating incidents resulting in 767 deaths and over 3,000 injuries. The National Institute for Occupational Safety and Health (NIOSH) reports that commercial fishing is one of the most dangerous occupations in the United States. Even the most experienced anglers aren't immune to unforeseen circumstances like sudden weather changes, equipment failures, or accidents that can lead to emergency situations. This is where the role of Personal Locator Beacons becomes critical.
From Peril to Safety: Real-Life Rescues Thanks to PLBs
There are countless testimonies from fishers who owe their lives to PLBs. One that comes to mind is the story of a commercial fisherman in Alaska who fell overboard in rough seas. The quick activation of his PLB led to his rescue within a few hours, despite the harsh weather and remote location. Another case involves a group of recreational anglers off the Florida coast who found themselves in distress when their boat capsized. Their activated PLB led rescuers directly to them. These aren't isolated incidents, and the common element in each rescue was the presence of a Personal Locator Beacon.
Treading Dangerous Waters: Risks of Fishing Without a PLB
The dangers of fishing without a PLB cannot be understated. The vast and unpredictable nature of open waters means that emergencies can quickly escalate into life-threatening situations. A failed engine, unexpected storm, or sudden health issue can leave you stranded far from shore. Cell phones are often unreliable in remote locations and VHF radio signals can be limited. Flares can go unseen, and even the best swimmer can struggle against strong currents. Without a PLB, your chances of being quickly located and rescued drop significantly. It's a risk that's simply not worth taking, given the relative affordability and accessibility of PLBs today.
Your Lifeline on the Water: Introducing the 16 Best Personal Locator Beacons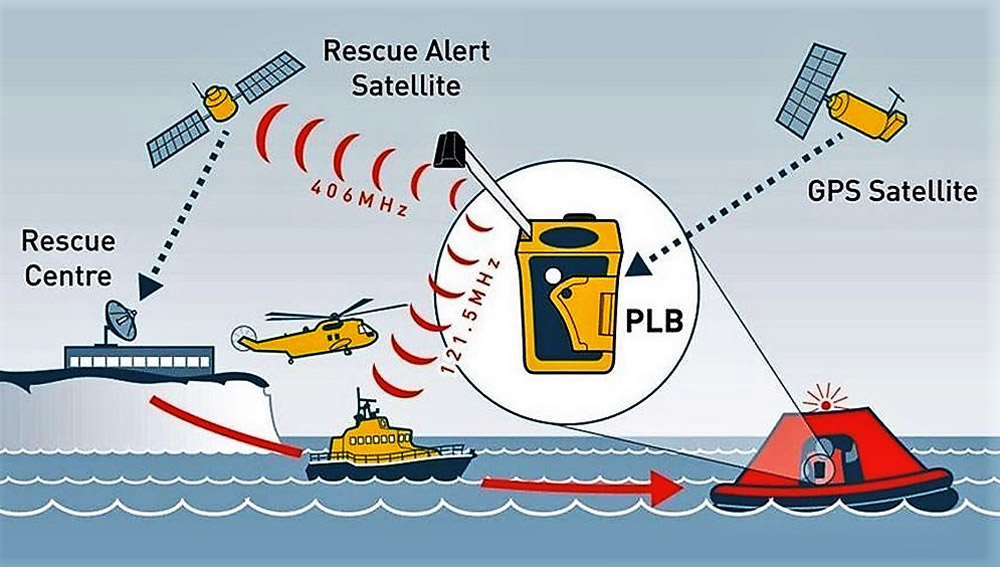 Are you an avid outdoorsman, traveler, or just someone who likes to explore? Do you find yourself wandering far off the beaten path often? If so, having a personal locator beacon (PLB) is essential. PLBs provide fast and reliable emergency notification and location-tracking services in case of an accident.
They can be lifesavers as they give rescue personnel accurate information about your position should an emergency occur. Whether you are trekking in the wilderness or hiking along a remote coastline—a PLB can give you peace of mind that help will arrive if needed.
In this blog post, we will go over our top picks for the best personal locator beacons on the market today to make sure you choose one tailored to meet your needs!
| Image | Product | Brand | Link |
| --- | --- | --- | --- |
| | ACR ResQLink 400 - SOS Personal Locator Beacon with GPS (Model: PLB-400) ACR 2921 | acr | |
| | ACR GlobalFix V4 Cat 1 EPIRB (Automatic) - Programmed for US Registration | acr | |
| | Ocean Signal rescueME MOB1 | Ocean Signal | |
| | ACR ResQLink View - Buoyant Personal Locator Beacon with GPS for Hiking, Boating and All Outdoor Adventures (Model PLB 425) ACR 2922 | acr | |
| | | | |
| | Black Diamond Pieps Micro Bt Beacon, No Color, One Size | Black Diamond | |
| | Black Diamond Equipment Pieps Pro Bt Beacon | BLACK DIAMOND | |
| | Garmin 010-01879-00 InReach Mini, Lightweight and Compact Satellite Communicator, Orange | Garmin | |
| | Garmin 010-01735-10 inReach Explorer+, Handheld Satellite Communicator with Topo Maps and GPS Navigation | GPS City | |
| | | | |
| | Radacat Messenger C1 Off-Grid GPS Communicator and Tracker Without Monthly Fee and Cell Signal | Connect with Phone via Bluetooth and Compatible with Android & iOS for Outdoor Activities | RADACAT | |
| | ACR AISLink MOB | acr | |
| | | | |
| | Personal Locator Beacon MicroPLB High-Reliability Bright Yellow 4.75" x 2.3" x 1.1" | Wireless Concepts, Inc. www.wireless-concepts.com | |
1# Acr ResQLink PLB-400 SOS Personal Locator Beacon GPS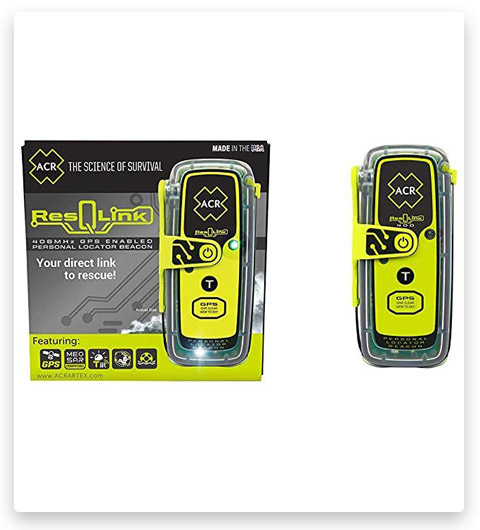 The ACR ResQLink 400 SOS Personal Locator Beacon with GPS is the perfect way to stay safe when you're out on the water. Its advanced technology allows it to transmit a unique distress signal on the 406 MHz frequency, paired with a unique digital code, to satellites that will then relay the signal to local user terminals, or LUTs. Once received, the LUT will process data from the signal and compute the exact location of the distress beacon.
This will allow search and rescue teams to closely monitor your beacon to find you quickly if needed in an emergency situation. The beacon can also be programmed with registration information such as who owns it and what vessel it is associated with, which enables even more precise and effective finding capabilities. Don't let yourself be left vulnerable out on open waters – trust in ACR's ResQLink 400 SOS Personal Locator Beacon today!
2# ACR GlobalFix V4 Cat 1 EPIRB Automatic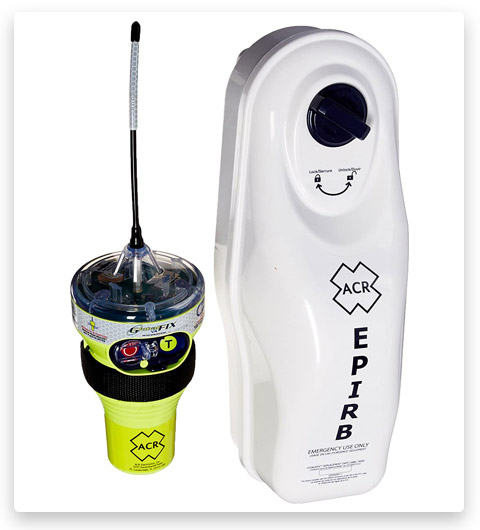 The ACR GlobalFix V4 Cat 1 EPIRB (Automatic) is programmed for US Registration, ensuring maximum safety and emergency preparedness for marine vessels. When activated, this powerful and reliable distress signal is sent out on the 406 MHz frequency to the Search and Rescue Satellites.
Each beacon is programmed with a unique digital code called a HEX ID or Unique ID that allows rescued persons to be identified quickly and efficiently. Besides pinpointing your exact location of you in case of an emergency, this can also provide essential information such as identifying the beacon owner, type of vessel associated with it, contact persons in case of emergency, float plan, and much more.
The signal then passes on to Ground Stations referred to as Local User Terminals (LUTs) where it is processed into useful results. Equip your water vessel with ACR GlobalFix V4 Cat 1 EPIRB (Automatic) today to rest assured that you will be safe whatever happens.
3# Ocean Signal rescueME MOB1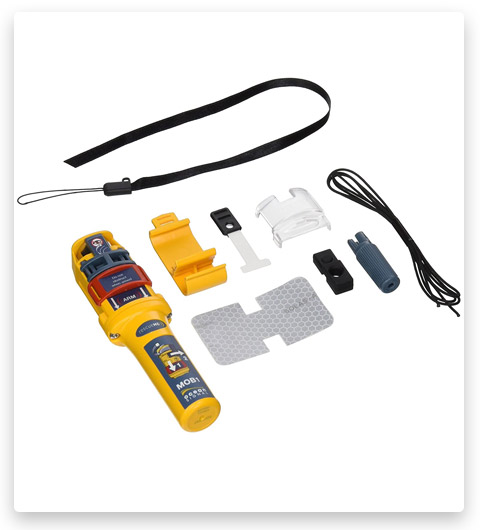 Introducing the world's smallest AIS MOB device with integrated DSC from Ocean Signal – the rescueME MOB1. This incredible product can give peace of mind no matter if it is a pleasure cruise or fishing expedition. The simple lifejacket integration makes preparation and set-up as quick and easy as possible while the 24+ operational hours ensure you have enough time to be rescued before needing to recharge it.
The MOB1 has a range of up to 5 miles dependent on conditions, allowing for communication with the vessel you were separated from, as well as vessels in the vicinity. Its reliable DSC functionality ensures speedy and accurate positioning, making rescue operations even faster than before.
Additionally, take comfort from its fast automatic activation upon immersion in water and 7-year battery life so that you don't need to worry about constant recharging after every journey! And lastly, an integrated strobe light ensures maximum visibility during low-light conditions.
To back all this up, a 5-year warranty is provided for your convenience. Don't settle for anything less than excellent performance and safety when out at sea – get your own rescueME MOB1 today!
4# ACR ResQLink ACR 2922 Buoyant SOS GPS Personal Locator Beacon Model PLB-425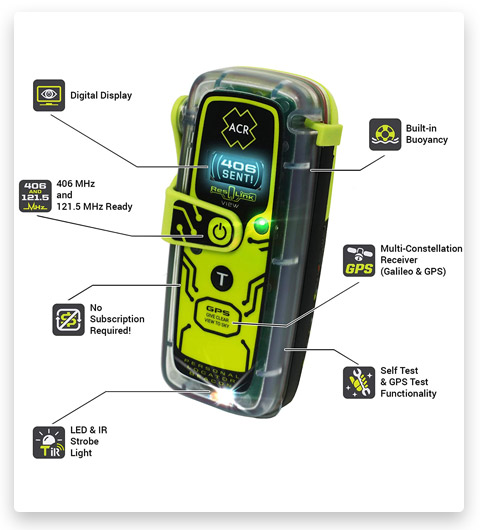 The ACR ResQLink View is the ultimate solution for outdoor adventurers and explorers. Designed with versatility and durability in mind, this lightweight personal locator beacon offers endless possibilities for hikes, boat trips, camping trips, climbing, RV trips, and more. When you activate your ResQLink View Beacon you can rest assured that an SOS distress signal with GPS position will be sent directly to Search and Rescue forces worldwide using the 406 MHz Emergency Distress Signal with 121.5 MHz Homing Signal (No Subscription Required).
We've made sure to pack every bell and whistle into one small device. Your ResQLink View Beacon includes attachment clips such as a belt clip, oral inflation tube clip, straps, and lanyards making it highly wearable on all your adventures. For additional peace of mind, you can also send pre-canned non-emergency self-test and GPS test messages to multiple contacts via text message (SMS) and email with a customized message using the optional 406Link testing subscription.
Finally, your device is linked to the 3 satellite constellations of COSPAS-SARSAT which helps send your distress message directly to Search and Rescue teams around the globe for added coverage no matter where you are or what treacherous terrain or waters you may encounter on your journey.
At ACR have designed the RESQlink View Beacon so that adventurers can confidently explore without worry wherever their imaginations take them knowing that help is just a few clicks or taps away with their buoyant personal locator beacon!
5# McMurdo FAST FIND 220 Personal Locator Beacon PLB 45016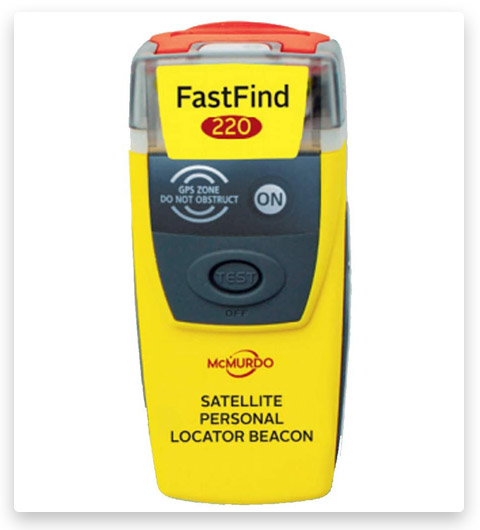 The McMurdo FAST FIND 220 Personal Locator Beacon (PLB) 45016 is the perfect tool for anyone who spends time outdoors. Whether you're an avid hiker, racing sailor, off-road explorer, diver, or simply appreciate the outdoors, a PLB provides peace of mind knowing help is only a "push away".
In the event of an emergency, this tiny device broadcasts a handshaking signal to over 100 search and rescue satellites from its 406/121.5MHz transmitter. It is easy to operate – no subscription needed – and transmits continuously for up to 24 hours so you can be located quickly and easily in any location or situation.
Plus, the device features a high-brightness LED SOS light that can be seen up to three miles away – making it easier for rescuers to locate you when you need them most. With the personal locator beacon, outdoors enthusiasts can enjoy their activities risk-free knowing help is just within reach.
6# Black Diamond Pieps DSP Sport Avalanche Beacon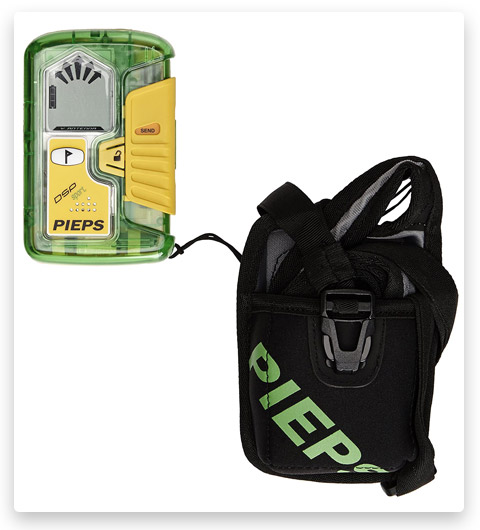 Introducing the Pieps Micro Bt Beacon from Black Diamond. From skiing to snowshoeing and beyond, this beacon is perfect for all types of mountain sports and activities. With its 3-antenna design, rugged construction, and lightweight feel, it's everything you could want in a beacon. Whether you're an experienced athlete or just getting started with winter sports, the Micro Bt Beacon has you covered.
It's one size fits all unisex design makes it easy to use no matter what your gear set looks like. And with Black Diamond's commitment to quality craftsmanship and innovation, you can be sure that the Pieps Micro Bt Beacon will last for years of reliable performance! So if you're looking for the ultimate mountain beacon for your adventures, look no further than the Pieps Micro Bt from Black Diamond!
7#
Black Diamond Equipment – Pieps Pro Bt Beacon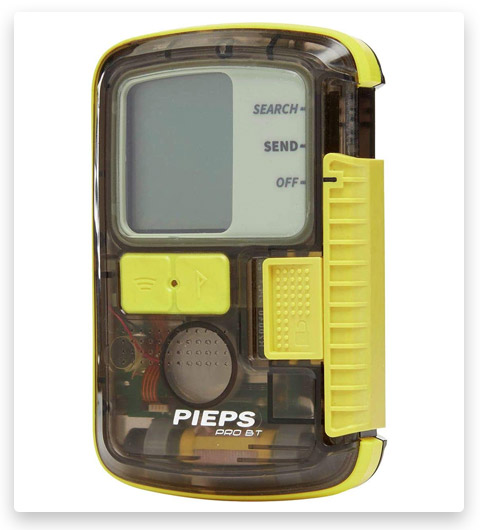 The Pieps Pro BT Beacon from Black Diamond Equipment is the premier equipment for tackling the most extreme conditions and hazardous terrain. This backcountry-focused gear is designed for earning your turns, Featuring an advanced technological design, finely tuned for specific use in inclement weather and harsh environments.
Bringing safer, faster, and more reliable results, you can rest assured the Pieps Pro BT Beacon has all the features you could need to feel secure and confident when traversing unfamiliar ground. With wireless control through Bluetooth connectivity that displays current location data as well as user information via its built-in interface, it's easy to keep safe on unpredictable paths.
The large screen shows a 30m range with 6+ reception bars for easy viewing of multiple signals at once. Forward sweeping 360° search technology offers rapid searching capabilities no matter where you find yourself in a variety of climates or daunting crevasses.
The robust handle delivers great handheld ergonomics for fast self-rescue action should an emergency arise. Built to last and withstand unimaginable challenges, you'll be able to conquer even the wildest ambitions with the rugged engineering of Black Diamond Products' Pieps Pro BT Beacon.
8# Garmin inReach Mini GPS Satellite Communicator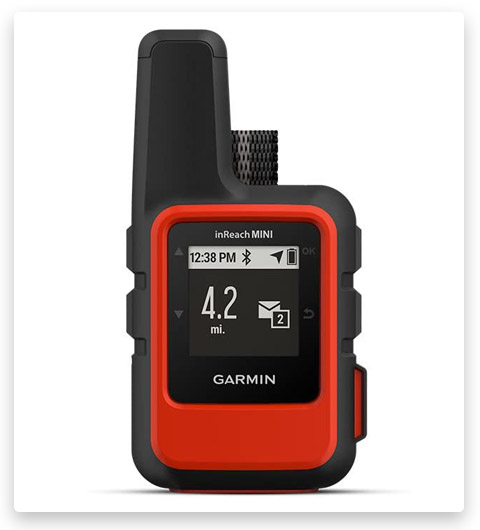 Garmin 010-01879-00 InReach Mini is the ultimate connection to staying safe while you are off the grid. Combining a lightweight and compact design that meets your highest expectations for low weight, yet provides an abundant array of features, this satellite communicator is perfect for adventurers looking to remain connected to their family and friends worldwide.
With the state-of-the-art, 100 percent global Iridium network (with optional satellite subscription) your messages can be sent and received in virtually no time at all. Furthermore, if the unthinkable occurs, trigger an SOS alert to the 24/7 emergency response team of GEOS, who will do everything necessary to get you out alive and well.
With Garmin's InReach Mini, you have yet another way of keeping connected with downloadable maps and U.S. NOAA charts for added convenience without too much bulk or weight down on your satchel or backpack. All this comes together in a small and rugged device with Bluetooth capabilities and a 0.9 x 0.9-inch display size—the complete package for those daring souls who wish to keep contact when they step into the unknown—take it along for incredibly convenient tracking on any journey that awaits!
9# Garmin inReach Explorer Handheld Satellite Communicator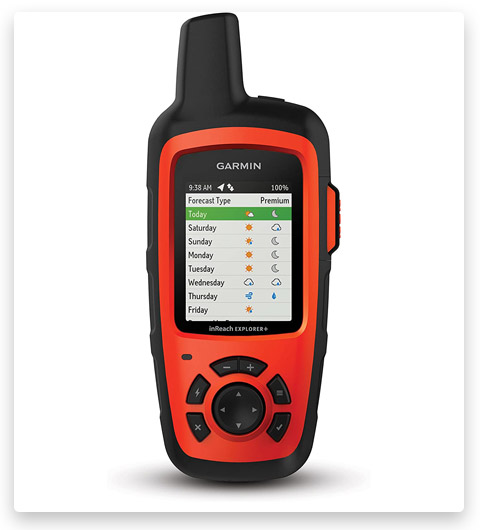 Introducing the Garmin inReach Explorer+ Handheld Satellite Communicator. It is the handiest and most intuitive device for adventurers and explorers headed into uncharted territory. With amazing features including 100 percent global Iridium satellite coverage for two-way text messaging, a 24/7 interactive SOS monitoring center, tracking and location sharing capabilities, and a host of other features, it will have your back no matter where your journey leads.
The inReach Explorer+ is equipped with a rechargeable internal lithium-ion battery that won't need replacing while on the go. It also has an IPX7 water rating, so you can be sure it will hold up in all conditions. To top that off, you can pair the Explorer+ with mobile devices using the free Earthmate app to access downloadable maps, U.S. NOAA charts, color aerial imagery, and more – all at the touch of your fingertips!
Plus, if you really want to explore anywhere on earth without sacrificing route-finding capabilities or safety features, this unit comes preloaded with Delorme topo maps and onscreen GPS routing plus a built-in digital compass, barometric altimeter, and accelerometer – perfect for any outdoor activity!
No matter where you roam – from snow-capped mountains to steamy rainforests – take confidence knowing that with an inReach Explorer+, you're never out of reach!
10# McMurdo Fast FIND 220 Personal Locator Beacon 45016 Bundle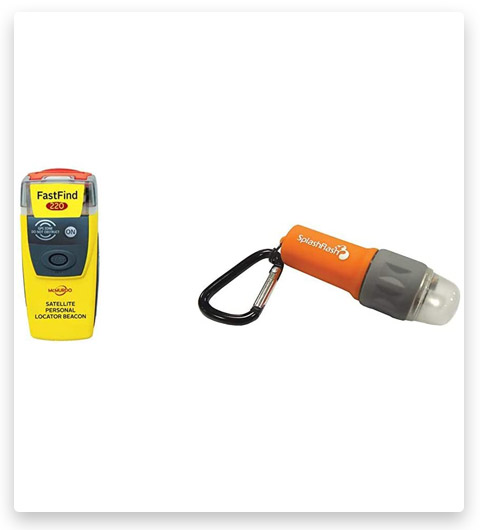 Safe and reliable communication is incredibly important, especially when it concerns the outdoors. The McMurdo Fast FIND 220 Personal Locator Beacon (PLB) Bundle is designed to provide high-value safety and security wherever you go. This orange beacon has an impressive 25-lumen brightness that cuts through smokescreens and other rugged conditions with ease.
The McMurdo Bundle comes with a high-performance rechargeable battery powered by acrylonitrile butadiene styrene and rubber materials, which are durable and reliable in any kind of environment. With this beacon, safety is made easier than ever! It guarantees highly precise location accuracy within 2 minutes of manual activation, along with a maneuverable hand strap for easy carrying that speeds up distress call response times automatically.
This versatile beacon serves as your ultimate trip companion whether in the wilderness or remote areas. Always be prepared no matter how unpredictable things can get: the McMurdo Fast FIND 220 Personal Locator Beacon (PLB) Bundle offers unbeatable performance anytime such emergent situations rise.
11# Radacat Team Messenger C1GPS Communication Devices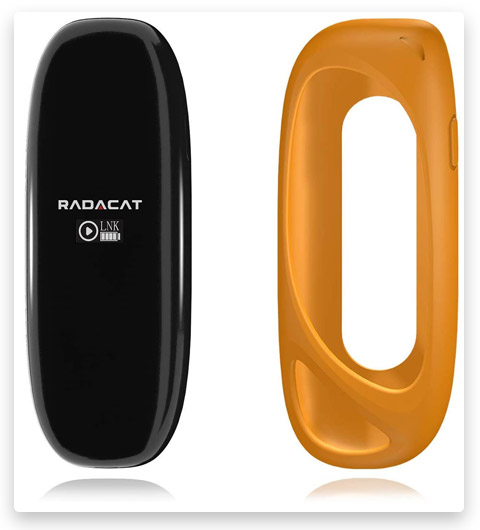 Are you in search of an off-grid GPS communicator and tracker without any monthly fees? Say hello to Radacat Messenger C1! This revolutionary device is the perfect solution for reliable communication during an emergency situation or anytime cellular service is unavailable. It uses offline GPS, text, and voice messaging, along with real-time location tracking for you and your team – no cell signal or wifi is required.
The Messenger C1 measures a compact 4.3 inches in height, 1.5 inches in width, and 0.6 inches thin, making it easy to carry everywhere you go. Equipped with a power button, special function button, OLED status screen, micro USB charging port, and hardy silicone case, this device is both user-friendly and durable. With its long-range mesh networking capabilities, you can stay connected no matter the circumstance – never worry about a monthly fee!
Discover the durability of the Radacat Messenger C1 GPS Tracker today: enjoy real-time location tracking plus communication with your team where cellular service fails. No need to worry about staying connected ever again!
12# ACR AISLink MOB
The ACR 2886 AISLink MOB is a state-of-the-art, lifesaving device that gives you peace of mind when you're on the water. This innovative personal AIS overboard beacon uses advanced Automatic Identification System (AIS) technology to keep you and your crew safe if someone falls overboard. The compact and affordable ACR 2886 is equipped with integrated Digital Selective Calling (DSC) as well as GPS capabilities.
The best part? The AISlink sends an alert message within fifteen seconds not only to orbiting search and rescue satellites but also to all local vessels within range with AIS receivers and/or plotters!
In the event of a man overboard situation, the AISLink MOB automatically activates upon inflation of the lifejacket, sending out an initial alert within 15 seconds. Plus, it pins down exactly where relocation is needed by having the ability to reveal its own location as well as that of the person in trouble. Additionally, it can alert your crew onboard by activating the DSC alarm on your ship's VHF system so that no one goes unnoticed in case of emergency.
The ACR 2886 truly embodies the latest advancements in lifesaving technology; so make sure you equip your vessel with it for maximum safety preparedness!
13# ACR PLB-375 ResQLink+ 406 Buoyant Personal Locator Beacon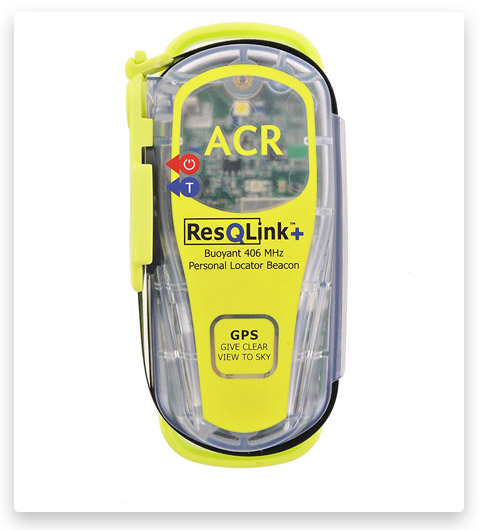 The ACR PLB-375 ResQLink+ 406 Buoyant Personal Locator Beacon is the ultimate solution in emergency preparedness and safety. It's a lightweight, durable, and convenient radio beacon that sends a signal to satellites in order to locate your precise position, enabling Search & Rescue responders to be notified of your location within minutes. Equipped with a powerful 5W transmission power and pre-programmed with the US country code, this PLB should only be used in life-threatening situations.
In contrast to most satellite notification devices on the market, you don't need any monthly or annual subscription to use it for long-term use, making it one of the most economical GPS-enabled emergency beacons available. For added convenience, the ResQLink+ comes with an antenna clip you can attach anywhere that offers easy grab-and-go storage. With such an advanced system and optimal design, you can rest assured your location will be quickly located in an emergency situation and help dispatched immediately. Get the ACR PLB-375 ResQLink+ 406 Buoyant Personal Locator Beacon for reliable peace of mind whenever needed!
14# Personal Locator Beacon MicroPLB High-Reliability Bright Yellow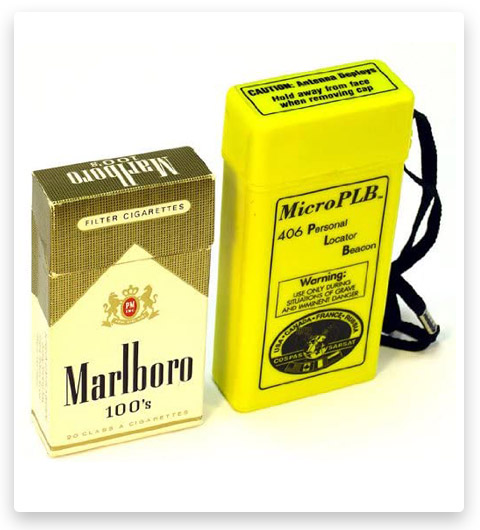 The Personal Locator Beacon MicroPLB High-Reliability Bright Yellow is your lifesaver in the midst of a crisis. This class II beacon is designed to withstand extreme conditions, withstanding temperatures of -20C to +55C, and tested to -30C to +60C. It transmits a 5W 406MHz satellite signal and a 121.5MHz homing signal for on-scene closure with search and rescue forces, with an internal GPS receiver that self-calibrates to current GPS constellation status before transmitting GPS coordinates accurately to less than 10 meters.
The locator also works in difficulty: it can be easily activated – even with gloves on in the dark and wet/cold weather – using just one hand, thanks to its power on/off pin for battery preservation and self-test capability. Moreover, it works 24/7/365 anywhere on the planet, making it truly reliable when you need help the most.
It is also very hardy: waterproof, dust proof, and very rugged making it even more reliable over time. Its lithium (Li/MnO2) battery is US DOT-approved for all common carrier transportation modes as well as being able to be carried aboard aircraft in carry-on luggage without service or subscription fees!
For mission-critical operations where failure is not an option, the Personal Locator Beacon MicroPLB High-Reliability Bright Yellow will surely deliver you back home safe and sound no matter the situation!
Key Features to Consider When Buying a PLB for Fishing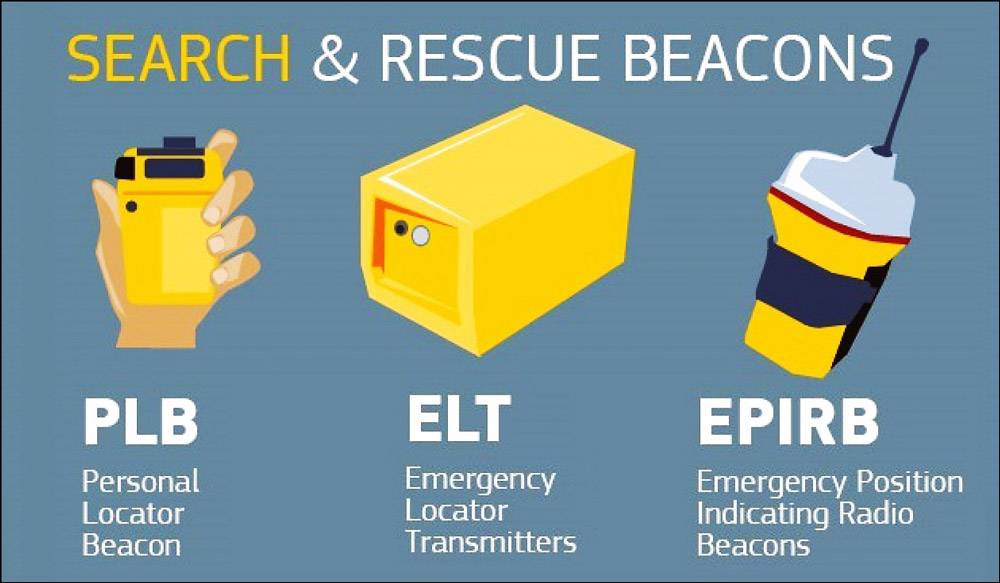 Long-Lasting Lifeline: Importance of Battery Life
Battery Life: A beacon is only as good as its battery. The battery life of a PLB not only determines how long the beacon can transmit a signal but also its shelf life. Most PLBs offer a battery life of around 24-48 hours when in use, and a storage life of 5-10 years. Some high-end models even promise a shelf life of up to 11 years. Choosing a PLB with a reliable battery is essential because when you need it, you really need it.
Never Lost: The Power of GPS Functionality
GPS Functionality: Although all PLBs send a distress signal via the 406 MHz satellite network, not all include GPS functionality. A PLB with integrated GPS can send your exact coordinates to the rescuers, significantly reducing the search time. Considering the vastness of the ocean and the urgency of maritime emergencies, this feature is highly recommended.
A Splash-Proof Savior: Understanding Waterproof Ratings
Waterproof Rating: Given that fishing is a water-based activity, the waterproof rating of your PLB is a critical consideration. Most beacons are designed to be water-resistant or waterproof to a certain depth. Some even float, which can be a lifesaver in a capsizing situation. Always check the waterproof specifications before purchasing.
Small but Mighty: The Advantage of Size and Portability
Size and Portability: The ideal PLB should be compact and light enough to be easily portable. A smaller device is easier to pack in your fishing kit or even attach to your life vest. That said, ensure that the size doesn't compromise the beacon's performance or durability.
Safety at Your Fingertips: Easy Activation and User-friendly Interfaces
Activation Process and Ease of Use: In an emergency, the last thing you want is a device that's complicated to activate. Look for a PLB with a straightforward, one-handed activation process. The device should also have a clear instruction label on it. A self-test feature is a bonus, allowing you to confirm that the device is functioning correctly before you head out to sea.
Review of the Best Personal Locator Beacons for Fishing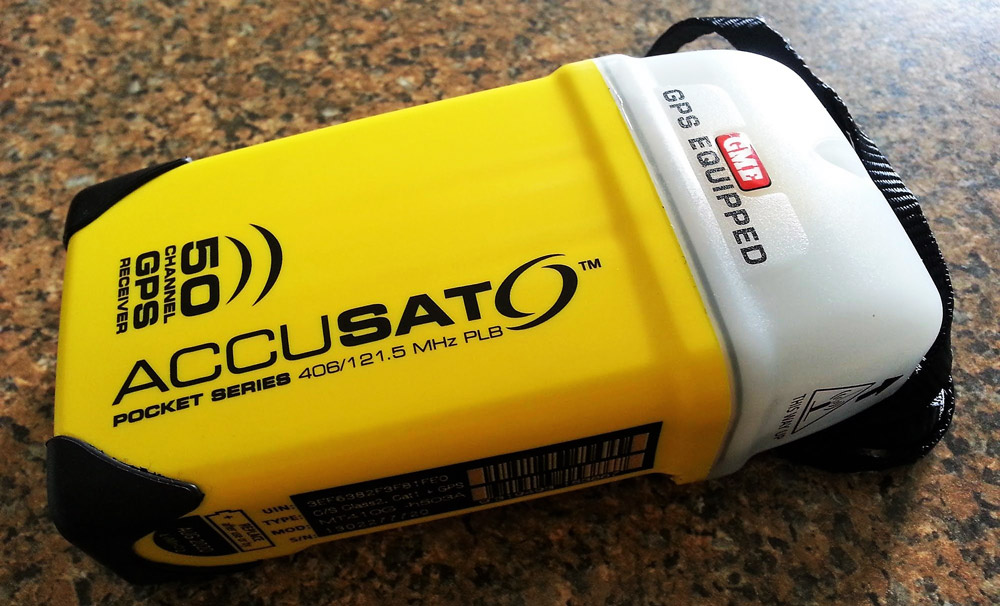 Top Catch: 5 Best PLBs for Fishing Reviewed
Let's dive into the top 5 PLBs that we've tested and found suitable for fishing, each with its unique features, advantages, and drawbacks.
ACR ResQLink View 425
Ocean Signal rescueME PLB1
McMurdo Fast Find 220
Garmin inReach Mini
ACR AquaLink View
A Tide of Choices: Comparing Features and Price Points
Comparing these options, it's clear that there are varying price points and features available in the market. While the ACR ResQLink View 425 and ACR AquaLink View are top-tier in terms of features and reliability, they come at a higher cost. On the other hand, devices like McMurdo Fast Find 220 offer essential functions at a more affordable price. Garmin inReach Mini stands out for its messaging capability but requires a monthly subscription.
Finding Your Perfect Match: PLB Recommendations for Every Fishing Need
For budget-conscious fishers, the McMurdo Fast Find 220 would be a solid choice, providing key functionalities without breaking the bank. For offshore fishing, where conditions might be more severe, investing in a robust and feature-rich PLB like the ACR AquaLink View would be wise. For freshwater fishing or for those who go on multi-day fishing trips, the Garmin inReach Mini would be useful due to its two-way communication feature.
How to Use Your PLB Correctly While Fishing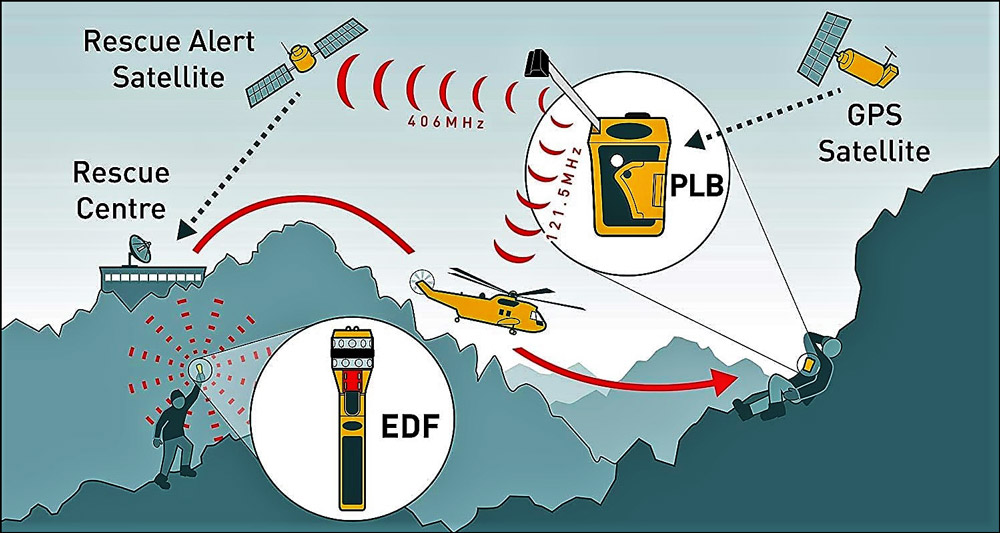 Staying Ahead of the Game: When and How to Activate Your PLB
Knowing when and how to activate your PLB is crucial. A PLB is meant to be used in situations of grave and imminent danger, where there is a threat to life. If your boat is sinking, someone has fallen overboard, or if there's a medical emergency, these are all appropriate times to use your PLB. To activate most PLBs, you'll need to extend the antenna, switch on the device, and ensure it has a clear view of the sky. Some models require pressing a button for a few seconds. Once activated, try to keep the PLB as high above the water as possible.
Proper PLB Care: Maintenance and Battery Replacement Tips
Proper maintenance of your PLB is essential for its longevity and reliability. Keep your device clean and dry when not in use. Store it in a cool, dry place away from direct sunlight. Most PLBs have a battery life of 5-10 years when not in use, and it's important not to use the PLB for 'testing' purposes beyond the self-test functions. Regular self-testing according to the manufacturer's instructions is good practice. The battery replacement should only be done by authorized service centers.
Legal Tides: The Importance of Registering Your PLB
It's important to note that PLBs need to be registered in your home country. In the United States, this is done through the NOAA (National Oceanic and Atmospheric Administration). Registration is free and can be done online. The information you provide during registration will be stored in the international distress database and will help rescuers identify you and contact your emergency contacts more quickly in case of a distress situation. Remember, using a PLB irresponsibly can result in false alarms, which can waste valuable resources and potentially result in fines.
FAQ: Fishing Just Got Safer
Conclusions: The Importance of Personal Locator Beacons in Fishing
In conclusion, a Personal Location Beacon is an essential piece of equipment for making sure you and your loved ones stay safe in any emergency situation.
Each Personal Locator Beacon varies in size and features depending on the need and budget, but all are designed to be highly reliable devices that can quickly alert search and rescue forces of your location should you get lost or stranded.
A PLB can provide you with peace of mind when traveling in remote areas, knowing that should an emergency occur, help will be on the way. In this blog post, we went over our top picks for the best PLBs on the market to make sure you choose one tailored to meet your needs!
With our comprehensive buyer's guide, we hope you find the Personal Locator Beacon that best suits your needs. Remember to always have one handy just in case!
Riding Back to Shore: The Necessity of a PLB in Retrospect
Navigating through the myriad of considerations, it's abundantly clear just how vital a PLB is to any fishing excursion, whether you're a casual angler or a professional mariner. Emergencies can happen to even the most experienced among us, and having a Personal Locator Beacon by your side is not just a smart choice—it's a potential lifesaver. From understanding what a PLB does to recognizing its significance in the realm of fishing, to selecting the best fit for your needs, we hope this guide has illuminated the path towards safer fishing experiences.
Casting a Line into Safety: Prioritizing Your Well-being on Your Next Fishing Trip
As we conclude, remember that safety should always be your first priority. Yes, fishing is a sport of joy, a time to bond with nature, and often a passionate livelihood, but it's essential to ensure you're well-prepared for any eventuality. Equipping yourself with a PLB is a significant step towards that preparedness. As you cast your lines and set out on your next fishing journey, do so with the confidence that you've taken a significant measure to protect yourself.
Tags: #personal locator beacon / #acr personal locator beacon / #personal locator beacon reviews / #resqlink personal locator beacon / #personal locator beacon with gps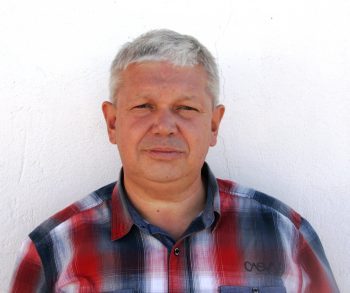 Sergio Smirnoff
Professional fisherman with 40+ years of experience.
Fishing and the ocean is a passion of my life. I am passionate about all kinds of sea fishing: fishing from the shore (spinning, float, baitcasting), from a boat, and spearfishing day and night.
I live in Tenerife (Canary Islands) for the last 10+ years and share my daily fishing experiences on my website. Many years of personal experience as a fisherman and the vast experience of my friends allow me to write professionally on any fishing topics (from choosing a flashlight and equipment to deep-sea fishing).
All of my advice is based on practical real-world experience and will be useful to both novice anglers and professionals.
Read more
about the author.
Affiliate Disclosure: FishReeler.com sometimes gets paid for listings, through sponsors or affiliate programs like Amazon, Ebay, Cabelas, Bass Pro Shop, Shimano, Daiwa, Rapala, Renn, Okuma, KastKing, etс. Clicking a link helps keep FishReeler.com free, at no extra cost to you!
About the author: Each article is verified by the fishing expert Sergio Smirnoff. The articles are written by professional and amateur fishermen with 20+ years of fishing experience.
Note: The views and opinions expressed in this article are those of the authors and do not necessarily reflect the official policy or position of any agency. The articles are for informational purposes only, share your opinions in the comments and join the fishing discussions, let's share our fishing experiences together!