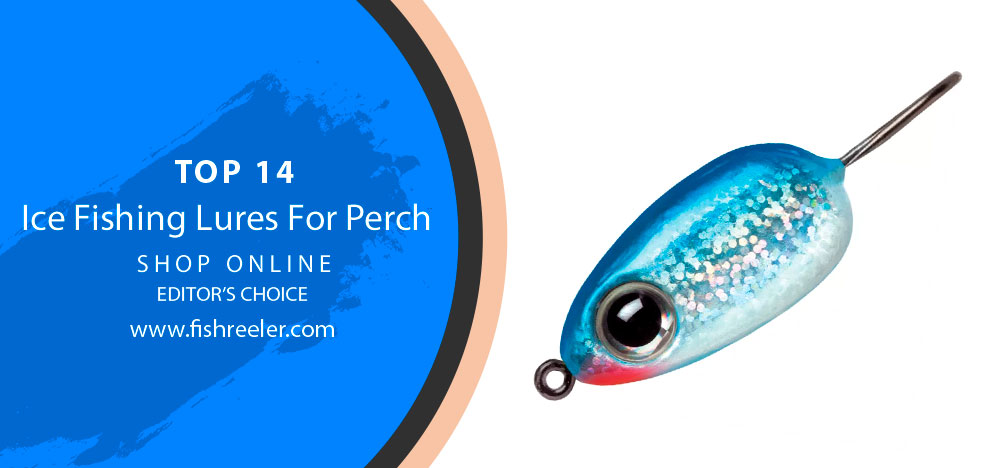 As a fisherman, you know that the right lure can make all the difference in catching fish. When it comes to perch, there are a few lures that stand out as the best options. If you're looking for the best ice fishing lures for perch, look no further!
Best Ice Fishing Lures For Perch Review
In this blog post, we'll take a look at some of the top-rated ice fishing lures for perch and discuss what makes them so successful. We'll also provide some tips on how to use these lures to catch more perch. So if you're looking to up your game this winter, read on!
1# Custom Jigs & Spins Ratso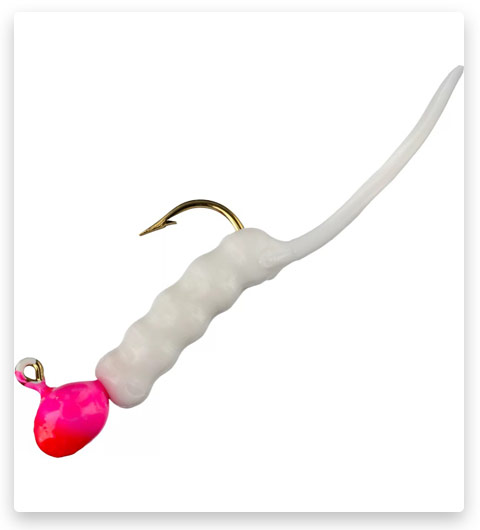 The Ratso from Custom Jigs & Spins is a great choice for ice fishing. It's extra-soft plastic body is perfect for panfish and walleye, and its thin flitting tail is always moving, making it easy to see on a flasher dial. The balanced lead head ensures that it hangs horizontally for a minnow-like look, making it an irresistible target for fish.
2# VMC Tear Drop Jig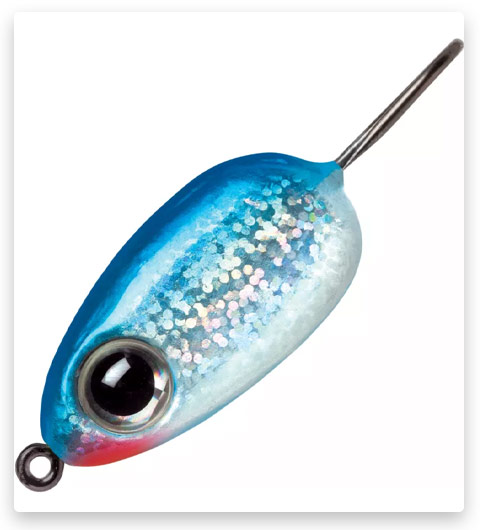 No fish can resist the VMC Tear Drop Jig, which features a unique wide profile that mimics fingerling-sized baitfish. This makes it an ideal choice for ice fishing, as well as a great option when fished with a float, deadstick rod, or tip-up. Ultra Glow pigments give you up to 15 minutes of visibility in low-light conditions, making it easier to land the big one.
3# Clam Jointed Pinhead Jigging Mino Spoon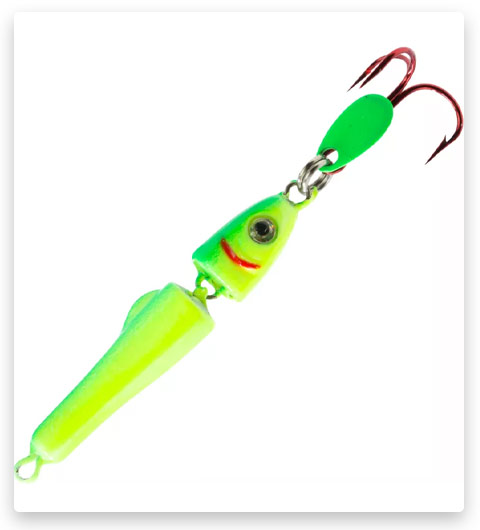 The Clam Jointed Pinhead Jigging Mino Spoon is the perfect tool for catching panfish. Its premium red treble hook ensures a good connection with your target, while the jointed body and small flapper blade create a realistic injured-minnow action that draws extra attention.
4# Lindy Glow Spoon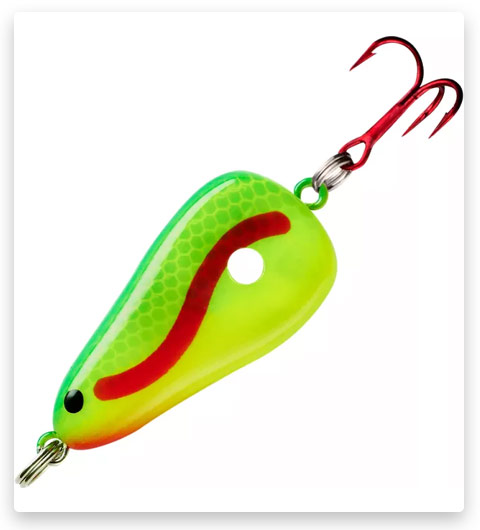 Looking for a little something extra to help you attract fish in dark or dingy water? Check out the Lindy Glow Spoon! This unique spoon is designed to hold a light stick (included), which creates maximum attraction and encourages predators to close in and attack.
The Glow Spoon also features a vibrant finish and unique swimming action that is sure to get fish biting. Plus, built-in tungsten rattles add even more appeal. Comes with 3 replaceable glow sticks and a removal tool.
5# VMC Tungsten Probe Jig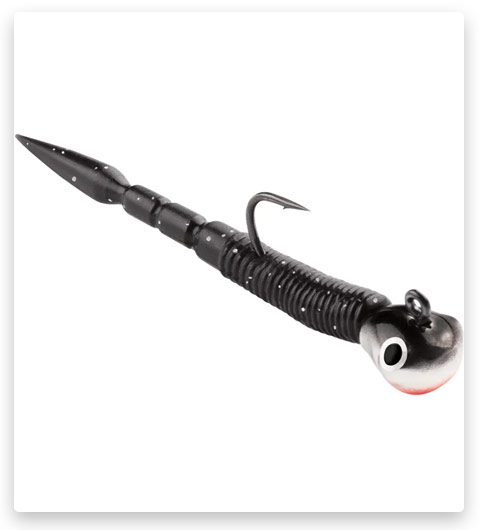 The VMC Tungsten Probe Jig is perfect for drawing the attention of finicky fish. It's pre-rigged with a Trigger X body that provides subtle action that triggers bites. The Power Gap hook sports a 5% wider gap than traditional jig hooks, and the compact tungsten head gets your bait down fast. This jig is great for crappie and other panfish species.
6# Maynards Tackle Tungsten Plow Grub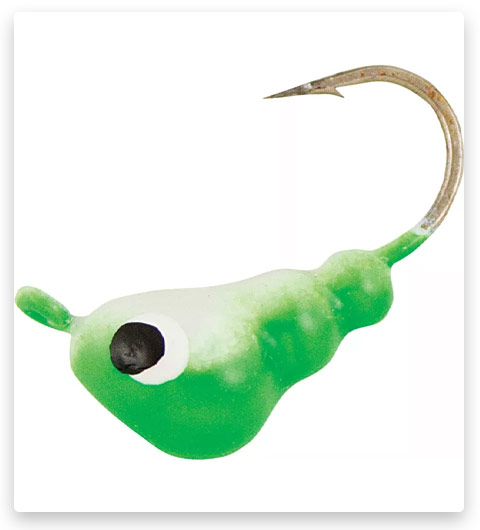 The Maynards Tackle Tungsten Plow Grub is designed to create a casual darting action that will draw the attention of finicky fish. The large body and Power Glow finish will also attract fish, while the ultrasharp hook ensures a good catch.
7# Northland Forage Minnow Jig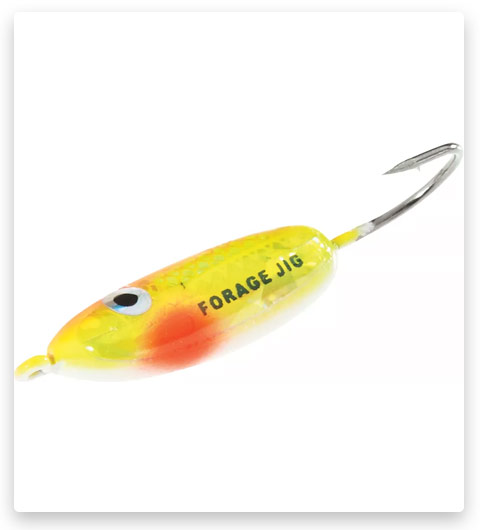 The Northland Forage Minnow Jig is one of the hottest minnow-imitating jigs on the market today. Its highly reflective holographic Baitfish-Image design makes it perfect for imitating a fingerling shiner minnow, making it deadly for perch, crappie, walleye, bass and trout.
The Forage Minnow is also tipped with live bait or fished plain, making it a versatile and effective lure for any angler. With its lifelike holographic 3D eyes, this jig is sure to attract fish from all around. So don't miss out on the action, pick up a Northland Forage Minnow Jig today!
8# Bay de Noc Swedish Pimple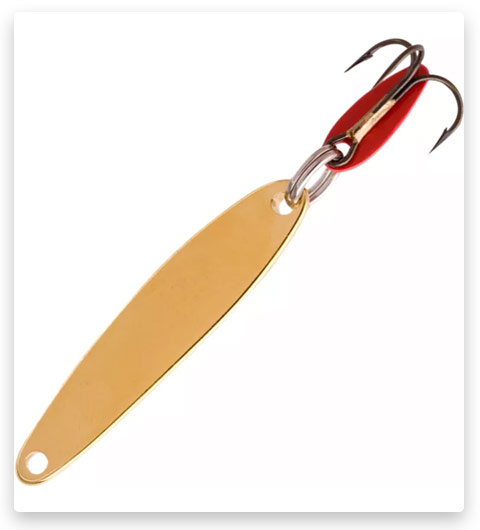 The Swedish Pimple is a legendary jigging spoon that's been used by anglers for decades. This superb ice fishing lure can be used plain or tipped with bait, and its erratic injured baitfish action is sure to attract fish.
9# Northland Fishing Tackle Eye-Ball Spoon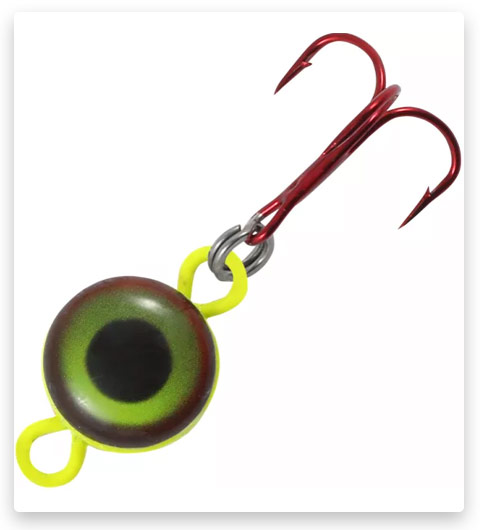 The Northland Fishing Tackle Eye-Ball Spoon was designed for one purpose: to get fish to bite. Its compact, fast-dropping design ensures that it will reach the strike zone quickly, while the realistic baitfish design on one side and colourful glow or flashy metallic finish on the backside attract attention. The prominent "taxidermy eye" also adds an extra level of realism and grabs the attention of the fish.
10# Lindy Rattl'n Flyer Spoon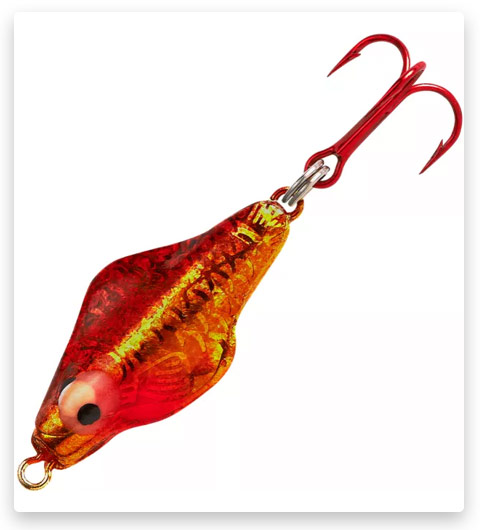 The Lindy Rattl'n Flyer Spoon is the perfect lure for anglers who want to fish like a pro. This unique hybrid design is perfectly balanced, fishes like a jigging spoon, and has the moves of a flutter spoon. Plus, it's made of a non-lead alloy and features a built-in brass rattle to attract fish from far away. And if that wasn't enough, the bleeding-bait red treble hook will ensure you land your catch every time!
11# Custom Jigs & Spins Demon Jig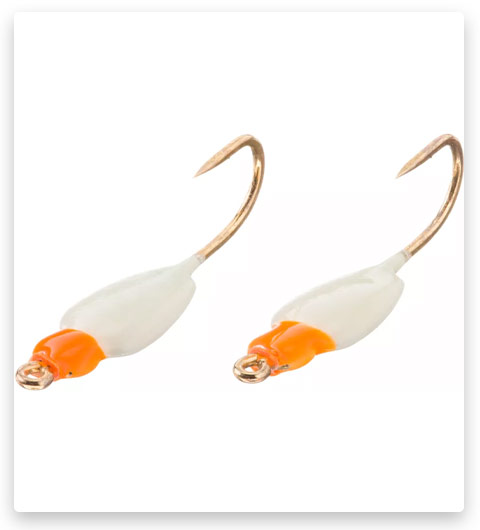 The Custom Jigs & Spins Demon Jig is the original beetle-shaped ice jig that redefined ice fishing for panfish. This classic design is a proven favourite among anglers targeting bluegill, perch, crappie, and trout. The high-gloss finish in two tones is easy to spot in dark waters, and the gold hook ensures maximum visibility. Whether you're a seasoned pro or just getting started, the Demon Jig is sure to give you the results you're after.
12# Acme Pro-Grade Rattling Google Eye Tungsten Jig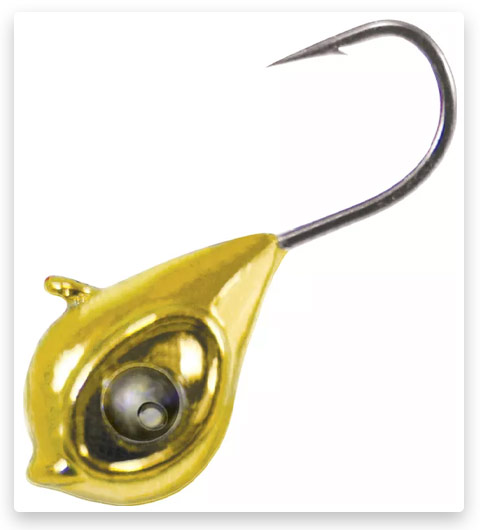 Looking to take your fishing game up a notch? Check out our Pro-Grade Rattling Google Eye Tungsten Jig! This innovative product features a built-in glass rattle that emits an irresistible sound, as well as a googly eye design that predators can't resist. The fast-dropping tungsten head makes it easy to get the jig down to the desired depth, while the super-sharp Japanese steel hook ensures a secure catch.
13# VMC Tungsten Wingding Jig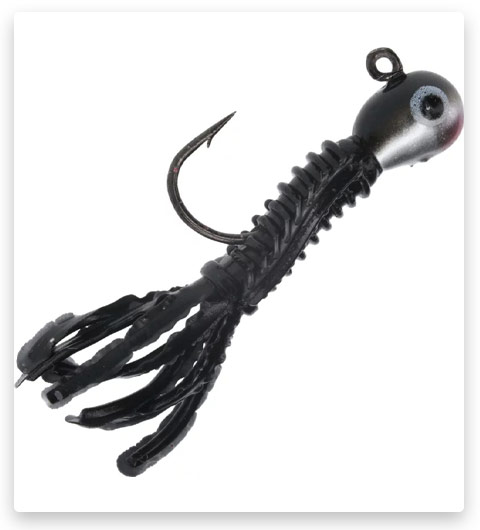 You need the VMC® Tungsten Wingding Jig if you want to trigger some bites from finicky fish under the ice. This little gem features a compact tungsten head that gets down fast, and a pre-rigged Trigger X® body sporting waving tentacles guaranteed to entice even the most reluctant fish. Plus, the Power Gap hook ensures positive hookups every time. So whether you're after crappie or other panfish, this jig is sure to deliver.
14# Custom Jigs & Spins Ratfinkee Jig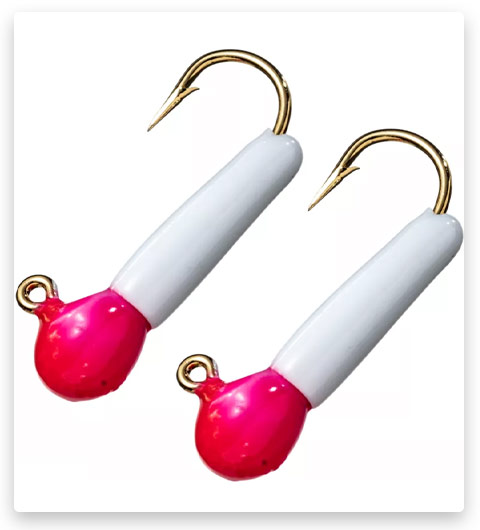 This Ratfinkee Jig is one of ice fishing's legendary lures, deadly for all panfish and trout. It has a balanced, minnow-shaped head and a seamless moulded plastic body. The 90° gold hook ensures a perfect horizontal orientation, while the tone of voice is professional and persuasive.
FAQ
Conclusion
Ice fishing for perch can be a lot of fun, and using the right lures is essential to success. In this article, we have provided a buyer's guide to the best ice fishing lures for perch, as well as some tips on how to use them effectively. We hope you find this information helpful in your next trip out onto the ice!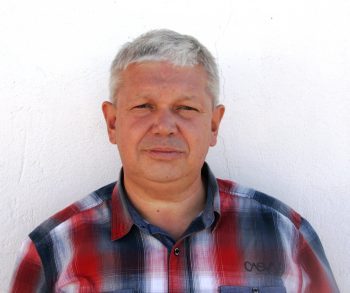 Sergio Smirnoff
Professional fisherman with 40+ years of experience.
Fishing and the ocean is a passion of my life. I am passionate about all kinds of sea fishing: fishing from the shore (spinning, float, baitcasting), from a boat, and spearfishing day and night.
I live in Tenerife (Canary Islands) for the last 10+ years and share my daily fishing experiences on my website. Many years of personal experience as a fisherman and the vast experience of my friends allow me to write professionally on any fishing topics (from choosing a flashlight and equipment to deep-sea fishing).
All of my advice is based on practical real-world experience and will be useful to both novice anglers and professionals.
Read more
about the author.
Affiliate Disclosure: FishReeler.com sometimes gets paid for listings, through sponsors or affiliate programs like Amazon, Ebay, Cabelas, Bass Pro Shop, Shimano, Daiwa, Rapala, Renn, Okuma, KastKing, etс. Clicking a link helps keep FishReeler.com free, at no extra cost to you!
About the author: Each article is verified by the fishing expert Sergio Smirnoff. The articles are written by professional and amateur fishermen with 20+ years of fishing experience.
Note: The views and opinions expressed in this article are those of the authors and do not necessarily reflect the official policy or position of any agency. The articles are for informational purposes only, share your opinions in the comments and join the fishing discussions, let's share our fishing experiences together!