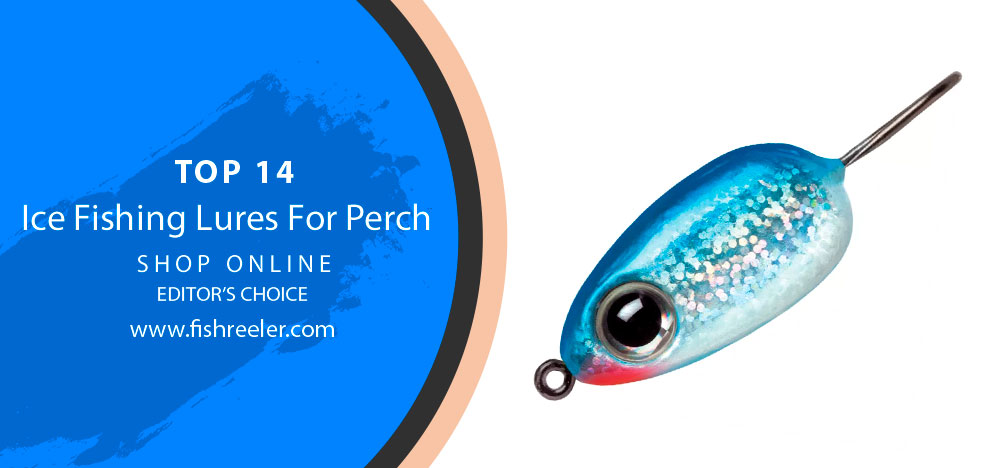 Breaking the Ice: The Thrill of Ice Fishing for Perch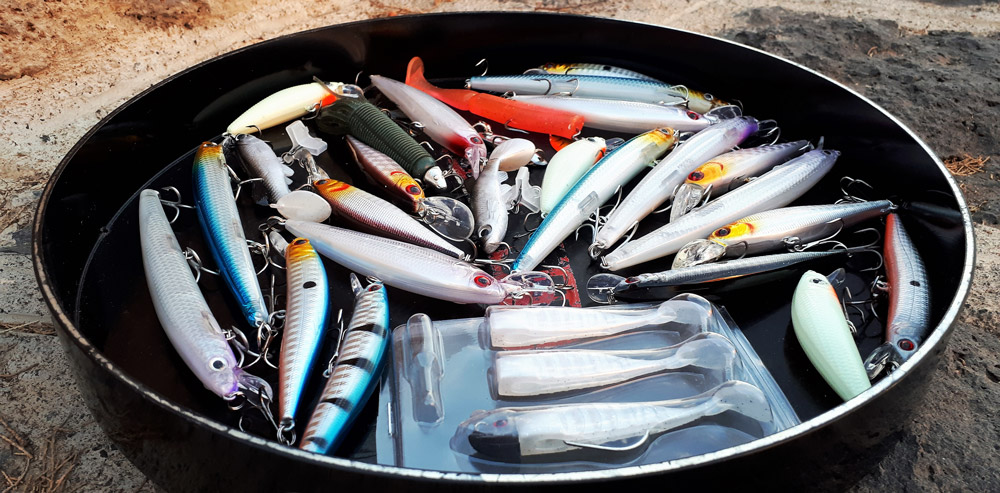 Ice fishing, a storied pastime that links us back to our ancestral roots, is more than a sport—it's an art and a science combined, requiring patience, skill, and an intimate knowledge of the underwater world. While many species captivate the ice angler's attention, one fish, in particular, takes center stage during the chilly winter months—the perch.
Perch, both in their size and sheer abundance, offer a rewarding challenge for anglers. Their tendencies to travel in schools mean where there's one, there are likely many, turning a quiet afternoon on the ice into an exciting fishing spree. But a successful perch fishing expedition is not just about finding the fish—it's also about enticing them to bite.
Selecting Your Secret Weapon: The Significance of the Right Lure
This is where the lure—the angler's secret weapon 🎣💥—comes into play. The type of lure you choose can significantly impact your ice fishing experience. It can mean the difference between returning home 🏠 with a story of the "one that got away" 🐟💨 or with a cooler full of your prized catch 🎣🏆. Lures are designed to attract fish through their color 🌈, vibration, and movement, mimicking the prey of the target species.
When it comes to perch, choosing the right lure becomes a fascinating game 🕹️ of understanding their preferences, habits, and feeding behaviors in cold winter waters ❄️💦.
The goal of this article 📝 is to demystify the process of selecting the right lure for ice fishing perch. Whether you're a seasoned angler looking to enhance your existing knowledge 🧠, or a beginner starting on your ice fishing journey 🛷🎣, this guide aims to provide you with the necessary insights to make an informed decision 💡 about the best lures for perch, ultimately leading to more successful and enjoyable ice fishing experiences 😊🎣.
Cold Water Chronicles: Unraveling Winter Perch Behavior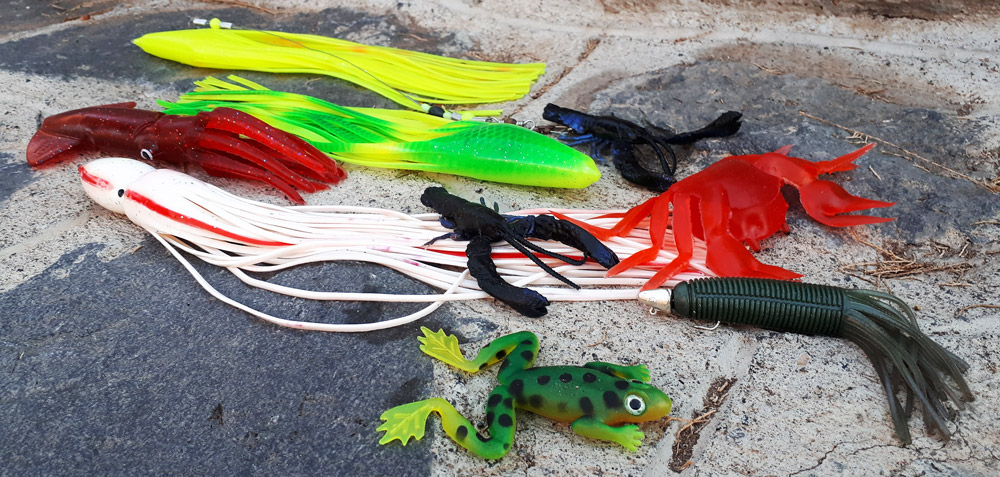 To begin, let's take a closer look at our target species—the perch. Perch are small to medium-sized fish known for their distinct, striped patterns and spiky dorsal fins. They're usually found in freshwater habitats, ranging from small lakes to large rivers. Perch are schooling fish, which means they move in large groups and are often most active during dawn and dusk—what we call "perch prime time."
However, winter presents a different story. As temperatures drop, so does the activity level of the perch. The cool water slows their metabolism, leading to less feeding. But don't let this discourage you. Less active doesn't mean inactive. Perch still need to eat, albeit less frequently, and that's when your lure becomes crucial.
During winter, perch tend to move to deeper water. They also become more selective in their feeding habits, favoring smaller prey. That's why many successful ice anglers often use smaller lures when fishing for perch.
Decoding Perch: Why Behavior Dictates Lure Selection
Understanding perch behavior is vital when it comes to selecting the right lure. Since perch are less aggressive feeders in winter, a lure that can attract their attention without startling them can prove effective. Lures that imitate their winter diet—small fish and invertebrates—are particularly successful.
Knowing that perch prefer deeper waters during winter also guides the type of lure you should choose. Lures designed to sink faster and stay stable at lower depths will give you an edge. It's also beneficial to consider the perch's schooling behavior. If you can catch the attention of one, you can likely attract the attention of the whole school.
In essence, choosing the right lure isn't just about the lure itself—it's about applying knowledge of perch behavior to use the lure effectively. Only then can you truly master the art of ice fishing for perch.
Lures 101: An Essential Guide to Your Fishing Arsenal
Before we delve into the specifics of perch fishing lures, it's important to understand what lures are and why they are a crucial part of your fishing tackle. A lure is a type of artificial fishing bait designed to attract a fish's attention and coax it into biting. Unlike live bait, lures can be used multiple times, making them a more sustainable and often more convenient choice.
Lures are designed to mimic the movements, vibrations, and colors of a fish's natural prey. They can be made from a variety of materials, including plastic, metal, and even wood in some cases. Lures come in different sizes, shapes, and colors, each meant to attract a specific type of fish or adapt to certain fishing conditions.
Cool Runnings: The Best Types of Lures for Ice Fishing
For ice fishing, certain types of lures tend to be more effective due to the specific conditions of this activity. Here are a few of the most common:
Jigging Lures: 🎣 These lures are designed to move vertically in the water, mimicking the movement of small fish 🐟 or invertebrates that perch might prey on. They're often used with a jigging technique, where the rod is lifted and lowered to make the lure "dance" in the water💧.
Spoons: 🥄 These concave metal lures are designed to mimic the flash ⚡ and vibration of a small fish. They're excellent for ice fishing ❄️🎣 because they sink quickly and can attract perch from a distance.
Soft Plastics: 🧊 These lures are often shaped like small fish 🐠, worms, or other invertebrates. Their soft texture can make a perch hold on to the bite a little longer, giving the angler extra time ⏱️ to set the hook.
Remember, the most effective lure for ice fishing will depend on a variety of factors including the target fish species 🐟, water conditions 💧, and even the specific time of the day 🌞🌙 or season. For perch, understanding their behavior, particularly in the winter, can guide you in choosing the right type of lure.
Video YouTube Ice Fishing For Perch – EVERYTHING You Need To Know
Unlock Ice Fishing Success: Top 14 Lures for Catching Perch

As a fisherman, you know that the right lure can make all the difference in catching fish. When it comes to perch, there are a few lures that stand out as the best options. If you're looking for the best ice fishing lures for perch, look no further! In this blog post, we'll take a look at some of the top-rated ice fishing lures for perch and discuss what makes them so successful. We'll also provide some tips on how to use these lures to catch more perch. So if you're looking to up your game this winter, read on!
1# Custom Jigs & Spins Ratso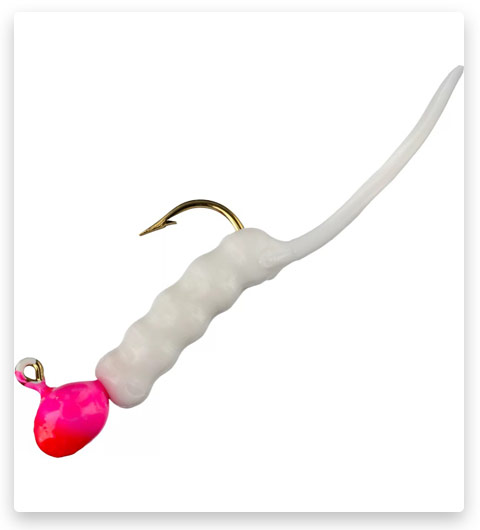 The Ratso from Custom Jigs & Spins is a great choice for ice fishing. It's extra-soft plastic body is perfect for panfish and walleye, and its thin flitting tail is always moving, making it easy to see on a flasher dial. The balanced lead head ensures that it hangs horizontally for a minnow-like look, making it an irresistible target for fish.
2# VMC Tear Drop Jig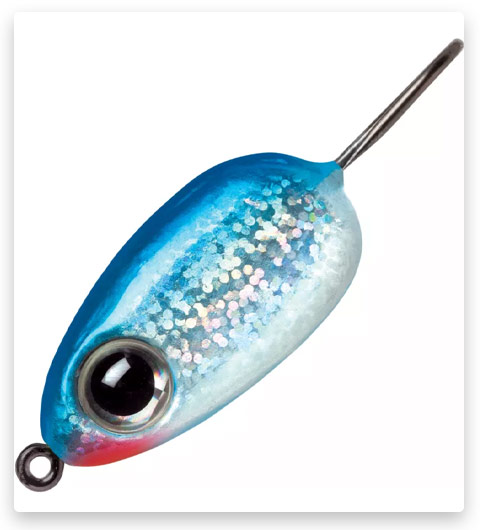 No fish can resist the VMC Tear Drop Jig, which features a unique wide profile that mimics fingerling-sized baitfish. This makes it an ideal choice for ice fishing, as well as a great option when fished with a float, deadstick rod, or tip-up. Ultra Glow pigments give you up to 15 minutes of visibility in low-light conditions, making it easier to land the big one.
3# Clam Jointed Pinhead Jigging Mino Spoon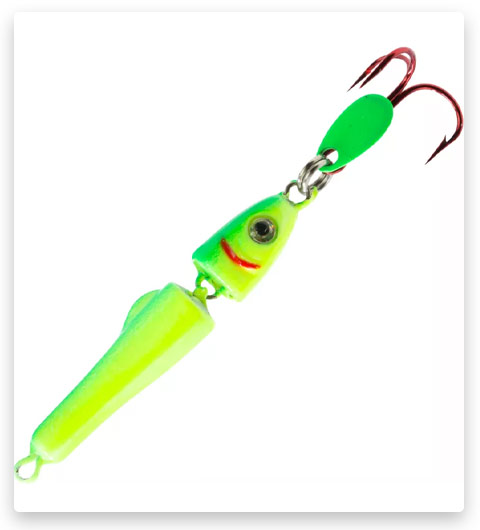 The Clam Jointed Pinhead Jigging Mino Spoon is the perfect tool for catching panfish. Its premium red treble hook ensures a good connection with your target, while the jointed body and small flapper blade create a realistic injured-minnow action that draws extra attention.
4# Lindy Glow Spoon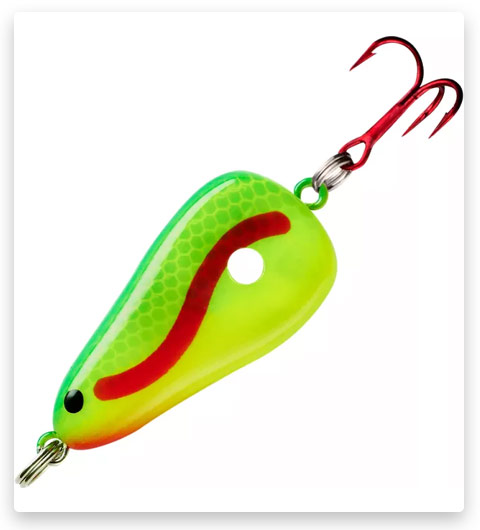 Looking for a little something extra to help you attract fish in dark or dingy water? Check out the Lindy Glow Spoon! This unique spoon is designed to hold a light stick (included), which creates maximum attraction and encourages predators to close in and attack.
The Glow Spoon also features a vibrant finish and unique swimming action that is sure to get fish biting. Plus, built-in tungsten rattles add even more appeal. Comes with 3 replaceable glow sticks and a removal tool.
5# VMC Tungsten Probe Jig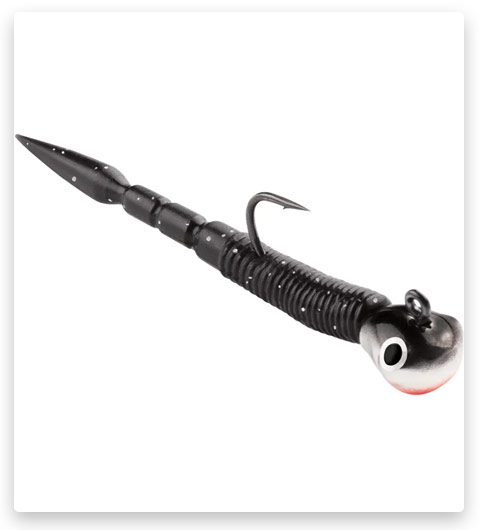 The VMC Tungsten Probe Jig is perfect for drawing the attention of finicky fish. It's pre-rigged with a Trigger X body that provides subtle action that triggers bites. The Power Gap hook sports a 5% wider gap than traditional jig hooks, and the compact tungsten head gets your bait down fast. This jig is great for crappie and other panfish species.
6# Maynards Tackle Tungsten Plow Grub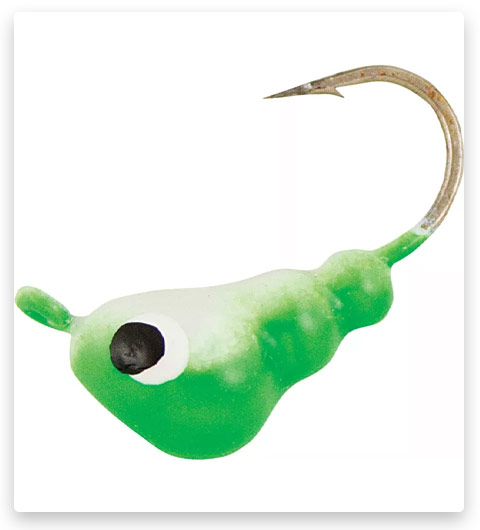 The Maynards Tackle Tungsten Plow Grub is designed to create a casual darting action that will draw the attention of finicky fish. The large body and Power Glow finish will also attract fish, while the ultrasharp hook ensures a good catch.
7# Northland Forage Minnow Jig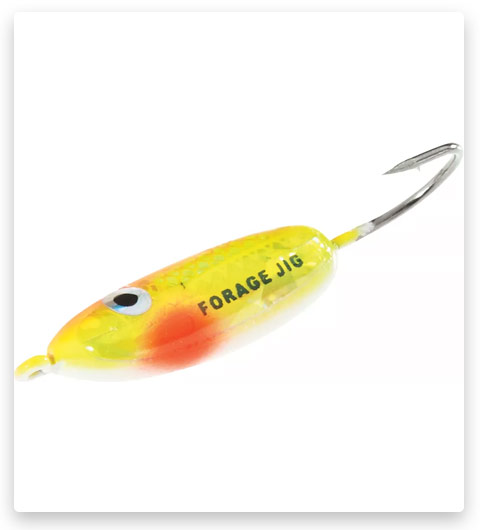 The Northland Forage Minnow Jig is one of the hottest minnow-imitating jigs on the market today. Its highly reflective holographic Baitfish-Image design makes it perfect for imitating a fingerling shiner minnow, making it deadly for perch, crappie, walleye, bass and trout.
The Forage Minnow is also tipped with live bait or fished plain, making it a versatile and effective lure for any angler. With its lifelike holographic 3D eyes, this jig is sure to attract fish from all around. So don't miss out on the action, pick up a Northland Forage Minnow Jig today!
8# Bay de Noc Swedish Pimple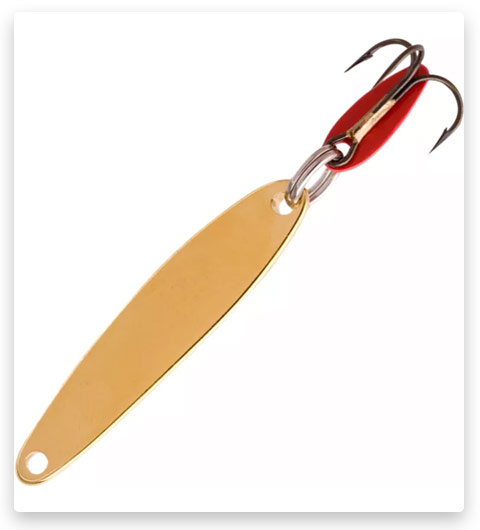 The Swedish Pimple is a legendary jigging spoon that's been used by anglers for decades. This superb ice fishing lure can be used plain or tipped with bait, and its erratic injured baitfish action is sure to attract fish.
9# Northland Fishing Tackle Eye-Ball Spoon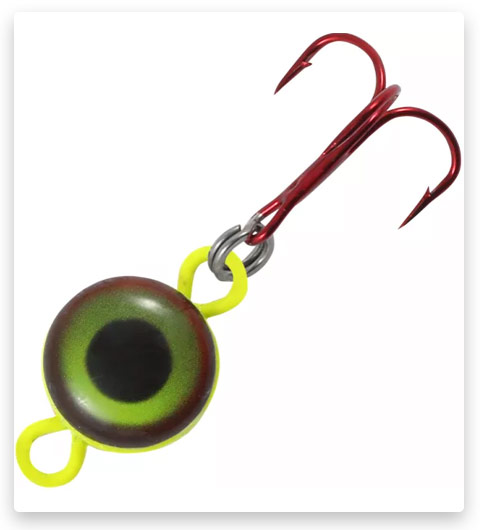 The Northland Fishing Tackle Eye-Ball Spoon was designed for one purpose: to get fish to bite. Its compact, fast-dropping design ensures that it will reach the strike zone quickly, while the realistic baitfish design on one side and colourful glow or flashy metallic finish on the backside attract attention. The prominent "taxidermy eye" also adds an extra level of realism and grabs the attention of the fish.
10# Lindy Rattl'n Flyer Spoon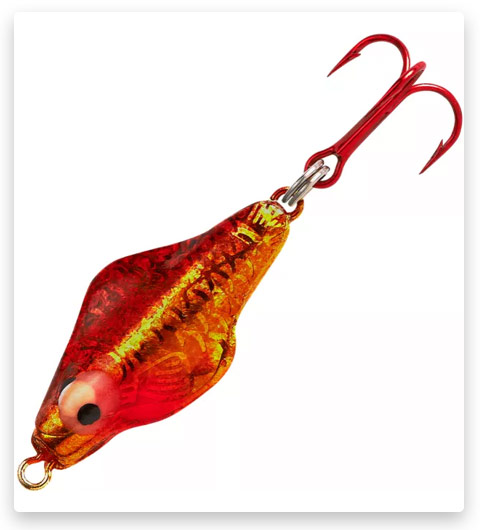 The Lindy Rattl'n Flyer Spoon is the perfect lure for anglers who want to fish like a pro. This unique hybrid design is perfectly balanced, fishes like a jigging spoon, and has the moves of a flutter spoon. Plus, it's made of a non-lead alloy and features a built-in brass rattle to attract fish from far away. And if that wasn't enough, the bleeding-bait red treble hook will ensure you land your catch every time!
11# Custom Jigs & Spins Demon Jig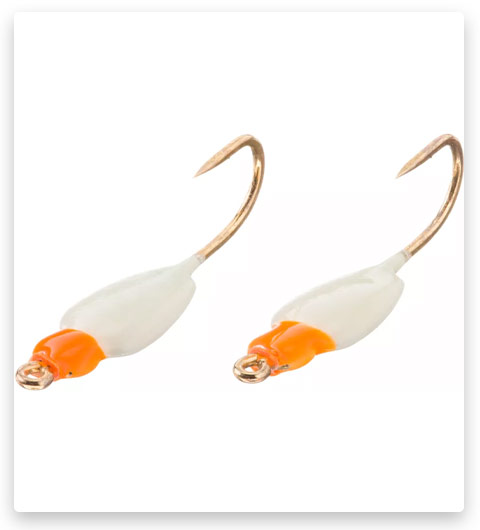 The Custom Jigs & Spins Demon Jig is the original beetle-shaped ice jig that redefined ice fishing for panfish. This classic design is a proven favourite among anglers targeting bluegill, perch, crappie, and trout. The high-gloss finish in two tones is easy to spot in dark waters, and the gold hook ensures maximum visibility. Whether you're a seasoned pro or just getting started, the Demon Jig is sure to give you the results you're after.
12# Acme Pro-Grade Rattling Google Eye Tungsten Jig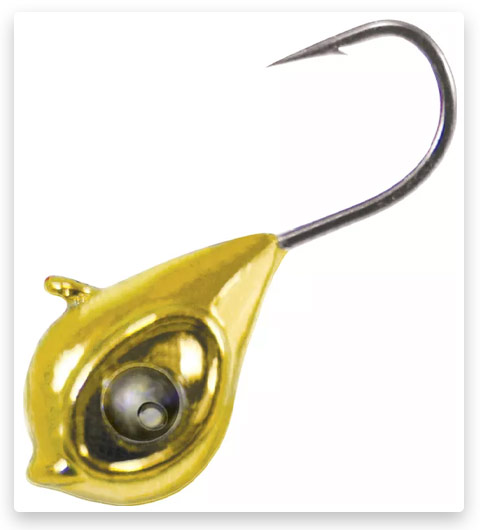 Looking to take your fishing game up a notch? Check out our Pro-Grade Rattling Google Eye Tungsten Jig! This innovative product features a built-in glass rattle that emits an irresistible sound, as well as a googly eye design that predators can't resist. The fast-dropping tungsten head makes it easy to get the jig down to the desired depth, while the super-sharp Japanese steel hook ensures a secure catch.
13# VMC Tungsten Wingding Jig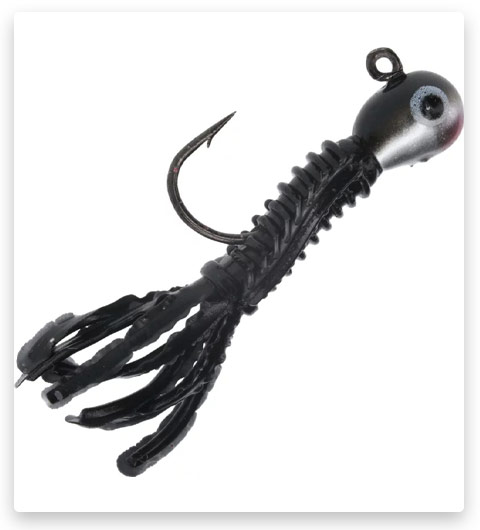 You need the VMC® Tungsten Wingding Jig if you want to trigger some bites from finicky fish under the ice. This little gem features a compact tungsten head that gets down fast, and a pre-rigged Trigger X® body sporting waving tentacles guaranteed to entice even the most reluctant fish. Plus, the Power Gap hook ensures positive hookups every time. So whether you're after crappie or other panfish, this jig is sure to deliver.
14# Custom Jigs & Spins Ratfinkee Jig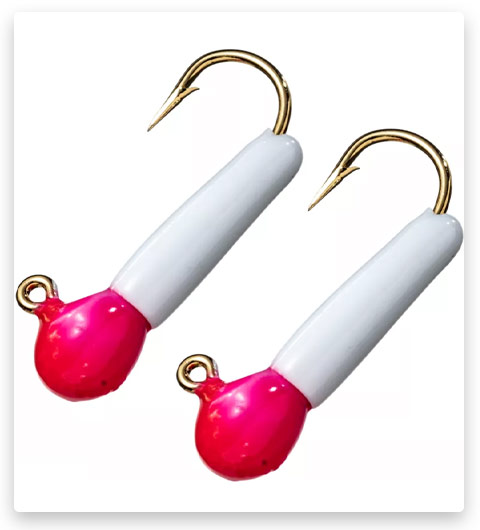 This Ratfinkee Jig is one of ice fishing's legendary lures, deadly for all panfish and trout. It has a balanced, minnow-shaped head and a seamless moulded plastic body. The 90° gold hook ensures a perfect horizontal orientation, while the tone of voice is professional and persuasive.
Fit for a Catch: Factors Determining the Perfect Lure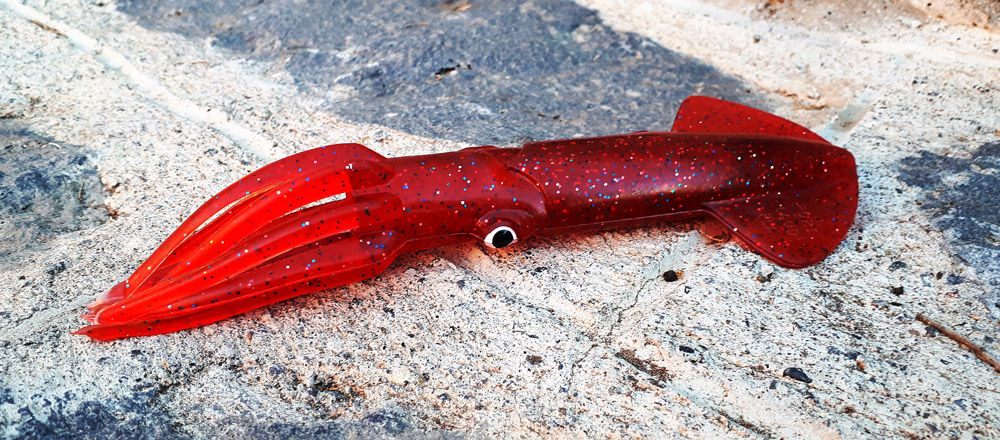 Choosing the right lure for perch ice fishing involves careful consideration of several factors. Let's discuss a few of them:
Size: Perch, especially in winter, prefers smaller prey. Therefore, a smaller lure can often be more effective. A general guideline is to use lures that are 1 to 2 inches long.
Color: Perch are known to have excellent color vision. Bright colors like orange, yellow, or green can work well in clear water, while metallic or glow-in-the-dark lures can be effective in murkier conditions or lower light.
Shape: Lures that mimic the perch's natural winter diet—small fish or invertebrates—are likely to be more effective. Consider using lures shaped like minnows, worms, or bugs.
Title: "Perch, Meet Lure: Adapting to Varying Ice Fishing Conditions"
Your choice of lure should also be influenced by the specific conditions on the day of your fishing trip:
Temperature: Colder temperatures may slow down a perch's metabolism, making them less likely to chase after fast-moving lures. In these conditions, a slow-moving jigging lure might be your best bet.
Depth: If you're fishing in deeper water where light penetration is low, consider using a lure that glows in the dark or has a strong metallic flash.
Light Levels: On bright, sunny days, perch may be attracted to flashy, reflective lures. On overcast days, or at dawn or dusk, glow-in-the-dark or brightly colored lures might be more effective.
The Lure Lottery: The Art of Experimentation in Ice Fishing
Finally, remember the importance of experimentation. Fish are unpredictable, and what works one day might not work the next. Don't be afraid to switch out your lure if you're not getting bites. Similarly, if you find a lure that's working particularly well, stick with it. Experimentation and adaptability are the keys to successful ice fishing. Keep a variety of lures in your tackle box so you can adjust your strategy as needed. By paying attention to the perch's behavior and your surroundings, you'll improve your chances of having a successful day on the ice.
Perch's Top Picks: The Most Successful Lures for Ice Fishing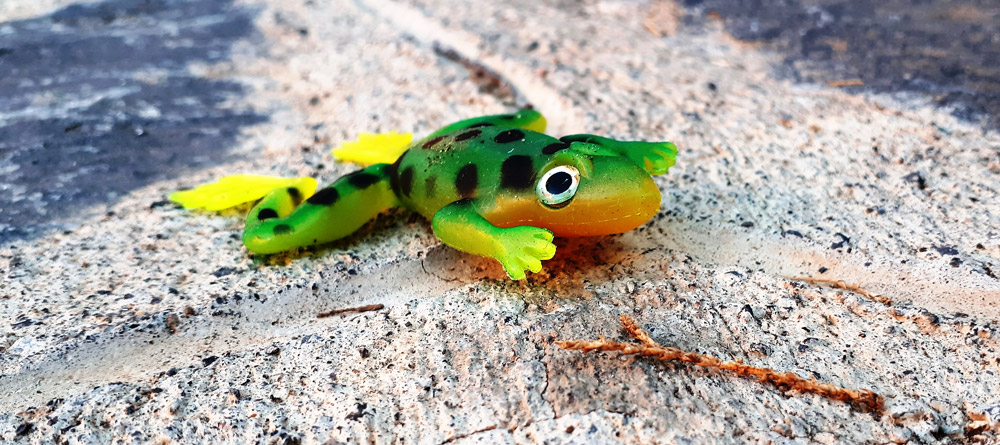 Every ice angler has a favorite lure, and the 'best' can be subjective, depending on personal experience, water conditions, and the fish's mood on any given day. However, a few lures have consistently proven to be successful for ice fishing perch. Here are the top picks:
Swedish Pimple: The Swedish Pimple is a jigging lure known for its versatility and effectiveness in catching a variety of fish, including perch. It is characterized by its teardrop shape, a shimmering foil finish that mimics baitfish and comes with a red flapper for added attraction. The Swedish Pimple works best in deeper waters and during active feeding times due to its flashy presentation. Jig it in an up-and-down motion to mimic a distressed baitfish. Its advantage is its proven track record and versatility, but on the downside, it might not be as effective in extremely cold conditions when perch are less active.
Rapala Jigging Rap: This lure mimics the movement of small forage fish, a favorite meal for perch in winter. It's great for aggressive jigging in deeper water. The Jigging Rap has a balanced, weighted design that allows it to swim in wide circles when jigged. Its advantage lies in its realistic fish-like design and swimming action, but its larger size may not be as appealing to perch prefers smaller prey.
Clam Drop Jig: The Clam Drop Jig is a tungsten jig that is heavier than lead, allowing it to drop quickly into the strike zone. It's especially effective in deeper waters or when perch are hugging the bottom. Pair this with a piece of live bait or soft plastic for added attraction. Its primary advantage is its fast drop speed, but it may require additional attraction such as live bait or soft plastic.
Glow Shot Spoon: The Glow Shot Spoon's key feature is a glow stick insert that illuminates the lure, making it highly visible even in deep or murky water. It works exceptionally well in low-light conditions or when fishing at dawn or dusk. The downside? You'll need to change the glow stick every few hours.
Lindy Perch Talker: This lure is designed specifically for perch, featuring beads and discs that create noise and vibration to attract fish. It works well in a variety of conditions but is particularly effective when perch are in deeper water. The major advantage is the sound component that can lure in fish from a distance, but it might not be as effective in extremely clear water where subtler lures could be more appealing.
Remember, no lure guarantees a catch every time. Use these lures as a starting point, but don't be afraid to experiment and find what works best for you.
Ice Fishing Wisdom: Essential Tips and Techniques for Success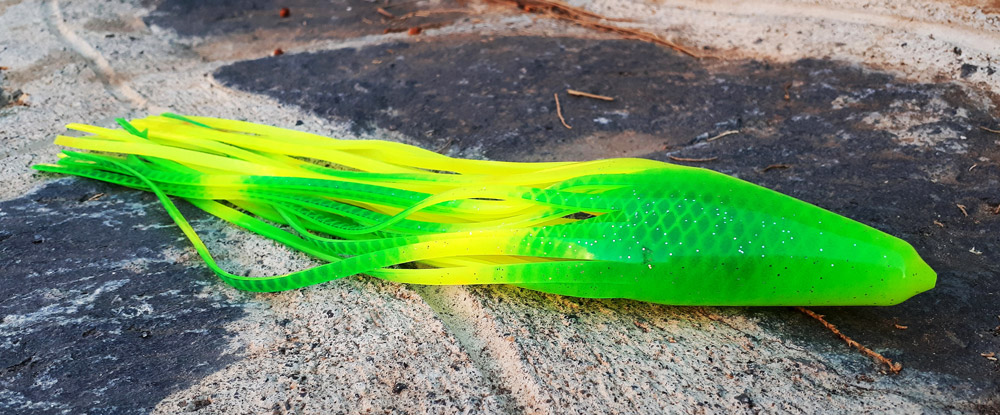 While choosing the right lure is crucial, knowing how to use it can be the difference between a satisfying catch and going home empty-handed. Let's delve into some key tips and techniques to ensure your ice fishing trip is a success.
Jigging Techniques
The technique of jigging—moving your lure up and down in the water column 🌊—can be crucial when ice fishing for perch. A few different jigging techniques can be effective:
The 'Lift and Drop' 🪂: Lift your rod tip a foot or so and then let the lure drop back down. The idea is to make your lure mimic a dying baitfish 🐟. It's a great technique for when perch are active.
The 'Twitch' 🐦: If the fish are a bit more lethargic due to cold temperatures ❄️, try a subtle twitch. Just a slight upward twitch of your rod tip can make your lure look like a tiny creature struggling in the water.
Change Location Often 🔄📍: If you're not getting any bites, don't hesitate to change your location. Perch are schooling fish 🐟🐟🐟, and if you haven't caught anything within 15-20 minutes, the school may not be nearby. Drill several holes at different locations and depths to increase your chances of finding a school of perch.
Switch Out Lures 🔄🎣: Similar to changing your location, don't hesitate to switch out your lures if you're not getting bites. Different lures may work better depending on the time of day 🌅, temperature 🌡️, and other conditions. Also, perch may just stop being interested in the same lure after a while
Through the Ice: Anecdotes from the Trenches
Let me share a personal anecdote that illustrates some of these tips. Once on a particularly chilly day, I was out on the ice, and the perch were being particularly stubborn. I started with a Swedish Pimple, a favorite of mine, but after 20 minutes without a bite, I decided to switch it out. I tried a Glow Shot Spoon, thinking the glow might attract some attention in the low light. Another 20 minutes passed—still nothing.
Finally, I switched to a Lindy Perch Talker, and within a few minutes, I had a bite. For the rest of the day, the Perch Talker was the star. This experience was a powerful reminder of the importance of flexibility and persistence when ice fishing. Remember, the key to success is patience, observation, and the willingness to experiment with different strategies.
Safety First: Ensuring a Safe Ice Fishing Experience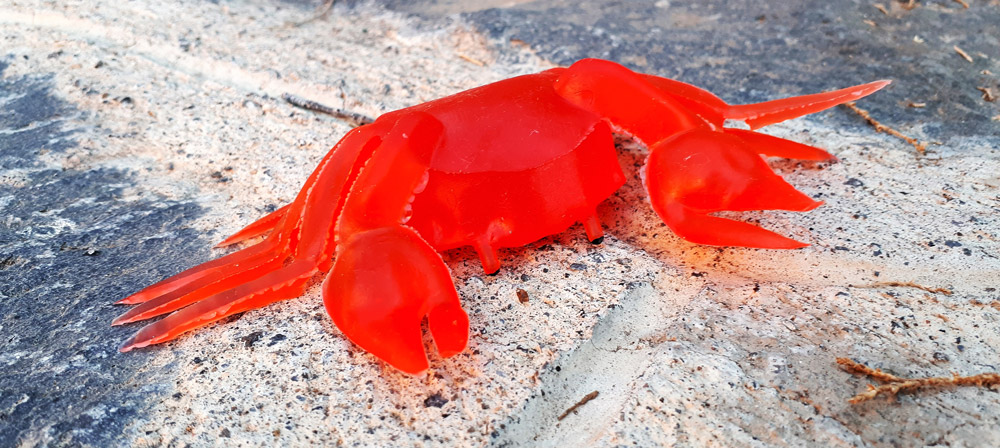 Ice fishing can be a thrilling adventure, but it's essential to prioritize safety. Here are some precautions you should take:
Check the Ice: Make sure the ice is at least 4 inches thick for walking, 5-7 inches for a snowmobile, and 8-12 inches for a small car or pickup. Clear ice is generally stronger than ice with snow on top or bubbles trapped inside.
Dress Appropriately: Dress in layers to keep warm, and be sure to wear insulated, waterproof boots. Consider a floatation suit or life vest for additional safety.
Be Prepared: Bring a first aid kit, ice picks, a rope, and a whistle for emergencies. Also, keep a fully charged cell phone with you.
Never Fish Alone: Always fish with a buddy, and let others know where you're fishing and when you plan to return.
Respect the Catch: Embracing Ethical Fishing Practices
Ethical fishing practices are key to preserving the sport for future generations. Here are some points to remember:
Catch and Release: If you catch a fish you don't plan to eat, consider practicing catch and release. Handle the fish carefully, keep it in the water as much as possible, and remove the hook gently to minimize harm.
Size and Catch Limits: Respect the regulations set by your local Department of Natural Resources. These laws exist to maintain healthy fish populations.
Handle Fish with Care: If you plan to release a fish, wet your hands before handling it to protect its slime coat, which helps it fend off infections. If a fish swallows the hook, cut the line as close to the hook as possible instead of trying to remove it.
Leave No Trace: Leave your fishing spot as you found it. Dispose of your trash properly, and take care not to leave behind fishing lines or other tackles that could harm wildlife.
Remember, fishing is not just about the catch—it's about respecting the environment and ensuring that future generations can enjoy this pastime as much as we do.
FAQ: Expert Recommendations for Perch Lures
Remember, the answers to these questions can vary depending on specific conditions, personal experience, and regional variations. Always stay flexible and willing to experiment with different techniques.
Conclusion: Your Ice Fishing Bible
Ice fishing for perch can be a lot of fun, and using the right lures is essential to success. In this article, we have provided a buyer's guide to the best ice fishing lures for perch, as well as some tips on how to use them effectively. We hope you find this information helpful in your next trip out onto the ice!
Wrapping Up: Reflecting on the Journey to Ice Fishing Mastery
As we conclude this in-depth look at ice fishing lures for perch, let's review the crucial points we've discussed:
We started by understanding the winter behavior of perch and the importance of adapting our strategies accordingly.
We then explored the basics of lures, emphasizing how different types serve different purposes.
Next, we detailed how to choose the right lure for perch ice fishing, considering factors like size, color, and shape, along with environmental conditions.
We also highlighted top lures for ice fishing perch, including the Swedish Pimple, Rapala Jigging Rap, Clam Drop Jig, Glow Shot Spoon, and Lindy Perch Talker.
In our discussions about techniques, we emphasized the importance of proper jigging, knowing when to switch locations or lures, and the value of patience and experimentation.
Lastly, we stressed the importance of safety precautions and ethical fishing practices, ensuring not just a successful but also a safe and responsible ice fishing trip.
Ice fishing for perch can be a challenging yet incredibly rewarding experience. With the right lure, technique, and a bit of patience, you are all set to make your next trip a success.
Your Next Cast: An Invitation to Implement Your New Knowledge
We invite you to try out the lures and techniques discussed in this article and see how they transform your ice fishing experience. And remember, as you become more experienced, you'll develop your own preferences and techniques. The most important tip is to enjoy the process. We would love to hear about your ice fishing experiences. Feel free to share your stories, tips, or even photos of your catch. Safe fishing, and here's to the thrill of pulling a lively perch through the ice on your next trip!
The Knowledge Iceberg: Diving Deeper with References and Resources
In the interest of credibility and transparency, here are some valuable resources used in the compilation of this article:
"Ice Fishing Basics." Ice Fishing Safety | Mass.gov. www.mass.gov/service-details/ice-fishing-safety
"Perch Fishing Tips." Field and Stream. www.fieldandstream.com/perch-fishing-tips/
"Ice Fishing Strategies." Outdoor Canada. www.outdoorcanada.ca/icefishingtips/
"Choosing the Right Lure." Take Me Fishing. www.takemefishing.org/how-to-fish/how-to-catch-fish/choosing-fishing-equipment/
"Catch and Release Best Practices." Fish and Boat Commission, Pennsylvania. www.fishandboat.com/Fish/FishingRegulations/Pages/CatchandRelease.aspx
"Best Lures for Ice Fishing Perch." Outdoor Life. www.outdoorlife.com/best-ice-fishing-lures-perch/
These resources offer a wealth of information for further reading and are highly recommended for those who wish to delve deeper into the world of ice fishing. We appreciate these valuable contributions to the fishing community that promote safe and effective practices.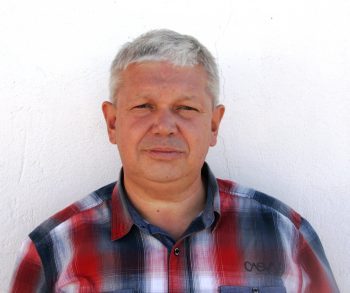 Sergio Smirnoff
Professional fisherman with 40+ years of experience.
Fishing and the ocean is a passion of my life. I am passionate about all kinds of sea fishing: fishing from the shore (spinning, float, baitcasting), from a boat, and spearfishing day and night.
I live in Tenerife (Canary Islands) for the last 10+ years and share my daily fishing experiences on my website. Many years of personal experience as a fisherman and the vast experience of my friends allow me to write professionally on any fishing topics (from choosing a flashlight and equipment to deep-sea fishing).
All of my advice is based on practical real-world experience and will be useful to both novice anglers and professionals.
Read more
about the author.
Affiliate Disclosure: FishReeler.com sometimes gets paid for listings, through sponsors or affiliate programs like Amazon, Ebay, Cabelas, Bass Pro Shop, Shimano, Daiwa, Rapala, Renn, Okuma, KastKing, etс. Clicking a link helps keep FishReeler.com free, at no extra cost to you!
About the author: Each article is verified by the fishing expert Sergio Smirnoff. The articles are written by professional and amateur fishermen with 20+ years of fishing experience.
Note: The views and opinions expressed in this article are those of the authors and do not necessarily reflect the official policy or position of any agency. The articles are for informational purposes only, share your opinions in the comments and join the fishing discussions, let's share our fishing experiences together!